After the amount of snow we experienced this winter you can imagine our excitement that spring has officially sprung in our parts. The grasses have greened up, the plants are all beginning to grow, our daffodils and other flowers have emerged from the ground and are giving us a perfectly colorful yard.
We've also been waking up to birds chirping early every morning and all of the little critters are beginning to emerge. The beautiful spring season is a perfect time to get the kids outdoors for a nature scavenger. Here are 8 fun and simple spring nature scavenger hunts for kids.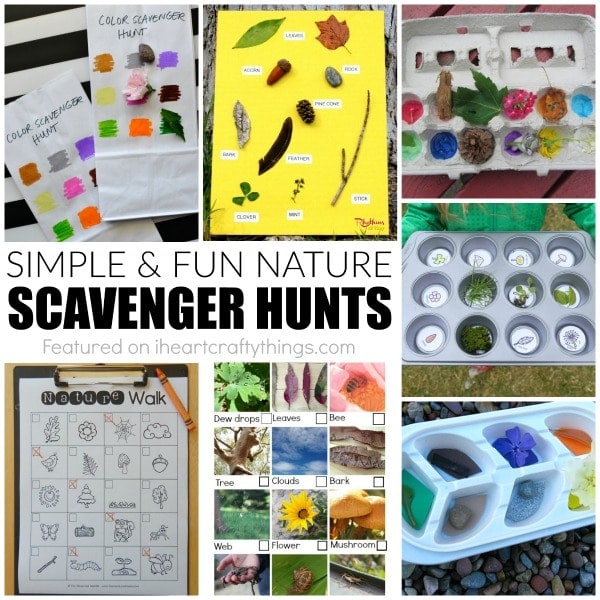 Some of these fun spring nature scavenger hunts have printables for easy set up and the others require only a few materials that you most likely already have on hand at home.
8 Spring Nature Scavenger Hunts for Kids
1. A white paper lunch bag and markers is all you need to set up this quick and easy color scavenger hunt. Easy, peasy right?!
2. Create a sensory card with items found in your local area for little ones to be able to easily identify objects on this nature scavenger hunt activity.
3. Paint different colors in the bottoms of an egg carton for an easy and fun color scavenger hunt. It also doubles as a fun way to hold the treasures you find.
4. Using a muffin tin is another genius way for kids to store their items while on their spring nature scavenger hunt. Mama Papa Bubba even includes a printable of common spring items you can use for your hunt.
5. A clipboard, pencil and this free natur hunt printable are all you need for an afternoon of scavenger hunt fun!
6. If your little ones have an easier time finding objects based on real-life photos, they will love this spring nature scavenger hunt printable.
7. Have an empty ice tray laying around? Here's a simple way to turn it into a fun color scavenger hunt activity for kids!
8. Are you working on numbers and counting at your home? If so, this number nature scavenger hunt is perfect! (not pictured)