Fall is such a special and beautiful time of the year when the air gets crisp and the leaves turn into stunning shades of red and yellow. It's definitely a season that deserves to be celebrated.
Make this fall the most colorful and magical one yet with our enchanting fall coloring pages.
We've prepared a charming collection of ten wonderful fall coloring sheets that you can download and print for free.
Each sheet features different fall motives that will help children explore their creativity and celebrate the beauty of fall.
15 Brand New Fall Coloring Pages – Free to Print and Color
Fall is a season of transition and change when the ground gets covered in a thick coat of colorful leaves.
Nature can be very charming during this time of the year, but it can also keep you busy with all the sweeping and the raking.
Looks like this cute little girl in our first fall printable enjoys collecting the fallen leaves with her tiny broom. With so many beautifully colored leaves around her, this seems like a fun fall activity indeed.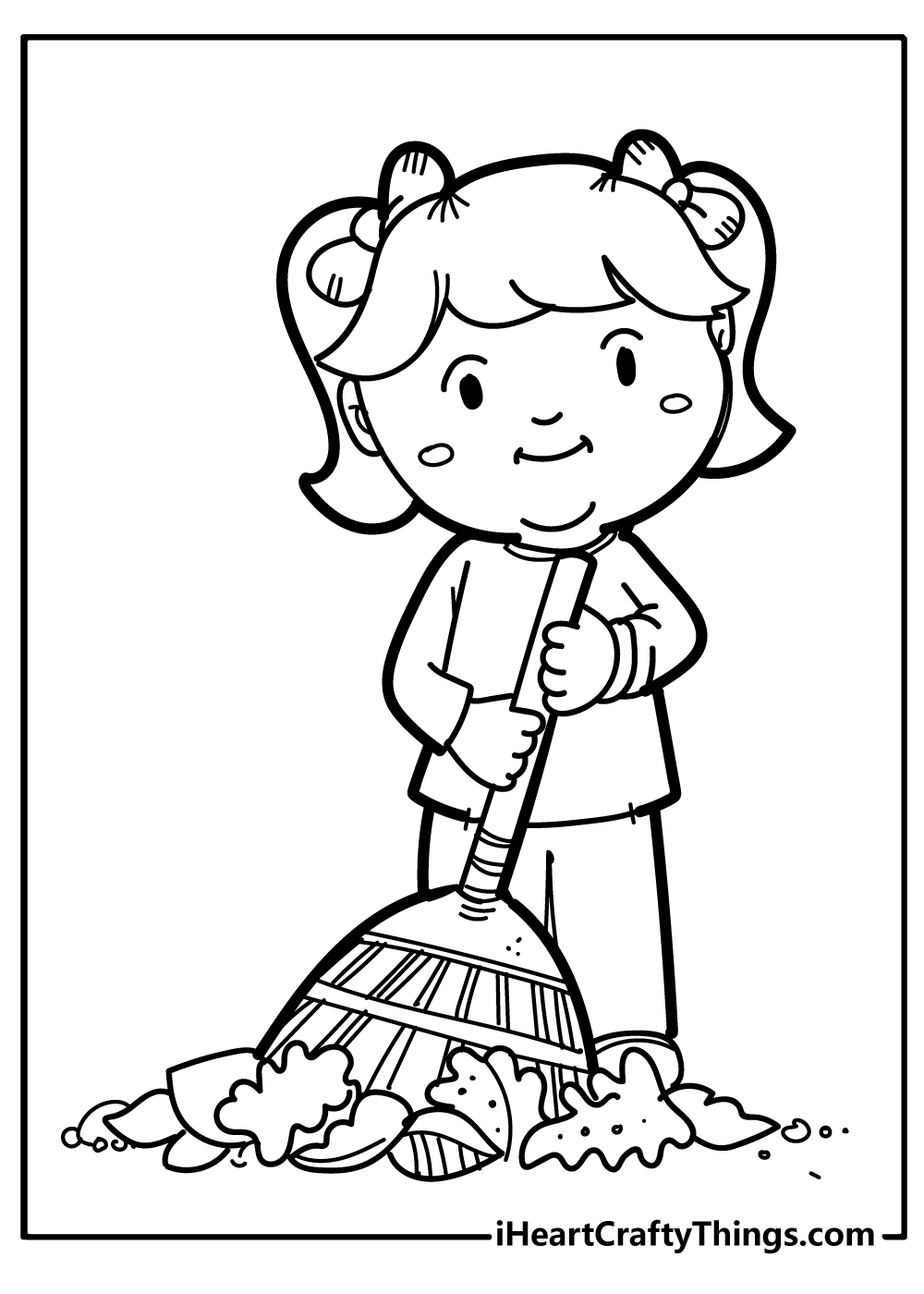 This fall coloring page features a smiling boy taking in the fall sights and sounds on a stroll through the park.
What do you think he has in his bag? Maybe some books, snacks, or toys. He is smiling and looking at you with a friendly expression.
Some of the leaves have fallen on the ground and on the fence. The boy is stepping on some of them as he walks.
You can use different shades of brown, orange, yellow, and green to create a fall atmosphere.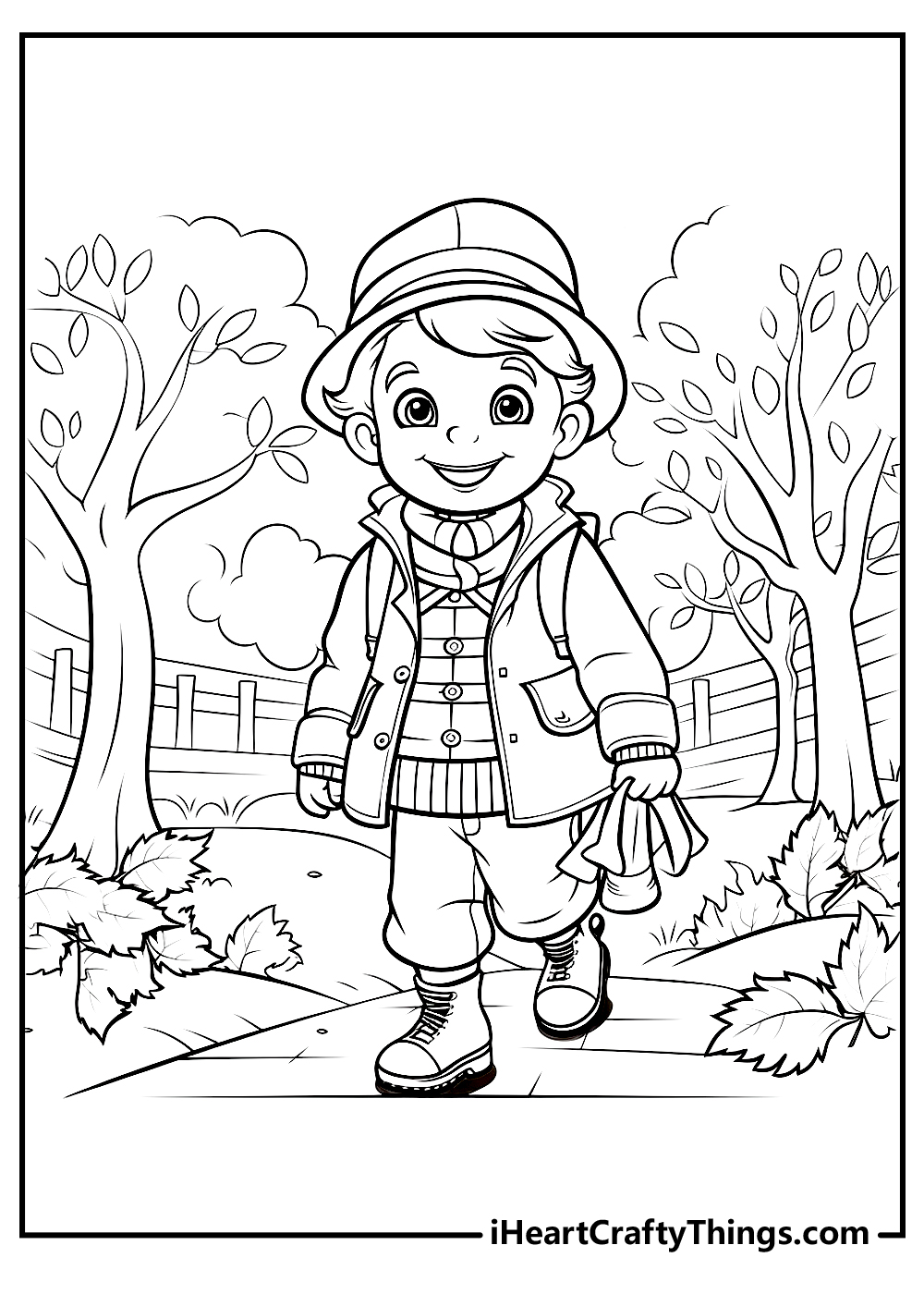 In fall, the magic of the changing color leaves provides a breathtaking natural spectacle. As they transition from one shade to another, all leaves turn into mesmerizing flowers.
From light yellows and bright oranges to deep reds and dark browns, fall leaves offer us a vivid display of colors.
This next fall coloring page features a single leaf on a plain background, with just a few horizontal lines around it. With the right colors, this simple autumn motif can be turned into a stunning picture.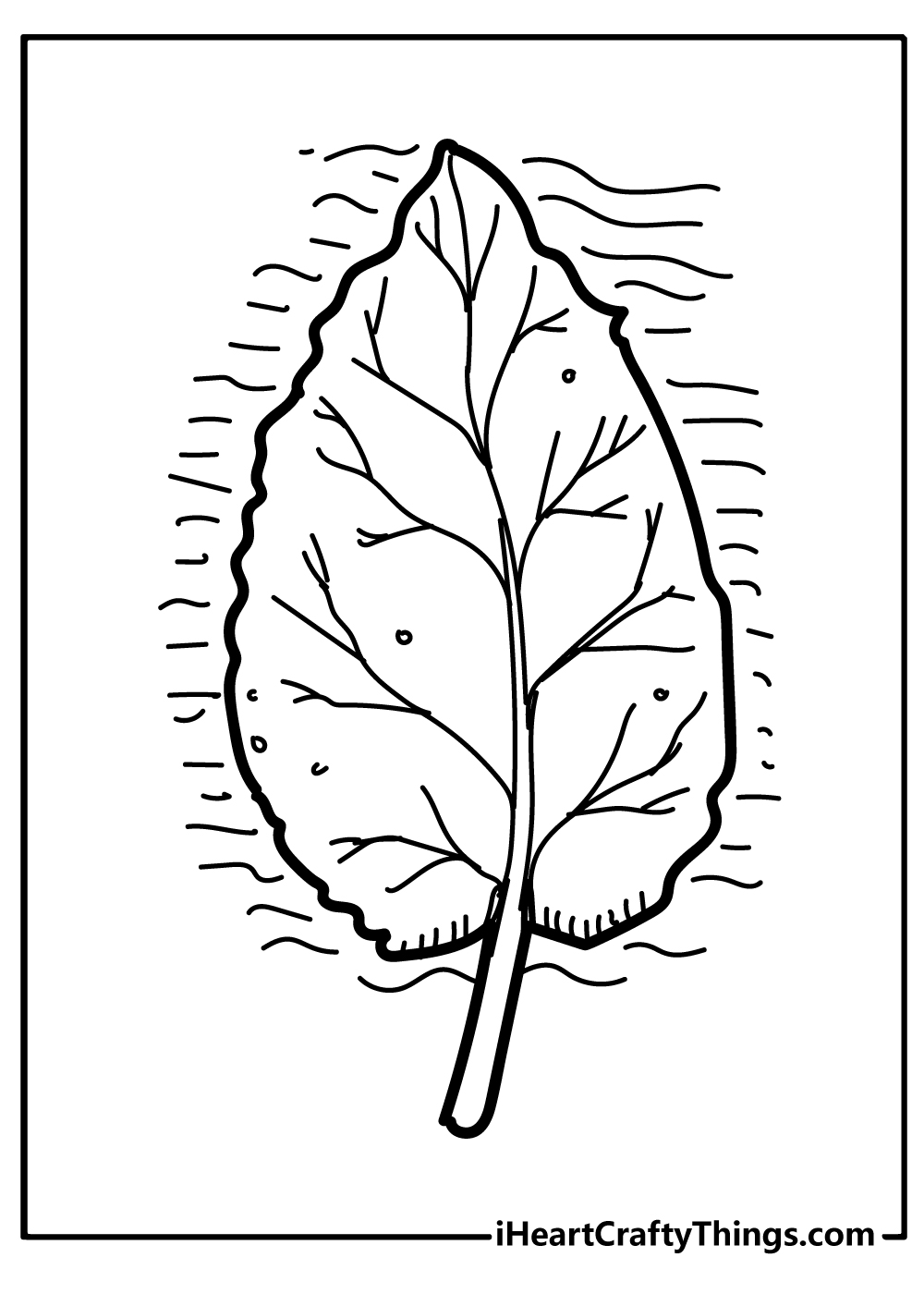 One of the most entertaining fall activities for children is jumping into huge piles of leaves. They're the best playground that nature can offer during this time of the year.
This cute coloring printable shows a little boy with his arms raised and his legs up in the air, jumping into a pile of leaves.
The smile on his face tells us he's having a really great time. We'd sure like to join in the fun and jump into a pile of leaves ourselves.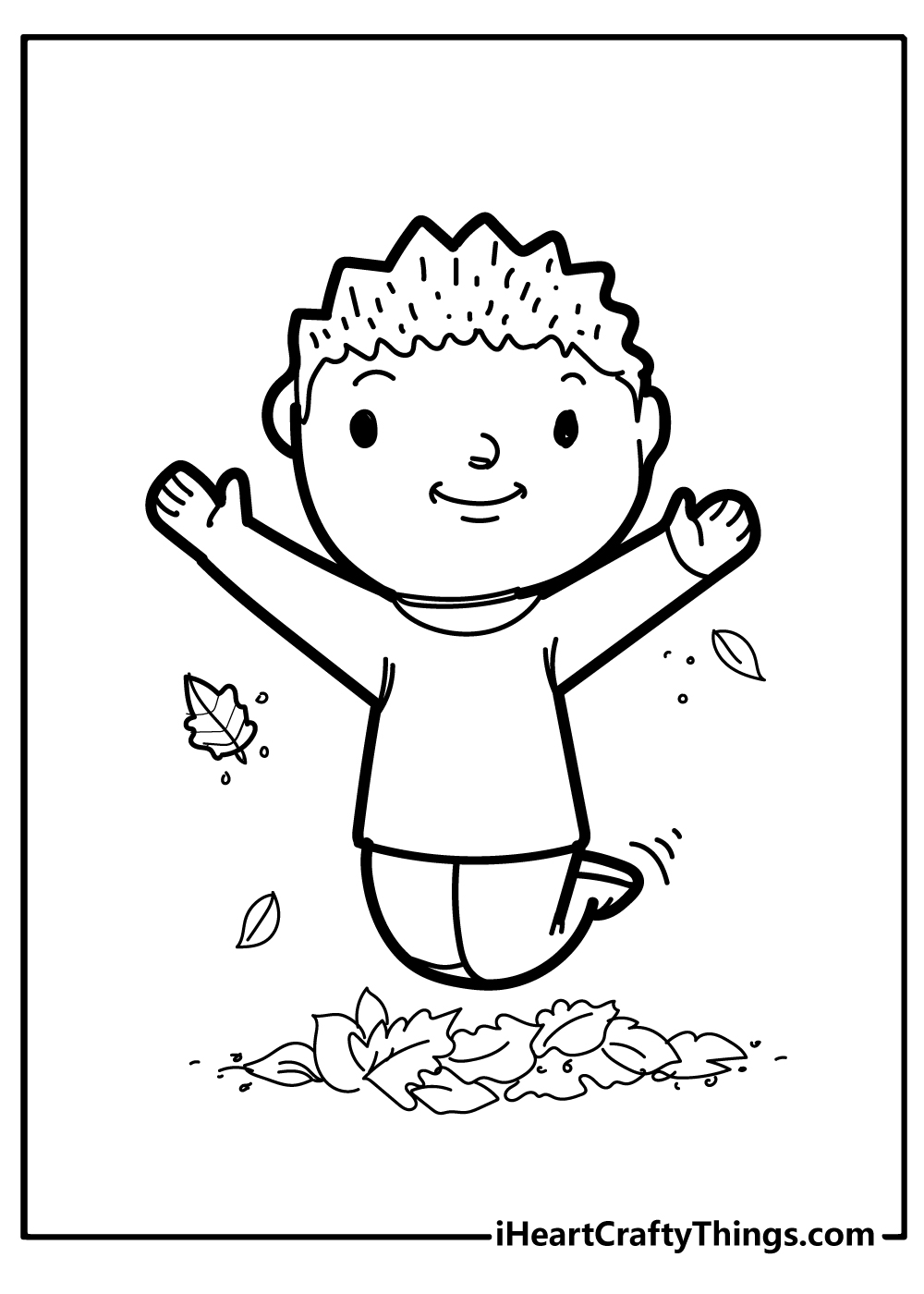 What a lovely day to go for a walk in the park! This next coloring page depicts a boy who is strolling along the path and admiring the fall scenery.
He has a bright smile on his face and he looks at you with a friendly gaze. He seems to be in a good mood.
How would you color this picture to make it look more realistic and beautiful? You can use different shades of brown, orange, yellow, and green to create a fall atmosphere.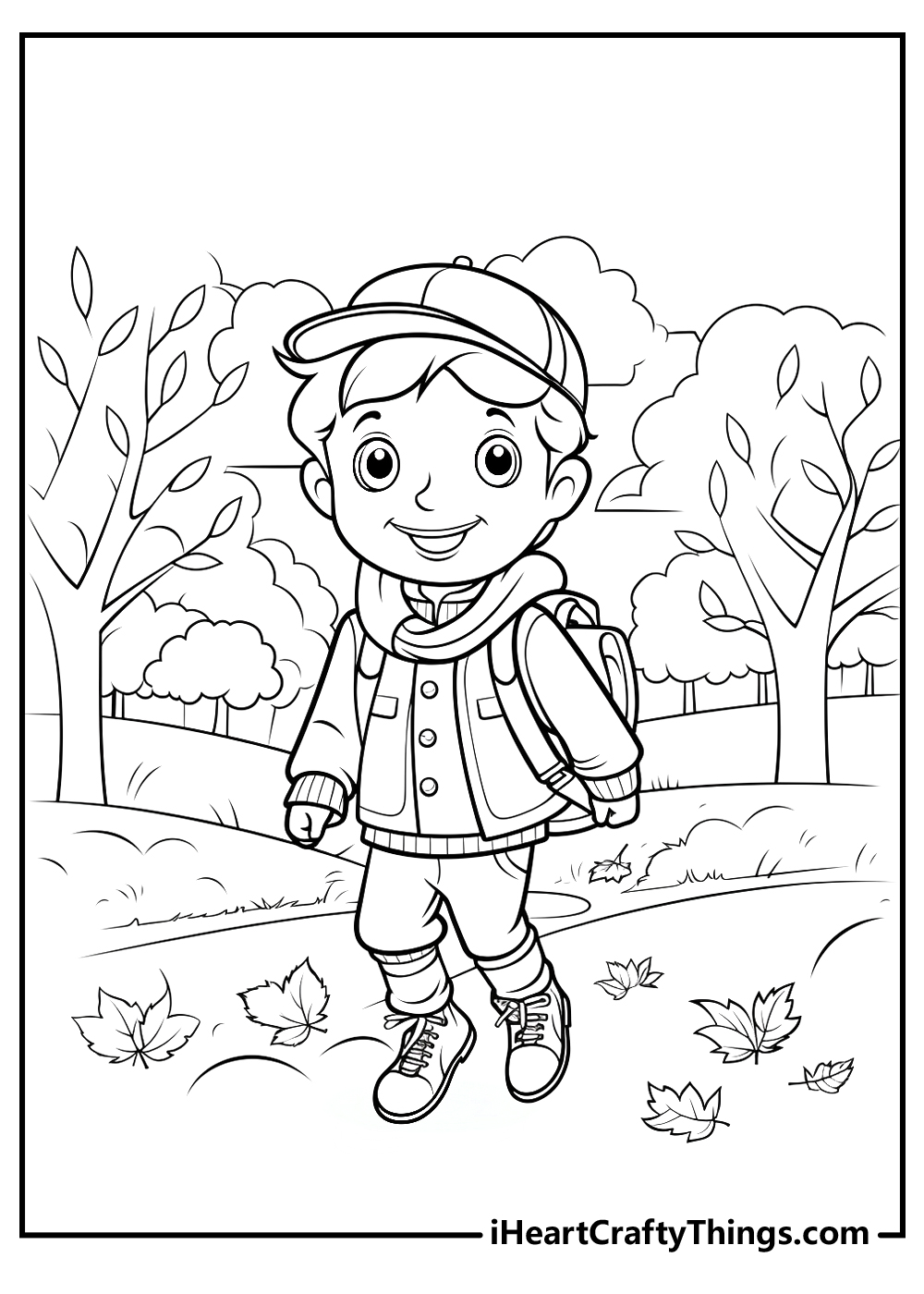 For our next fall coloring sheet, we've got another season-specific motif: an acorn. Collecting acorns in the fall is another interesting activity that lots of children enjoy.
This tiny acorn depicted here is surrounded by three oak leaves, and it looks like it's just fallen off a tree.
Did you know that the best time to collect acorns is in the early fall when they start changing color from green to brown?
Here's another fun fact: it is fairly easy to grow an oak tree from an acorn, so you might want to give it a try.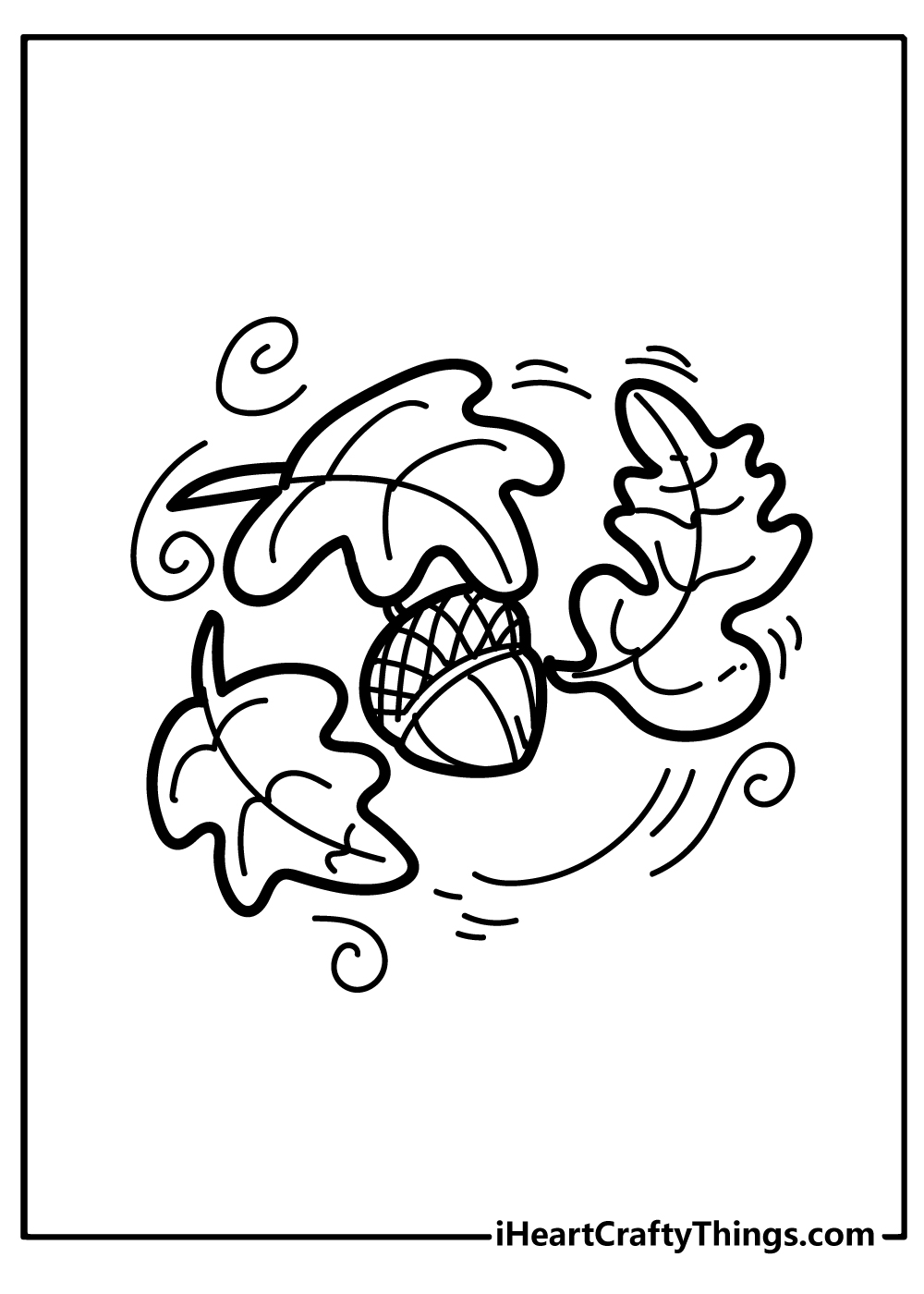 This whimsical printable will make you fall in love with fall all over again. The whole coloring sheet is adorned with beautiful autumn motifs.
We've got all sorts of leaves, cute little acorns, a nut, and a spiky chestnut for you to color.
We can almost smell the crisp air of fall by looking at this page. We're sure it's going to look even more enchanting once it's fully colored.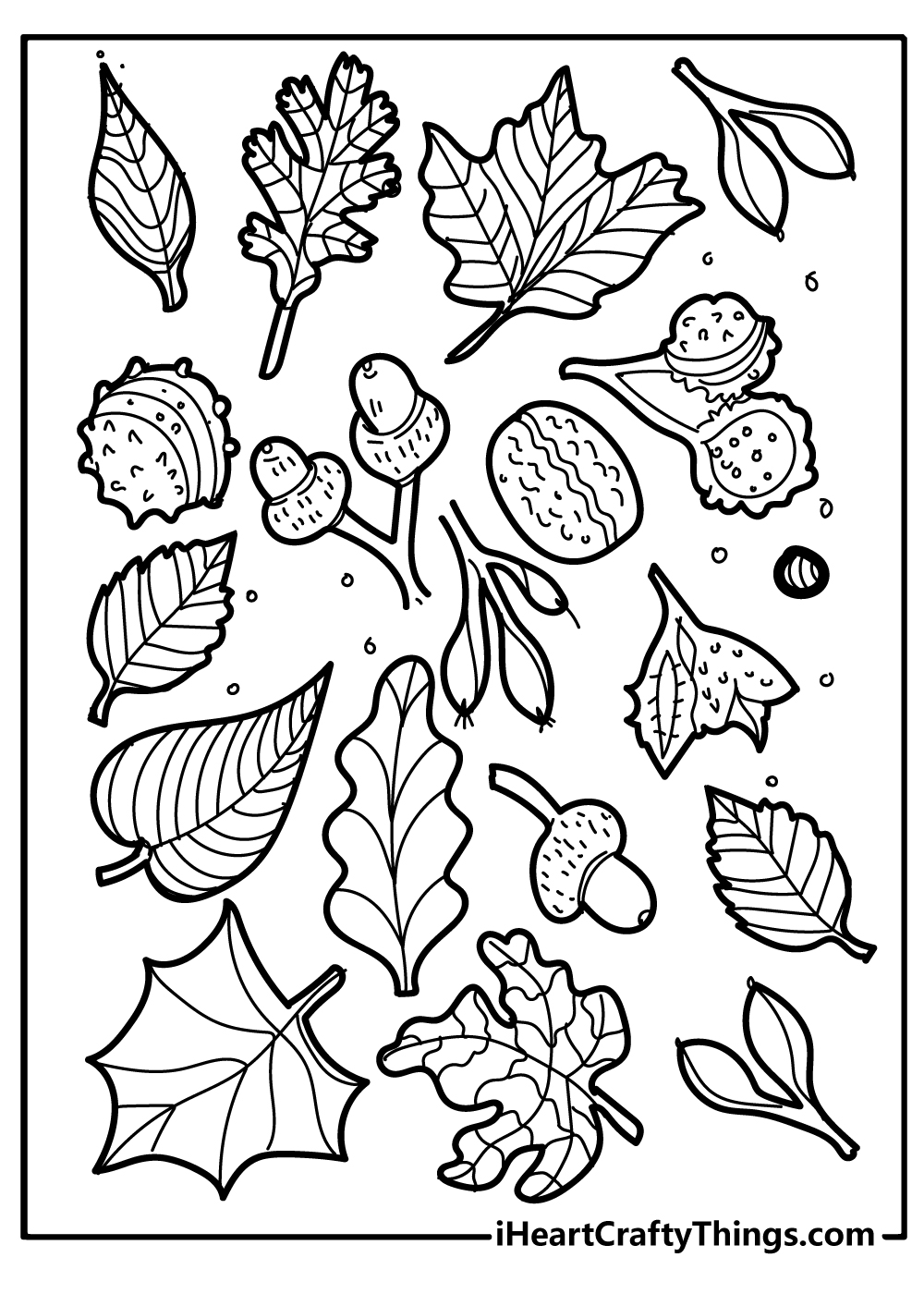 Fall is a wonderful time to play outside. This coloring page features a boy who is having a blast with his ball in the park.
He is dressed in a baseball cap, a jacket, a scarf, and carrying a backpack. He is holding the ball in his left hand and looking at you with a big smile.
I would use colors brown, orange, yellow, and green to create a fall atmosphere.You can also add some details to the background, such as clouds, birds, or flowers.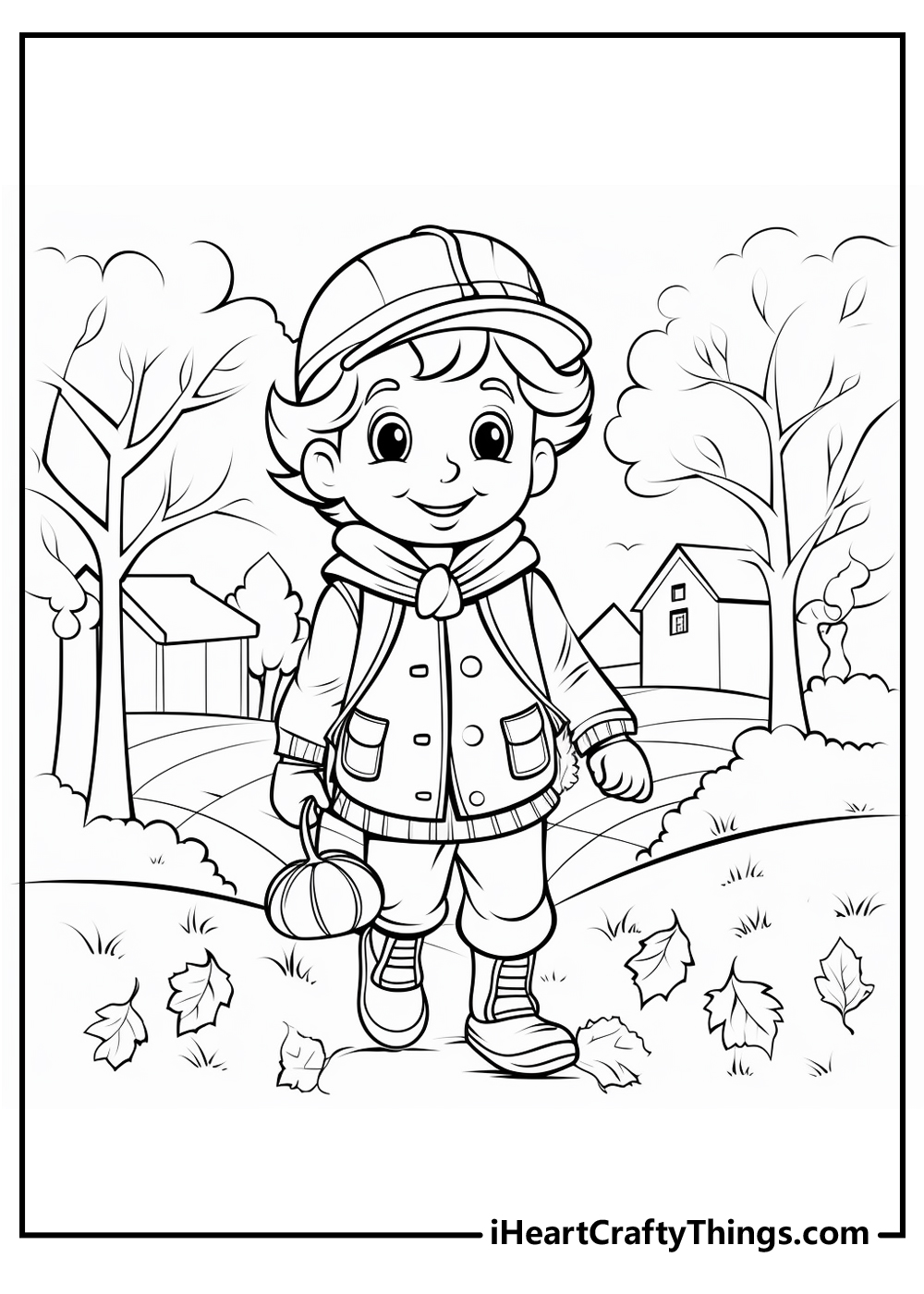 What can you do on a cold autumn day, when you can't go outside and play with the colorful leaves or explore the beauty of nature?
You can stay inside, with a cup of hot tea and our adorable fall coloring pages to keep you company.
This fun printable depicts one single acorn surrounded by leaves. Each leaf is different, so you can use different colors to bring this picture to life.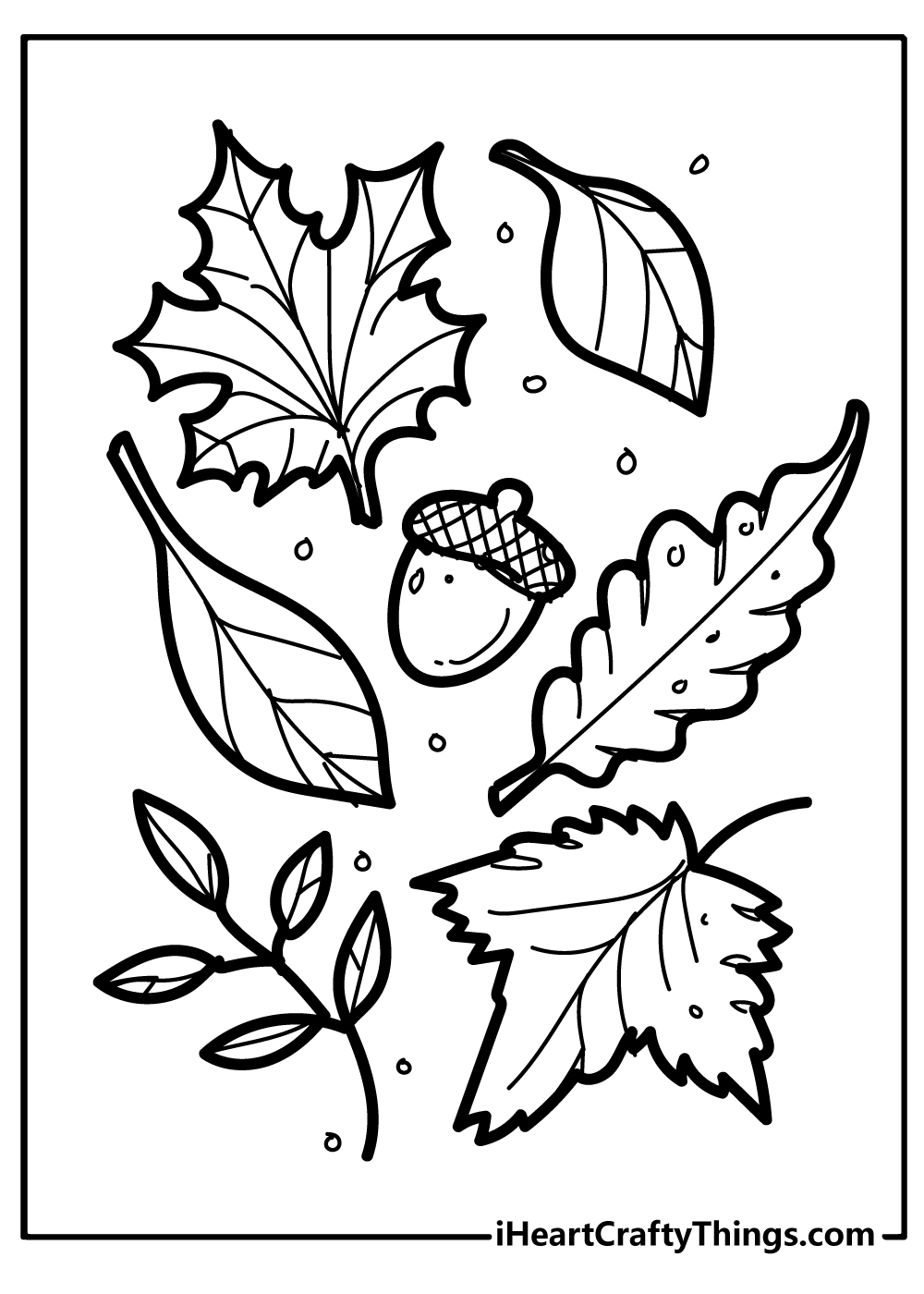 Fall is foliage season, but did you know there are also many flowers that bloom and thrive during this wonderful time of the year.
Chrysanthemums, autumn crocus, and Japanese anemone are just some of the flowers that amaze us with their beautiful colors in the fall.
If you like autumn flowers, you're going to love coloring this page. We've got three lovely flowers and multiple leaves surrounding them to form a stunning fall bouquet.
You can use all the colors you like to add a personal touch to this cute fall printable.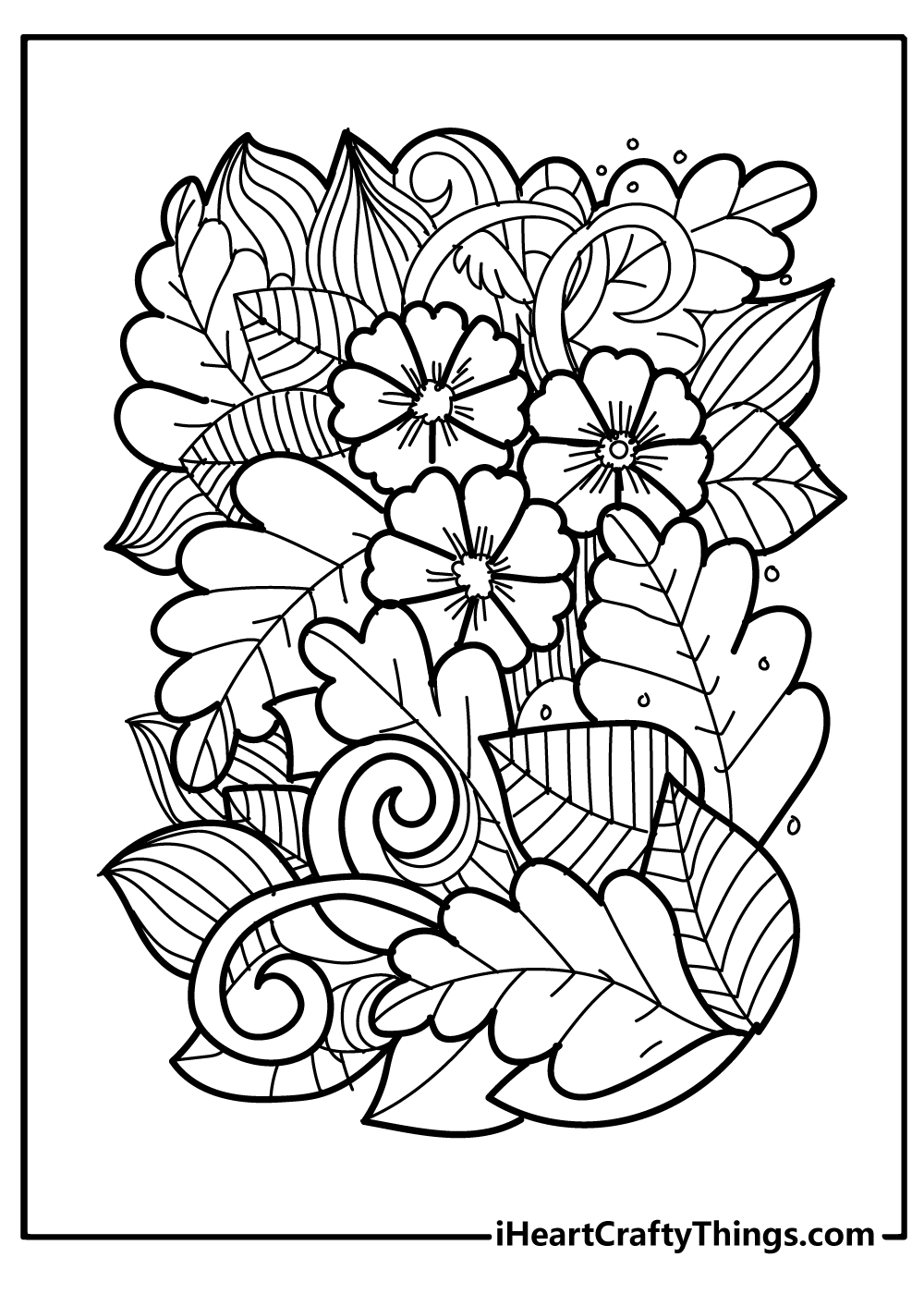 Fall is a great time to enjoy the harvest. This coloring page features a girl who is holding a small pumpkin in her hand.
She is wearing a hat, a coat, and a skirt. She looks happy and excited as she looks at the pumpkin.
She seems to be in a park where there are many pumpkins around.
The park is full of trees that have turned into mesmerizing shades of red and yellow. How would you color this picture to make it look more realistic and beautiful?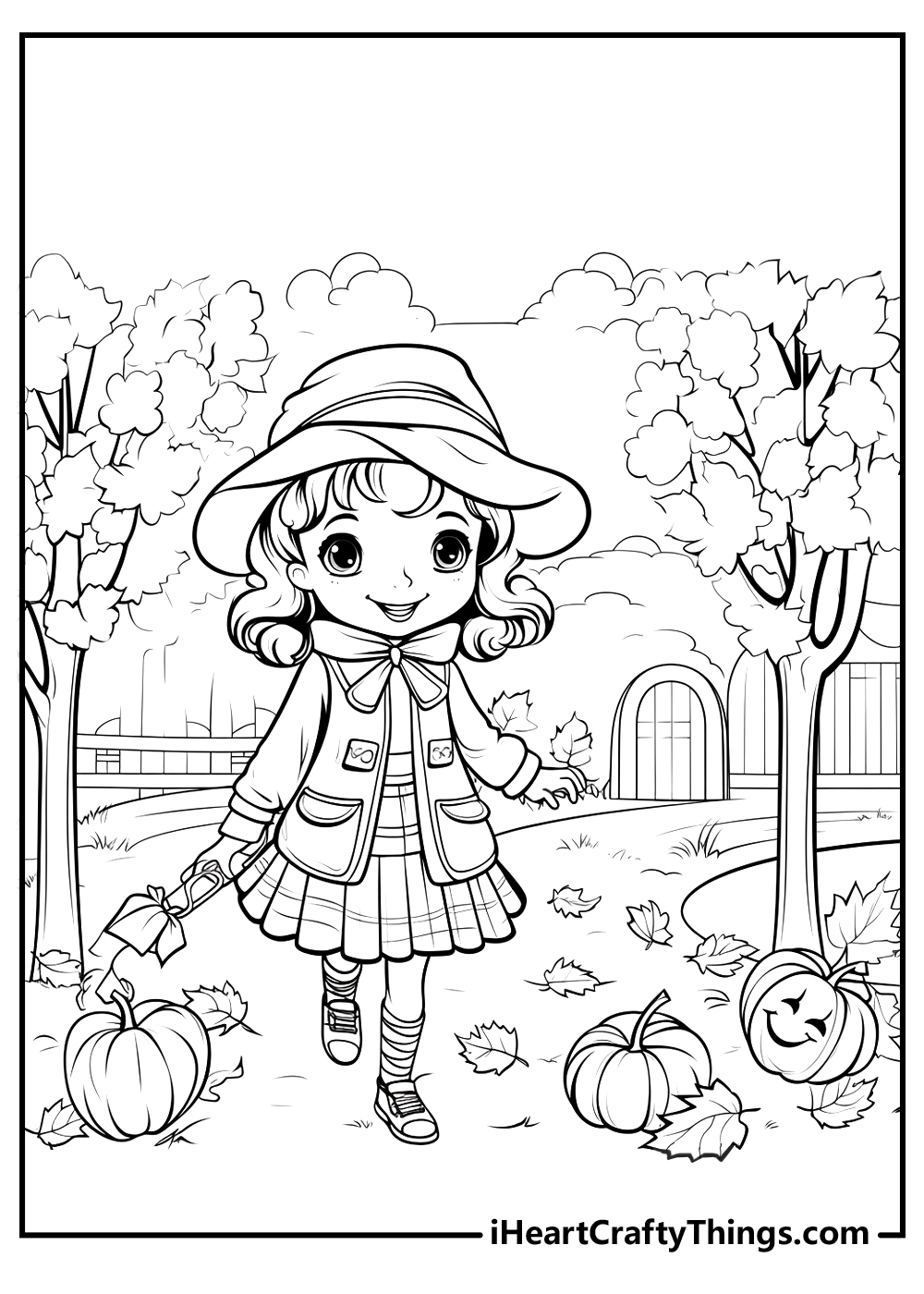 Jumping into a pile of leaves can be so much fun, but have you tried rolling around in a pile of leaves yet?
That's exactly what the boy in this cute coloring printable is doing, and he seems to enjoy it. He's lying on the ground, covered in leaves and having a good laugh about it.
You can also see that he's not bothered by the cold weather outside because he's dressed warmly and is wearing a classic pair of rain boots.
We bet you're going to have just as much fun coloring as he's rolling in the leaves.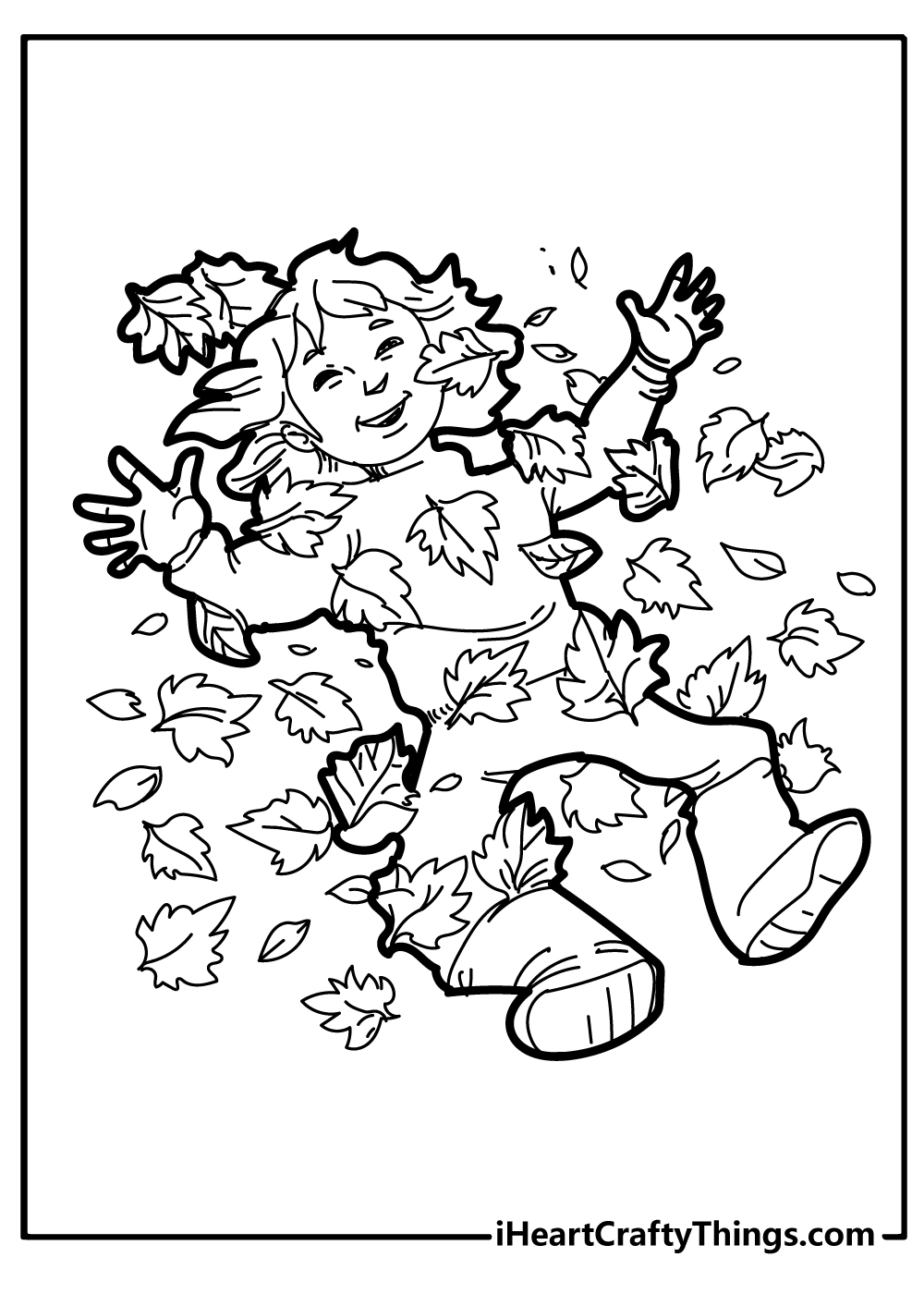 The next printable in our fall coloring collection is going to take us on a quick nature walk, all the way to this mighty tree that is slowly starting to lose its leaves.
As they change color, the leaves prepare to fall from the tree one by one.
There's also a bush and some grass at the base of the tree that is soon going to be covered by the falling leaves.
Imagine how beautiful this scenery will look like with all the foliage colored in autumnal shades of yellow, orange, and red.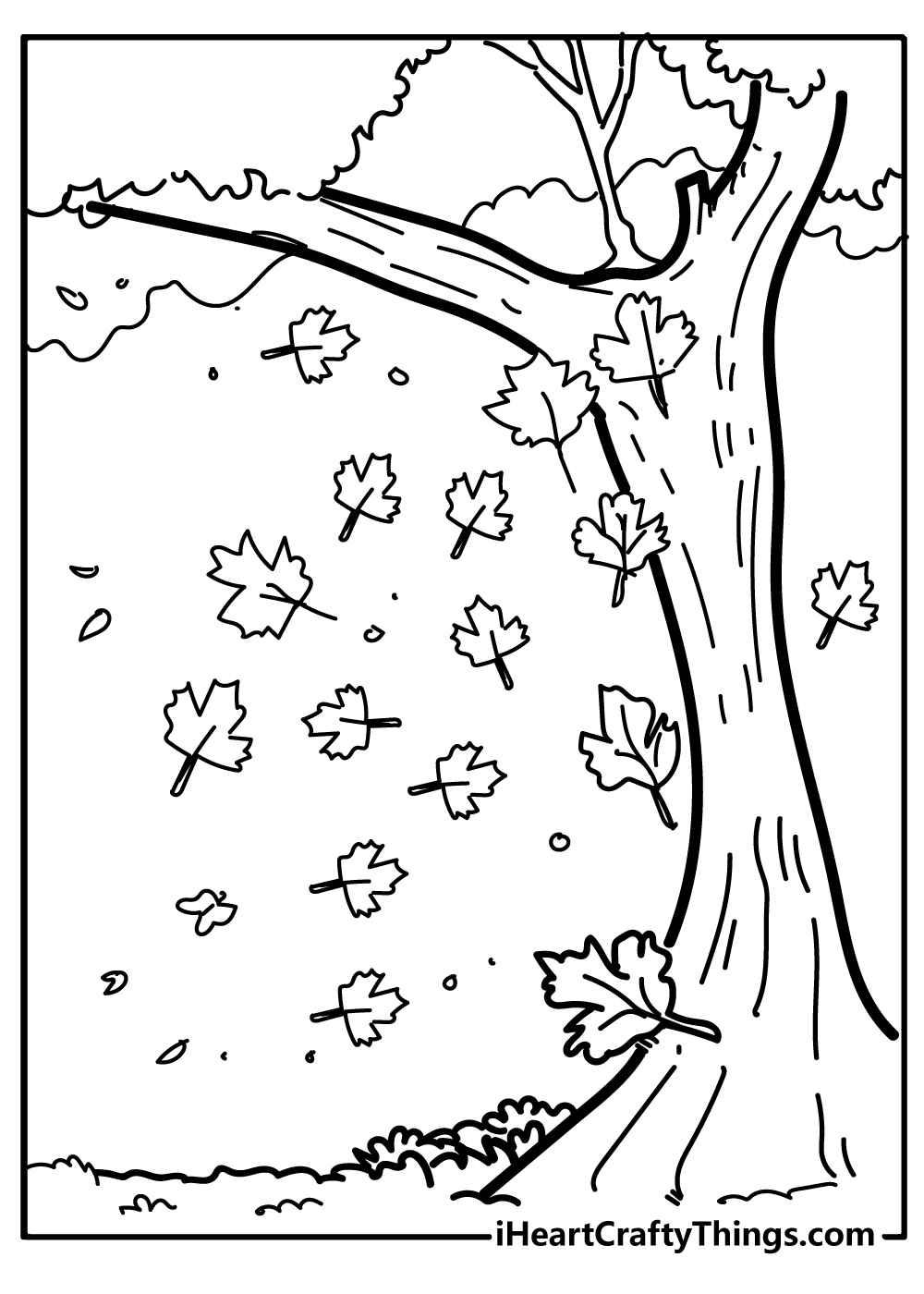 There's a lot of work to be done in the fall, with all the leaves that you have to clear from the garden. But who says you can't have a bit of fun while you're working?
The girl in this coloring printable seems to have taken a break from her fall chores and is simply enjoying the spectacle offered by nature.
As she's walking through the garden, she lifts her hands up, playing with the leaves that fall all around her. This looks like the perfect autumn day to us.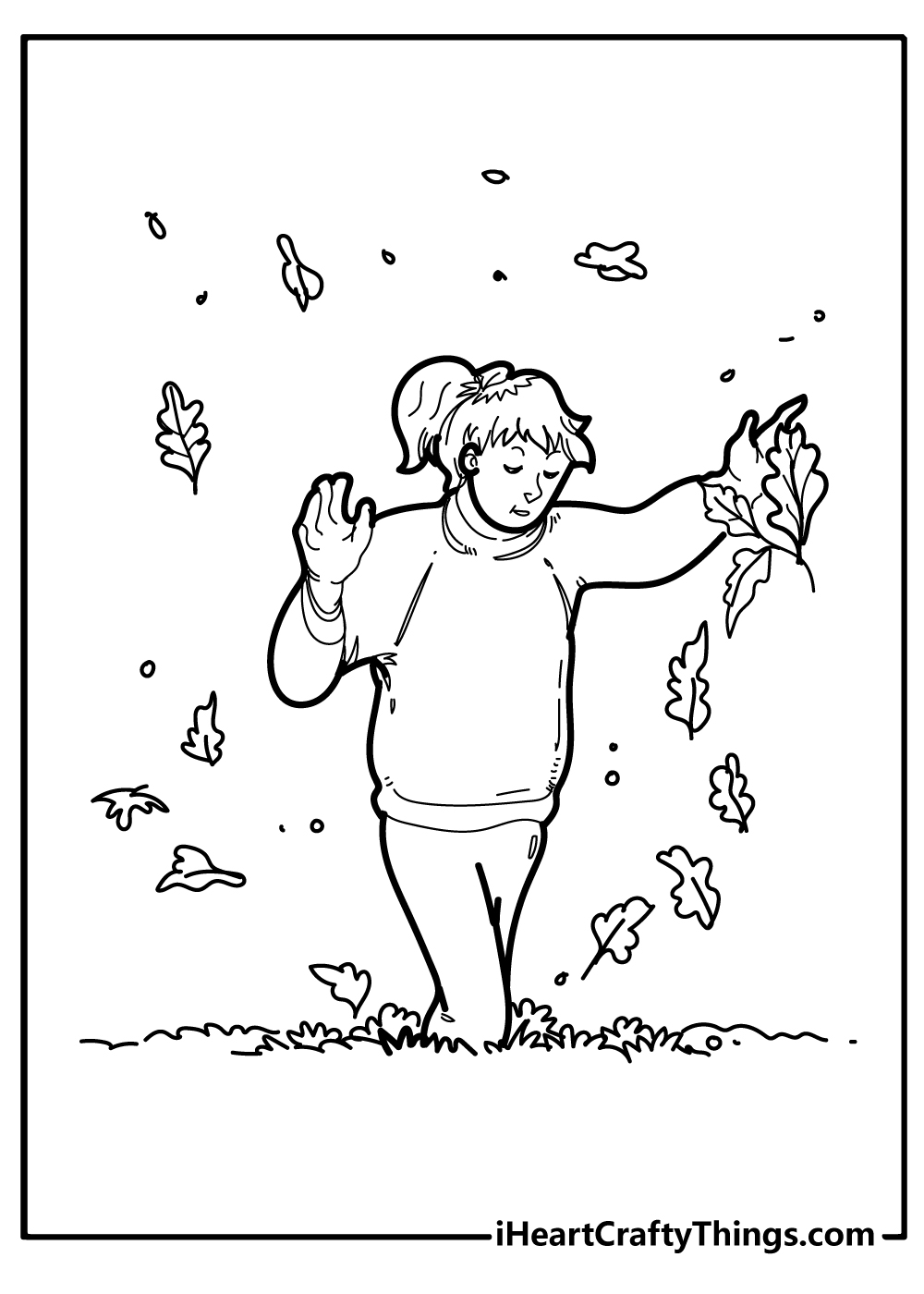 This coloring page is perfect for fall lovers! It shows a boy who loves to take photos of the nature around him.
He has a camera in his hand and he is ready to snap some amazing shots. He is also wearing a warm jacket, a backpack, and a hat to keep him comfortable.
What do you think he will see through his camera lens? Maybe some squirrels, some birds, or some flower. You can choose the colors that match your mood or the season.