Why do we love pumpkins? Well, not only do they make delicious pies, but they're also charming decorations. Plus, they remind us of one of the most beautiful times of the year: Halloween!
For fall lovers of all ages, we've hand-picked some awesome pumpkin coloring pages that the entire family can enjoy.
10 Brand New Pumpkin Coloring Pages – Free to Print and Color
It's believed that Jack-o'-lanterns have been used since the 19th century as a Halloween tradition and that they describe the visual phenomenon of "will-o'-the-wisp."
Just in time for Halloween comes this scary-looking Jack-o'-lantern with menacing eyes!
The carved pumpkin stands on some grass, is framed by two lit candles, and it looks as if it's part of some magic ritual. Could it be that a witch put it there? Maybe it even has magical powers?
This pumpkin printable is fun to color, and if your child has an active imagination and loves Halloween stories, they'll certainly tell you what it could be up to.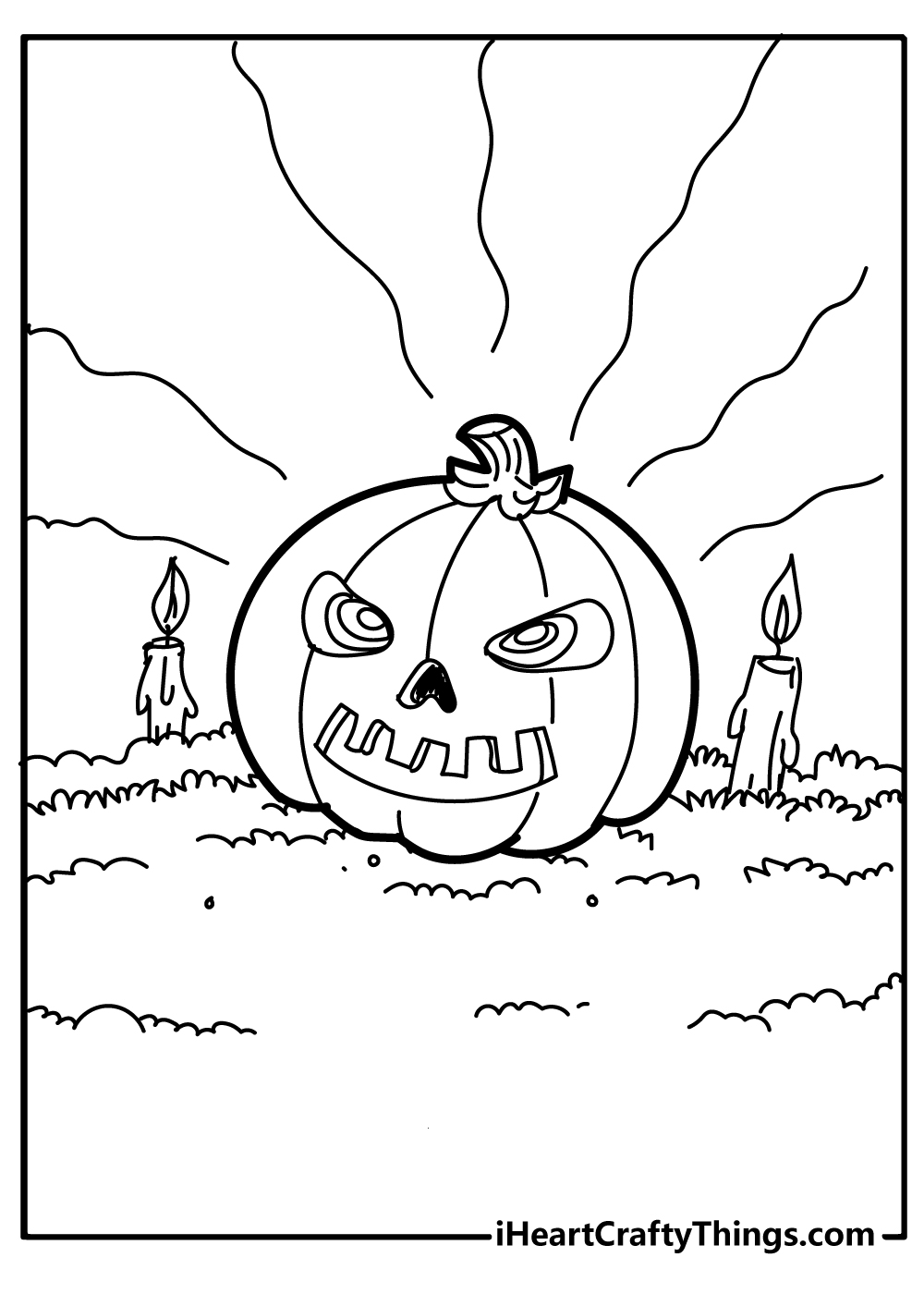 Not all Jack-o'-lanterns have to be scary. In this pumpkin coloring page, we have three laughing pumpkins that seem to be having fun.
They're different sizes, so they could be a happy pumpkin family that's getting ready for Halloween.
We could color all three of them orange, but we could also imagine what each pumpkin's favorite color is and switch things up a bit.
These pumpkins are also laying on the grass, which could be a field, a pumpkin patch, or someone's garden.
If you haven't done any pumpkin carving yet, this coloring page could inspire a fun DIY activity for the entire family.
Maybe you can carve a pumpkin for each family member!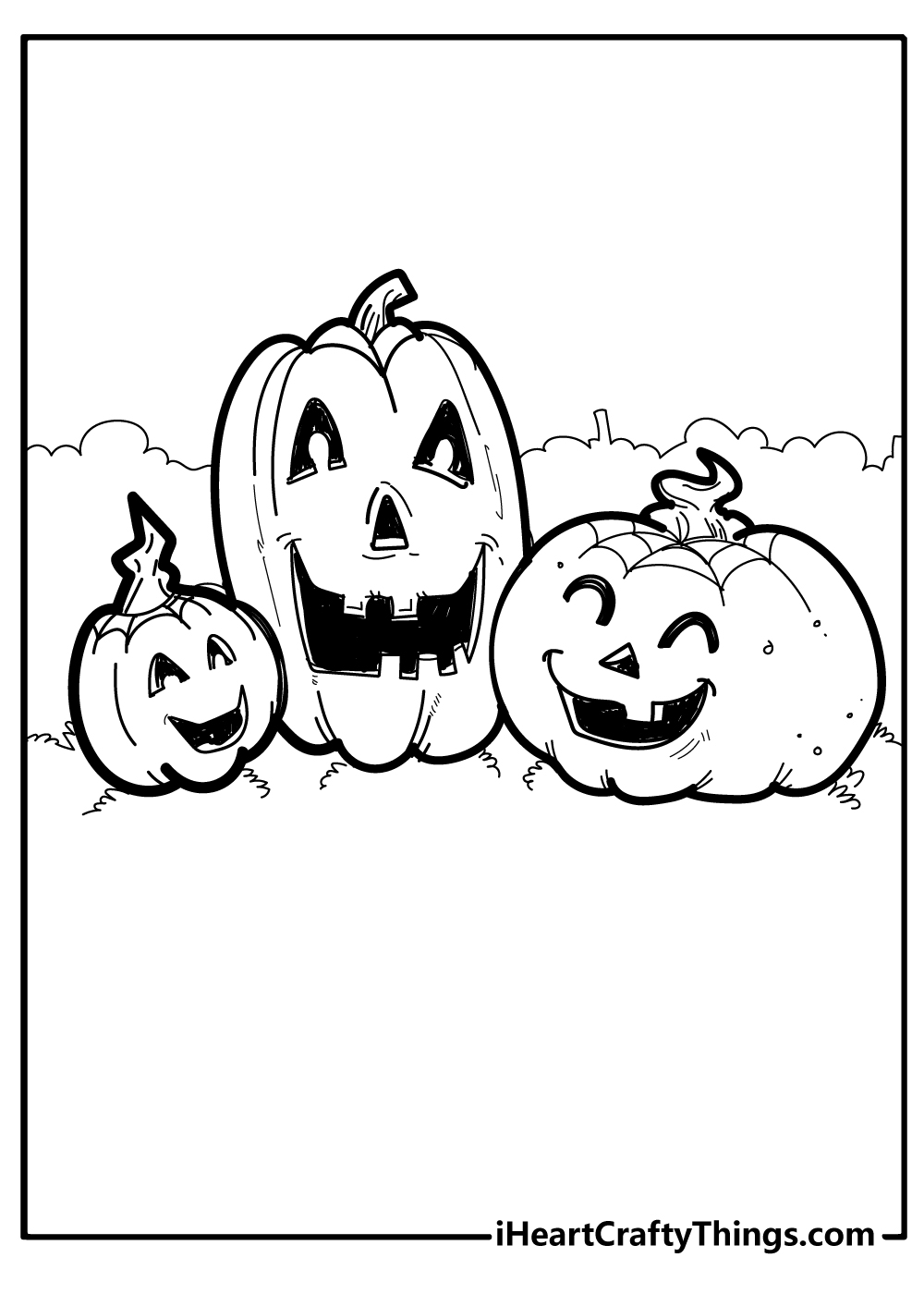 This next pumpkin coloring sheet sends witchy Halloween vibes. It depicts four carved pumpkins stacked on the grass, on top of each other, and the one on top has a big witch's hat.
In the background, we can see some bubbles that could be coming from a cauldron nearby.
Maybe the pumpkin on top could be a witch that transformed herself?
Looking at this printable, our mind can't help but wander off to magical stories about witches, ghosts, and ghouls, and that's exactly why we all love Halloween so much.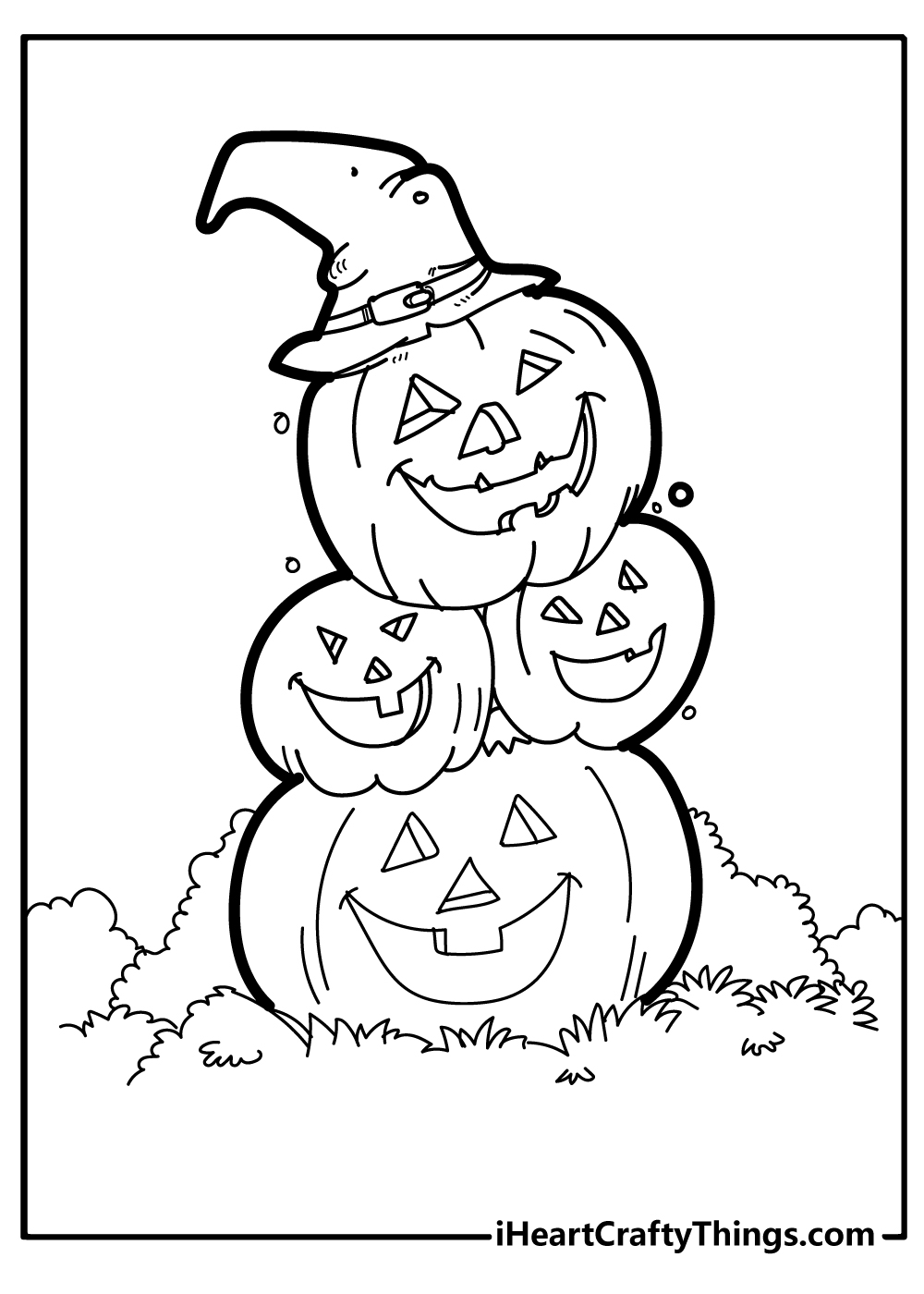 We couldn't talk about Halloween without mentioning trick or treating. After spending weeks working on their costumes, kids can't wait to go from door to door and get their candy.
This coloring page shows a pumpkin whose top was cut off to form a lid, so it could be a great place to store all the delicious Halloween candy!
The pumpkin has a big smile that warms our hearts, and even looking at it as an adult, it's impossible not to let yourself be carried away to careless childhood days.
It's no wonder pumpkins are some of the most beloved fall decorations!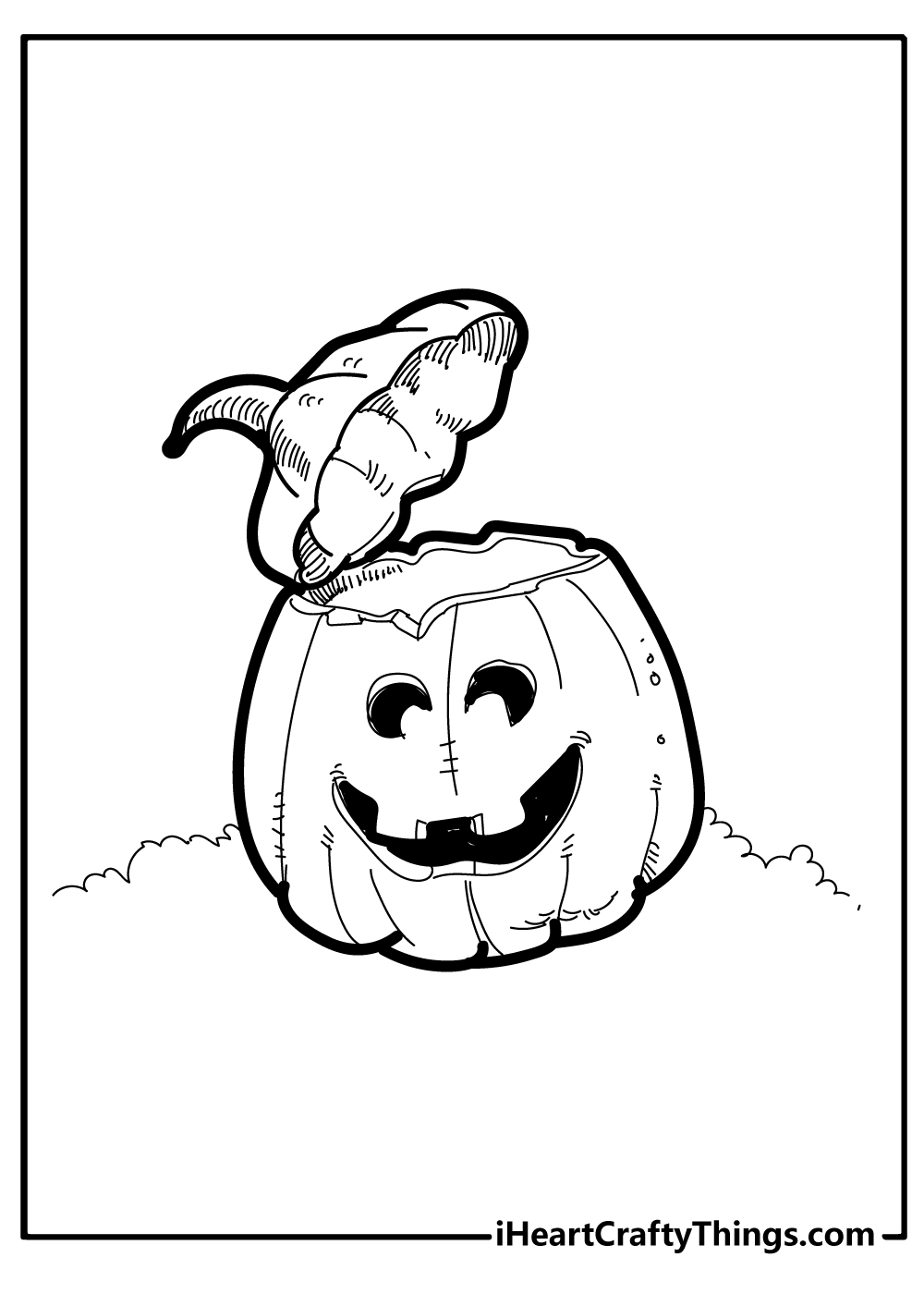 Even if you don't celebrate Halloween or carve pumpkins, they're still nostalgic fall symbols that remind us of crisp days, fallen leaves, and relaxing walks through pumpkin patches.
In this pumpkin coloring page for kids, we have what could be a corner of a pumpkin patch.
Here we have three pumpkins in different sizes that make us think of nature, fall harvest, and, why not, delicious pies.
To make this printable look more interesting, you can use a solid color, then add shadows in darker colors to create a fun 3D design.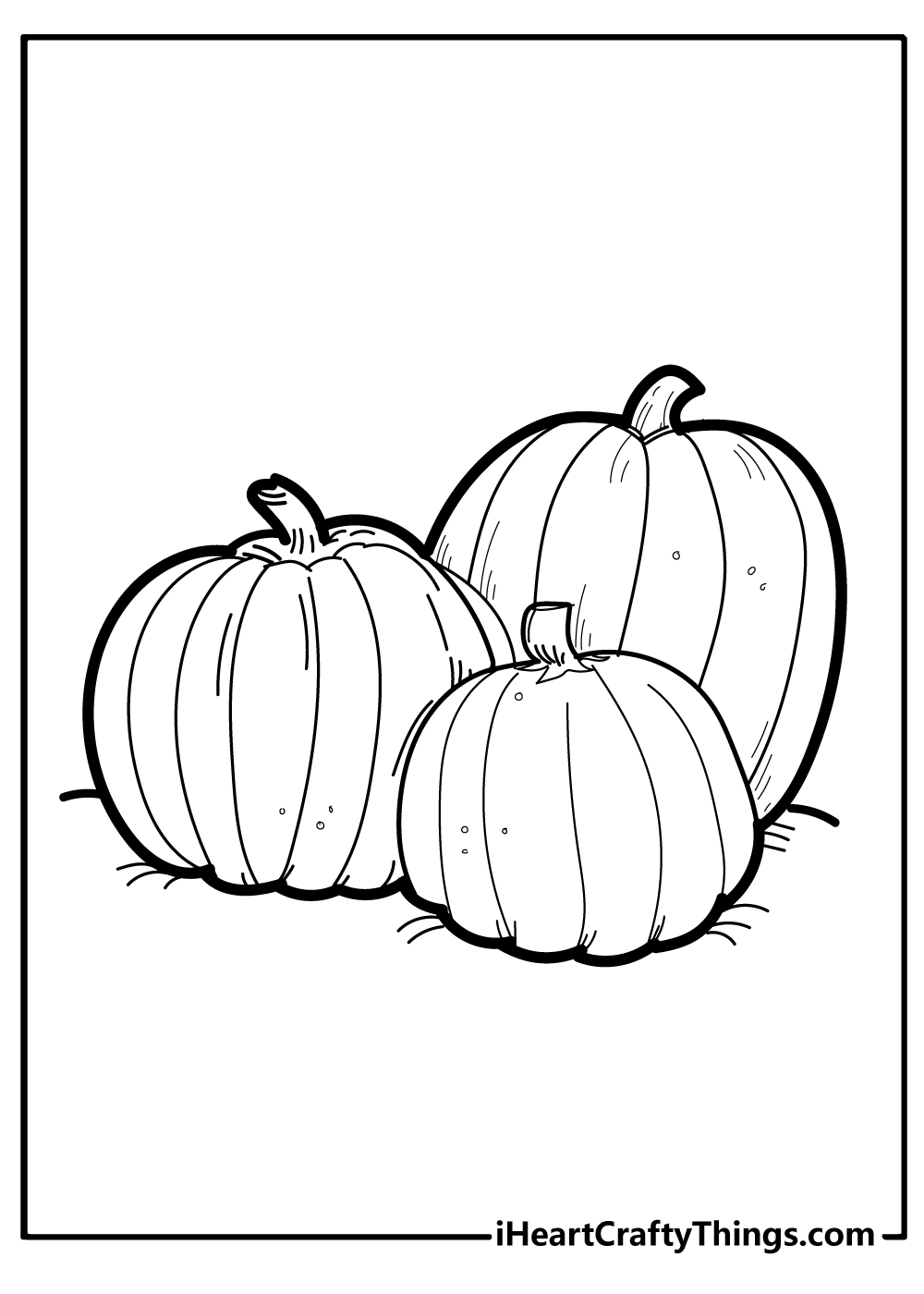 We only have one pumpkin in this printable, but what a pumpkin it is! It's definitely a standout Halloween decoration, so let's color it in a way that does it justice!
For this pumpkin coloring page, we can use several shades of orange, yellow, and red, and we could color the grass in the background with a paler green so that the subject stands out more.
For the eyes and mouth, we can use glitter pens or acrylic paints to show that the Jack-o'-lantern is lit from within.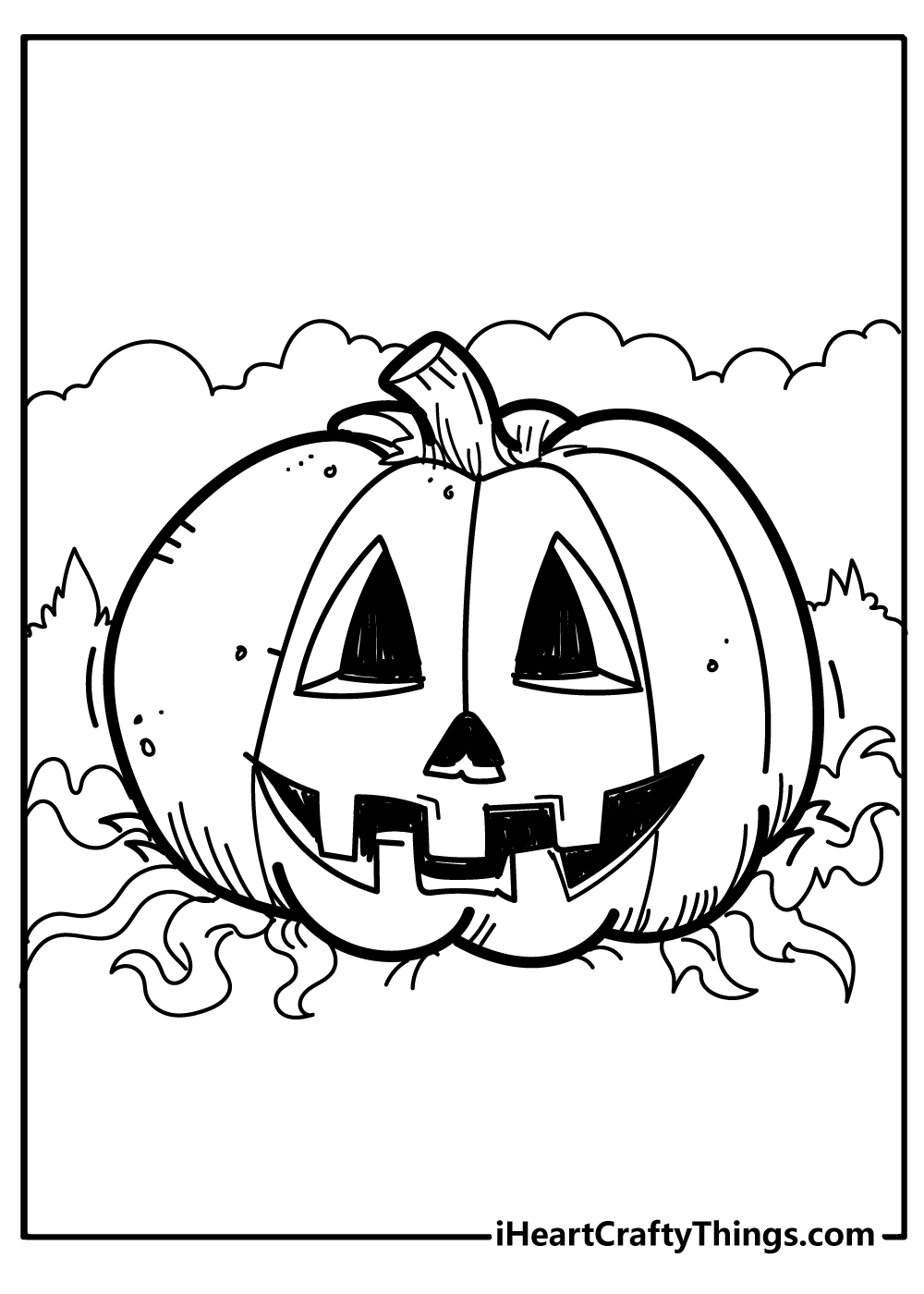 This beautiful pumpkin coloring sheet is a fun way to teach your kids about the fruits and vegetables harvested in the fall.
And speaking of that, pumpkins are technically fruits because they grow from seeds!
This pumpkin has an intricate, stylized design, and you can use it to teach your child about the parts of a pumpkin, such as the shell, leaf, and stem.
For this coloring sheet, you can use the classic colors, orange for the shell and green for the leaf.
You can then share some fun facts about pumpkins, such as that they grow in patches and that the average pumpkin produces about 500 seeds.
And did you know that the word "pumpkin" comes from a Greek word that means "large melon"?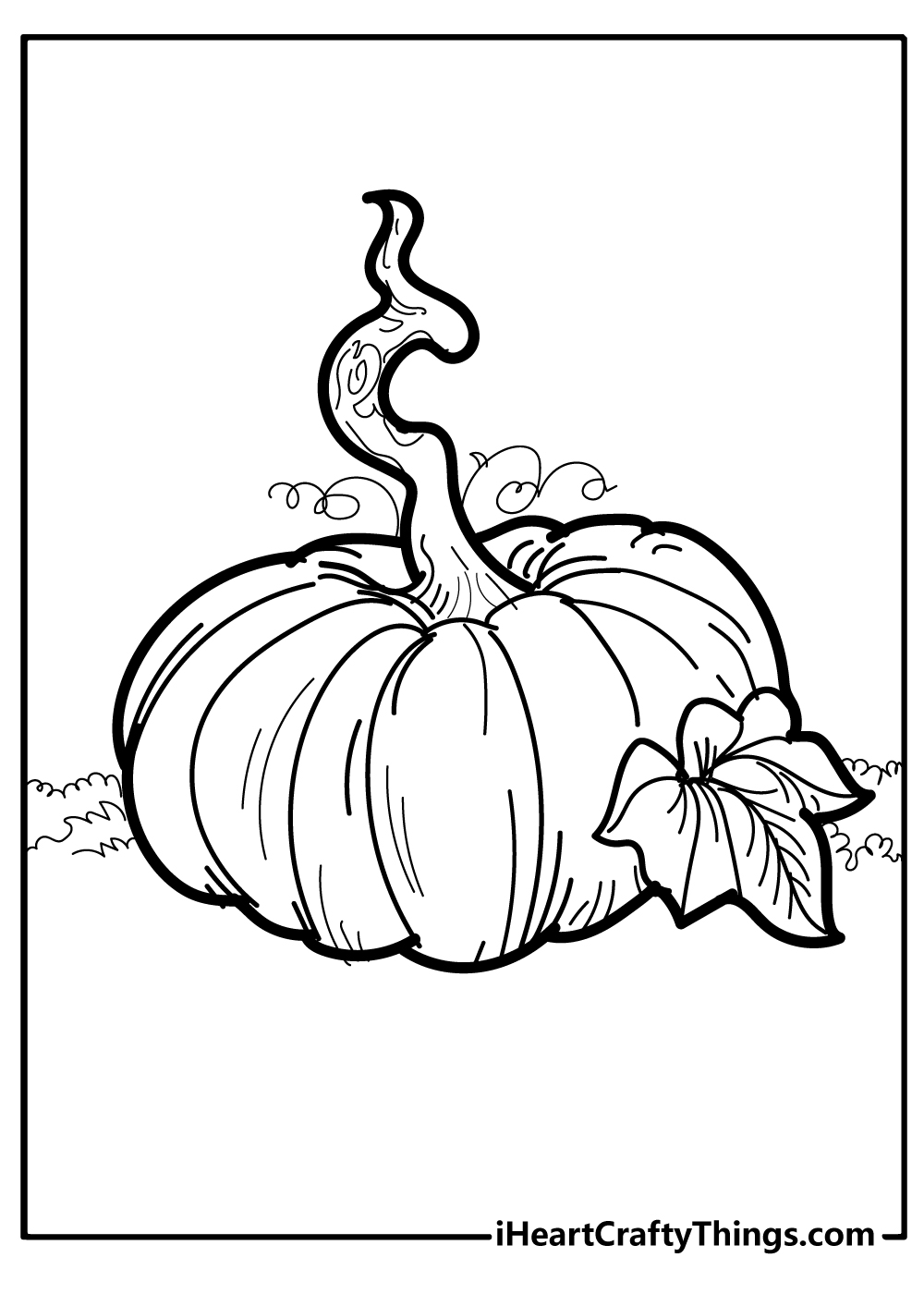 This pumpkin coloring page looks as if it was taken from a charming fall landscape. Surrounded by grass and leaves, it reminds us of a warm fall day when all you want to do is play outside until dusk.
Then, what better way to end the day than to snuggle in your favorite blanket, have a cup of hot chocolate, and do some coloring?
It's the perfect family time activity, and it's educational as well because your child can learn about the fruits and veggies that grow in the fall.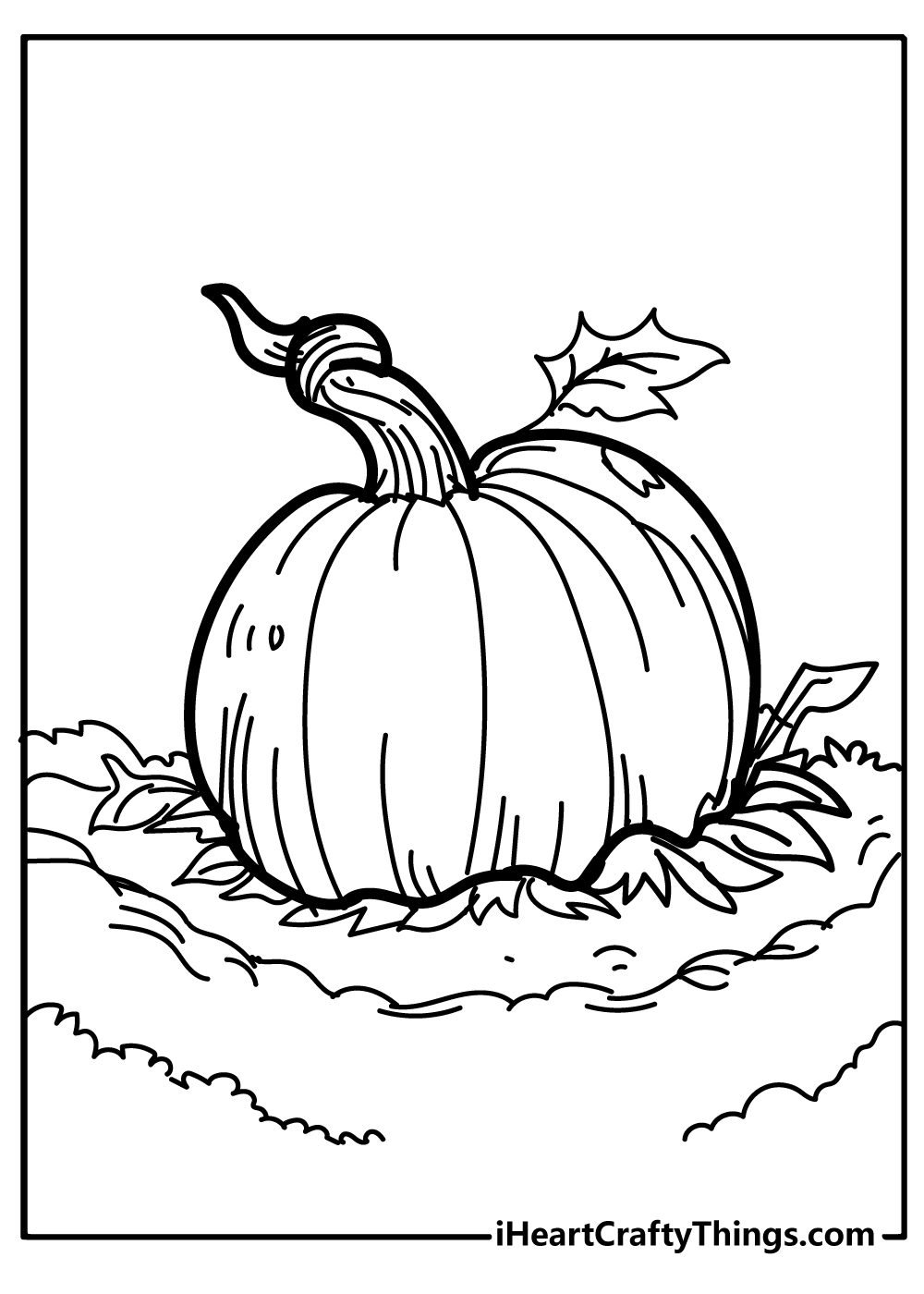 What's better than having a walk through a pumpkin patch?
Bringing your puppy along, of course! In this coloring page, we have three pumpkins, but the star is definitely the adorable puppy that's poking his head from behind them.
Look how happy he looks! He probably wants to play hide and seek with the kids! Whether your family has a puppy or not, this pumpkin printable will definitely be a joy to color!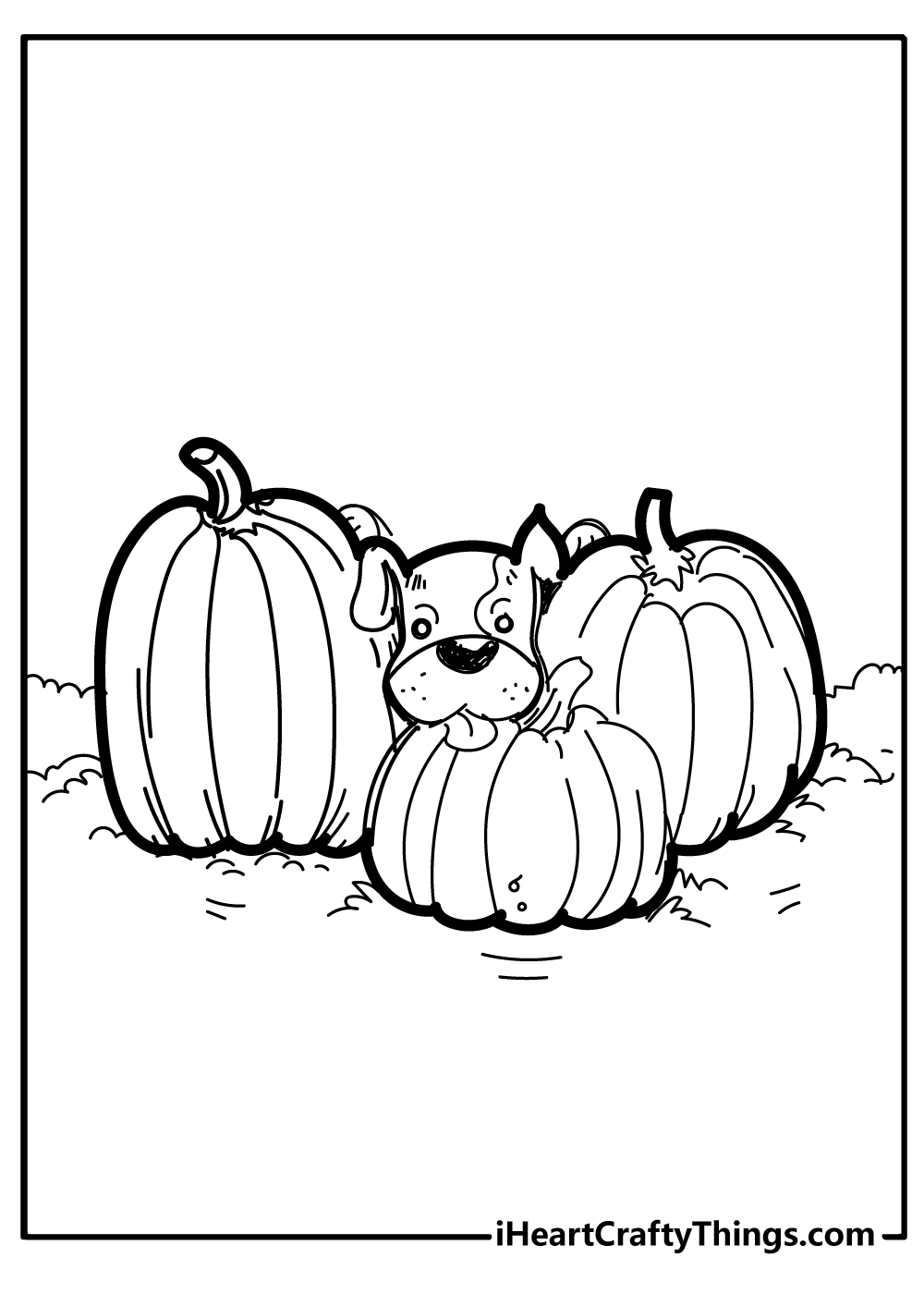 Ending our collection of pumpkin coloring pages, we have another carved pumpkin that has a huge smile on his face.
And so do we, because we love Halloween, and we love fall with all its charming colors!
We hope you enjoyed coloring these pumpkin printables as much as we did selecting them, and remember to come back soon for more!