On this page, you will find 54 all new Rainbow coloring pages that are completely free to print and download.
You've probably been lucky enough to look up into the sky on a rainy day and see the beautiful colors of the rainbow.
These beautiful reflections of light are known for their multi-colored design, making them the perfect subject for coloring pages that you can turn into beautiful works of art. There are even different kinds of rainbows.
Some people believe that rainbows have a special meaning or use them as an important symbol.
Seeing their beautiful colors is sure to brighten up anyone's day, and coloring rainbow coloring pages is a great way to relieve stress.
The beauty of rainbows has made them one of our readers' favorite things to color. This has created a demand for free rainbow coloring pages for you to enjoy.
So without further ado, here are all new rainbow coloring pages that you can download and print for free. Enjoy the intricacies of these coloring sheets and have fun making your masterpiece.
Rainbow Coloring Pages – All-New Printable Sheets
A rainbow is always a happy sight, and the one on this rainbow coloring sheet is especially happy as it is joined by a bright shining sun.
This page should be an extra bright and vibrant happy scene once you have finished coloring it! We would try to use the brightest mediums and colors if we were coloring this one.
We especially think that colored pens and markers would be perfect, as they are some of the most vibrant mediums you can hope to use.
What colors and mediums do you think you will use?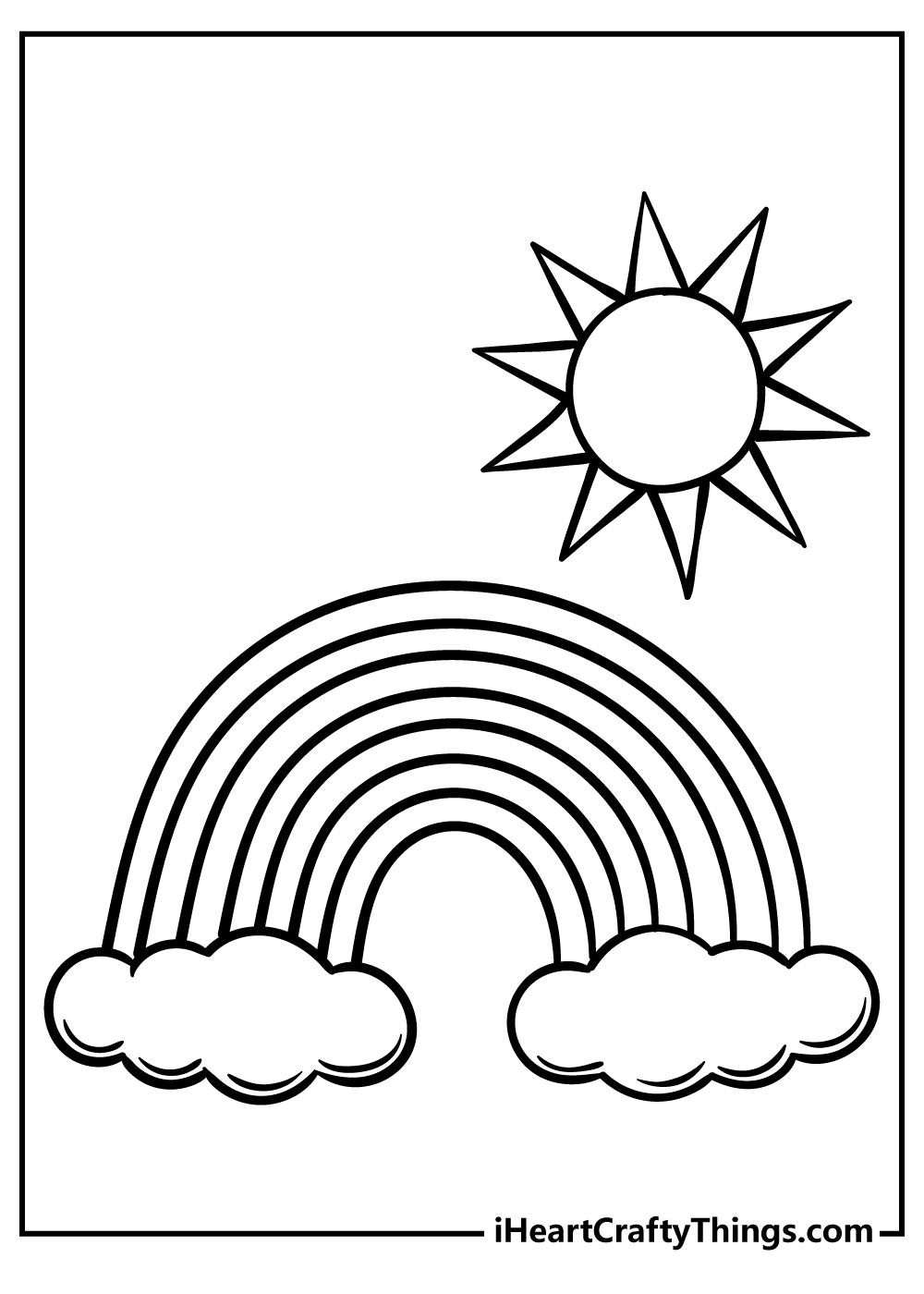 A wizard of rainbows stars on this rainbows with friends coloring page! He looks like a character who has seen some amazing things, and now you get to bring him to life with color.
I think some bright and vibrant colors would be brilliant for this wizard, but what do you think would best suit him?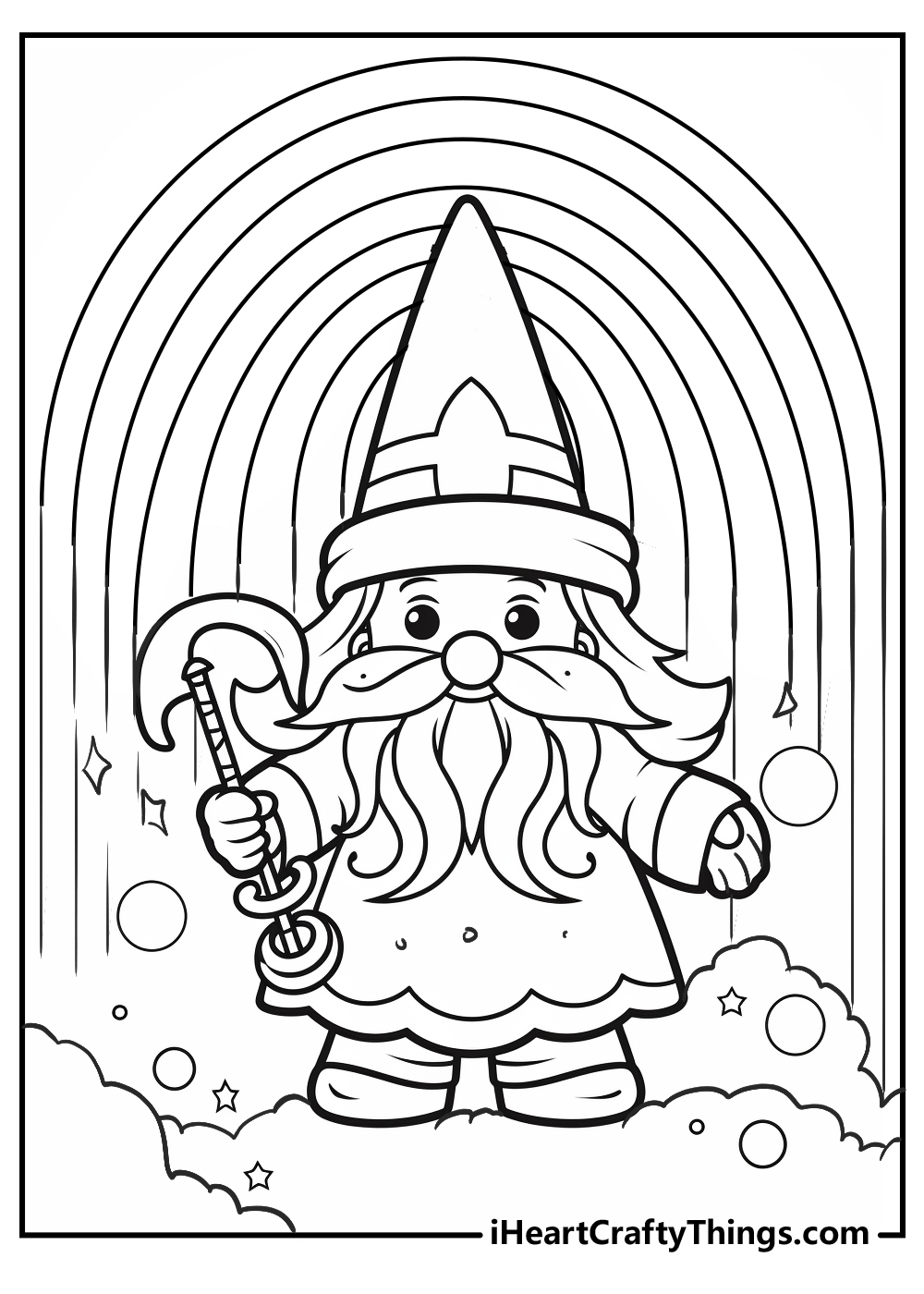 We have a simple yet pretty rainbow design for you to color in for this next page. Just because the design is a bit simpler doesn't mean that you can't get really creative with it!
Rainbows in real life usually show off a specific set of colors, and while you could definitely use these classic colors, you should also feel free to use any colors you like.
You could also create a lovely scene by drawing a background to finish this one off in style. What are some ideas for a background scene that you could create for this one?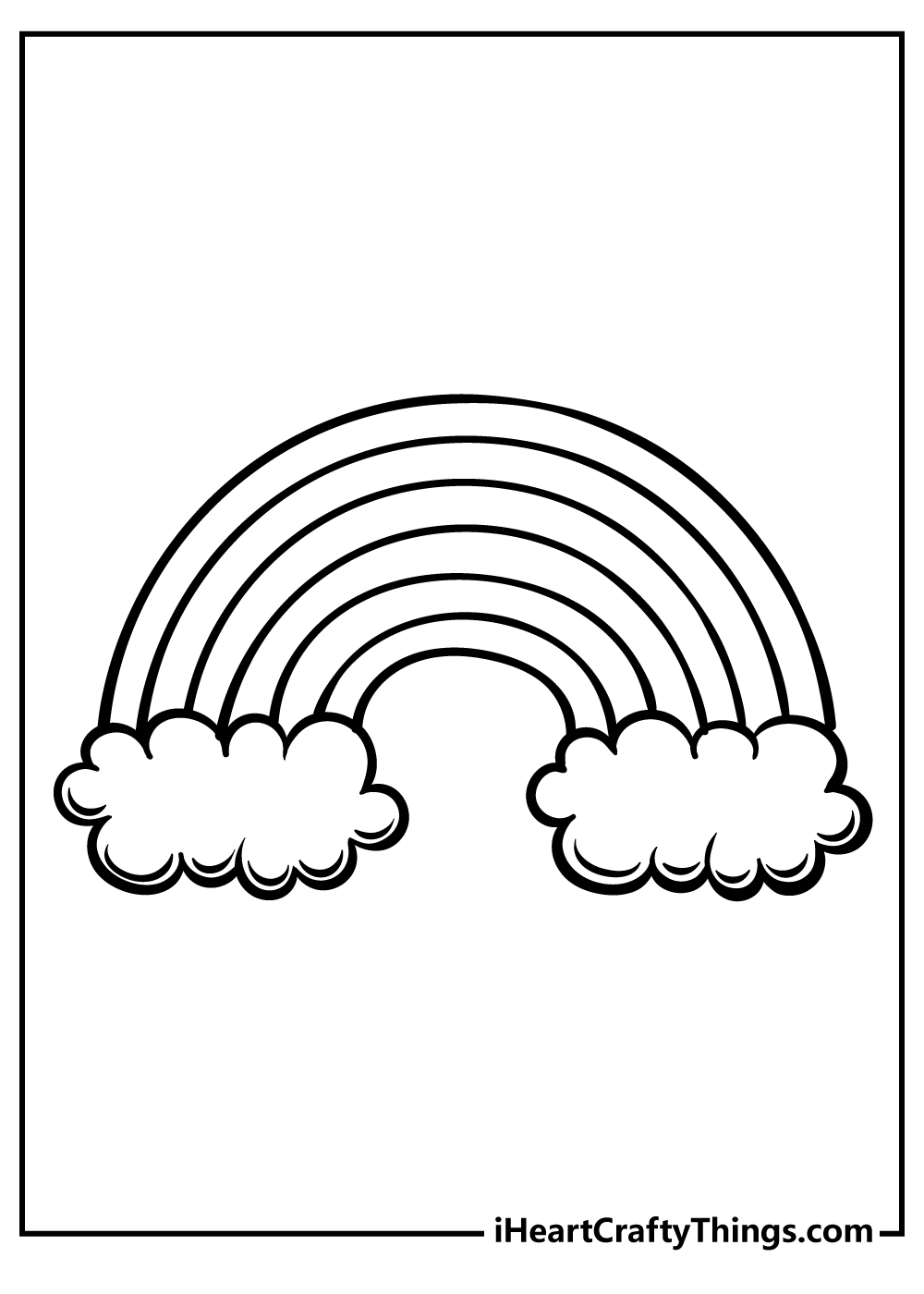 This rainbow coloring page shows a rainbow shining high up in the clouds. Stars dance around and one of the clouds smiles up at the pretty colors.
Did you know there is a special acronym for remembering the colors of the rainbow? Roy G. Biv stands for red, orange, yellow, green, blue, indigo, and violet.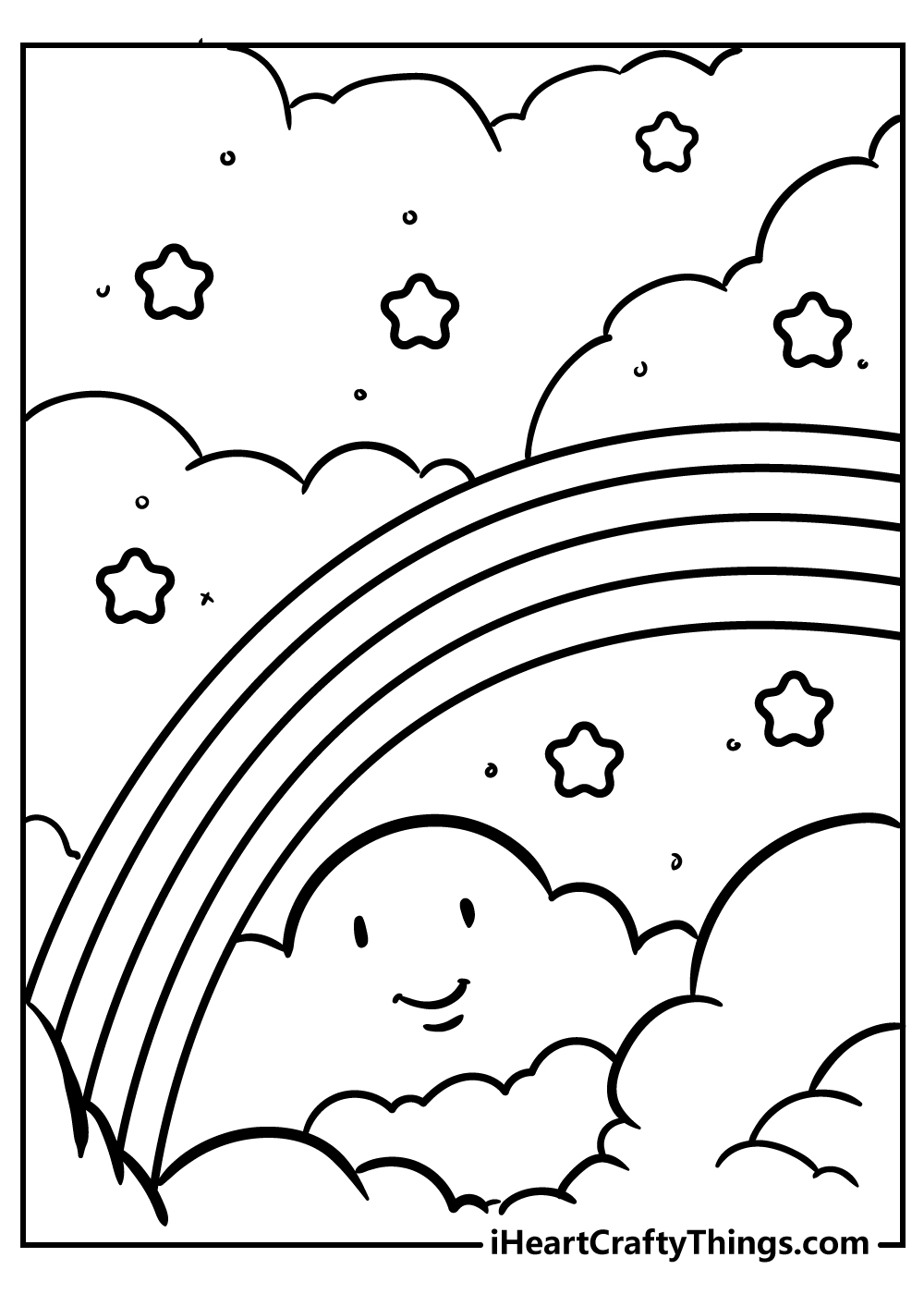 Rainbows appear to have a beginning and end, like the one in this printable sheet. This one looks like it is coming out of two clouds.
However, rainbows are actually full circles. They look like an arch from where we are standing on the ground because we can't see the full rainbow over the horizon.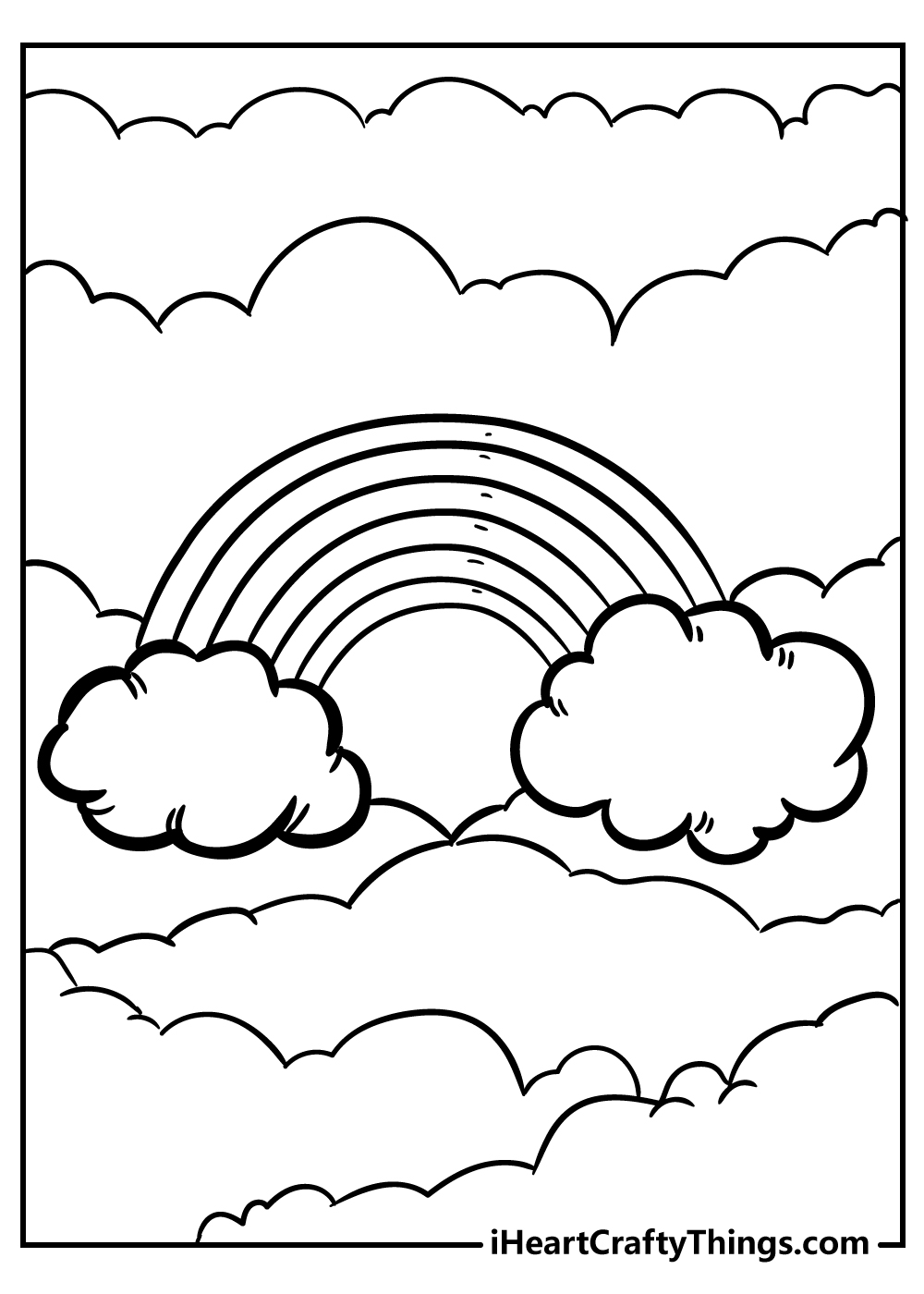 There is music in the air for this next page. Rainbows are often associated with serenity and happiness, so we can only image that the song being played here must be a calm and happy one.
Do you have a favorite song that makes you happy every time you hear it? If you do, you could write the words of that song around the image here to make it even more personalized.
That would be one way to add some of yourself to this picture, but what else can you think of to take this picture to the next level?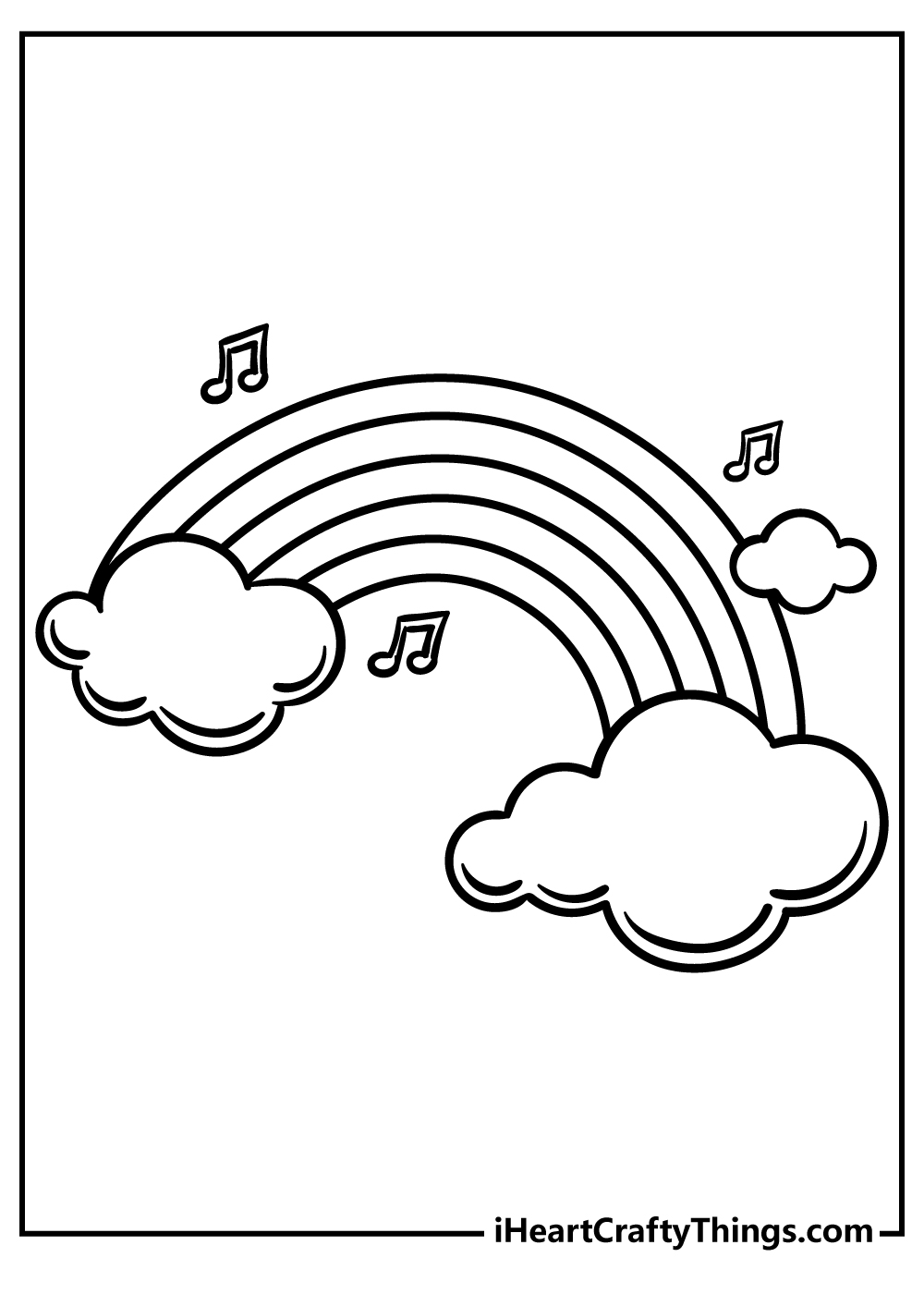 There is a real feeling of love in this next page of our collection of free rainbow coloring pages for kids.
This rainbow is surrounded by some floating hearts, and this helps to give the page a lovely romantic feeling.
The hearts also give you lots of fun little details to color in, and we would use colors such as warm reds pinks and purples for these hearts.
You could even add some crafts such as stickers to the design to make it even more vibrant and fun to look at! What other fun ideas do you have for this love-filled page?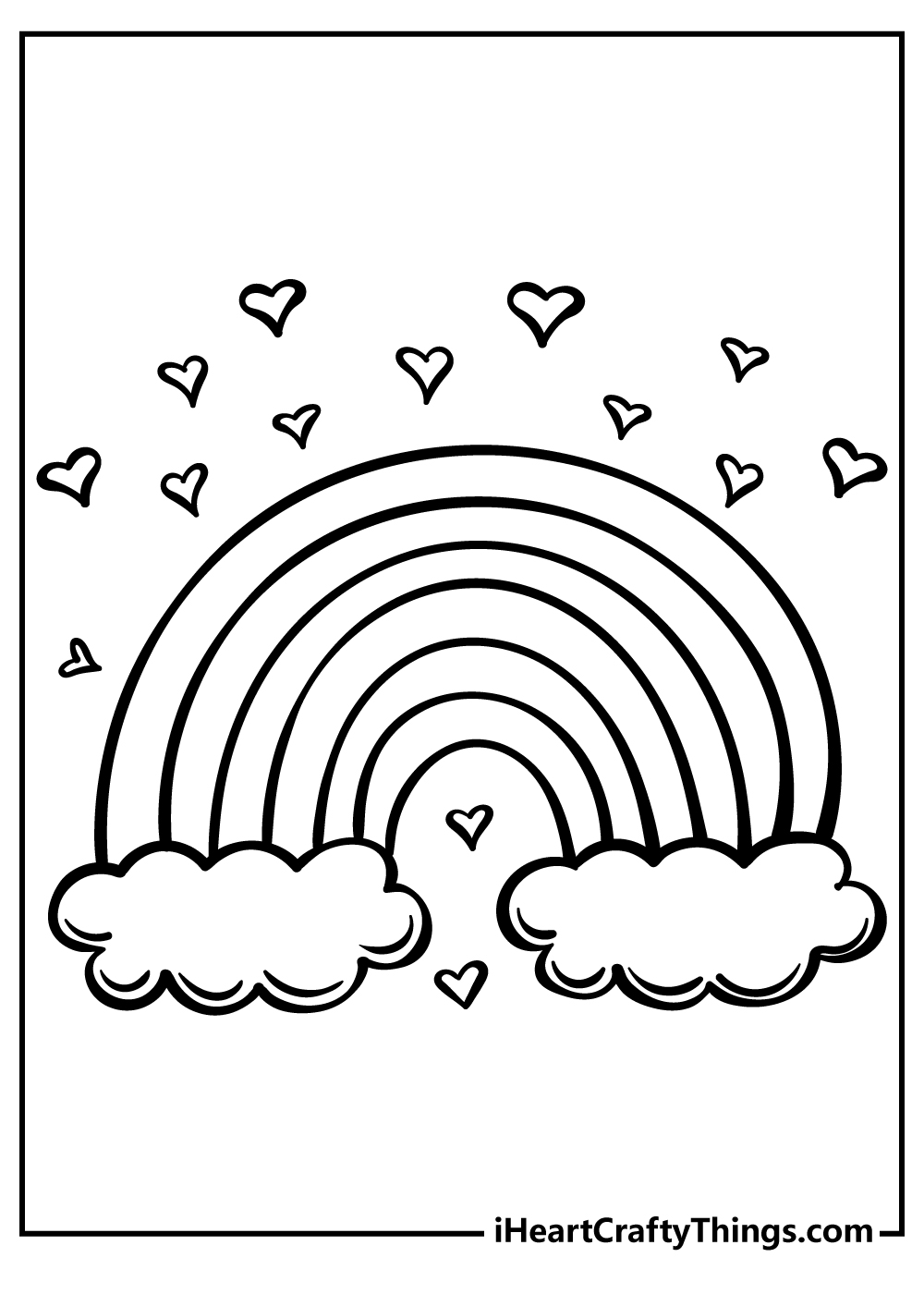 You can't have a rainbow without water. Most people see rainbows from water droplets after it rains, but mist and spray from a river can also cause rainbows.
This coloring sheets shows a rainbow above a rushing river flowing in the clouds.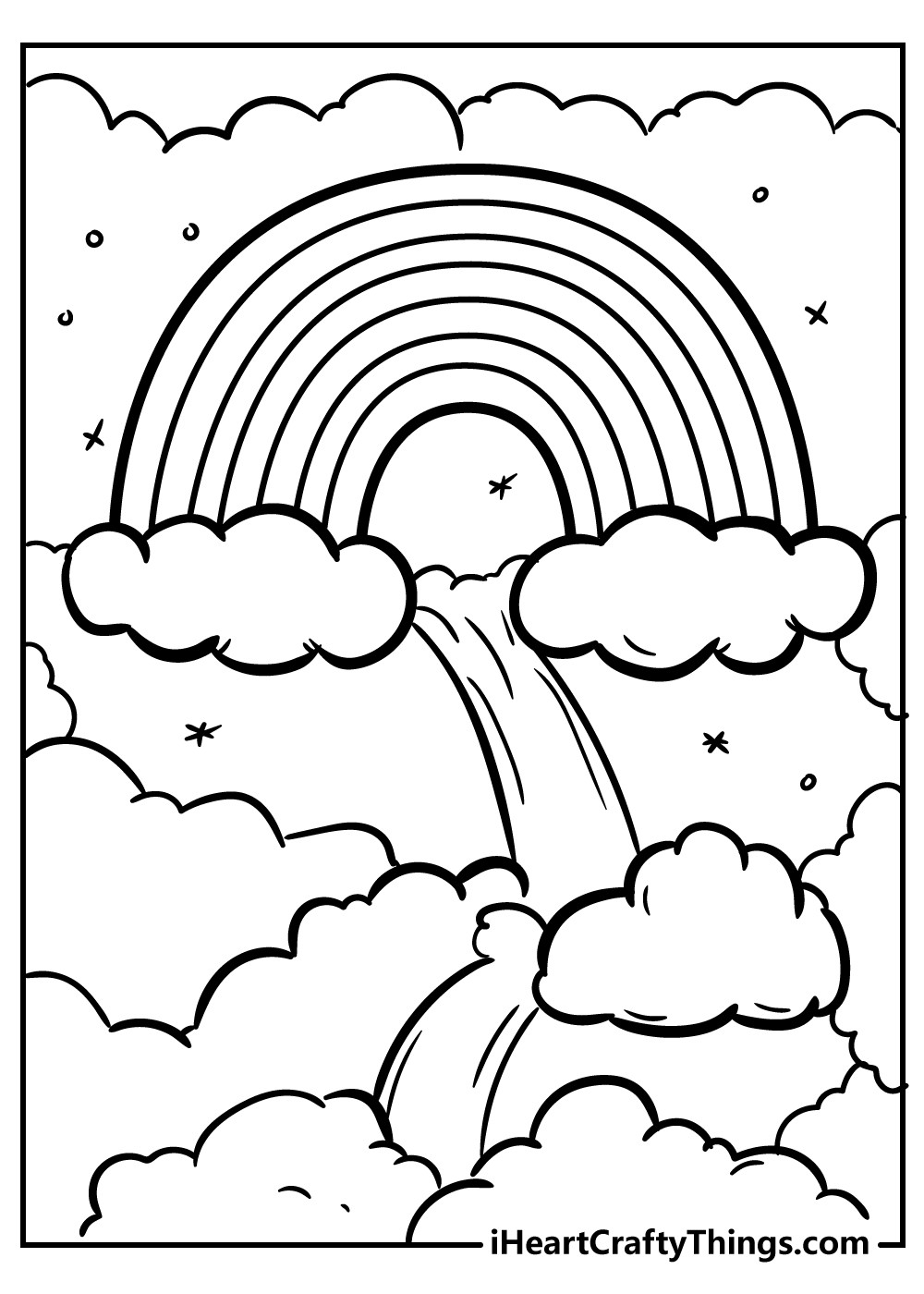 This magical castle is surrounded by a rainbow, and it makes for a really awe-inspiring image! It looks like something right out of a fairytale, and you could add some additional details to suggest a story.
What sorts of stories do you think happen around this magical rainbow castle? I'm sure you can think of some amazing ideas!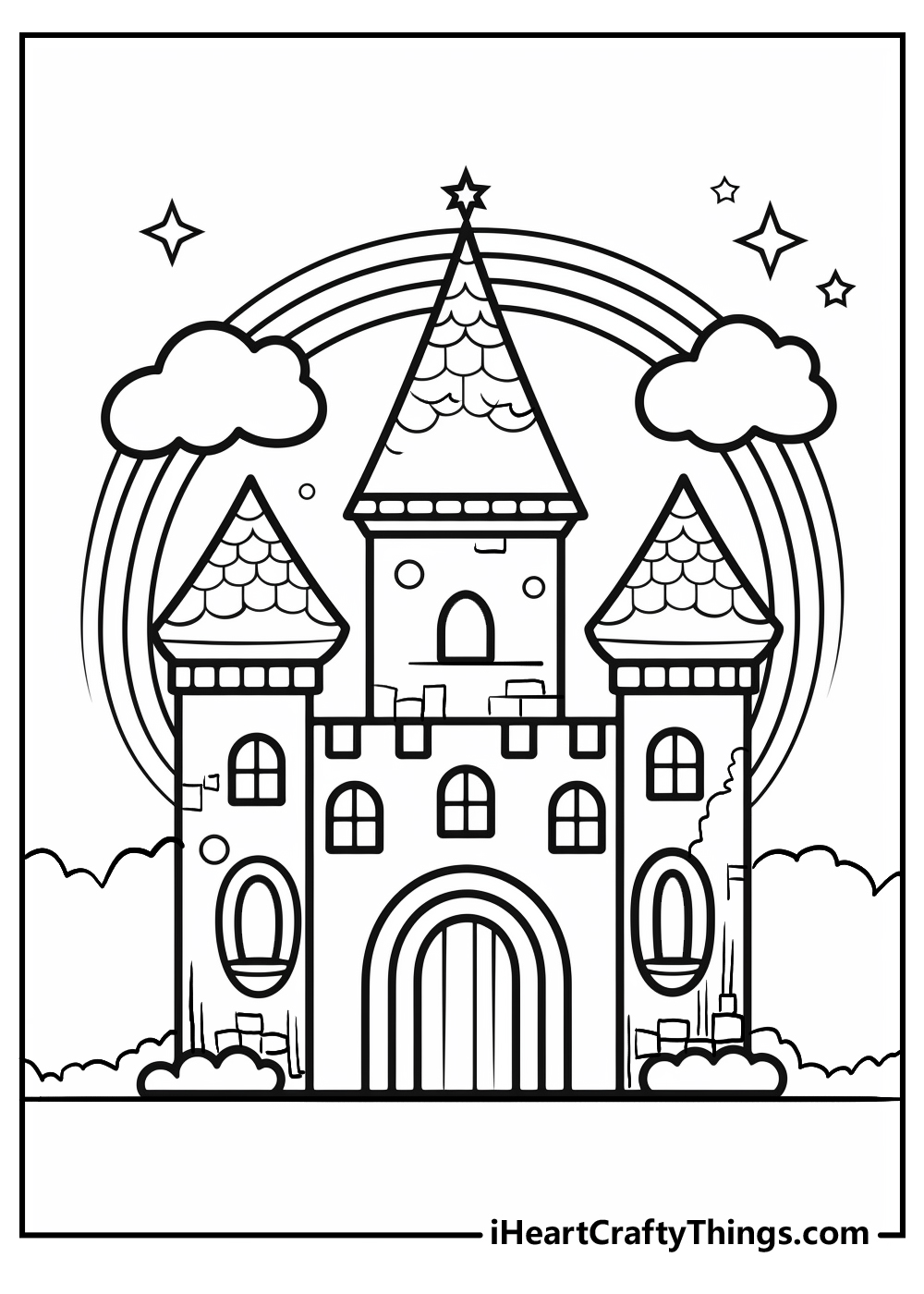 This rainbow coloring sheet for kids has a truly breathtaking scene for you to color! The kid in the picture looks like he's on a grand adventure highlighted by the rainbow in the background.
Some bright and happy colors would really make this picture a delight to look at, so let your creativity flow!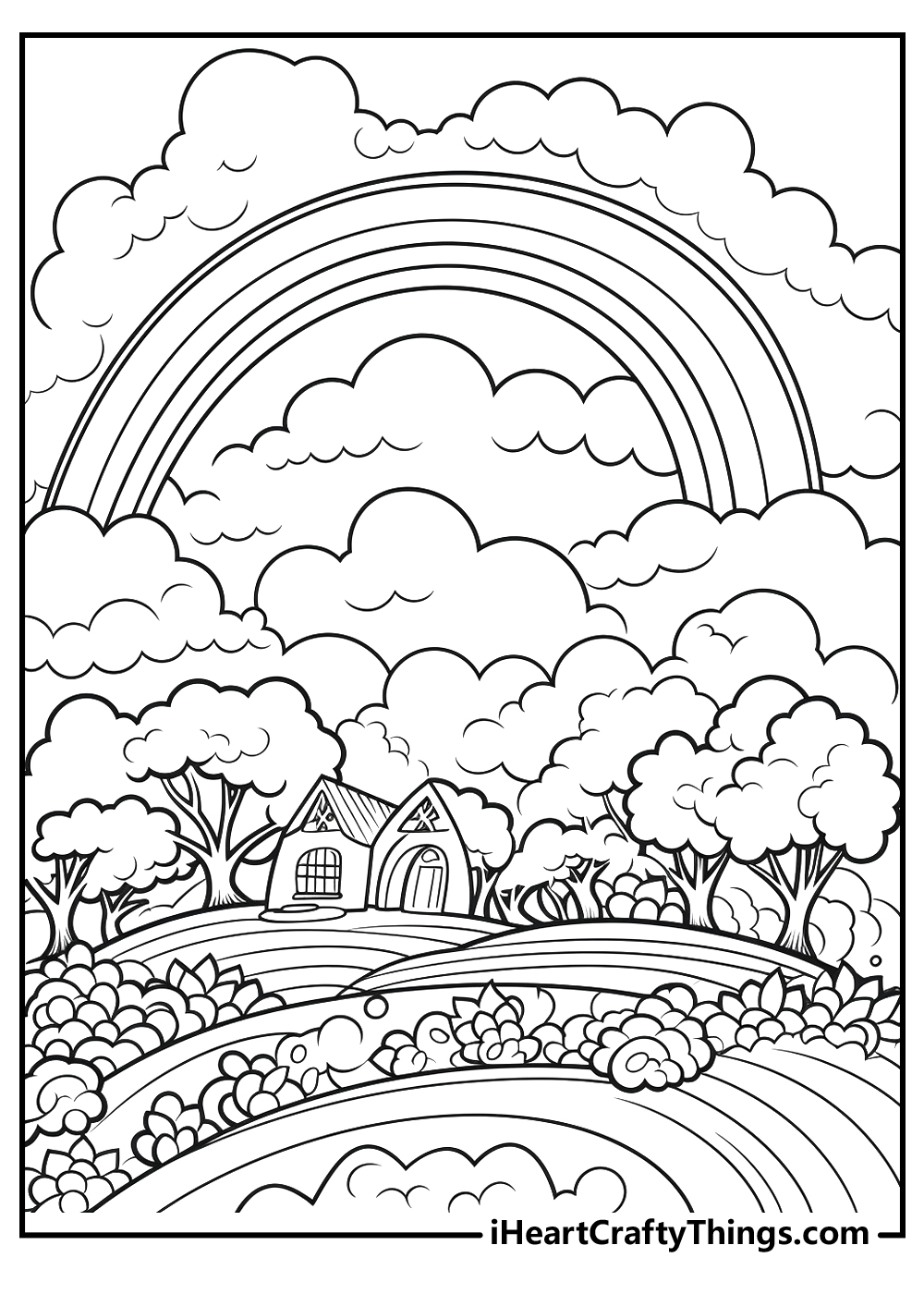 We love this rainbow coloring page of a heart ready for you to fill it in with all kinds of colors.
Stars twinkle in the background in front of a bunch of fluffy clouds.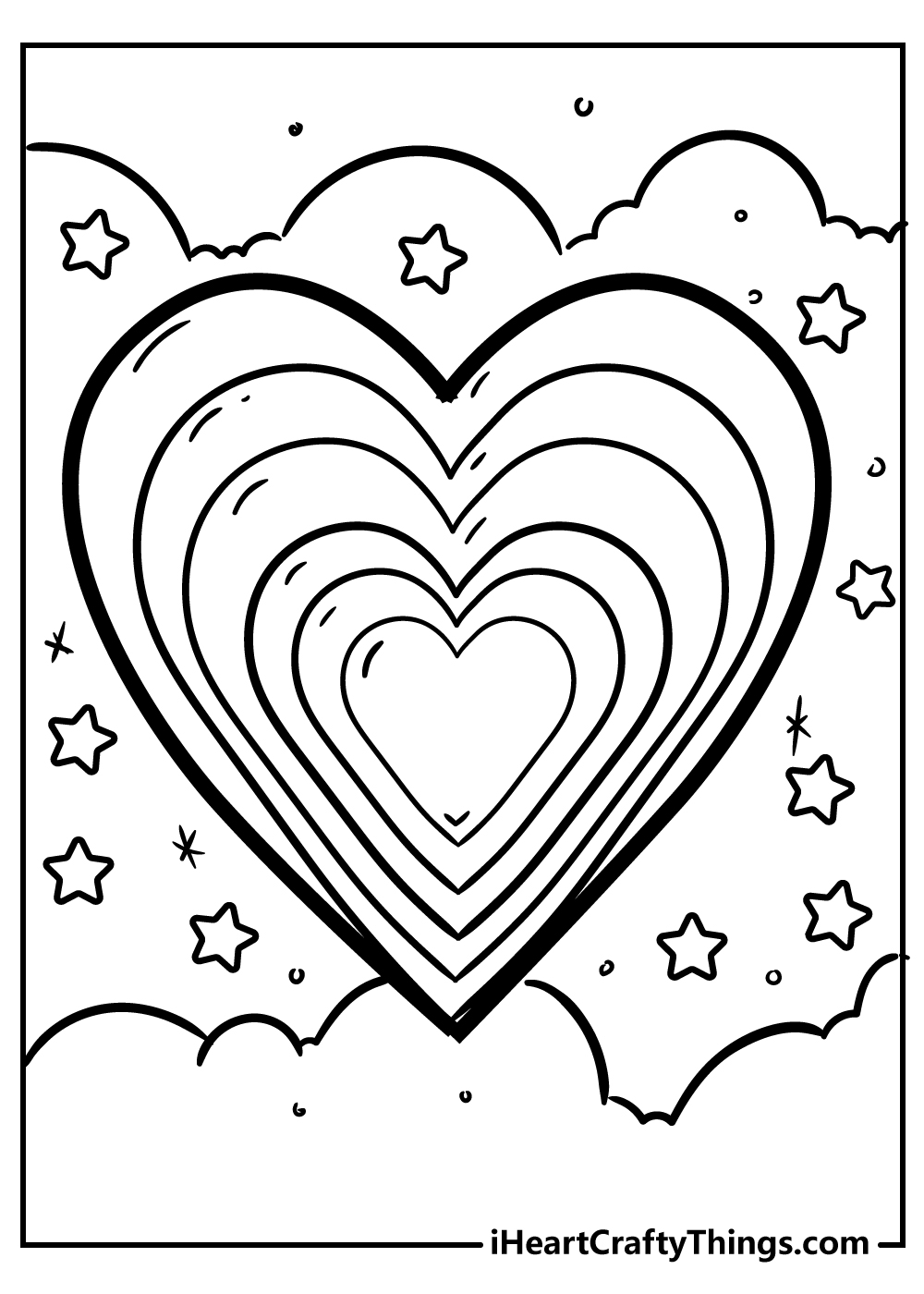 Another scene filled with love and sunshine is here for you to color in this next image.
Once again, you could use all kinds of amazing bright colors for the rainbow, but then there is plenty to color as well!
You could color the sun with some colors like oranges, yellows and reds, and then you can color the pretty hearts.
Some of the details on this page are quite small, so you could use mediums such as colored pens and pencils in order to have more control over your coloring.
That's what we would suggest, but what will you decide to use?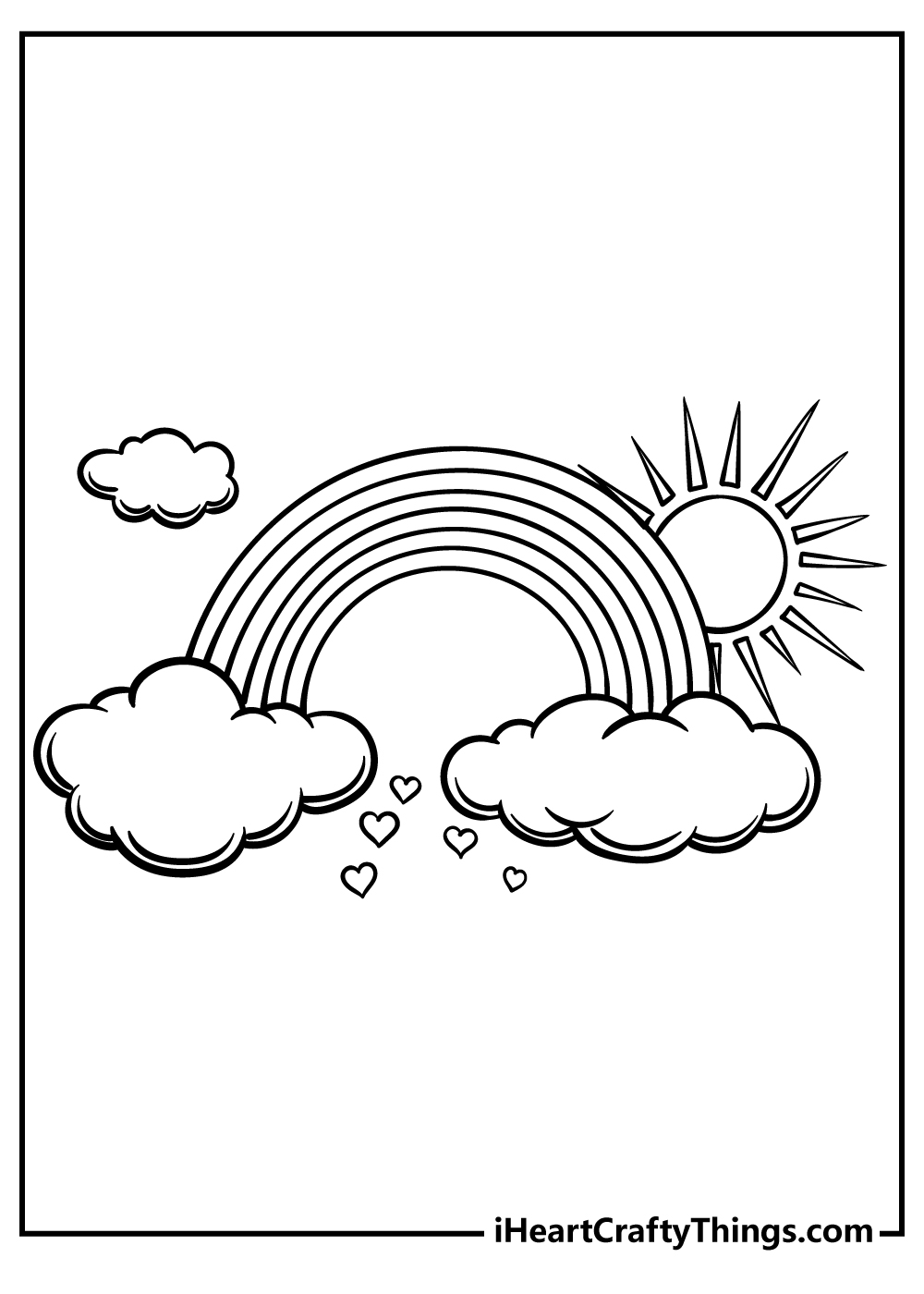 Next, you have another perfect opportunity to get out all of your favorite bright colors to create a truly wondrous and bright image.
Even though this sunny rainbow scene would look amazing with some brighter colors, you could also take a more subtle approach.
Using colored pens, markers, acrylic paints or similarly bright mediums would suit it really well, but there are softer mediums that would bring something to the image.
Some examples would be some colored pencils or watercolor paints, so don't be afraid to experiment with more alternative mediums!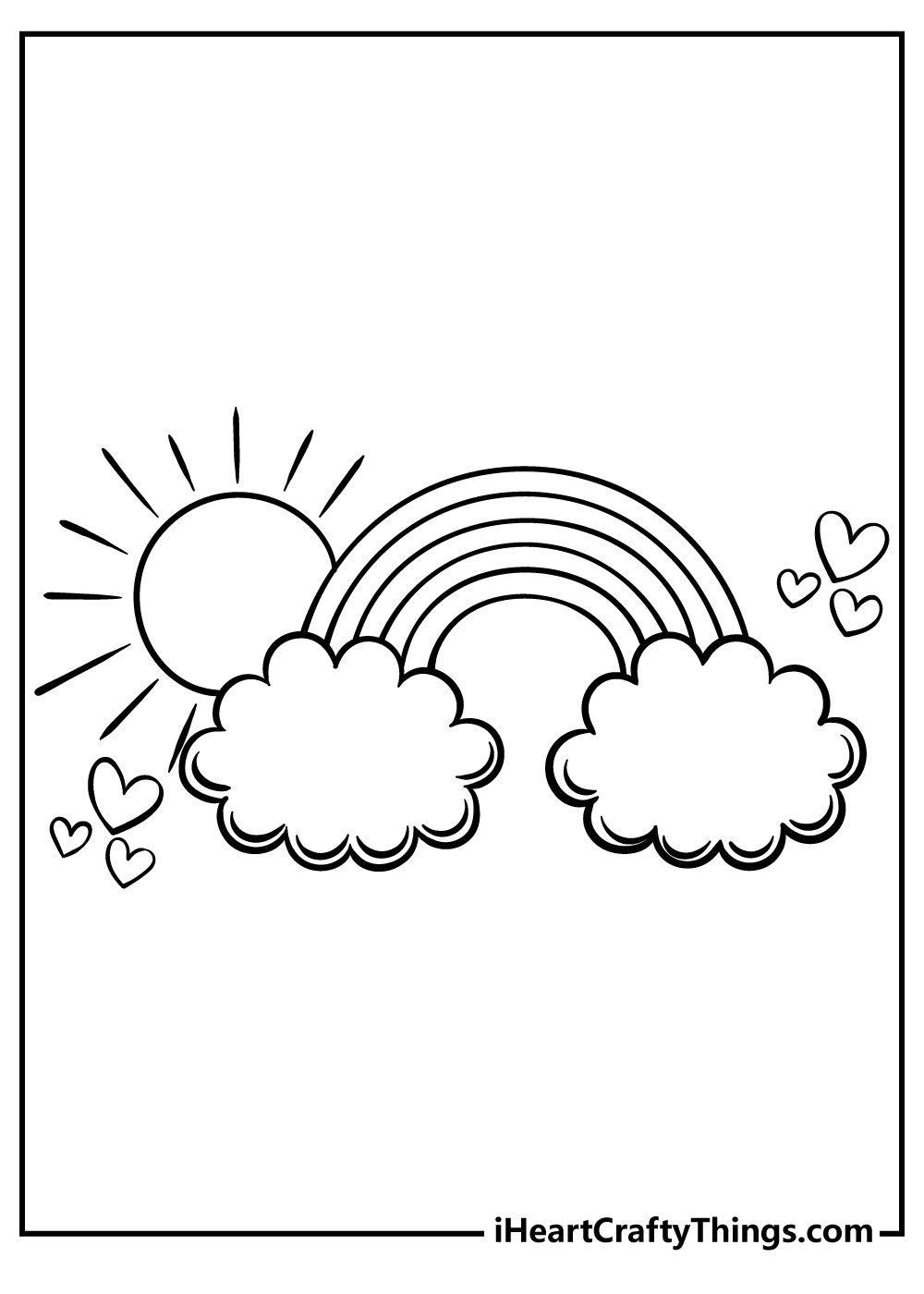 Who wouldn't want to visit the beautiful location on this next page? We have a lovely little cabin surrounded by puffy clouds and magnificent natural details.
For the clouds, you could try out something a bit more unusual. Instead of coloring them, you could stick some cotton wool over the clouds to make them look thick and puffy!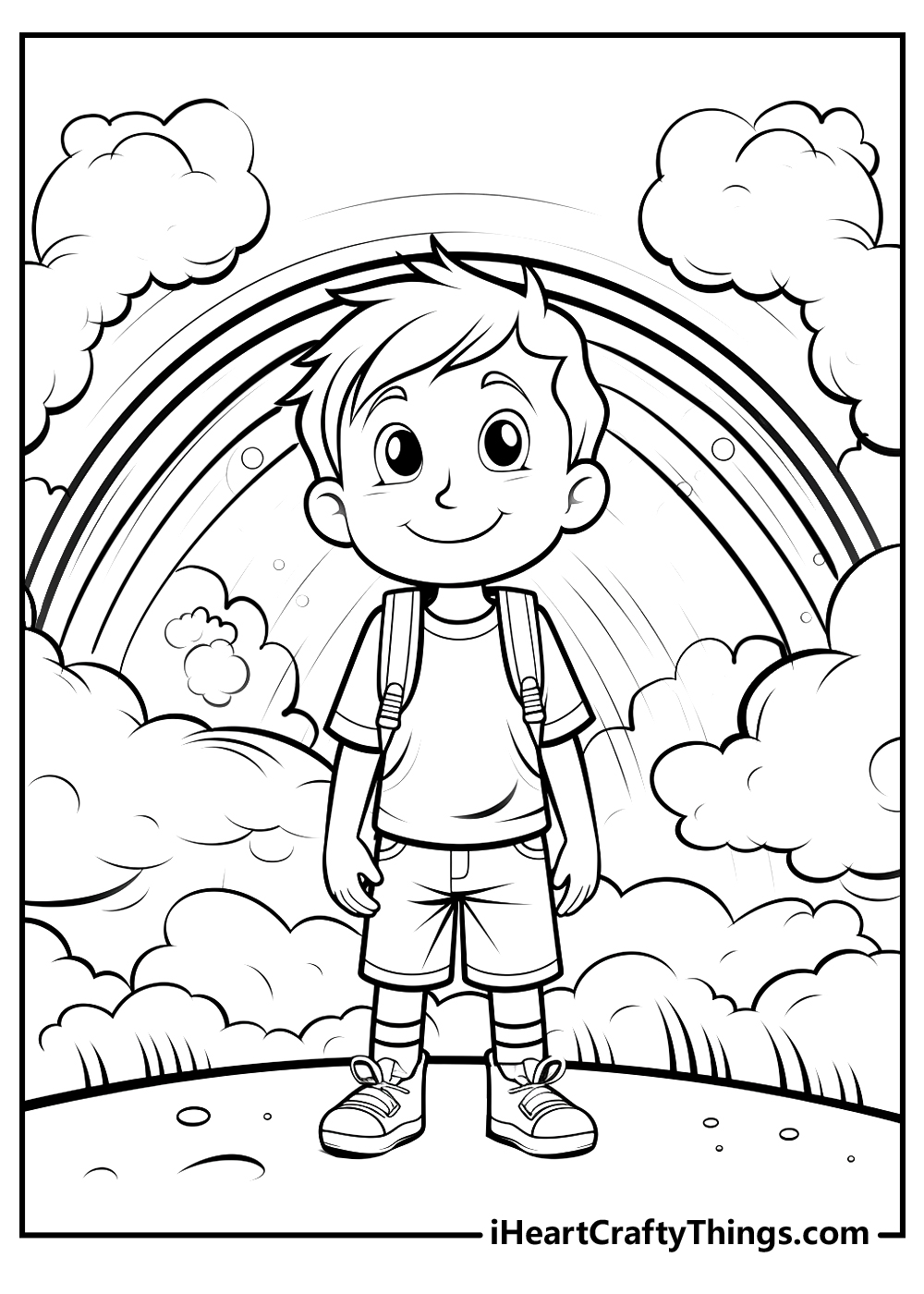 Coloring is such a fun activity, but it's even better when it is shared with friends and family. That is what is happening on this page, and it makes for a lovely scene!
Maybe you should ask someone in your life to have some fun coloring with you as you work through this beautiful collection.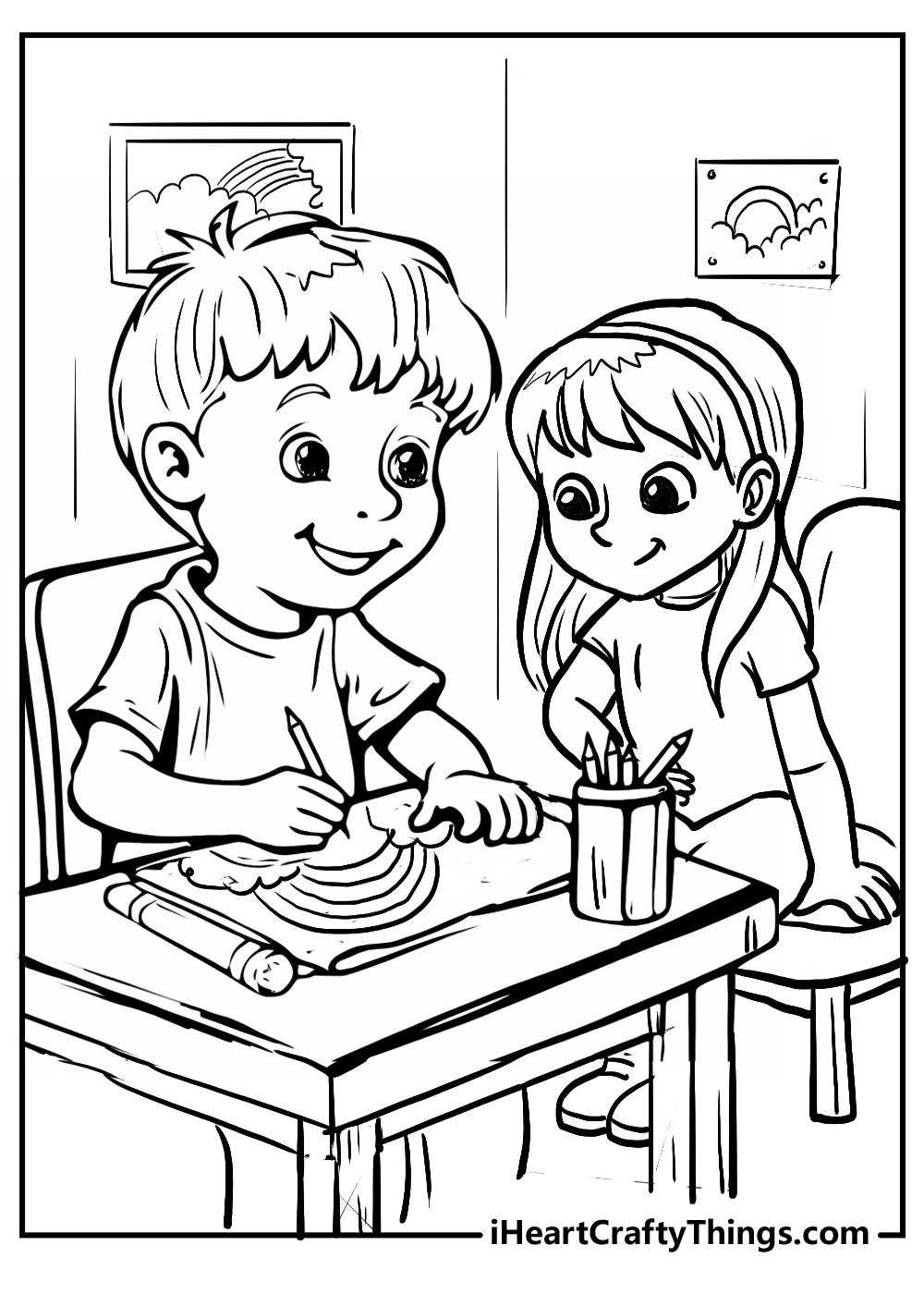 This is a very interesting coloring sheet. It shows a moon with a face above a beautiful rainbow.
Some people think they can see a face in the moon at night, but this is just an optical illusion. Rainbows are optical illusions too…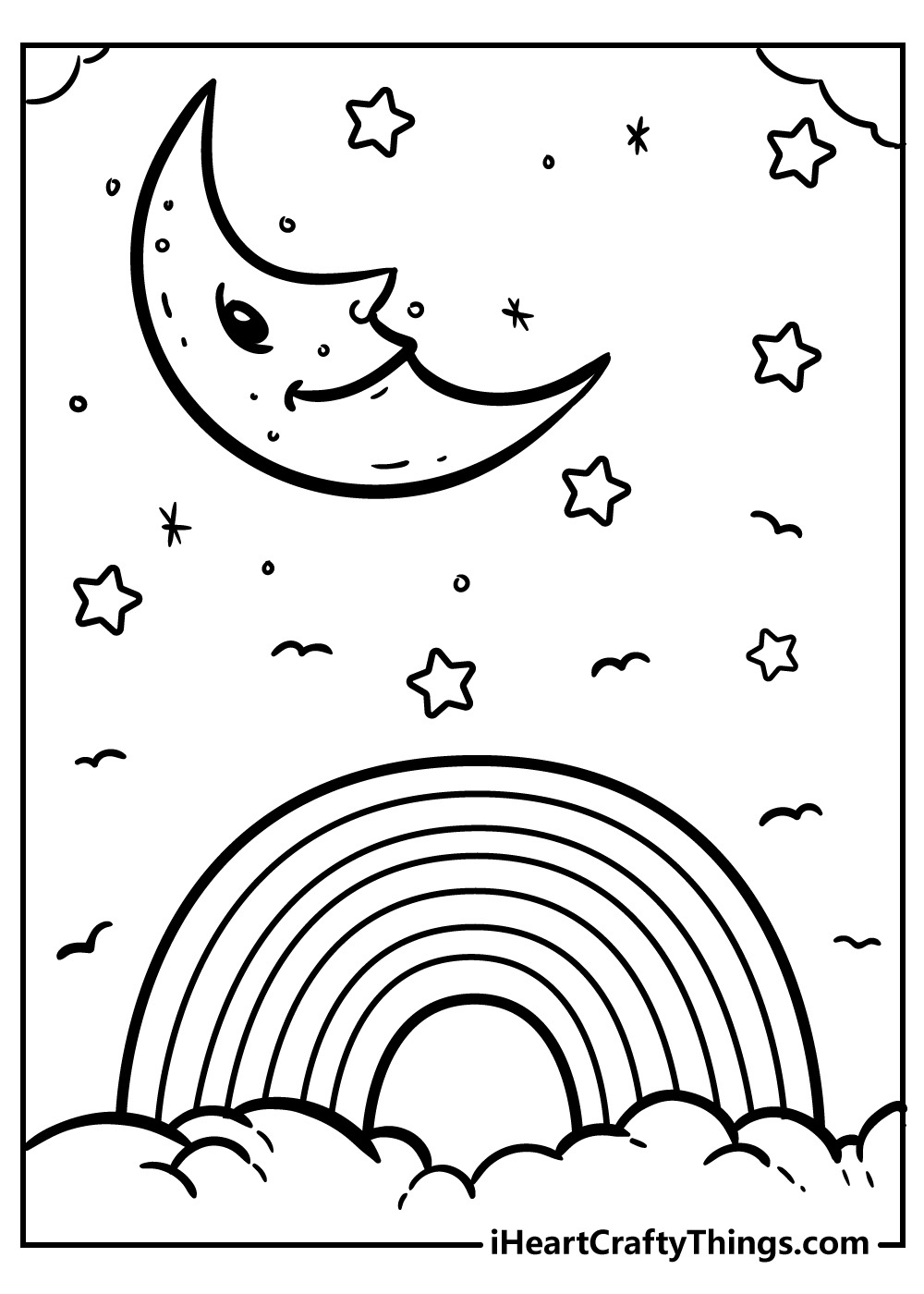 …and we couldn't have this optical illusion without the sun. The light from the sun bounces off of water droplets to create rainbows.
The sun in this rainbow coloring page for kids has a smile on its face. It must be very happy to make a rainbow over the mountains.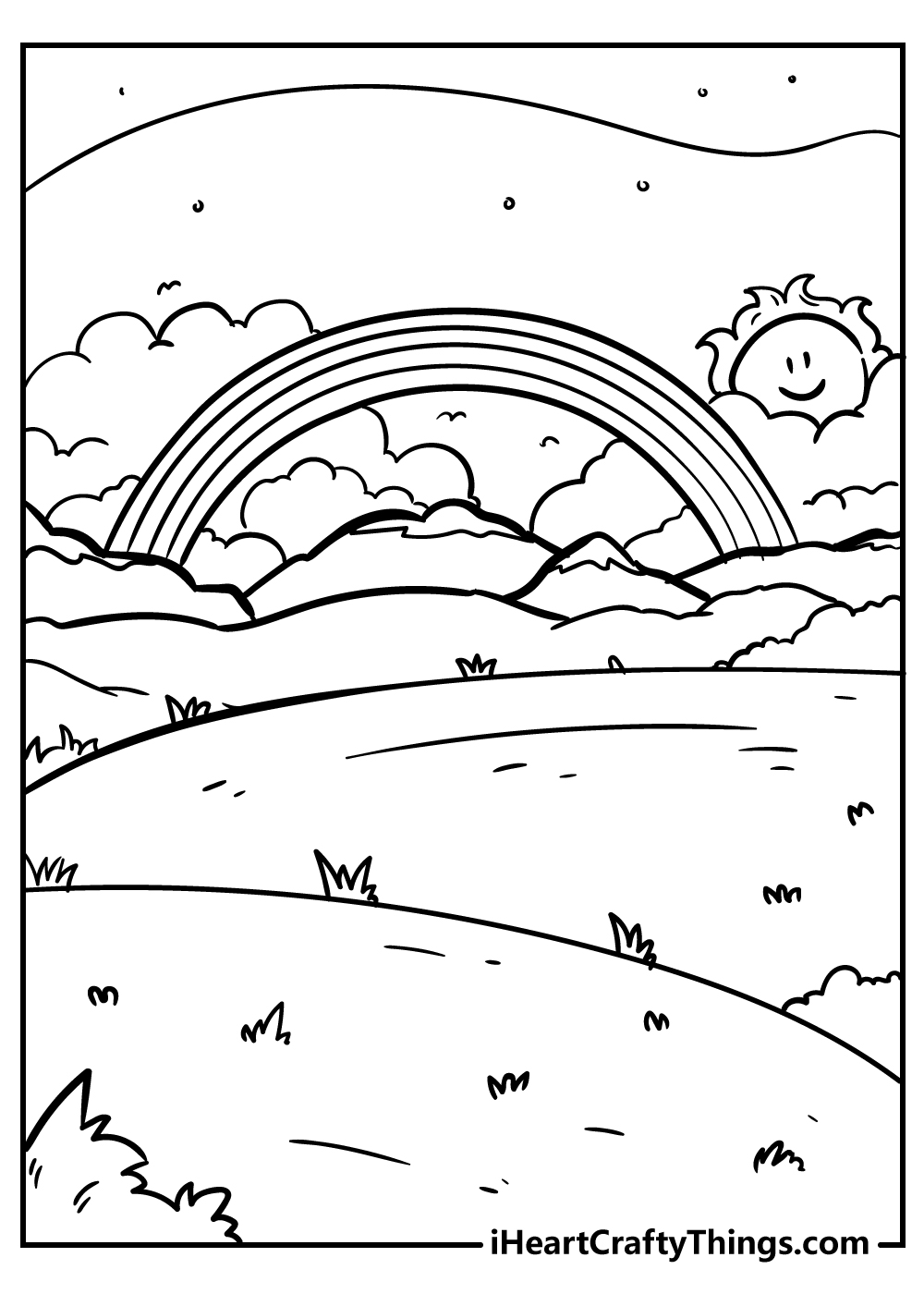 The sun that is featured on this rainbow coloring printable is so vibrant and detailed!
It is surrounded by lots of small, rounded shapes and lines, and that gives you a lot of room to get nice and creative with it.
Some of these details are also quite small and fiddly like many of the other pages we have featured, so we would again recommend mediums that give you precision.
There is also a lot of empty space left in the background here, and that gives you lots of room to add any extra details and elements to finish it off!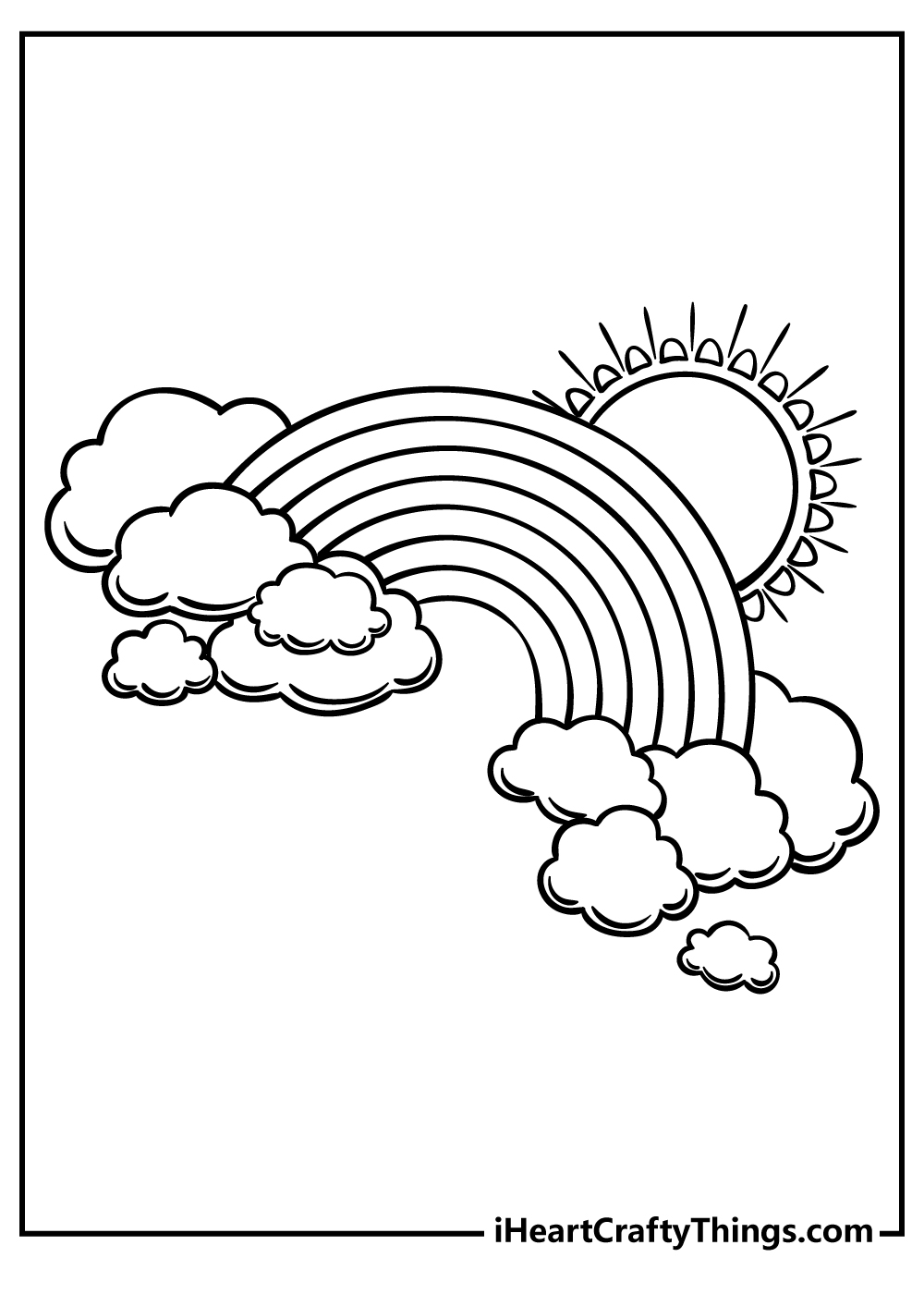 This next page features an incredible scene that is topped off with a beautiful rainbow! We see a peaceful path leading into nature, and there are details such as bushes and trees to color.
For such a peaceful image, we would use some softer colors and mediums if we were coloring this one.
Examples would again be some watercolors or colored pencils, as these softer mediums help to create a peaceful feeling to the image.
We think that a softer look would be perfect, but do you think a brighter approach would be even better?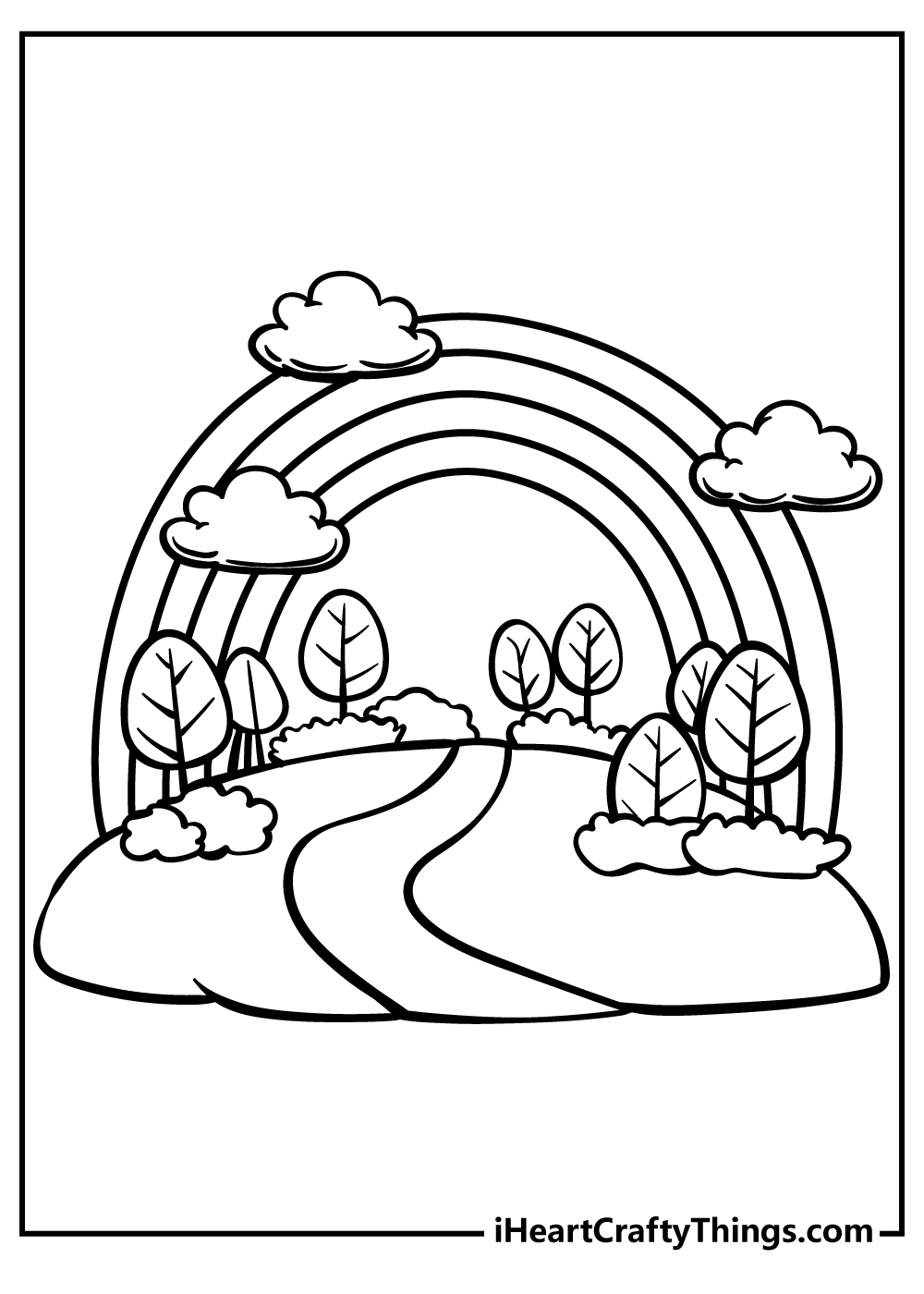 The two boys on this next page are creating something amazing! They have painted a rainbow on the wall, and it looks really incredible.
If I were coloring this page, I would use some paint for the painting on the wall to make it look as it would if this were painted on the wall in real life!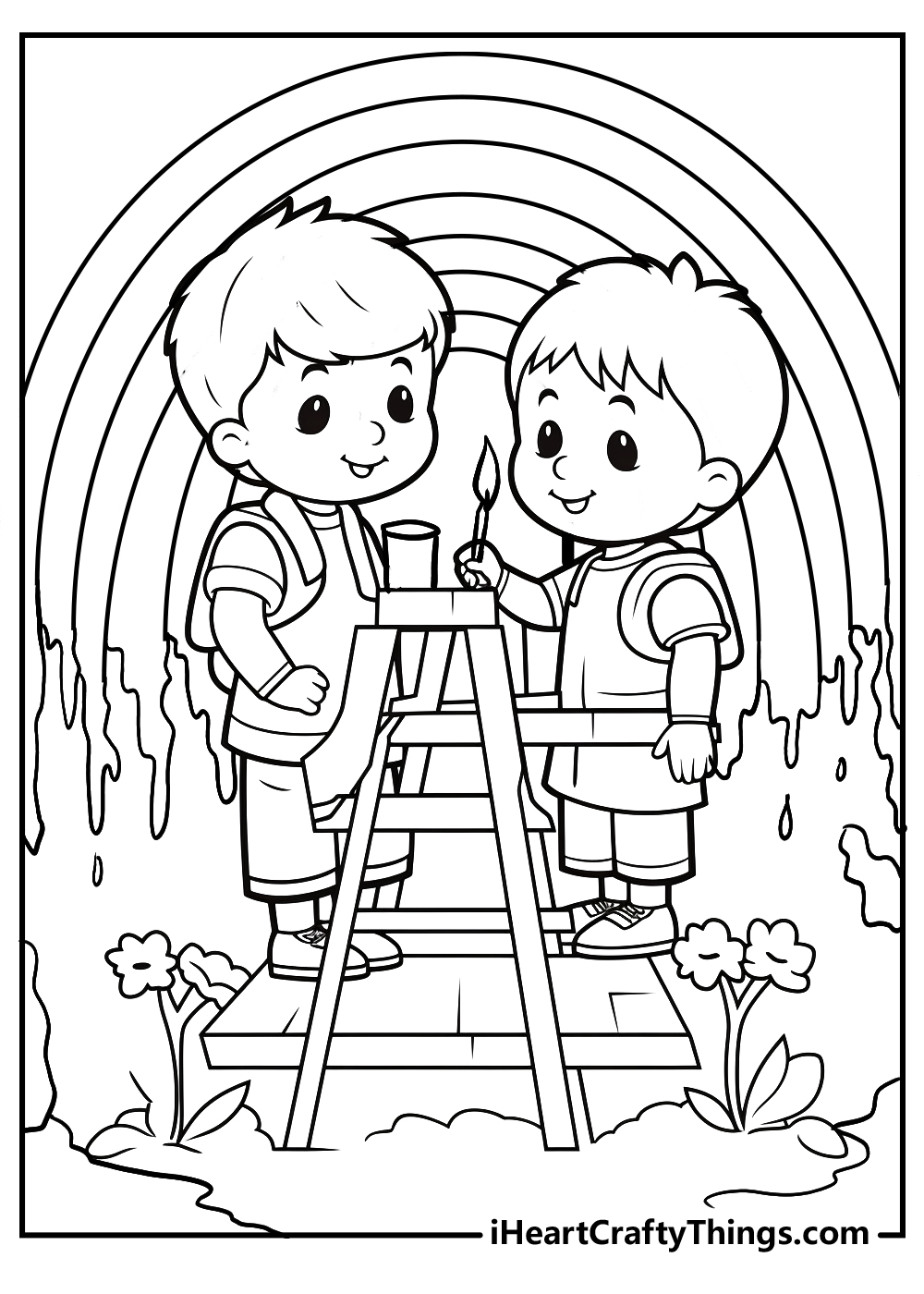 There are so many amazing details to color on this next rainbow printable, it could be hard to know where to start! You can really take your time with a page such as this.
Remember it's not a race (unless you're having a race with someone to color this page, then it is.) Take your time, and most of all have fun!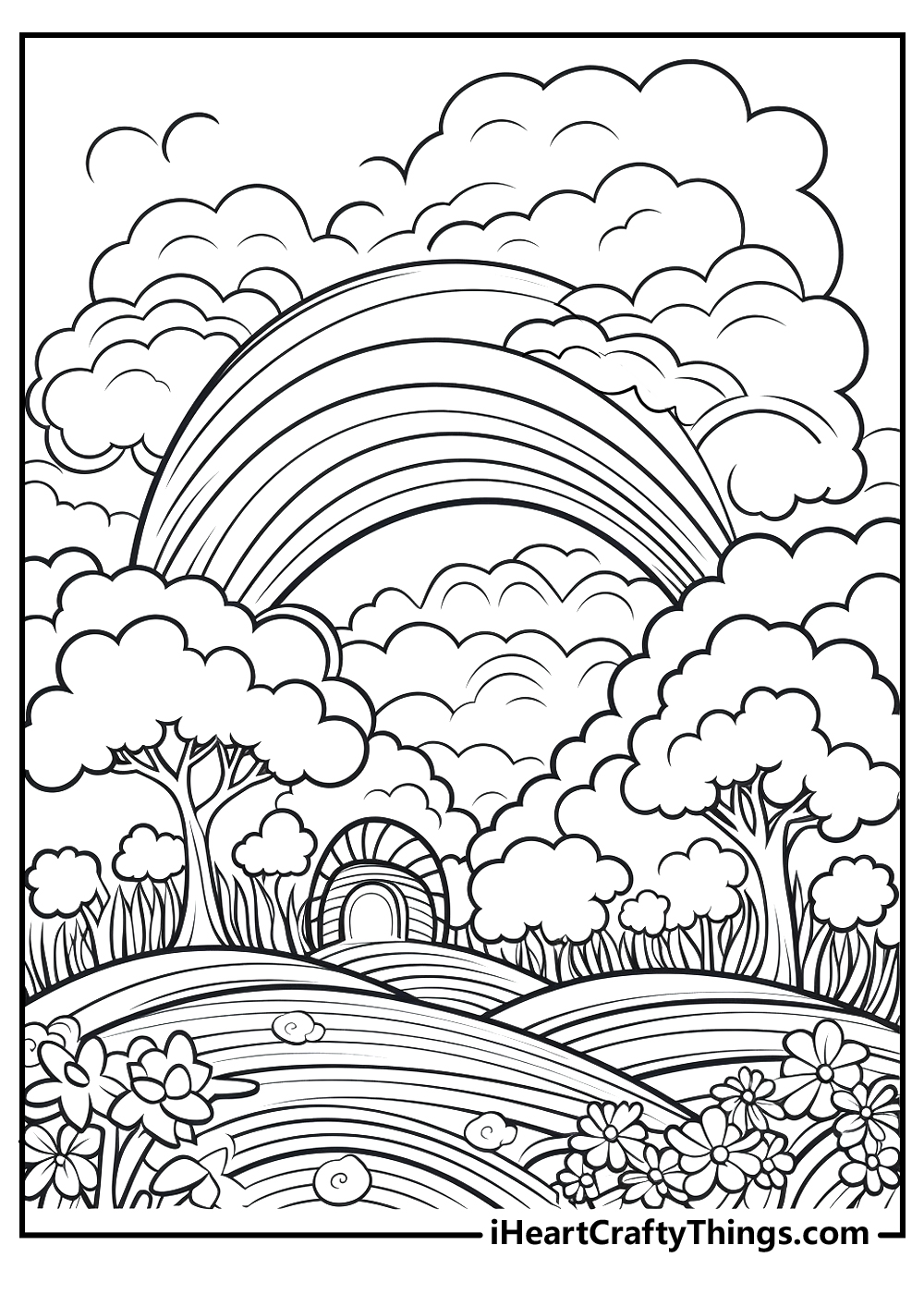 This rainbow coloring page shows two smiling little clouds in the sky.
A rainbow shines between them and it looks like little streams of diamonds are below one of the clouds. Stars sparkle in the background.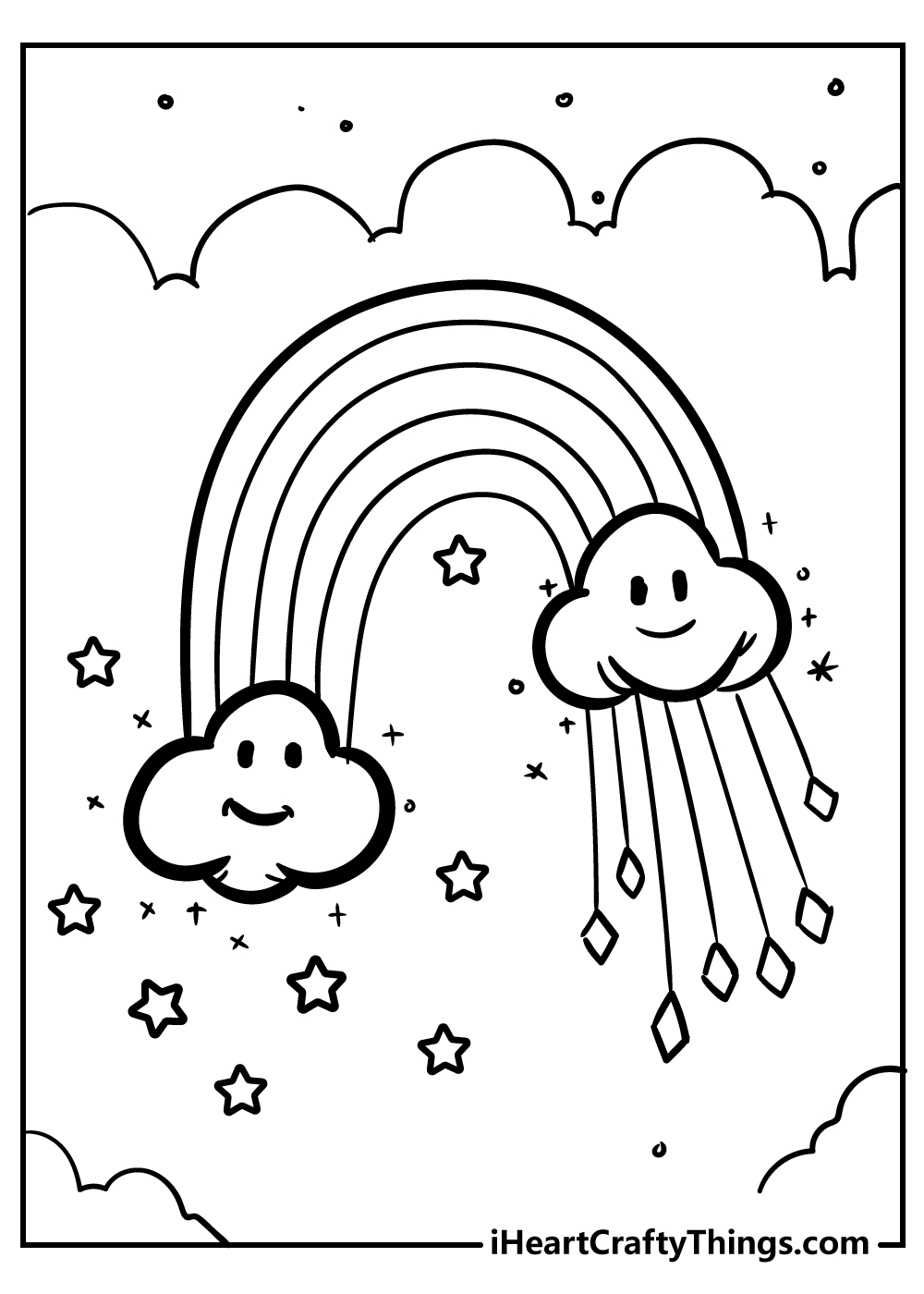 This next rainbows with friends coloring sheet is quite breathtaking, as it is filled with detail and imagination! With so many details, you may not know where to start.
I think you should let your creativity take over and see what happens, that's the best way to go about it if you ask me. Where will you start coloring on this page?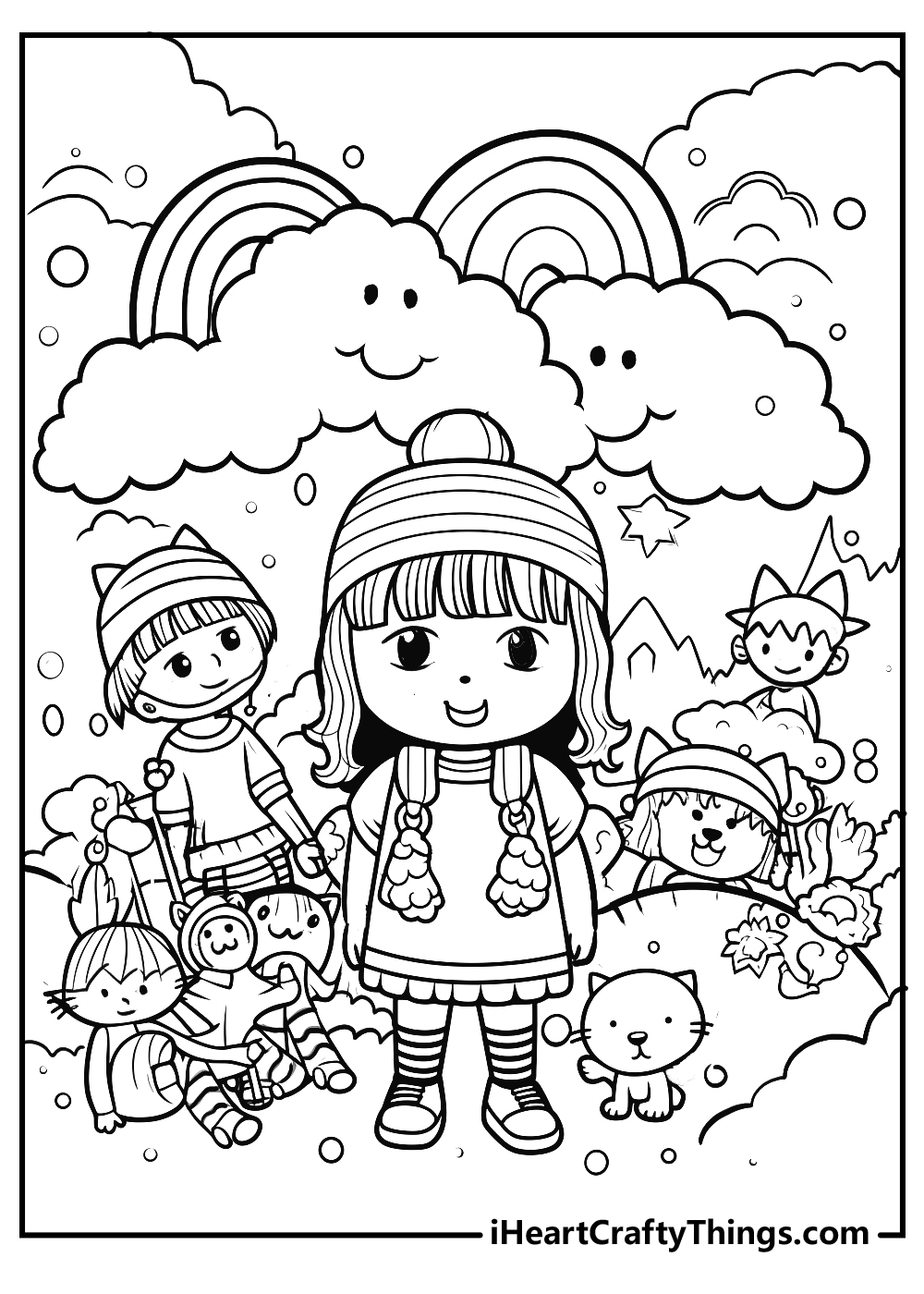 A  huge shining sun smiles underneath a rainbow between two clouds in this coloring page. It looks like a beautiful day.
There is a grassy field with wildflowers growing and a bunch of big fir trees off to the side.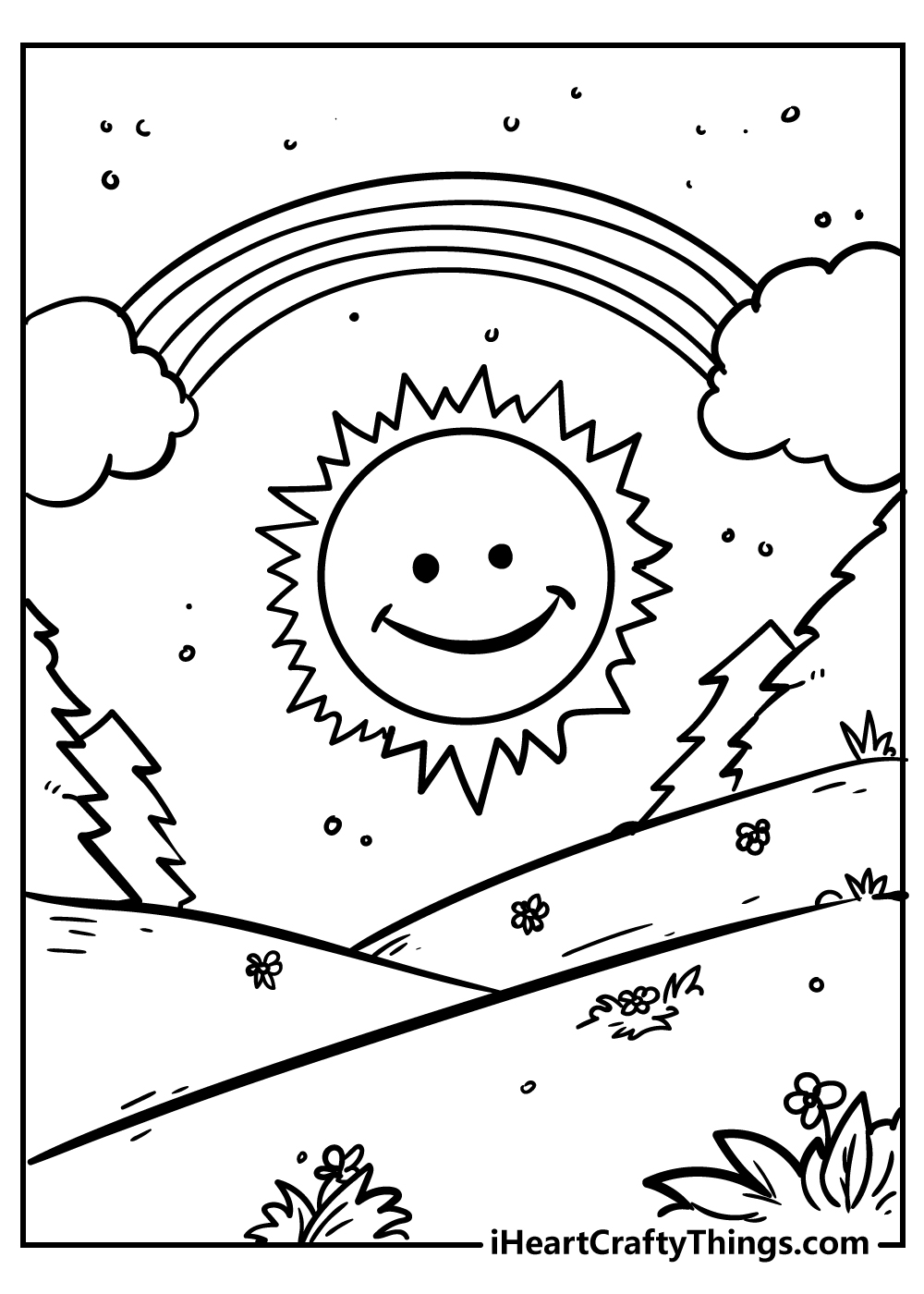 We have another beautiful scene for you to color, and it is one that is packed with so many details and elements to admire.
The sun has a really unique design in this one, and beneath it we have some rainy clouds, bushes and a tree.
When coloring a picture that has so much going on, it can be fun to try mixing different mediums.
For example, maybe you could use colored markers for the sun and rainbow and then use colored pencils for the clouds and natural elements. What other mediums can you think to use?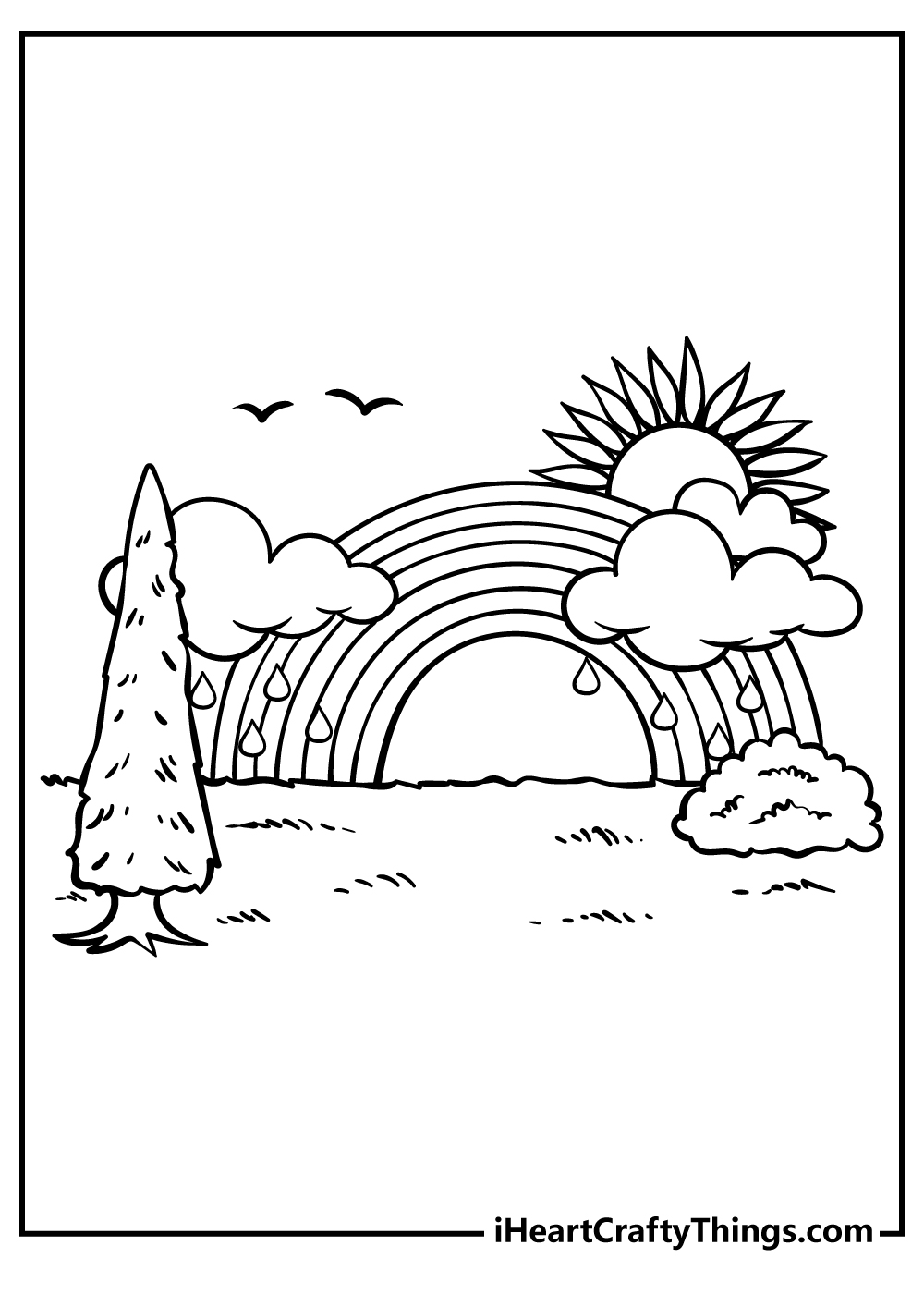 This rainbow coloring page features a well-known legend surrounding rainbows, and that is that you can find a pot of gold at the end of one.
This legend has Irish origins, and it is a common visual when it comes to rainbows. It also gives you the chance to use some lovely yellows and golds for the pot of gold!
If you have crafts such as gold glitter, that would also be great to help make the pot of gold really sparkle on the page.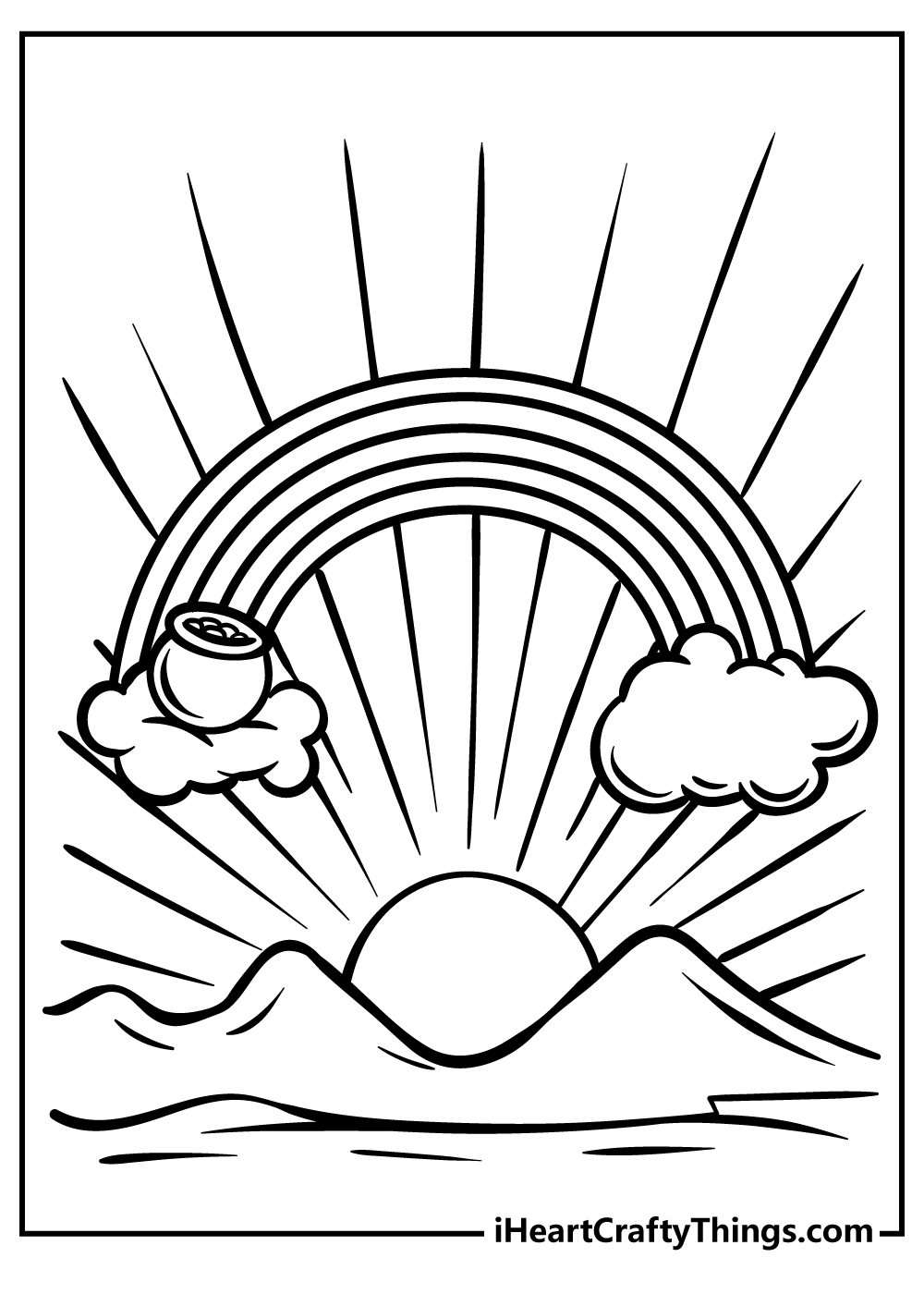 The teddy bear on this next page seems to be in such a beautiful spot. It is surrounded by rainbows and other amazing details, so you could use so many colors on this page.
Don't be shy about using some new and unusual art tools and mediums as you add color to the page!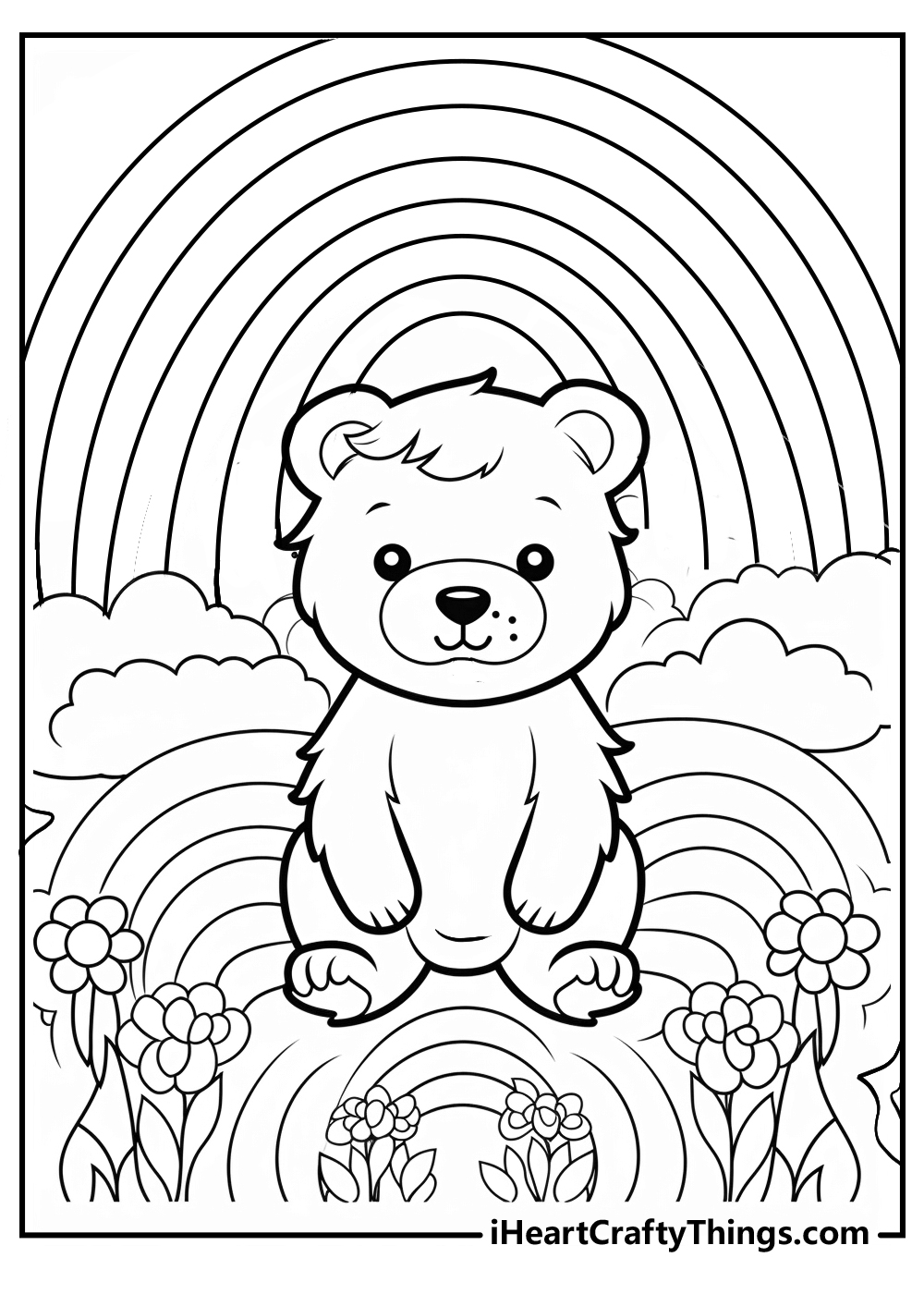 Rainbows are really incredible works of art that have fascinated people for centuries.
Remember that all these rainbow coloring pages are completely free to print, so feel free to print and color as many as you want.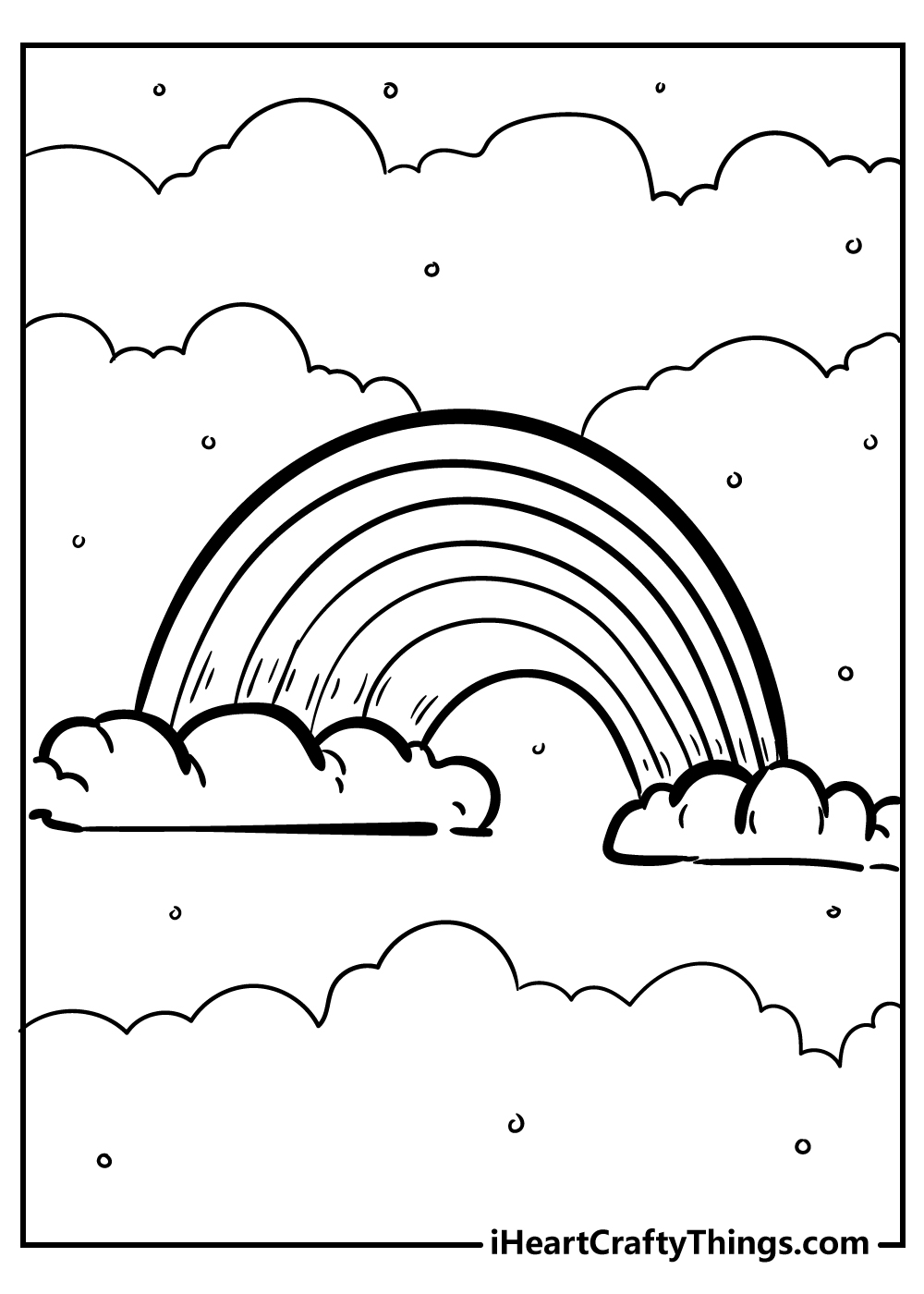 It's an absolutely beautiful day on this next page we have for you to color.
This kid seems to be embarking into nature for a fun day out, and you can make this sense of adventure apparent with your colors.
We would use some bright and cheerful colors for this one, but what will you choose?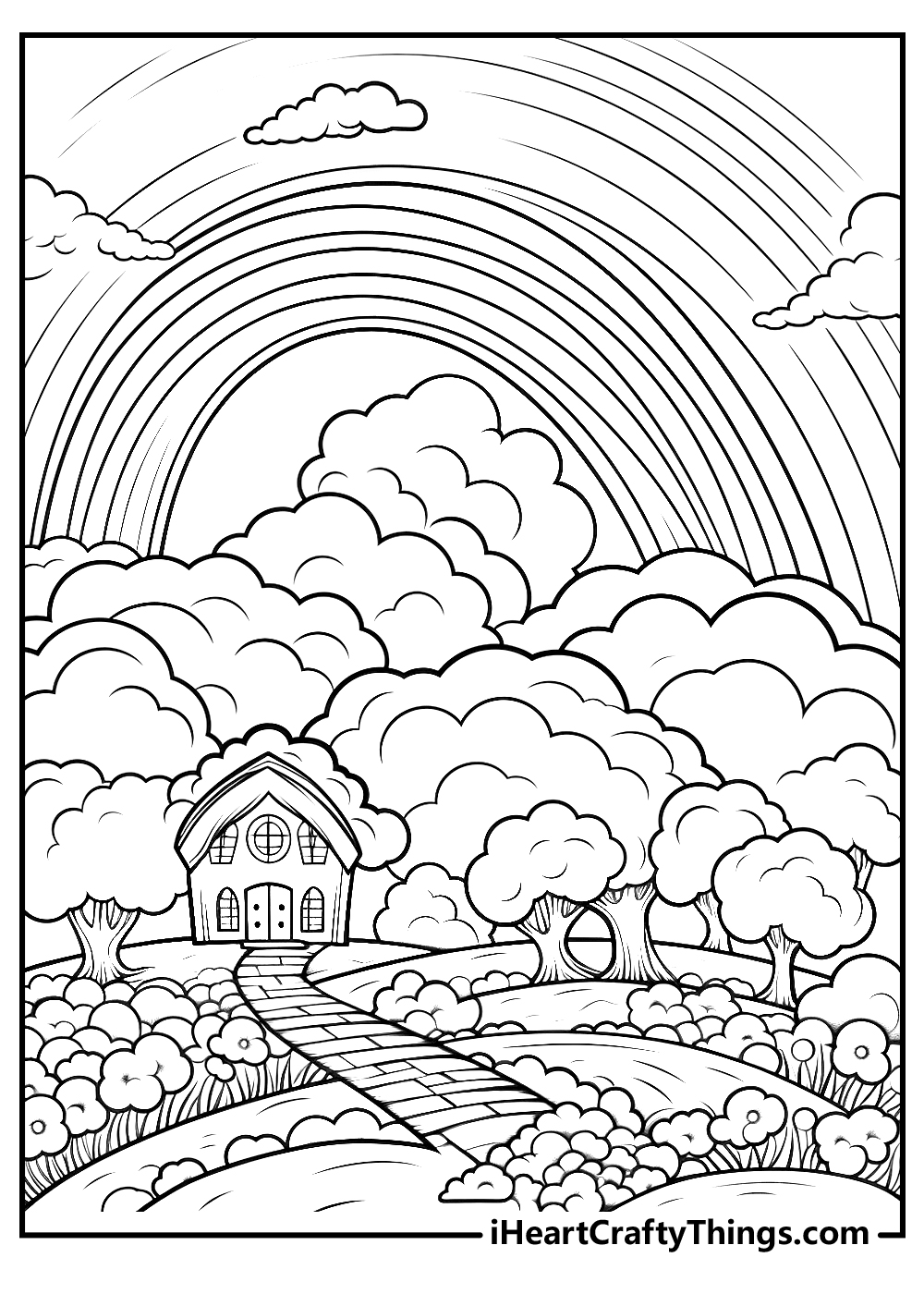 Everyone knows the legend that there is a pot of gold at the end of every rainbow, and we love this printable sheet bringing that legend to life.
A cloud smiles happily at the pot of gold that sits next to a little stream. Most people think that this pot of gold is hidden at the end of a rainbow by clever little leprechauns.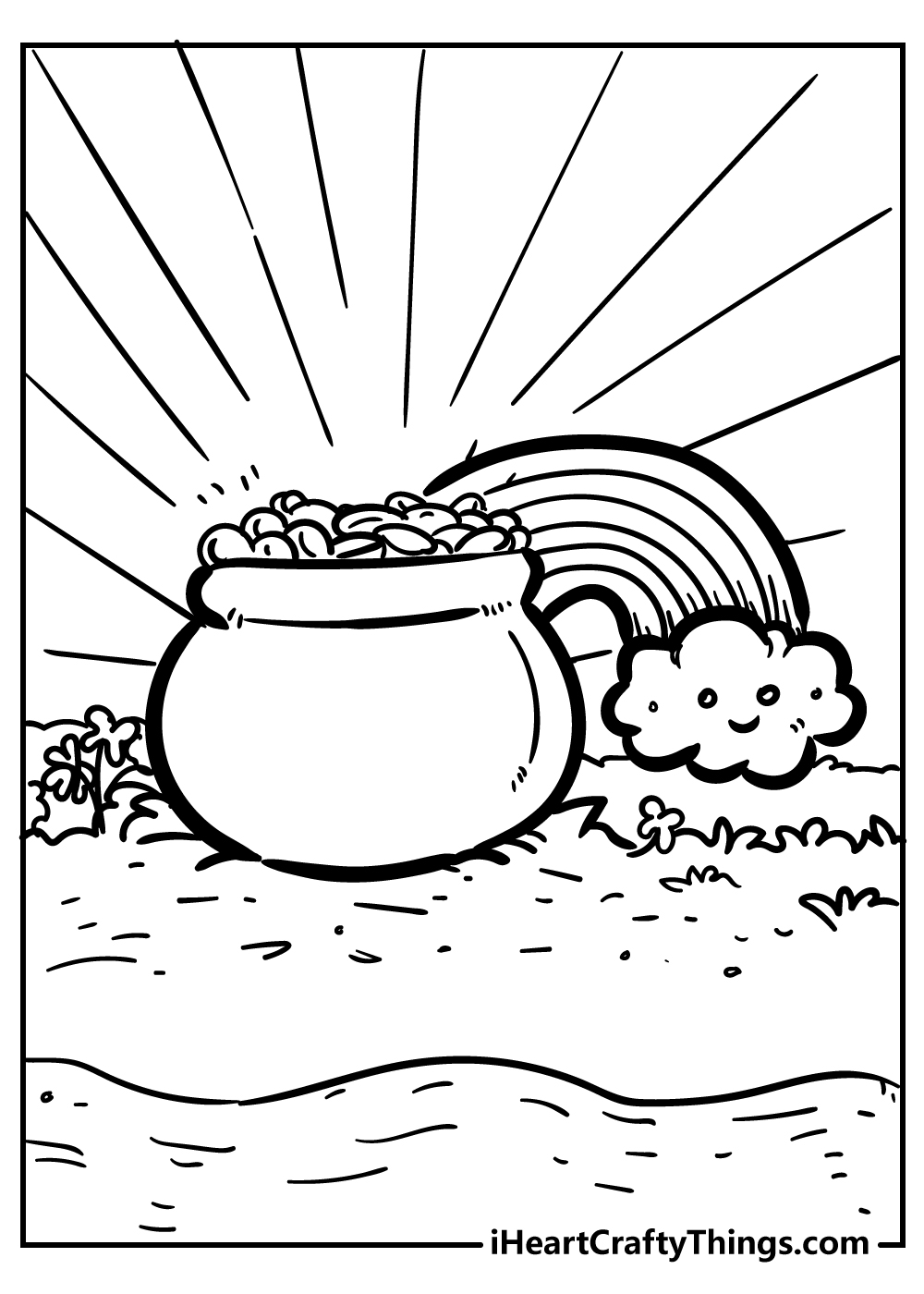 Unicorns and rainbows go hand in hand! They seem to always be paired together because of their brightness and magical properties.
Unicorns love to interact with rainbows, like in this coloring sheet of a unicorn wooshing down a rainbow as if it is a slide.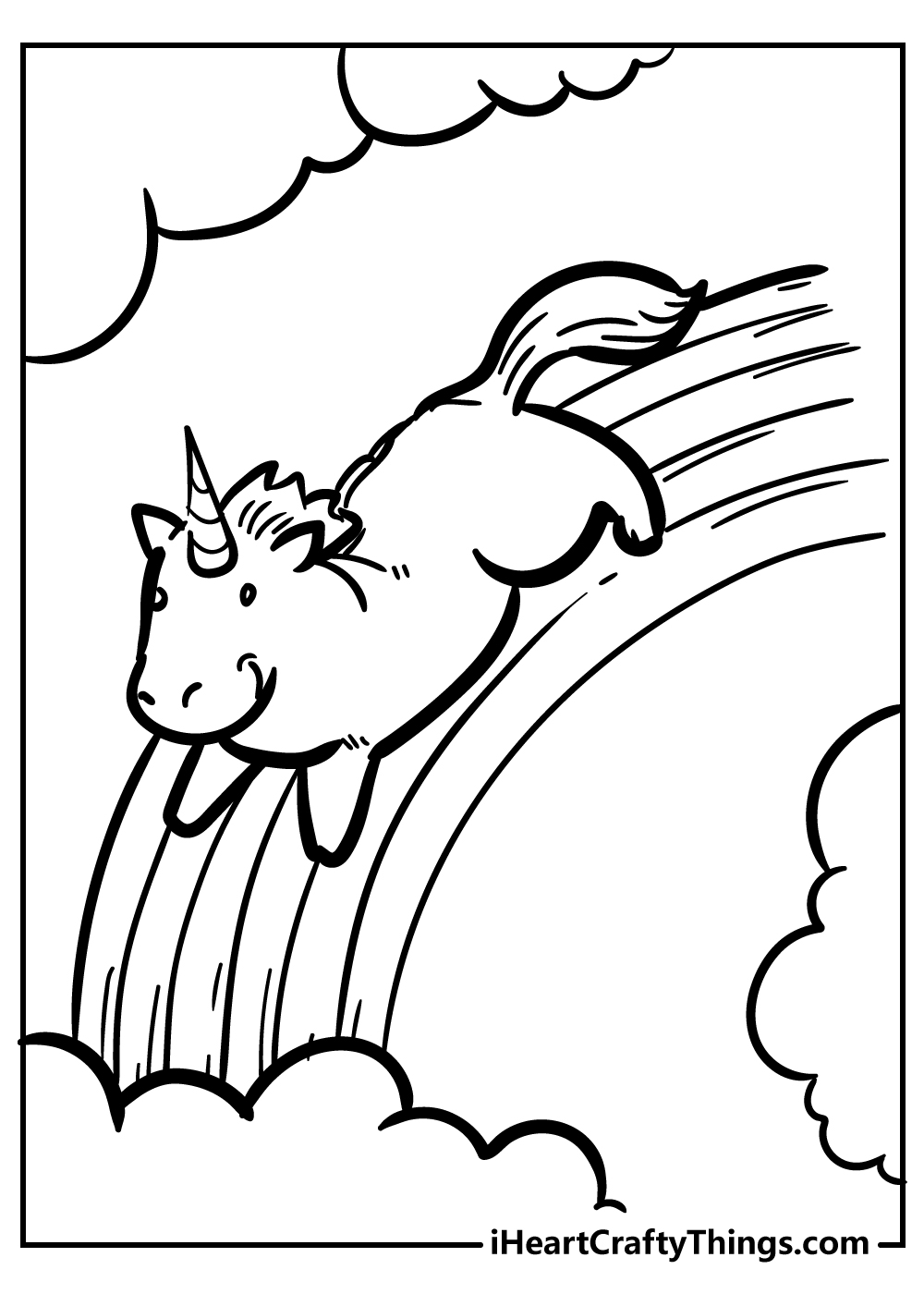 These free printable sheets really show rainbows in all different forms.
Here a rainbow has come down from the clouds to form a rainbow heart. Rainbows symbolize faith and hope and hearts symbolize love.
These 3 kids seem to be working with some kind of craft project, and it looks like they are in the middle of it. What do you think they could be making here?
You could show off what you think is happening here by adding some extra details and additions of your own. What do you think this project could be?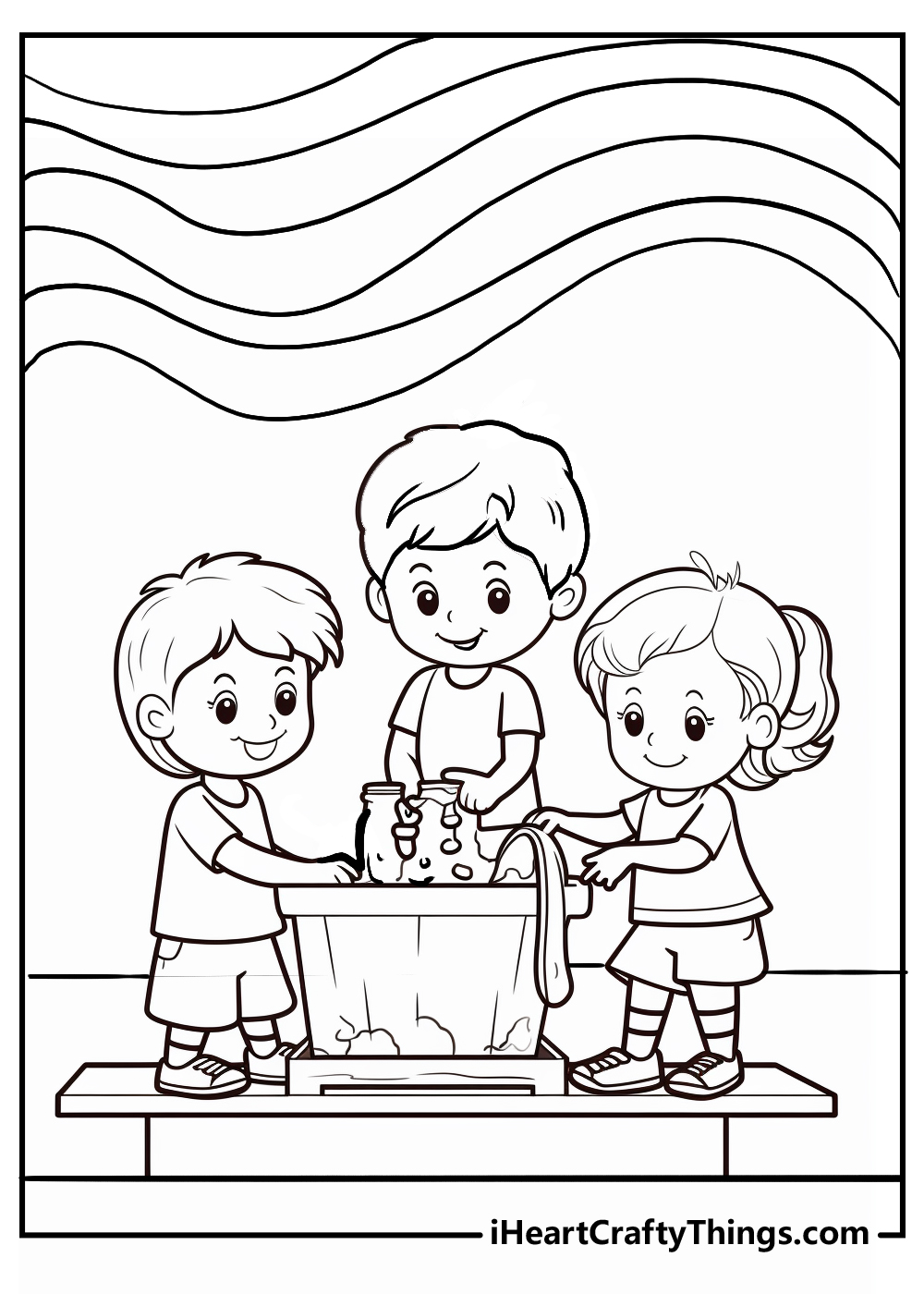 This coloring page shows rain coming down over a beach with palm trees growing on the island. Did you know that Hawaii is one of the places where rainbows are spotted most frequently?
Hawaii is sometimes even sometimes called "The Rainbow State."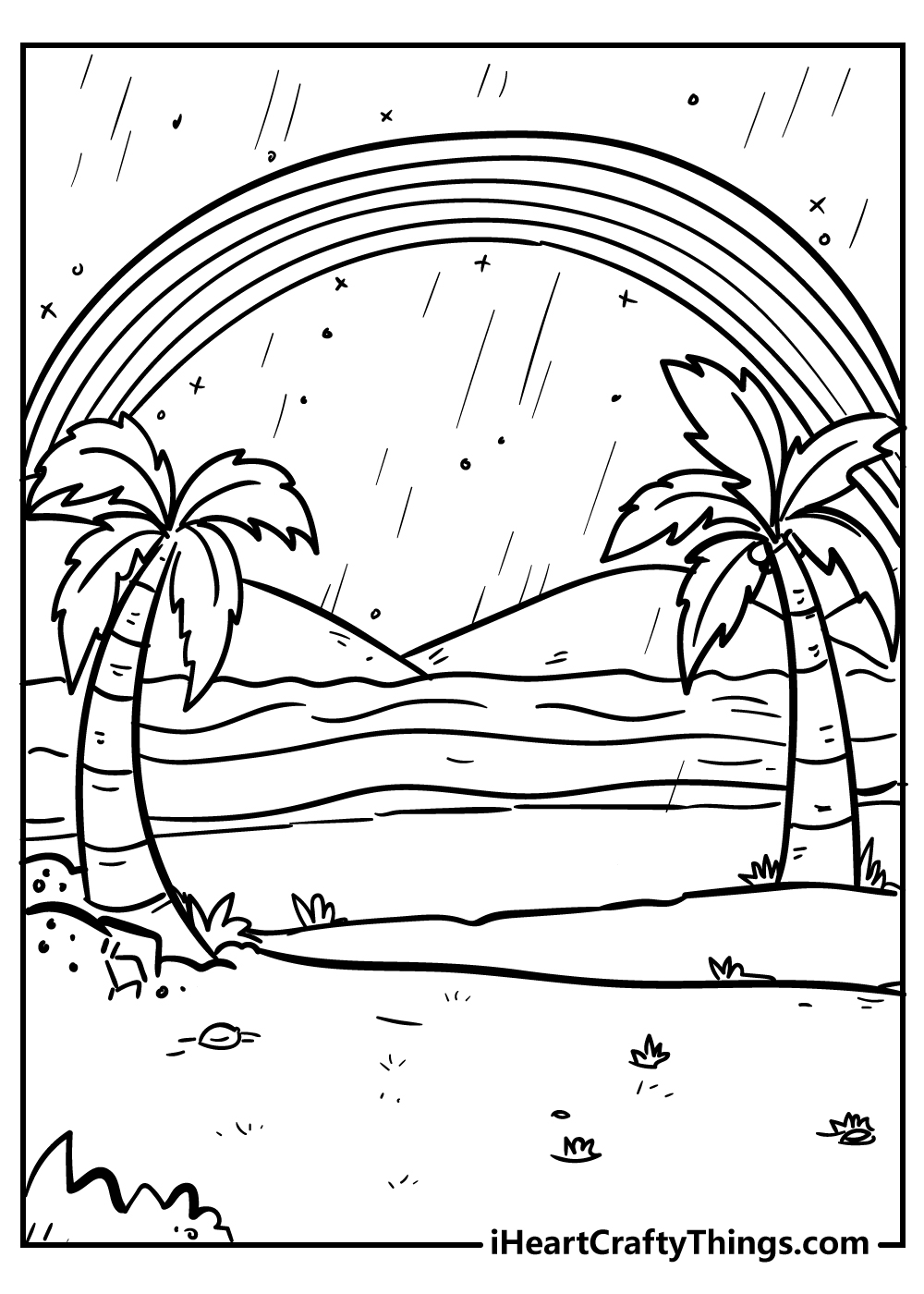 In fact, Mount Waialeale in Hawaii is known as one of the wettest spots on earth, so rainbows can be seen there very often.
This coloring page of a rainbow coming from two mountain peaks reminds us of this beautiful spot in Hawaii. Little trees are growing on the shore.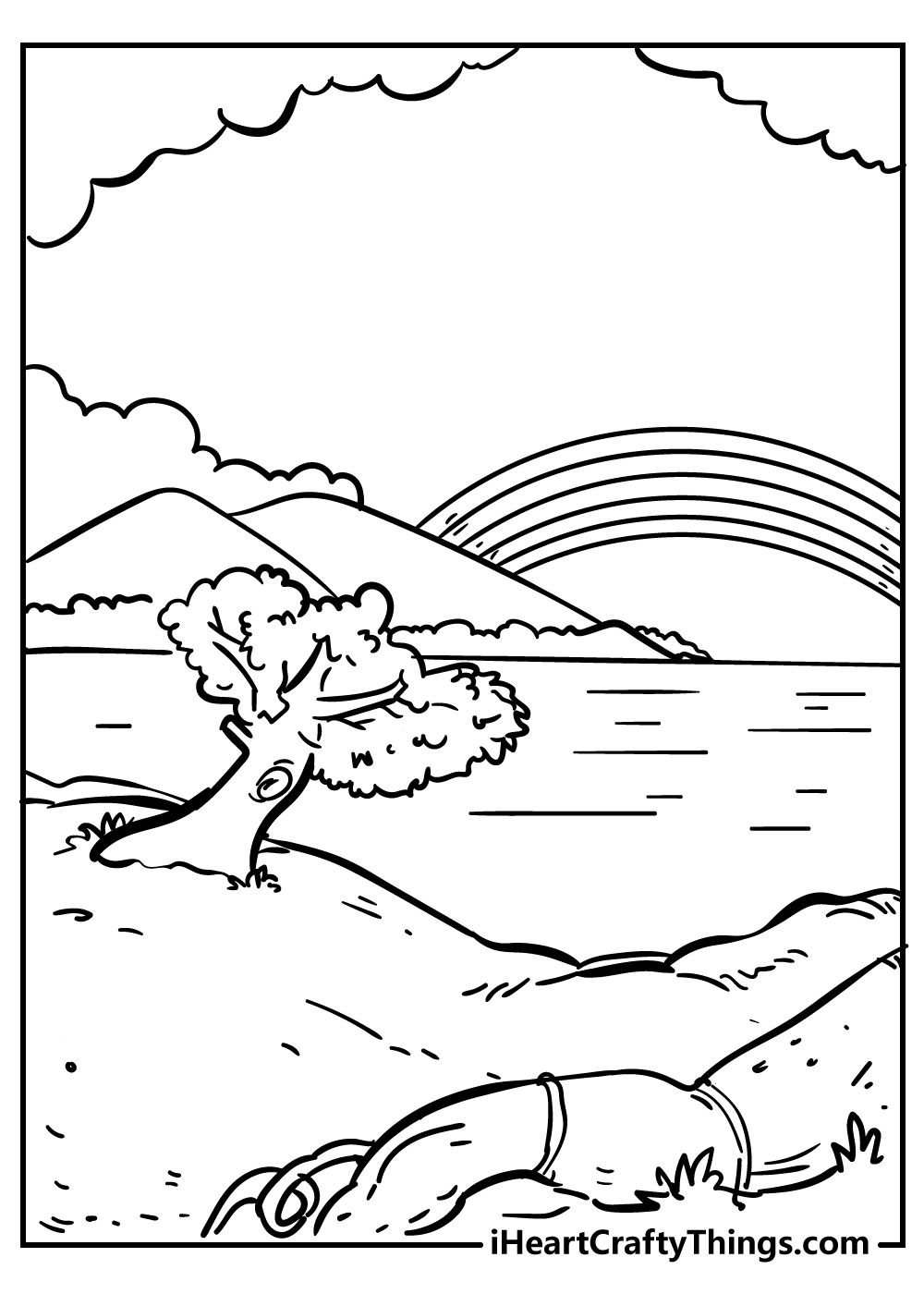 You can see rainbows in all different types of environments. In this printable, a stream cuts through farmland with hills and tall trees growing on both banks.
A beautiful rainbow shines in the distance through the clouds.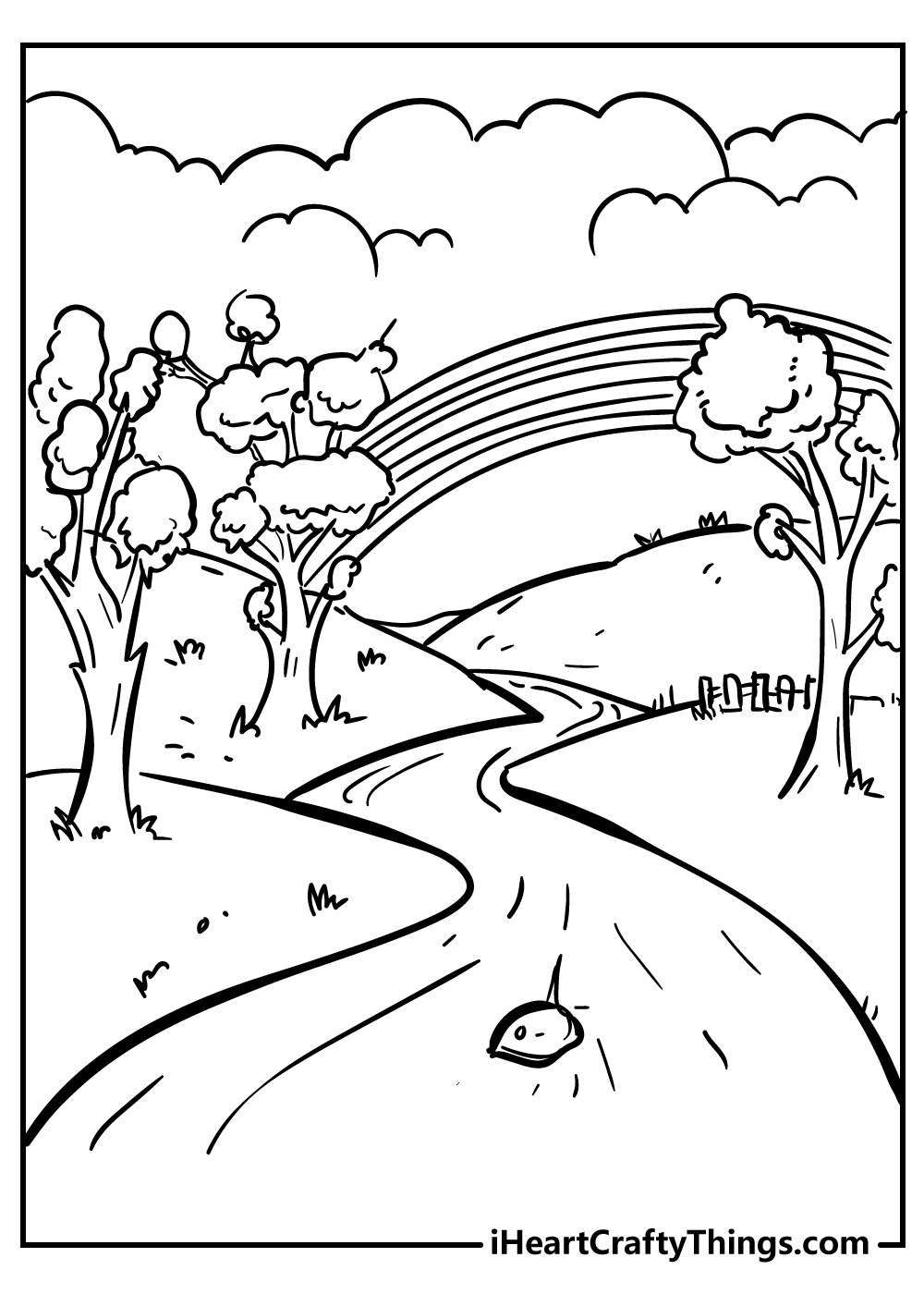 A full circle rainbow has formed in this coloring sheet and it looks like magic!
We love the creativity of the little cloud with the unicorn horn. It squeezes its eyes shut to make rain. Without the rain, we couldn't have rainbows!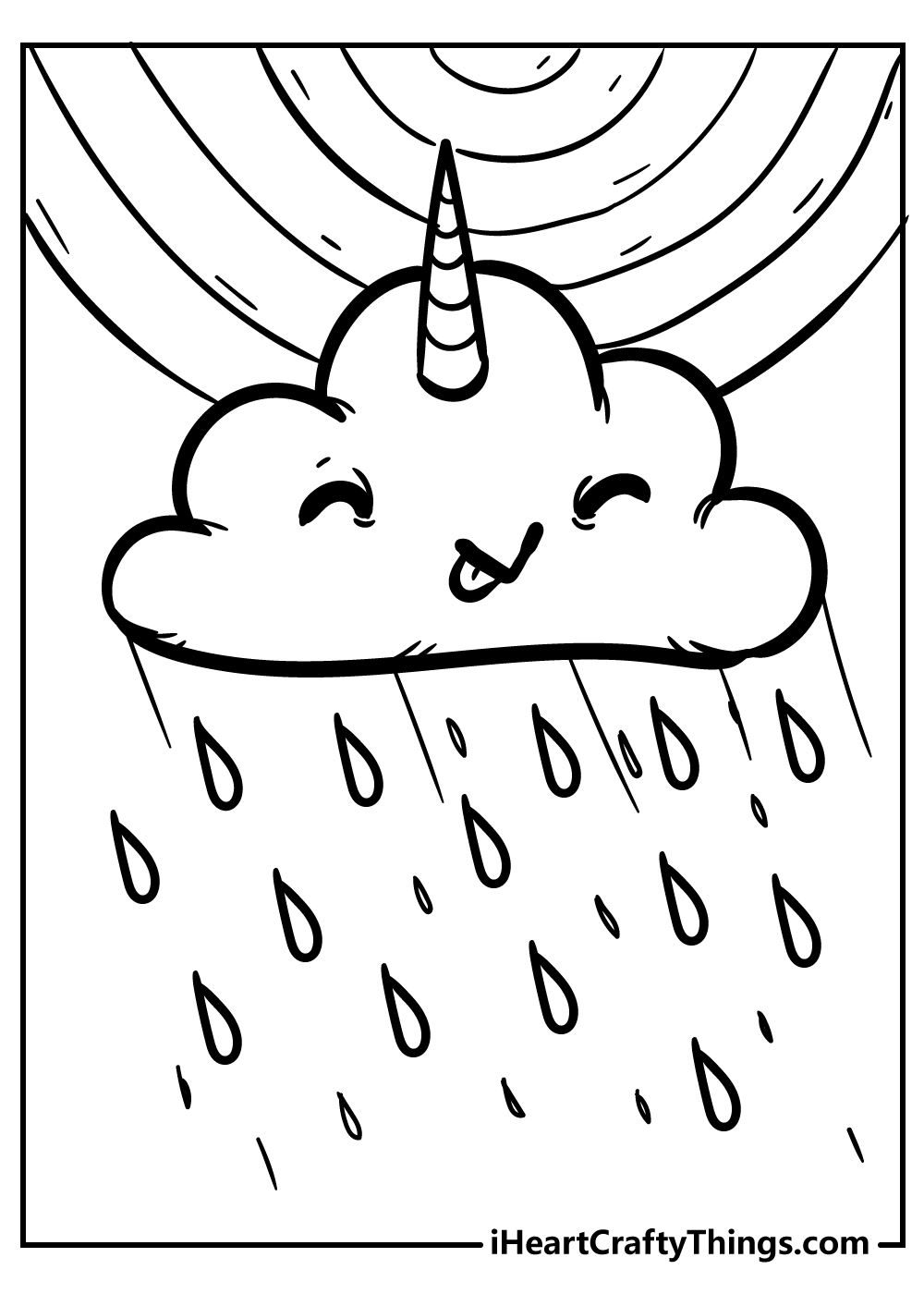 It looks like the clouds have just parted to let the sun come through in this free printable sheet. A rainbow has formed between two mountain peaks.
Down below, a river runs and it even looks like the trees have peaceful smiles on their faces. Did you know there is a mountain in Peru called the Rainbow Mountain?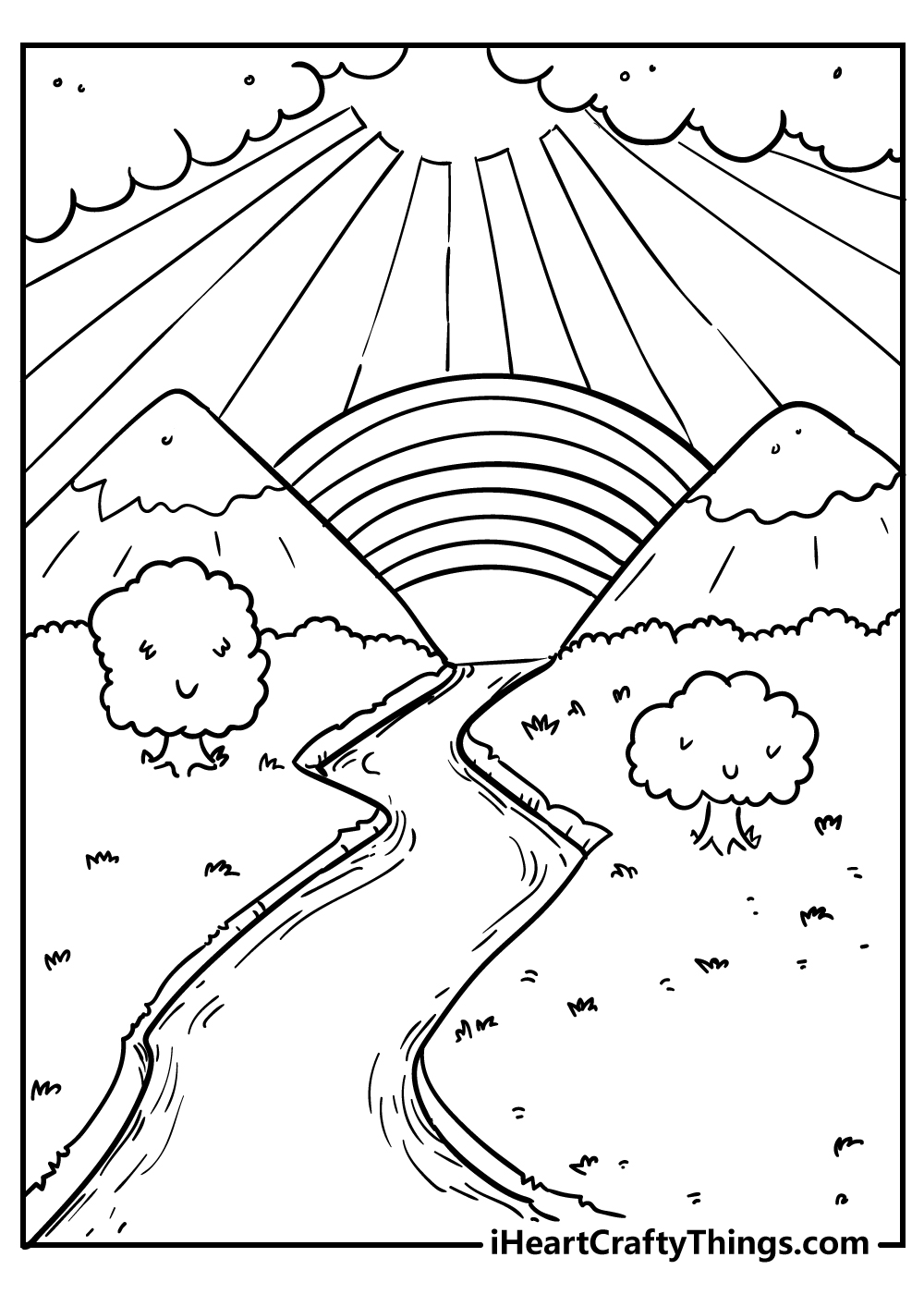 It's always nice to see a beautiful rainbow after a storm. This adorable coloring page shows someone going for a walk in the rain under a big umbrella.
They are wearing rain boots and standing in a little puddle, but luckily a beautiful rainbow shines above.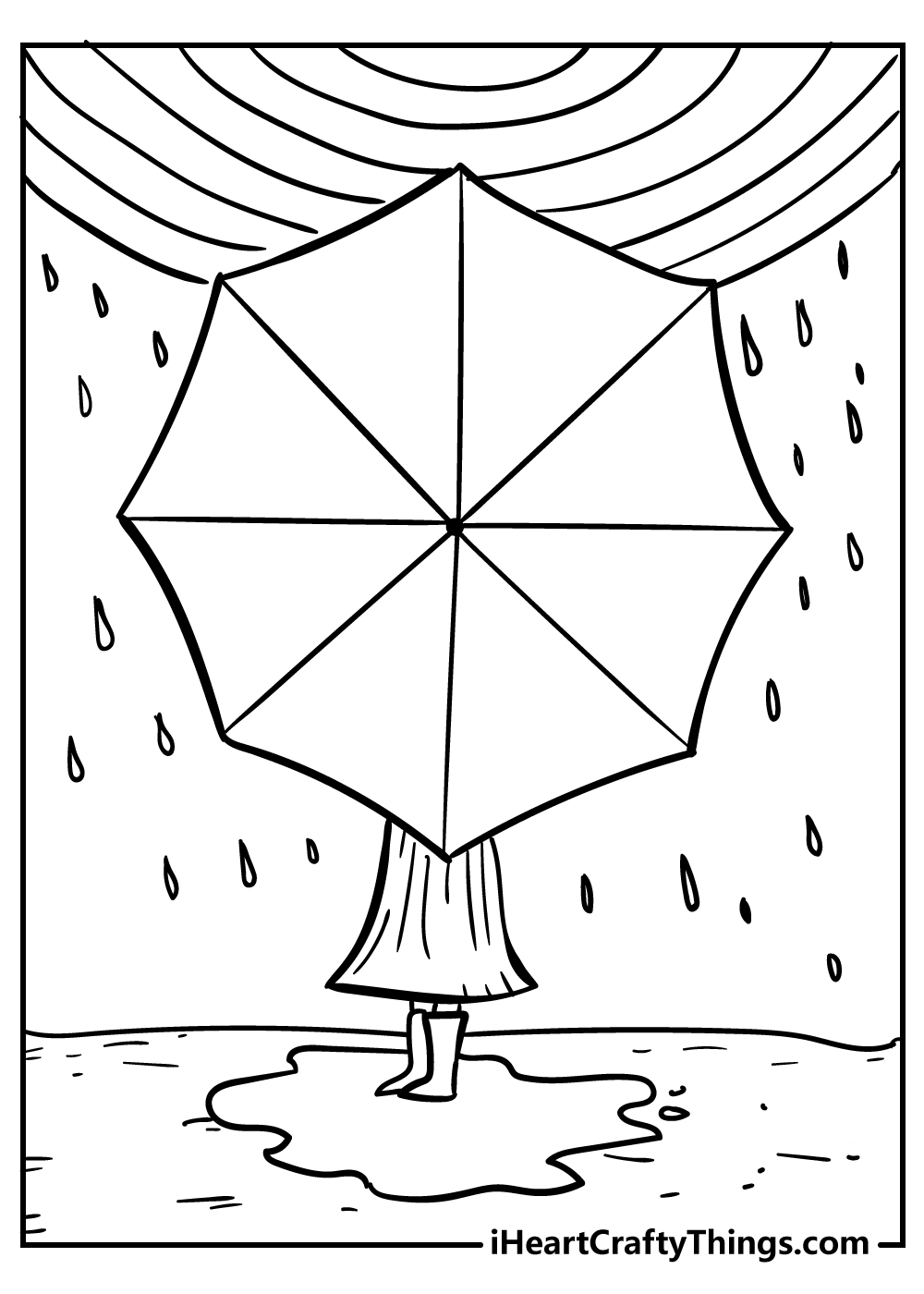 What could be more perfect a pair than a unicorn and a rainbow? Not much, so that is why we have created this page that has both of these elements on it.
Once you have worked your color magic, this will be a truly wondrous picture. I think that some glitter would add even more magic to this incredible picture!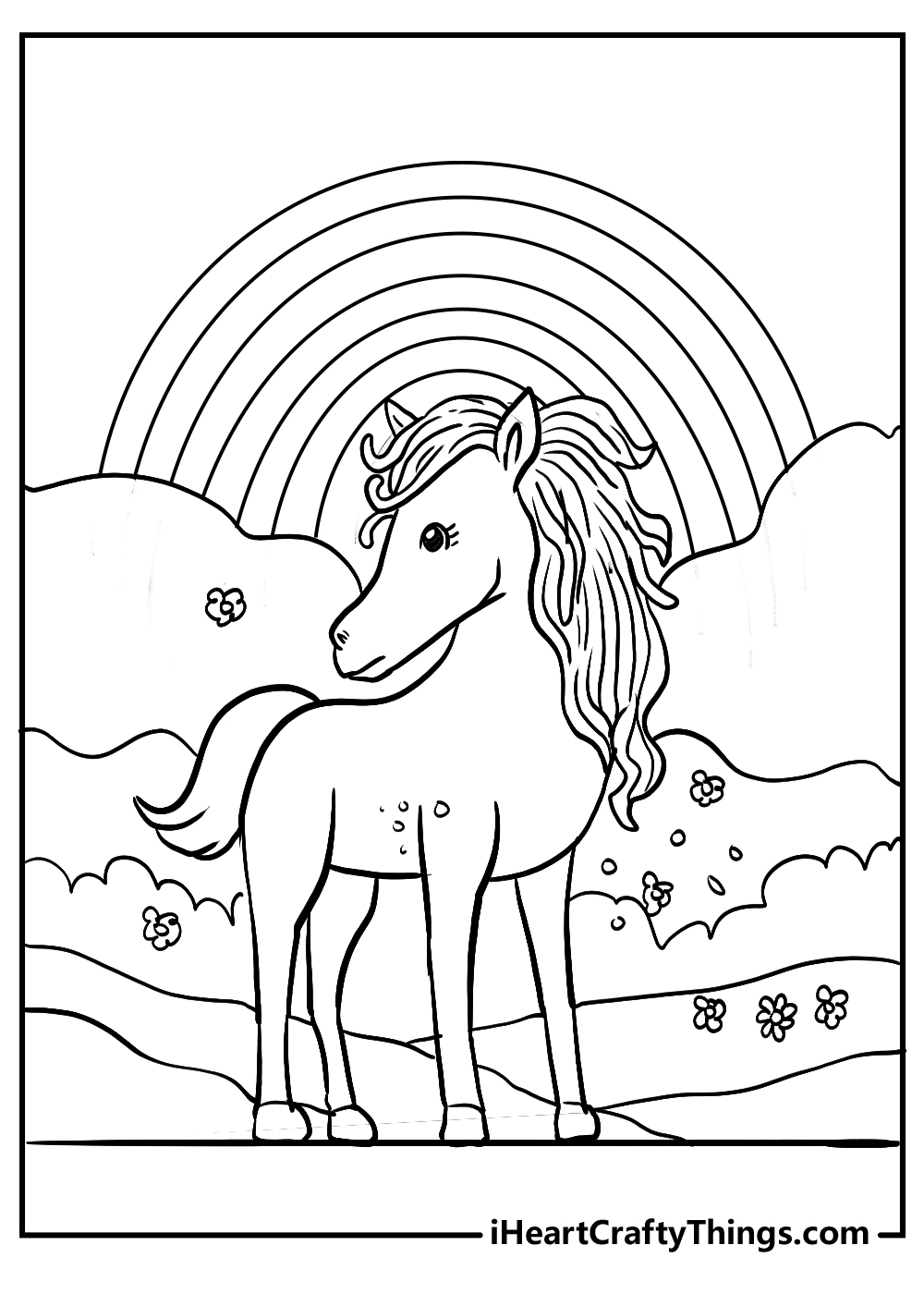 This next rainbow coloring page is truly breathtaking! Even without color, it's a stunning picture to look at, so imagine what it will look like once you have worked your magic on it.
This is a picture you can really unleash your imagination on. Now you can make this picture even more gorgeous with your creative colors and ideas!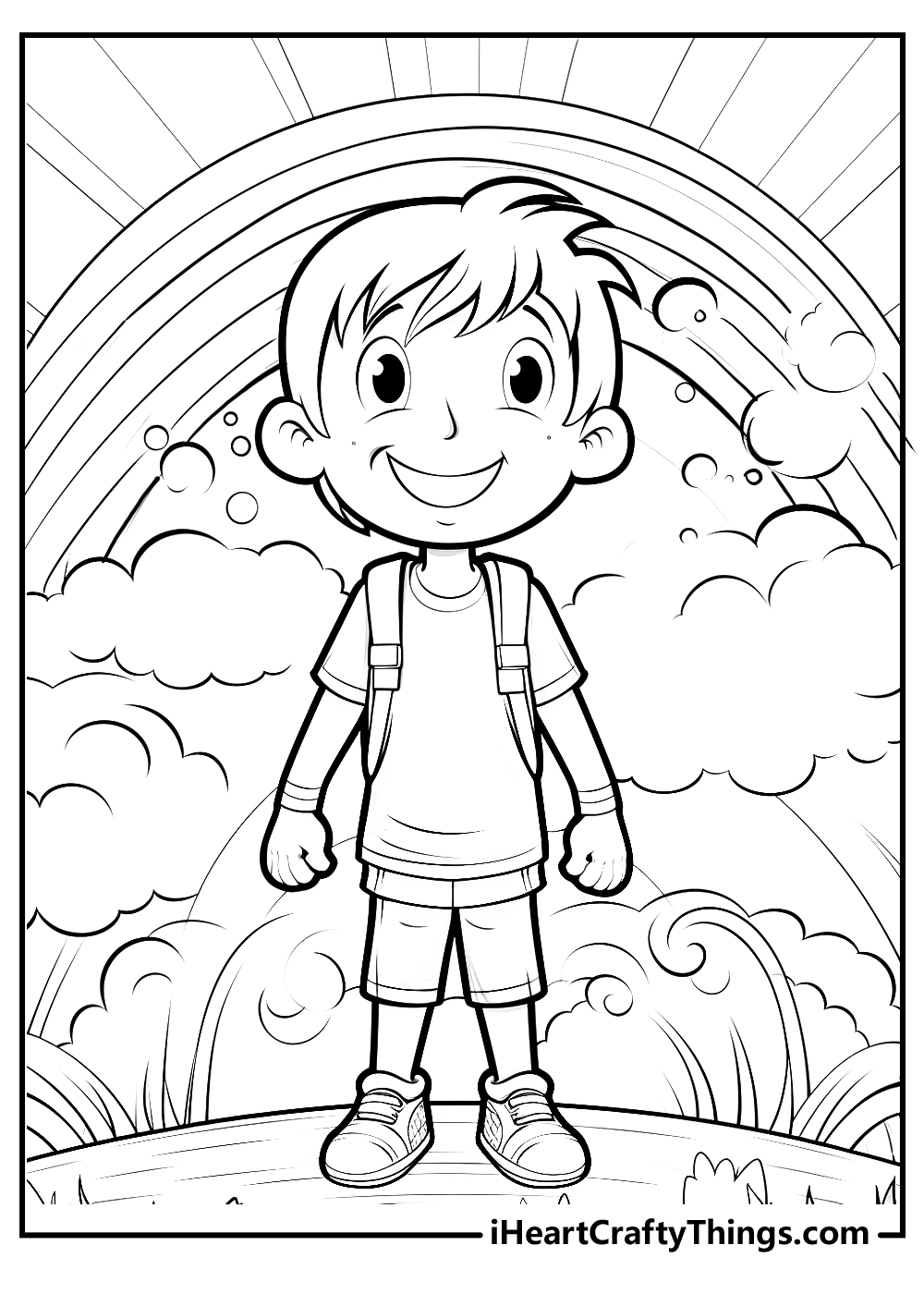 Butterflies and rainbows go hand in hand. They both get their beautiful colors from reflections of light, although of course butterflies are living things that we can touch.
We can't get enough of this coloring page of butterflies fluttering around a rainbow.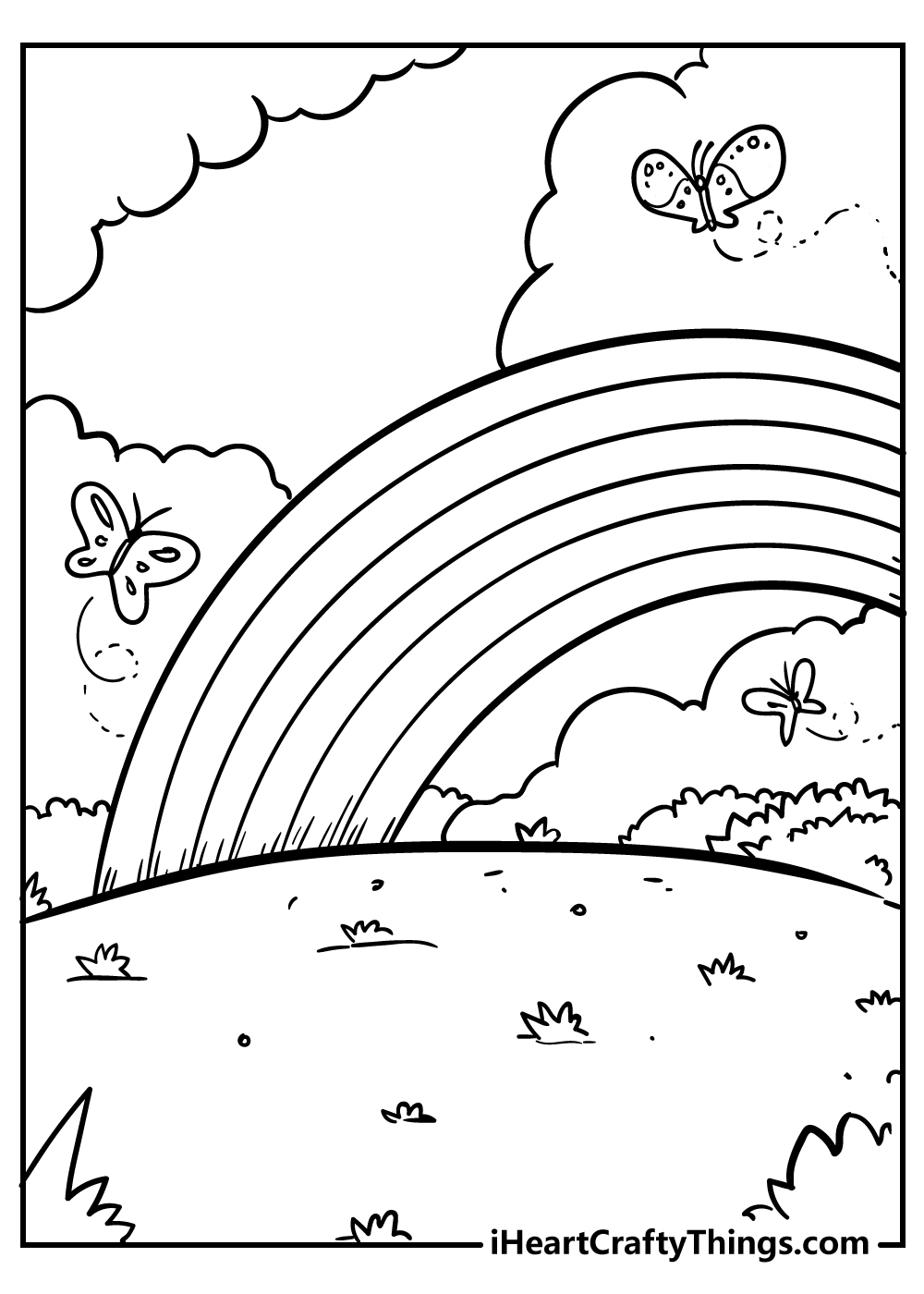 It's hard not to smile when you see a rainbow, and the sun and cloud in this printable for kids could not agree more.
Bunches of pretty flowers sit at the end of the rainbow to create an even more beautiful image.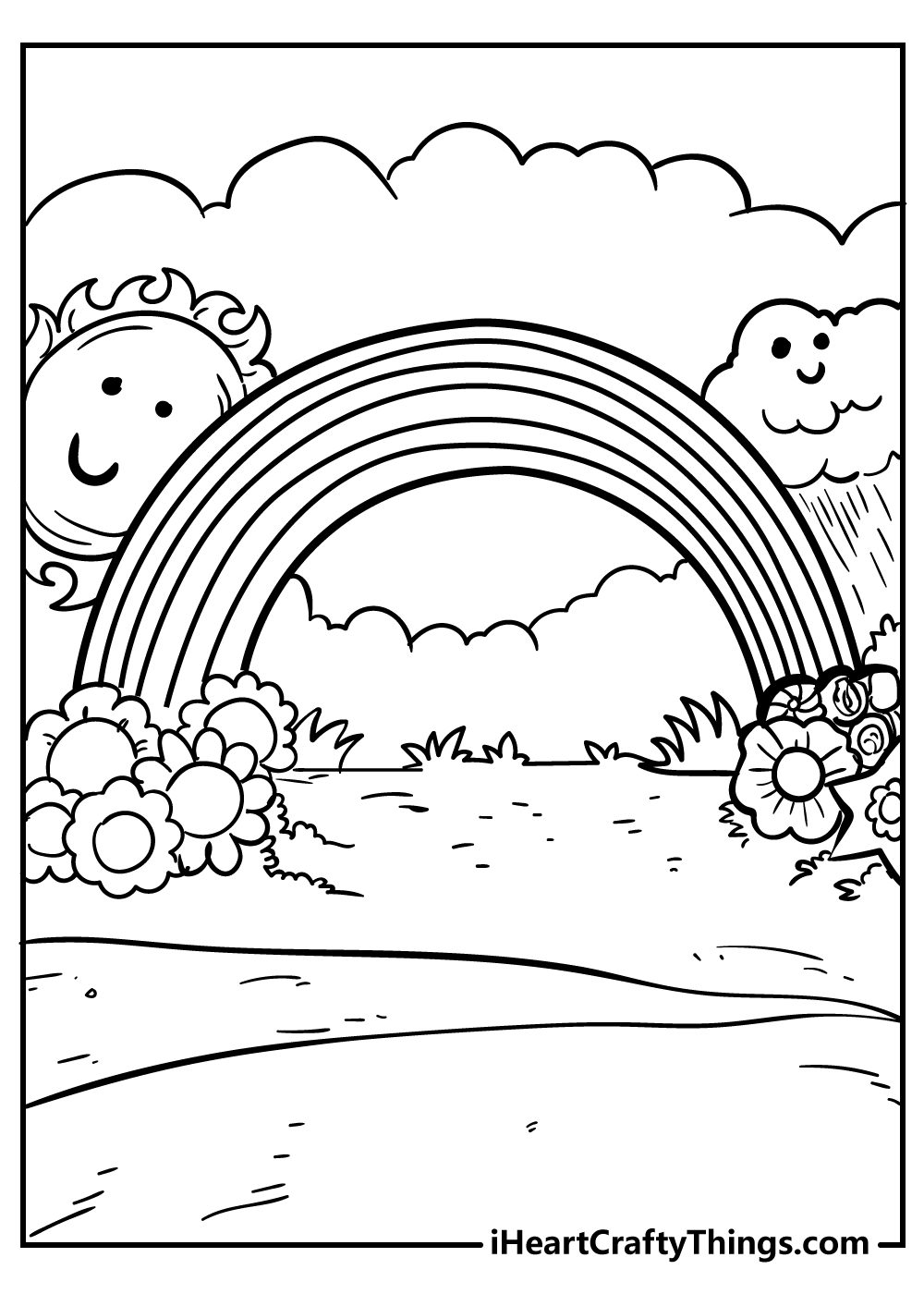 Even the tiniest of rainbows is impressive to behold. Rainbows can come in all shapes and sizes, from very small rainbows coming off a waterfall to huge rainbows after a rainstorm.
Sometimes there are even double rainbows! Have you ever seen one?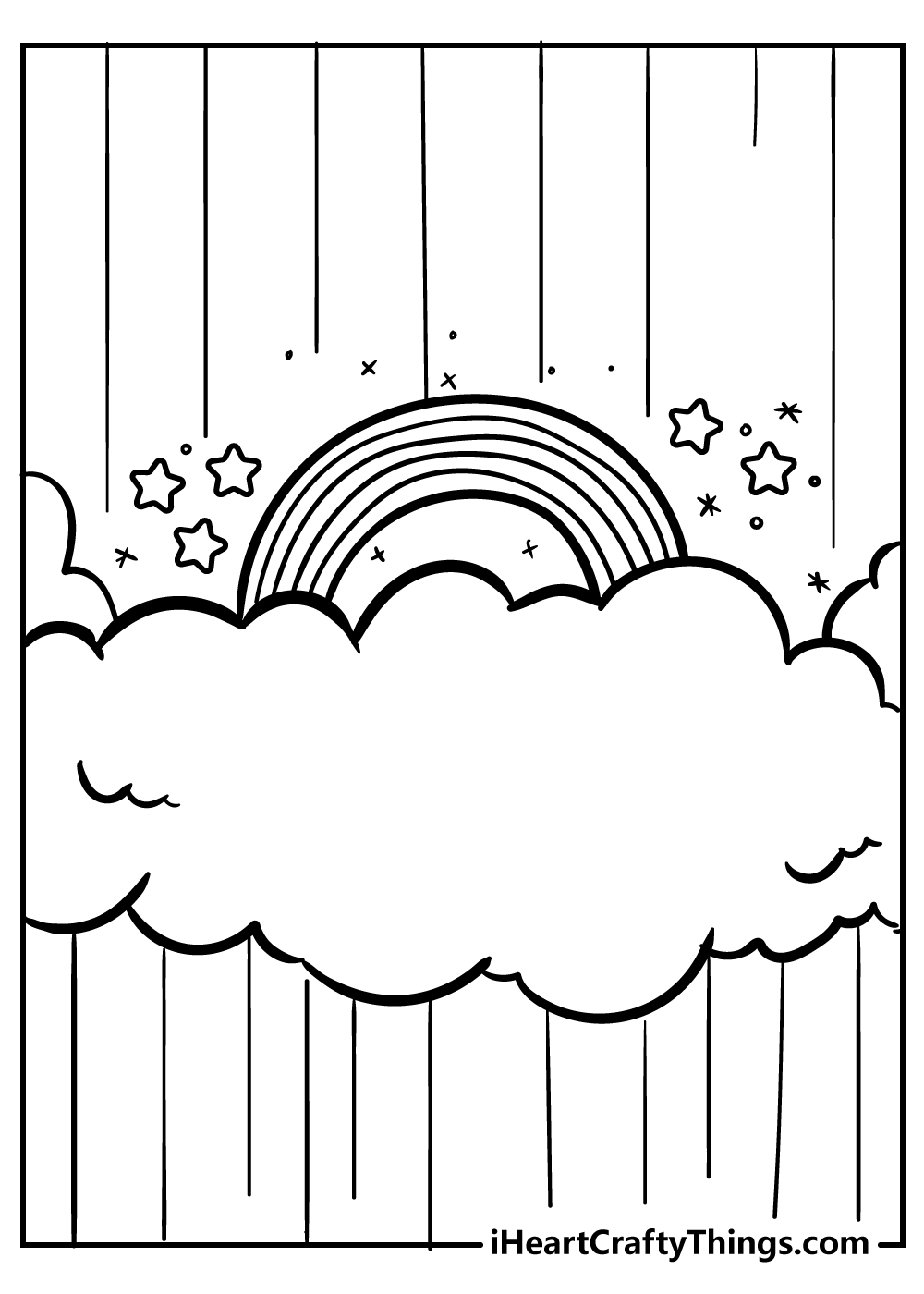 This rainbow has an interesting design, where each strip of color has a space between it.
The rainbow seems to be sitting on the ground, with stars and clouds behind it.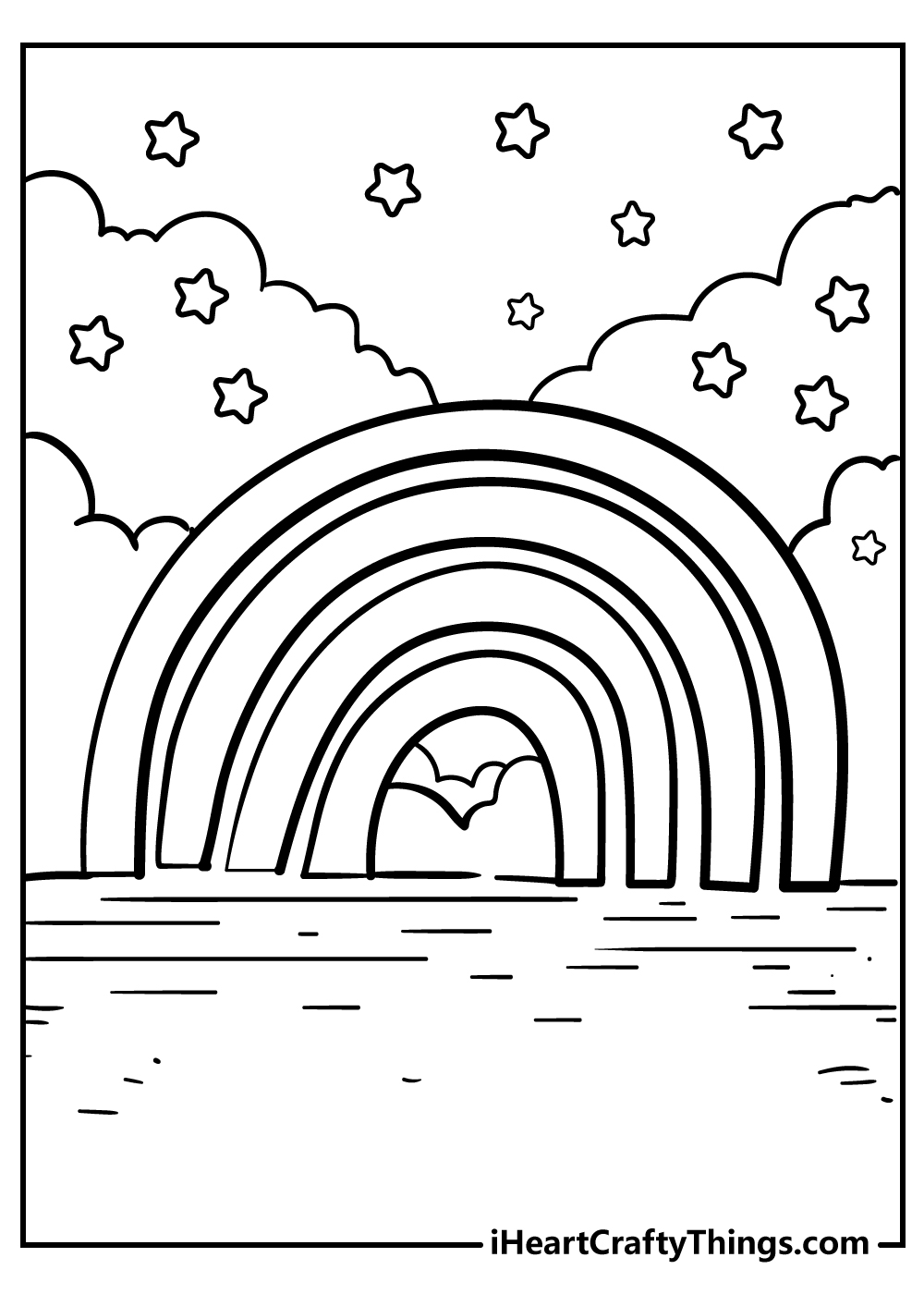 These two girls are facing a bright and beautiful day on this next page. The rainbow above them fills this picture with hope and joy, and I think some bright and happy colors would be perfect.
There are so many ways that you could color this page, and it will be great to see which colors you choose for this picture!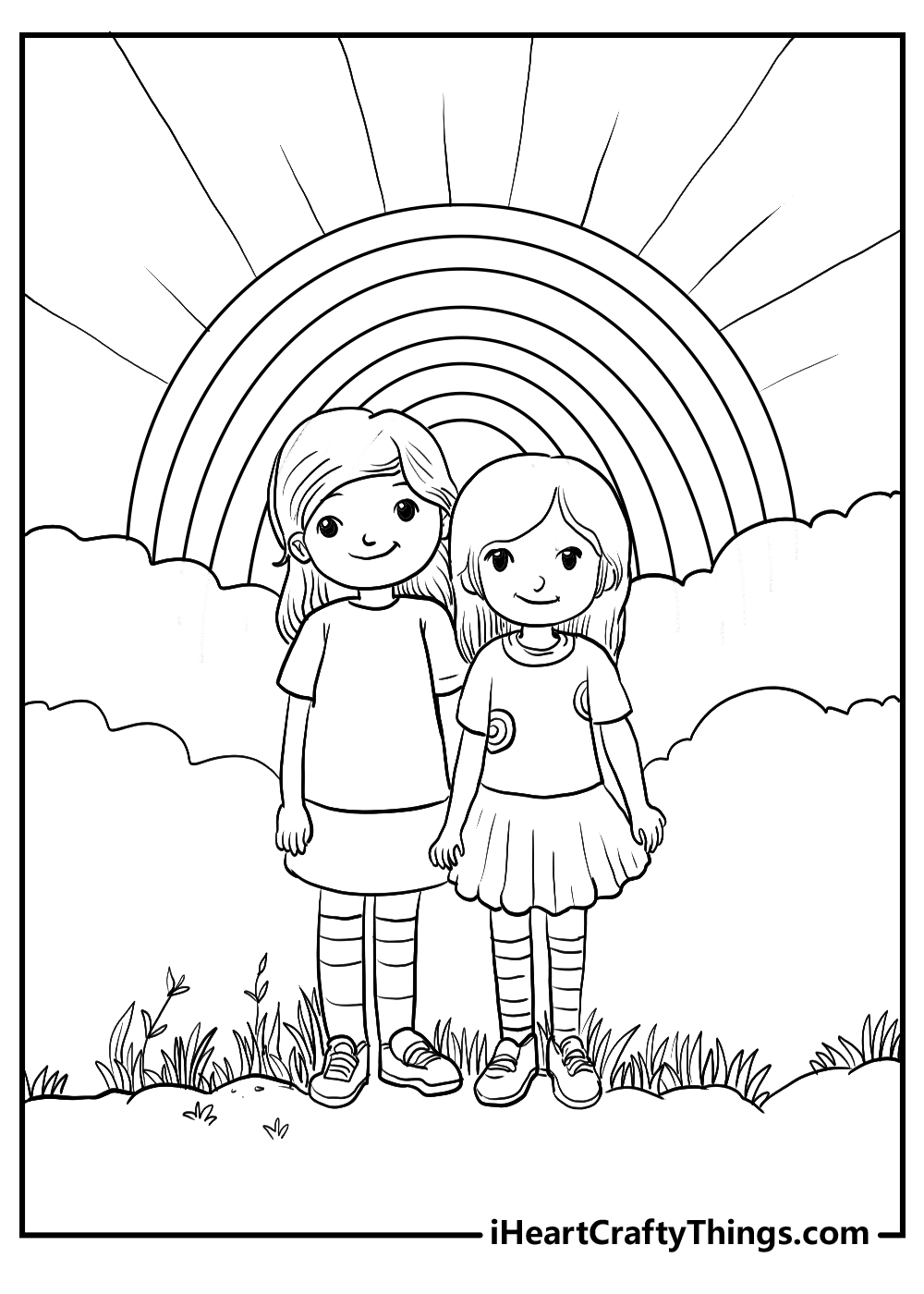 The rainbow pattern has been used to create all kinds of images, like the circle in this coloring sheet.
Remember – when you finish your rainbow coloring pages, post your finished masterpiece onto our Facebook page. Every month we pick the best uploads and the winner gets a special prize!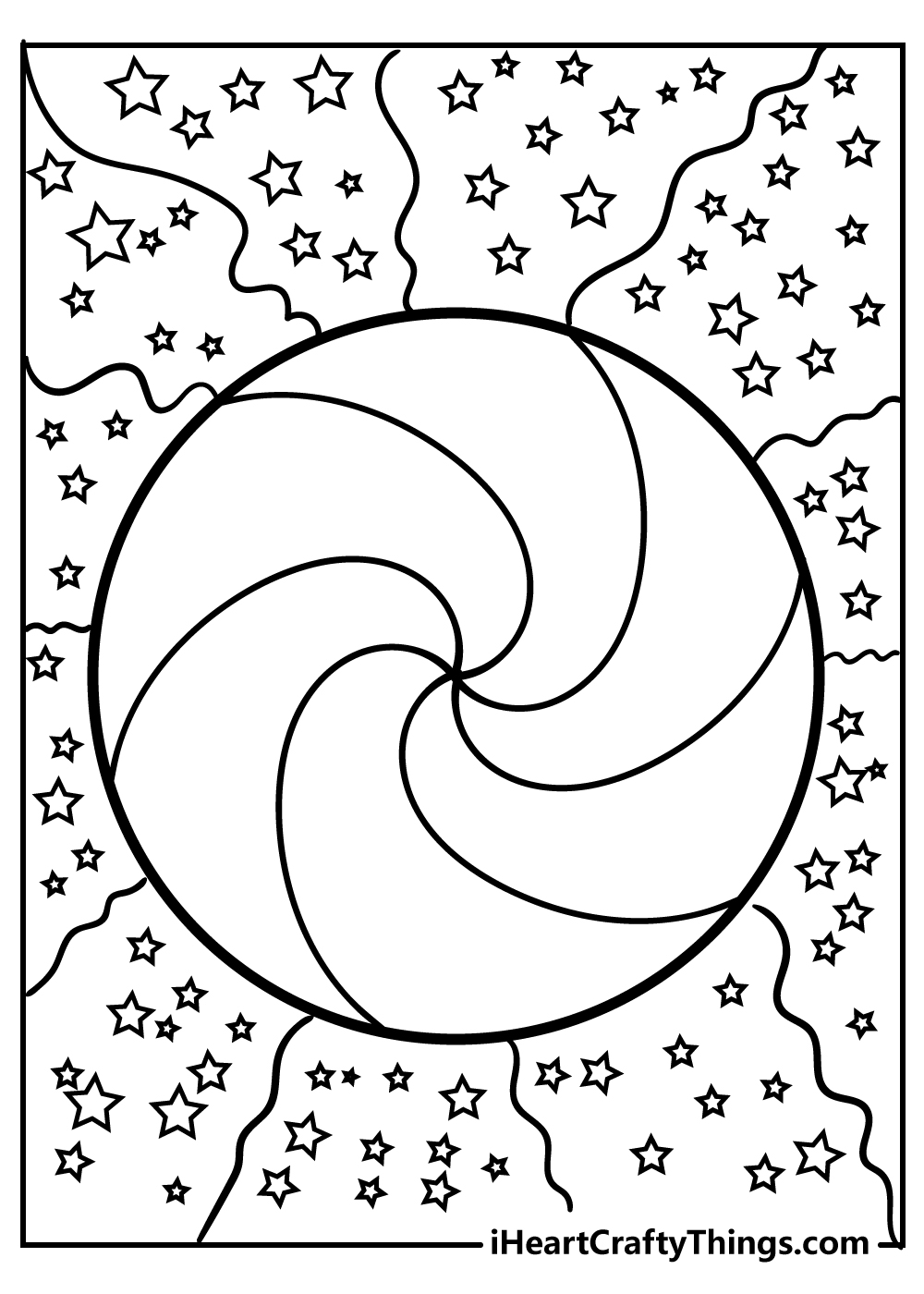 Flowers are the perfect image to pair with rainbows. They are beautiful and colorful and often make people very happy.
This rainbow coloring sheet shows a flower with a huge smile on its face. Flowers and rainbows both need water to exist.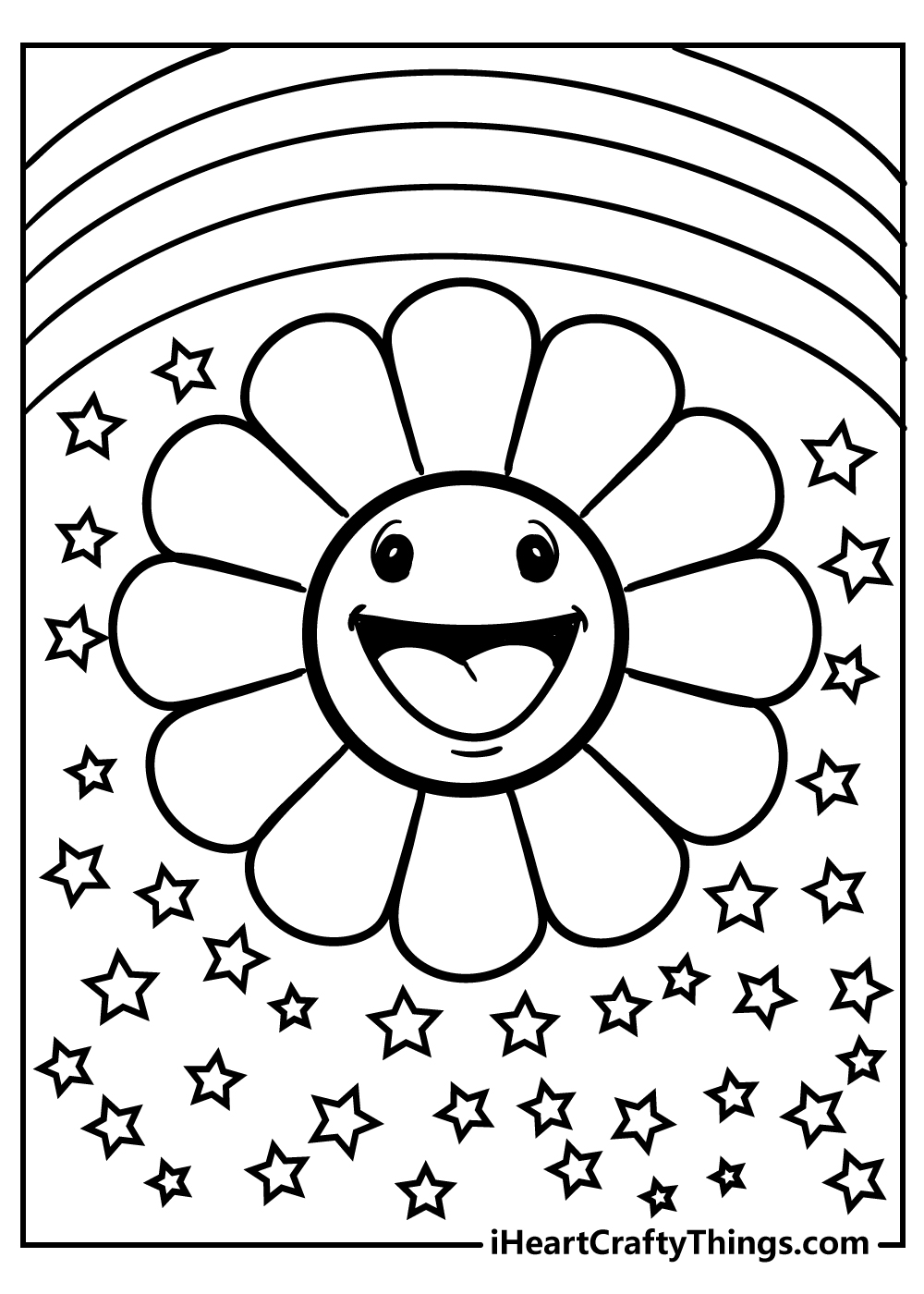 Our coloring page designers love to use intricate designs to create these rainbow coloring pages.
This rainbow is in front of a background that looks like it is made up of puzzle pieces, and the pieces almost seem to be melting.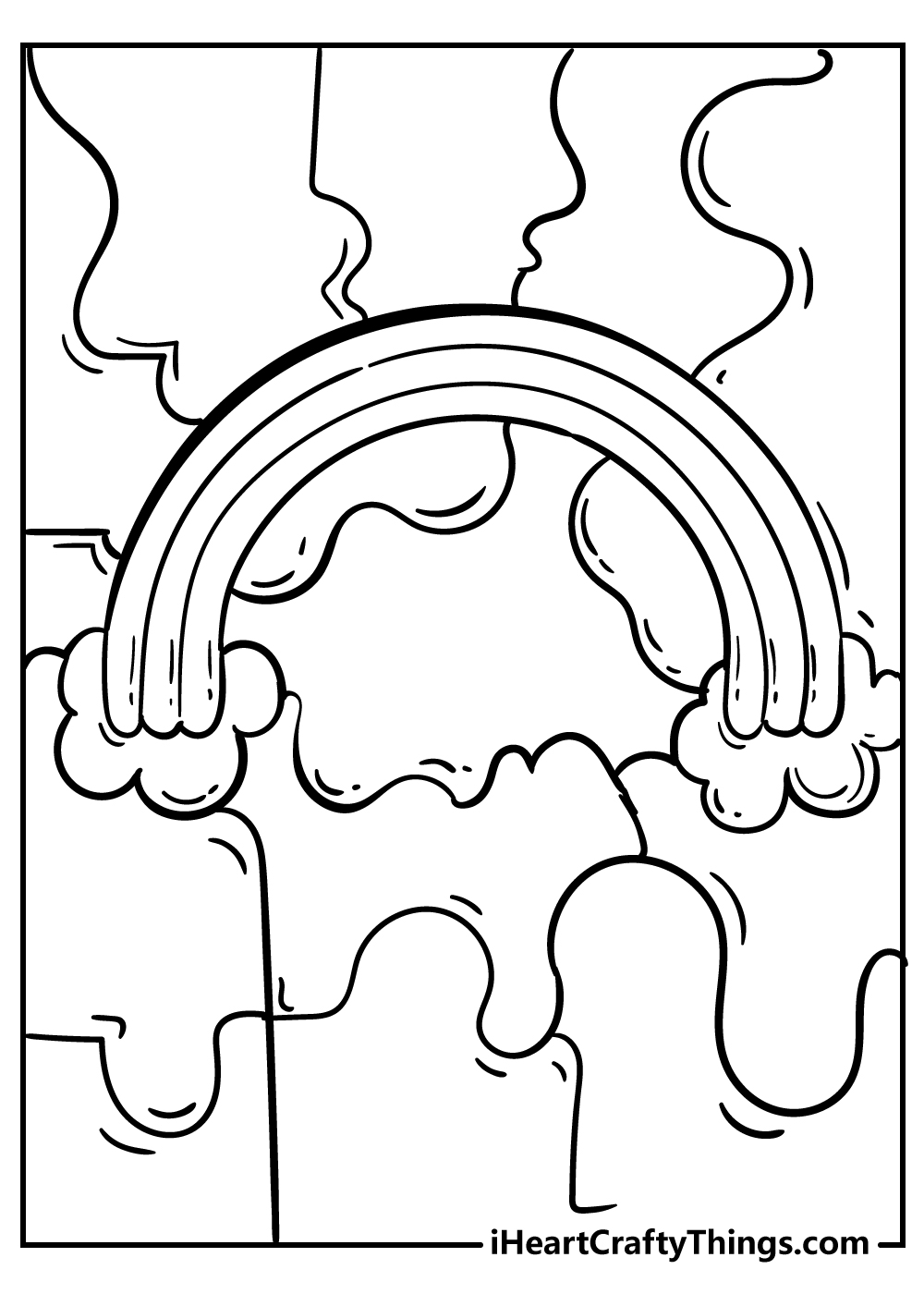 Most people think of rainbows as a fleeting thing. They might last for a few minutes and you'll be lucky to catch a glimpse of their beauty, like the one in this coloring sheet.
However, the world's longest-lasting rainbow could be seen for about six hours.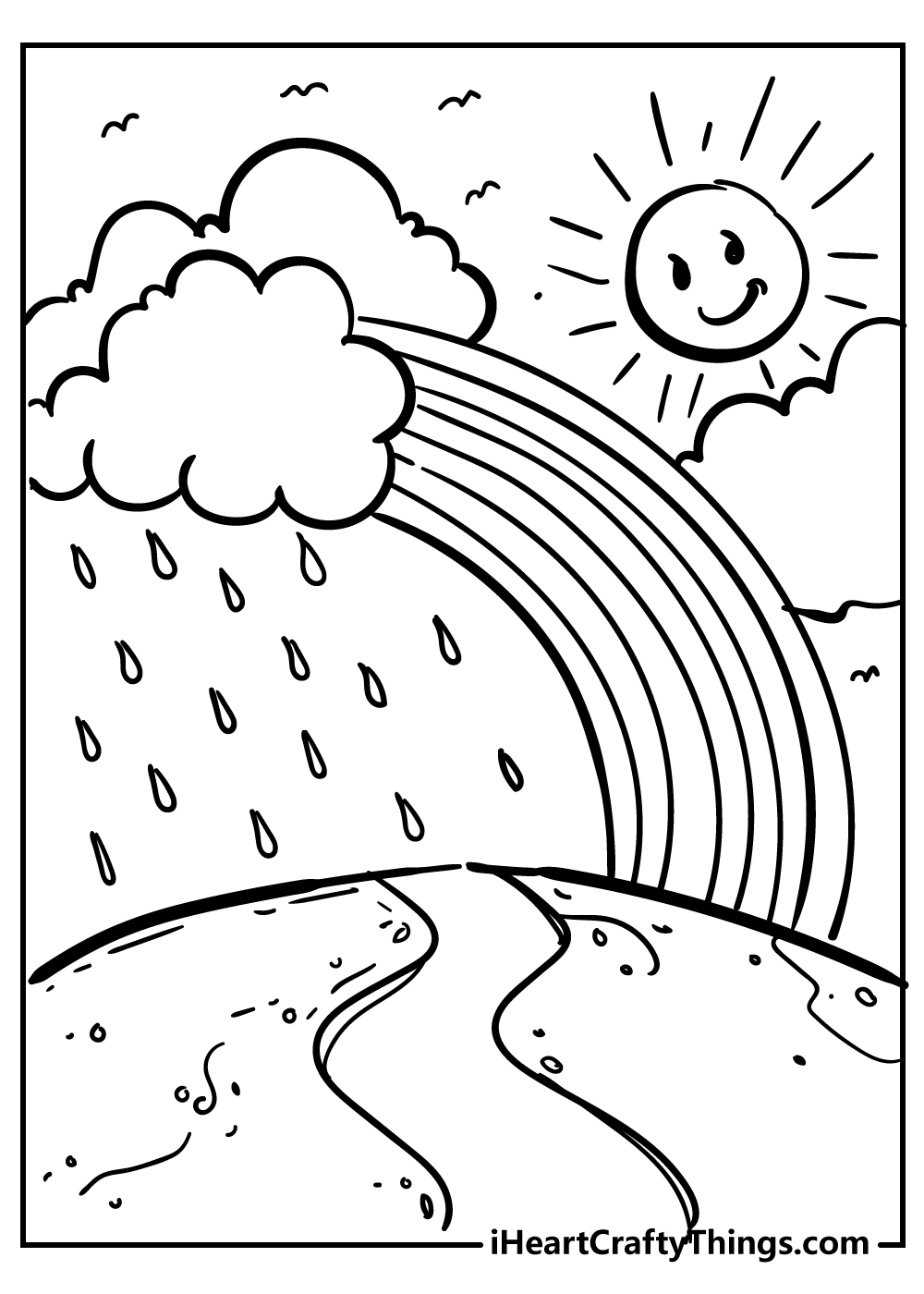 Rainbows are associated with magical things, like leprechauns and unicorns. Dorothy even went over the rainbow to get to Oz in The Wizard of Oz.
Maybe this rainbow printable shows a magic world above the rainbow, amongst the sun and stars.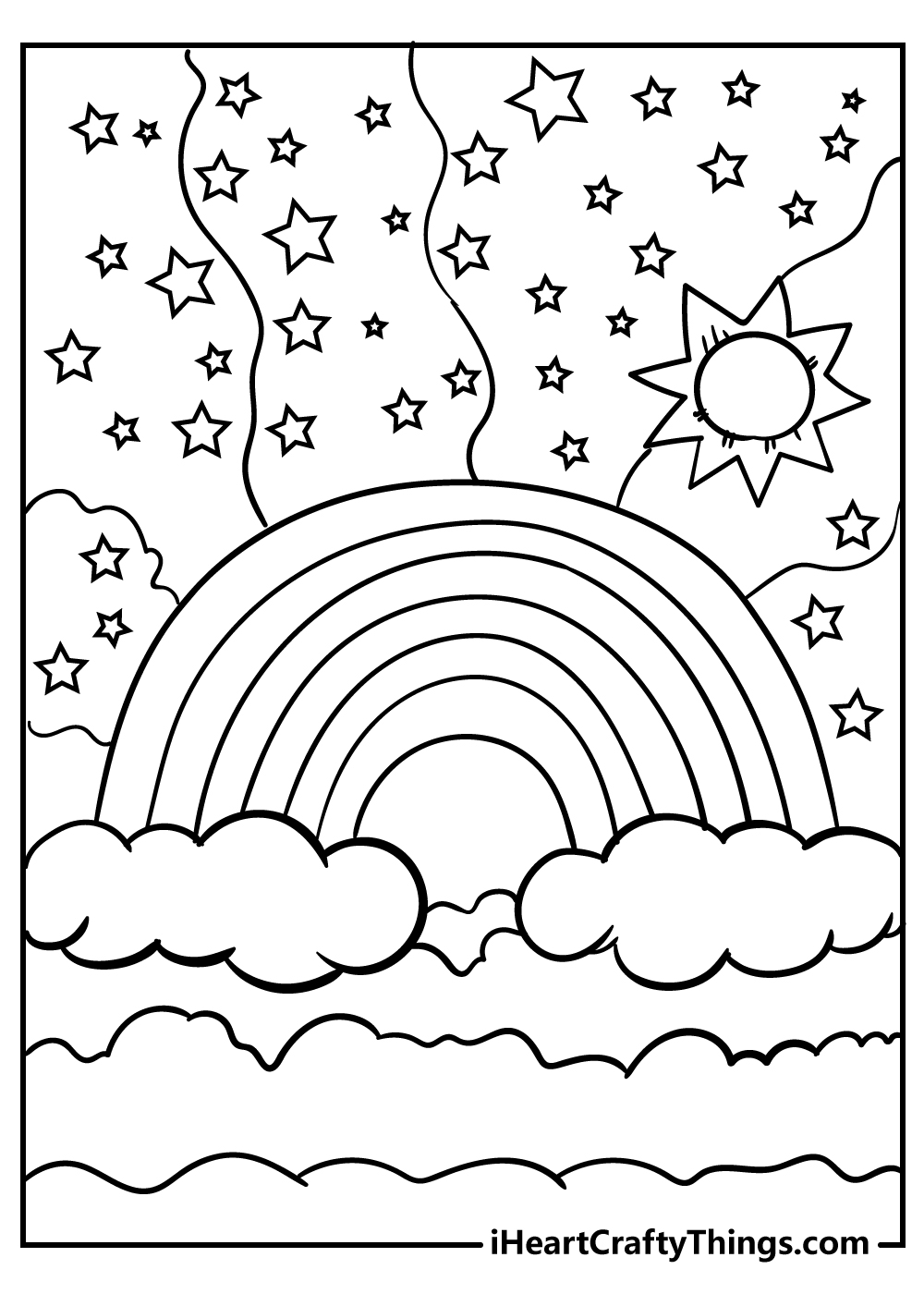 This rainbows with friends coloring printable has a few kids that look ready for adventure. The rainbow above adds some magic to the scene, and it's ready for some color additions.
With so many amazing details to color, you can really work your creative magic on this page. Be sure to have tons of fun working on this page!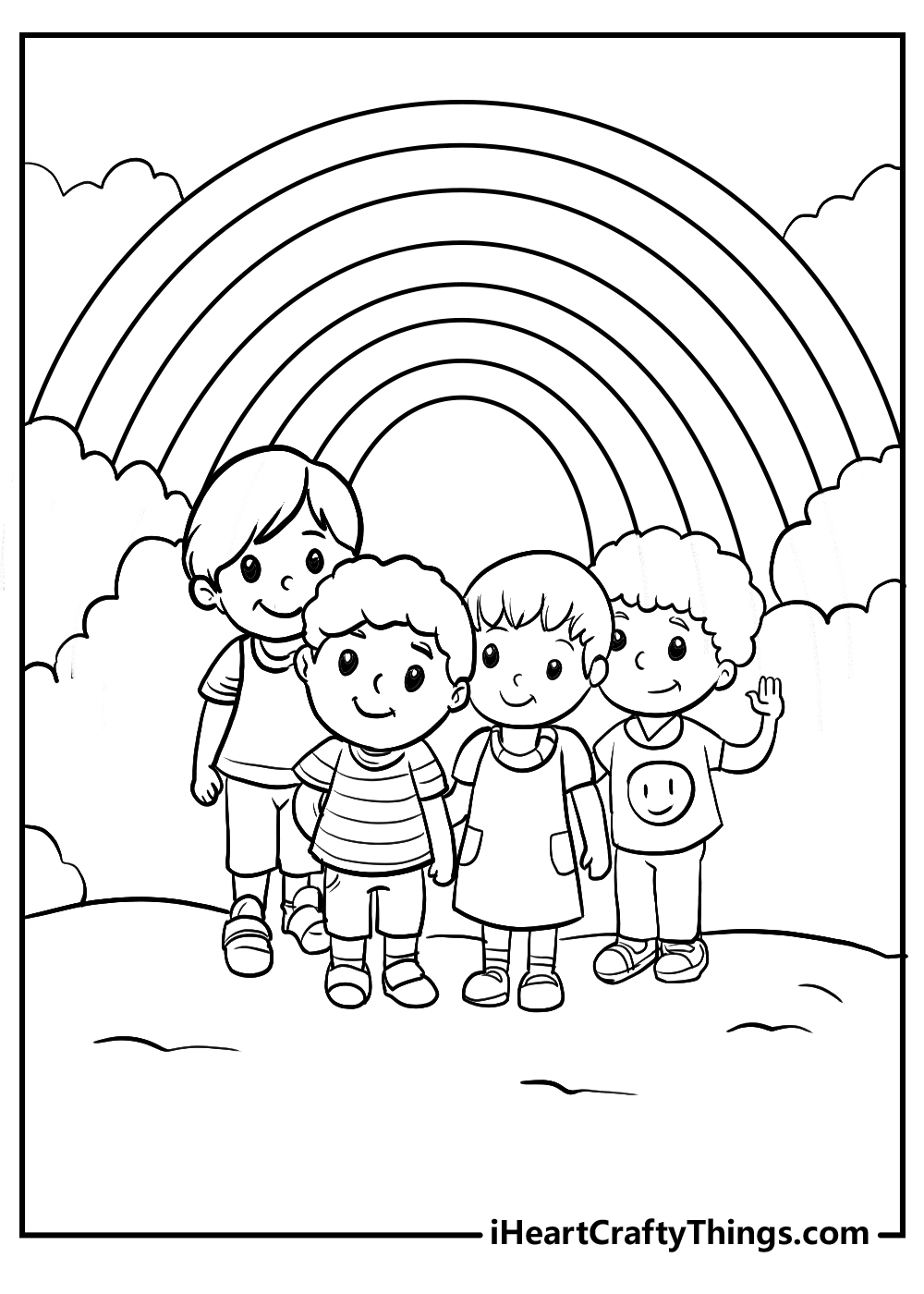 These rainbow printable sheets show the true beauty of these phenomena. Here a rainbow sits in front of a striped background.
Since rainbows are optical illusions, they look different to everyone who sees them.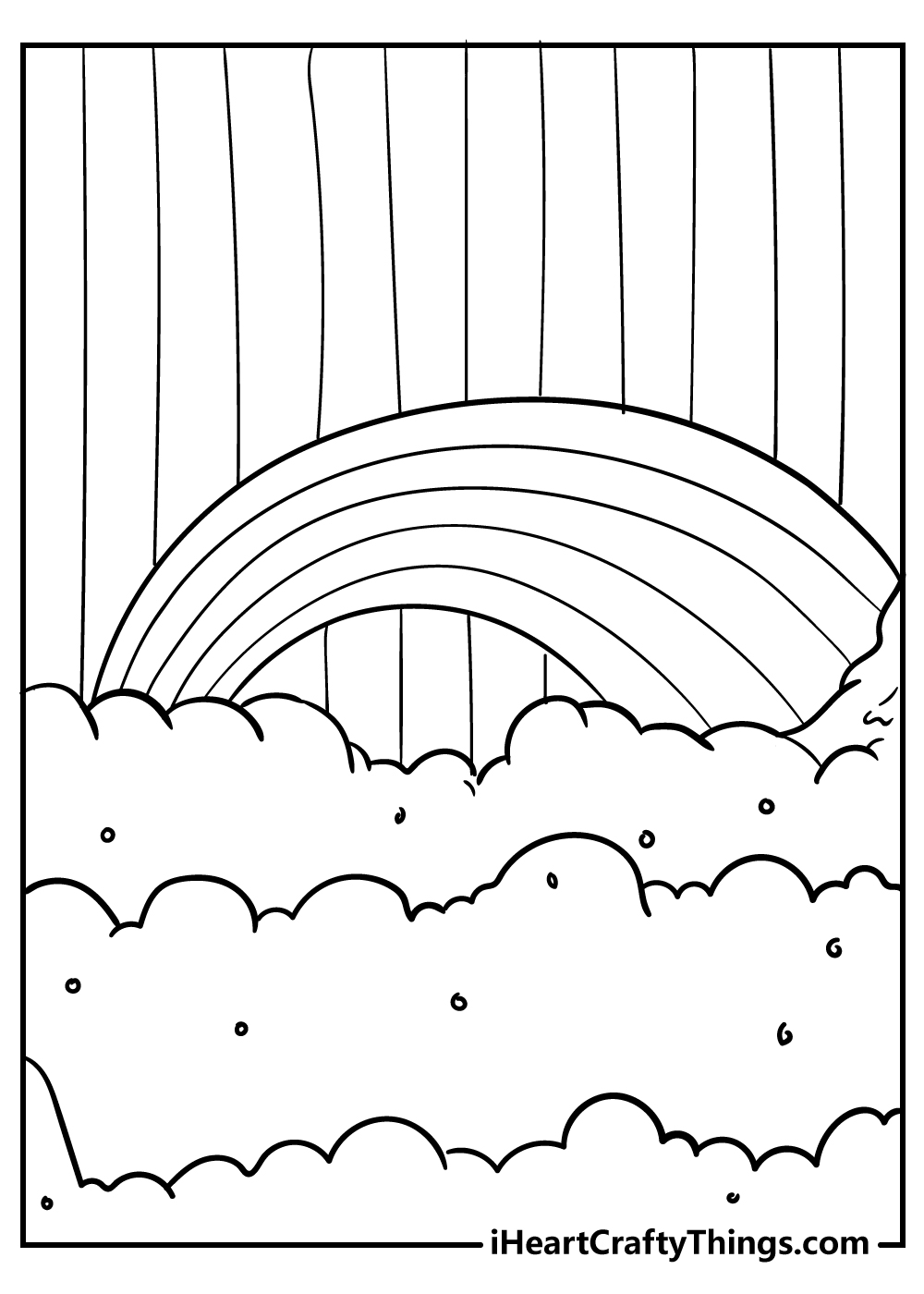 This swirling star design has a rainbow coming from the top and the bottom.
Stars seem to be just one more beautiful image associated with rainbows. What colors will you make the star in this printable?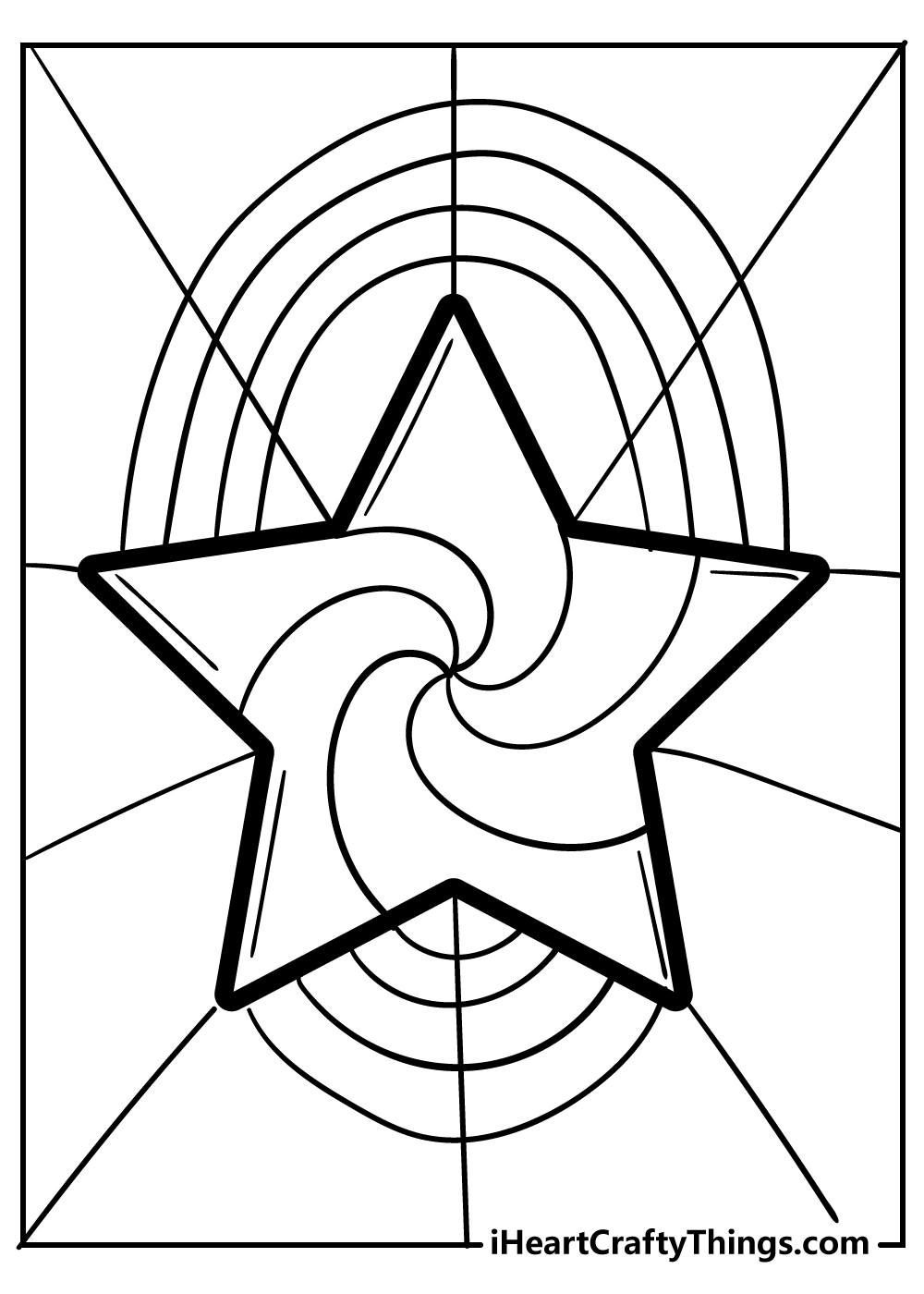 Remember – we are constantly updating our catalog of coloring pages and printable sheets.
Keep checking back to see which new pages have been uploaded and which fun images are available for you to print and color. There is so much more to come.
We hope you have enjoyed these beautiful rainbow coloring pages and that their intricate patterns and designs have brightened up your day.
Don't forget to post a photo of your finished masterpiece on our Facebook page. We can't wait to see what you'll come up with next.