There are a few times of the year as beautiful and atmospheric as Fall. Every season brings its own beauty, advantages and disadvantages, but there is always something unique to appreciate!
September is the beginning of this beautiful season, as leaves start turning yellow and the air grows chillier.
This collection of free September coloring pages for kids is here to help you capture some of that Autumn magic with your colors!
The pages in this collection aim to capture something about September to create that cozy Fall feeling that so many enjoy.
By the end of it, you will be able to relive some of your favorite seasonal moments from this magical time of the year
This collection has 15 pages that are all free for you to print, color and enjoy as much as you please! You can also share these pages with your friends and family to enjoy as well.
No matter what time of the year it is, we hope you enjoy this Fall celebration within these September coloring pages.
When you have completed your favorite pages from the collection, we hope you will share them on our Facebook and Pinterest pages for us to enjoy!
15 Brand New September Coloring Pages – Free to Print and Color
We're starting this collection of free September coloring pages for kids with a simple but fun image!
The word September is written in a bold, creative font, and it creates a fun mood to get this collection going.
September and Fall is often associated with certain colors such as yellow and orange, and you could keep these colors as a common theme throughout the collection.
While you could play around with these Fall colors, you could also use any other colors you love instead! This is where you can really show off your creativity and have tons of fun doing so.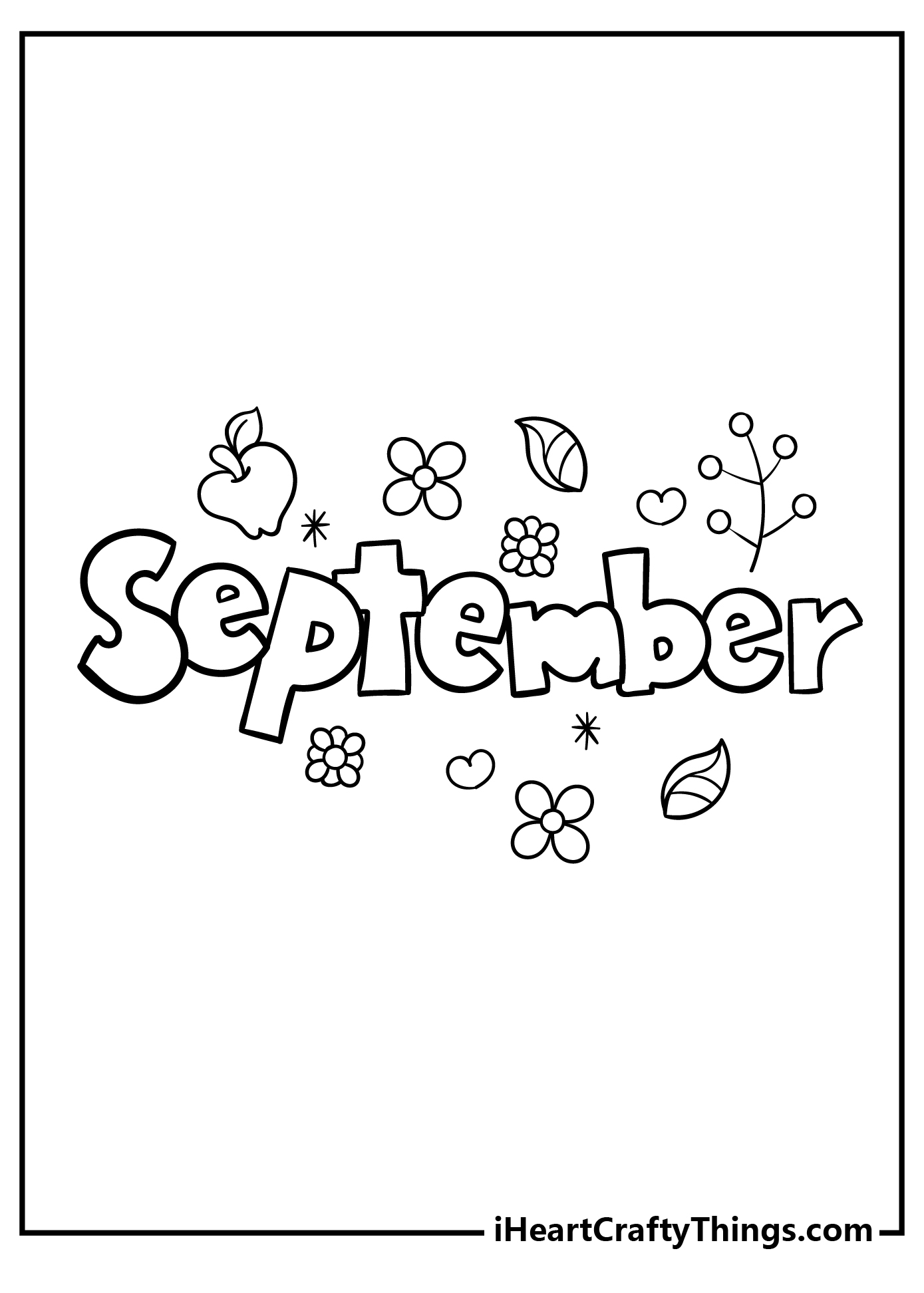 Get ready to go back to school with this September coloring page. It features a smiling boy wearing a cozy red hoodie with a fluffy white pom-pom.
He has a backpack probably filled with books and pencils for the new school year.
There are falling leaves surrounding him as he walks down the sidewalk. At the top are the words "September" in bold letters.
As you color this page, think about picking out your own backpack and clothes for the first day of school.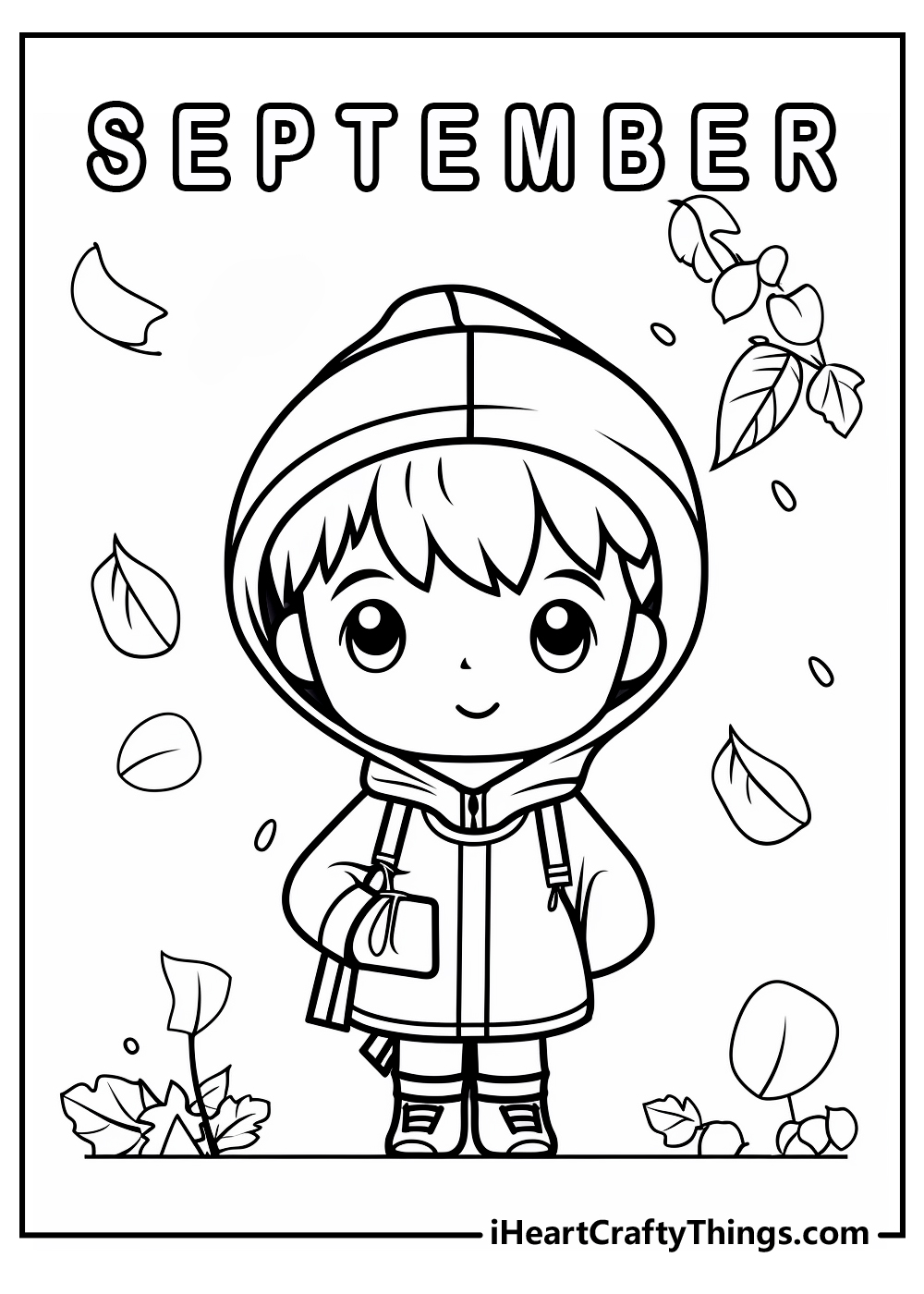 The word is written out in an intricate, fancy font in this next September coloring sheet! Then, it is surrounded by some objects one would associate with this time of year.
Leaves, acorns, branches and other objects and patterns are arranged around the word to create a wonderful and vibrant image.
Now all that remains is to choose what colors you will use for this fun design! What colors will you choose for this?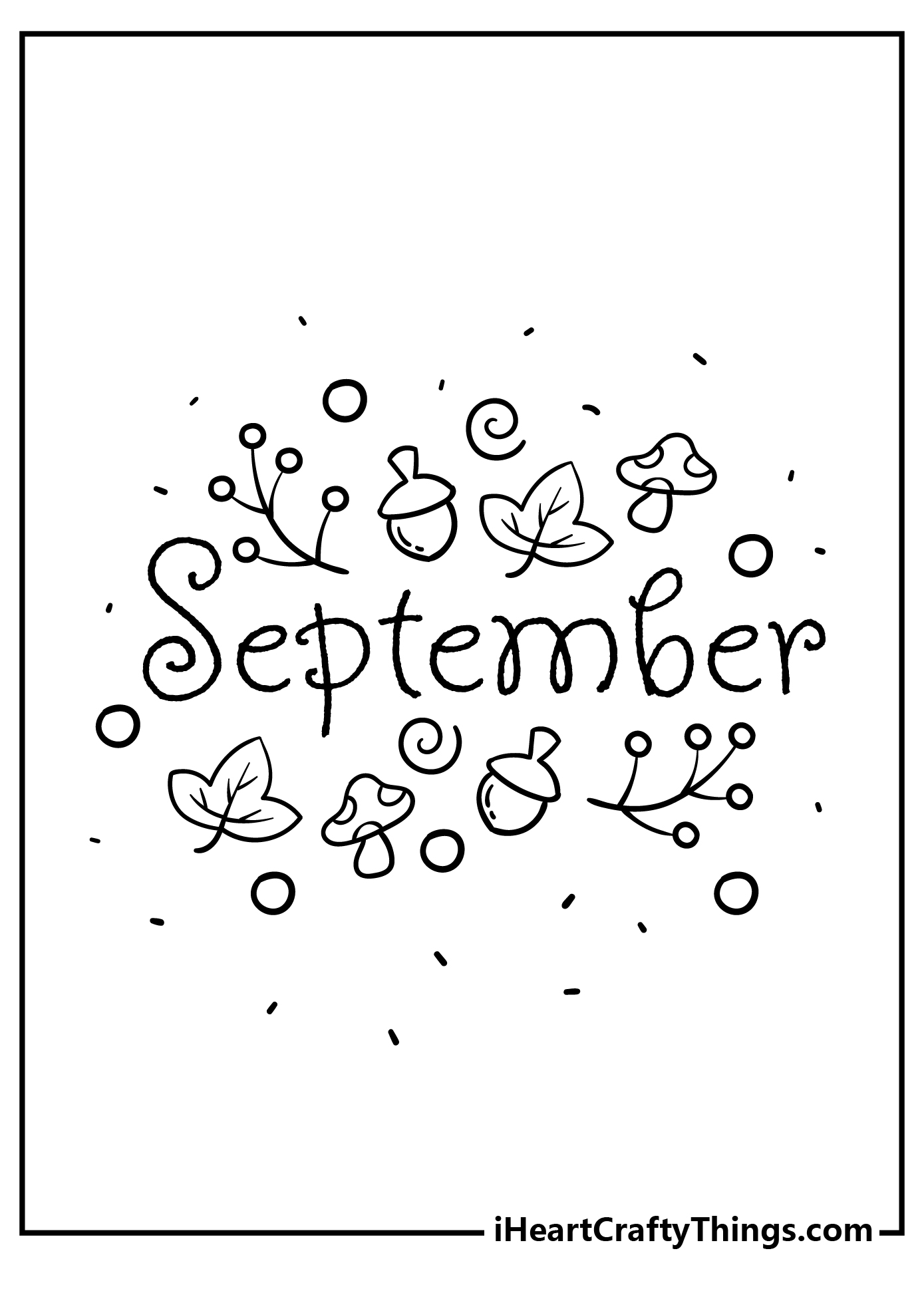 Welcome to the autumn harvest with this fun September coloring page! It shows a happy boy wearing a beanie and a backpack standing in front of the word "September" in orange letters.
He's ready to pick apples and pumpkins! The background is filled with leaves drifting down from the sky. September is when many crops like apples, grapes, corn, and squash are ready to be picked.
You can use reds, oranges, yellows, and browns for a seasonal autumn look. Add glitter or stickers to celebrate the harvest!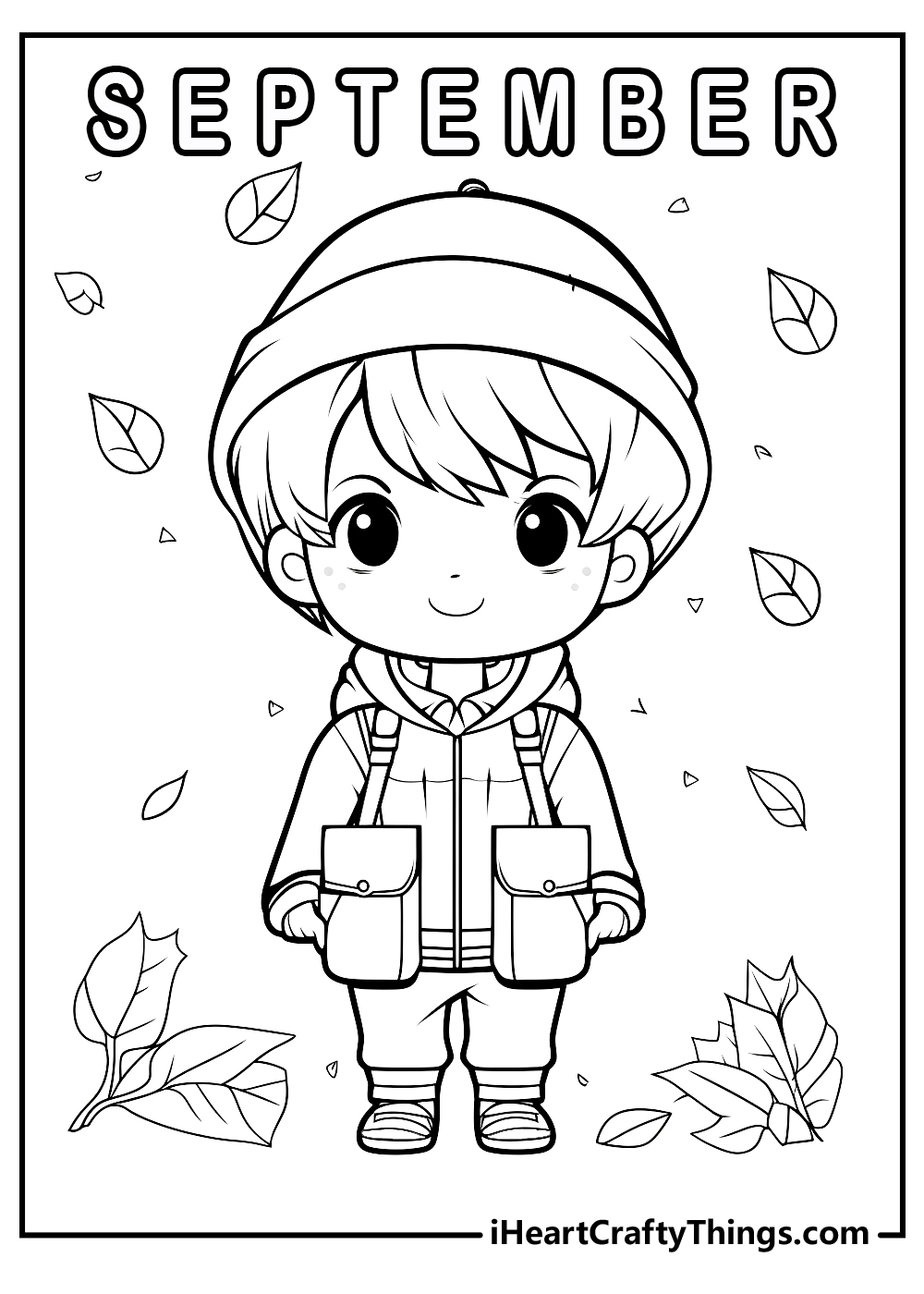 The details in this next composition are simply stunning. September is again written in a bold font, and it is surrounded by a large variety of different leaves, flowers and other natural elements.
We think that these detailed pictures would be well suited to softer colors.
If you agree, then you could use some art mediums such as watercolor paints or colored pencils to add color to these wonderful details.
Anything you use will look amazing, so what comes to mind for you?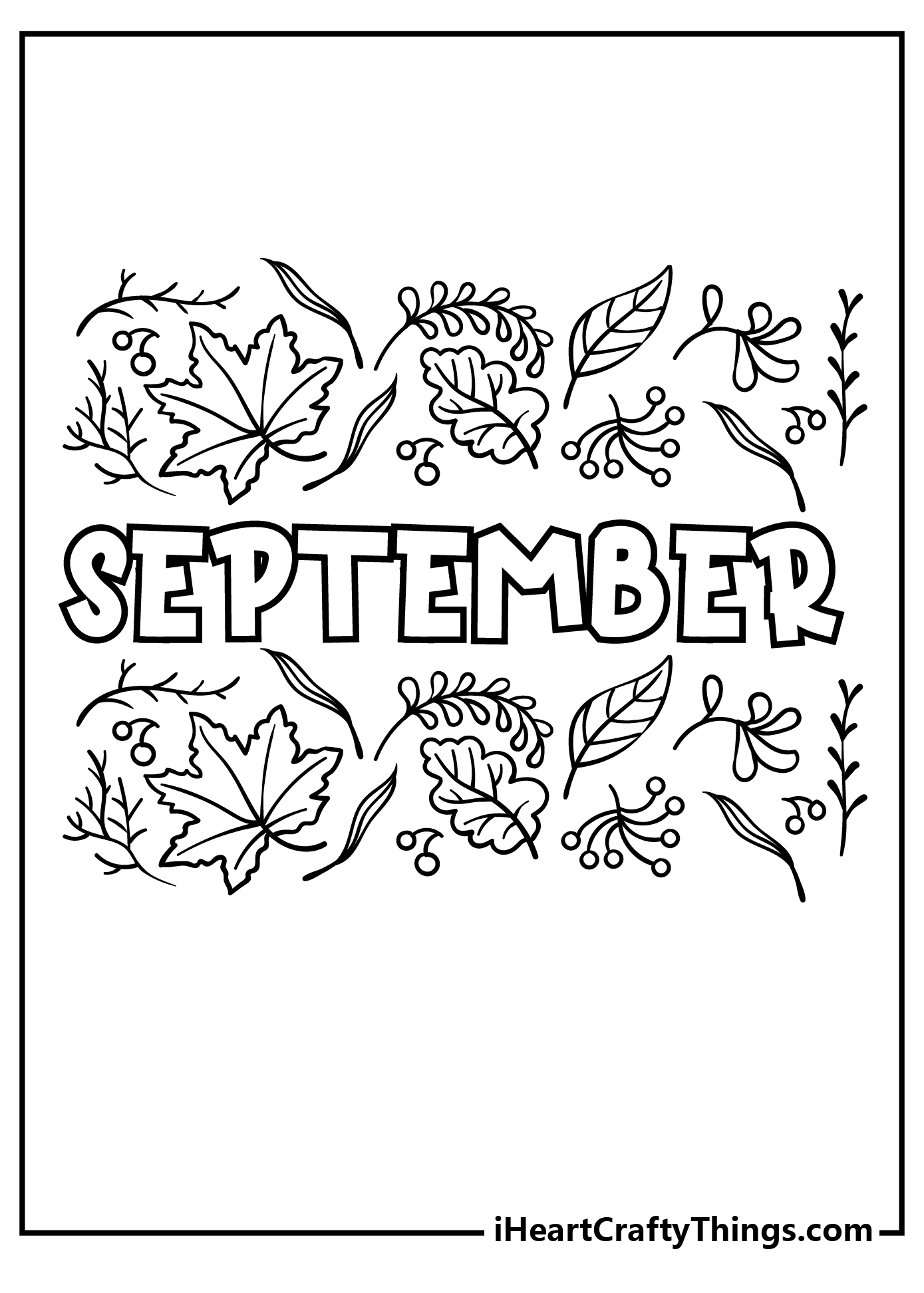 We really love the fancy font that is used for the word September in this next image! It is bold enough for you to be able to color the letters, but it is also very elegant and fancy.
You can color the letters here, but there are also some more plants and objects associated with the month surrounding it.
You could go for a unified set of colors, but you could also go for colors that really contrast with one another.
It's up to you to decide what you prefer, and it will be very interesting to see what you go for!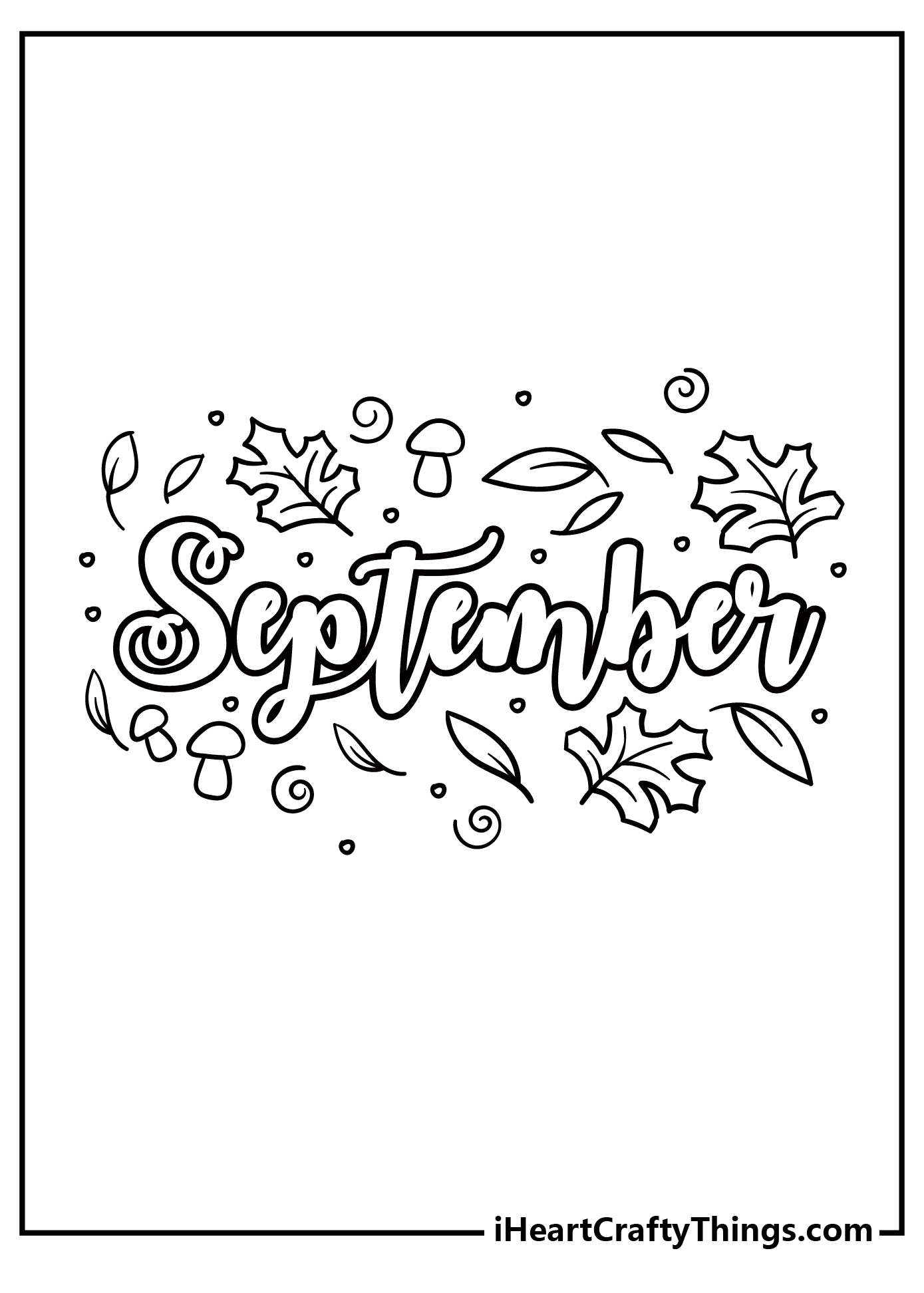 School is in session with this September coloring page. It shows a smiling boy wearing a striped beanie and brown jacket holding a lunchbox in one hand and backpack in the other.
He's ready for the first day of school!
The words "Month of September" are written behind him. The background shows leaves gently falling from the skies.
As you color this page, think about seeing your friends again and meeting your new teachers.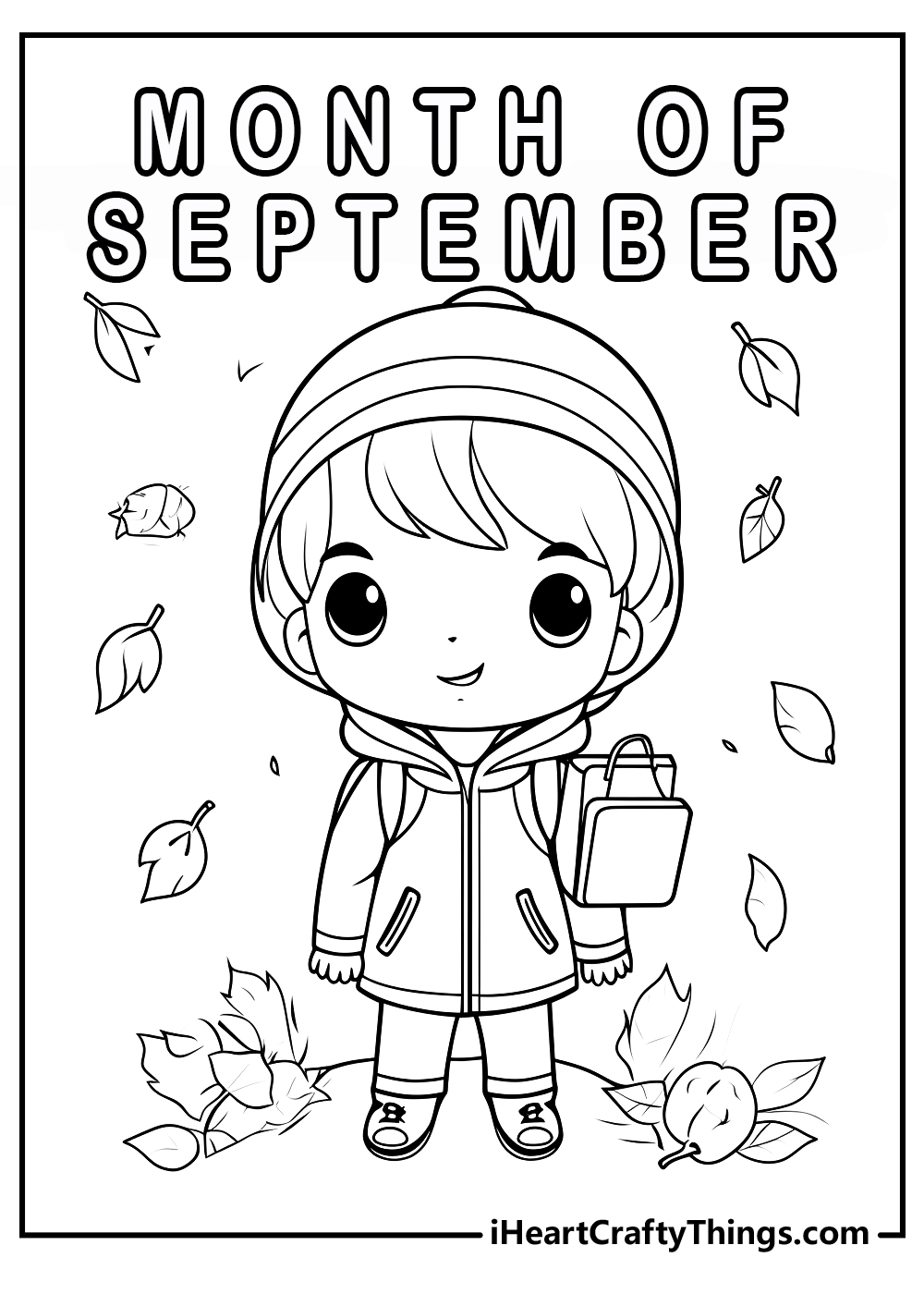 This fifth September coloring printable features another awesome design for you to color! There's another cool font for the word September, and it is surrounded by more leaves and other shapes.
What really brings it all together is how it is all contained within a fun, wavy shape.
Do you think you will color the background space of this image or leave it blank to keep the focus on the central image?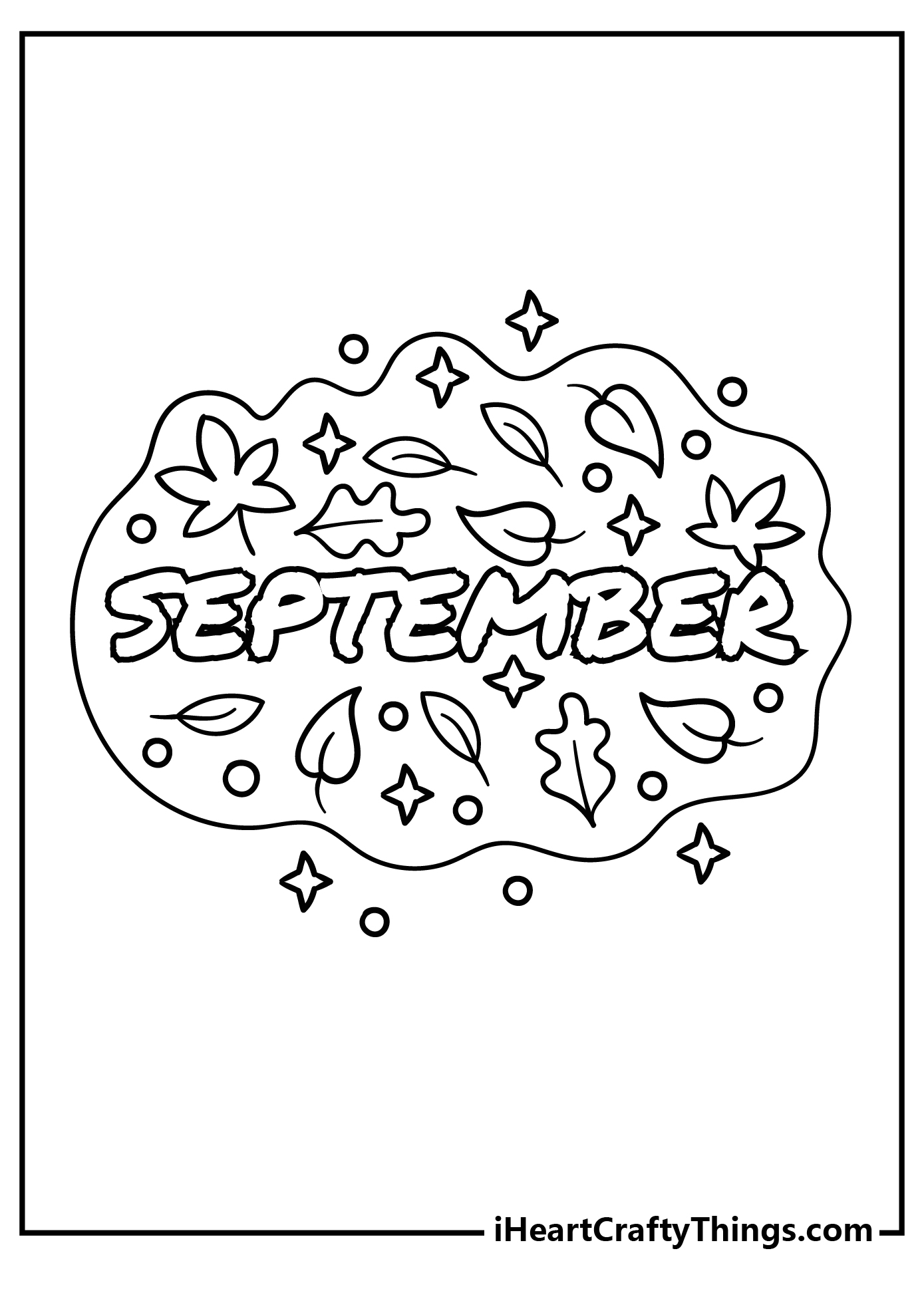 There is a really classy and elegant feeling to the design featured on this sixth page. September is written in a very smart, simple font that makes it look more subdued.
To balance off this more serious side, there are tons of whimsical, fun objects surrounding it that are associated with this month.
There are some stars and flowers and even music notes to show off some of the activities many people like to partake in around this time of year!
With so many details, there are bound to be many colors you can play with to finish it off.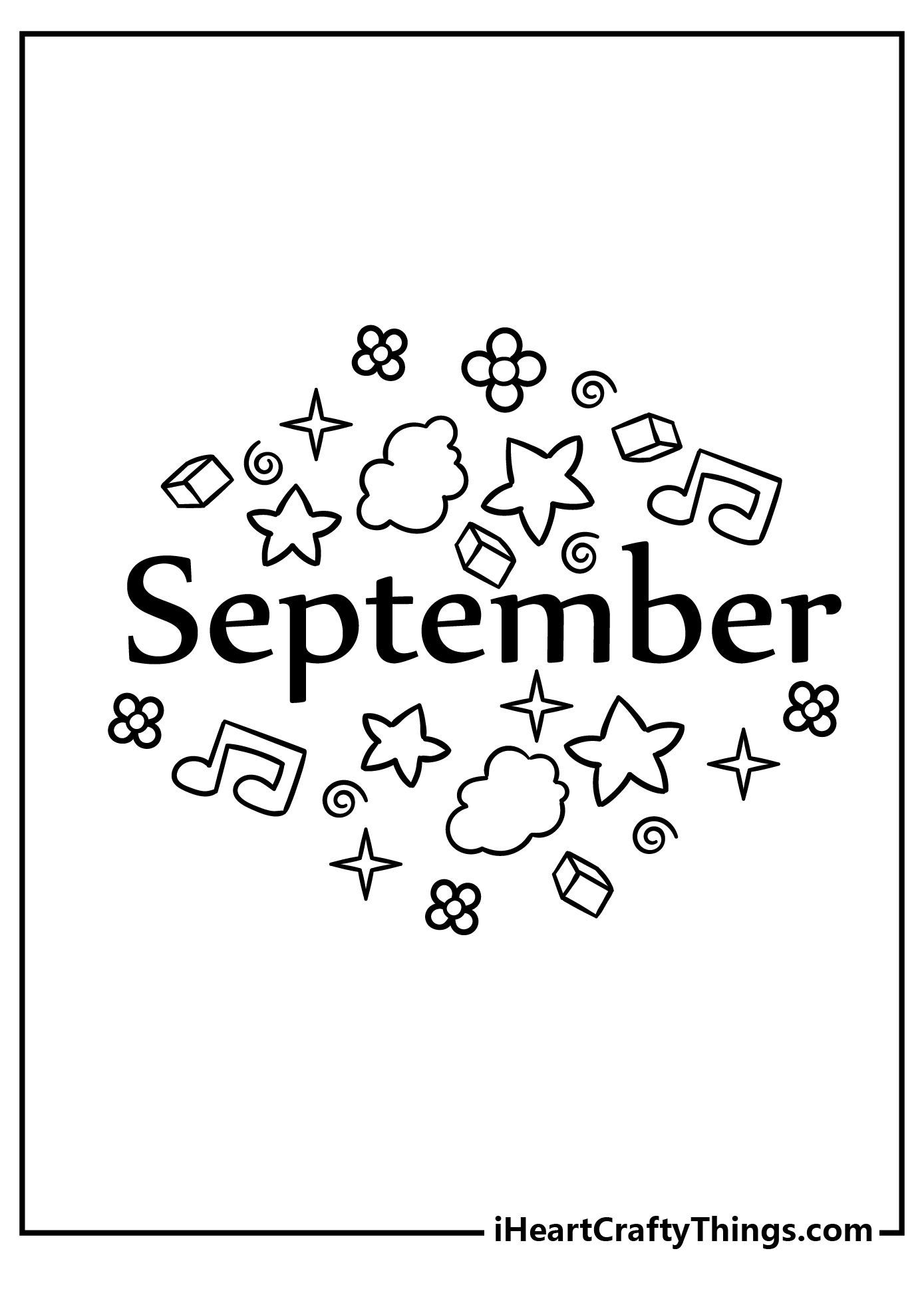 September is here, and so is the apple season! This coloring page features a boy who loves apples. He is wearing a beanie and a jacket, and he is holding a book in his hand. He is standing next to a pile of apples that are fresh and juicy.
The word "September" is written in a large and elegant font at the top of the page. You can use your imagination to color this page with any colors you like. You can also use some paint or glitter to make the apples shine.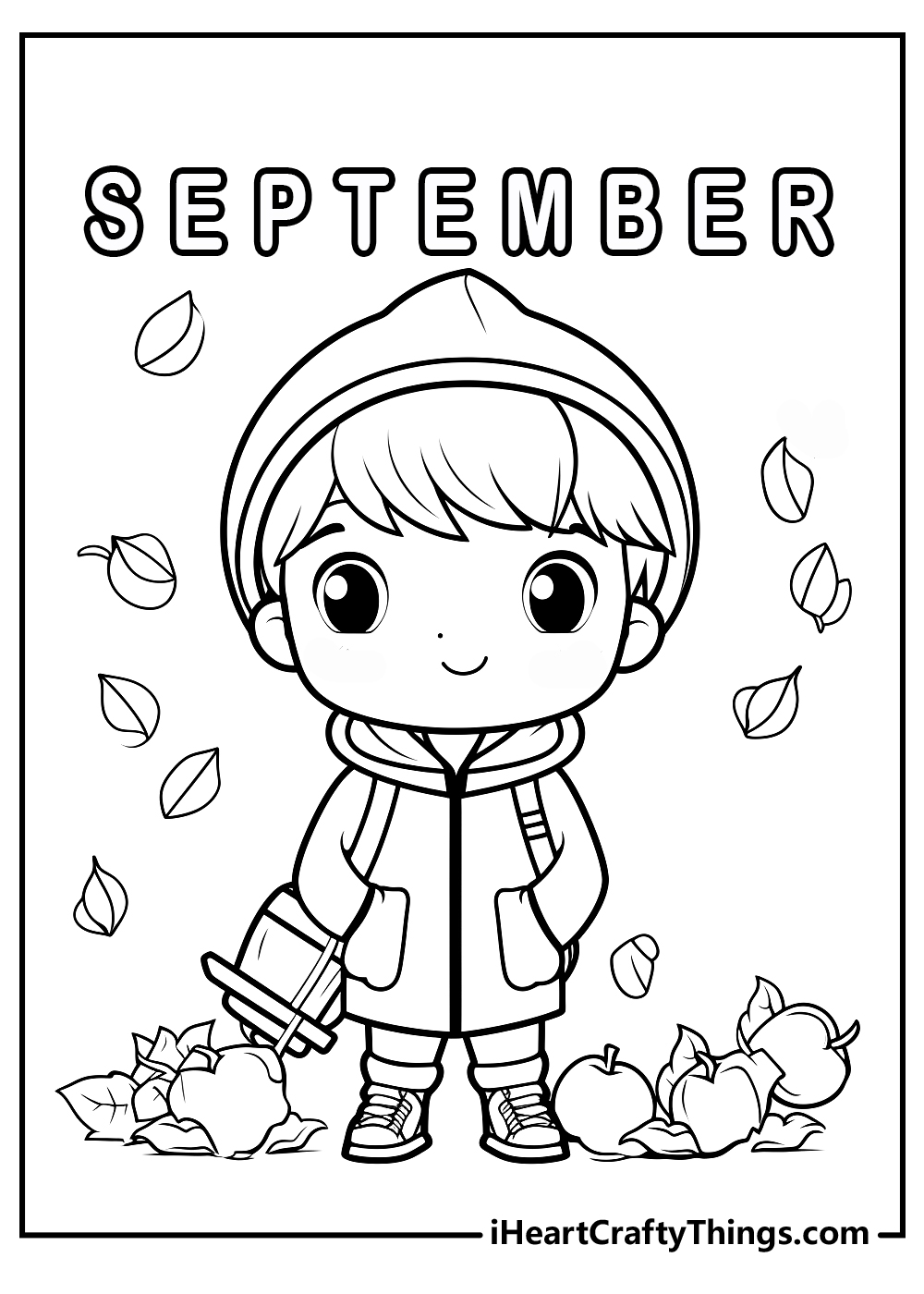 We have another wonderful September-themed image for you to color here!
This time, September has been written out in a simple yet beautifully bold font, and there are some wonderful little details surrounding it.
We have some more leaves and even some berries and small shapes to enjoy on this one.
This is another image where you may want to use some smaller art mediums to make coloring these tiny shapes much easier!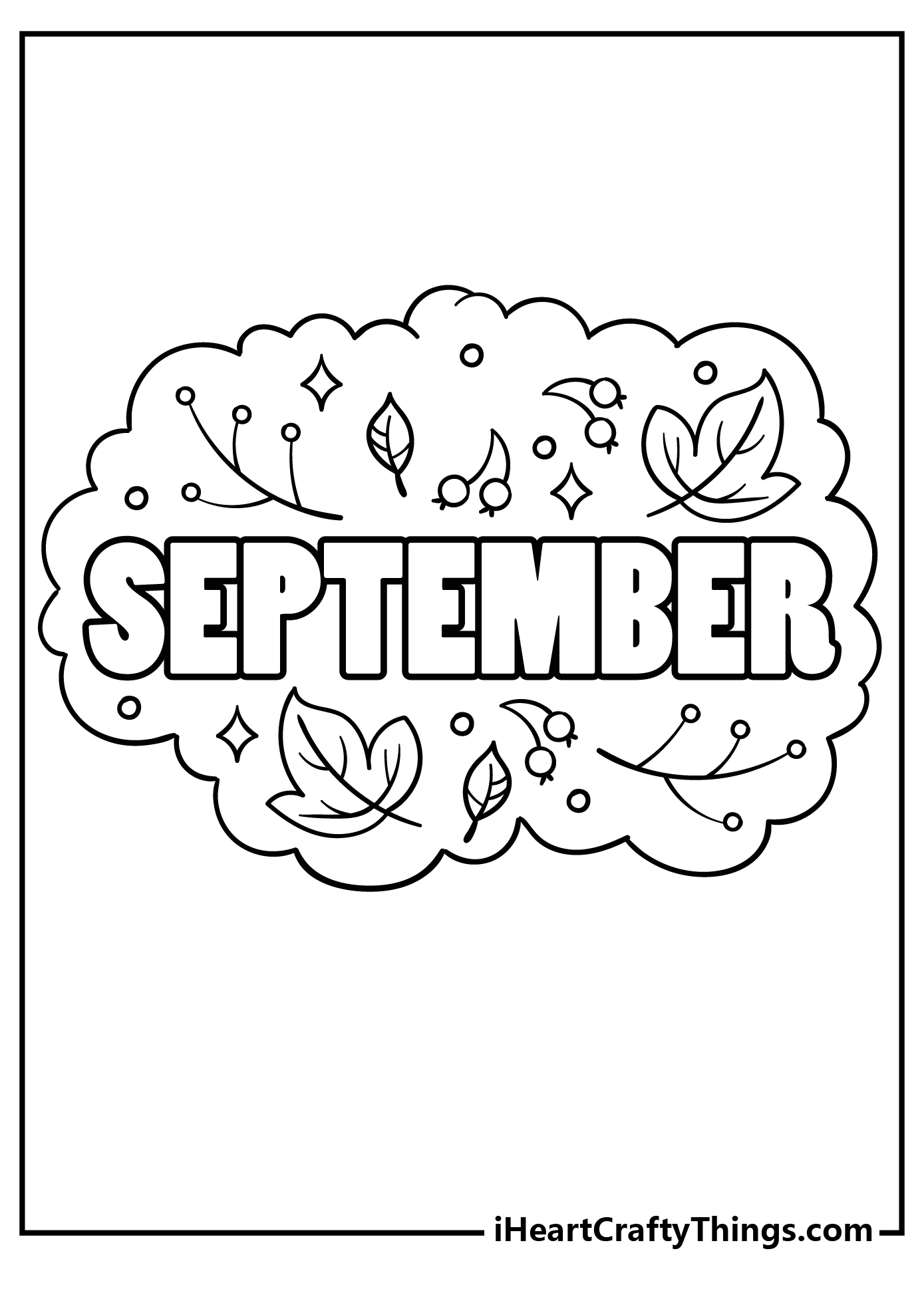 There is a real Fall feeling given off by this beautiful picture. We love the way September is written here, and it is surrounded by plenty of leaves and flowers.
This would be a great picture to use some classic Fall colors on! That means using some more yellows, oranges and browns for the leaves, and you could work them into the letters as well.
All of these details are contained within a round, wavy shape, so you can also color this in to create a stunning background.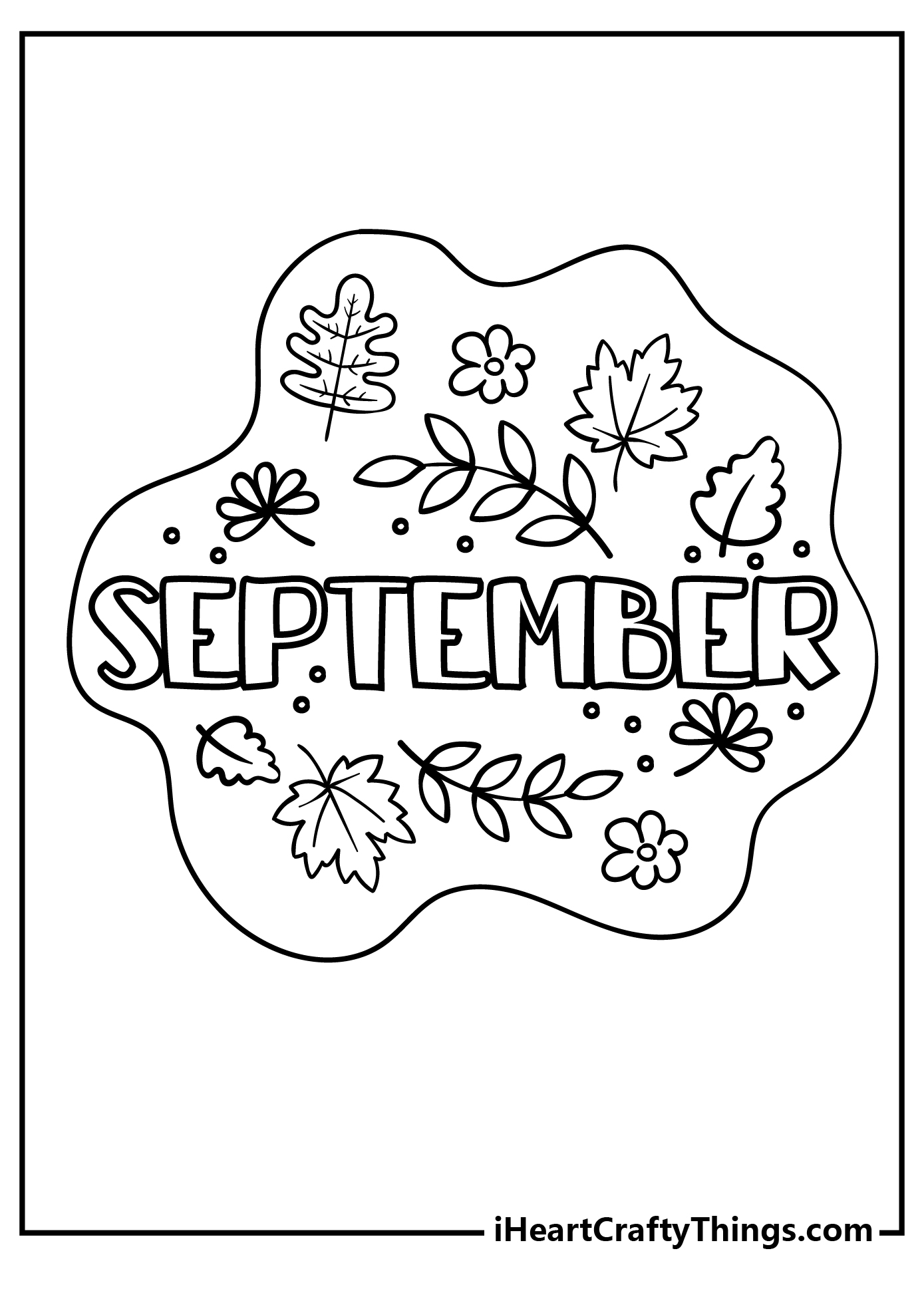 September is the month of learning and reading! This coloring page shows a boy who loves books. He is wearing a hoodie and a backpack, and he is carrying a box that probably contains books in his hand.
He is standing under the word "September" that is written in a cute and curly font. The background is full of leaves that are flying in the wind.
As you color this page with blues, purples, and greens, think about your favorite books and authors. Add stickers or glitter to the box for extra detail.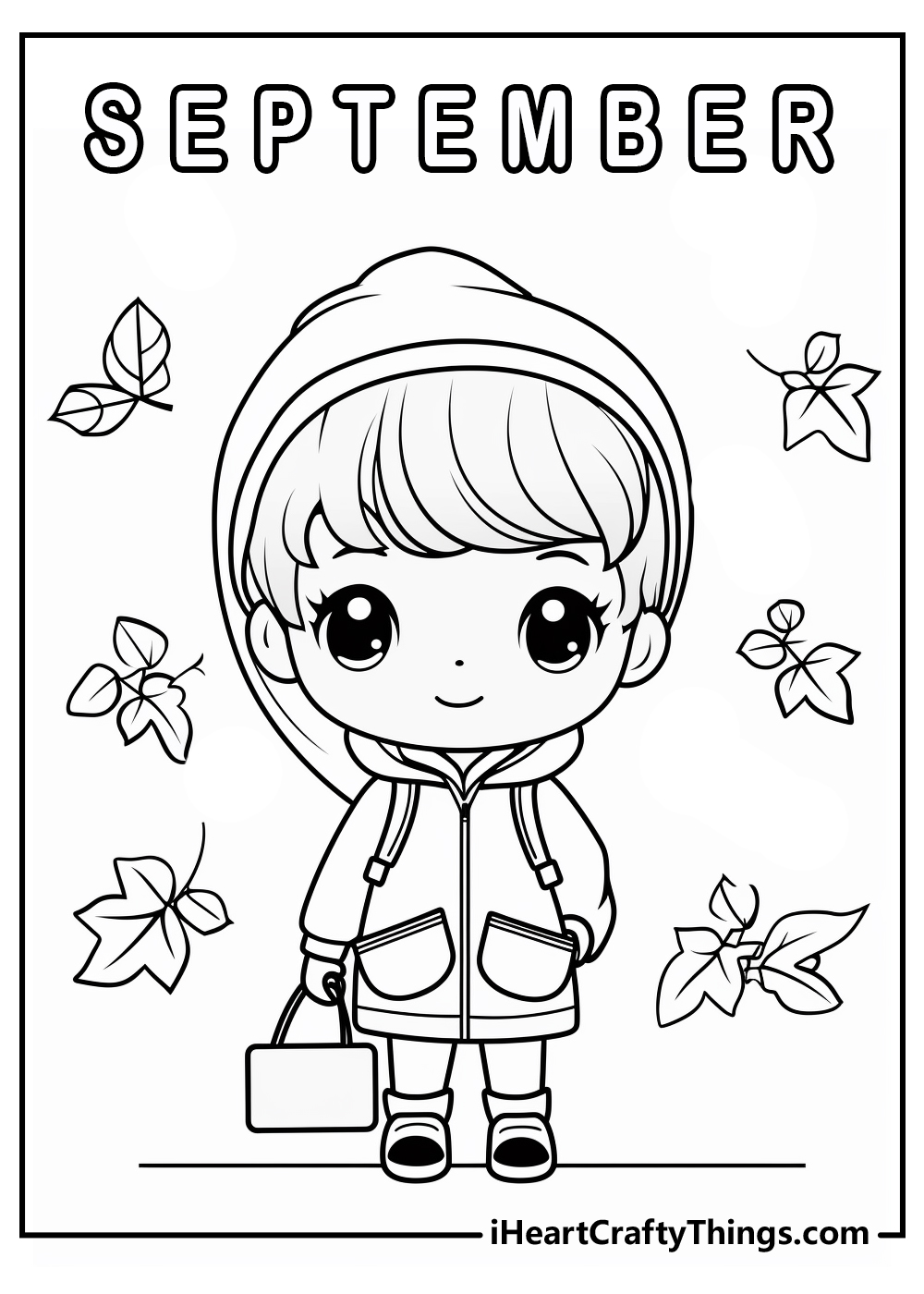 For this ninth September coloring page, we have a simple yet beautifully elegant design! September is written in a really fancy font here, and it gives this one a classic, classy feel.
Above it, there is an arrangement of some beautiful leaves and flowers, and the way they're arranged further contributes to the classy feeling of the page.
This is another one where we think watercolors would be perfect to compliment the classy and elegant design, but what colors and mediums are you thinking of using?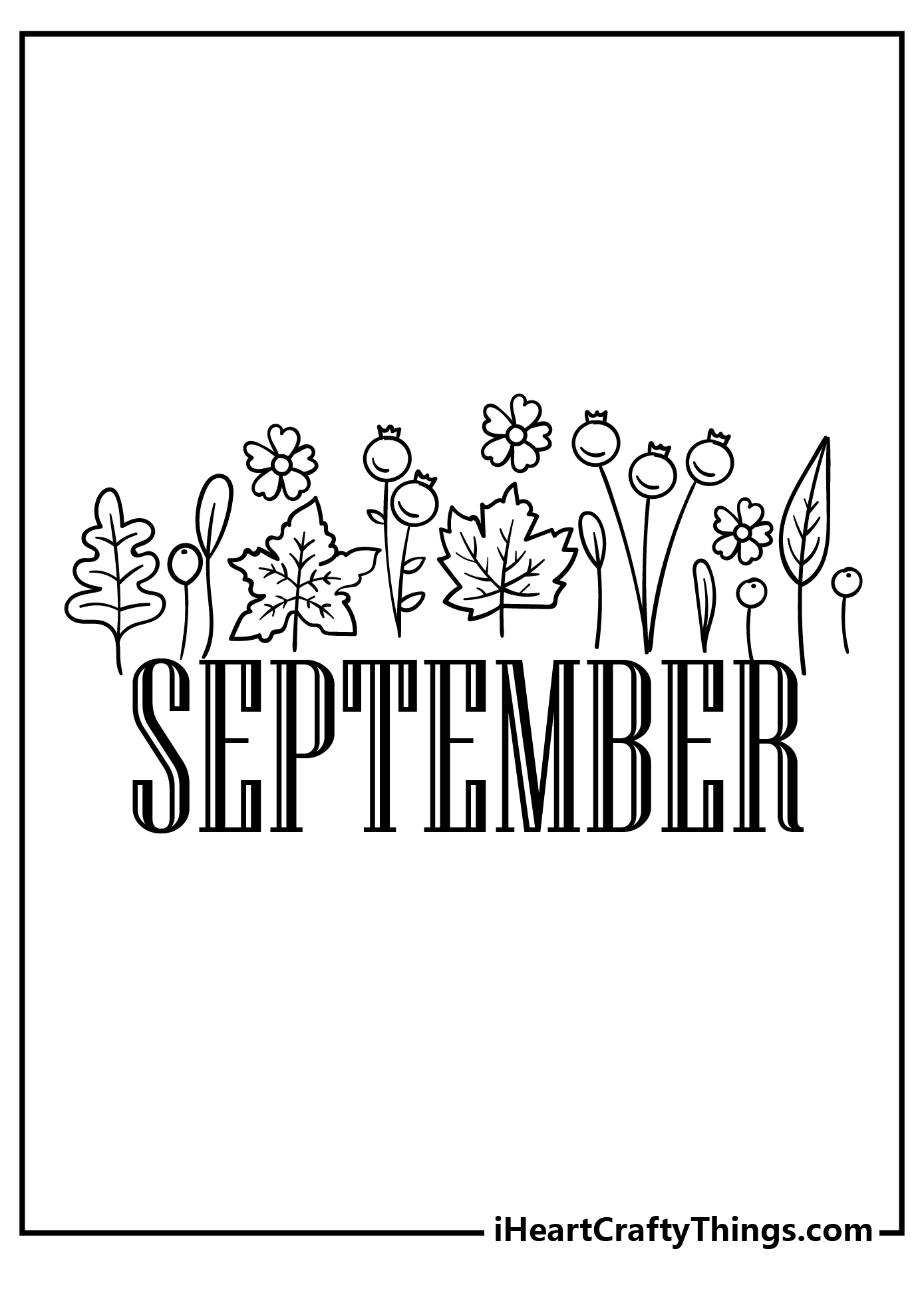 We have such a lovely picture for the final page of the collection! This one has September written in a fun, wavy style, and there are some more beautiful leaves to color below.
Then, there is a stunning rainbow design above, and this gives you an excuse to use some stunning bright colors.
When coloring the thin sections of the rainbow, we would definitely recommend some colored pens or markers to make it easier. How will you finish it off?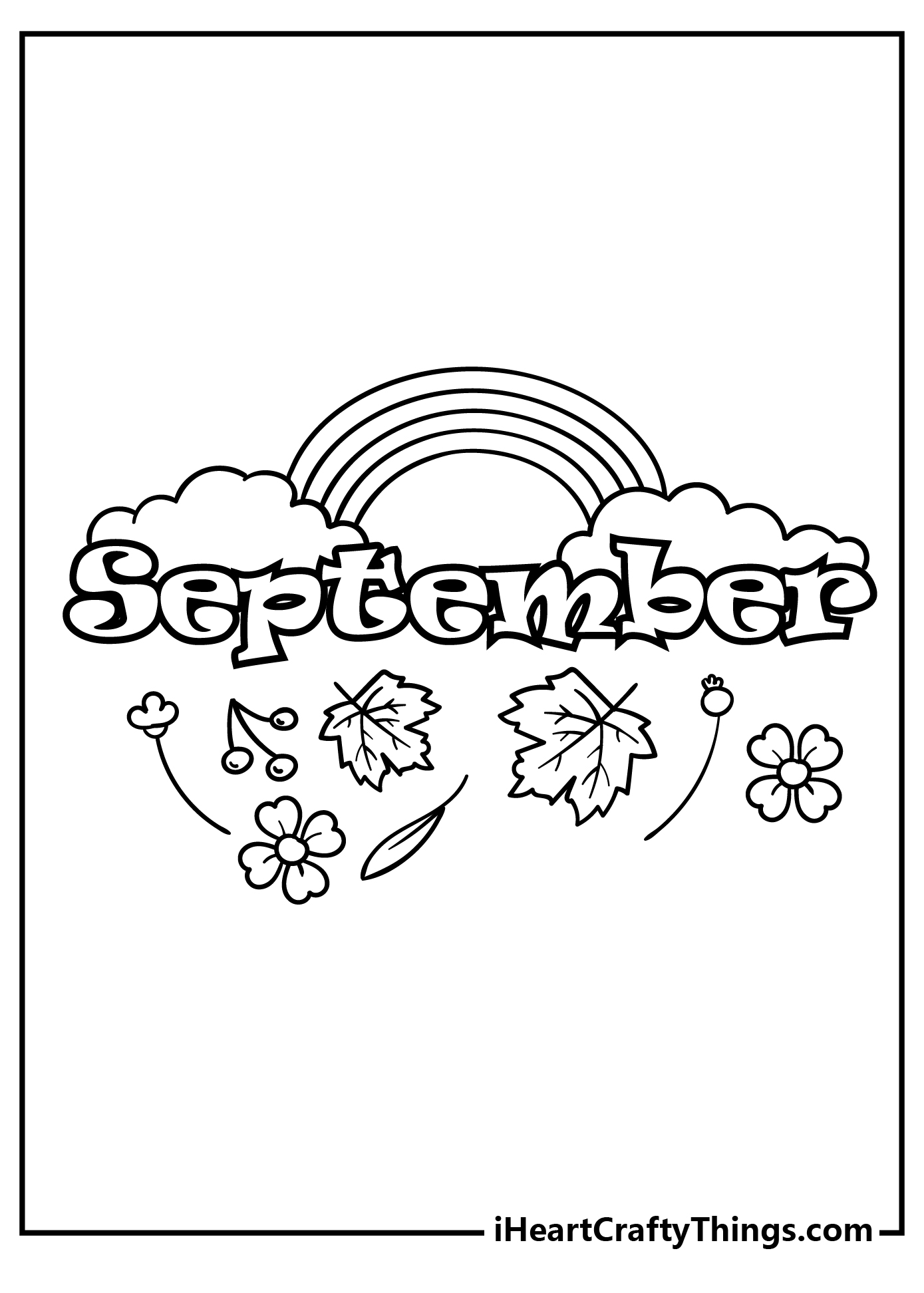 September Coloring Pages – Which will you choose?
What a great celebration of this wonderful month we got to partake in during this collection of free September coloring pages for kids!
We hope you had a wonderful time capturing the magic of this month as you experimented with colors and mediums.
Don't forget to check out our website frequently, as more awesome guides like this one are added all the time!
We also hope you will share some of your finished September coloring pages on our Facebook and Pinterest pages, as we would love to see how you colored them!