Each year is separated into four seasons, and each one is pretty distinct from the last. For this reason, most people have their favorite.
For many people, October is the best month of the year as it represents the season of Fall at its best.
This is where the trees will start to turn orange, a chill is in the air and Halloween is approaching. These free October coloring pages for kids are here to help celebrate the season!
In this collection of free October printables, you will find many wonderful Fall settings and scenarios to portray.
If there's something you love about October, chances are you will find it within the pages of this collection!
There is so much variety in this collection that you could either pick out a few favorites or have fun working through the entire collection all the way to the end!
You'll have a lot of opportunities to use all your favorite colors, art tools and mediums.
Having fun completing these October coloring sheets is just the start, however!
You can also show off your creative talents by sharing some of your favorite finished pages on our Facebook and Pinterest pages.
15 Brand New October Coloring Pages – Free to Print and Color
We have a nice simple and elegant picture for the first page in our collection of free October coloring pages for kids!
When October rolls around, you're probably going to be seeing tons of pumpkins in yards and in houses, and that's why we featured one in this first page.
This is a less detailed image, so it would be rather well suited to some bright, intense colors.
There are many options for the kinds of colors and art tools you could go for, so how will you color this first October printable?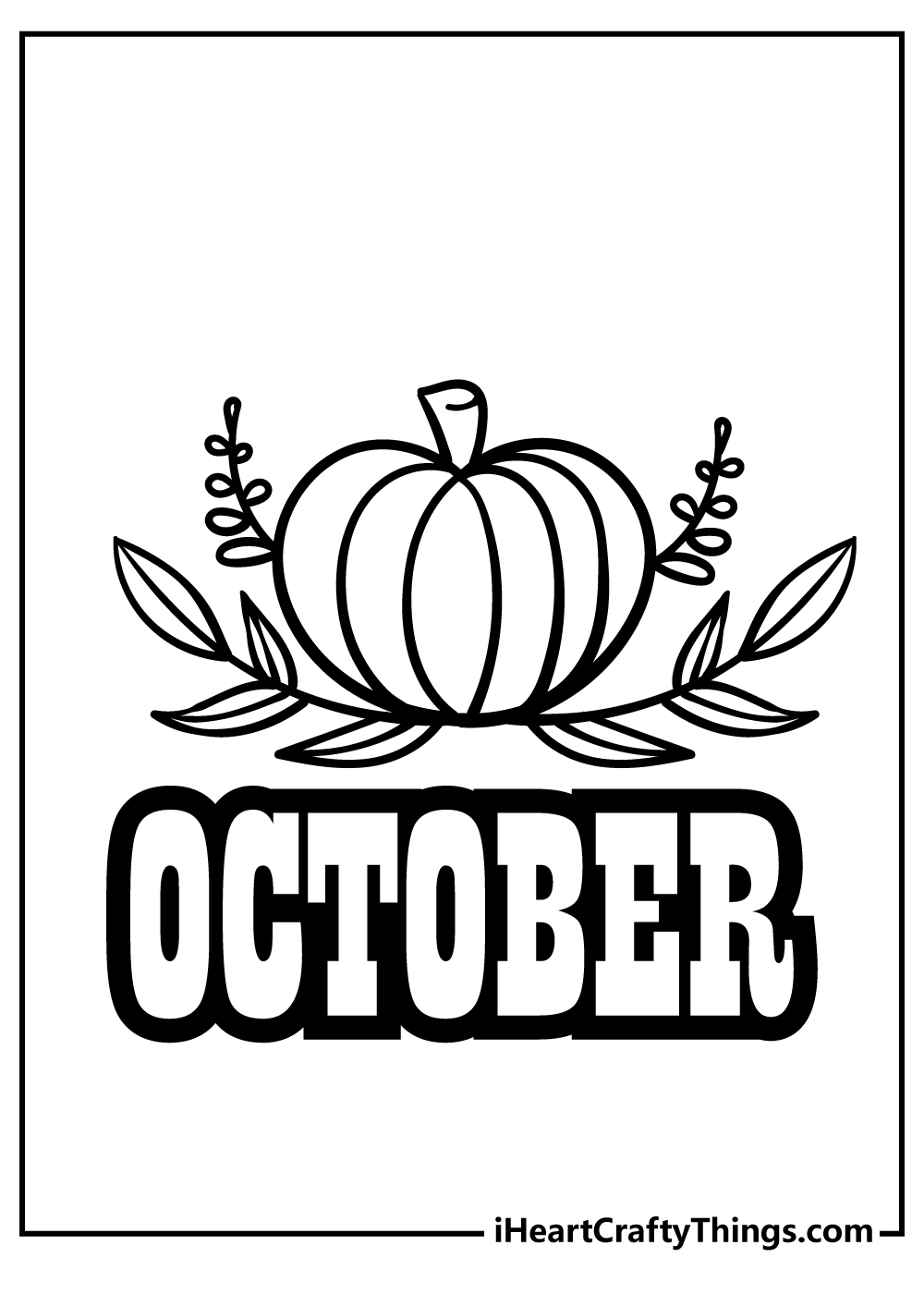 October is closely linked with Halloween, and this holiday will be heavily featured in this collection of October coloring sheets!
That's certainly the case in this second page that has some cool Halloween elements worked in.
We used a really bold font for the word October, and then above it we added a jack-o-lantern and a witch's hat to really go with that Halloween theme.
You could even draw some more Halloween elements to add your own spin to this coloring page!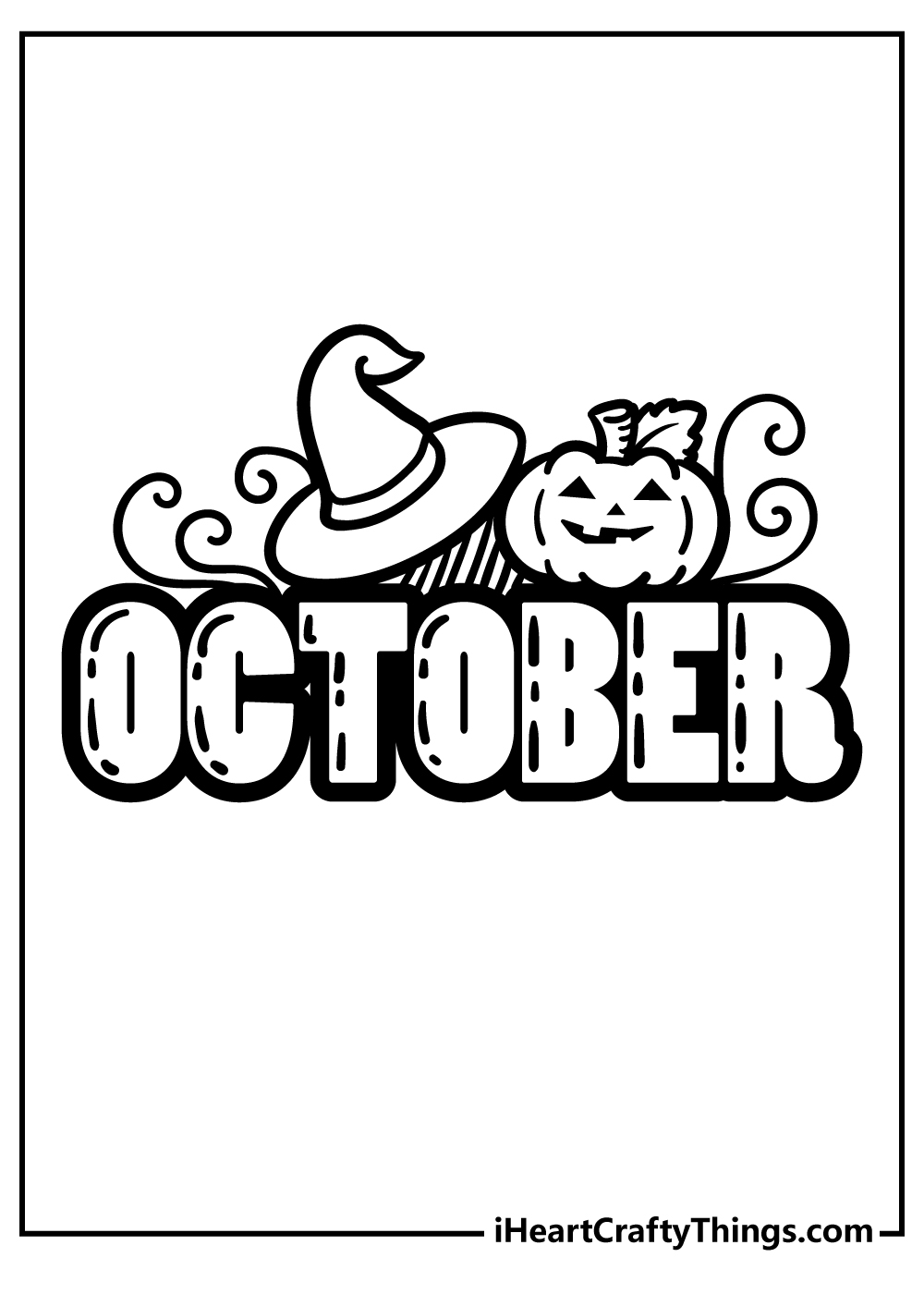 This October coloring page is perfect for celebrating Halloween, the spookiest day of the year. It features the text "31 October" in a playful font with a witch's hat on the number 3 and a pumpkin on the number 1.
The witch's hat is pointy and has a buckle on it. The pumpkin is also small and has a stem and leaves.
Color the page in your favorite Halloween hues. Try shades of orange, black, purple and green for a properly spooky vibe. Add details to the hat like stripes, sparkles, or a spider.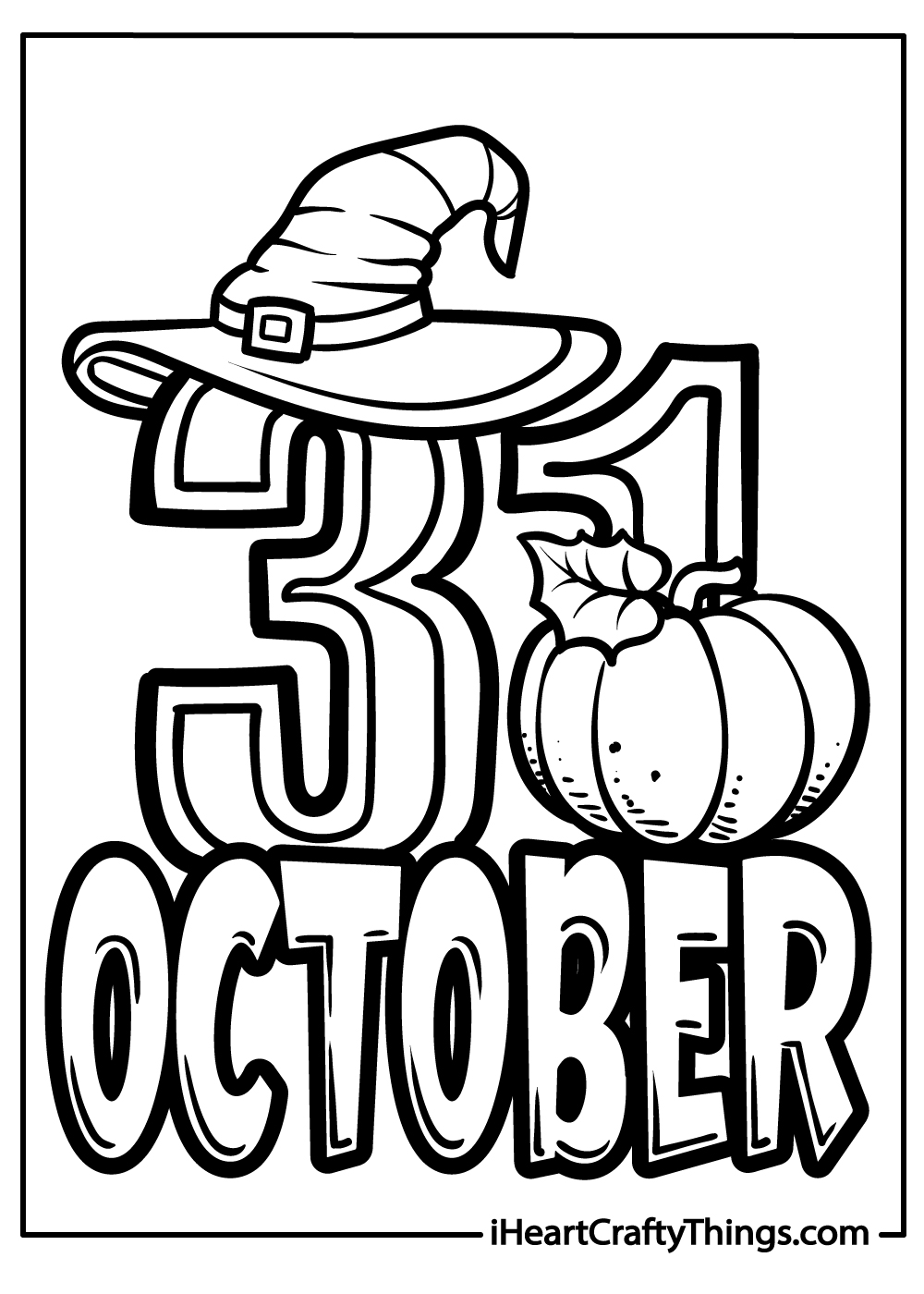 This month is when the leaves start to fall from the trees to cover the ground in blankets of brown, orange and yellow.
This is the theme that we went for in this third October printable. We picked another big, bold font for the word October, and then it is surrounded by various falling leaves.
You could try to color each leaf in a different color if you're feeling ambitious!
What color would you choose for the background of this image?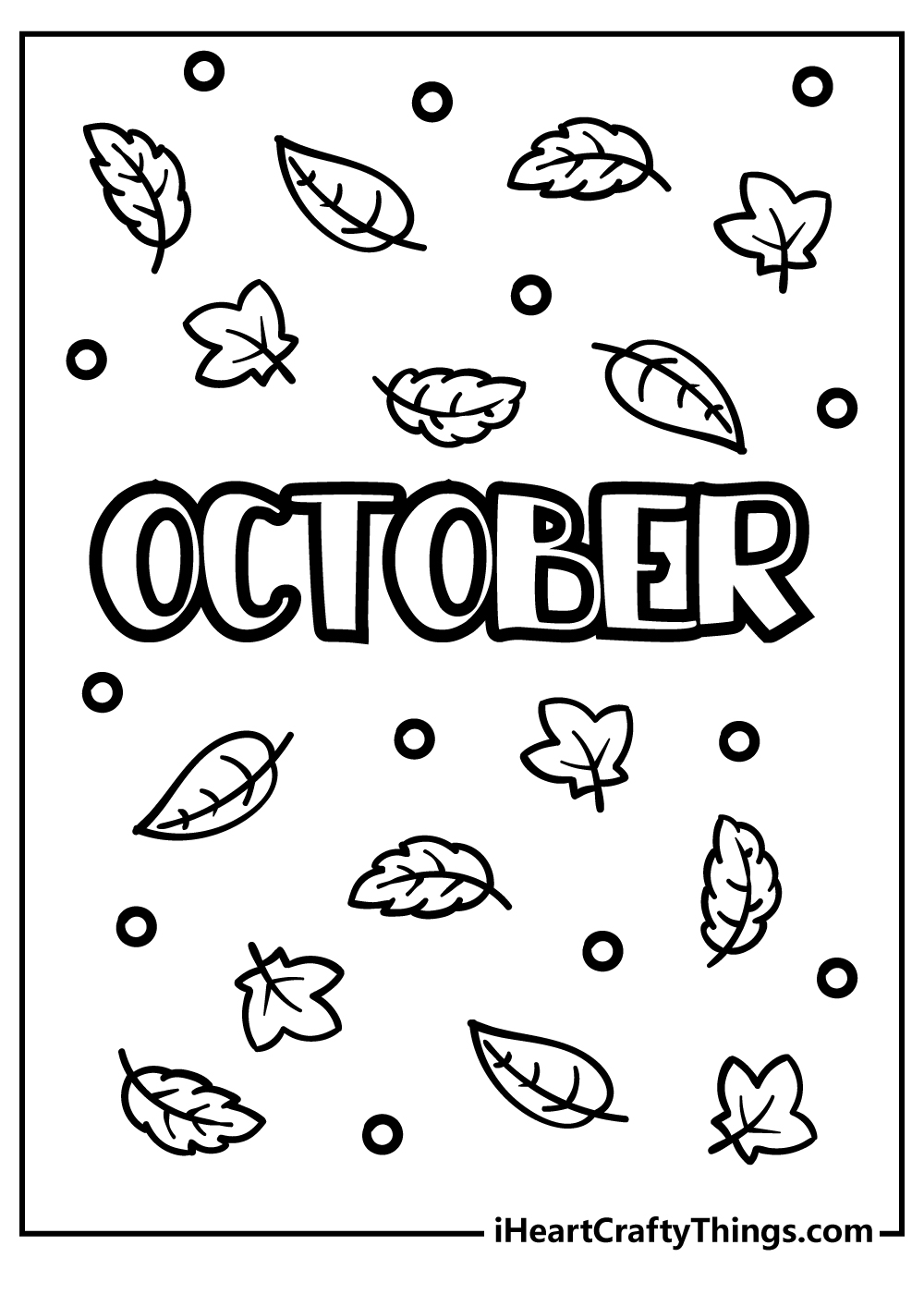 Here's another spooky Halloween setting for you to color in this next free October coloring page!
This one also features a pumpkin, and this time it has some cute little ghosts rising from the pumpkin.
We would recommend using some darker colors such as blues and purples for this one, but what colors are you thinking of for this coloring printable?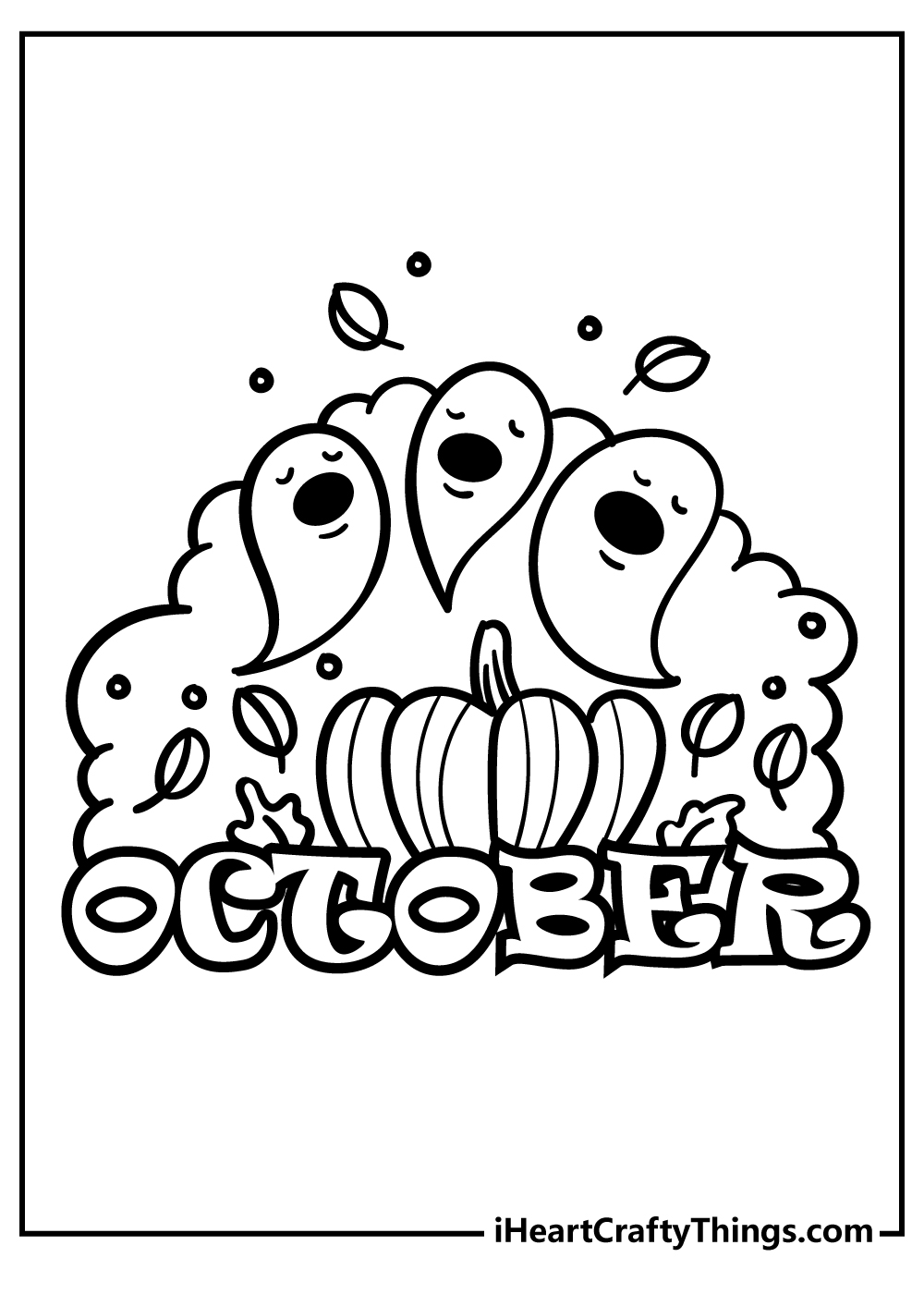 October is the best time for pumpkin picking and Halloween fun.
This coloring sheet features the word "October" in a bold, spooky font. You can see a creepy spider crawling around and spinning its web in the corner.
Those pumpkins complete the Halloween spirit in this page with one mama and baby pumpkin ready to be carved.
The best colors to use here are similar to the previous ones. But add some gray and black for the web and spider. Feel free to give the pumpkins goofy faces or designs.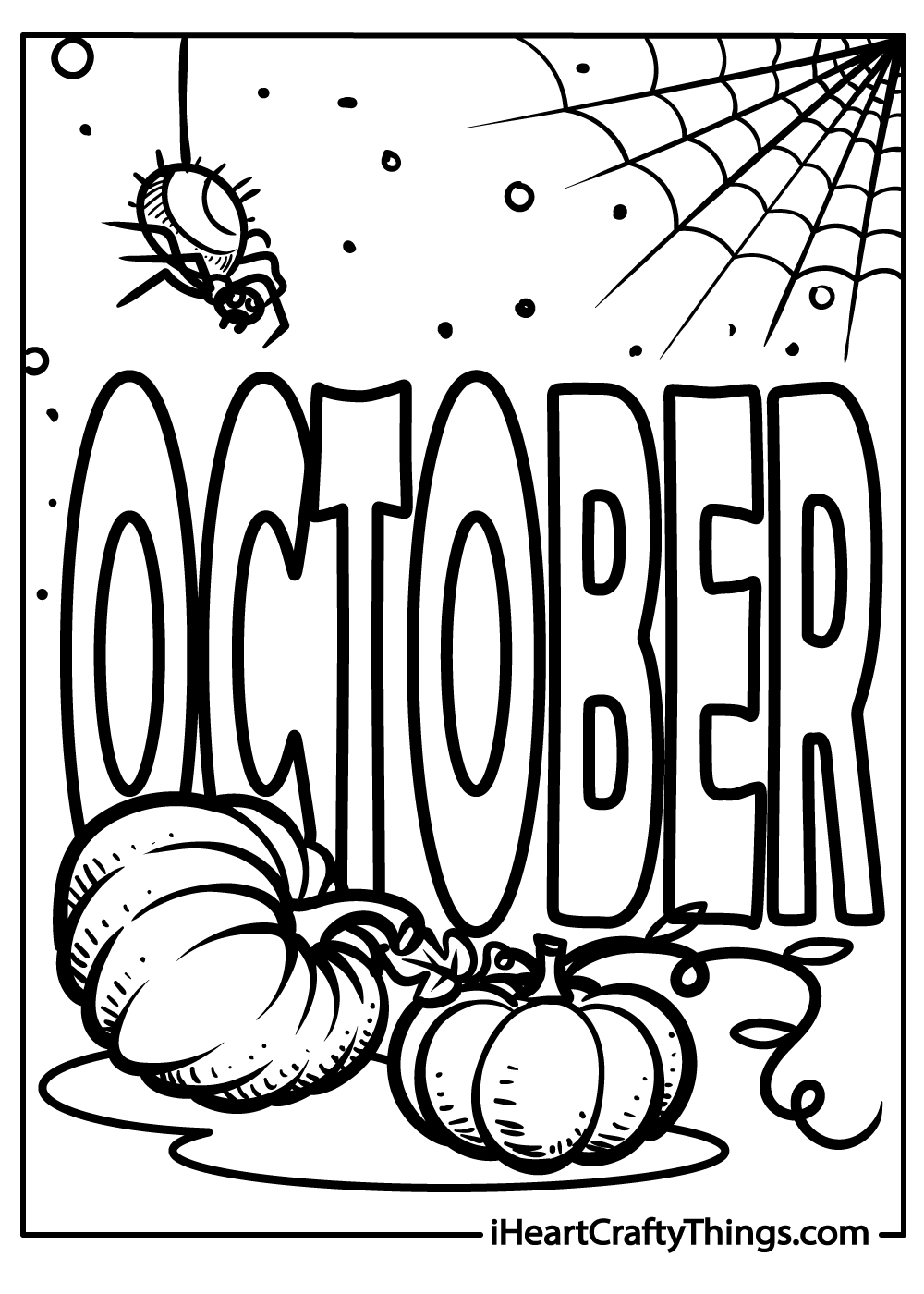 In this fifth image in our collection of free October coloring sheets, we have some more Fall elements for you to color!
In this one, we incorporated another pumpkin with some falling leaves, and that gives you many details to fill in.
If you have a hard time deciding on colors to use, remember that all of these coloring pages are free to print out as many times as you wish, so you could print a few copies and experiment with various colors!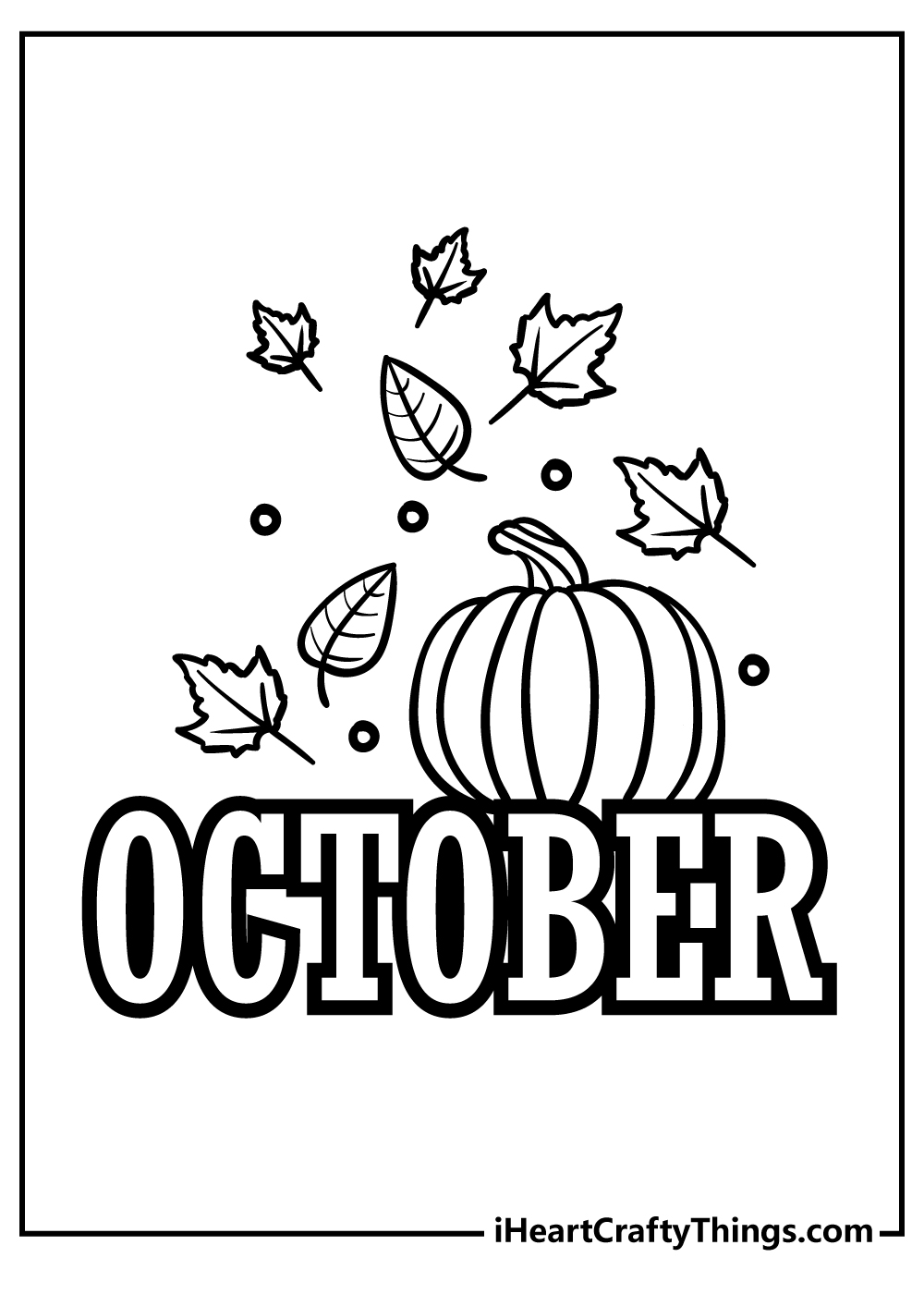 We have a really creative picture for you to have fun coloring in this next free October coloring printable!
This one is once again going for some spooky Halloween elements as there are details such as witch hats, bats and spiders incorporated into the design.
What kinds of art tools and mediums do you think you will use to achieve your color choices for this picture?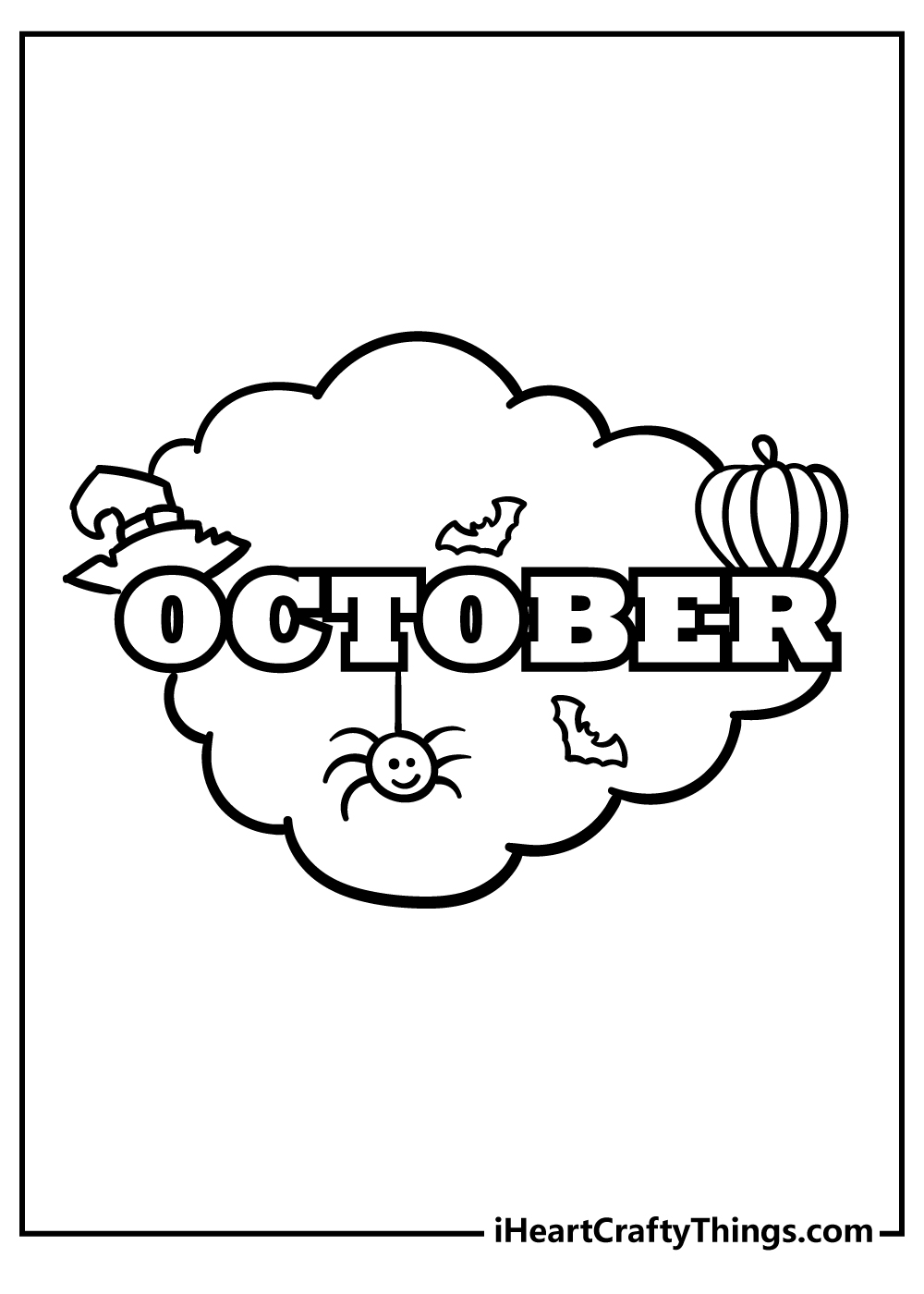 This next October coloring page has a lot going on to create a really fun composition! We incorporated some maple leaves floating down along with some simple shapes and little acorns.
When an image has lots of small objects incorporated as this one does, you can really have some fun working in lots of different colors and small details.
We would recommend art tools that allow for precision such as colored markers and thin-tipped brushes for this one, as it will make coloring the small objects much easier!
Grab your scariest coloring supplies and bring this spooky October night to life. This October coloring page features the word "October" with Halloween themed illustrations around it.
Perched atop the "O" is a haunted pumpkin with a creepy face. A spider is just hanging from the word "c" and you can see two lit candles on top of the "b" and "e".
The background consists of stars, spider web, and a crescent moon partially obscured by clouds. There's just so much to color and we can't wait to see what you come up with.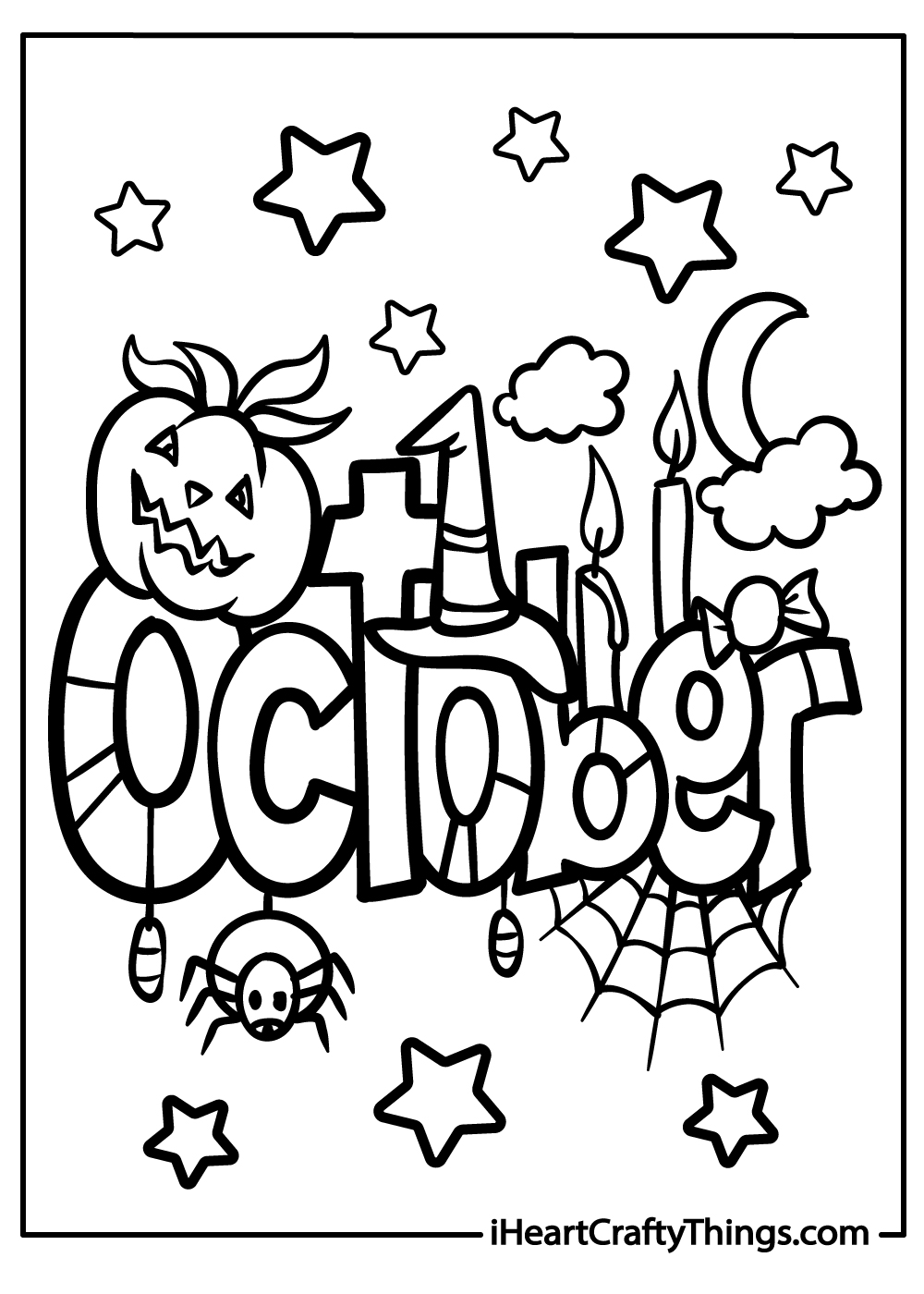 What a cute image this next October coloring sheet is! In this one, we went with a more lighthearted Halloween feel by having an adorable bat hanging upside down from the word October.
Below this bat, we also have some fallen leaves and pumpkins to finish off the theme.
How will you color this wonderful October printable?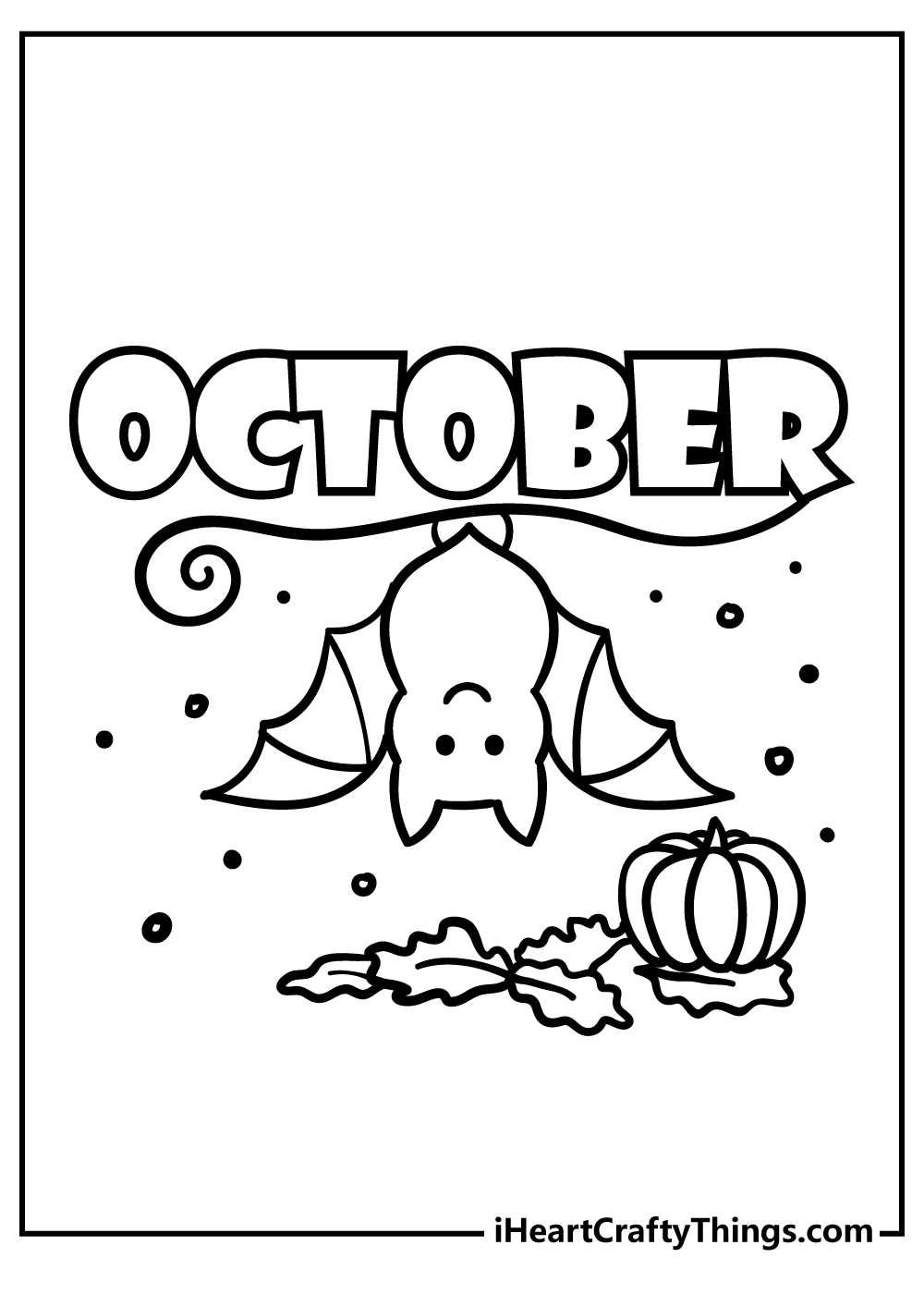 In this October coloring page, we have a large pumpkin sitting on the word "OCTOBER". The words are written in bold, playful font which makes them fun when coloring.
The pumpkin is nice and round with a curved stem – perfect for coloring orange. Did you know pumpkins can grow over 1,000 pounds? However, some are so tiny they can fit in your hand.
There are also autumn leaves of different shapes and sizes falling like the ideal Halloween night.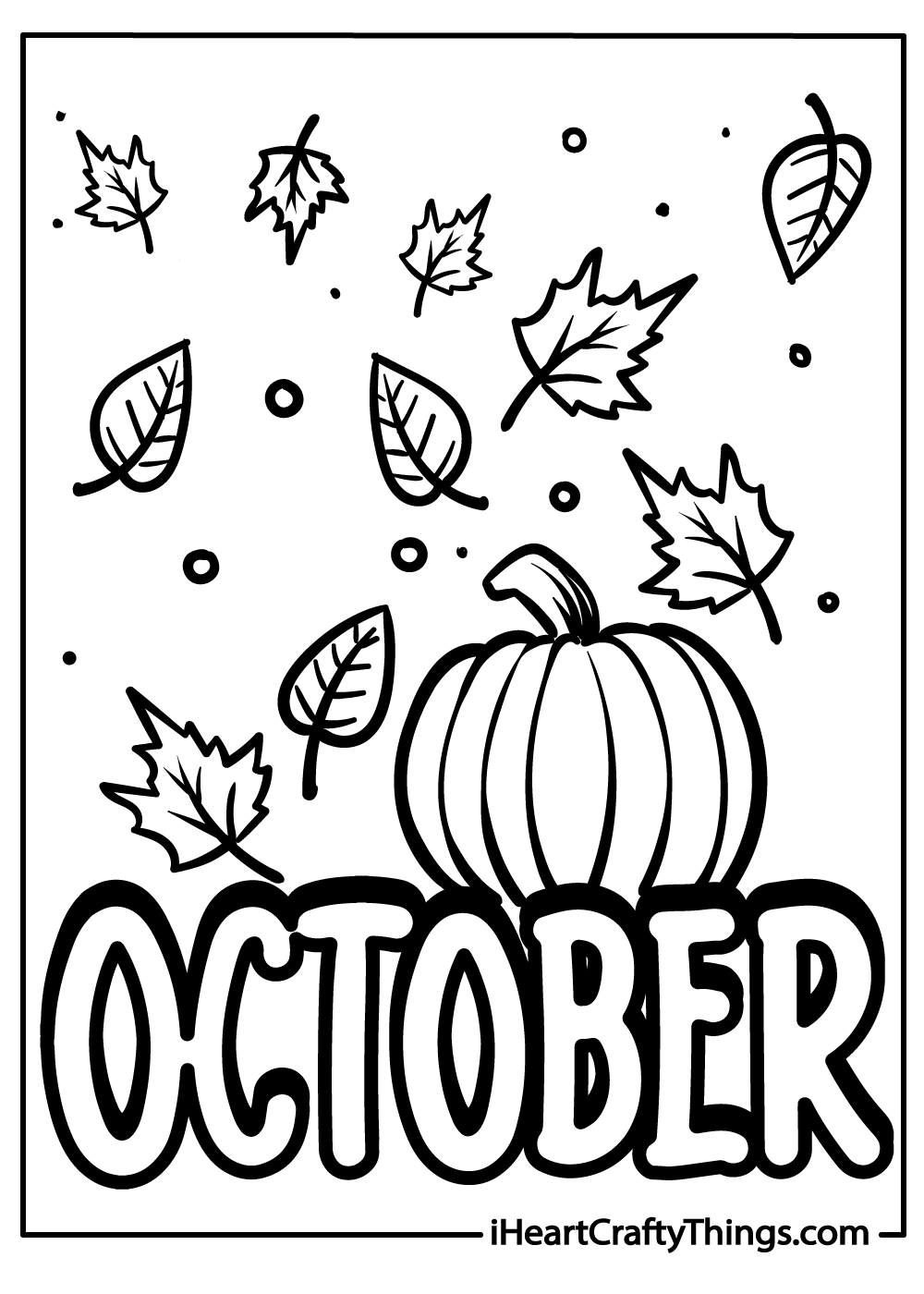 It's time for a Halloween-themed treat in this second to last image in our collection of free October printables!
This one has all sorts of Halloween imagery incorporated, and some of these details include some more pumpkins, leaves and witch hats.
There are some candles near the center of the image, so if you kept the colors surrounding it a bit more muted then you could make the flames bright for some contrast.
Then it's on to the final image of this collection!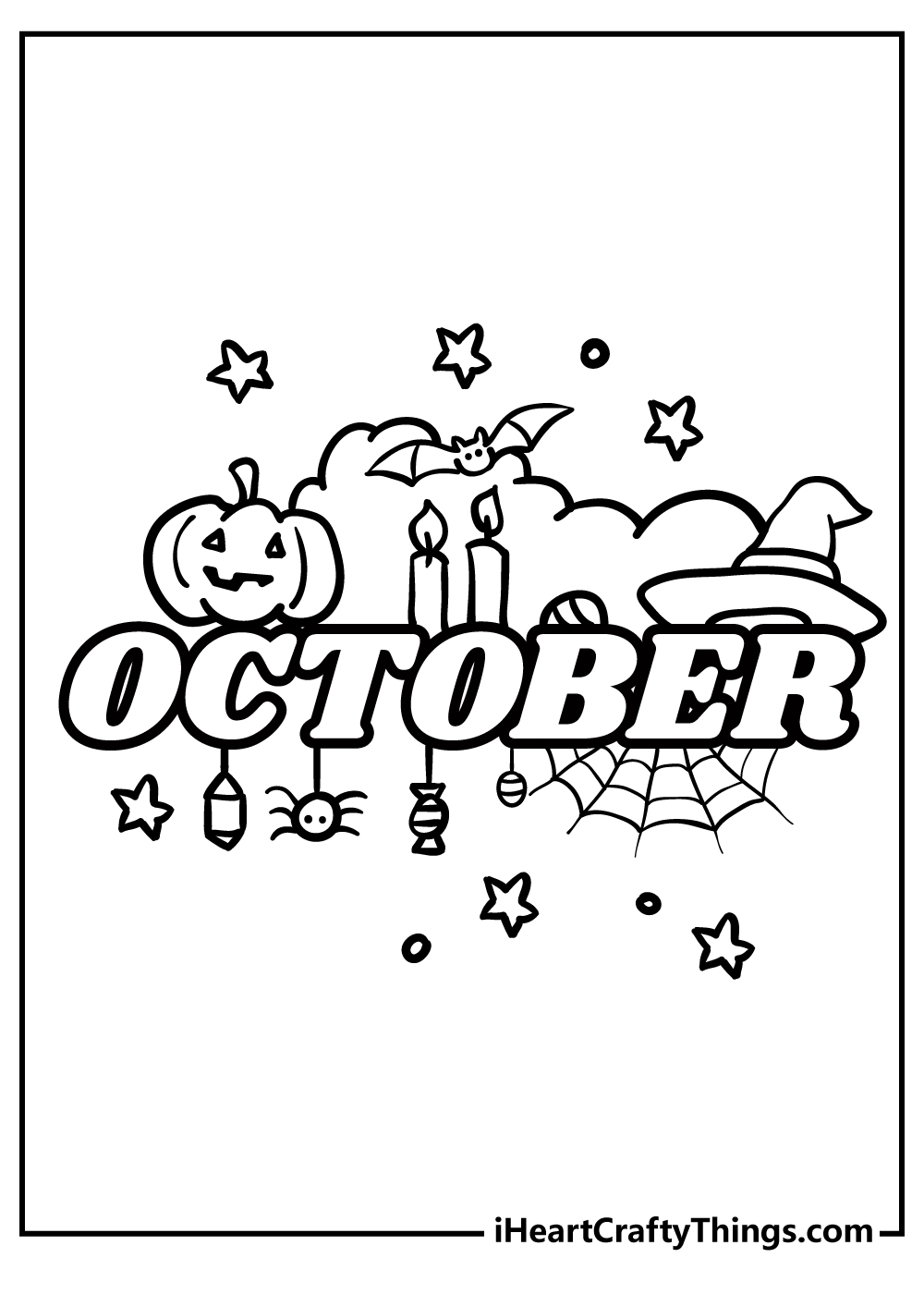 We have another fun, simple image for you as we close off this collection of free October coloring pages for kids!
Once again, we have a great unique font for the word October, and then we surrounded it with some big pumpkins.
For these pumpkins, you could use your favorite bright oranges and yellows for some colors that pop off of the page!
That's just one suggestion, but what other colors can you think of to use for this image? We can't wait to see how you color this one in!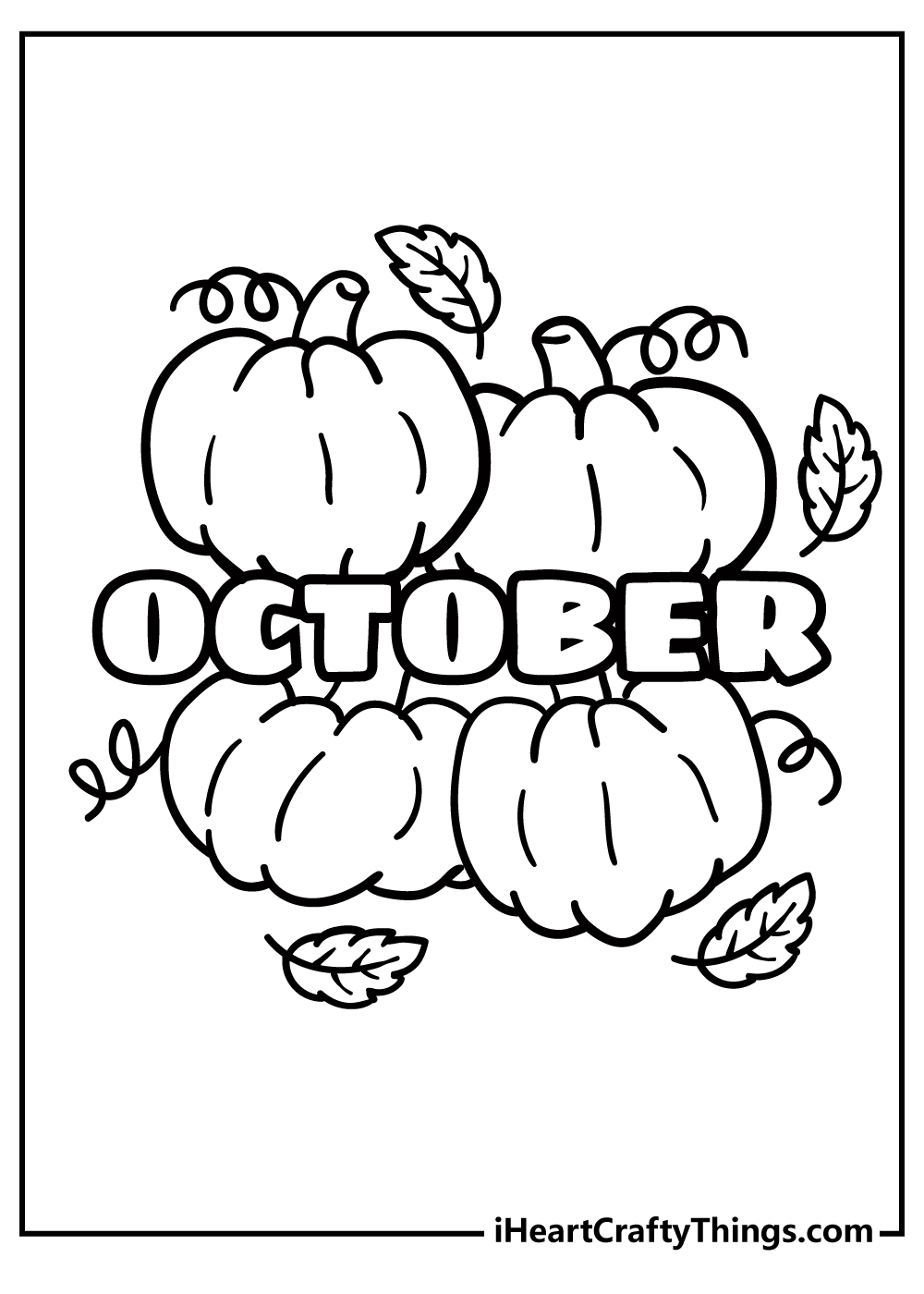 This adorable owl is all geared up for October. It's perched with excitement as its big eyes peer out waiting for the autumn weather.
Although this October coloring page is simple and doesn't have as much detail as the others, you can draw bats, ghosts, spiders, candy or other scary-cute things in the blank spaces.
Also, use crayons, markers, or colored pencils to add lots of spirited details. Share your finished haunted masterpiece with us on Facebook as well as your friends.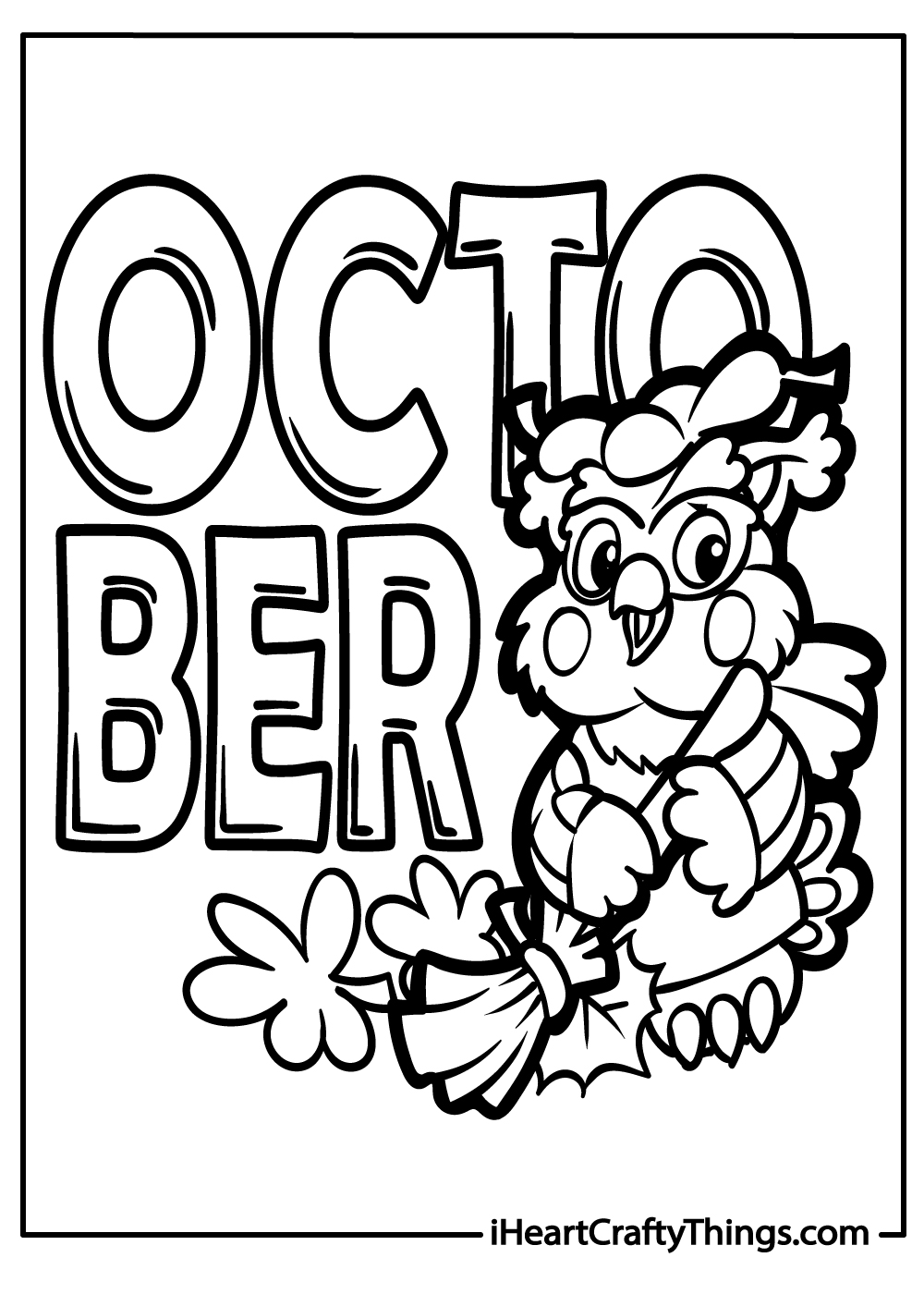 October Coloring Pages – Which will you choose?
This collection of free October coloring pages for kids has a lot of variety for you to sink your teeth into!
We tried to create a diverse set of different images and elements so that you would have plenty of opportunities to use all of your favorite colors and art tools to finish them off.
Remember to print out as many copies as you want to color and share with family and friends!
If you had fun with this set of October printables, then you can head to our website for many more collections of coloring pages to enjoy!
We have coloring pages to suit every age and taste, so we know you will find plenty to love there.
When you have chosen and colored your favorite of these October coloring sheets, we hope you will share your artworks on our Facebook and Pinterest pages for us to see and enjoy!