With how distinct each season is, everyone is bound to have their favorite. Summer is a favorite of many people, as it means fun in the sun and tons of awesome activities to enjoy.
In the US, August is the final stretch of Summer before the chills of Fall start to creep into the air, and many people take it as their last chance to enjoy their favorite season!
For fans of Summer that like to savor every moment, this collection will help you to capture the feeling of August!
There is a great selection of coloring pages throughout this collection that aims to do that, and you will get to unleash your creativity on them.
You can print out any or all of these pages as many times as you like, and that means that you can experiment with various colors and art mediums!
You could also share the collection with friends and family so that everyone can have some Summer coloring fun.
You're ready to embark on this relaxing collection of free August coloring pages for kids!
When you have finished your favorite pages in the collection, be sure to share them on our Facebook and Pinterest pages so we can enjoy them.
10 Brand New August Coloring Pages – Free to Print and Color
Let's begin this collection with a really cute picture! We have the word August written out in bold block letters, and there are several shapes that one may associate with a hot Summer day around it.
These include some pretty flowers and a cute bumblebee buzzing around. With the letters and the shapes, you have plenty of chances to use some wonderful colors on this first image!
How will you color this one?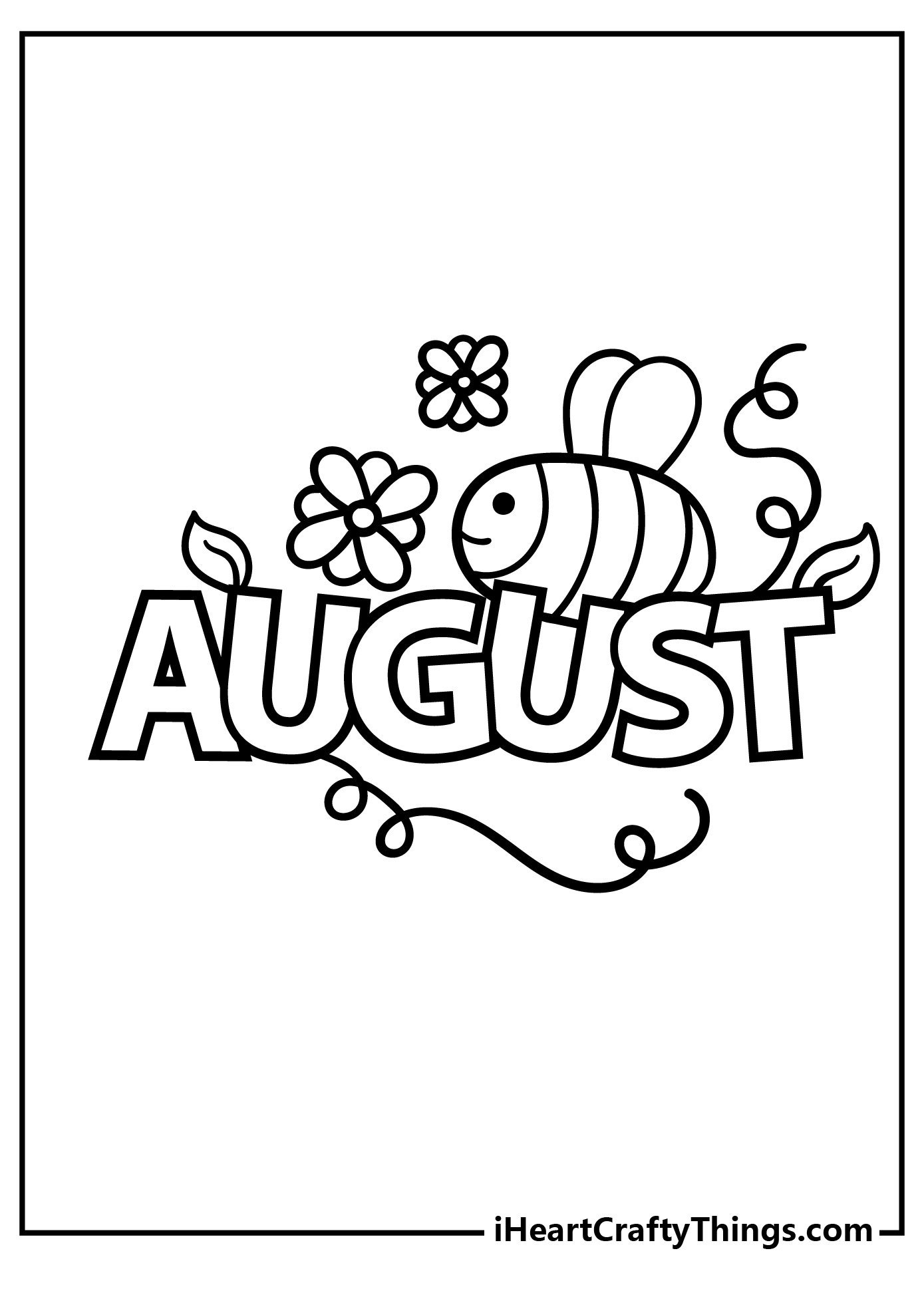 Our second free August coloring page for kids features another delightful Summer celebration!
We have August written out again, and you could try to color every single letter in a different color if you're feeling extra creative.
Alternatively, you could stick to one color scheme or alternate a smaller number of colors for a more unified look.
What colors will you use for the letters and the umbrella featured in this page?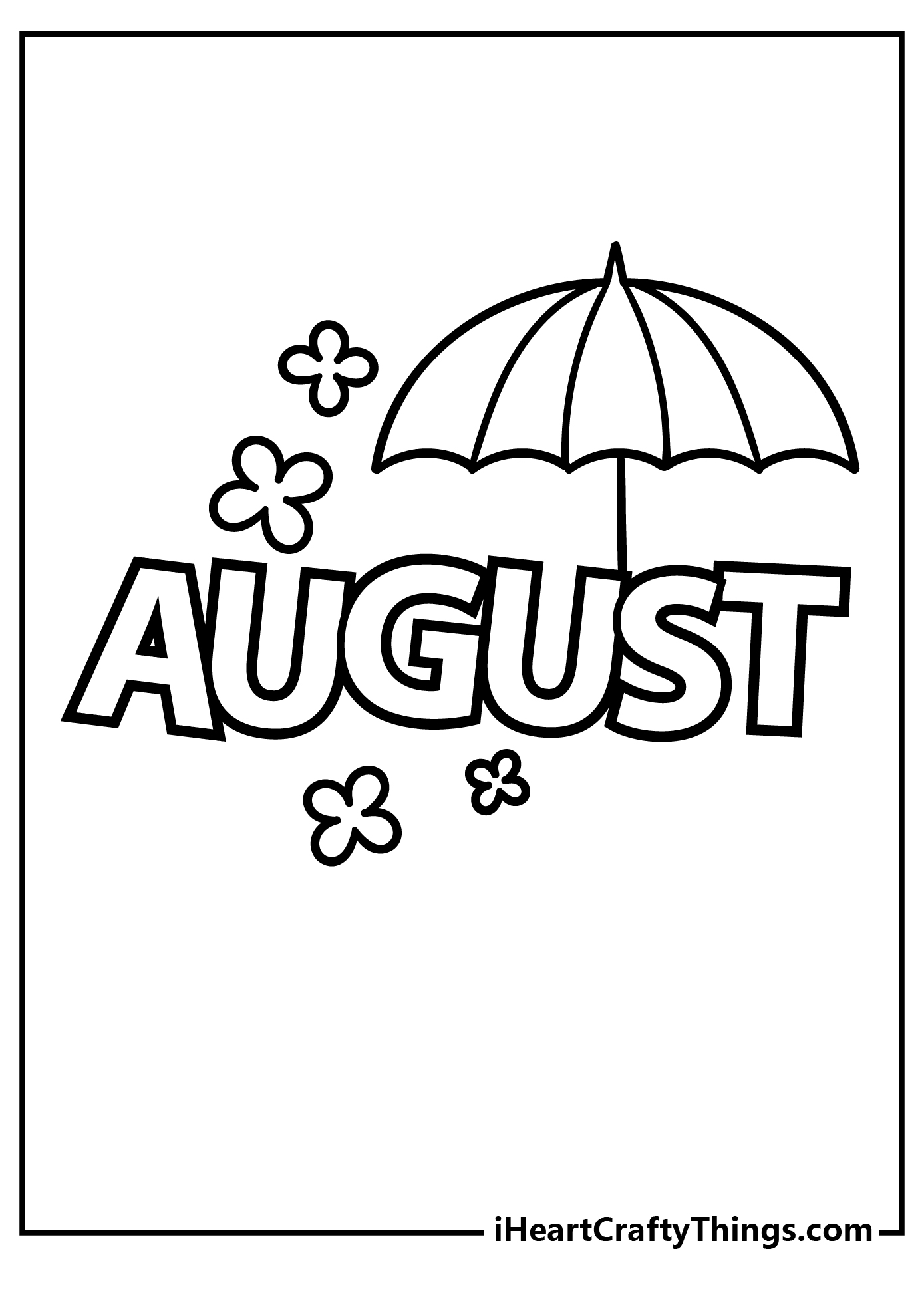 There's nothing like enjoying some delicious treats on a hot Summer day, and we have a few represented here.
When spending a hot day outside, you can enjoy a delicious hotdog in the sunshine, and one is included here.
When the days get really hot, you can also enjoy a tasty ice cream to help cool yourself down.
If you have a favorite flavor of ice cream, you could represent it with your colors in this picture!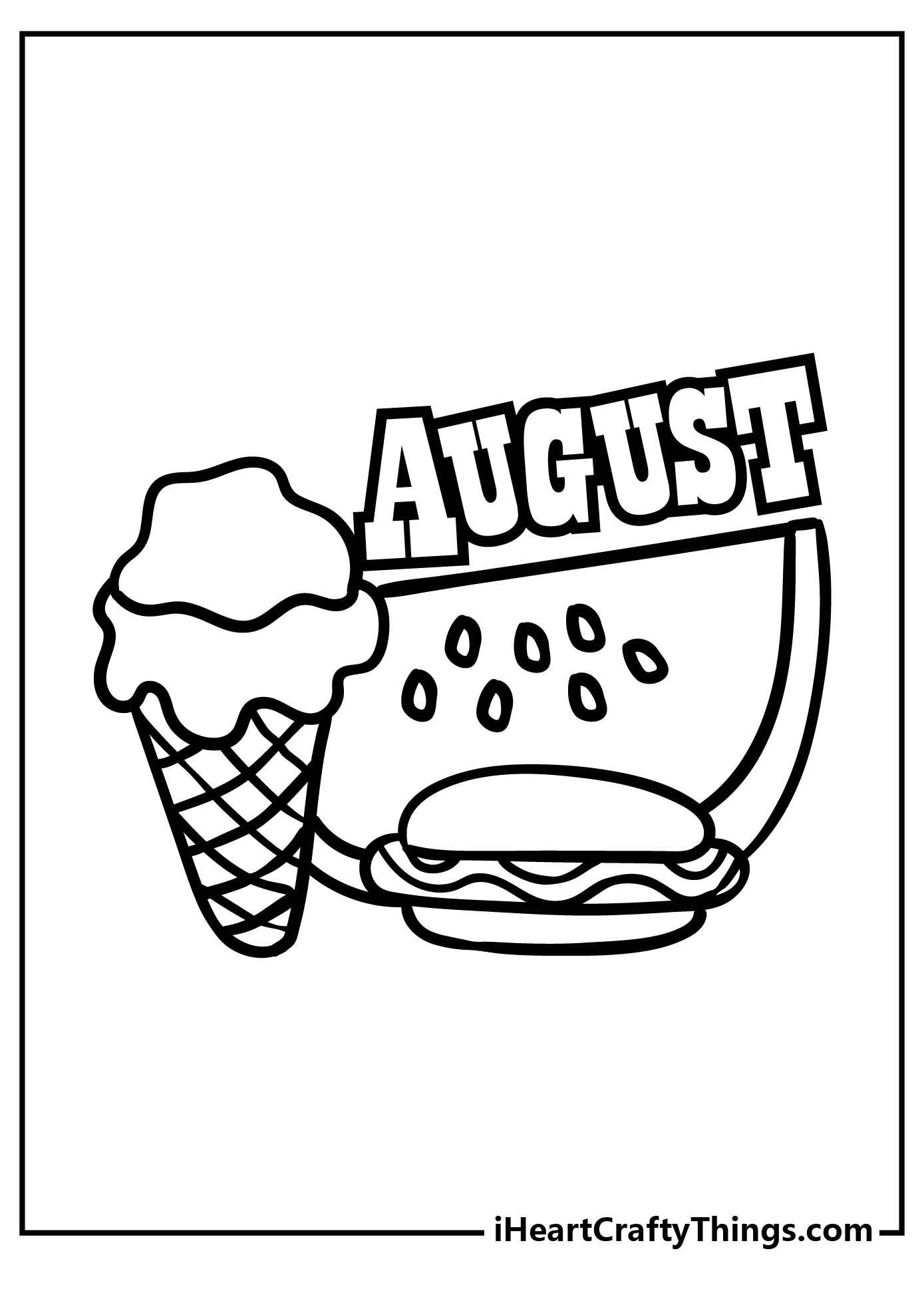 The joys of the outdoors are represented on this fourth page! August is once again written big and bold, and there are lots of small pictures surrounding it that captures that outdoors feeling.
There are pretty flowers and leaves surrounding the word, and they are waiting for you to add some brilliant colors to them to finish them off. This one will look amazing when it's done!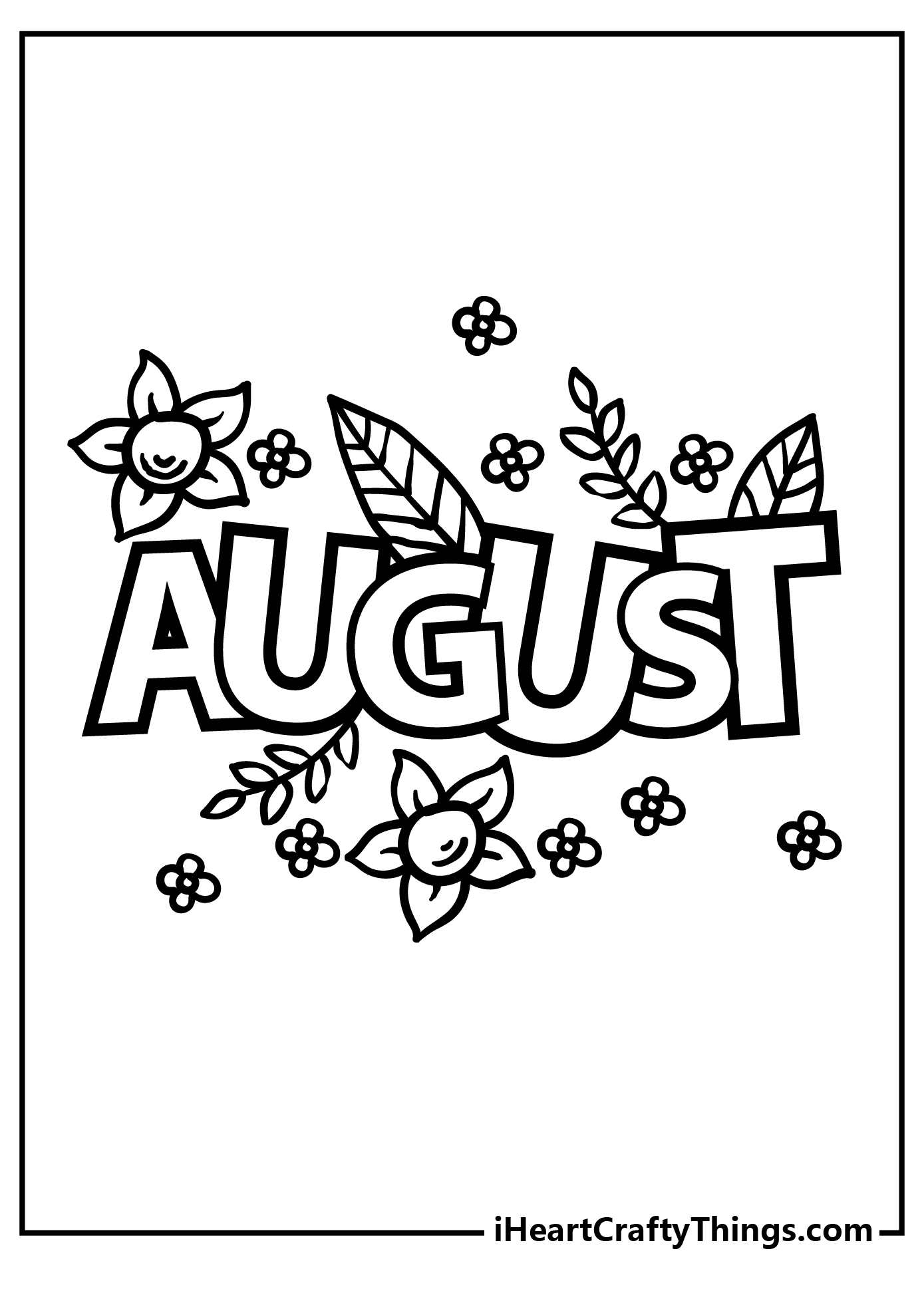 When spending time outside on a lovely day, it's always wonderful to see butterflies flying around, and they are the main feature of this next August coloring printable.
The word August is again drawn in a beautifully bold font, and the thick outlines of the letters looks really cool.
There are many butterflies flying around it, so that means you will get to use all of your favorite colors for this picture!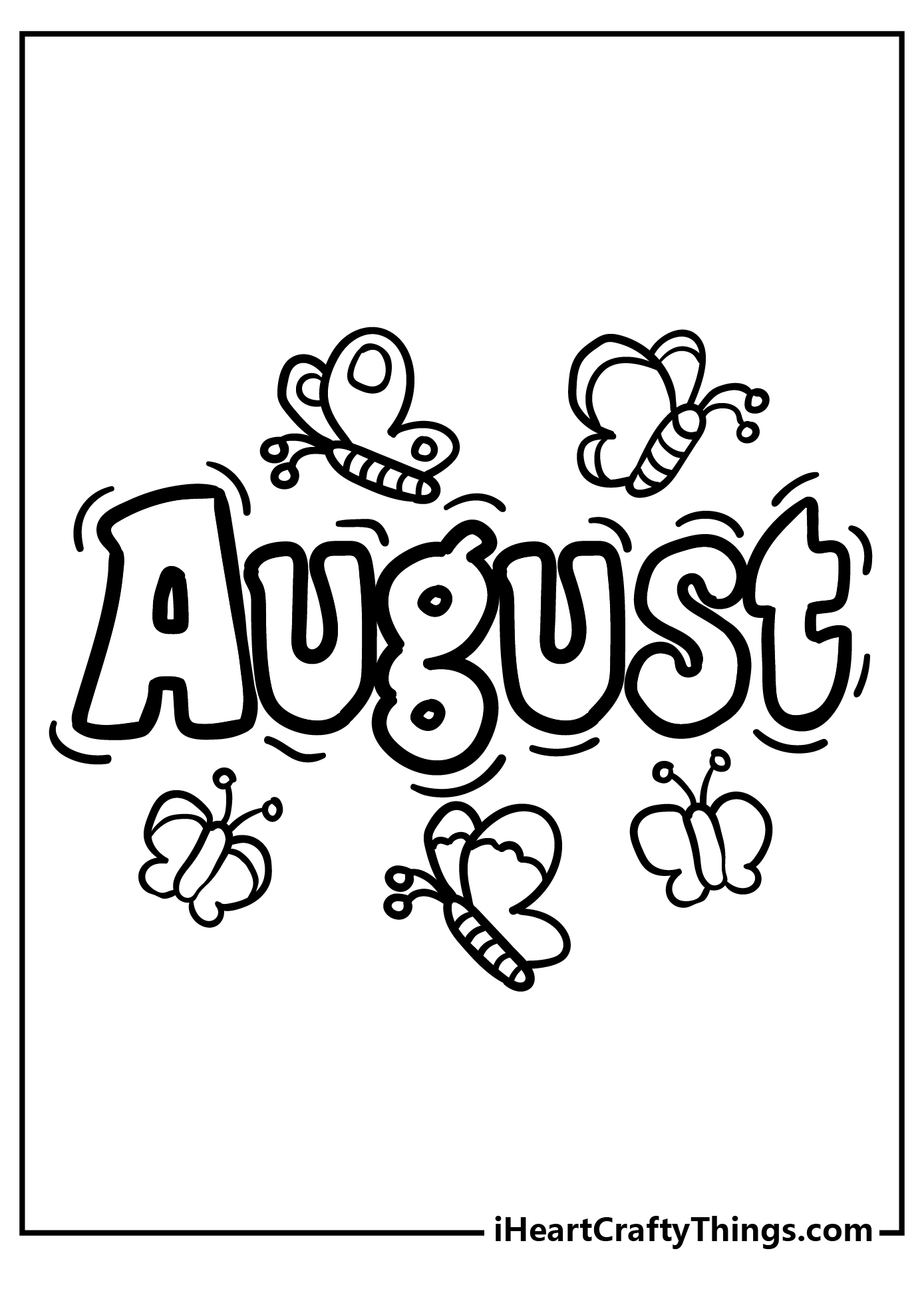 An umbrella is a useful accessory to have during the month of August. Not only can it help to shield you from the bright sun, but it can also come in handy when unexpected rainfall hits!
That's why they feature on this next page. They are not only good for the theme of August, but they also give the opportunity for you to add lots of beautiful colors to the image.
What colors will you choose for these pretty umbrellas?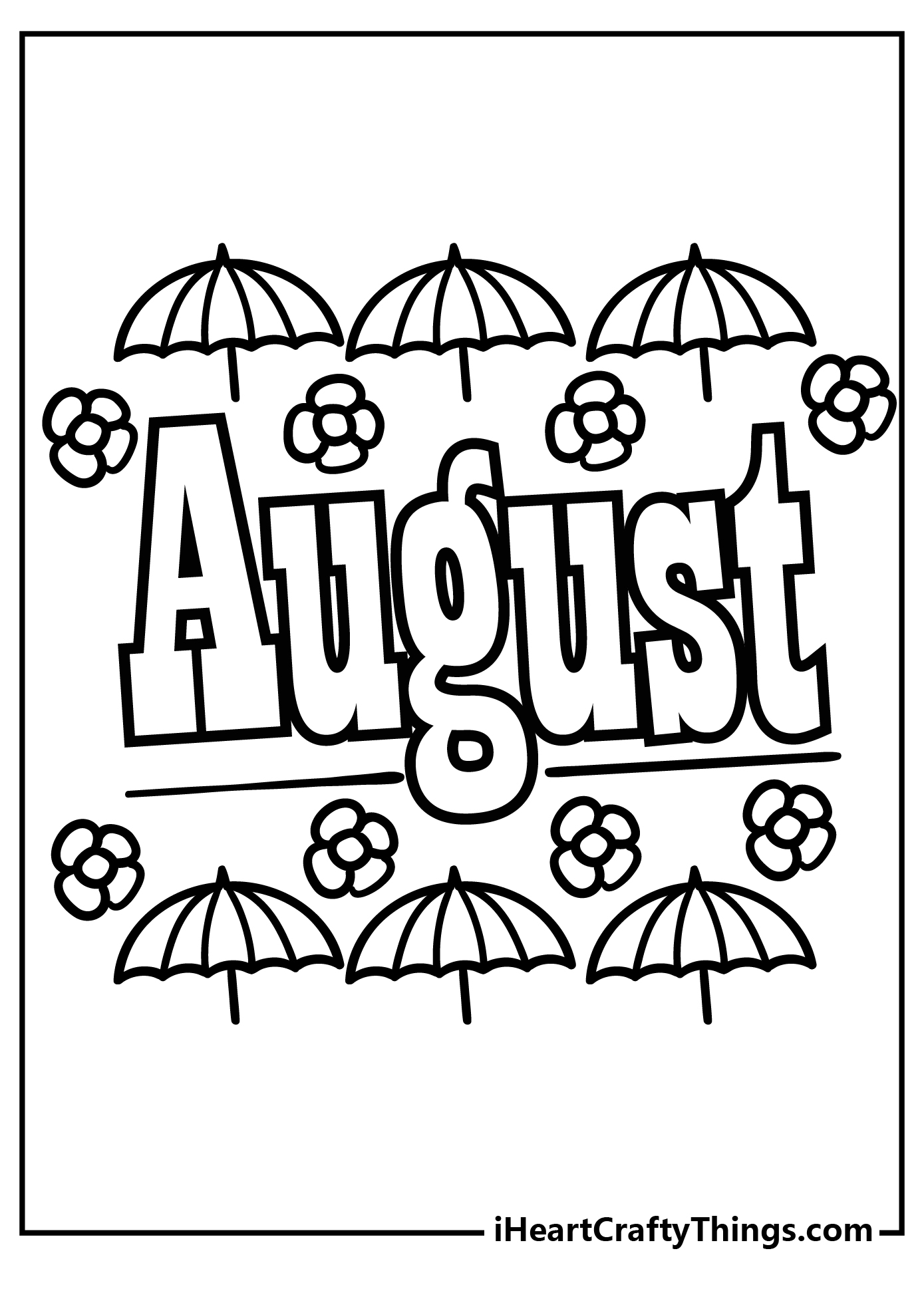 You know you're in a vacation setting when you see some peaceful palm trees, and they are featured on this next August coloring page!
The word August is written in an awesome font with this one, and it is surrounded by some beautiful palm trees.
To make this image stand out even more, maybe you could try to use a different color scheme for every single tree!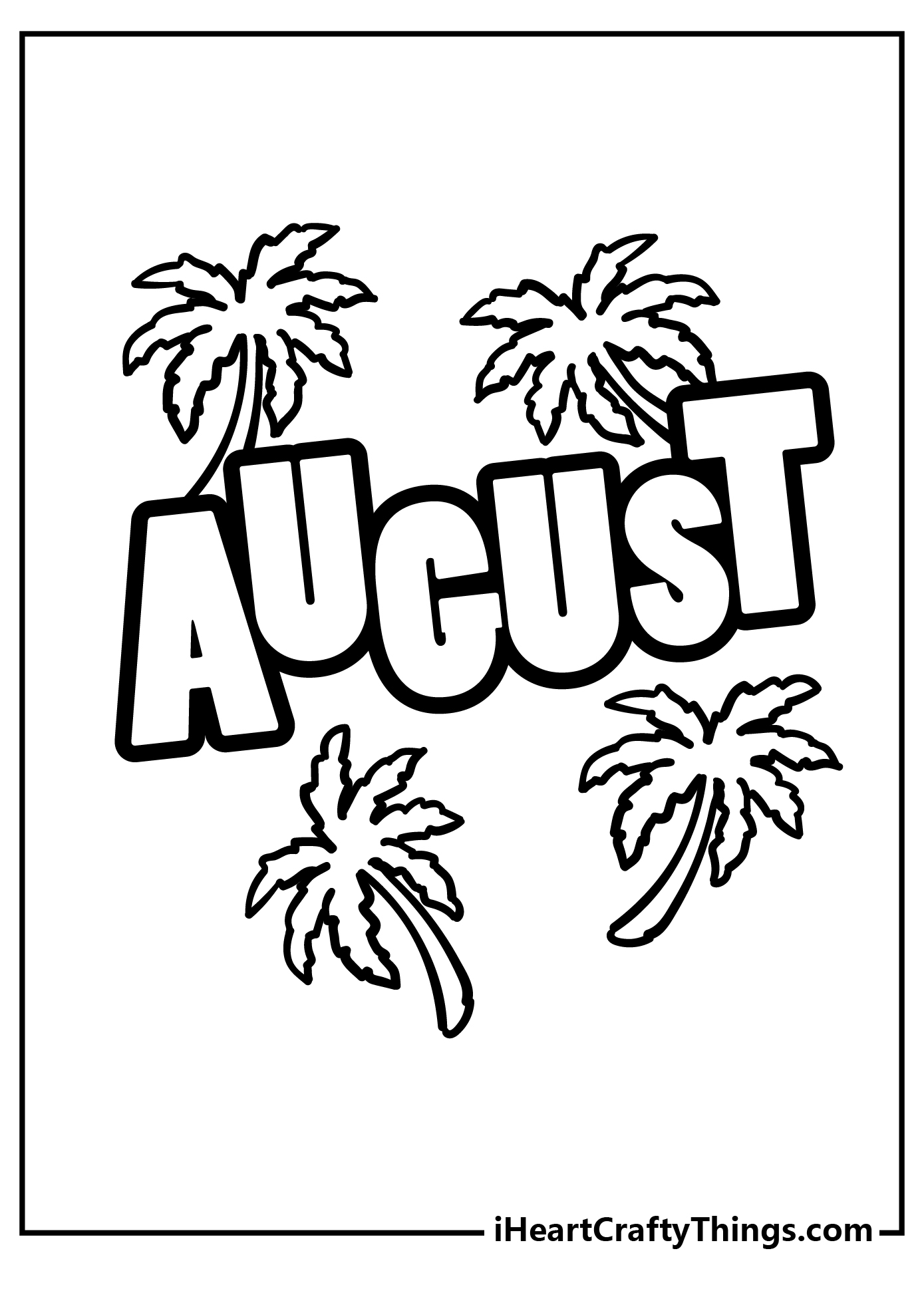 The design on this page is just stunning!
The way it has been laid out creates a look of nature confetti popping out, and this should prove to be one of the most colorful pages in the collection once you've worked your magic on it.
There are all sorts of natural goodies surrounding the word, and each one can bring a new color to the table. There are bugs, mushrooms and other beautiful plants and shapes.
We think this one would look stunning with some colored pens and markers, but what will you use for this one?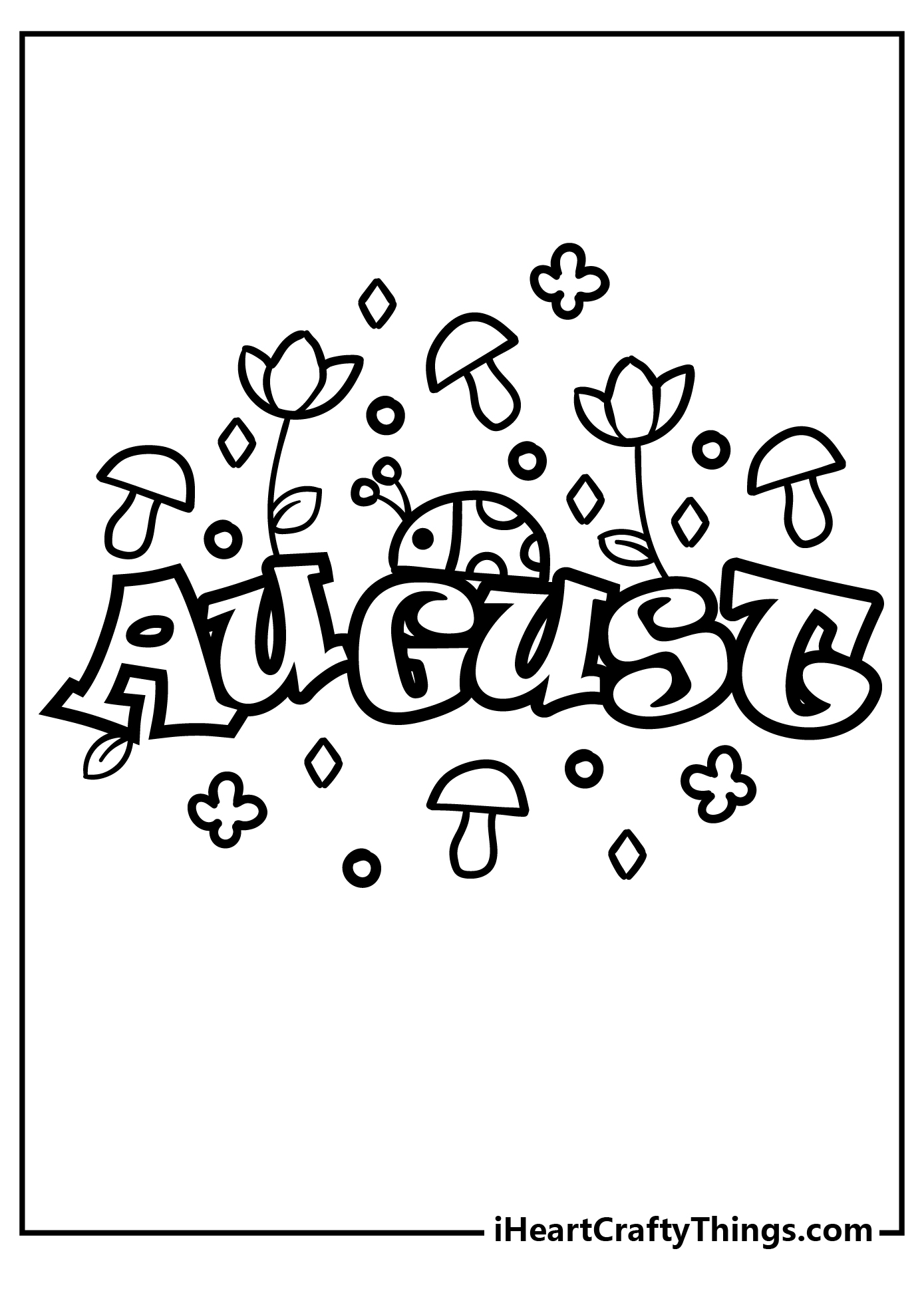 Enjoying some delicious fruit is perfect on a hot day, and apples are one of the most popular options you can choose.
These delicious fruits refresh with their tasty goodness, and they are the main feature of this design.
There are a few apples surrounding the word August, and you have many color options when coloring these in! Maybe you could alternate between red and green for these tasty apples.
Will you go for an idea like that or do you have something else in mind for these apples?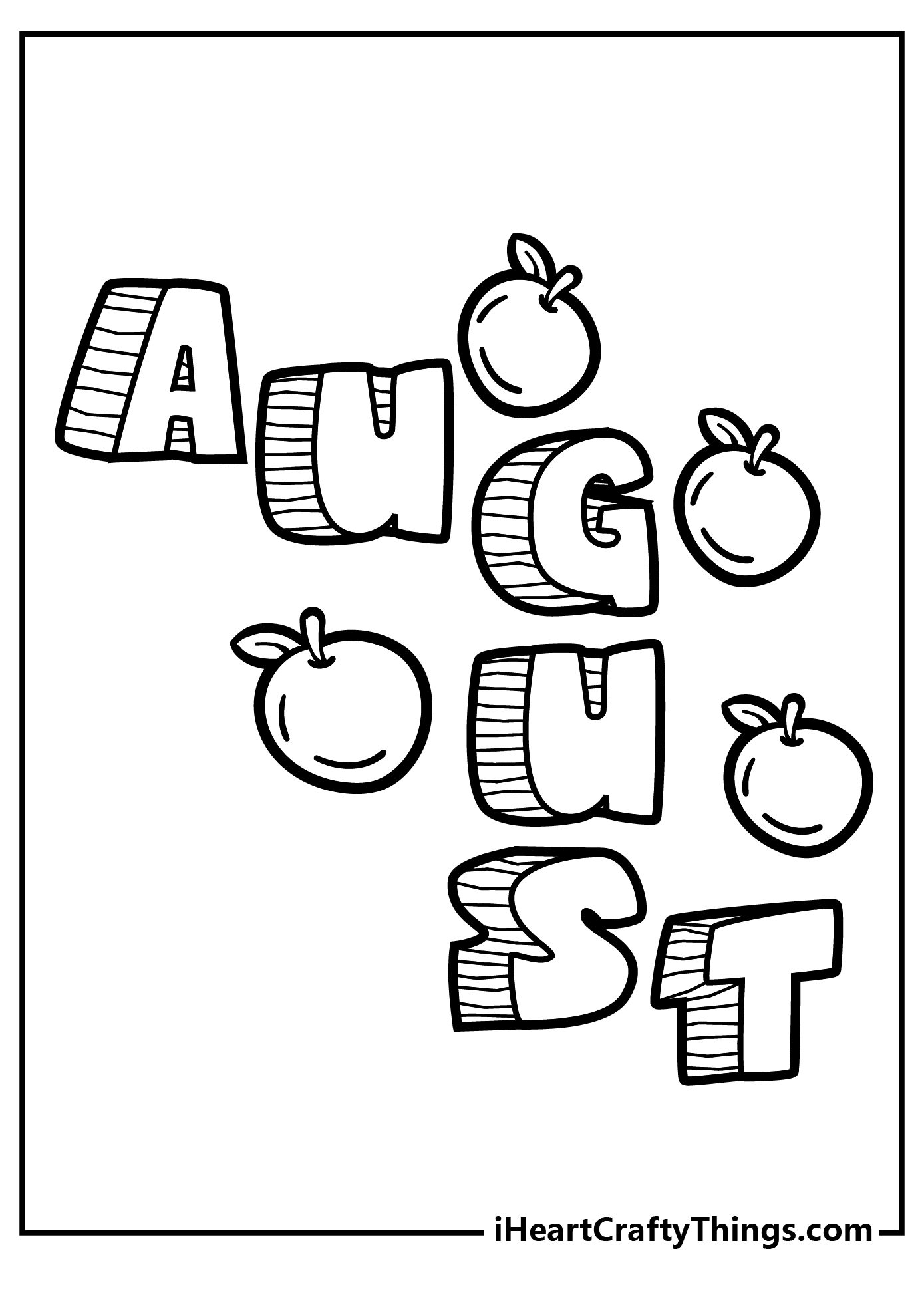 Now you can kick back and relax with the final picture in this collection of August coloring sheets. This one has some sandals in the sand, and between them is a cool beverage in a halved coconut.
This page gives off such a lovely relaxed feeling, and you can emphasize that even more with the colors you use.
We think that using some lovely cool colors depicted with watercolor paints would look great for this one.
This is just one approach you can take for the colors, so what colors and art mediums will you choose for this peaceful vacation scene?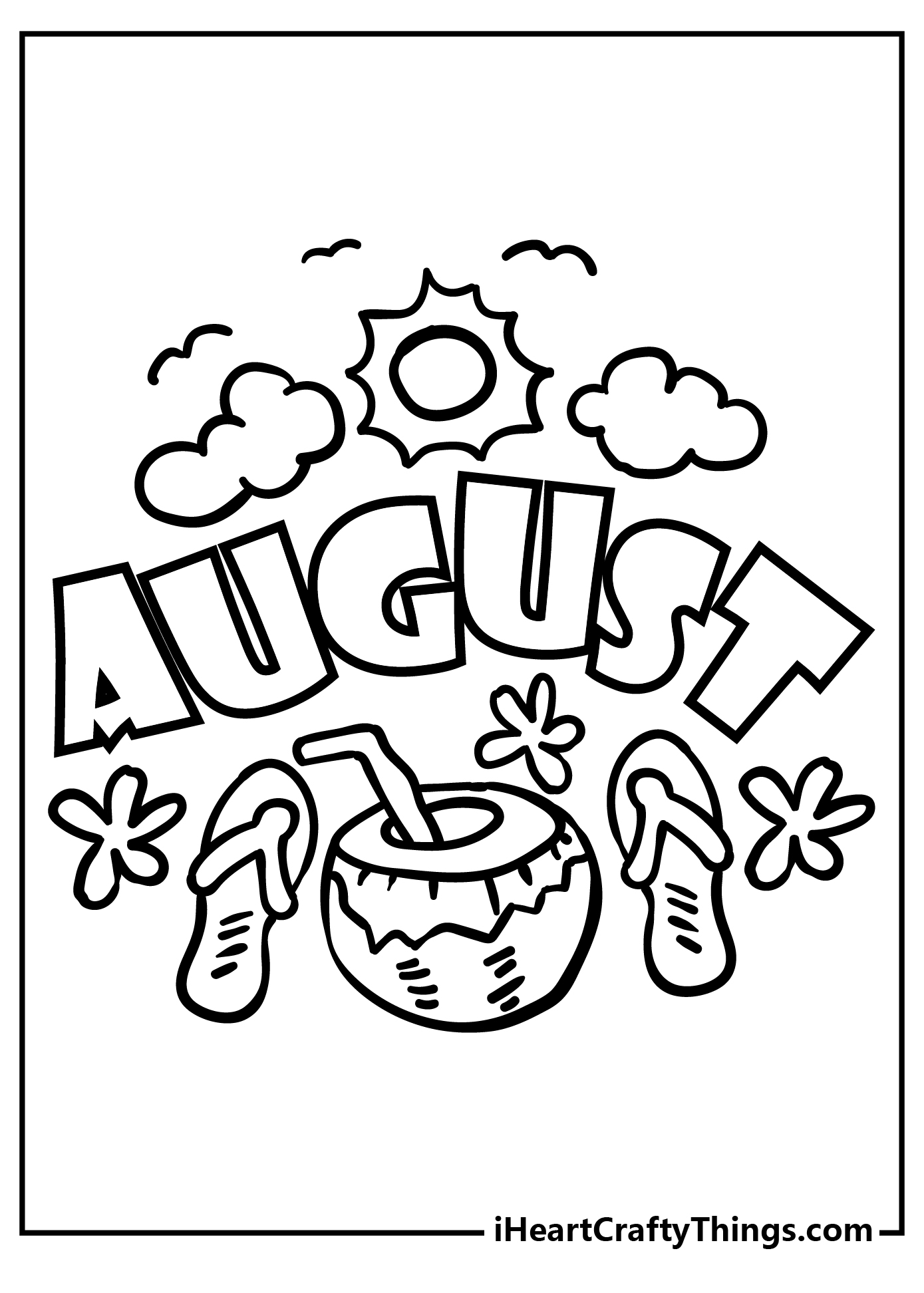 August Coloring Pages – Which will you choose?
Hopefully you had a fun and relaxing time working on the pages in this collection of free August coloring pages for kids!
There was such a lovely variety of different August scenes to color, and you can really go wild with your favorite colors and mediums when completing these wonderful pages.
When you are ready for more artistic fun, our website is the place to be!
We have tons of amazing coloring page collections for you to enjoy there, and more are incoming soon. Keep checking in to never miss out!
We would also love to see some of your favorite finished August pages! You can share some of them on our Facebook and Pinterest pages for us to see when they're done. We can't wait to see them!