The four seasons of the year are very distinct, and there are pros and cons to each one.
Everyone has their favorite season, and many love Summer due to the fact that the sun is shining and outdoor activities abound!
This collection of free Summer coloring pages is here to help Summer lovers celebrate this season.
There are a lot of different scenes and activities for you to color in this collection, so you will definitely be able to use all of your favorite colors and art mediums!
There will also be room for you to add some details of your own.
Every Summer coloring sheet in this collection is free for you to print, color and enjoy as many times as you wish! But why keep all the fun for yourself?
You can share the joy of coloring by sharing these awesome pages with friends and family to enjoy.
Now you're ready to put on your coolest shades and enjoy some Summer fun no matter what time of the year it may be!
When you're finished with your favorite pages, remember to share them on our Facebook and Pinterest pages for us to see.
10 Brand New Summer Coloring Pages – Free to Print and Color
This first free Summer coloring page for kids features a really fun Summer image to color in! It's so hot and bright out that even the sun needs to wear some sunglasses here!
Below the sun in this image, the word Summer is also written in bold letters, and that gives you the opportunity to add some great colors to this printable!
If you're feeling extra creative, why not try to use a different color for every letter of the word?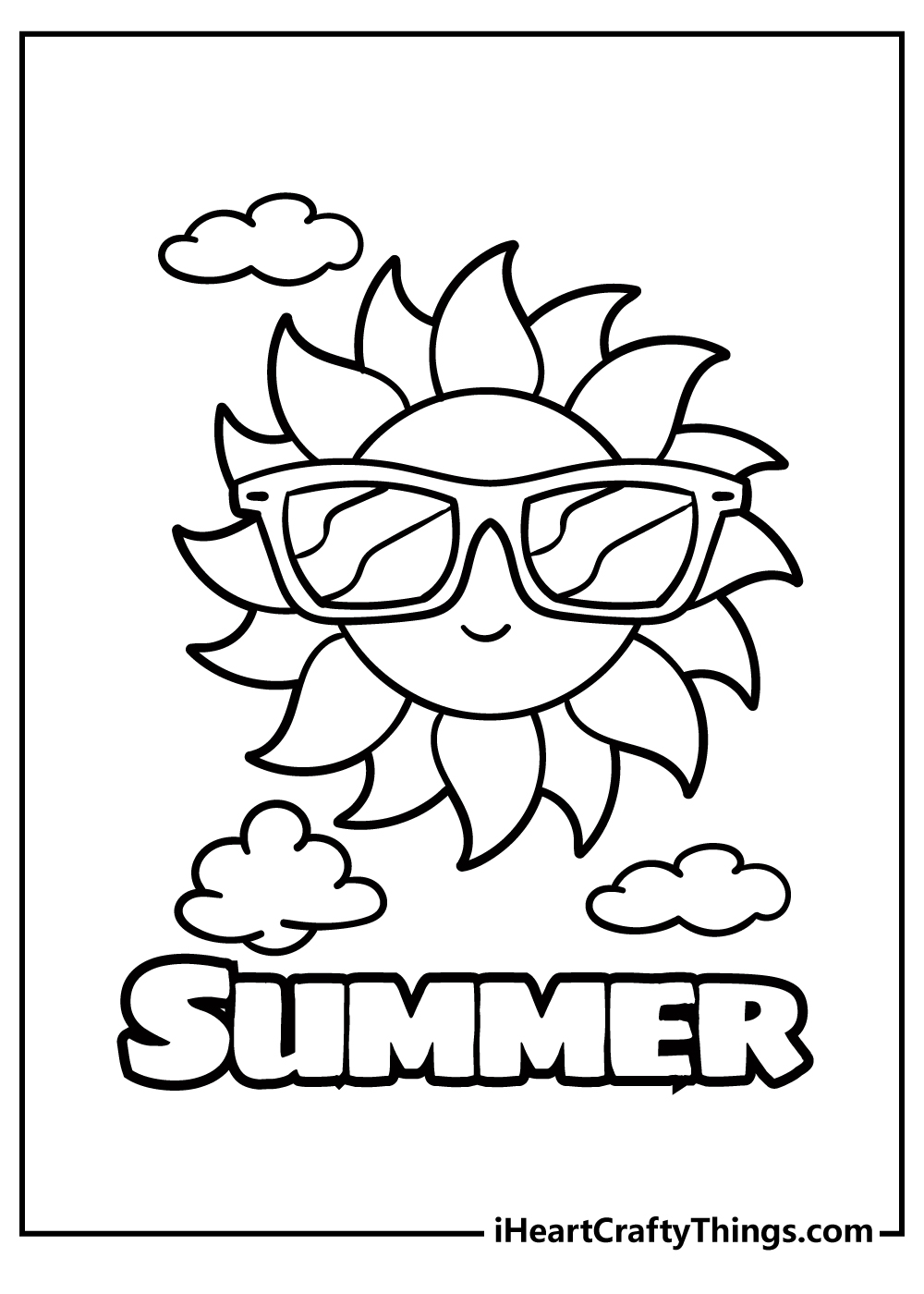 We have a really cool Summer coloring sheet to enjoy on a hot day here!
There are few things more welcome on a hot day than a delicious ice cream cone, and one of these is the focus of this second printable.
This is a really fun picture with the way that the sun is peeking out from behind the ice cream, and you could even add some extra sprinkles and toppings for the ice cream!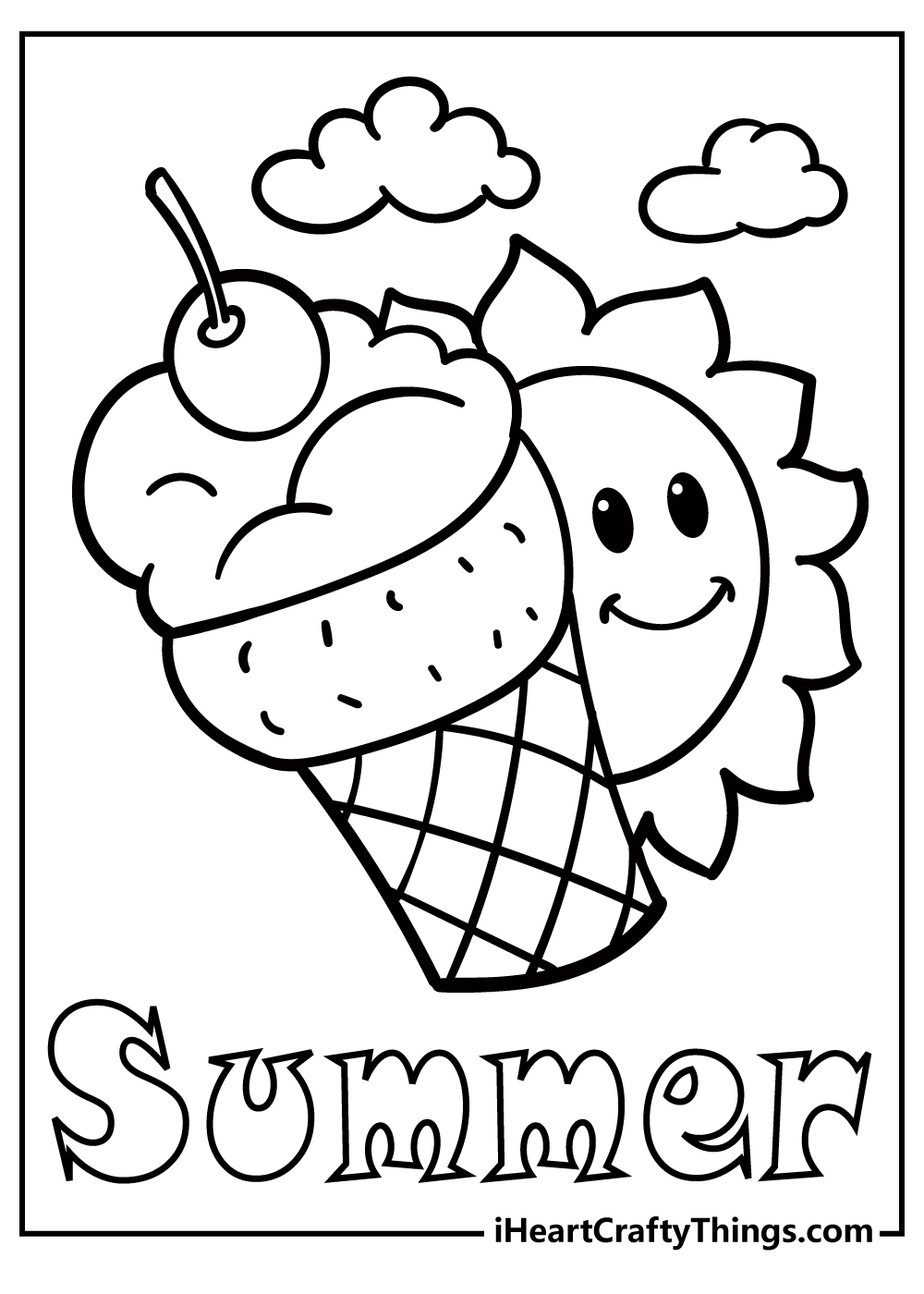 The reason so many people love Summer so much is that there are tons of activities to enjoy.
Many of these are enjoyed at the beach, and we are featuring one of these activities in this third Summer coloring printable.
There is an awesome sandcastle featured in this one, and there are lots of fun details to color here.
It would also be fun to draw more background details to finish off the beach setting!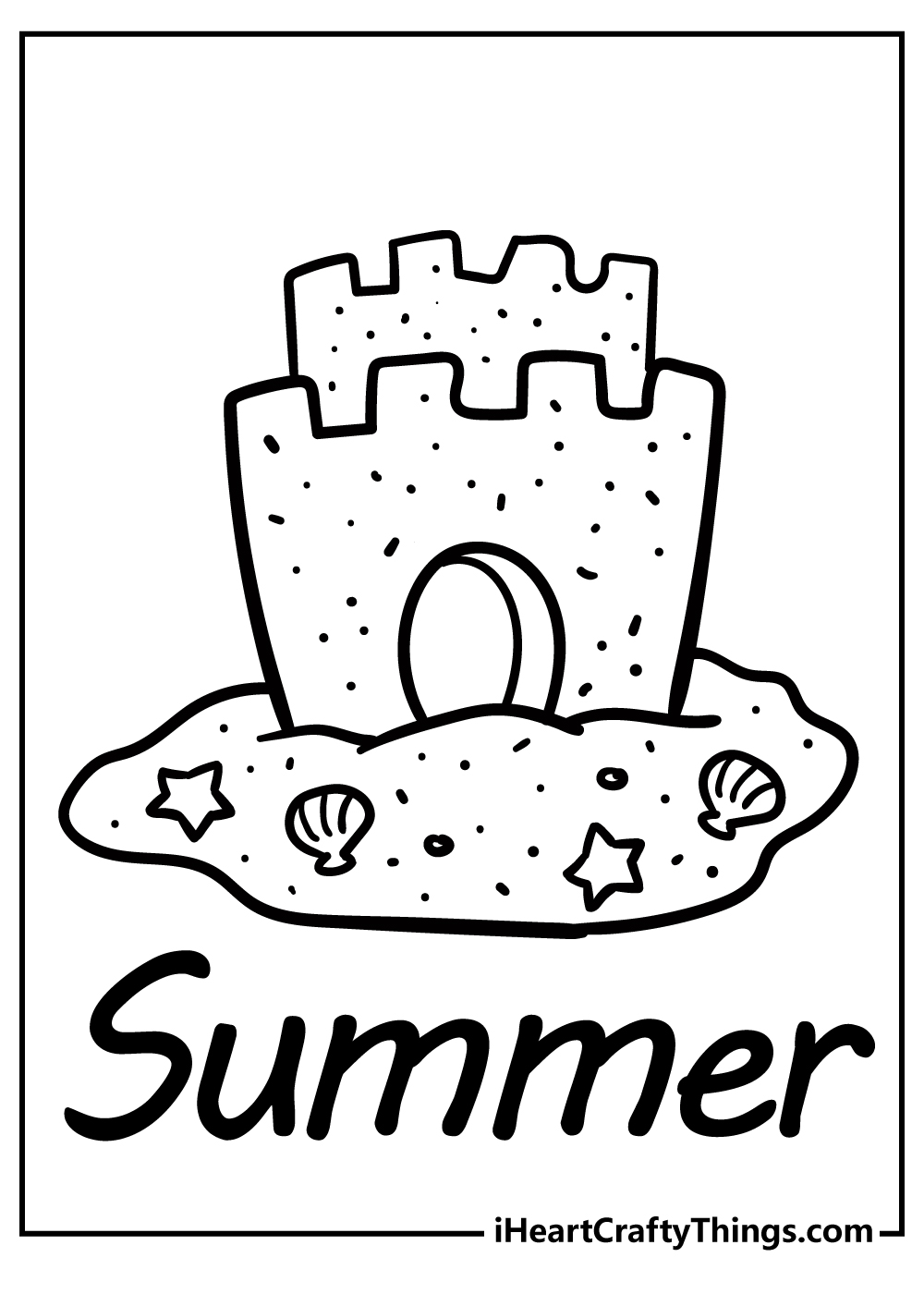 The sun is back in this fourth Summer coloring page that we have for you!
This one is also a really fun and creative picture, as it has a really cool-looking sun wearing some shades and holding an umbrella.
There's something ironic about seeing the sun with an umbrella, as the sun usually causes others to need one! This Summer printable would look great with some bright, creative colors.
What colors do you think you will use for this fun picture?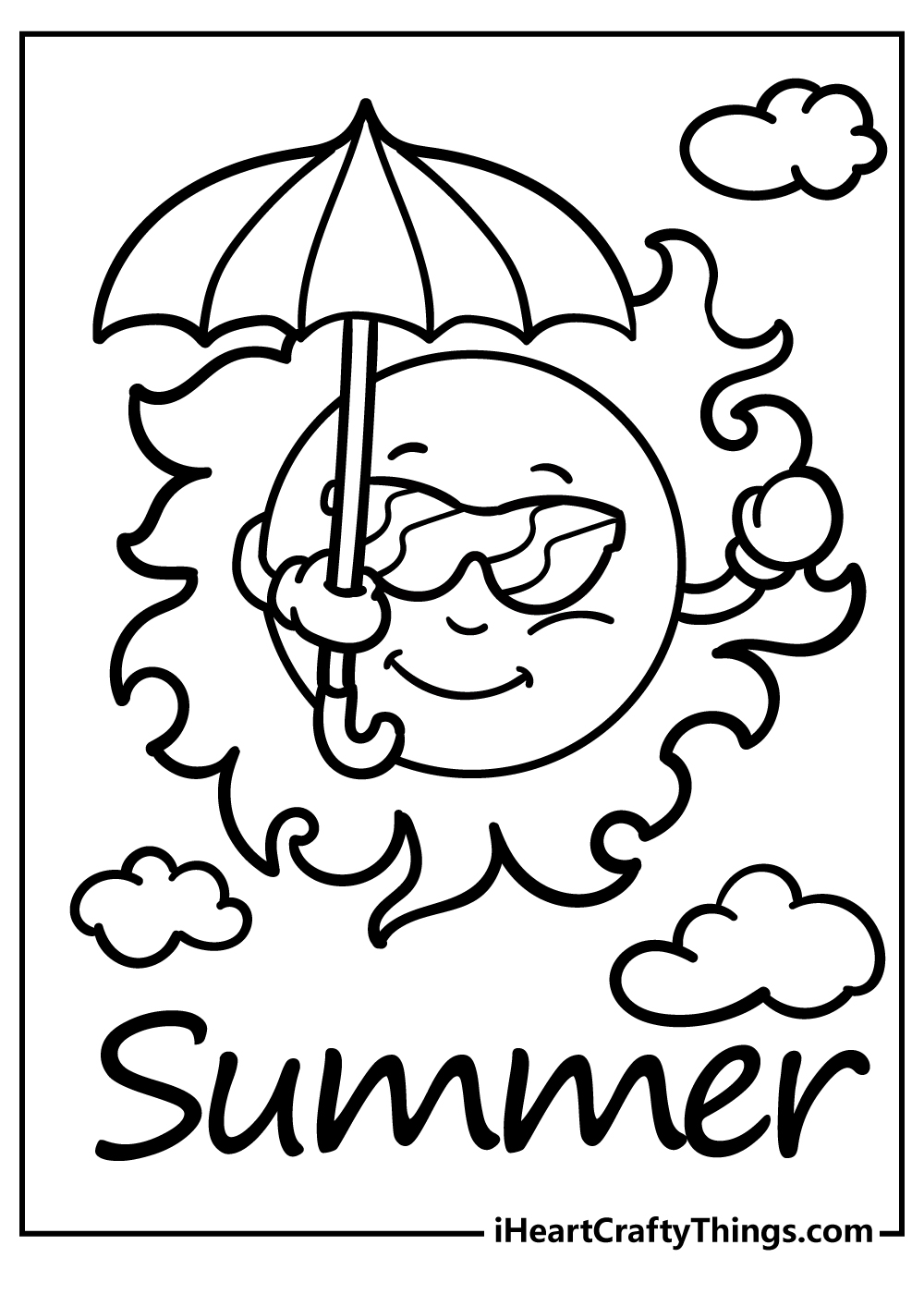 Even for people that love Summer, it can get a bit too hot sometimes! This Summer coloring sheet features some of the tasty treats one can enjoy to fight off the intense heat.
These include a cool, fruity beverage, a slice of watermelon and of course a bowl of ice cream!
By using your colors, you can show us what your favorite flavors and variations of these treats would be.
It would let you use your favorite bright colors to make an image that really pops!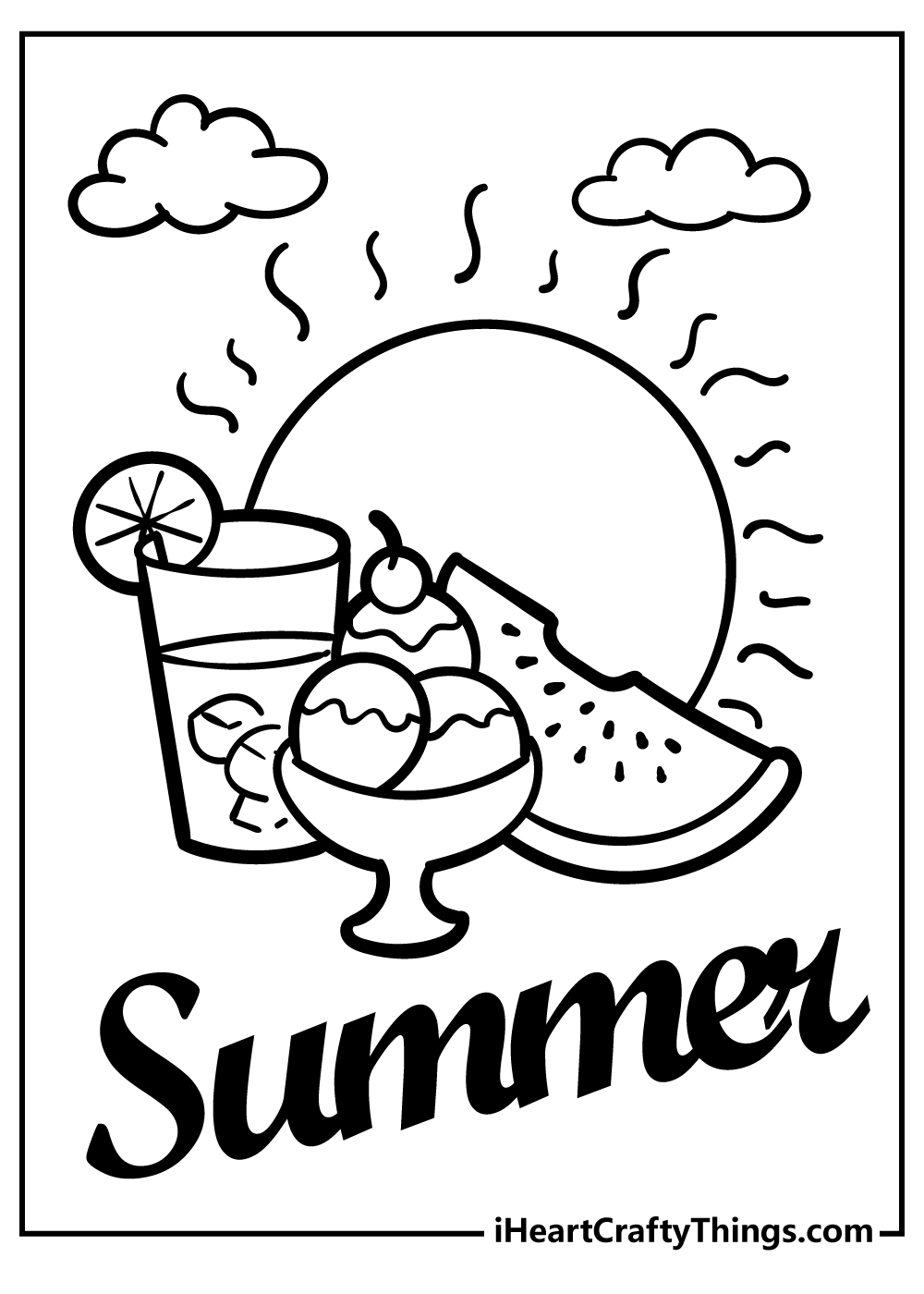 This next Summer coloring printable features a very unique design. It features a bright sun, but it is drawn in a really unique, stylistic way.
Because of this, we think some bright and quirky colors would help to create an even more stylistic look for this awesome coloring page.
What fun colors and mediums are you thinking of using for this one?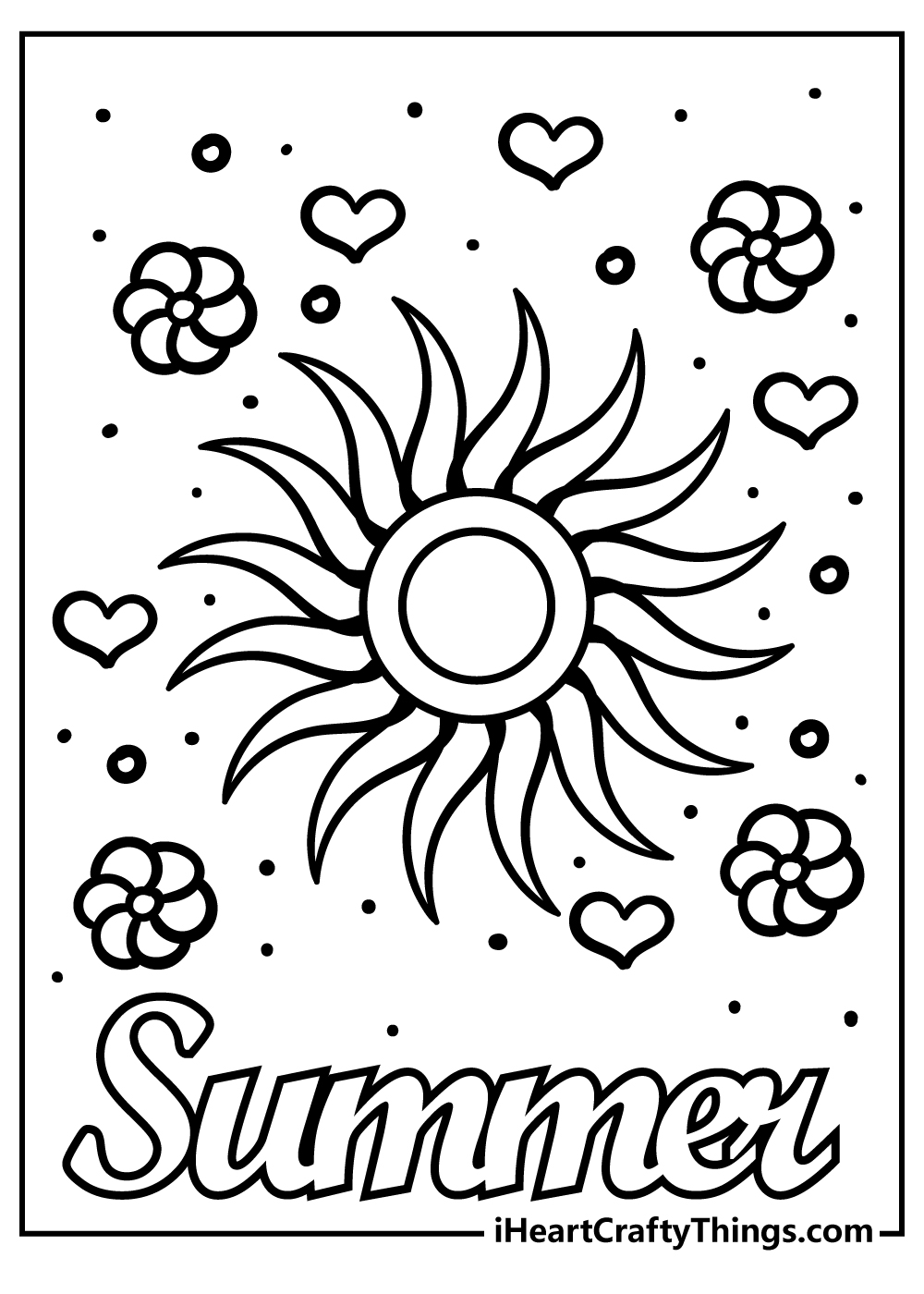 The image in this Summer coloring page has a rather calming and relaxing feel to it. The word Summer is written in a cool, bold font at the top and a bucket and spade sits beneath it.
We would use some milder color tones for this one, as that would help to further the calm feeling we get from this scene.
Of course, you could also go in the opposite direction and use some bright, vibrant colors for a really eyecatching image! It's up to you, and it will be interesting to see what you choose.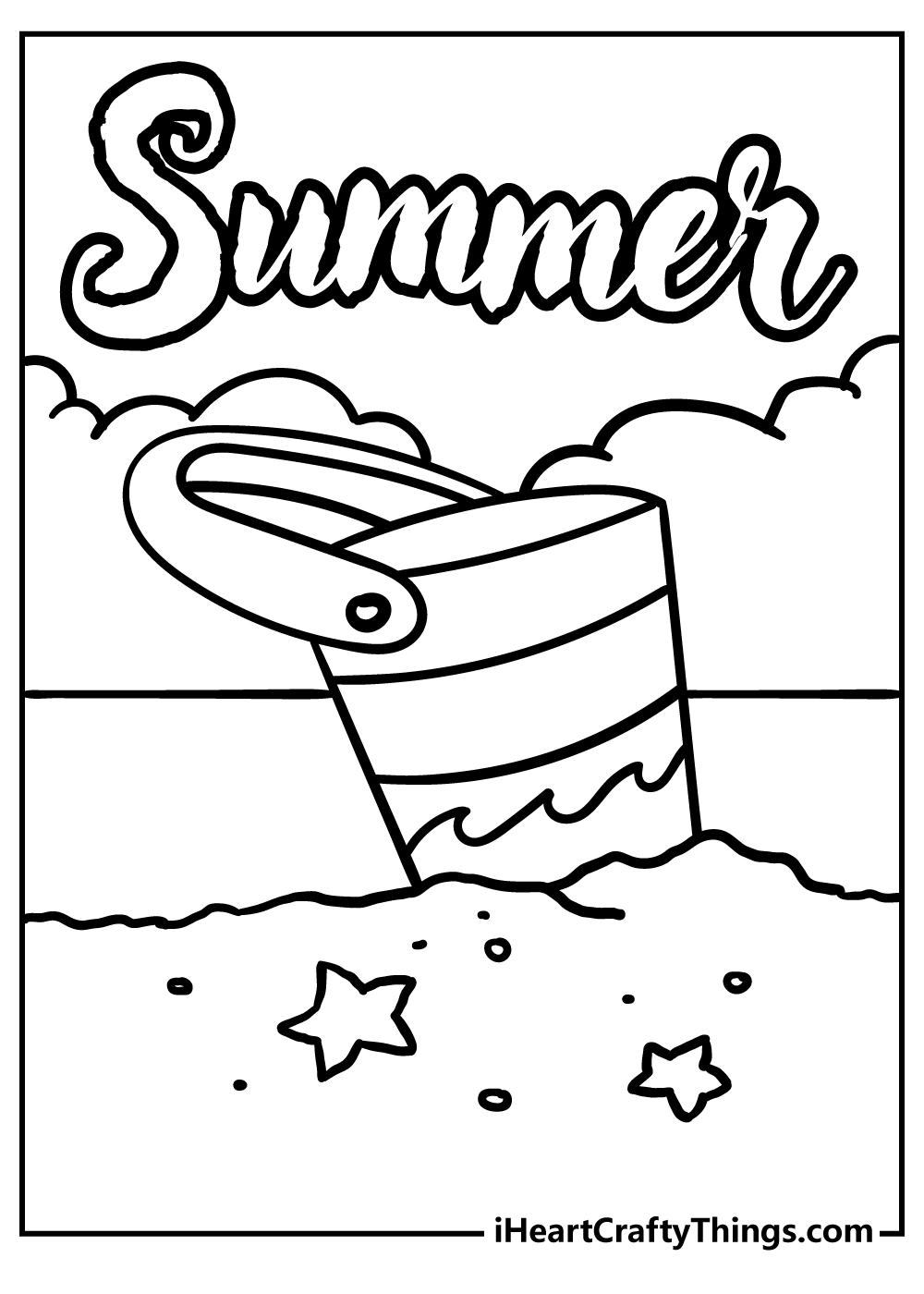 As we mentioned earlier in this collection of free Summer coloring sheets, few things help to fight away the Summer heat than a cool beverage.
That is why we are featuring a delicious cool drink on this next page.
If you have a favorite cool drink that you like to enjoy on a hot day, you can show us what it would be by representing it in this printable!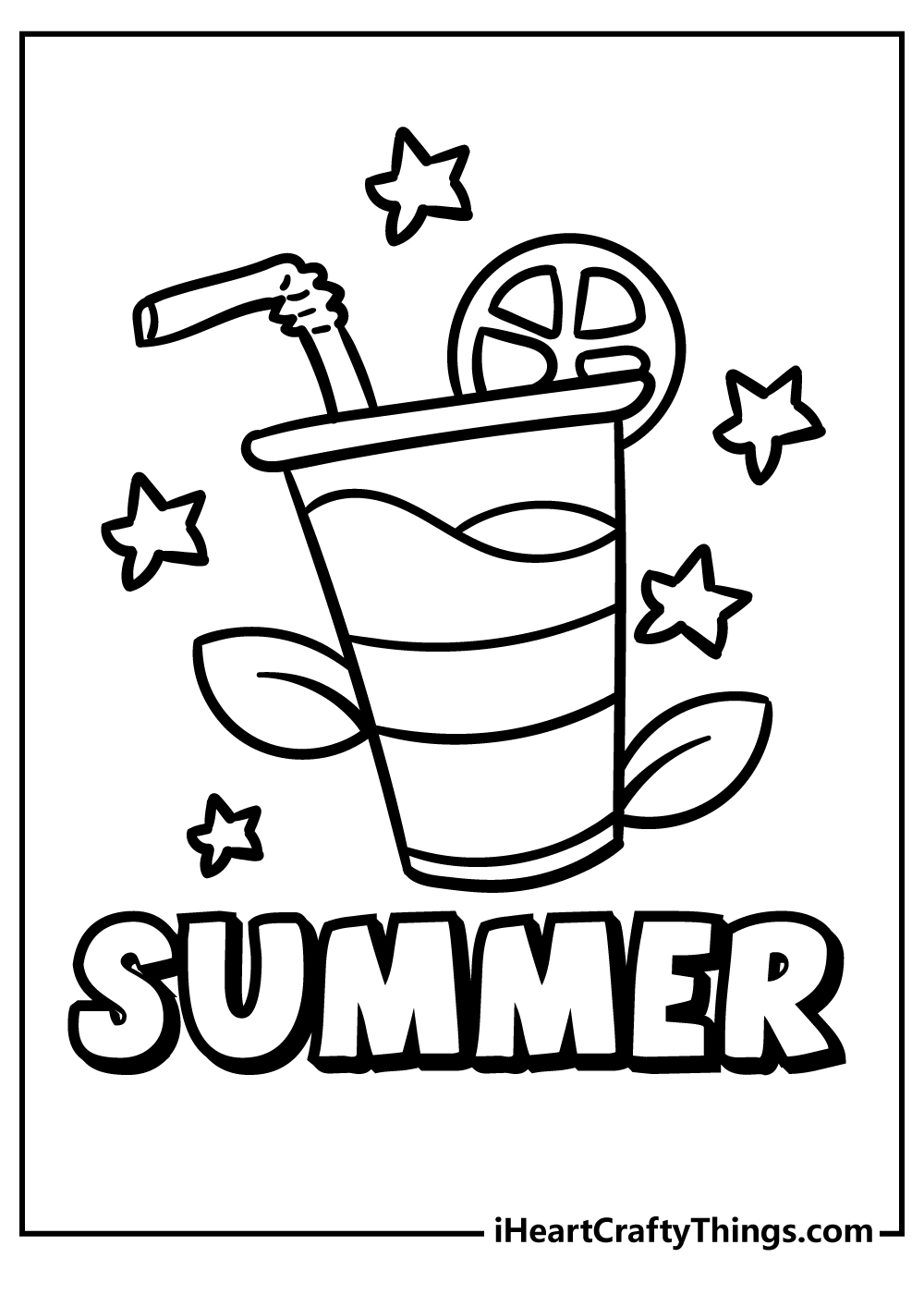 Here's another fun Summer coloring page for you to enjoy! This one features a calm ocean with a happy whale and a really cool sun design above everything.
With an image like this that has so many interesting elements, you have a lot of room to incorporate different kinds of colors.
You don't have to stop there though! You can keep the fun going by adding even more details and extra elements to the scene to personalize it even further.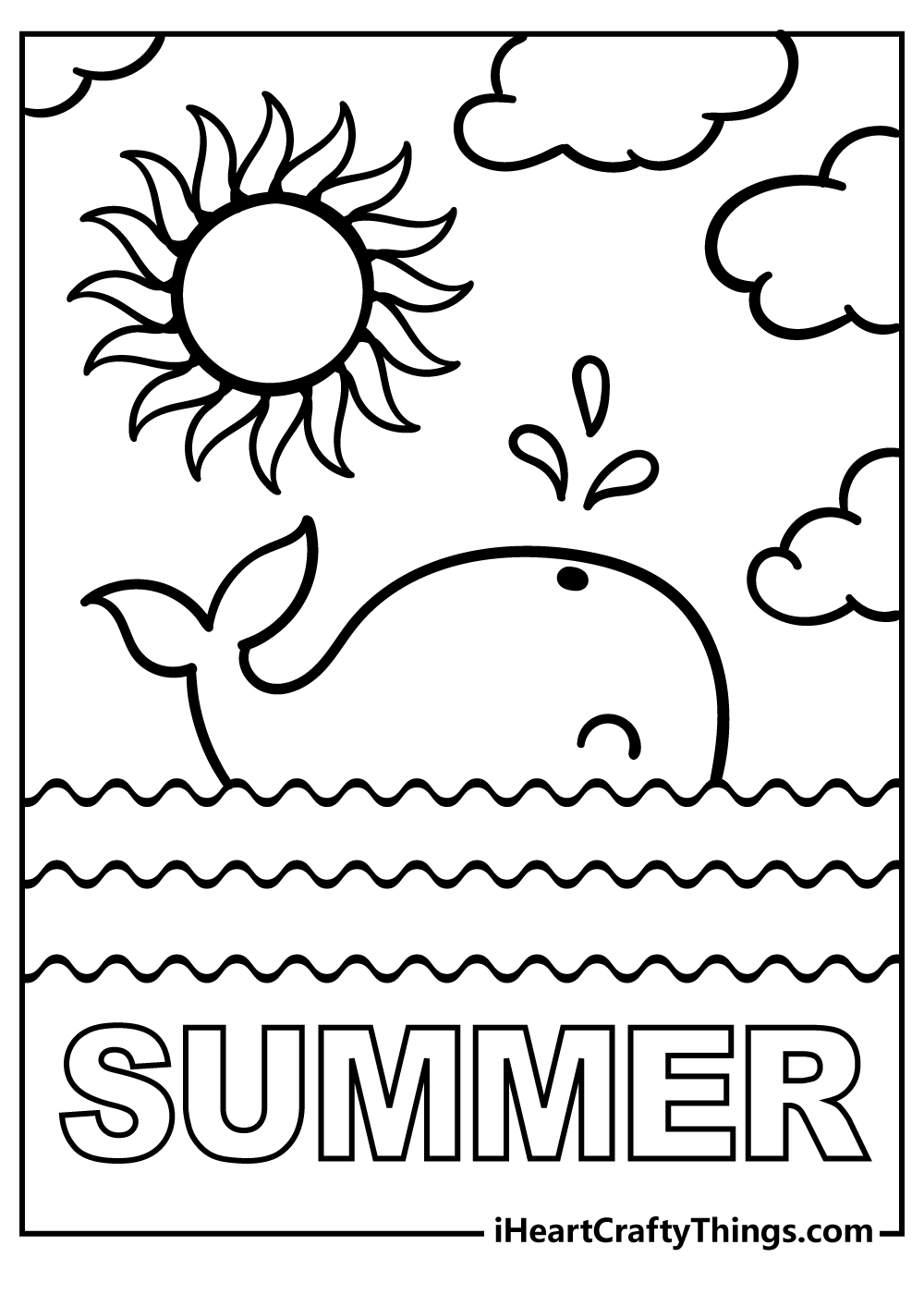 There's one more awesome picture for you to color in this final Summer printable of this collection.
There's another depiction of the sun wearing some shades, and there are umbrellas arranged beneath.
These umbrellas along with the letters of the word Summer beneath allow you to use all of your favorite colors in one image.
What colors and art mediums will you use to finish off this awesome collection?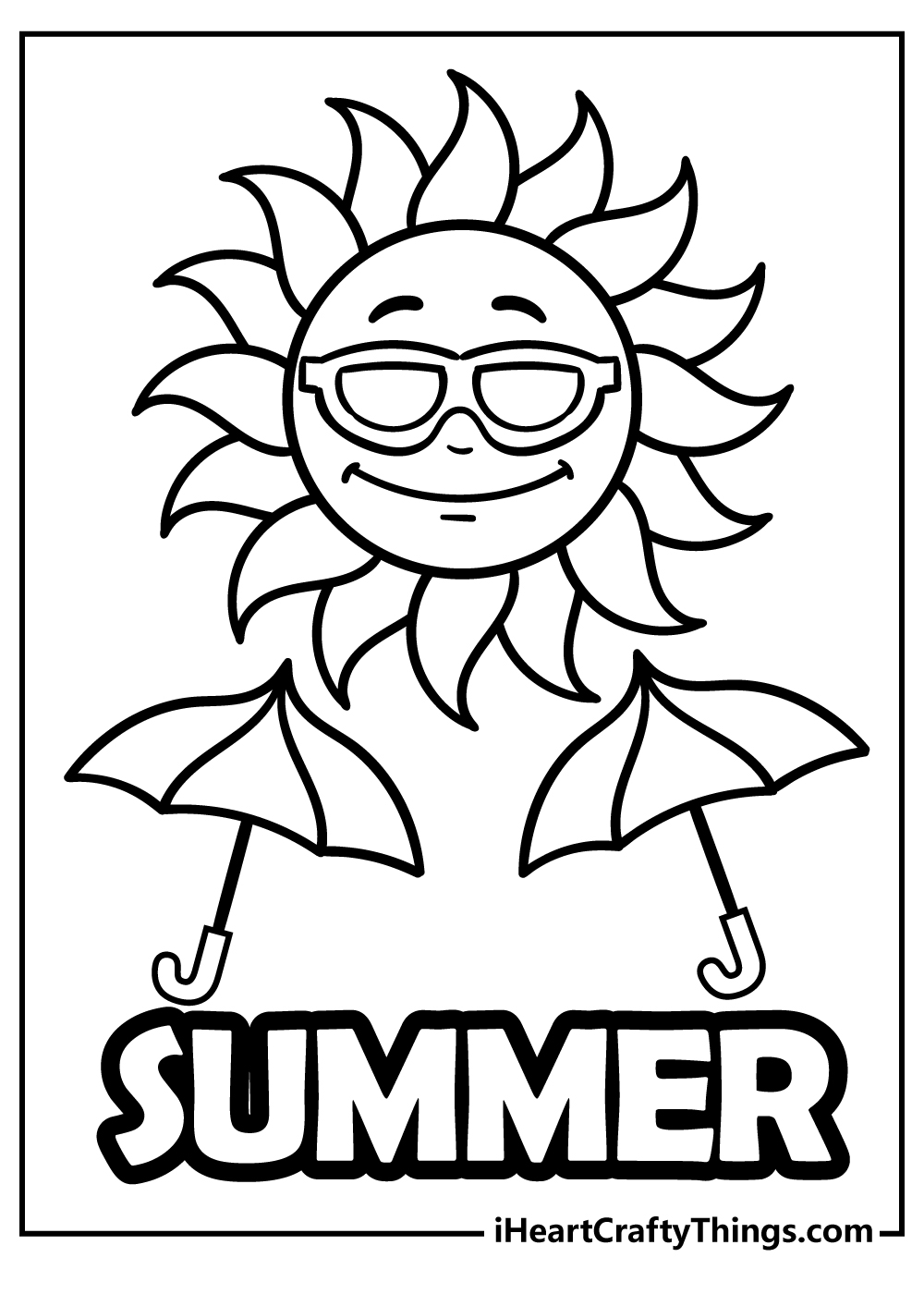 Summer Coloring Pages – Which will you choose?
That will finish off this awesome collection of free Summer coloring pages for kids!
We tried to include a wide variety of different scenes and objects to remind you of this season, and we hope it was a lot of fun.
You can also print out multiple copies to experiment with colors and mediums, and you'll want to share these with others to spread the Summer fun!
If you enjoyed this collection of Summer coloring sheets, be sure to check out our website for many other collections of coloring pages to enjoy.
There are more coming out all the time, so be sure to check in often to never miss out on the fun!
Once you have finished coloring your favorite Summer printables, you can share your artwork on our Facebook and Pinterest pages for us to see.
We can't wait to see the results of your amazing creativity!