On this page, you will find 43 all new Summer coloring pages that are completely free to print and download.
The four seasons of the year are very distinct, and there are pros and cons to each one.
Everyone has their favorite season, and many love Summer due to the fact that the sun is shining and outdoor activities abound!
This collection of free Summer coloring pages is here to help Summer lovers celebrate this season.
There are a lot of different scenes and activities for you to color in this collection, so you will definitely be able to use all of your favorite colors and art mediums!
There will also be room for you to add some details of your own.
Every Summer coloring sheet in this collection is free for you to print, color and enjoy as many times as you wish! But why keep all the fun for yourself?
You can share the joy of coloring by sharing these awesome pages with friends and family to enjoy.
Now you're ready to put on your coolest shades and enjoy some Summer fun no matter what time of the year it may be!
When you're finished with your favorite pages, remember to share them on our Facebook and Pinterest pages for us to see.
20 Brand New Summer Coloring Pages – Free to Print and Color
We have a classic and relaxing scene for you to color on this Summer coloring sheet. In this image, we are at a beach with two surfboards and a bright sun above.
Everything is drawn in a really interesting style, and that means that you can fit in lots of color details.
You could replicate the feeling of a hot Summer day by using bright, warm colors, or you could show how relaxing a day at the beach can be by using lighter colors.
It's up to you, and you can really show off what a fun Summer day means to you!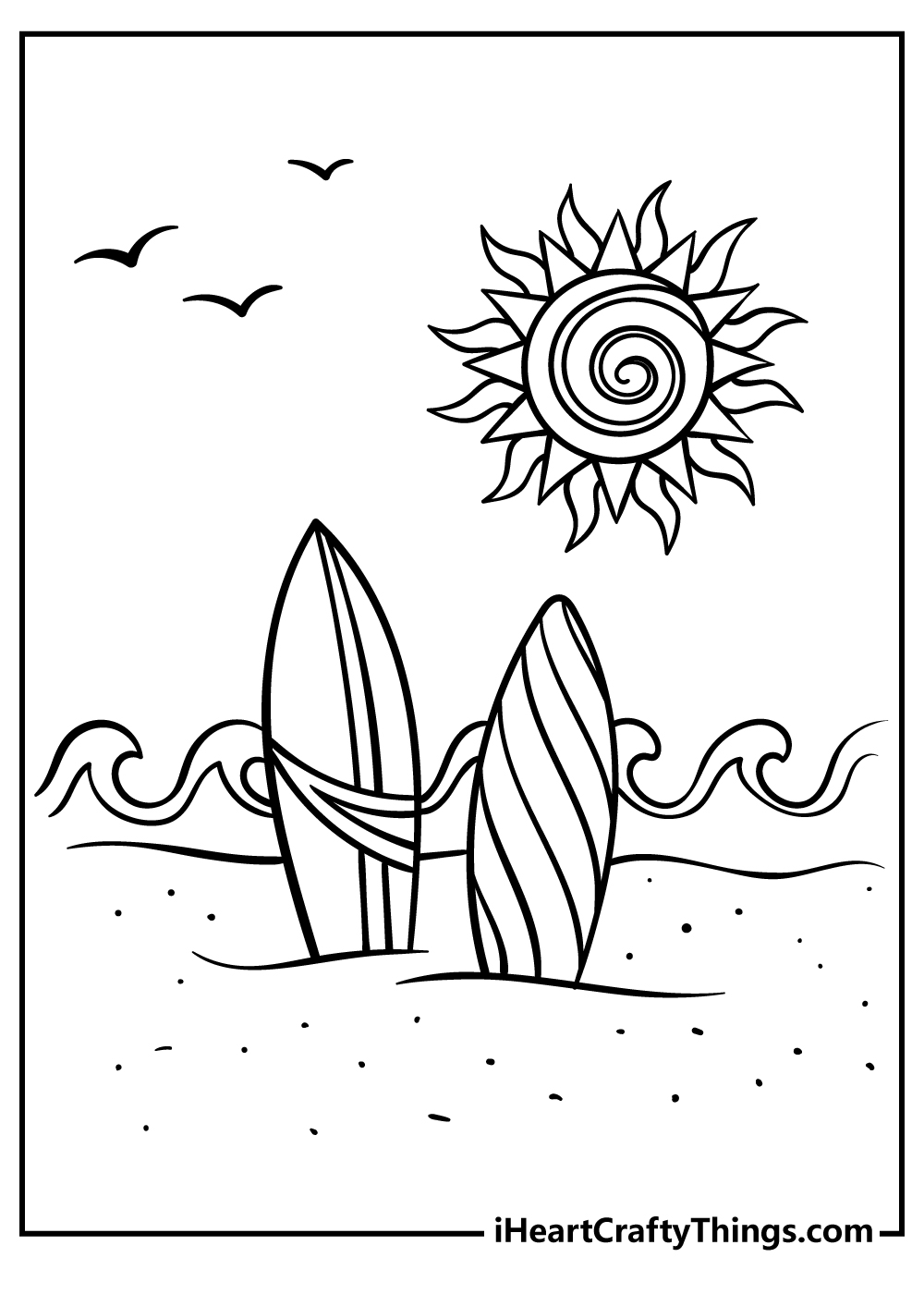 When enjoying a Summer day, there are some toys and objects that can take your fun to the next level.
This page shows off some of the objects you can use at the beach to make things even better! We have some sandals, a ball and a bucket with a spade, and they all have a giant sun over them.
There are so many different details to all of these elements, and you can use all sorts of interesting colors and techniques.
Which colors will you use for these fun objects? We can't wait to see what you choose!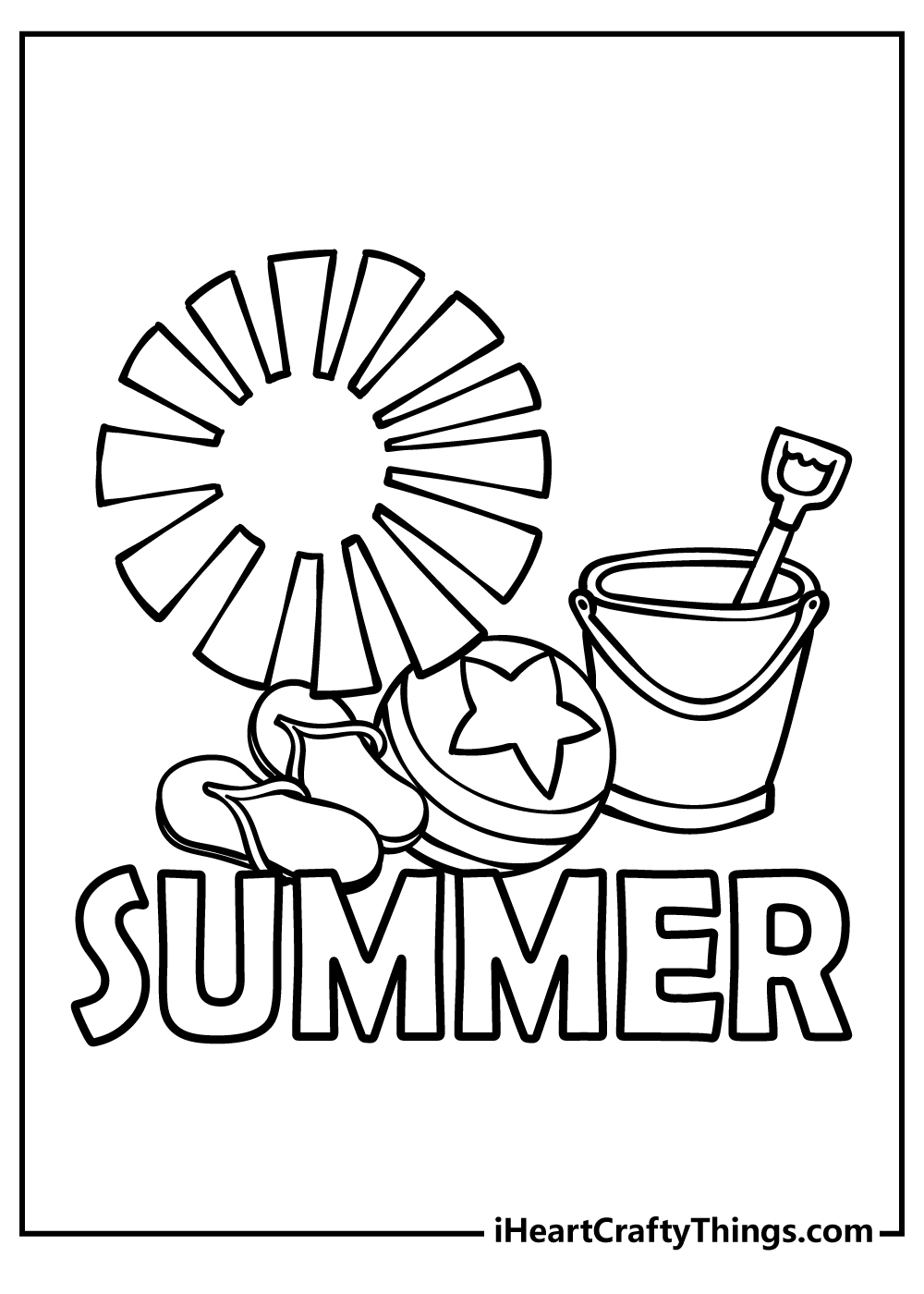 This first free Summer coloring page for kids features a really fun Summer image to color in! It's so hot and bright out that even the sun needs to wear some sunglasses here!
Below the sun in this image, the word Summer is also written in bold letters, and that gives you the opportunity to add some great colors to this printable!
If you're feeling extra creative, why not try to use a different color for every letter of the word?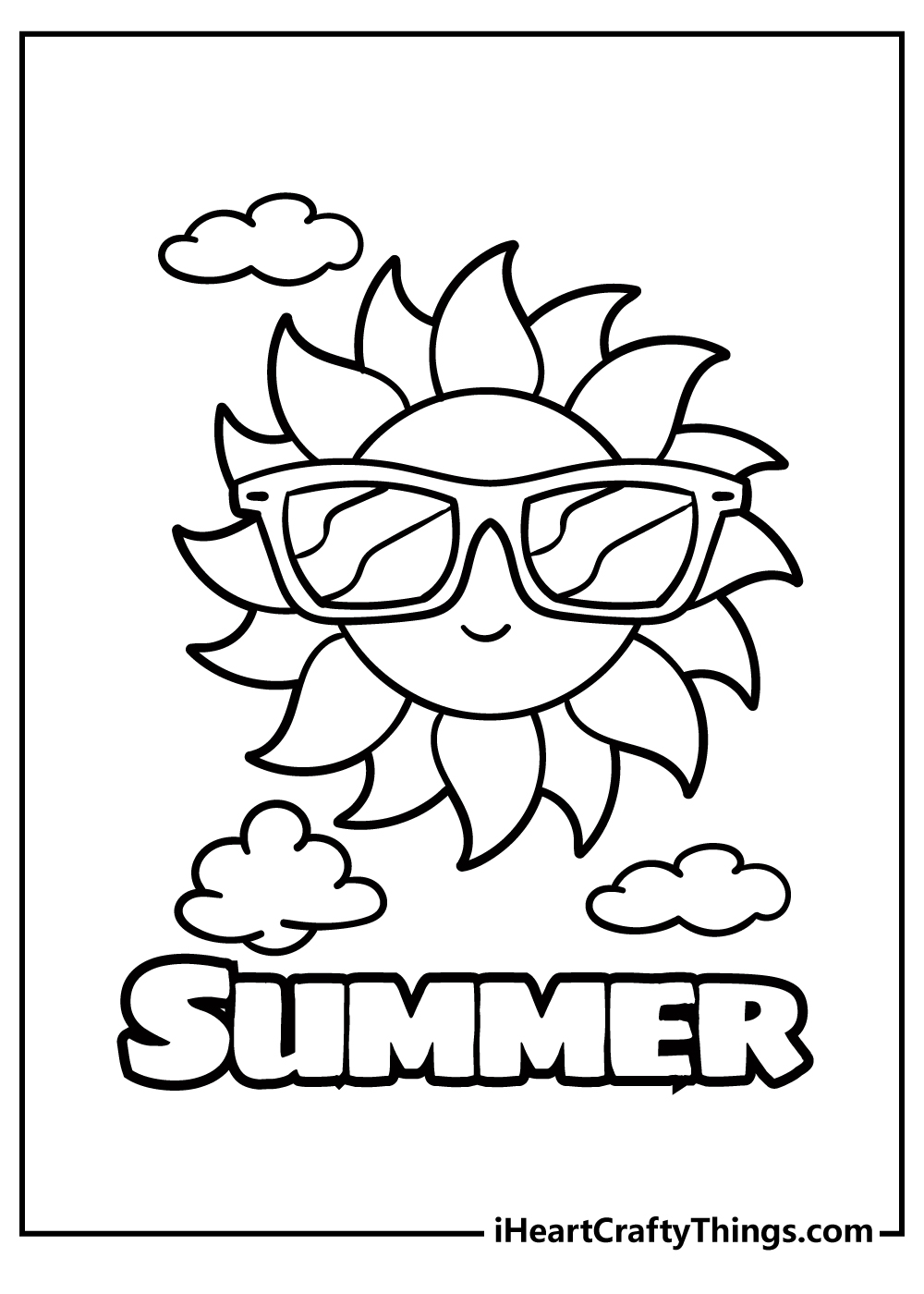 We have a really cool Summer coloring sheet to enjoy on a hot day here!
There are few things more welcome on a hot day than a delicious ice cream cone, and one of these is the focus of this second printable.
This is a really fun picture with the way that the sun is peeking out from behind the ice cream, and you could even add some extra sprinkles and toppings for the ice cream!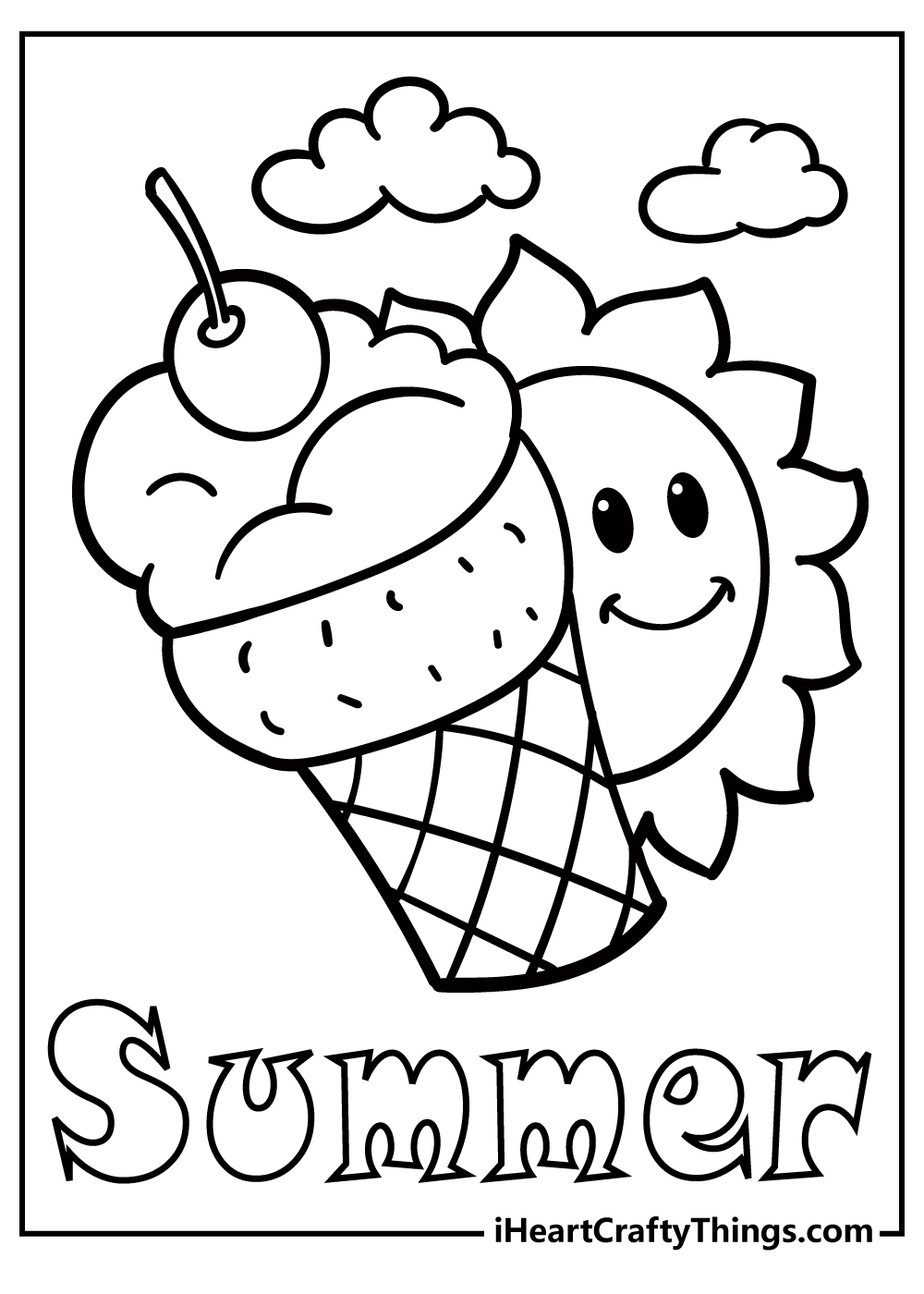 The reason so many people love Summer so much is that there are tons of activities to enjoy.
Many of these are enjoyed at the beach, and we are featuring one of these activities in this third Summer coloring printable.
There is an awesome sandcastle featured in this one, and there are lots of fun details to color here.
It would also be fun to draw more background details to finish off the beach setting!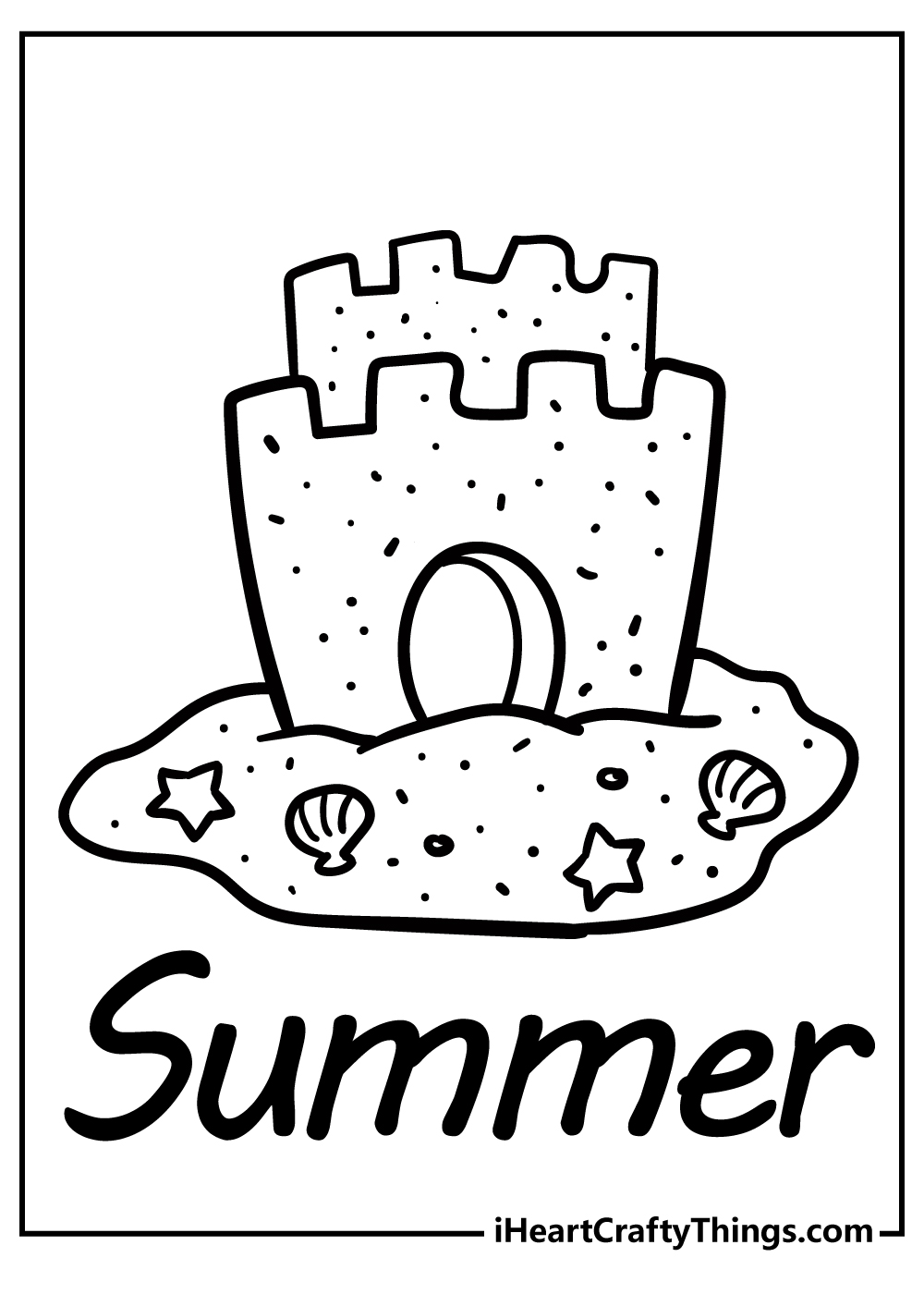 The sun is back in this fourth Summer coloring page that we have for you!
This one is also a really fun and creative picture, as it has a really cool-looking sun wearing some shades and holding an umbrella.
There's something ironic about seeing the sun with an umbrella, as the sun usually causes others to need one! This Summer printable would look great with some bright, creative colors.
What colors do you think you will use for this fun picture?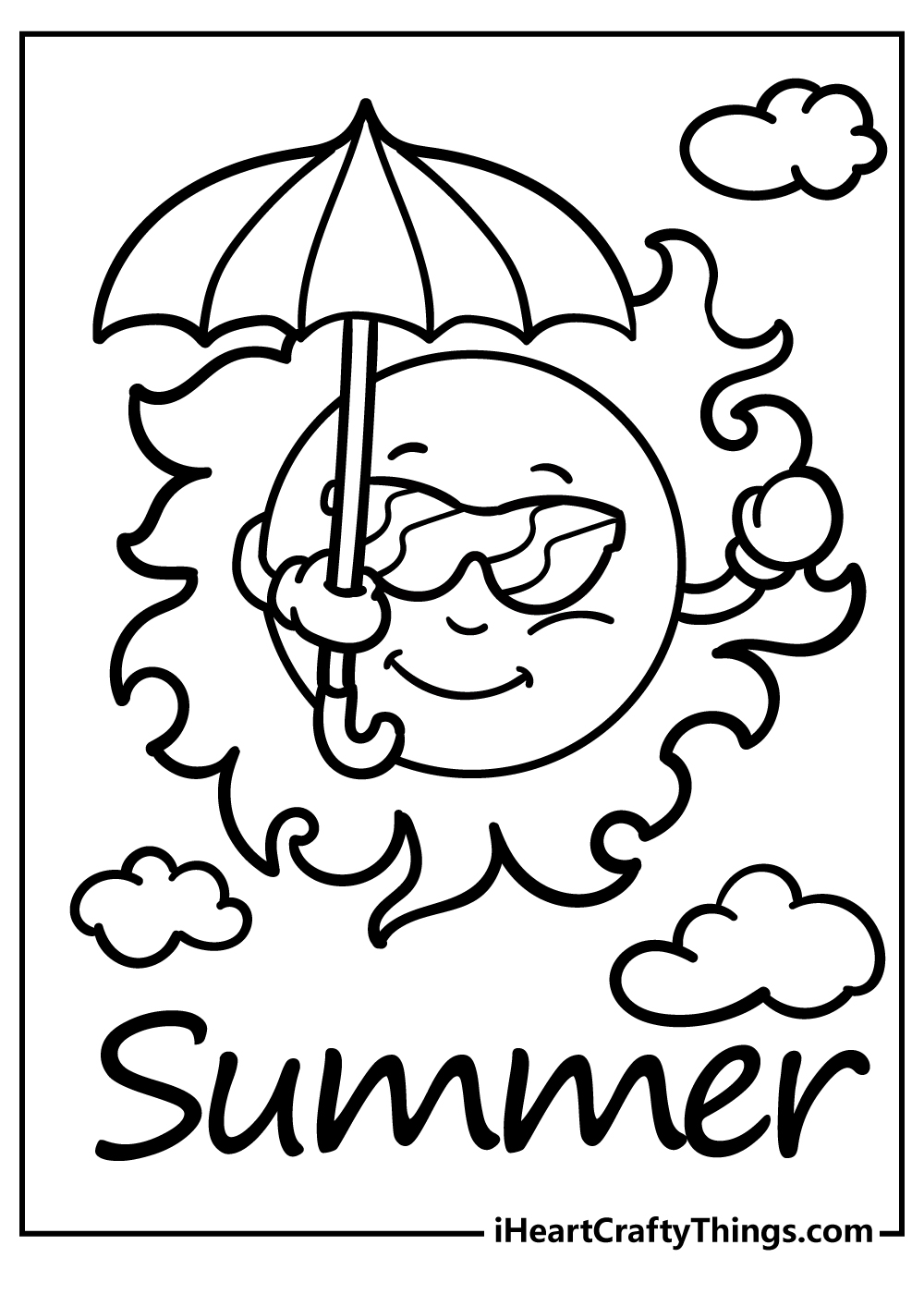 Can you imagine having an island of your very own to relax on? This page gives you just that, as there is a peaceful tropical island for you to color here.
There is a detailed umbrella with a comfy beach chair, and you could add even more objects if you want to take this even further!
If you were to have your own Summer island, what are some things you would bring along to make it perfect?
You can show us with the extra details that you add to this peaceful and fun image as well as with the colors you choose!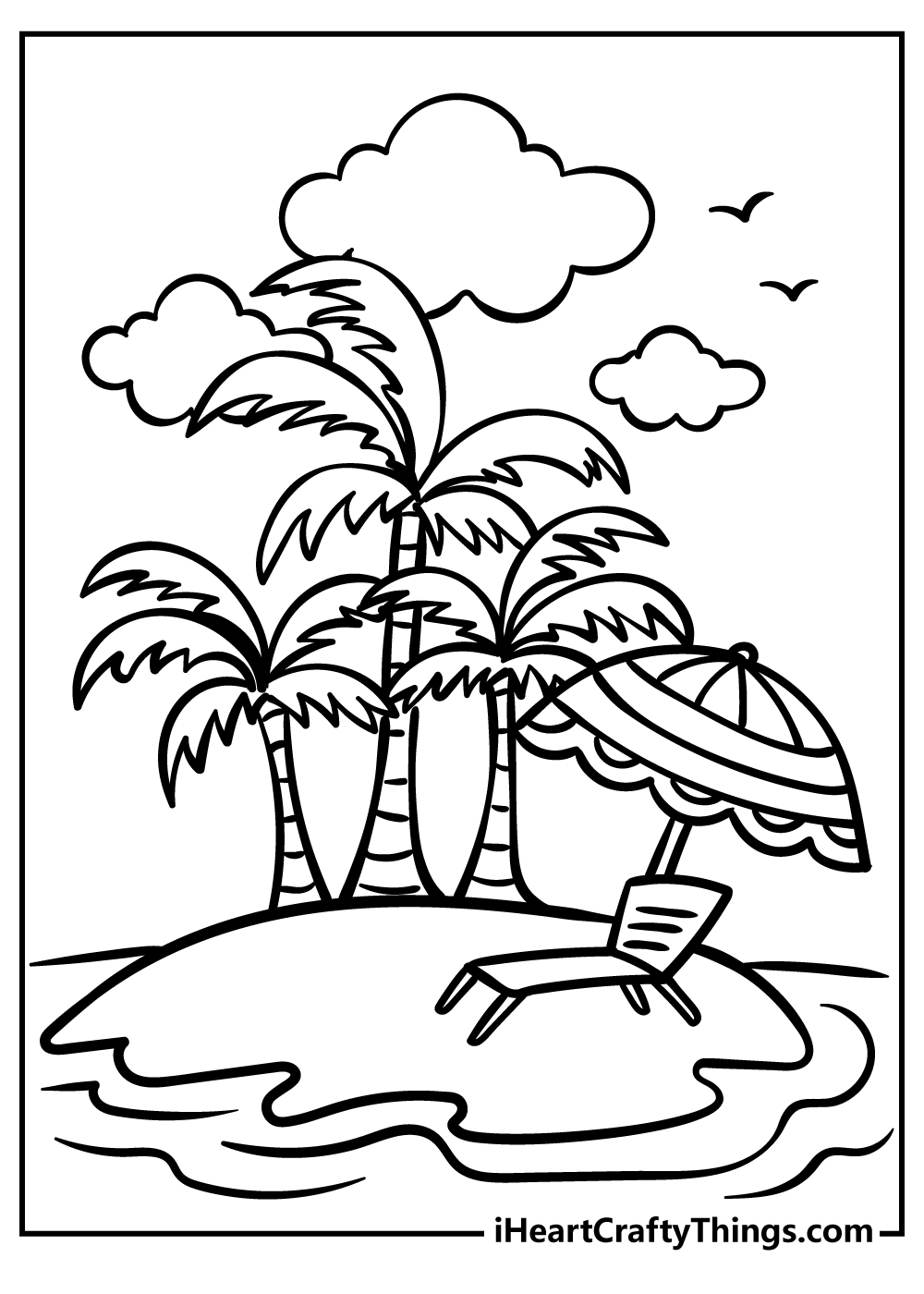 It can get very hot on a Summer's day, and there are some ways that you can try to cool down. One is to enjoy a refreshing snack, and one of the best ones to have would be some tasty pineapple.
This next page in our collection of free Summer coloring pages for kids shows one of these pineapples ready to enjoy some fun itself!
It is ready to go with a beach ball, a surfboard and a big smile and this gives you lots of ways to add all your favorite colors! Which colors will you use?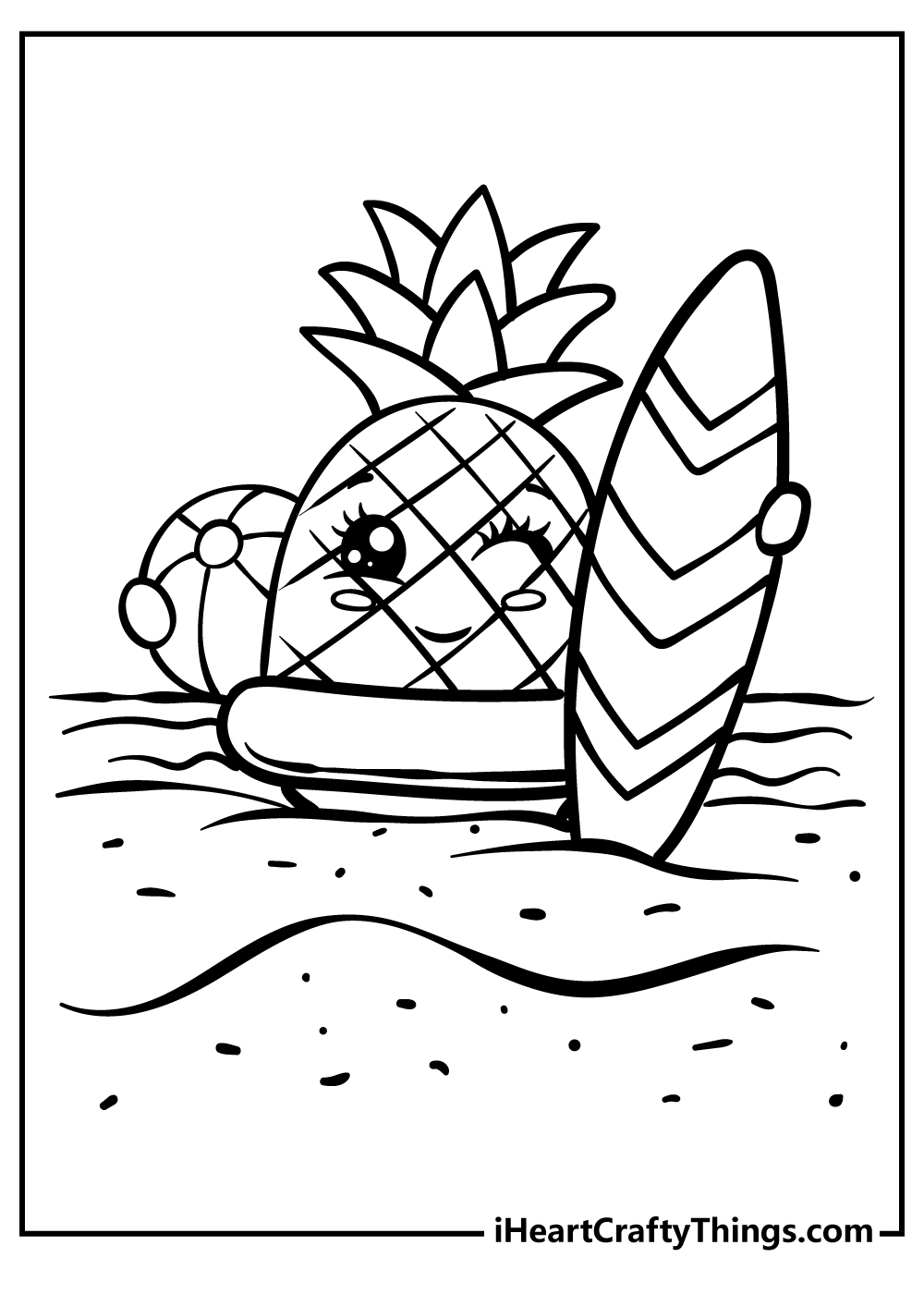 Even for people that love Summer, it can get a bit too hot sometimes! This Summer coloring sheet features some of the tasty treats one can enjoy to fight off the intense heat.
These include a cool, fruity beverage, a slice of watermelon and of course a bowl of ice cream!
By using your colors, you can show us what your favorite flavors and variations of these treats would be.
It would let you use your favorite bright colors to make an image that really pops!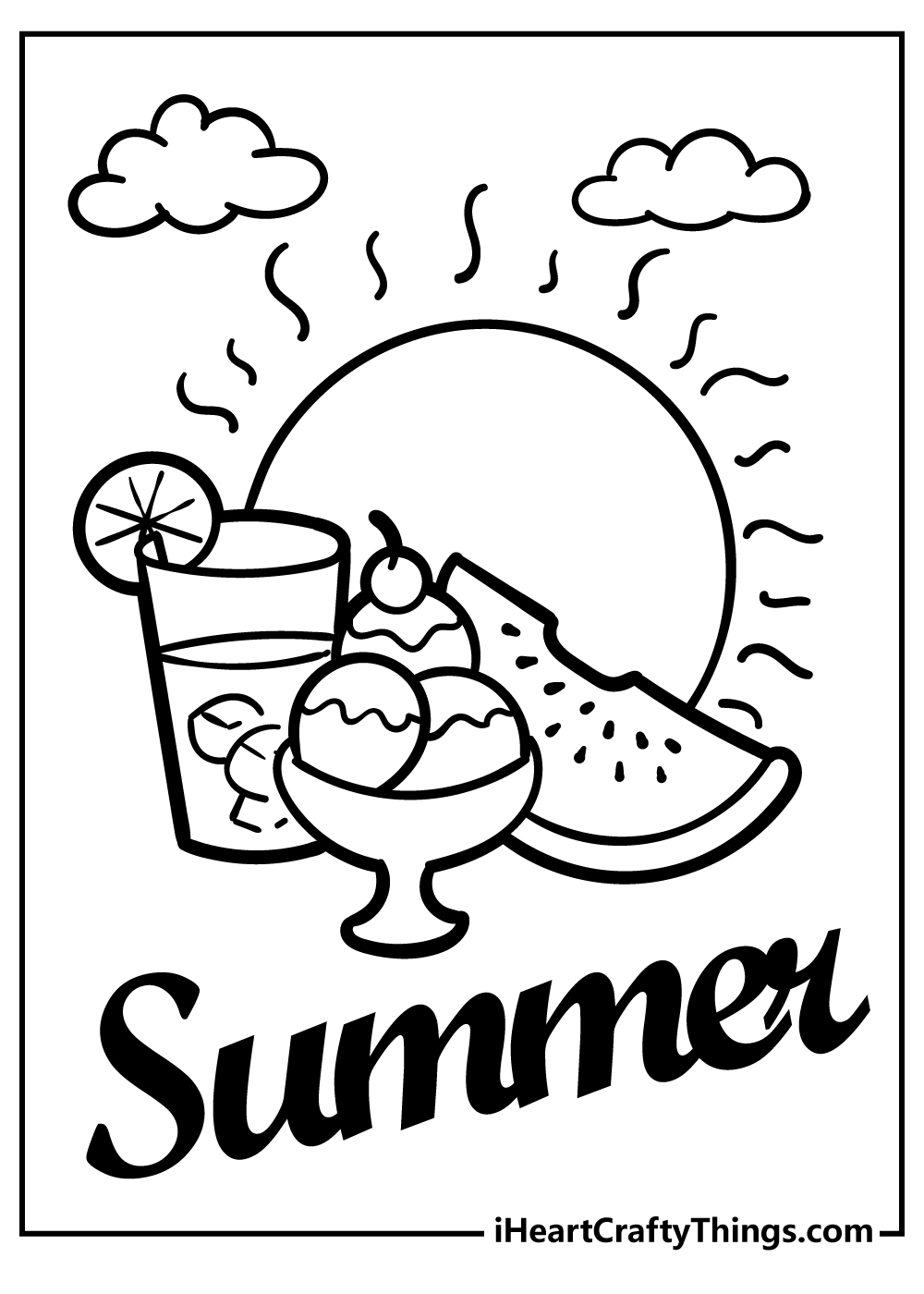 This next page shows off a wonderful Summer scene! There is a pretty impressive sandcastle complete with its own flag standing above some other fun beach toys.
The picture shows off a great variety of different objects and textures, and this means that you can really experiment with different colors, techniques and art tools.
This will be a wonderfully fun little Summer scene once you have finished adding your own creativity to it! Will you add any other details or other ideas to this page?
There are so many ways to make it even better, so be sure to try out any ideas you have!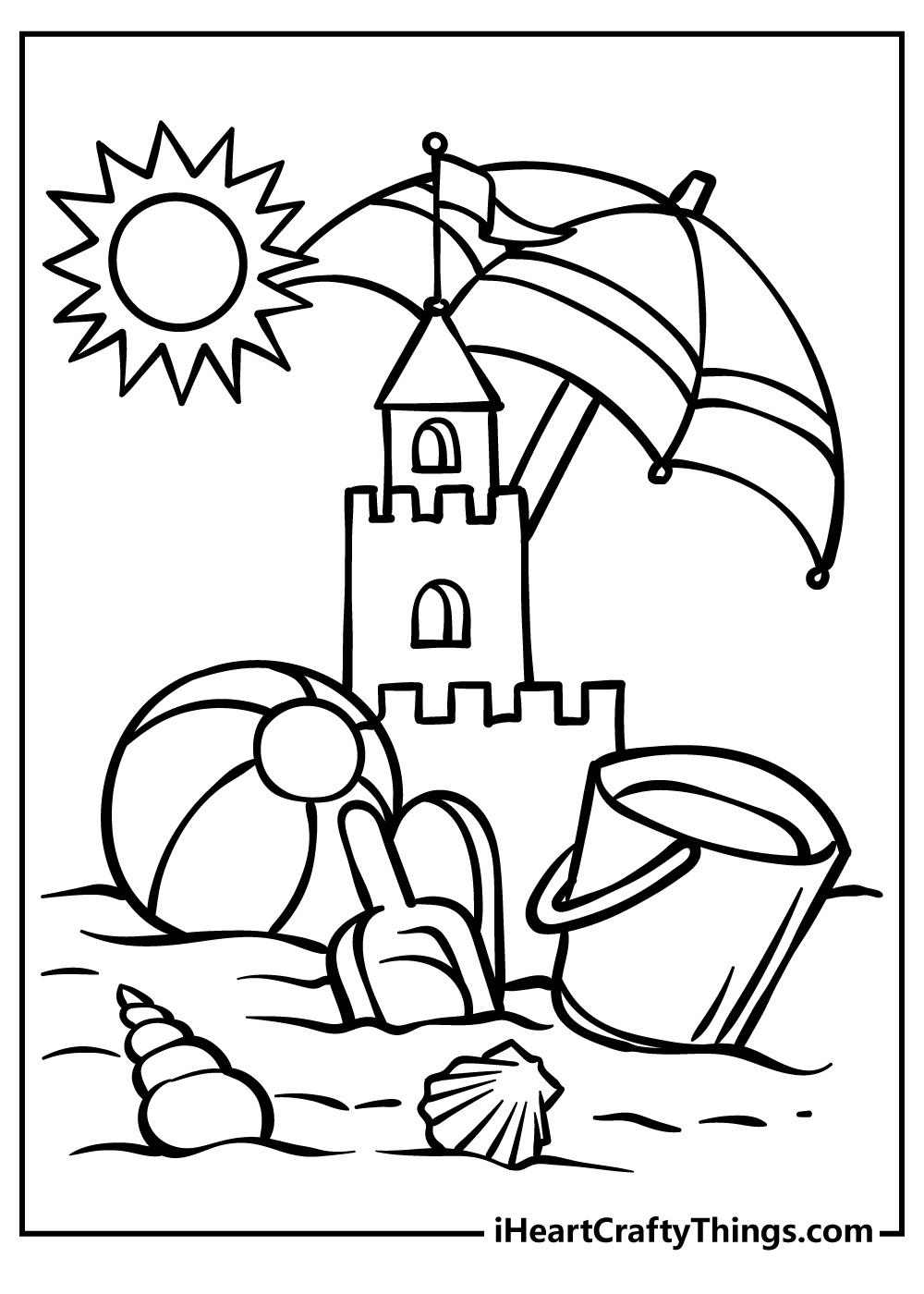 If you're lucky enough to visit a beach on a Summer day, you are quite likely to take a dip in the water to try and escape the heat.
There are a few things you'll probably want to leave on dry land when doing this, and this page shows a few of these.
We have some nicely detailed sandals along with some sunglasses that someone has left safely on the shore.
Maybe you could draw in some more objects that you wouldn't want to get wet alongside these ones! One example would be a mobile phone, but what else can you think of?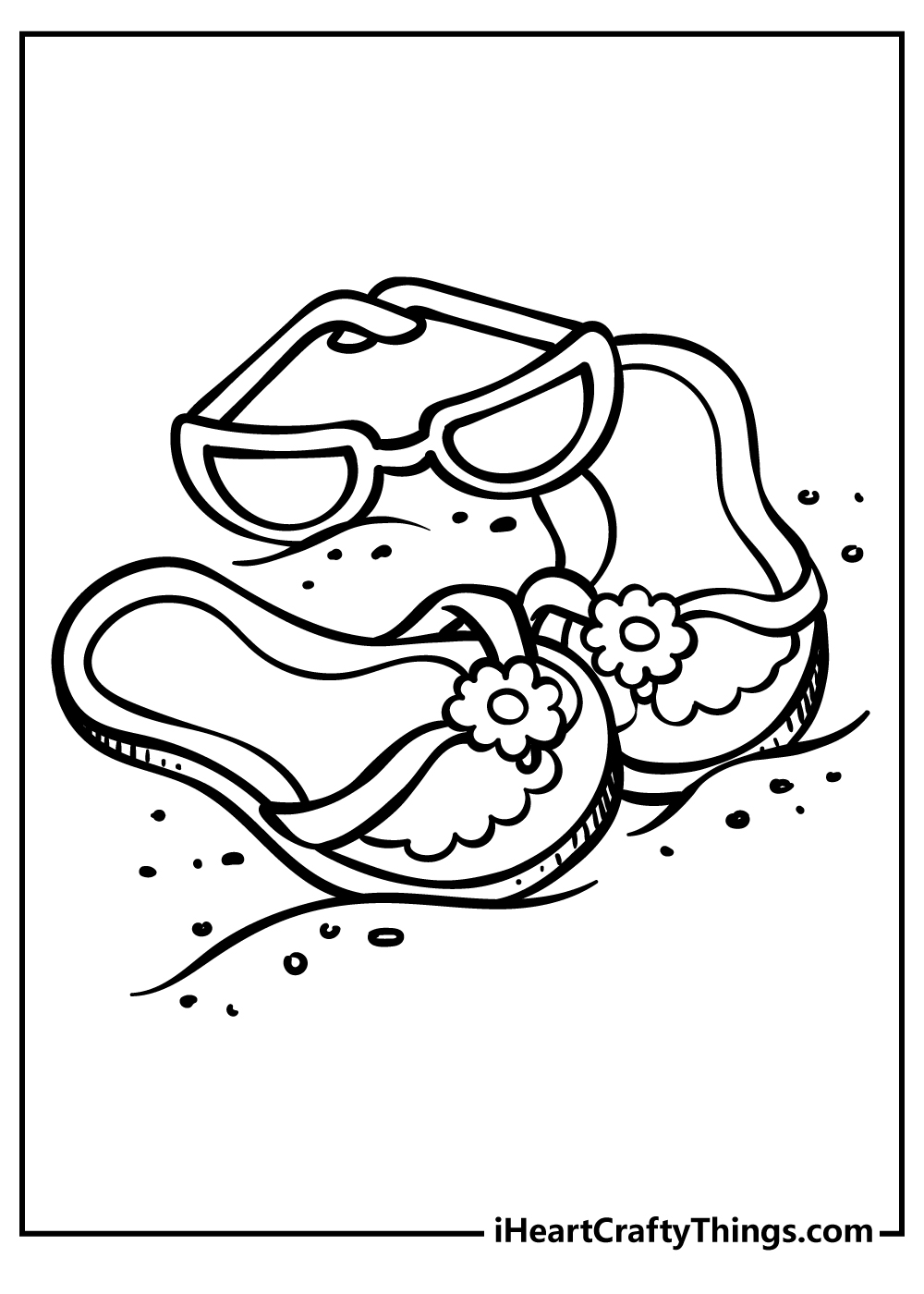 This next Summer coloring printable features a very unique design. It features a bright sun, but it is drawn in a really unique, stylistic way.
Because of this, we think some bright and quirky colors would help to create an even more stylistic look for this awesome coloring page.
What fun colors and mediums are you thinking of using for this one?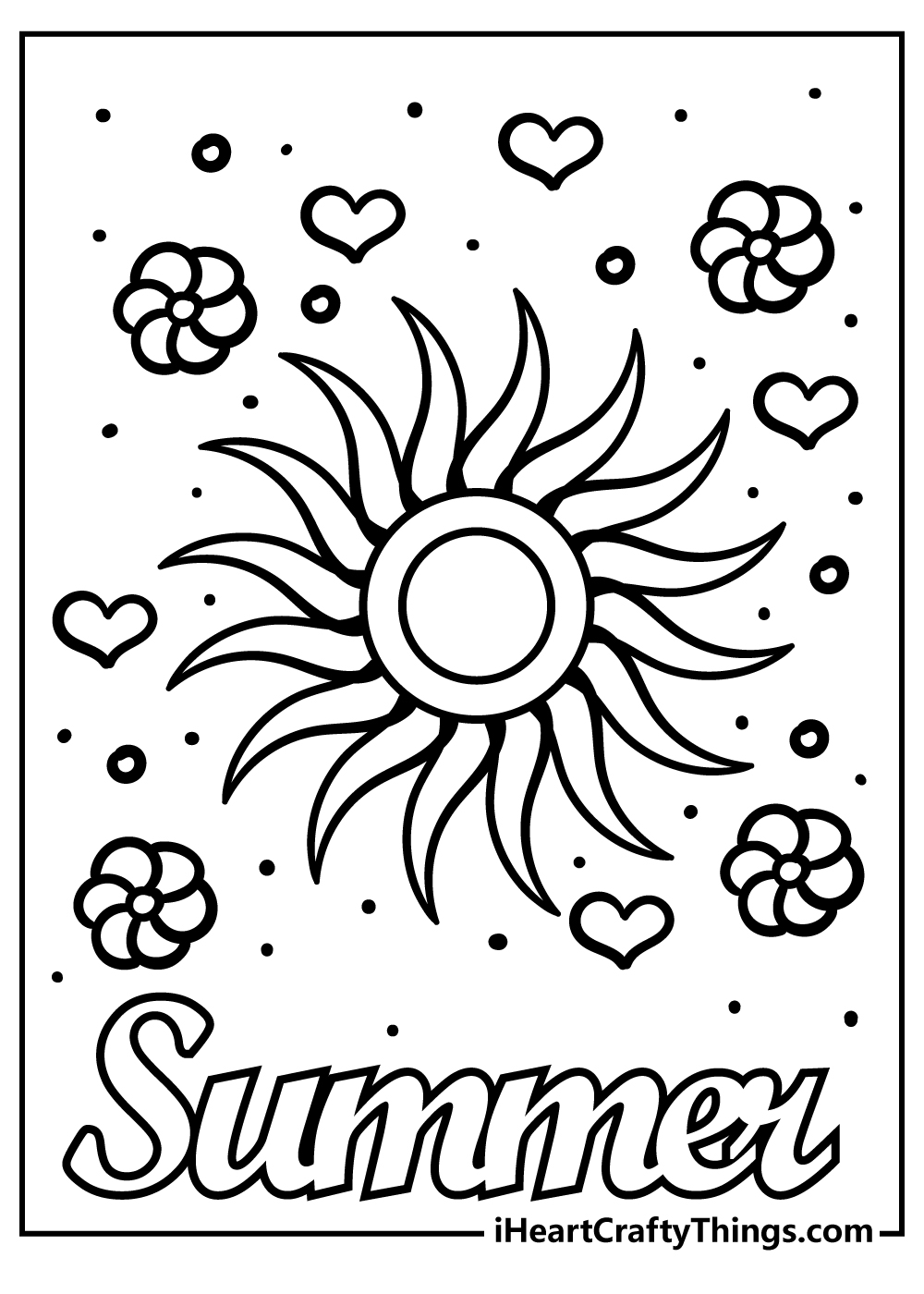 The image in this Summer coloring page has a rather calming and relaxing feel to it. The word Summer is written in a cool, bold font at the top and a bucket and spade sits beneath it.
We would use some milder color tones for this one, as that would help to further the calm feeling we get from this scene.
Of course, you could also go in the opposite direction and use some bright, vibrant colors for a really eyecatching image! It's up to you, and it will be interesting to see what you choose.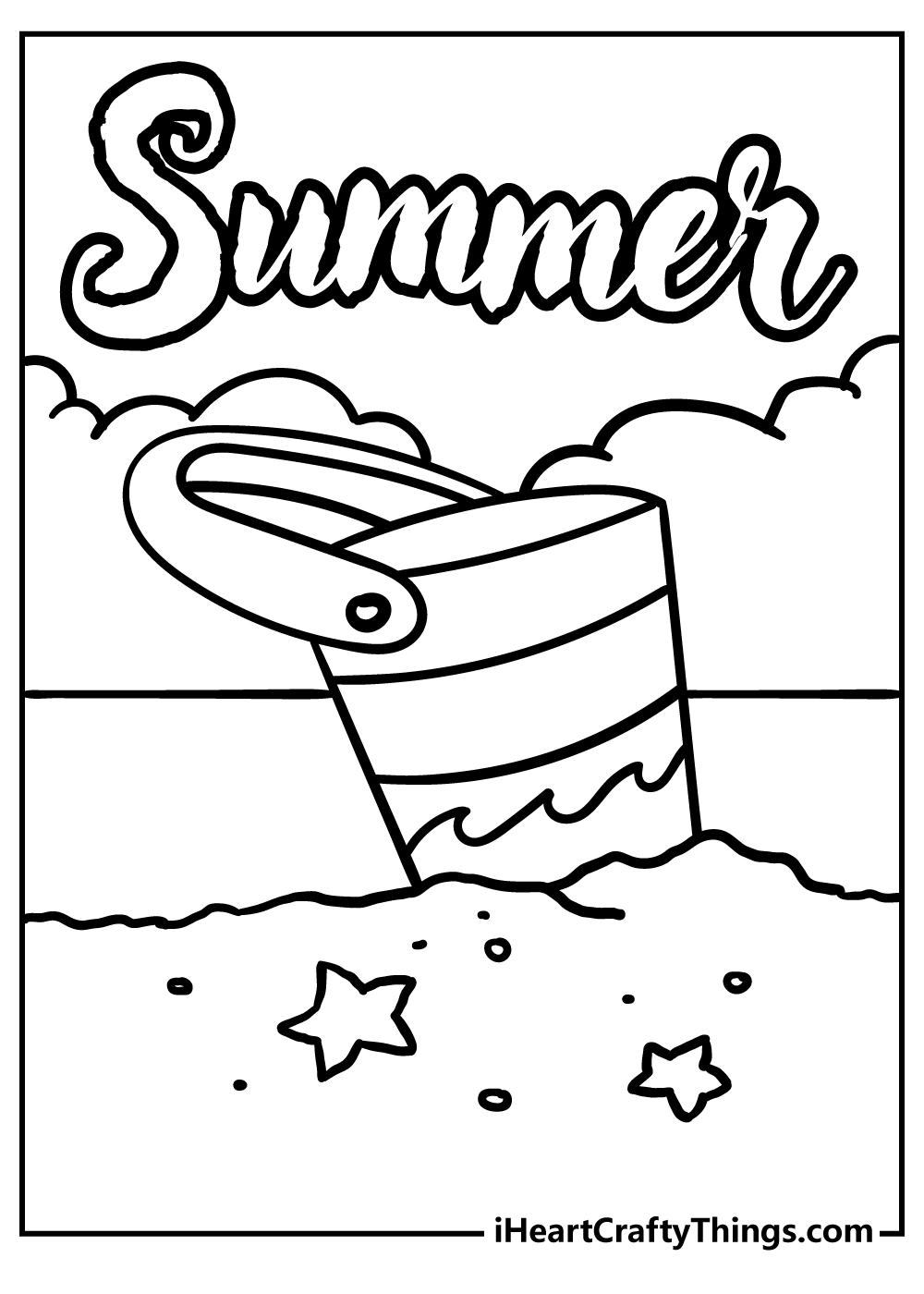 Building a sandcastle is a really fun activity to enjoy on the beach, and it's a great way to let out your inner architect!
This Summer coloring printable shows a young boy having a fun time building a sandcastle of his own, and he looks very proud of what he has built.
It is already looking great, but there is plenty of room for some more details on this castle.
You could draw some of these details to show what you think would make this impressive structure even better!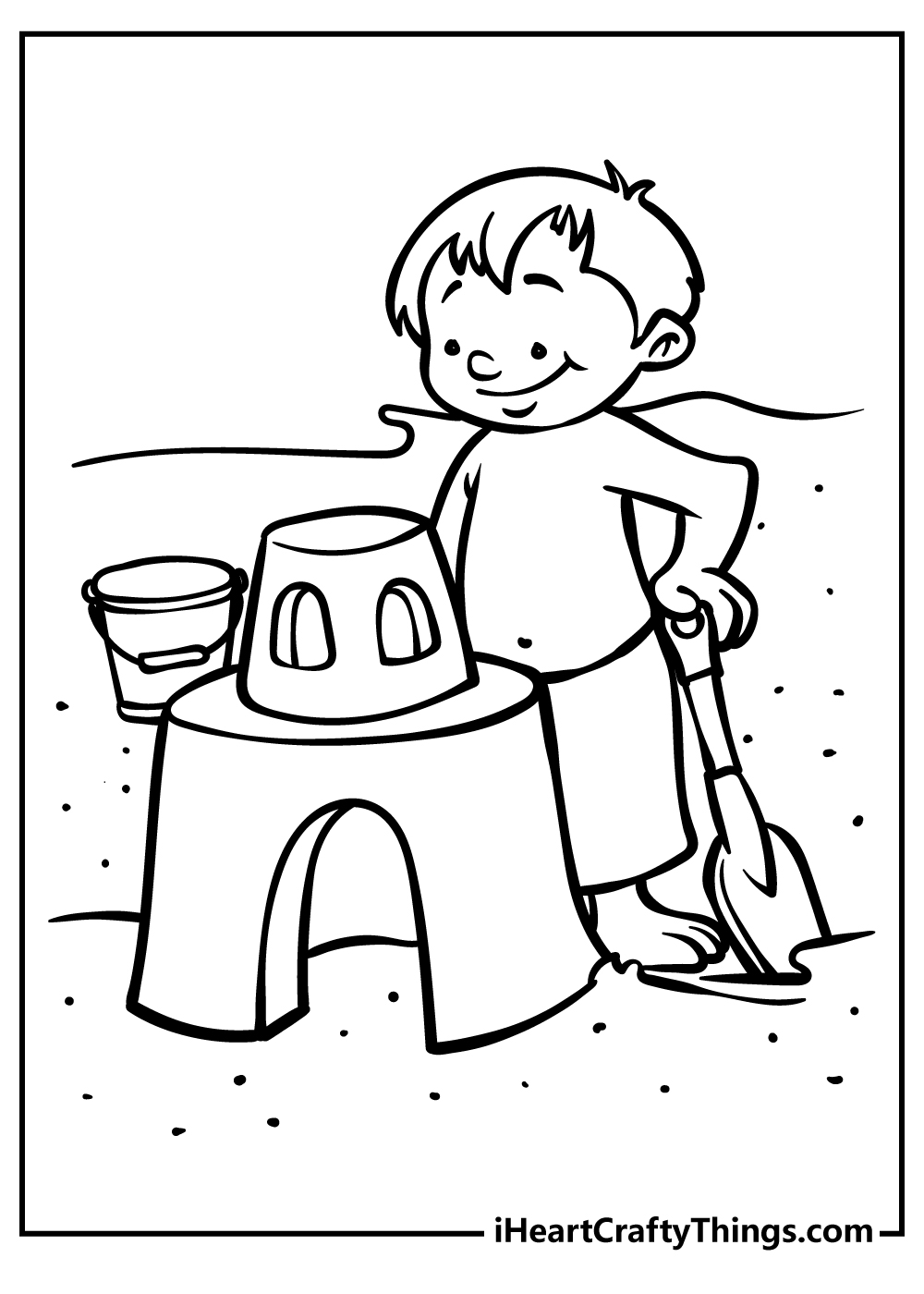 You know it's a bright and hot day when even the sun has to wear some sunglasses! That is what is happening on this next page, as this happy sun is looking really cool with some eyewear.
The sun is the brightest object in our universe, so we think that this page would look great with the warmest, brightest colors you have in your collection.
It would be a great time to use all of your favorite reds, yellows and oranges for this happy sun. What colors will you use for the background and other details?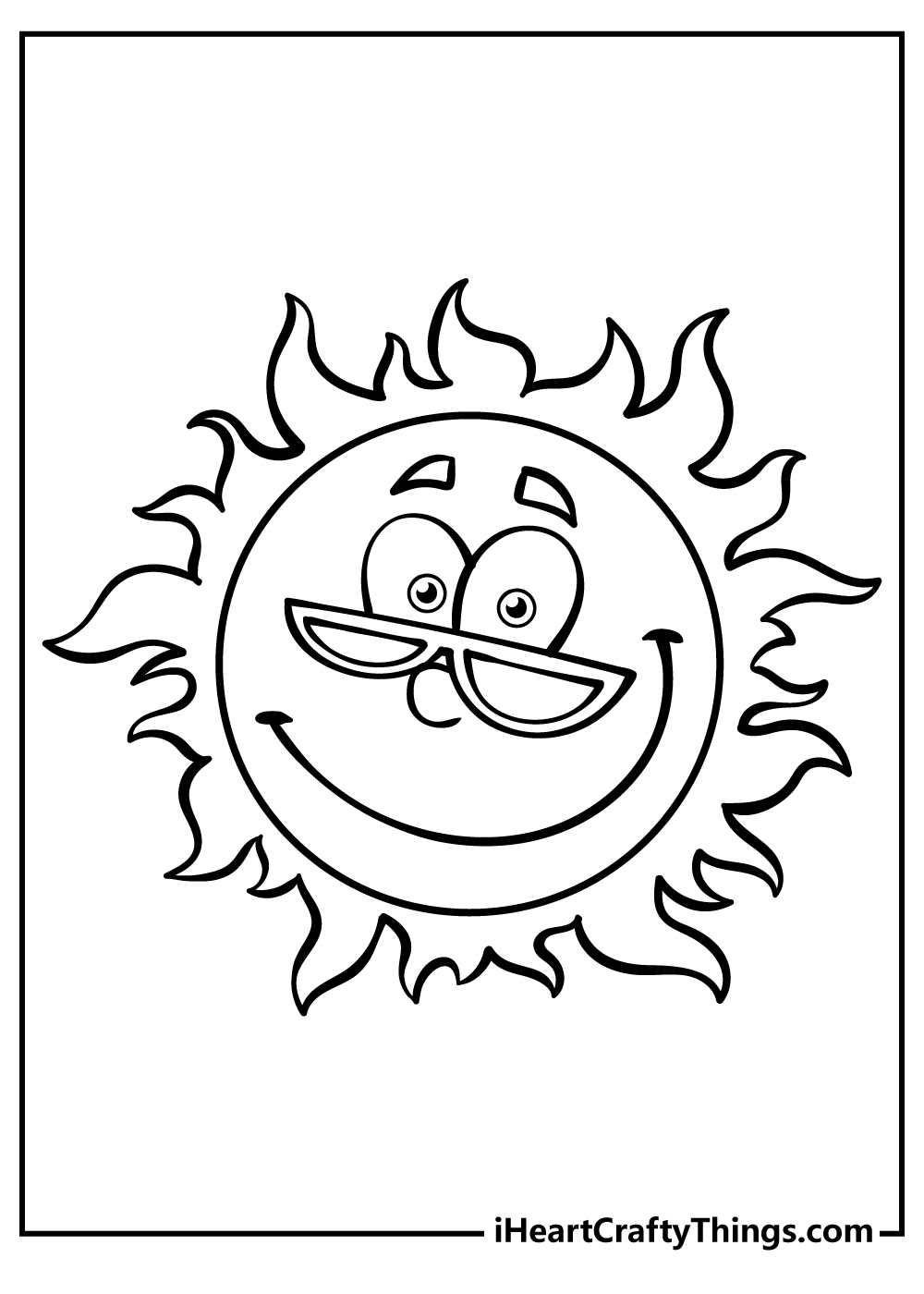 As we mentioned earlier in this collection of free Summer coloring sheets, few things help to fight away the Summer heat than a cool beverage.
That is why we are featuring a delicious cool drink on this next page.
If you have a favorite cool drink that you like to enjoy on a hot day, you can show us what it would be by representing it in this printable!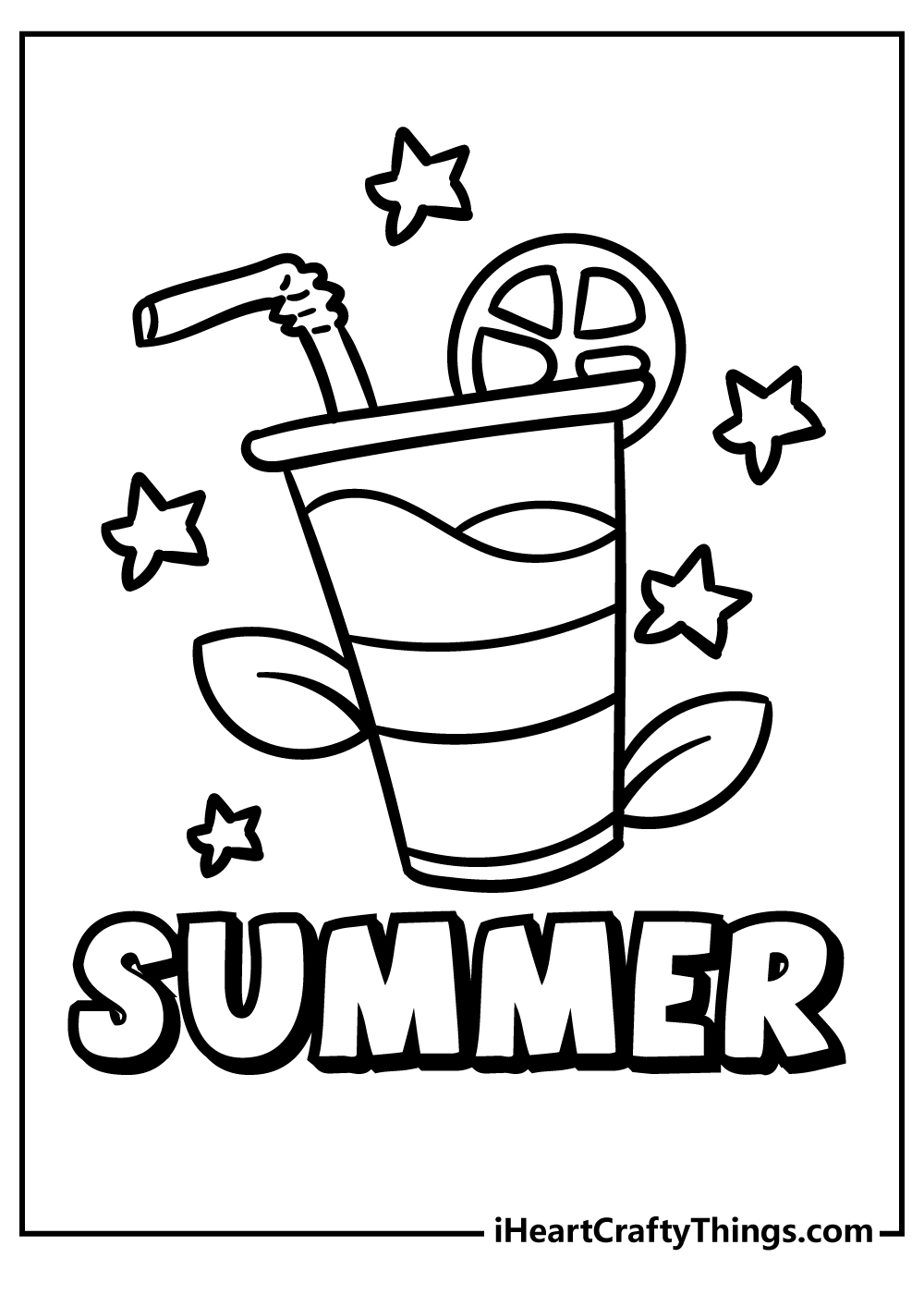 Here's another fun Summer coloring page for you to enjoy! This one features a calm ocean with a happy whale and a really cool sun design above everything.
With an image like this that has so many interesting elements, you have a lot of room to incorporate different kinds of colors.
You don't have to stop there though! You can keep the fun going by adding even more details and extra elements to the scene to personalize it even further.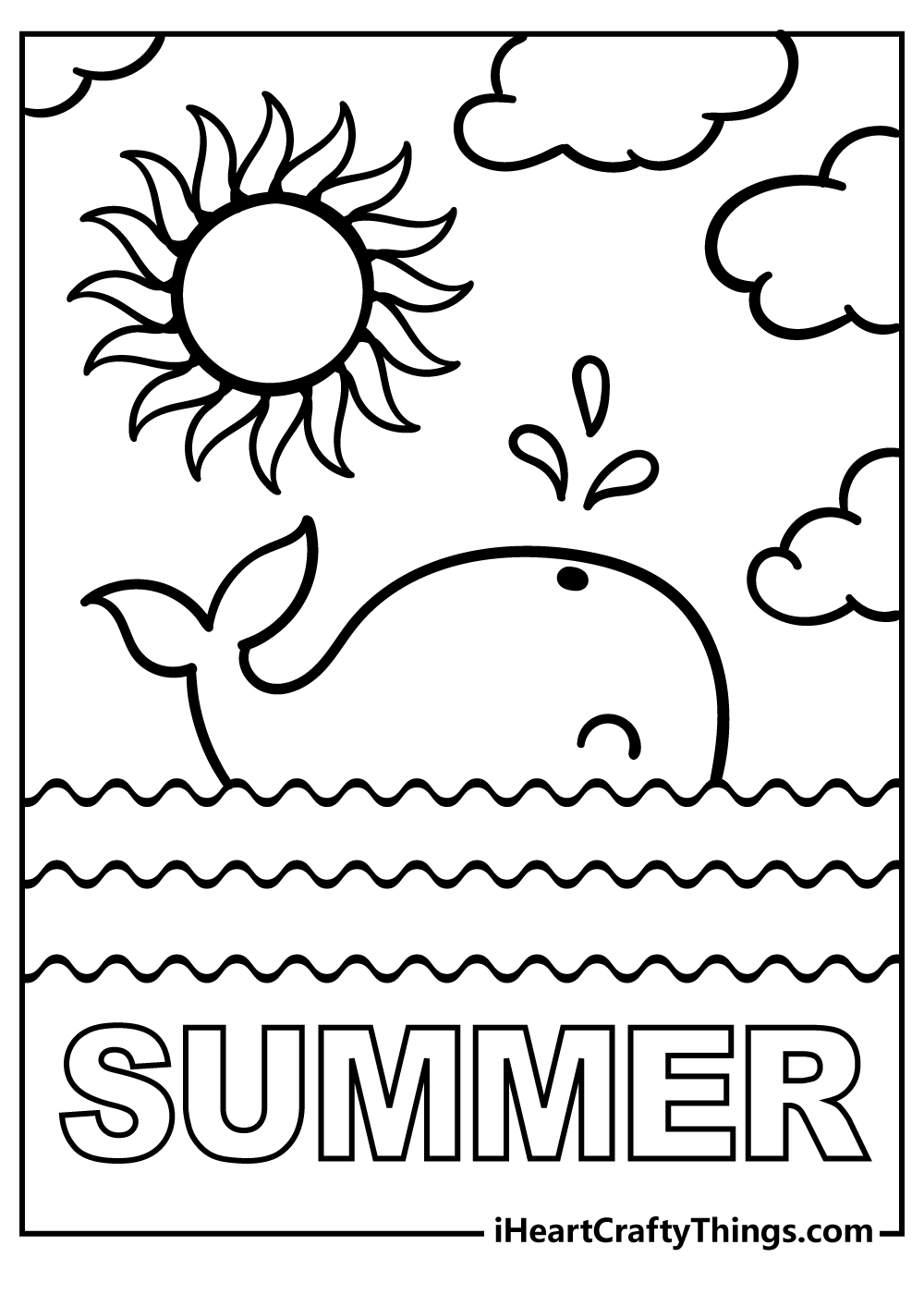 There's one more awesome picture for you to color in this final Summer printable of this collection.
There's another depiction of the sun wearing some shades, and there are umbrellas arranged beneath.
These umbrellas along with the letters of the word Summer beneath allow you to use all of your favorite colors in one image.
What colors and art mediums will you use to finish off this awesome collection?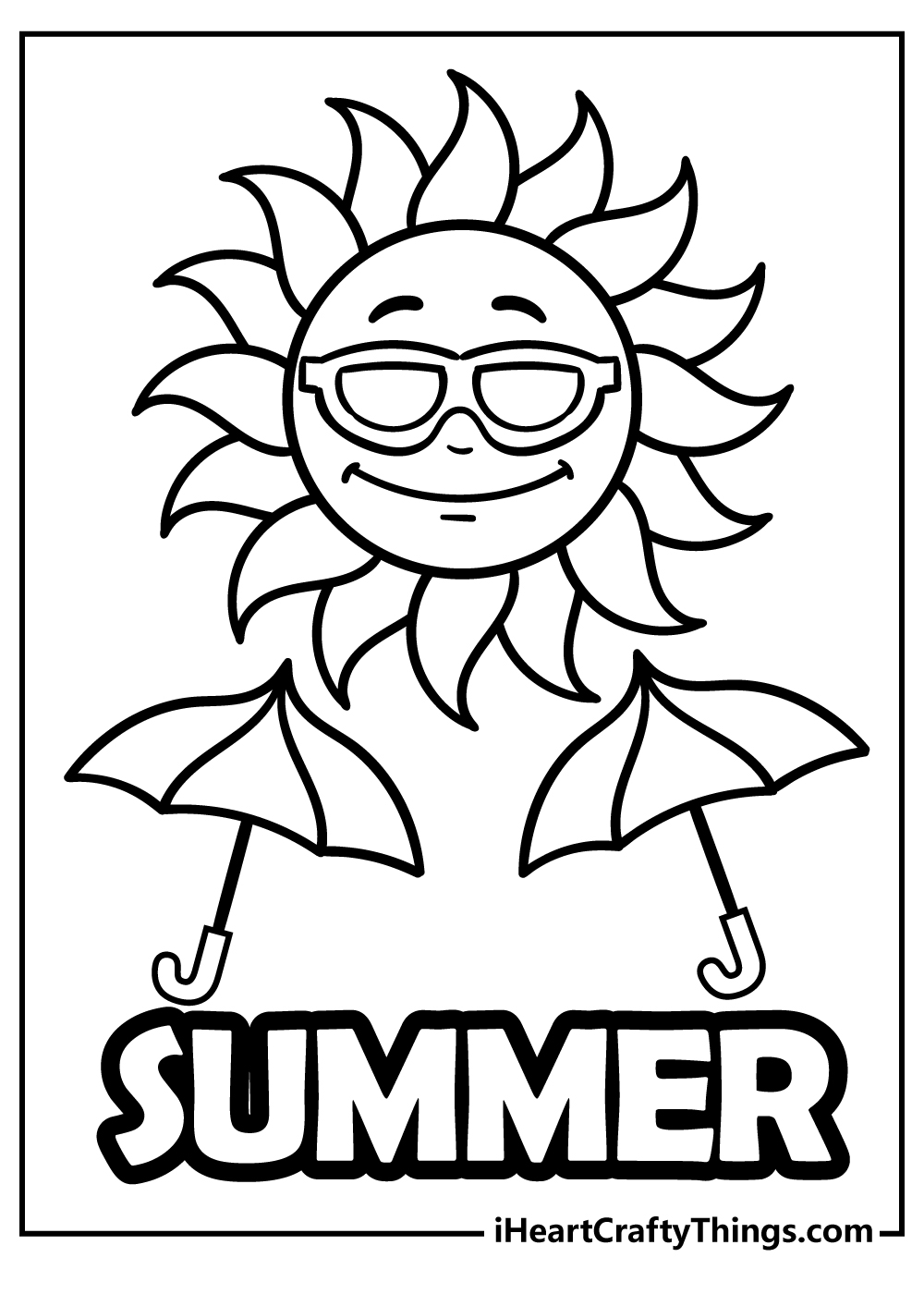 Another peaceful Summer scene is featured on this next page. We have a palm tree, which is such a classic image of Summer vacation.
It has many different sections on it, so you could fit lots of different colors on the trunk of the tree.
The leaves and the surfboard near the tree are also beautifully detailed, and you can use so many incredible colors and techniques for this page.
What art tools and mediums do you think would suit this page?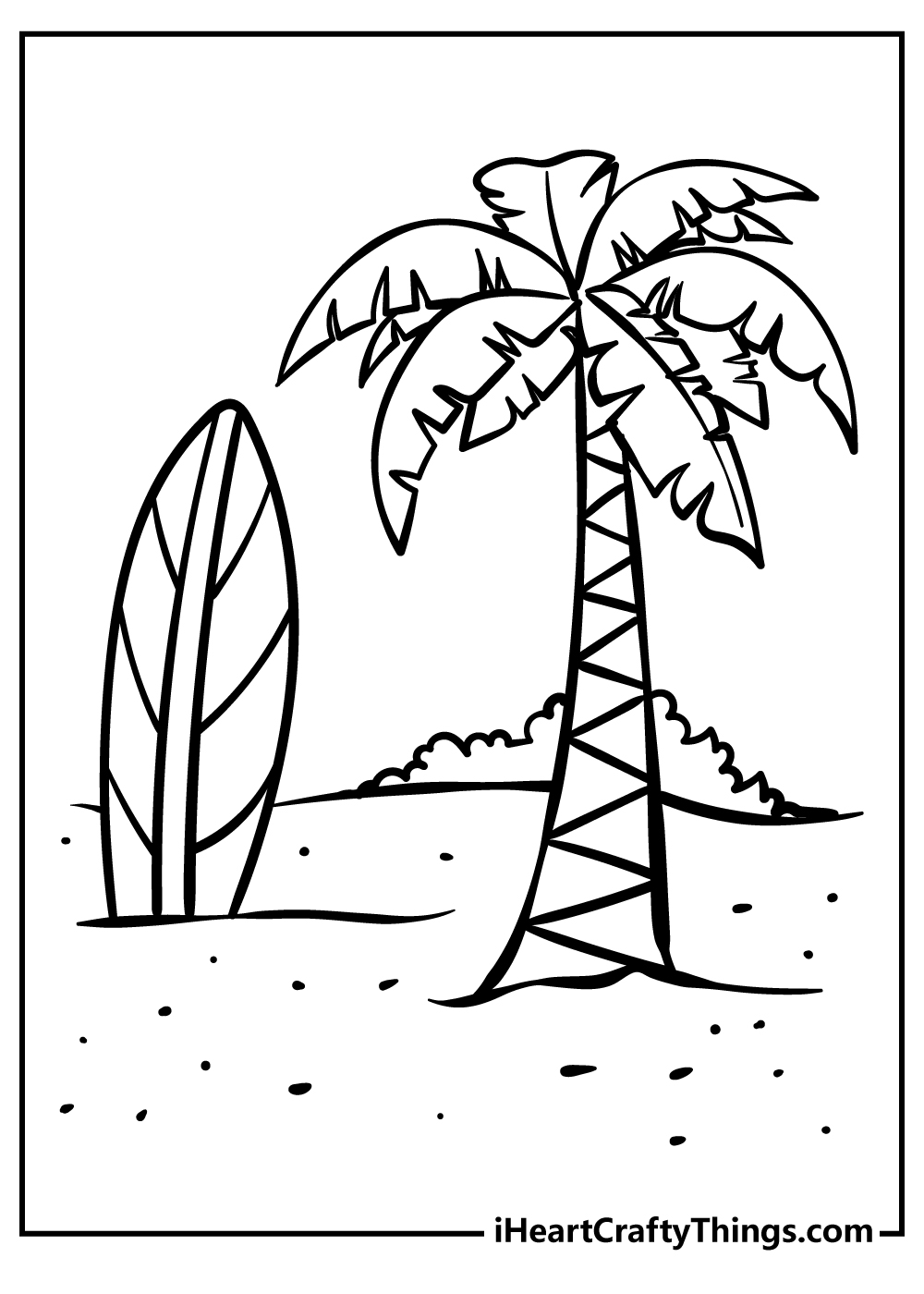 This Summer coloring page features such a relaxing scene! This little girl is having a peaceful nap under an umbrella, and it's a picture that gives off such a calming feeling.
For this page, we would try to match the relaxed feeling of the picture by using some milder colors and art mediums.
Colored pencils and watercolor paints would be perfect for this kind of look if you agree that it would suit the composition.
Do you think this is what you will go for or do you have a different idea?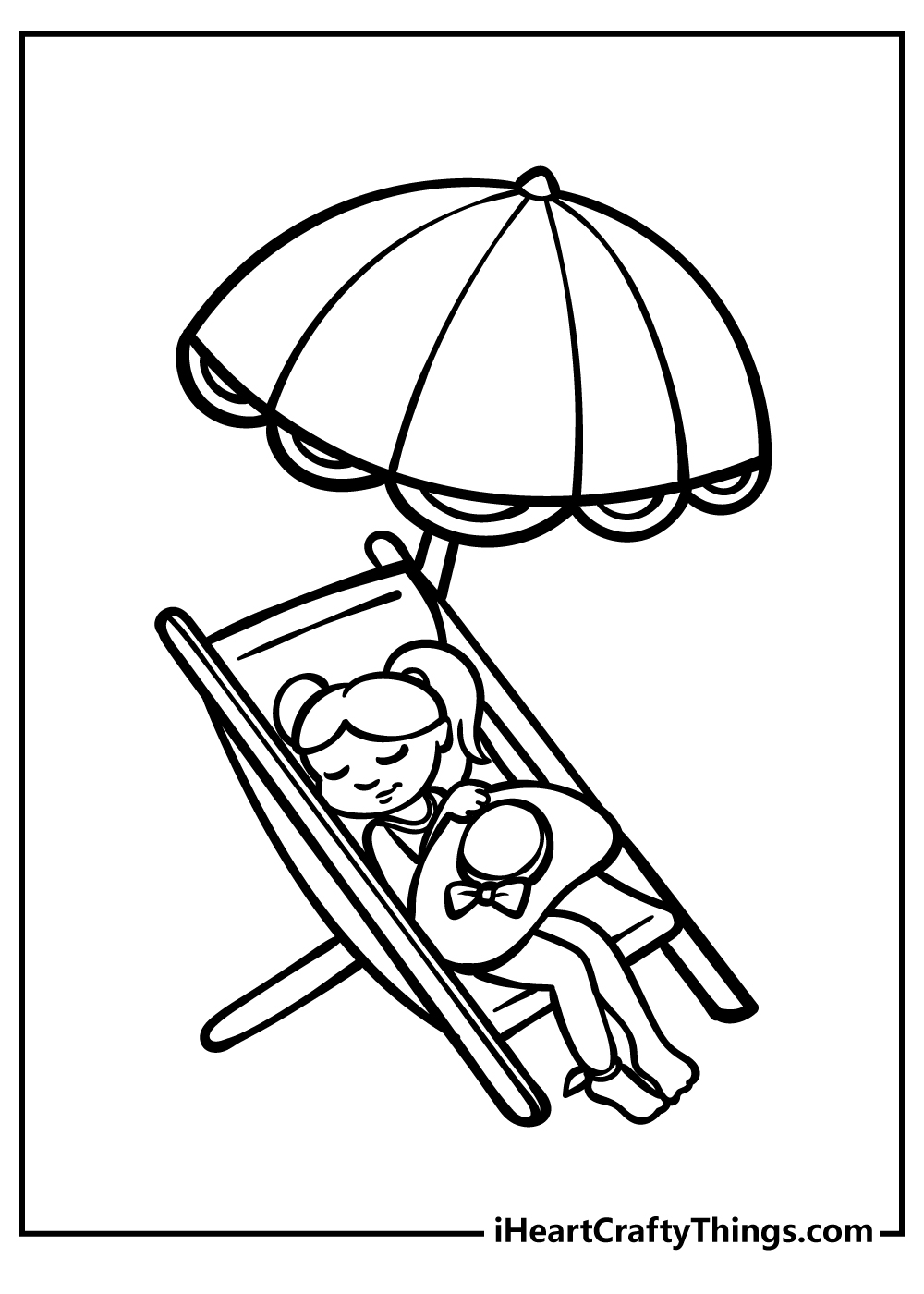 Enjoy Some More Summer Fun With These Extra Ideas!
The standard image of Summer most people will have will be that of the sun shining and palm trees swaying in the breeze.
We certainly went for these kinds of images in this collection of Summer coloring pages.
This way, you can enjoy that Summer feeling even if you happen to be coloring this collection in Winter. When you're coloring your favorite pages, we encourage you to bring your own ideas to each page.
While the pages go for that classic Summer feeling, Summer will mean something different to everyone.
Everyone has their own Summer practices and traditions that they enact, and you could add them to these images!
Maybe every Summer you like to eat pineapples, in which case you could draw some pineapple slices in the background. This is a simple example, but you could add anything that makes you think of Summer.
You could also make a border for your favorite pictures using small objects that make you think of Summer. For example, you could stick little cocktail umbrellas around the border for a 3D element.
Once again, this could vary depending on the elements of Summer that you experience personally. You could also use some interesting art mediums, crafts and other supplies to make the colors pop.
If you want to draw additional characters, background elements and other objects then you should definitely do so. With just a few additions, you can make your favorite images completely unique to you.
Now that you have a few ideas to go with, we encourage you to take them and add to them in any way that you like.
We would be thrilled to see some of the creative ways you recreate some Summer fun on these pages!
Summer Coloring Pages – Which will you choose?
That will finish off this awesome collection of free Summer coloring pages for kids!
We tried to include a wide variety of different scenes and objects to remind you of this season, and we hope it was a lot of fun.
You can also print out multiple copies to experiment with colors and mediums, and you'll want to share these with others to spread the Summer fun!
If you enjoyed this collection of Summer coloring sheets, be sure to check out our website for many other collections of coloring pages to enjoy.
There are more coming out all the time, so be sure to check in often to never miss out on the fun!
Once you have finished coloring your favorite Summer printables, you can share your artwork on our Facebook and Pinterest pages for us to see.
We can't wait to see the results of your amazing creativity!