There are many places that you can escape to in order to have a wonderful vacation. Everyone has their favorites, but one of the most popular is to escape to a tropical paradise for some rest and relaxation.
There's nothing quite like relaxing on a beach in the sunshine while enjoying a favorite beverage!
That feeling of relaxation is what we aim to capture in this collection of free tropical coloring pages for kids!
In these 10 pages, you will have many scenes of tropical relaxation to help you get in that calm vacation mood no matter the time of year.
You can also share the vacation vibes by sharing the collection with other people that you know to enjoy as well!
These coloring pages are totally free for you to enjoy, and if you want to try out different approaches to certain images then you can print out multiple copies to experiment on.
You're ready to begin this collection, and it would be a perfect activity to enjoy your favorite vacation beverage with!
When you have finished coloring your favorite pages, please remember to share them on our Facebook and Pinterest pages so that we can see how they turned out.
10 Brand New Tropical Coloring Pages – Free to Print and Color
It's time to kick off your shoes and enjoy some coloring fun with this first image of our collection of free tropical coloring pages for kids!
In this picture, some tropical-themed sandals have been kicked off in the sand of a beach, presumably so that some fun can be had in the water.
There are many elements in this image that would allow for some amazing colors!
From the bright sands of the beach to the blue of the sky and ocean with everything in between, we know this will look amazing when you're finished.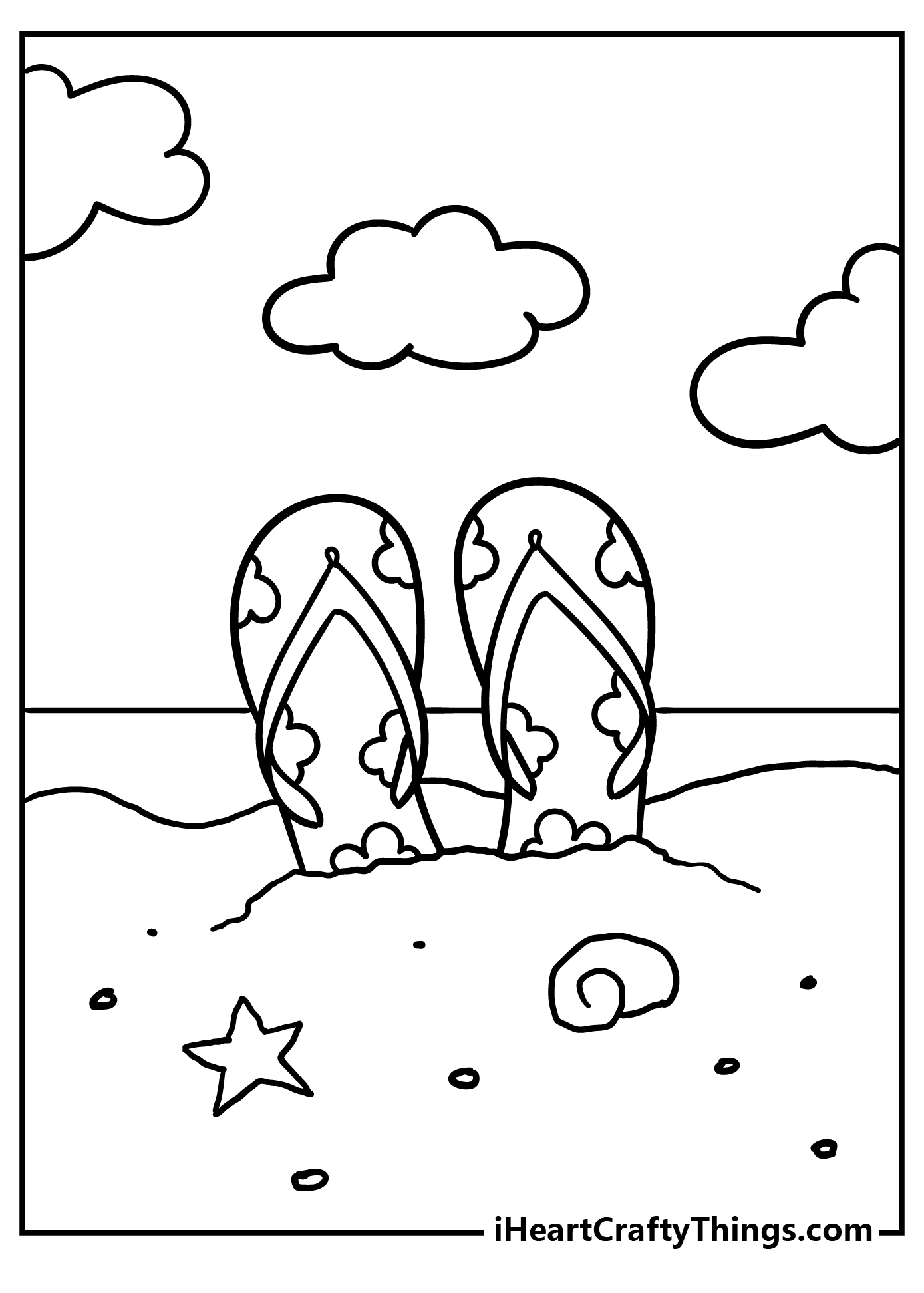 We have something really fun for you to color in this second page! Pineapples are one of the best fruits to enjoy on a hot vacation day, as they're a great treat to cool you down.
This pineapple is looking very cool as it is wearing some fashionable sunglasses. This is a fun, quirky picture, and we think that some bright and vibrant colors would be perfect to bring it to life!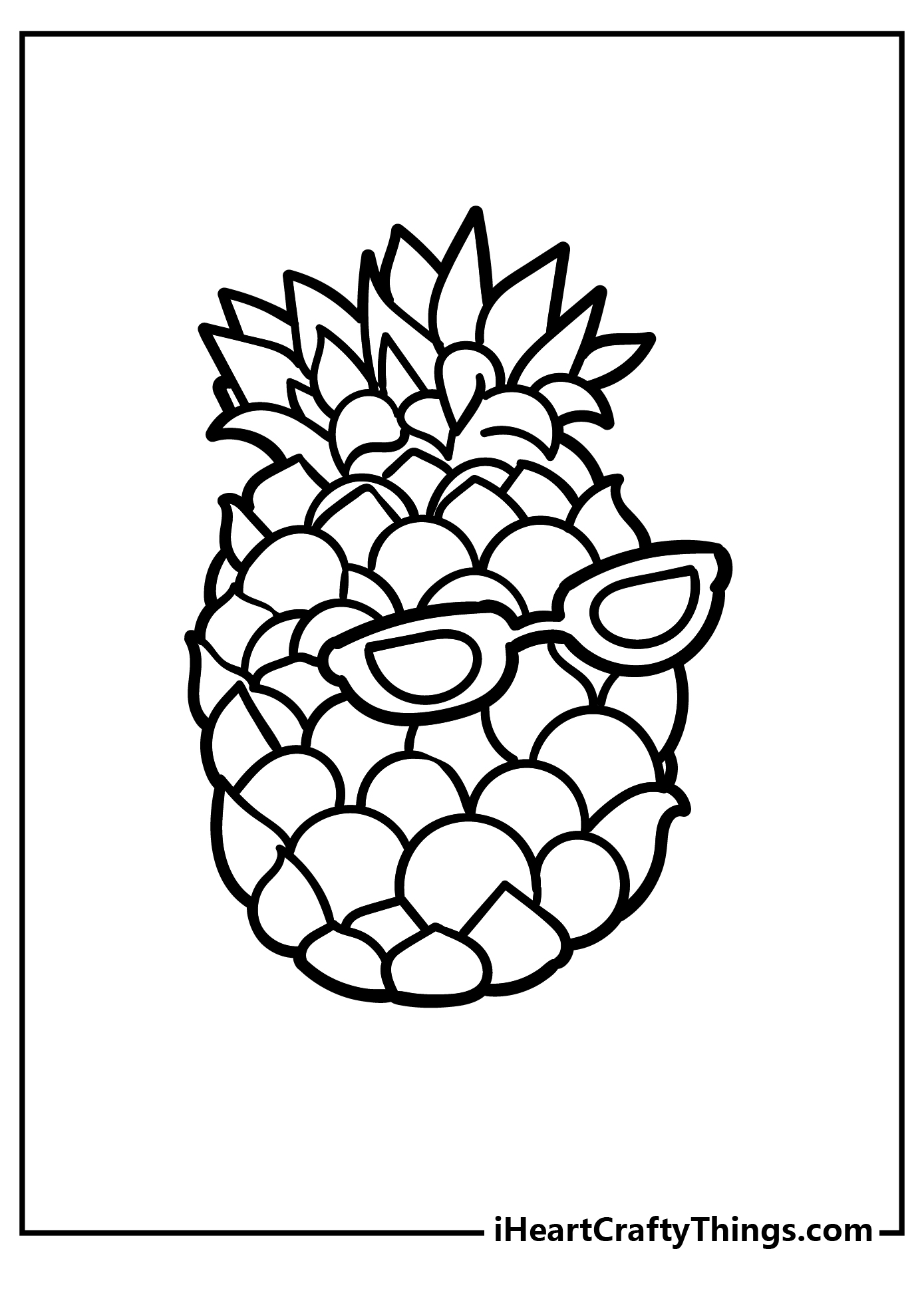 Enjoying a cold beverage is perfect on a hot day, and we are showing off a lovely vacation drink in this next one.
No tropical beverage is complete without a little umbrella poking out of it, and that's why we added one in the picture!
We also made sure to surround it with some tropical flowers and other details so that you have plenty of opportunities to add some beautiful colors to the scene.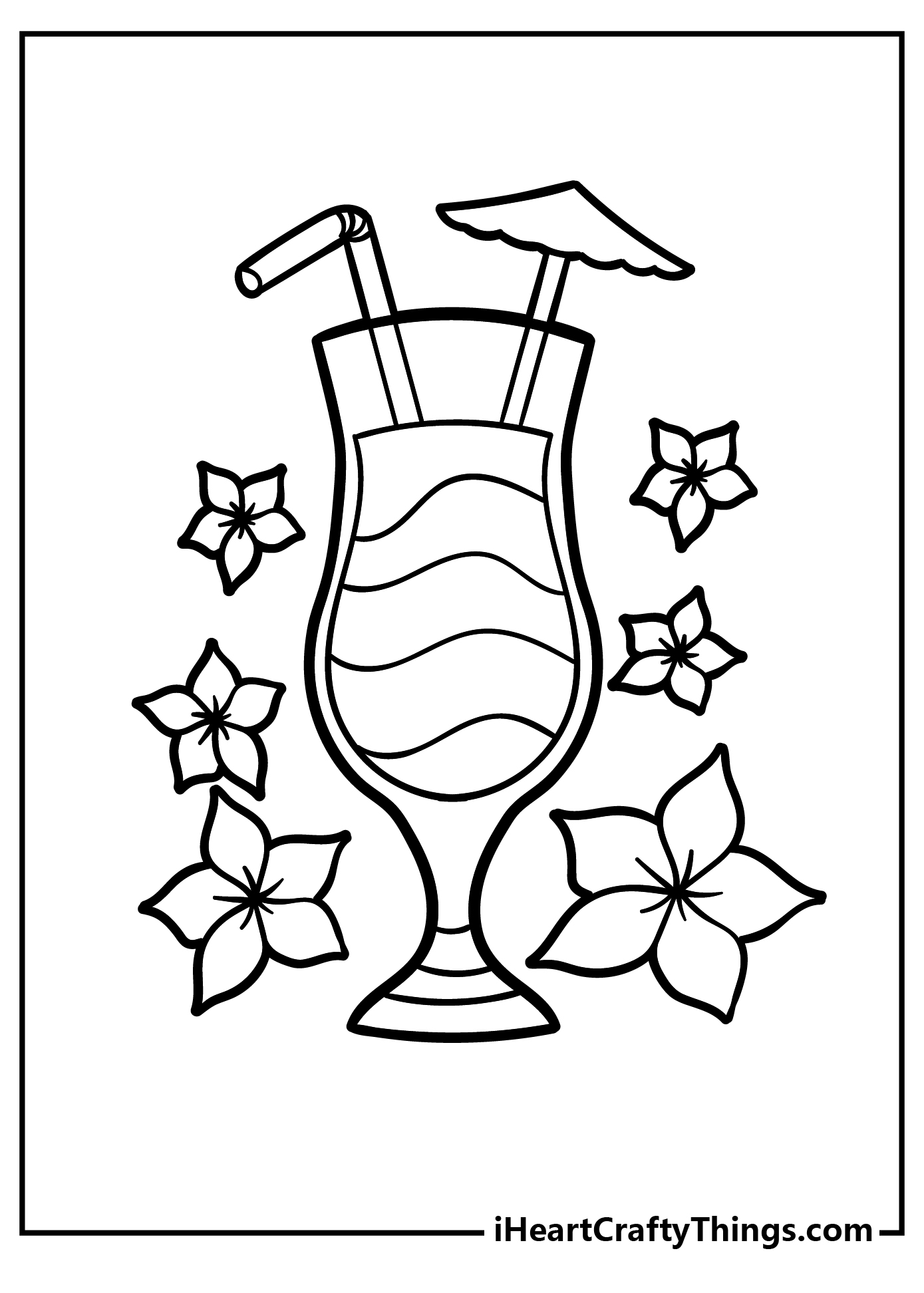 There's a really interesting design for you to color in this fourth tropical coloring sheet.
There are some beautiful tropical flowers surrounded into an arrangement with palm leaves, small flowers and umbrellas.
You really get a vacation feeling from this one, and it calls for some beautiful colors!
There's already a lot going on in this one, but you could also add some more details that remind you of a tropical vacation.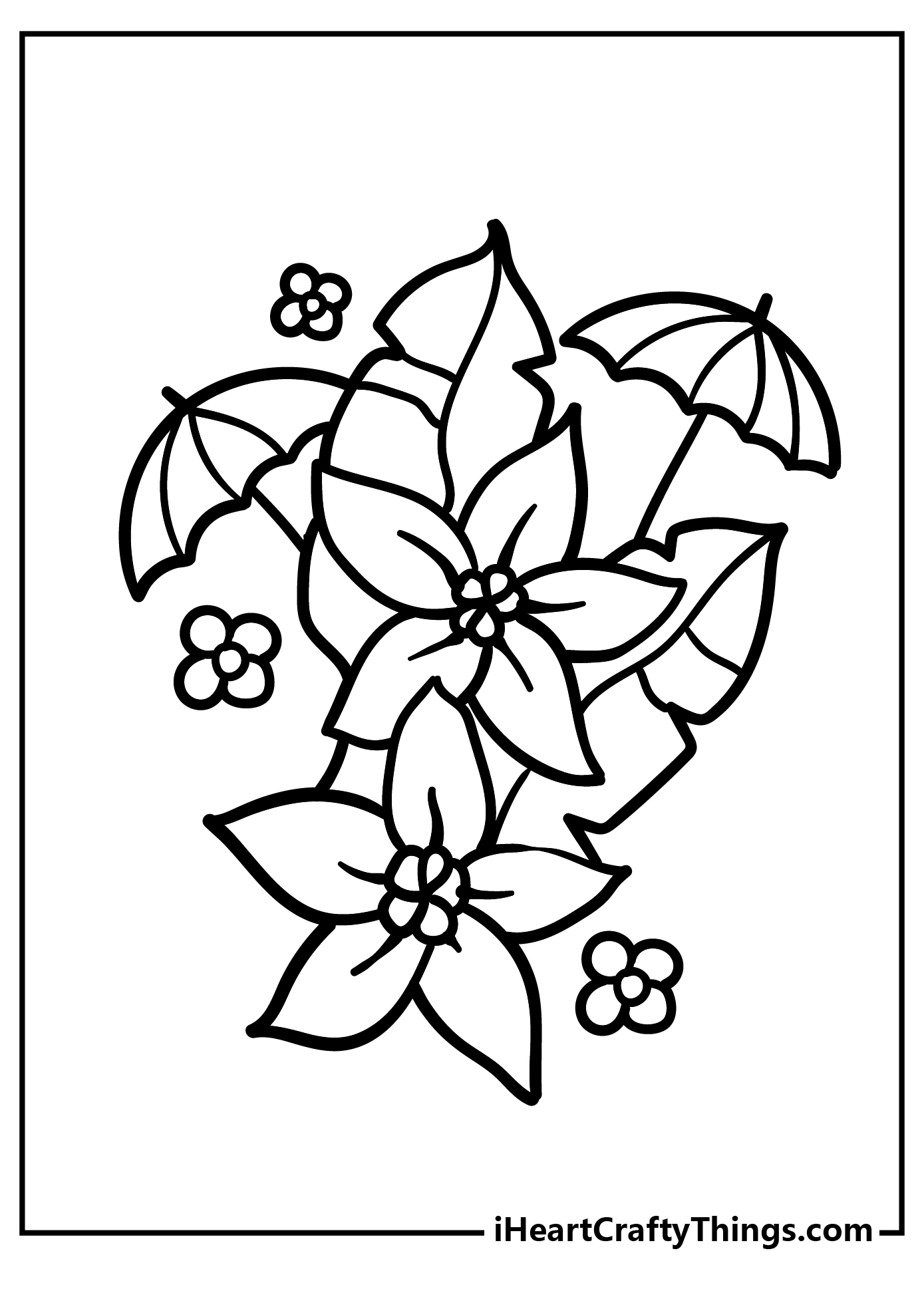 Grab another slice of pineapple in this next one! This delicious fruit has a big slice cut out of it, and the thought of taking a bit really makes your mouth water!
You could also add to this one by drawing some more snacks or vacation beverages that you would like to enjoy with this wonderful pineapple.
What extra details and additions would you like to add to this pineapple arrangement?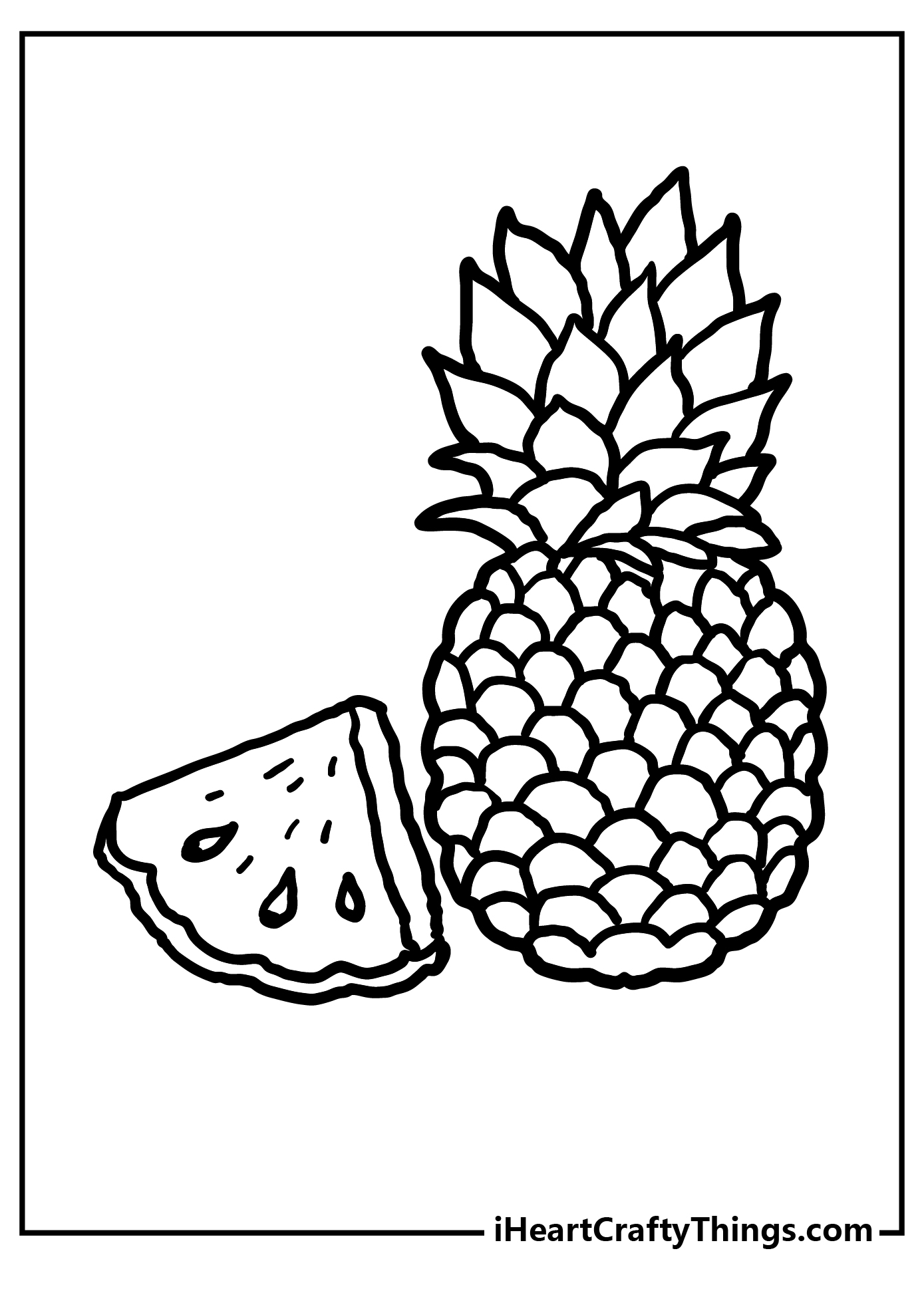 Here's another delicious drink for you to enjoy on a warm vacation day! There are many different kinds of cool drinks to be enjoyed on a hot day, and everyone has their favorites.
Fruit beverages are among the most popular for this purpose, as they help to cool down and refresh like few other beverages can.
You could show off what your favorite vacation beverage would be with the colors you use! Maybe it could be a bright orange juice or a fancy pink lemonade.
These are just a few ideas, but what other kinds of beverages would you choose for this to portray?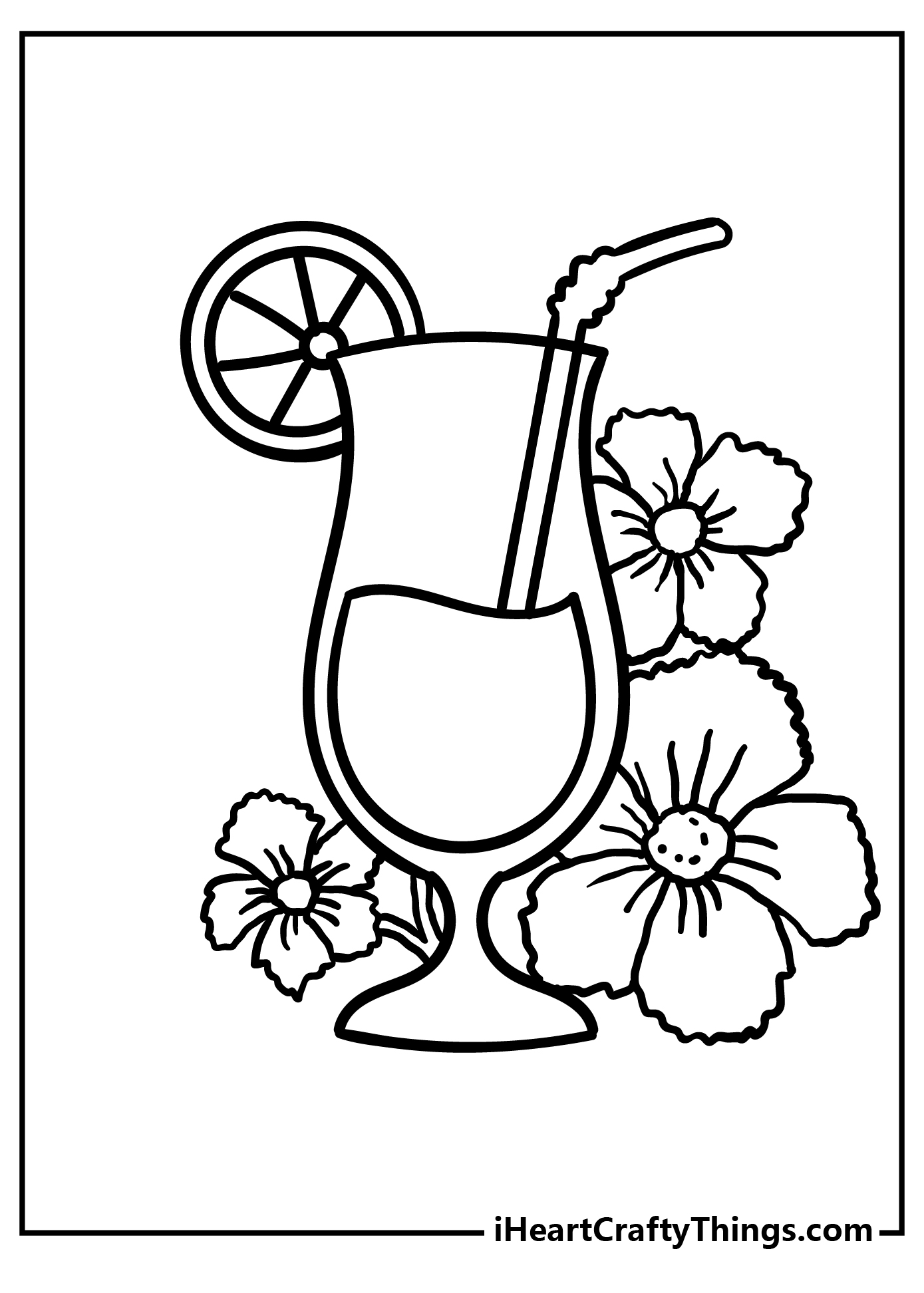 Enjoying a cool drink on a hot day is one thing, but you can make it even more thematic by drinking it out of a half coconut.
That is exactly what we are portraying in this next tropical coloring printable!
There are so many great details in this one, as we have a beautiful flower, a mini umbrella and an orange slice all part of the arrangement.
We think that using some watercolors would be great for this one, but what are you thinking of using?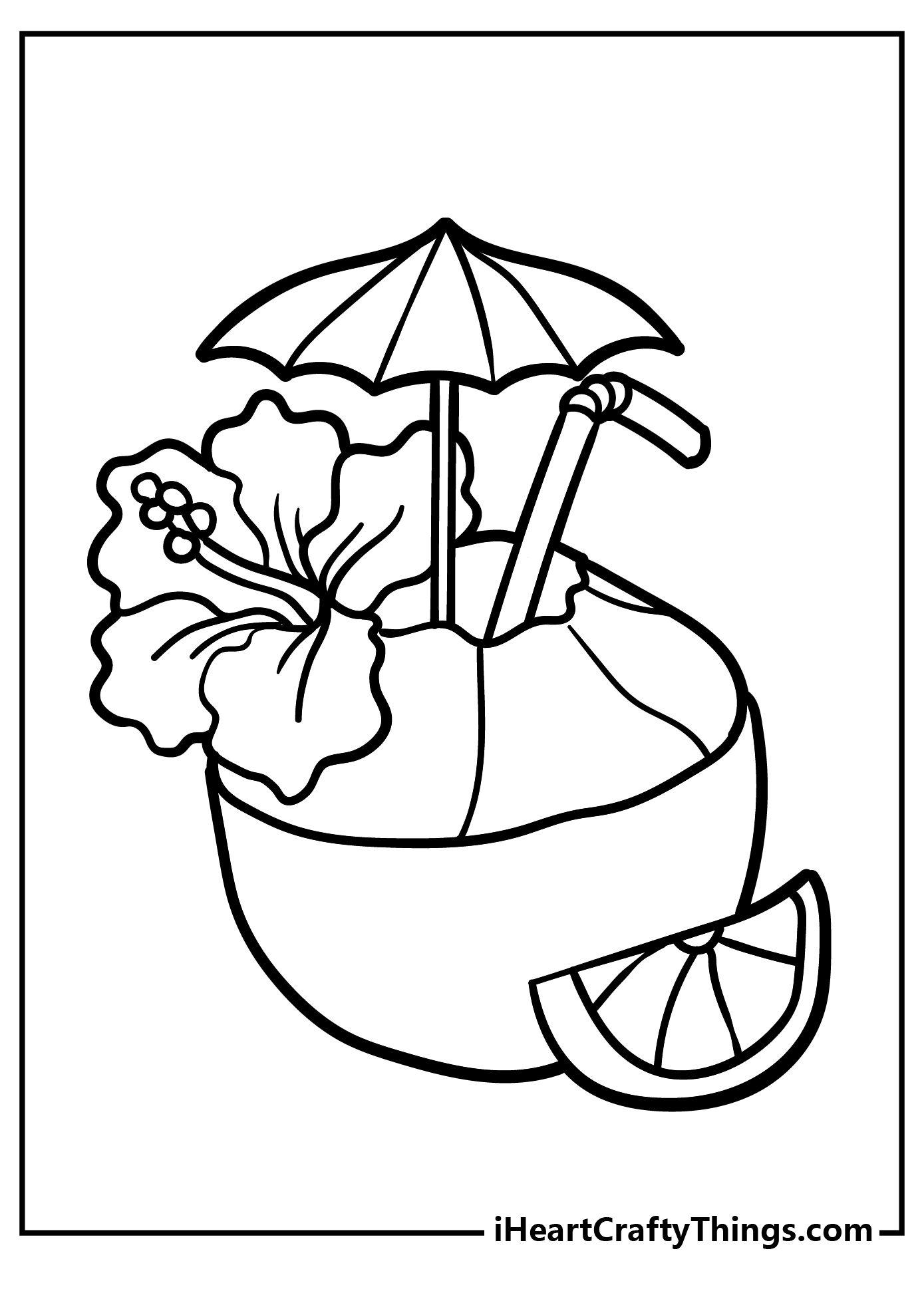 We have another cool beverage for you to enjoy in this next picture we have for you. There is another beverage in a coconut to sample on for this page, and there are some more great details to color in.
This would also be a great time to draw in some background details. If you drew these details, then you could show off where your perfect vacation destination would be.
What kind of setting would you pick for this peaceful scene?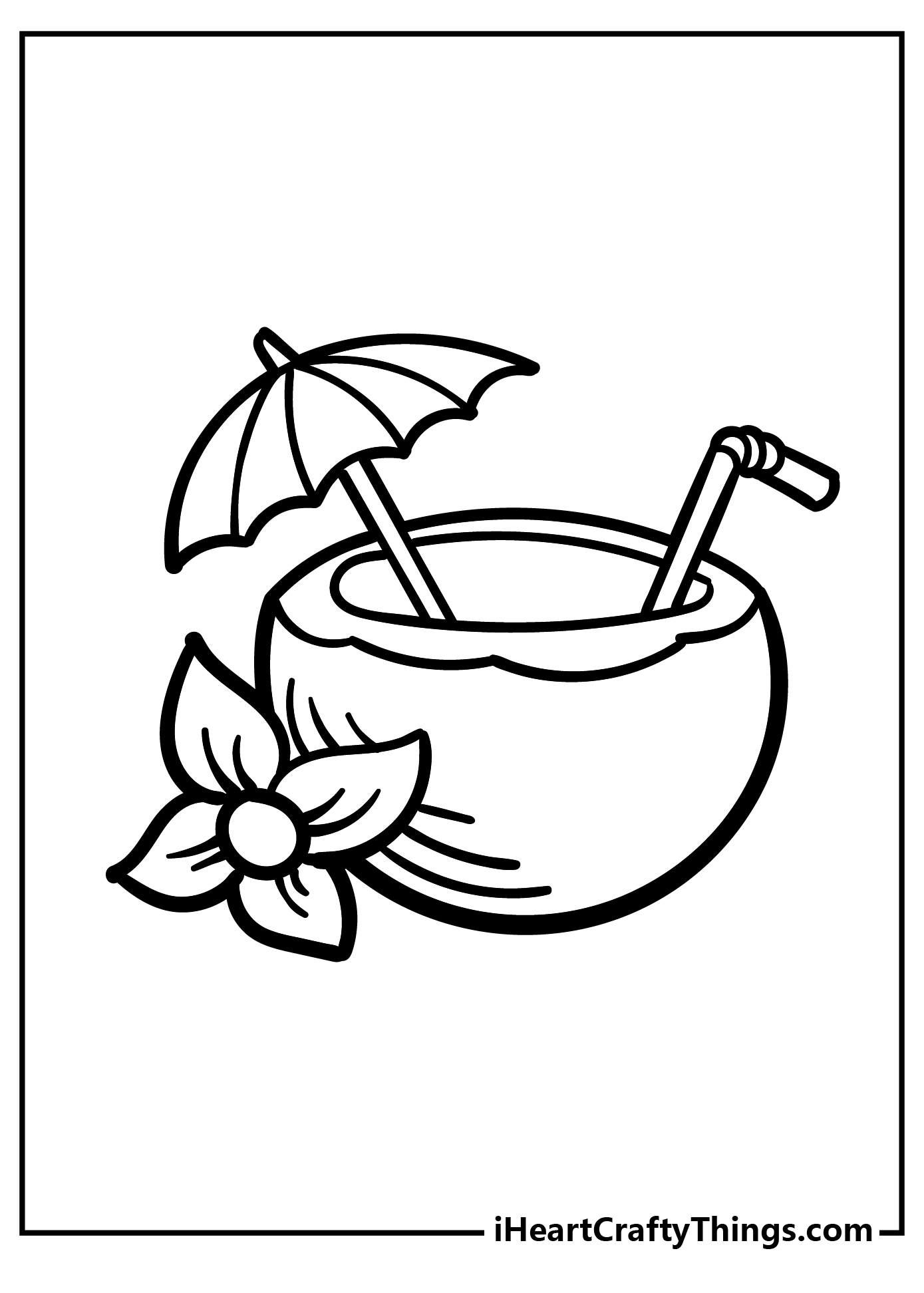 This is another great tropical scene that we have for you! This one shows another way to enjoy a drink in tropical style, as it is being served in a hollowed-out pineapple.
Because of this, you once again have plenty of details that you can provide some beautifully bright color details for.
The orange of the pineapple would contrast beautifully with the greens of the leaves and the colors of the flower, so we think this one will look really stunning!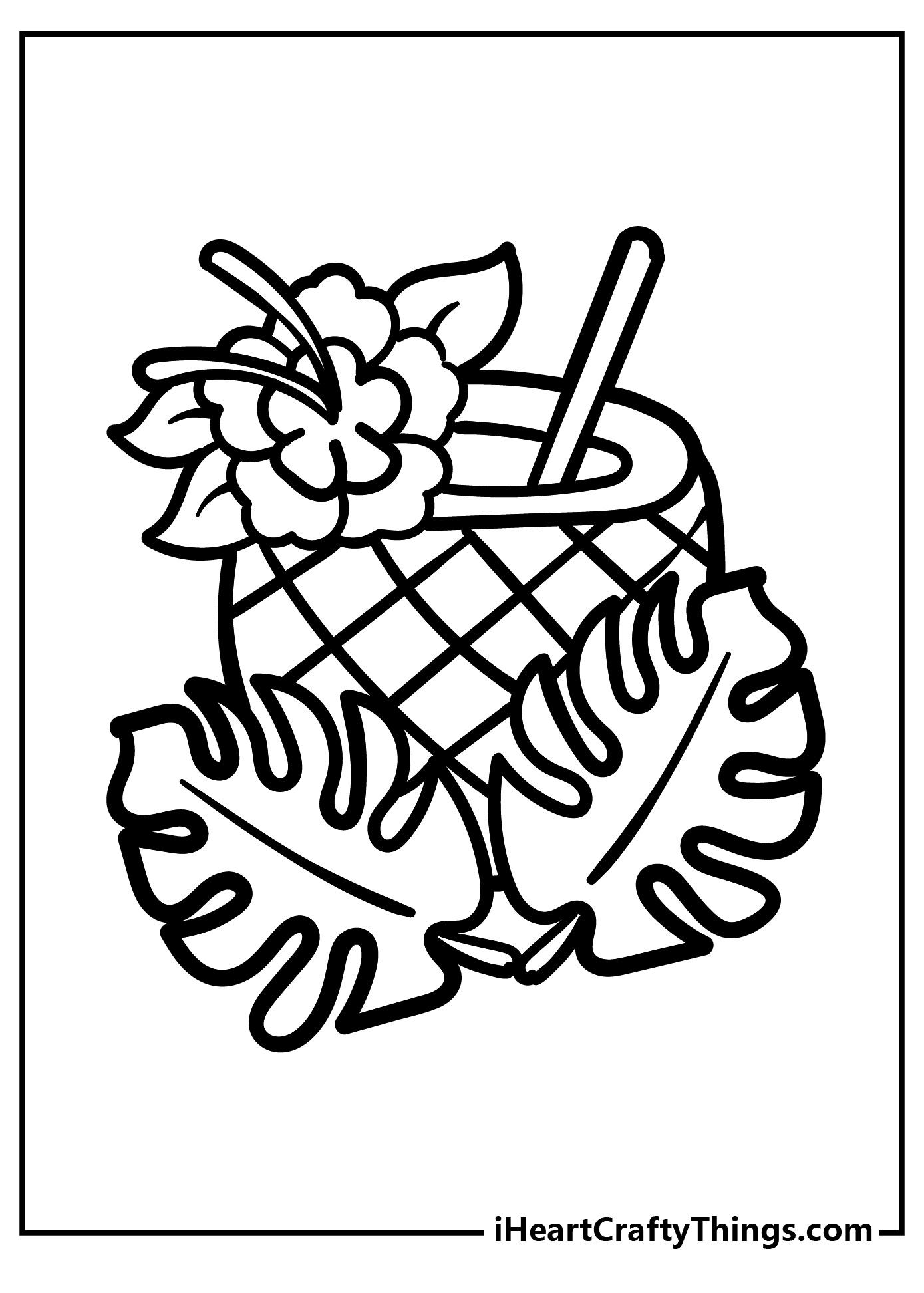 For our final tropical coloring page that we have for you, we will be coloring one final vacation drink. This one is in a fancy glass, and it has the most detailed mini umbrella yet!
There are some wonderful details on the umbrella for you to color.
We would recommend art mediums such as colored pens and pencils for that aspect, as they will allow for precision for the smaller details.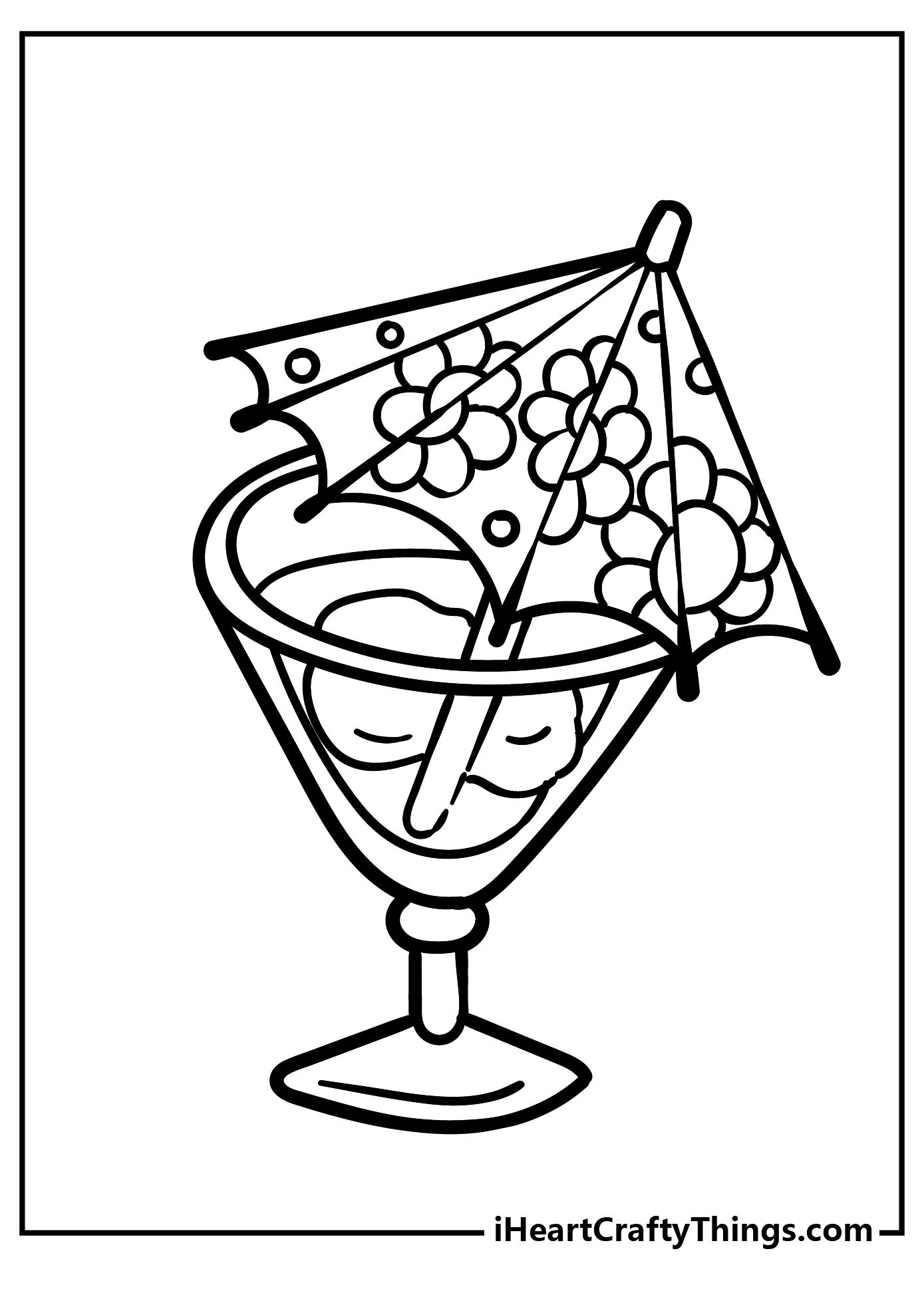 Tropical Coloring Pages – Which will you choose?
We hope you had a great time recreating some vacation fun in ths collection of free tropical coloring pages for kids!
We tried to create some scenes that would really capture the fun and relaxation a vacation provides, and we know you will have done a great job coloring all of these details.
There is more creative fun to enjoy on our website as well! We have tons of amazing drawing guides to enjoy, and we plan to upload many more soon.
Keep checking in to make sure you never miss out!
Please also remember to share some of your finished tropical coloring sheets on our Facebook and Pinterest pages. We can't wait to enjoy some relaxing tropical fun with your amazing artworks!