Bluey the puppy has become a very popular pooch around the world lately, and it's easy to see why once you've enjoyed one of her sweet adventures alongside her and her collection of lovable friends and family members!
As her name suggests, this is a chance to use your favorite blue colors in your collection for this series of free Bluey coloring pages for kids!
You could even create some unique puppy character variations by using different colors you may like as well. It's up to you how you color Bluey and friends in these free Bluey printables!
Once you've colored in your favorite Bluey coloring sheets, please share your cute and colorful creations to our Facebook page so we can all share in the fun and see the creative ways you finished off these fun and adorable free coloring pages.
We always love to see your coloring skills on display!
10 Brand New Bluey Coloring Pages – Free to Print and Color
The first image in our collection of free Bluey coloring pages for kids shows Bluey and her mom, Chilli, having a fun time at a beach. As you probably know, Bluey is colored in light and dark blues while her mom is colored in shades of light and dark browns.
Will you stick to their color schemes for this day at the beach or will you use some unique colors for a colorful variation?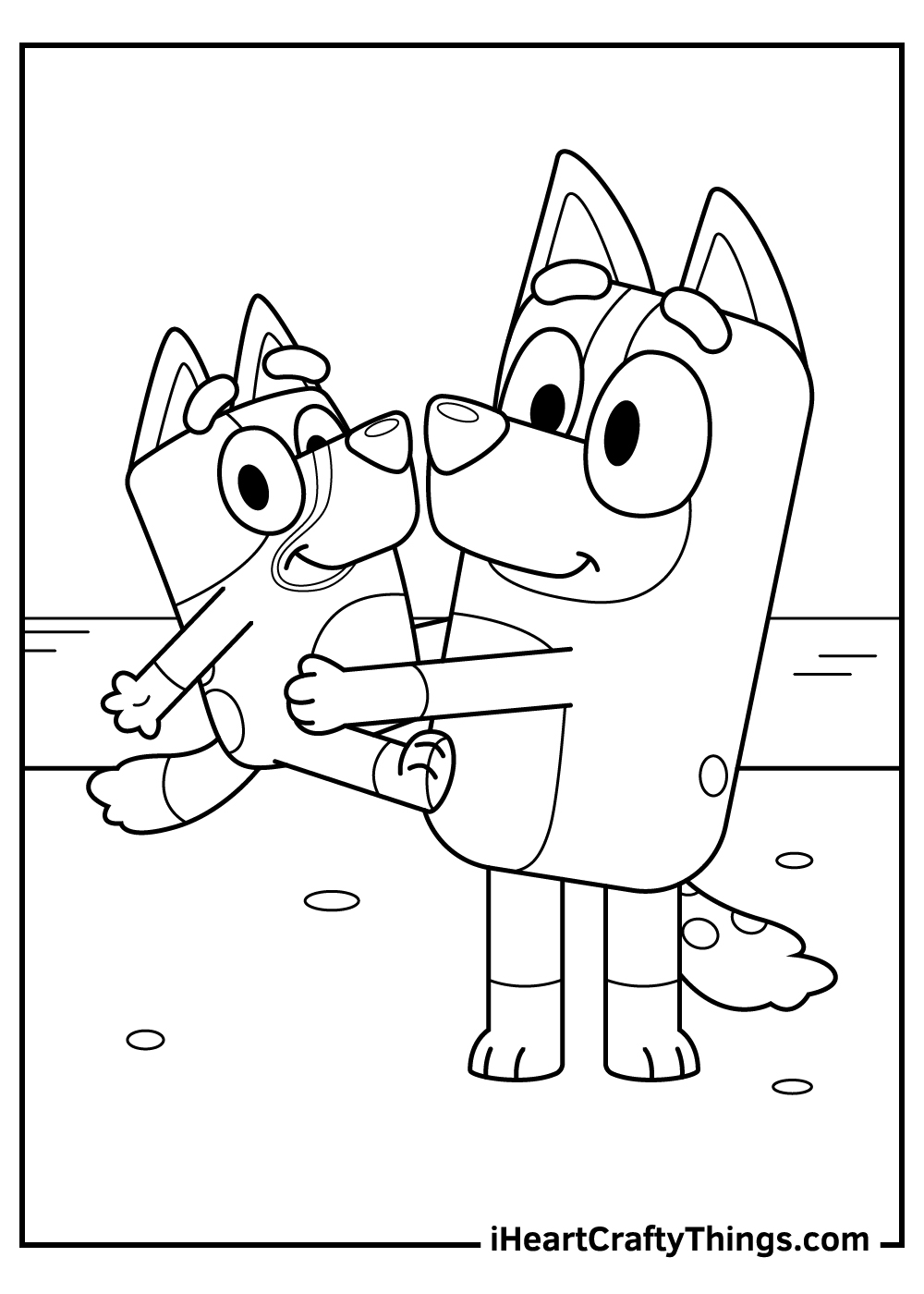 Bluey is looking very excited and happy to be having a day outdoors in our next Bluey coloring sheet.
For this cheerful image, I would use bright variations of colors for the background to fit with her happy mood in this Bluey printable.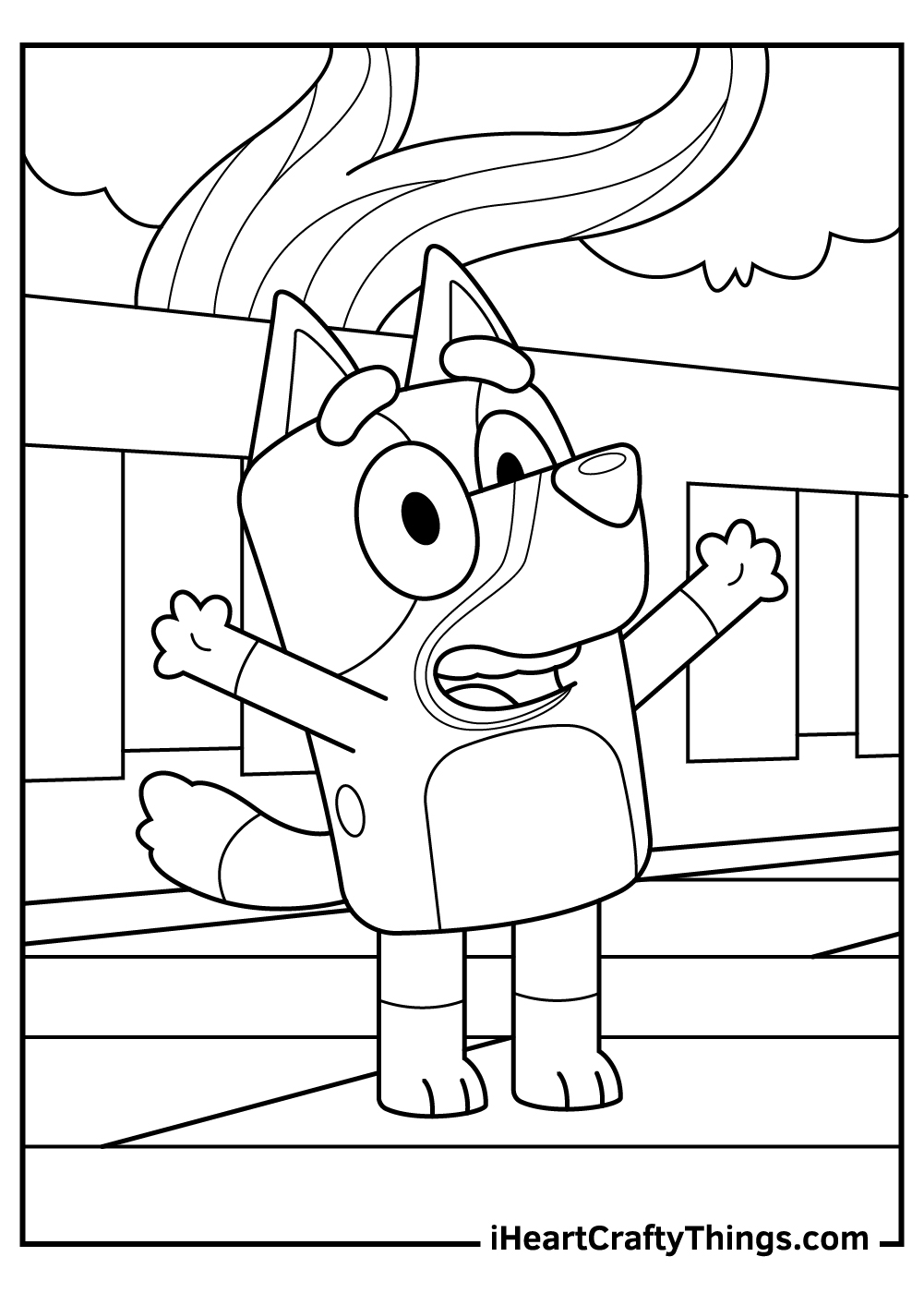 It's time for a pleasant stroll outside in this next Bluey coloring page.
Bluey and her sister Bingo look very similar except for the fact that Bingo is in shades of brown like her mom, so you could decide to make this a portrayal of Bingo instead of Bluey if you'd like! Who will you decide is taking this walk outside?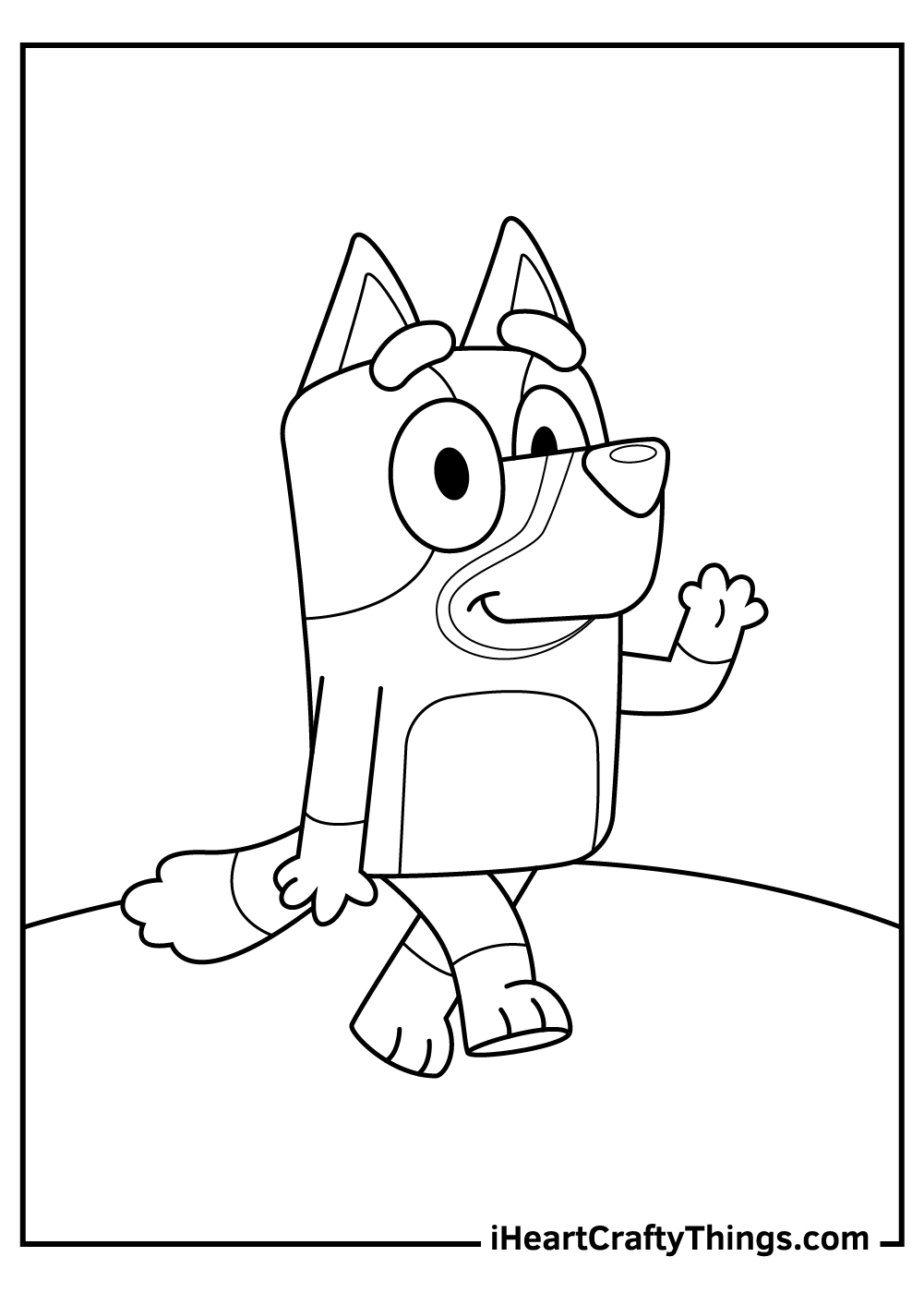 There are some great background details to this next Bluey coloring printable for you to color in!
She's looking like she's having a lovely day with a big smile on her face, and the plants behind her would look great with some beautiful greens to really finish off this coloring page.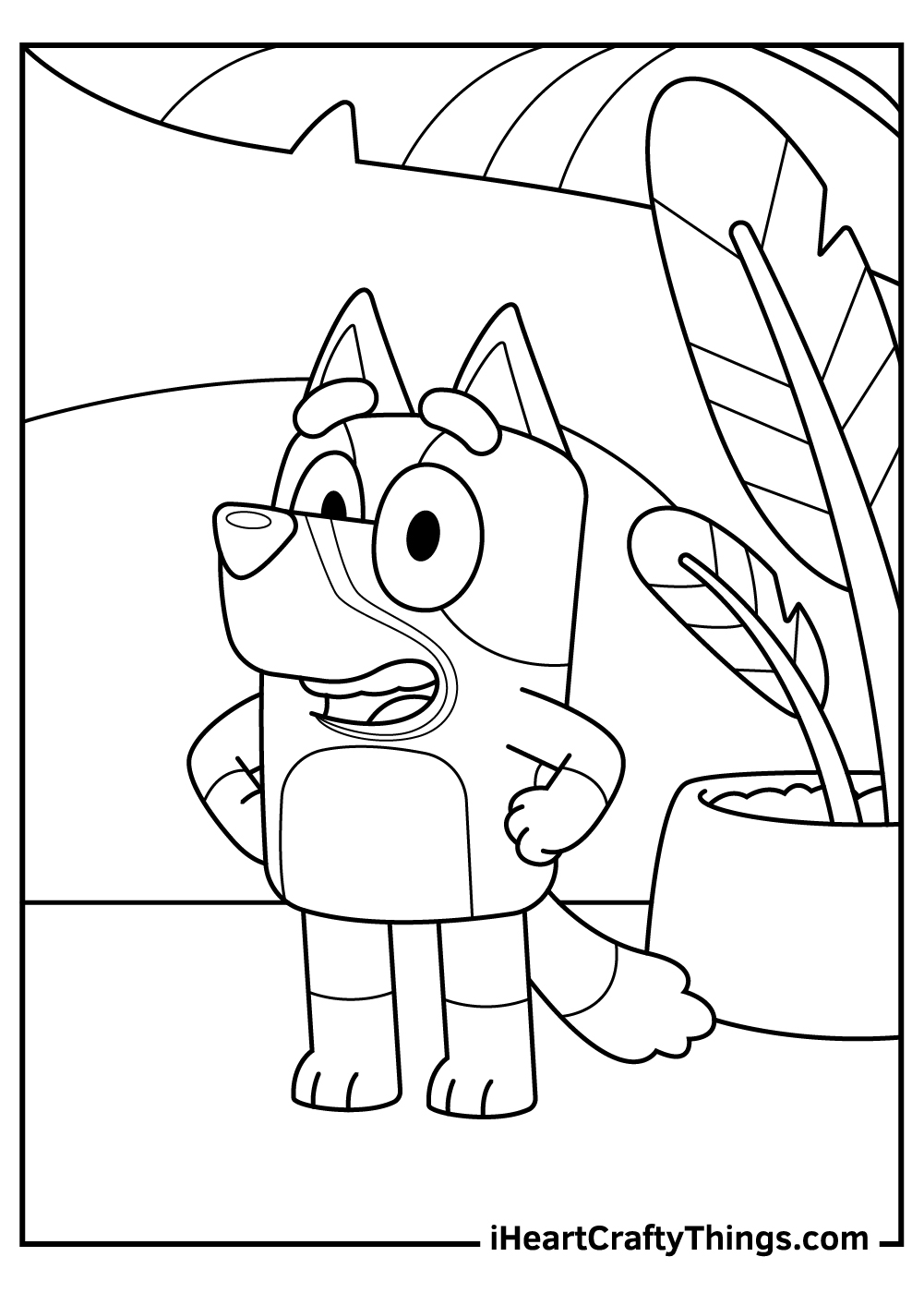 Bluey and her dad, the lovable and playful Bandit, are enjoying a nice hug in this next free Bluey coloring page for kids.
Bandit is colored identically to Bluey, so since there will be a lot of blue for the characters, maybe you could color in the background with a complimentary color to blue like yellow or orange to give this Bluey printable a beautiful striking look.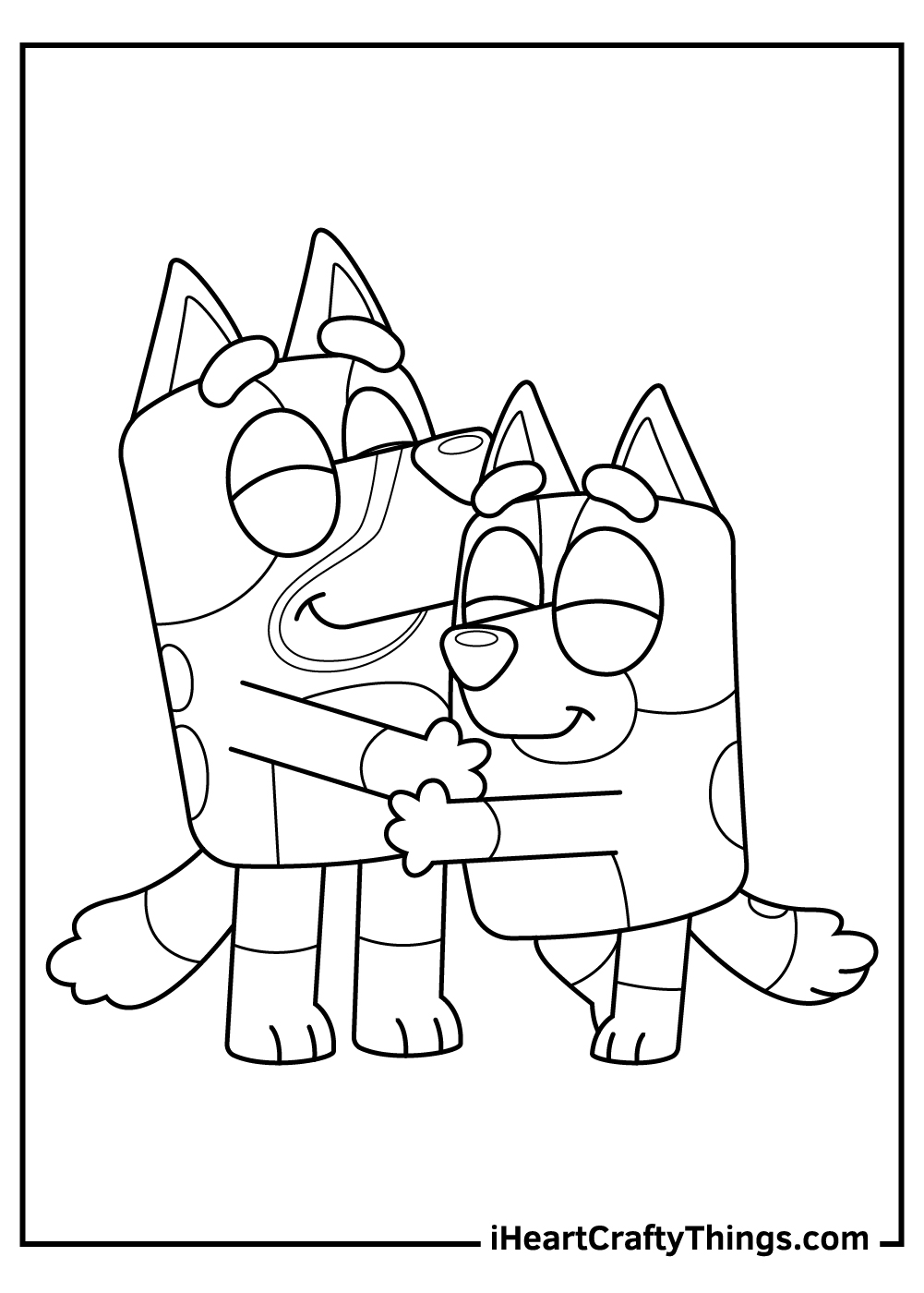 Bluey is looking like a star in her next coloring page, as she's surrounded by plenty of stars!
If I were coloring in this Bluey printable, I would color in the stars a nice bright yellow and then use a rich purple for the background, but what colors will you pick for this image? We can't wait to see!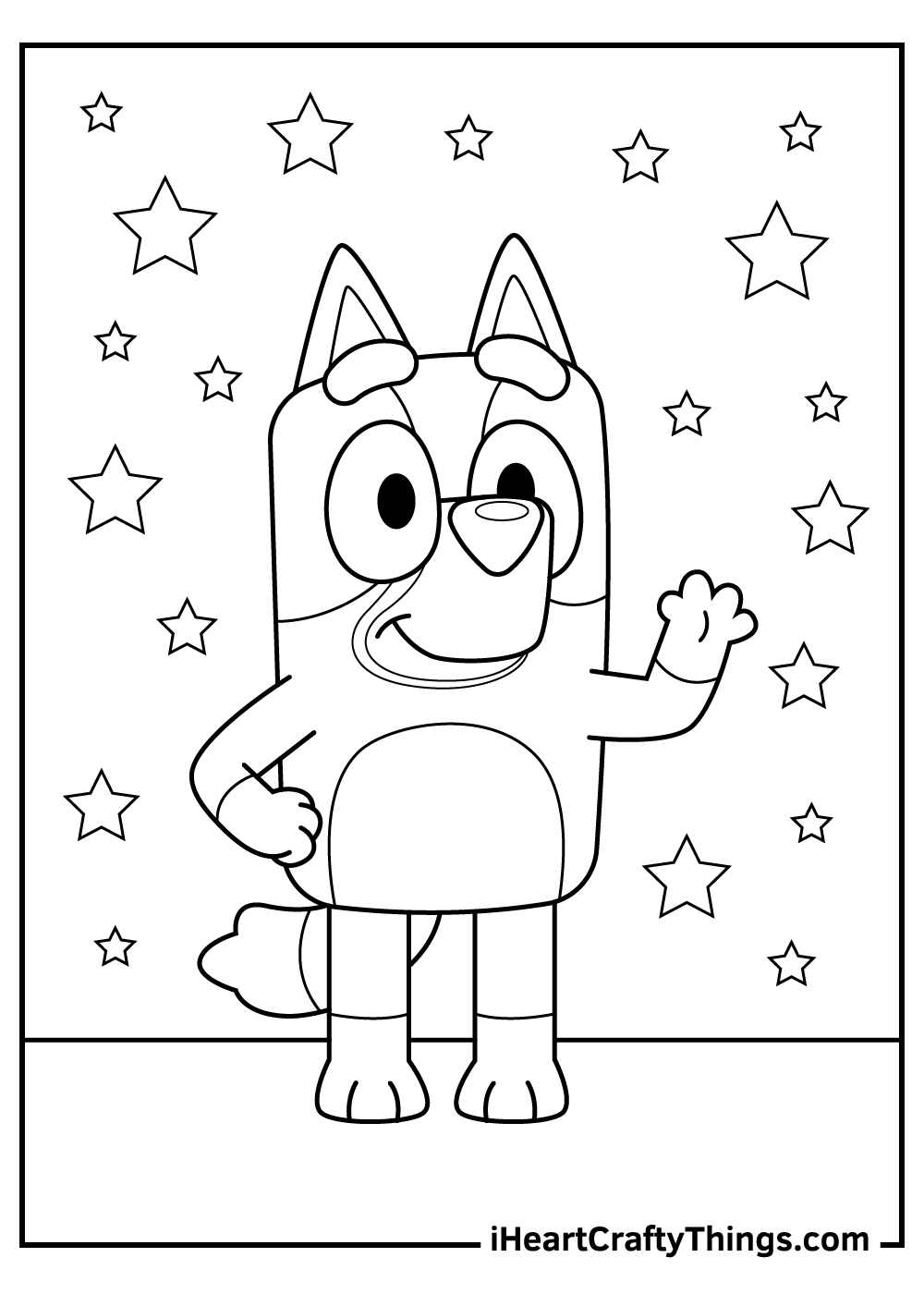 There's a present to unwrap in this cute Bluey coloring page! I wonder what could be inside of it?
For the wrapping on the present, I think you should use some of your favorite bright colors to make it stand out in the picture and bring the focus to it. Maybe you could use some colored pens on the present to really make it pop!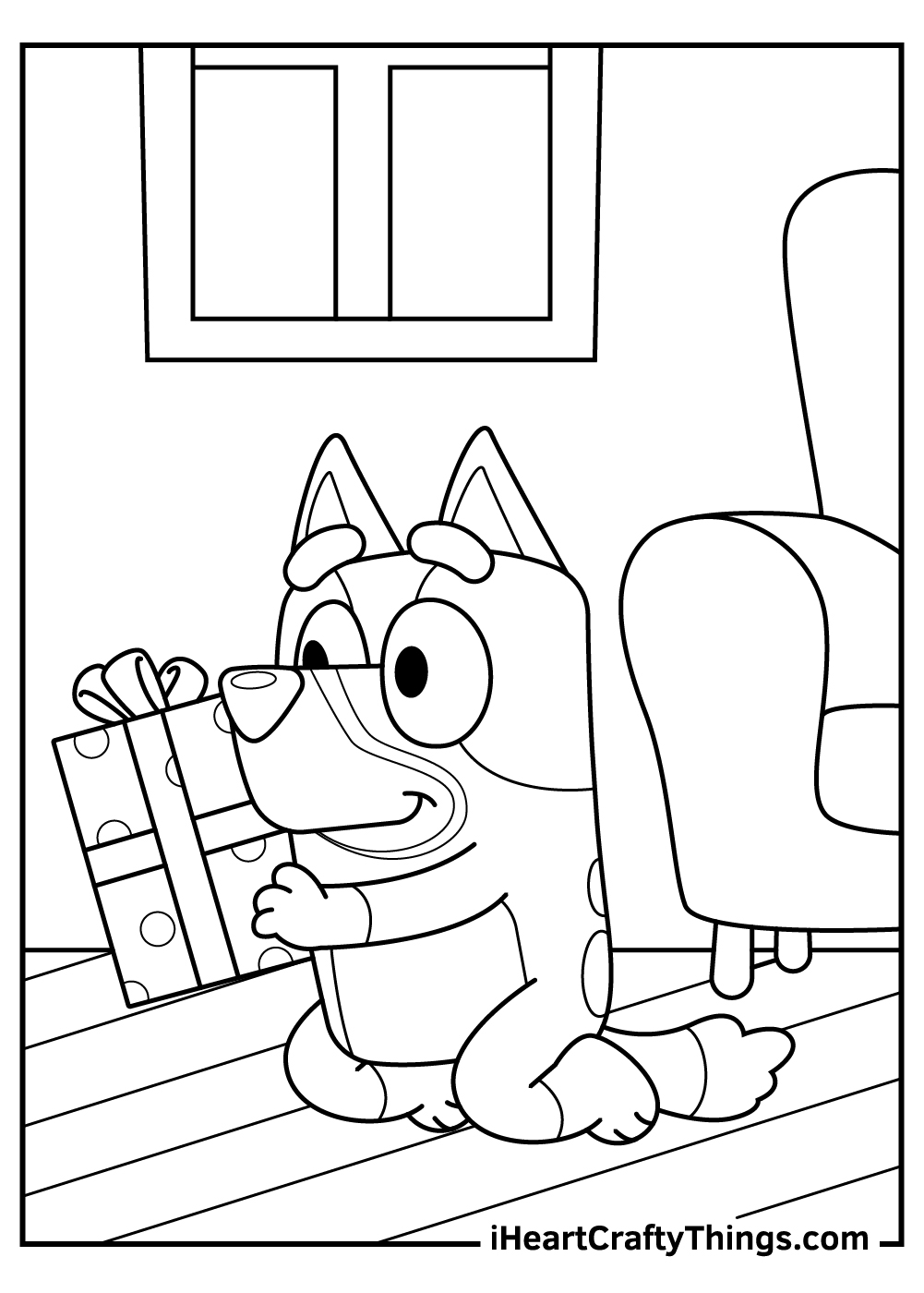 It's time to take a breather on a bench with Bluey in our next Bluey coloring sheet.
She's taking it easy and enjoying a beautiful day outside, so I think some lovely blues and greens for the sky and vegetation in the background would make for a relaxing image to enjoy.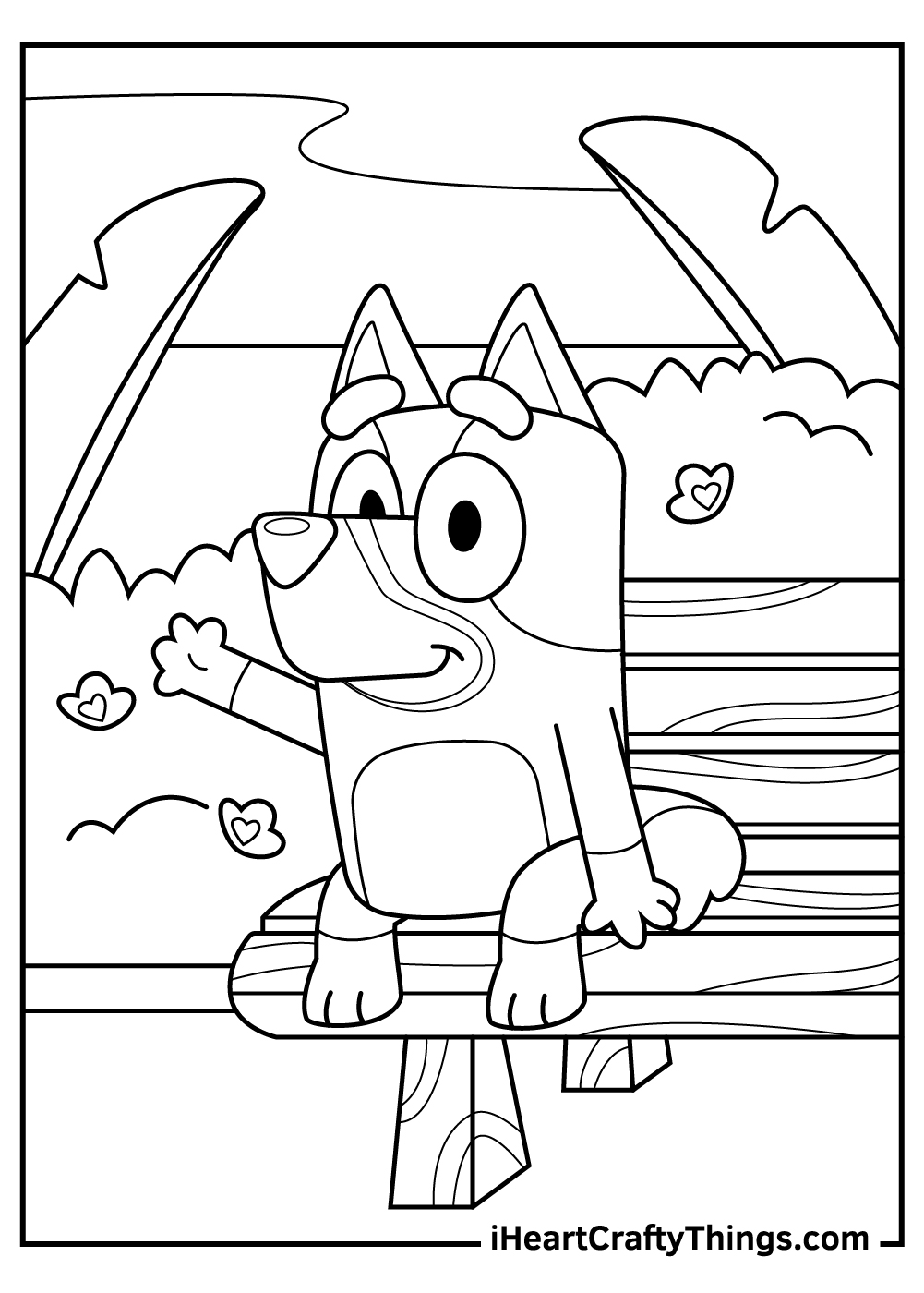 It's another beautiful day out with Bluey in this next coloring page. This is another image where you could also decide to make this Bluey's sister Bingo.
You could print two copies and use both character's colors if you can't decide which character to feature to have a representation of both sisters for this Bluey coloring printable.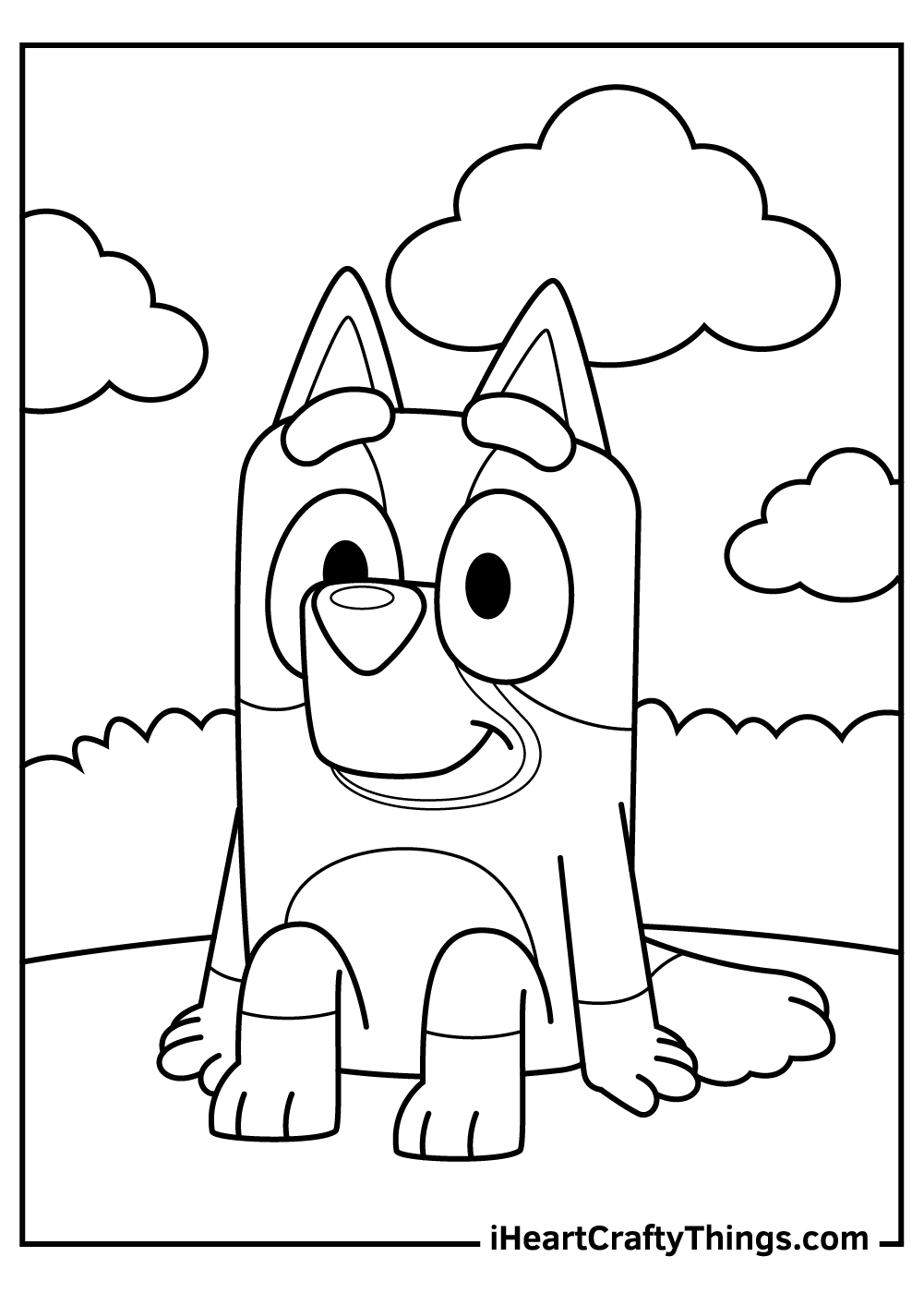 The final image in our collection of free Bluey coloring pages for kids shows Bluey at the beach again and it looks like she's found a shell! She looks very pleased with her discovery, and now it's up to you to make the shell look really cool and colorful.
Maybe for this beach image you could use some watercolor paints if you have some to give this page a soft and beautiful range of colors.
However you color this in, I bet you'll have a beautiful Bluey printable to share with us when you're done!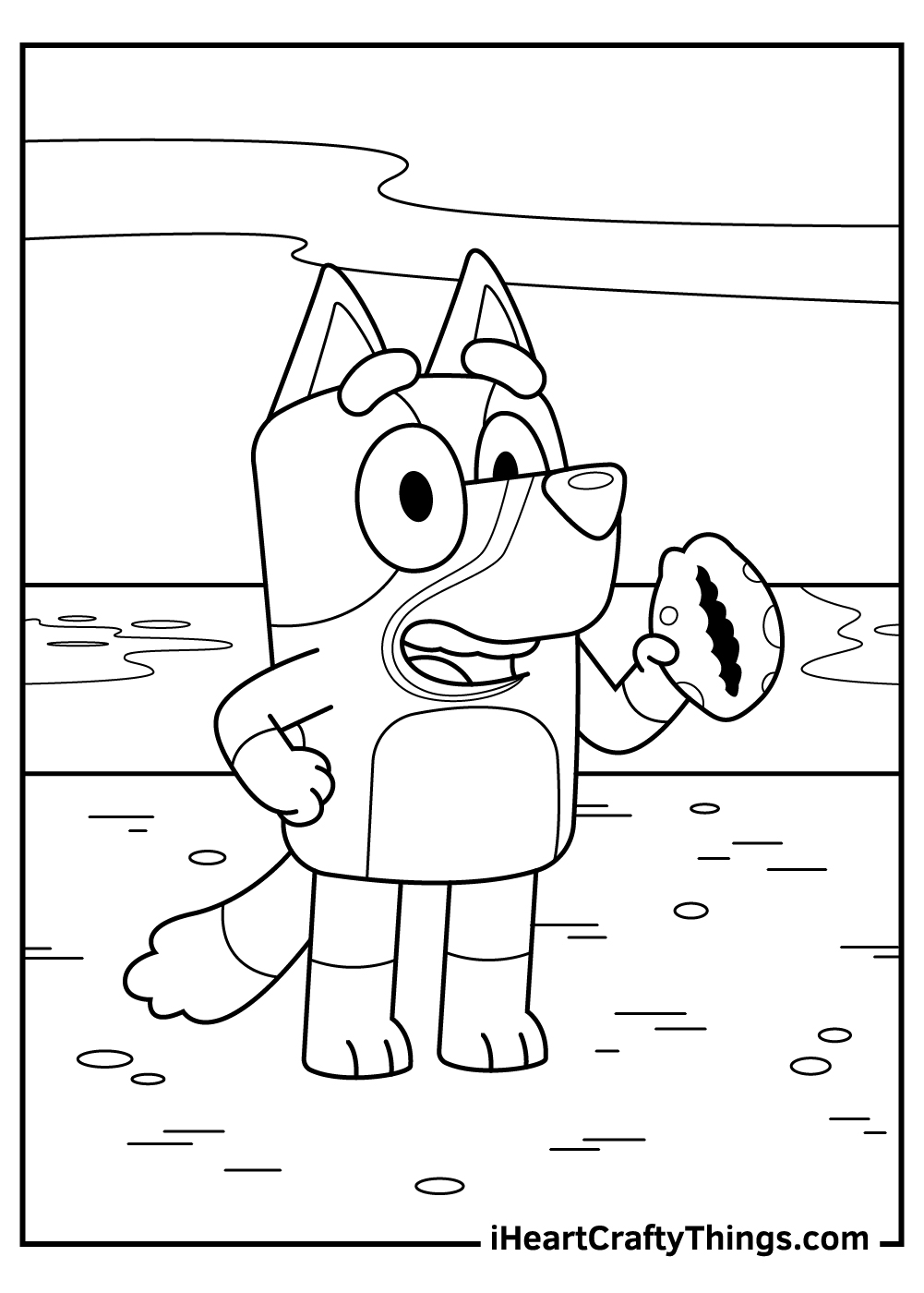 Bluey Coloring Pages – Which will you choose?
We hope you had a really great time coloring in this collection of free Bluey coloring sheets for kids! We're sure Bluey and her family will be part of many colorful adventures once you've finished with these pages.
Don't forget that all of our coloring printables and other art goodies are free for you to print and enjoy, so why not print out a few copies of your favorite Bluey printables to try out different color variations and play with other mediums like watercolor and acrylic paints?
Please like and share our Facebook page to never miss out on our awesome free coloring pages and other printable fun that we have on offer! We have tons of free coloring fun coming out all the time and we'd love for you to join in the fun.
Also, please remember to share your favorite Bluey coloring sheets once you've finished coloring them in so we can share in the colorful adventures with you and Bluey!