On this page, you will find 25 all new Bluey coloring pages that are completely free to print and download.
Bluey the puppy has become a very popular pooch around the world lately, and it's easy to see why once you've enjoyed one of her sweet adventures alongside her and her collection of lovable friends and family members!
As her name suggests, this is a chance to use your favorite blue colors in your collection for this series of free Bluey coloring pages for kids!
You could even create some unique puppy character variations by using different colors you may like as well. It's up to you how you color Bluey and friends in these free Bluey printables!
Once you've colored in your favorite Bluey coloring sheets, please share your cute and colorful creations to our Facebook page so we can all share in the fun and see the creative ways you finished off these fun and adorable free coloring pages.
We always love to see your coloring skills on display!
25 Brand New Bluey Coloring Pages – Free to Print and Color
This Bluey coloring sheet shows our main character sharing a friendly wave. This really captures her happy and lovable personality brilliantly, and now you get to bring this portrayal to life with your colors.
As her name suggests, she has a mostly blue color scheme, with light blues for most of her fur and darker shades for her spots.
You can use these usual colors if you want her to look screen accurate, but you could also give her some unique colors if you prefer!
How will you color this portrayal of this character?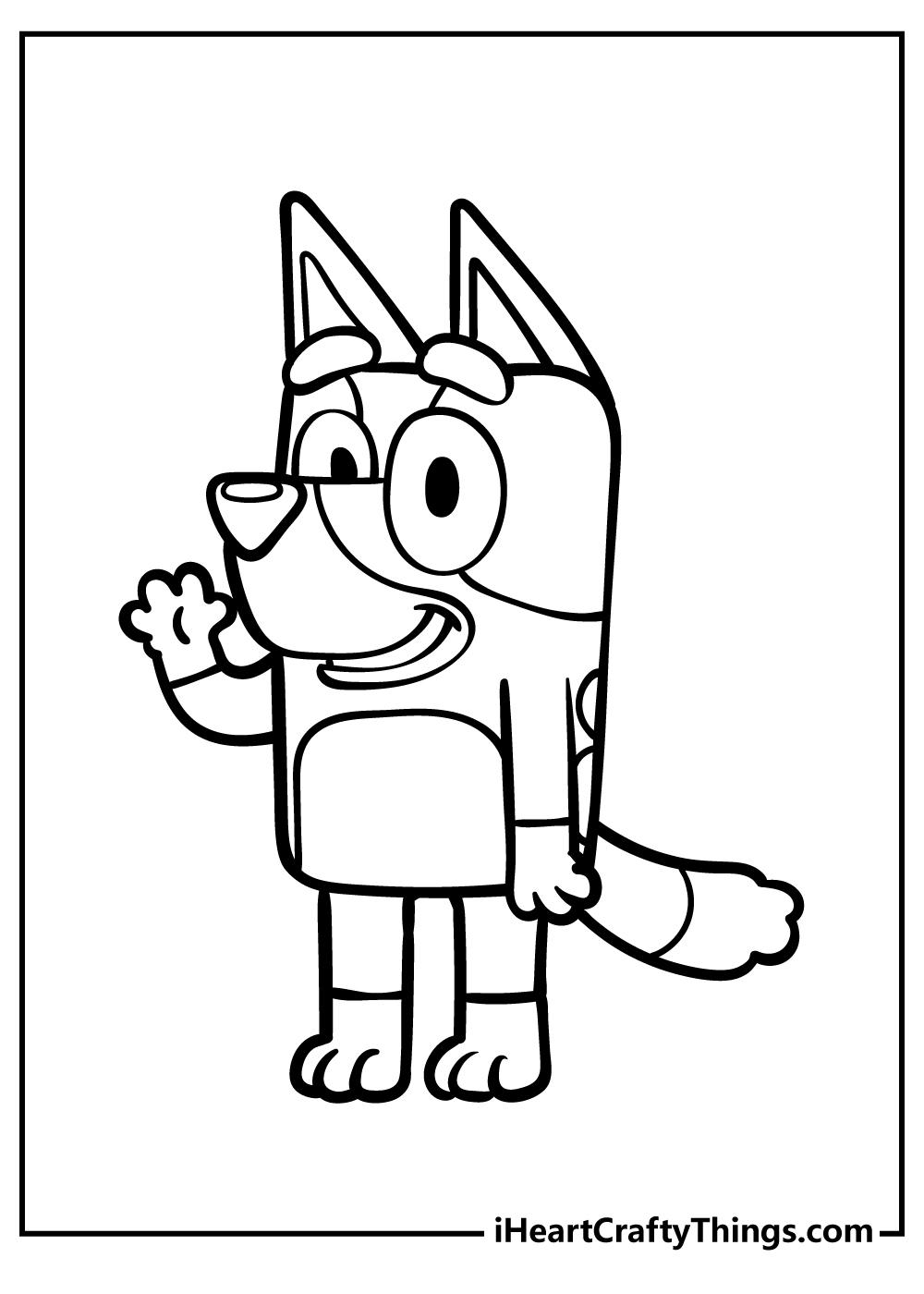 Bluey is flashing his signature wink and toothy grin. His ears perked up, adding to his playful charm. His bright eyes glow with joy and mischief.
Use your most vibrant crayons or markers to color in Bluey's smooth fur. Try different patterns on his body like spots, stripes, or swirls.
Add doodles and decorations to show off Bluey's fun personality. Does Bluey remind you of your own fun-loving pet?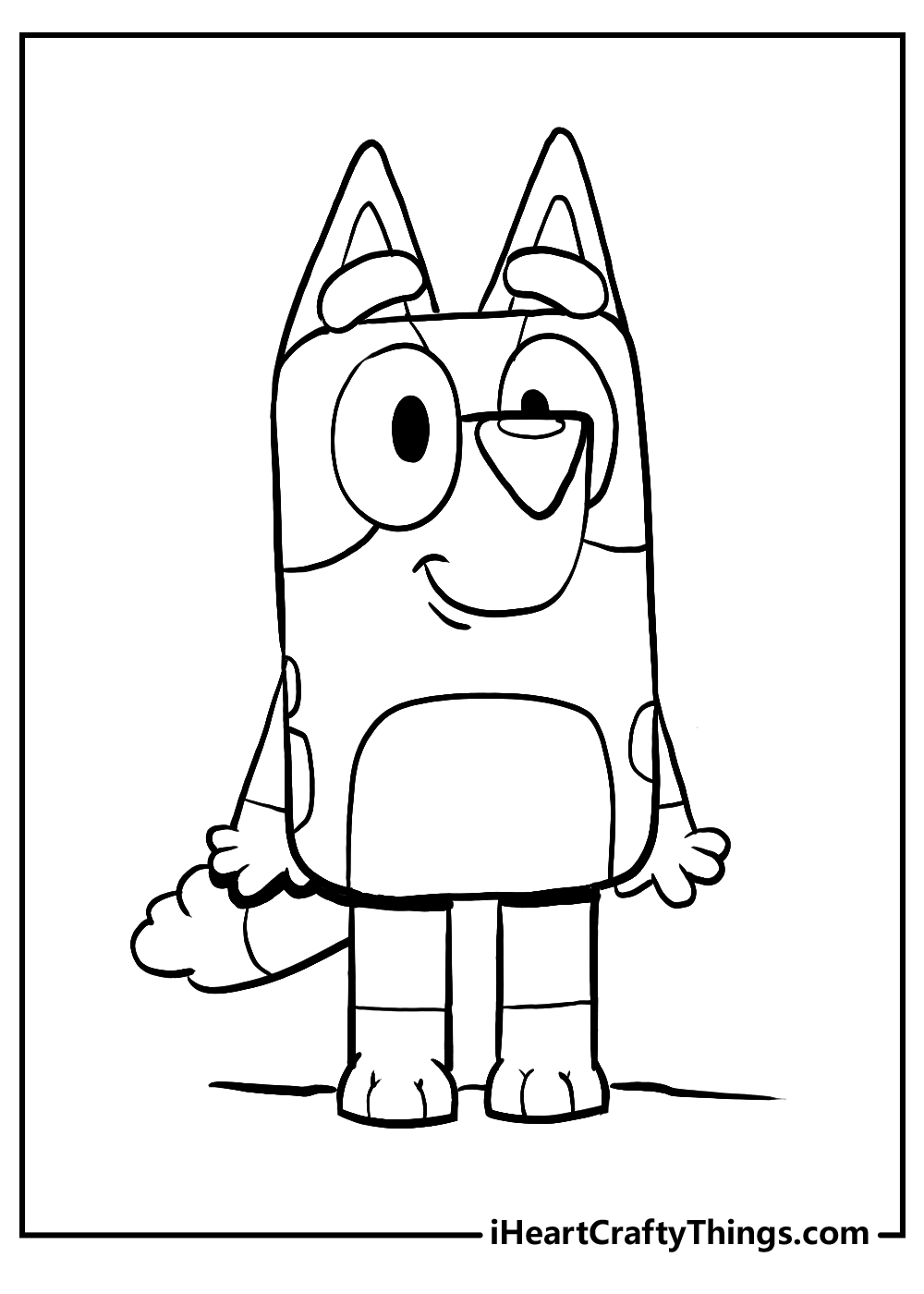 Here we have another great portrayal of our main character Bluey. She is once again giving a nice wave here, and it gives the image such a positive feeling.
While this could be Bluey, you actually have some other options for who you could portray here! She looks pretty identical to her sister Bingo, only Bingo's color scheme is made up of warmer reds.
You could also turn this character into one of her parents by using their color schemes and by changing just a few details. Which character will you choose to portray on this particular page?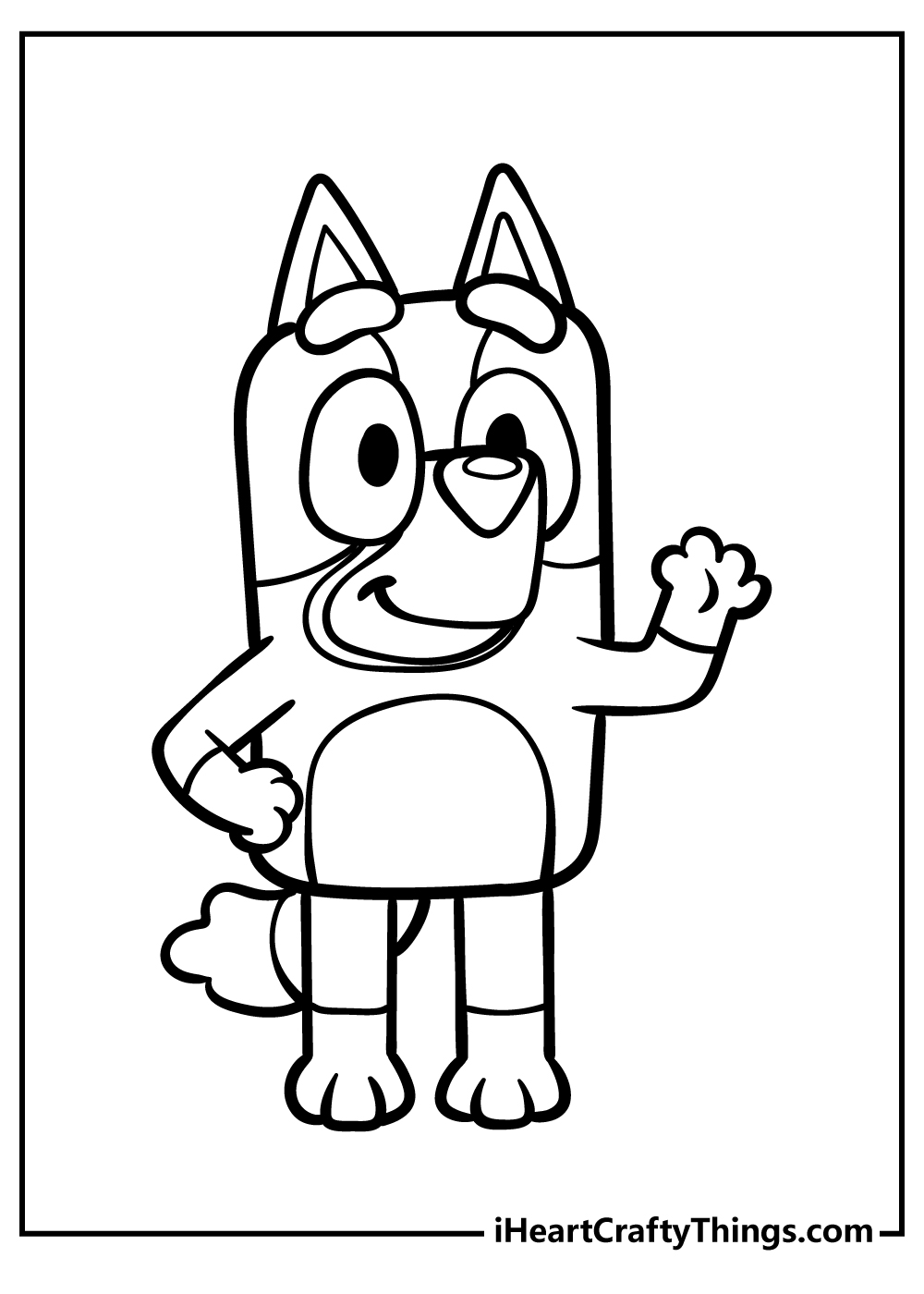 The first image in our collection of free Bluey coloring pages for kids shows Bluey and her mom, Chilli, having a fun time at a beach.
As you probably know, Bluey is colored in light and dark blues while her mom is colored in shades of light and dark browns.
Will you stick to their color schemes for this day at the beach or will you use some unique colors for a colorful variation?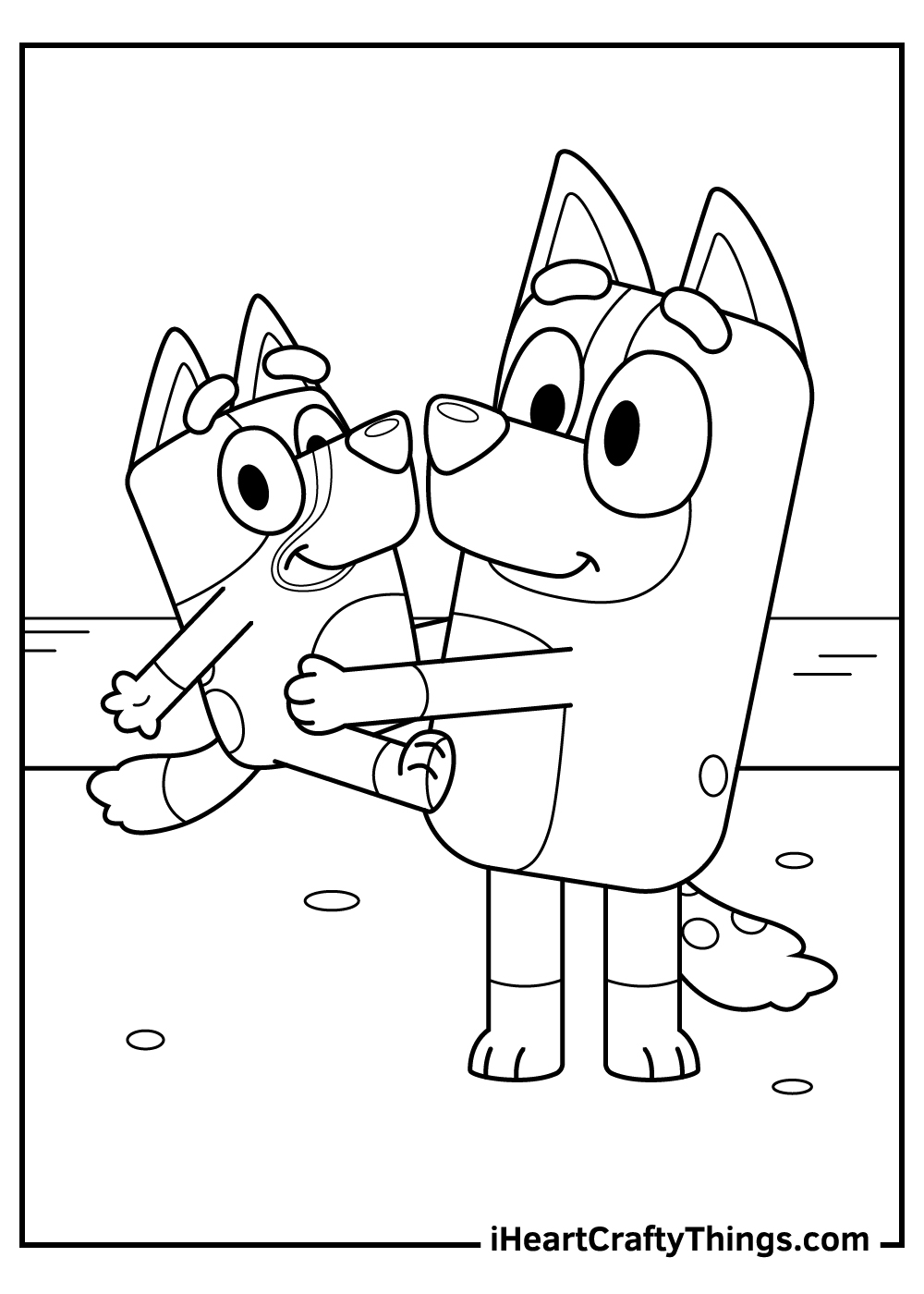 Adventure calls and Bluey answers. Our intrepid pup looks like he's wondering where to head next.
He has his hand on his as if he just got a great idea and is ready to explore the great outdoors.
Where do you think Bluey is headed? To a lazy day at the beach? On a hike through grassy meadows? Ignite your creativity as you color in the details of Bluey's next big adventure.
Feel free to add a backpack and decorate it with hints of what he might see.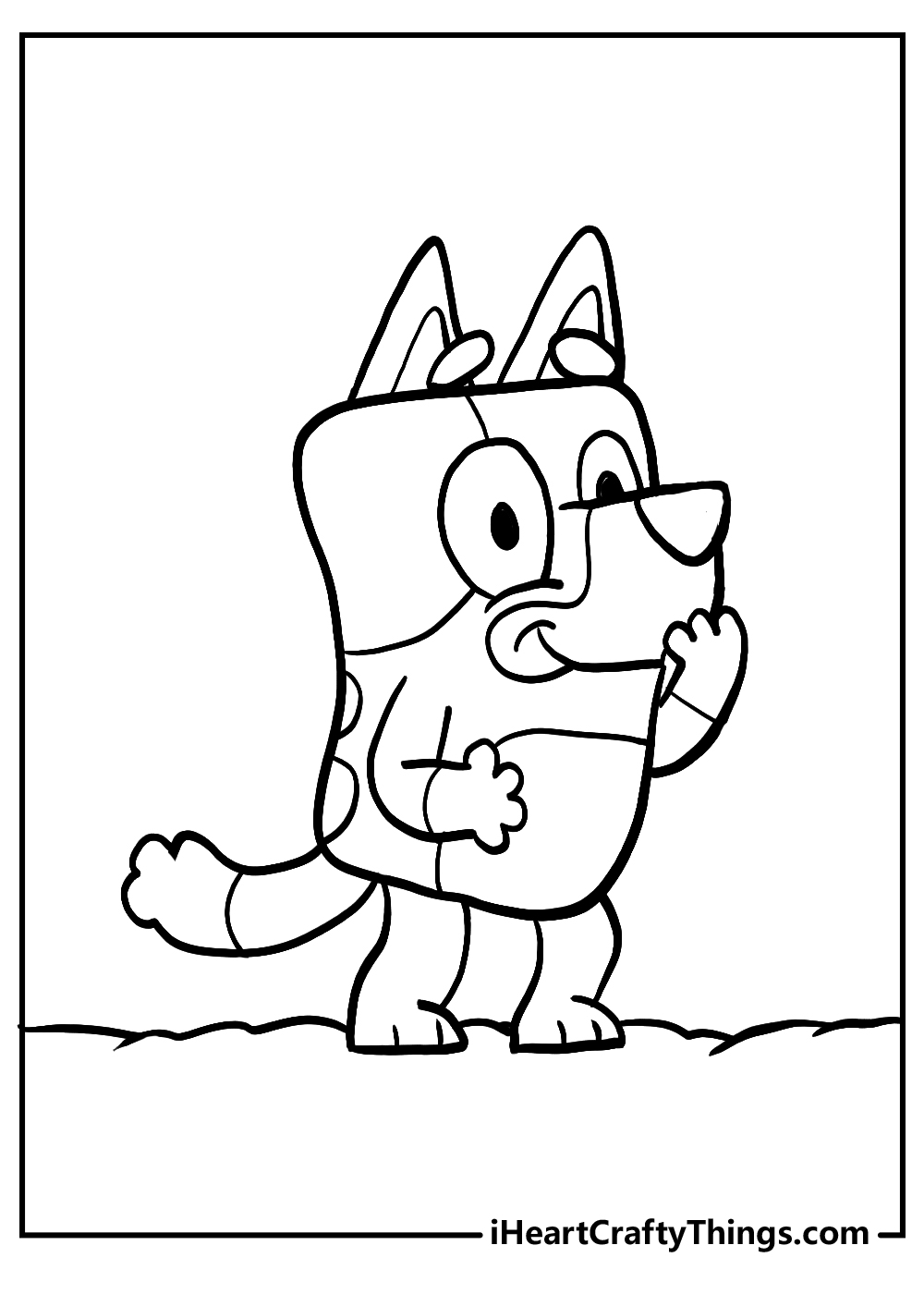 Bluey is looking very excited and happy to be having a day outdoors in our next Bluey coloring sheet.
For this cheerful image, I would use bright variations of colors for the background to fit with her happy mood in this Bluey printable.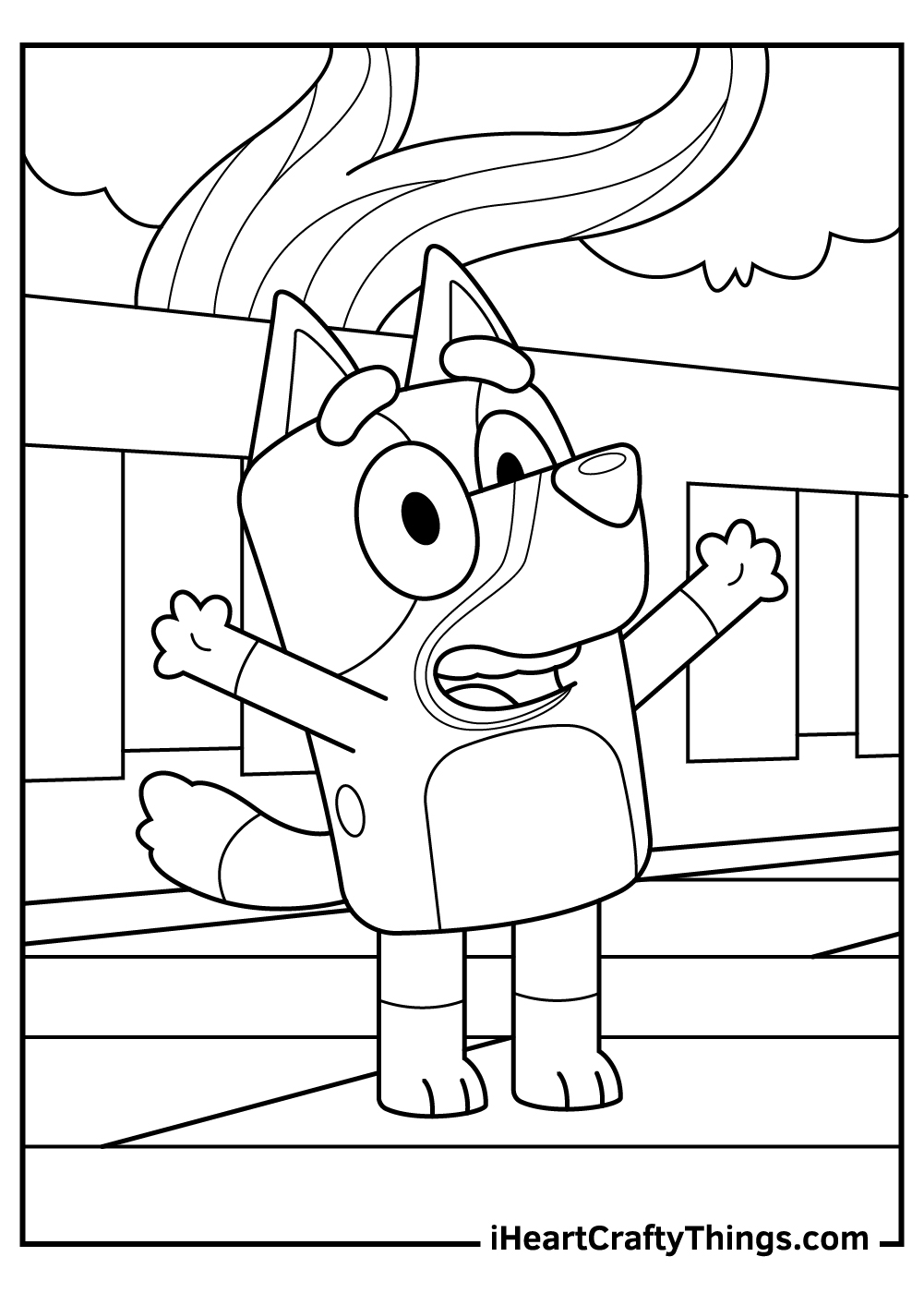 It's time for a pleasant stroll outside in this next Bluey coloring page.
Bluey and her sister Bingo look very similar except for the fact that Bingo is in shades of brown like her mom, so you could decide to make this a portrayal of Bingo instead of Bluey if you'd like!
Who will you decide is taking this walk outside?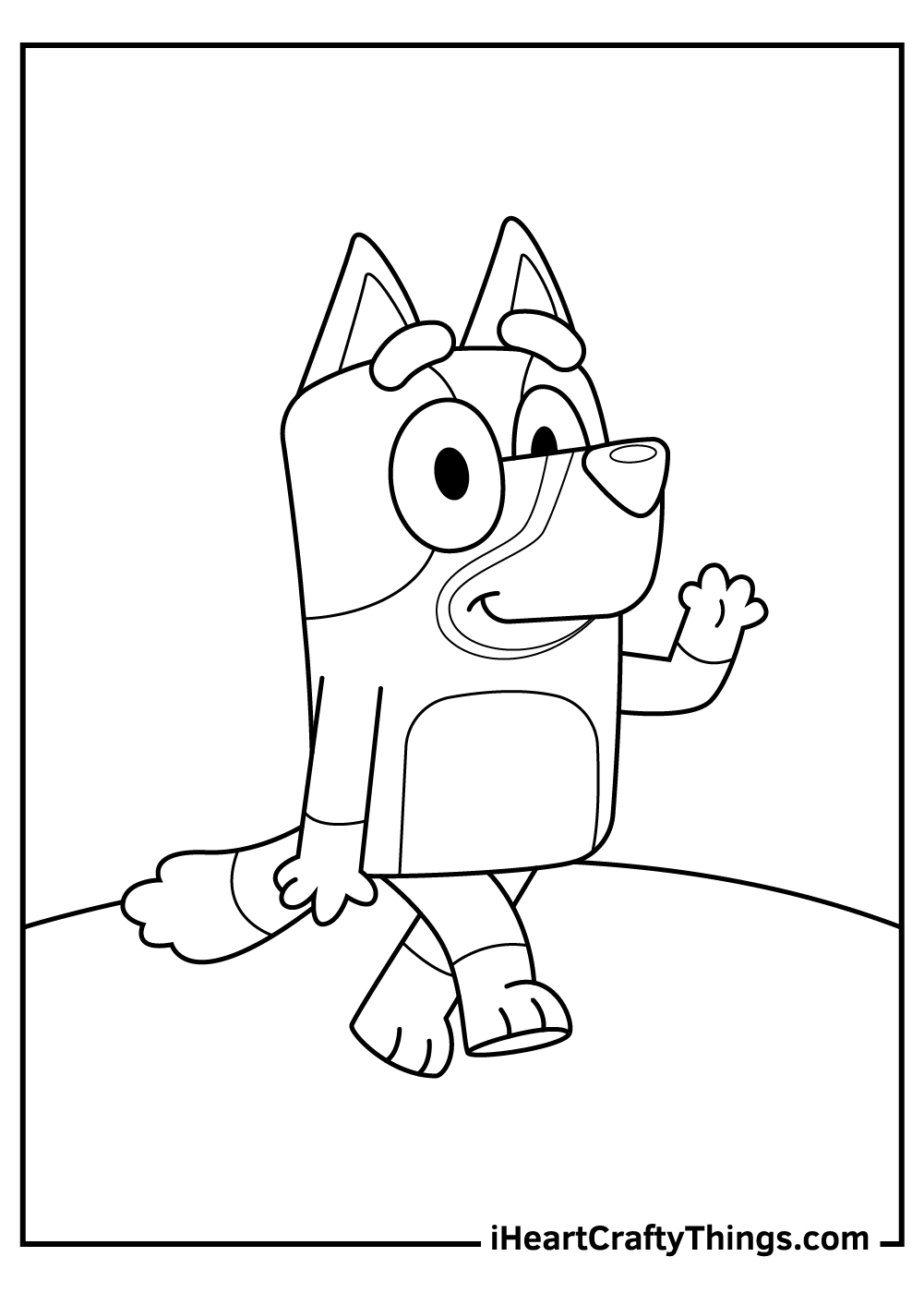 Bluey is thrilled to make your acquaintance. See his perky ears, wagging tail, and inviting smile?
He's inviting you to join him in a game. What should you play? Tag? Fetch? Or a silly made-up game?
Feel free to take artistic license and decorate Bluey's world with your own patterns and designs.
Make sure to use lots of bright, fun colors to capture his playful personality.
You could even draw in a background scene for Bluey like a playground for some fun games.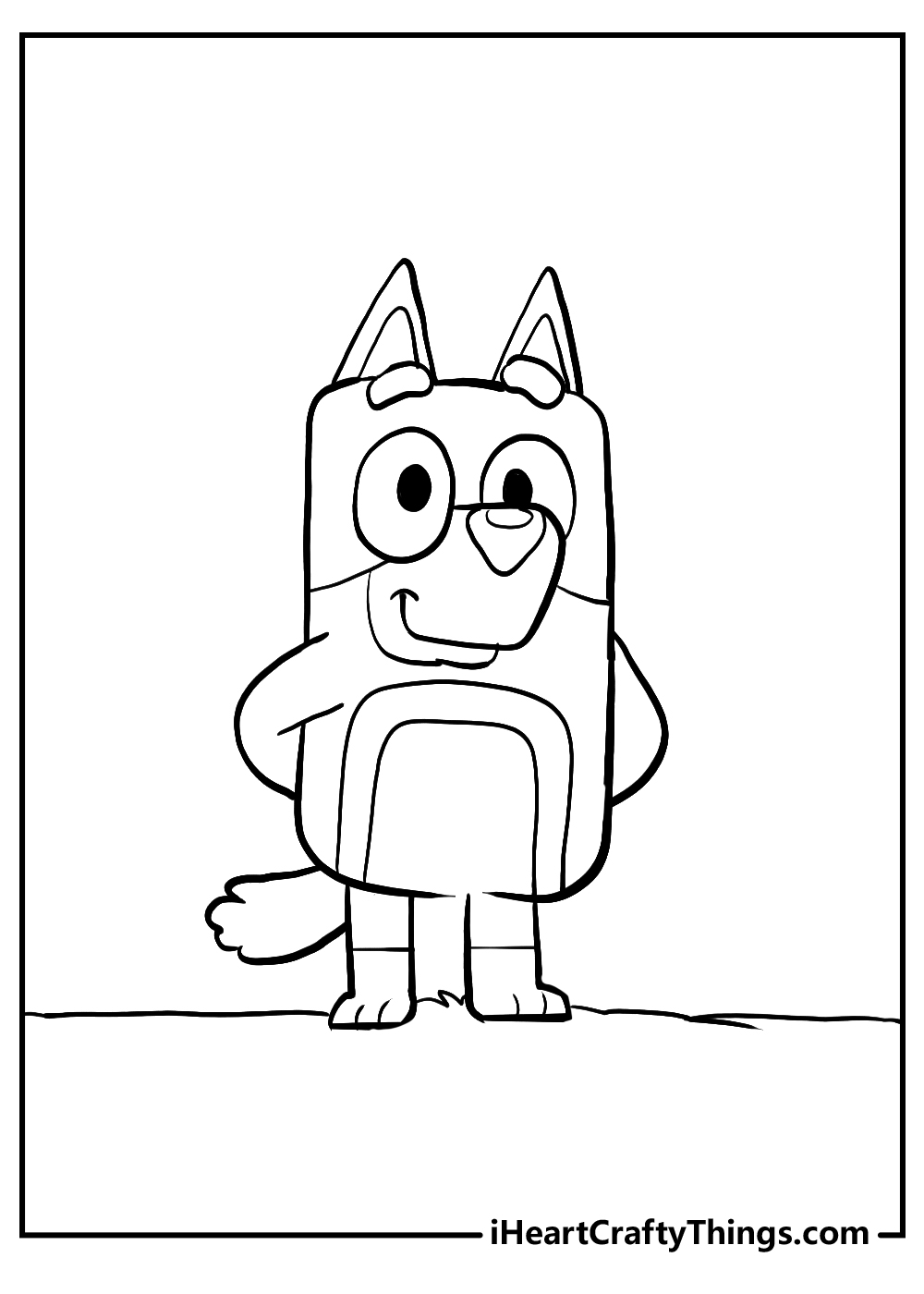 Get ready for some coloring excitement with this next page! Bluey is featured here and she is looking very excited about something.
What do you think could have her feeling this way? If you have some ideas as to what it could be, then you could draw some extra objects and background details.
There are all sorts of wonderful scenes you could create in order to show what has made Bluey so happy here!
Once again, you could also decide to turn this character into one of Bluey's family members by changing the colors and details.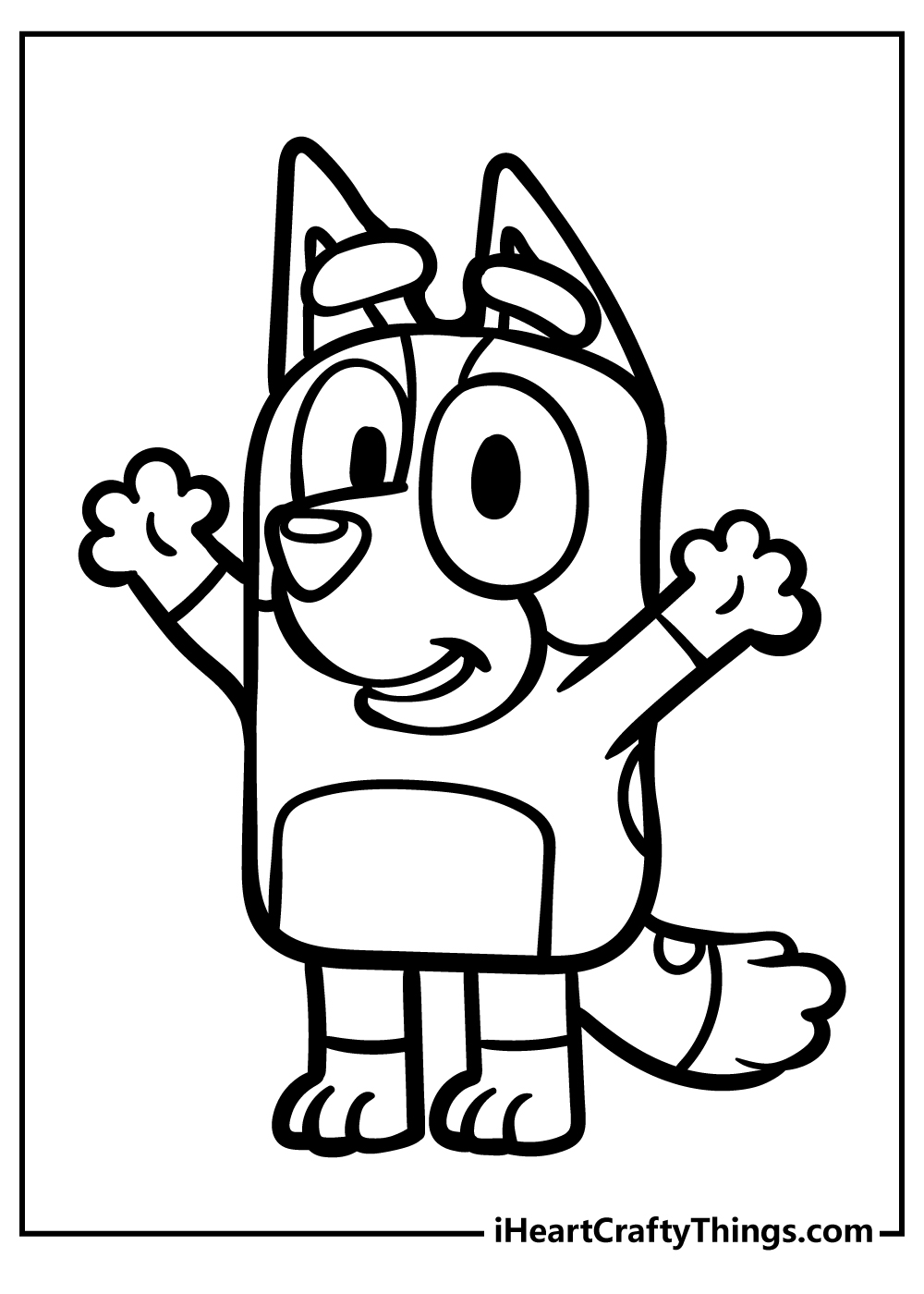 Get ready to boogie with this Bluey coloring page! Bluey is strutting some seriously awesome dance moves, shaking his tail and throwing his paws up with glee.
Look at that big, goofy grin – you can tell he's having a blast!
Let's decorate this page with colors that capture his energetic spirit. Make his fur swirl with crazy patterns as he dances around.
In the background, we can add colorful shapes like stars, hearts, and musical notes to create a vibrant dance party scene.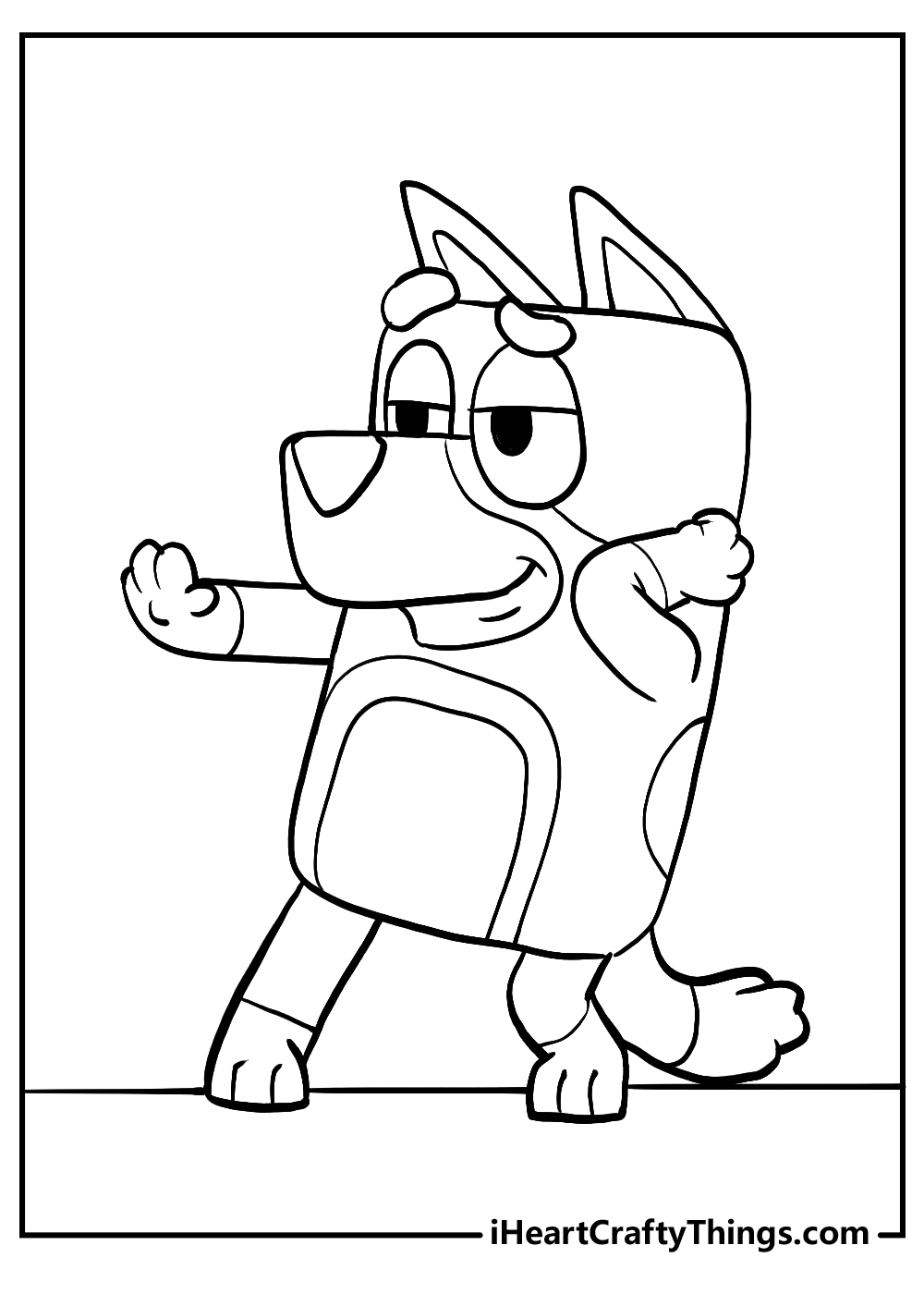 This picture in our collection of free Bluey coloring pages for kids is getting the party started! Here we see her doing a fun dance, and it makes for a really cool scene to color.
If we were coloring this page in, we would probably go for lots of really bright and vibrant colors.
Using these kinds of colors for the background would make it look even more like a vibrant dance party!
This is the approach that came to mind for us, but it's up to you to decide on how you will choose to color this page. Do you think you will go for our suggestion or try out something else?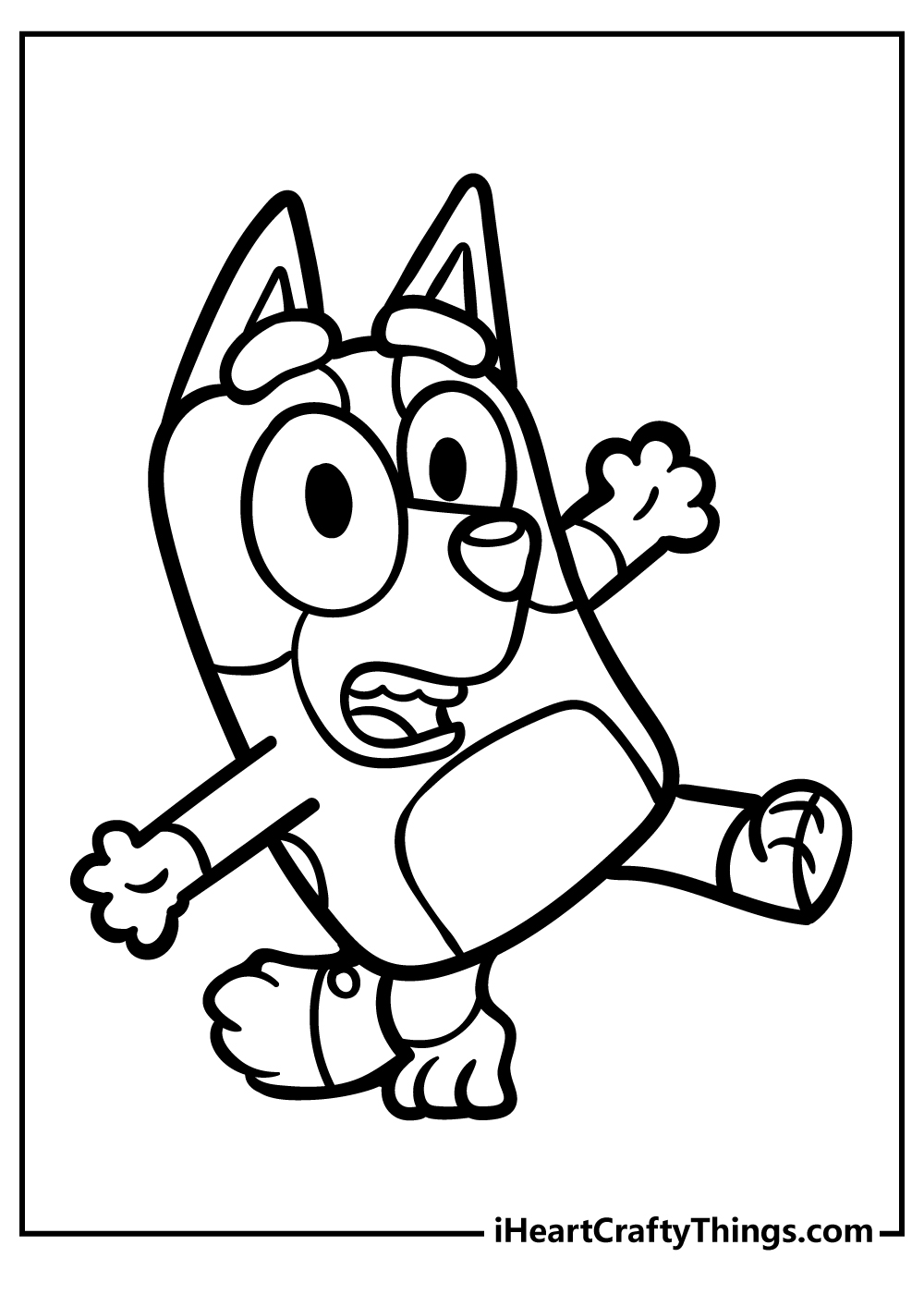 There are some great background details to this next Bluey coloring printable for you to color in!
She's looking like she's having a lovely day with a big smile on her face, and the plants behind her would look great with some beautiful greens to really finish off this coloring page.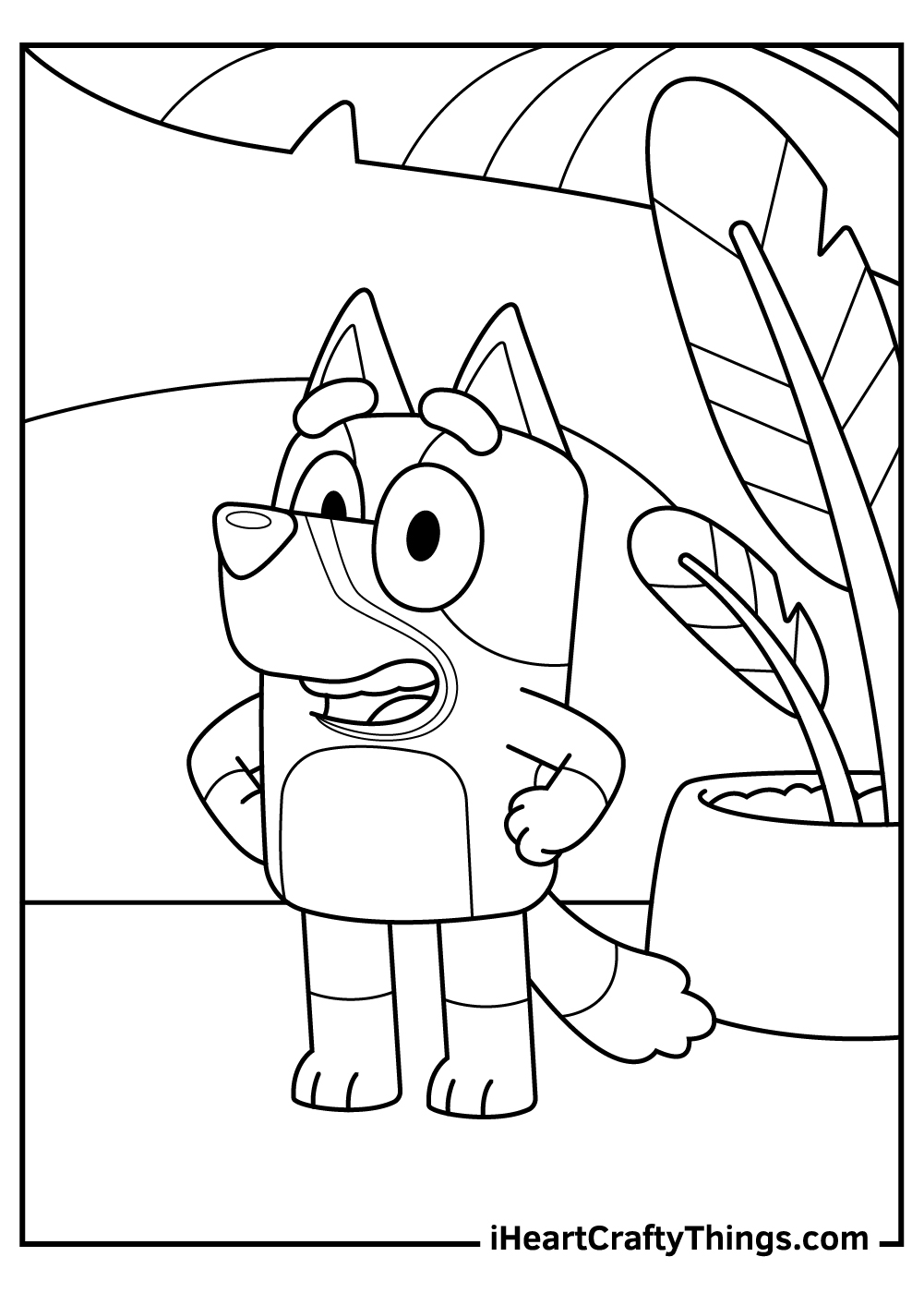 Bluey and her dad, the lovable and playful Bandit, are enjoying a nice hug in this next free Bluey coloring page for kids.
Bandit is colored identically to Bluey, so since there will be a lot of blue for the characters, maybe you could color in the background with a complimentary color to blue like yellow or orange to give this Bluey printable a beautiful striking look.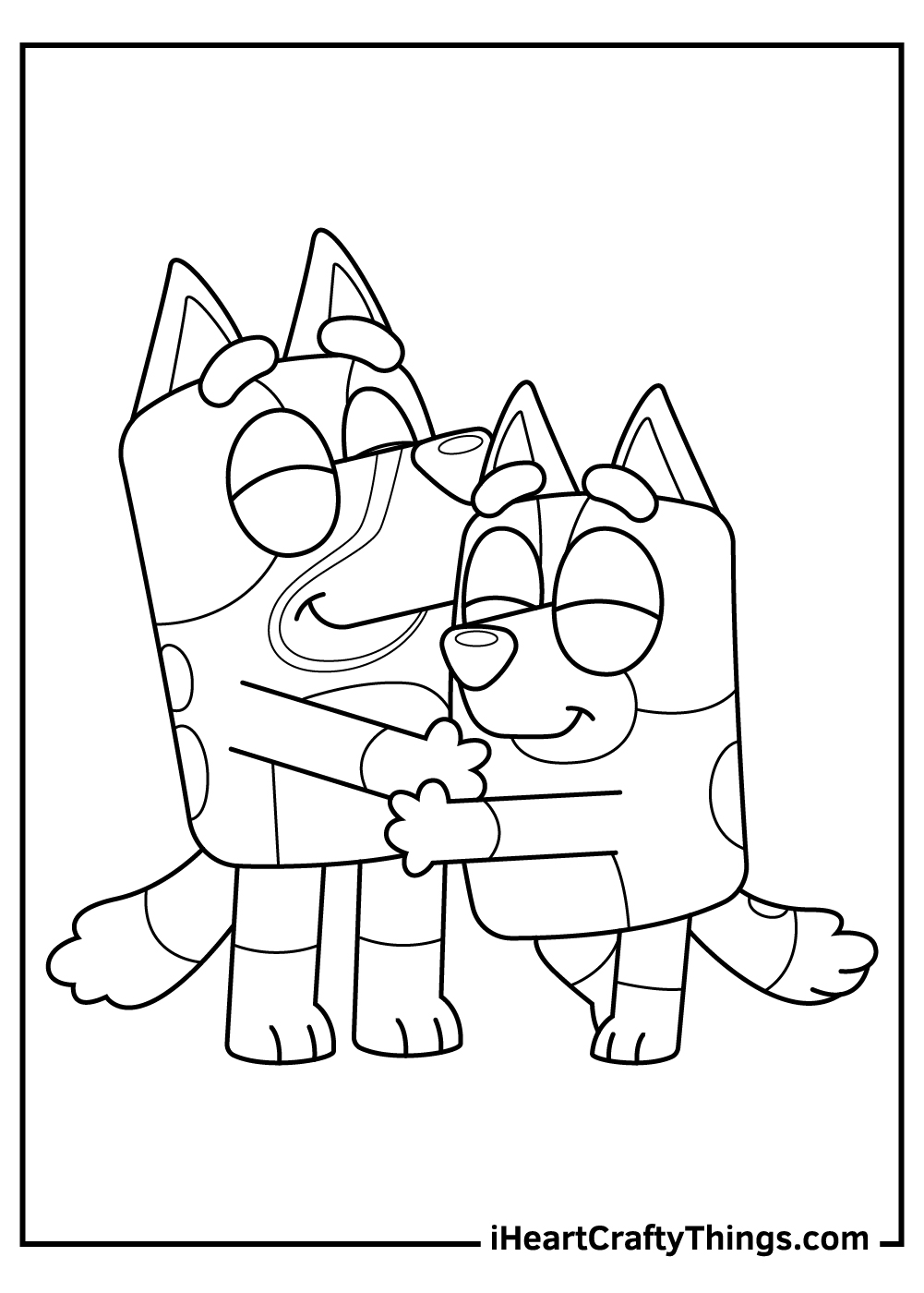 It's dance time again for this next image! Bluey is having a great time with this dance move, and it looks like it could be the famous flossing dance move.
It makes for a really fun picture, and you can take the fun to the next level with the details and colors that you use!
It can be fun to draw a background for images like this, and you have many options for how you could do that.
There are many settings where Bluey could be dancing, and you can show off a few of your ideas for these locations by sharing the finished page!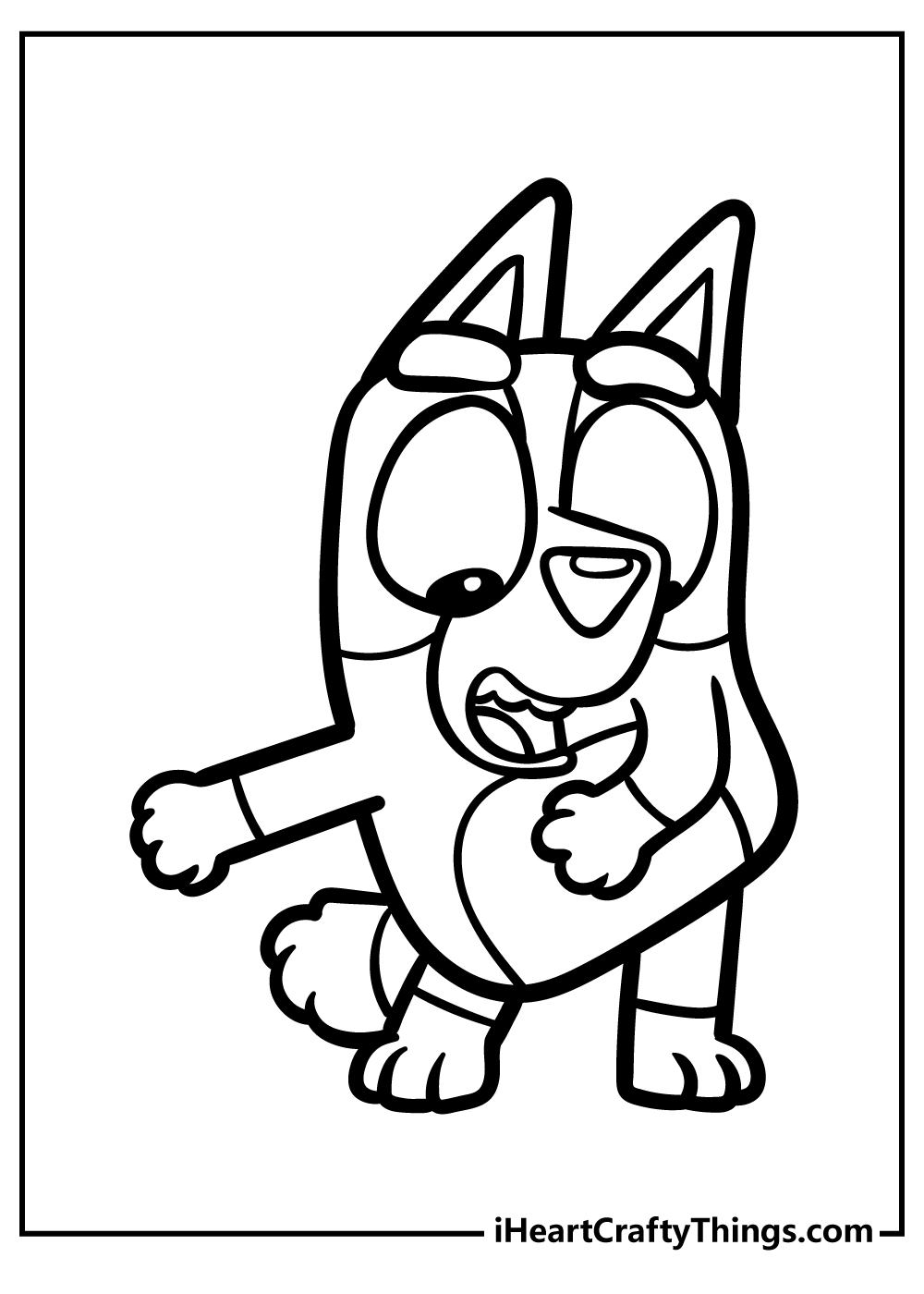 Bluey and her family are far from the only characters featured on the show, and there are many other friends that we get to meet.
This page shows one of these friends, and fans of the show will recognize her as the lovable character Indy.
Indy has a much lighter and warmer color scheme than her friend Bluey, as she has light brown fur with red hair.
This character will provide a great opportunity to use some of the brighter colors in your collection! What colors will you use for the background?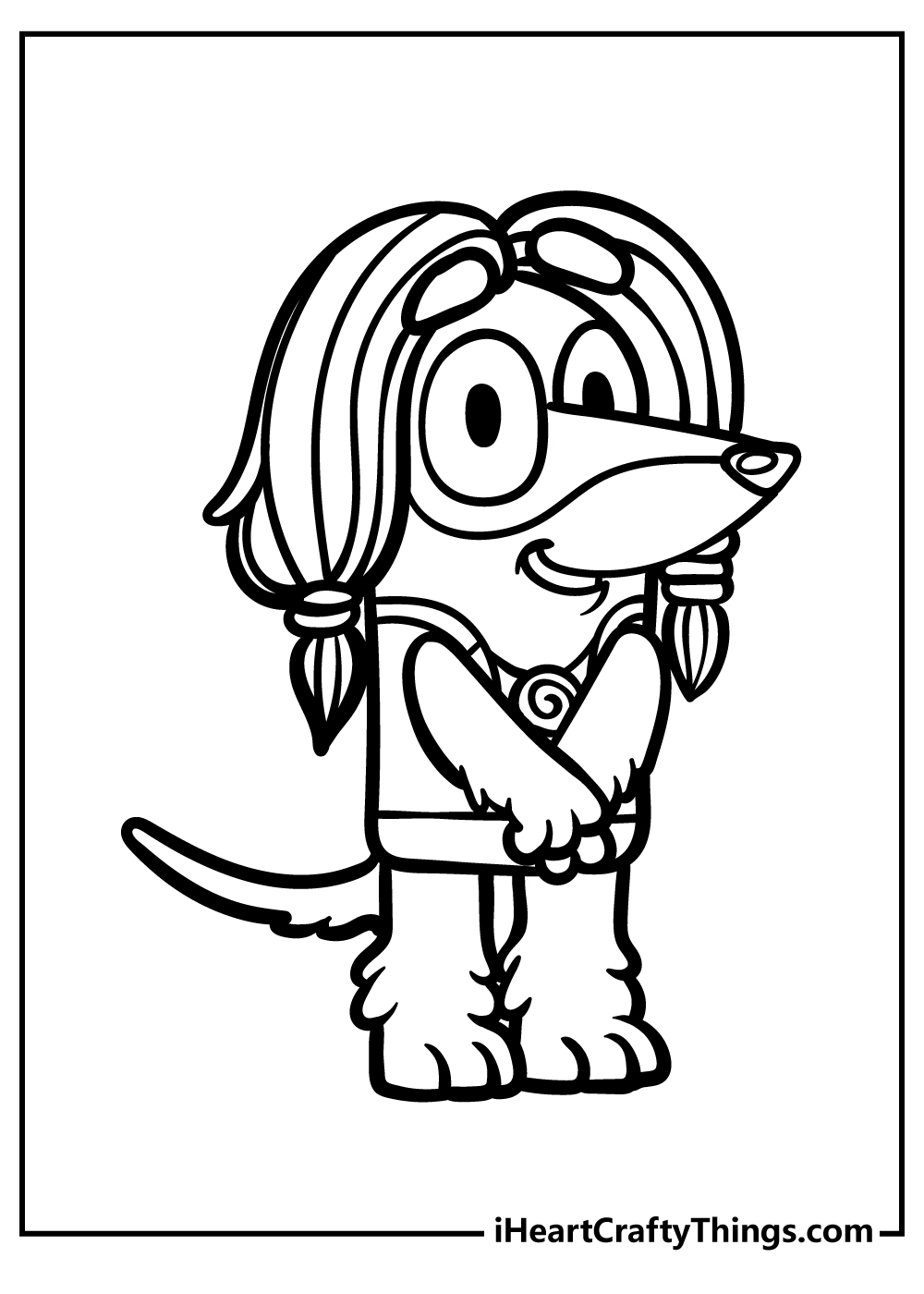 Yay, it's happy Bluey! He's standing there waving his paw with a great big grin. His ears are perked up and his tail is wagging because he's so excited to see you!
Use the brightest, boldest colors to bring Bluey to life on this page. Give his fur some fun rainbow patterns and decorate his outfit with your designs.
In the blank background we can draw any scene you can imagine! Is Bluey playing at the park with Bingo and his friends? Draw your own story around him.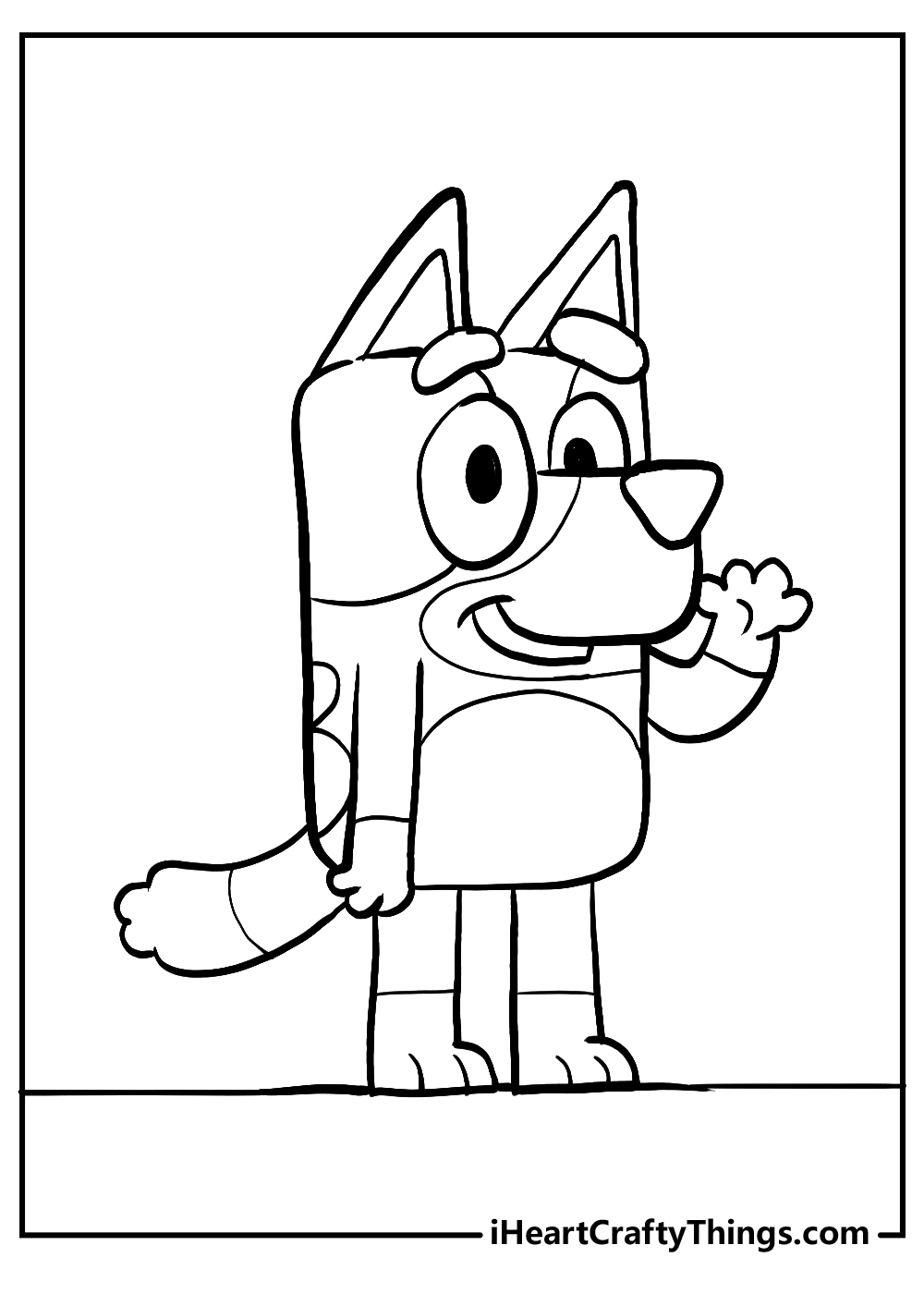 Bluey is looking like a star in her next coloring page, as she's surrounded by plenty of stars!
If I were coloring in this Bluey printable, I would color in the stars a nice bright yellow and then use a rich purple for the background, but what colors will you pick for this image? We can't wait to see!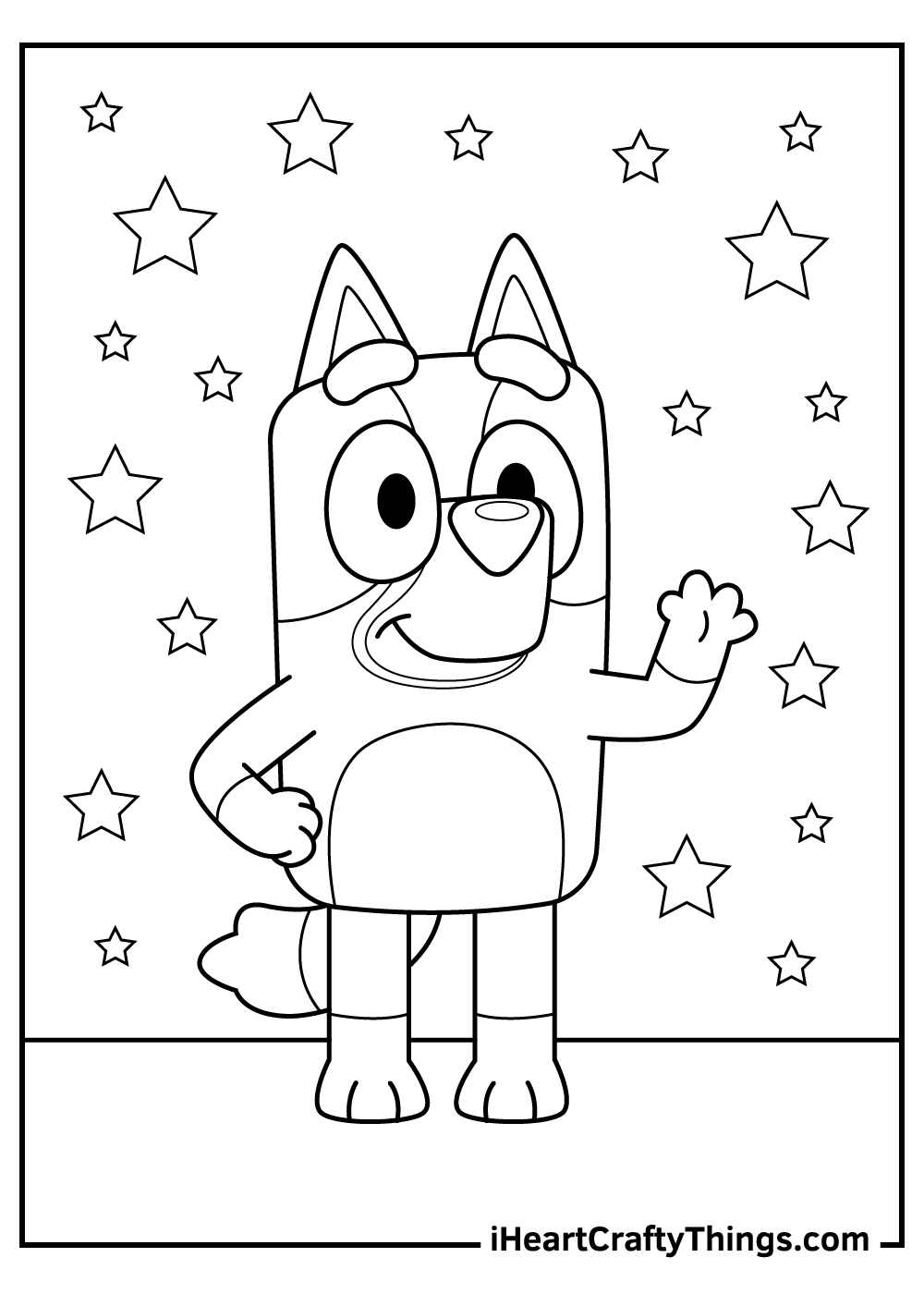 There's a present to unwrap in this cute Bluey coloring page! I wonder what could be inside of it?
For the wrapping on the present, I think you should use some of your favorite bright colors to make it stand out in the picture and bring the focus to it.
Maybe you could use some colored pens on the present to really make it pop!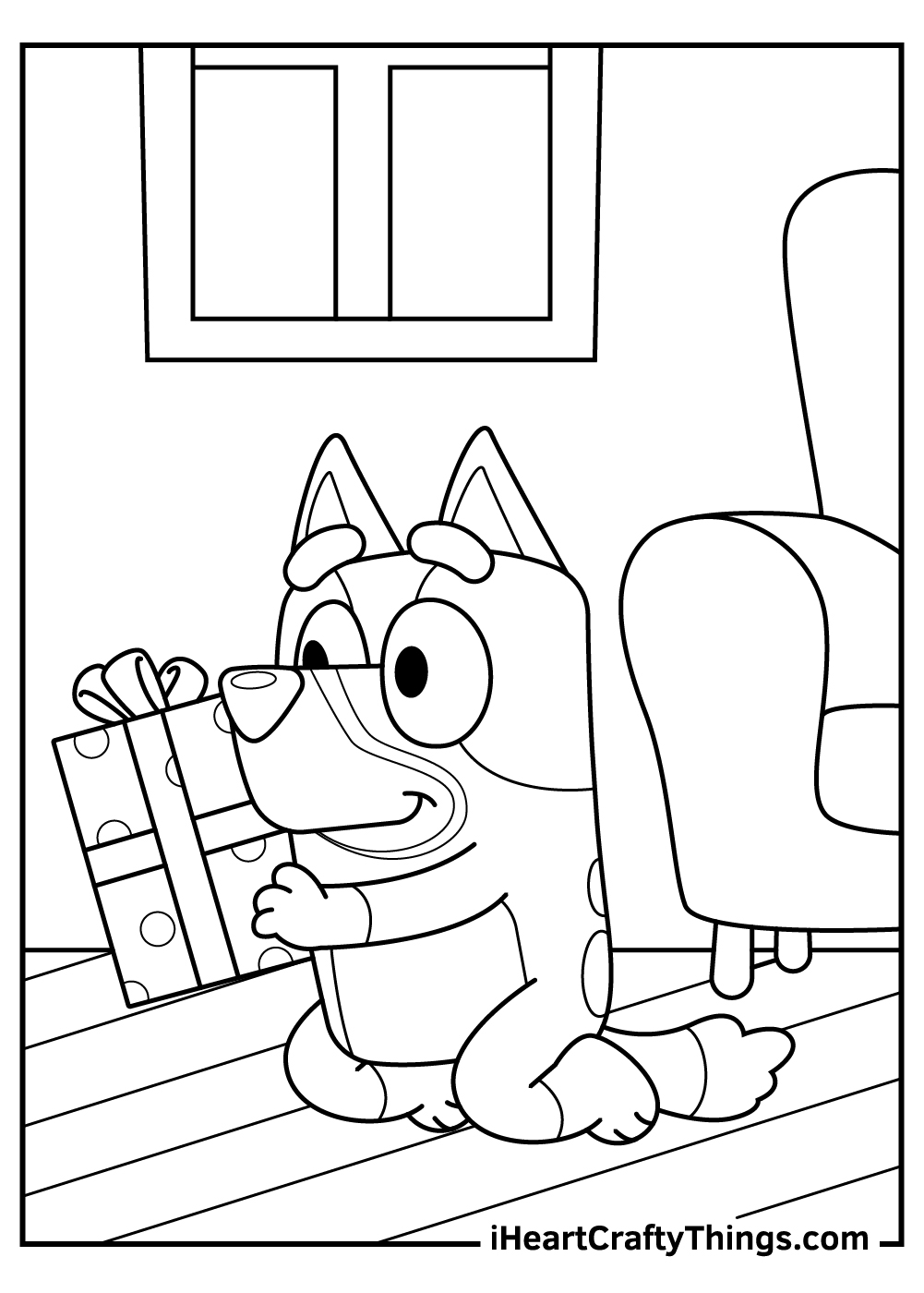 It doesn't take much to get this character happy and excited, and this next Bluey coloring printable shows this off brilliantly!
For pages that show a lot of excitement such as this one, we always think that some bright and vibrant colors are the way to go.
Mediums such as colored pens, markers or paints can be perfect for that kind of look.
On the other hand, it can also look good if you use lighter, more subtle colors instead, so it's up to you to decide which you would prefer for this particular page.
The lively character Lucky is up next for this page. Another friend of Bluey's, Lucky is always on the move and looking for fun.
Lucky is Bluey's next-door neighbor, and he is a big fan of having fun outdoors. This page shows him holding onto a football, and this further goes to show that he is a sporty pup!
His color scheme in the show is simple yet effective, as he has light yellow fur.
This gives you another chance for some warmer colors, and it should help this page to stand out nicely in this collection.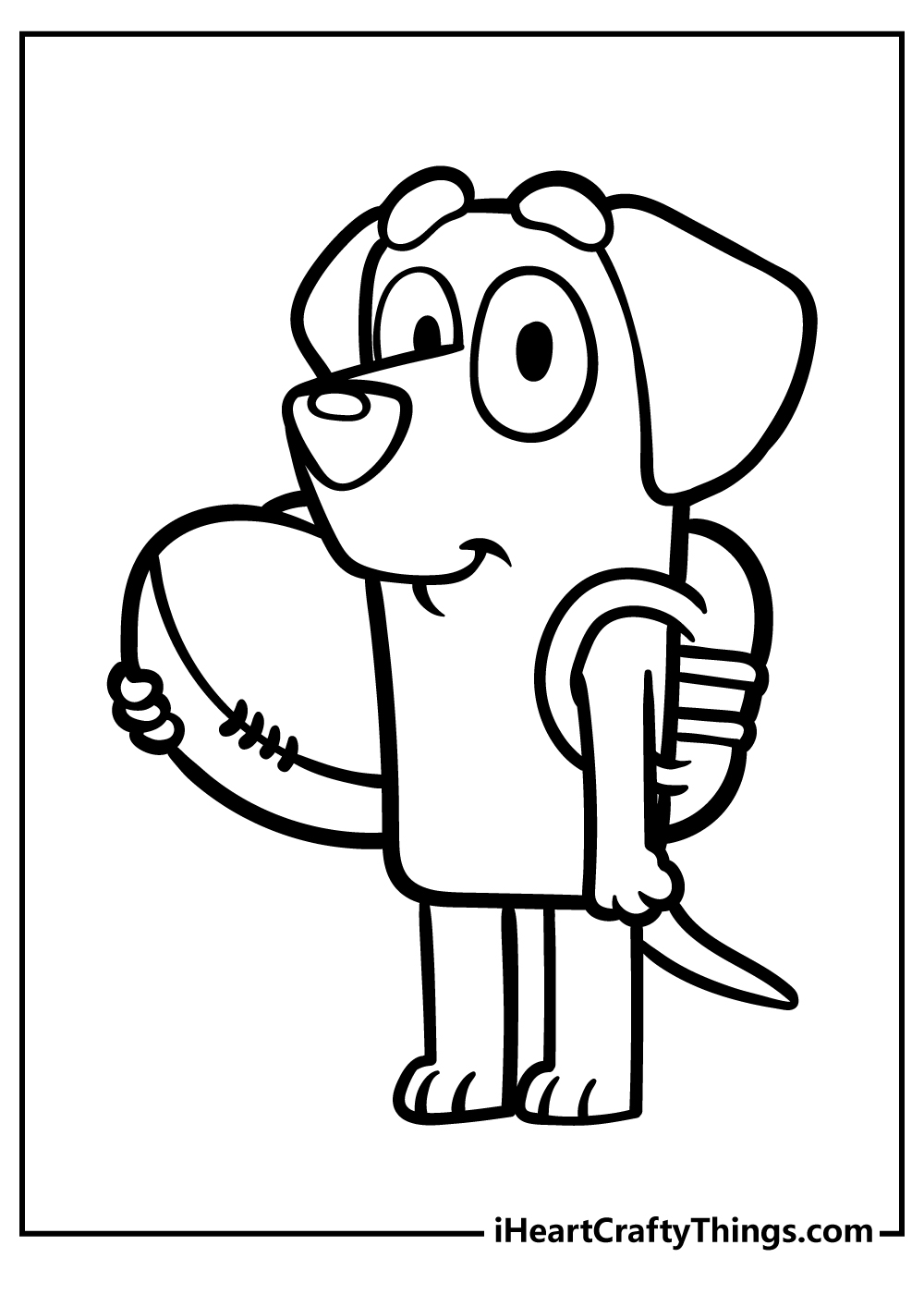 It's time to take a breather on a bench with Bluey in our next Bluey coloring sheet.
She's taking it easy and enjoying a beautiful day outside, so I think some lovely blues and greens for the sky and vegetation in the background would make for a relaxing image to enjoy.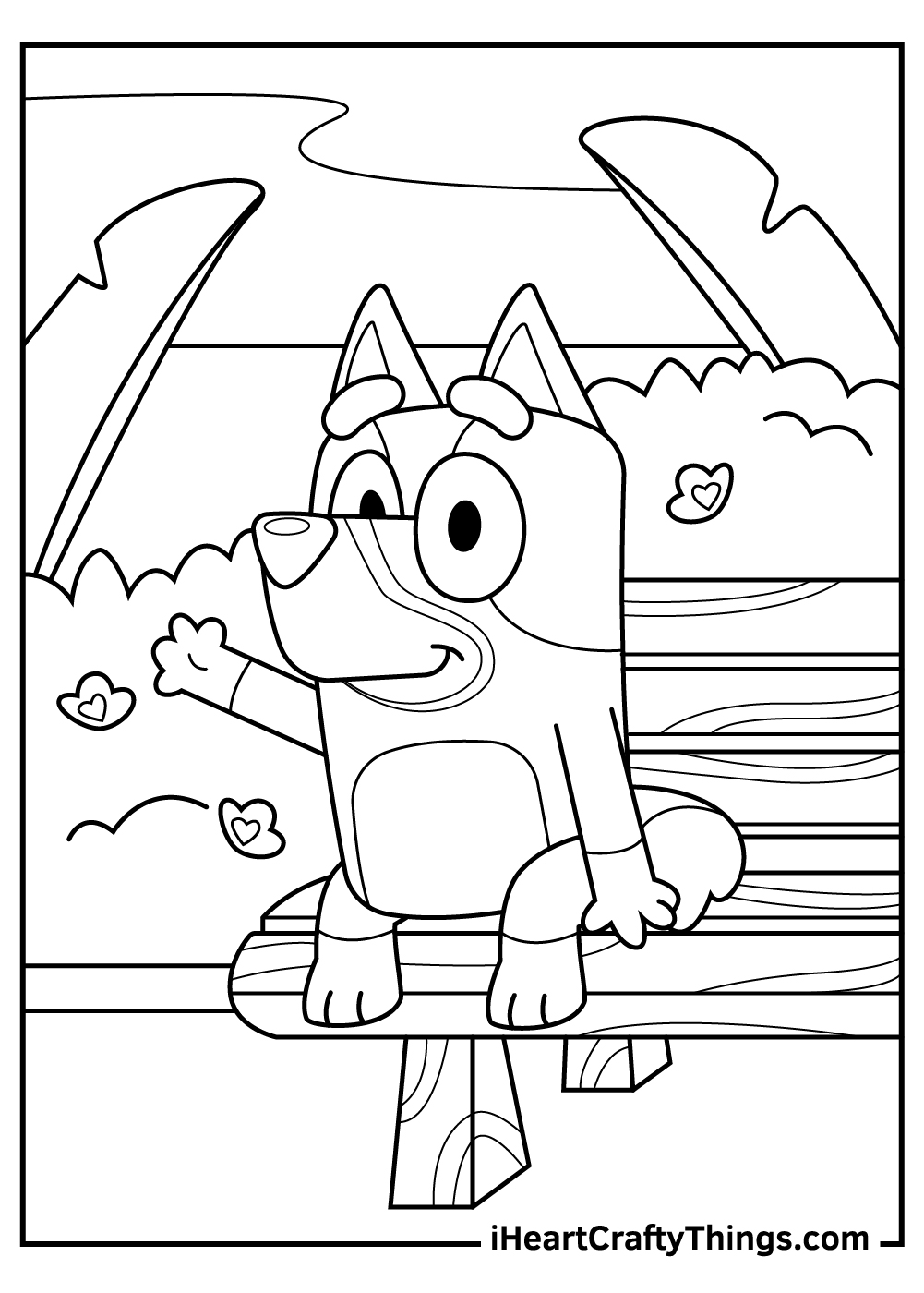 It's another beautiful day out with Bluey in this next coloring page. This is another image where you could also decide to make this Bluey's sister Bingo.
You could print two copies and use both character's colors if you can't decide which character to feature to have a representation of both sisters for this Bluey coloring printable.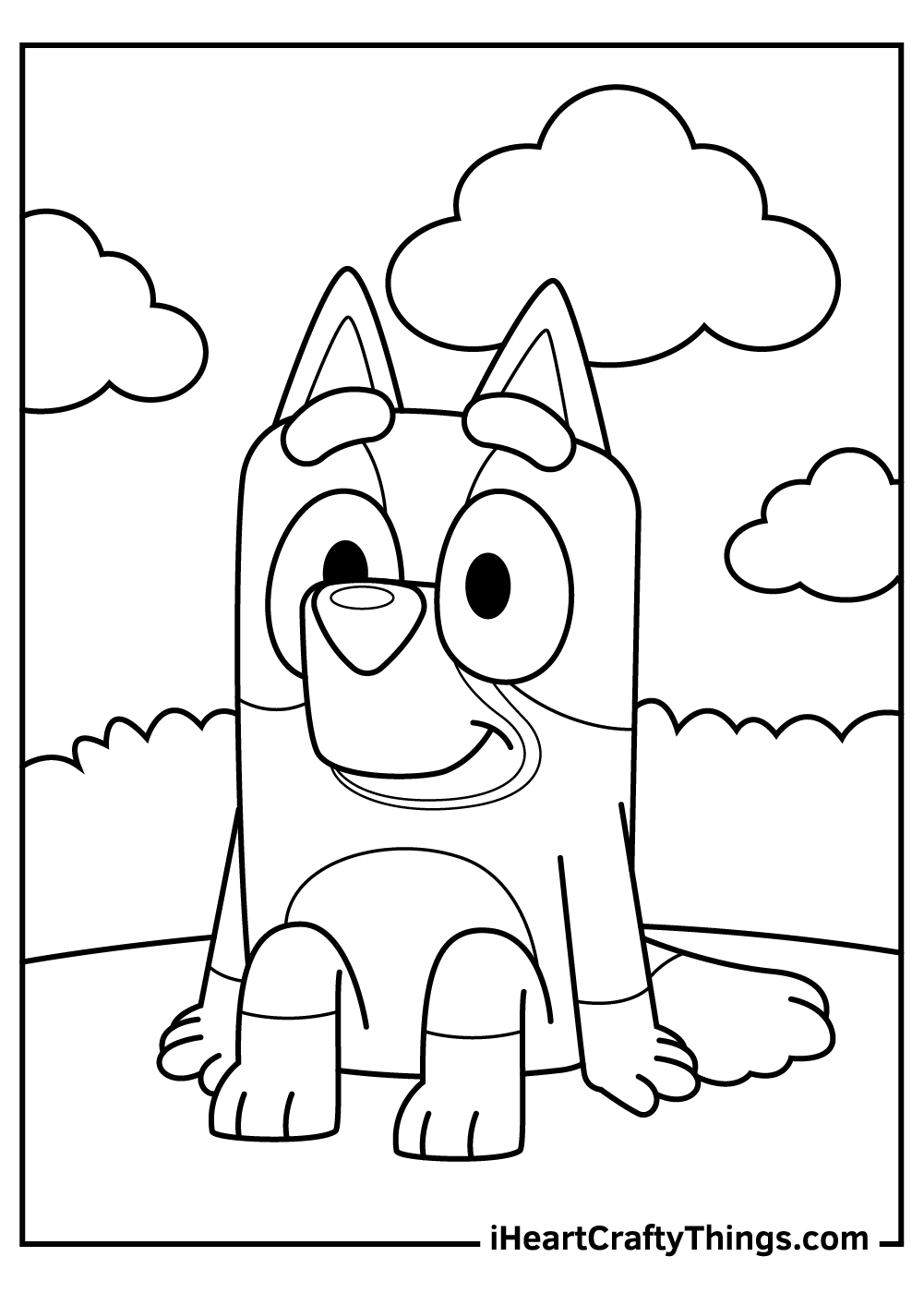 The final image in our collection of free Bluey coloring pages for kids shows Bluey at the beach again and it looks like she's found a shell!
She looks very pleased with her discovery, and now it's up to you to make the shell look really cool and colorful.
Maybe for this beach image you could use some watercolor paints if you have some to give this page a soft and beautiful range of colors.
However you color this in, I bet you'll have a beautiful Bluey printable to share with us when you're done!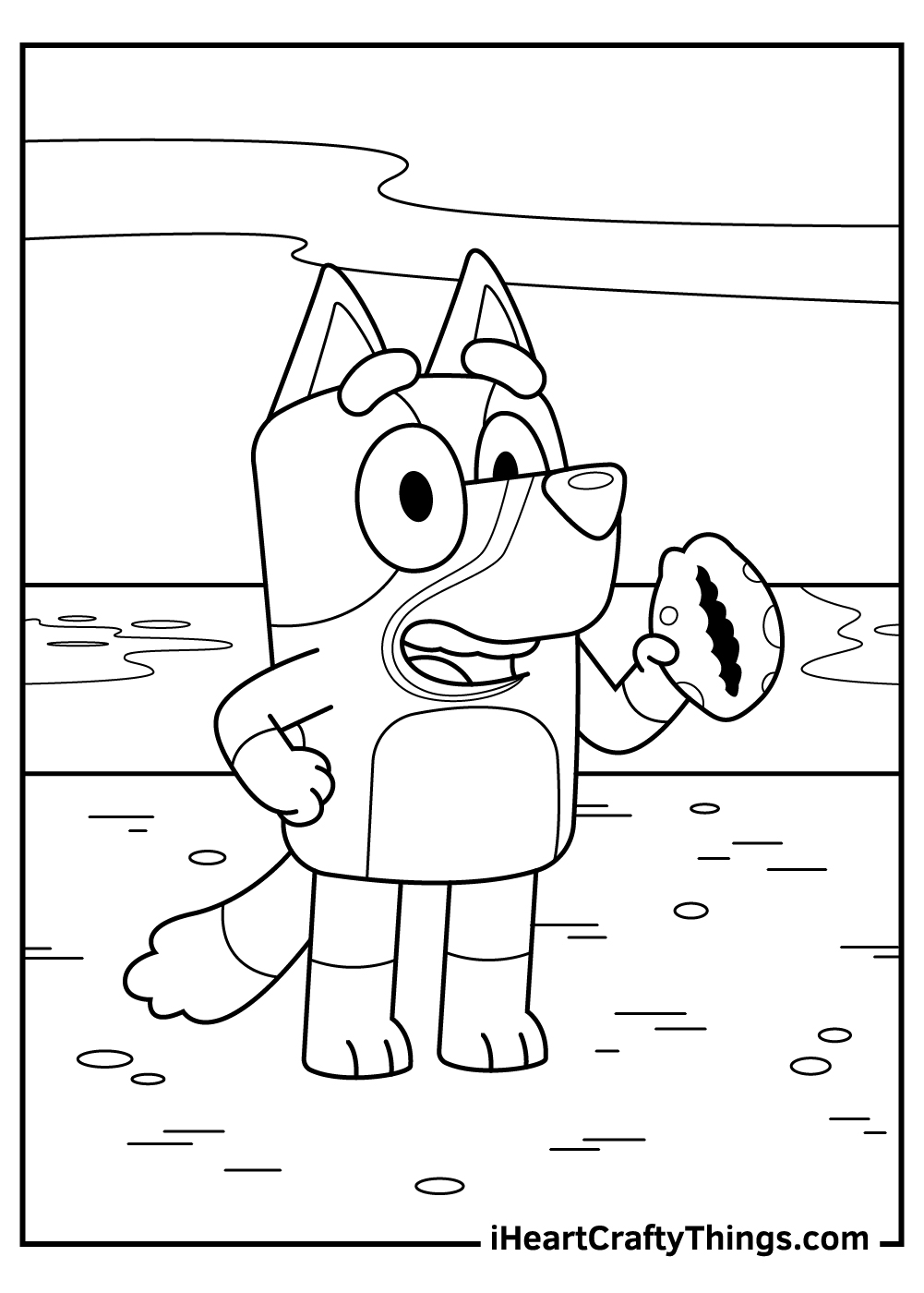 Bluey is up to mischief in this next fun scene! She is running away with s playful look on her face, and she seems to have nabbed a toy dolphin.
Maybe she is playing a game with one of her friends or family! If you think this could be the case, you could finish off this page by drawing another character who is playing with her.
If you were to do that, you could use one of the other pages in this collection to help you out as you draw the additional character.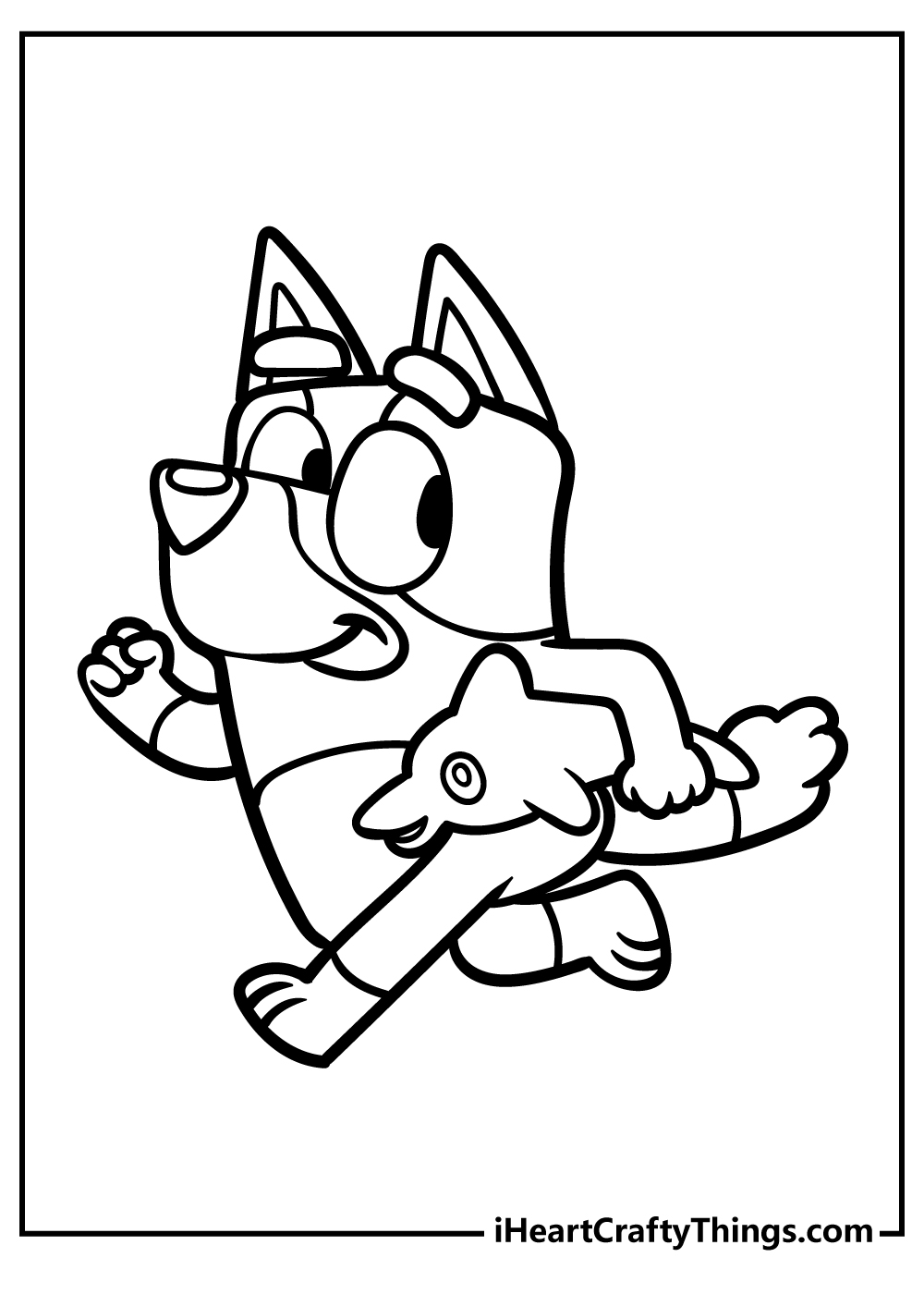 Let's create some colorful music with this next Bluey coloring page! She is holding onto a xylophone here, and there are some great details on this object.
We think that it would look great if you tried to use a different color for each section of the xylophone.
Do you think that is what you will do to color this detail of the image? If so, what kinds of art tools and mediums could you use to create some incredible colors?
We can't wait to see what you choose!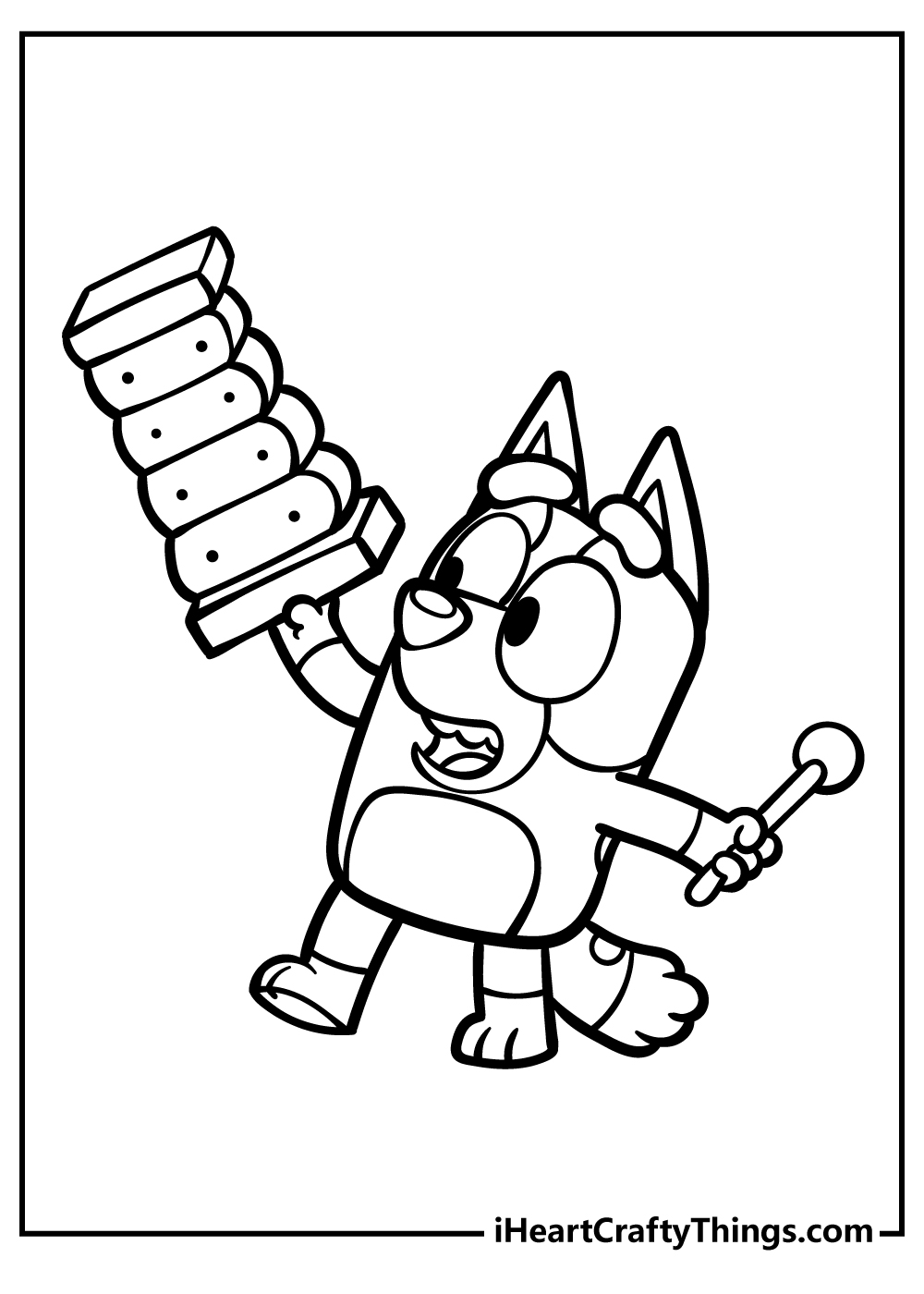 Bluey Coloring Pages – Which will you choose?
We hope you had a really great time coloring in this collection of free Bluey coloring sheets for kids!
We're sure Bluey and her family will be part of many colorful adventures once you've finished with these pages.
Don't forget that all of our coloring printables and other art goodies are free for you to print and enjoy, so why not print out a few copies of your favorite Bluey printables to try out different color variations and play with other mediums like watercolor and acrylic paints?
Please like and share our Facebook page to never miss out on our awesome free coloring pages and other printable fun that we have on offer!
We have tons of free coloring fun coming out all the time and we'd love for you to join in the fun.
Also, please remember to share your favorite Bluey coloring sheets once you've finished coloring them in so we can share in the colorful adventures with you and Bluey!