The Bubble Guppies series presents a unique idea that's hard to resist! What if there was a school under the sea for merpeople to attend?
This is the question, and Bubble Guppies provides the answer!
This collection of free Bubble Guppies coloring pages for kids is here to take you under the sea for some colorful adventures with your favorite characters.
This collection is free to enjoy, and it's also perfect for sharing with friends and family!
So take a deep breath and let's dive into this collection as we begin the first page.
15 Brand New Bubble Guppies Coloring Pages – Free to Print and Color
The first character that we have for this Bubble Guppies coloring sheet is named Goby, and he's looking super cool here!
Wearing sunglasses may not be entirely necessary when underwater, but they become very necessary when you want to have a cool style.
There are some great details to color in here, and we will be interested to see how you color Goby here!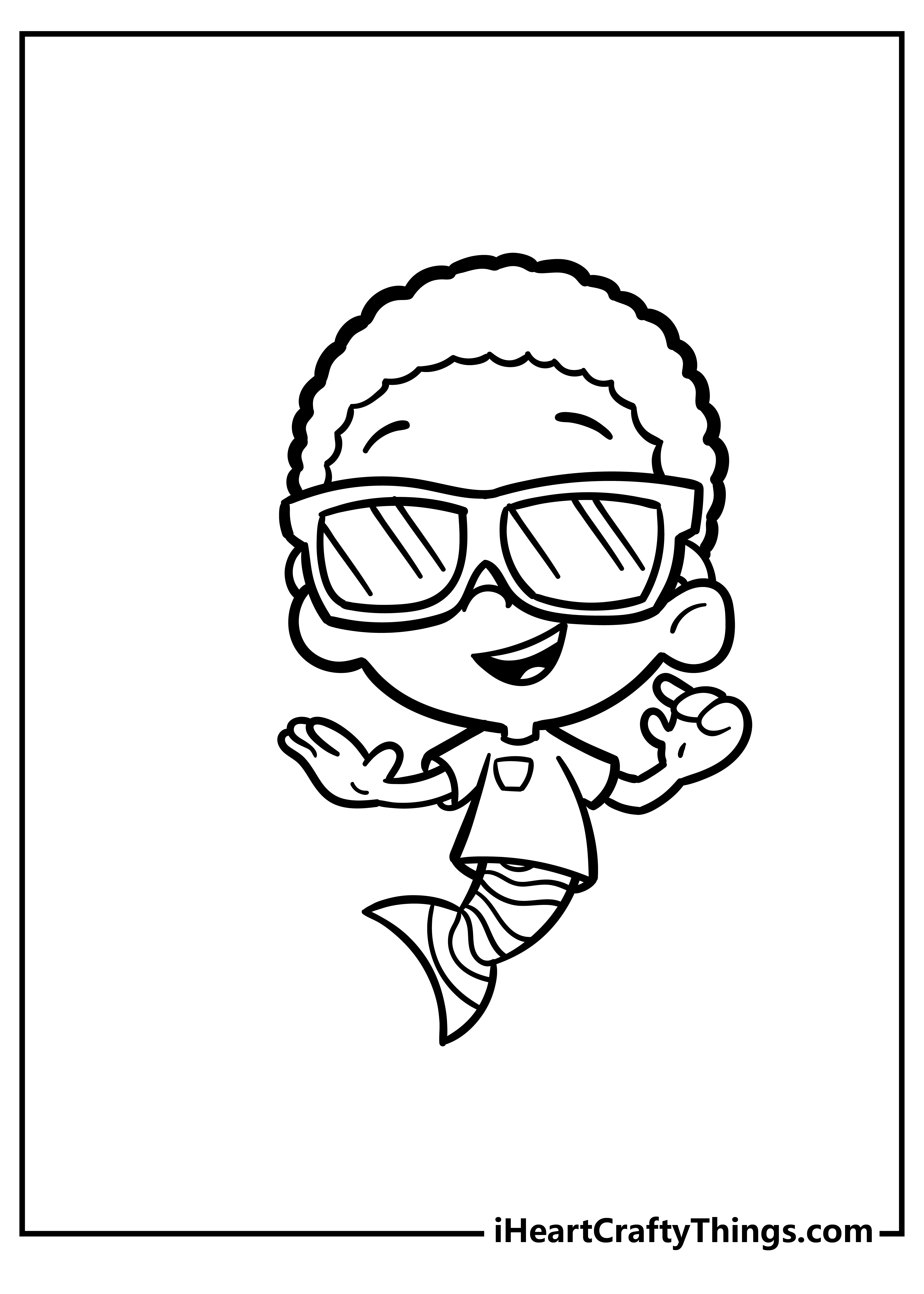 Next up, we have the character known as Molly.
In the show, she has bright pink hair with light blue fins and clothing, so you can use those colors if you would like to make her look as she does in the show.
Will you go for her usual appearance or create a unique look for Molly?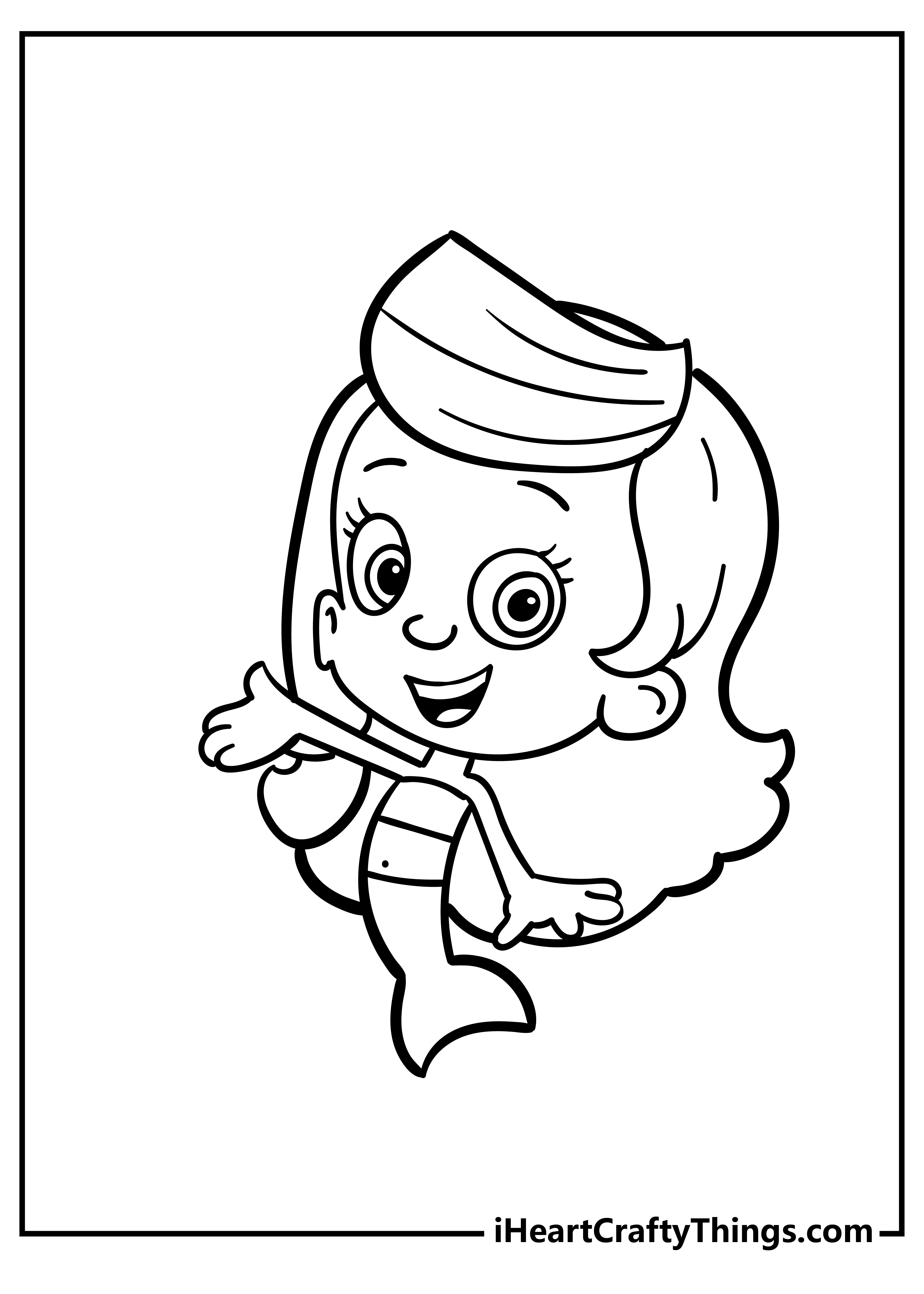 Bubble Puppy is up next for you to color, and he is looking absolutely adorable!
For this doggy character, he is usually seen with white fur and orange spots, and these colors would look great if you choose to represent them here.
Of course, it's entirely up to you, and you can create a new look for him if you prefer!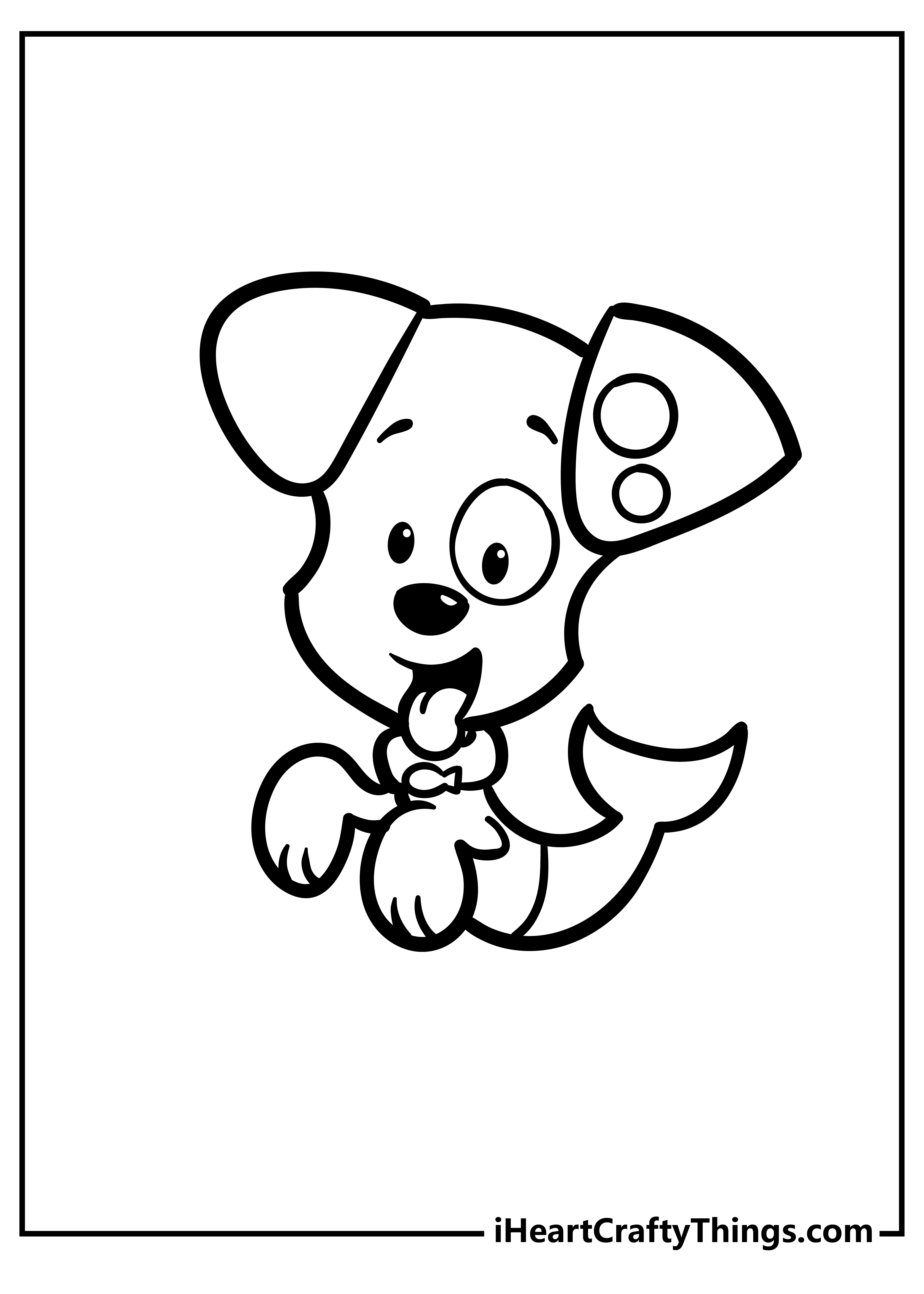 Zooli is the next character we have for you, and her outfit has a really interesting design on it.
Zooli typically has some dark purple hair, and then the swirling pattern on her clothing is colored with some pretty pinks.
This pattern could be a bit tricky to color, so we would use a colored pen to make coloring these tight spaces easier.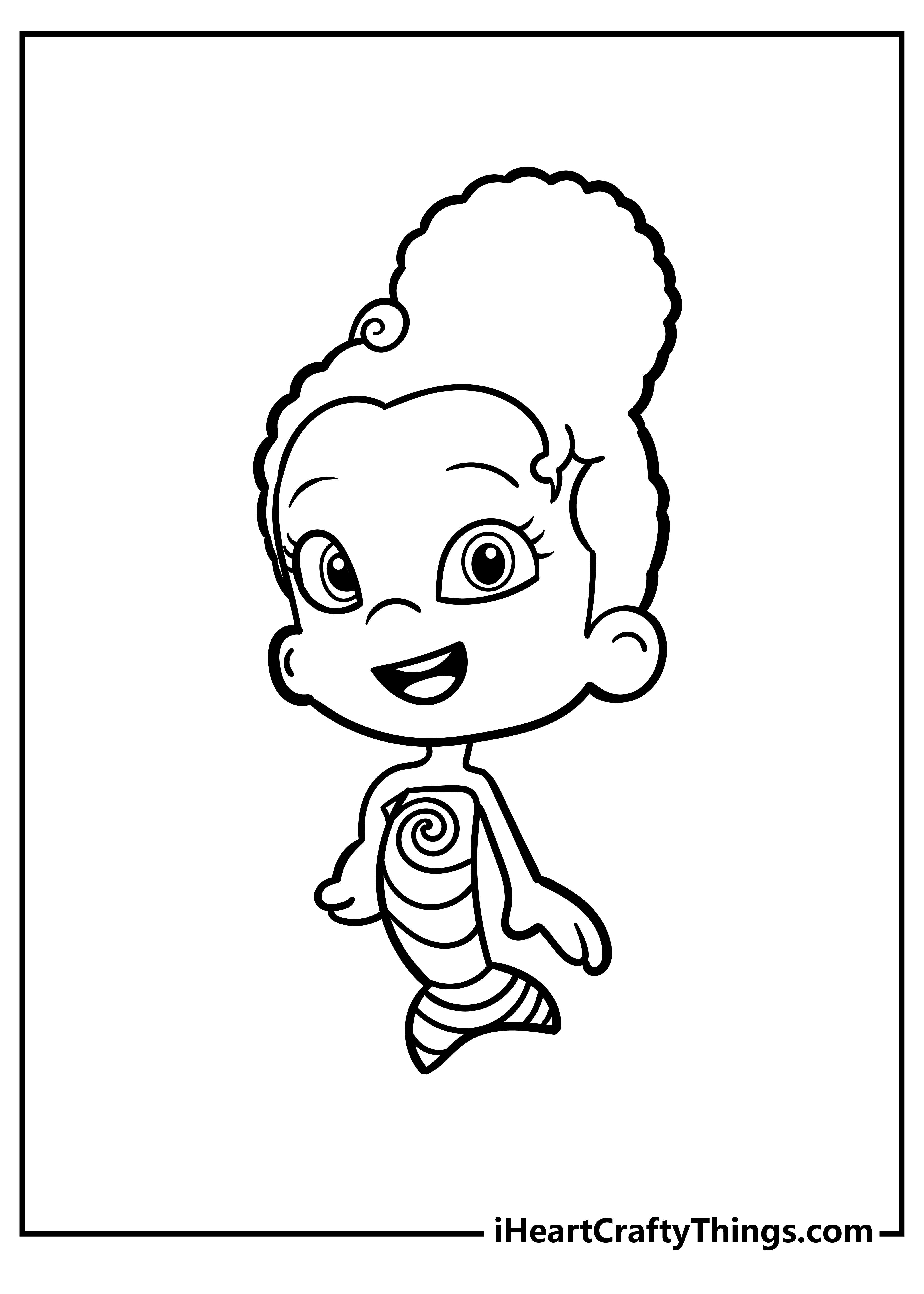 For the next page in this collection of free Bubble Guppies coloring pages for kids, we have the character Oona for you to color.
Oona's hair, outfit and accessories all have shades of pinks and purples, so if you love these colors then this should be a fun one for you to work on!
If you're not a fan of pink and purple, why not choose another color scheme instead?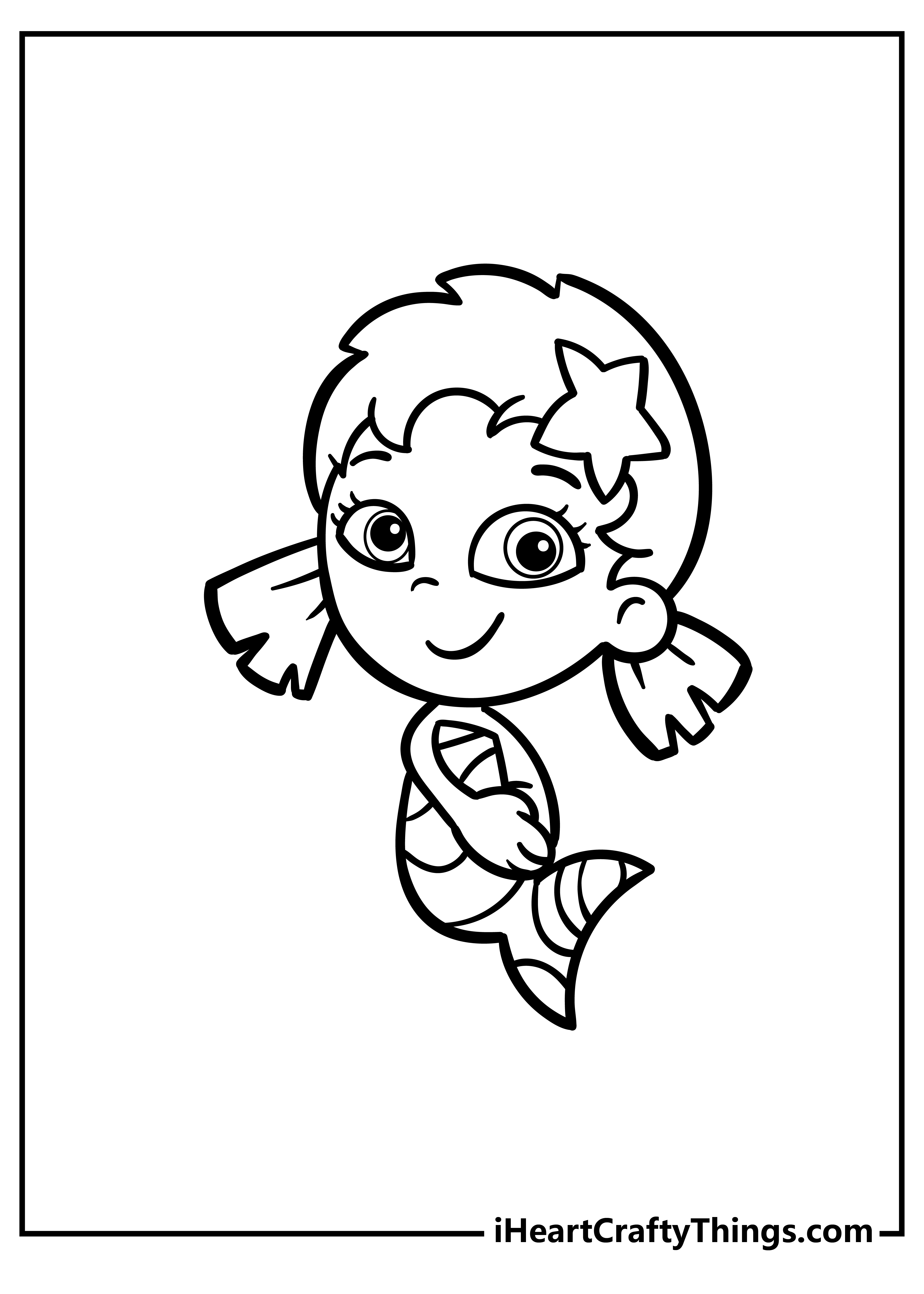 Molly is back for some more coloring fun on this next page. We saw her earlier in the collection, but she is in a different pose here.
Even if you stick to the same colors as in the previous page that featured her, you can get a new look for her by playing around with different art tools and mediums.
How will you color in this second depiction of Molly?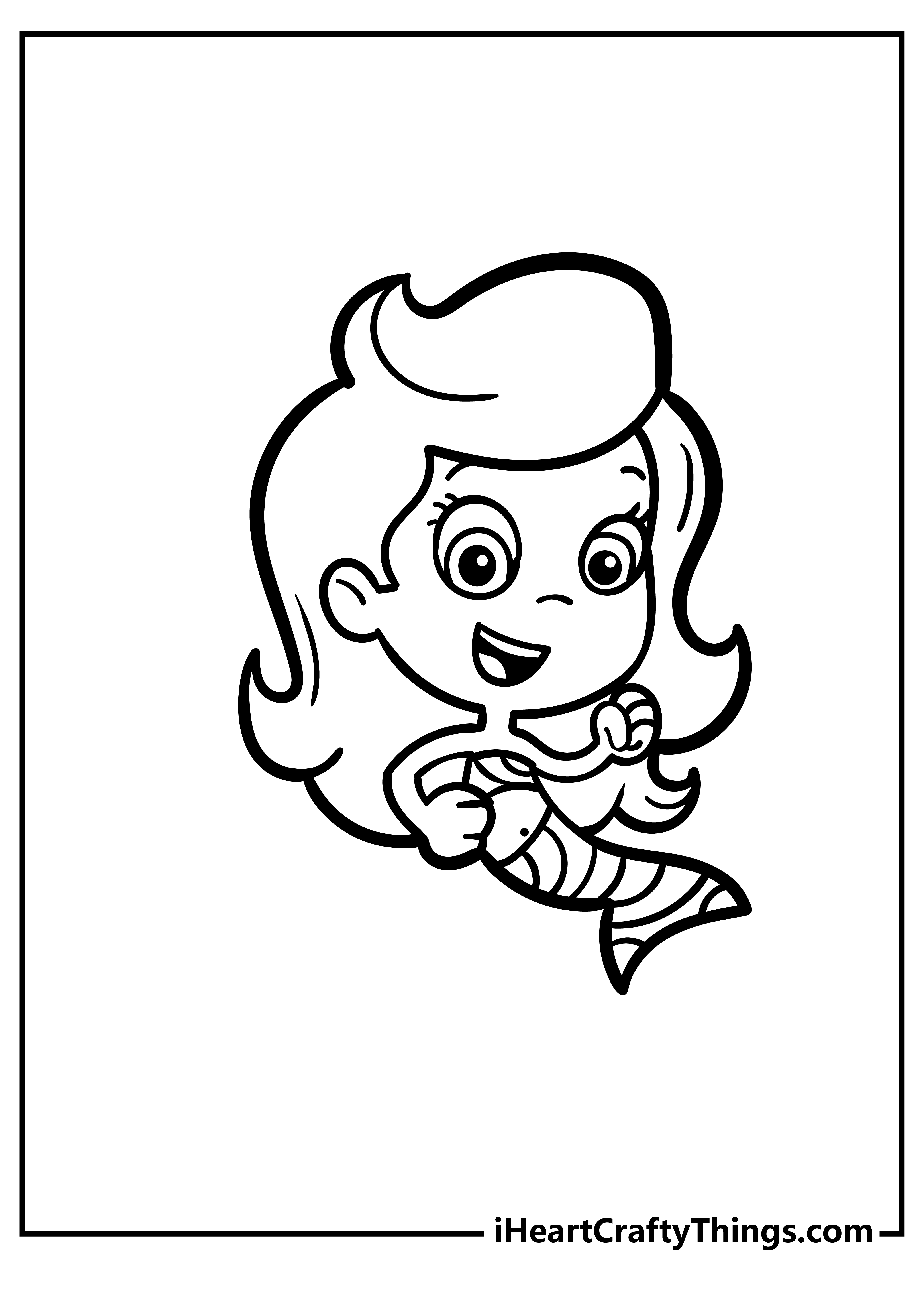 Now, we have our second character to make another appearance, and this time it is Goby. We saw him on the very first page, but now he is not wearing the sunglasses that he had on there.
Do you think you will color him in to look as he did in that very first picture, or will you try something new out?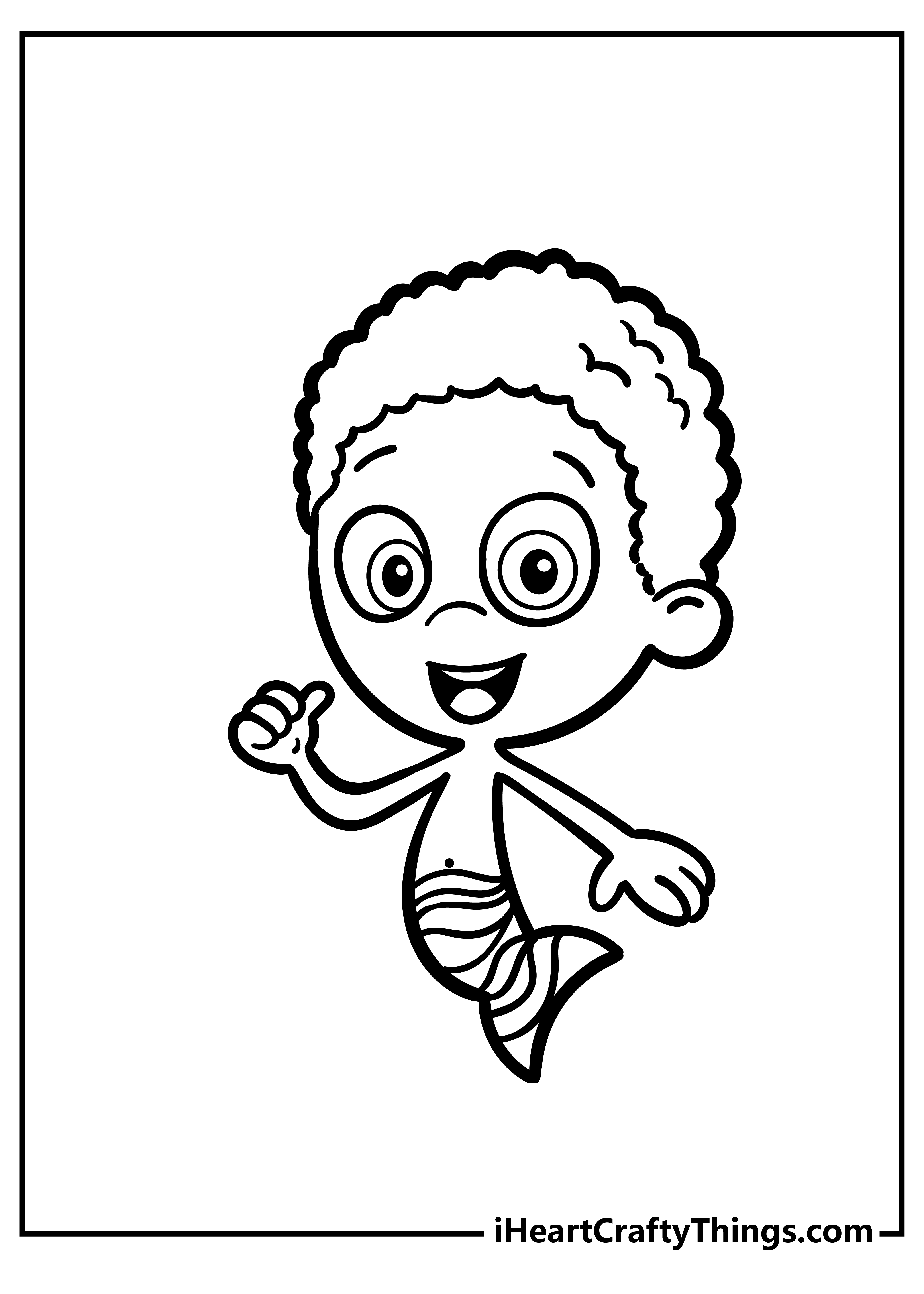 It's show time with this next coloring page! Molly is back for another appearance, and she seems to be in the middle of an appearance.
For a fun extra detail, you could choose a song that you like and use some of the lyrics in a speech bubble above her. That would make it seem like she is singing the song!
What other fun ideas like this do you have?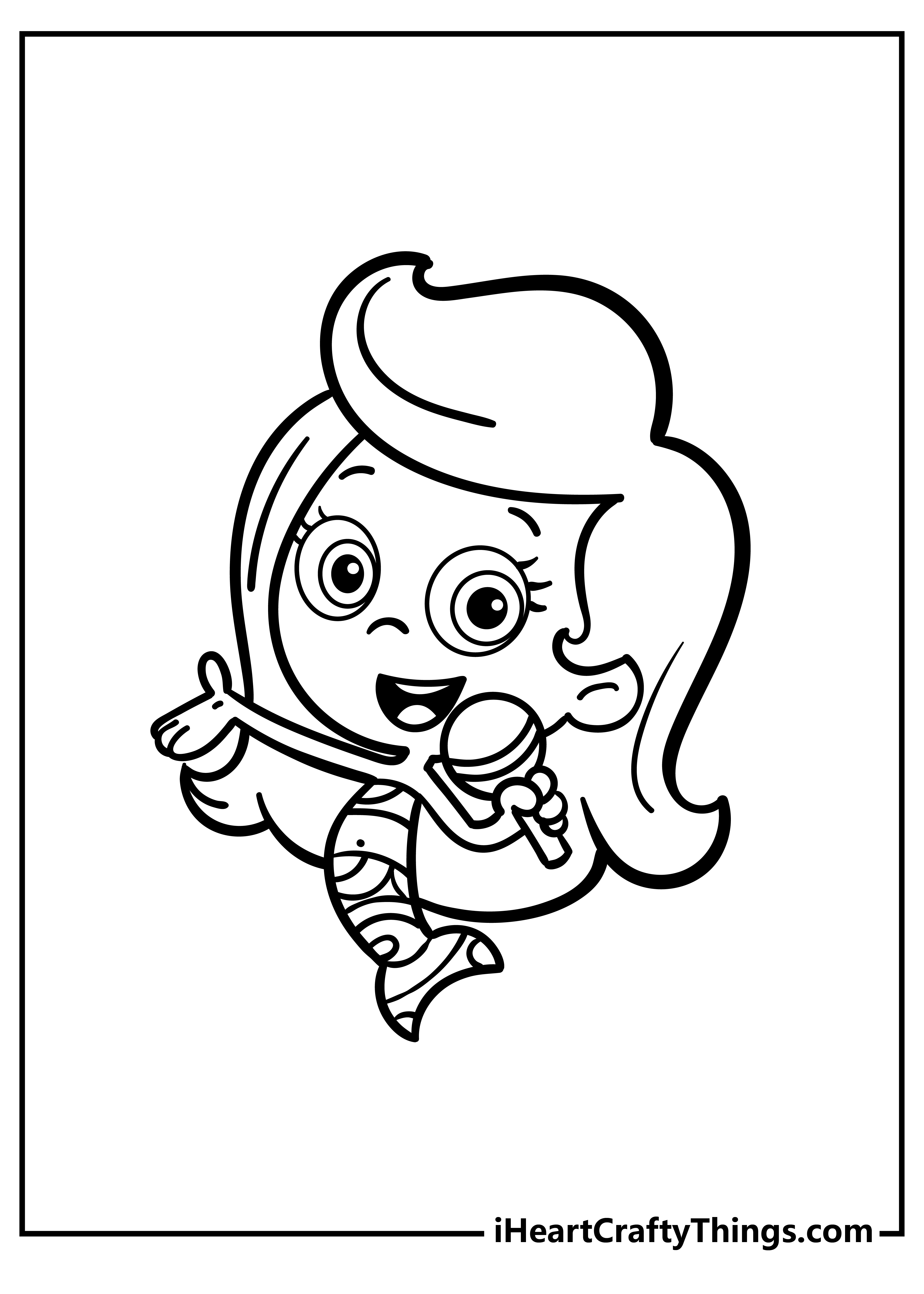 Next, we have Oona returning, and she seems to have something for you! She is wielding a bouquet of flowers, and these make for a great opportunity to use some amazing colors.
We think that using some bright colors done with a colored pen or marker would really make the flowers pop. Maybe you could try to use a unique color for each one!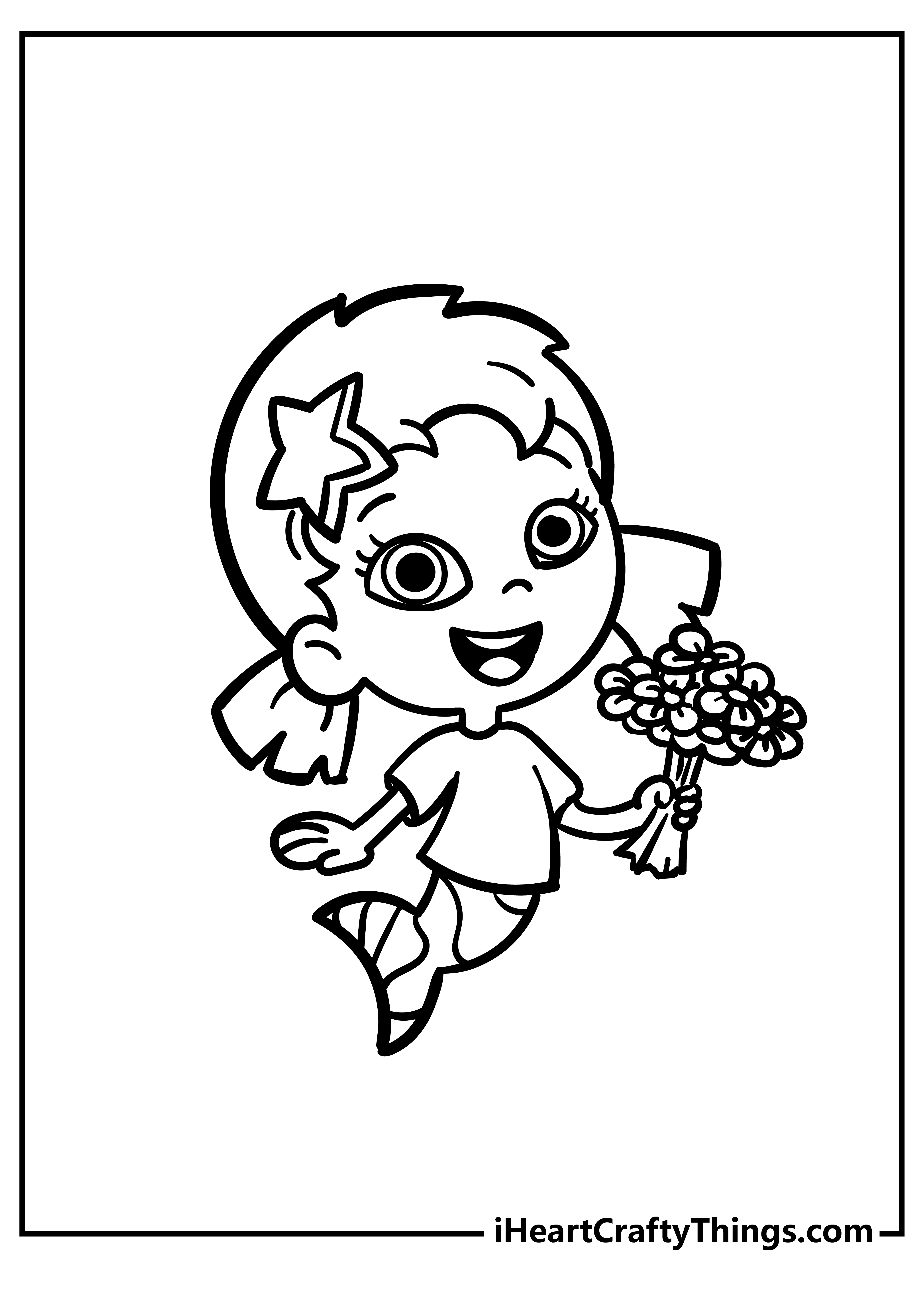 This tenth Bubble Guppies coloring printable that we have for you features good old Molly again, and she seems to be having a nice peaceful time.
When you have colored these images, remember that you can also add some extra details or background elements!
For example, you could take a location from the show and draw it into the background.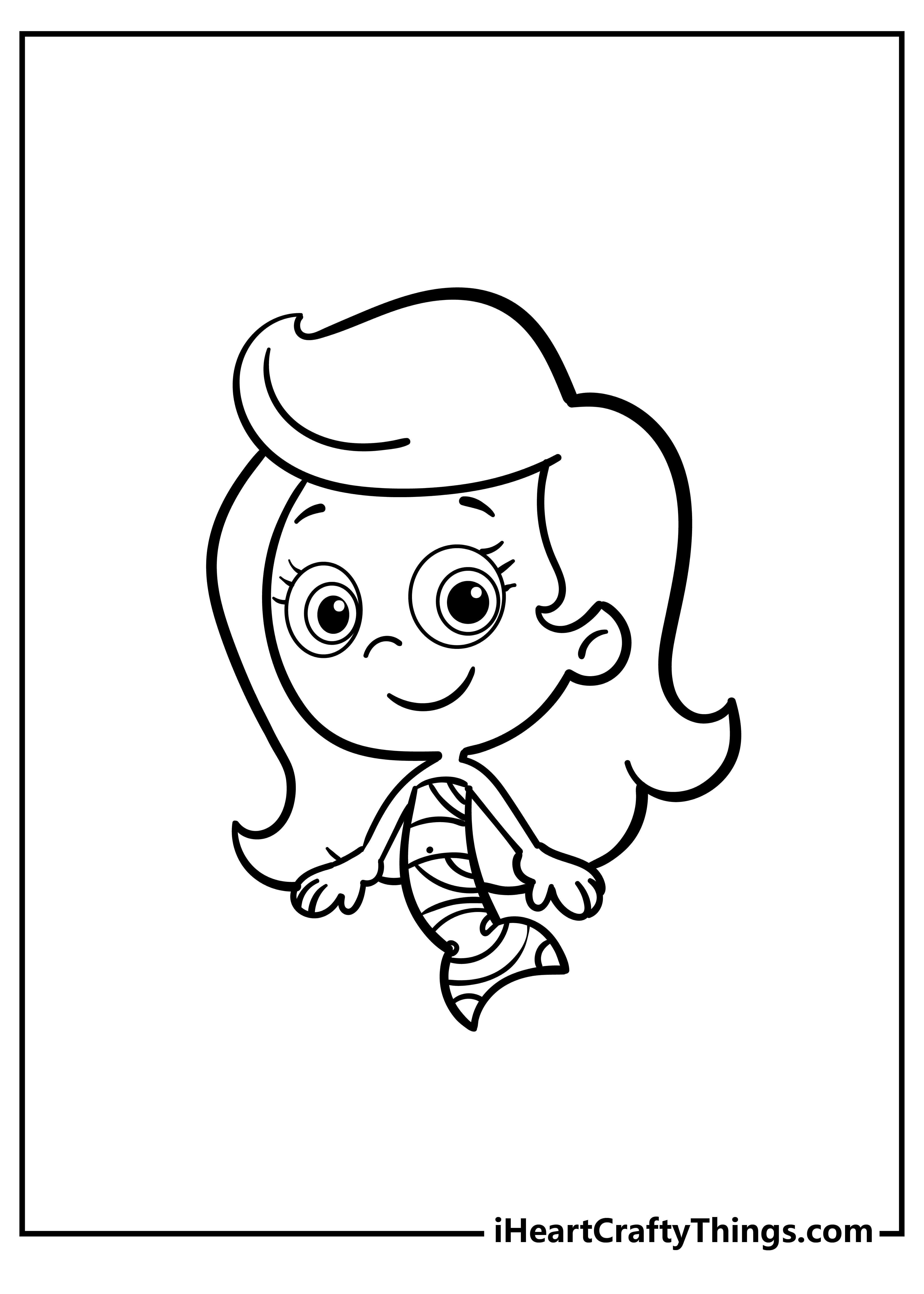 Now it's time for a character we haven't seen in this collection so far: Deena! Deena is a brightly colored character, as her hair is bright and yellow while her outfit is a striking orange.
If you use these usual colors for her here, this will be one of the most colorful pages so far! We would also use some bright mediums like markers or acrylic paints to make the colors strong.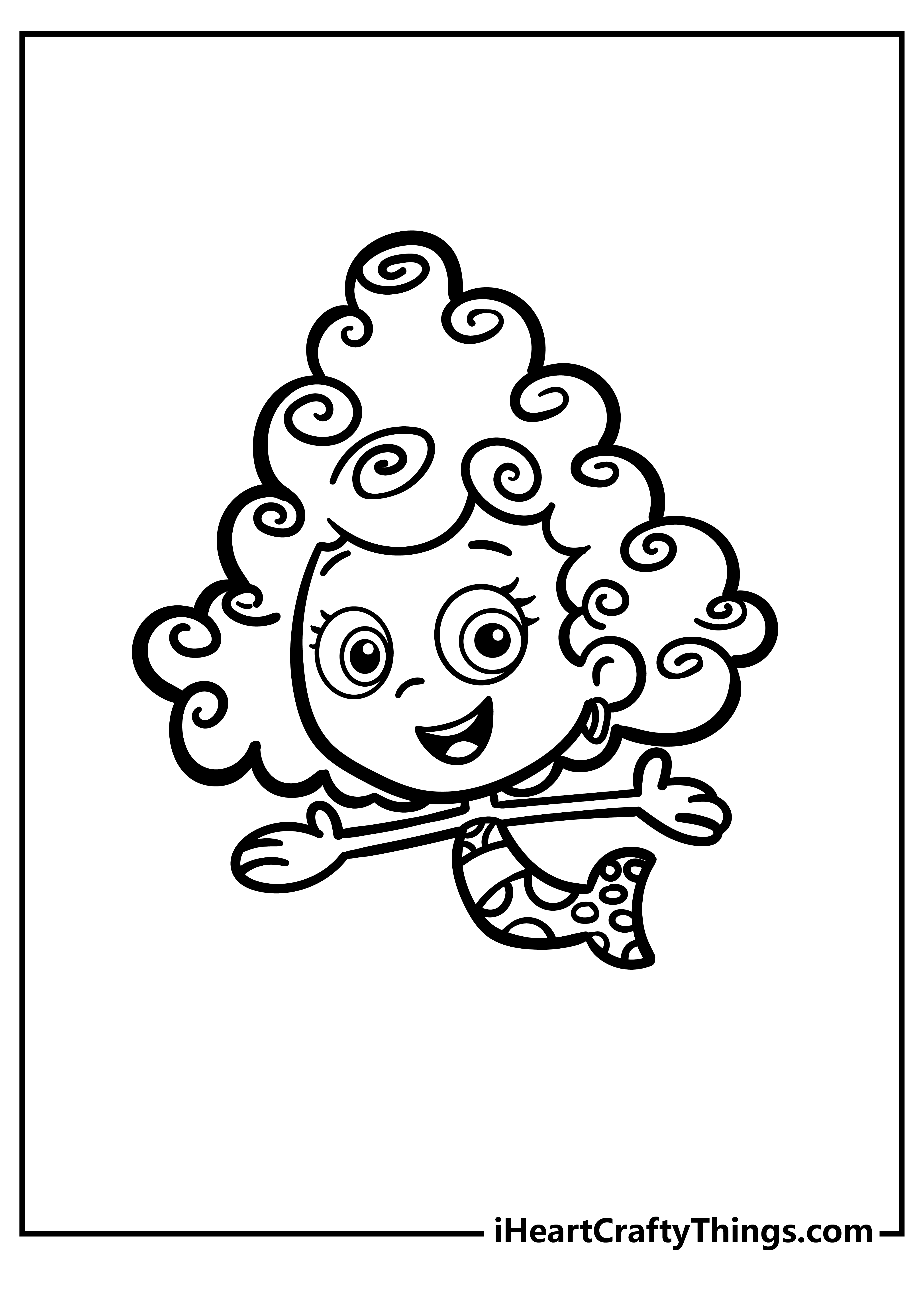 The character Nonny is the star of this next page. He has a rather simple yet effective color scheme of orange hair with a green fin, and these colors go really well together!
What colors will you choose for his goggles here? We will be interested to see what you do!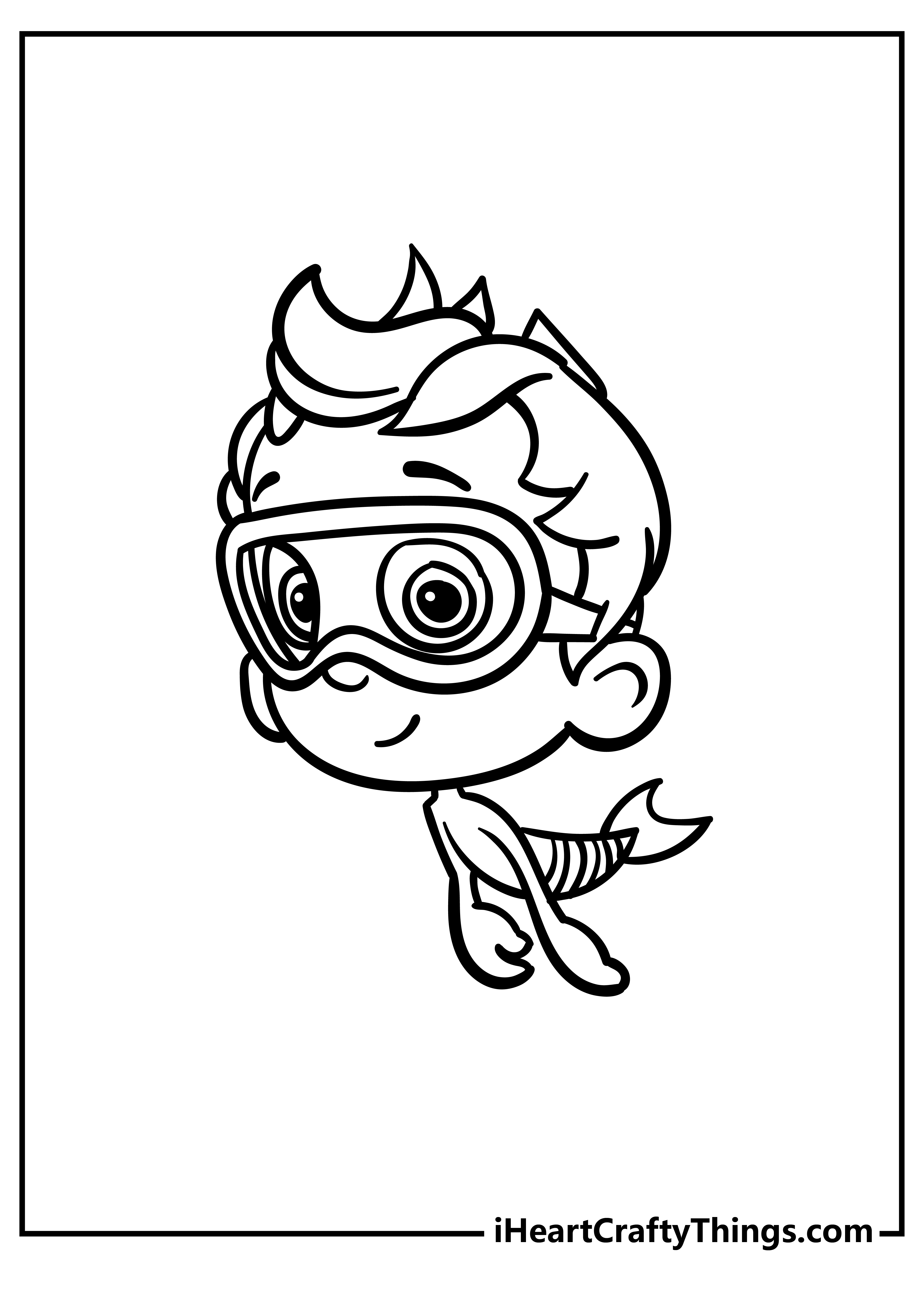 We have another picture for fans of Zooli up next for you to enjoy!
Remember that her color scheme is made up of mostly purples, so you'll want to have all of your favorite purples on hand for this particular page. Will you use purples or create a new look?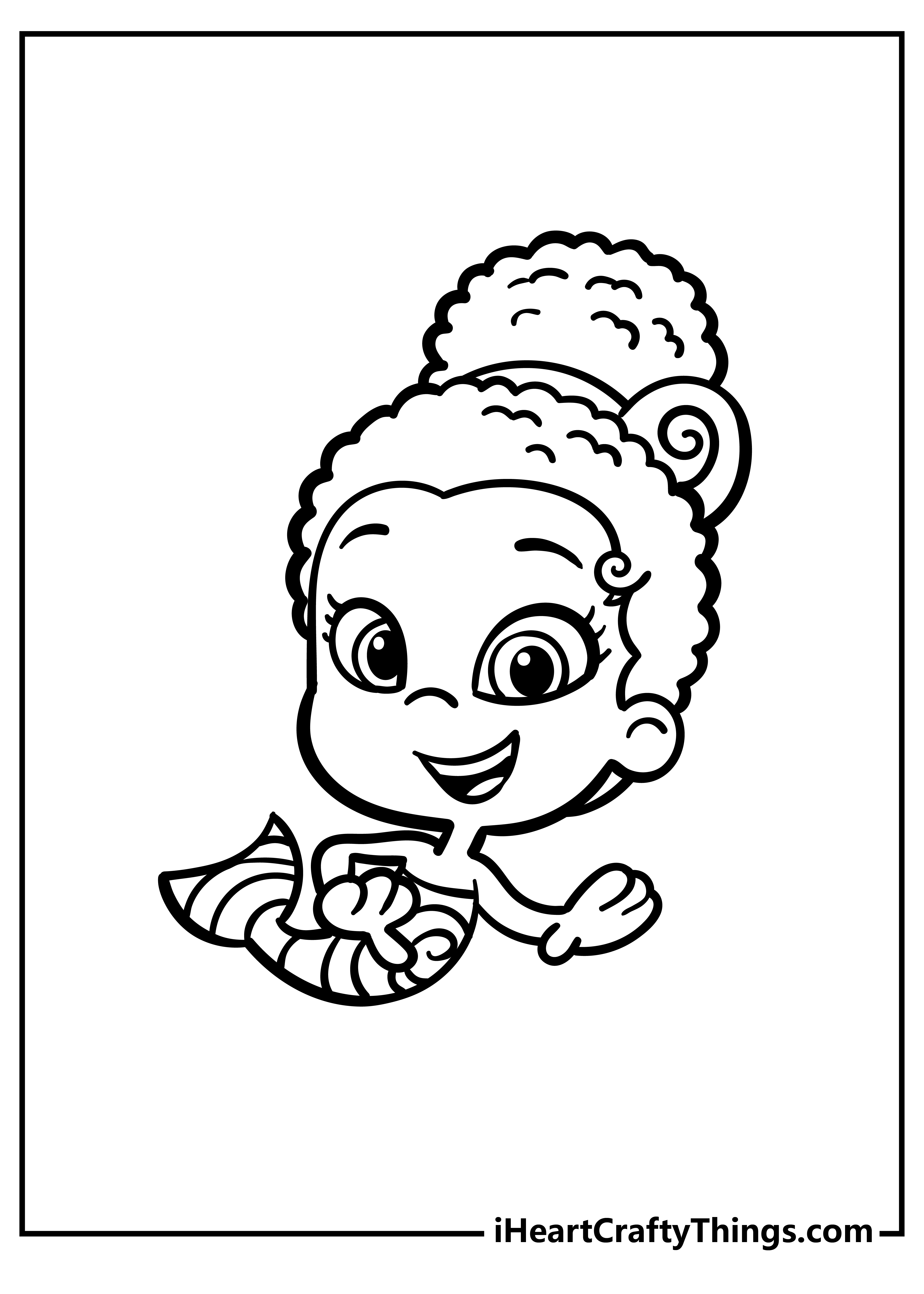 There's one more picture of Goby for you to color before we reach the final image of the collection.
He is looking happy and confident here, and we think it could be fun to draw in some funny fish or sea life designs that are swimming around him.
That's one idea, but how else can you add to the scene?
We can't forget Gil, and he is the final Bubble Guppies coloring sheet character that we have for you.
Gil has blue hair with a fin that is colored with shades of greens, and these colors will look awesome no matter how you use them!
You could also use many other favorite colors, so let your creativity flow for this final page.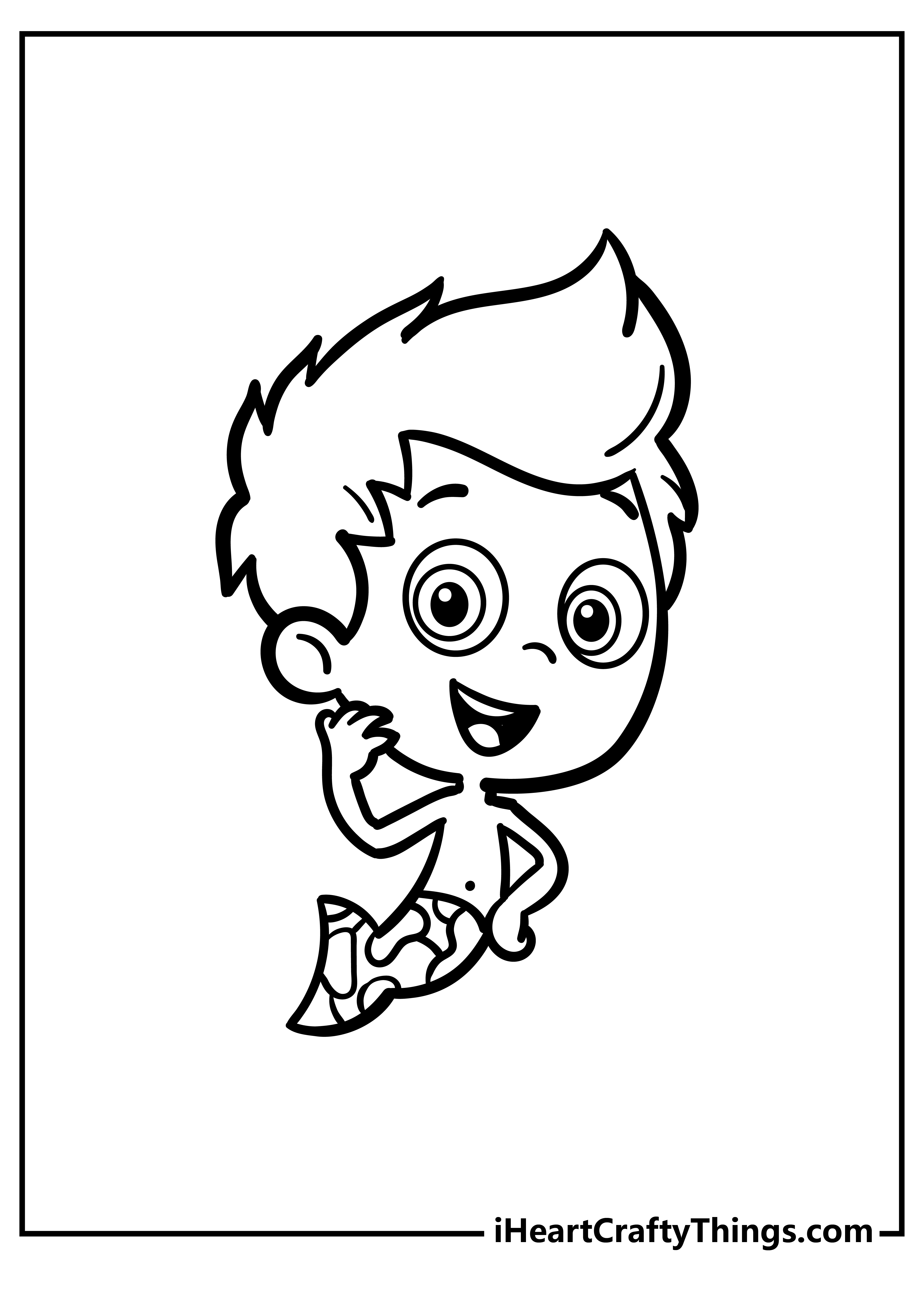 Bubble Guppies Coloring Pages – Which will you choose?
We hope that you enjoyed this deep dive under the sea with this collection of free Bubble Guppies coloring pages for kids!
We hope that you got to have some coloring fun with all of your favorite characters and that you enjoyed getting creative.
Now that you have completed your favorite pages, we hope that you will share them on our Facebook and Pinterest pages for us to see and enjoy! We would love to see how they turned out.