On this page, you will find 21 all new Sponge Bob coloring pages that are completely free to print and download.
First aired in 1999, SpongeBob SquarePants is a comedy animated series developed by Nickelodeon. SpongeBob is a yellow sea sponge who lives in a pineapple under the sea.
His neighbors are Patrick Star and Squidward Tentacles. He enjoys being a cook at Krusty Krab, serving the iconic Krabby Patty.
Until now, SpongeBob has remained as the favorite character of kids of all ages.
The extreme popularity of SpongeBob SquarePants has prompted us to craft and compile free cute SpongeBob coloring pages.
If your kid is a fan of SpongeBob, then coloring these cute SpongeBob coloring sheets is the perfect activity that the kids will surely enjoy.
Take your kid to an adventure deep into the sea in the Bikini Bottom with these cute Spongebob coloring printables.
Simply choose an image, download it, print it out, and finally—the most fun part—color it!
Have fun and unleash your creativity!
Cute Sponge Bob Coloring Pages — All-New Printable Sheets
This cute Spongebob coloring sheet shows this character doing what he does best: having a good time! He seems to be enjoying a dance here, and he is showing off some cool moves.
We think that this page would be a perfect one to use some bright colors and mediums on.
Spongebob is usually colored with some bright yellows, so some colored pens or markers would be perfect for making the yellows really pop.
That's one way you could color him in, but it's not the only way! What else can you think of for this image?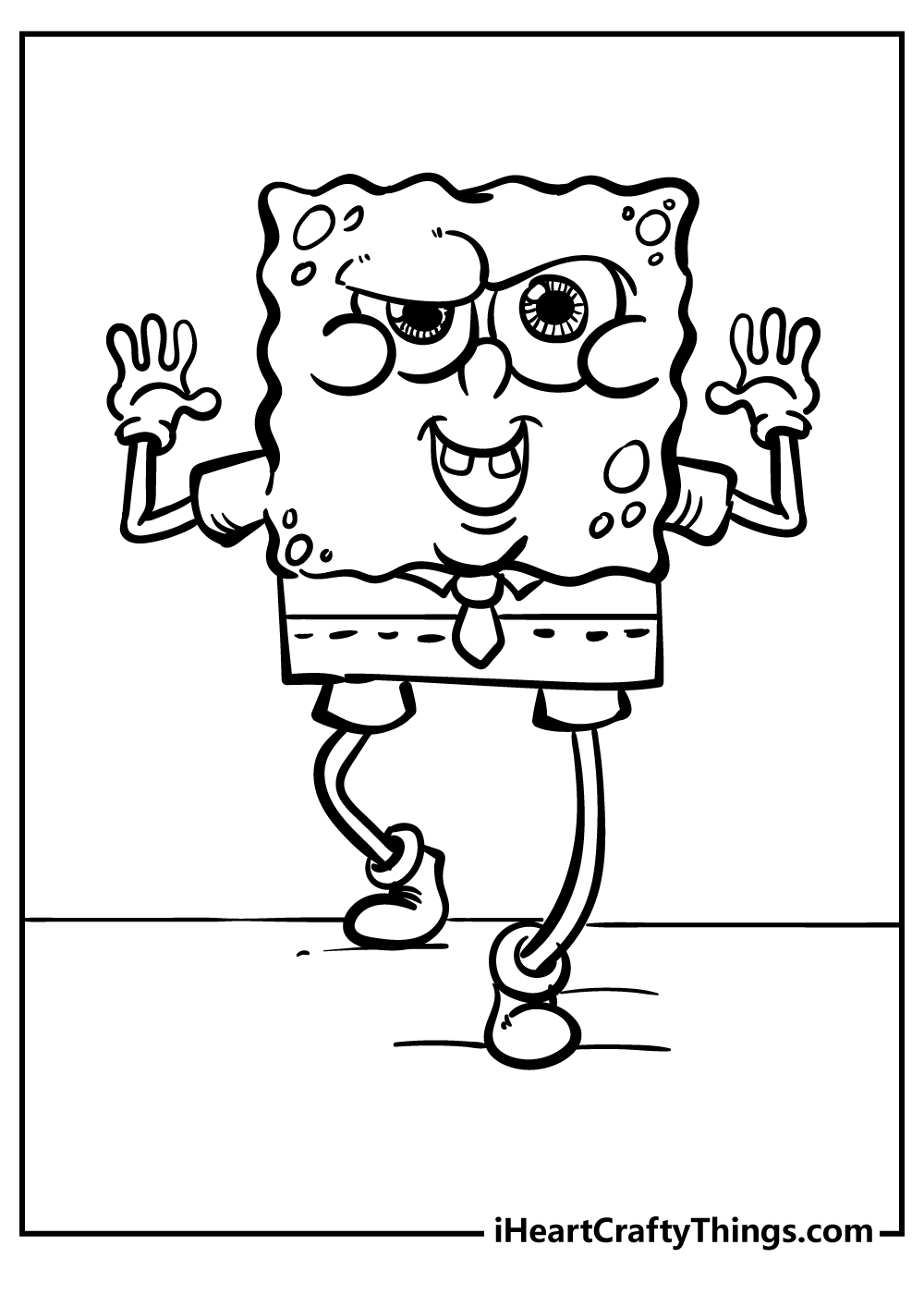 Spongebob is a wacky, happy character, and this next page really captures that side of him! He gets pretty easily excited, and he is definitely showing that here as well.
A big detail of this particular picture is that his tongue is hanging out, and if you were to use some bright reds for that detail it would contrast well with the yellow.
It's another picture that we think would be well suited to some bright, vibrant colors. It will be great to see how you choose to color this happy scene featuring our favorite sponge!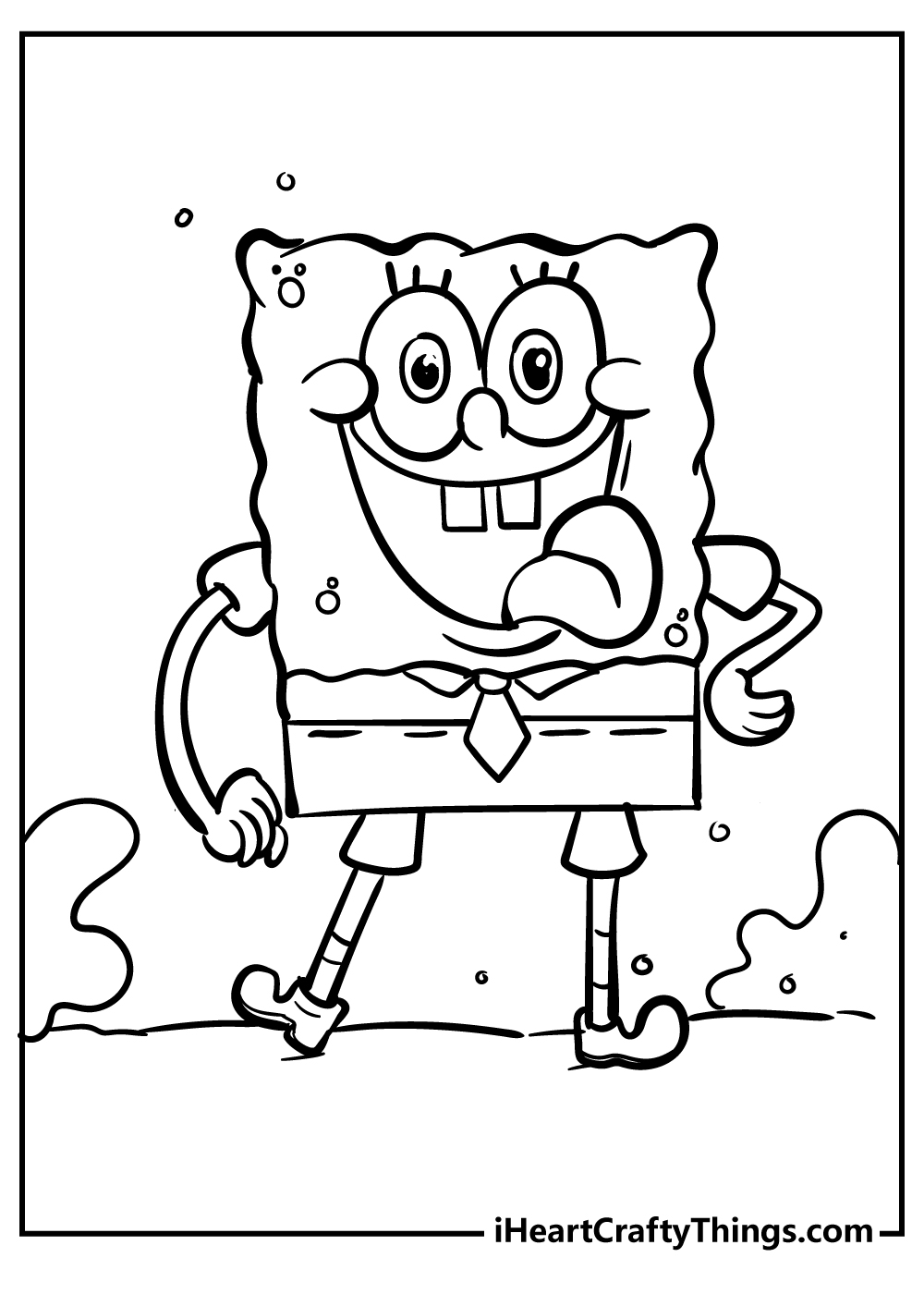 SpongeBob, as seen in this cute SpongeBob coloring page, is so friendly that he's friends with nearly everyone in the Bikini Bottom.
He's in his typical friendly facial expression with his arms spread wide open. This is probably how SpongeBob welcomes visitors in his house.
There's a lot of stars in the background. We suggest using a variation of bright colors such as red, orange, yellow, blue, green, and white for the stars to perfectly match the vivid yellow color of SpongeBob.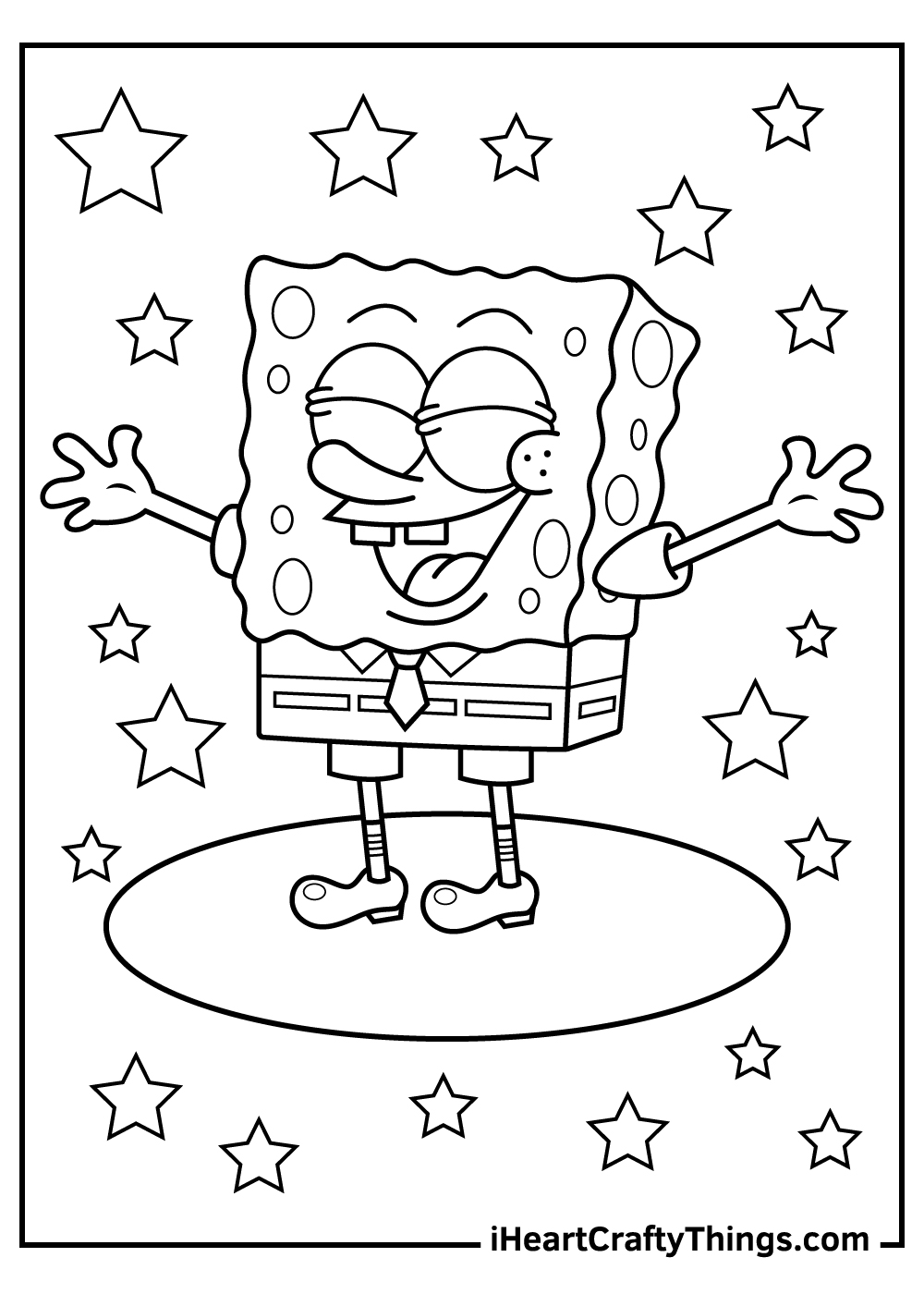 Patrick Star comes over to SpongeBob's house very often, as shown in this cute SpongeBob coloring page. This image shows Patrick stepping inside SpongeBob's house while waving his one hand hello.
He has a huge grin on his face, but his eyes look as clueless as ever. Perhaps SpongeBob and Patrick are up to some fun adventure in Bikini Bottom!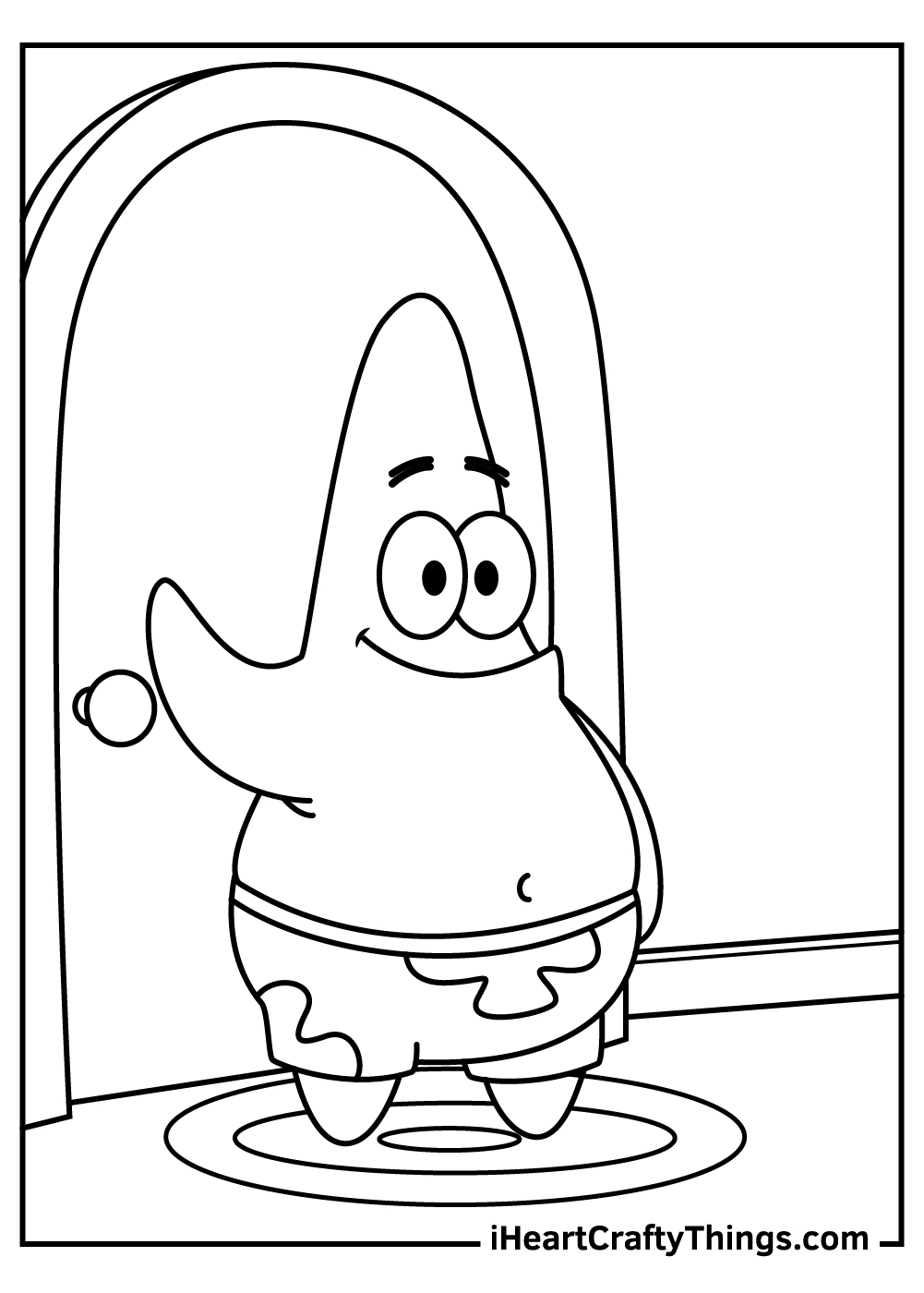 There's some kitchen chaos going on in this scene! Spongebob values his position of chef at the Krusty Krab very highly, and here he seems to be getting a bit too carried away as he makes some burgers.
There are some buns above him here, but you could add some extra details to make this picture even more fun.
He could be throwing around some ingredients for the famous Krabby Patty hoping that they will all land in the right way!
What are some extra ingredients and kitchen objects you could show him juggling?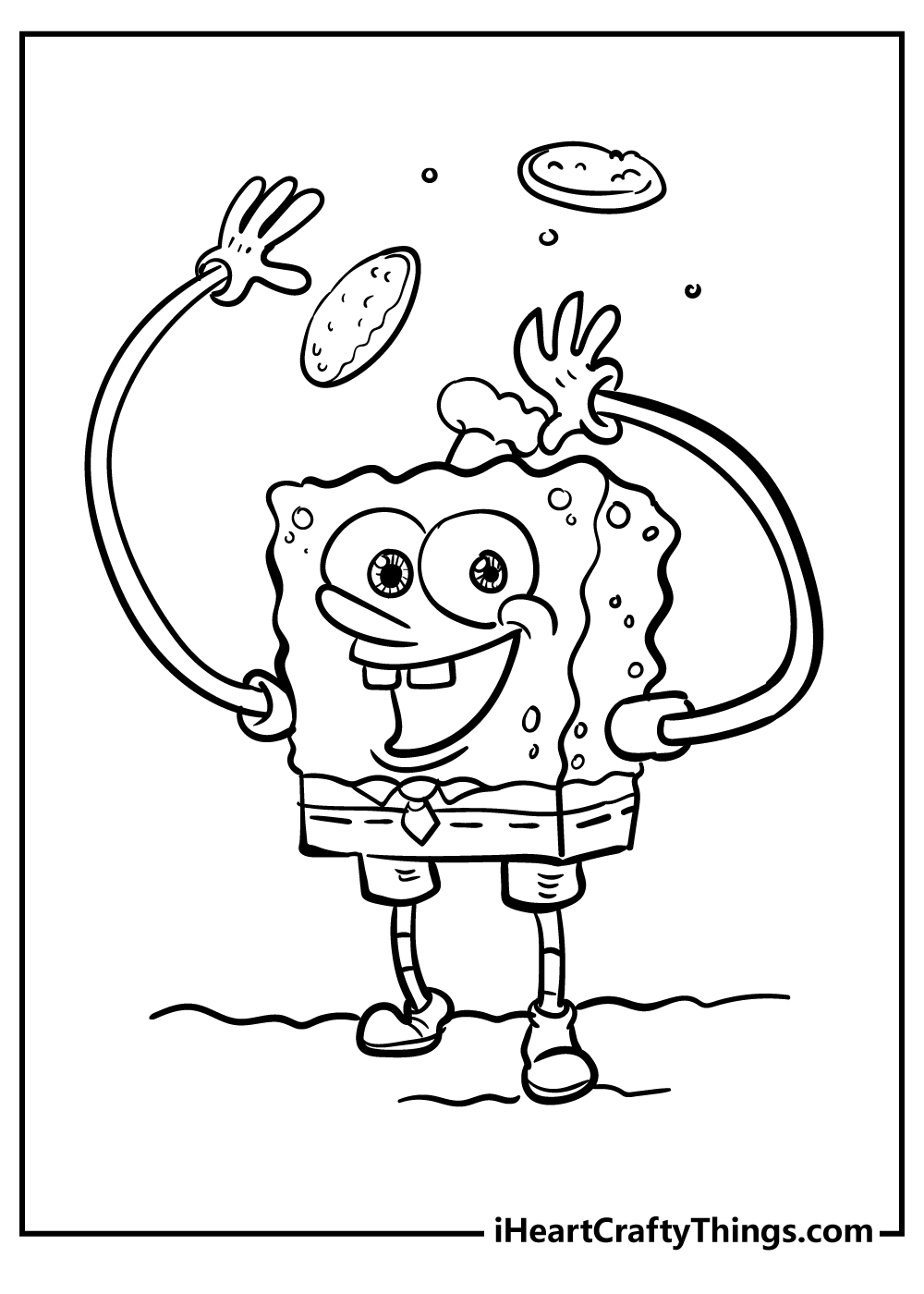 This next page in our collection of free cute Spongebob coloring pages for kids again showcases the wonder and delight that Spongebob is usually experiencing.
What do you think he could be looking at here? One of his favorite pastimes is catching jellyfish, so maybe he could be looking at one here.
If you have some ideas on how to finish off this scene, you could print this page on a large piece of paper so that you have plenty of room for some extra details. What kind of scenes can you think of?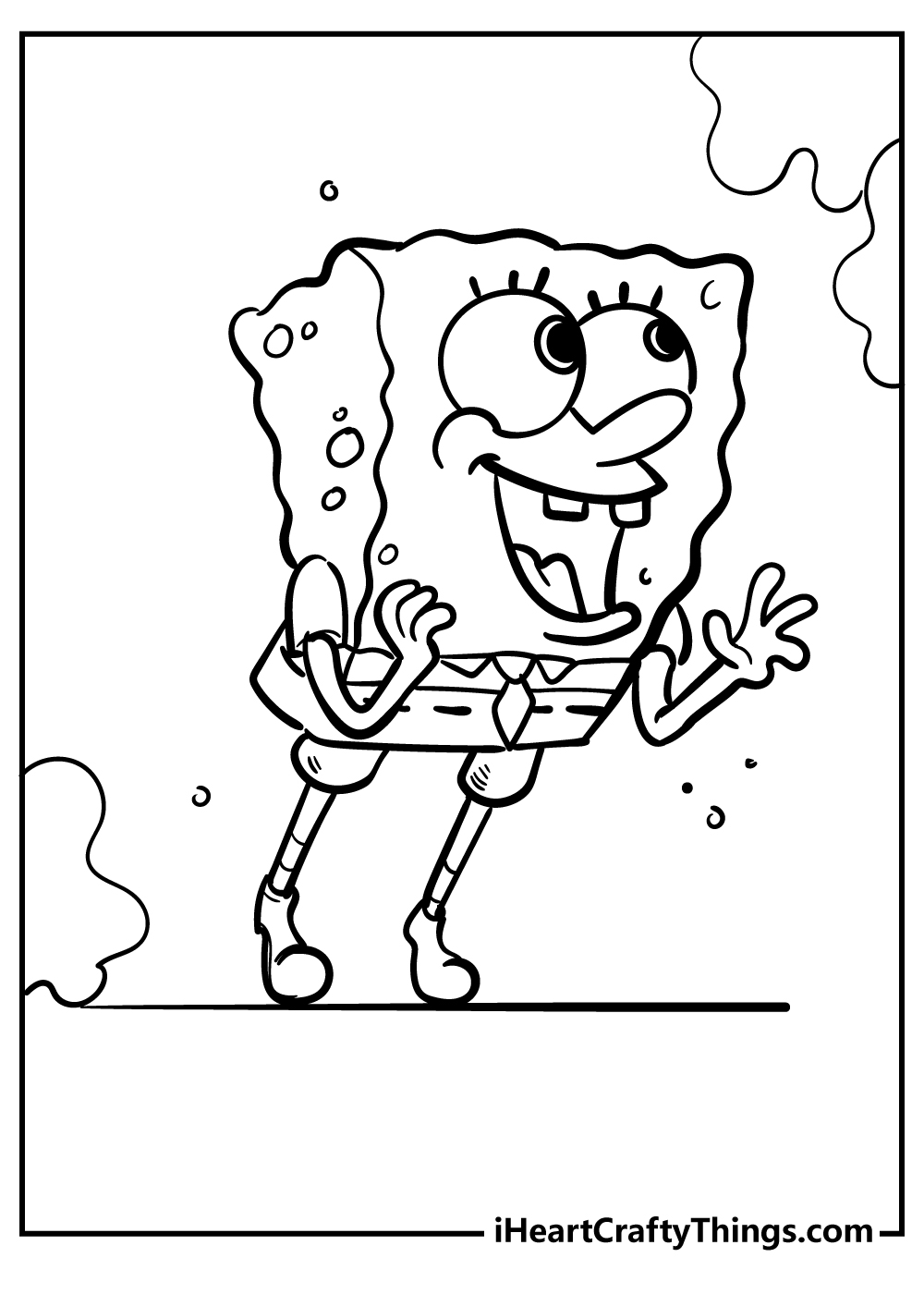 In this cute SpongeBob coloring page, SpongeBob is standing upright in his usual friendly facial expression.
He has a huge grin on his face and his eyes are wide open. It looks like SpongeBob is having a good day!
Imagine living in Bikini Bottom and being neighbors with SpongeBob. That must be so fun!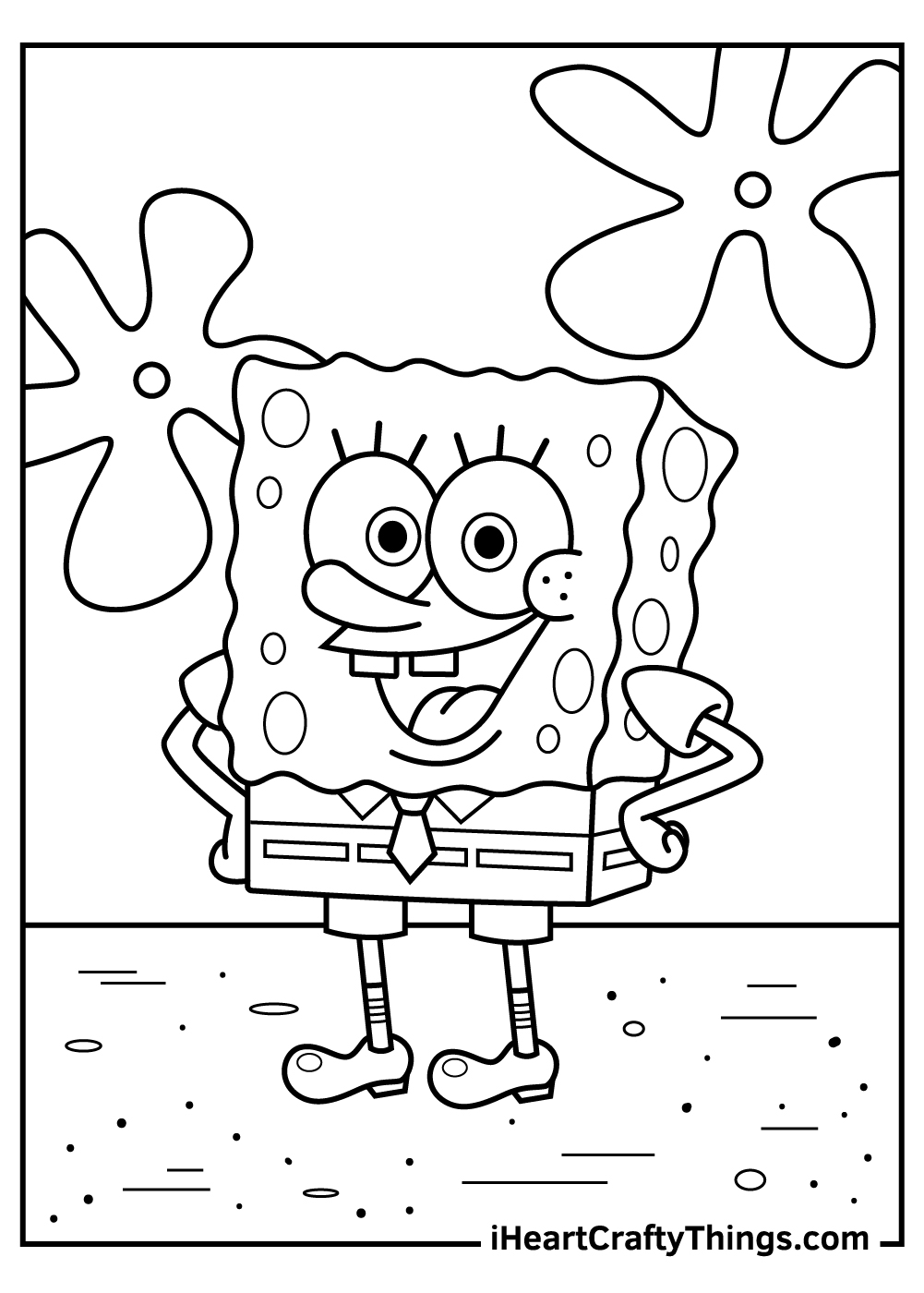 This cute SpongeBob coloring page shows Larry, Spongebob's pet sea snail, in a good mood. Larry looks extremely happy with its wide open eyes and delighted smile.
Did you know that Larry talks like a cat? But despite only being able to communicate through meows, SpongeBob can understand and talk to him.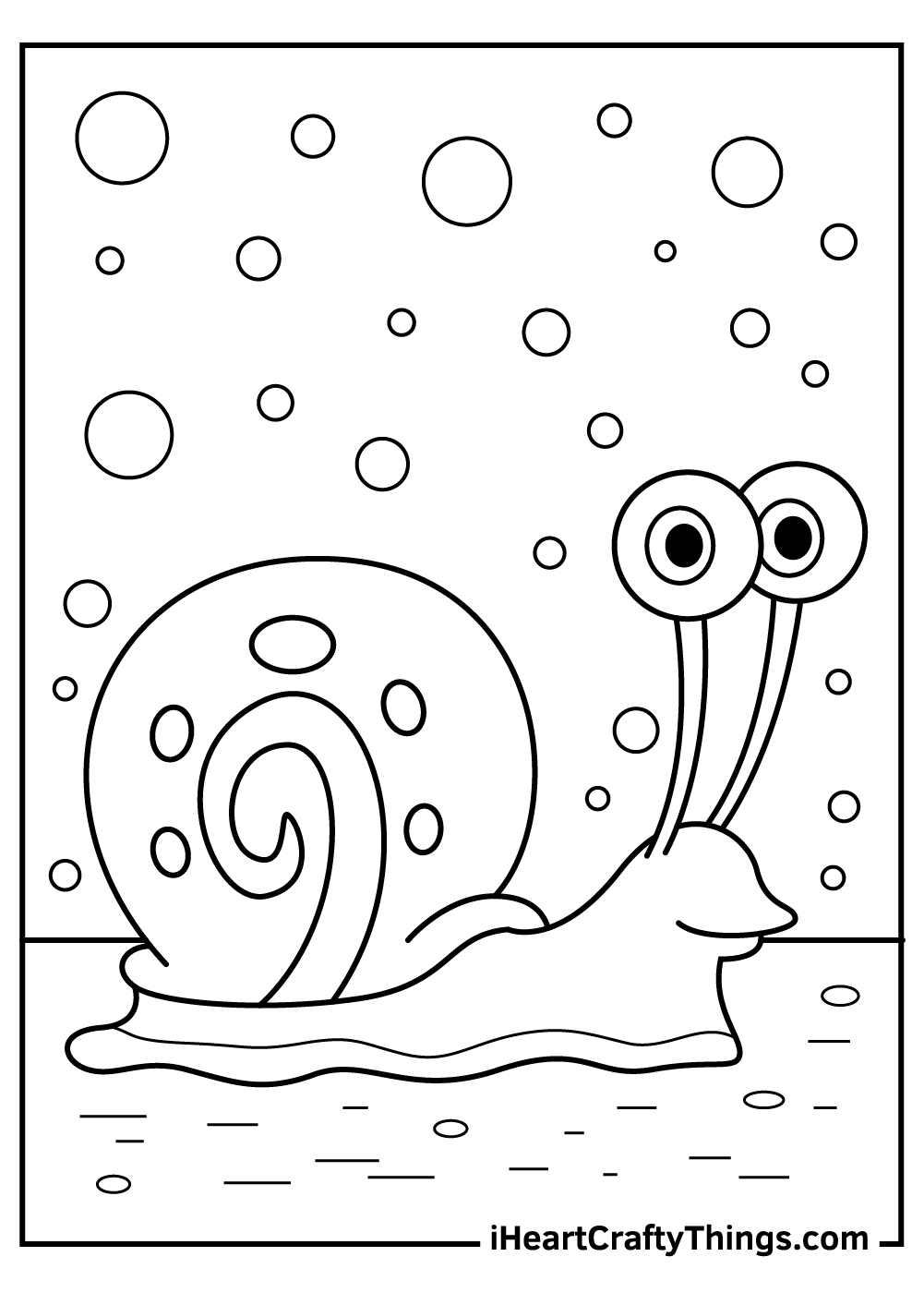 We're really feeling the love in this next picture! Spongebob is a character who really loves all of his friends and is never shy about showing it.
His eyes are covered with some hearts that have various layers, so you could use some lovely reds, pinks or purples for these details.
If you want to color in the layers of these hearts, then some colored pens or markers would be perfect for filling in these small spaces.
What other ways can you think of that you would use to color this loving portrayal of Spongebob?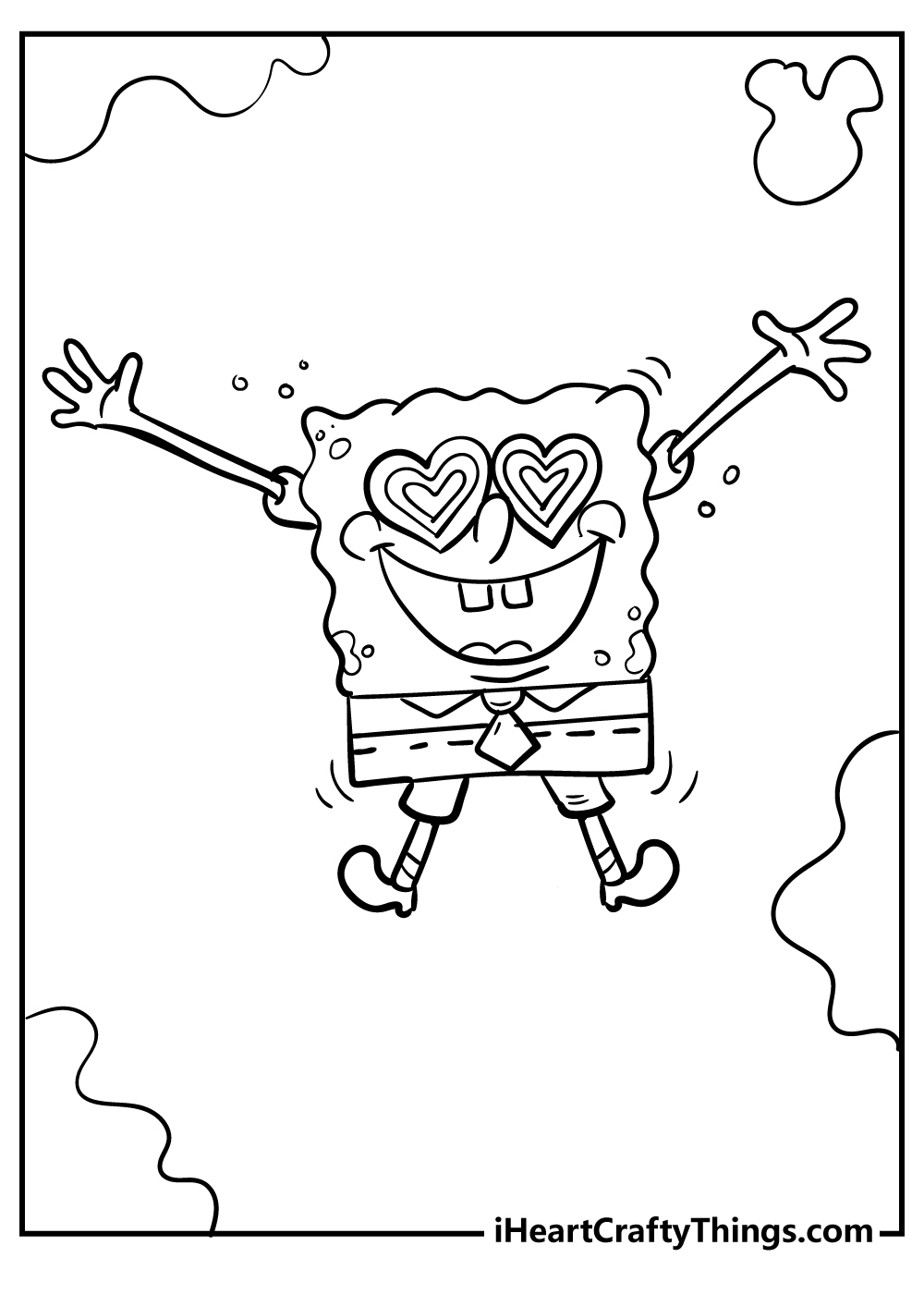 Let's check out some more dance moves in this next image! Here we see Spongebob doing another happy dance, and you can have an equally happy time coloring him in.
If you have a favorite song that you like to dance to, you could write some of the words above him and draw some music notes around him.
That would make it look like he is dancing to your favorite song! That is one fun idea you could use when coloring this page, but are there any other creative ideas you have?
We would love to see what else you can think of when completing this groovy page.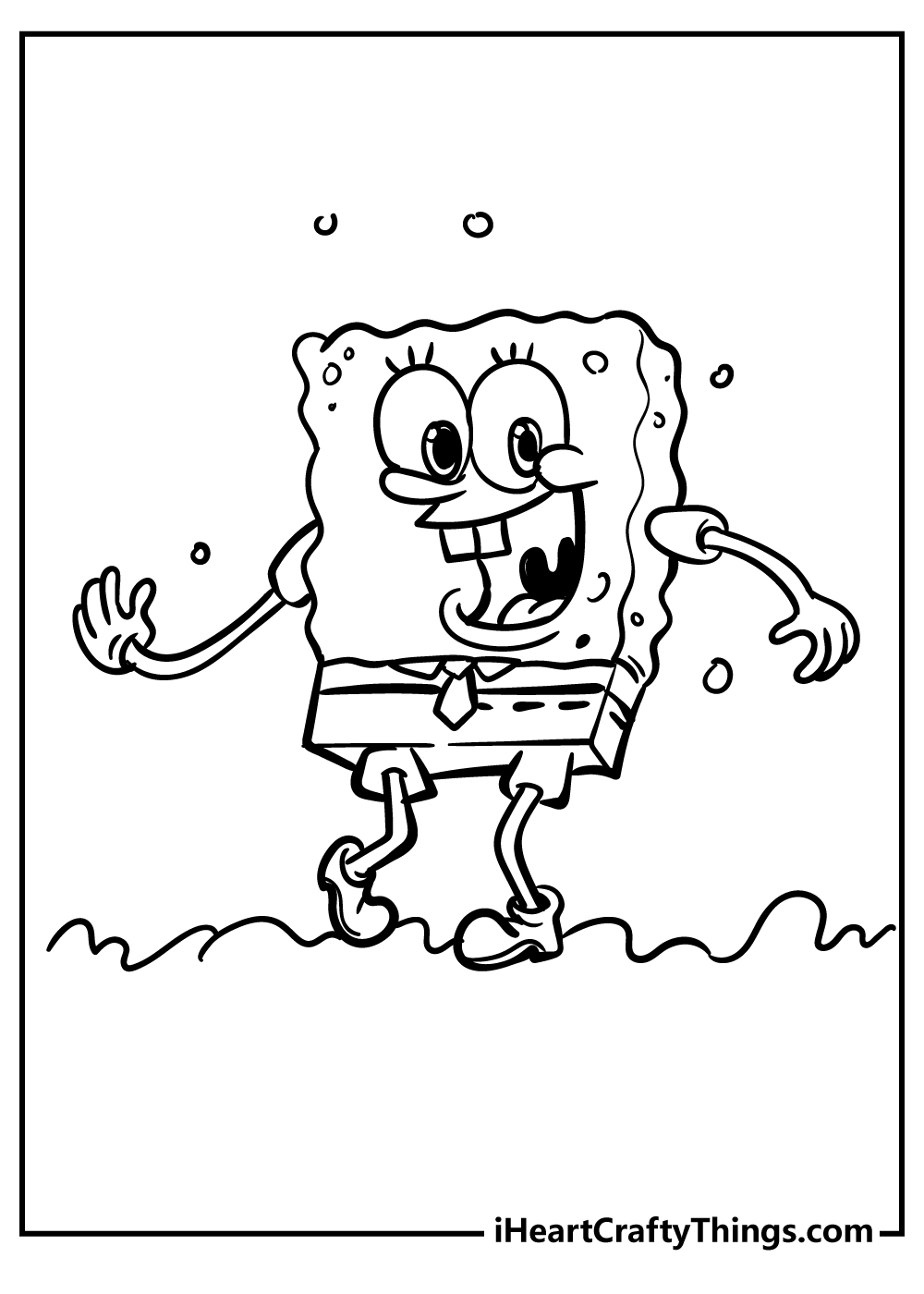 SpongeBob says hello on this cute SpongeBob coloring page! SpongeBob is standing while waving his one hand.
Maybe he's waving to his neighbors from a distance. Is he waving to Patrick Star or to Squidward Tentacles? Either way, SpongeBob looks like he's in a good mood!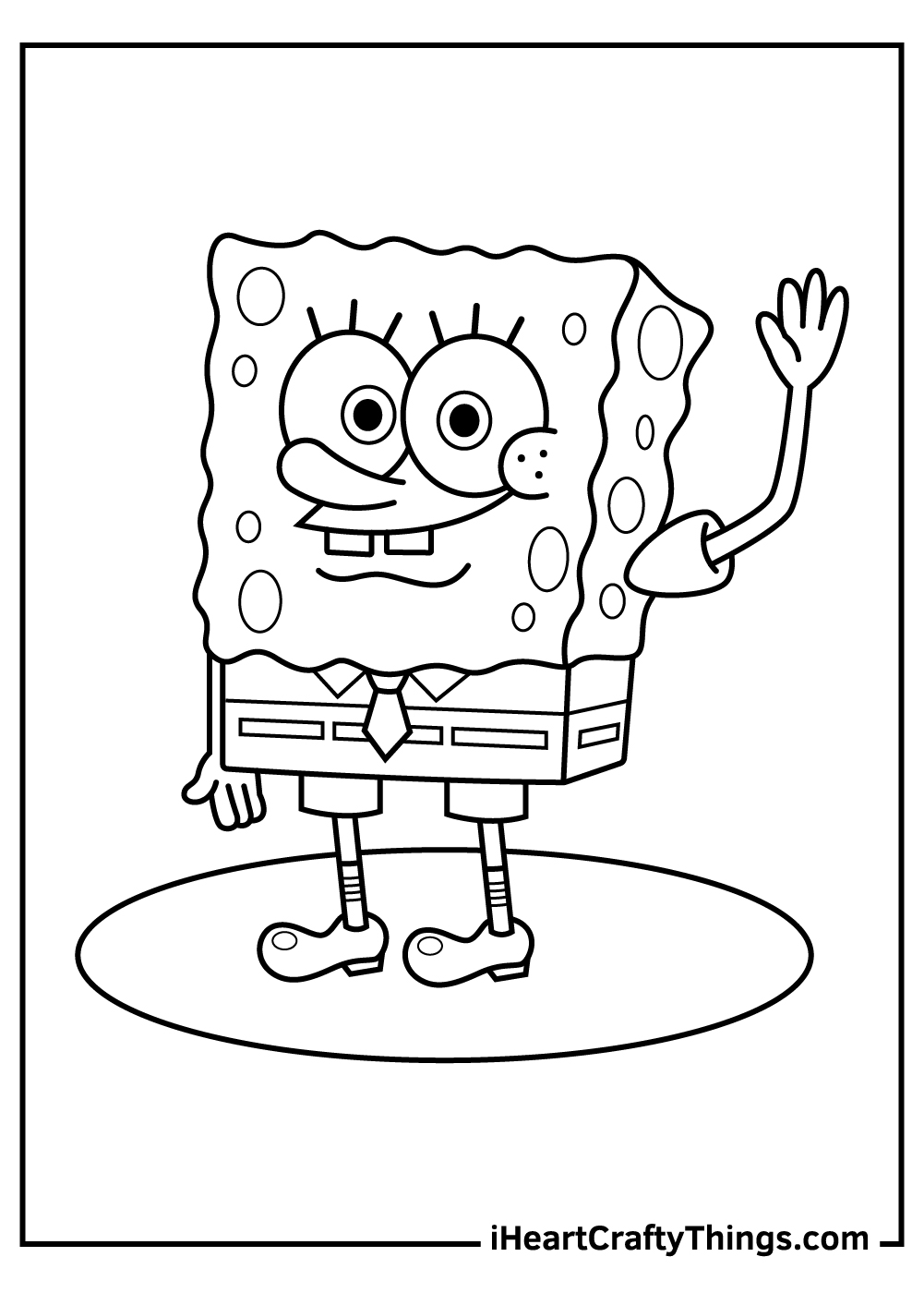 In this cute SpongeBob coloring page, SpongeBob jumps mid-air with his arms and legs spread wide open. He looks extremely happy with his huge gleaming eyes and a wide smile on his face.
It seems like SpongeBob is laughing. Can you imagine the distinct sound of his laugh?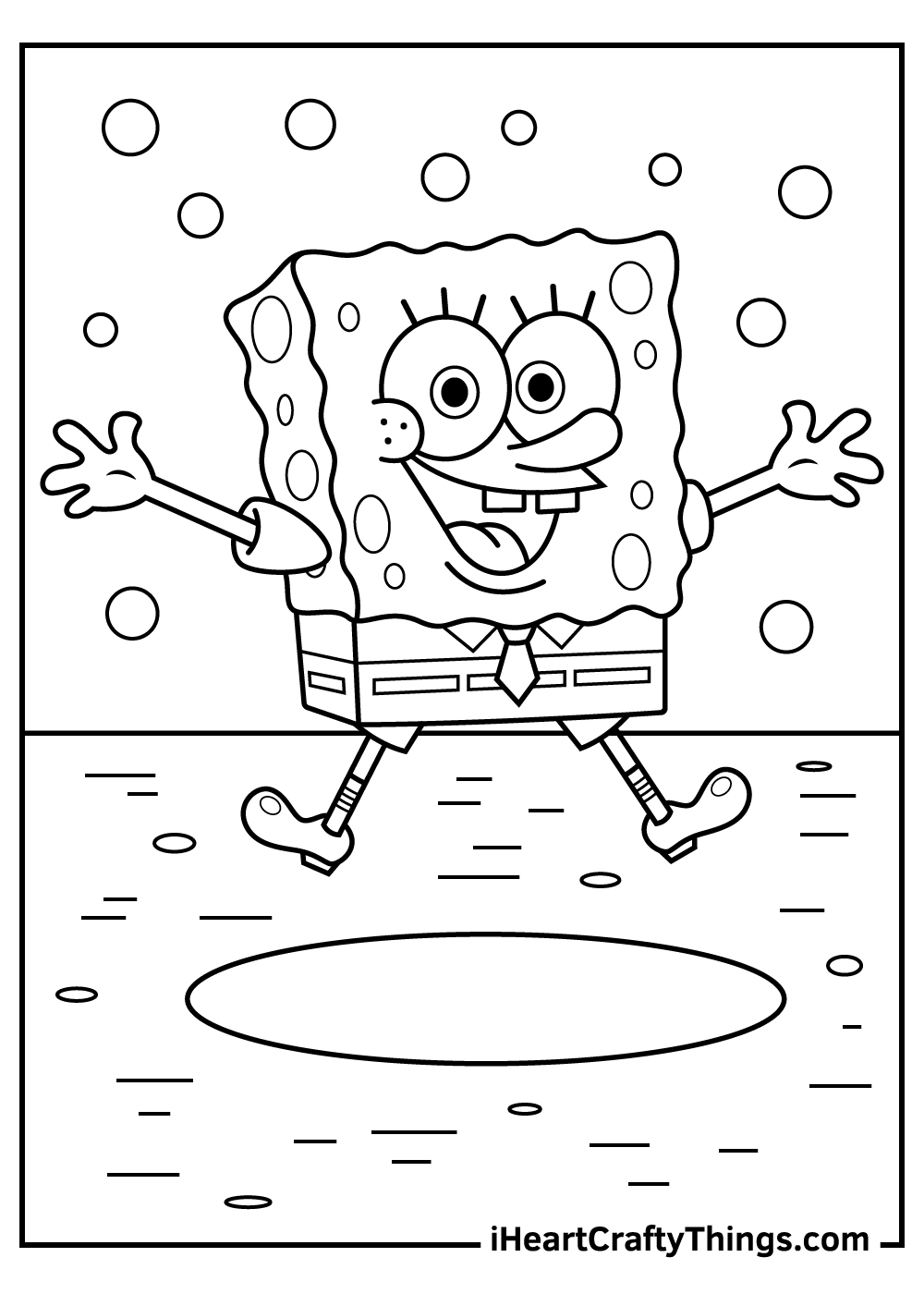 There's a really fun pose for you to color in this next cute Spongebob coloring printable!
Spongebob's design can be very twisty and expressive, and you can tell a lot about the emotions he is feeling by how his limbs and body are shown.
Here his arms are twisting sharply above his head, and it looks as if he is creating a heart shape!
There are a few ways you could say he is feeling from how he looks here, but it seems pretty obvious that he is feeling pretty happy here. What colors will you use to finish off this happy mood?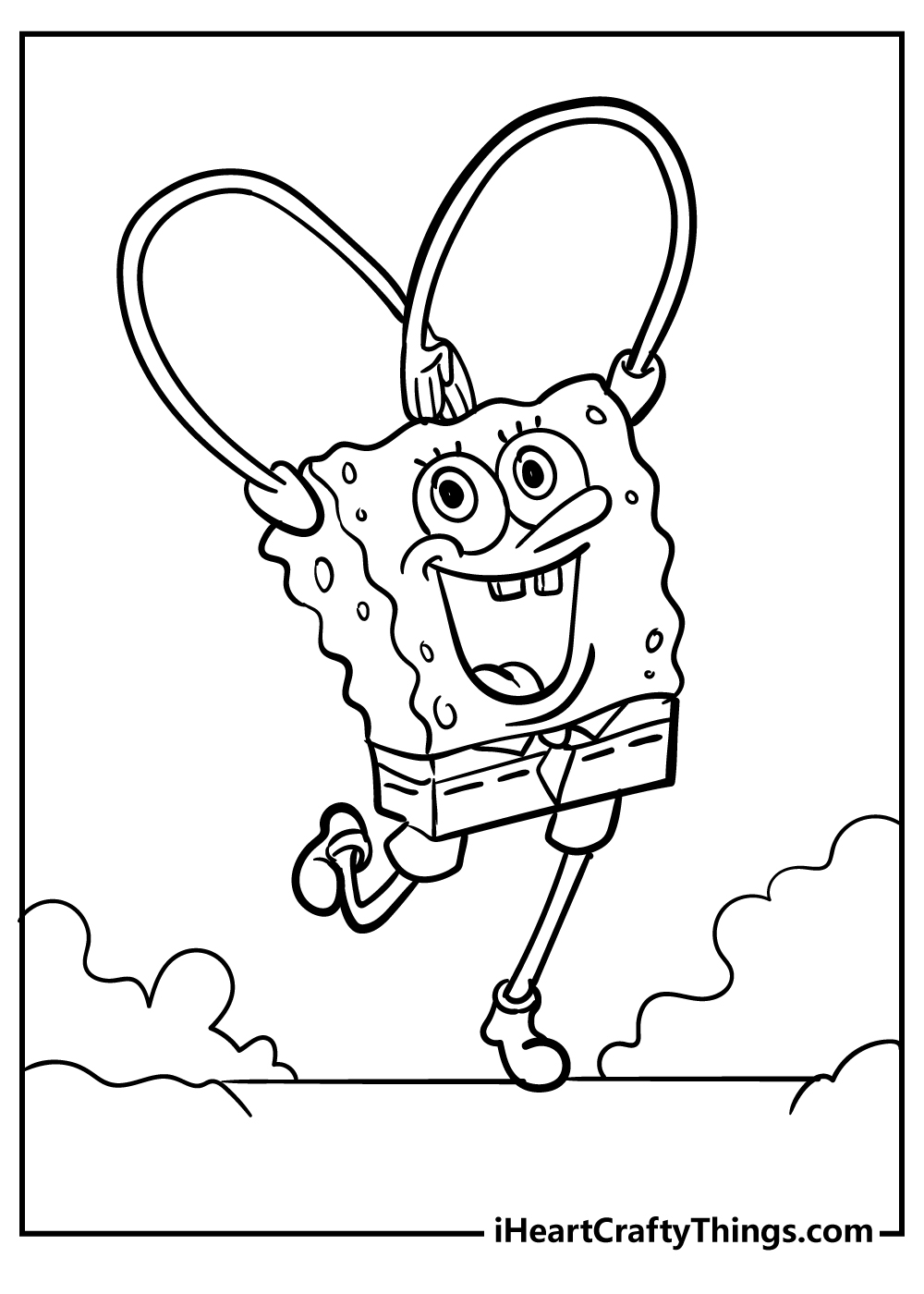 This is such a charming portrayal of Spongebob that we have up next for you!
He seems to be quite delighted by something here, and it's another case where you can't help but wonder what could be making him feel this way.
Once again, you could show what kinds of ideas you have for what could be causing him to react this way by adding some extra details.
What kind of scene or setting can you think of that would finish off the story of this image? We're sure you can come up with all sorts of fun ideas!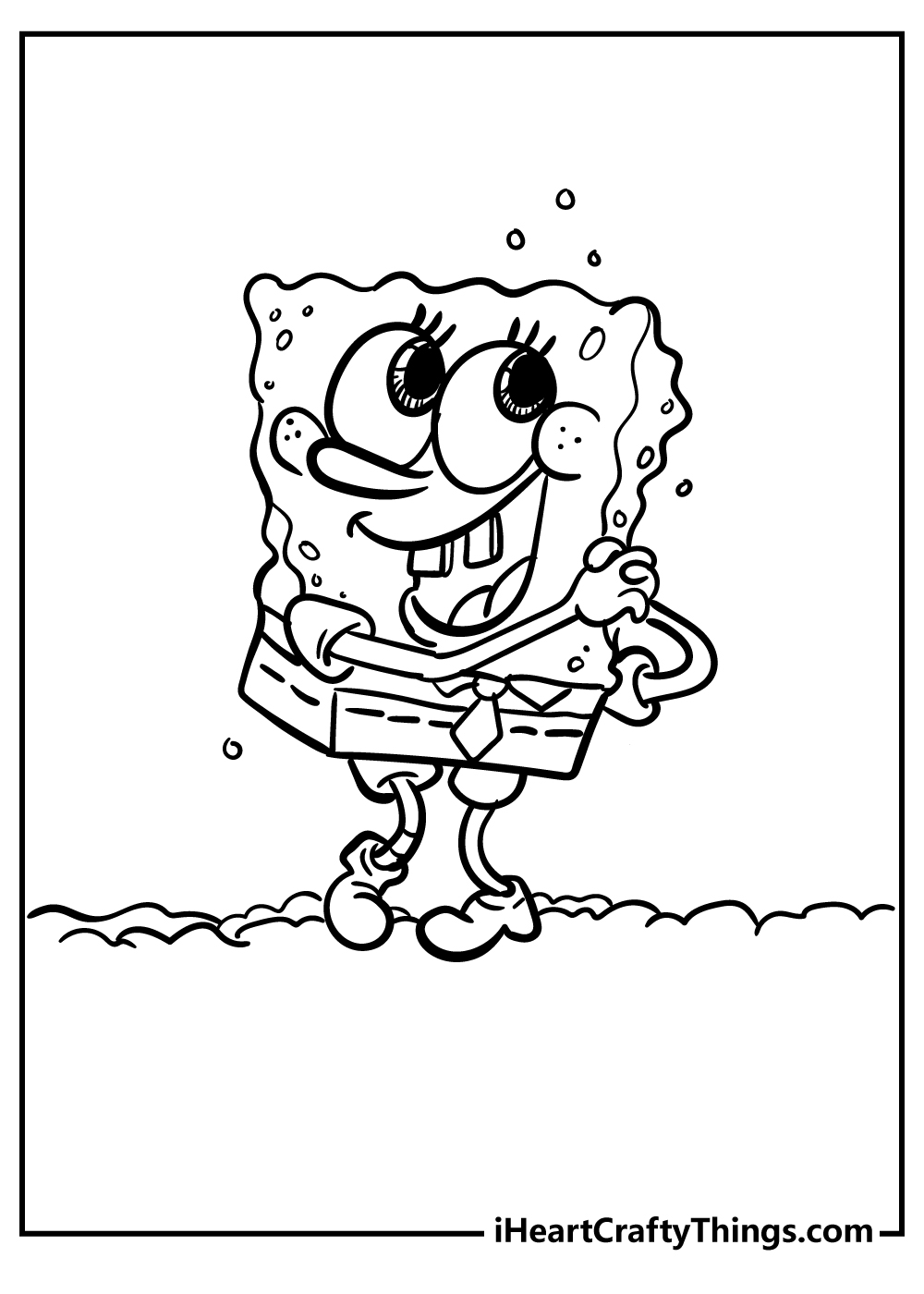 This cute SpongeBob coloring page perfectly captures SpongeBob up close and personal. He's wearing his usual delighted facial expression.
He is rocking his signature outfit, which is a nice white polo shirt paired with brown shorts. SpongeBob looks dapper, that's for sure!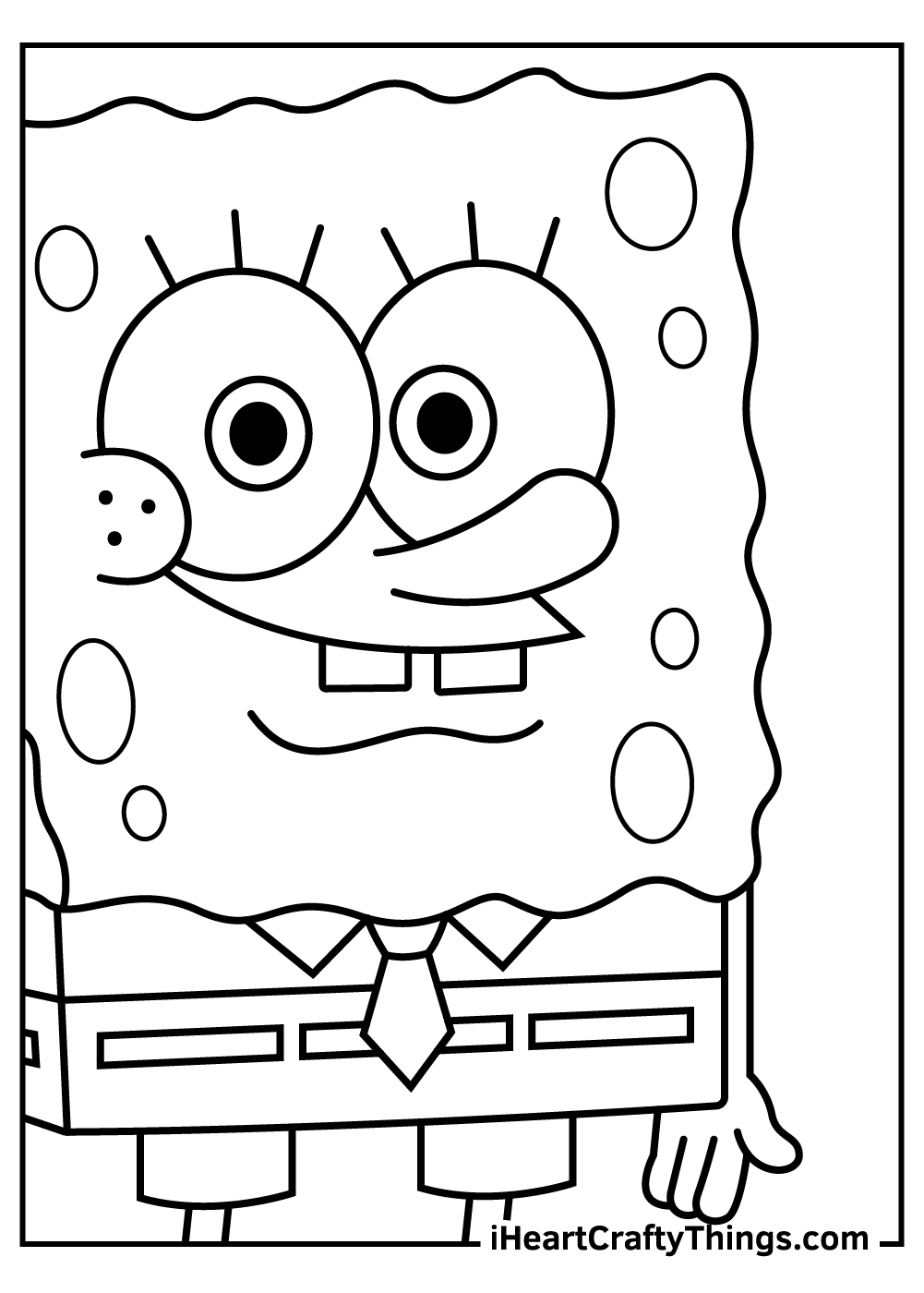 Patrick Star says hello on this cute SpongeBob coloring page! He is glancing over the window of his house as he waves his one hand.
Patrick, a starfish, is SpongeBob's best friend and neighbor. While SpongeBob is colored yellow, Patrick, on the other hand, is bright pink in color.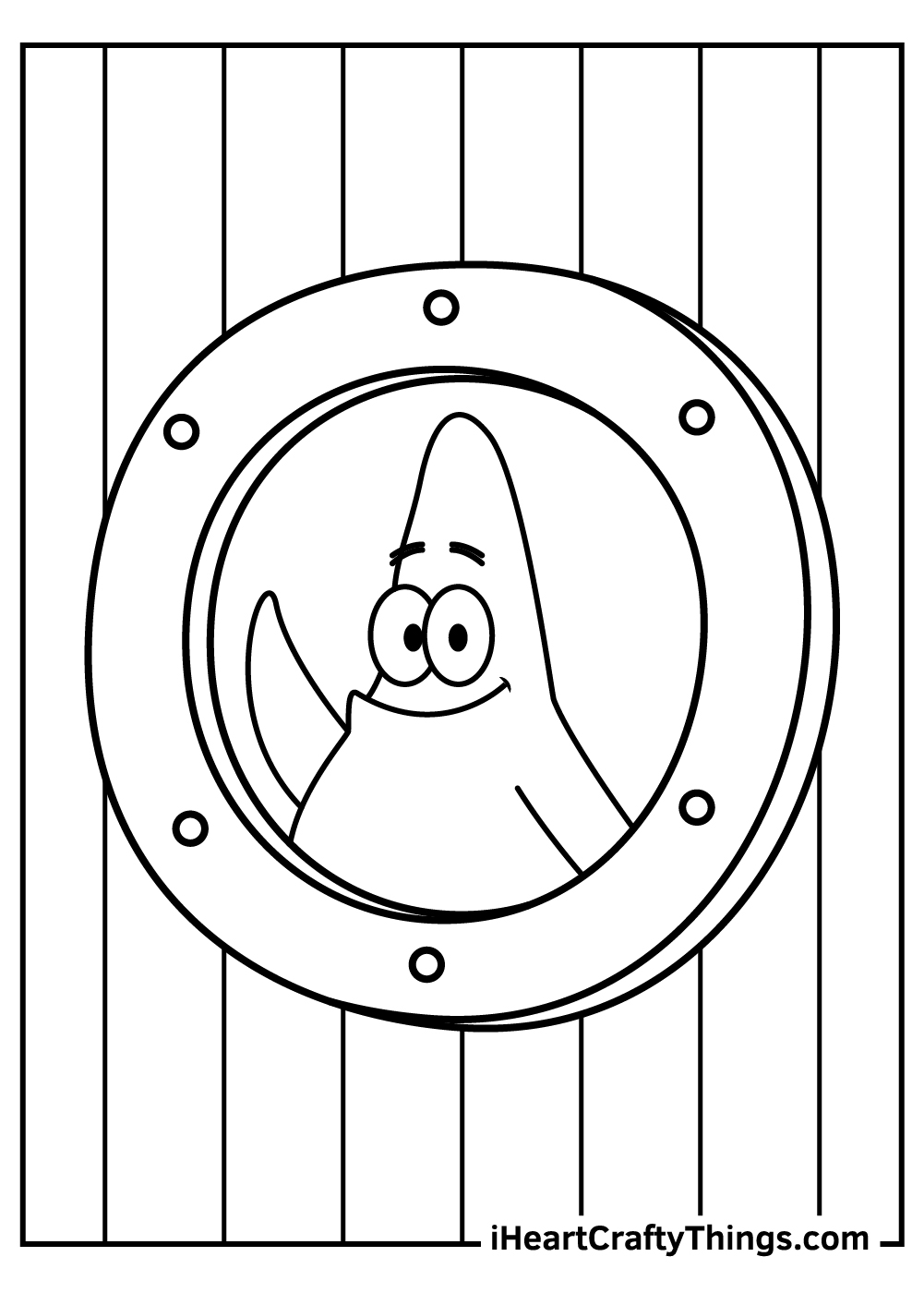 Spongebob looks as if he has just seen something so cool that he can barely believe his eyes!
If you wanted to finish off how excited he is feeling, you could add a speech bubble above his head and write in some kind of exclamation.
Doing so could also give an indication of what has made him feel this way.
Do you think you will add some background details for this one? There are tons of locations from the shows and movies that you could use as inspiration if you wanted to do that!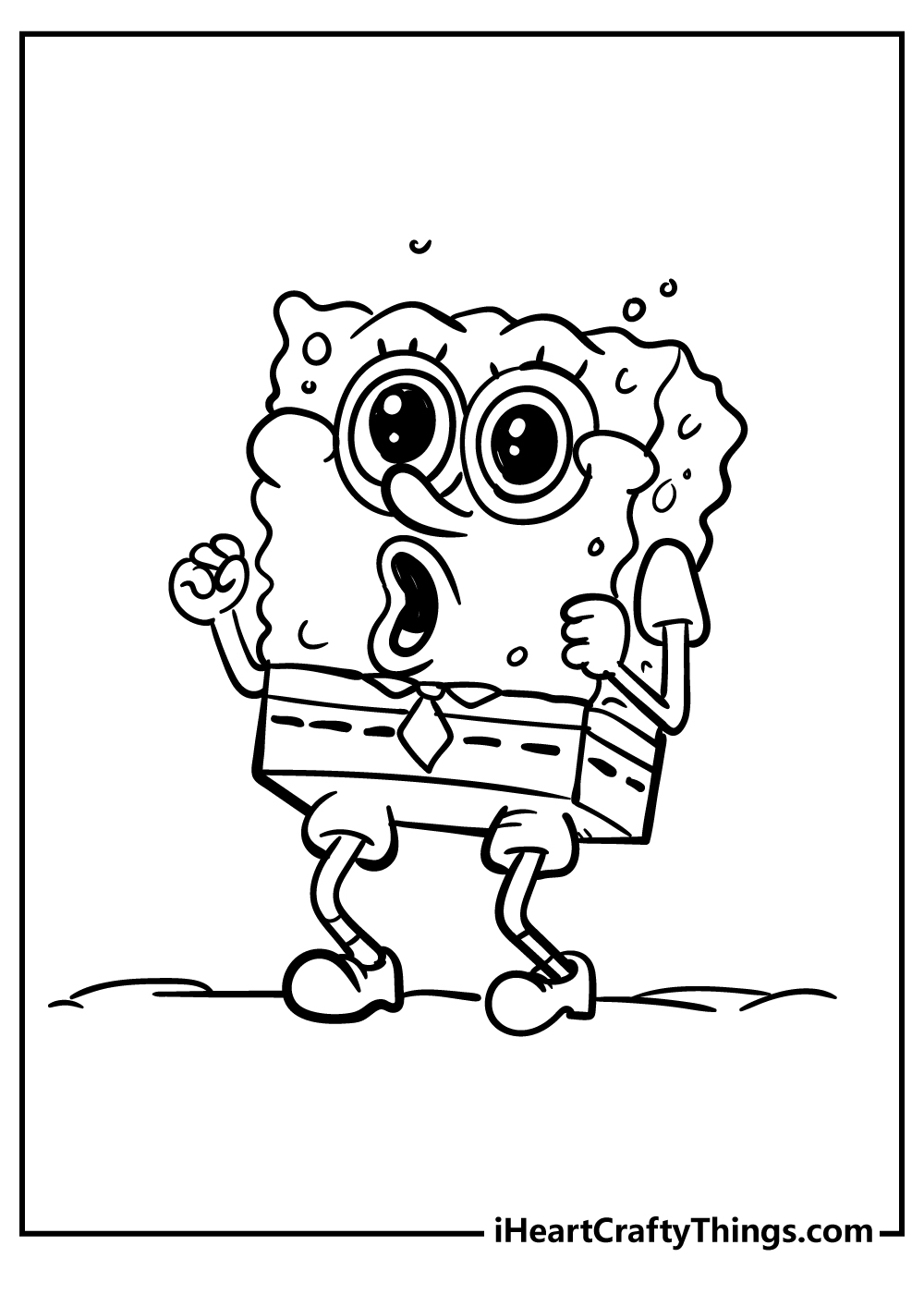 We have another fun and imaginative scene for you to color showcased on this next cute Spongebob coloring page!
He is leaping through the air, and there are so many ways you could add to this one.
Spongebob has a rather overactive imagination, so maybe you could draw a background that shows he is lost in his own imagination here.
One example would be to draw dozens of Krabby Patties floating around him, as that would certainly be a fantasy Spongebob would have! What other ideas do you have for this page?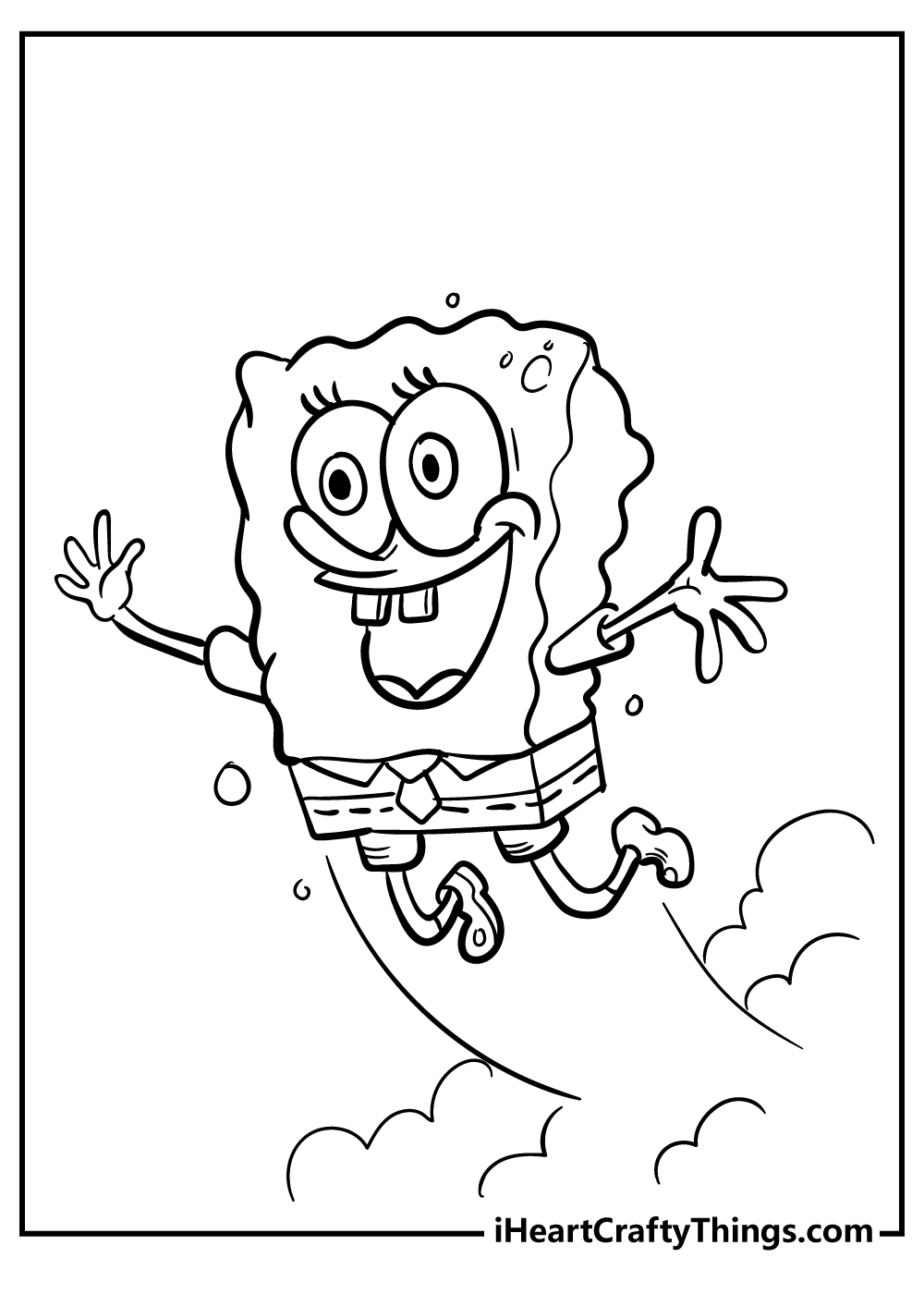 SpongeBob looks very proud and pleased of himself in this cute SpongeBob coloring page. His eyes are dreamy and he has a devious grin on his face.
He must have had a good day at work and was able to serve lots of Krabby Patties!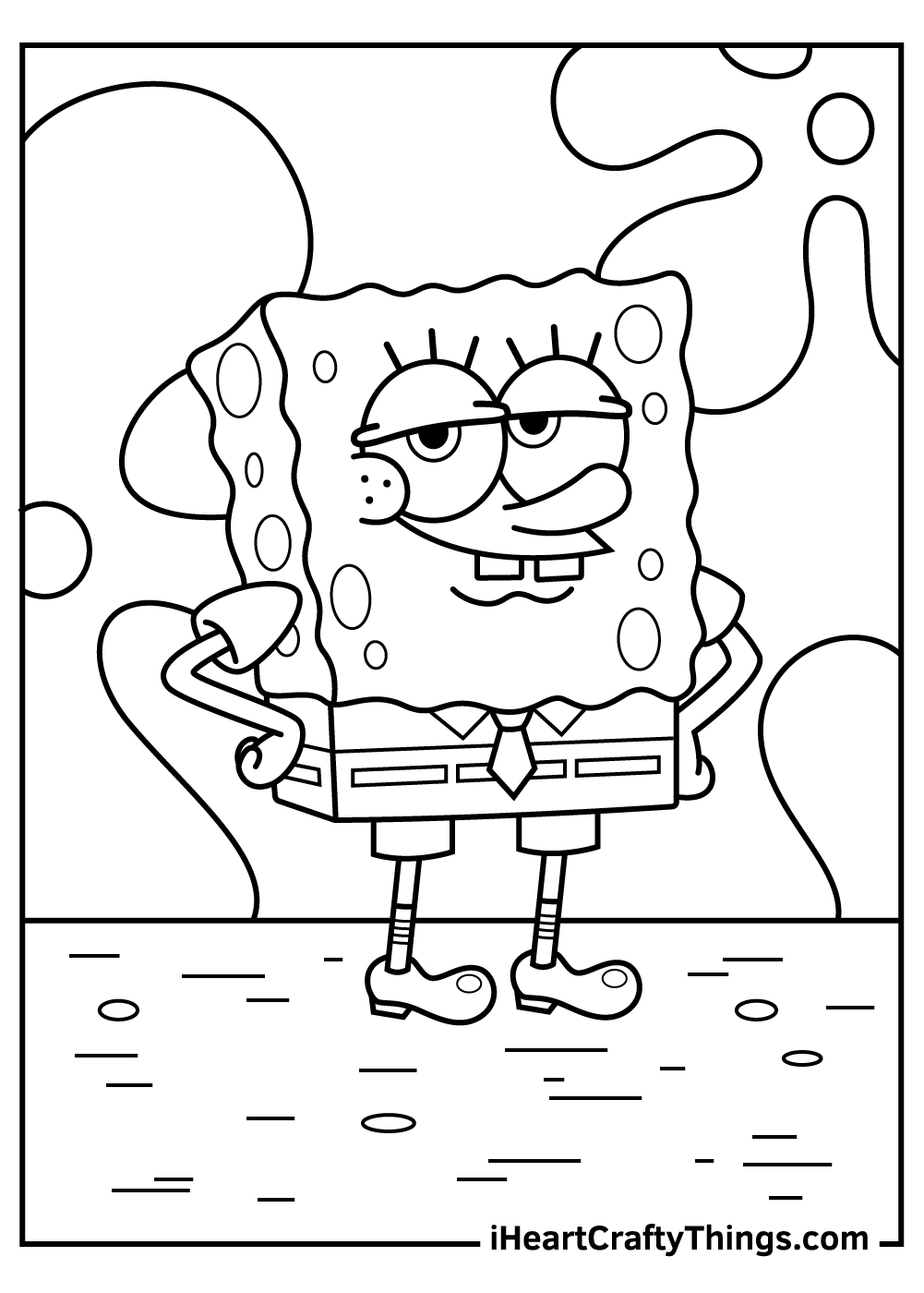 In this cute SpongeBob coloring page, there's Squidward in his usual indifferent facial expression. He looks bored with his drooping eyelid and frowning mouth. His arms are crossed over his chest, expressing his resentment.
The iconic SpongeBob wallpaper with simple illustrations of flowers is shown in the background.
We think the subtle turquoise color of Squidward would perfectly complement the bright colors of the background. What colors will you add to this printable?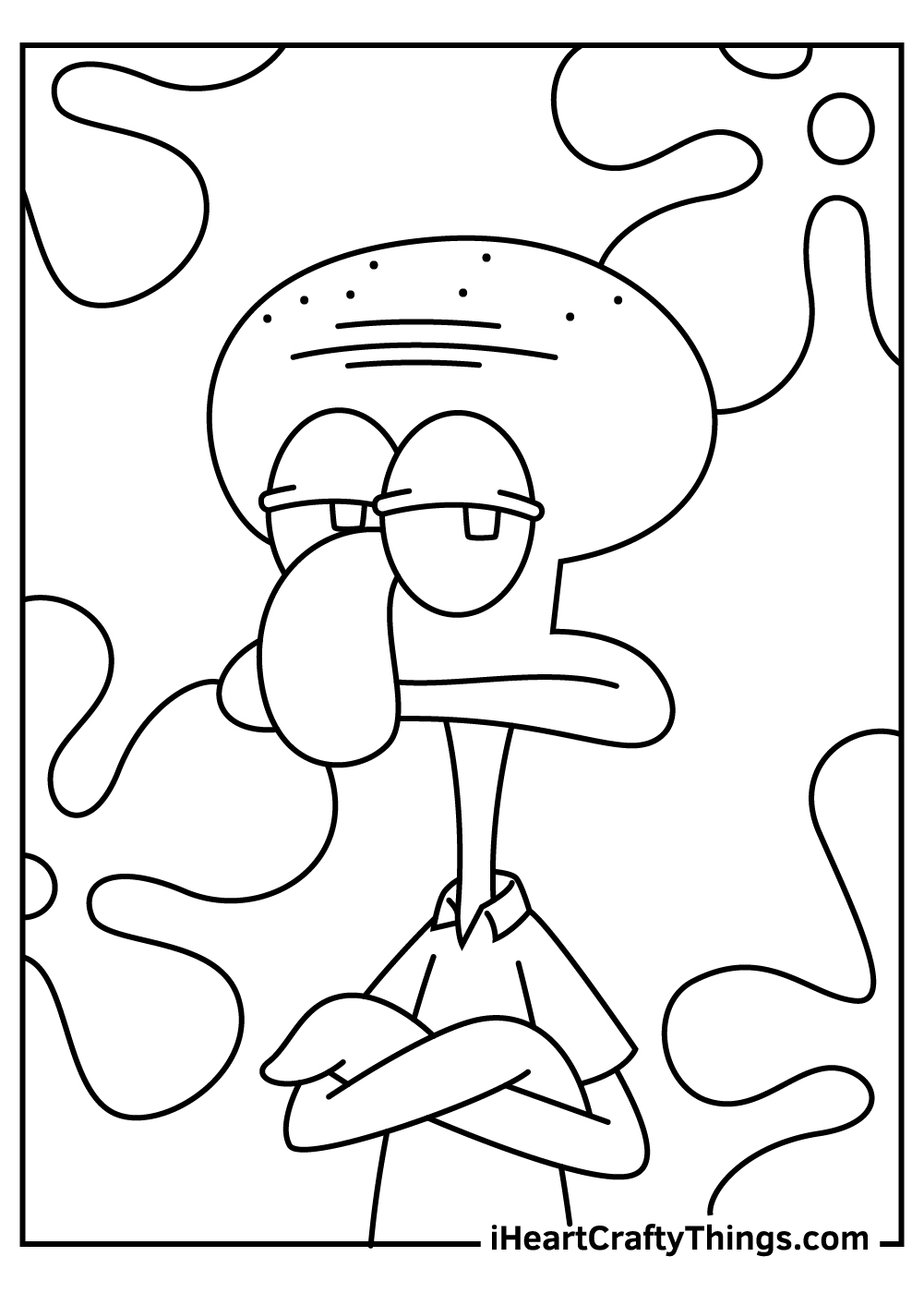 Make These Cute Spongebob Coloring Pages Even Better With These Ideas
Throughout this collection of cute Spongebob coloring pages, we saw many depictions of Spongebob and his friends.
You can take it even further by adding some more aspects from the show that you love!
Spongebob has appeared in so many different kinds of media, from TV shows, films and even video games. That gives you many different things to work with.
The Spongebob series is filled with many iconic locations, for example. These are hinted at in some of the images, but you could draw more backgrounds that show these locations.
There are locations like the houses of Spongebob, Squidward and Patrick, all of which have a unique look. Any of these would make an excellent background for any of these pictures.
You could also add some props, additional characters and objects from the show. It could also be fun to create some of your own characters to join these beloved characters!
Another thing that is well known from the Spongebob series would be the many memorable lines the characters say. Each character has had some lines that are quoted to this day.
You could draw some speech bubbles and represent your favorite lines from the show! Or, maybe you would prefer to come up with your own quotes and catchphrases.
As you can see, there is plenty that you can add to these coloring pages. The only limit is in what you can think of.
Even if you don't normally draw much, you can still add to these pictures with some simple details. We have given you a few ideas, but now it's up to you!
Will you use some classic Spongebob elements and moments or maybe create some of your own? We can't wait to see!
Cute Spongebob Coloring Pages – Which image will you choose?
Hopefully, you enjoy these cute SpongeBob coloring pages. It consists of simple and intricate illustrations of SpongeBob SquarePants and his friends Patrick, Squidward, and Larry.
Coloring these cute SpongeBob coloring sheets is the perfect activity for kids of all ages who are a fan of SpongeBob SquarePants.
Remember, all of our crafts and coloring printables are 100% free for you to download, print, and color. We are always updating our catalog and uploading new content to our catalog. So don't forget to keep re-visiting our website to continuously enjoy all-new coloring pages.
Once you've finished coloring your cute SpongeBob coloring printables, you must be very proud of yourself for completing a masterpiece—as you should be!
Make sure to show off your work of art and share it on our Facebook page. We're sure it looks amazing!
We are excited to see all of your colorful SpongeBob SquarePants characters!