The narwhal is one of the most unique creatures not just in the sea but in all the animal kingdom. A whale with a horn like a unicorn sounds like something out of a fairy-tale, but these majestic sea creatures are very real and quite a sight to behold!
With their distinctive horn it's easy to see why so many people have the narwhal as their favorite marine animal.
Narwhals usually have coloring of white on their underbellies with darker colors on the top half of their bodies, but with these free narwhal coloring pages for kids you can make these cute narwhals any color you like, and we'll look forward to seeing some colorful narwhals!
Once you've finished your favorites of these free narwhal printables, please share them to our Facebook page for us to see! We'd love to see some of your colorful creations and share in the narwhal fun!
REMEMBER: You can get the COMPLETE set of these coloring pages >> HERE
15 Brand New Narwhal Coloring Pages – Free to Print and Color
Our first free narwhal coloring page for kids shows a happy narwhal having a great time under the ocean.
Narwhals can hold their breath for a pretty long time and like to dive quite deep into the ocean, so for this narwhal printable I would use some darker blues for the background to show that this narwhal is taking a deep dive.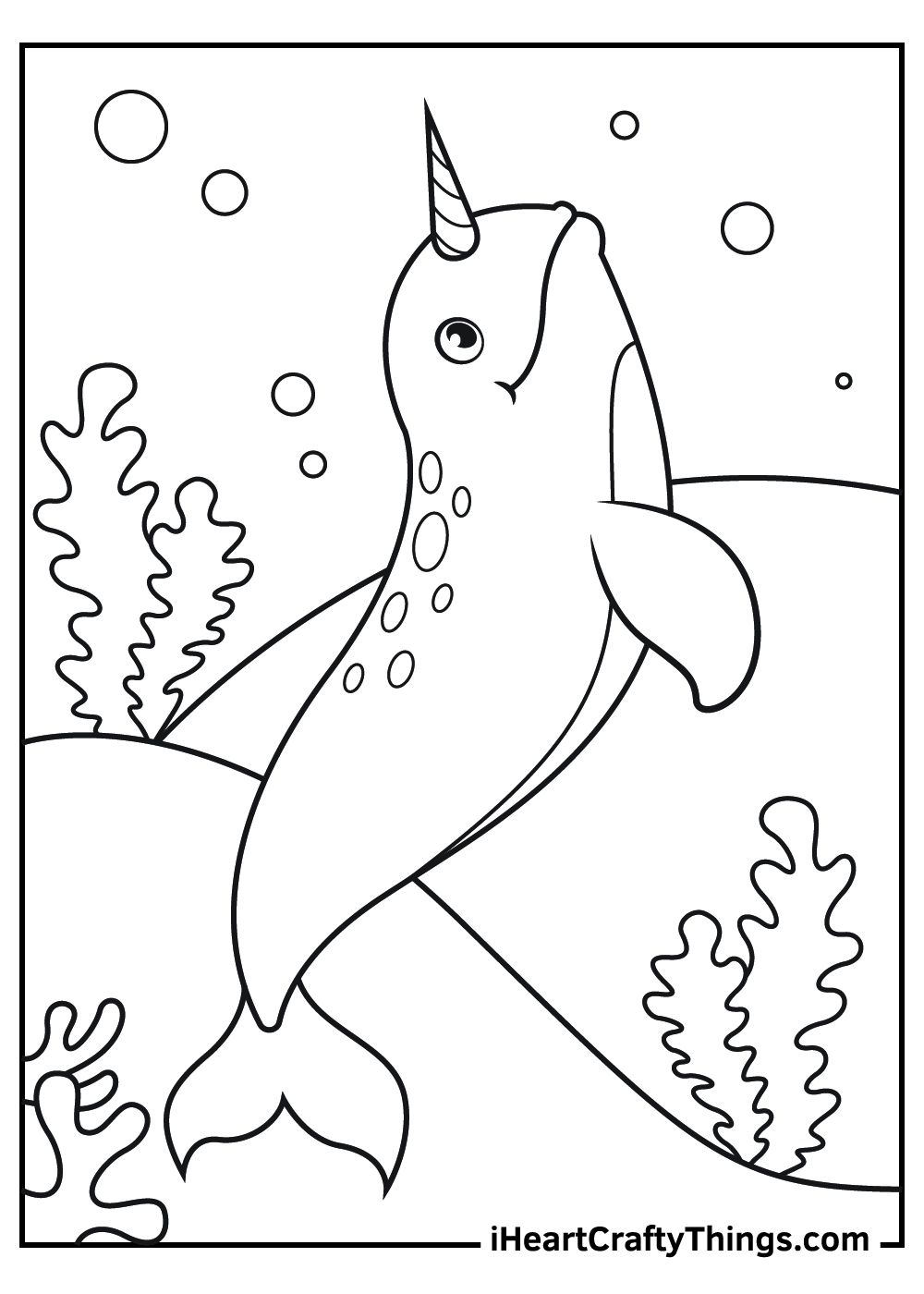 This narwhal coloring page features a cute narwhal enjoying a sunny day. The narwhal has a cheerful expression and a long horn on its head.
What could this narwhal be cheerful at? Maybe he's celebrating a special occasion or a personal achievement.
You can use a yellow or a pink color for the narwhal's horn, to make it stand out and contrast with the body. You can also add some patterns or designs to make them fun.
This cute narwhal is catching some sunlight at the beach in this narwhal coloring sheet.
It looks like a sunset to me, so I would suggest using some darker reds and oranges for the background to represent this time of day.
You could also make more of a sunrise feeling by using some really bright yellows and lighter oranges instead.
In this narwhal coloring page, we have another cute narwhal diving under the sea. He's much nearer to the surface, so maybe some lighter blues for the background would finish this one off nicely.
I bet it would also look great if you used some watercolor paints for the background to give it a softer look.
REMEMBER: You can get the COMPLETE set of these coloring pages >> HERE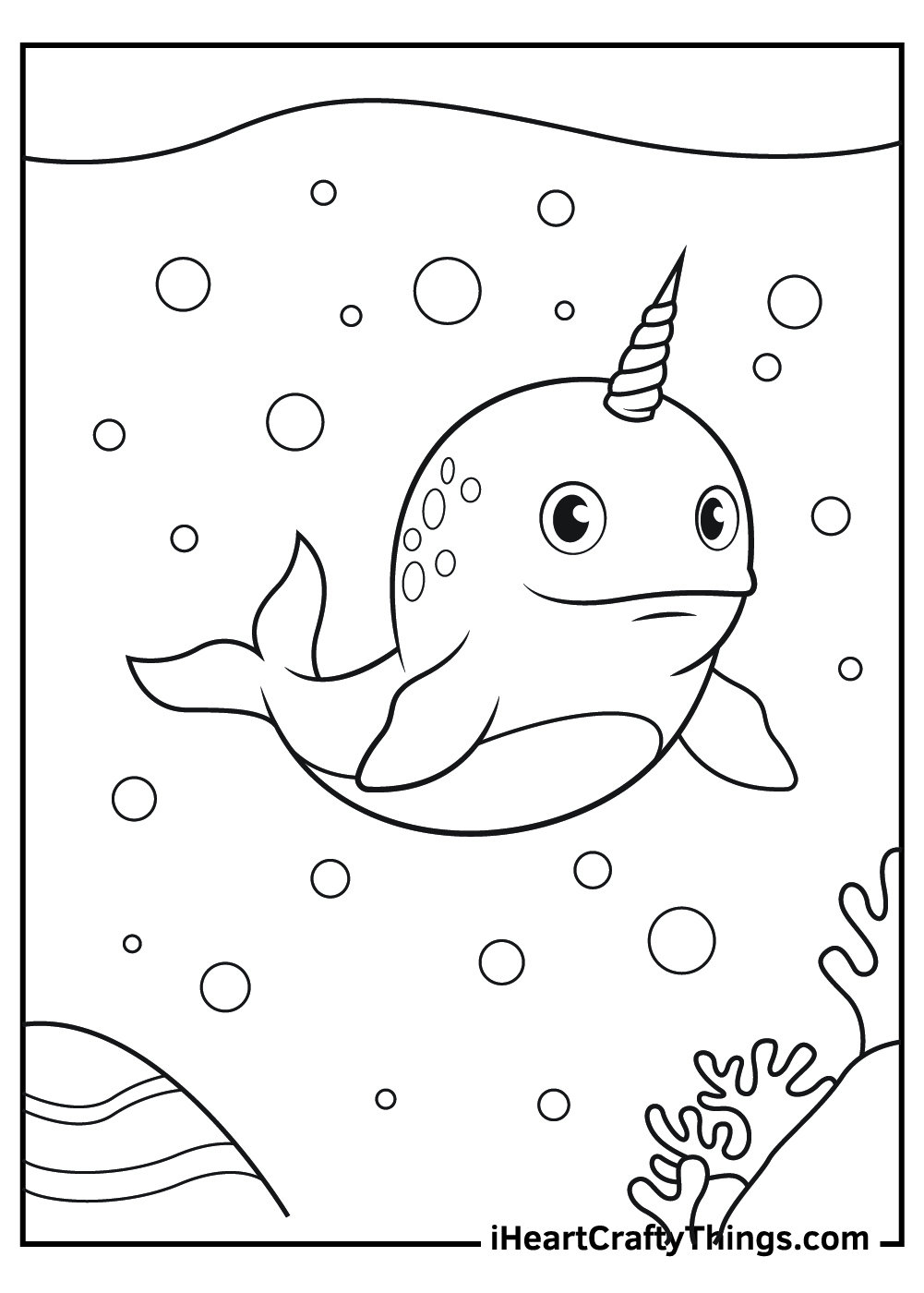 Jump into a world of fantasy and meet a mystical narwhal. This narwhal has a round body with small fins and a tail.
The narwhal appears to be sleeping, with its eyes closed and a peaceful expression on its face. Its round body is dotted with small speckles representing its smooth skin.
I would color the narwhal's iconic horn in glistening shades of white, silver and gray to capture its magical essence.
You can also add some stars, rainbows, or flowers to make the background more dreamy.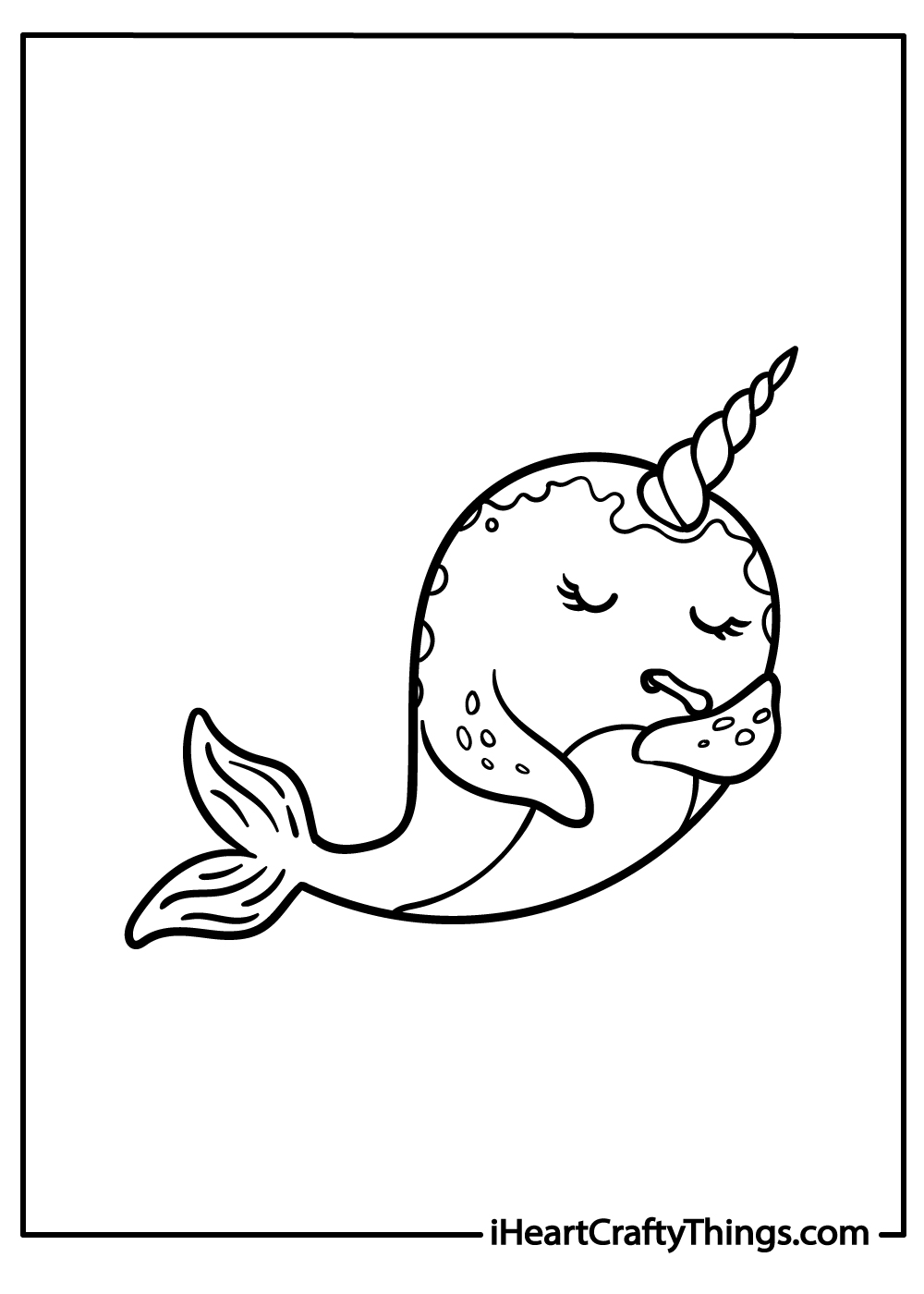 The narwhal in this narwhal printable is looking like a real star!
We've had a lot of blues to show underwater scenes for the previous narwhal coloring sheets, but for this one I think it would look really striking with a solid color, bold background.
Maybe a nice bright red with yellow for the stars around him would make for a really cool image!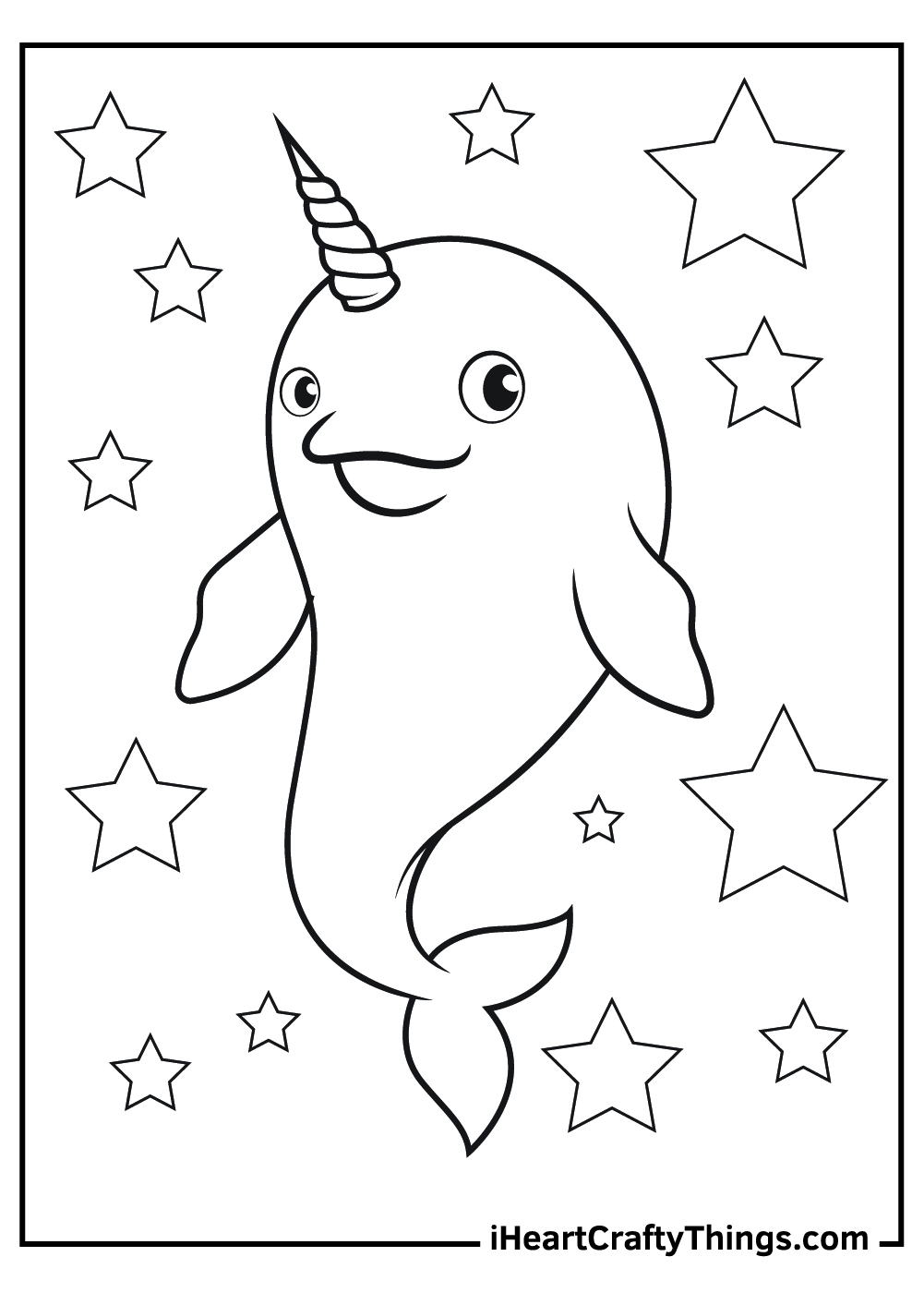 This is a very fancy looking narwhal we have in this narwhal coloring page; it's patterned with an intricate design, and for this unusual narwhal I think it would look really cool to have some of your favorite colors for the pattern on it.
This is especially a case where you shouldn't worry about keeping it realistic and really go crazy with your favorite bright colors.
REMEMBER: You can get the COMPLETE set of these coloring pages >> HERE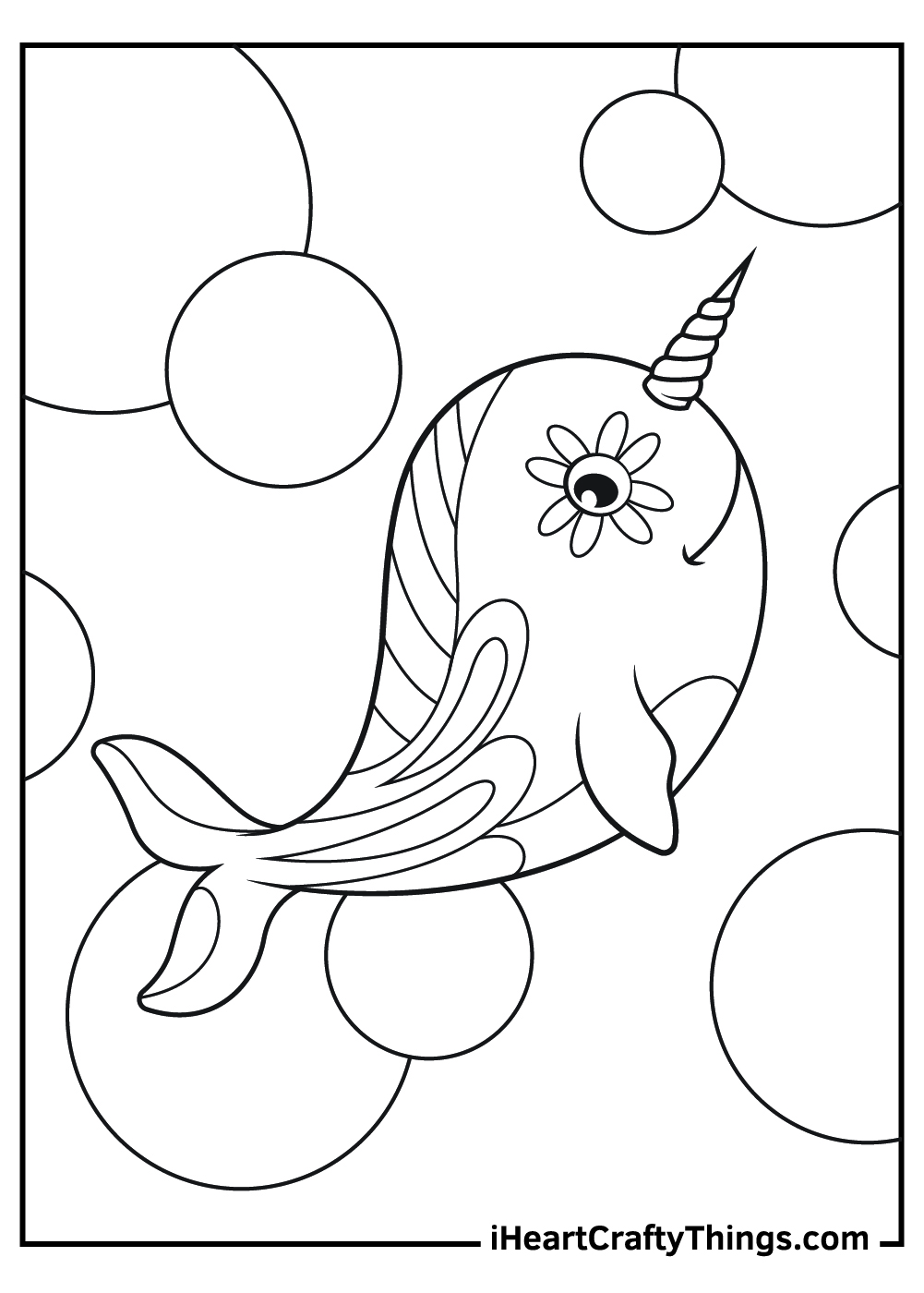 We have a very cute image for this narwhal coloring page. There's a happy looking narwhal with its little baby swimming beside it.
There are a lot of background details to this image, so you could use all manner of bright and cheerful color patterns for this narwhal printable instead of sticking to blues for the water background.
That would really finish off the cute vibe of this page!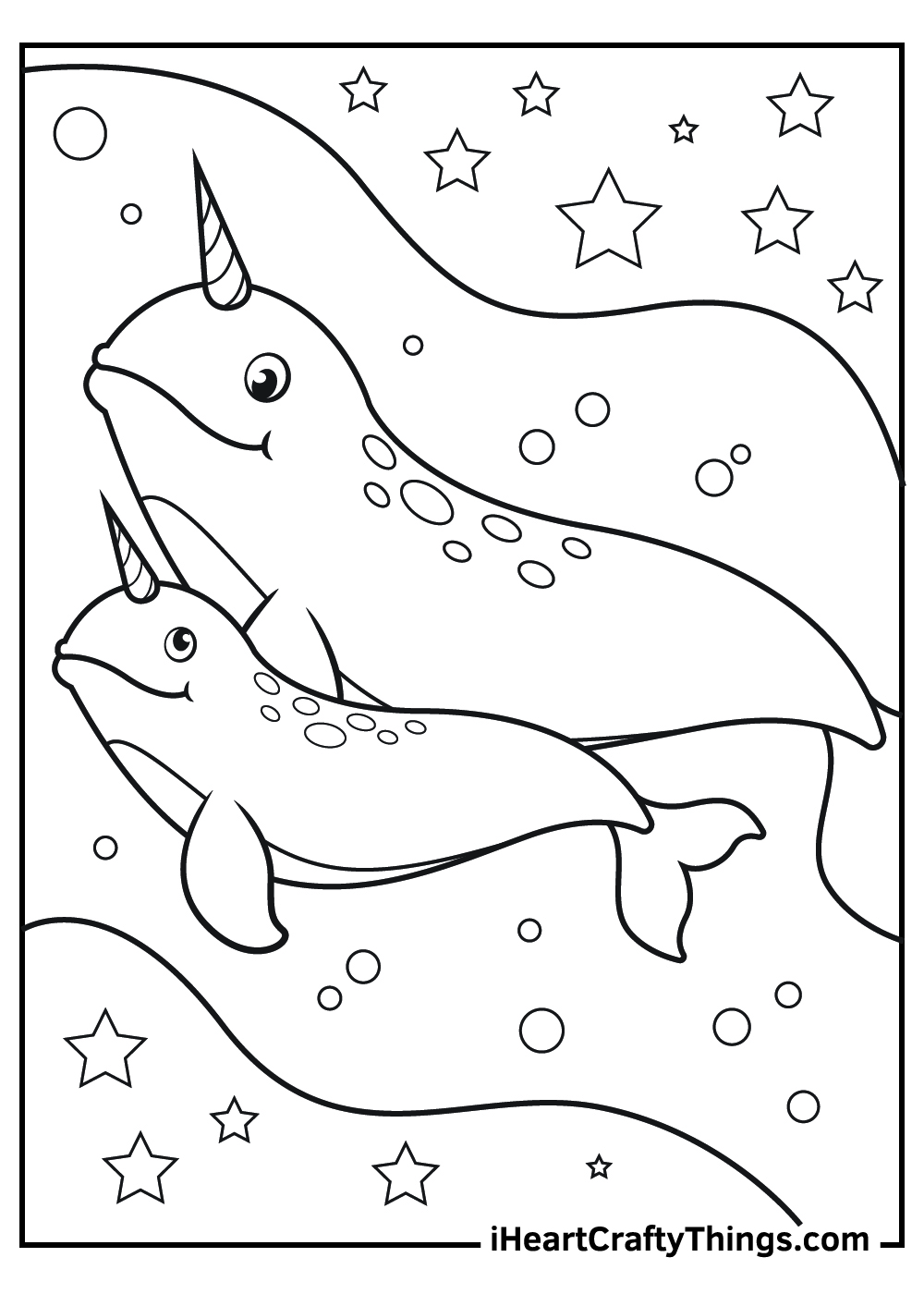 This free narwhal coloring page shows another really fancy looking guy surrounded by more stars.
This is a really bright and stylistic image, so it's another one where you could use some really great vibrant colors. You could use favorites like reds, greens, pinks or yellows to make a striking background that catches the eye.
What colors will you use for the background and the narwhal in this narwhal printable?
REMEMBER: You can get the COMPLETE set of these coloring pages >> HERE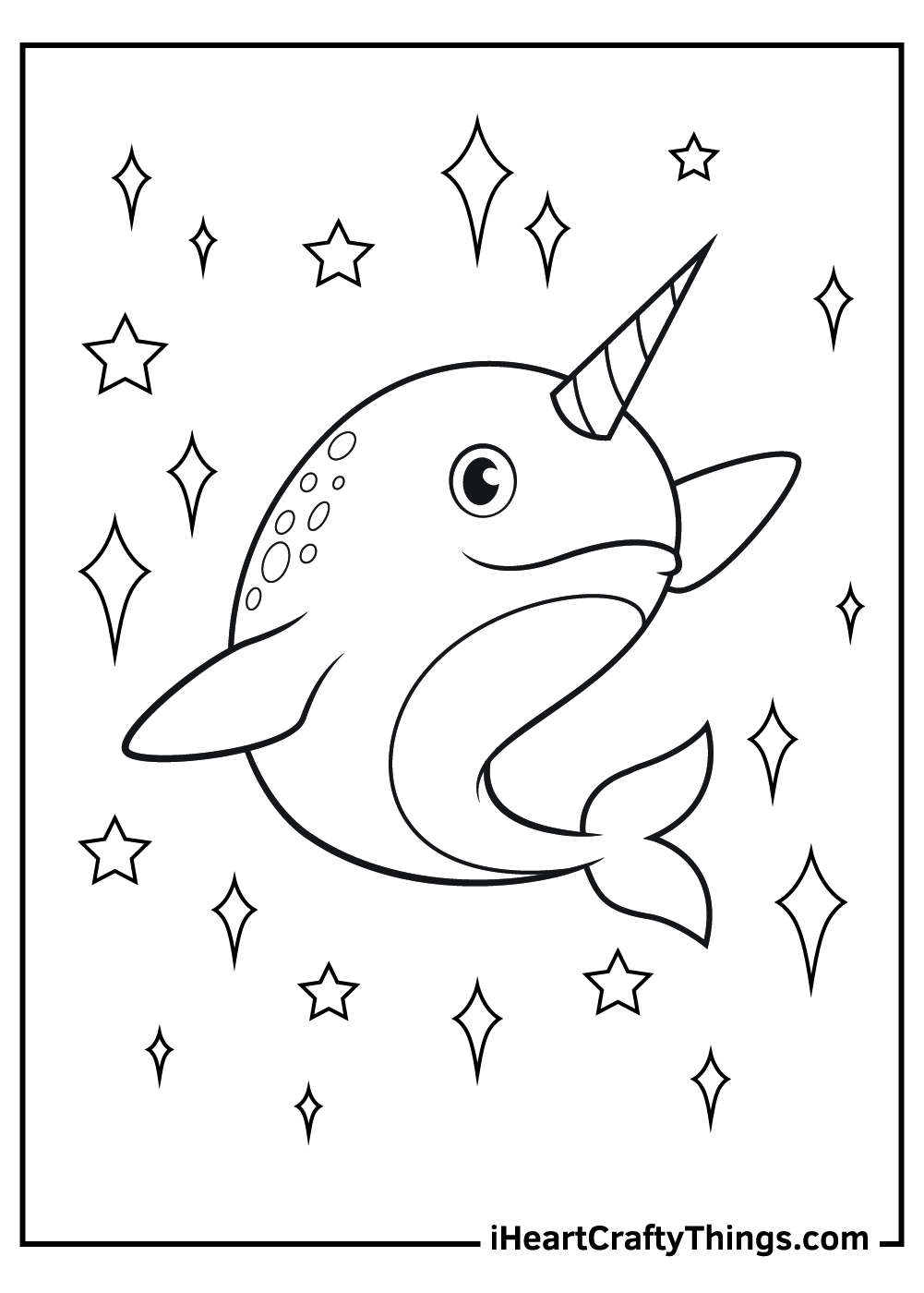 In this narwhal coloring page, we have a narwhal with a large horn on its head, which makes him extra special. The narwhal is facing to the left and has a small smile on its face.
The body of the narwhal is covered in small dots and has a large tail fin. This makes it simple and fun to color in.
You can use any colors that you like to make this narwhal look more cute and fun. You can also add some bubbles, fish, or seaweed to make the background more lively.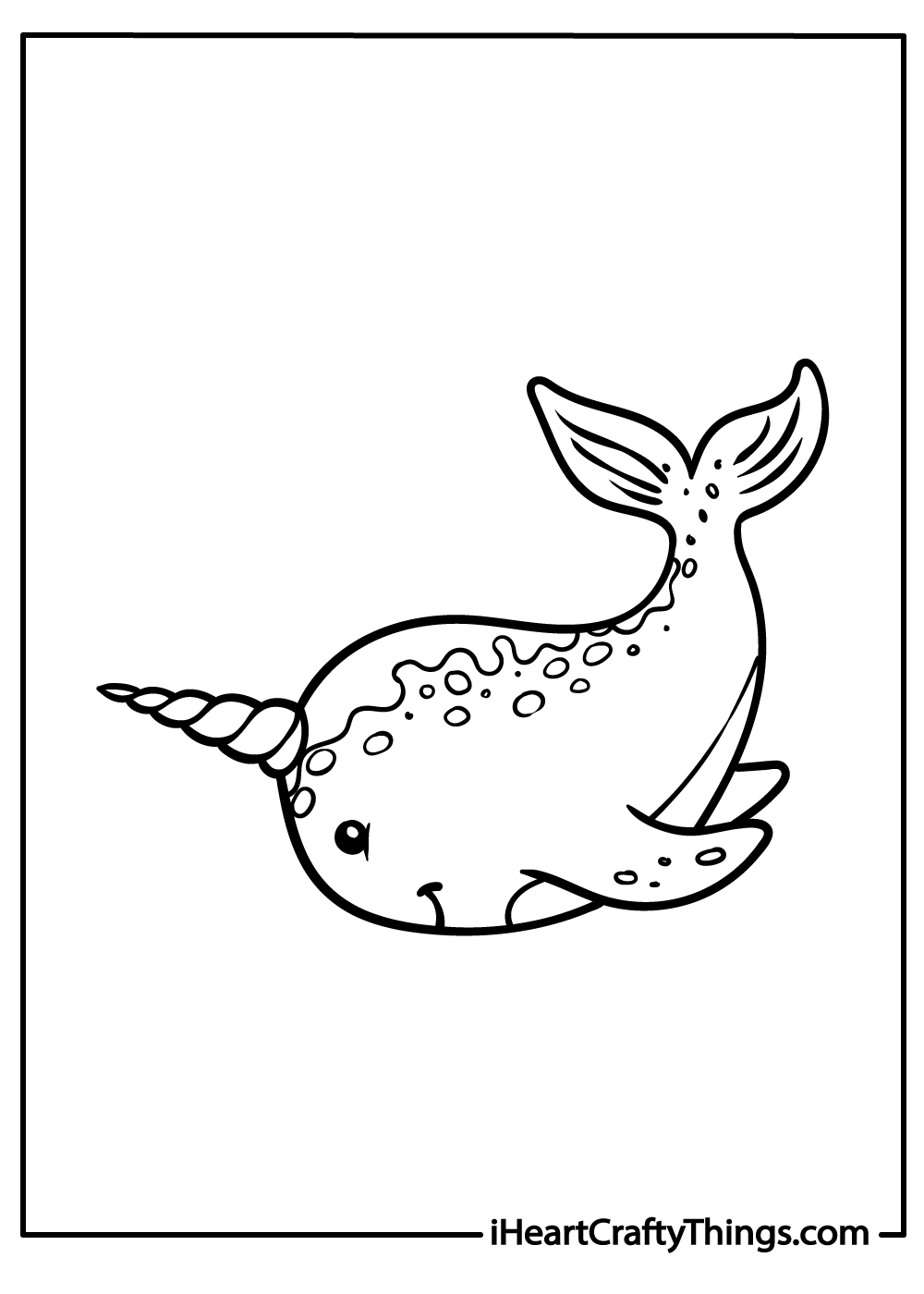 It's more fun under the sea in this deep sea narwhal coloring sheet.
This narwhal is surrounded by strong ocean currents, and it would look really cool if you used different shades of blues and even greens for the currents in the background to give this image a more dynamic look of movement.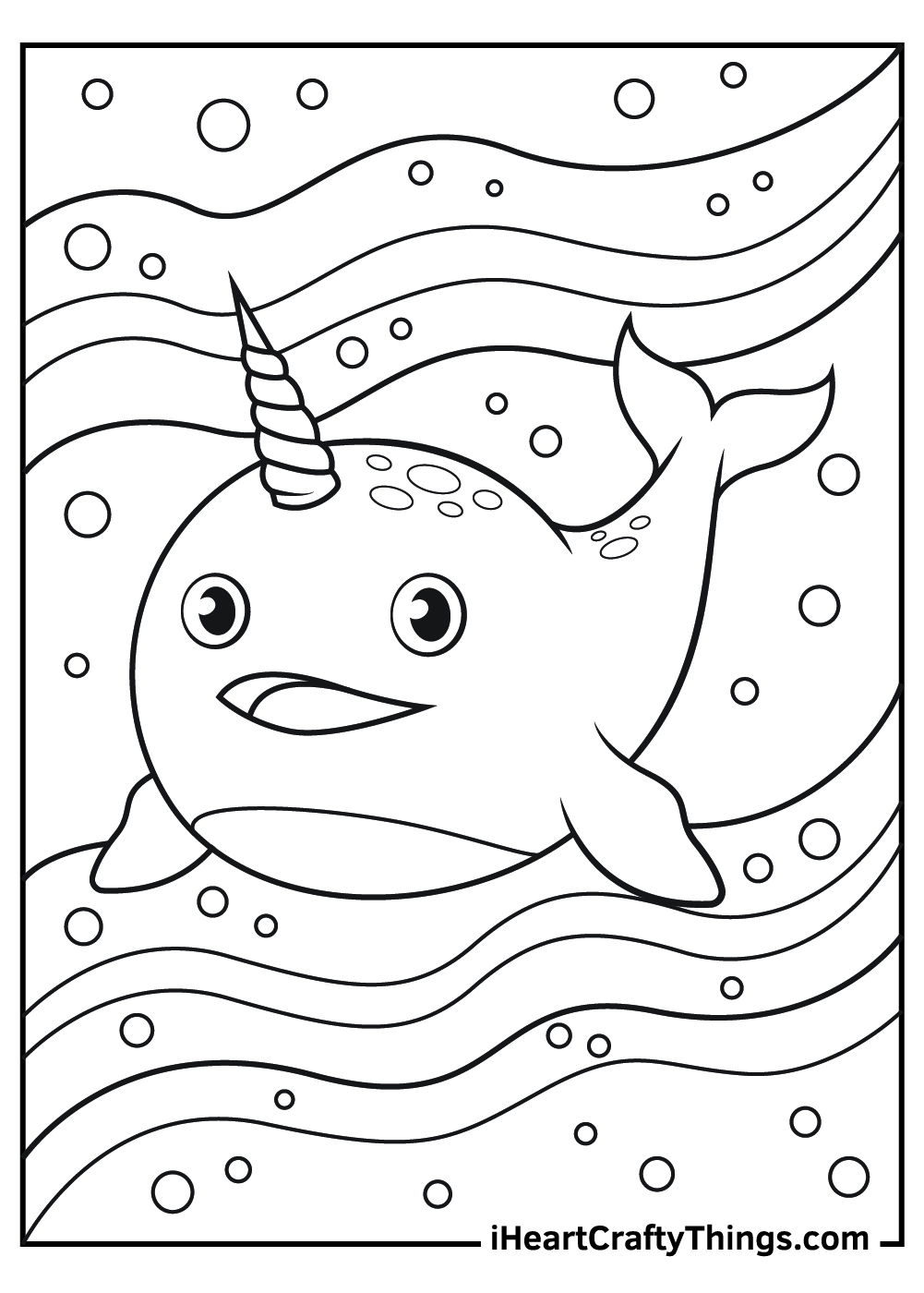 There's some underwater life in the background in our next free narwhal coloring sheet. There's a chance to use some lovely greens, browns and yellows for the seaweed, rocks and sand surrounding this happy looking narwhal.
Will you keep the narwhal's colors a realistic shade or go more stylized with bright colors to finish off this narwhal printable?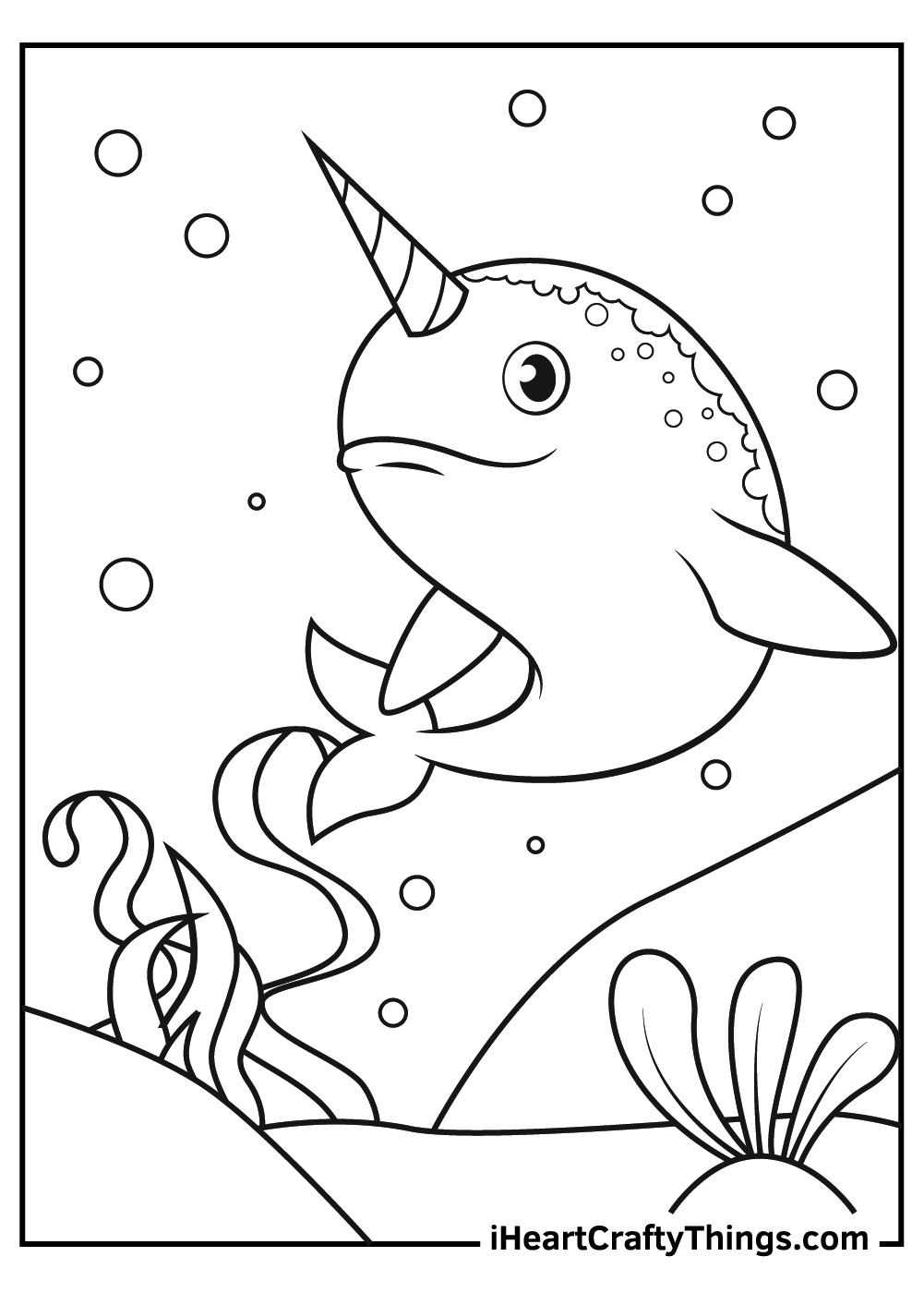 Dive into the frigid Arctic seas and discover an incredible narwhal. The narwhal has a smiling face and a tail fin.
The narwhal is in a swimming position, with its tail fin slightly lifted. Its body is covered in tiny dots representing the narwhal's smooth, speckled skin.
This happy narwhal is ready for you to color. Use light blues and grays to bring him to life. Add dark blue dots for his speckled back. Draw a big smile on his friendly face.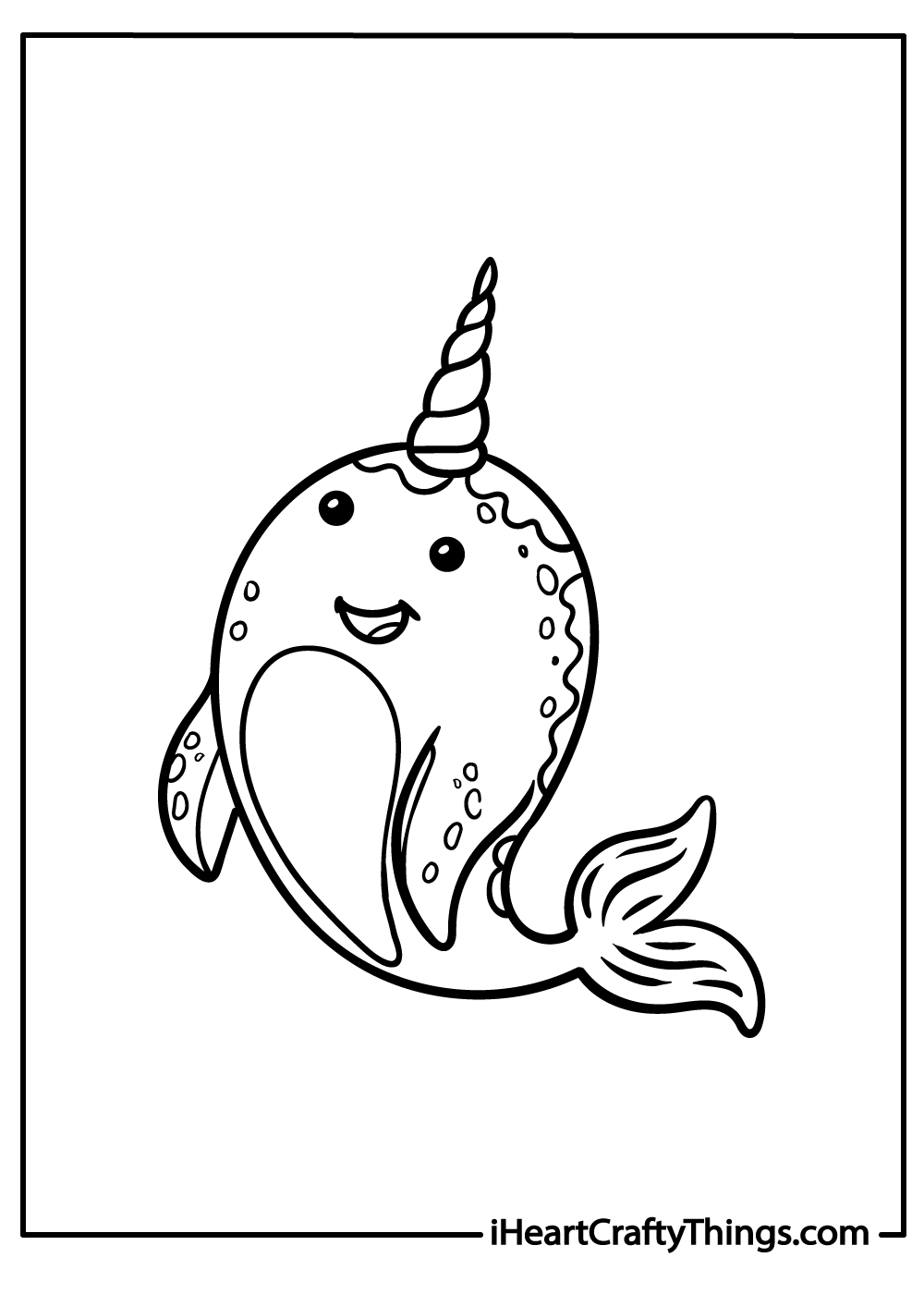 Our final image in this collection of free narwhal coloring pages for kids shows a narwhal in the last place you'd expect, high up in the sky!
This narwhal must be having a dream of flying through the air after gazing into the sky a bit too much!
For this less realistic image, you could use a beautiful sky blue for the background and color the narwhal in with brighter, bolder colors to make it stand out even more.

This happy narwhal is flashing a big toothy smile on its small head. Its spiral tusk sprouts proudly from its head, identifying this unicorn of the sea.
Bring this cheerful scene to life by coloring the narwhal's tusk in ivory, silver or gray.
Use bright, bold colors like sky blue, navy and sea green on its spotted body. In the background, add some colorful bubbles, tropical fish or sea plants to show the narwhal's fun aquatic world.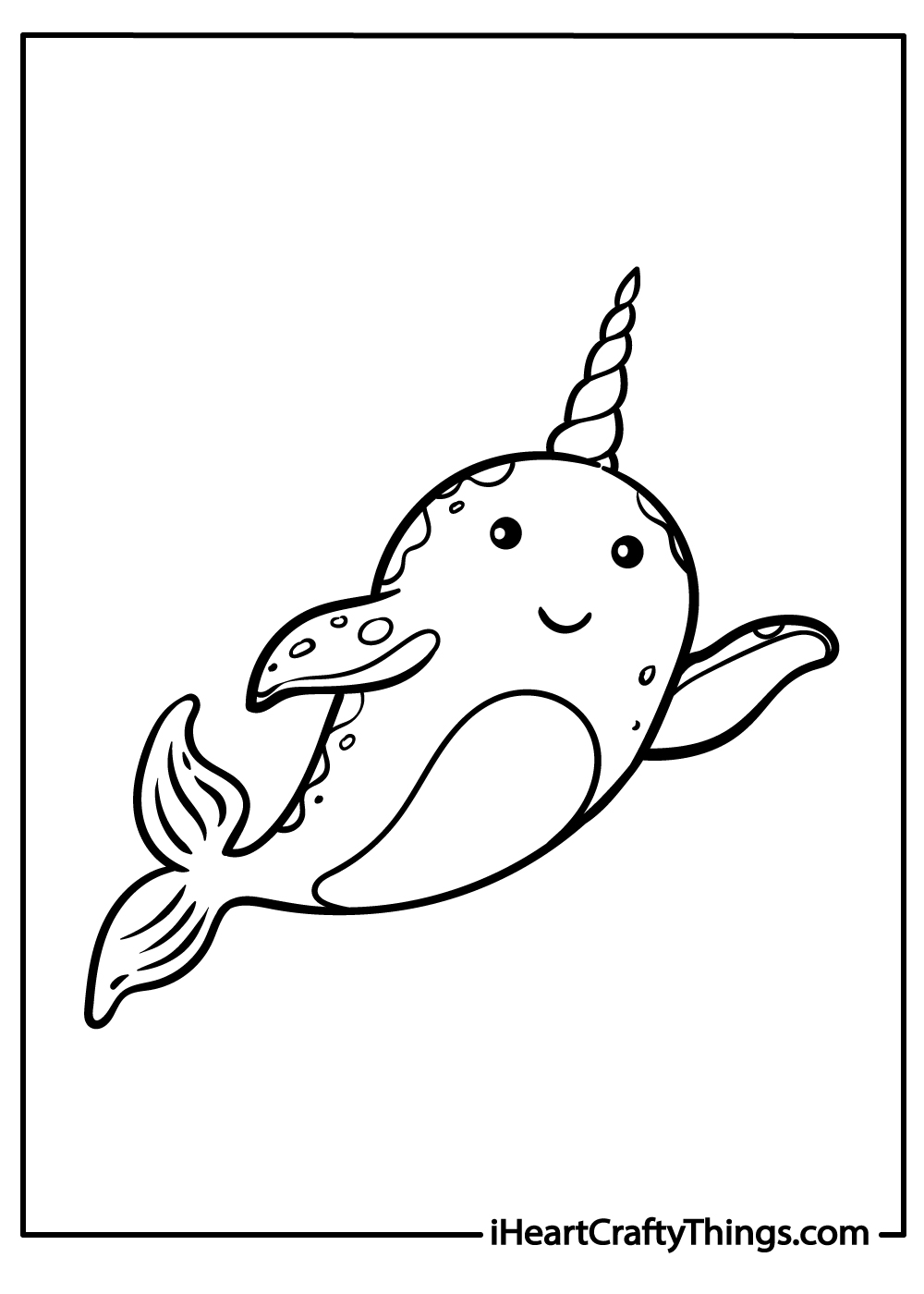 Narwhal Coloring Pages – Which will you choose?
We hope that these free narwhal coloring pages for kids provided hours of undersea coloring fun times for you!
All of our coloring art and printables are totally free for you to print, color and have a great time with, so you could print out as many copies of your favorite narwhal printables as you want and try out colors you didn't get to use the first time or maybe even incorporate other mediums like acrylic and watercolor paints.
Please be sure to like our Facebook page to make sure you never miss out on any of our awesome free coloring page printables and goodies. We would also love it if you would share some of your favorite finished narwhal coloring sheets for us to see and enjoy!
We always love to see the amazing creativity you all show when coloring in our free coloring pages!
REMEMBER: You can get the COMPLETE set of these coloring pages >> HERE