Some of the greatest stories ever told are contained within myths and fantasy stories. Whether it's a tale of the mighty Greek gods or a saga of elves and unicorns, it's easy to sense the adventure bursting from these tales.
Such vibrant and varied stories deserve equally diverse color palettes, whether it's Zeus holding a bright yellow lightning bolt or Poseidon under the deep blue sea, these printable coloring pages will let you unleash your creativity.
There's unlimited opportunity to experiment with lots of different color schemes and palettes in these printables!
These free fantasy and mythology coloring pages for kids are the perfect outlet to unleash your sense of adventure and creativity. Once you've finished coloring these fantasy coloring page printables, be sure to show us on our Facebook page so we can see how you've unleashed these gods and creatures!
REMEMBER: You can get the COMPLETE set of these coloring pages >> HERE
10 Brand New Fantasy And Mythology Coloring Pages – Free to Print and Color
In our first fantasy coloring page, we have a beautiful winged goddess. Doesn't this remind you of a stained glass window in an old church?
I think recreating that look would make for a stunning image, so having the background in bright reds, yellows, greens and blues would really complete the effect.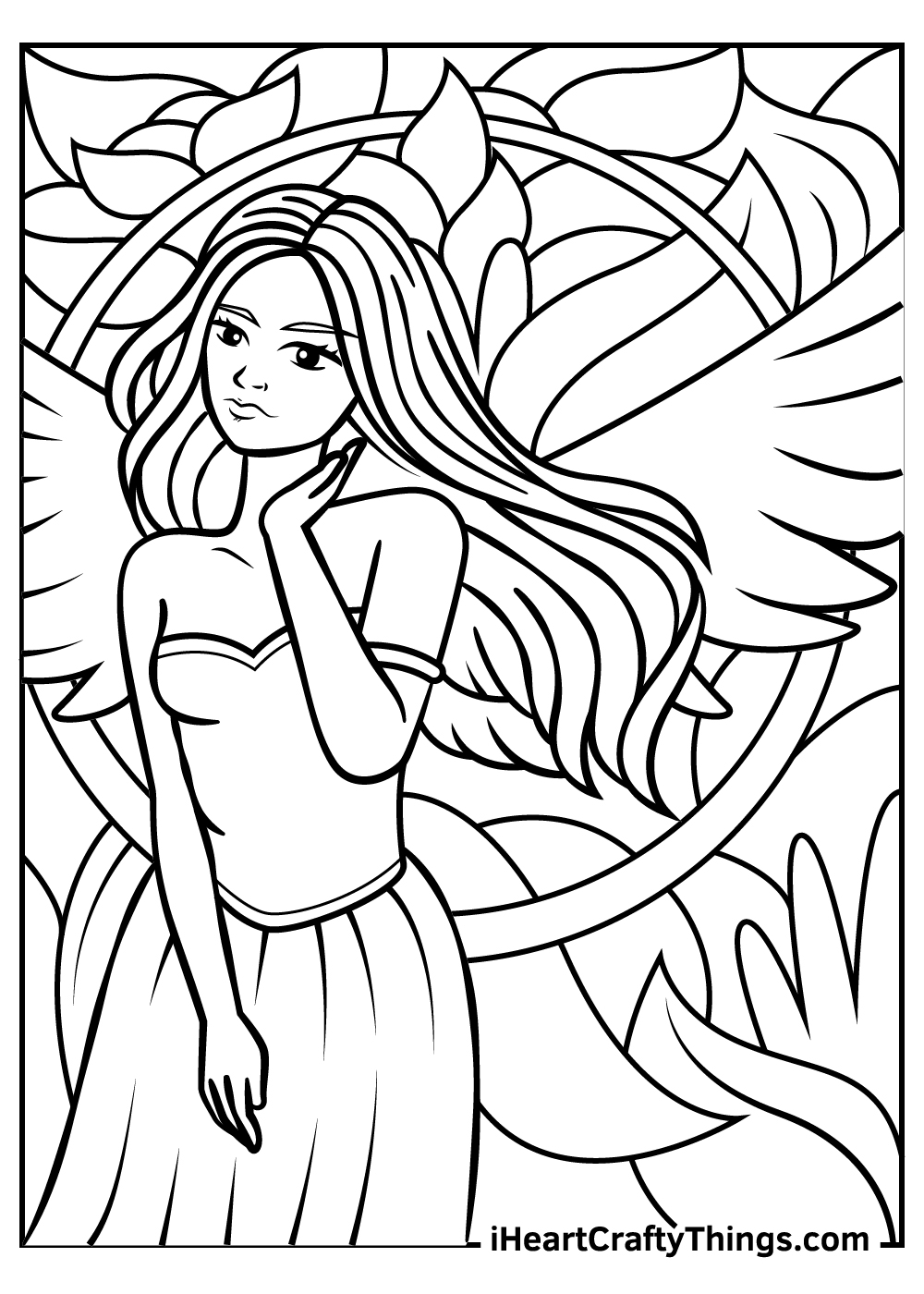 I love a good Greek myth story, and this mythology printable shows off the king of the gods himself; the mighty Zeus, ready to strike out with his signature lightning bolt. He looks like he means business and is ready to jump into battle!
I think a dramatic and bright color scheme would be great for this coloring page, and his lightning bolt would really stand out with your brightest yellow and more yellows and reds for the background to represent his power.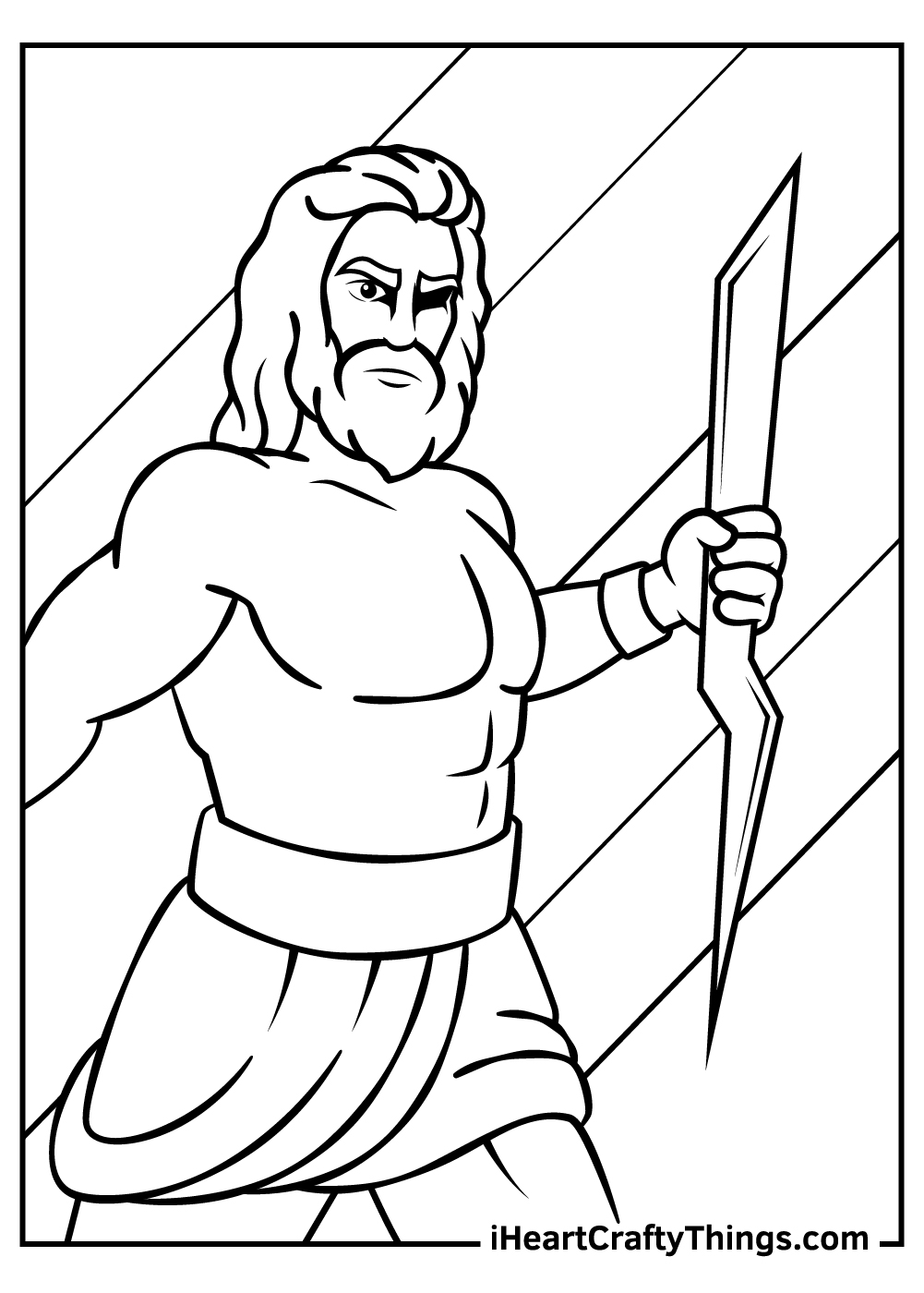 After a powerful Zeus in the previous printable, we calm things down a bit with this portrayal of the winged stallion Pegasus.
Zeus was in the midst of battle in the previous image, but here Pegasus looks to be having a much calmer day. I think calming things down with some cooler colors would really do this magnificent creature justice for this fantasy mythology coloring page.
REMEMBER: You can get the COMPLETE set of these coloring pages >> HERE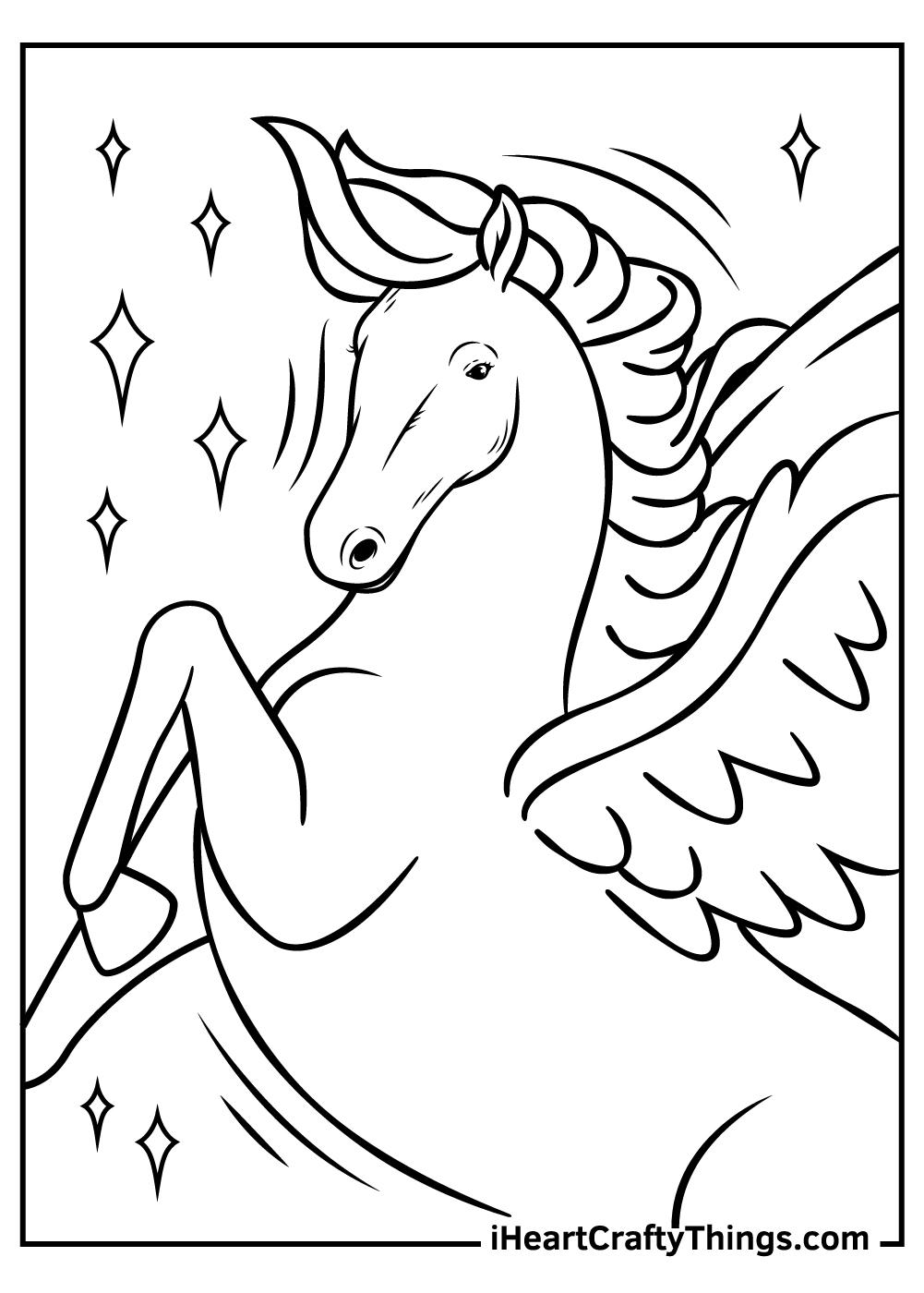 Some of the old Greek myths can get kind of creepy, and the creepiest of all in my eyes is the character of Medusa, portrayed in the next coloring printable. Medusa's main aspects are her eyes that can turn you to stone if she looks at you and her head of snakes. Talk about a bad hair day!
I think some more muted greens and blues would show off her serpentine theme, and maybe a contrast of bright colored eyes would show off the power her eyes have!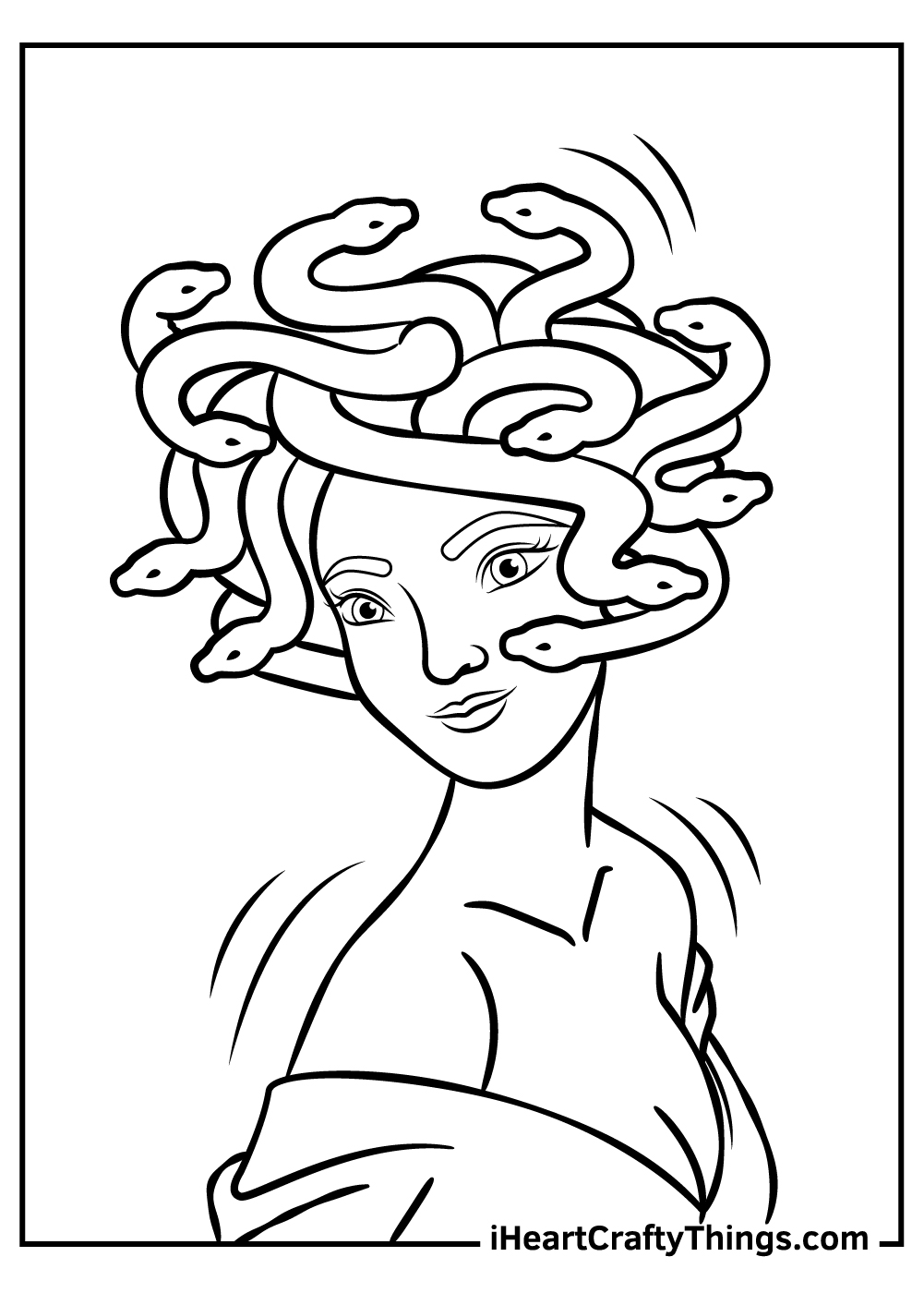 A beautiful fairy is the focus of our next fantasy coloring page, and she seems to be sparkling in the sunlight. She looks a little sad or contemplative, wouldn't you agree?
I think this printable would benefit from more cool colors to represent her mood, and maybe the sparkles around her can be a bit brighter to give a sense of hope and balance.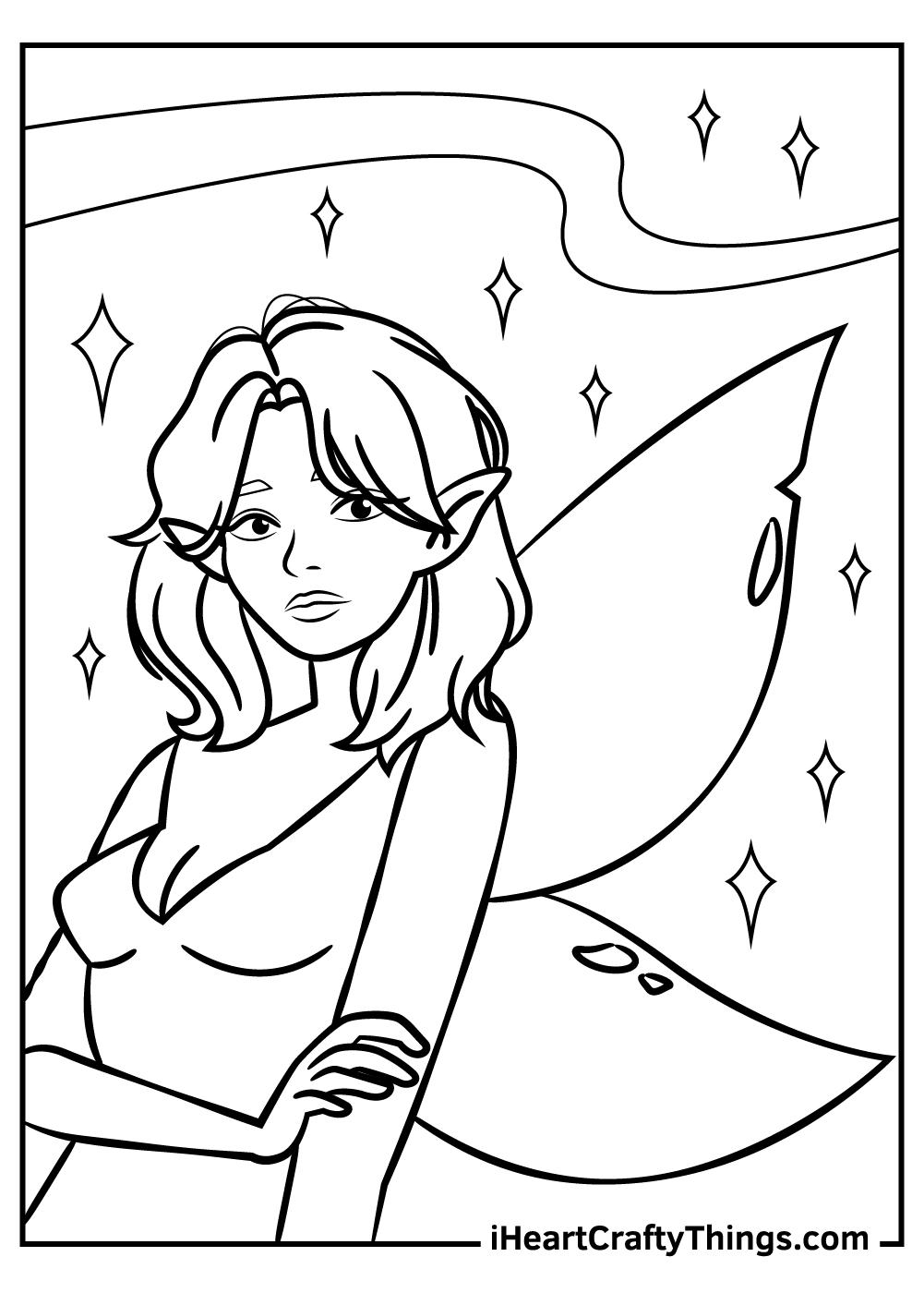 From a forest fairy to a mermaid under the sea, these coloring pages are really taking us on a grand journey! This printable takes place under the sea, so naturally I would suggest deep blues and greens to represent the ocean depths.
What do you think her hair color should be? Maybe bright red in reference to the mermaid Arial or perhaps some vibrant golden locks would suit her better.
I'd love to see what you all decide her hair should look like once you finish this coloring page!
REMEMBER: You can get the COMPLETE set of these coloring pages >> HERE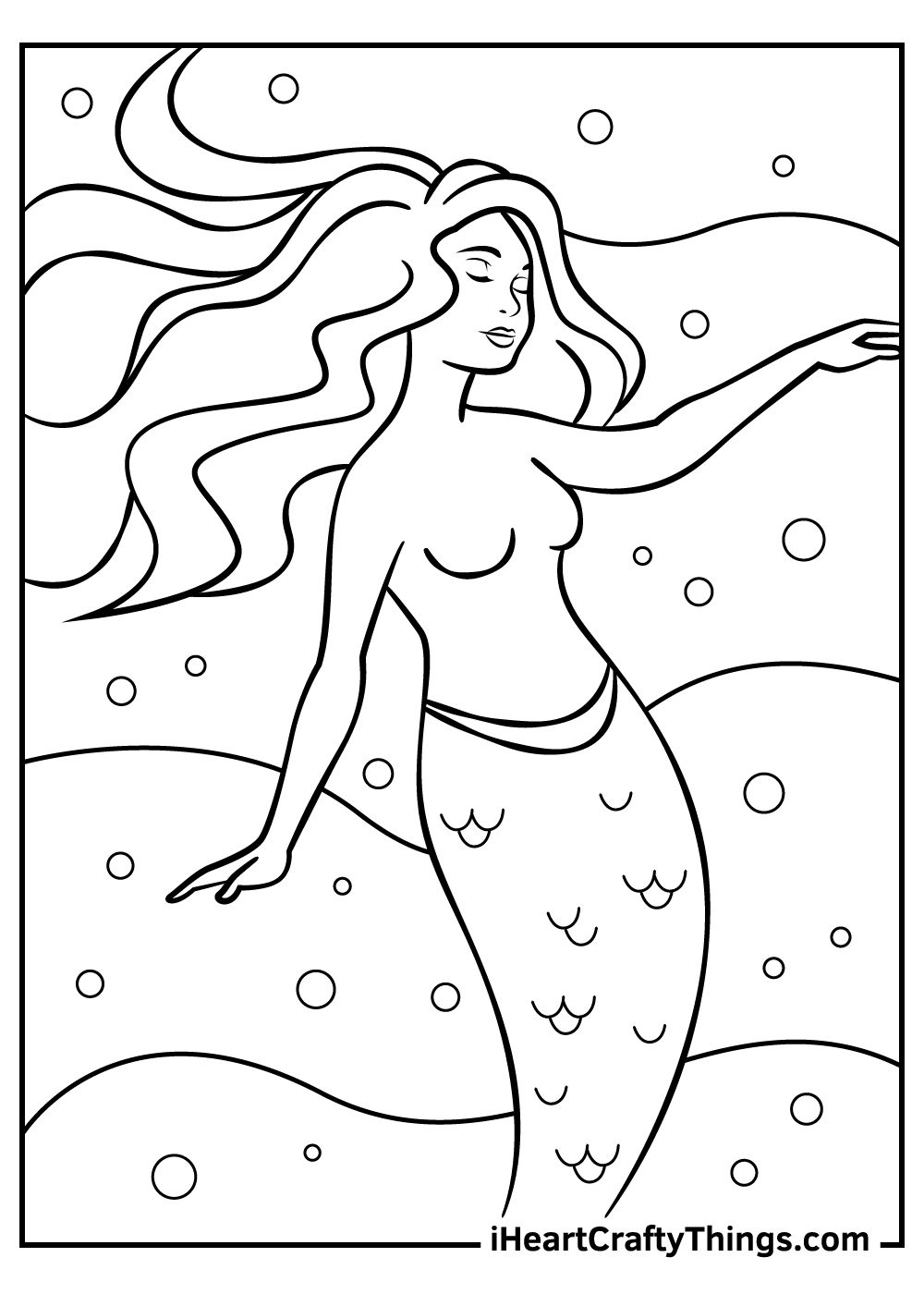 We've had a few images suited to cooler colors, but this next coloring page would be a great opportunity to get our your bright reds and yellows as we have a majestic goddess looking down.
I think her halo and the segmented background are begging for some bright warm colors that radiate love and care.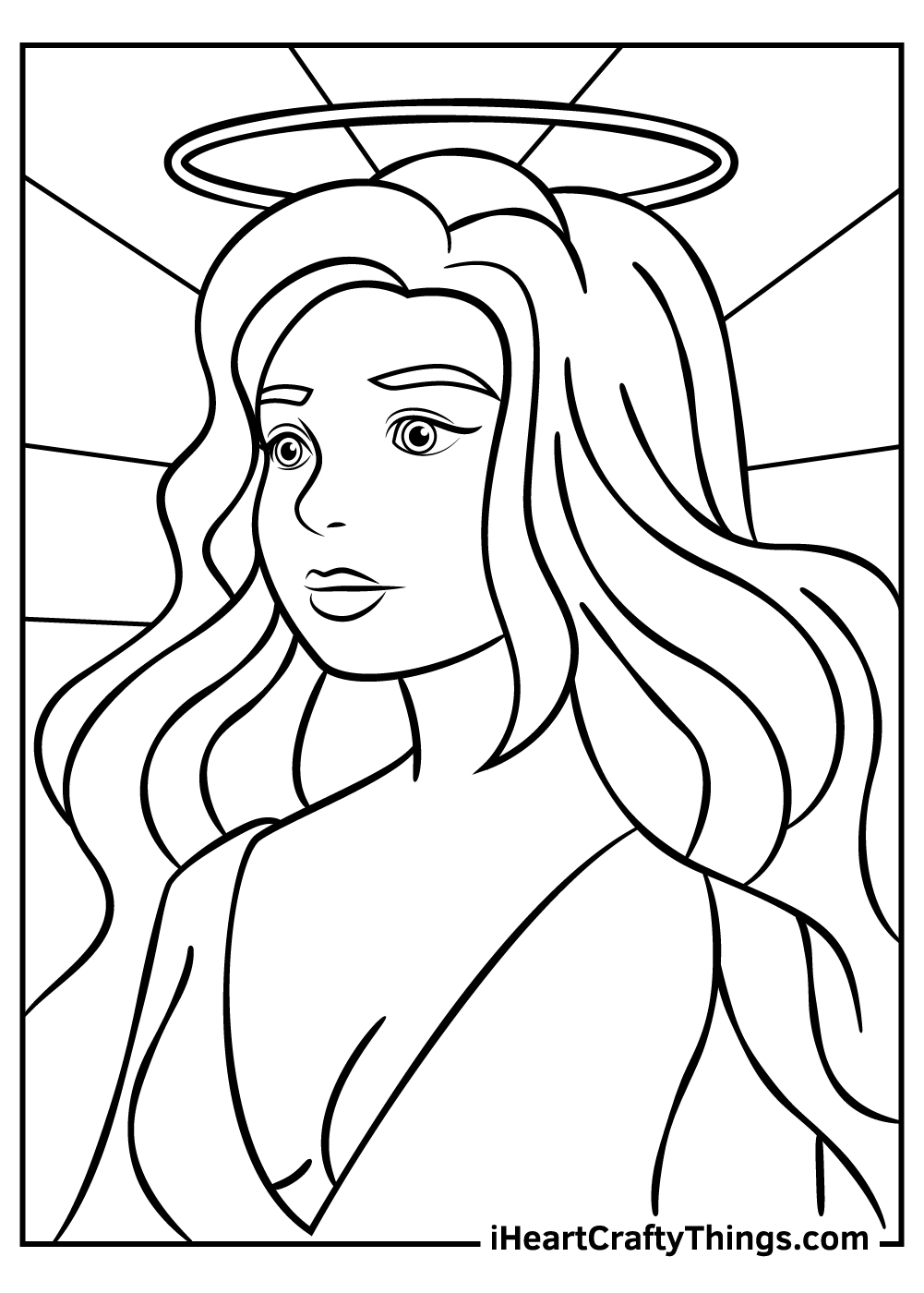 Here's an unusual one; a woman with a horn like a unicorn! This fantasy coloring printable makes me think she could be a centaur in a forest, and like the fairy from before she seems to be glistening in the sunlight.
Her luscious hair is very prominent in this coloring page, so I think it should really be a highlight of the picture and colored in bright and striking palettes.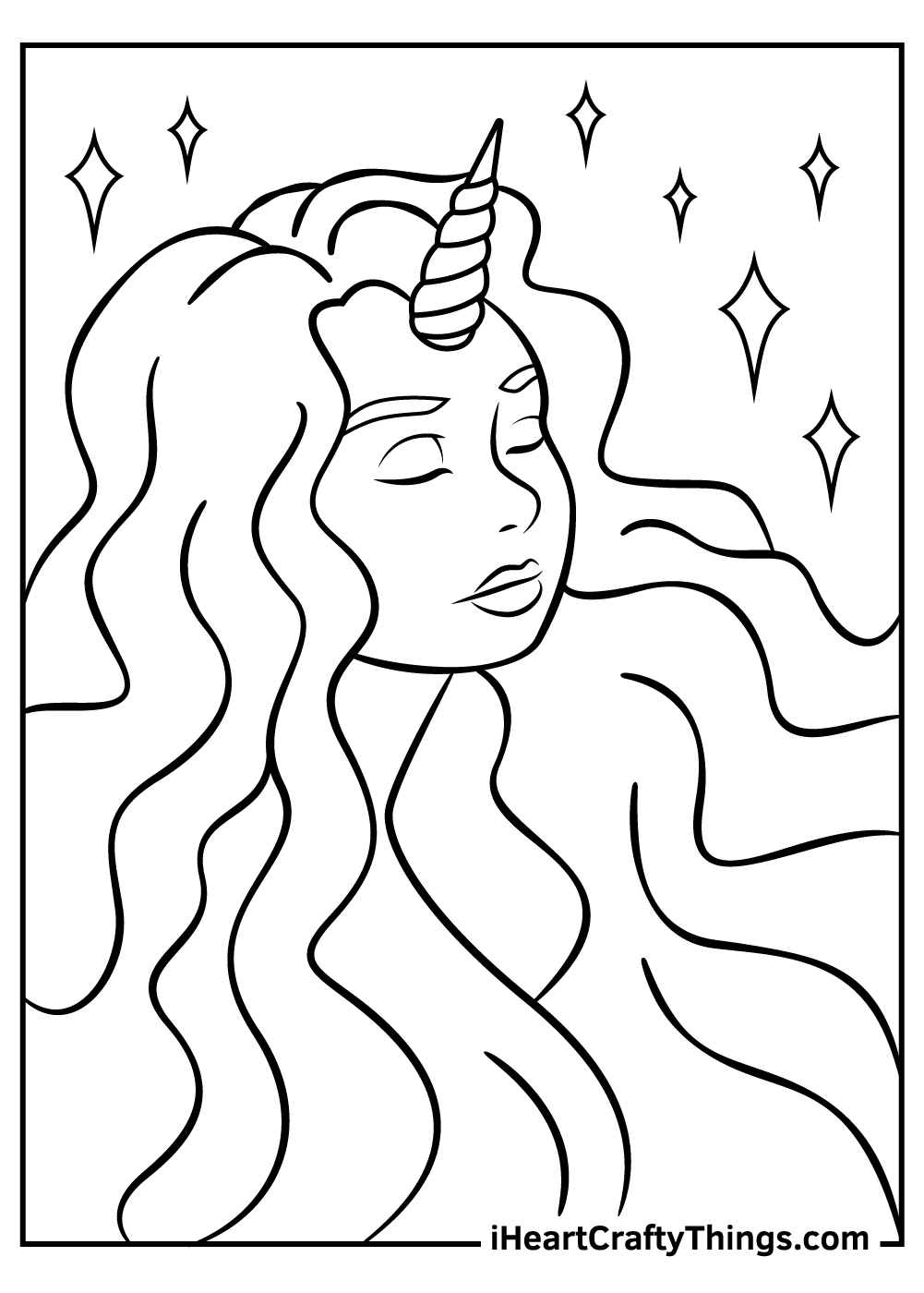 Back to Greek mythology, this next free printable shows the king of the oceans himself, the mighty Poseidon with his signature trident! He's seated on a literal sea horse, and he seems to be on patrol, keeping his ocean realm safe from harm.
Much like the mermaid coloring page from before, I'd say some deep blues and greens would help create an underwater atmosphere, and maybe some dashes of purple would create a sense of royalty befitting of the king of Atlantis!
REMEMBER: You can get the COMPLETE set of these coloring pages >> HERE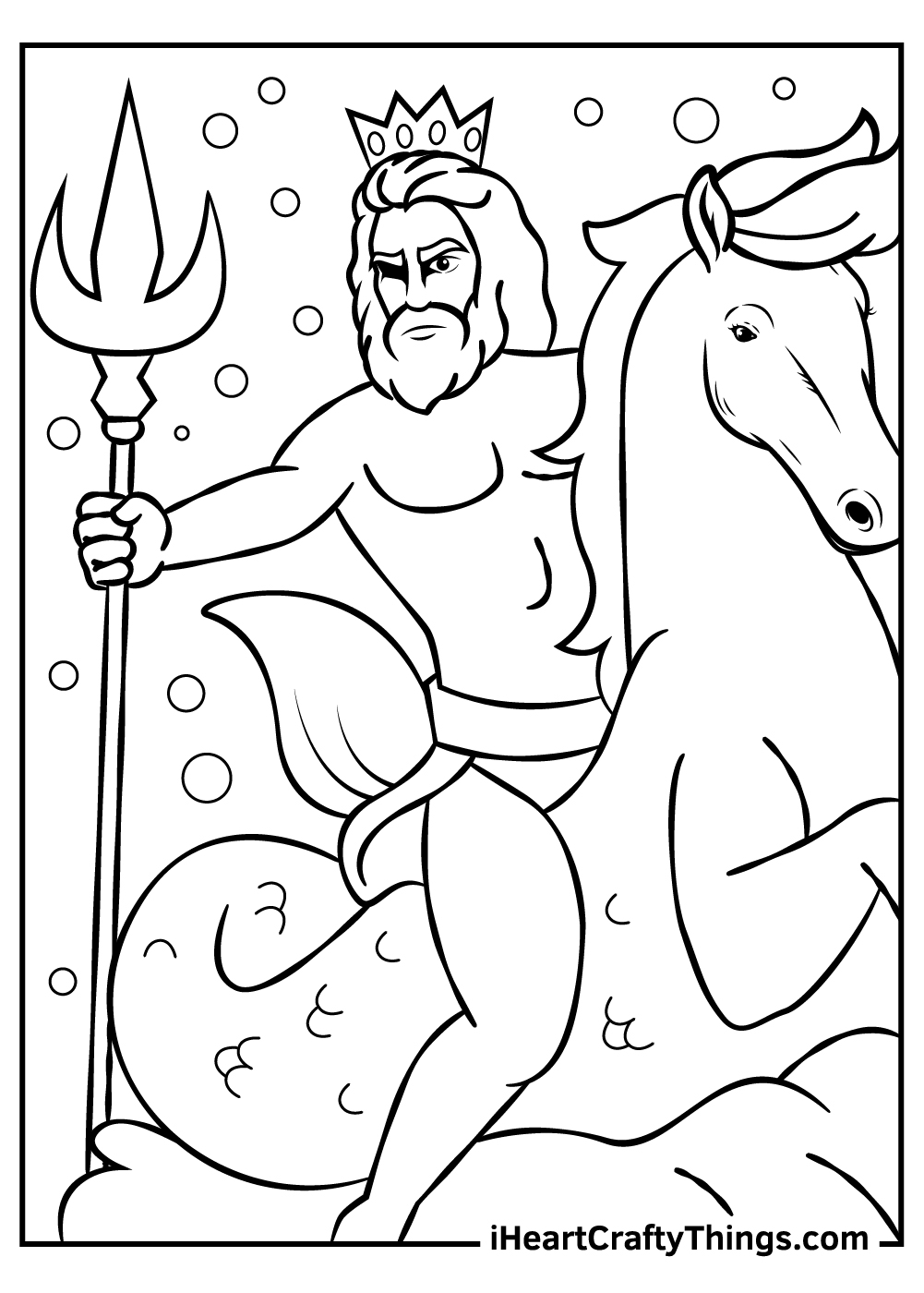 For our last free fantasy coloring page, we have a pretty elf. When I think of fantasy, I can't help but think of elves, they're definitely an iconic fantasy creature!
Elves often life in forests, and this elven woman would probably look great with a background of various greens to show her peacefully in her realm.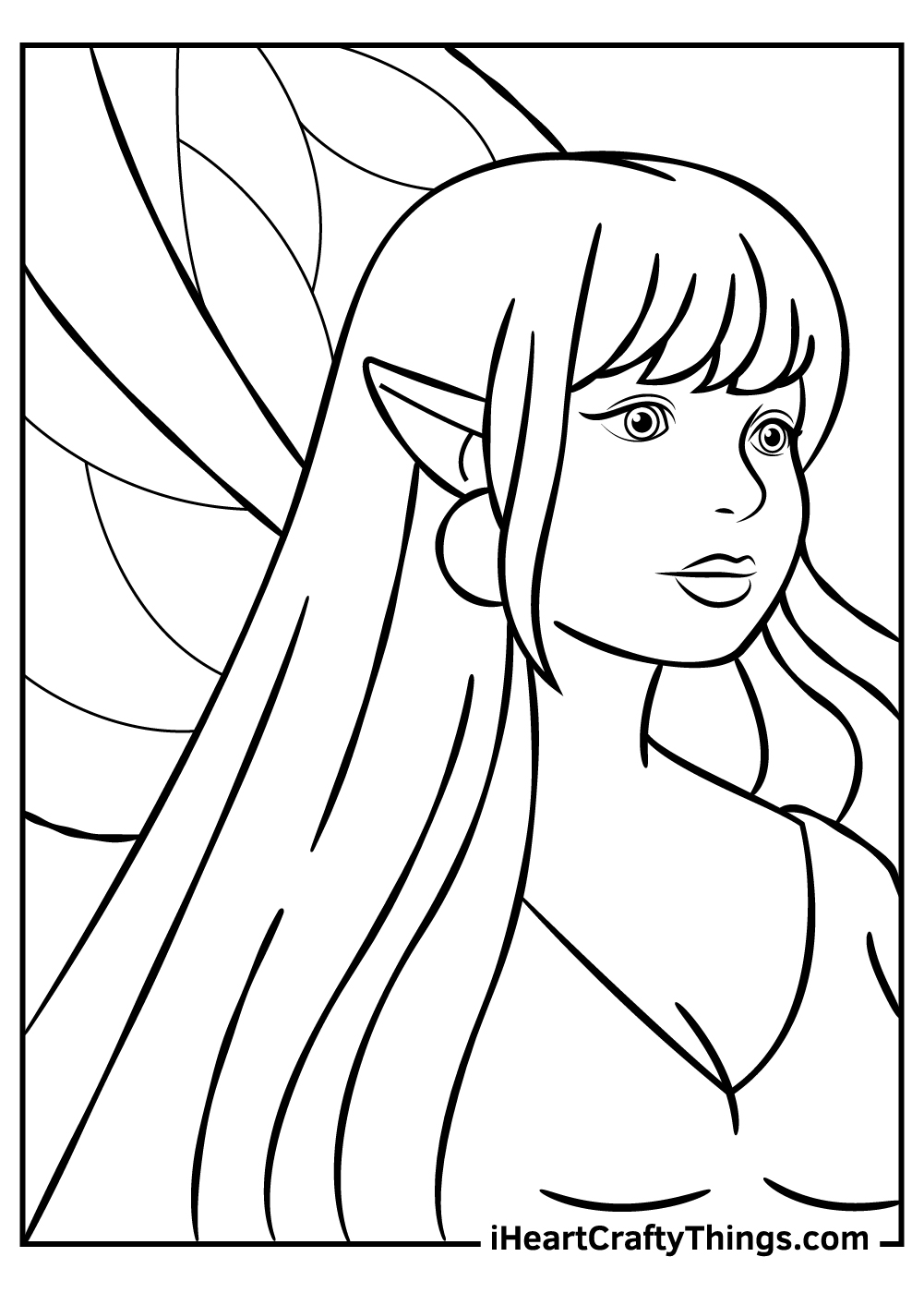 Fantasy Coloring Pages – Which will you choose?
We hope you love these free fantasy and mythology inspired coloring page printables! All of our coloring page images are completely free for you to print and share as much as you like.
These different fantasy scenes provide a great opportunity to really go wild with different colors and pallets, so why not print a few copies of each and really unleash your adventurous creativity?
We always love to see how you interpret these printable coloring book scenes, so please share your colorful mythical adventures on our Facebook page!
REMEMBER: You can get the COMPLETE set of these coloring pages >> HERE