The myths and legends originating from ancient Greece are the sources of many incredible stories, characters and fables that we enjoy to this day!
These legends tell the stories of many larger-than-life gods, mortals and creatures that capture the imagination.
One of the most famous of these characters is the winged steed Pegasus, and this collection of free Pegasus coloring pages for kids is here to celebrate this famous horse!
We have 10 gorgeous pages that are focused on this winged steed for you to color, and there are many different styles and scenarios presented for you to work your magic on!
You will definitely get to use all of your favorite colors, mediums and styles when coloring these.
All of these pages are free for you to print and enjoy as much as you like, so you can really have a great time experimenting with your creativity!
You can also share the collection with others to try out for extra fun.
So now, get ready for a trip into myth and legend with these Pegasus coloring pages! You can also share some of your finished pages on our Facebook and Pinterest pages so we can see how amazing they look.
10 Brand New Pegasus Coloring Pages – Free to Print and Color
This first page of our collection of free Pegasus coloring pages for kids gives off such a calming feeling!
Pegasus is enjoying a quiet moment here, and you could use colors that will highlight this feeling.
We would use some milder blues and other cool colors for this one that would highlight the calmer feeling, but what colors come to mind for this first image?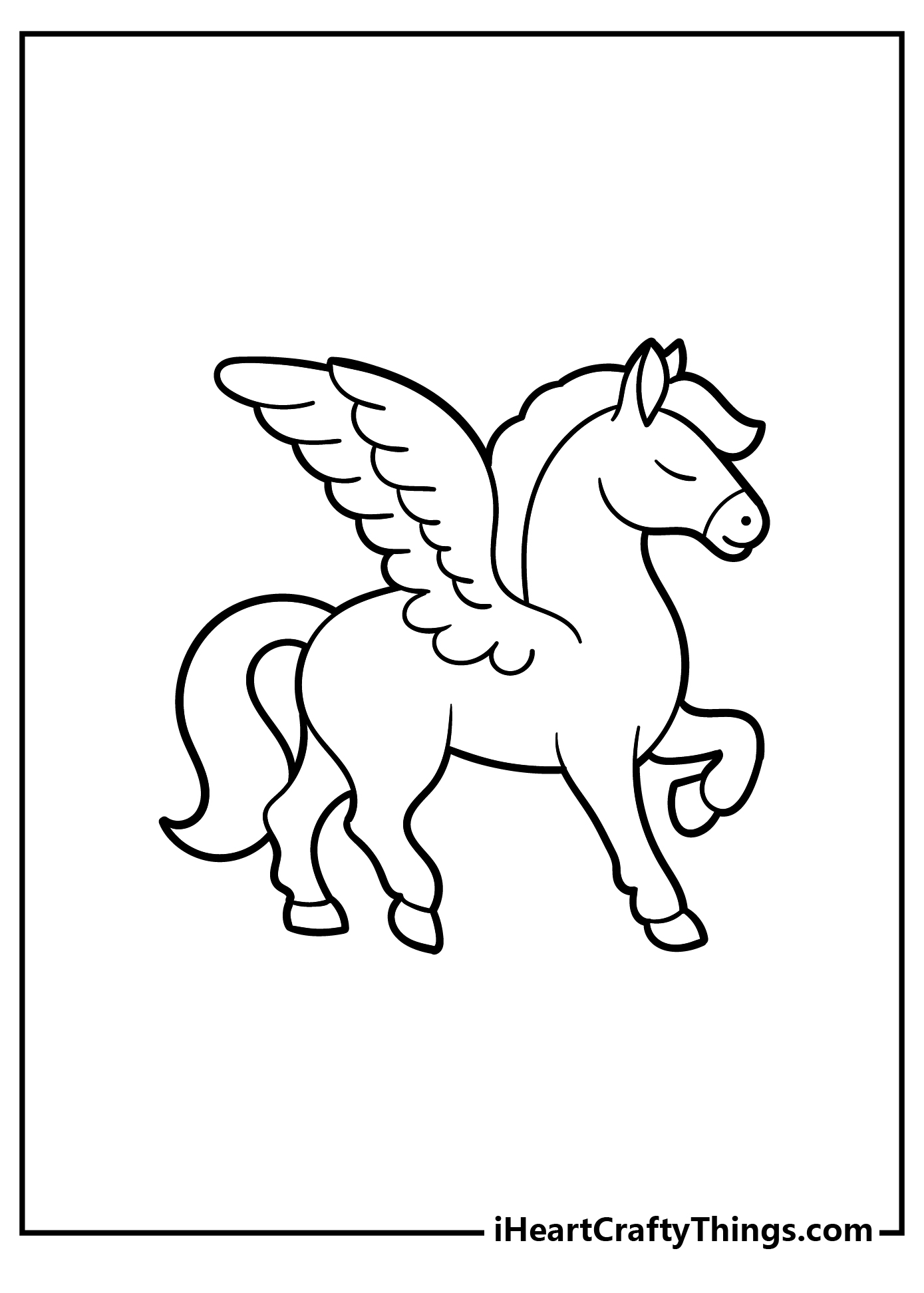 For the second Pegasus coloring sheet we have to color, there is an image that looks very mysterious and stunning.
Pegasus has an eye without a pupil here, and it makes him look even more like a magical creature!
He is typically colored as a pure white horse, but this is only a common interpretation and far from the only one.
That means you have a lot of freedom with how you could color this famous winged horse!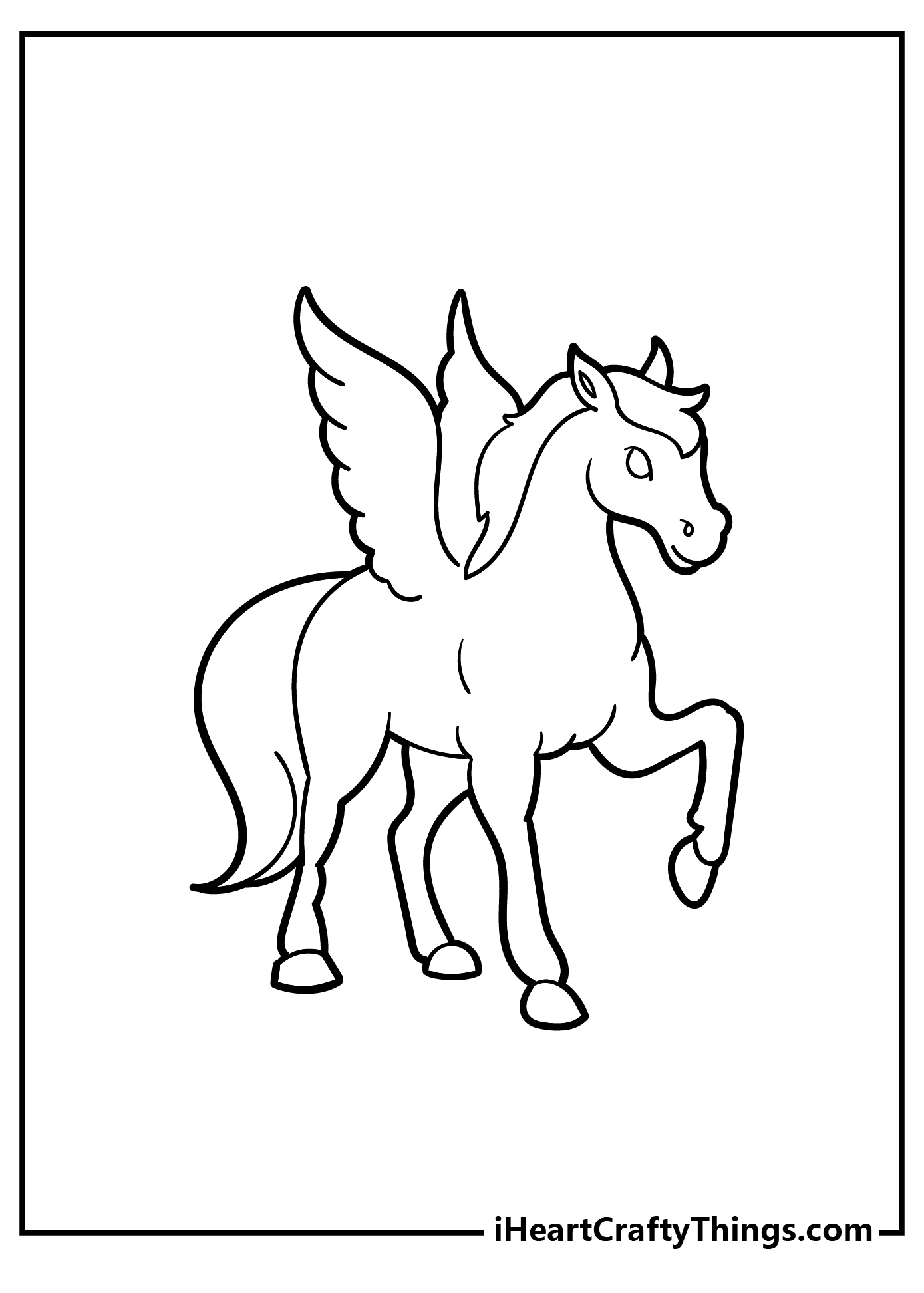 There's a really happy feeling from this one, and Pegasus seems to be enjoying a pleasant flight here.
The smile on his face gives him such a sweet look in this one, and it's another image where we think some softer colors would be perfect.
On the other hand, it could also look great with some bright, happy colors. What to choose? We know whichever approach you take that it will look amazing!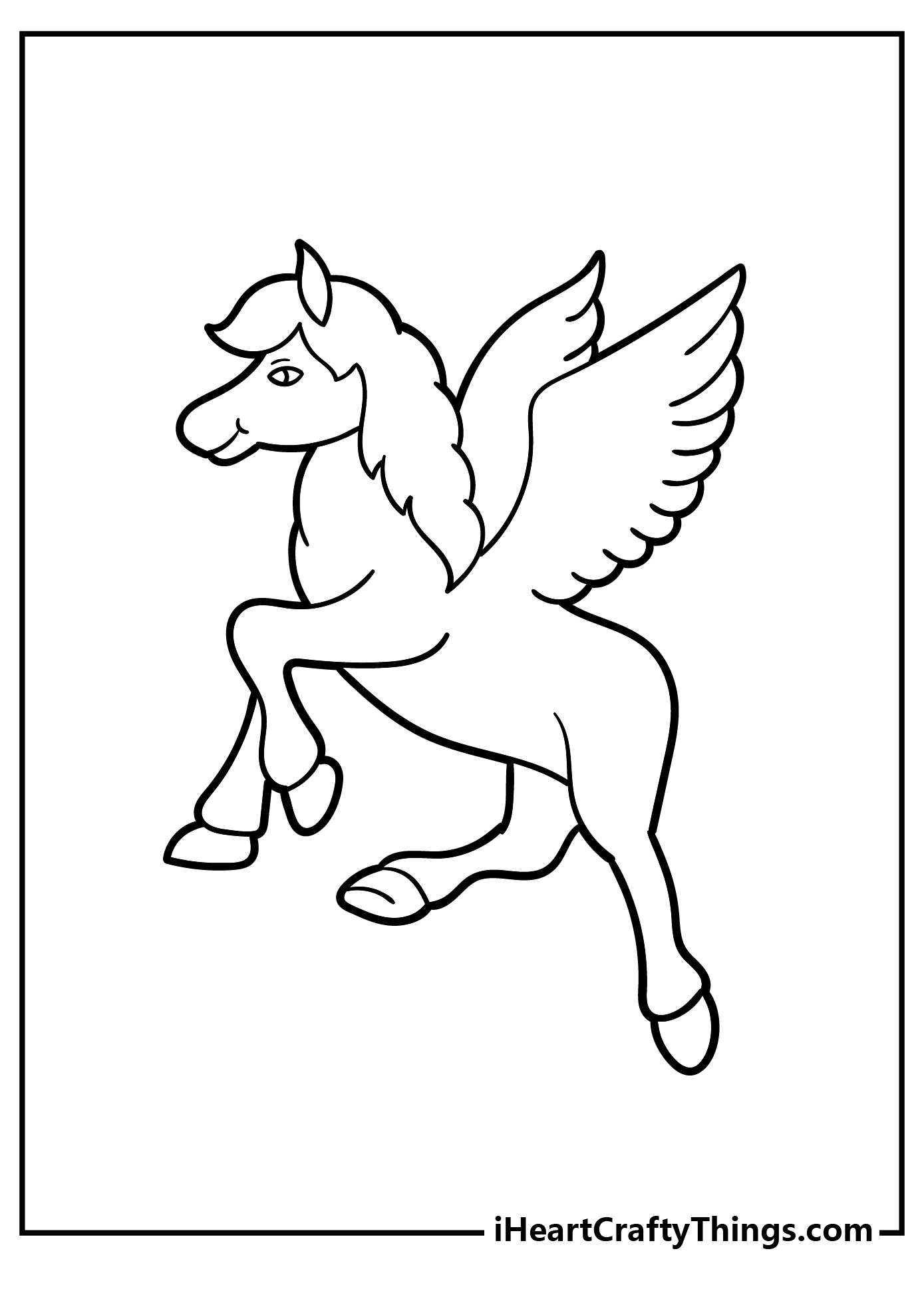 The fourth depiction of Pegasus that we have for you is a really dramatic pose. Pegasus is in midair and in flight, and it's a really powerful scene.
We think that this one would be perfect to add some extra details to, and there are many options to choose from. One idea would be to draw a full moon behind Pegasus framing his pose.
That would look amazing, but there are many other options you could go for too! Do you have some ideas for a scene to put Pegasus into?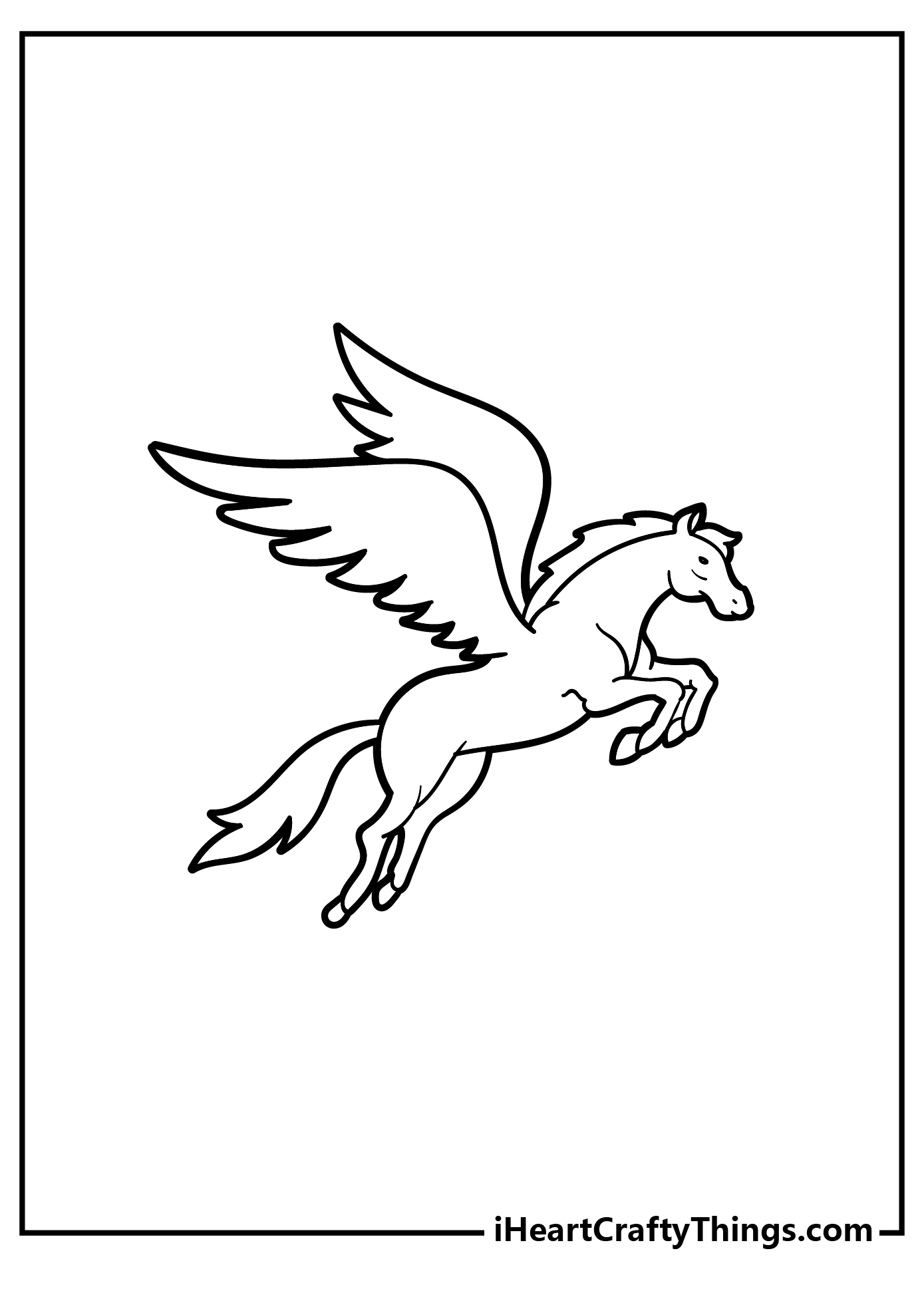 Here we have another incredible portrayal of this famous horse in this next Pegasus coloring printable!
Once again, he is flying in this one, and this is another pose where you could create an incredible background.
You could look up some pictures of Greek landscapes if you need some inspiration for an appropriate setting to place Pegasus into.
This is one idea, but what other settings would Pegasus look good in?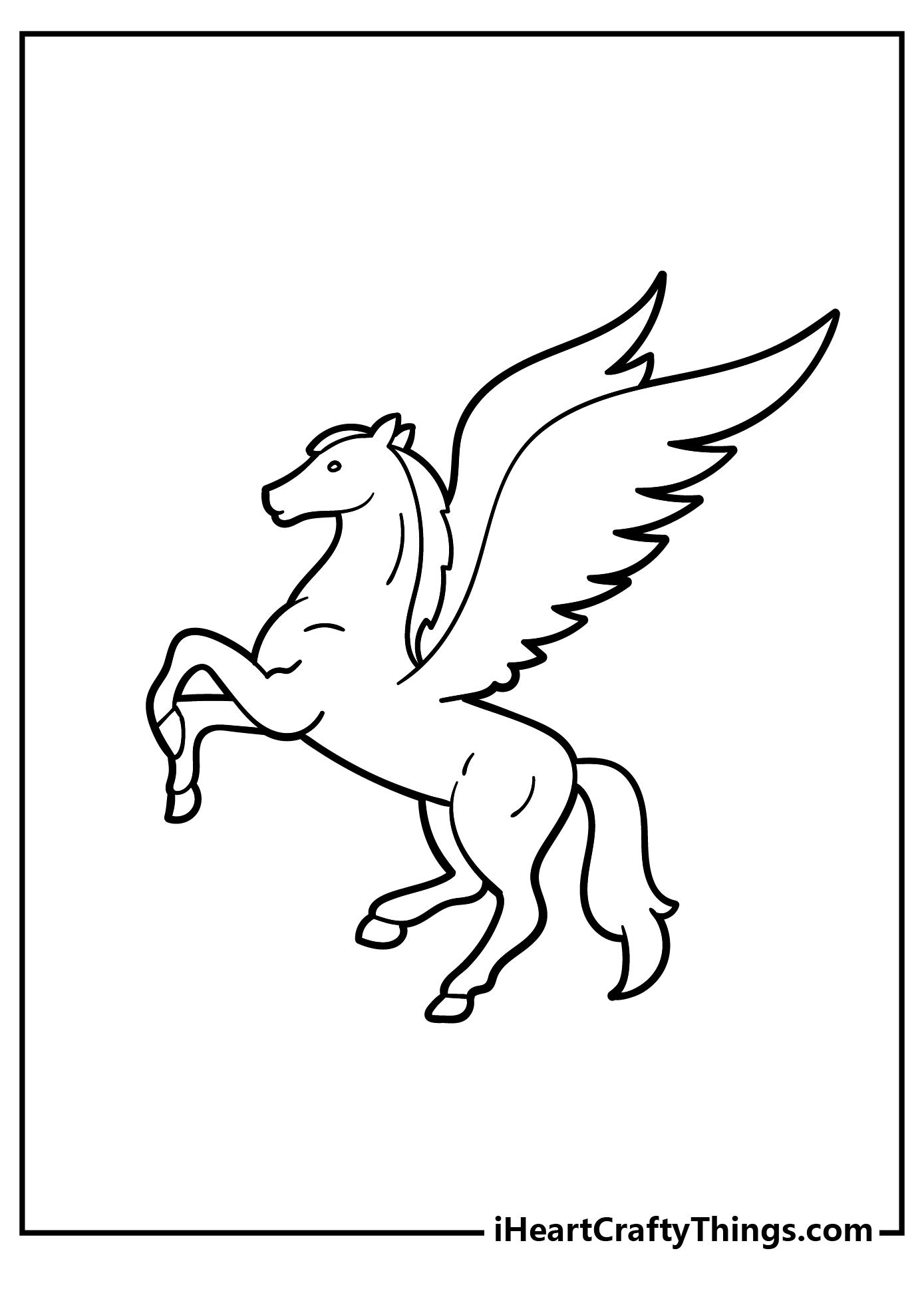 This next image is a really cute portrayal of Pegasus, and seems to show him as a young foal!
Such an adorable picture needs some colors to suit the feeling it gives off, and we would probably go for some light pinks and blues done in watercolors for this one.
That is the color and medium combination we would go for, but you're in charge now! How will you color this one?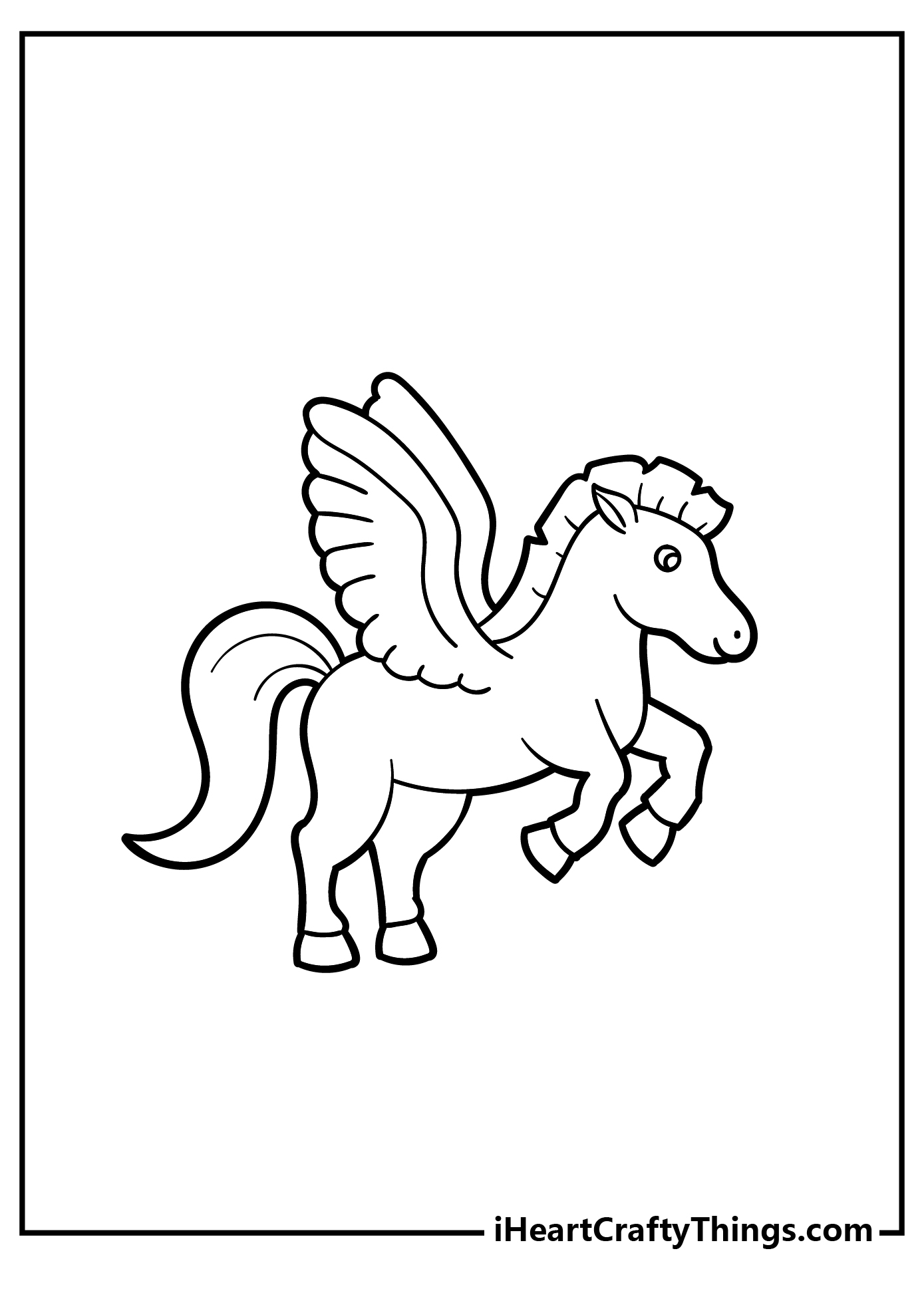 If you thought the previous Pegasus coloring page was cute, wait until you see this one! This is the cutest portrayal of Pegasus yet, and we love the whimsical style this one is done in.
For this one, we would take a different approach to our last suggestion. We think this one would look amazing done in brighter, more vibrant colors.
We would also use some art tools and mediums such as colored pens, markers and acrylic paints to really make the colors pop. It will be great to see what you choose for this picture!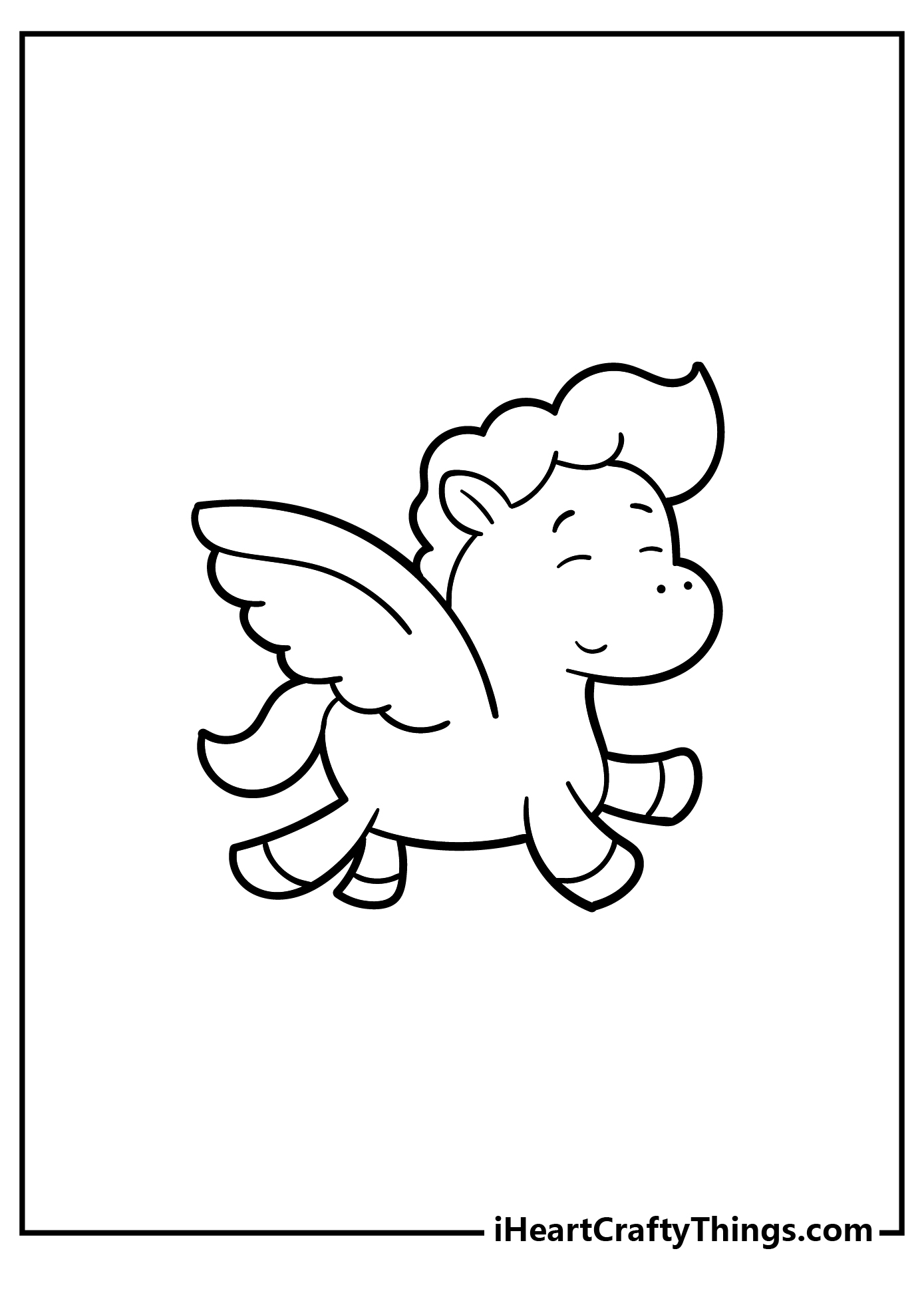 Now here's an incredible view of Pegasus! This one shows him facing us, and it gives a great view of his majestic wings.
The wings also have a lot of smaller details that you can have fun coloring, and it could be interesting to use lots of different color combinations for each detail of the wing.
You could also go for a more muted approach, and it merely depends on your own taste!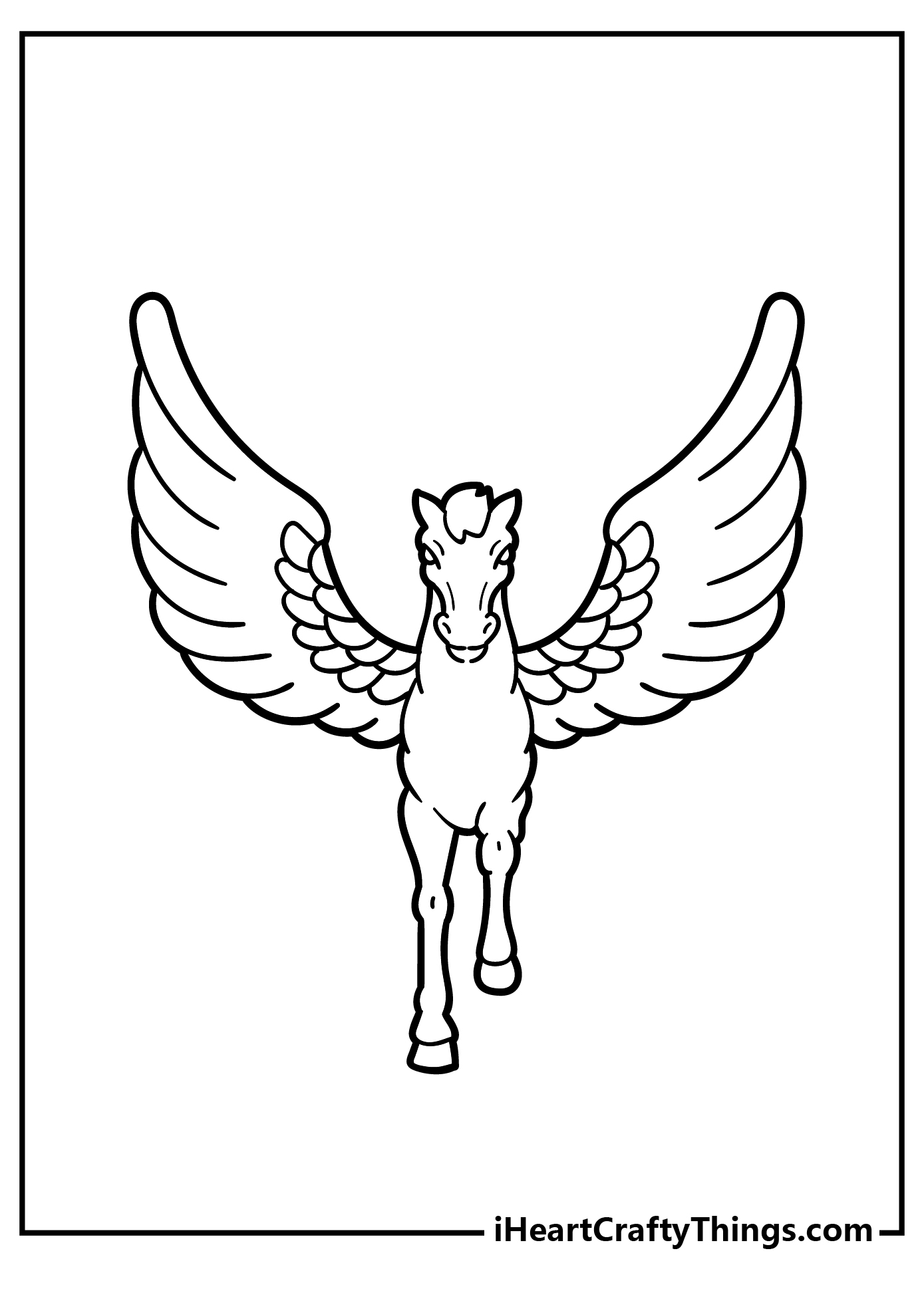 Pegasus is striking another classic pose in this image. He is rearing his hooves, and it makes for a dramatic picture.
This one is drawn in a less detailed style, so we would color this one with more muted colors to suit the style.
This is just one way that you could go about it, and you could also go for brighter colors to contrast the simpler style of the picture.
Then, it's on to the final picture of the collection!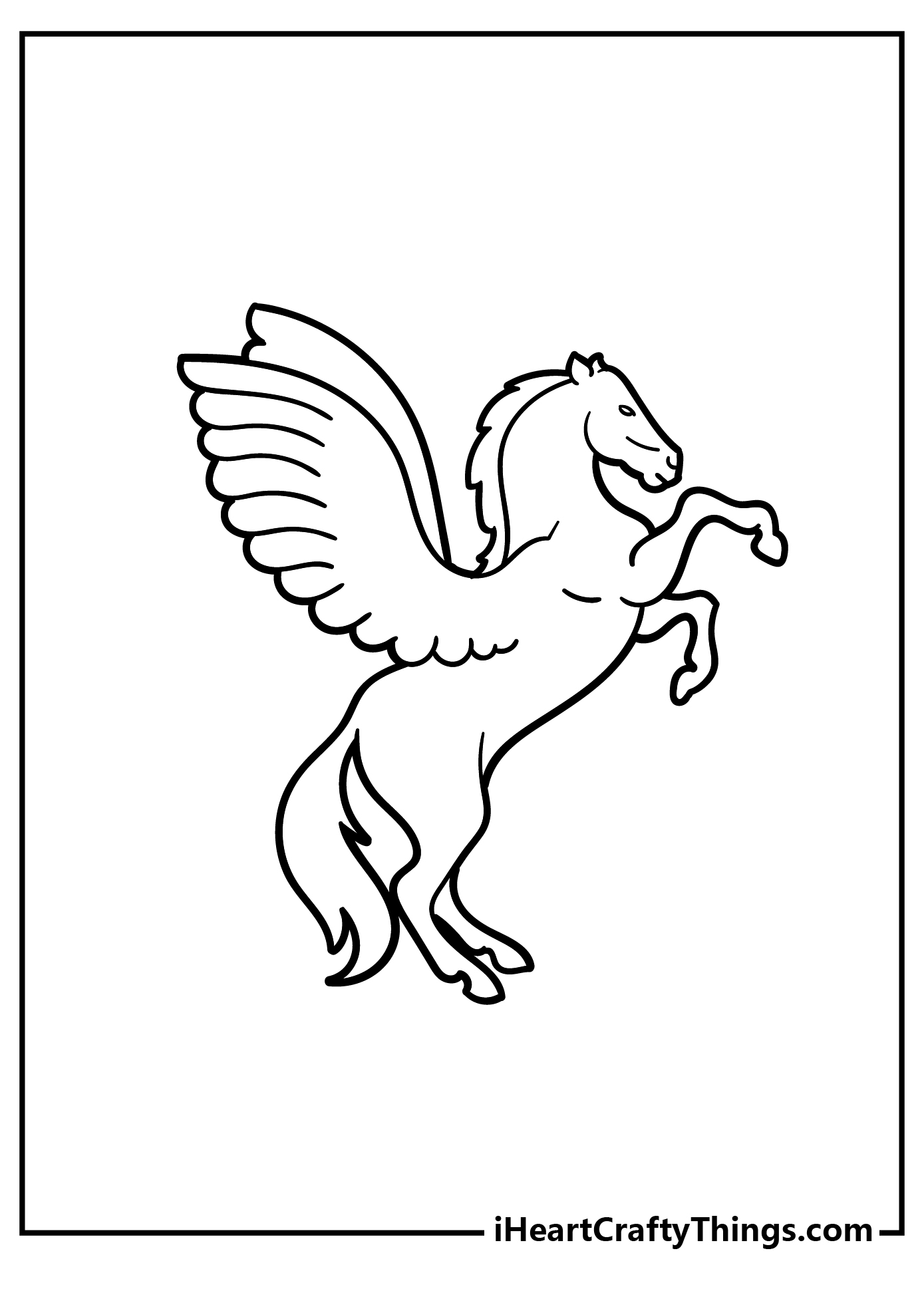 This is the final Pegasus coloring sheet that we have for you in this collection, and we're ending things on a delightful note!
This one is drawn in a really unique style that really captures Pegasus's personality. Once again, it could be a lot of fun to add a background to this image.
What kinds of imaginative settings come to mind for you when you see this composition? We can't wait to see how you finish off this final page of the collection. We know it will look great!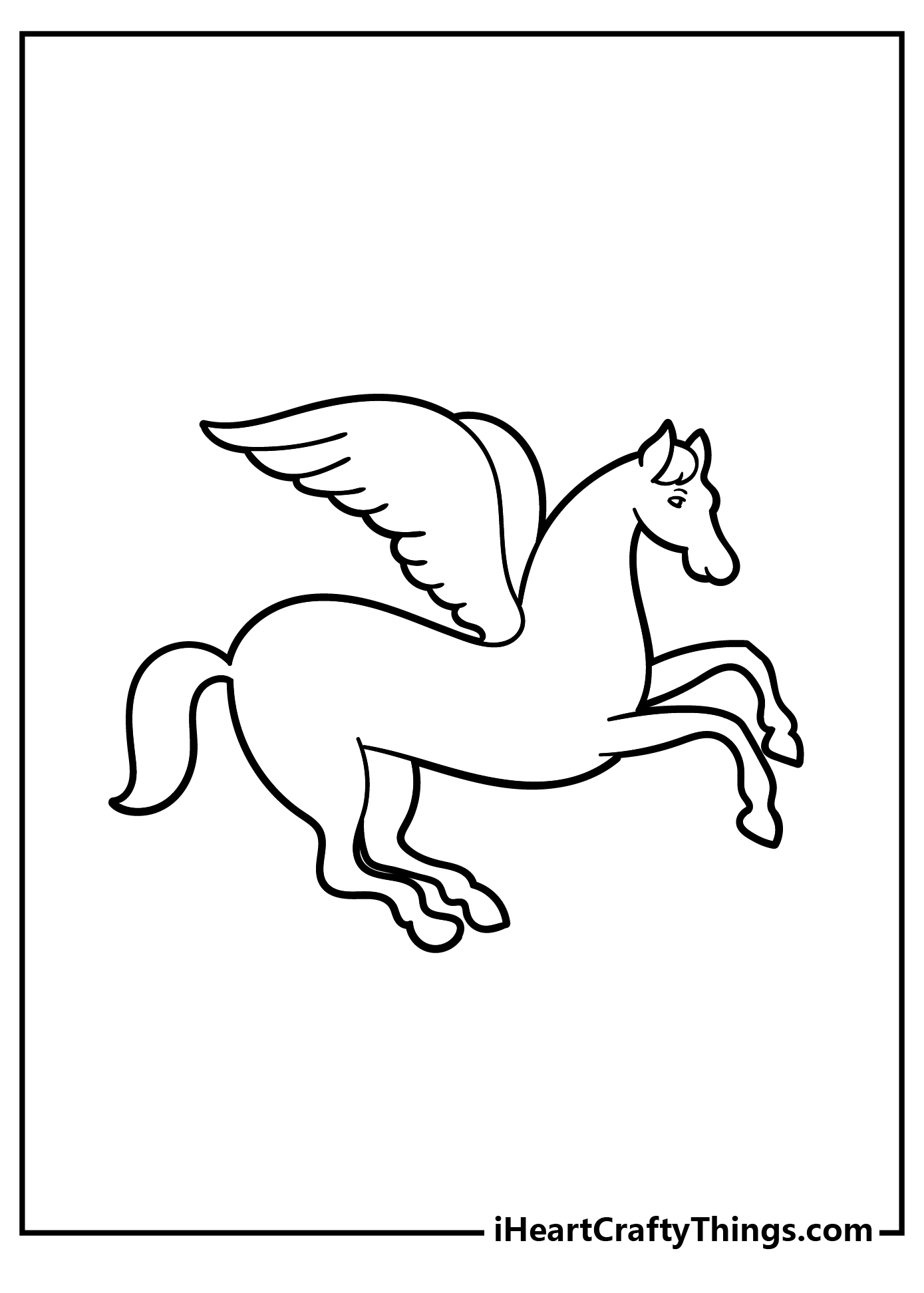 Pegasus Coloring Pages – Which will you choose?
One could argue that Pegasus is the most famous horse of all time, and we hope you enjoyed bringing some color to him in these free Pegasus coloring pages for kids!
There were so many great poses and scenarios that Pegasus was in within these pages, and there is plenty of room for creativity as you finish them off.
If you had a great time working on these pages, you will be thrilled to learn that there are many more collections of coloring pages on our website!
We feature all kinds of subjects and styles with our pages, and all are free to enjoy.
We would really love to see some of your finished Pegasus coloring pages, so please share some of your artworks on our Facebook and Pinterest pages for us to see!