On this page, you will find 40 all new Princess coloring pages that are completely free to print and download.
Princesses have never been more popular than they are now. They are all the rage for birthday parties, decorations, toys, and more.
Disney princesses like Aurora, Jasmine, and Ariel have only made the princess trend more popular.
Maybe it's the pretty dresses and beautiful hair, or perhaps it's the enchanting princes and rags to riches stories, but recently we simply cannot get enough of princesses.
The popularity of princesses in pop culture has created a big demand in our readers for princess coloring pages that you can print for free.
Finally here are all new completely original and free princess coloring pages for you to print and color. Enjoy!
Princess Coloring Pages – 40 Brand New Printable Sheets
This princess enjoys a calm moment sitting on a hilltop with her arms around her knees.
She is wearing shorts and a top with ruffles instead of a fancy dress.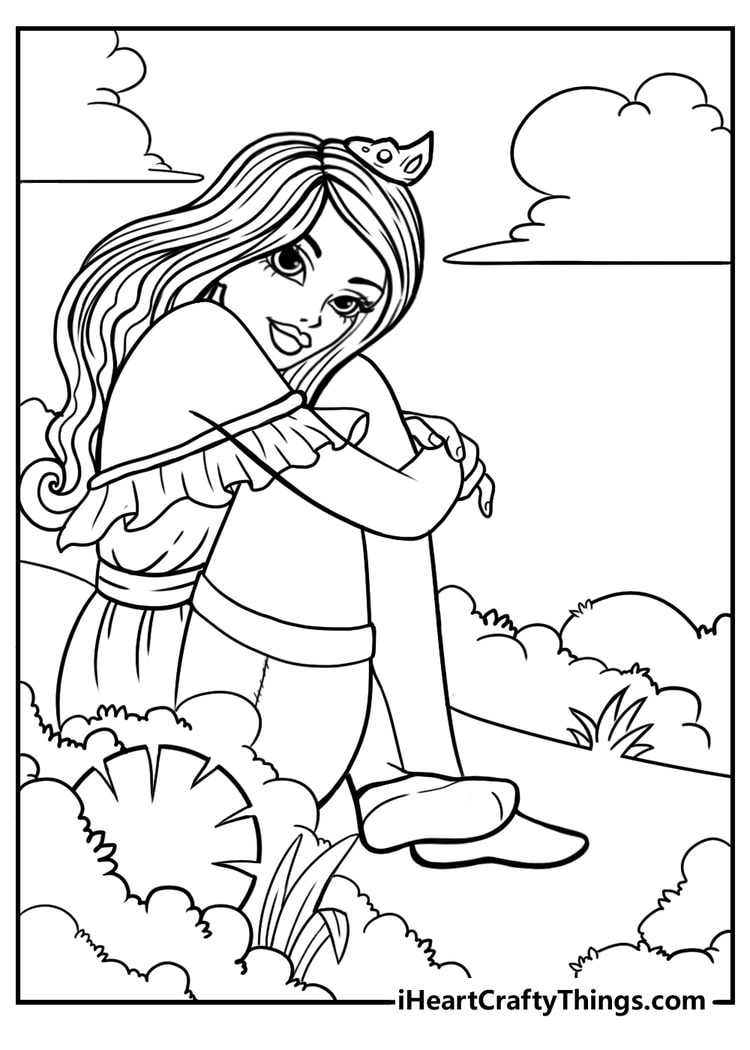 Being a princess means you get to have pretty much anything you want, and that is shown in this princess coloring sheet.
This pretty princess is relaxing with a giant teddy bear, and it makes for a really fun and cozy image!
If we were coloring this one, we would probably go for some warmer colors to make the scene even cozier.
We think that would make this a really charming and relaxing picture to look at, but it is just one of the ways that you could color this in!
What are some other ways you can think of that you could color this charming page?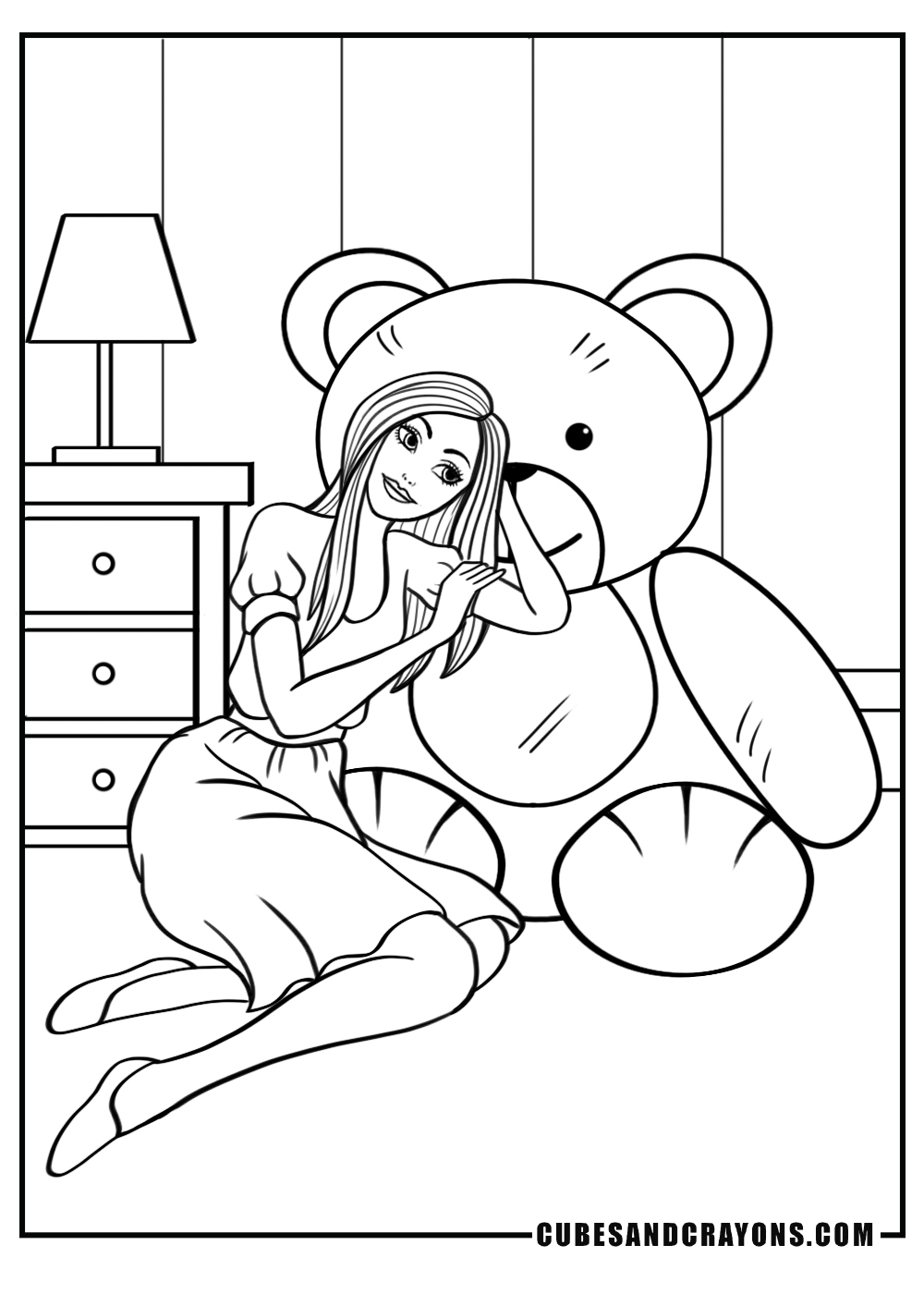 The princess in this coloring sheet prefers a crown of flowers instead of one with diamonds and gold.
She wears a dress with a big puffy skirt and a necklace with a small pendant.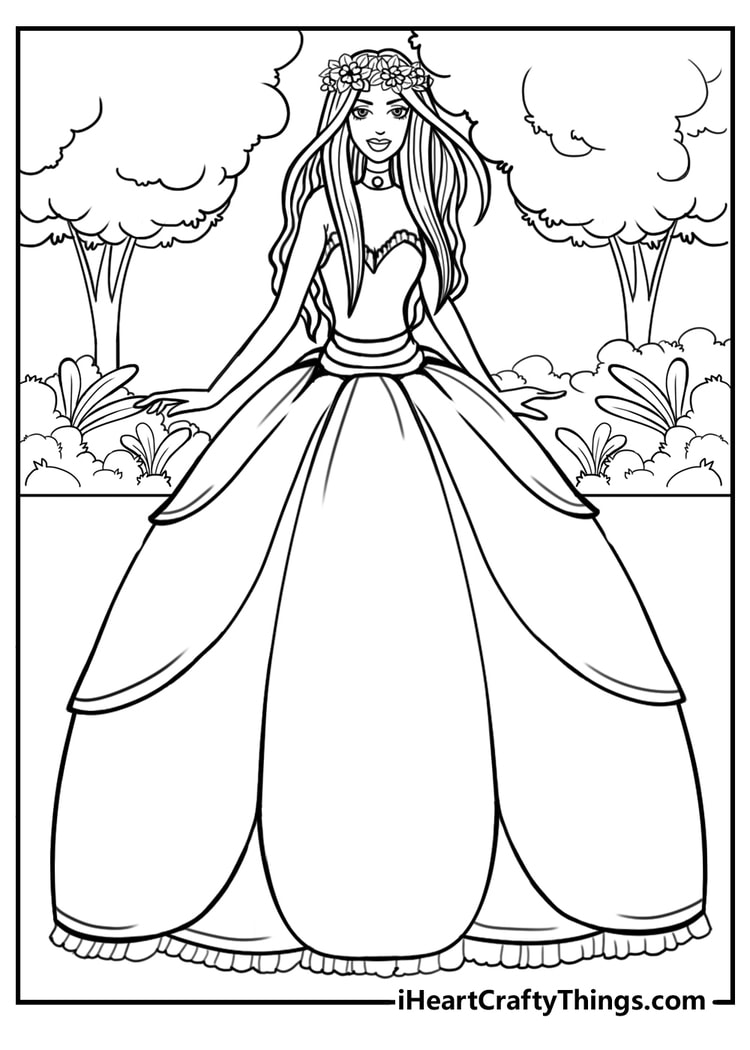 It's time to head out for a lovely walk with this next page in the collection. This princess is looking nice and elegant as she takes a walk, and there are so many great details to color in.
It is a really relaxing scene and setting, and we think that using some softer mediums like colored pencils or watercolor paints would help to give this a classic look.
No matter how you choose to color this one, we know it will look amazing! We can't wait to see what you choose to do for this one.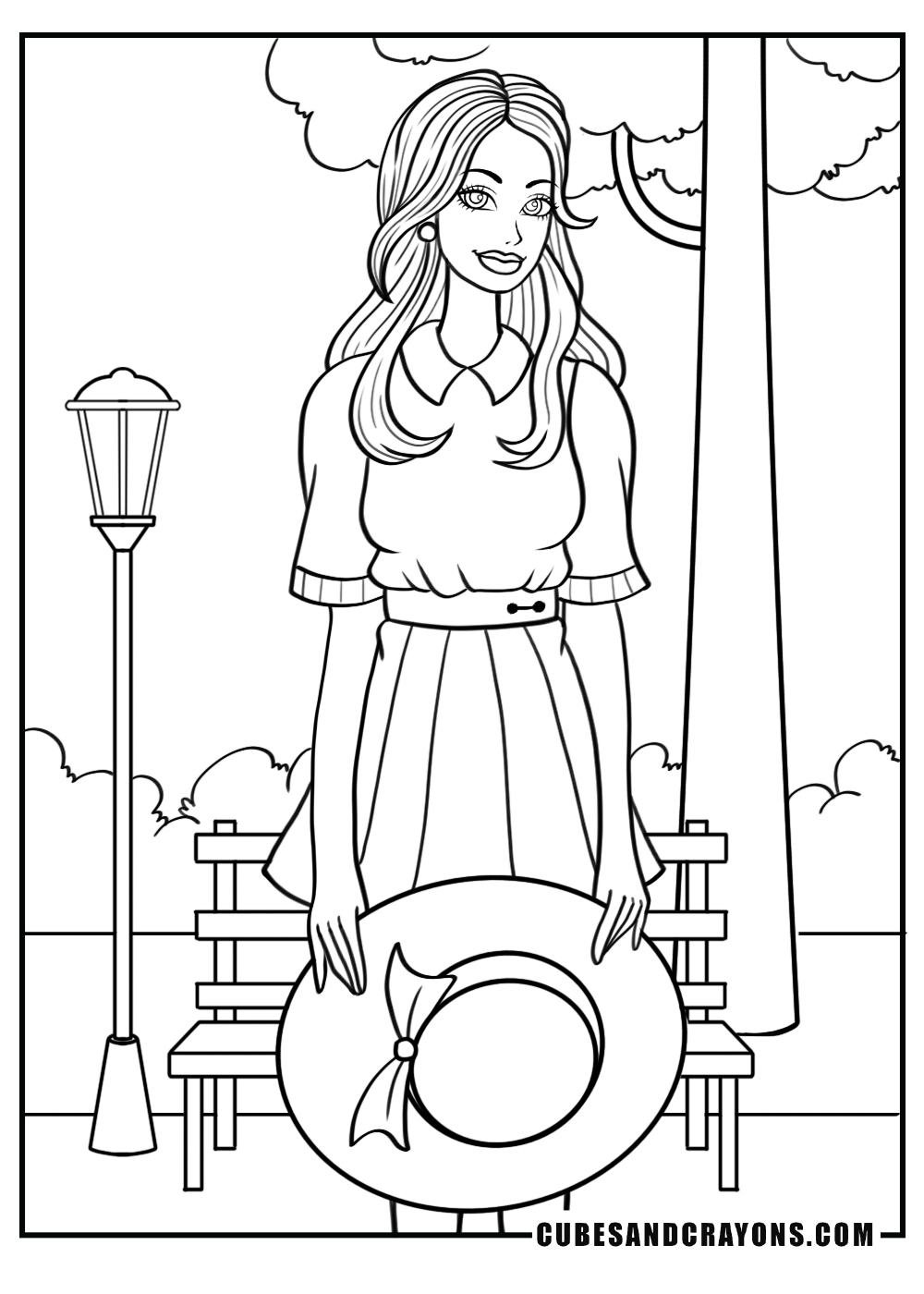 It looks like a beautiful day in the kingdom as this princess relaxes in the grass and gets to let her hair down for a while.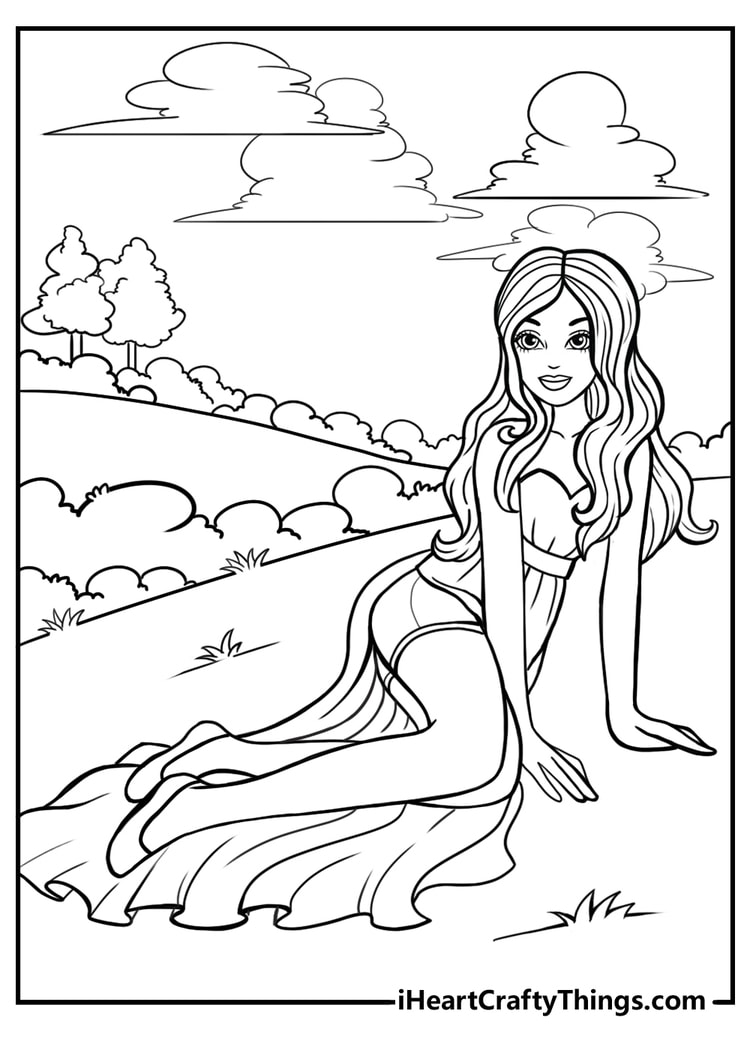 Some rain has come to spoil a lovely walk in this next image, but a princess is always prepared for anything!
Luckily, she thought to bring her trusty umbrella, so there's no need to worry about getting soaked by the rain.
Because this is a rainy scene, we would go for some darker colors to suggest what the weather would be feeling like in this moment.
It's another one we would use some watercolors for, but you could use so many other great mediums or even mix various ones to make it a more interesting picture!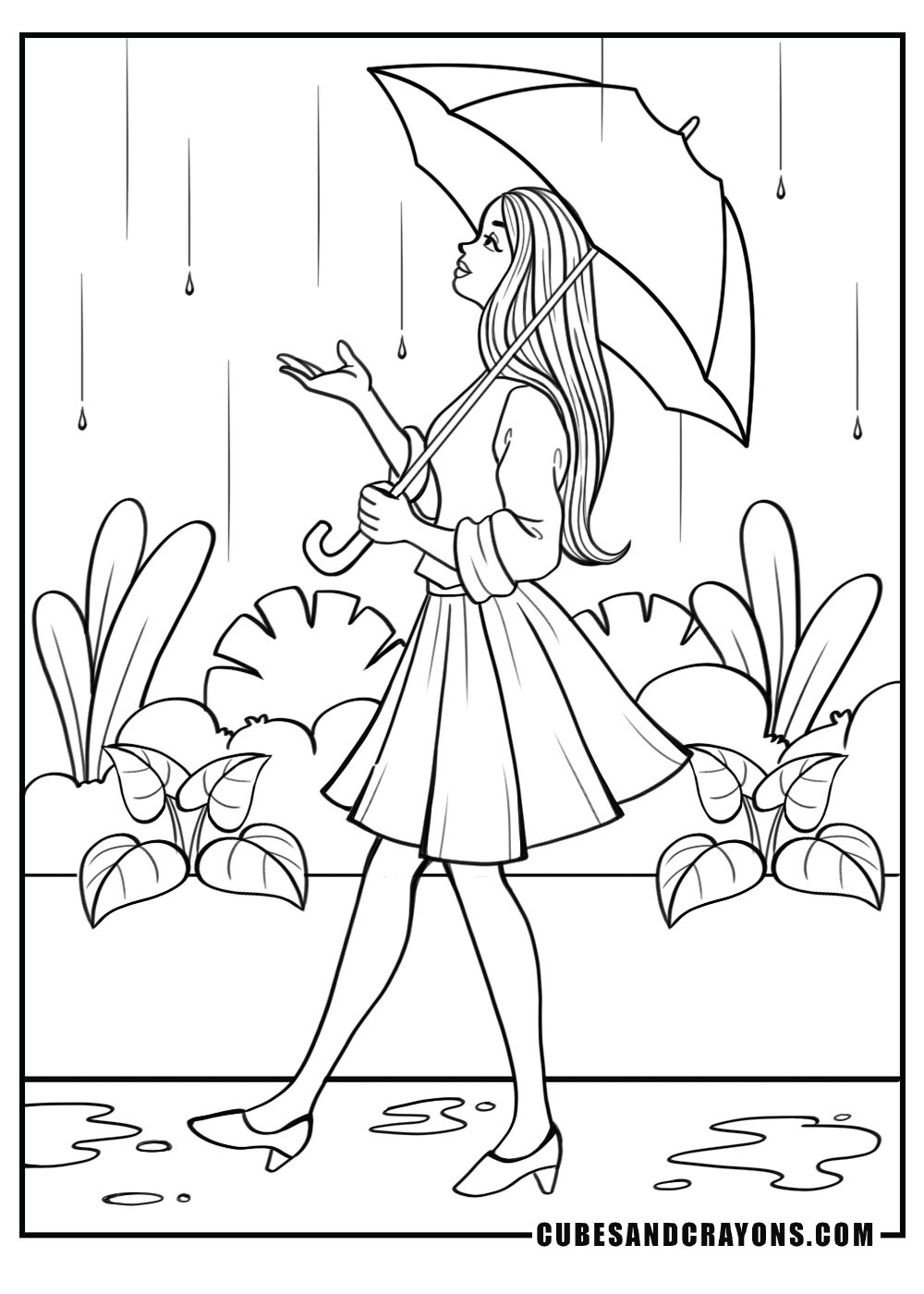 Even princesses need a break from their royal responsibilities sometimes. This princess takes a seat to enjoy a nice drink of tea under a cloudy sky.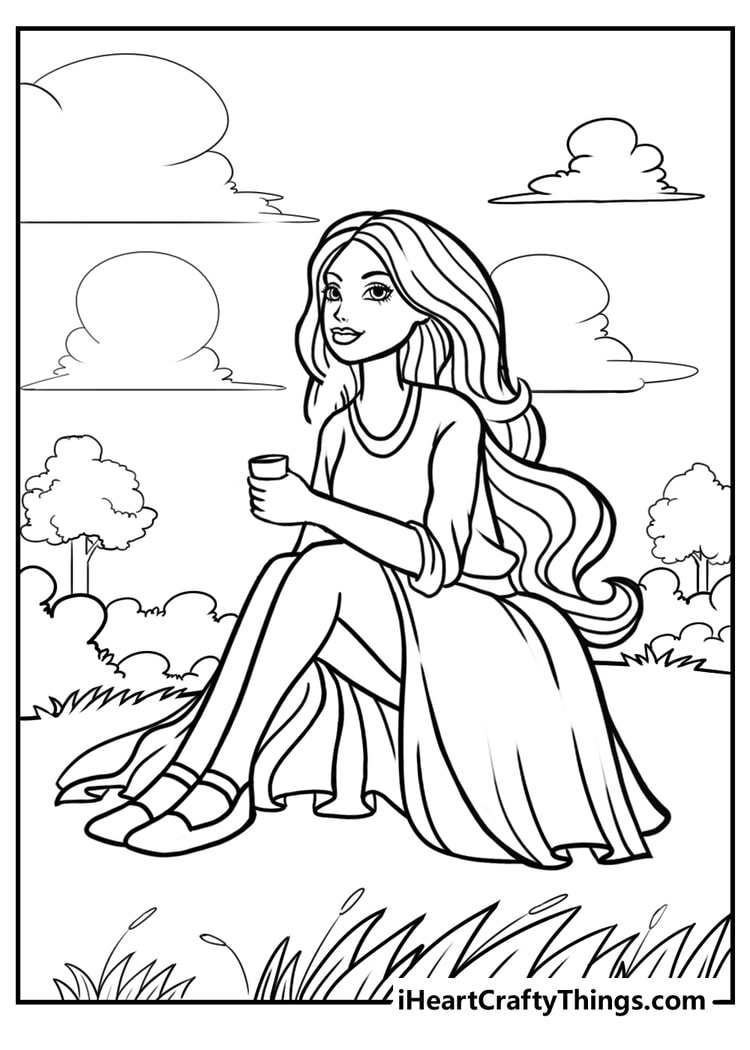 In this coloring page, a princess carries her pet cat through her home.
Princesses love animal companions just like we do.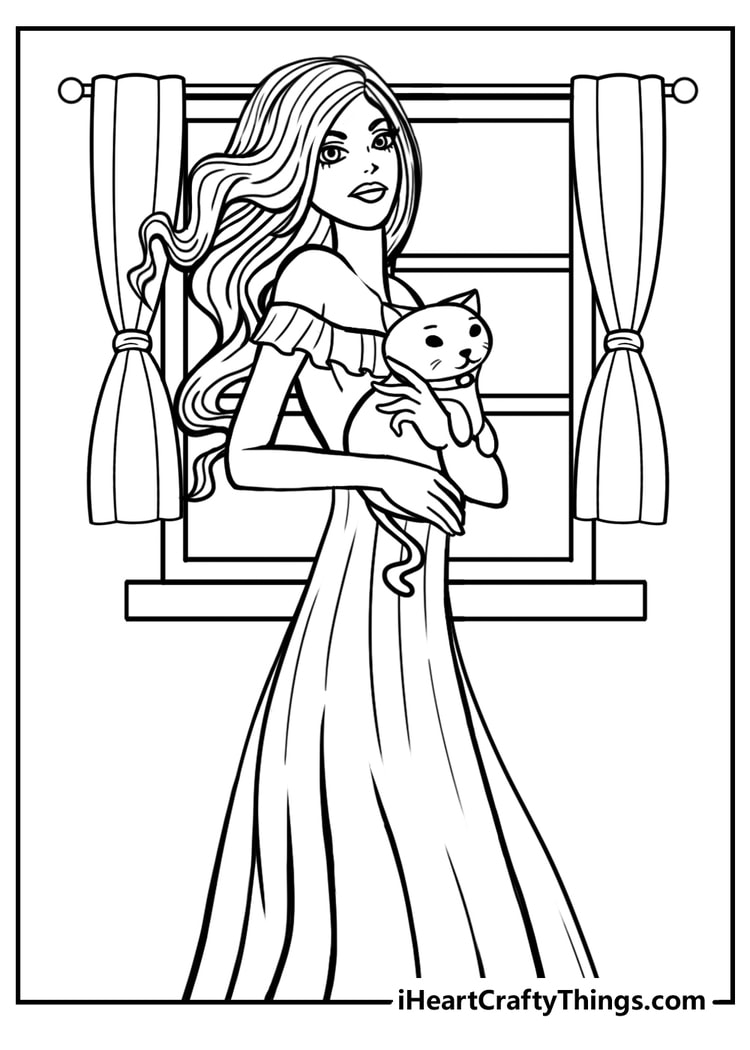 The next page in our collection of free princess coloring pages for kids features a lovely scene out in nature.
A palace will usually have plenty of flowers in the garden, and this princess is admiring just a small selection of these magnificent flowers.
There is also a pretty butterfly that she is admiring, and this allows for a spot of bright color!
If you want this scene to look even more vibrant, you could draw some more flowers and plants into the background that you could then add some color to.
What are some flowers you would add to this scene?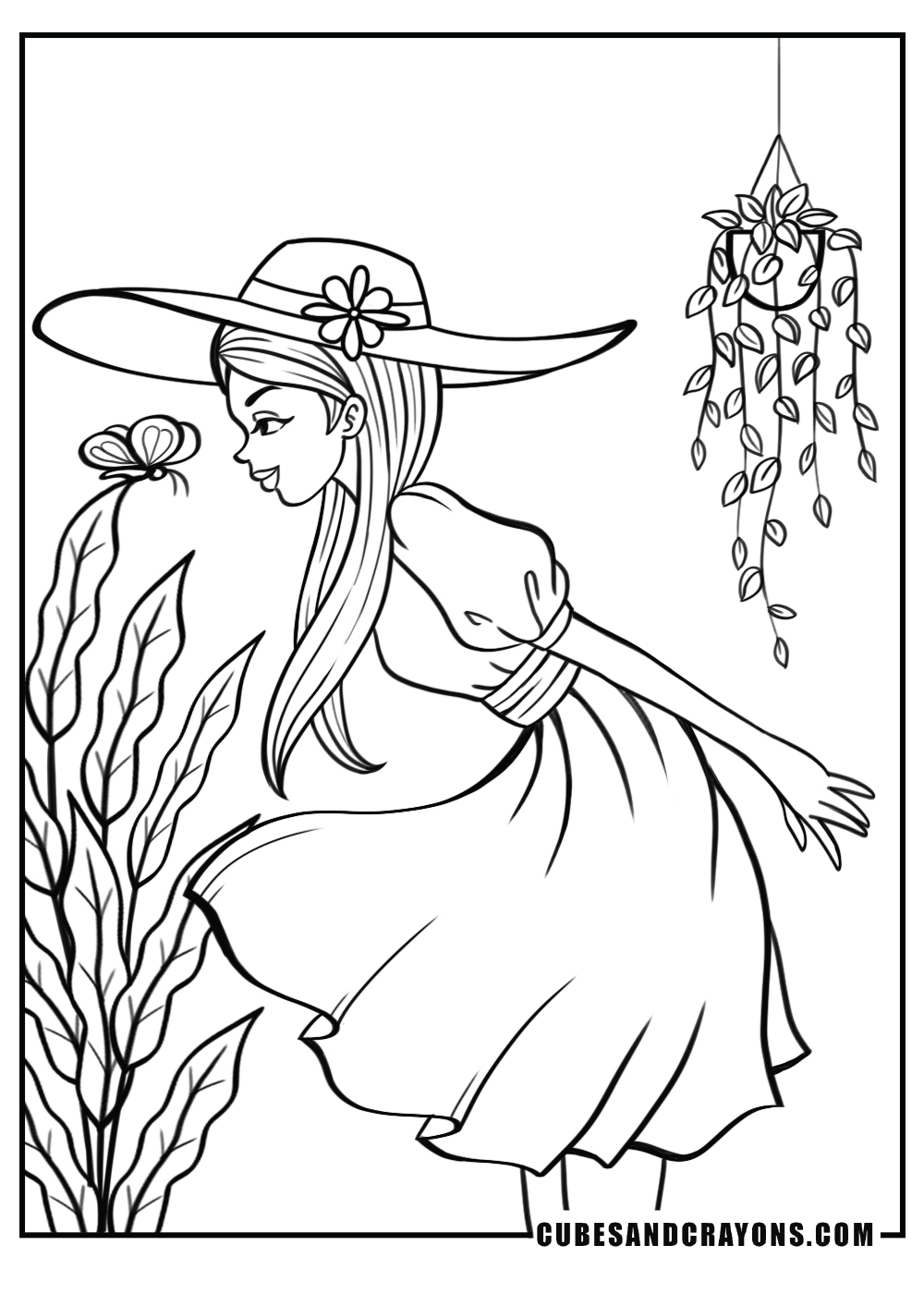 A princess must be kind and gentle to all living creatures.
This princess pauses to greet a beautiful butterfly and lets it flutter on her fingertips.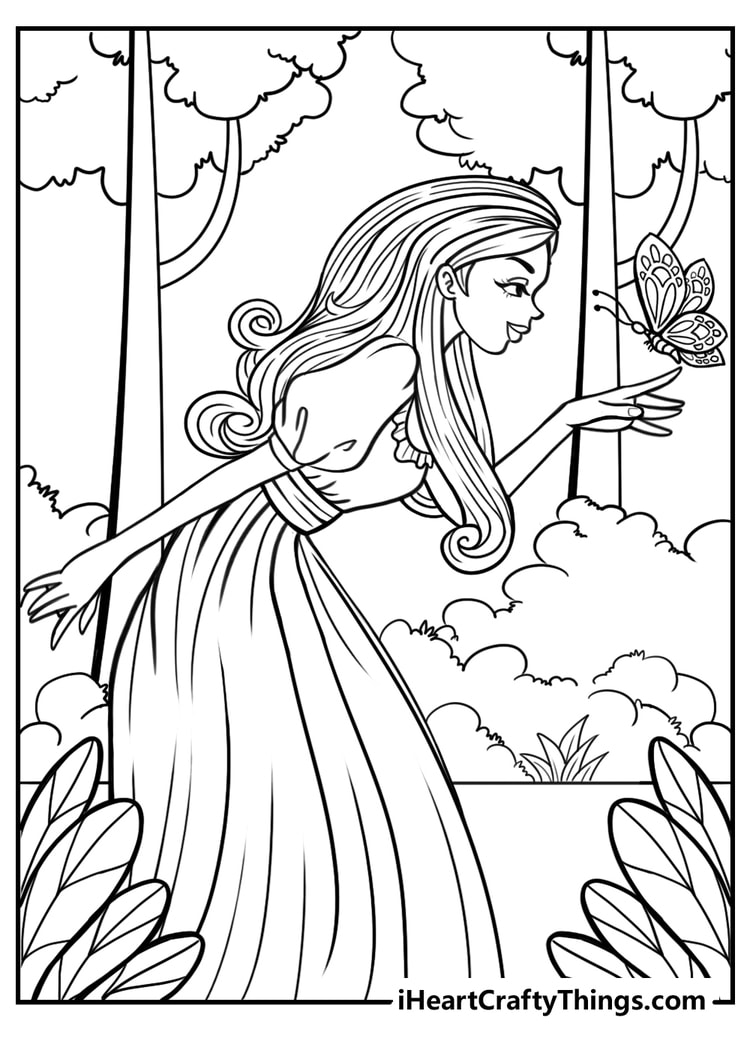 We love the big wavy hair of the princess in this coloring sheet. She wears a pretty, long sleeve dress and holds a big bunch of flowers in her arms. Who do you think sent her the flowers?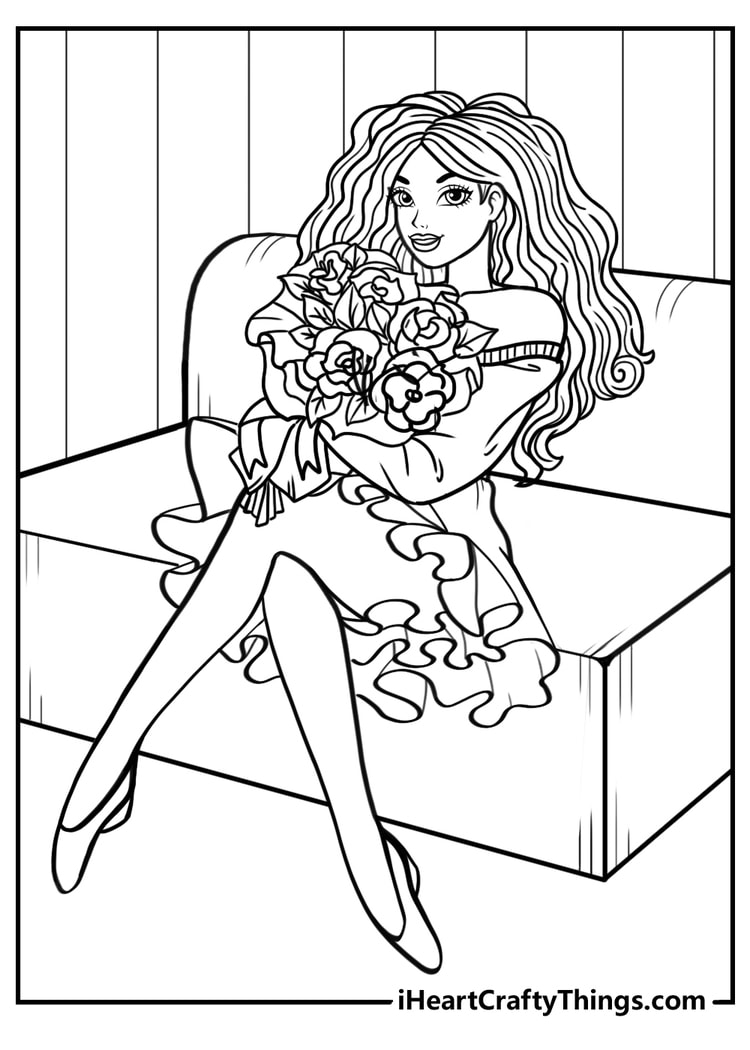 Our next princess is looking super stylish and glamorous! Her outfit has so many amazing details to admire and color, and there is a beautiful garden setting behind her as well.
It's topped off with a stunning hat, and the hat even has a beautiful rose attached to it.
This is the kind of outfit that could work with any color scheme you like, so you have loads of freedom with how you could choose to color it.
Do you have some ideas for colors you think would look great with this outfit?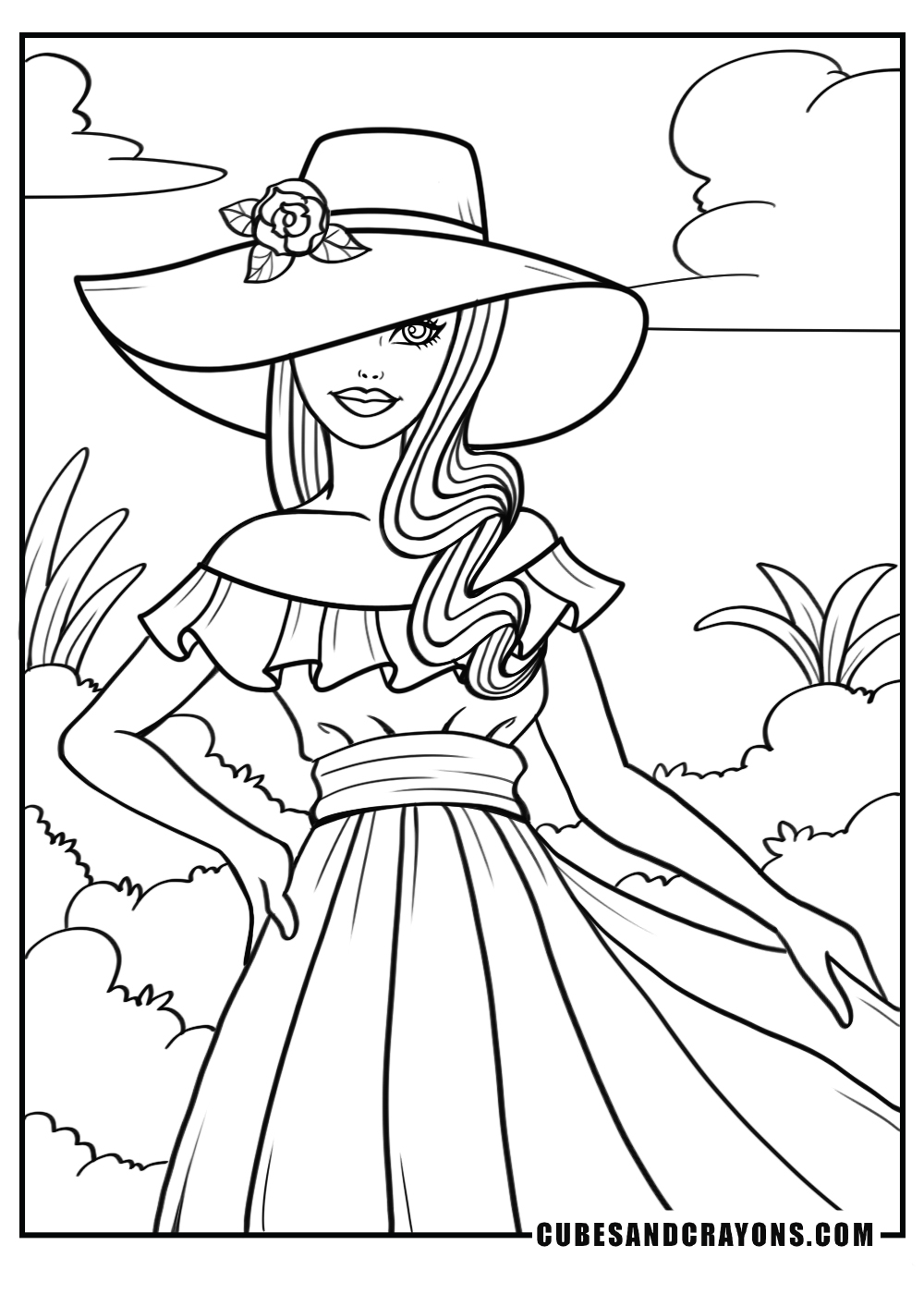 This princess pauses to relax on a bench by the woods. She smiles as a little bird decides to sit next to her.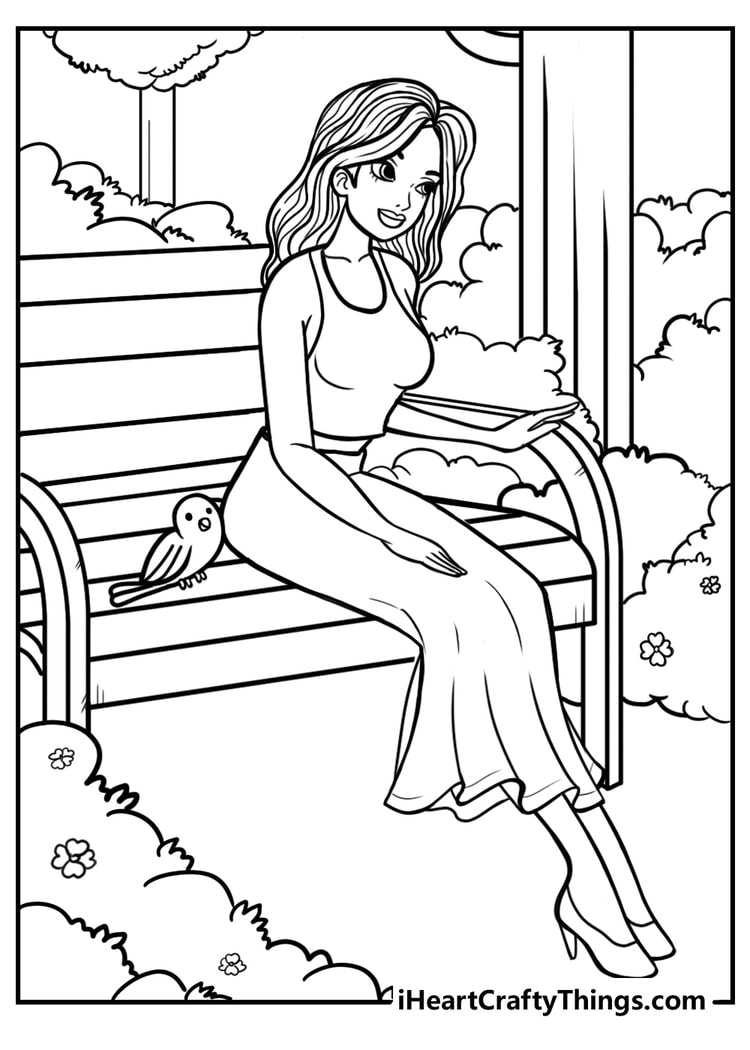 Princesses have a lot of responsibility on their shoulders, but they still make time to have fun.
Remember – all these princess coloring pages are completely free to print, so feel free to print as many as you want.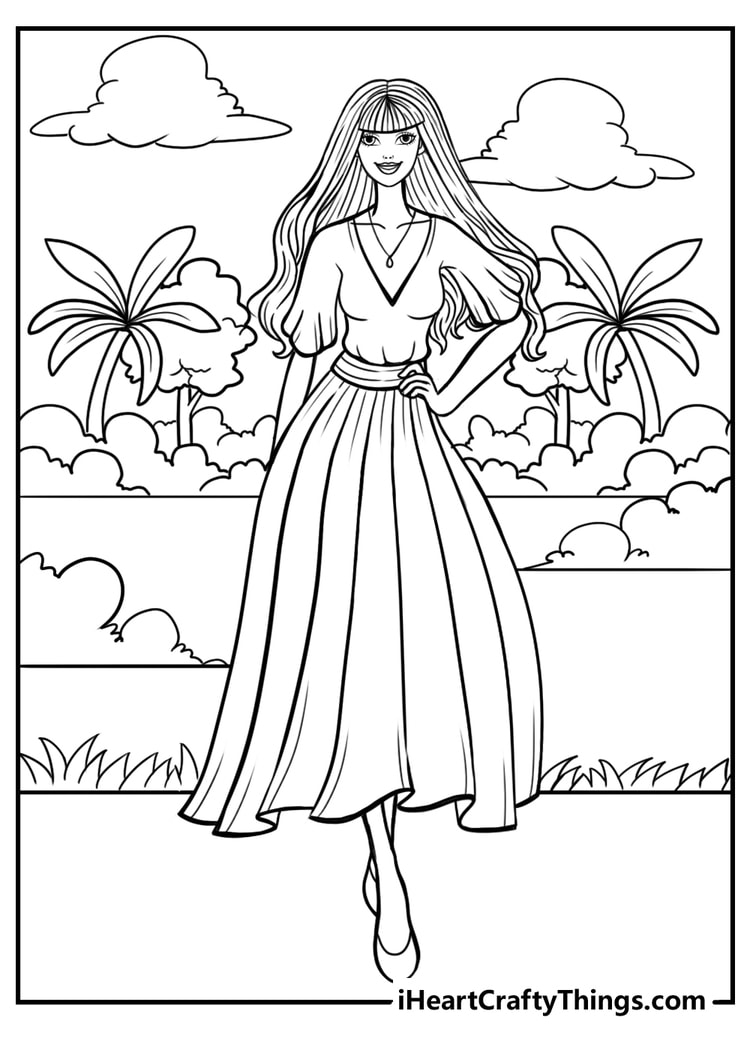 For every fabulous princess you see, a lot of preparation has to go into looking so perfect!
That is shown off in this next image, as this princess is making sure her look is perfect in the mirror before heading out.
She is also showing that not even royalty can resist taking a selfie every now and then!
When you have colored this image, you could also draw some more objects and decorations onto the table in front of the mirror. That would be a great way to build up the scene even further!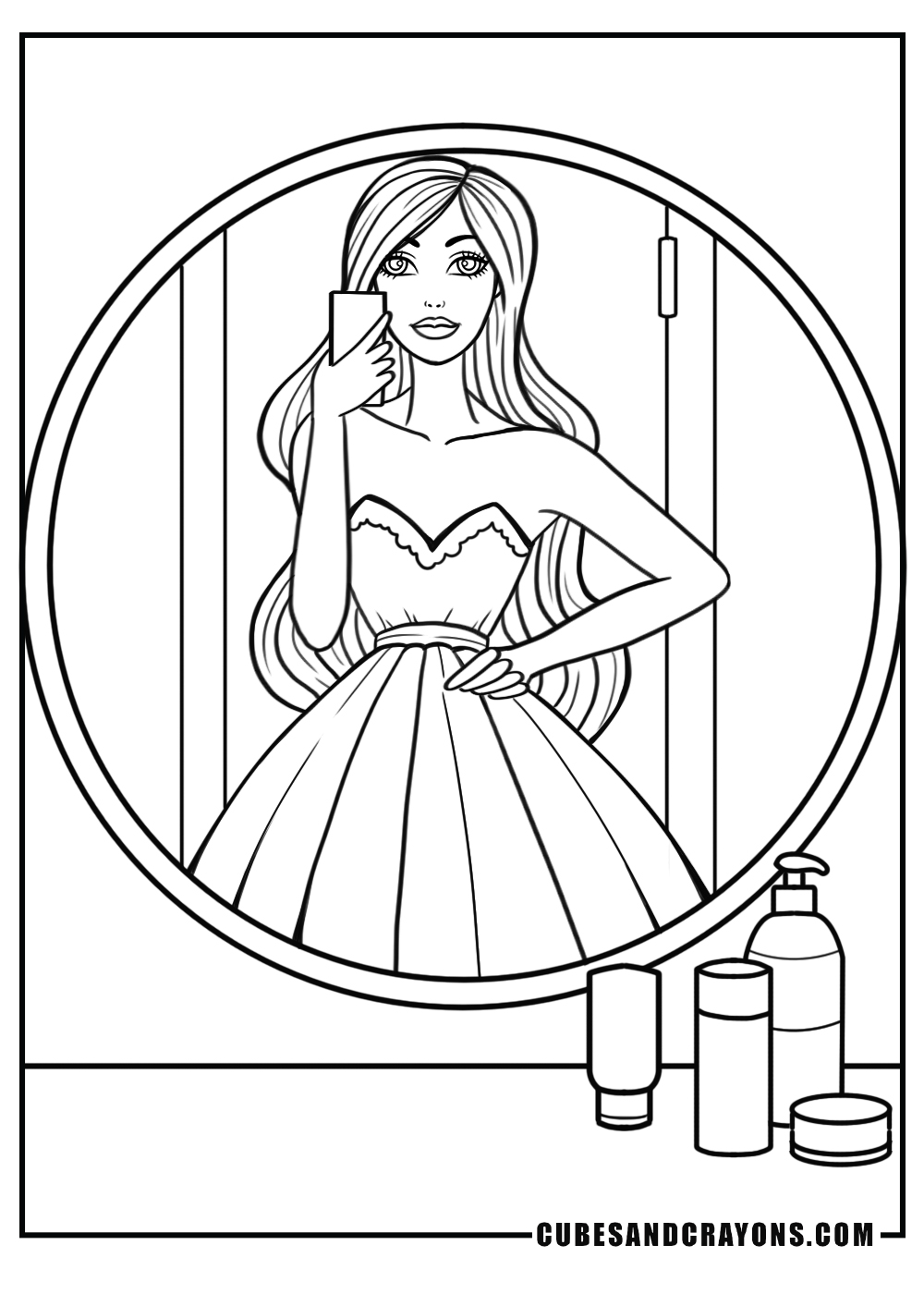 The princess in this coloring page looks very regal. She sits on her throne in a simple dress and wears her crown to show her title.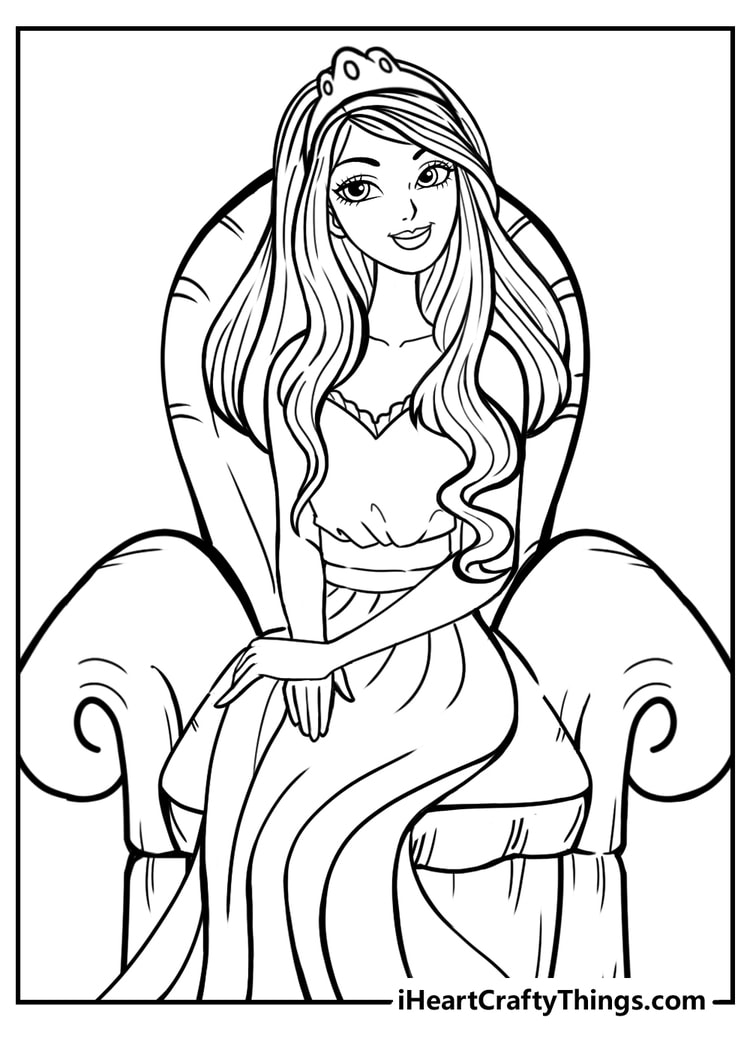 In this coloring sheet, a princess sits on the floor beside her couch. A pillow lays on the floor next to her, and her hair looks a bit messy like she has just woken up from a nap.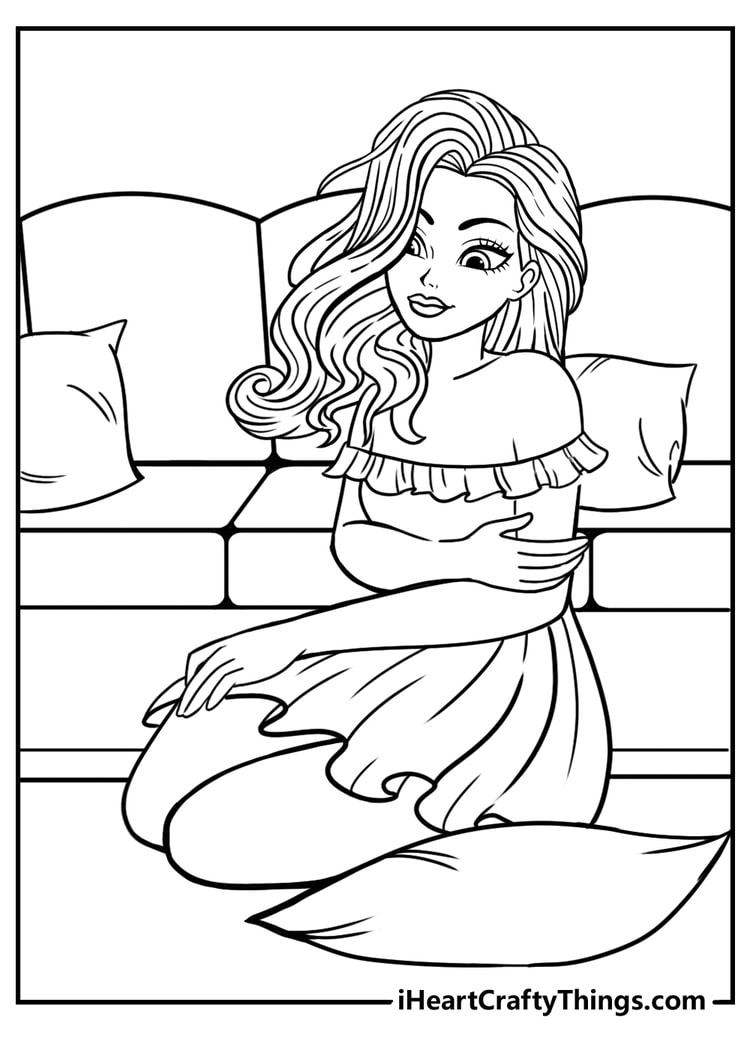 Everyone likes to enjoy a tasty treat every now and then, and it is no different for royalty! This wonderful princess coloring printable shows a princess who is about to enjoy a tasty slice of cake.
It not only makes for a charming scene, but it also allows for you to color in the cake any way you please.
If you have a favorite type of cake, then you could color this slice to look like your favorite flavor. What colors would you use for the cake and smoothie she is about to enjoy?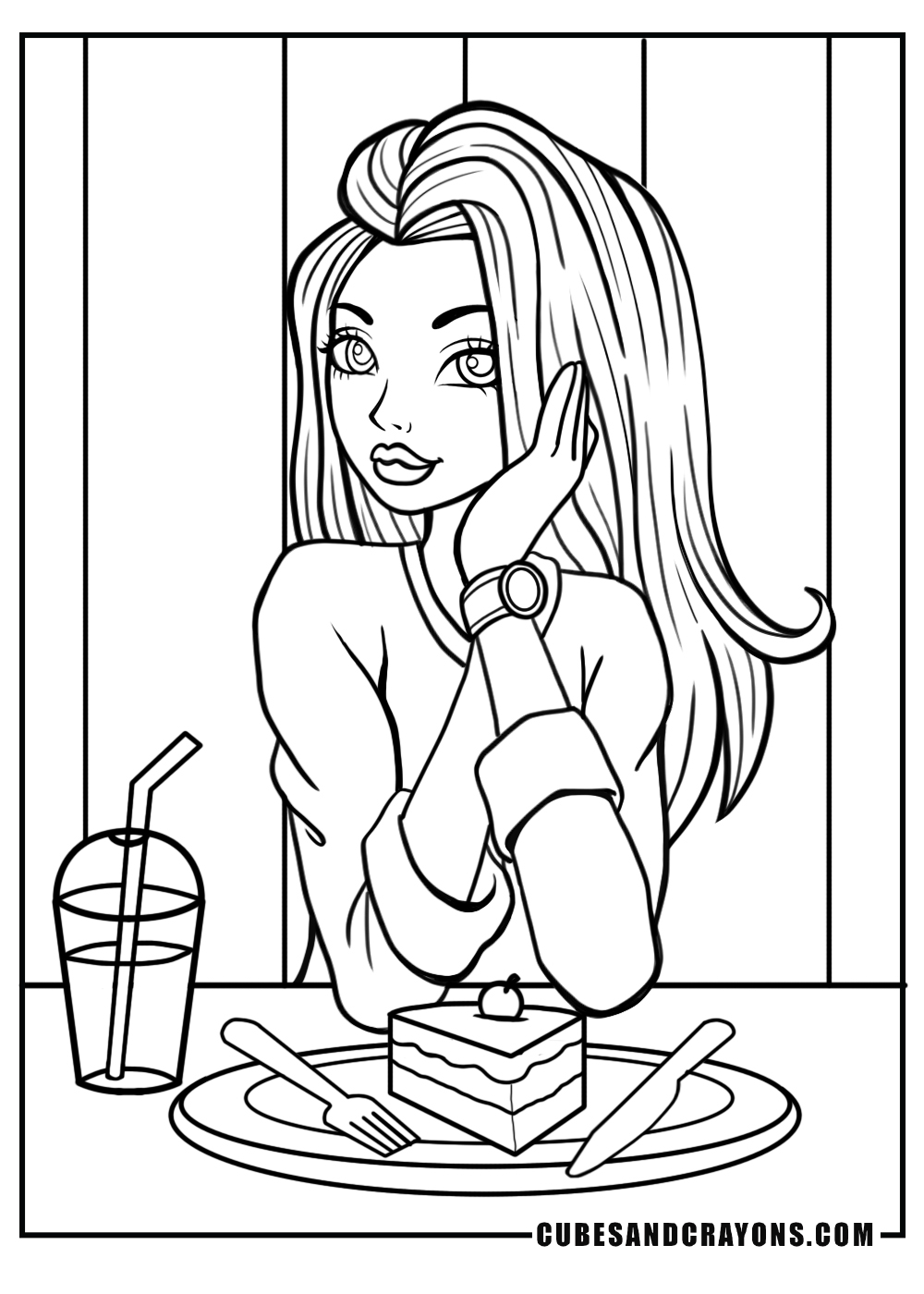 This princess poses on the floor next to a house plant. She looks like she is ready to have her picture taken.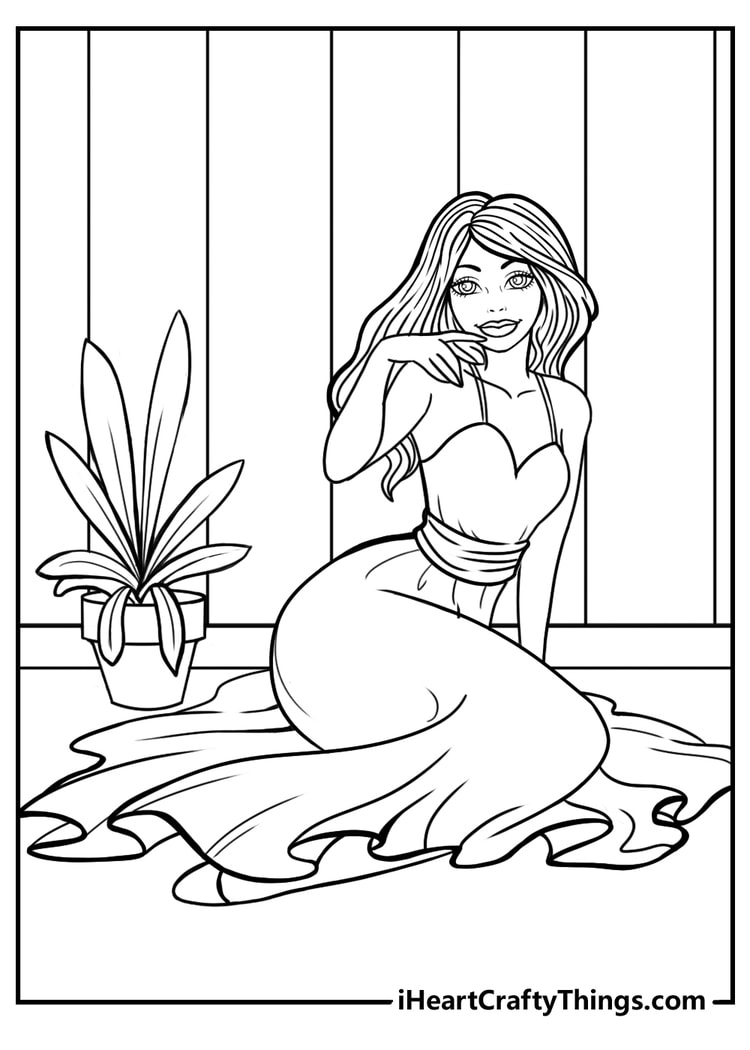 Being a princess isn't all about fun and games, and sometimes there are serious responsibilities. In this image, this fancy princess is studying up, showing that knowledge is important even to royalty!
Even though she is in a learning environment, she is showing that you can still be relaxed and stylish as you learn.
The books and other background details included here also give you plenty to have fun with as you add some subtle color details.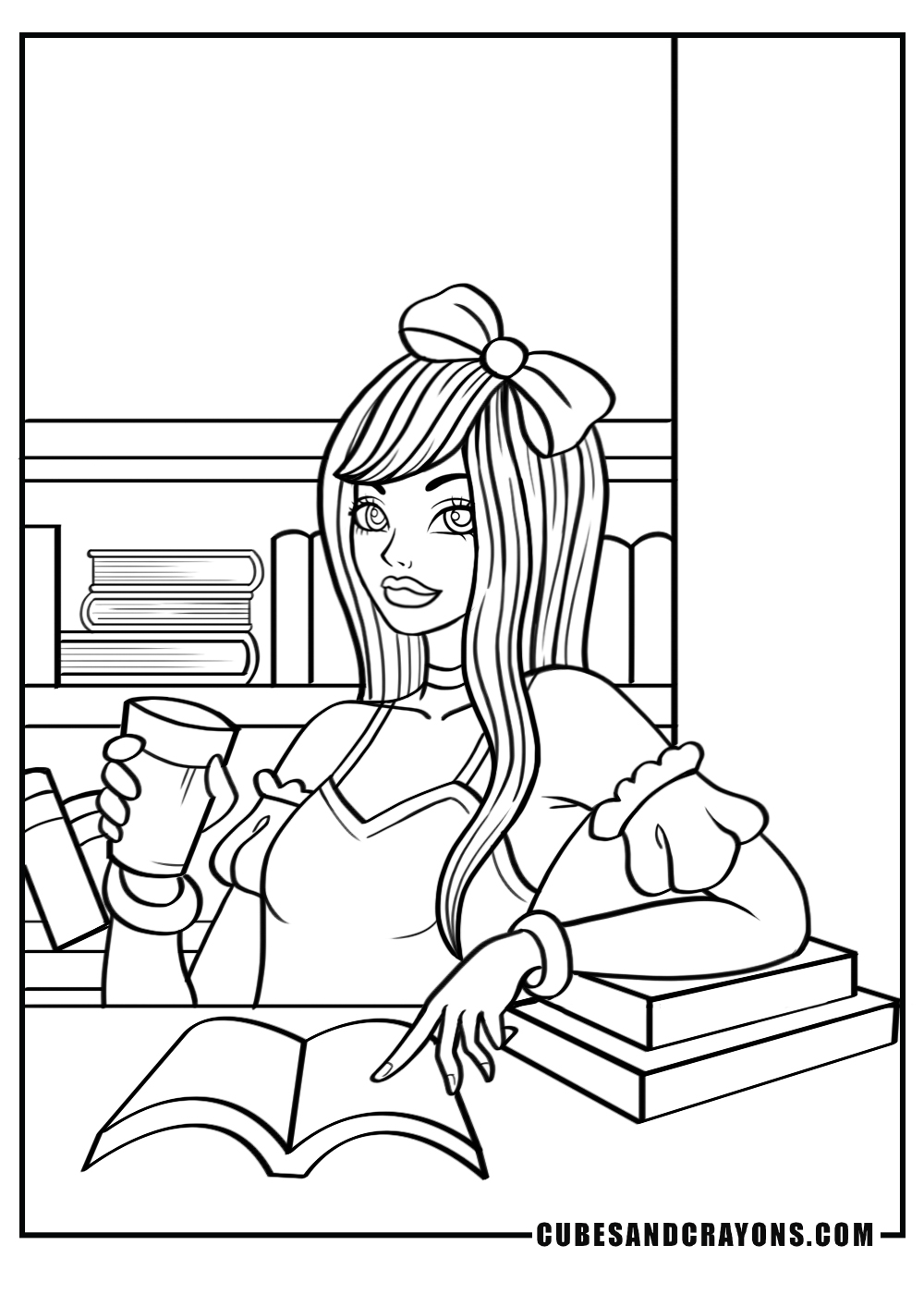 The princess in this coloring page sits cross-legged in a long dress with ruffles around the neck.
She has a simple bandana in her hair and looks like she could maybe even be meditating.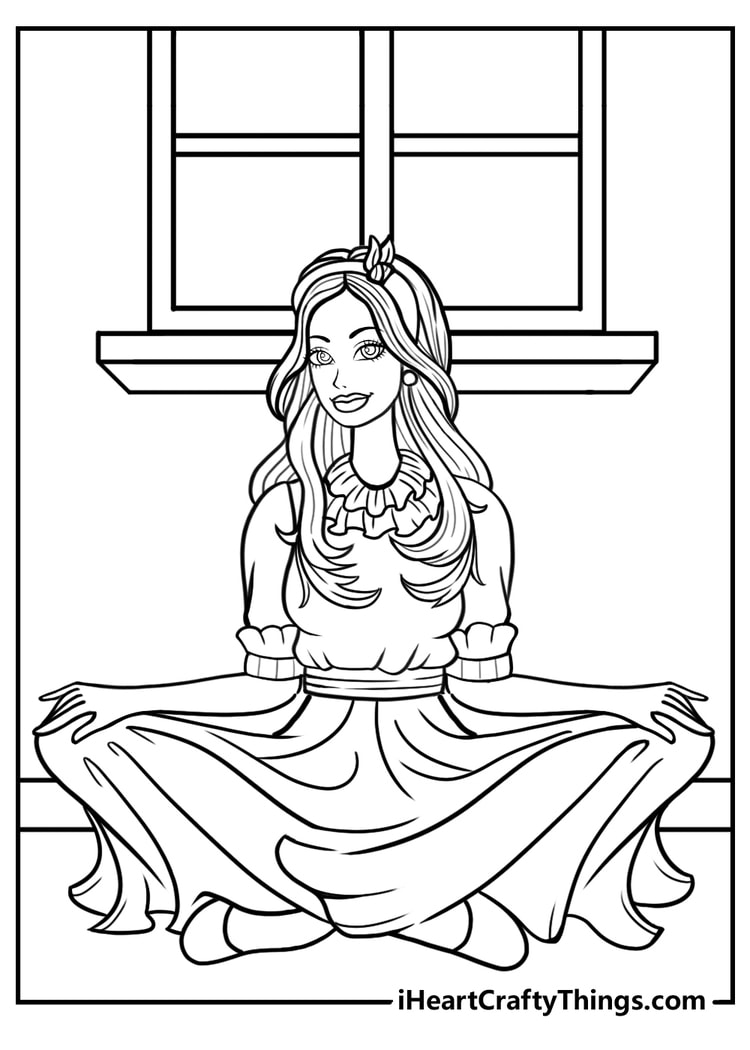 Would you like to sit and talk with a princess? This princess is sitting on a bench and looks as if she is inviting you to sit next to her.
She wears a ruffled top with shorts and a pendant around her neck and she looks very friendly and kind.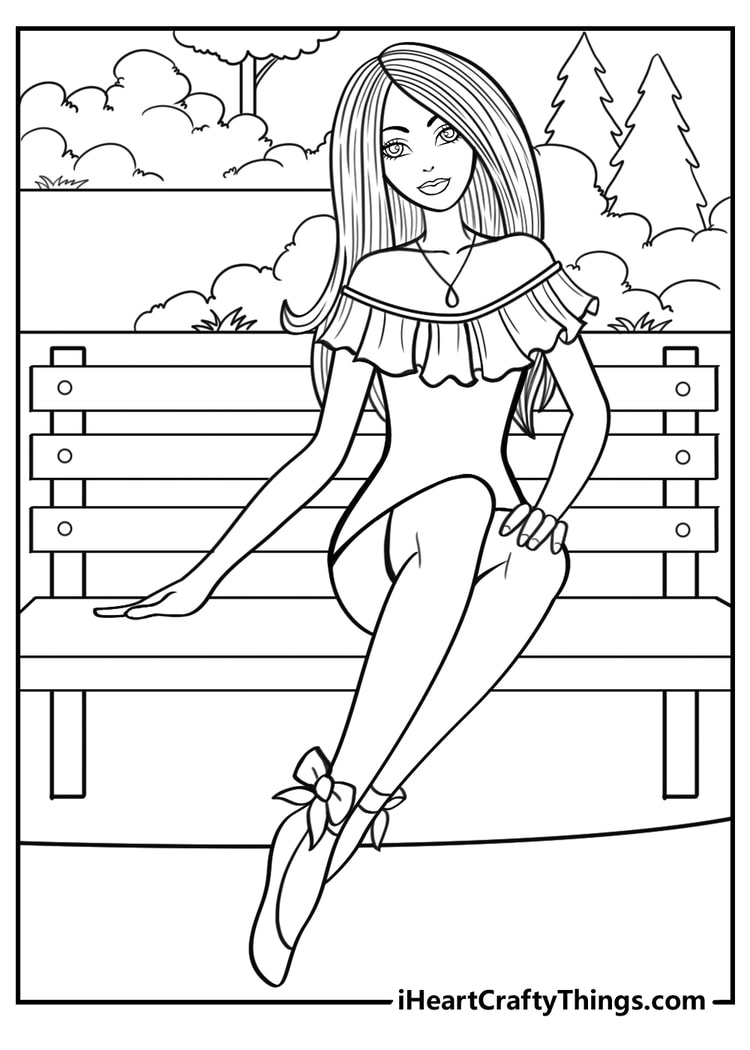 Having a nice quiet day inside can be a fun and relaxing way to spend an afternoon, and that is what is happening in this next scene.
This princess is looking very cozy as she relaxes on her sofa with a good book, and there are so many ways you could color this one in!
The window above her is blank, so you could also draw some scenery outside to finish off this scene.
It's great to enjoy a book while it's raining outside, so maybe you could draw some rainy weather while keeping the colors indoors bright and cozy.
We're sure you will have a fun and relaxing time as you color this cozy scene!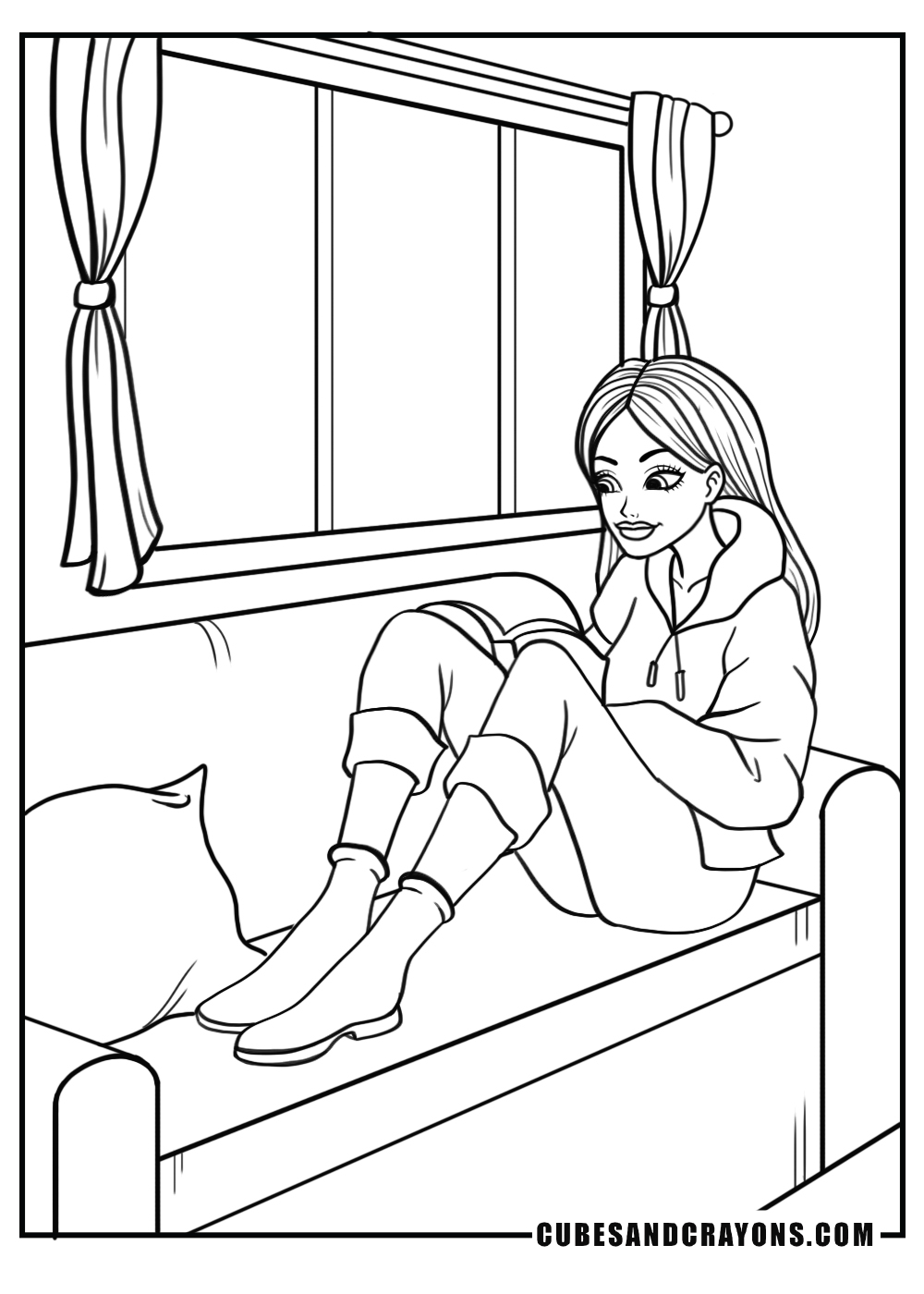 Princesses still like to play and have fun. In this coloring sheet, a princess wearing a crown sits on a swing outside.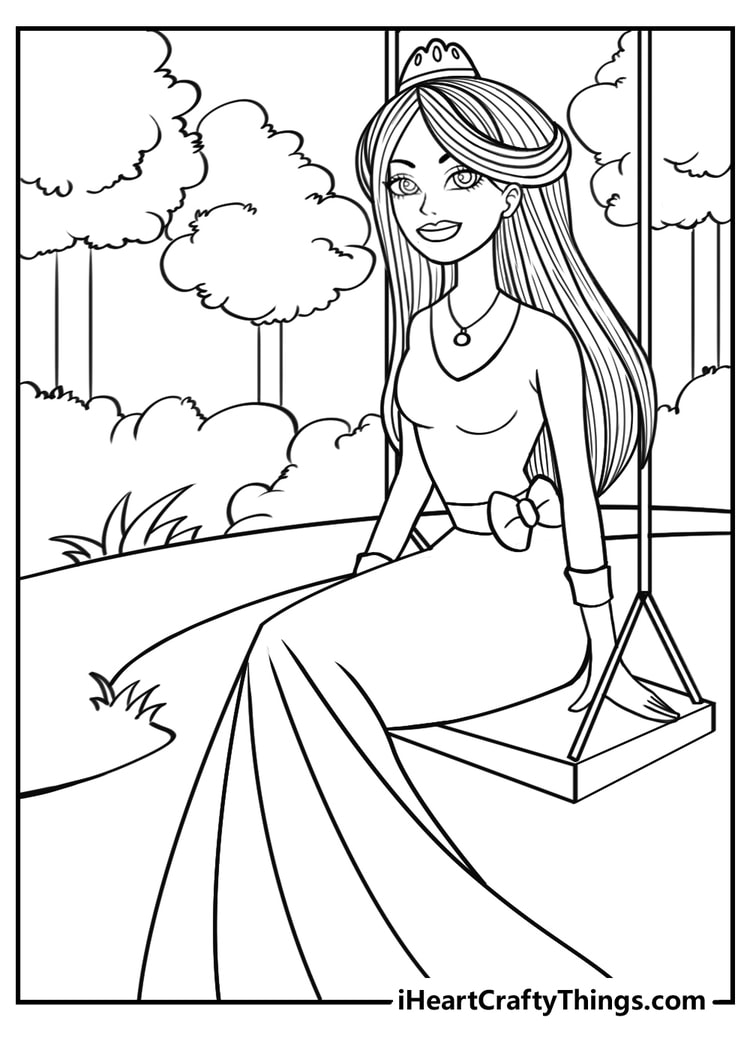 This next princess coloring page features another elegant princess taking it easy. Even though this is a really relaxed pose, she is wearing an outfit that is really fun and detailed.
You could use all sorts of colors, techniques and art mediums for this outfit in order to make this a truly pretty and trendy image!
Then, you can also add any extra background details you may like to show what the room around her may look like. What sorts of decorative extras would you add to this relaxing yet trendy scene?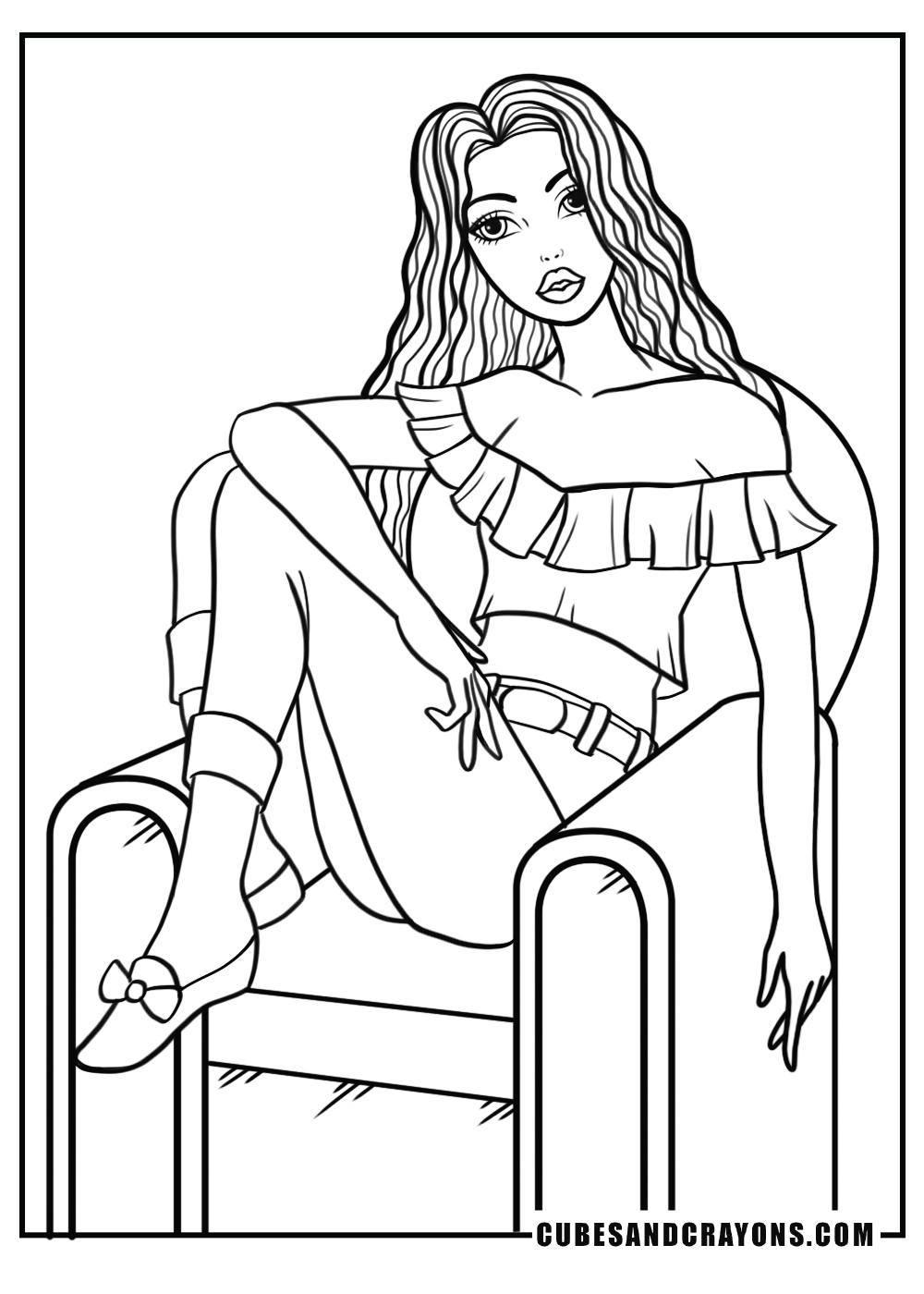 Another princess has found an animal friend!
She leans over her balcony and reaches out a hand as a bird flutters down to land on her fingertip.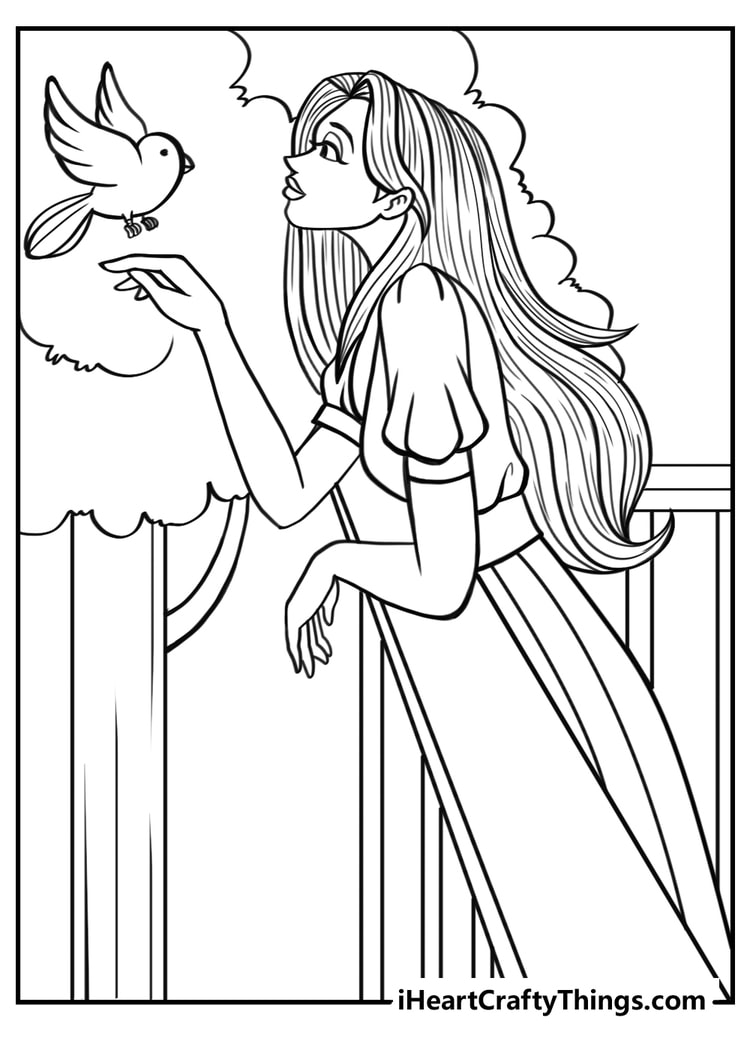 Our coloring page designers really seem to love seeing princesses interacting with animals.
We love this one of a princess making friends with a bunny in the forest.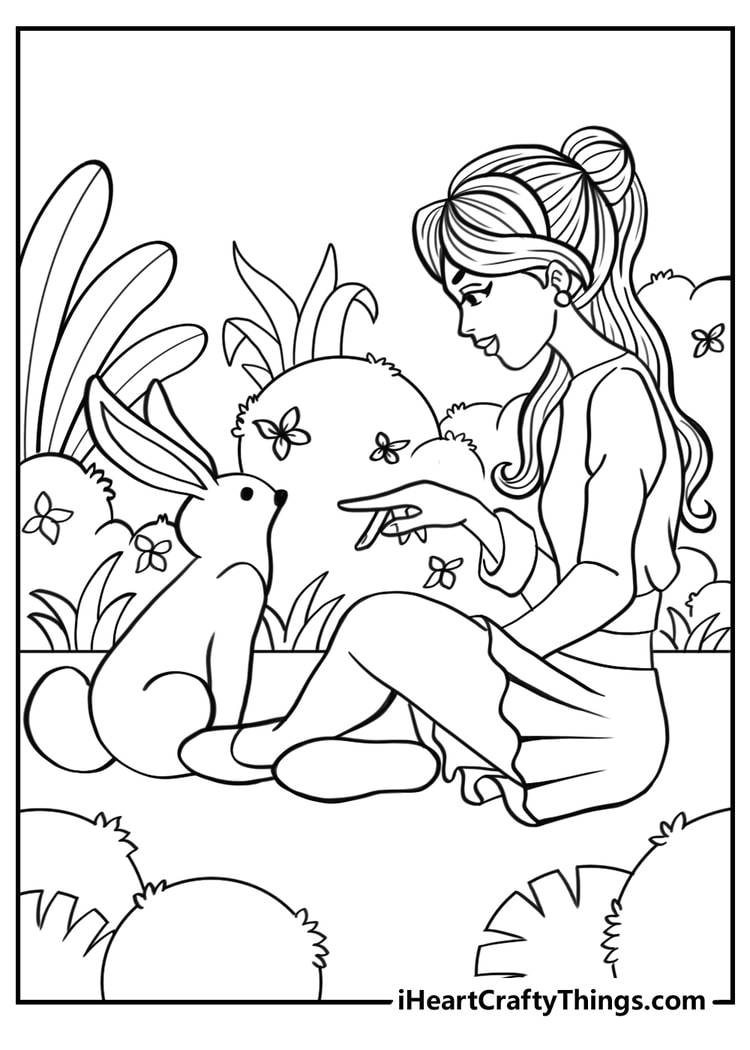 This princess really loves animals!
She sits at a table with her cat playing with a  ball of yarn in front of her. Behind her is a picture of two birds sitting on a tree branch.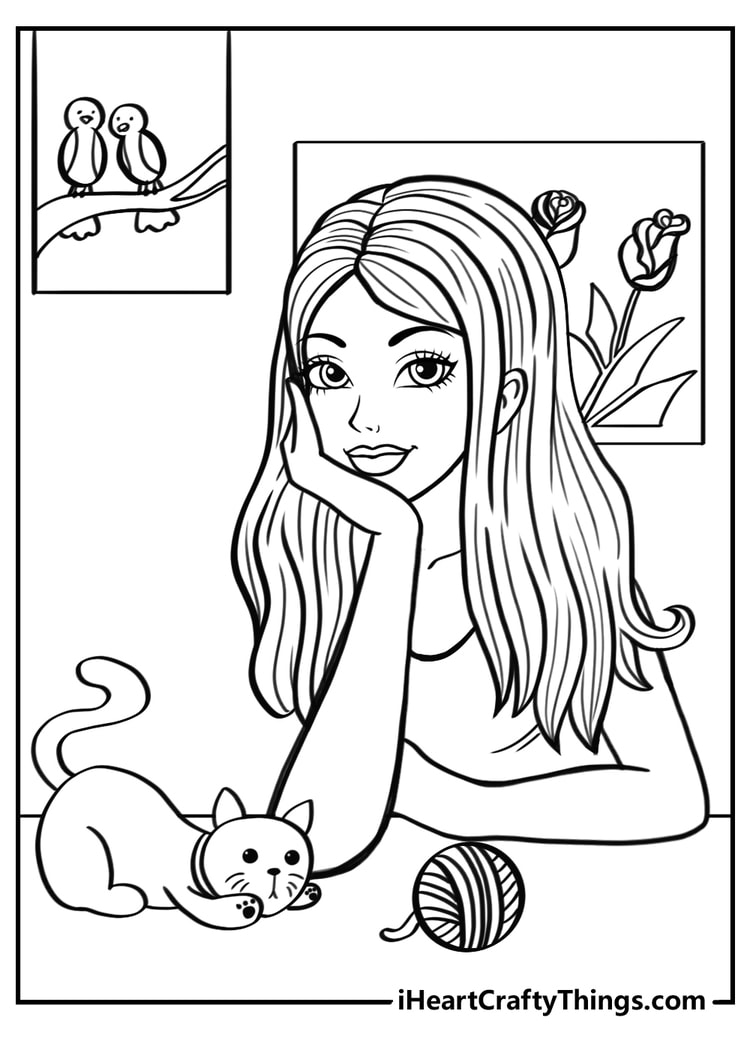 A princess takes a stroll to enjoy a beautiful day. Remember – when you finish coloring your princess coloring pages, post your finished pictures onto our Facebook page.
Every month we pick the best uploads and the winner gets a special prize!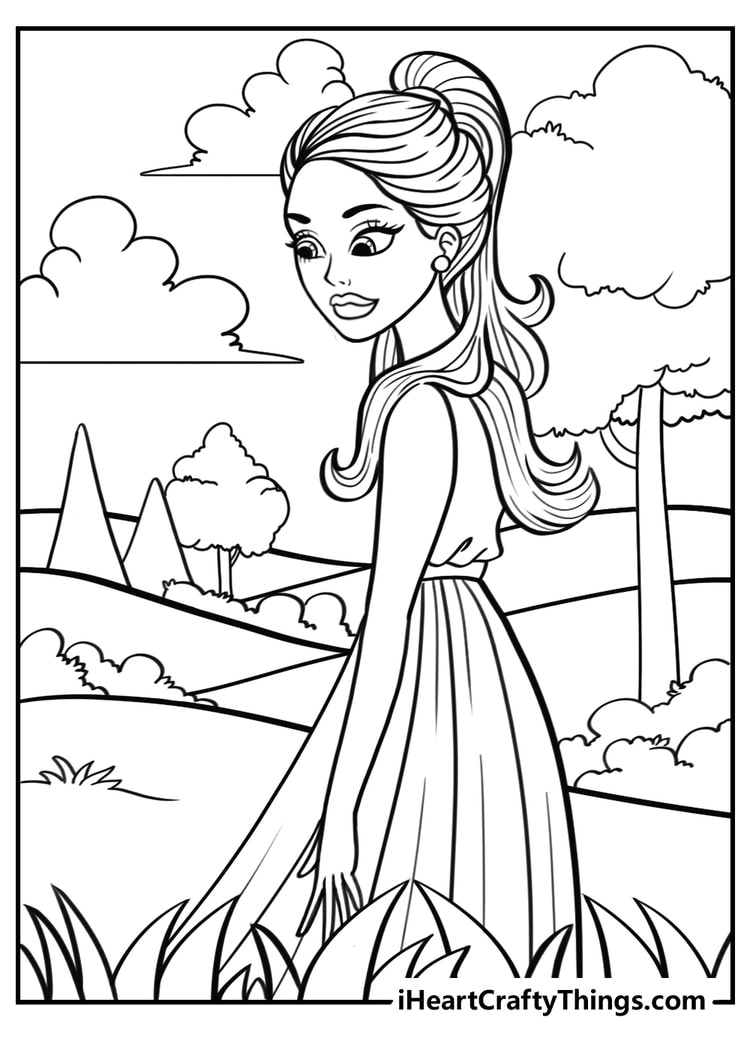 Princesses have many different hobbies and things they like to do.
Here a princess enjoys baking. It looks like she has just taken some fresh muffins out of the oven.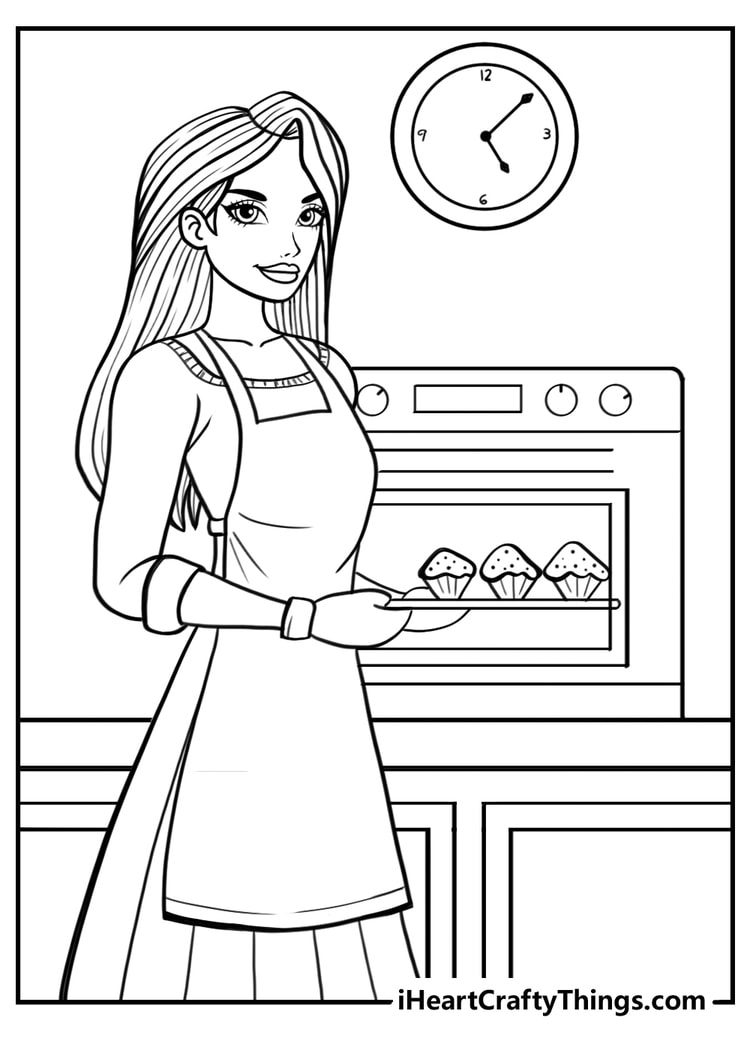 This princess takes a stroll while wearing a sun hat and enjoys a book on a nice day.
A parrot perches on her shoulder while she walks.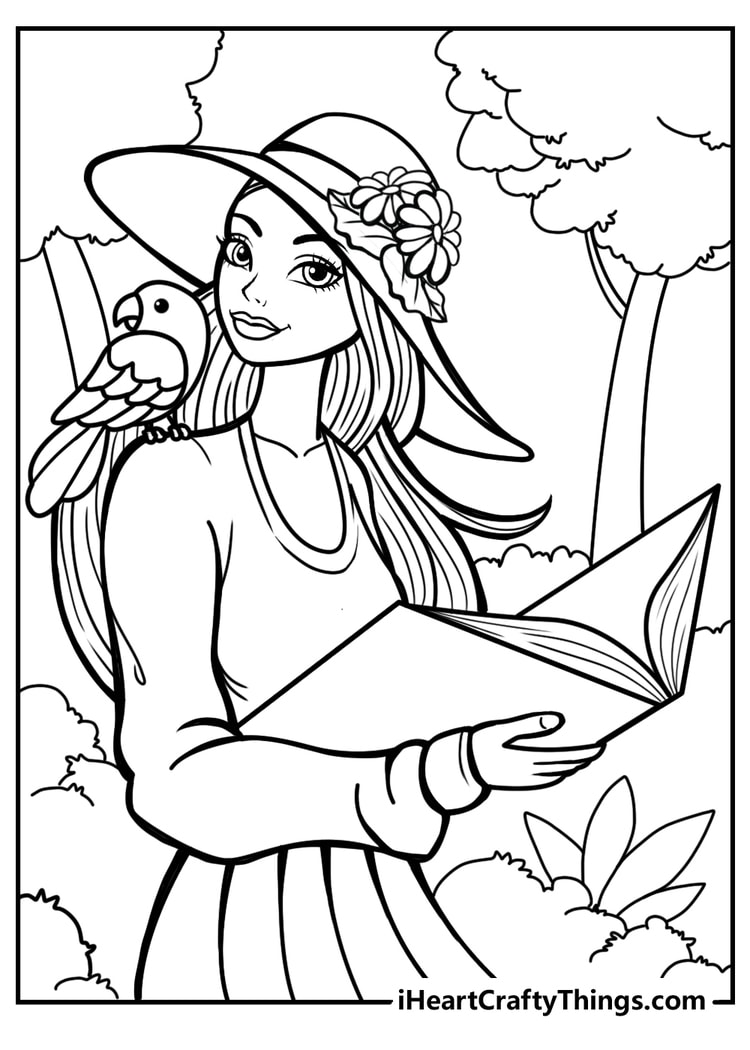 The princess in this coloring page pauses to take a break and have a tasty snack.
We love the heart-shaped pendant she wears around her neck.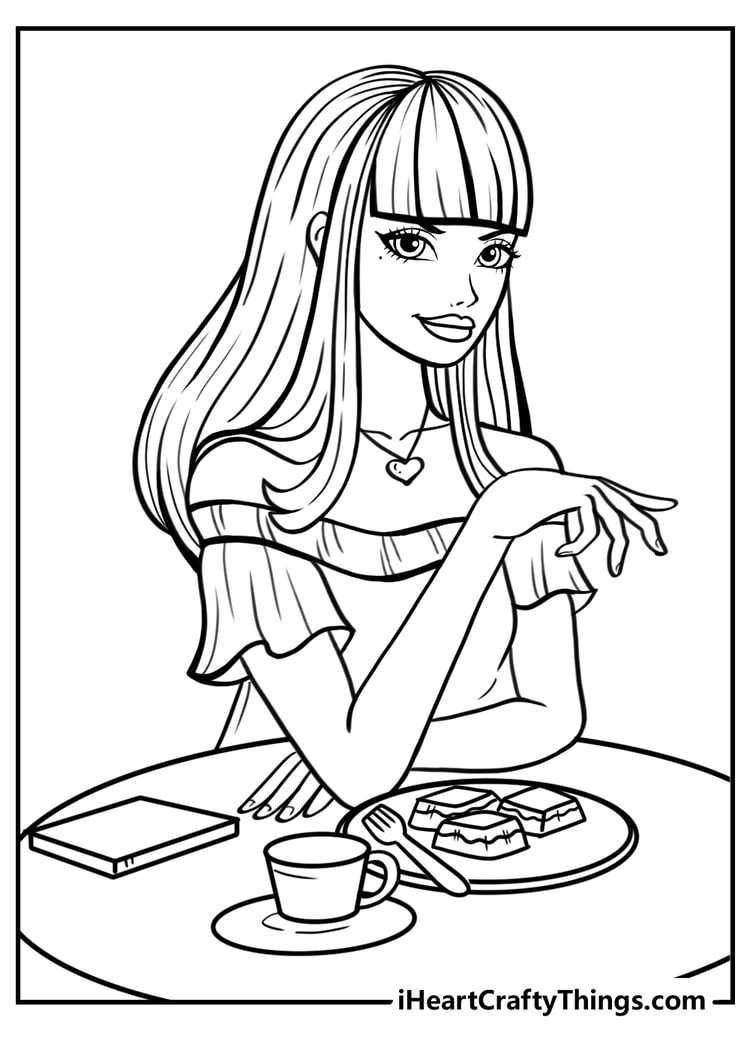 Sometimes a princess has to stop and smell the flowers!
This princess takes a minute to kick back on her couch.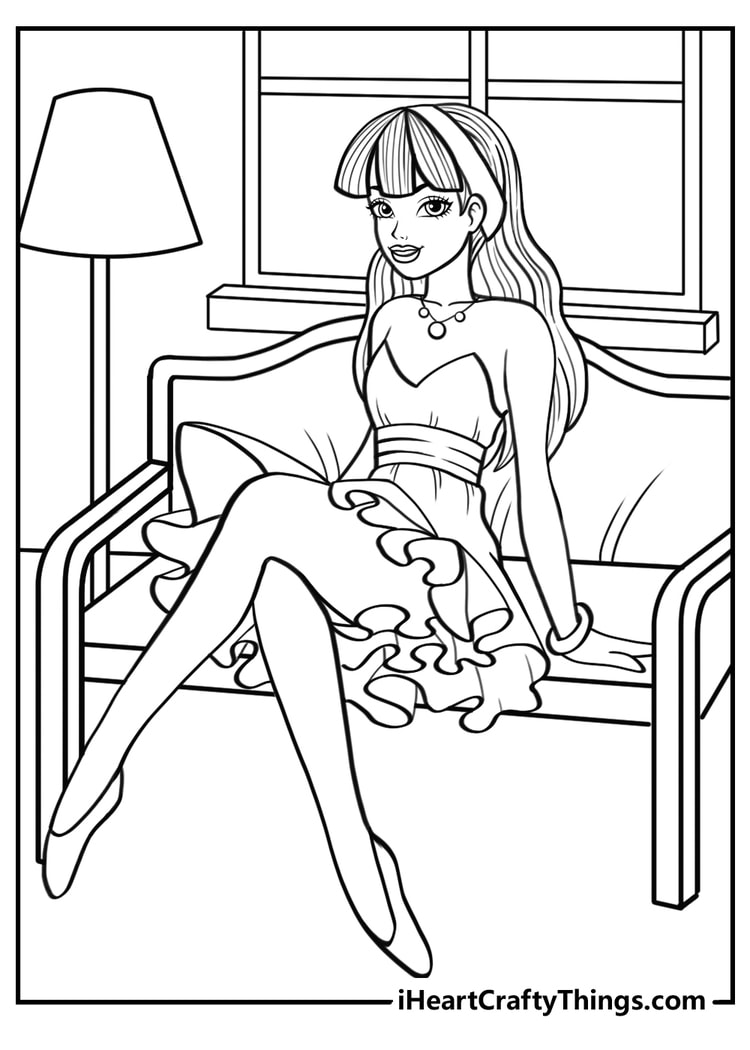 A princess sails through the water in a little boat. The moon and stars twinkle overhead, and she sends a little lantern to float into the sky.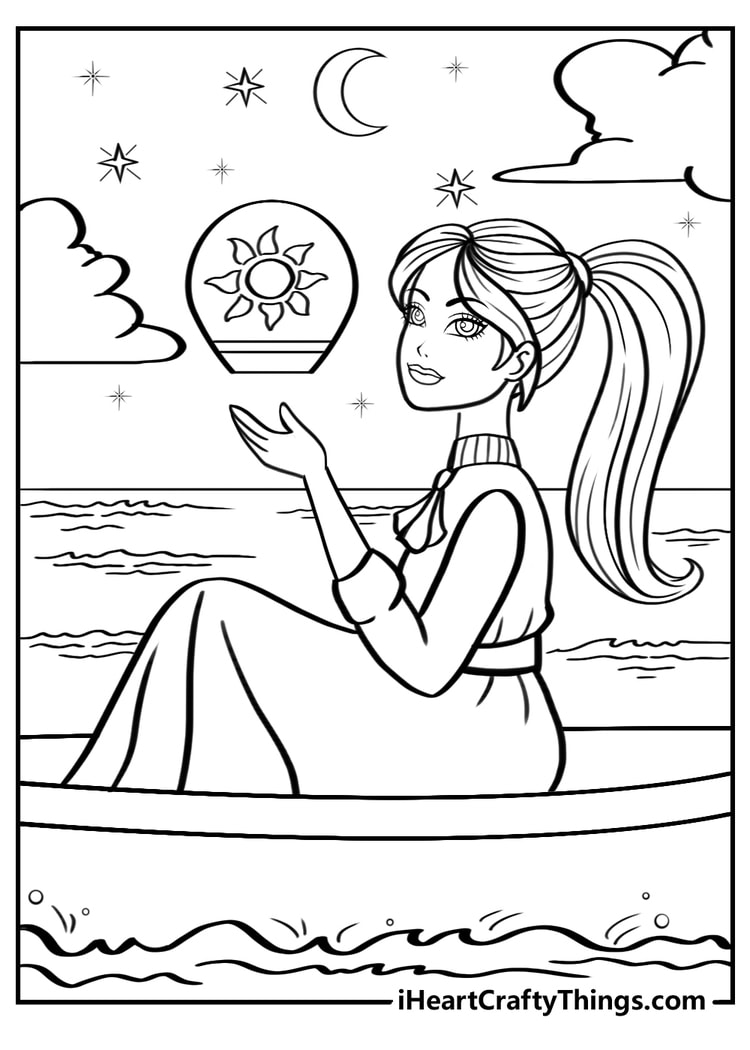 This princess sits on a swing while a butterfly flutters by her hand. It looks like she is about to have a picnic.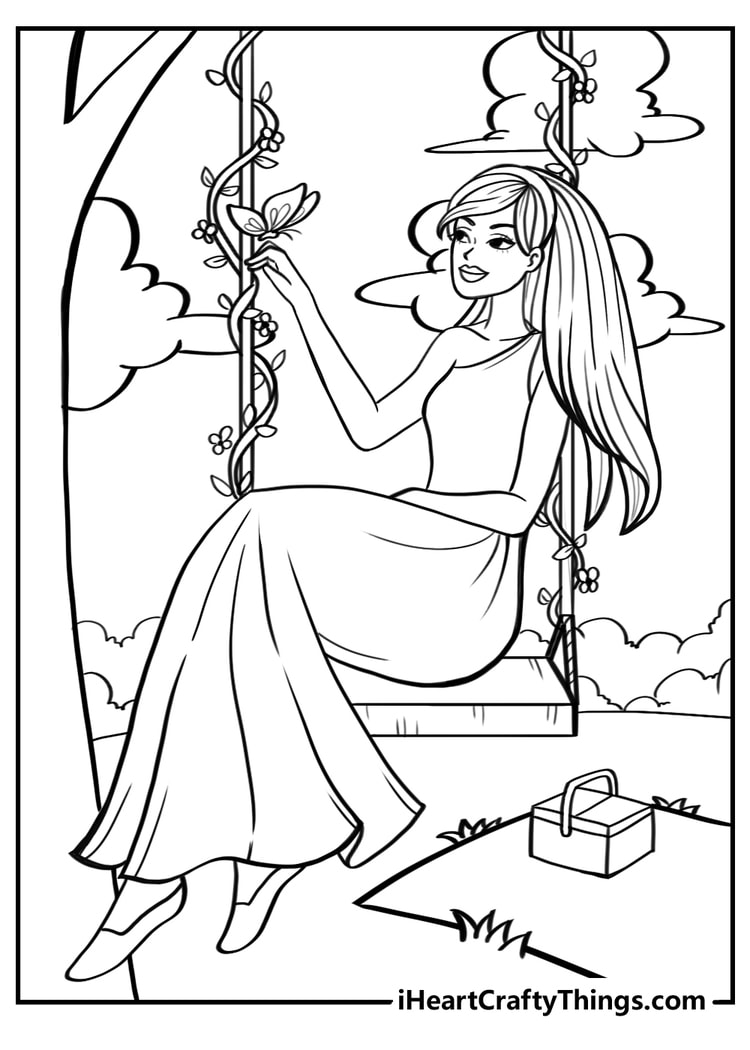 We wonder what it would be like to celebrate a princess' birthday.
This princess is about to blow out her birthday candles and make a wish! She is surrounded by streamers and a bunch of balloons.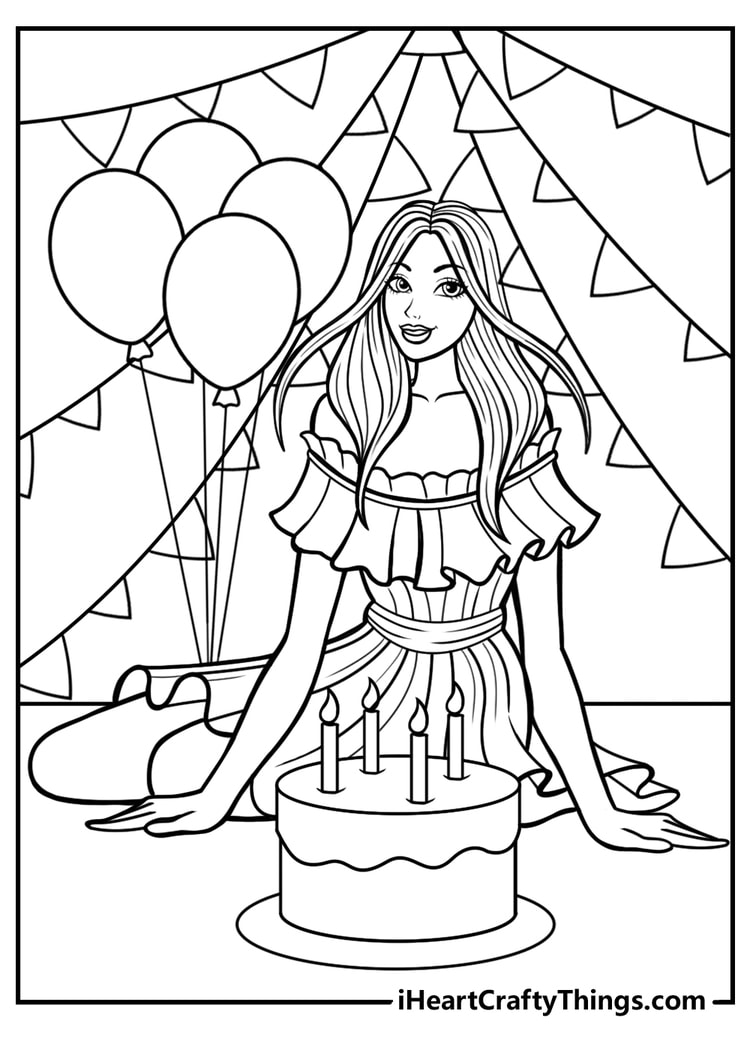 This princess might also be a ballerina! She tirls beautifully around the room…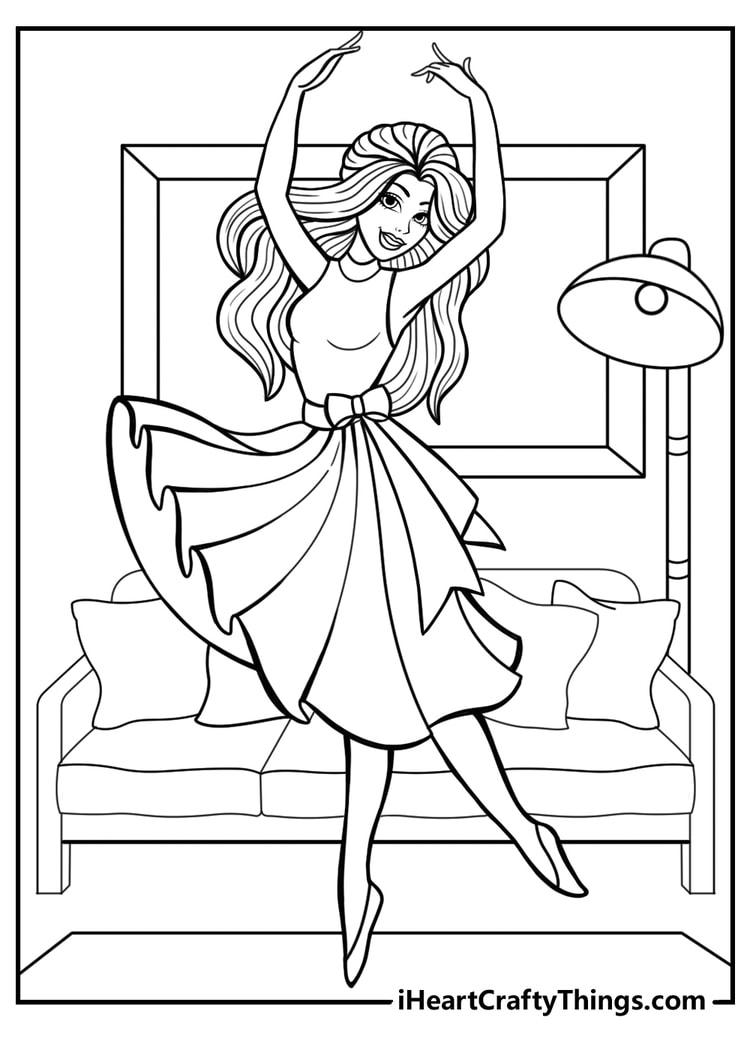 …while this princess gracefully dances with one arm raised.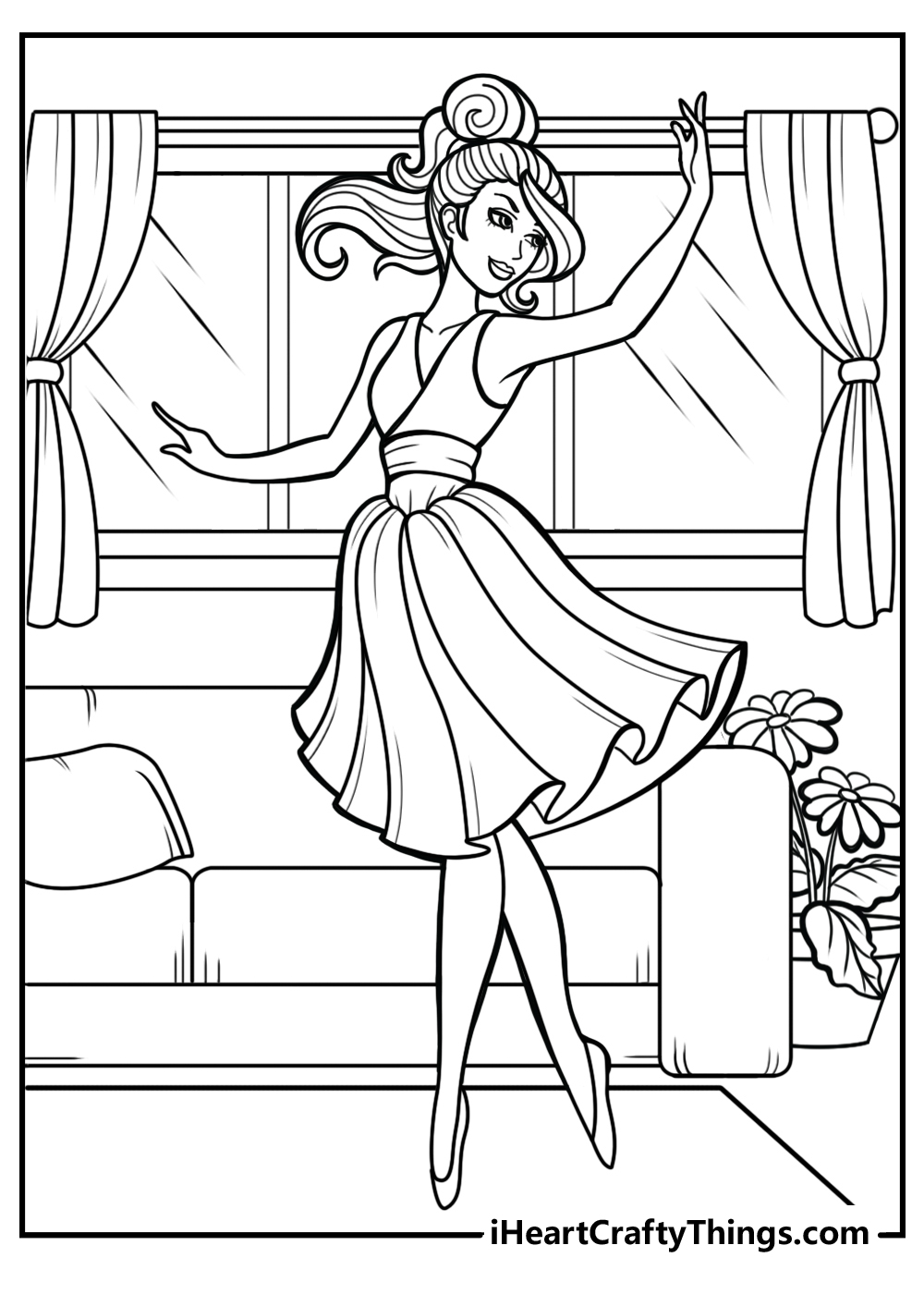 Have Some Royal Fun With These Extra Tips For Your Favorite Princess Coloring Pages!
This collection of free princess coloring pages gave us many new princess friends to meet. There were so many different ways to color in these royal friends, and there are many more ways to make these even better.
Princesses are known for their fancy clothes, jewels and accessories. It can be fun to imagine what it would be like to have all of these fancy things, and the next best thing is to recreate them in these pictures.
You can do this by using various art tools and craft supplies. For example, you could use some gold glitter or glitter glue for elements such as jewelry and crowns.
If there are jewels and diamonds in the pictures, you could stick beads or sequins over them to give a 3D look. These are some of the simple ways that you can take these images even further!
Now that you have some ideas to go with, you can let your creativity flow. If you think that there is something missing from any of these pictures, you can use your pen to draw it in!
For example, maybe some of these princesses could use a pet beside them, in which case you could draw that in. Or, maybe you want some more accessories for some of the princesses.
It's up to you to decide, and anything you add can also be colored in. Experimenting with colors, art mediums and crafts can bring unexpected depth to the images.
Why not challenge your friends to color the same pages you color and see how you each interpret the same images? Whatever you decide to do, we hope you have a ton of fun portraying these princesses!
Remember – we are constantly updating our catalog of coloring pages and printable sheets, so don't forget to check back to see which new pages have been uploaded and which fun characters and animals that you can print and color.
There are so many fun printables to enjoy.
Princesses are incredibly popular right now and we hope you have enjoyed coloring these enchanting printable sheets.
Once you have finished your princess coloring pages don't forget to post a photo of your finished masterpiece on Facebook. We can't wait to see what you'll come up with next.