Easter will be here before you know it so it's time to get planning and prepping for some super easy Easter crafts for kids. Whether you are looking for bunnies and chicks, easter basket crafts or some cute Easter egg craft ideas, you are going to absolutely love this colorful collection of Easter craft ideas we are sharing today.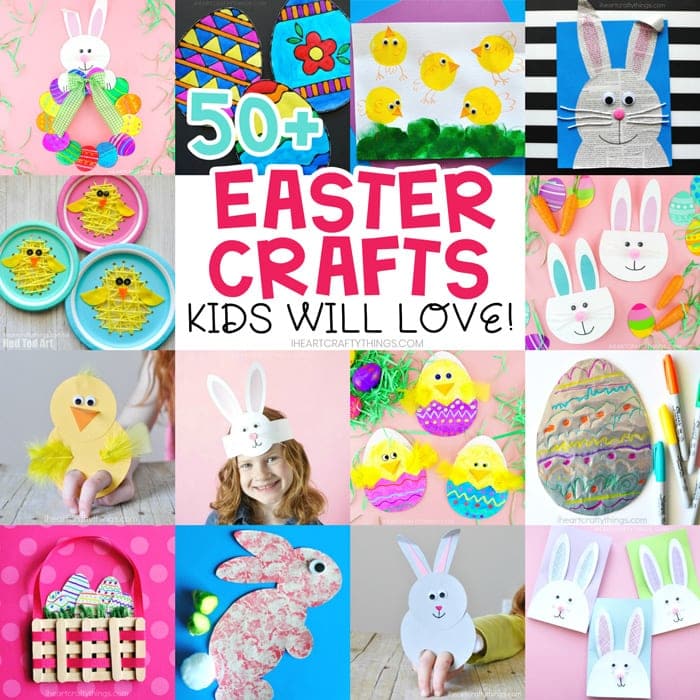 This post may contain affiliate links to any products mentioned. Read our disclosure policy for more information.
Easter Crafts for Kids
Bunnies and chicks and Easter eggs, oh my! There's so much to love about making crafts for the Easter holiday. We love to keep things simple around here so you'll find a lot of crafts in our lists are made with simple craft materials you probably already have laying around the house like paper, paper plates, paint and even newspaper.
With over 50 craft ideas to choose from, your kids are going to have a blast creating some of these simple Easter crafting projects.
Easter Bunny Crafts for Kids
Easter isn't complete without an adorable bunny craft, right?! Add on a cute little pom-pom nose or use some fluffy pom poms for a bunny tail and you have the ultimate Easter cuteness. Check out our list below of over 15 adorable bunny crafts to add to your easy Easter craft list.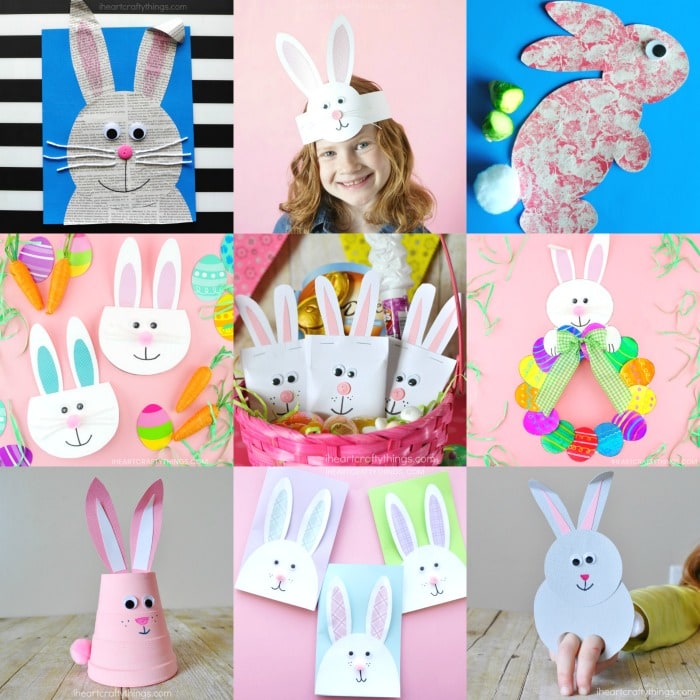 How to Make a Pop Up Easter Card
Simple and Easy Newspaper Bunny Craft -Fun way to recycle!
DIY Bunny Headband Craft -Great for preschool or a classroom
Brussels Sprouts Stamped Bunny Craft
How to Make a Simple Easter Bunny Card –Free template included!
DIY Easter Bunny Candy Pouches
Paper Plate Bunny Easter Wreath
Incredibly Cute Bunny Finger Puppets -Fun make and play craft
Some Bunny Loves You Easter Card
Yarn Wrapped Bunny Card -Simple way to work on fine motor skills
Adorable Bunny Photo Frame Easter Gift
Easter Egg Crafts
Decorating eggs is always a fun Easter activity for kids but you don't always have to boil some eggs and get out the messy dye for egg decorating. Here are some colorful and creative ways to turn Easter egg decorating into arts and crafts time.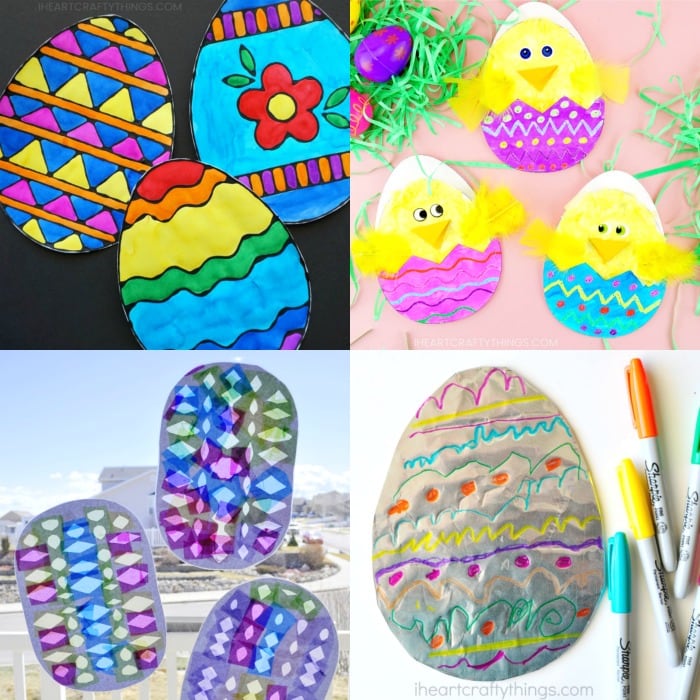 Colorful Easter Egg Black Glue Art Project -Gorgeous!
Hatching Chick Easter Craft –Free template included
Tin Foil Easter Egg Art Project -Great preschool Easter craft
Paper Plate Easter Egg Wreath Craft
Squeegee Painted Easter Eggs -Messy and fun art project!
Yarn Squiggle Art Easter Egg Activity
Spattered Egg Easter Garland -Fun way to decorate for Easter
Easter Chick Crafts
Making chicks is another favorite Easter craft idea. We have a variety of chick crafts for kids of all ages, from simple toddler crafts, to easy preschooler crafts and even some art projects great for Elementary age children.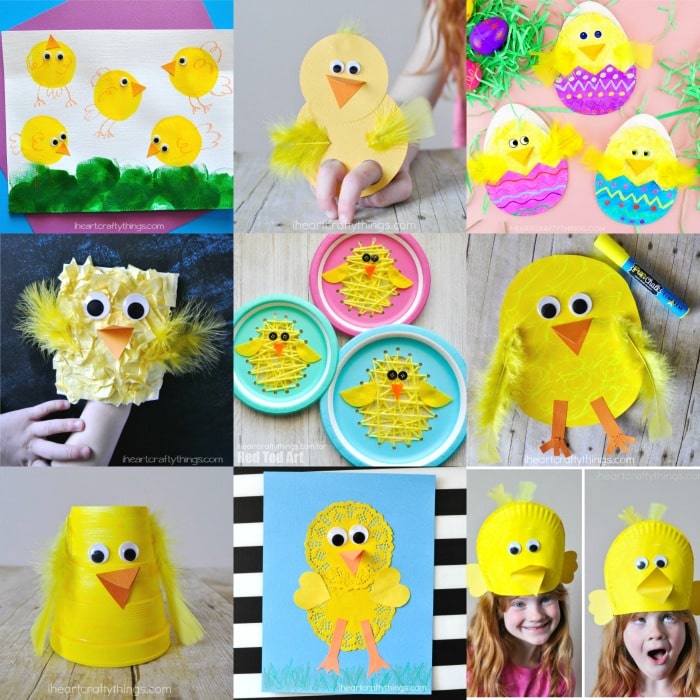 Balloon Printed Chick Craft -Fun for toddlers!
Hatching Chick Easter Craft –Our favorite Easter art project
Paper Plate Sewing Chick Craft -Great way for kids to practice sewing skills
Pop Up Hatching Bird Craft -Fun make and play craft for kids!
Easy Easter Paper Plate Crafts –Another fun make and play Easter craft for kids!
Easter Basket Crafts
There are so many creative ways to make an Easter basket craft. From paper plates, to popsicle sticks and empty yogurt containers, you are going to love these simple Easter basket craft ideas.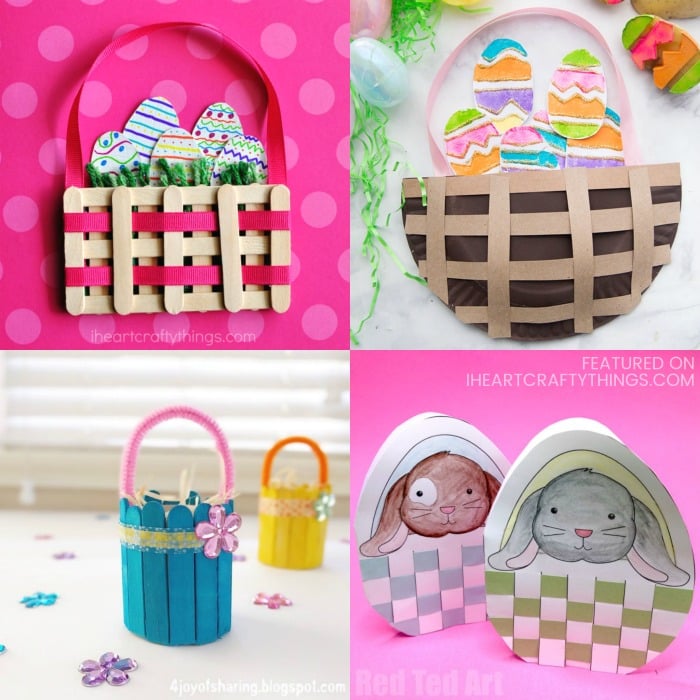 Craft Sticks Mini Easter Basket Craft
Paper Plate Easter Basket Craft
Craft Stick Easter Basket Craft
Sponge Painted Easter eggs and Basket Craft
Craft Stick Easter Basket Craft
Easter Learning Activities for Kids
Looking for some easy ways to incorporate learning into your Easter festivities? Preschoolers will love these simple Easter activities geared toward math and science.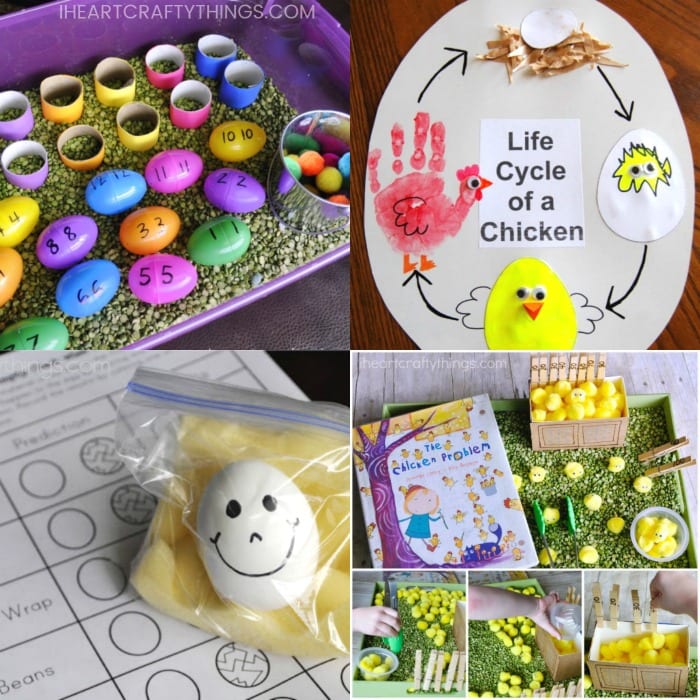 Humpty Dumpty Science Activity -Fun activity for kids of all ages!
100 Chickens Preschool Counting Activity
Beginning Sounds Easter egg Activity
Looking for other Easter crafts for kids not listed here? You can search our website by typing in what you're looking for at the top of the page where the search bar is located. You can also browse through our category pages along the top menu bar of our page.
Save this page for later! We'll be adding more Easter crafts to this page as new crafts get posted.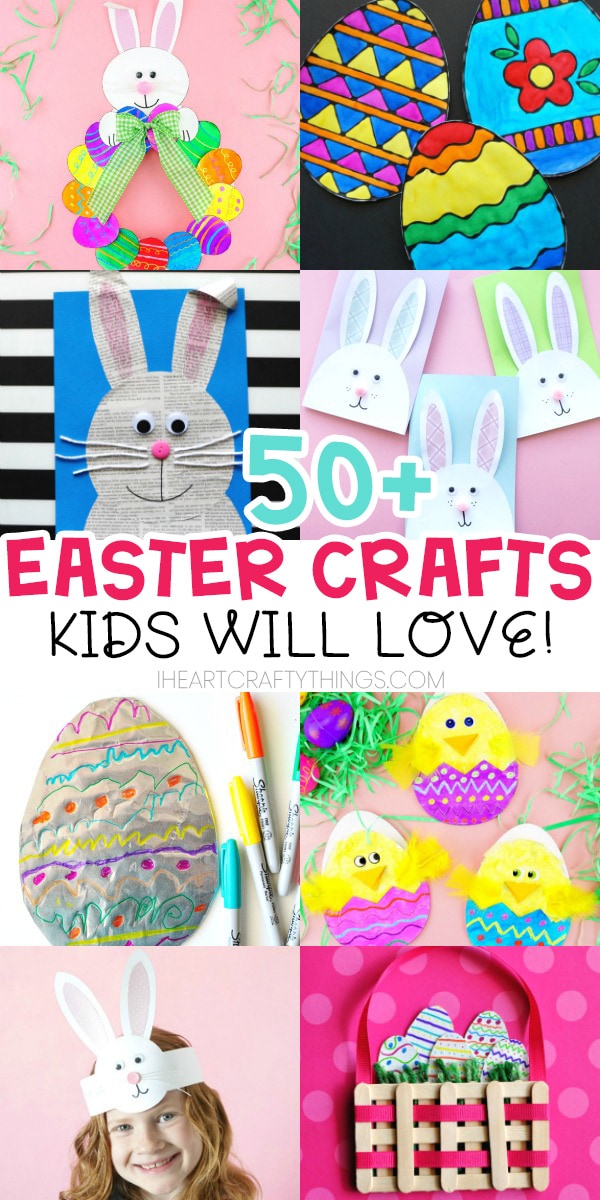 Looking for more easy spring crafts for kids? Check out over 150 spring craft ideas for kids. So many great crafts to keep the kids busy and entertained all season long.