November is a month of special events and holidays that children and adults alike love to celebrate.
Our new November coloring pages are a great way to teach your little ones about the holidays happening during this month in a fun way.
Print these fun coloring sheets and enjoy November's special holidays together with your children while coloring!
10 Brand New November Coloring Pages – Free to Print and Color
Did you know that we have celebrated Thanksgiving day in November since 1869? Thanksgiving is the most popular holiday for turkey consumption, just as our first coloring sheet shows.
Our first November coloring page captures a delicious-looking cooked turkey on a tray. At the top of the page, our designers truly captured the holiday vibe by adding these cute fairy lights garlands.
This coloring sheet features plenty of design details that your little one can color using whatever shades they like most.
They can use shades of brown to color the turkey, and a combination of bold shades for the led fairy lights.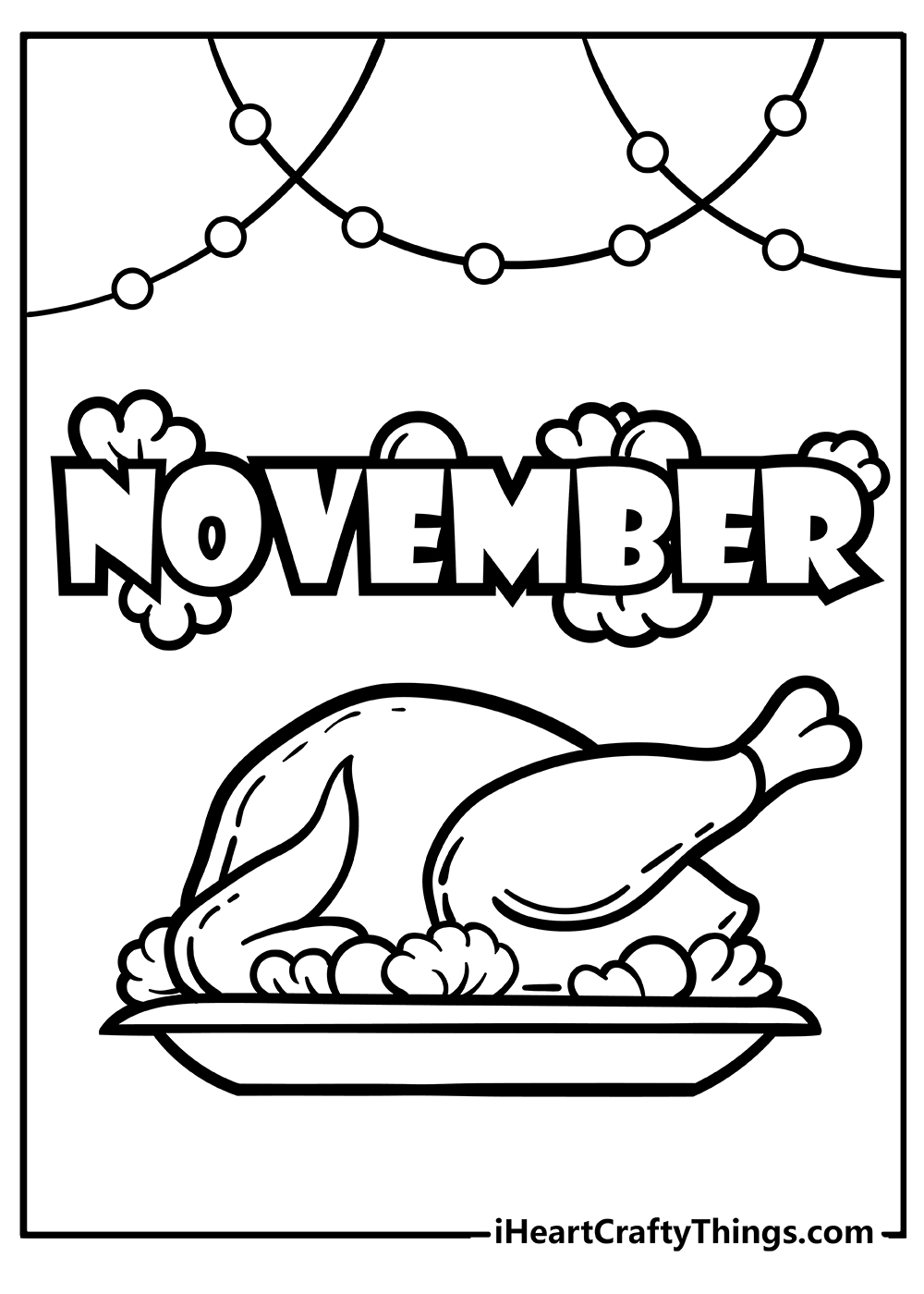 On November 1st, we celebrate one of the most popular holidays worldwide: Halloween.
This holiday originated with the ancient Celtic festival of Samhain, when people would light bonfires and wear costumes to ward off evil spirits.
This is an interesting fact to share with your little one, isn't it?
Our next coloring sheet suggests the celebration of Halloween on November 1st. It captures a lovely pumpkin wearing a witch hat, sitting on the word November.
This page features many design details that encourage your child to get creative with colors. They can use shades of yellow and orange to color the pumpkin.
Your little ones can color the witch hat using their favorite shade. And, they can experiment with colors for the November word.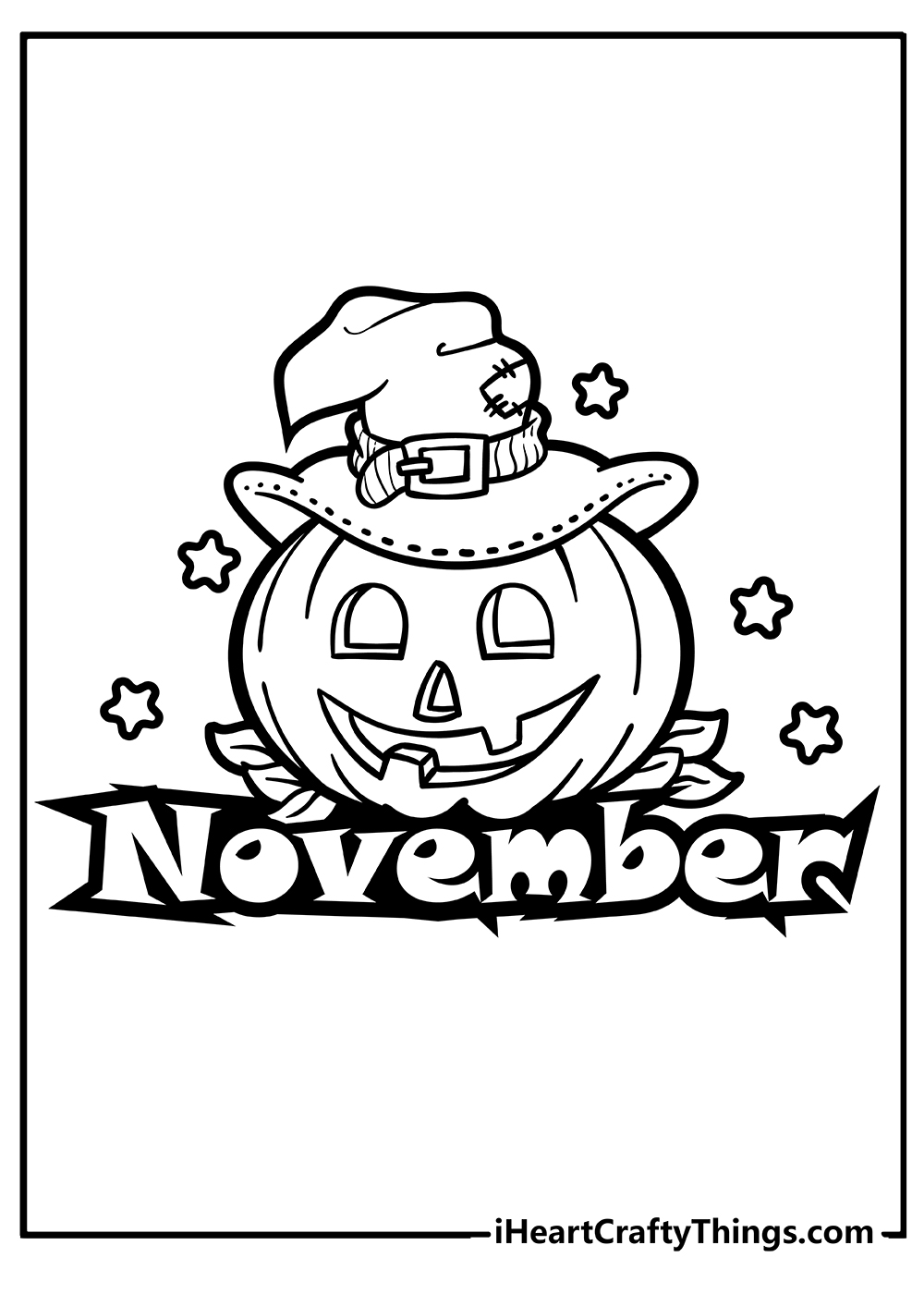 Cats have been part of the history of Halloween for centuries, just as pumpkins. Bats are also associated with the underworld and death due to their nocturnal nature.
This November coloring page has it all.
Our next coloring sheet captures some of the most important symbols of the Halloween holiday.
It features an adorable, smiling cat, a carved pumpkin, three flying bats, and the moon, all sitting on the word November to suggest that Halloween takes place during this month.
Print this coloring sheet for your little one to give them a fun exercise on Halloween night after they are done trick-or-treating.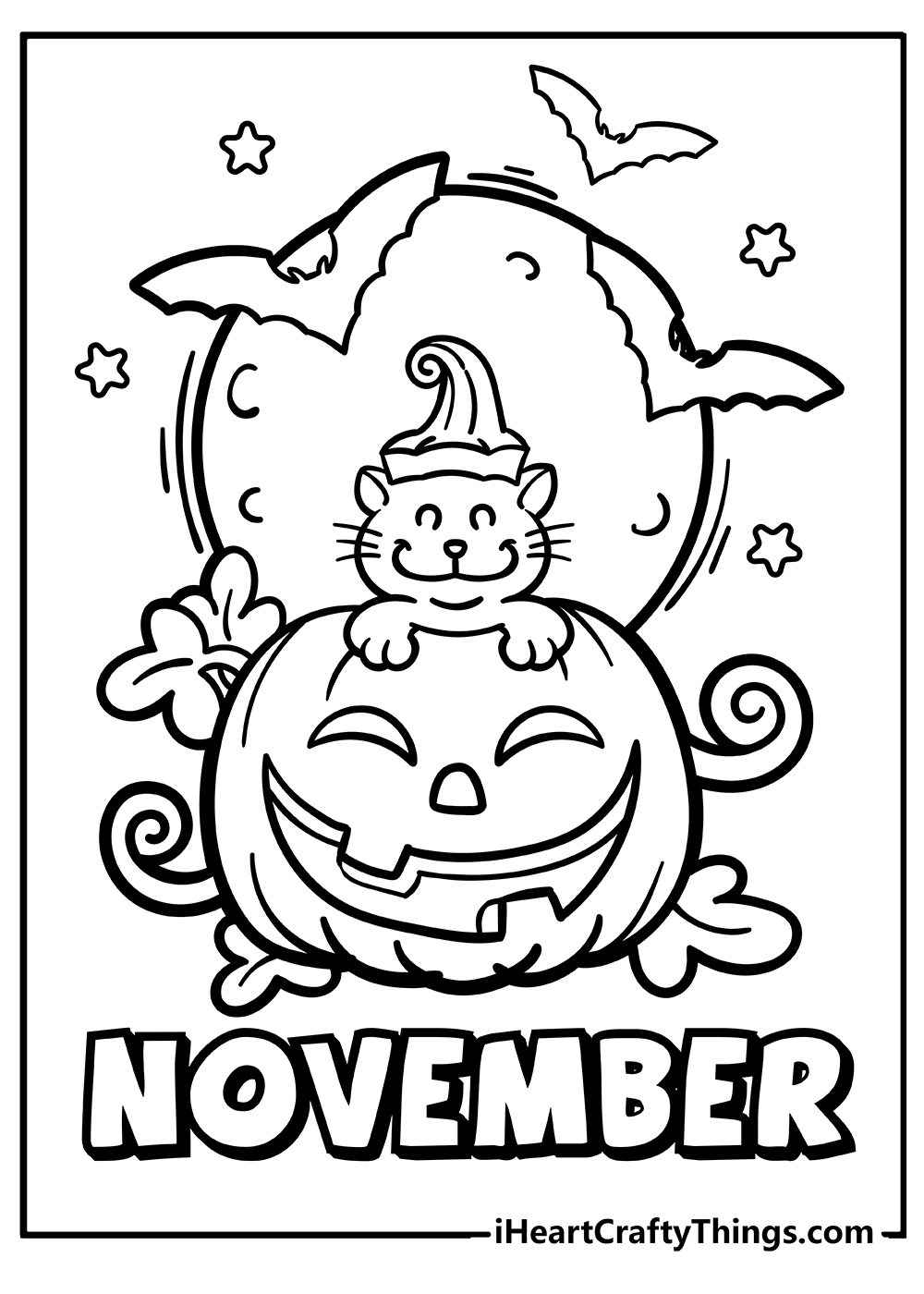 November is a prosperous season in terms of delicious fruits. As you can see in our next coloring page, we can enjoy delicious pumpkins, apples, grapes, and many other fruits during November.
This November coloring page shows all the fruits specific to this month. You can use this coloring sheet as a way to make your child more excited about eating more autumn fruits.
Print this free November coloring sheet and invite your little ones to let their creativity run wild. They can experiment with colors and combine different shades in a fun way.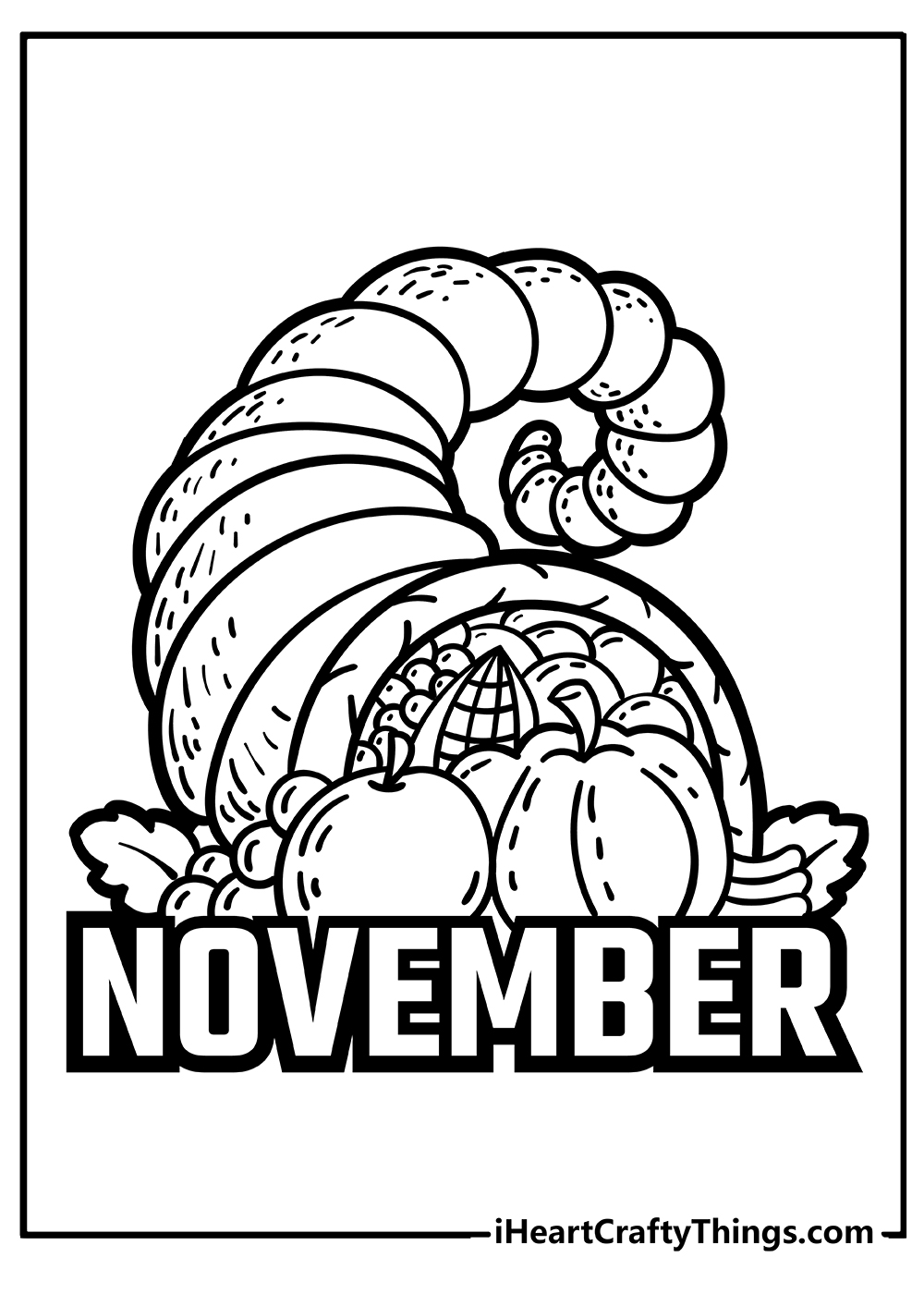 November is the spooky season! Look at how creepy our next image looks!
Our next November coloring page captures a scary night that resembles a Halloween night. It features an abandoned church surrounded by an empty tree and a big moon.
The three bats flying over the moon make this page even spookier.
Print this coloring page and invite your little one to color it. Your children can get really creative by combining different colors. You can use it as a Halloween decoration if you want.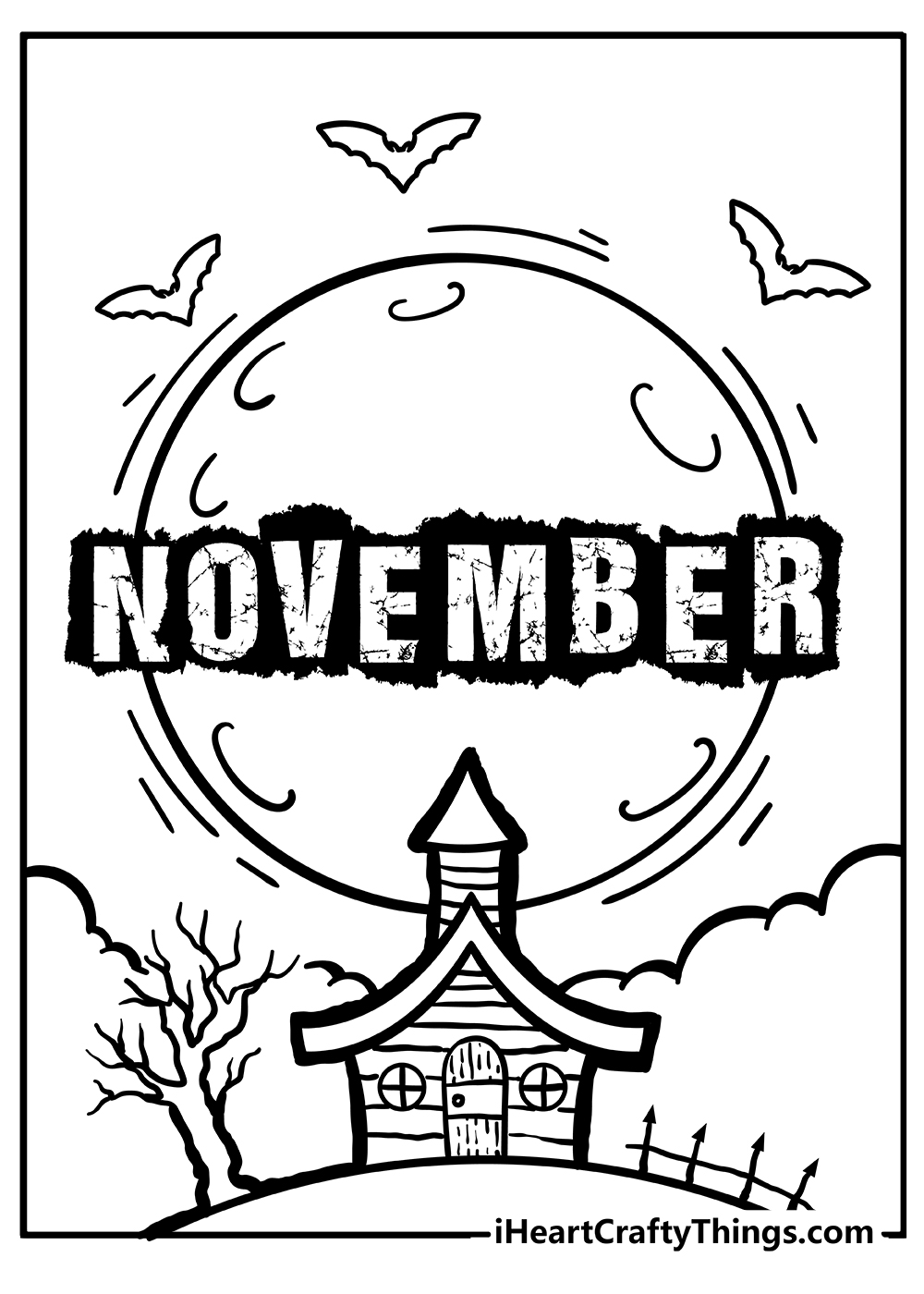 Did you know that the first Thanksgiving was celebrated in 1621? This is an exciting, fun fact you can teach your children about while coloring this November coloring sheet together.
Our next coloring sheet shows a turkey, which symbolizes the Thanksgiving holiday. Do you agree that this turkey's hat looks incredibly cute?
Your children can allow their creativity to run wild while coloring this page. They can color the turkey brown or use their favorite shades.
We're sure that this bird will look great in pink, blue, or green shades as well.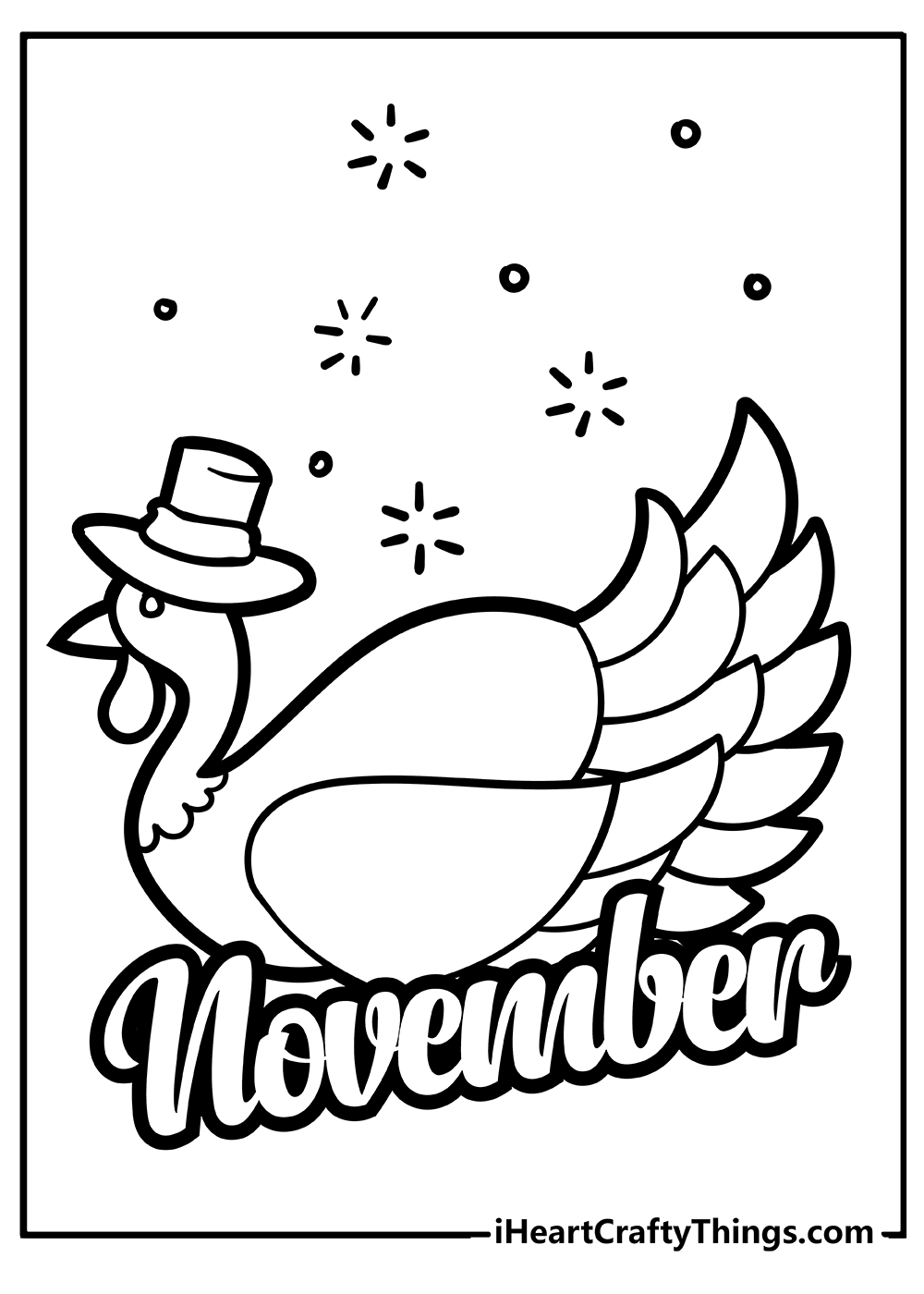 In November, the weather starts to get really chilly. And, what else is more fun to do on a windy day other than having fun coloring this page?
Our next November coloring sheet seems like a windy day in November. This coloring sheet is nicely decorated with leaves and acorns, flying where the wind carries them.
Print this coloring sheet for your little one and invite them to prepare their crayons.
They can use various shades of brown, yellow, orange, green, and red because they are all part of autumn's color scheme.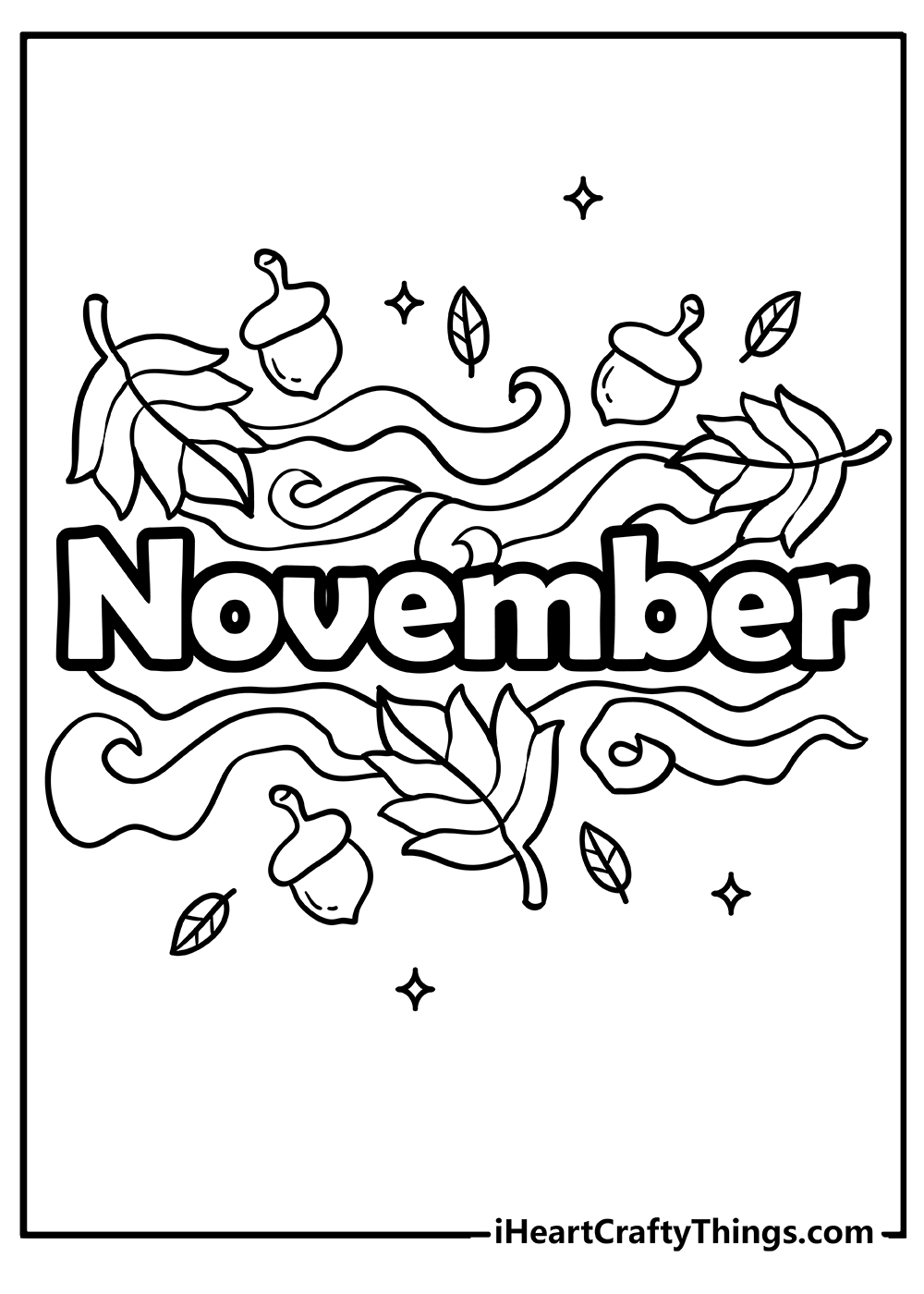 November is pumpkins' month! Pumpkins are very popular during this month both as delicious food and a Halloween decoration.
Our next coloring sheet shows exactly just how popular pumpkins are during November.
This printable November coloring page captures plenty of symbols of the last month of autumn, including falling leaves, pumpkins, acorns, and mistletoe.
This page features plenty of design details your little ones can color and have fun with.
Your children can use orange for the two pumpkins, brown and yellow for the leaves and acorns, and green for the mistletoe twigs.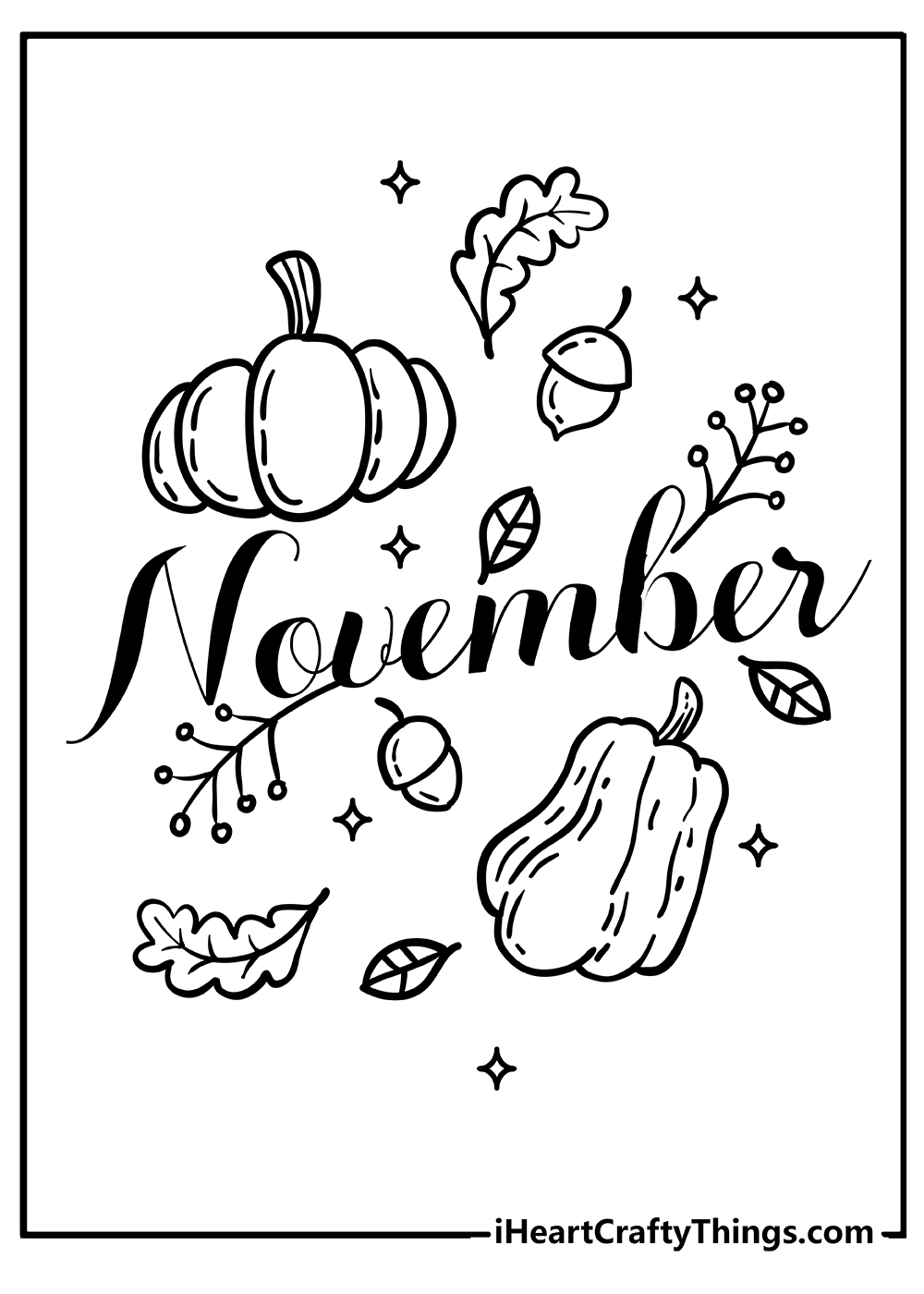 November is the last month of the autumn season.
Our next coloring page captures different symbols that suggest the end of autumn, including the pumpkins, the acorns, the falling leaves, and the mistletoe twigs.
This coloring page will be an excellent exercise for your little ones to test their coloring and creativity skills. They can play with different shades of colors to give this page a personal touch.
We believe that shades of brown, green, orange and yellow will work best on this page. What do you think?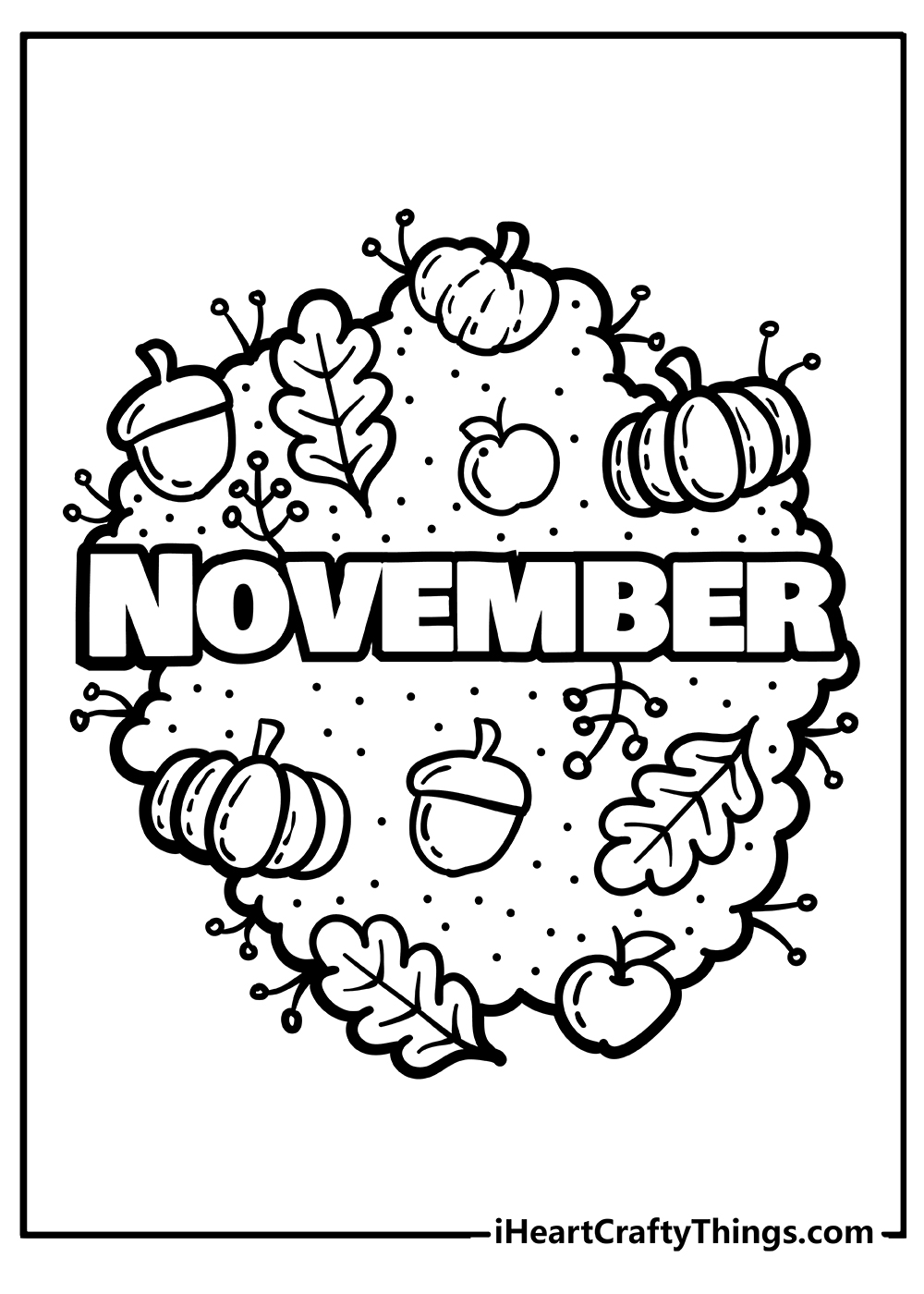 Our last November coloring page combines different symbols that represent this month, including the adorable turkey on the center of the page, mistletoe twigs, pumpkins, acorns, and fallen leaves.
The word November is written in an exciting font that leaves room for your children to play with different shades.
Print this coloring page and encourage your little ones to experiment with different shades. They can use autumn's colors to color this page or their favorite shades. Imagination has no limits!
We constantly update our coloring page collections, so visit us again for more exciting printable sheets!