It's never a nice thing to feel sick or have to stay in the hospital, but while it's not a really fun time it can be really nice to have reminders from friends and family that they're thinking of and wishing the best for you, and often the best way to do that is by giving a bright and colorful get well soon card.
This series of free get well soon coloring pages for kids are perfect for you to give as a card to someone who could use a bit of encouragement, or as a way to have some positive coloring fun if you yourself are not feeling too well and could use some cheering up.
Please share your get well soon printables once you've finished coloring them in to our Facebook page so that we can share the positive vibes and colorful encouragement with anyone who may need it!
10 Brand New Get Well Soon Coloring Pages – Free to Print and Color
We have a bright and cheerful image for our first free get well soon coloring page for kids.
The design of this page is really happy looking, and I would think that some bright and vibrant colors would bring a smile to anyone who saw it, so you could try to use your favorite bright colors and even use some colored pens and paints to make it even more fun to look at.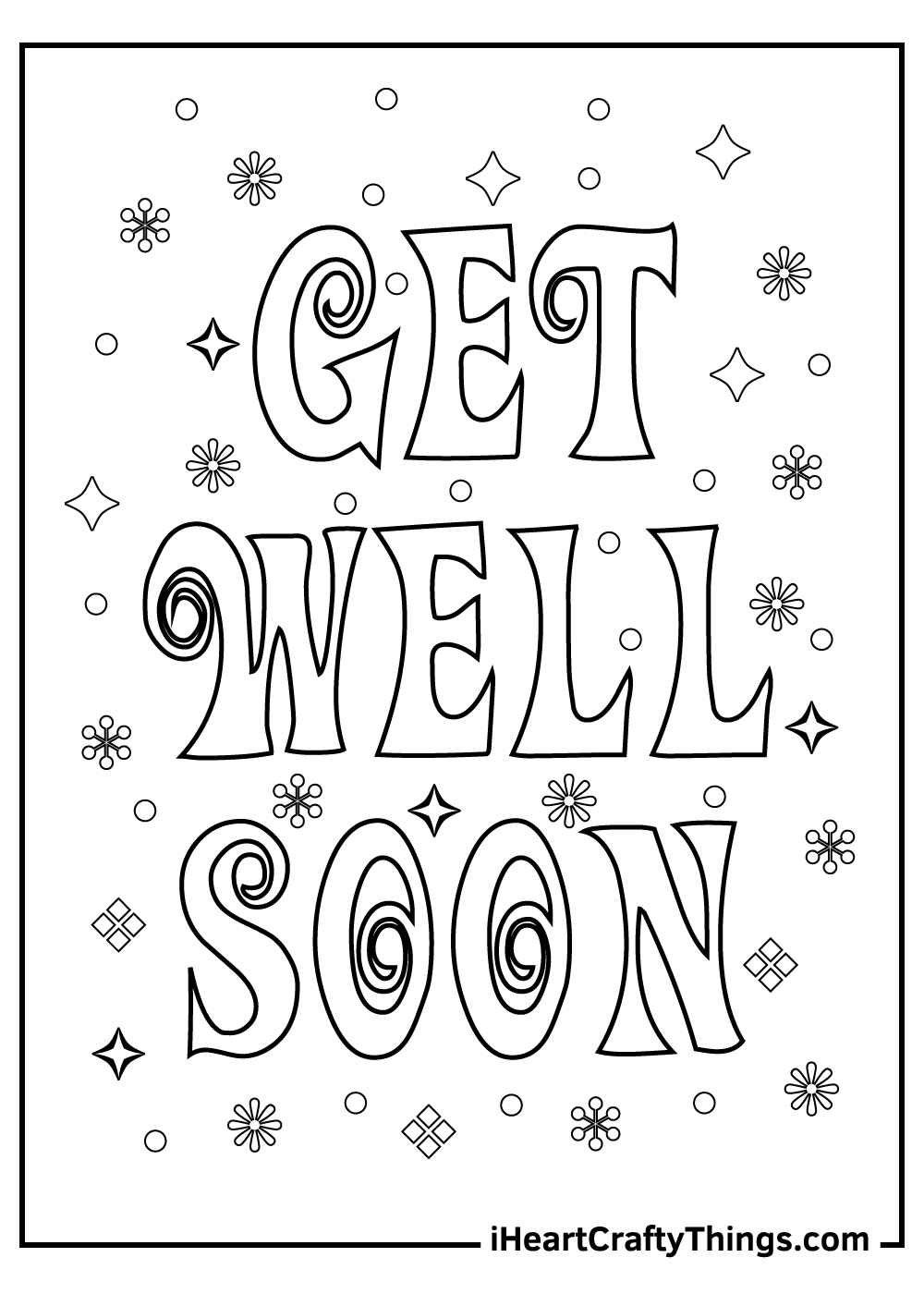 This next cute get well soon coloring sheet shows a pug who's looking a little under the weather!
This get well soon printable would also benefit from some more bright colors for the text, details and background to give a sense of hopeful happiness.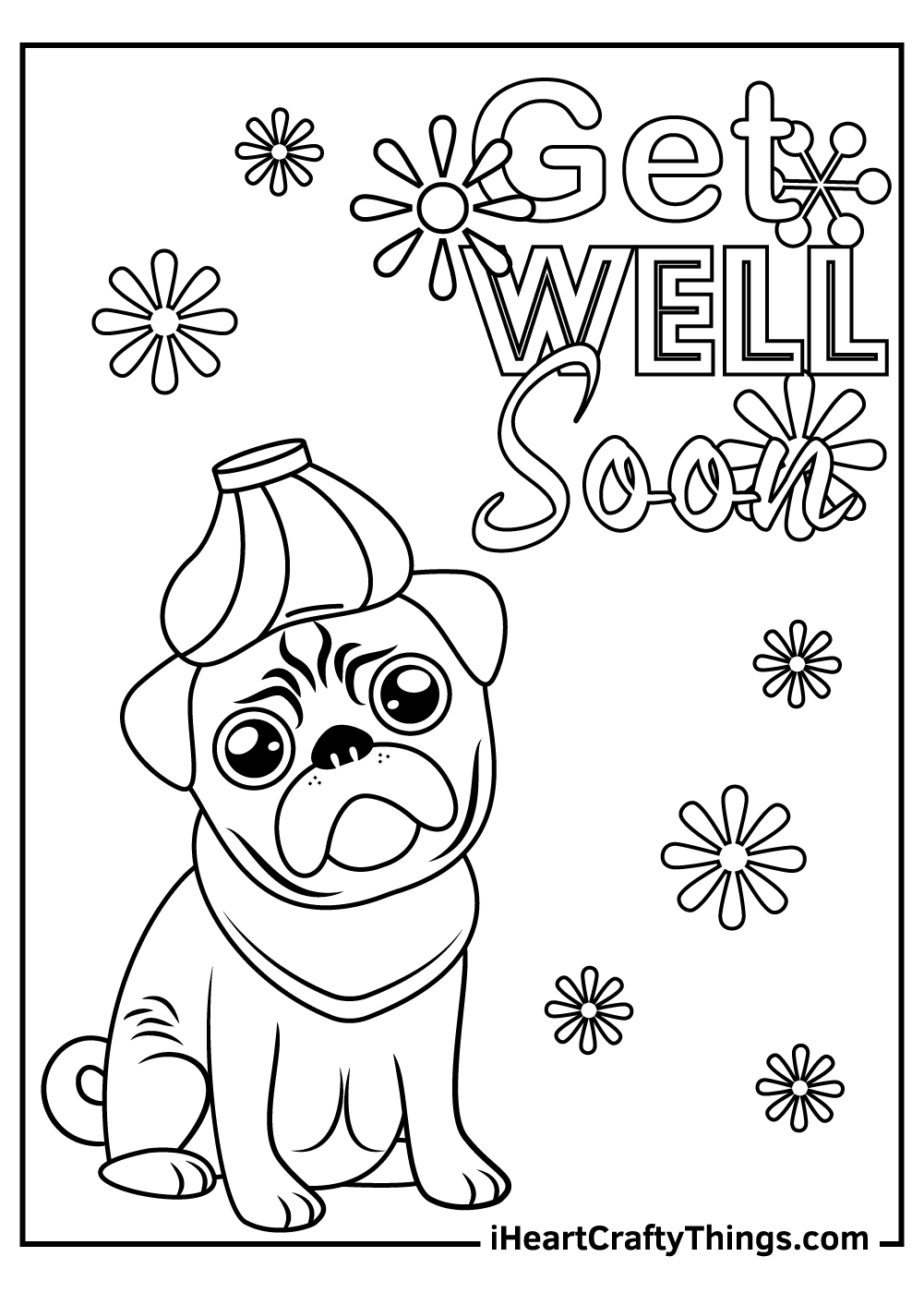 The little girl in this get well soon coloring page is looking pretty happy despite not feeling too well.
She seems to have a pretty good attitude about her situation, and this printable is a good reminder that it's important to stay positive when feeling sick as it can help you to feel a little bit better.
How will you color in this image of positivity?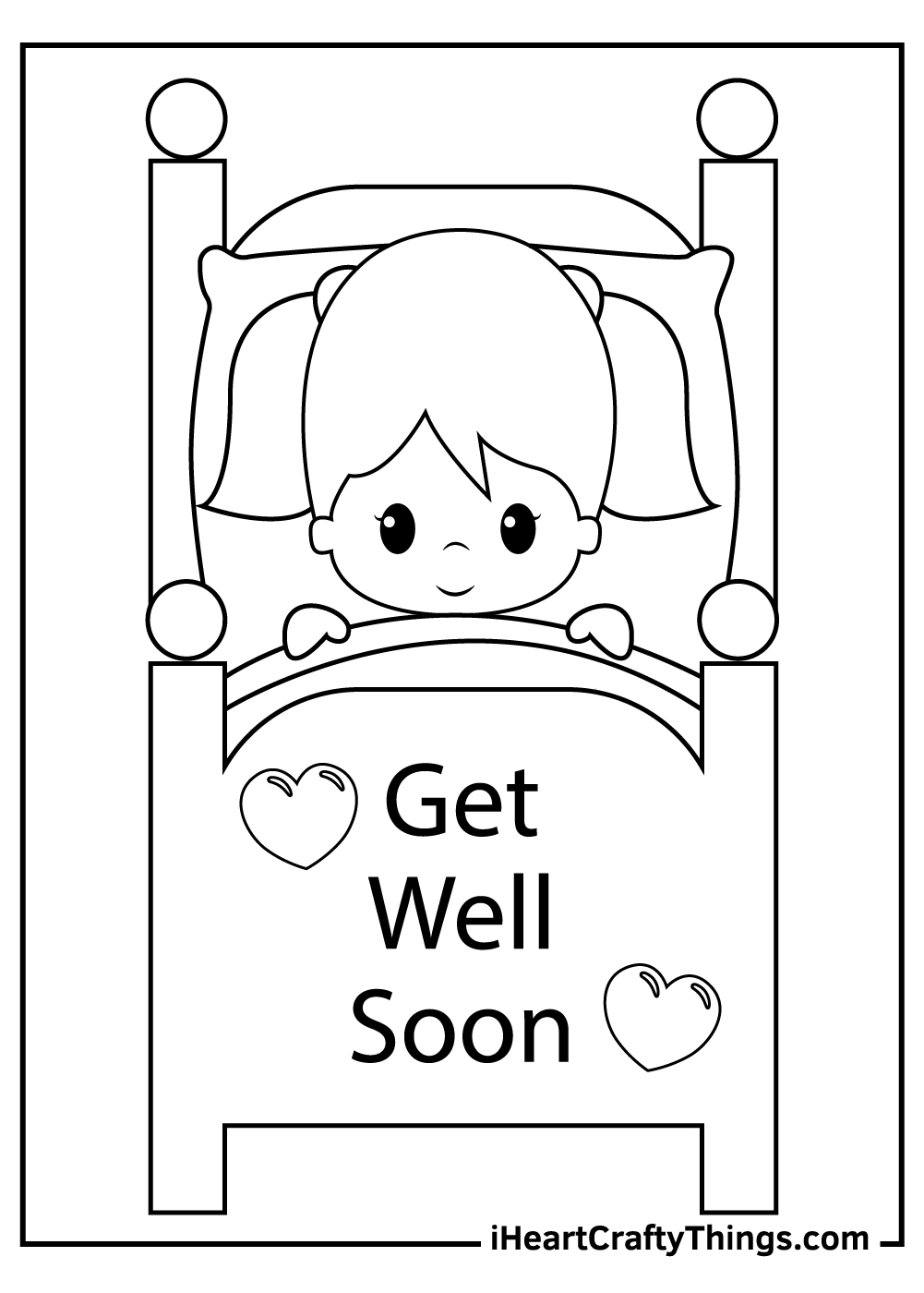 The man in our next get well soon printable looks like he had a nasty fall, but he's also keeping a positive outlook on things and has a big smile on his face!
It's never fun to be wrapped up in bandages, but there are things you could do to make it a little fun like writing and drawing on a cast.
You could draw on some patterns onto his cast and bandages to bring a little bit of fun to his situation.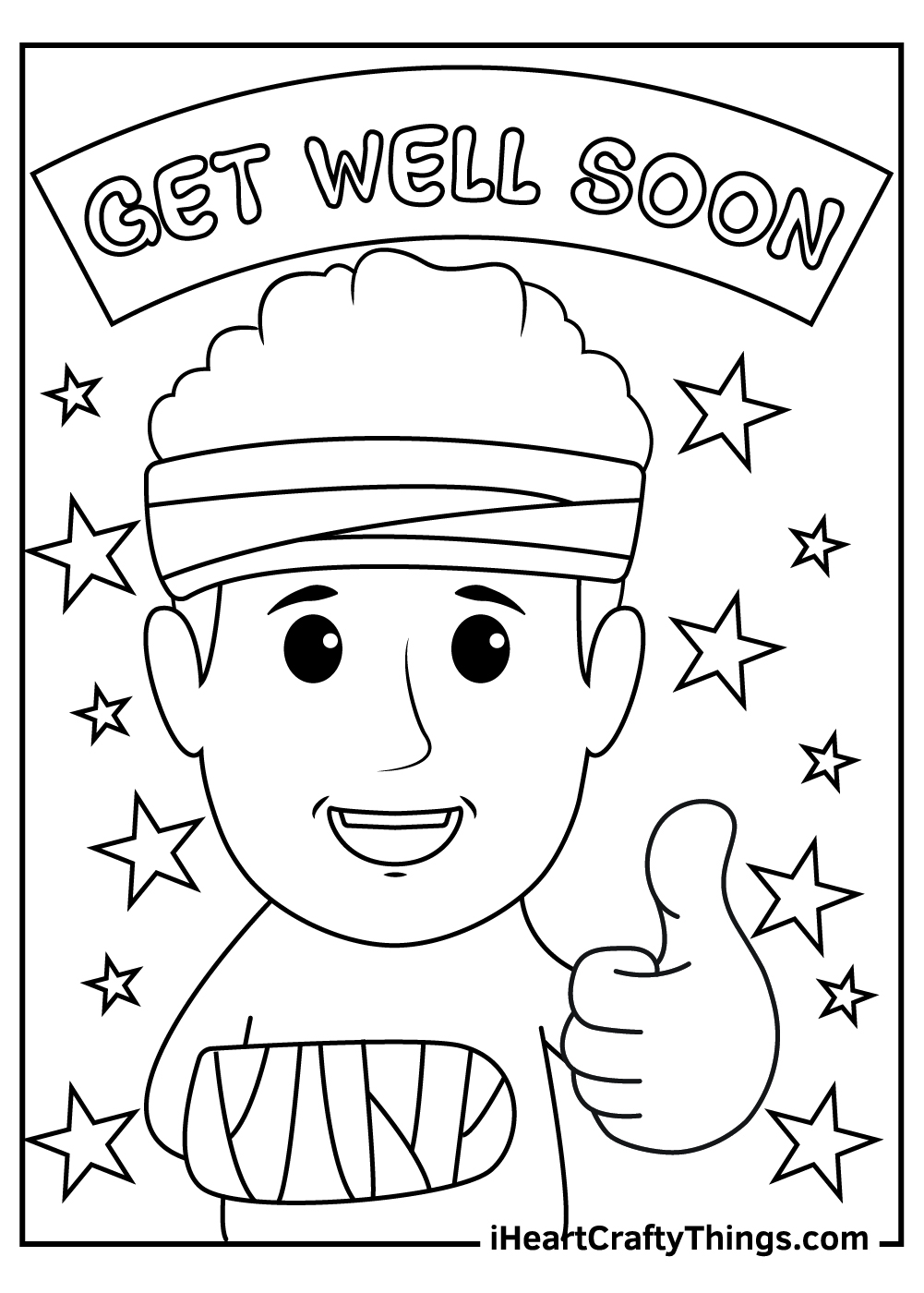 The cute cat in this next free get well soon coloring page has got a big smile on her face. It's another reminder that a smile is a great addition to any medicines or bed rest needed to help you feel better!
For this image I think some nice pinks, purples and reds for the blankets and background along with some vibrant colors for the flowers would finish off this get well soon printable nicely.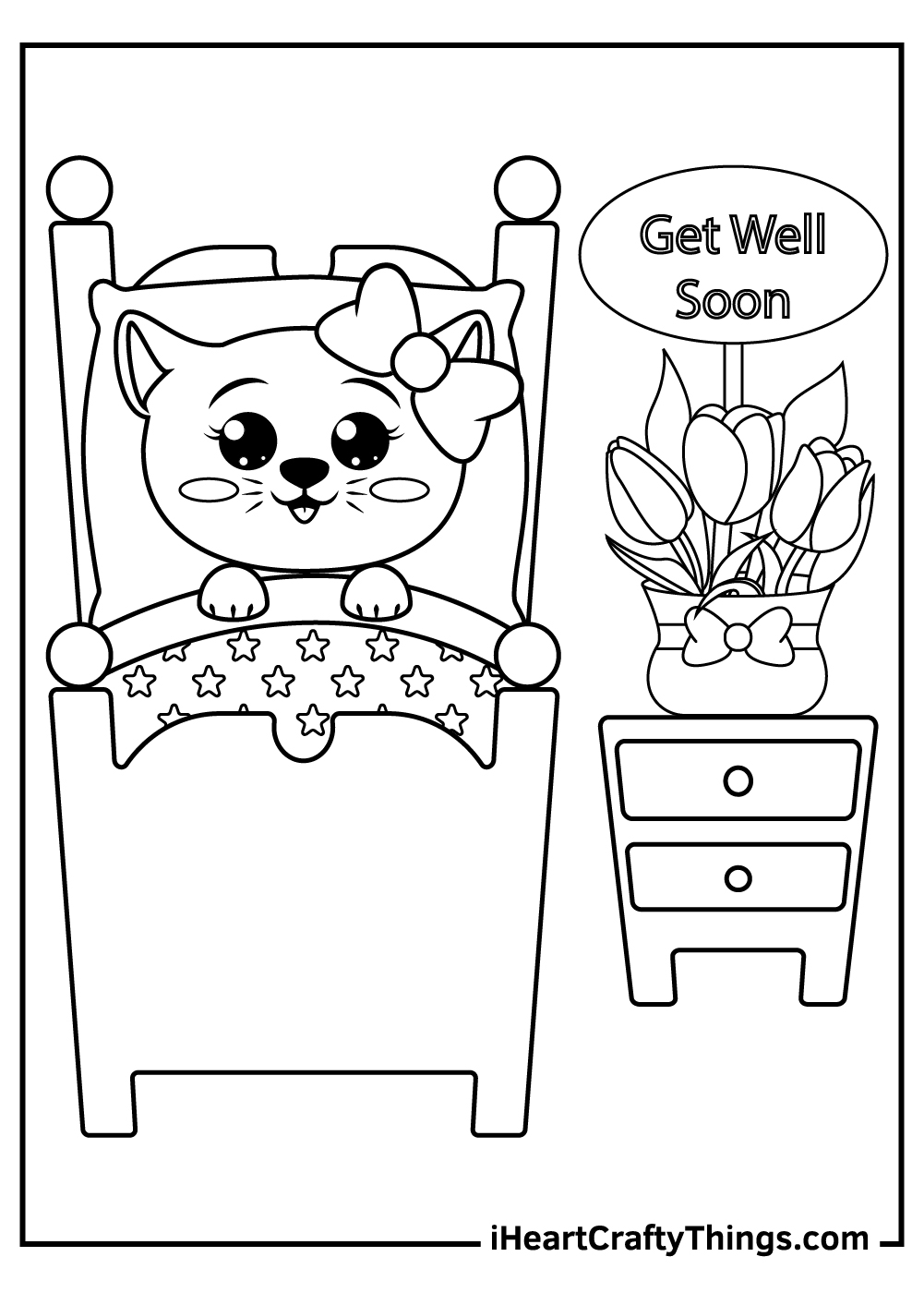 When you have a cold, one of the best remedies is a nice bowl of chicken soup, and the cute panda in this get well soon coloring sheet has a big bowl of it ready to go!
If I were coloring this in, I would use a bright red for the heart on the bowl and then use the same red for the background to give this printable a warm, cozy feeling.
Our next get well soon coloring printable shows an owl with a sore wing taking a bit of a nap. Sometimes a bit of sleep can do wonders for helping you feel better, so I think this owl has the right idea!
I think some milder blues, greens and purples would give this get well soon coloring sheet a sleepier, calmer feeling to it that could provide some comfort.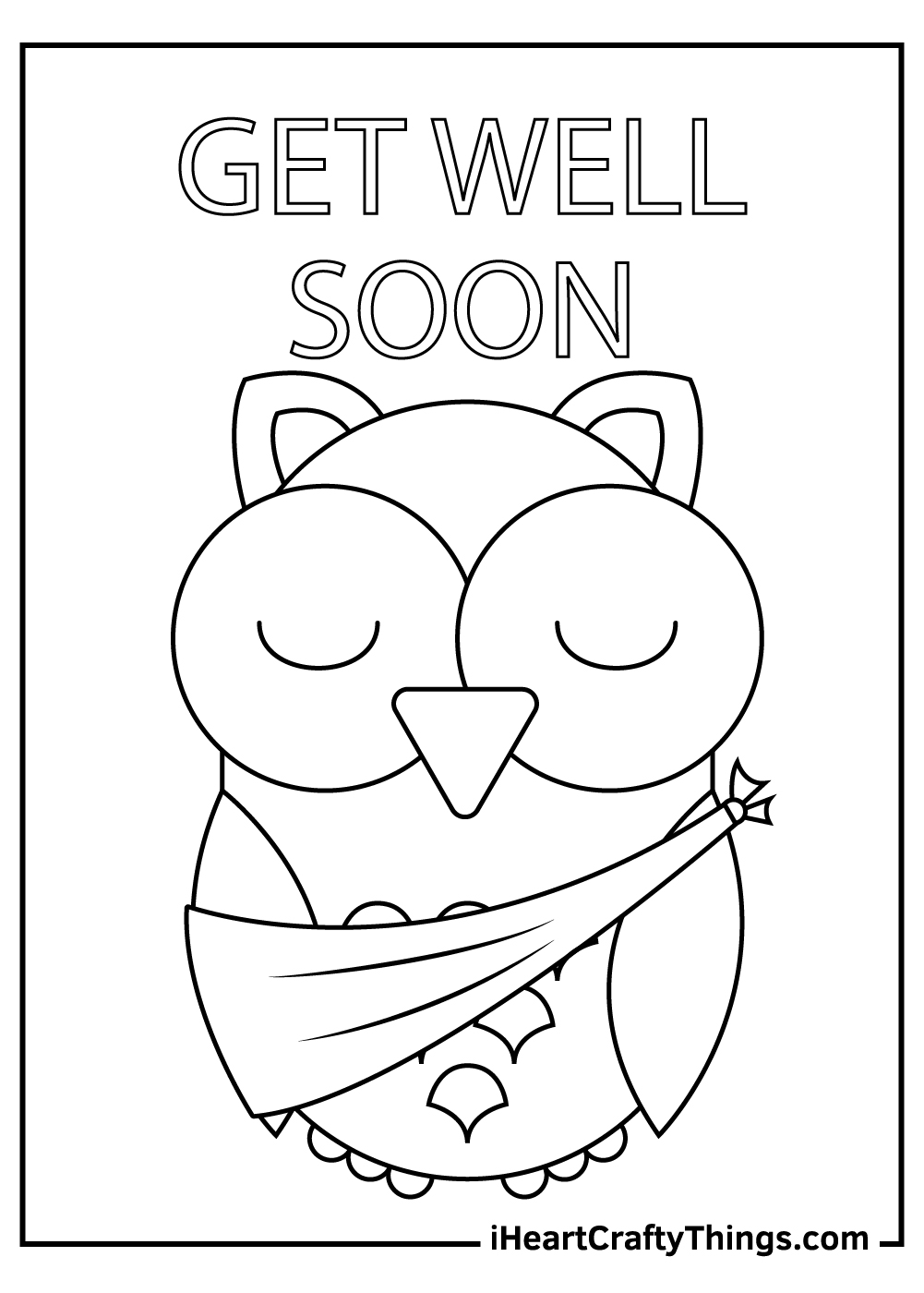 We have a really bright and cute image for this next get well soon coloring page! The bold text and flower designs make me think of bold reds, yellows and oranges, so I think they would really make this get well soon coloring page a really happy and encouraging image to behold!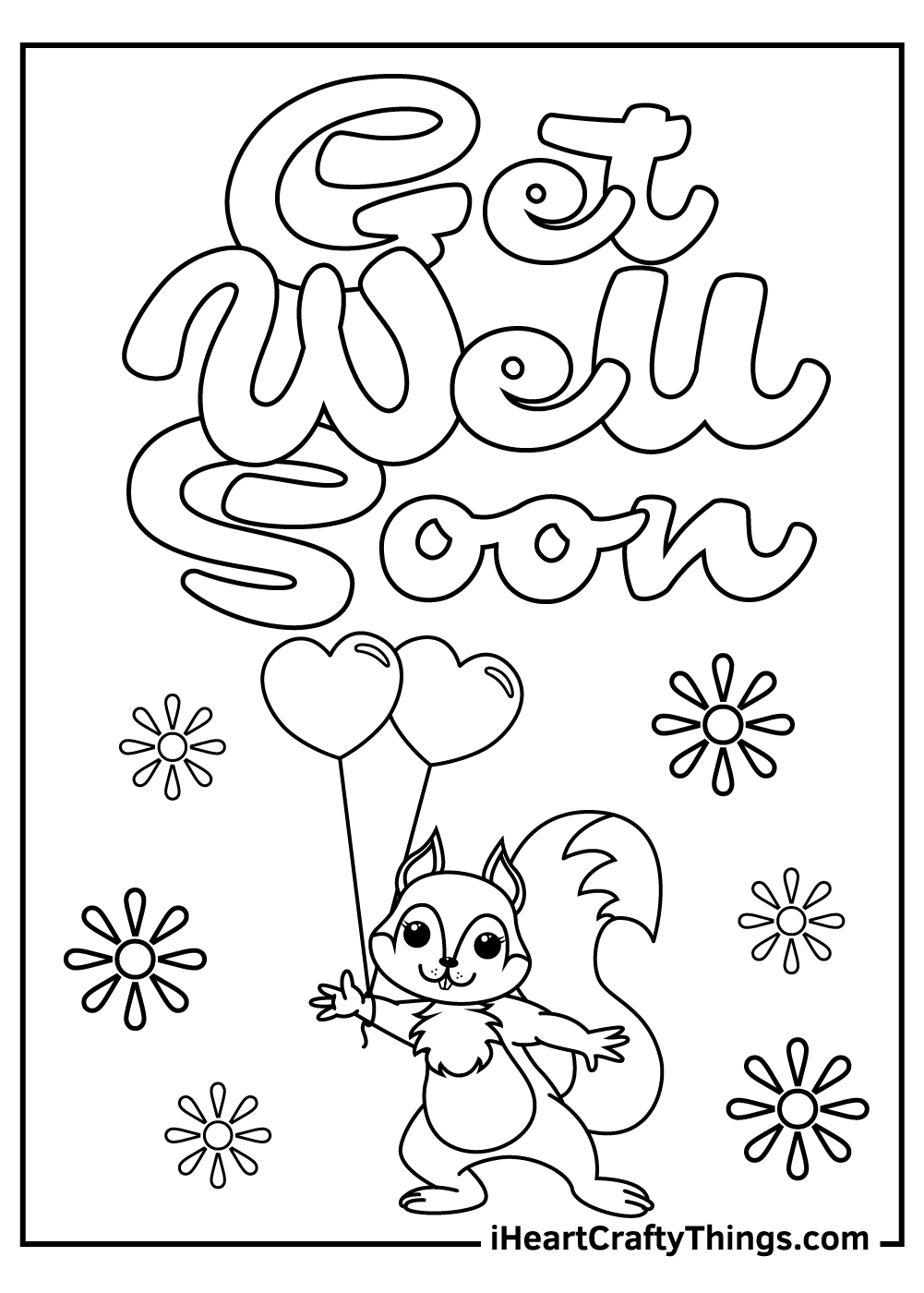 We have a Springtime image for this next get well soon coloring printable. This image would be a great opportunity to try out some different mediums, and I especially think some watercolors for the flower patterns would look really fantastic and help this get well soon coloring sheet to stand out and grab attention!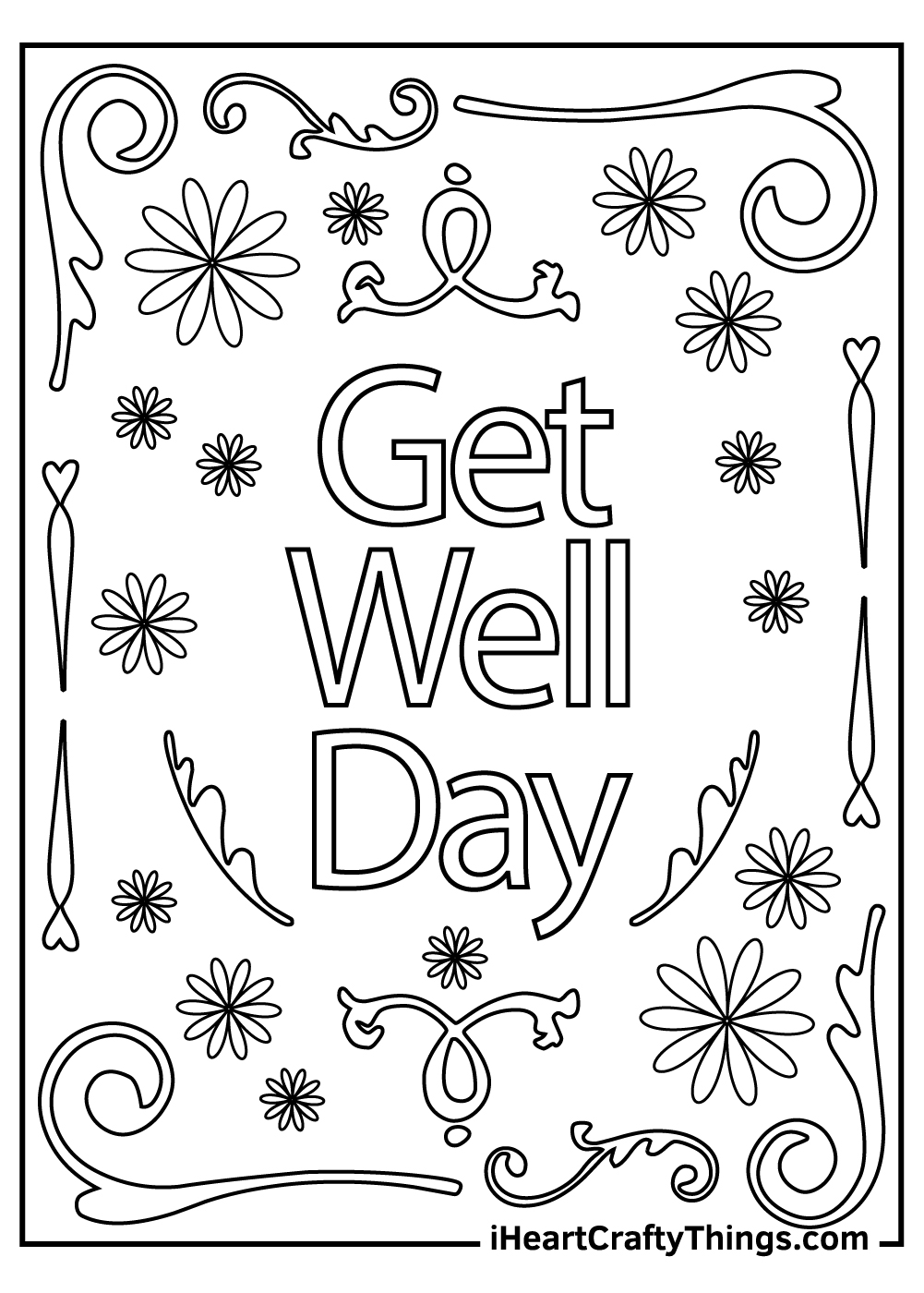 We're feeling the love in the last of our free get well soon coloring page for kids.
A cute squirrel is holding one of the many hearts that are on this coloring page, and once you've used some beautiful reds, pinks and any other bright colors you like for the hearts and background of this image I bet this would make for a wonderful card for anyone who's not feeling well and could use a reminder that you love them!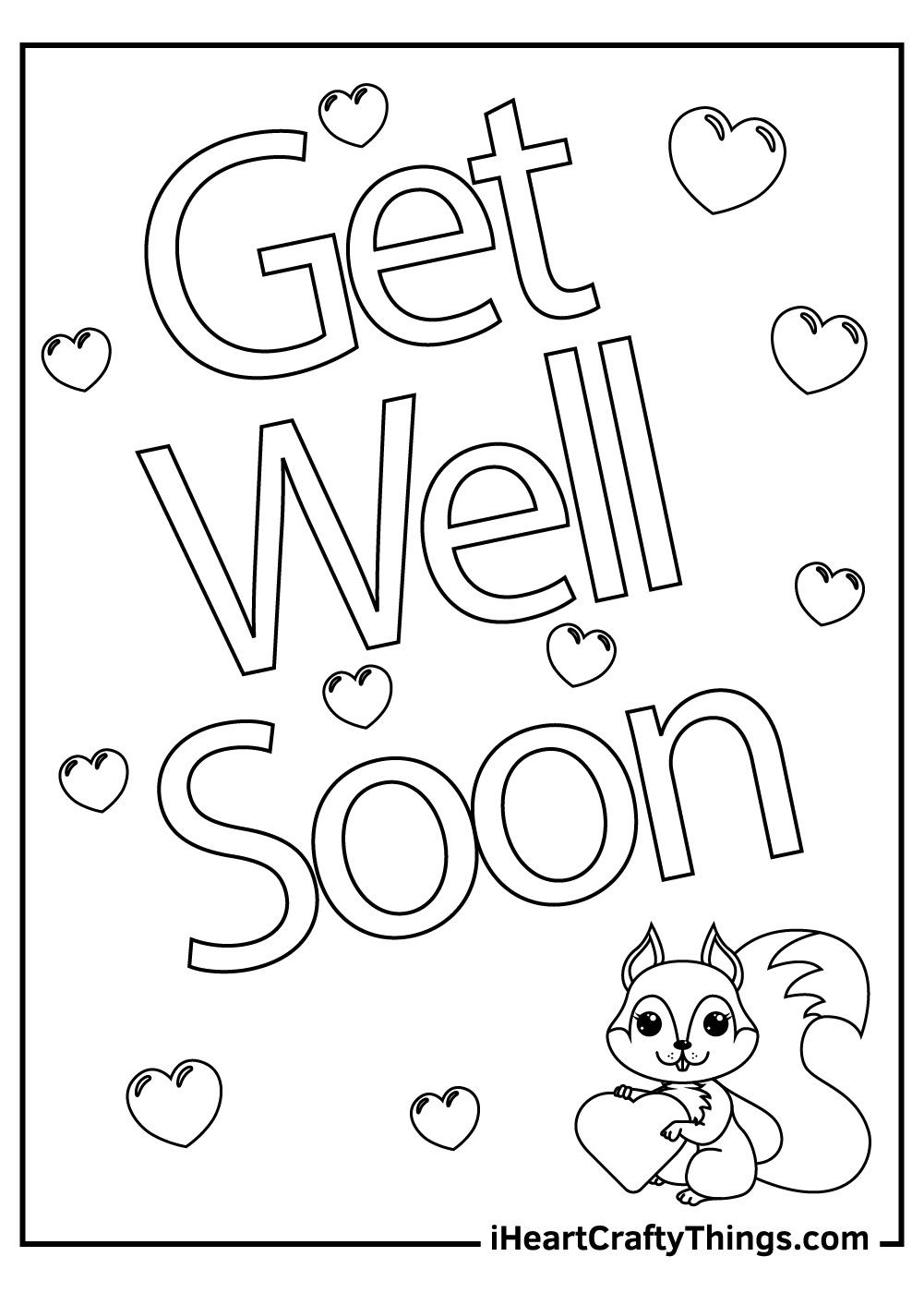 Get Well Soon Coloring Pages – Which will you choose?
We really hope you had a fun time spreading love, care and positivity with colors in these free get well soon coloring pages for kids!
Positivity and bright cheerful colors would brighten anyone's day, so whether you've used these get well soon printables as a card for someone you know or a way to stay happy while not feeling well yourself, we hope that they brought some smiles to whoever they were for!
All of our coloring printables are totally free for you to print and enjoy, so feel free to print out multiple copies to try out different colors and have plenty on hand to give out! Also, please like and share our Facebook page to never miss out on our great free coloring pages and printable goodies.
Once you've finished coloring in these get well soon coloring sheets, please be sure to send your colorful creations to our Facebook page so we can all spread some positivity and cheer!