Looking for a simple fish craft to make with your children this summer? You are in luck!
This colorful paper fish craft is amazingly simple to create and works great as a summer craft, camp craft and even for a play date. The bend in the paper allows the fish to stand up giving them an awesome 2-dimensional look.
Get ready for some fun because this paper fish craft is sure to be a big hit!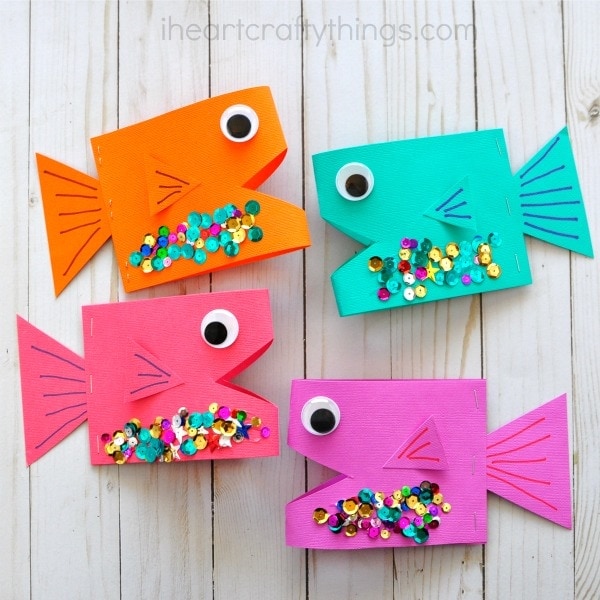 Not only am I super proud to share this cute paper fish craft with you today because I adore how they turned out but they were creatively designed by my six year old daughter so I'm especially fond of them. Her original design was created with a paper napkin while sitting at the dining table. Amazing right?! After she shared it with me we fine tuned it a bit together and came up with this colorful and simple paper fish craft.
How to Make a Paper Fish Craft
This post contains affiliate links to the products mentioned. Read our disclosure policy for more information.
Supplies Needed for this Paper Fish Craft
Instructions for this Fish Paper Craft
1. Cut your colored cardstock paper in half length-wise. Cut a triangle shape out of the end of one of the pieces and set the paper scrap aside.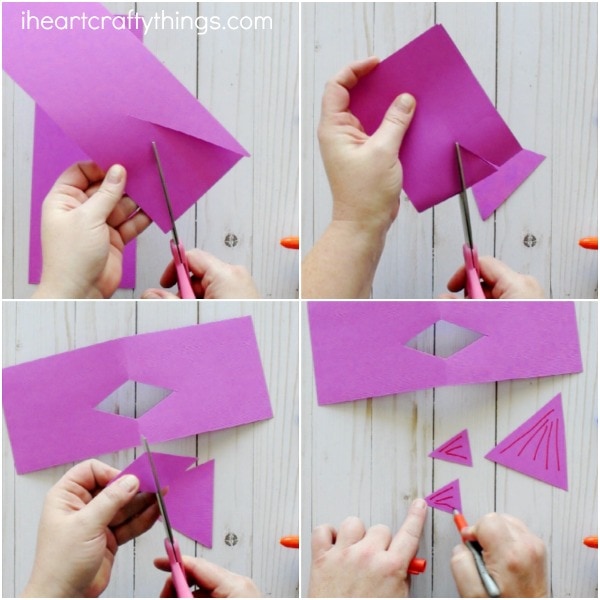 2. Bend the other paper strip so the ends touch each other but don't make a folded crease in the paper. Cut a triangle shape out of the bent side of the paper. You'll end up with a diamond shape. Cut the diamond in half to get two separate triangles.
3. Use your markers to draw lines on the triangles to look like fish fins. Turn the larger triangle over and draw lines on the back too.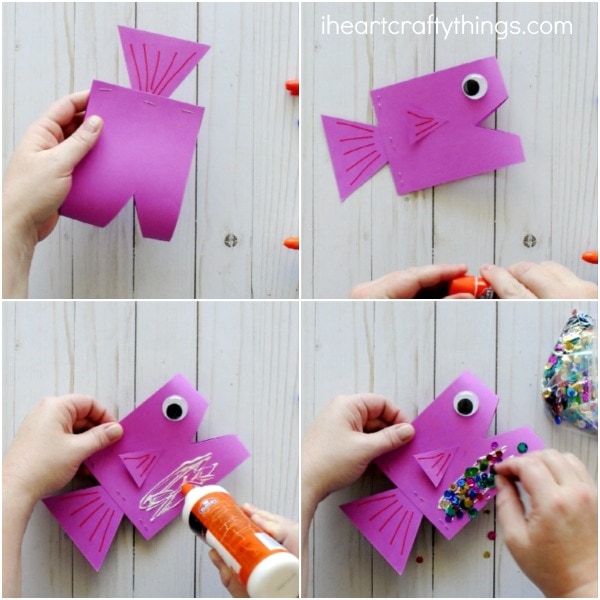 4. Bend the large rectangle piece in half again. Slide the large triangle inside the back of the rectangle and place three staples to close the paper together in the middle and two ends.
5. Use glue dots or tacky glue to glue a large googly eye on each side of the fish face.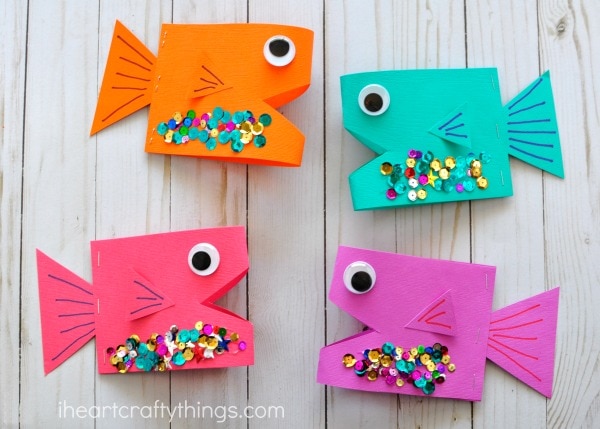 6. Glue the two smaller triangle fins on the sides of the fish. Bend the outside of the fins out slightly so they sit off of the fish a little adding to the two dimensional look.
7. Add tacky glue to the bottom half of the paper fish craft. Sprinkle the tacky glue with sequins. Turn the paper fish craft over and add more tacky glue and sequins to the other side. Allow the glue to dry.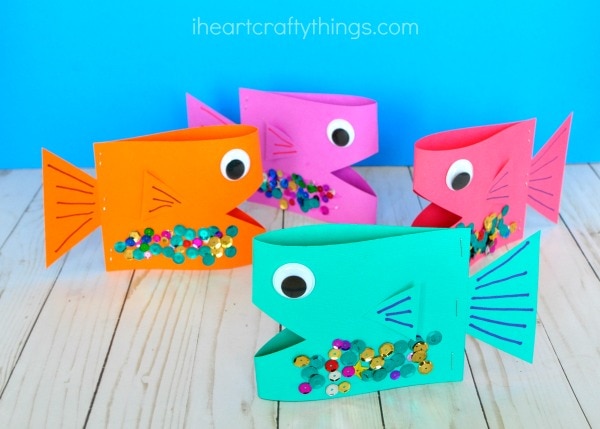 Your cute paper fish craft is complete!
Looking for more fun ocean themed crafts? You'll love this swimming paper plate jellyfish craft. These darling cupcake liner crabs are sure to be a hit too!