We sure love birds! We have had so much fun creating bird crafts for preschoolers over the years. In fact, you can find almost 100 of them on our website. Eeep! No wonder I've been given the nickname The Bird Lady by a few people.
I thought it would be awesome to put together a round up of our favorite bird crafts so you can easily see them all in one place and find exactly what you are looking for.
With over 75 bird craft ideas to choose from, kids will love creating some of these simple projects!

[This round up was originally published on July 19, 2014 and only included 11 bird crafts. It has since been updated to reflect the addition of more bird crafts on our website from over the years.]
75+ Bird Crafts for Preschoolers
While these bird crafts are great for preschoolers, kids of all ages will enjoy making them!
The variety of birds around the world is amazing! We have a big collection of crafts of our favorite types of birds (owls and peacocks), but we also have a big variety from several different bird groups like common birds, tropical birds and even some fun penguin crafts.
Common Bird Crafts for Kids
Common birds are the types of birds I associate with seeing locally where you live. Check out our awesome list below to find a bird that you often see in your neighborhood.
Kids will love observing the birds and then making a craft. This simple bird feeders treat is a great addition to your unit on birds too.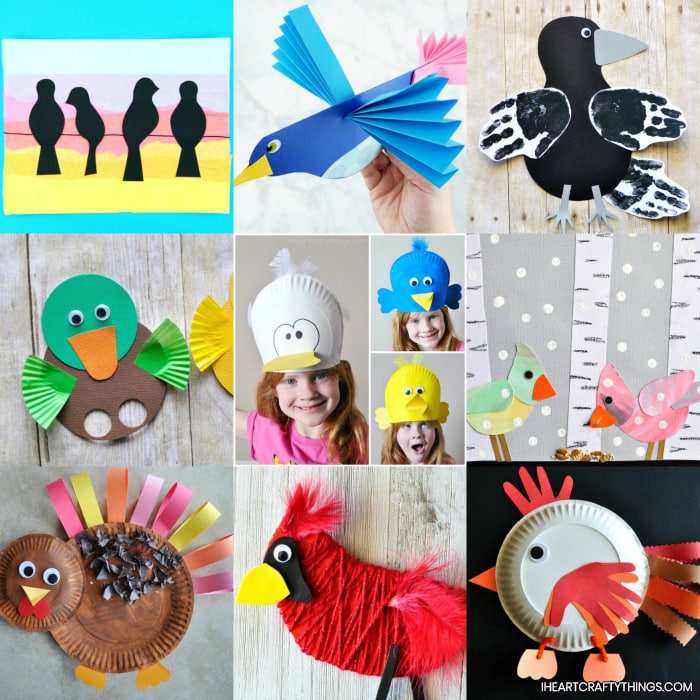 Bright Bird Finger Puppets -Kids will have so much fun playing with these!
Colorful Paper Birds –Create your own unique bird
Pop Up Love Birds Card -Add a nest for a fun spring craft
Paper Bag Duck Craft –Easy toddler craft idea!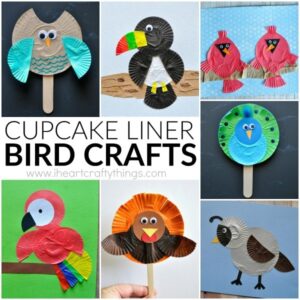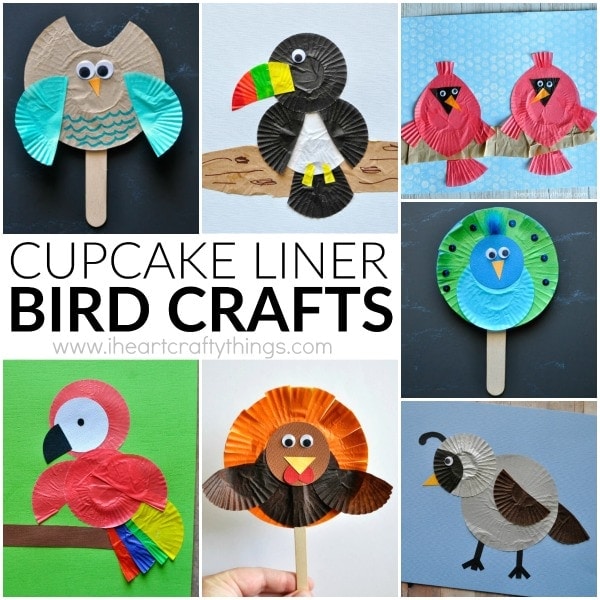 Pop Up Bird Nest Craft -Fun make and play craft for preschoolers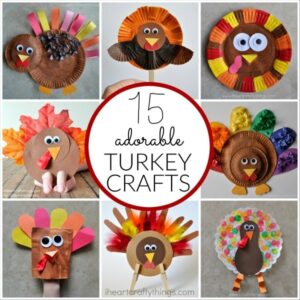 Yarn Wrapped Cardinal –Great fine motor work!
Grateful Tissue Box Turkey -Make this together as a family and practice being thankful by adding thankful notes inside the tissue box.
Watch this short video of how to make the paper bird craft:
Adorable Owl Crafts
Our local bird aviary has a section in the park called the Owl Forest. I could walk around in it all day watching all of the owls. Aren't they fascinating creatures?! Preschoolers will have a hoot of a time making one of these owl crafts listed below.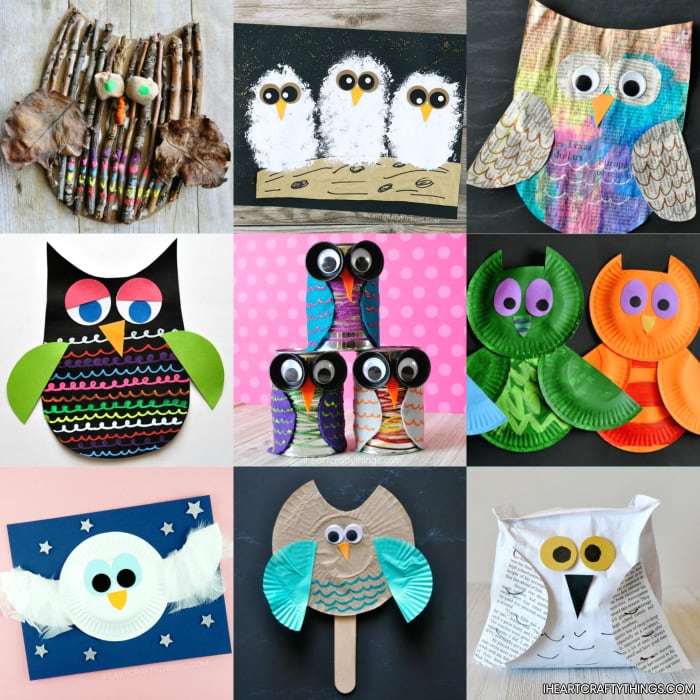 Fluffy Owl Babies Craft -Goes with the popular book "Owl Babies" by Martin Waddell
Tin Can Owls -Makes a great teacher appreciation gift!
Owl Card –Perfect for Father's Day!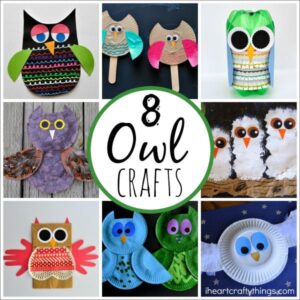 Recycled Newspaper Owl –Great craft for Earth Day
No-carve owl pumpkins -Save this idea for Halloween!
Patterned Owls Paper Plate -Couples perfectly with the book "The Little White Owl" by Tracey Corderoy
Paper Plate Textured Owl Craft -The layers and different materials makes it pop!
Watch this short video below of how to make the fluffy owl babies craft: 
Colorful Tropical Bird Crafts
You can't go wrong with creating a colorful tropical bird craft in preschool. We have a fun collection of parrots, toucans and flamingos that kids will love.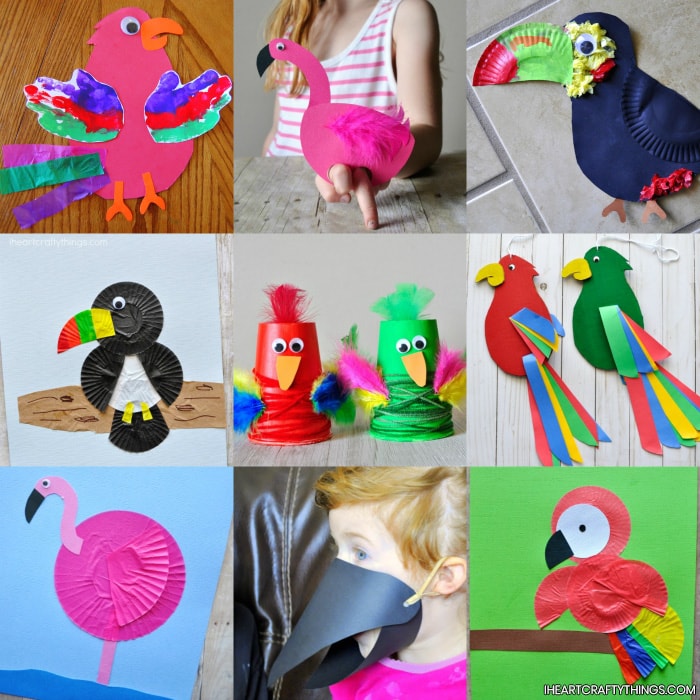 Fun Twirling Parrot –It really twirls!
Parrot Beak Craft -Kids will love pretending to be a parrot for a day!
Handprint Parrot Craft -Children's painted handprints are a perfect addition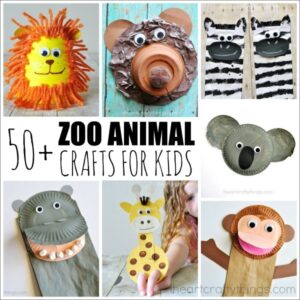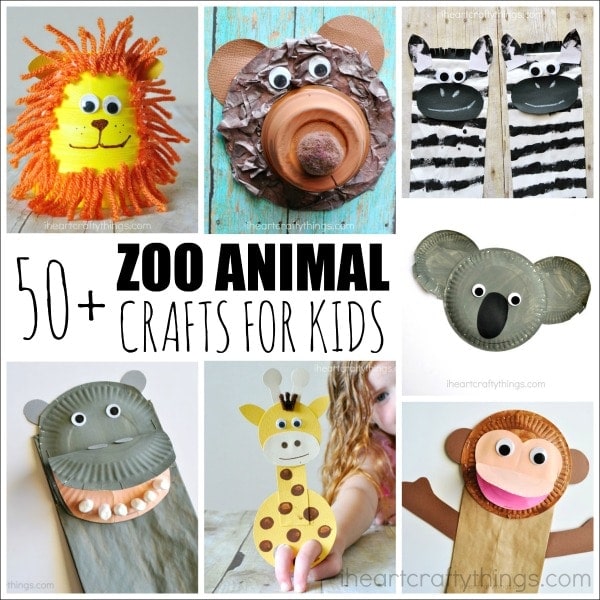 Stunning Peacock Crafts
These gorgeous birds deserved a category all on their own! You'll be amazed at how many ways you can create a peacock craft using simple materials like paper plates, old CD's and pinecones.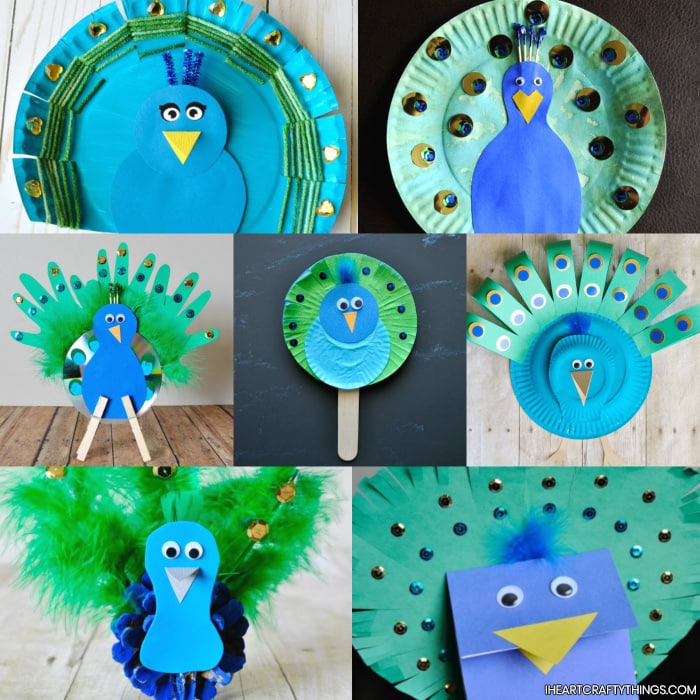 Yarn Wrapped Peacock –Fun way to work on fine motor skills
Paper Plate Peacock -Shiny sequins and cocktail toothpicks, oh my!
Cupcake Liner Peacock Stick Puppets
Paper Bag Peacock Puppet –Great make and play craft for preschoolers
Peacock made with two paper plates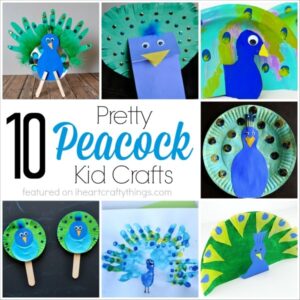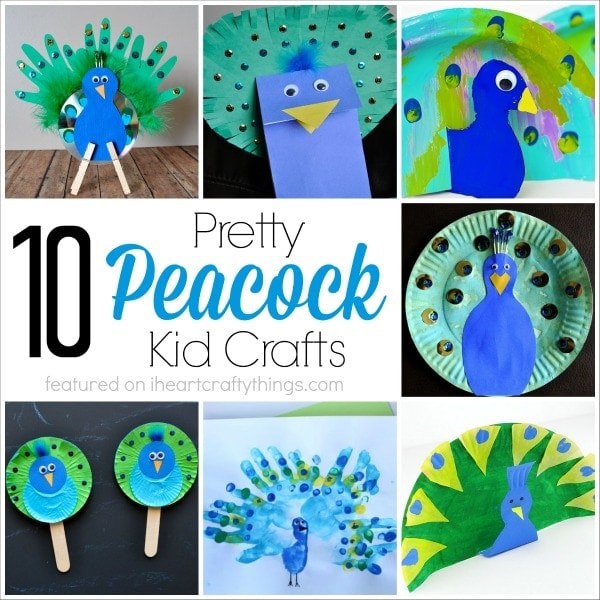 Cute Penguin Crafts
Don't forget about penguins! They aren't your typical flying bird and that makes them a fun bird to learn about in preschool. Here are some fun and simple penguin craft ideas for kids.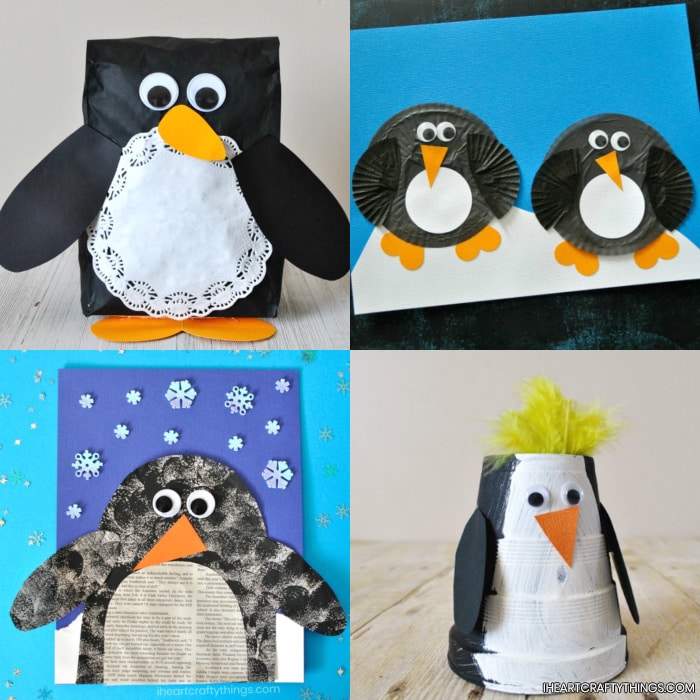 Tacky the Penguin Craft –Goes with a popular preschool children's book!
Newspaper Penguin Craft -Great way to recycle!
Watch the video below of our birds on a wire art project:
Find more bird crafts and activities by browsing through our bird category
Looking for more fun and simple arts and crafts ideas for kids? You can search our website by typing in what you're looking for at the top of the page where the search bar is located. You can also browse through our category pages along the top menu bar of our page for a great experience on our website.
Save this page for later! We'll be adding more bird crafts to this page as new crafts get posted.