Our obsession with crafting with newsprint continues with this darling penguin newspaper craft. This fun craft makes a lovely winter themed craft for kids and pairs well with any children's book about penguins.
The combination of newsprint, cardstock and felt snowflake stickers makes this a mixed media project for kids of all ages to enjoy. We even have a template available for purchase to make prep time a breeze!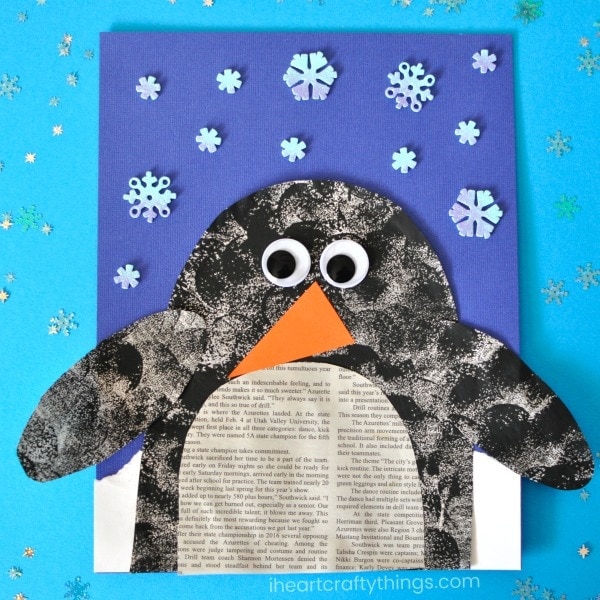 How to Make a Penguin Newspaper Craft
This post contains affiliate links to the products mentioned. I Heart Crafty Things is a participant in the Amazon Services LLC Associates Program, an affiliate advertising program designed to provide a means for sites to earn advertising fees by advertising and linking to amazon.com.
Supplies needed to make this newspaper craft:
blue cardstock
white cardstock
orange construction paper or cardstock
newspaper
paper plate
snowflake stickers (optional)
scissors
glue

NOTE: If you are in the EU, please visit our TpT Store to purchase any of our templates.
Watch the full tutorial before you get started. Don't forget to subscribe to our YouTube channel so you never miss a new video!
Penguin Newspaper Craft Instructions:
1. Begin by pouring a small amount of black paint on your paper plate. Use your sponge dabber painting brush to dab and paint a sheet of newspaper. Let it sit to dry completely.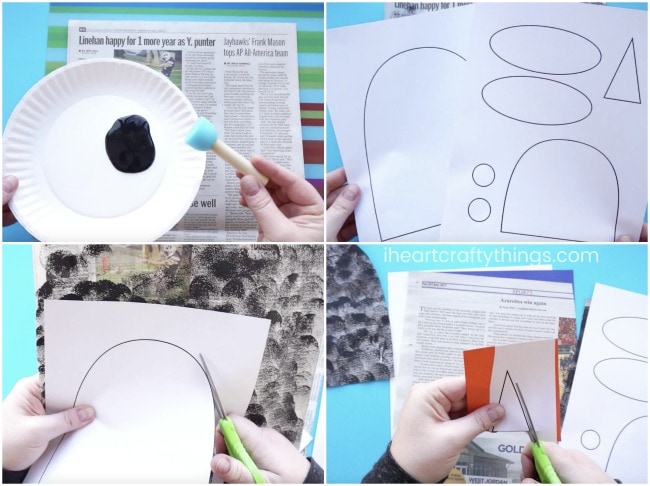 2. Print out the penguin newspaper craft pattern. Use the template to cut out the penguin body and arms from your black painted newspaper. Then cut out the belly and eyes from unpainted newspaper. Lastly, cut out the beak from orange construction paper. (NOTE: Purchasing the template is optional. You can cut out your own pieces from the newspaper.)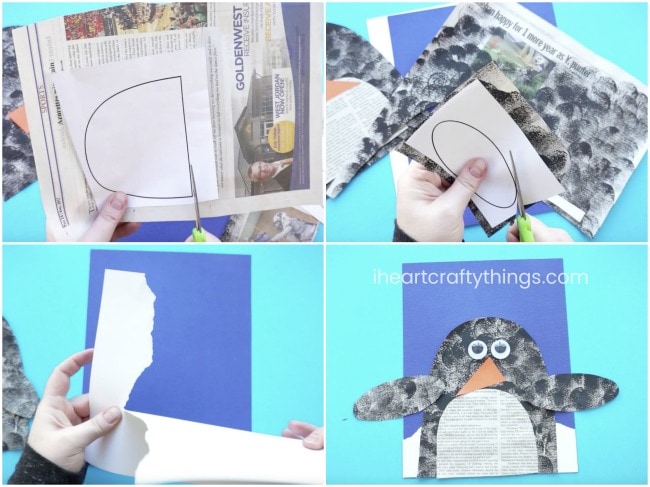 3. Tear off a section of your white cardstock to use for a snowy hill. Glue the snowy hill at the bottom of your blue background cardstock.
4. Glue the penguin pattern pieces onto your background. Start by gluing the penguin body at the bottom of your paper. Then glue the belly at the bottom of the body. Next glue the eyes, beak and arms onto your penguin. The arms are my favorite because kids can position them in so many different ways giving their penguin craft some extra personality.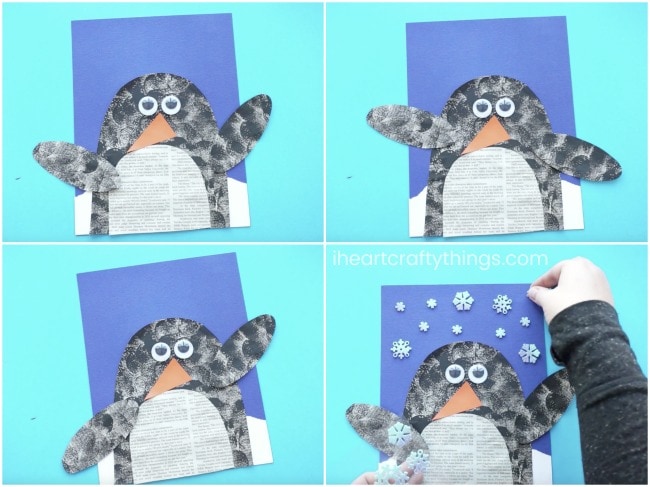 5. Finish your cute penguin newspaper craft by adding snowflake stickers around your paper.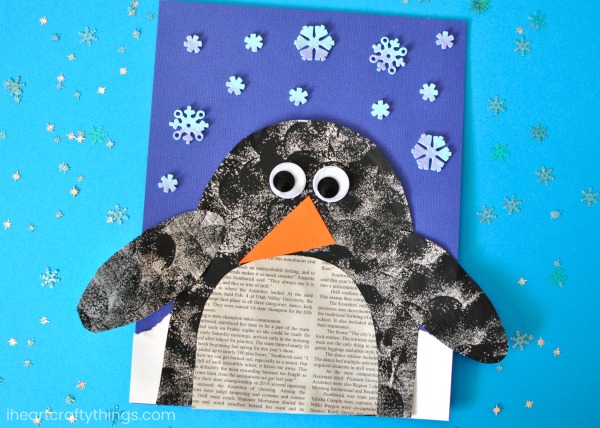 Your penguin newspaper craft is complete!
Isn't it darling?! You might also enjoy more of our fun newspaper crafts like our newspaper polar bear craft or our reindeer newspaper craft. This fun newspaper snowman craft is also great for a winter kids craft!