Kids will love making this cute Santa Card for friends and loved ones this holiday season! It is a simple and unique Christmas card idea that kids of all ages, and even adults, will enjoy creating.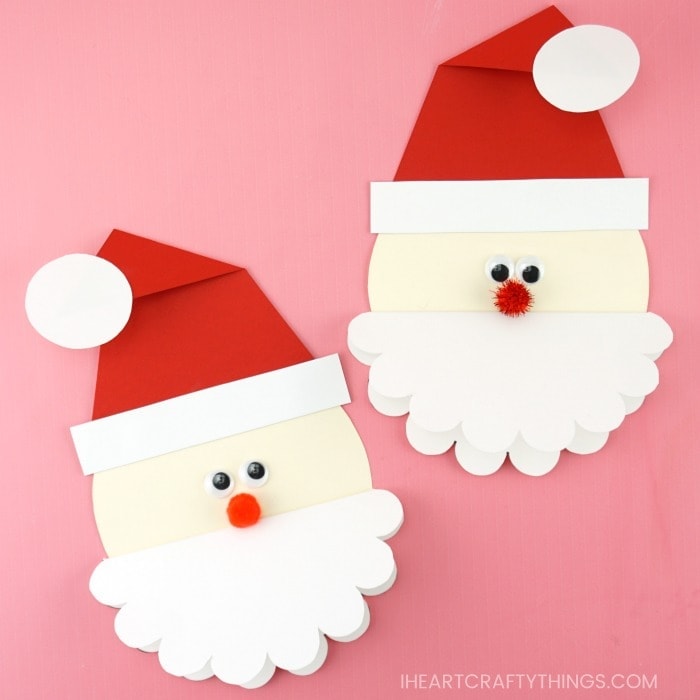 This easy Christmas craft is a perfect activity to put together in a jiffy! All you need to make this darling homemade card is our free template, some cardstock and a couple other simple craft supplies you probably have on hand right now.
This fun holiday card is great for making at home or school with a group of children. You can even create it at a classroom Christmas party as a make and take craft for kids to take home and give to a loved one.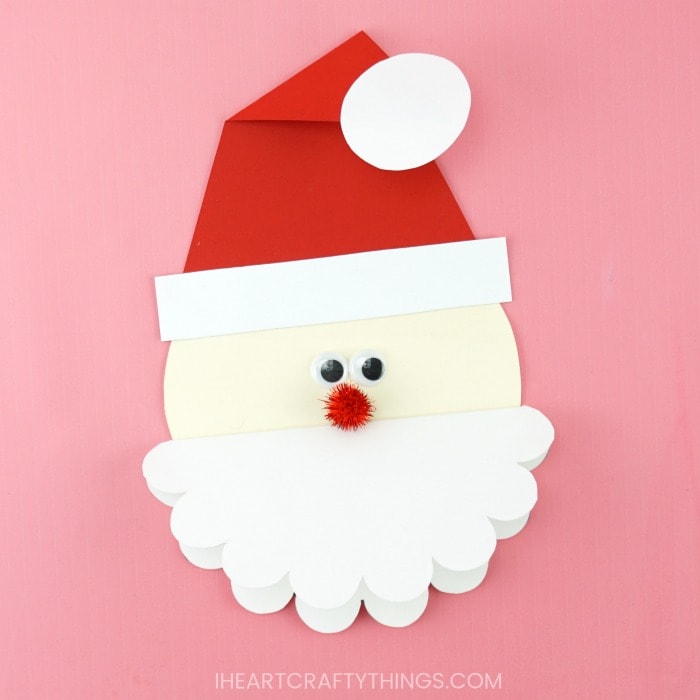 How to Make a Santa Card
I Heart Crafty Things is a participant in the Amazon Services LLC Associates Program, an affiliate advertising program designed to provide a means for sites to earn advertising fees by advertising and linking to amazon.com.
Supplies needed to make your Christmas Cards:
Instructions for making your Santa Claus Card
Step 1: Download and print out the Santa card template. I found it easiest to print out the template on white cardstock paper. That way your Santa beard card, hat pom-pom and hat band are all ready for you to cut out and use.
Use the other page of the template as a guide to trace and cut out the other card pieces out of colored cardstock paper. Cut out the Santa face with cream or any skin tone color cardstock. Then cut out the Santa hat with red cardstock.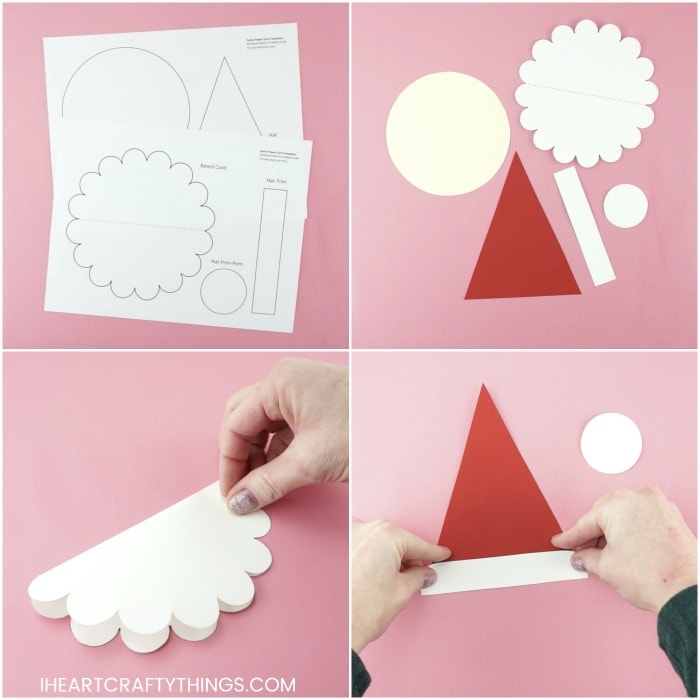 Step 2: Fold the Santa beard in half along the dashed line on the template to create the beard and card.
Step 3: Glue the hat band at the bottom of the triangle Santa hat. Bend down the top of the triangle card to look like the hat is floppy. Add glue at the end of the hat and glue on the white hat pom-pom.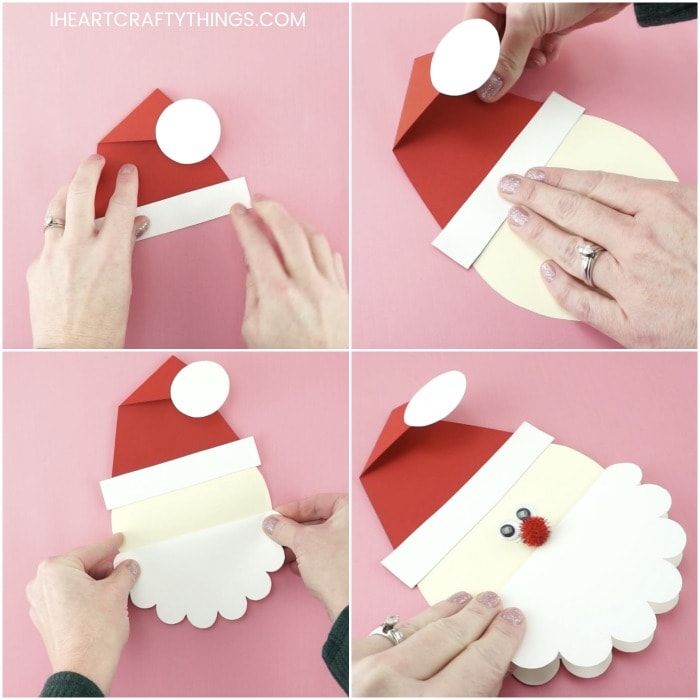 Step 4: Using a glue stick, add glue on the top one-third of the Santa face. Place the Santa hat on the glue.
Step 5: Add glue on the bottom one-third of the Santa face. Then place the folded beard on the glue.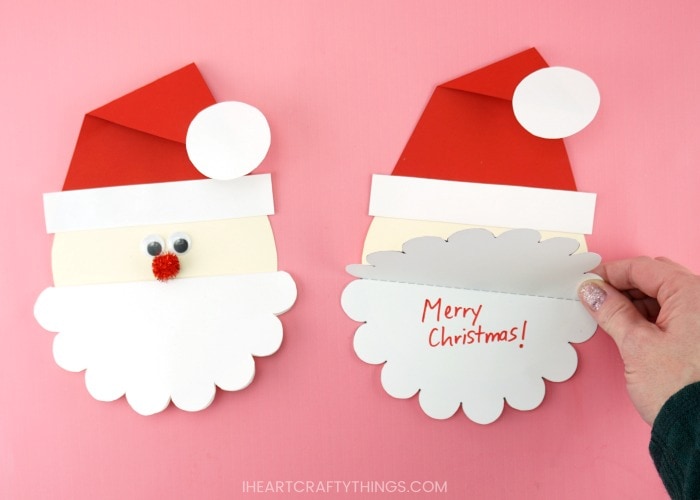 Step 6: Use Glue Dots or a glue stick to glue your small red pom-pom nose on your Santa Card. Then glue googly eyes on your Santa face.
Step 7: Open up your Santa card. Use a marker to write a greeting on the inside of the card like "Merry Christmas" or "Ho Ho Ho! Happy Holidays!" Give your Christmas card to someone to brighten their day!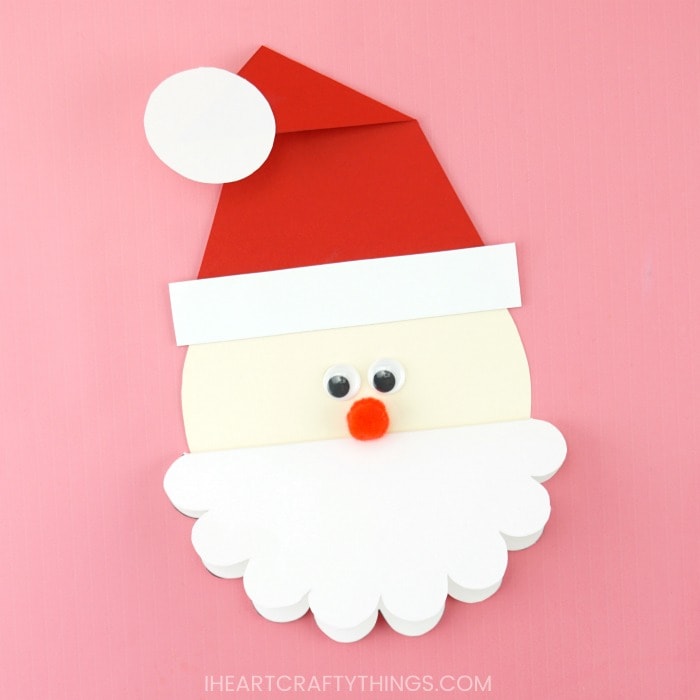 Video Tutorial: Step-by-step guide for making a Santa Christmas Card
Before you get started making your homemade Christmas card, watch the video below for a quick step-by-step guide on how to make the Santa card.
Find more Christmas crafts and homemade card ideas by browsing the categories at the top menu bar of our website.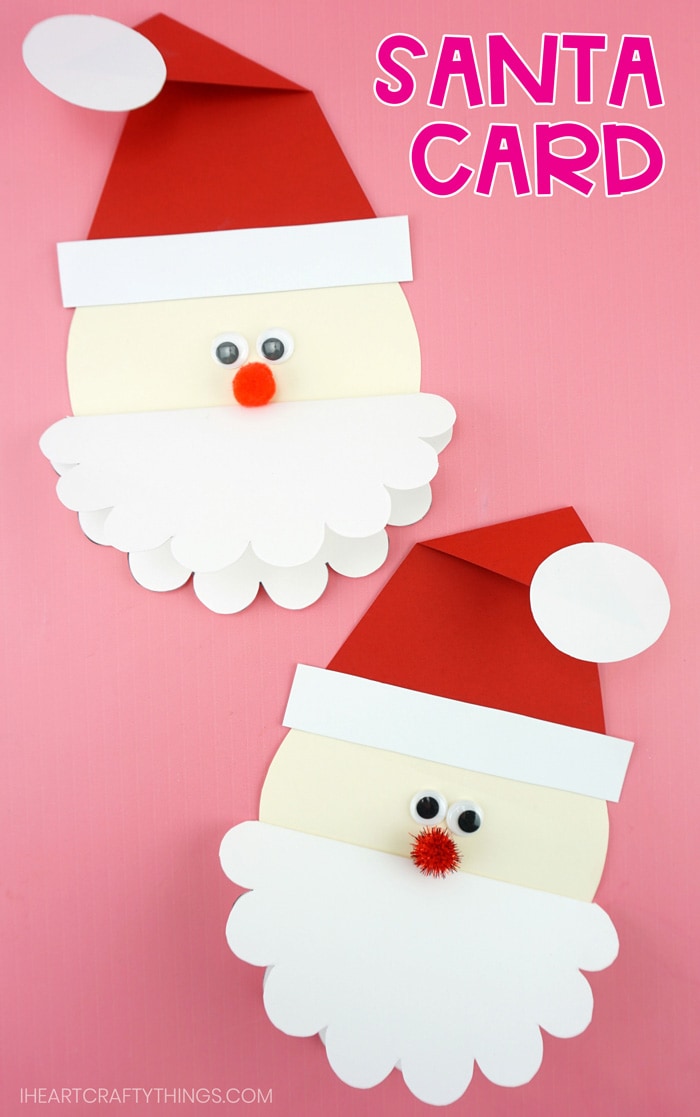 More Easy Christmas Crafts
These paper angels are gorgeous and simple for kids of all ages to create. They are great for learning about the Christmas nativity.
Get in the winter spirit by making this cute paper snowman craft. Our free template makes creating the craft so easy!
Older children will love the challenge of creating this 3D Christmas tree card. The end result is so stunning!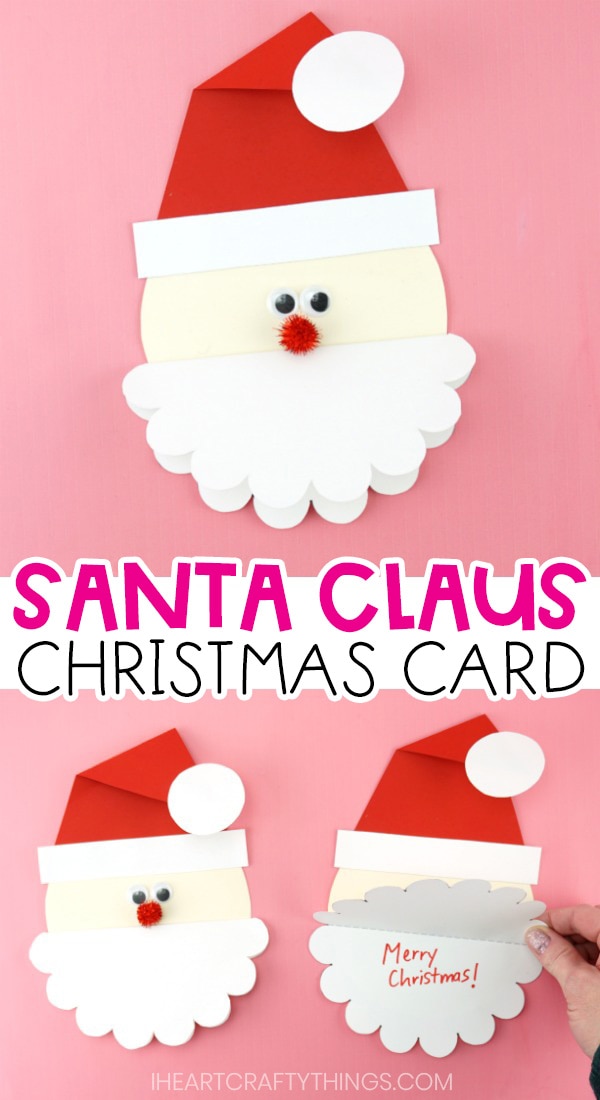 Looking for more simple and fun Christmas crafts for kids to make over the holidays while waiting for Santa to leave the north pole and visit? Check out our collection of over 50 beautiful Christmas arts and crafts ideas for kids.