Our website is filled with the cutest Father's Day crafts for kids to make for dad or grandpa– from simple and easy craft and card ideas for toddlers and preschoolers to create, to more advanced craft projects for older kids to enjoy making!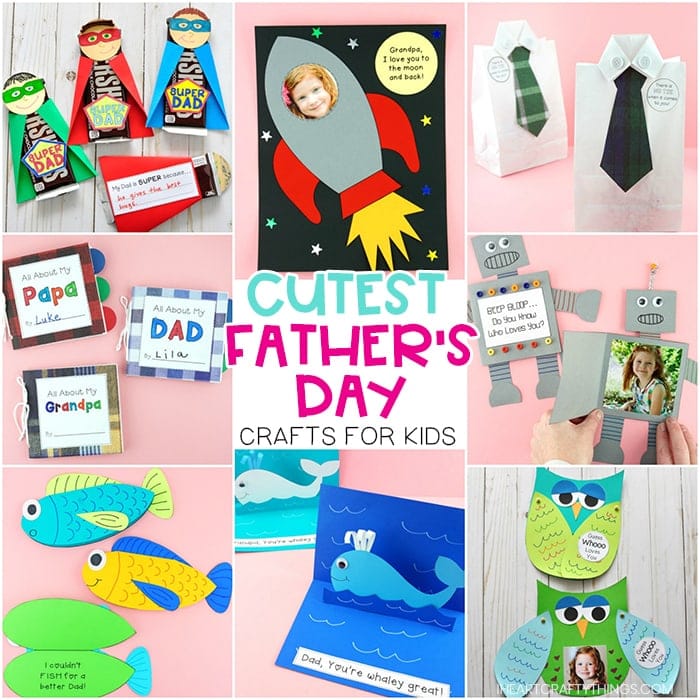 Our Favorite Father's Day Crafts for Kids
Whether you're a classroom teacher, Sunday school teacher, home daycare provider or a parent, there are Father's Day craft ideas here for everyone to enjoy! Kids will love making these handmade cards and gifts, and Dads and Grandpas everywhere will love receiving them.
Check out our favorite crafts for dad below that are easy for kids of all ages to create.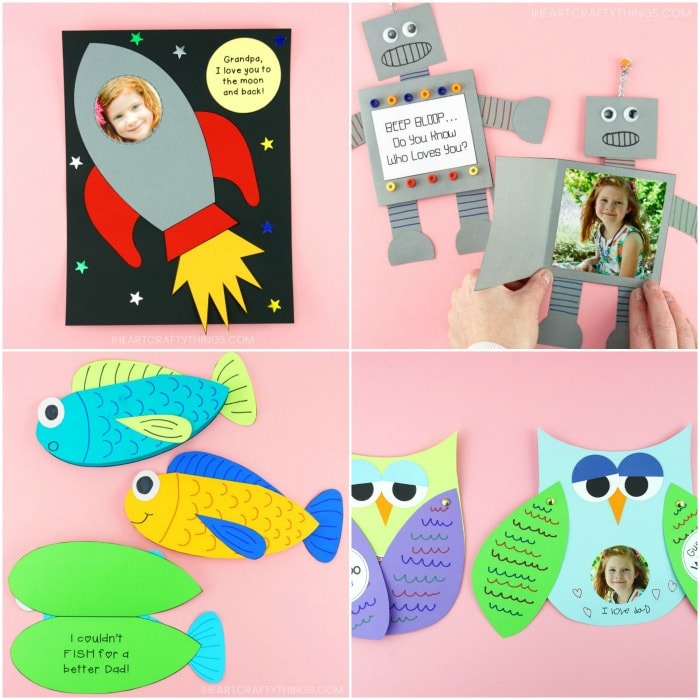 1. Rocket Ship Father's Day Craft idea – 3-2-1…Blast Off! Let dad and grandpa know you love them to the moon and back with this cute rocket ship craft. Adding the child's photo inside the rocket is a special touch that makes this a keepsake craft dad will cherish forever.
2. Robot Father's Day Card – This robot card is perfect for Mr. Fixit Dad! Kids can customize the inside of the Father Day card with a photo to make it extra special.
3. Father's Day Fishing Card – Are you hooked on your Daddy? This colorful card is the perfect father day card for outdoorsy dad's and grandpa's. Our free printable makes creating the card super easy for preschoolers and toddlers.
4. Guess Whoooo Loves You Owl Card – Dad will love when he opens up the wings of this owl to reveal who loves him. Our simple pattern makes this a great Father's Day craft to make in Sunday school or in a classroom.
Watch this video of us making our rocket ship Father's Day craft below: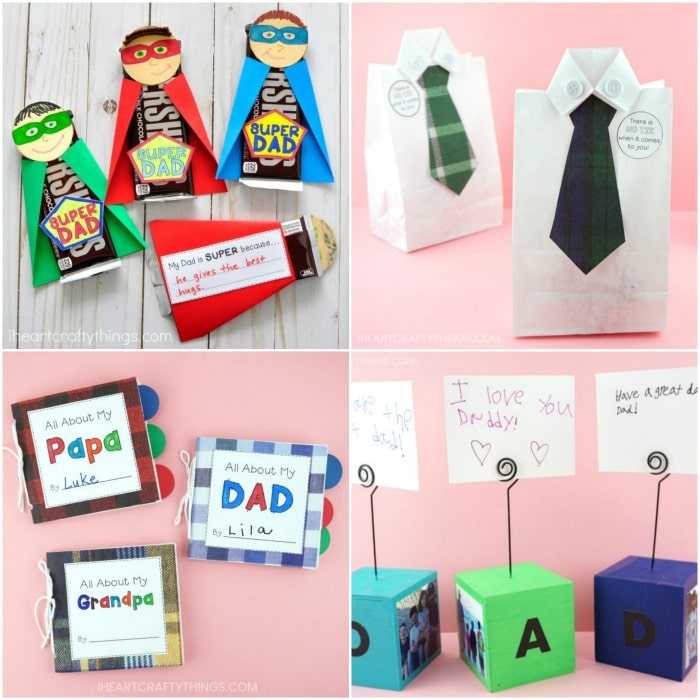 5. Super Dad Father's Day Gift – Move over superheroes, super dad is here to save the day! Not only will dad and grandpa love the chocolate gift, they will feel extra special when they turn over the gift and read the sweet message of what makes them super.
6. Simple DIY Gift Bag – Need an easy way to hold your Father's Day gifts? Here's a simple way to turn a white paper lunch bag into a white shirt and tie, perfect for holding all of your gifts to dad. A fun way to let dad know "There's no tie when it comes to you!"
7. Paper Bag Father's Day Book – Don't put away those paper lunch bags quit yet. Here's a creative way to turn them into a keepsake book for Father's Day. The pages are filled with fill in the blank questions and photos that dad and grandpa will adore!
8. Easy Photo Blocks Gift for Dad – Make one or several of these simple photo blocks for an easy diy gift idea for dad. He can place them on his desk at work or home office to smile at every  day.
See how simple it is to make a Super Dad Father's Day gift in this video: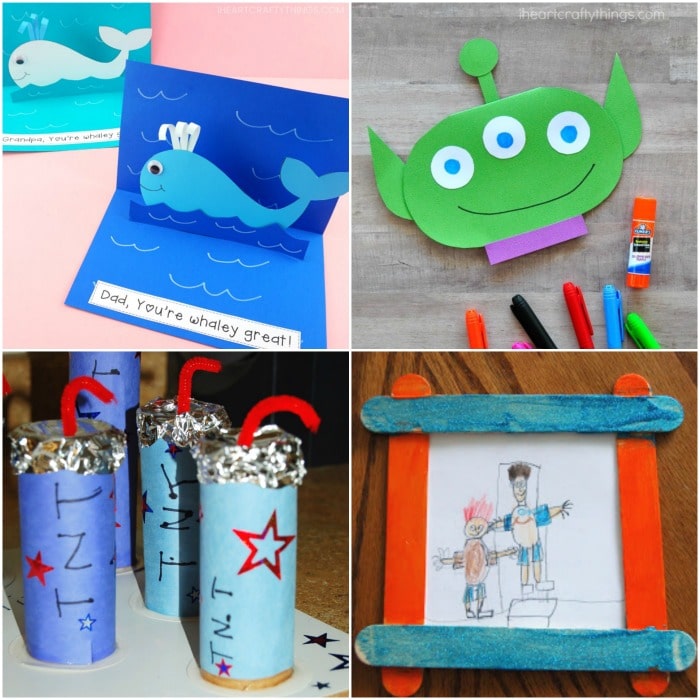 9. Father's Day Pop Up Card – Dad will be surprised when he open up this card and a cute whale pops out with the saying "Dad, you're whaley great!" or "I whaley love you dad!" Our pattern has options for dad, grandpa, pop and a plain option to make for anyone year round.
10. Out of This World Alien Card – Do you have an out of this world dad? If so, this simple alien card is a perfect father card for him!
11. Dynamite Dad Father's Day Gift – Save up some empty cardboard rolls to make this fun dynamite gift for Dad. Each dynamite is filled with Dad's favorite candy so when he opens them up he'll get a fun treat.
12. Easy Popsicle Stick Photo Frames – Let kids get creative by painting and decorating a popsicle stick picture frame for Dad. You can have them draw a photo to glue in the center, or print out an actual photo a child to place in the center of the frame. Another fun idea is to place a finger painted picture inside the frame.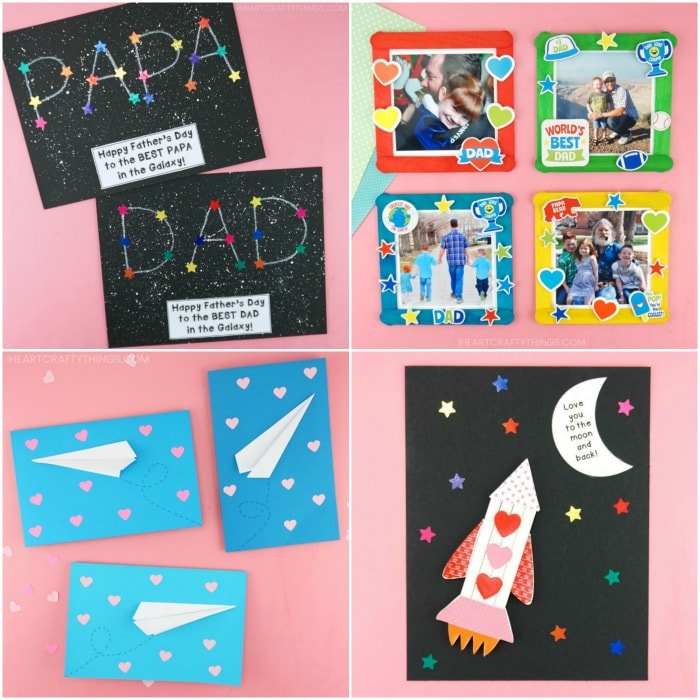 13. Father's Day Constellation Craft– Our free message template that reads "Happy Father's Day to the BEST DAD in the Galaxy!" makes creating this constellation craft super easy for preschoolers and kids of all ages to make.
14. Easy Photo Frame Craft– Here's a fun update to our old popsicle stick photo frames that kids will love making for any loved one for Father's Day. Glue your favorite Instagram photo inside the frame and decorate it with cute stickers.
15. Paper Airplane Card– While this fun paper airplane card was originally designed for Valentine's Day, it's also a perfect card to give to Dad and Grandpa for Father's Day.
16. Rocket Ship Craft Kit Project– We made this cute rocket ship craft earlier this year for Fun365.com. It's a versatile card kids can make for any loved one throughout the year. Find the full supply list, instructions and free moon template over at fun365.com.
Don't forget to wrap up your gifts in one of our paper bag Father's Day gift bags. See how easy they are to make in this video:
Save this page for later! We'll be adding more Father's Day craft ideas to this page as new crafts get posted.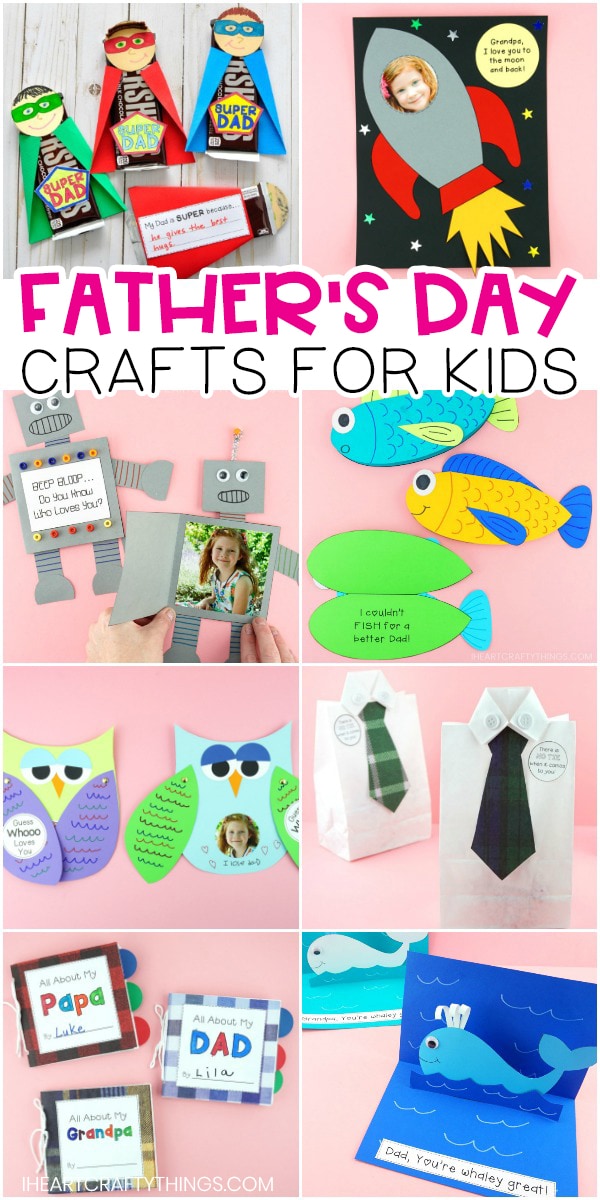 More Fun Father's Day Crafts
In a time crunch? Check out these 14 last minute Father's Day handprint crafts that are easy for kids to make.
My daughter recently made me a shrinky dink keychain for Mother's Day and it melted my heart. I bet dad would adore these tiny little hands gift for Father's Day.
Looking for more fun arts and crafts ideas to make with your kids this summer? Check out over 100 summer crafts for kids.