We created this Father's Day fish card as a sponsored post for Michaels. All opinions expressed are 100% my own.
With Father's Day just around the corner, my children and I have been busy thinking of creative ways to use the materials we have on hand to make something special for Dad and Grandpa this year.
This easy Father's Day fish card we are sharing today is perfect for those Dads and Grandpas who love to go fishing, and it's a great way for kids to stay creative at home.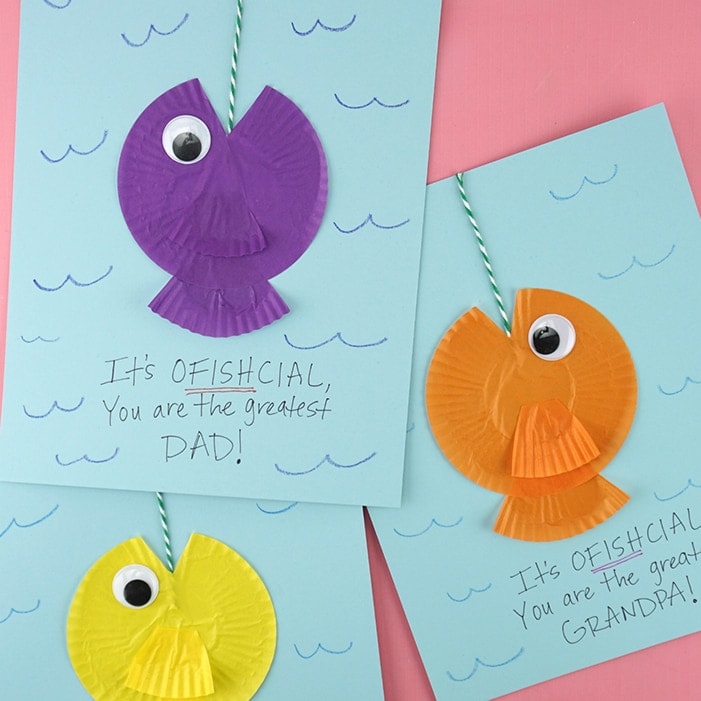 Some of my children's and my favorite family memories during the summer months is getting up early and going fishing with my husband and Dad, who my kids call Papa. This was the inspiration behind this simple Father's Day card.
Kids will have a blast using their creativity to make this cute fish card as a way to let loved ones know they are "o-FISH-cially" the greatest on Father's Day. It's super easy for little makers to create too since you only need a few simple craft supplies.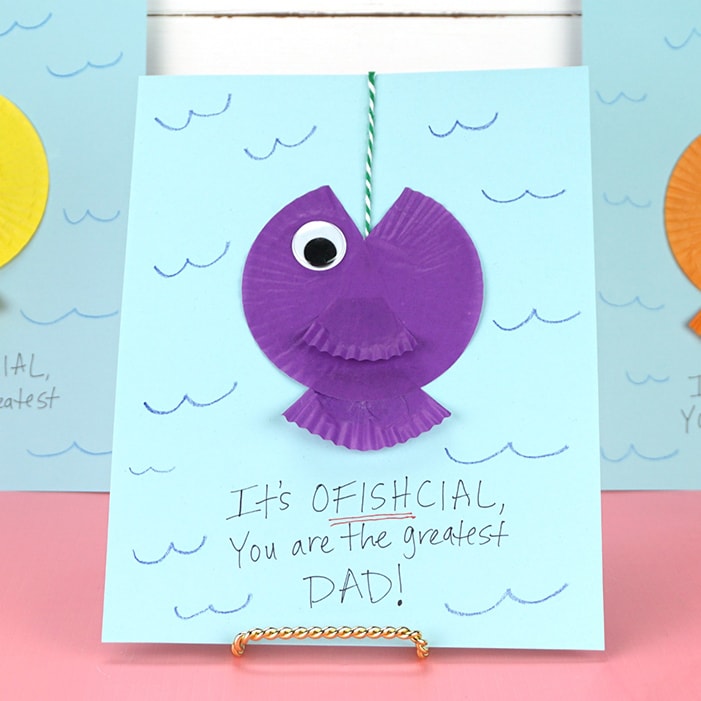 I already had everything on hand to make this simple Father's Day craft but if you need to pick up some craft supplies, Michaels has you covered. They offer curbside pickup at no cost and also have a same-day delivery option if you live within 10 miles of your local store.
I love how Michaels has a vast variety of different arts and crafts materials, so no matter what kind of project I'm working on, I can find the supplies I need. That's one reason it's my go-to craft supply store.
Easy Father's Day Fish Card for Kids
While we created this fun fish card with Dad and Grandpa in mind, you can customize it to give to any loved one or friend any time of the year. Little makers can also create it as a teacher appreciation gift to let their favorite teacher know they are the best.
No matter who the recipient is, they are sure to smile from ear to ear when you give them this cute craft.
Read our step-by-step instructions below to see how easy it is to create your own fish card in no time at all.
Supplies needed to make a Fish Card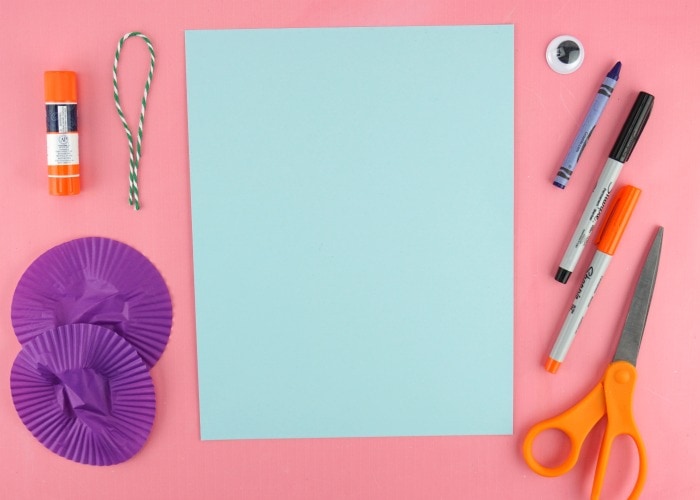 Instructions for how to Make this easy Father's Day Card
1. Start by flattening your two cupcake liners. Cut a small triangle out of the top of one of the cupcake liners for the fish mouth. Now cut your second cupcake liner in half and discard one of the halves. Cut the remaining half in half again. Set aside one of the triangle sections for your fish tail. Then, trim the second triangle a bit and cut off the pointed tip. This section is the fish fin.
2. Add glue to the tip of the fish tail triangle and attach it to the bottom of the fish body. Then, glue the fish fin in the center of the fish body.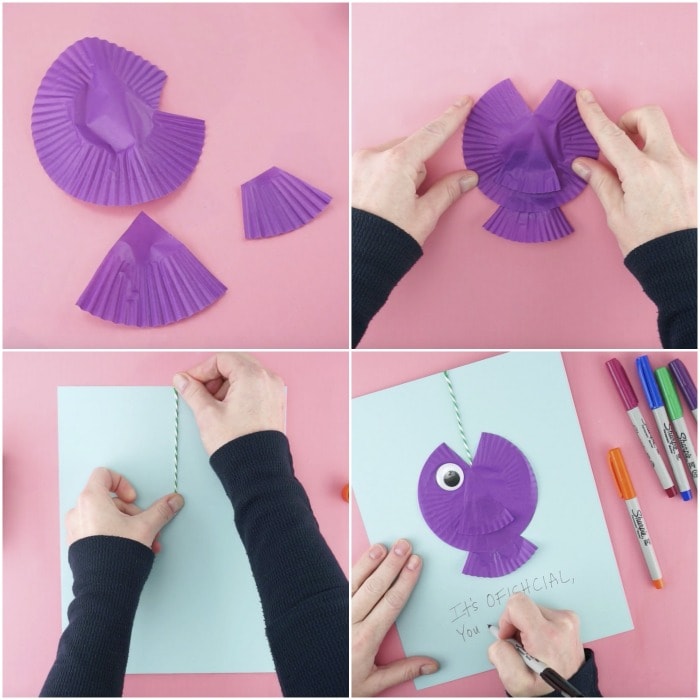 3. Use a glue stick to glue down a section of bakers twine from the top center of your blue cardstock paper.
4. Add glue on the back of the cupcake liner fish. Glue it in the center of your blue cardstock with the bakers twine fishing line coming out of the fish's mouth.
5. Glue a large googly eye on your fish.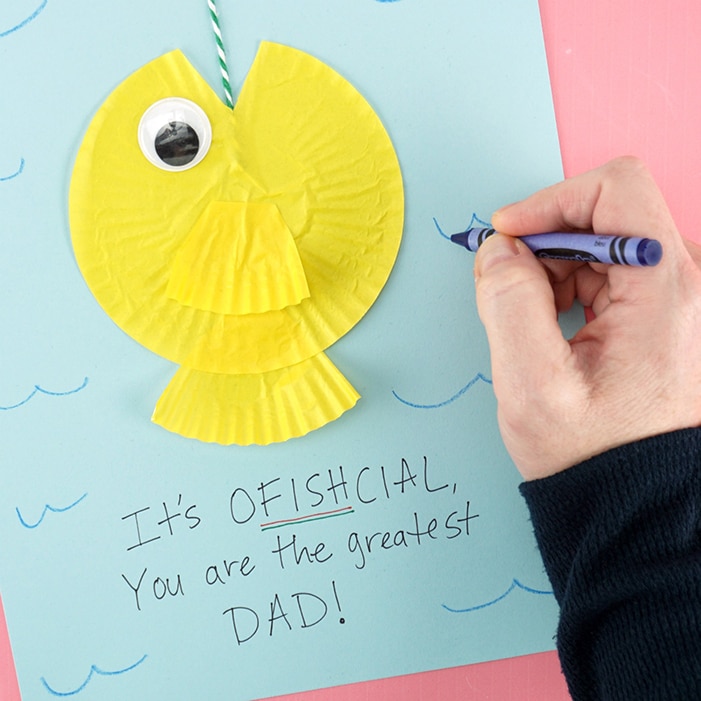 6. Use a marker to write a Father's Day message at the bottom of your blue cardstock. We wrote "It's oFISHcial, you are the greatest Dad!" You can customize the message for any loved one for Father's like Grandpa, Uncle, or Papa. Use another colored marker to underline "FISH" on your message to make it stand out.
7. Choose a blue crayon and draw water wave marks around your entire Father's Day fish card. Your fishing card is now complete and ready for you to give to Dad and Grandpa for Father's Day.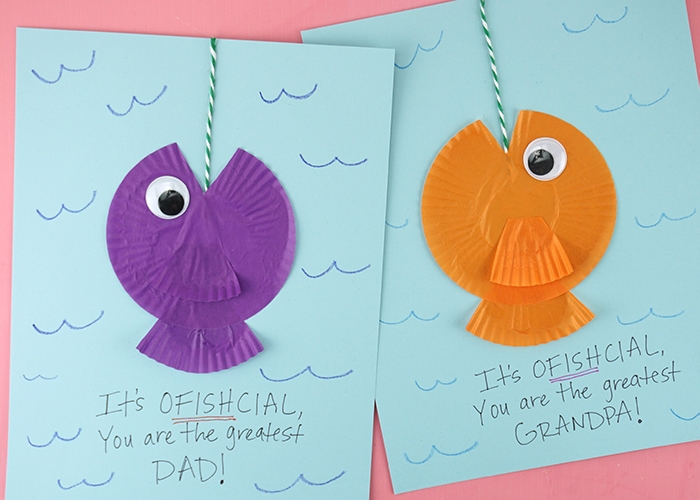 Find more craft ideas, projects, and fun ways to keep you and your kids creative at home by visiting Micheals.com.
Make sure to tag and share all of your DIY projects and how you are staying creative at home with #MakeItWithMichaels.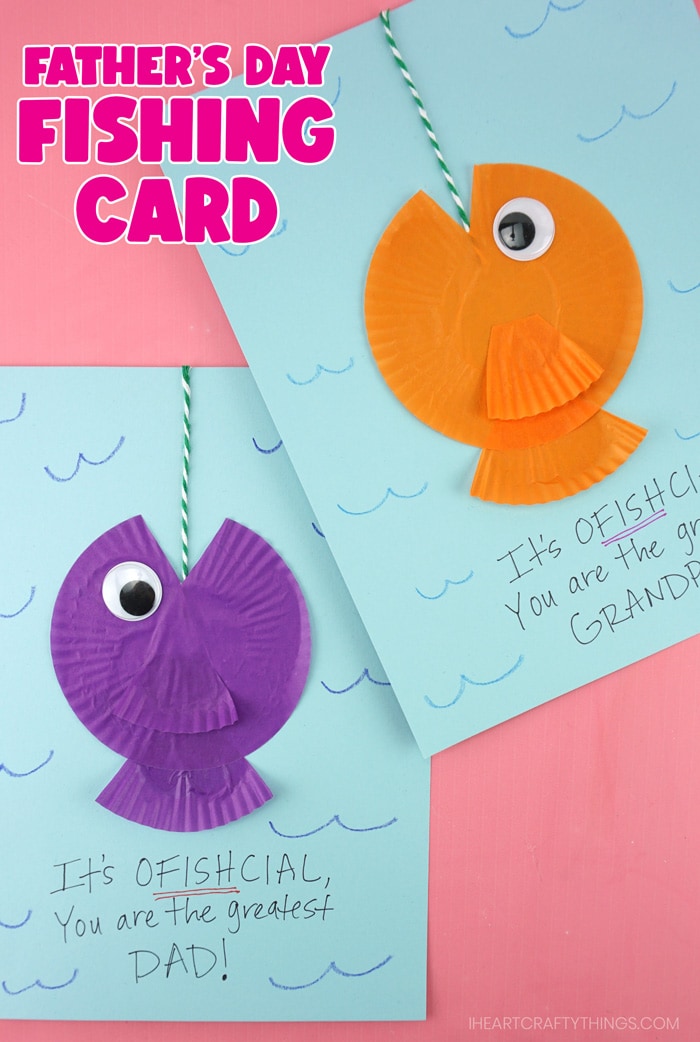 More Easy Father's Day Crafts for Kids
Looking for more Father's Day inspiration for your little crafters? Here are more simple ideas below to make with craft supplies you have on hand, or can easily get from your local Michaels.
Is your Dad the best in the entire galaxy? If so, this Father's Day constellation craft is the perfect art project and gift for kids to make this year.
Grab your favorite scrapbook paper at Michaels and have fun making Dad this darling paper bag Father's Day book. Our printable fill in the blank template makes this project easy for kids.
"Beep Bloop…Do you know who loves you?" This robot Father's Day card will make Dad and Grandpa's heart melt.