If you are on the hunt for an easy Thanksgiving craft to make with your kids this year you are going to love this paper turkey craft. This coloful turkey craft is beautiful and so simple for kids to create. 
We kept the materials simple with this paper turkey so that even toddlers and preschoolers can help take part in making it. Get ready for an afternoon full of fun making these colorful turkeys for Thanksgiving!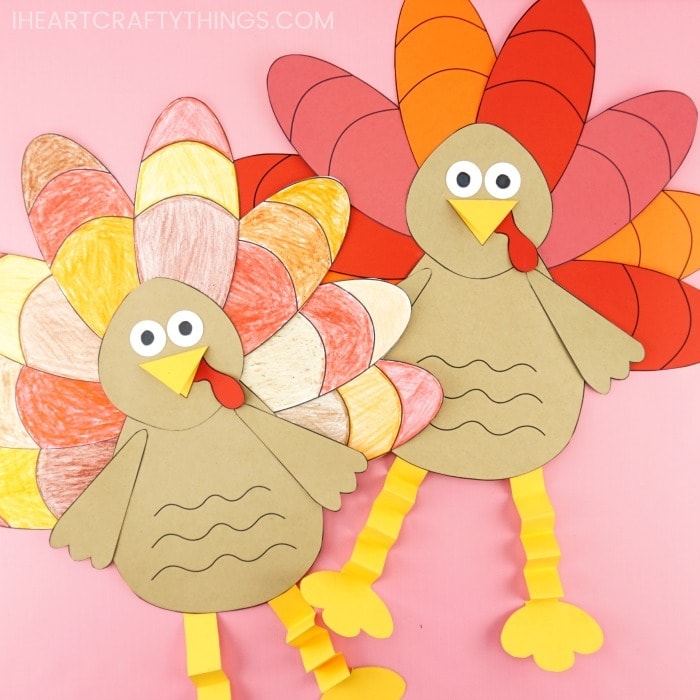 How to Make a Paper Turkey Craft
I Heart Crafty Things is a participant in the Amazon Services LLC Associates Program, an affiliate advertising program designed to provide a means for sites to earn advertising fees by advertising and linking to amazon.com.
Supplies needed for making a paper turkey:

NOTE: If you are in the EU, please visit our TpT Store to purchase any of our templates.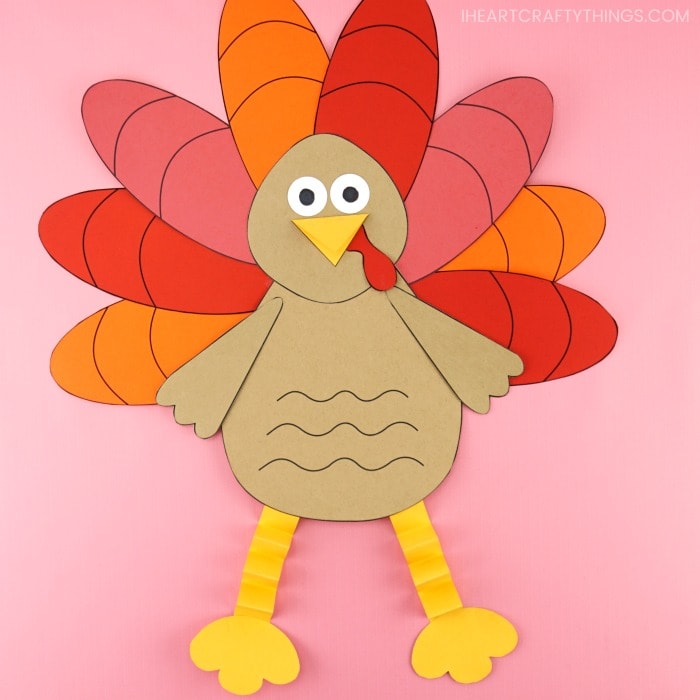 Whether you create this beautiful paper turkey craft at home, or in a classroom, each turkey will have it's own unique look and personality. The finished turkey craft will turn heads being displayed as a Thanksgiving decoration.
Instructions for making a turkey craft
The template for this fun Thanksgiving craft can be made with colored paper, or you can choose to print the pieces on white paper for children to color and decorate on their own.
Step 1: Use crayons or markers to color your turkey pattern pieces if you print them out on white paper. You could also choose to print the template on colored paper and not color the pieces.
Step 2: Cut out each of the pieces of the turkey template.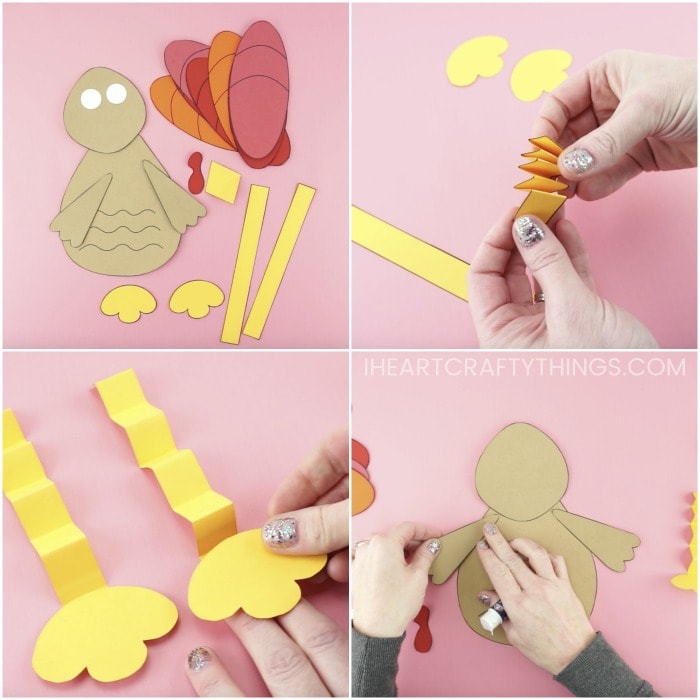 Step 3: Fold each of the legs with an accordion fold. Then glue one turkey foot at bottom of each leg.
Step 4: Glue the turkey head at the top of the turkey body. Then glue the wings at the side of the turkey body.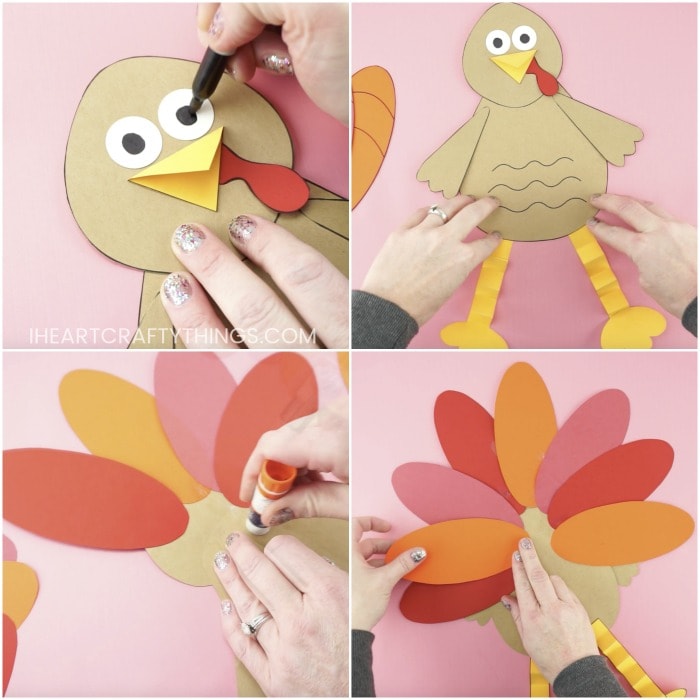 Step 5: Glue the eyes, beak and snood on the turkey head. Then use a black crayon or marker to color pupils inside the turkey eyes.
Step 6: Glue the accordion fold turkey legs at the bottom of the turkey body.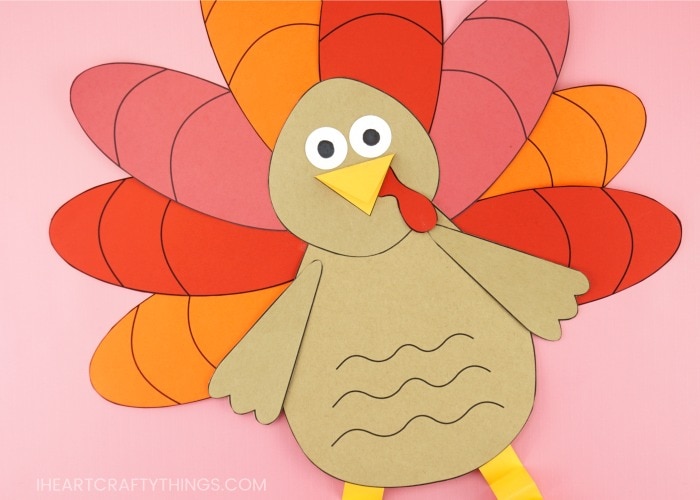 Step 7: Turn your paper turkey craft face down and glue the feathers around the back of the turkey. We used 8 feathers for our turkeys but kids can choose however many they would like to use.
Optional: Have children write something they are thankful for on each of the turkey feathers.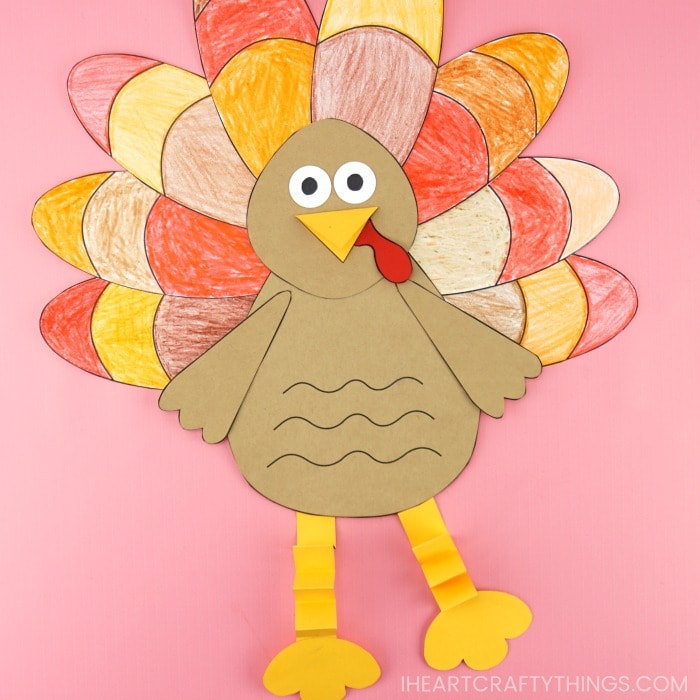 Video Tutorial: Step-by-Step Guide for making this Thanksgiving Craft
Before you get started, watch the video below for a step-by-step guide on how to make this paper turkey craft with our simple template.
Find more easy paper crafts and animal craft ideas by browsing the categories at the top menu bar of our website.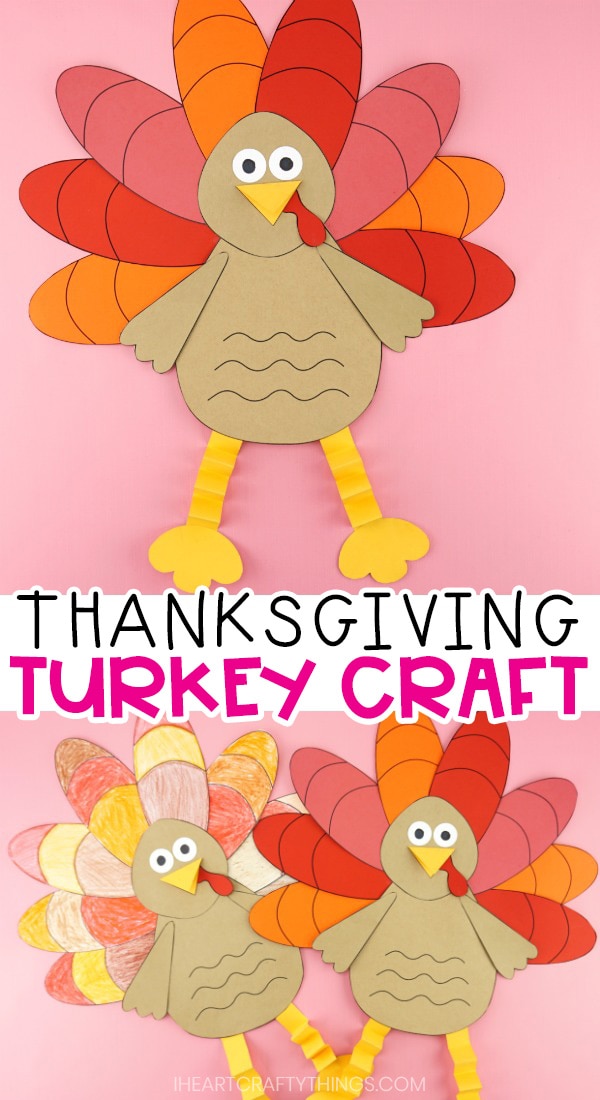 More Fun Thanksgiving Crafts for Kids
These darling apple turkeys are a fun activity for kids and they make great decoration for your Thanksgiving table.
Looking for something more artsy to make for Thanksgiving? This black glue turkey art project is a fantastic choice!
These DIY Turkey party favors are a fun project for kids to help make, and they will delight all of your guest for Thanksgiving dinner.
Our friends over at Twitchetts show you how to make some colorful turkey sun catchers to display in the window for the holiday.
Get kids in the thankful spirit before Thanksgiving with this awesome Thankful Turkey Box. The whole family can get involved in giving thanks.