There is no other character more commonly associated with Christmas than Santa Claus. Every year on Christmas Eve he slides down the chimney to bring gifts to every child in the world. And while many different countries have many different names for Santa, each one shares in its belief in this legendary figure.
Santa Claus has become an extremely popular character in pop culture. He has been present in holiday movies, music, decorations, and more. There are even chocolates, candy, and toys in the shape of Santa. Everyone loves jolly Saint Nick.
Santa has so much to do to get ready for Christmas, so he is the perfect subject for Santa coloring pages that you print and color.
At long last, here are all new Santa coloring pages that you can download and print completely free. Have fun making your masterpiece!
Santa Coloring Pages –  All-New Printable Sheets
Santa is known for being a jolly fellow and we can see that clearly in this coloring sheet. He stands outside a snow-covered house holding a bag of toys and laughs merrily. What do you think Santa is laughing about?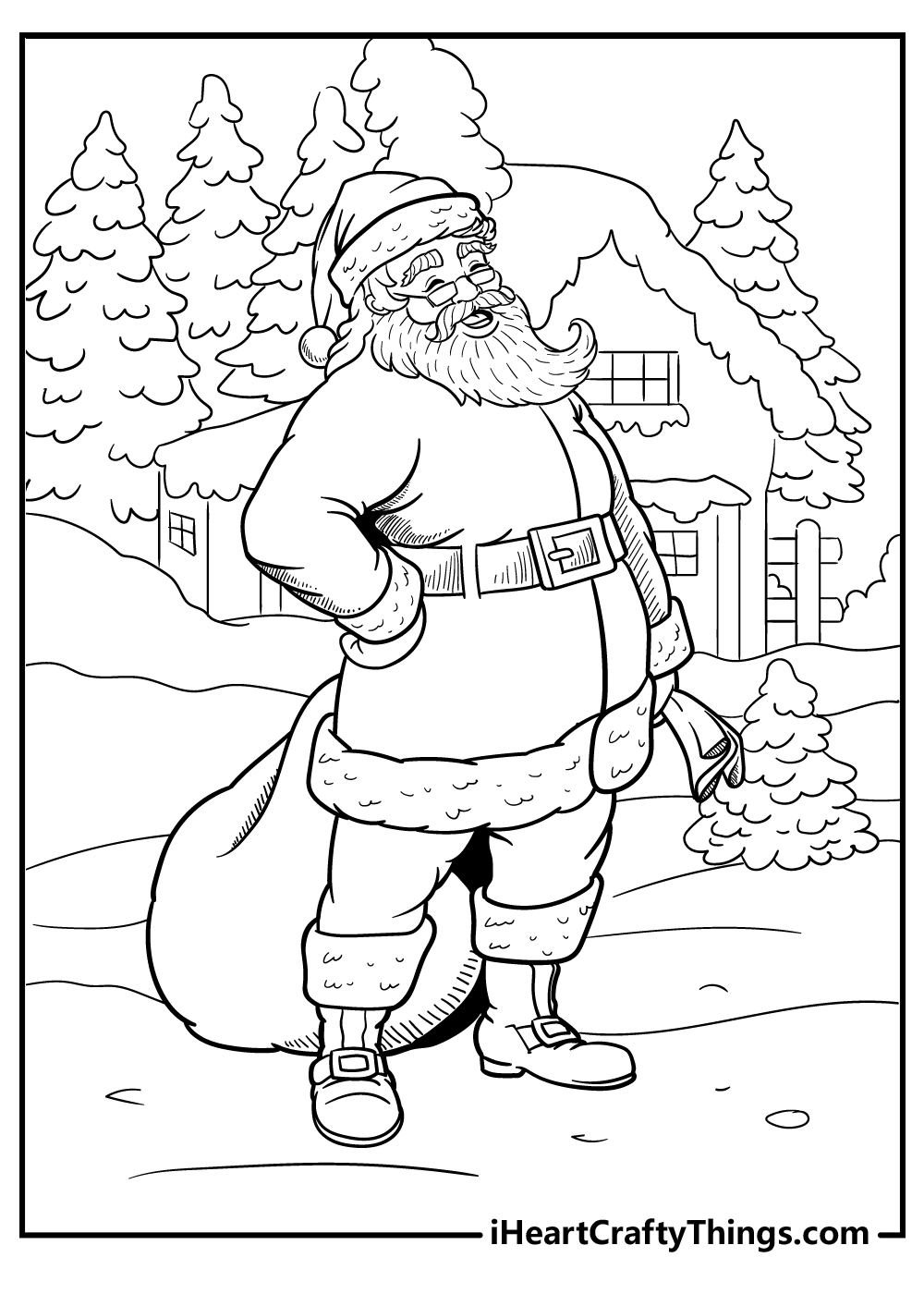 Bells are often associated with Christmas and they're a sure sign that Santa is on his way. This coloring sheet shows Santa lugging a huge bag overflowing with presents and ringing a bell as he goes from house to house.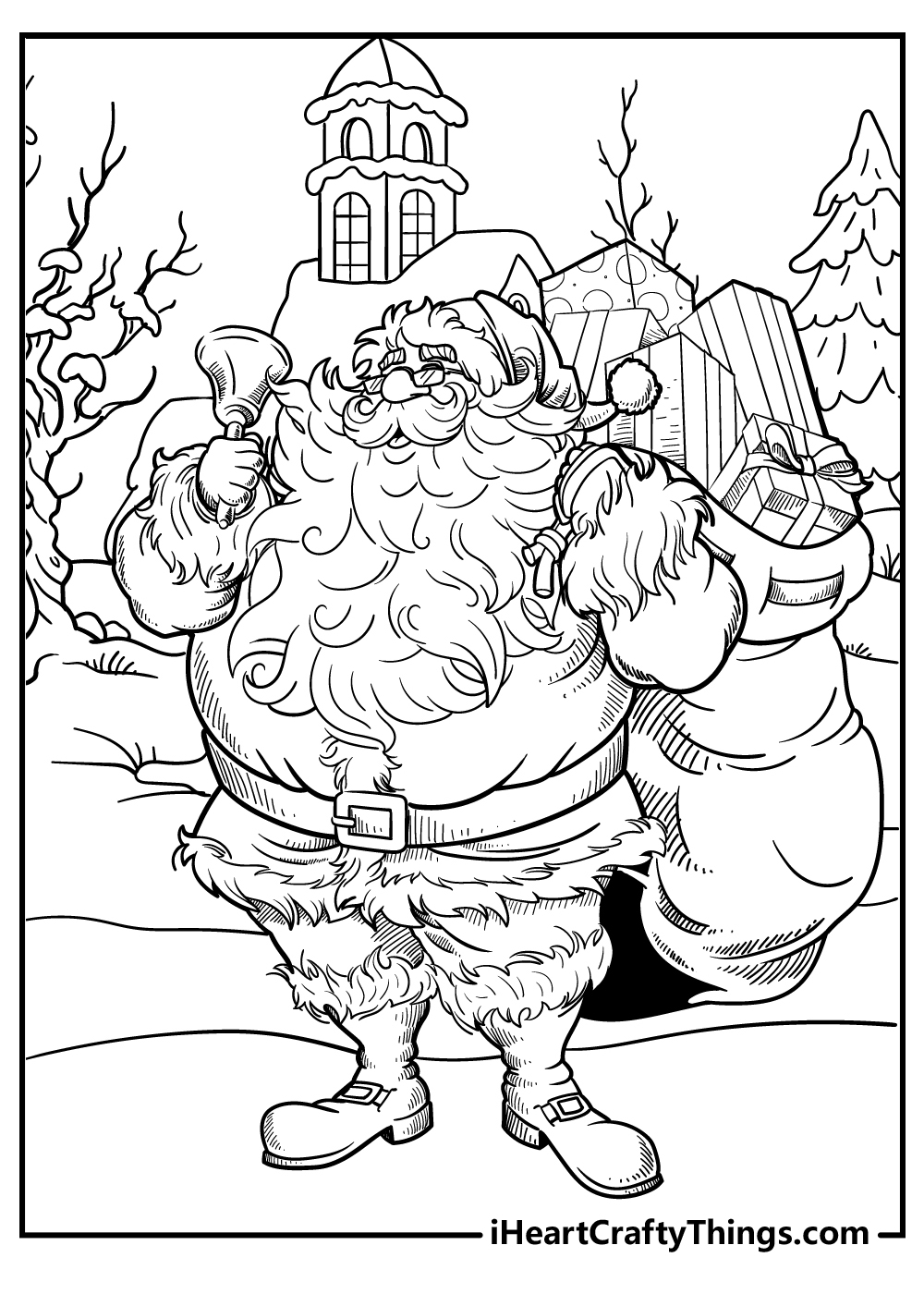 We all know that Santa has to make a list of who is has been naughty or nice. Here he seems to be reviewing this important list from a chair in his living room. Hopefully, everyone is on his nice list this year!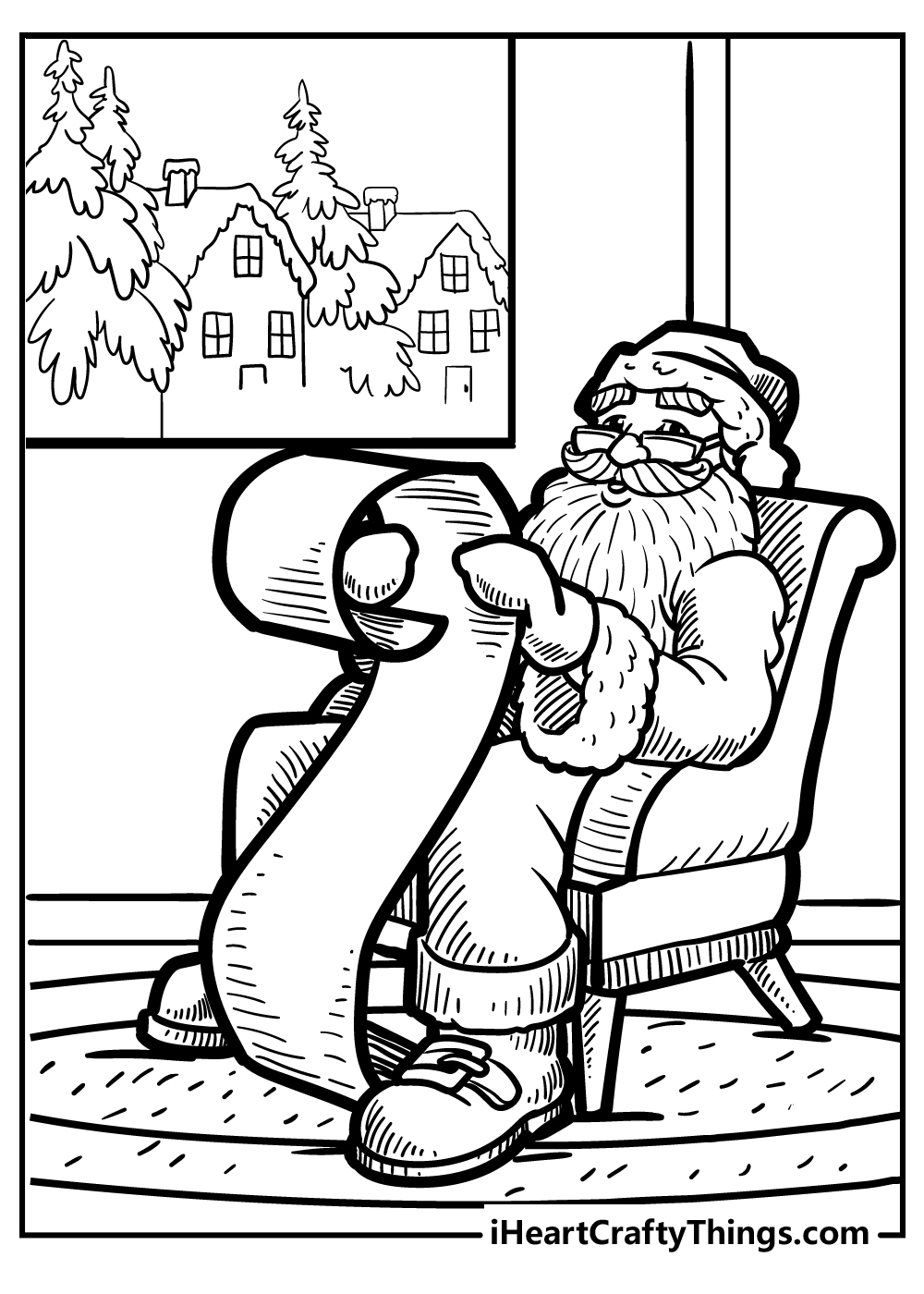 Santa must visit a lot of interesting places. After all, he has to deliver toys for everyone in the whole world. This Santa printable shows him somewhere with clear skies and birds flying high overhead. There are trees and little houses in the background.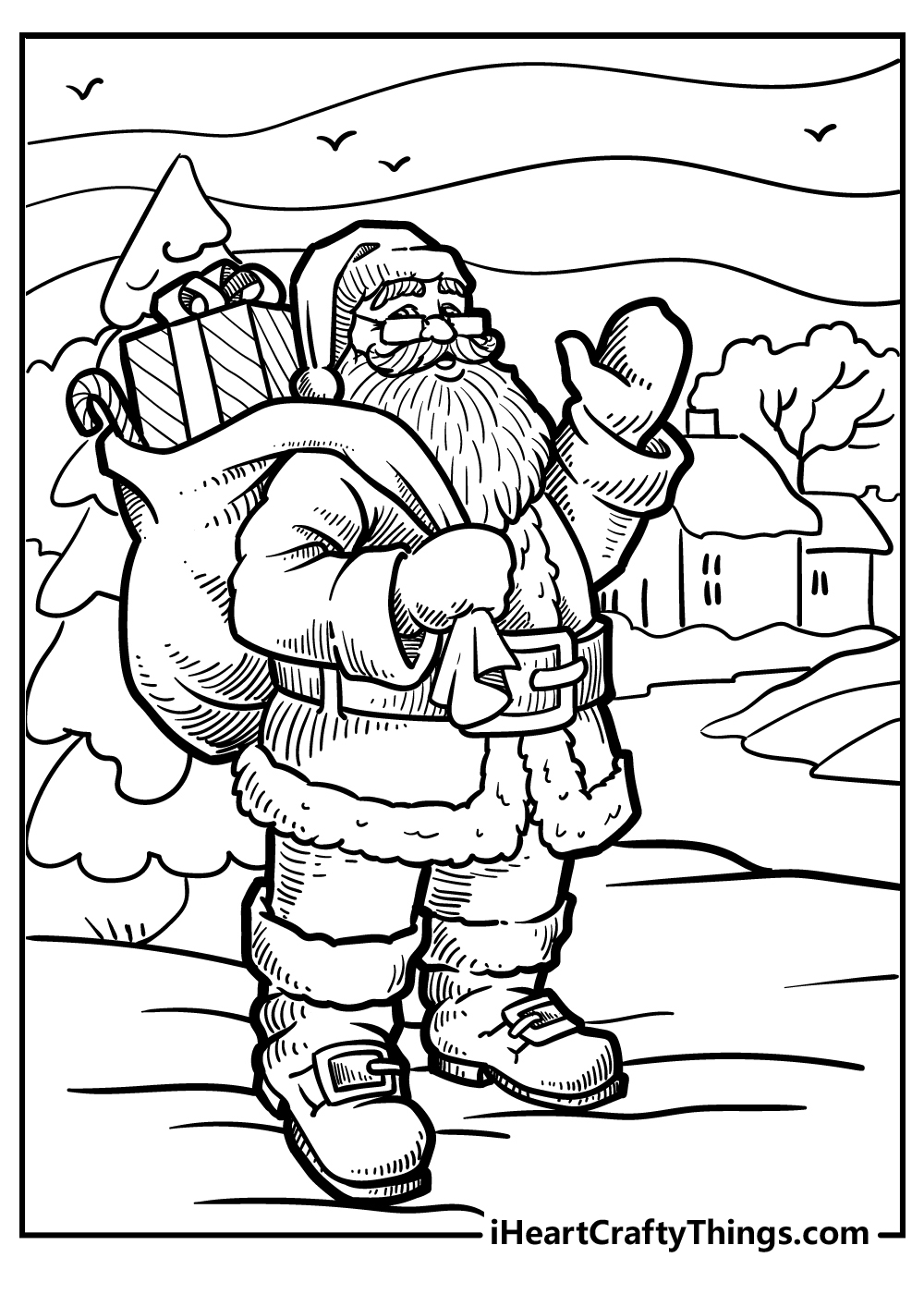 The North Pole must have the most beautiful Christmas decorations. In this coloring page, Santa and one of his reindeer are getting their home ready for the holidays. They decorate a tree with garlands, ornaments, and a star on top, while presents wait underneath.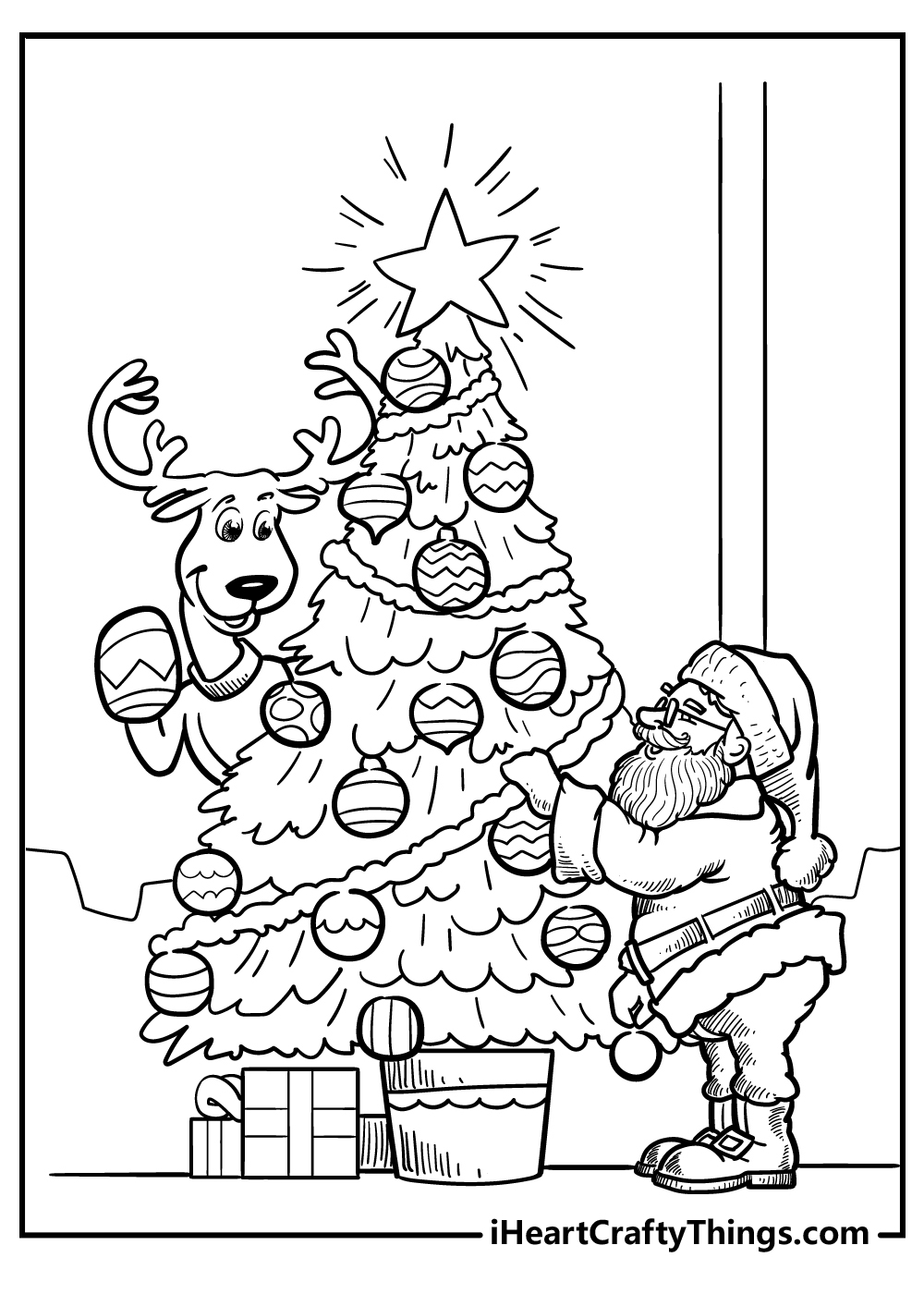 Santa and his elves work hard to make so many toys every year. This coloring sheet shows Santa delivering them on Christmas Eve. There are teddy bears, rocking horses, candy canes, and a toy drum coming from his back of goodies.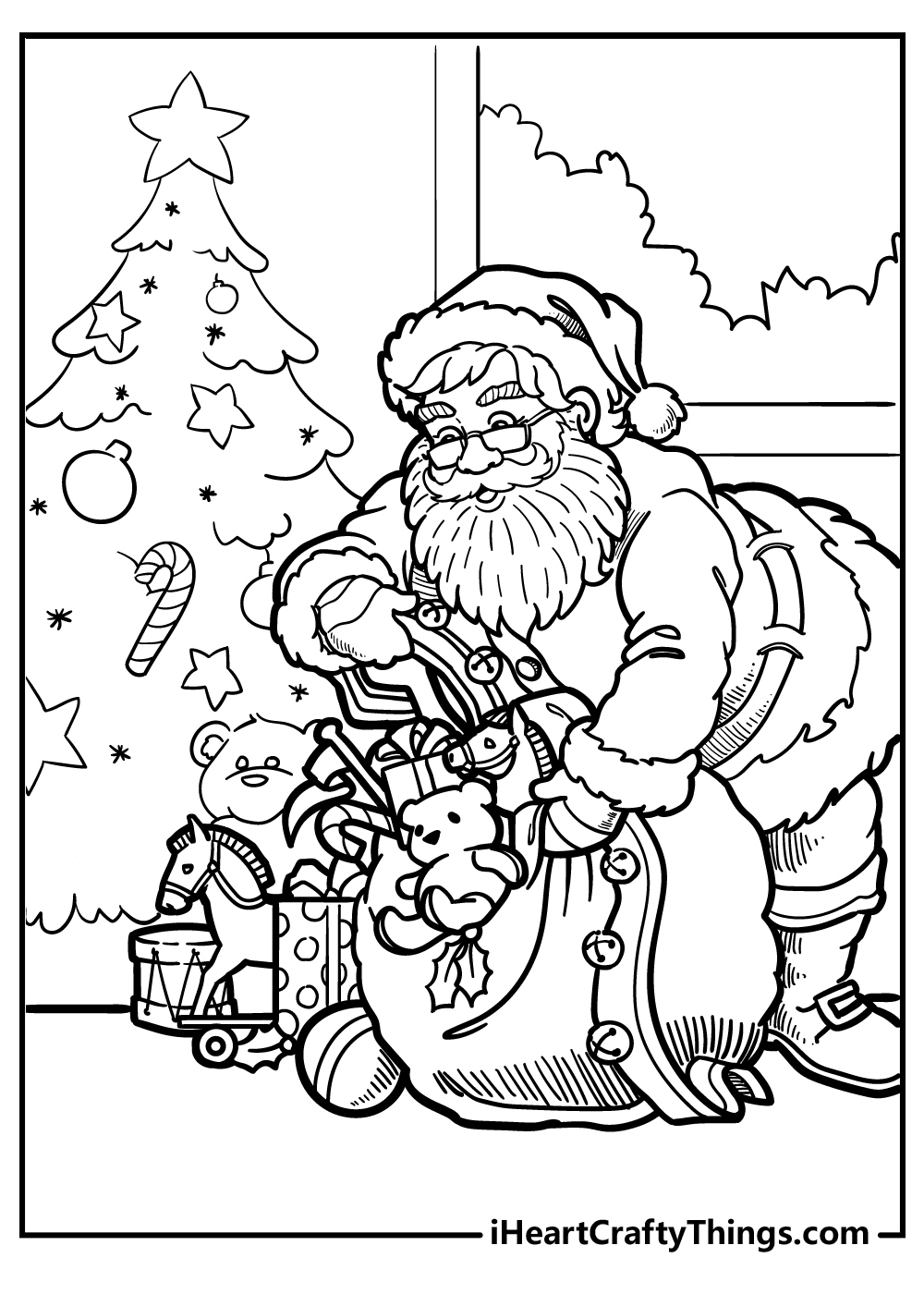 Being Santa Claus is a lot more hard work than it seems. Don't forget that all of these Santa coloring pages are completely free for you to download and print. Feel free to use your imagination to color as many as you want!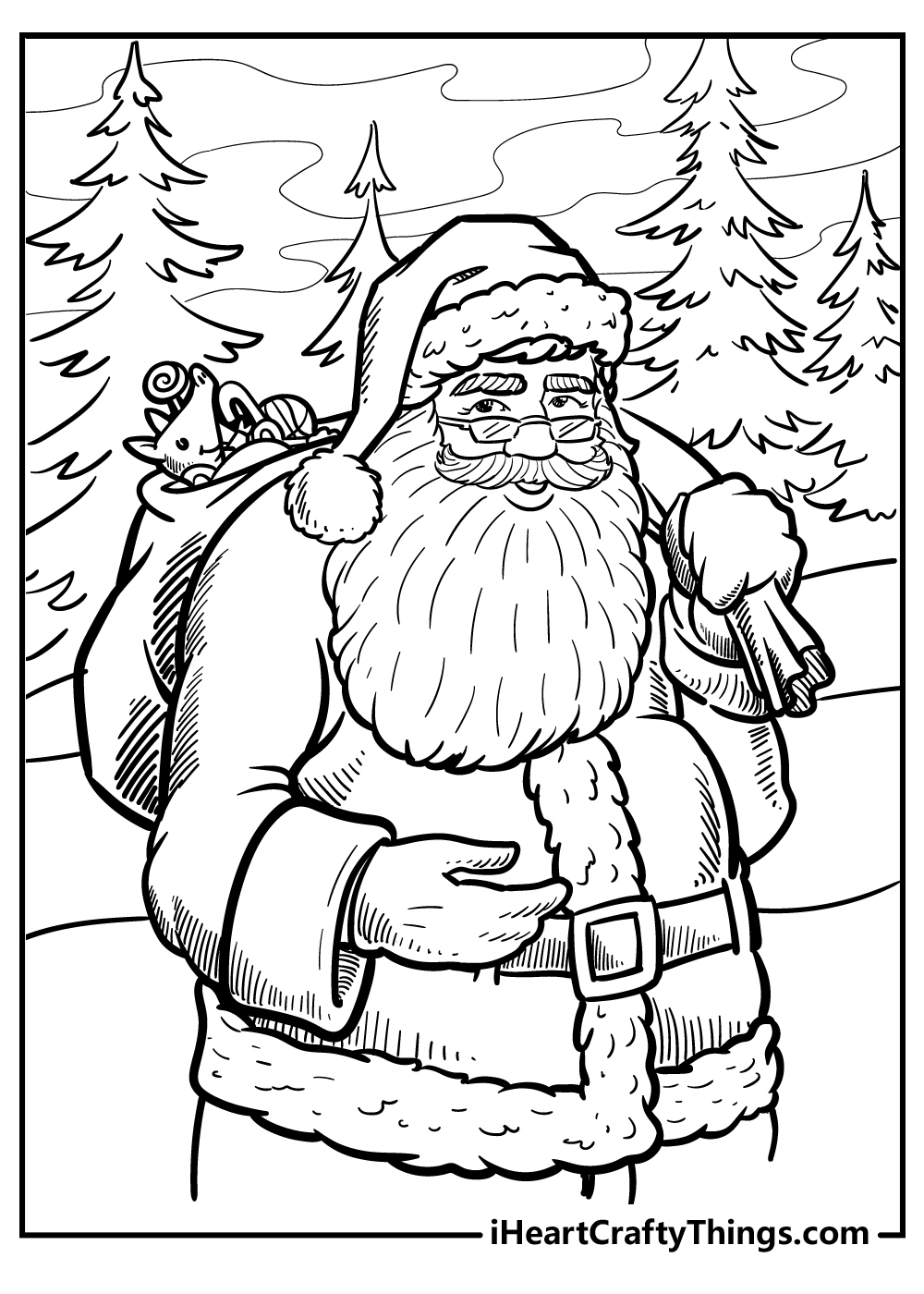 Santa has to be sneaky and stealthy when he is delivering presents. He isn't supposed to let anyone see him! We love this free printable sheet of Santa placing presents under a tree, and turning around to shush someone who has spotted him.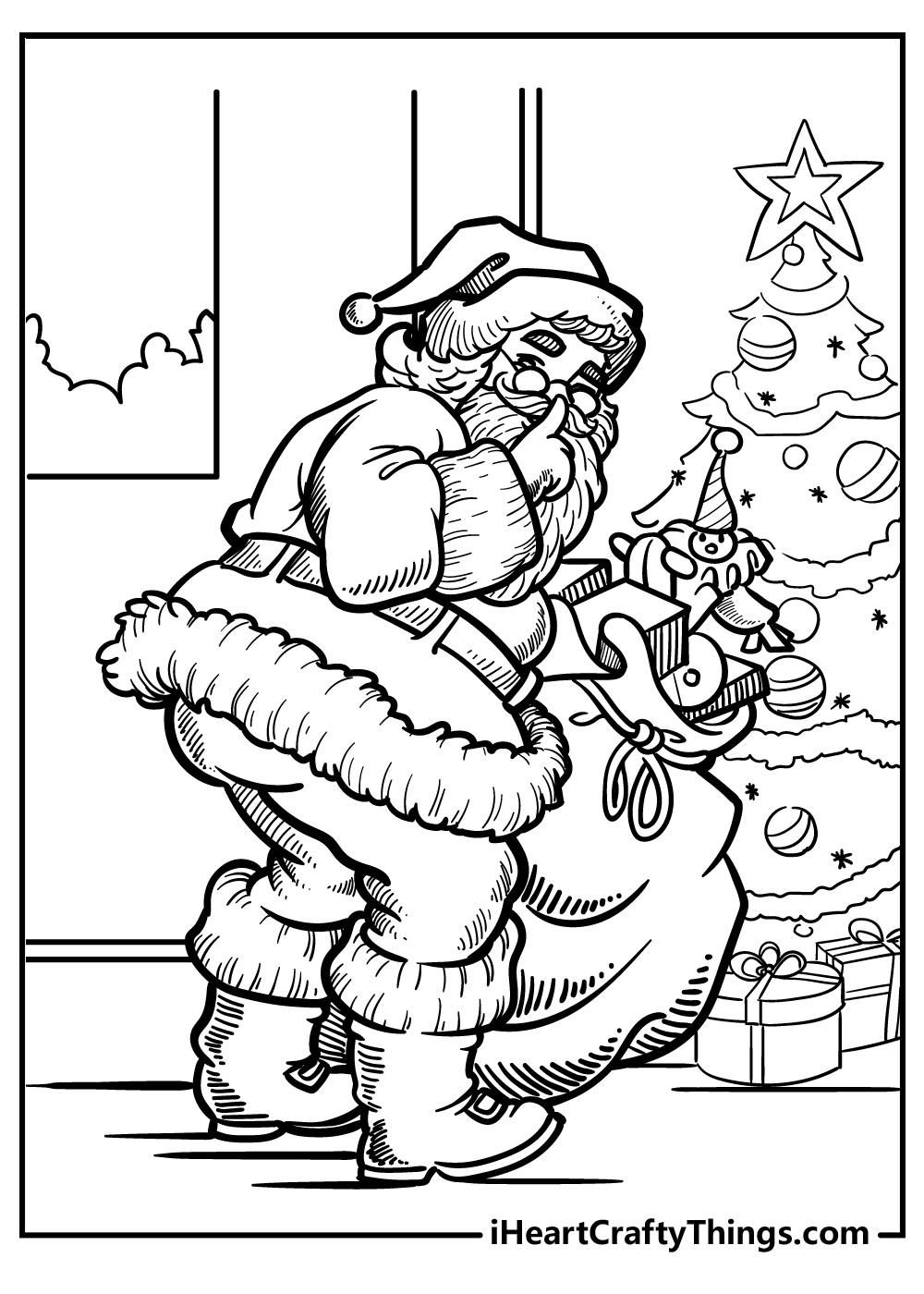 This time Santa is visiting a very snowy neighborhood. There is even a snowman in the background. He smiles and gives a big thumbs up outside someone's house. He must have just finished delivering their presents.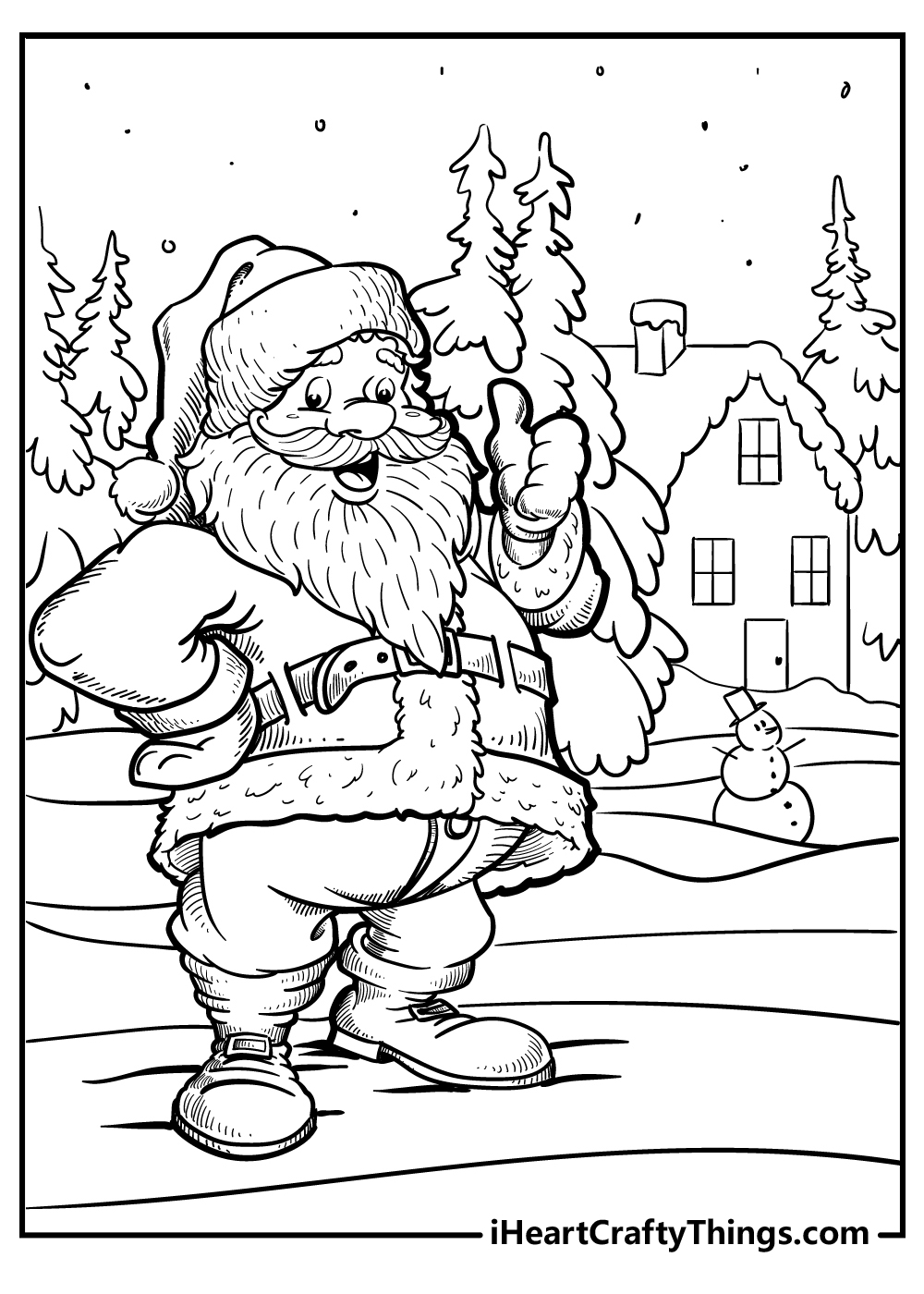 Santa makes his list and checks it twice! This printable shows him taking a quick look at his list as he delivers presents. It looks like everyone was on the nice list. There are lots of presents sitting under a tree beautifully decorated with ornaments and candles.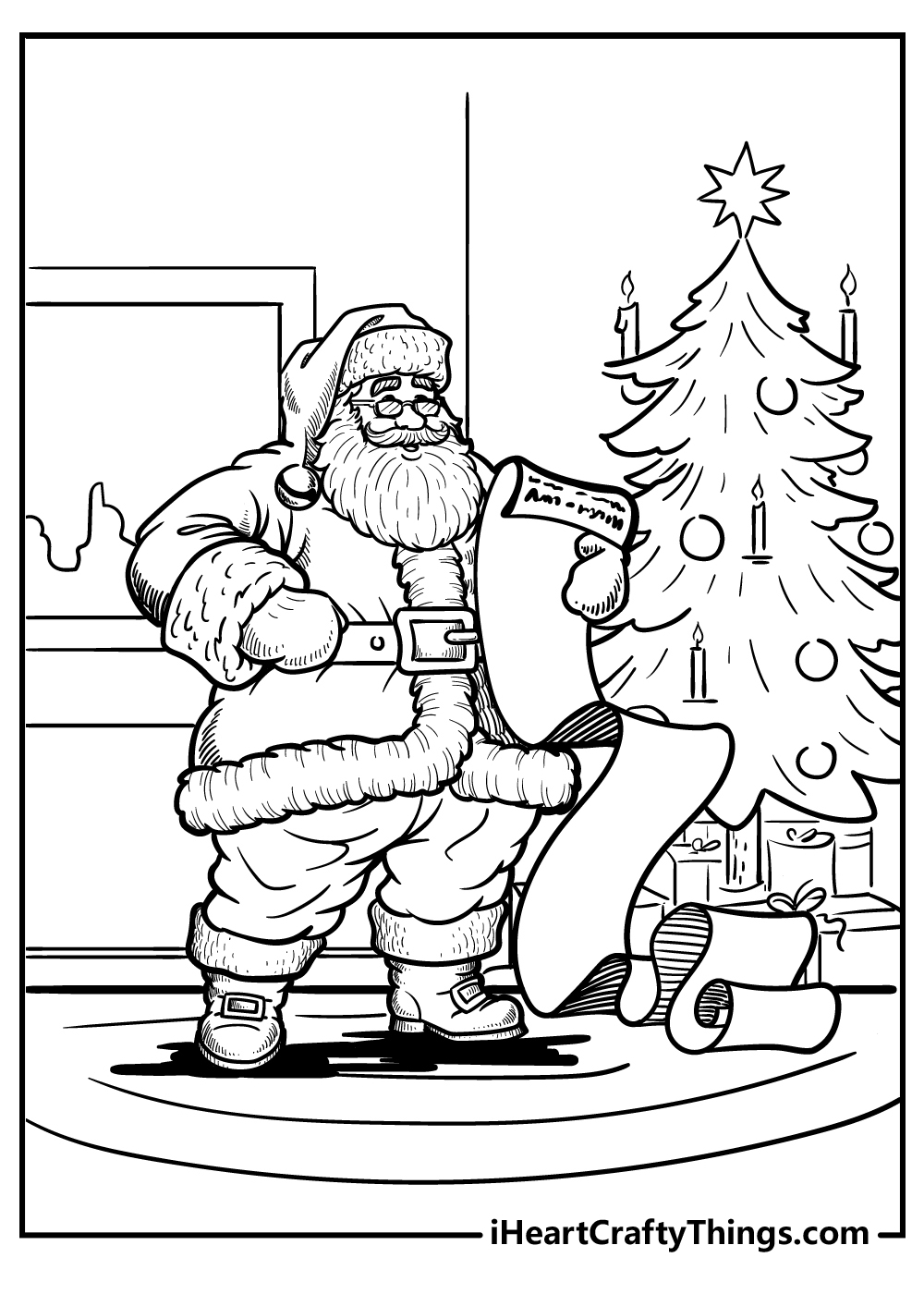 Santa is often depicted as a jolly man with a little round belly and a white mustache and beard. He wears the same red coat, hat, and pants with white fur and he often also wears glasses. In this Santa coloring sheet, he appears to be letting out his famous laugh of "ho ho ho!"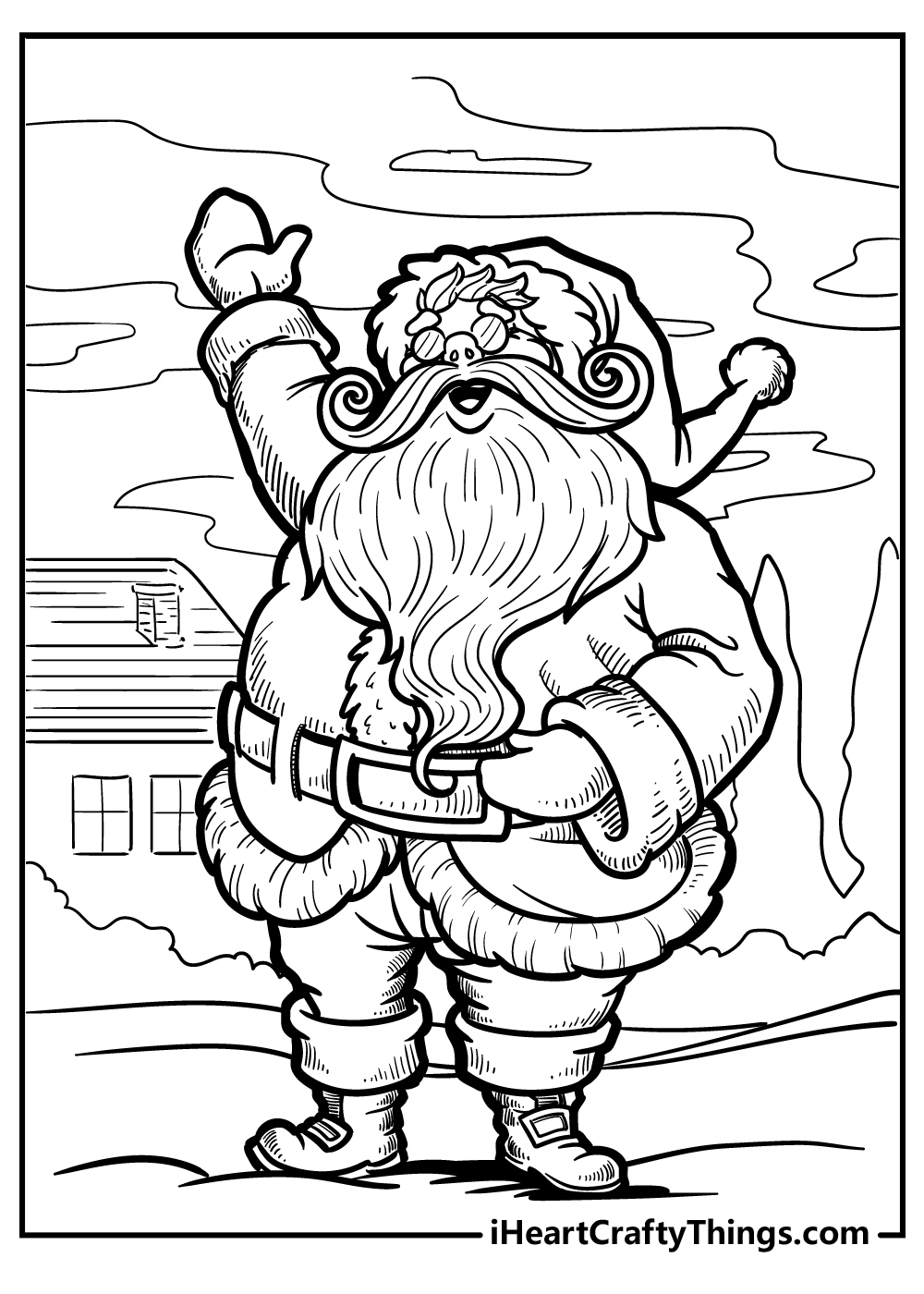 After a long night of delivering toys, Santa will need to relax. In this coloring page, he sits down in his rocking chair to enjoy a good book near his own Christmas tree.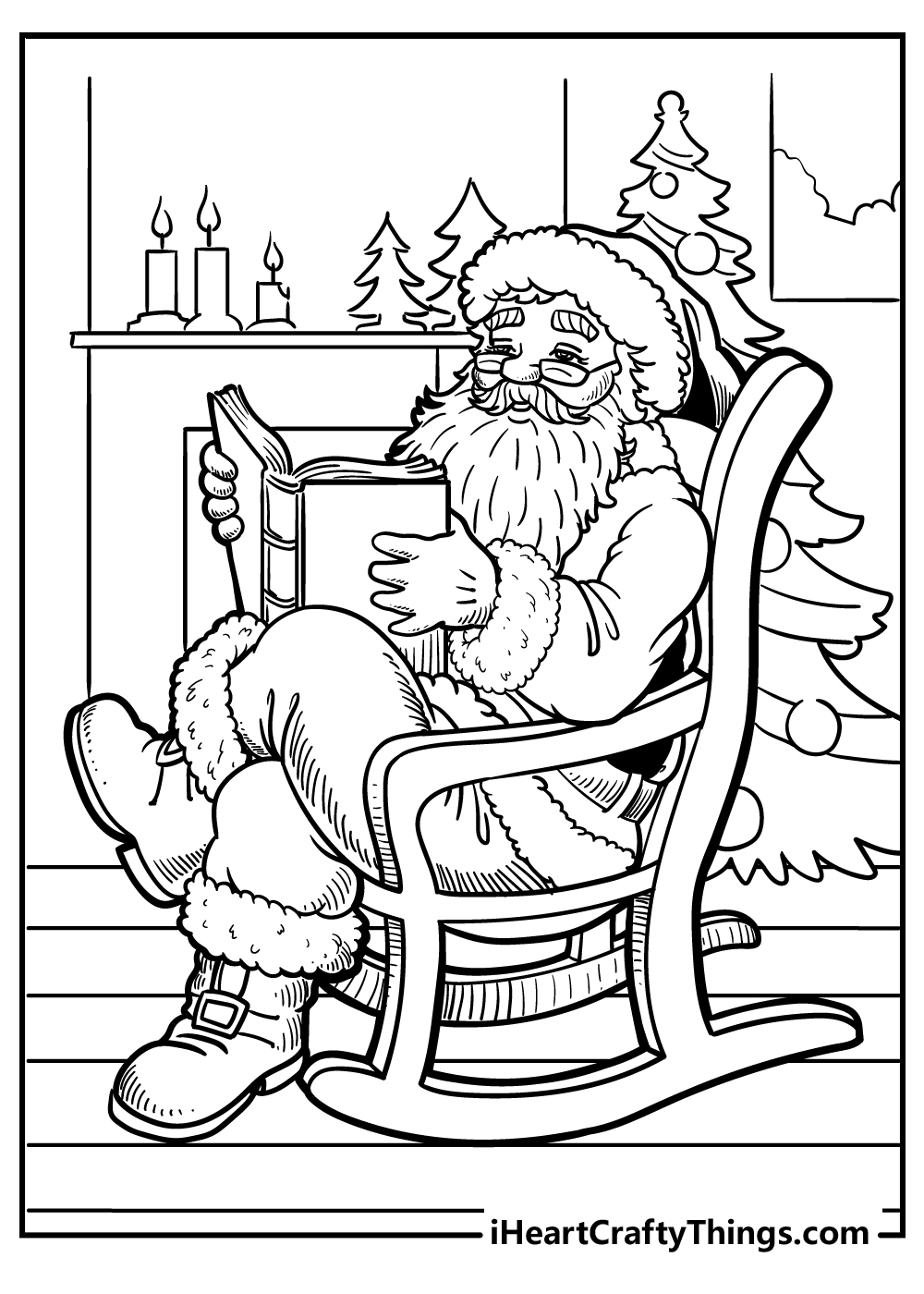 Everyone knows that Santa delivers presents by sliding down the chimney. He has magical powers to help him squeeze through this tight fit. This Santa printable sheet for kids shows him giving a final wave before he hops down the chimney with a full bag of toys.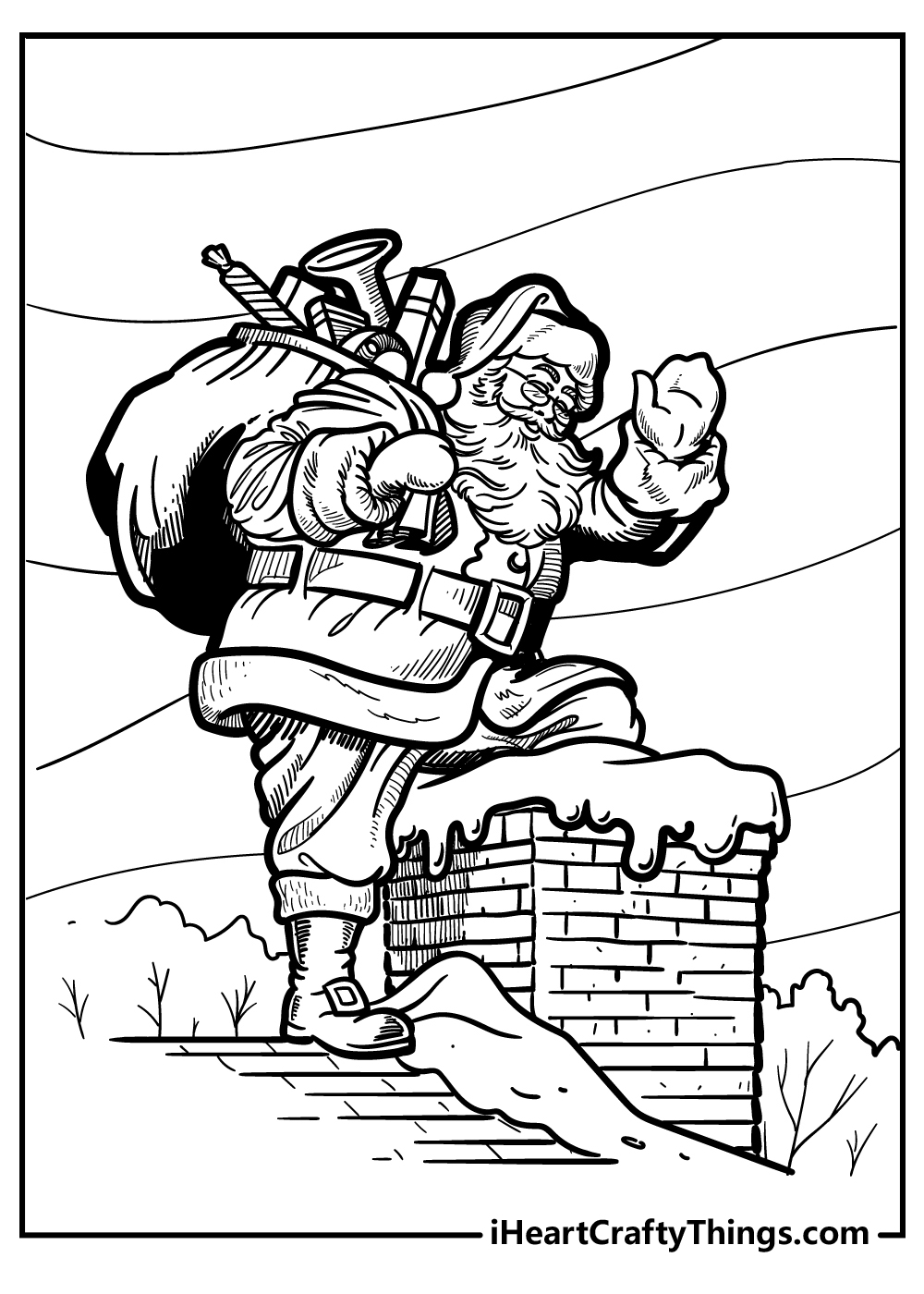 Many other countries believe in a magical man who delivers gifts, but some have different names for him like Father Christmas or Sinterklaas. Whatever he might be called, he is always delivering gifts to good children, like in this Santa coloring page.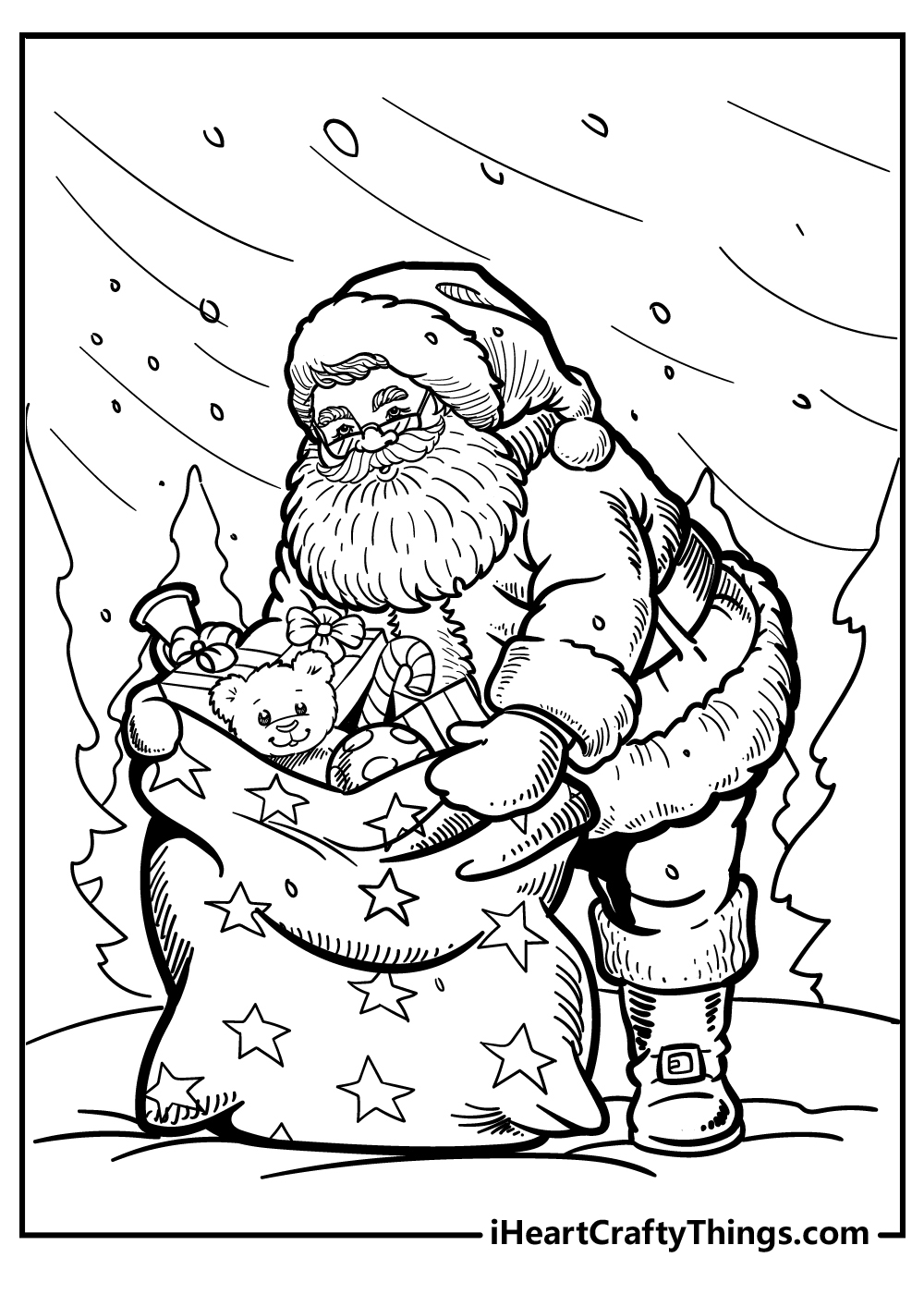 Our coloring page designers love to show Santa hard at work on Christmas Eve. Here he lugs a heavy sack of toys past high mountain peaks. Santa must be very strong to carry toys for every child in the world.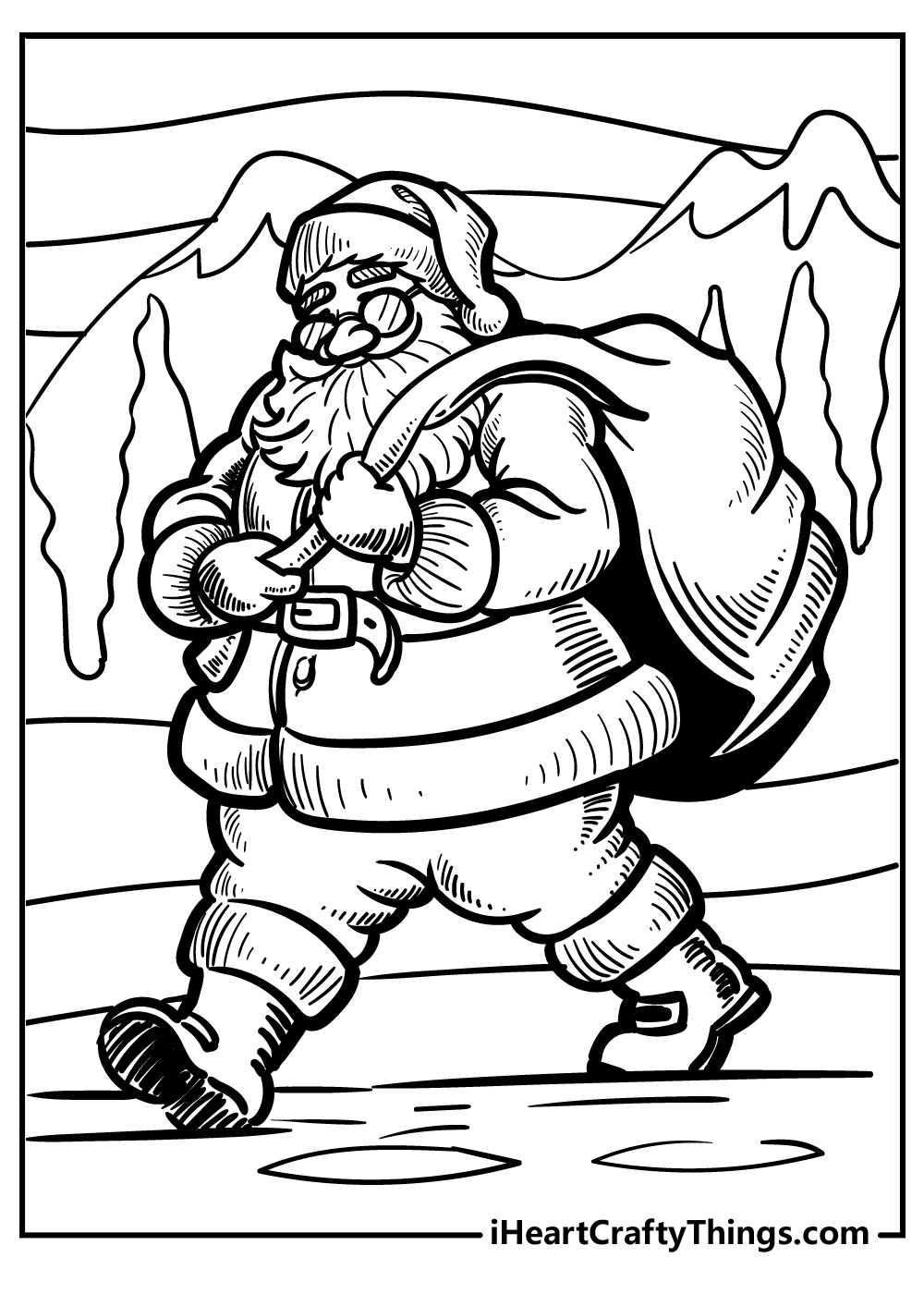 There seems to be a theme of making a list and checking it twice in these Santa coloring pages. Here the big man stops on the road to take a quick look at his list…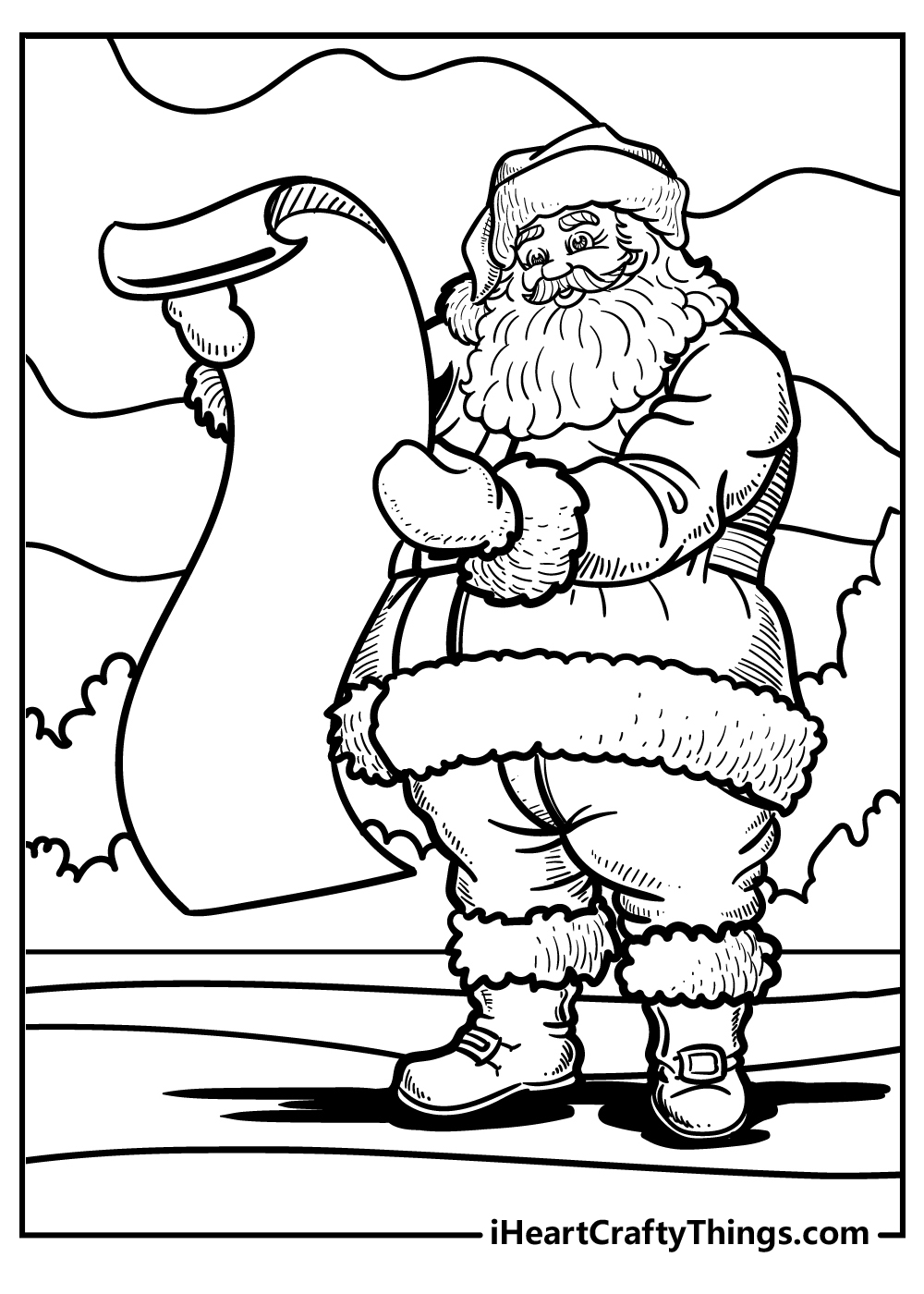 …and now he is checking it again in someone's home! Hopefully, the kids left out milk and cookies this year. Santa is also wearing what looks like a little bunch of mistletoe on his coat. Perhaps he got it from Mrs. Klaus.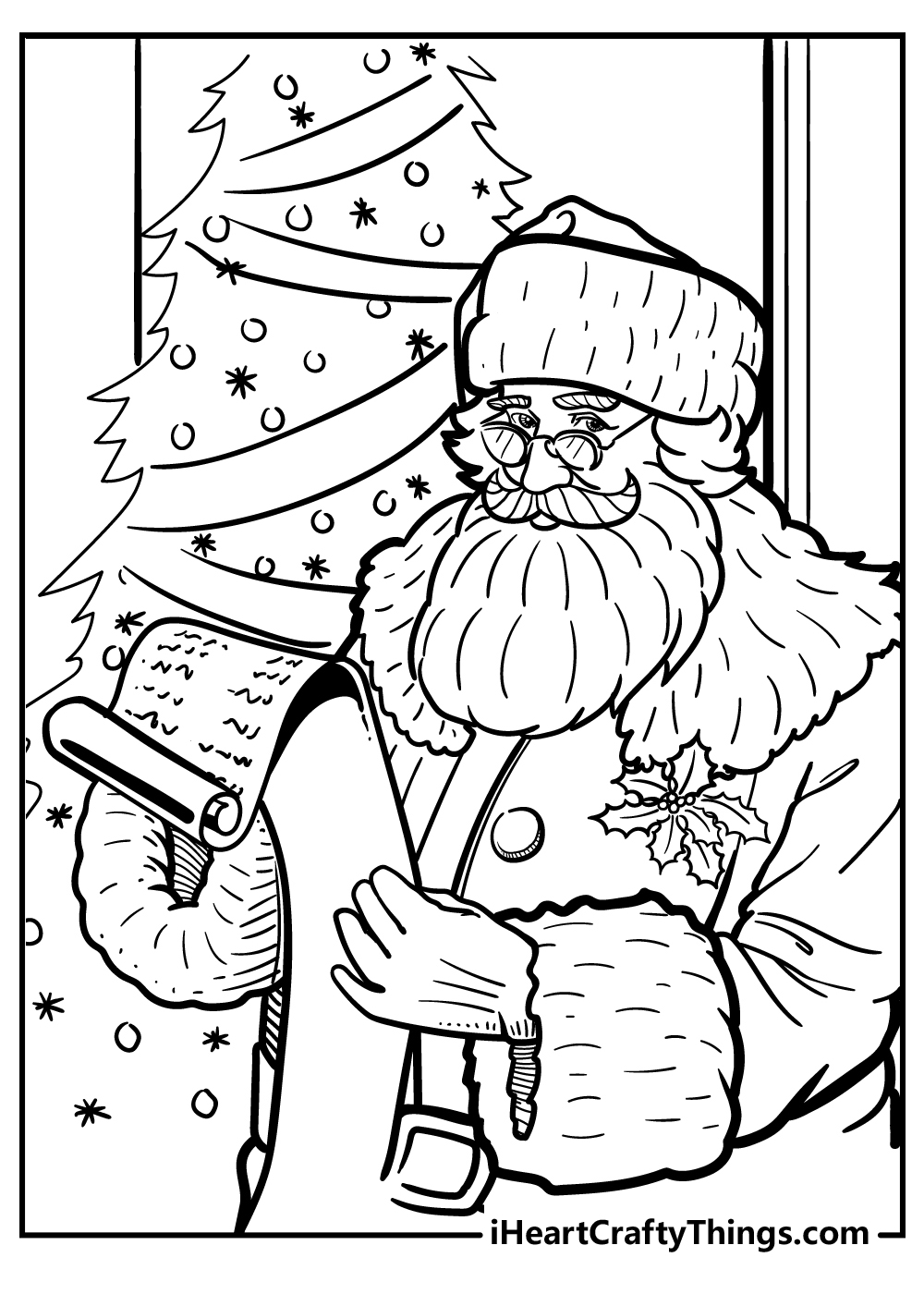 Every year children write letters to Santa telling him that they have been good all year and everything that they want for Christmas. This printable sheet shows Santa sitting at a desk and reviewing one of these letters. It looks like he is happy with the letter since he is giving a big thumbs up!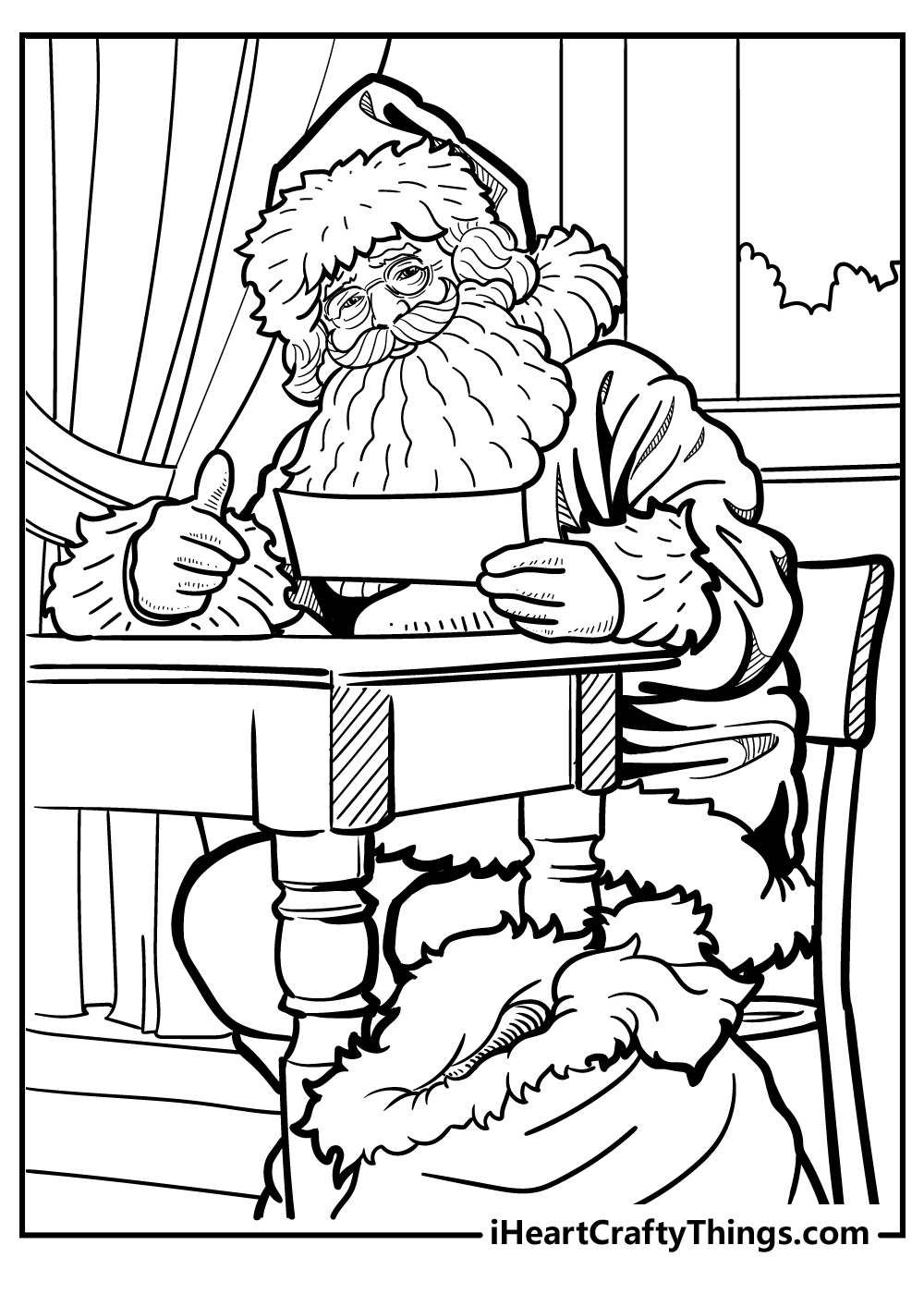 In this coloring page, Santa carefully places beautifully wrapped gifts under a tree. We wonder what could be inside them. What did you ask Santa for this year?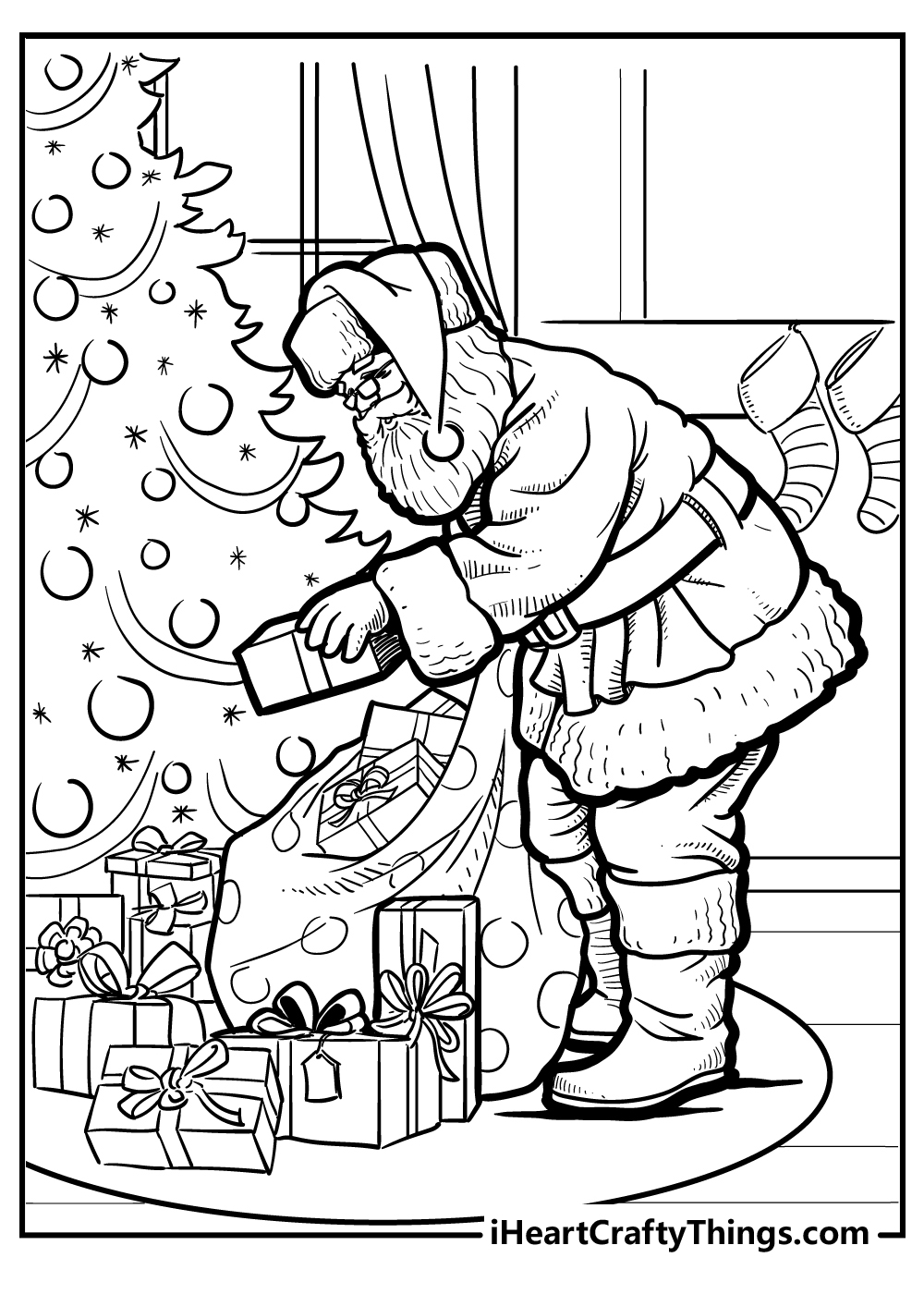 The sweet sound of bells is the perfect symbol for the Christmas spirit. Here Santa stands under a full moon and rings a big bell to announce that he is on his way. Santa's hat even has a tiny bell on the end.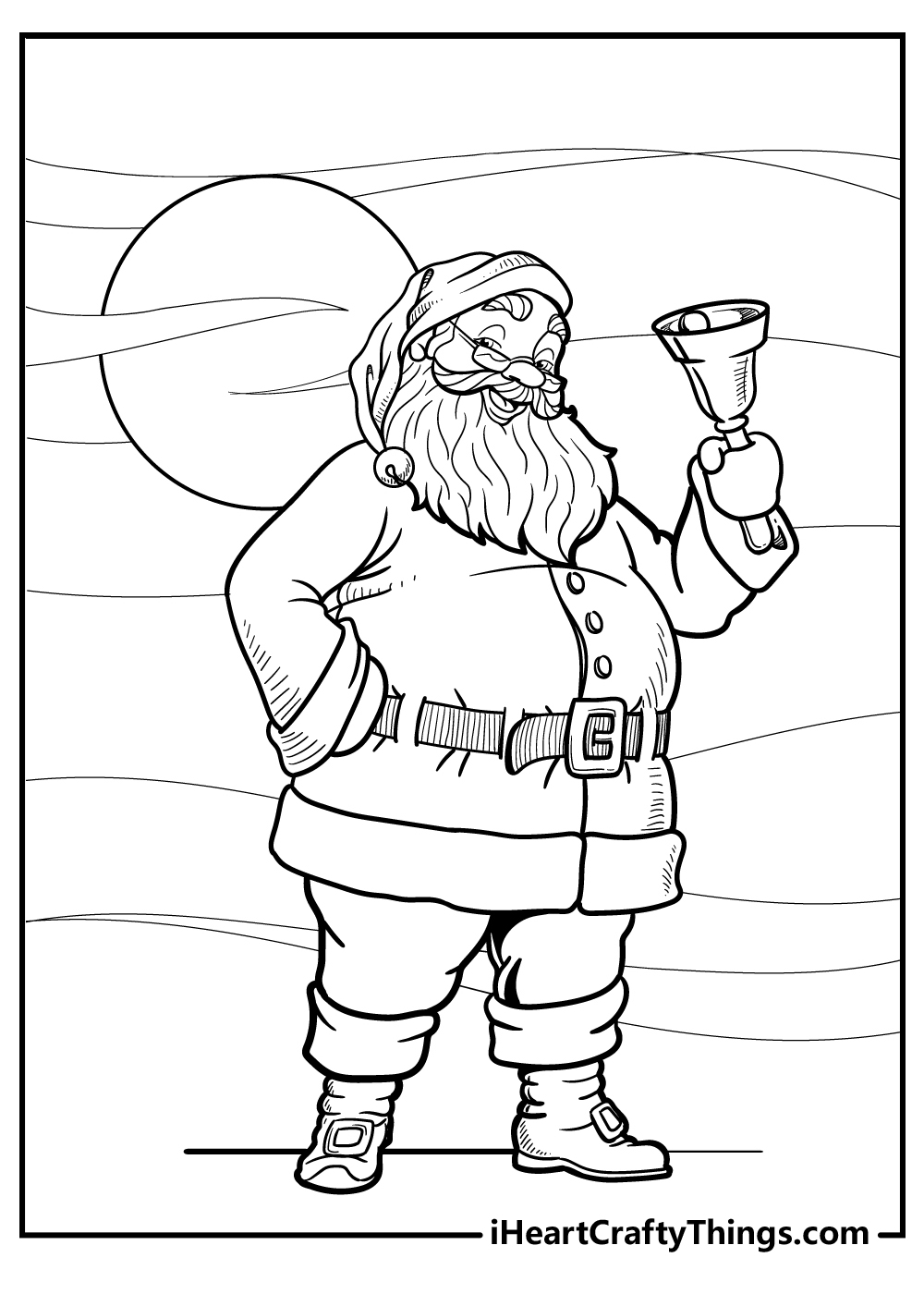 Our coloring page designers love to see Santa sliding down the chimney. He has one leg already over the top in this coloring page. Santa uses the chimney because he has a lot of presents to deliver, and the chimney is much faster than the front door.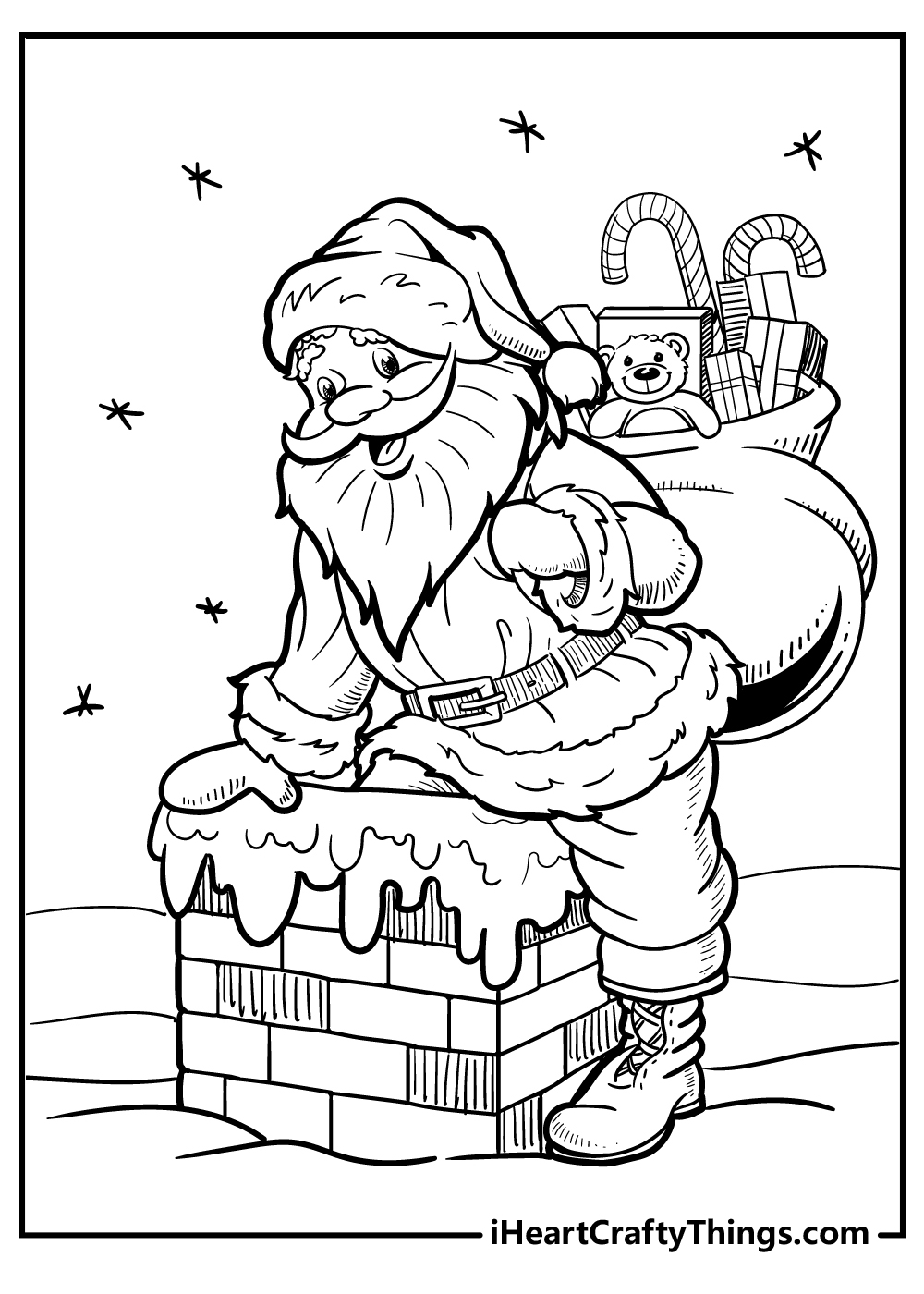 It's very cold where Santa lives in the North Pole. This coloring sheet shows him stepping outside into a flurry of snow. He holds up his hand to catch a little flake and there is a lamp post sitting in the background.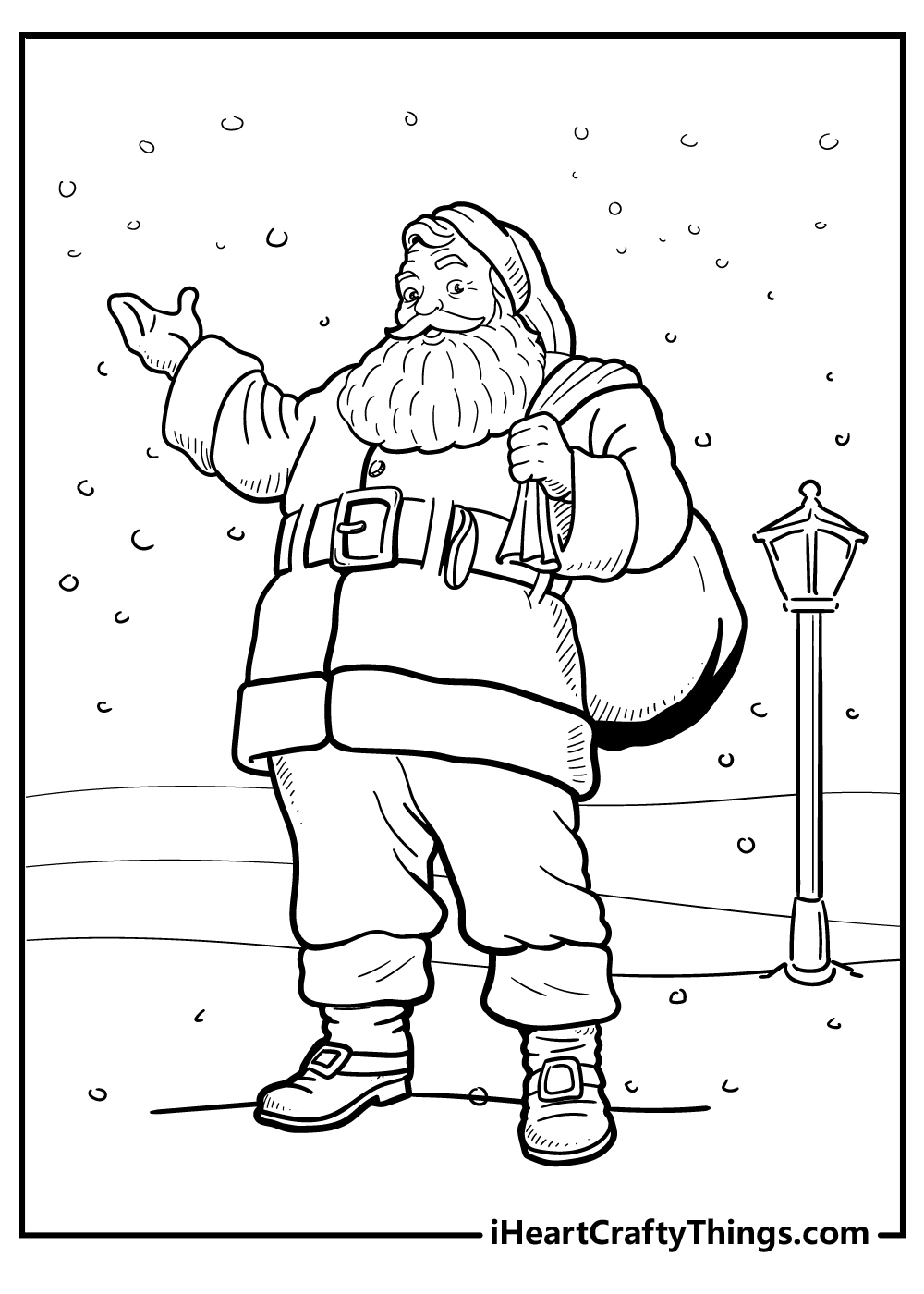 There are so many different depictions and drawings of Santa Claus throughout the years. After you have chosen and colored your favorite Santa coloring pages, don't forget to post your finished masterpiece onto our Facebook page. Every month we pick the best uploads and the winner gets a special prize!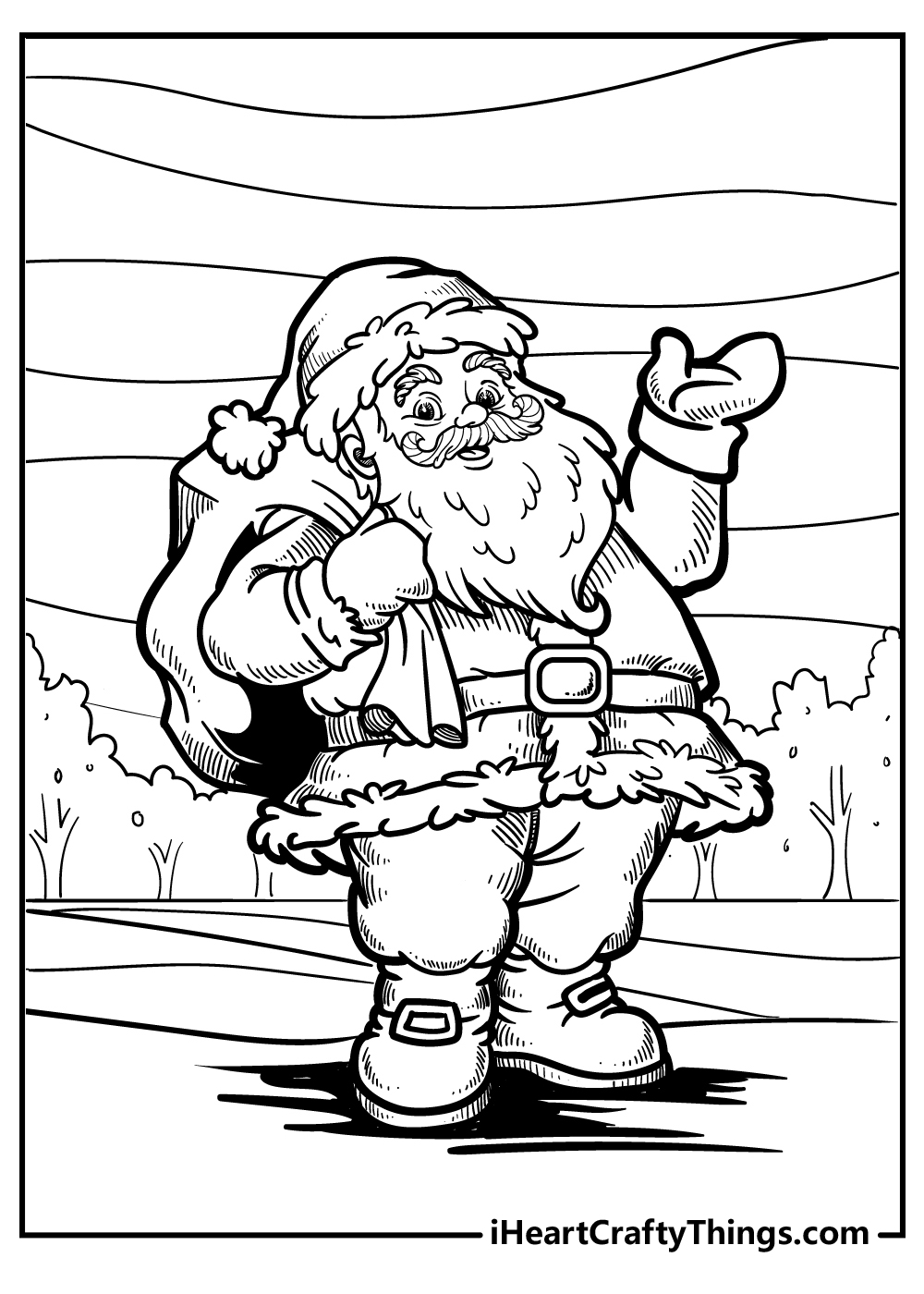 Santa is a very skilled toymaker. He has to be able to make all kinds of toys, like the ones in his sack in this coloring sheet. Luckily he has the help of all of his elves at the North Pole and some magic powers as well.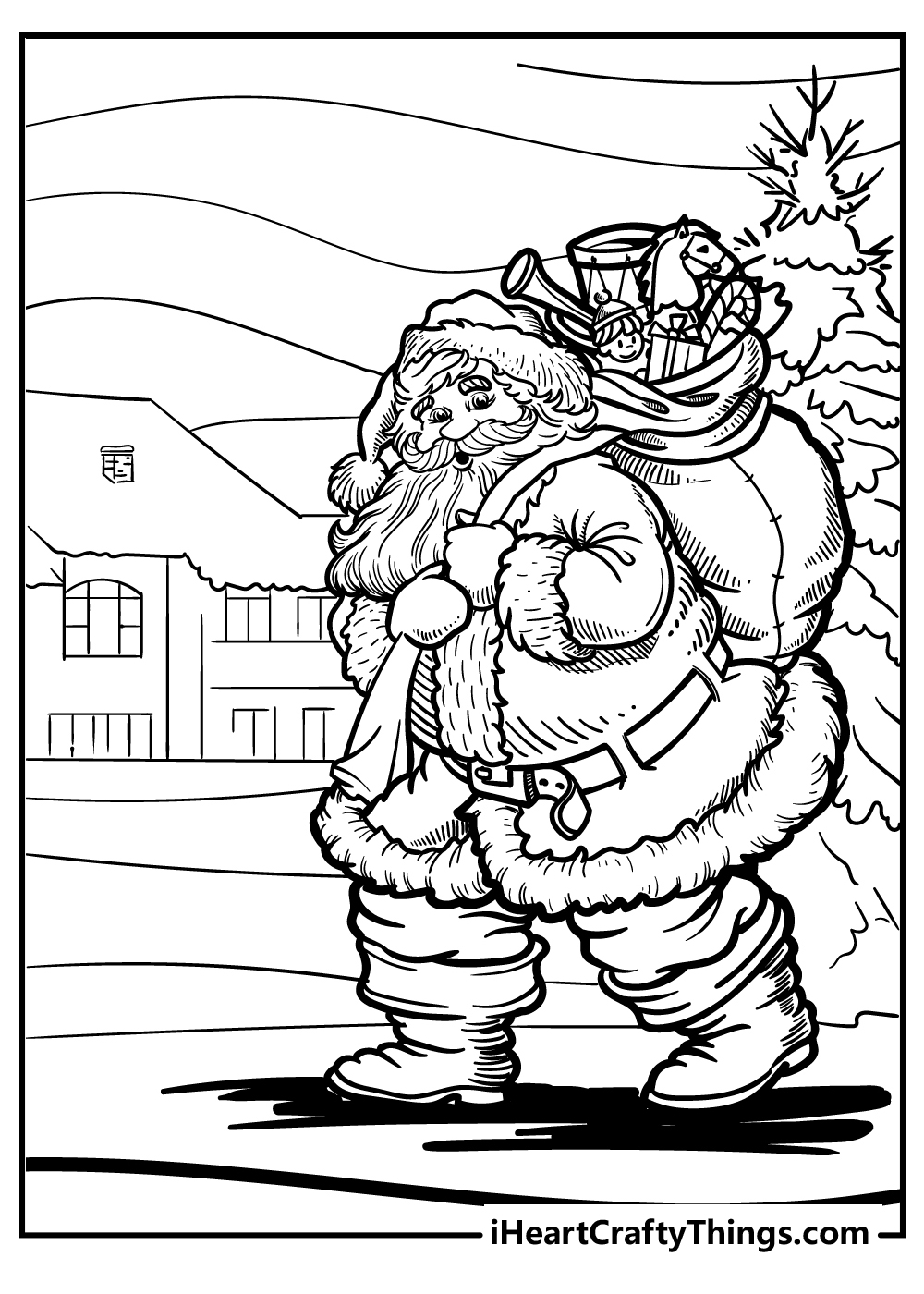 We wonder if Santa's elves do all of the gift wrapping. Or perhaps Mrs. Klaus steps in to help with this task. This fun Santa printable sheet shows him pulling more gifts out of his sack to place under some lucky child's tree. He gives us a knowing glance as he places the presents.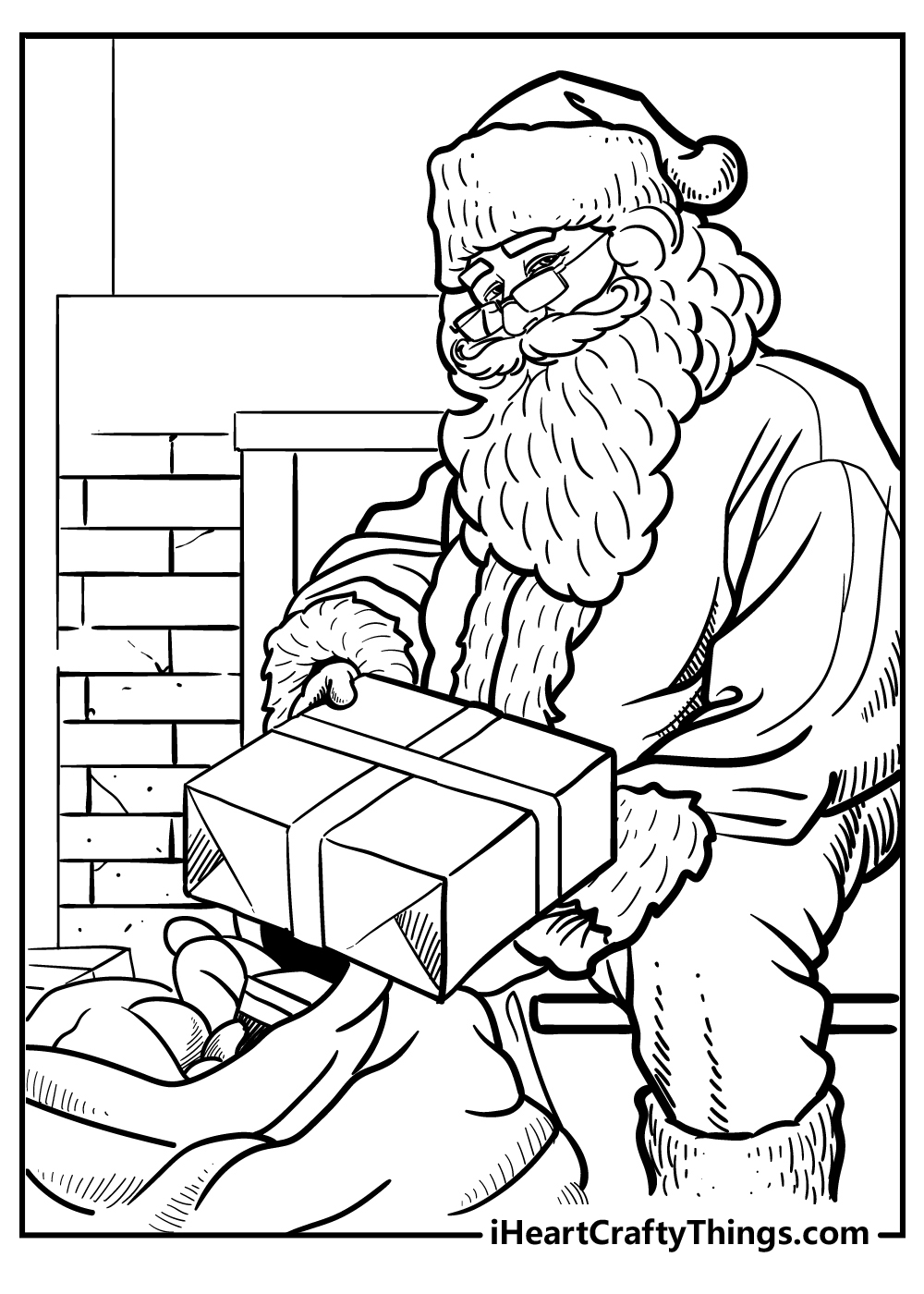 Santa has to deliver all of his gifts at night when everyone is asleep. This might make it a little hard for him to see, so in this coloring page, he carries a lantern to help him find houses through the snow and dark.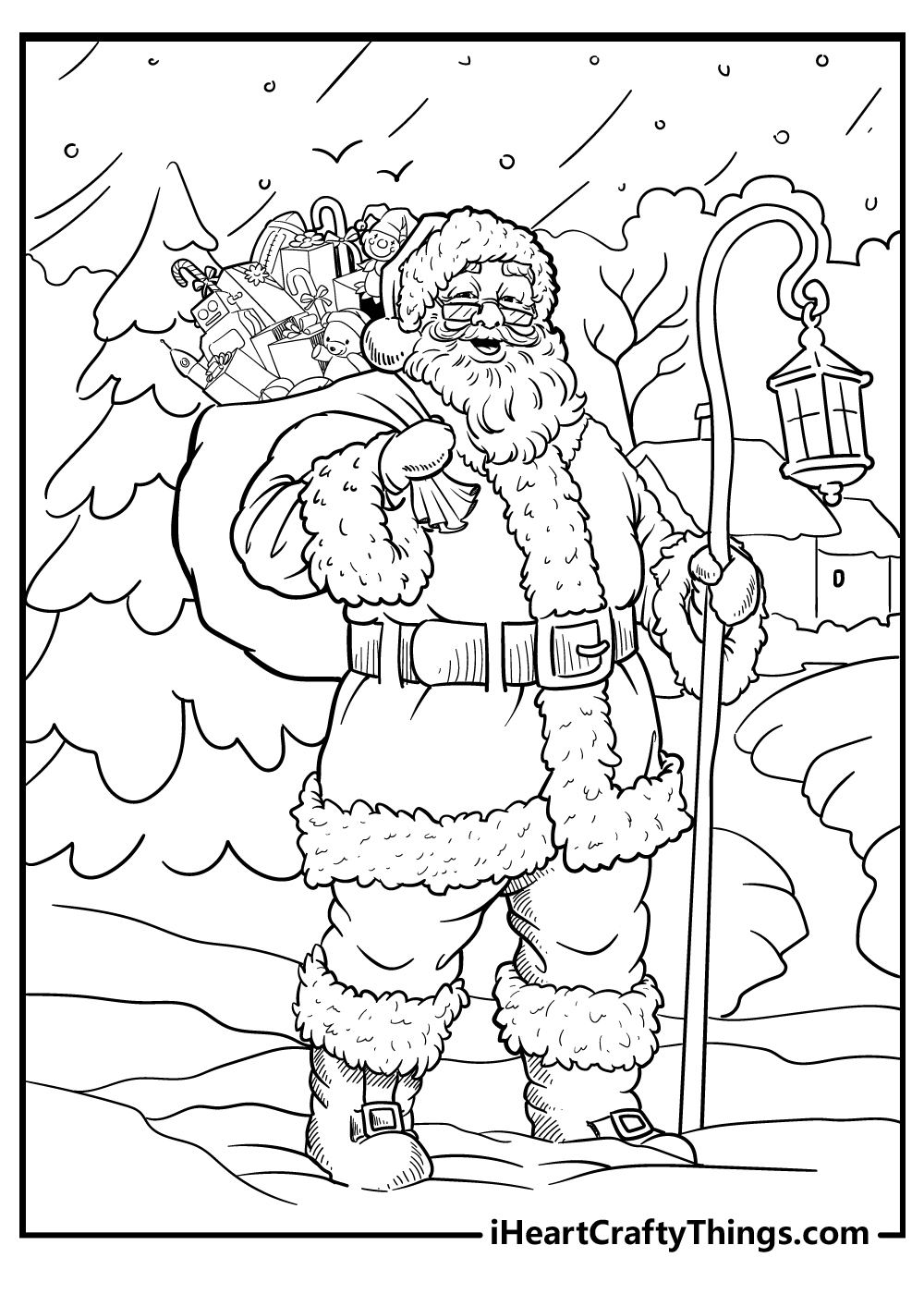 It looks like Santa is helping decorate one house that he has visited. He places a big star on the top of a Christmas tree. Some people use other things to top their tree, like an angel or even a big red bow.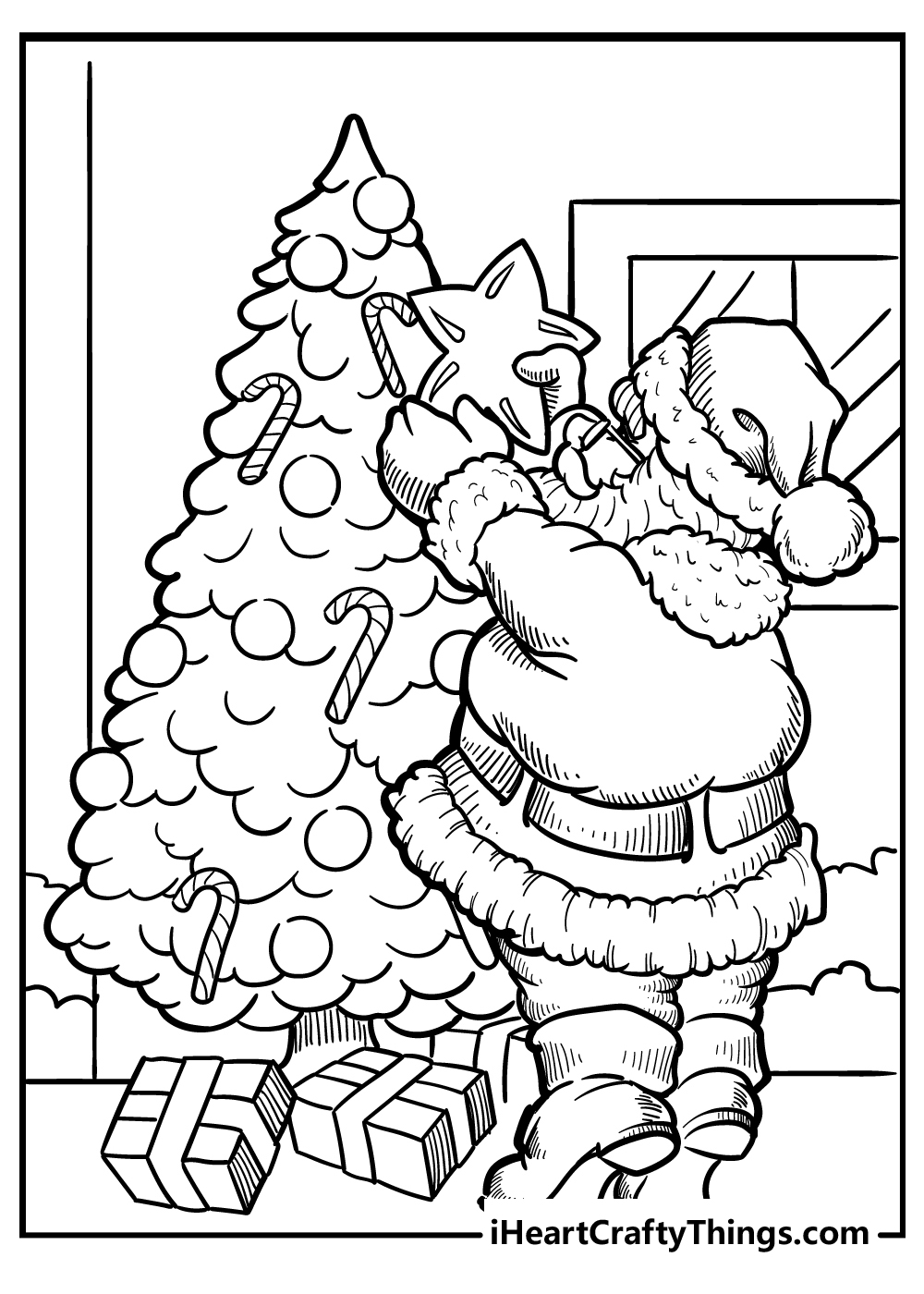 Every year kids leave out milk and cookies for Santa to show appreciation for the gifts he brings them. Some even add some carrots for his reindeer. This coloring sheet shows Santa standing in the living room with a bowl of cookies and a little note on the table in the background.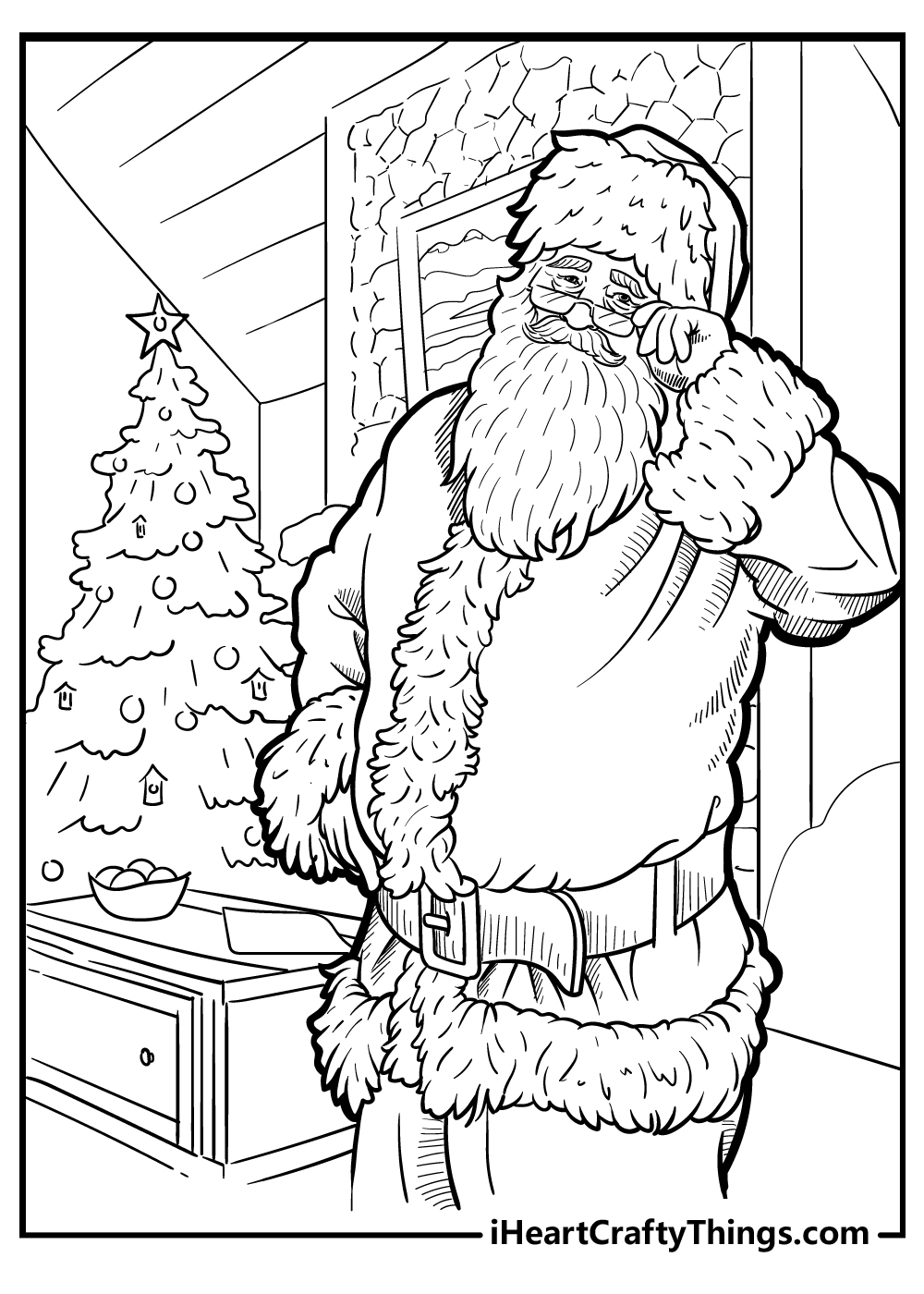 At the end of the day, Santa loves that he gets to bring joy by delivering presents to children. He gives a big thumbs up and a smile next to his bag of toys in this Santa coloring page. He doesn't seem to mind traveling through the mountains and freezing cold snow.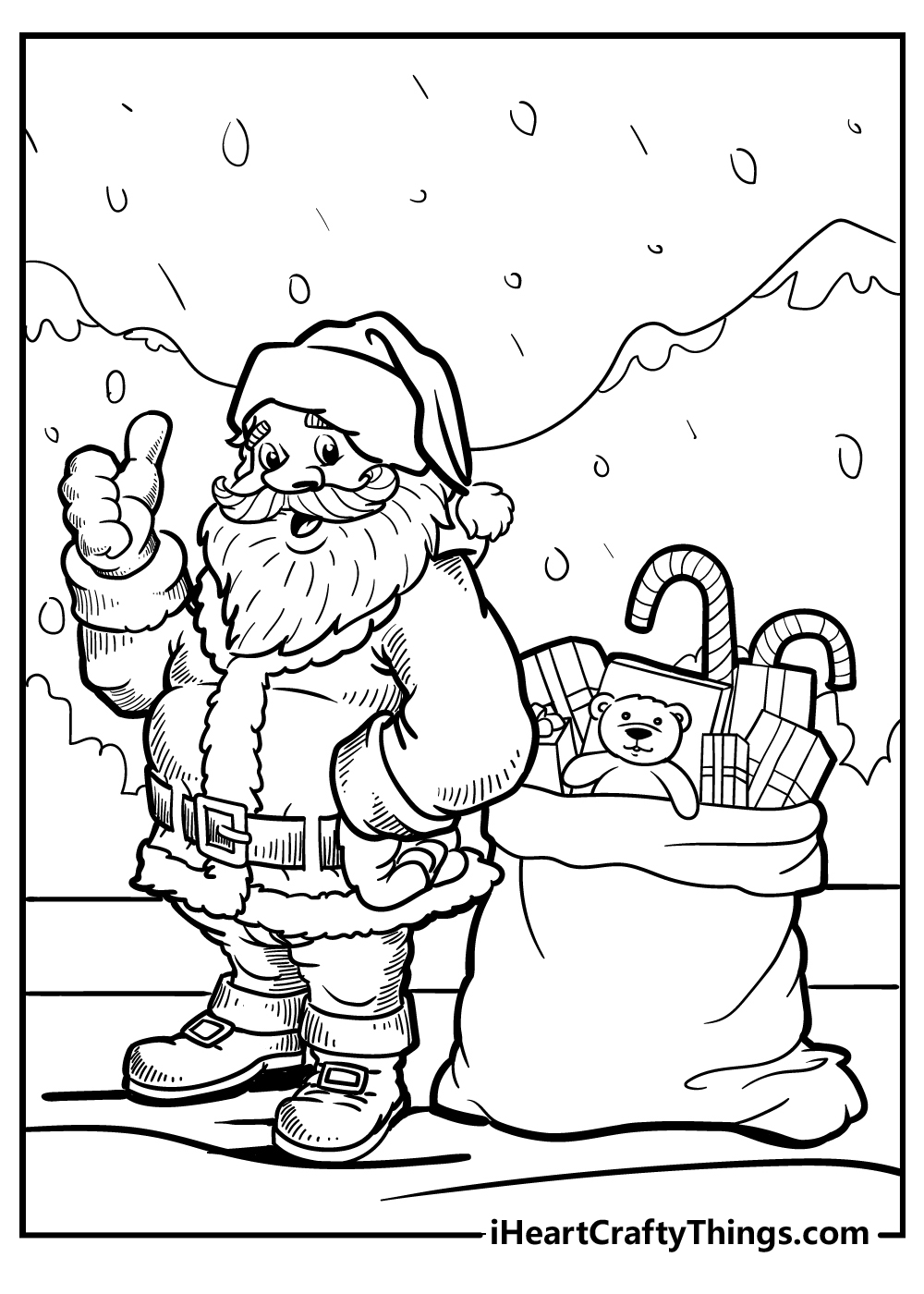 Create Some Festive Cheer With These Tips For Your Favorite Coloring Pages!
This wonderful set of Santa coloring pages was the ultimate celebration of the jolly man himself!
These pictures were so detailed and fun to look at, and we hope that you enjoyed coloring your favorite pages.
When you think you're finished, there could still be some fun to be had! We wanted to give you a few suggestions for ways you may not have thought of that you can make these even better.
Instead of using your standard coloring tools like pens, pencils and markers, you could also use some fun crafts. For example, thin strands of tinsel and other decorations could be used to stick on the images.
This would give the images some depth and real texture that you could never create with more conventional art tools. Beads could also make some excellent Christmas tree baubles, for example!
You can certainly get creative with it. You could also give your favorite pages a whole new makeover with some extra details that you draw in.
For example, maybe some of these depictions of Santa could use some elves or other helpers to join them. The only thing holding you back is your imagination, so feel free to explore your options!
Remember that you could print out any of these pages as many times as you like, so if you try something that doesn't appeal to you then you can try again.
Even the best artists in the world will sometimes be amazed by mistakes and happy accidents, so you never know what you may create if you're not stressing about making mistakes!
What are some fun art tools, crafts and techniques you could use to make these even more amazing?
Don't forget to keep checking back with us to see which new pages have been uploaded. We are constantly updating our catalog of coloring pages and printable sheets featuring your favorite animals and characters. There is so much more to come!
We hope that these Santa coloring pages have put you in the holiday spirit. Remember to post your finished coloring pages onto our Facebook page. We love to see all the unique ways you color and create these super fun images.