Christmas is an exciting time of the year for many people!
There are many symbols, customs and characters that are associated with the festive period, and one of the most popular is that of Rudolph the red-nosed reindeer.
This collection of free Rudolph coloring pages for kids is here to show off this iconic Christmas character!
There are 15 pages to enjoy here, and they cover a wide range of styles and poses for you to color.
It's totally free to print, color, enjoy and share every single one, so why not make a mug of hot cocoa and let's begin the fun!
15 Brand New Rudolph Coloring Pages – Free to Print and Color
Our first Rudolph coloring sheet we have for you is simply adorable! He is drawn in such a cute style here, and he is wearing a Christmas hat and scarf.
These items of clothing not only make him look even cuter, but they also provide some wonderful details for you to color in. We can't wait to see how you bring this one to life with your colors!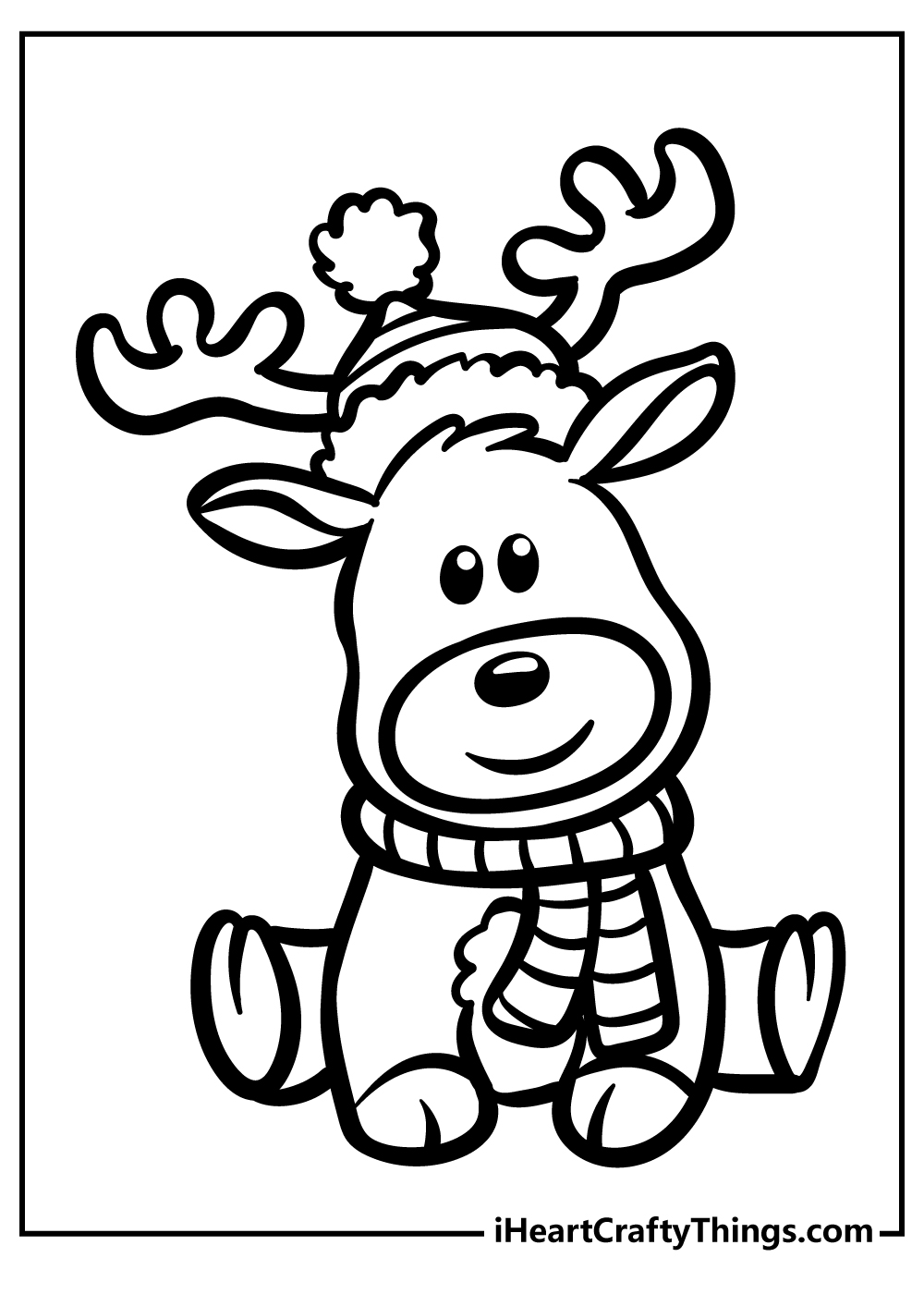 Rudolph is essentially a walking Christmas tree in this next wonderful picture! His antlers are covered in Christmas lights, and his nose is shining bright as well.
For the lights, we would use some really bright colored pens or markers to make them really pop off of the page. What will you use to color this cheerful scene?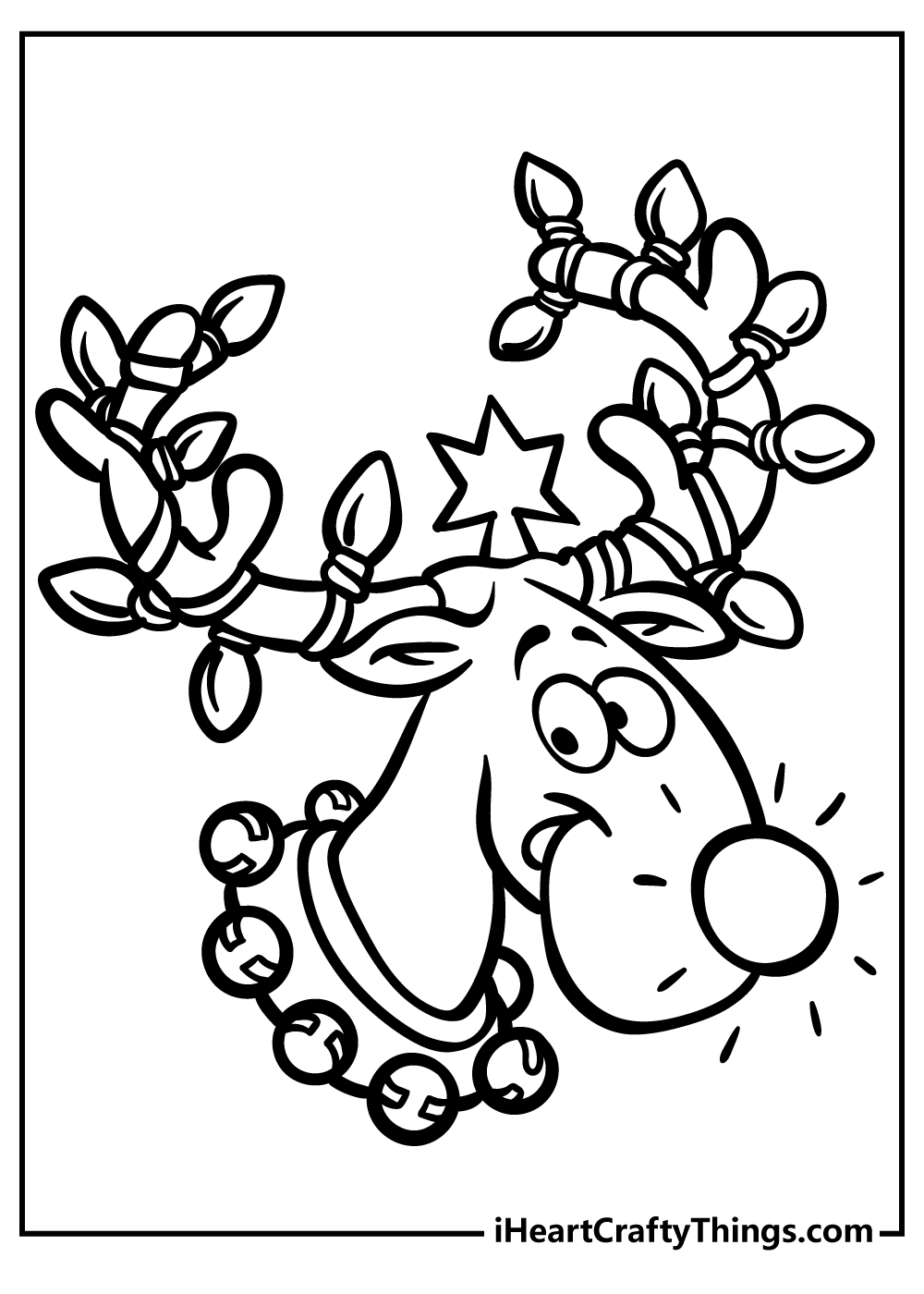 This third page follows a similar idea to the previous one, as Rudolph is again covered in some Christmas lights.
It is drawn in a different style to that one, though, so you can take a different approach with the colors that you use for this one if you color them both.
It will be great to see how you approach each of these very different images!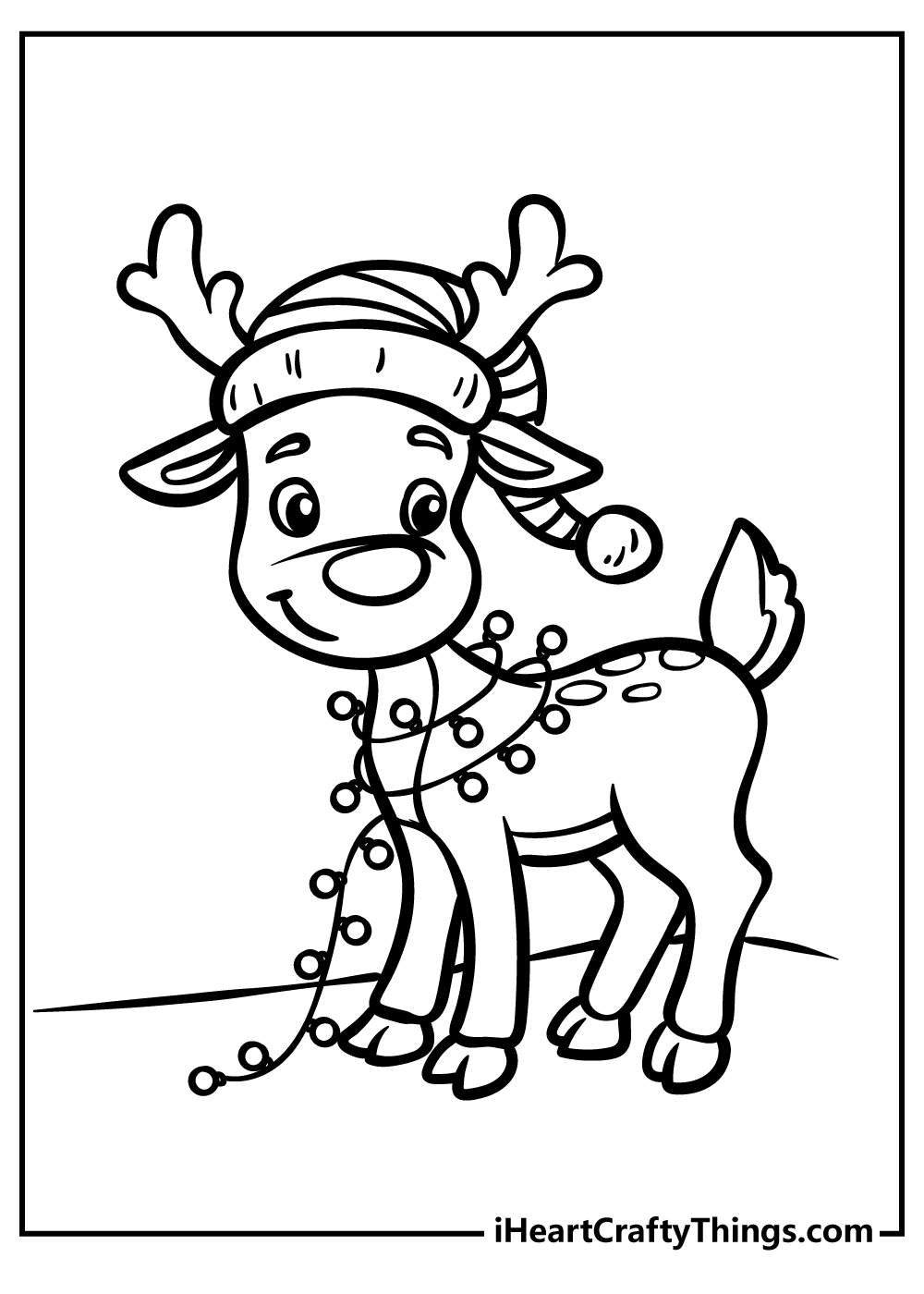 How cute does Rudolph look in this image? He is drawn in such an adorable style here, and there are some great details such as a hat and a bell that he is wearing.
If we were coloring this one, we would maybe go for some softer art mediums such as watercolors and colored pencils to create a nice cozy picture. Which colors and mediums will you use?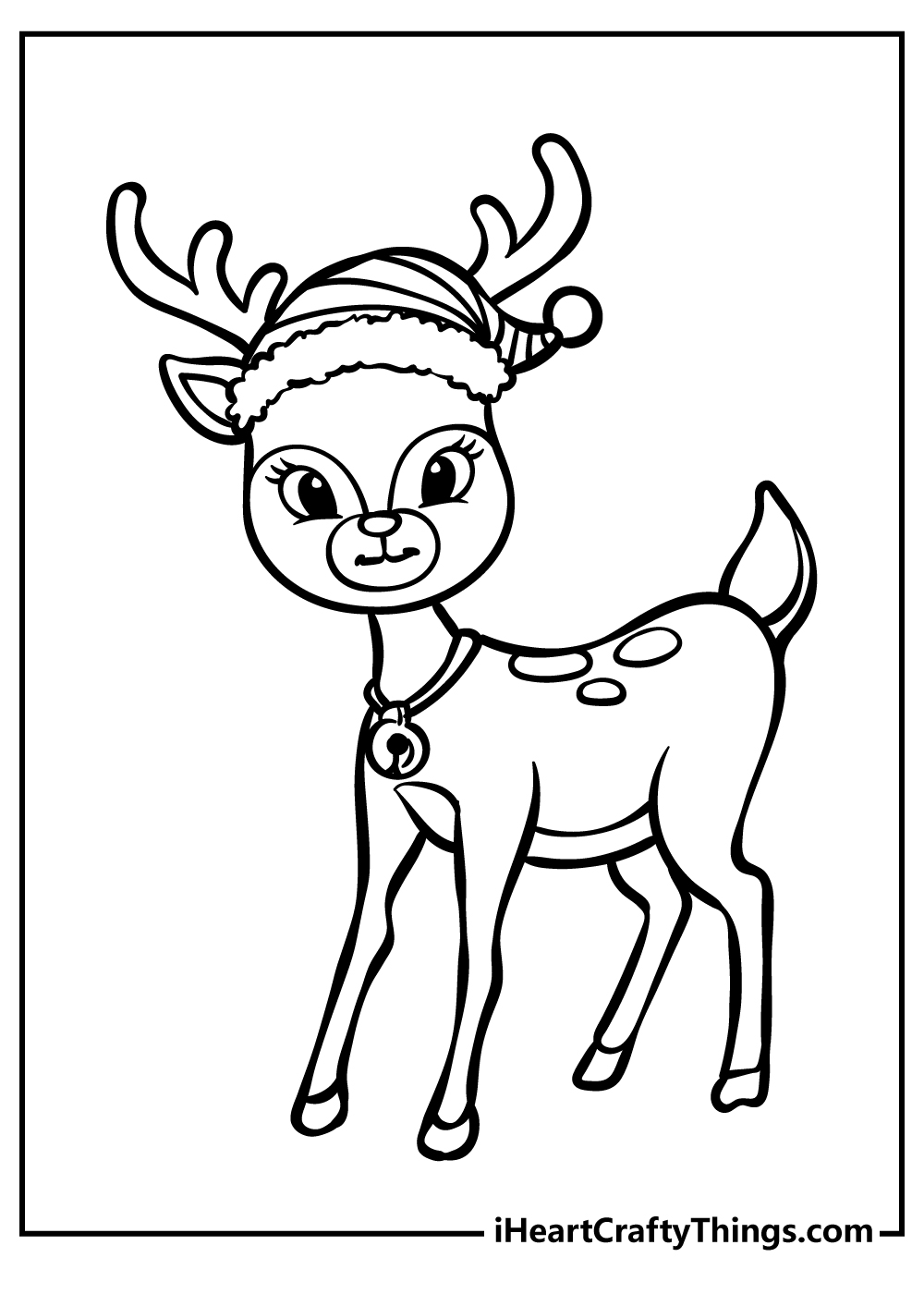 Our next page in this collection of free Rudolph coloring pages for kids features a whole scene for you to color! Rudolph is out on a snowy night, and it makes for a chilly scene.
We would use some lighter colors for the background to make this image look colder.
Remember that a bright red nose is Rudolph's most well-known character trait, so why not use a bright red marker for his nose to make it really shine!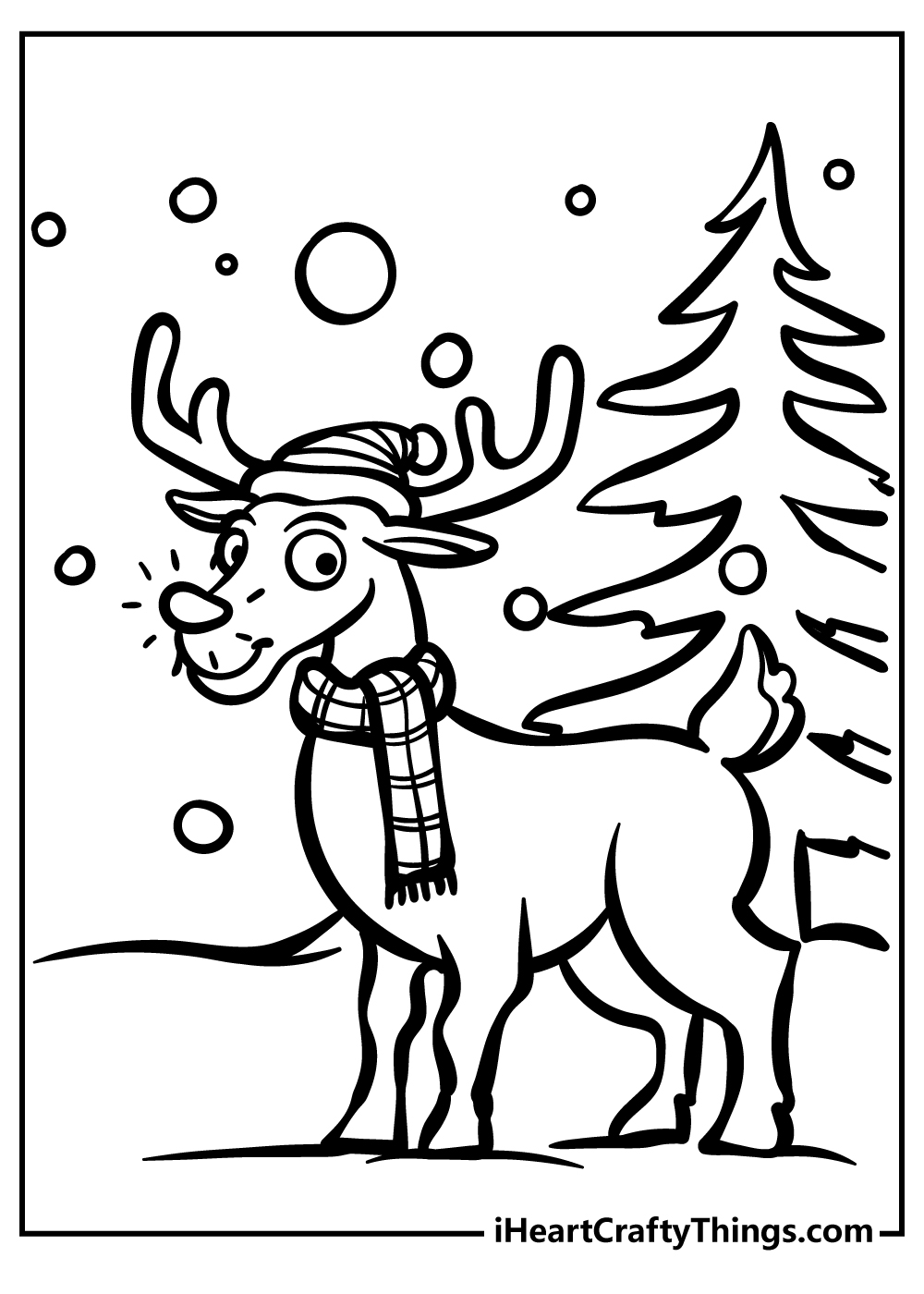 Here we have a more detailed depiction of Rudolph for you to color. He is looking very happy, and you could draw in some extra details to show why he is so pleased.
One idea would be to draw a tasty orange carrot in front of him that he is about to munch into!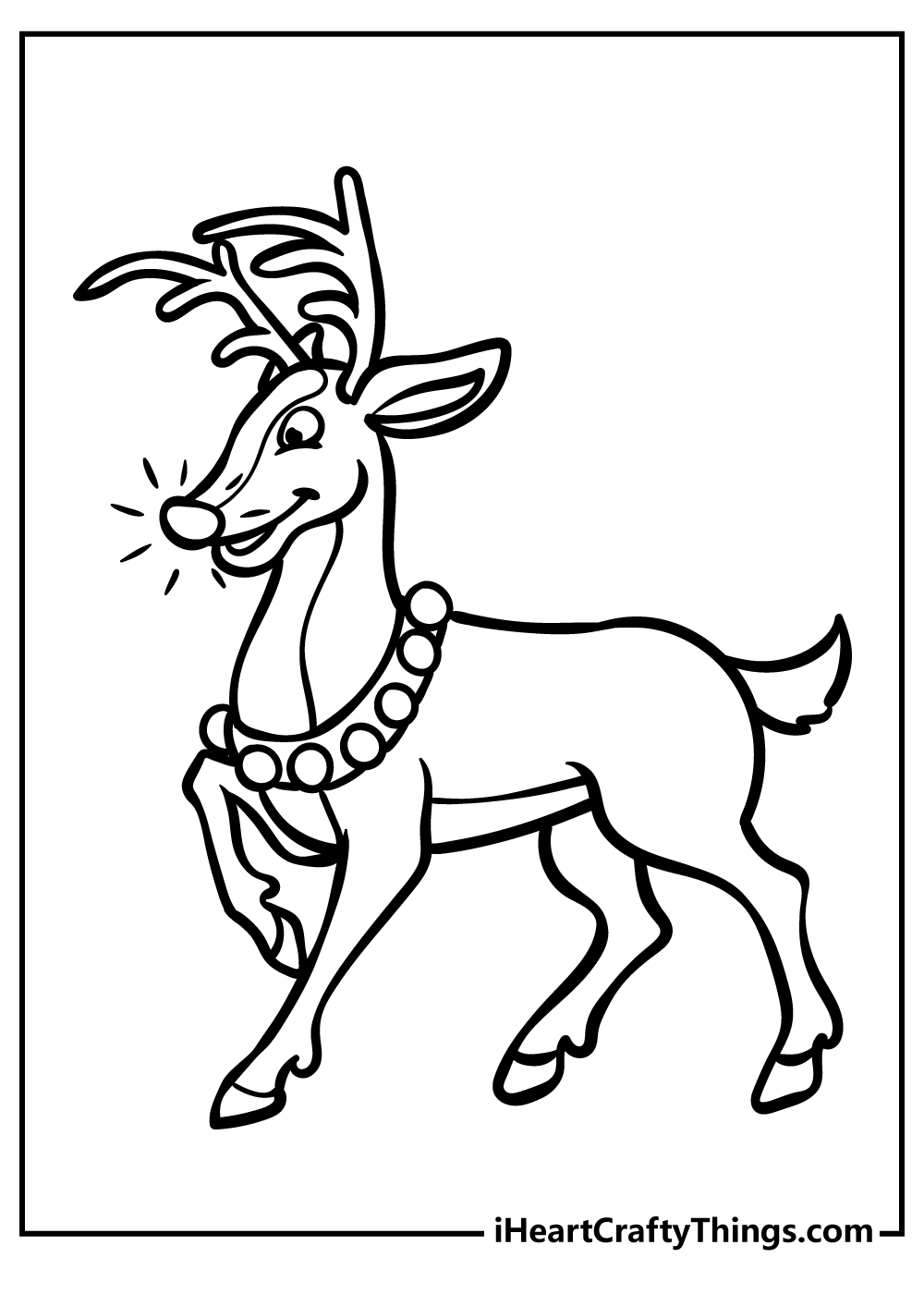 There is a creative touch to this next page, as Rudolph is wearing a Christmas wreath as a necklace!
This not only looks adorable but also lets you use some colors like red and green to make the picture pop even more. We know this one will look so great when you're finished with it!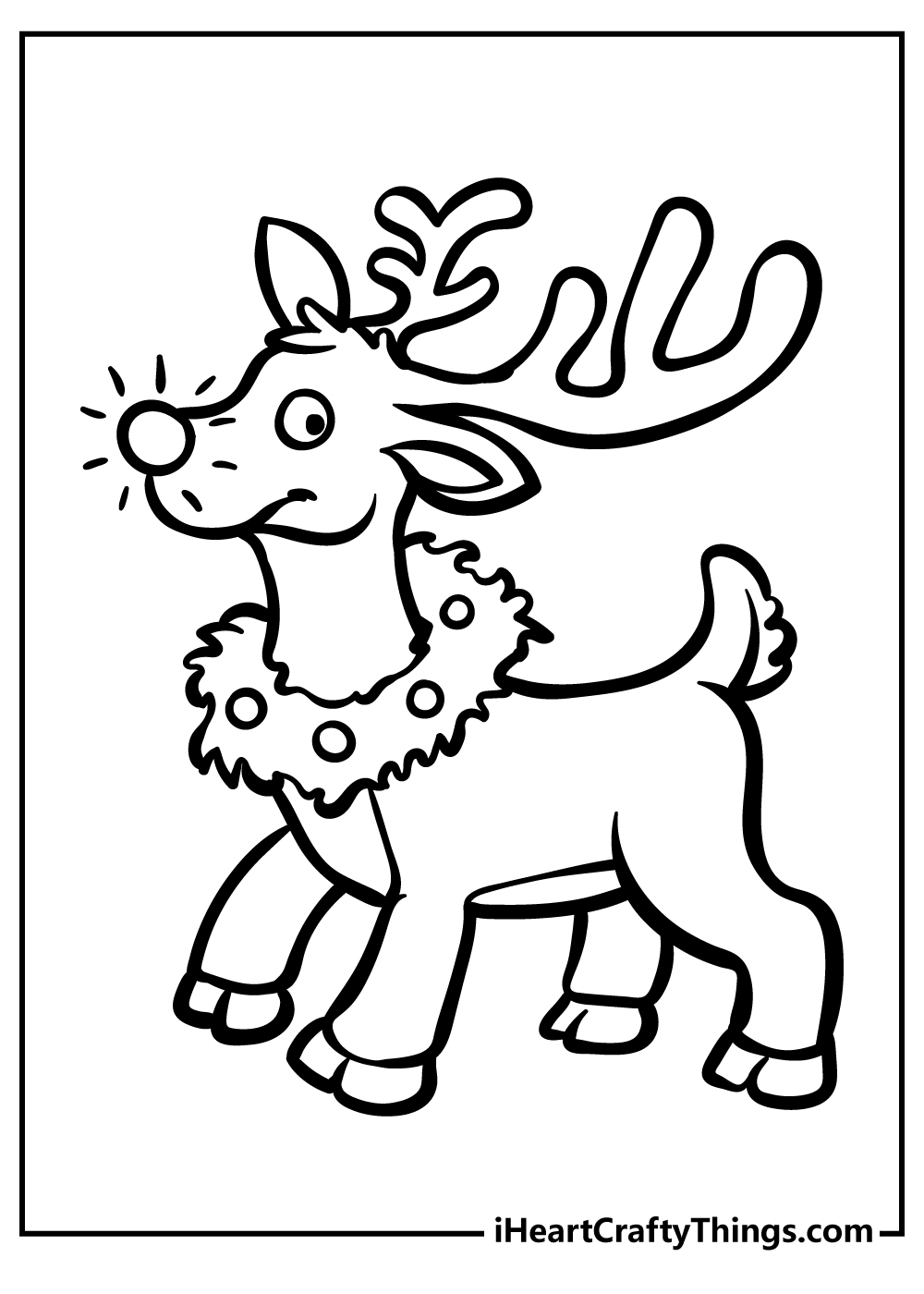 Once again, we have a page that has a similar concept to the previous one but is done in a really different style.
This time, the depiction of Rudolph is pretty detailed and less cartoony, but it is still really adorable. We would use some slightly more realistic colors for this one, but what will you go for?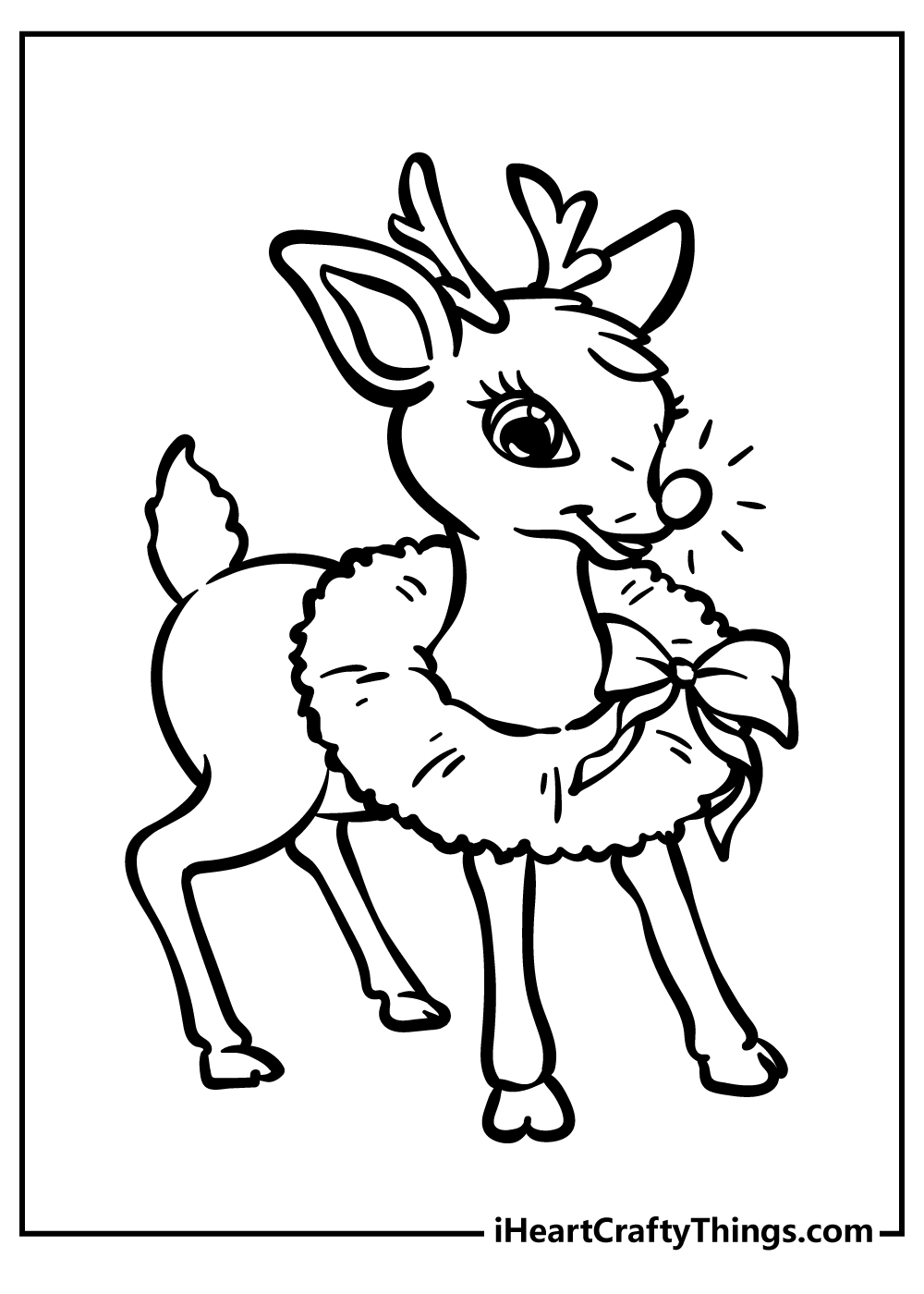 A very cozy portrayal of this iconic reindeer is up next for you to color in this Rudolph coloring printable! He is again wearing a nice warm scarf, and his big red nose is on full display as well.
Will you draw a background to finish this one off? If you do, what kind of scene would you create around it?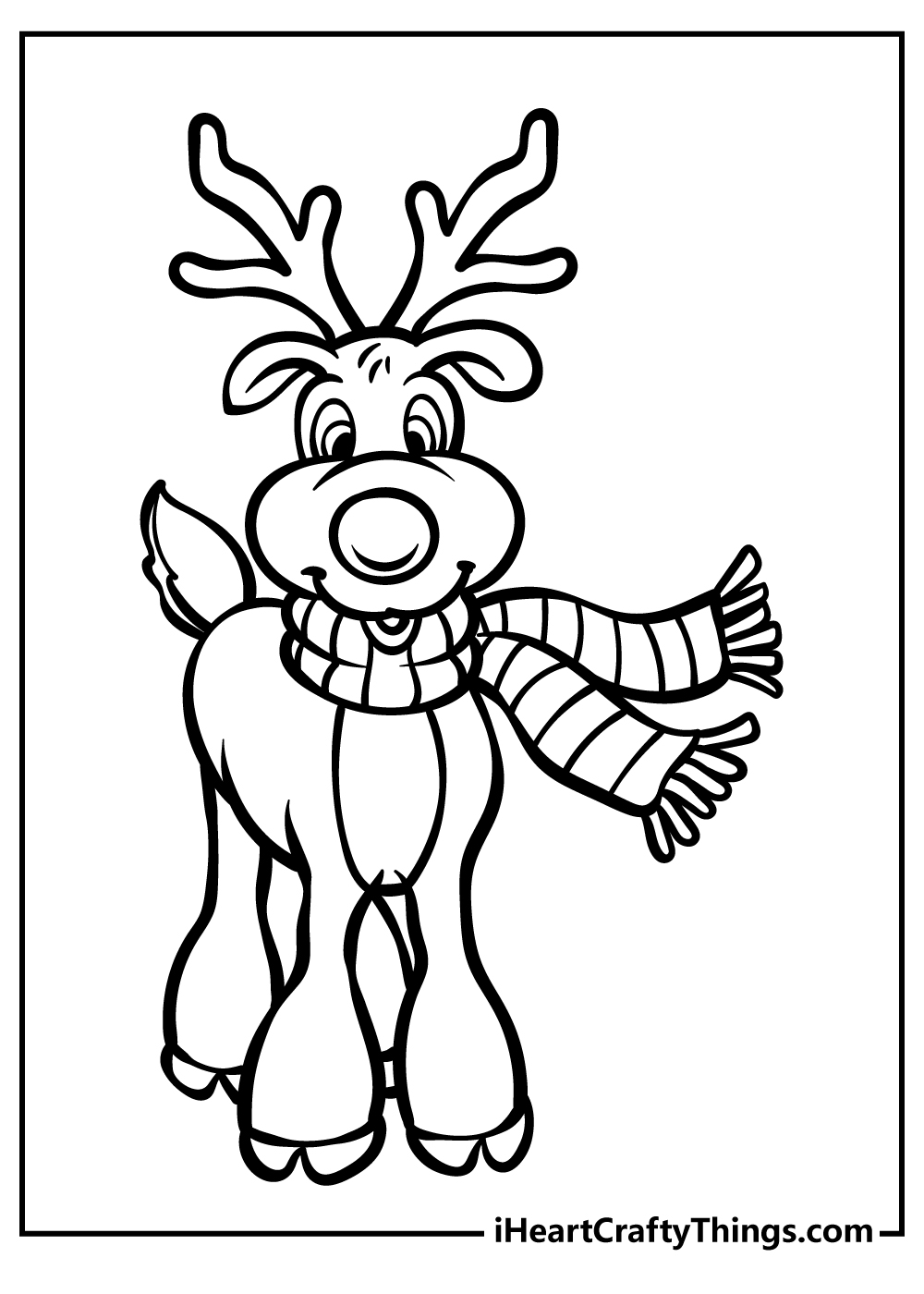 Rudolph is once again looking utterly adorable in this picture! The way he's drawn here almost makes him look like a big cute puppy with antlers, and his design has a lot of expression to it.
This would be another one that you could have fun adding some details to! We think it could be great to add some toys for him to play with, but what else can you think of?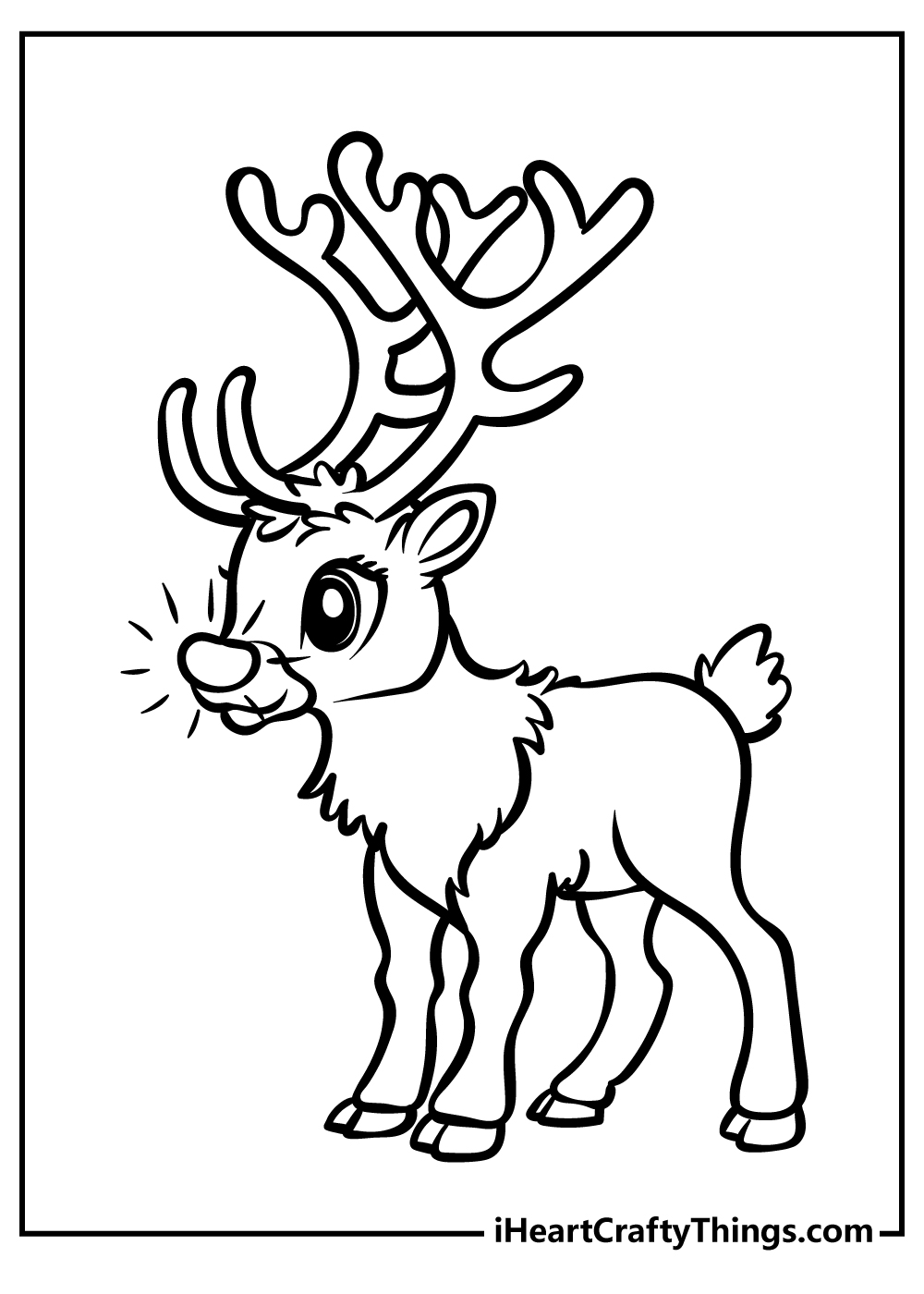 We simply love this next portrayal of Rudolph, as it has so much character to it! It looks like he is leaning on a table, and that opens up some possibilities.
We think it would look cool to draw that table and then add some objects on it to show what he is up to. What kinds of fun ideas would you have for this kind of scene?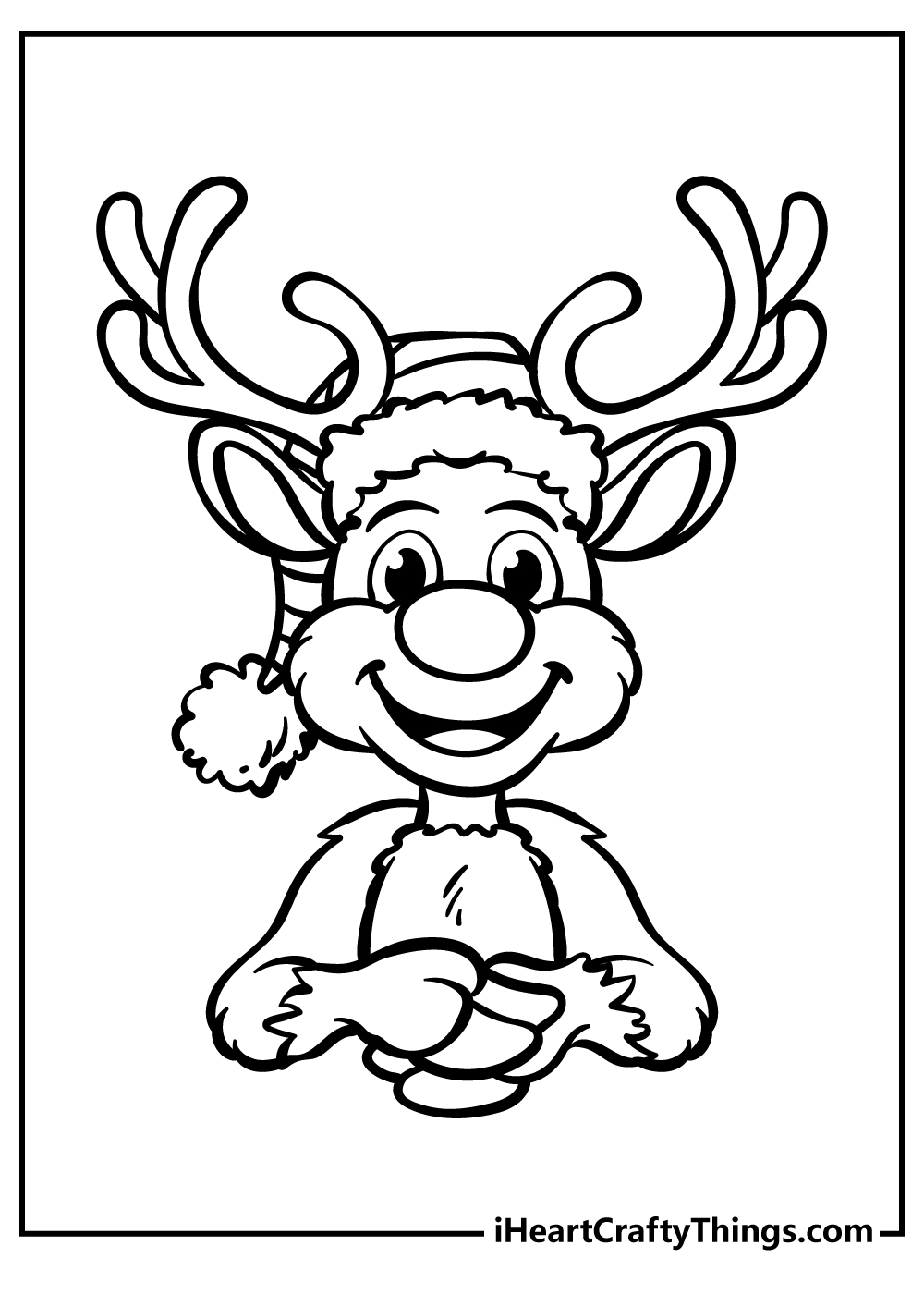 The focus is on Rudolph's face in this next picture, and we get a great look at some finer details. He is wearing a Santa hat, and his nose is big, bright and shining.
When you have colored his face here, you can also have fun filling in the background! How do you think you would go about doing that?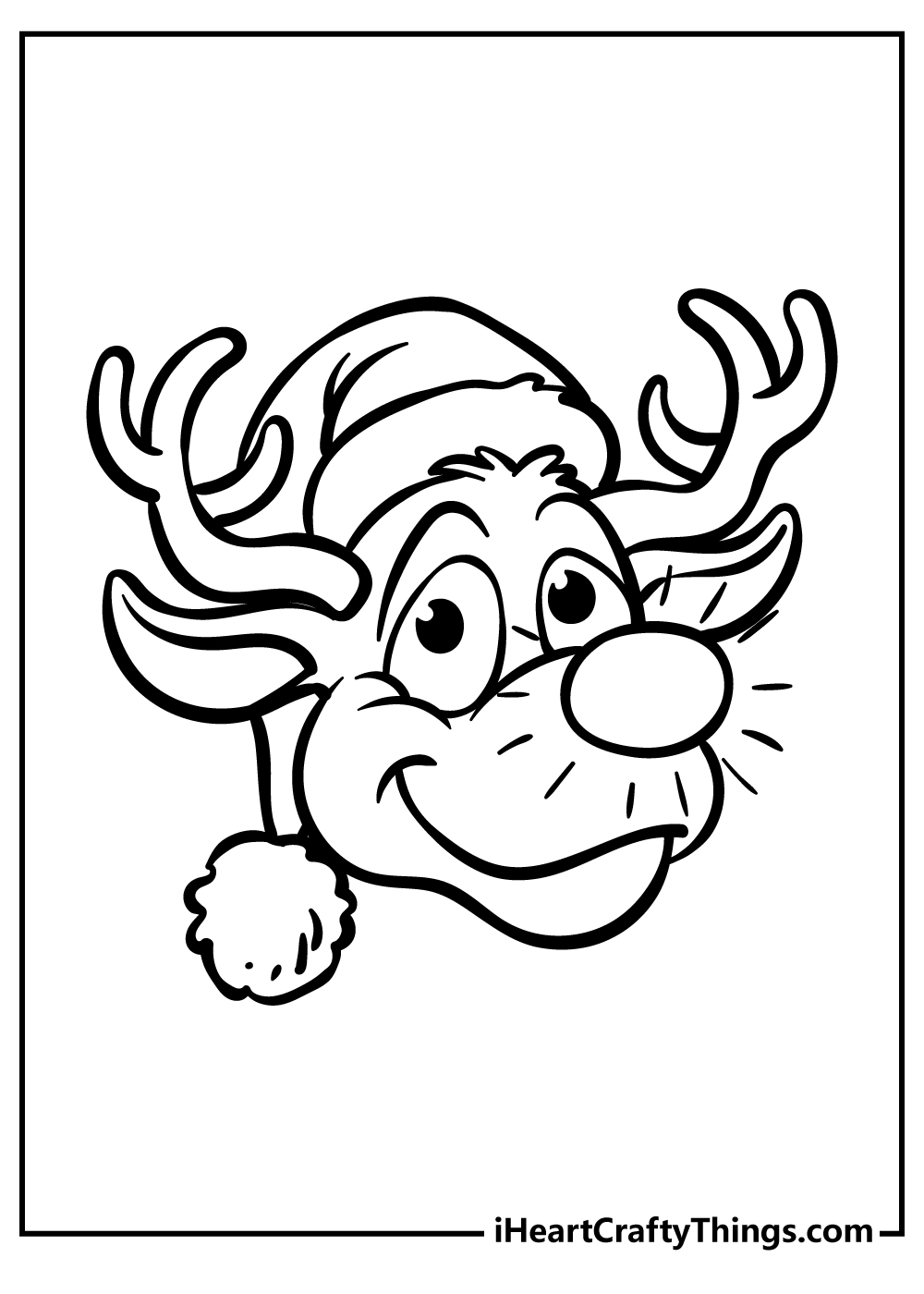 We have another close-up on our pal Rudolph in this next image. He is again drawn in a more detailed, realistic style, and there are even more great details to fill in here.
This is one where you may want to use mediums like colored pens and pencils, as they would make coloring these finer details much easier.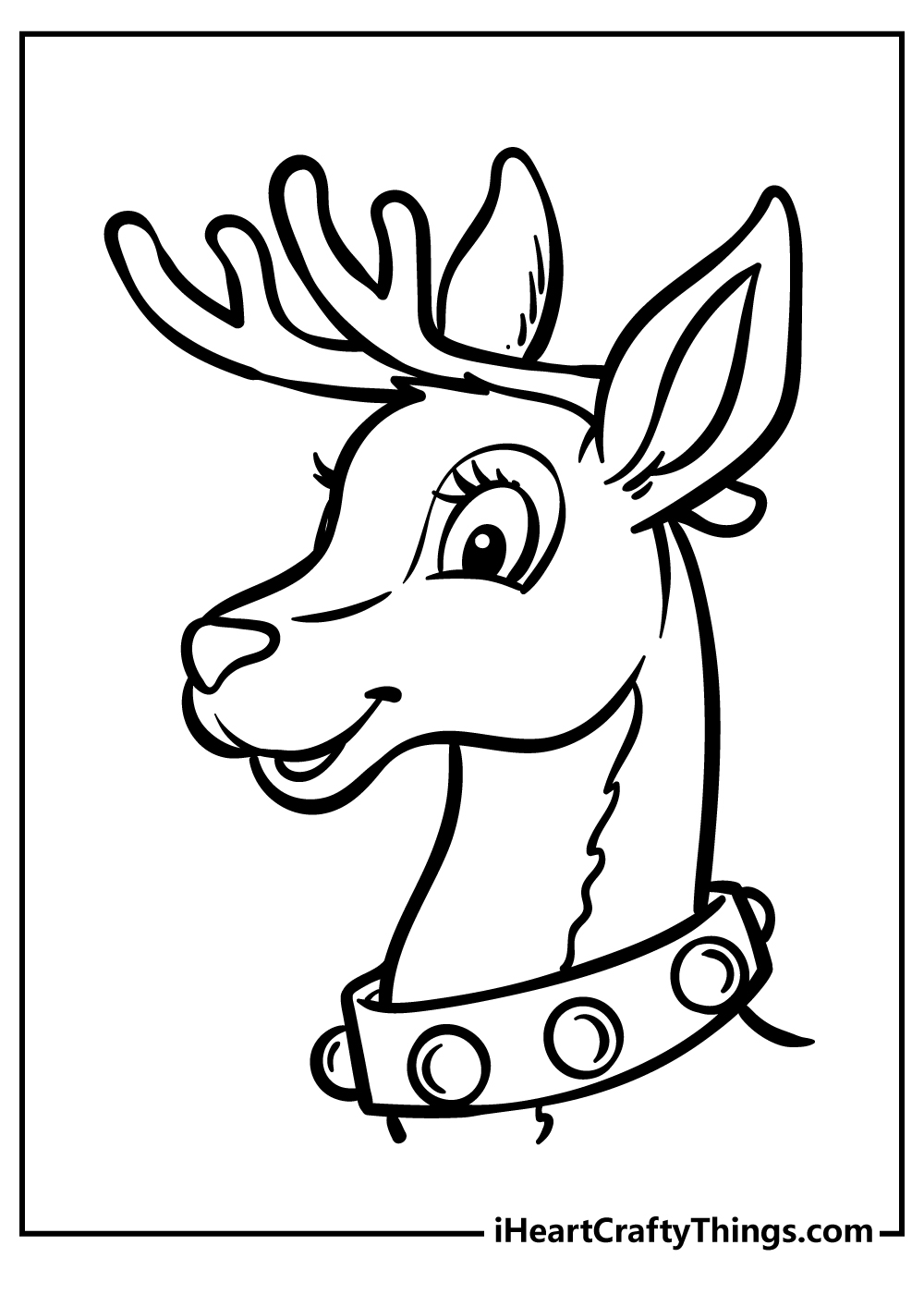 This is another adorable Rudolph scene that we have for you! This one shows him as a young reindeer, and he seems delighted by his own shining nose!
He is wearing a harness that looks like he's about ready to lead Santa's sleigh, so this would be another good one to add some extra details to.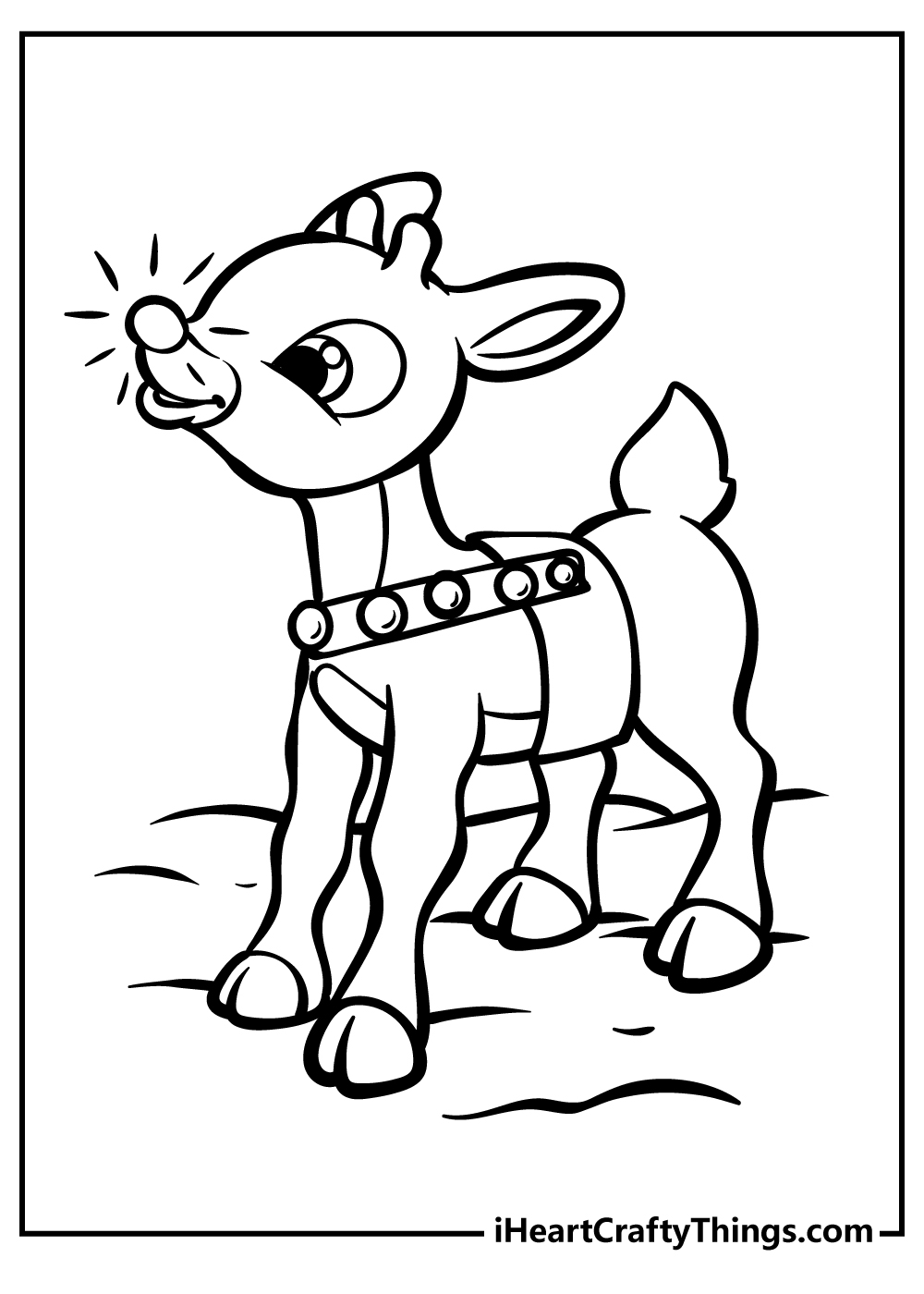 It's time to play in the snow for this final Rudolph coloring sheet that we have for you!
In this last image of the collection, you can take everything you've tried and learned throughout the guide to create a truly wondrous image to close everything off.
Which colors, mediums and techniques will you use for this last picture?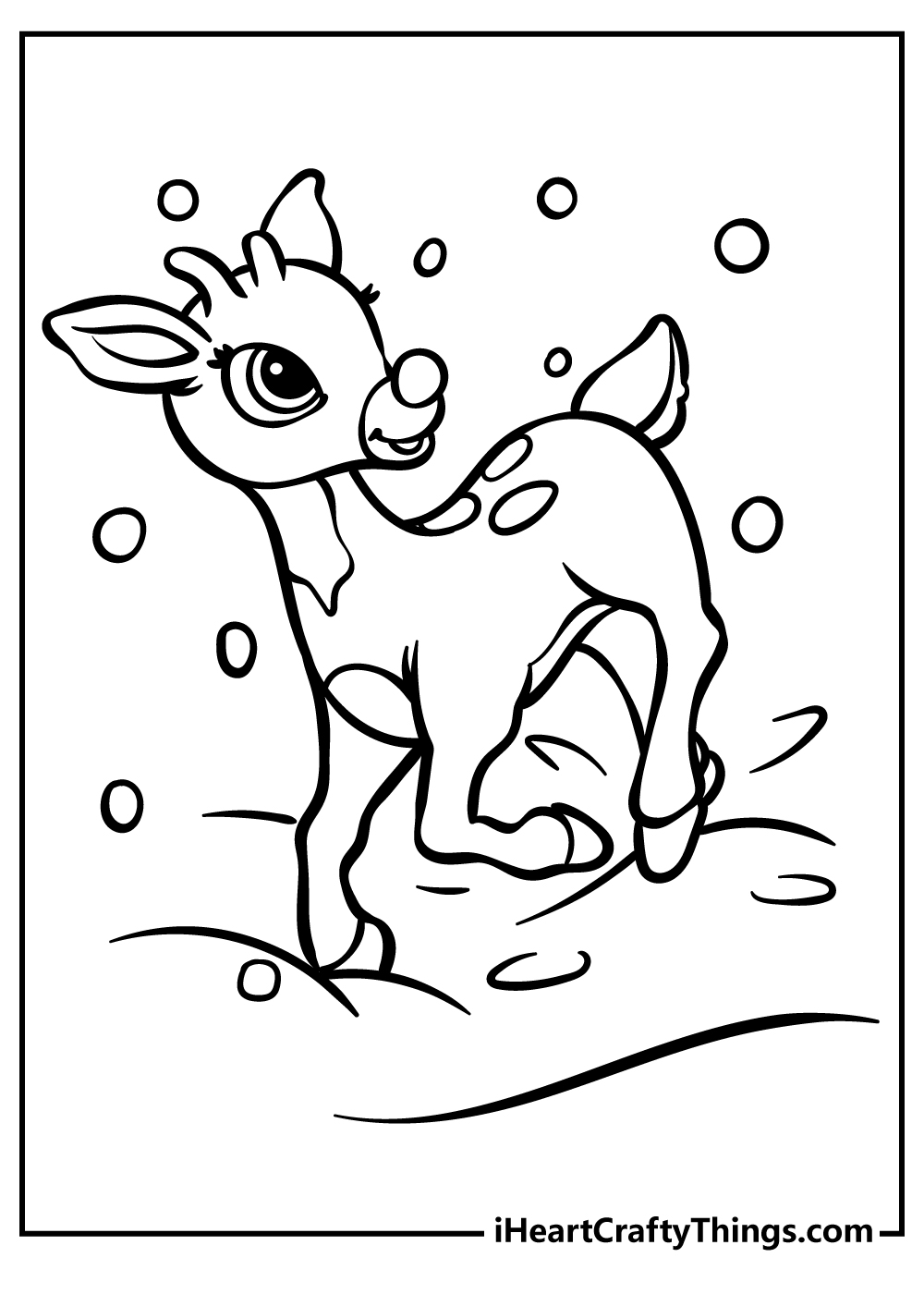 Rudolph Coloring Pages – Which will you choose?
We had a wonderful festive time with this collection of free Rudolph coloring pages for kids, and we hope that you did as well!
There were so many incredible pictures and scenes contained within the collection, and we hope you had lots of fun getting creative with them.
When you have finished some of these pages, we would love it if you would share some of your finished pages on our Facebook and Pinterest pages for us to see!