When we imagine Christmas, we often think of Santa Claus and, of course, his Christmas reindeers maneuvering his sleigh. Without the reindeers, Santa Claus wouldn't be able to deliver gifts all around the world.
Reindeers are very fascinating creatures with physically distinct features. So, it's not a surprise that it is one of the most-requested subjects for our coloring pages catalog. You've asked for it, so we delivered. So without further ado, we present to you: 10 brand-new, original Christmas reindeers coloring sheets that you can enjoy with friends and family.
Depending on the season, a reindeer's color varies from black to white. You can opt to color them exactly how they look like or pick any color you like! Feel free to mix and match colors! Why not try experimenting with different coloring materials as well?
Have fun and use your imagination to bring these reindeers to life!
Christmas Reindeers Coloring Pages — Free to Print and Color
The young reindeer on this Christmas reindeers coloring page appears to be looking right at you. It is wearing a Christmas hat and a collar with a bell attached to it.
With its feminine features like her long eyelashes and slender body, she must be a female reindeer! What colors will you add to this printable?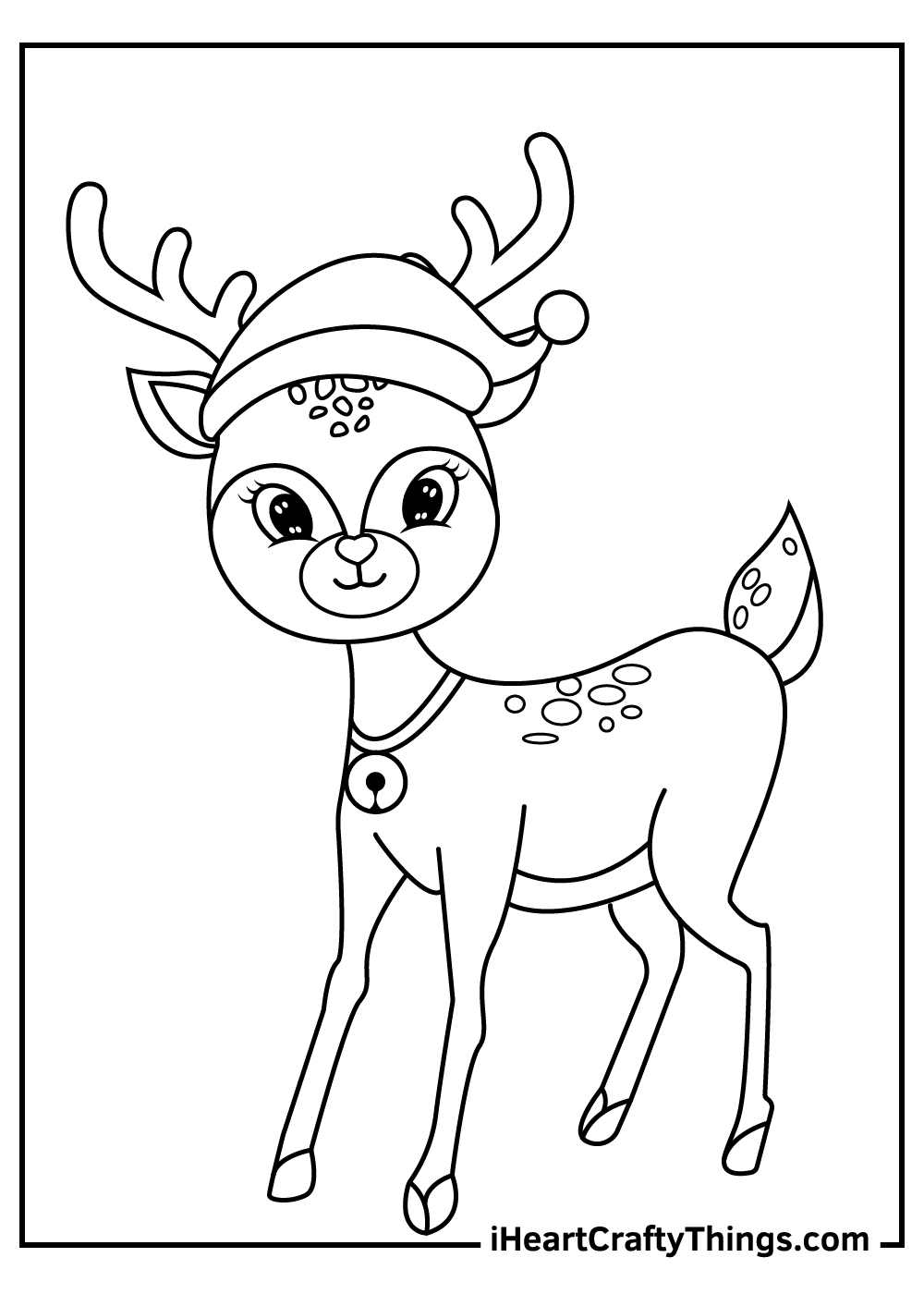 Look at this sweet Christmas reindeer: she has brought some presents for you! And it is not just one, but two presents!
Make this Christmas reindeer coloring page pop out with all those colors on those presents! We are wondering what is inside those two presents! We can't wait to open it!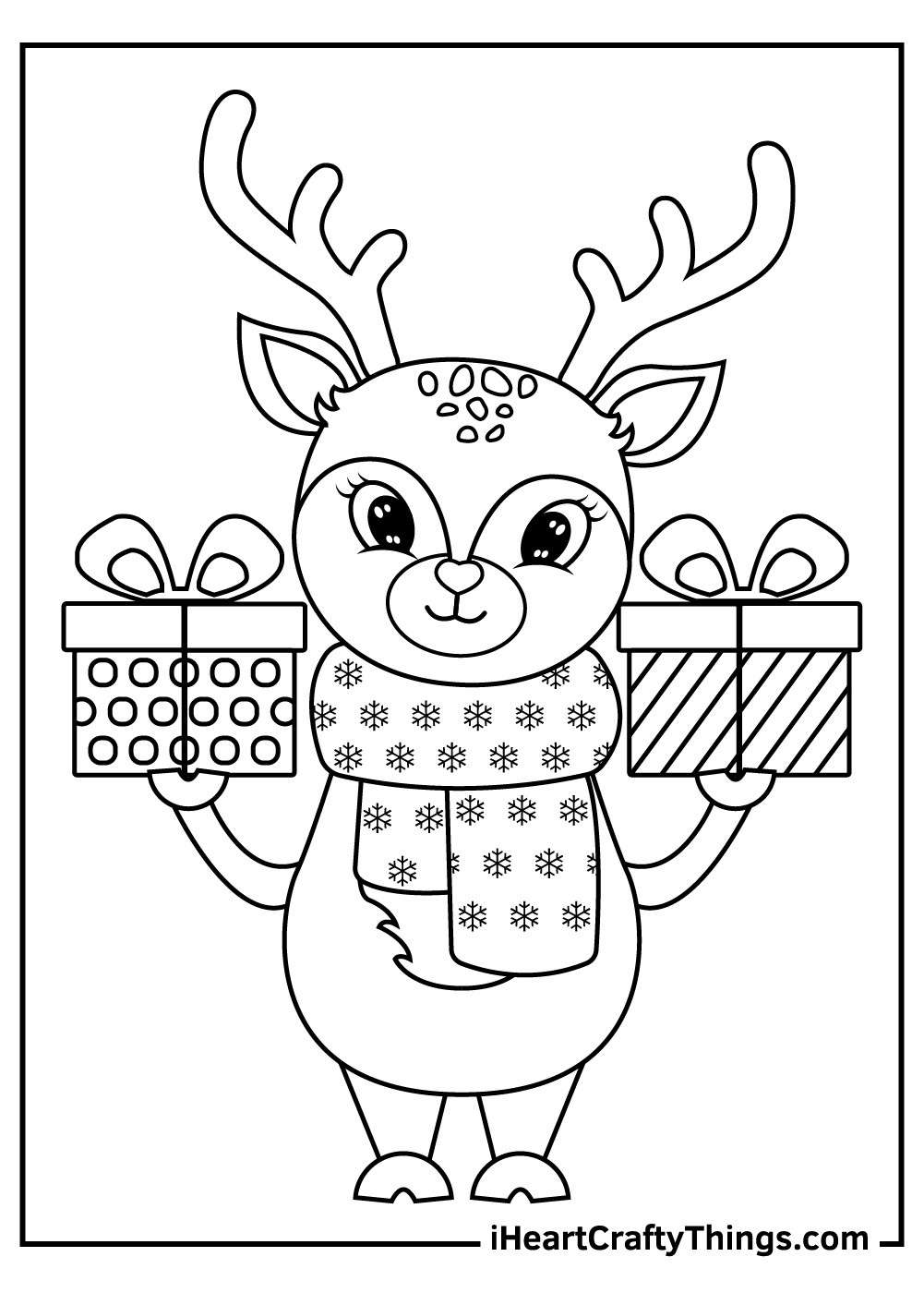 A lovely, young Christmas reindeer smiling with its eyes closed on this Christmas reindeers coloring page. We imagine this reindeer will be surprised when she opens her eyes and discovers the presents in front of her!
We're sure you will color this beautifully, don't forget to add a vibrant red color to the reindeer's Christmas cap!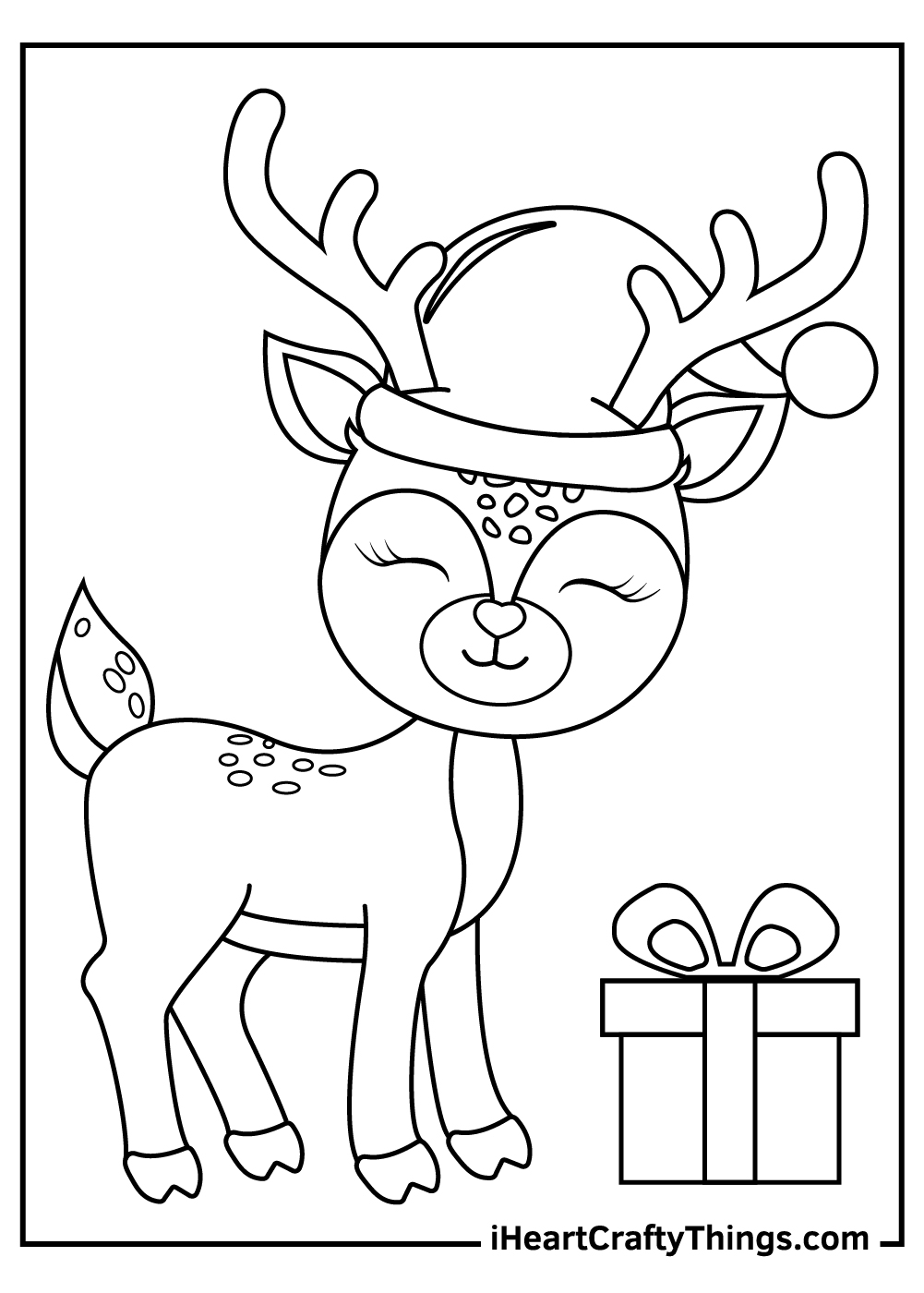 This Christmas reindeers coloring page shows a young, smiling Christmas reindeer right in front of a huge Christmas tree with two presents underneath. The reindeer looks excited to open the gifts!
We suggest using a wide range of vibrant colors to make the tree look dashing. Colors such as red, yellow, or blue would surely complement the rich green color of the Christmas tree!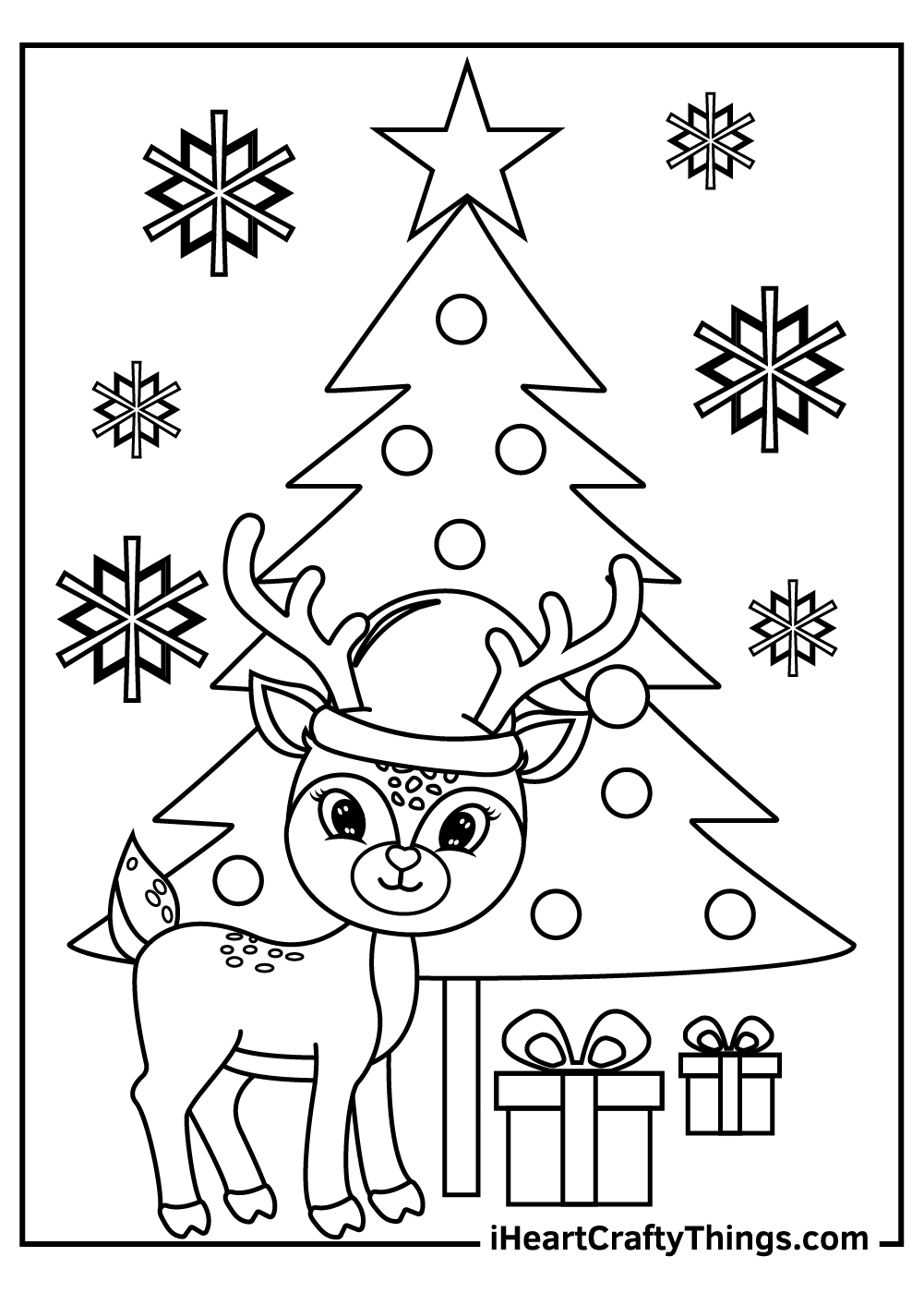 This Christmas reindeer coloring page is a bit of a mystery. A young, adorable reindeer appears to have popped out of the box. Could it be a gift from Santa Claus?
We would surely love to receive a gift with a live reindeer inside! Imagine having your very own Christmas reindeer living in your backyard. That must be so fun!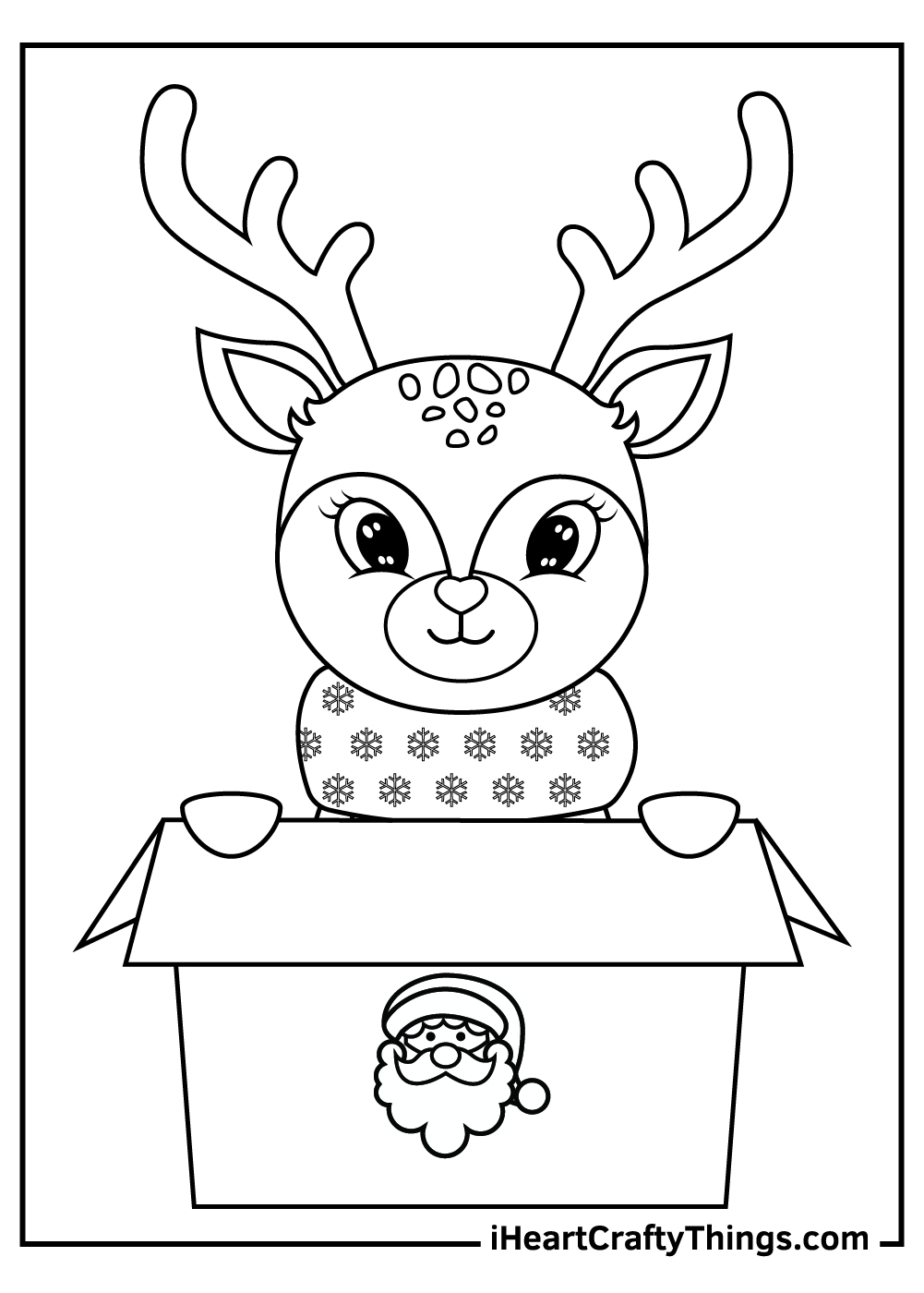 This reindeer seems to be having a lot of fun despite the cold weather outside. Snowflakes are falling from the sky, covering the trees and the mountains in the horizon.
Choose the right colors and this Christmas reindeer coloring page will pop out and look merry! What colors do you think would look great on this Christmas reindeers coloring page?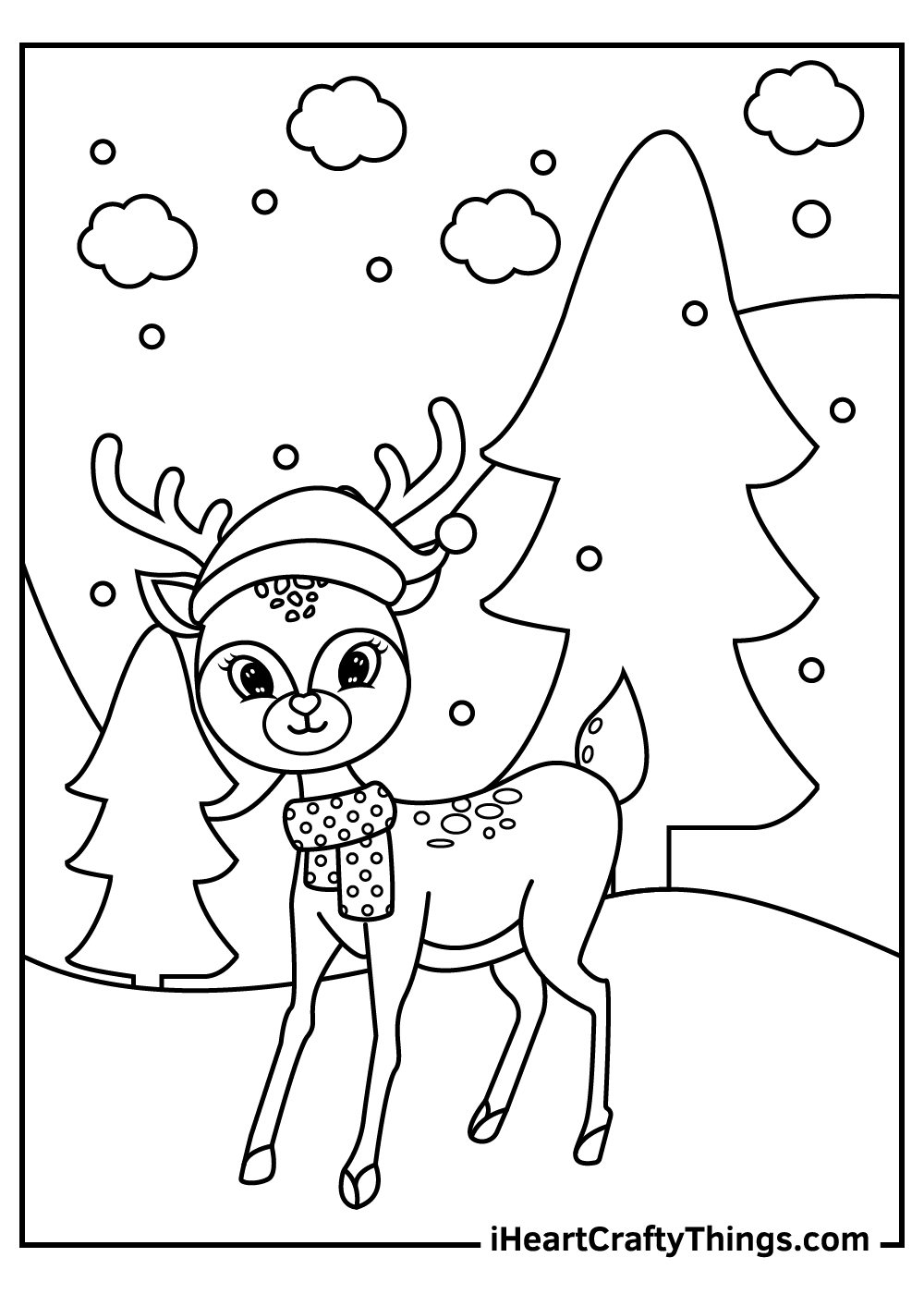 This beautiful Christmas reindeer coloring page is displaying a young reindeer smiling as it stands inside a snowglobe that contains two Christmas trees and a label "Joy to the world".
Make this snowglobe pop out by using the right colors! A variation of vibrant and vivid colors would surely make this printable look merry!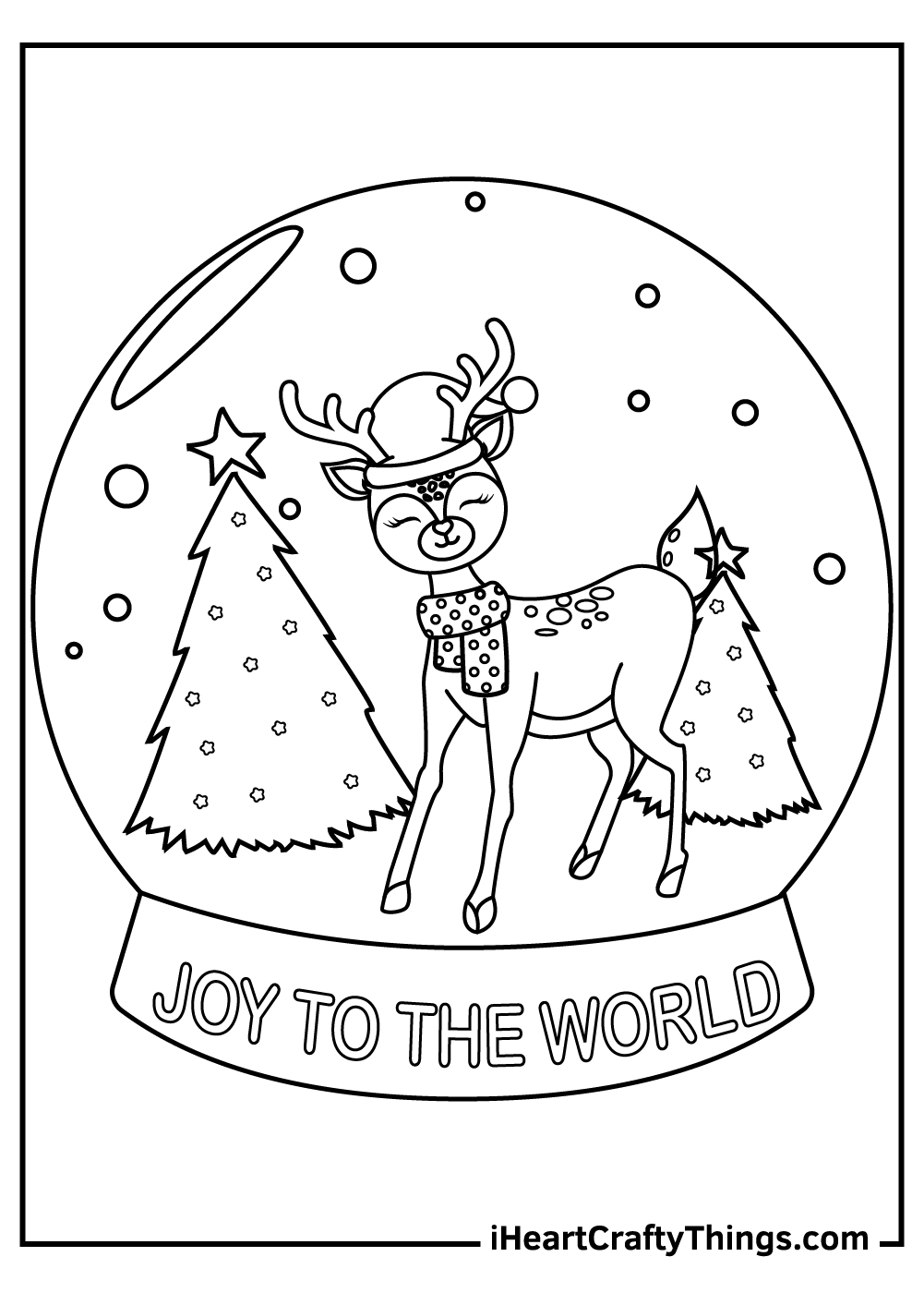 In this Christmas reindeer coloring page, there's a young reindeer that looks calm and composed, walking nicely instead of stotting.
The gait known as stotting or pronking is one where all four feet are off the ground at the same time. This allows the reindeer to make changes in direction fast.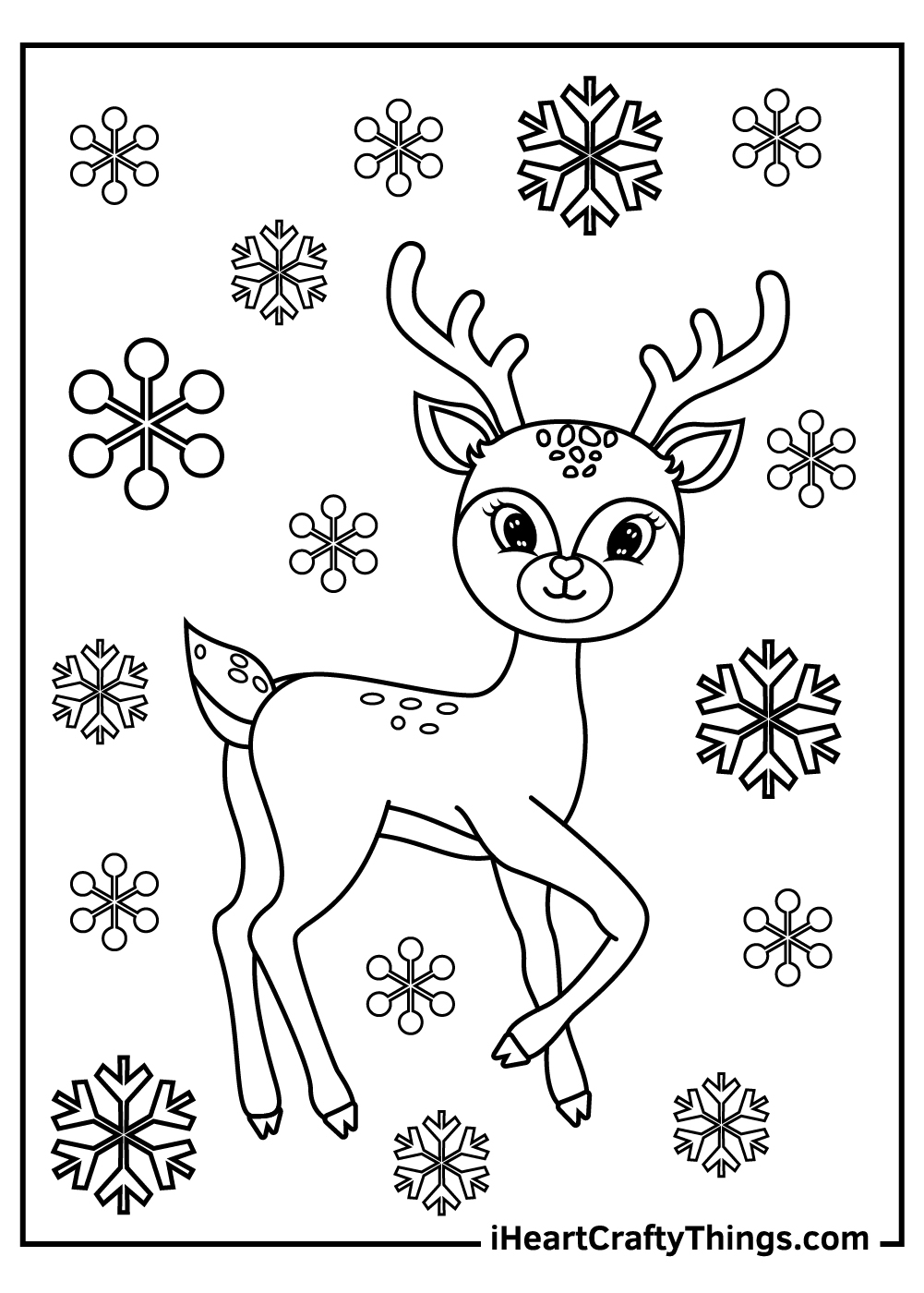 The young smiling reindeer is holding a signage with the label "Merry Christmas" on this Christmas reindeer coloring page.
Did you know that a reindeer is also called a "caribou" in North America? The reindeer is a species of deer that is native to the Arctic, sub-Arctic, tundra, boreal, and mountainous regions of northern Europe, Siberia, and North America.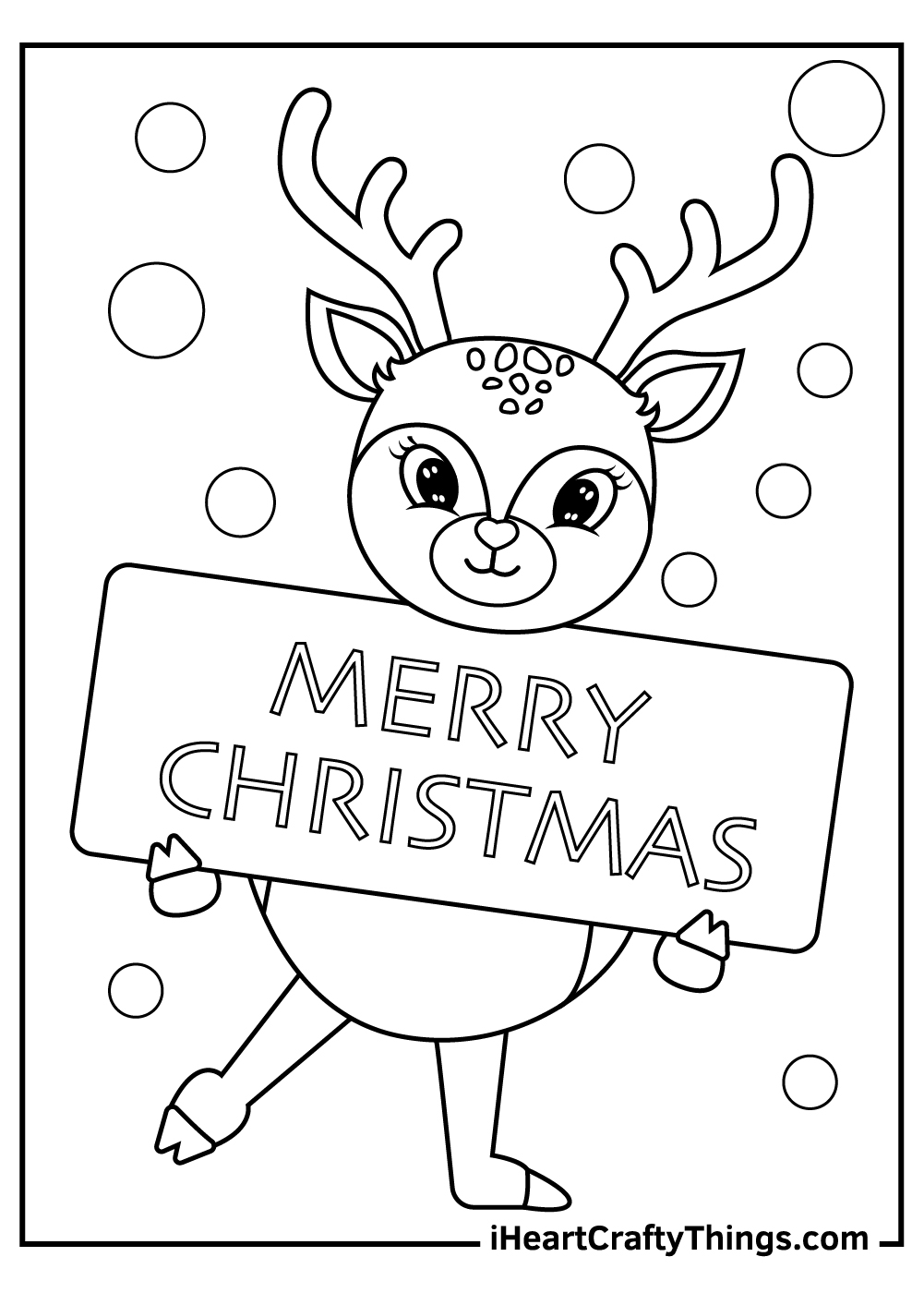 This Christmas reindeers coloring page perfectly captures the beauty of a reindeer up close and personal. It looks fabulous with its huge gleaming eyes and long lashes—so pretty!
The snowflakes in the background adds a dramatic effect to this lovely reindeer's glamour. What colors do you imagine would look great on this printable?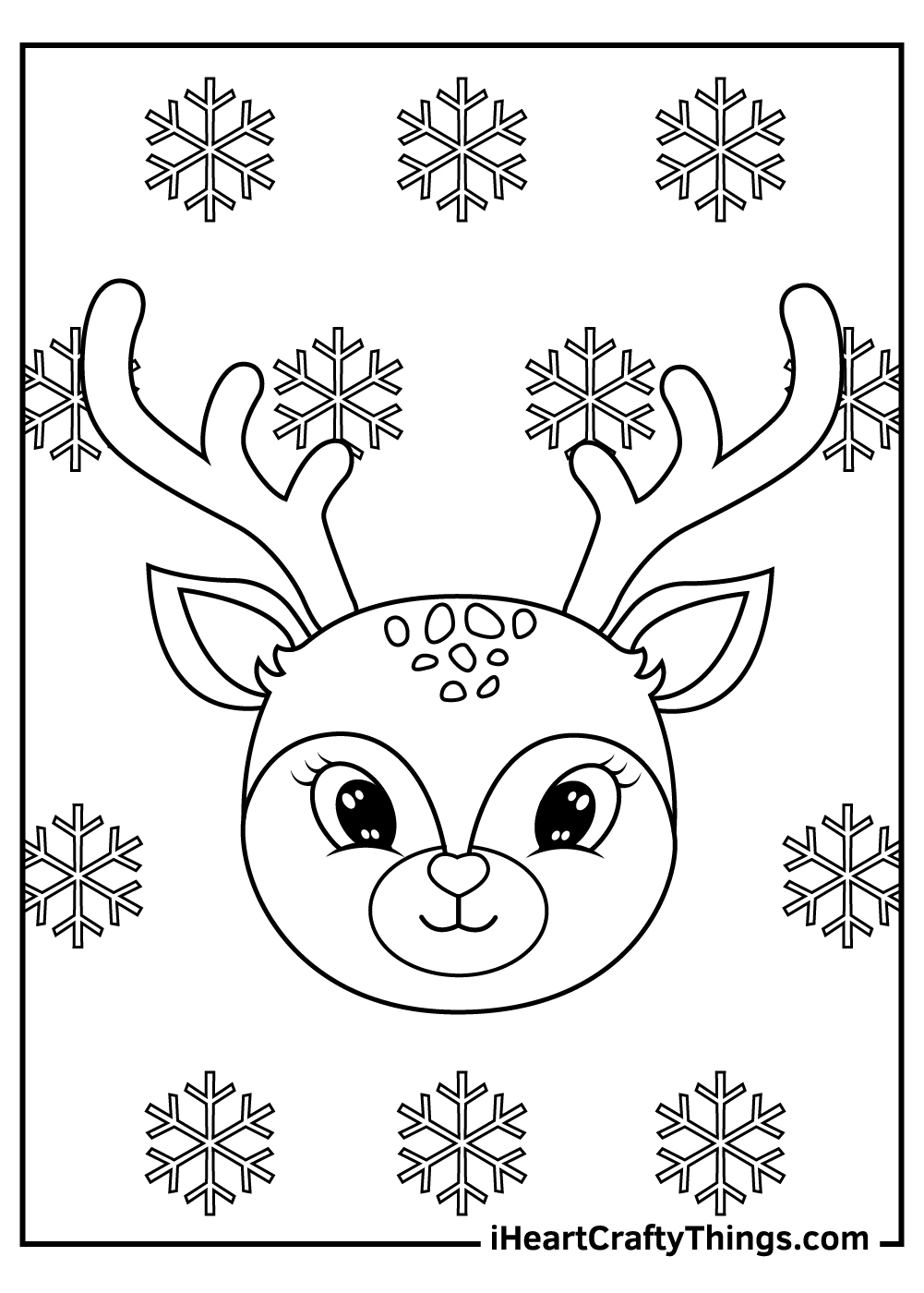 Christmas Reindeers Coloring Pages — Which image will you choose?
We hope you enjoy these Christmas reindeers coloring pages. It consists of simple and intricate illustrations of charming reindeers celebrating Christmas. Coloring these Christmas reindeers coloring sheets is the perfect activity for kids who love Christmas.
Remember, all of our crafts and coloring printables are 100% free for you to download, print, and color. We are always updating our catalog and uploading new content to our catalog. So, don't forget to keep re-visiting our website to continuously enjoy all-new coloring pages.
Once you've finished coloring your Christmas reindeers coloring printables, you must be very proud of yourself for completing a masterpiece—as you should be! Make sure to show off your work of art and share it on our Facebook page. We're sure it looks amazing!
We can't wait to see all of your colorful Christmas reindeers!