On this page, you will find 25 all new Christmas coloring pages that are completely free to print and download.
Want your child to feel that Christmas is the best time of the year? Our free printable Christmas coloring pages collection will help your child get into the Christmas spirit faster.
Christmas is that time of the year of joy and gift-giving that brings families together. Our coloring sheets will help you have a great time together.
Suitable for kids of all ages, these free printable Christmas-inspired coloring sheets are perfect for keeping them entertained on Christmas night.
25 Brand New Christmas Coloring Pages – Free to Print and Color
We have a truly tasty coloring treat for this Christmas coloring sheet! Candy canes are a traditional Christmas treat, and they come in many different flavors and variations.
With this particular one, you have the opportunity to create your very own perfect candy cane!
They will most often be a traditional red and white color scheme, but there are countless variations that they come in.
This would be a great chance for you to use some of your favorite colors to create a delightful festive treat!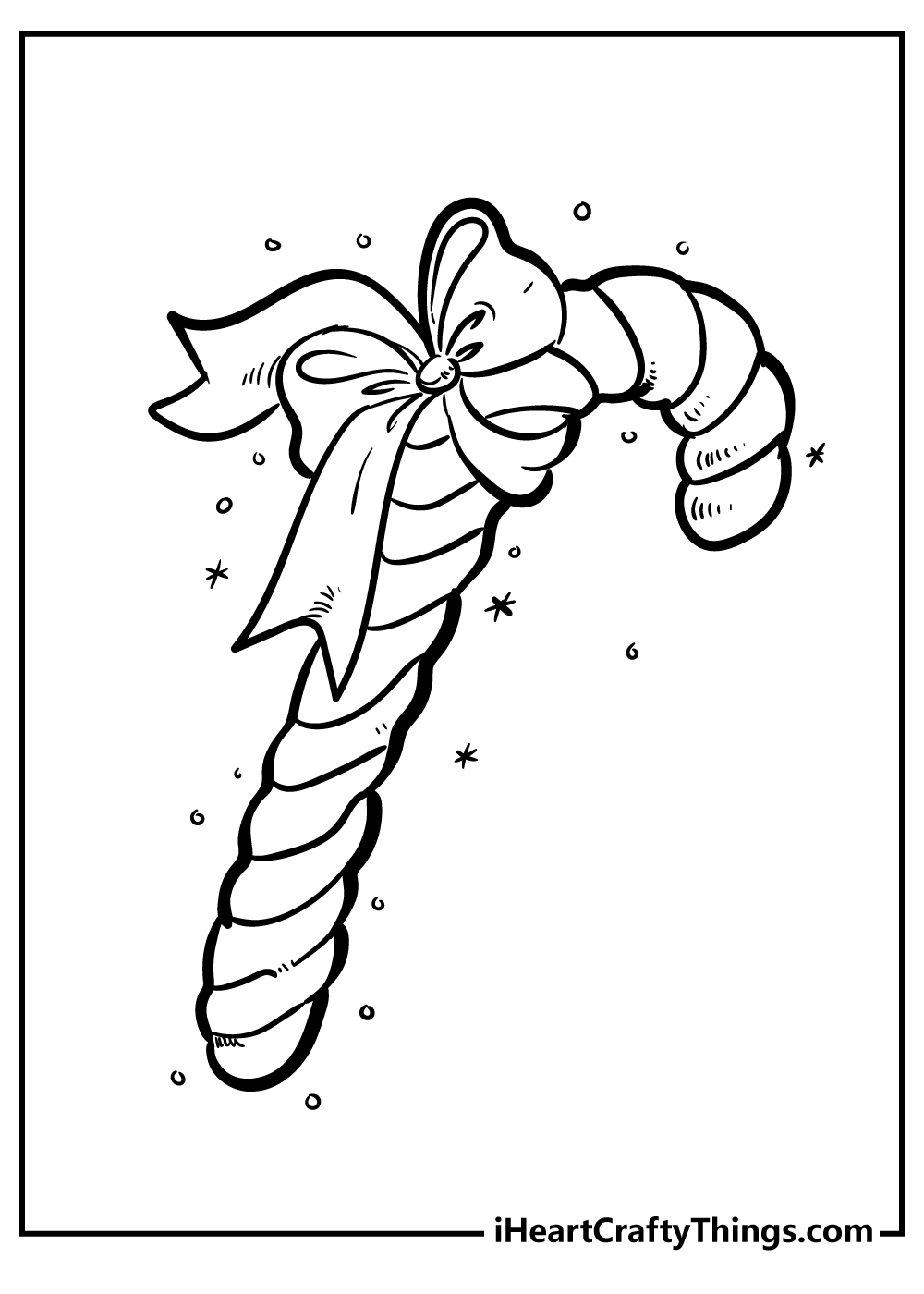 This Christmas coloring page features a smiling evergreen Christmas tree spreading holiday cheer. The fir tree is decorated with shiny round ornaments, sparkling lights, and a golden star tree topper.
The happy tree grins up at the viewer, its branch arms outstretched in a welcoming gesture. A red and white striped scarf is wrapped around its trunk. The tree stands tall on a snow-dusted tree stump.
In the background, unique snowflake shapes float down from a deep blue winter sky. The blank white space provides room for creativity in adding your own holiday elements.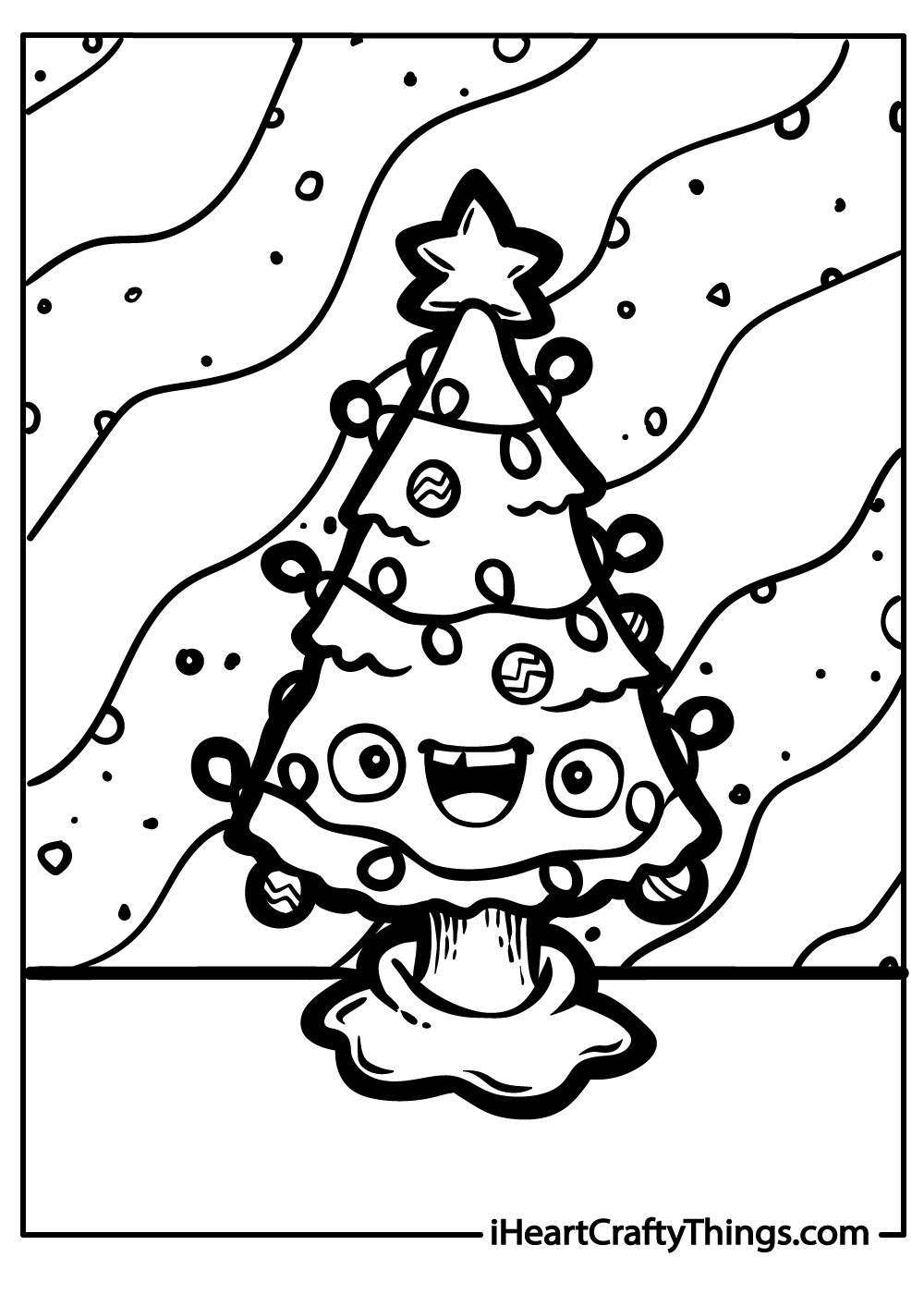 Another beloved aspect of Christmas is getting to hang various decorations around the house.
The Christmas stocking functions both as a decoration and a way to receive some smaller gifts on Christmas morning.
This page has one of these stockings, and it is filled with some tasty treats and gifts!
The design of the stocking allows you to use lots of different colors and patterns, and then there are details such as the holly leaves and candy inside of the sock.
We know this one will look amazingly colorful when you have finished with it!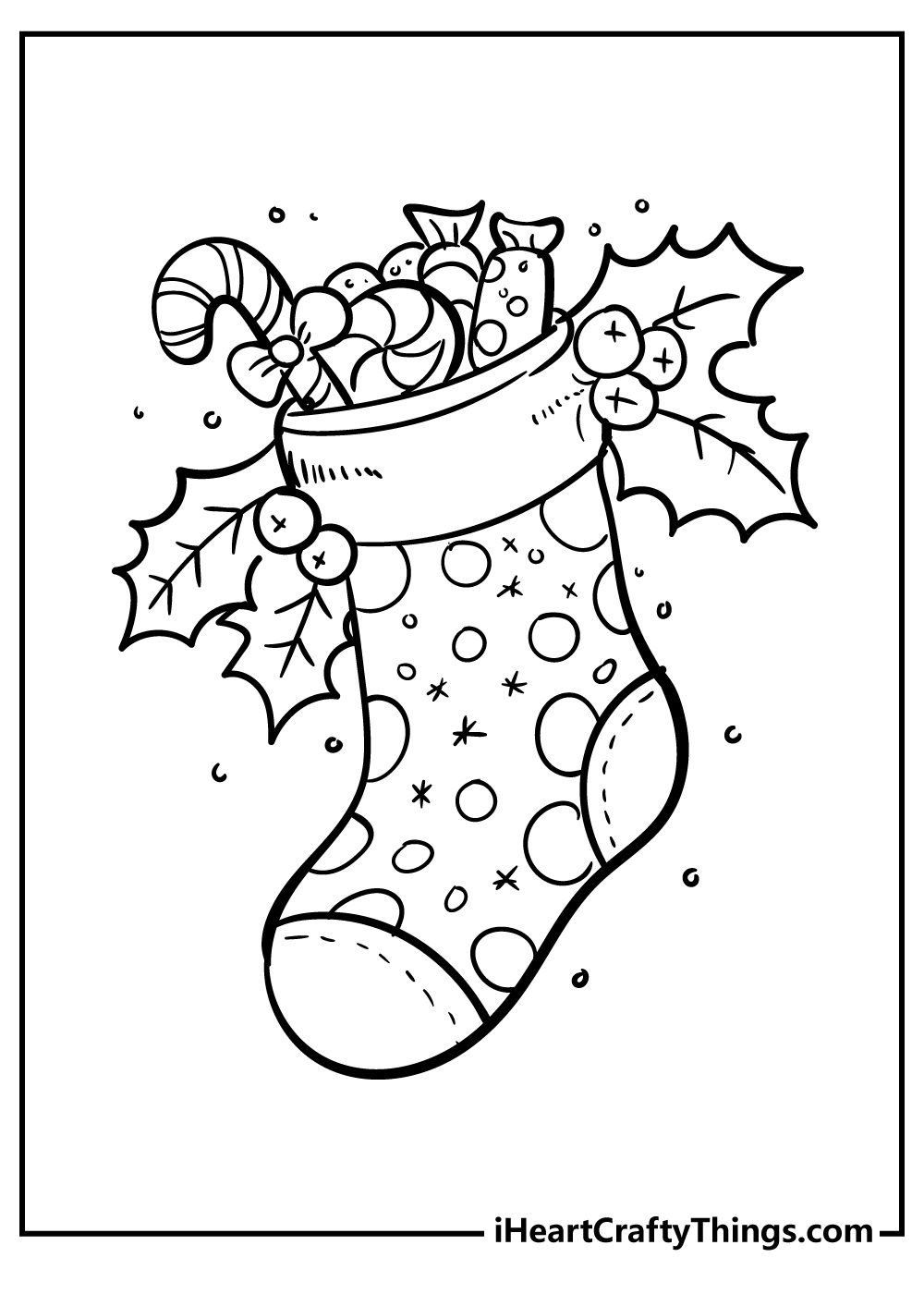 Candy canes are very popular decorations for the Christmas tree. They are also delicious snacks for your children.
This coloring page shows a cute candy cane with a large bow that would look amazing in any Christmas tree, and several small stars and circles surround it.
This coloring sheet allows your little one to get artistic with colors. Your child can color this cute candy cane red and white or reinterpret it as they like.
The bow can have whatever color your child loves the most, from pink to green, blue, or yellow. Your child can play with different color schemes.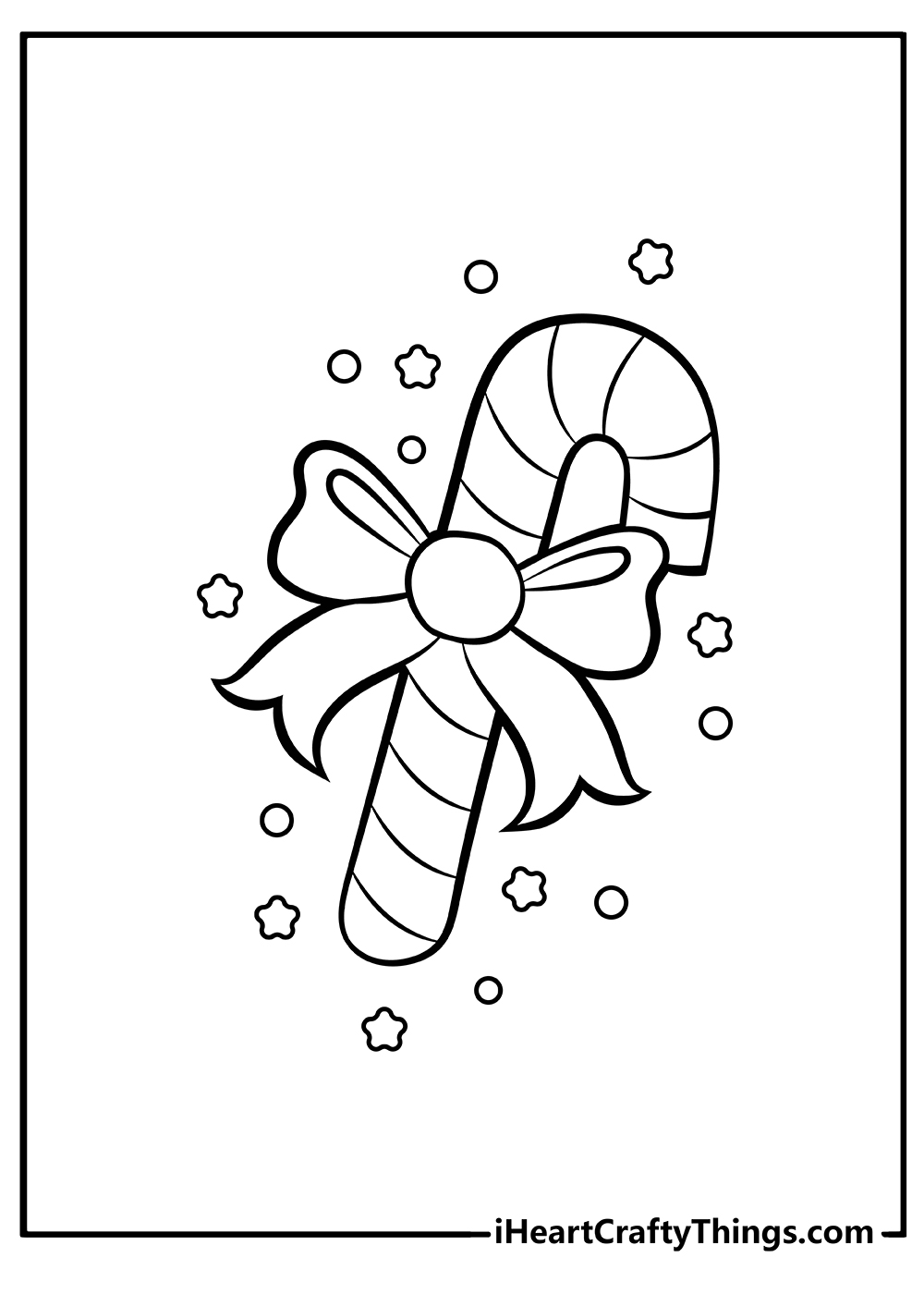 Every child wants to build a snowman during winter. Your child will also love coloring our next coloring sheet featuring a lovely, smiling snowman.
The snowman in this coloring page has plenty of accessories that your child can color in various shades.
Your child can color this cute snowman with blue and shades of grey to mimic snow color. Or, your child can let their imagination run free and color it whatever color they like the most.
The hat, the scarf, and the gloves of this lovely snowman can help your child experience various color shades.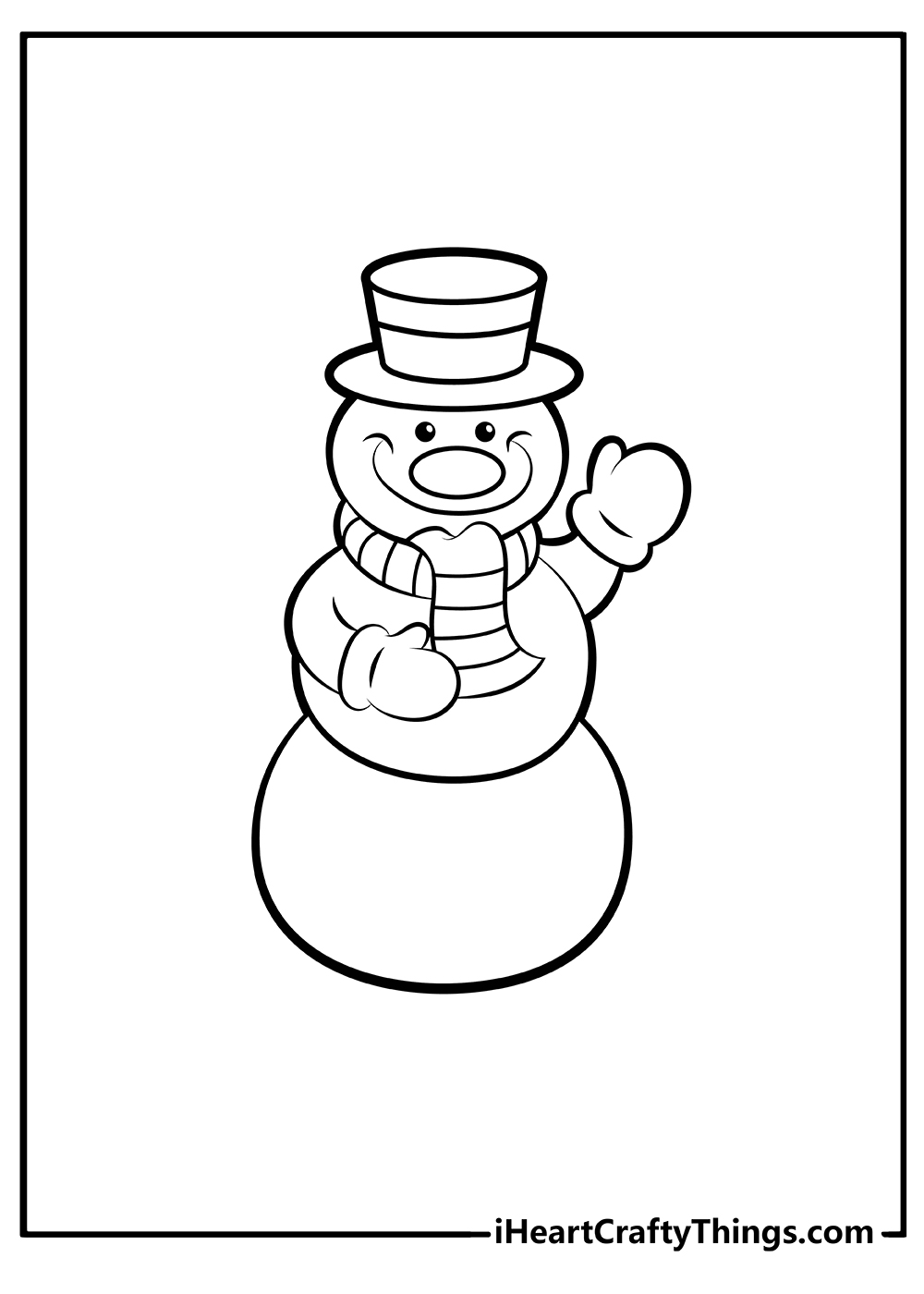 Celebrate the holidays with this elegantly decorated Christmas tree! The evergreen fir stands tall in a red pot with a gold pedestal base.
Atop the tree is a shining yellow star tree topper. Around the pot is tied a lush red velvet bow.
Adorning the branches are stripes of peppermint candy canes, adding festive sweetness. The tree is full and green, with layered branches perfect for hanging ornaments.
In the background are snow-capped hills under a night sky filled with swirling snowflakes.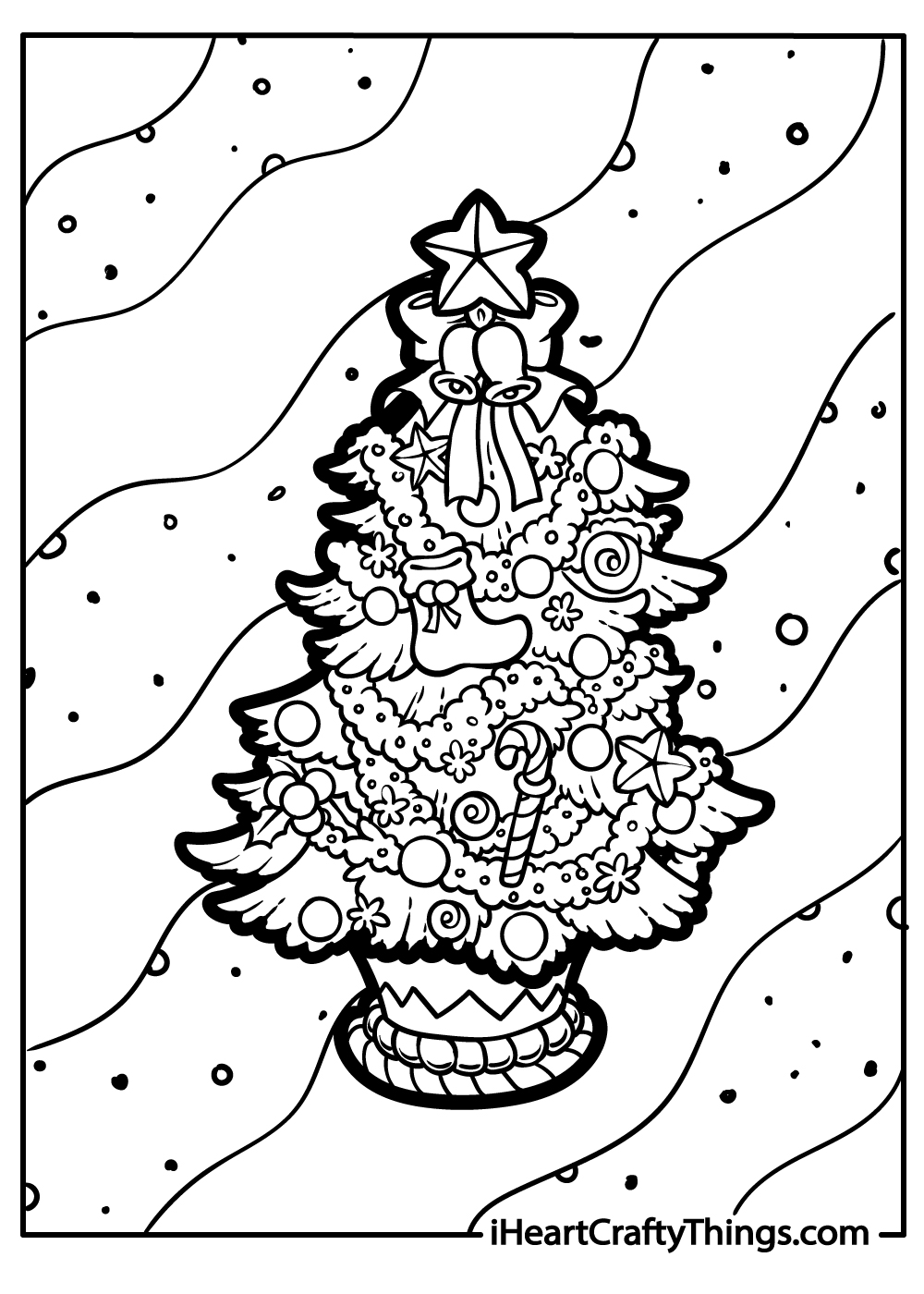 Our next Christmas-inspired coloring sheet looks very much like a Christmas card.
This page features the "Merry Christmas" message and plenty of cute wintery design details like snowflakes, stars, and delicious-looking candy canes.
Your child has plenty of space to play with various colors on this coloring page. They can go for the traditional Christmas colors, red and green, or play with different shades they like.
After coloring it, your child can offer this page as a Christmas card, or you can hang it in the Christmas tree as a decoration.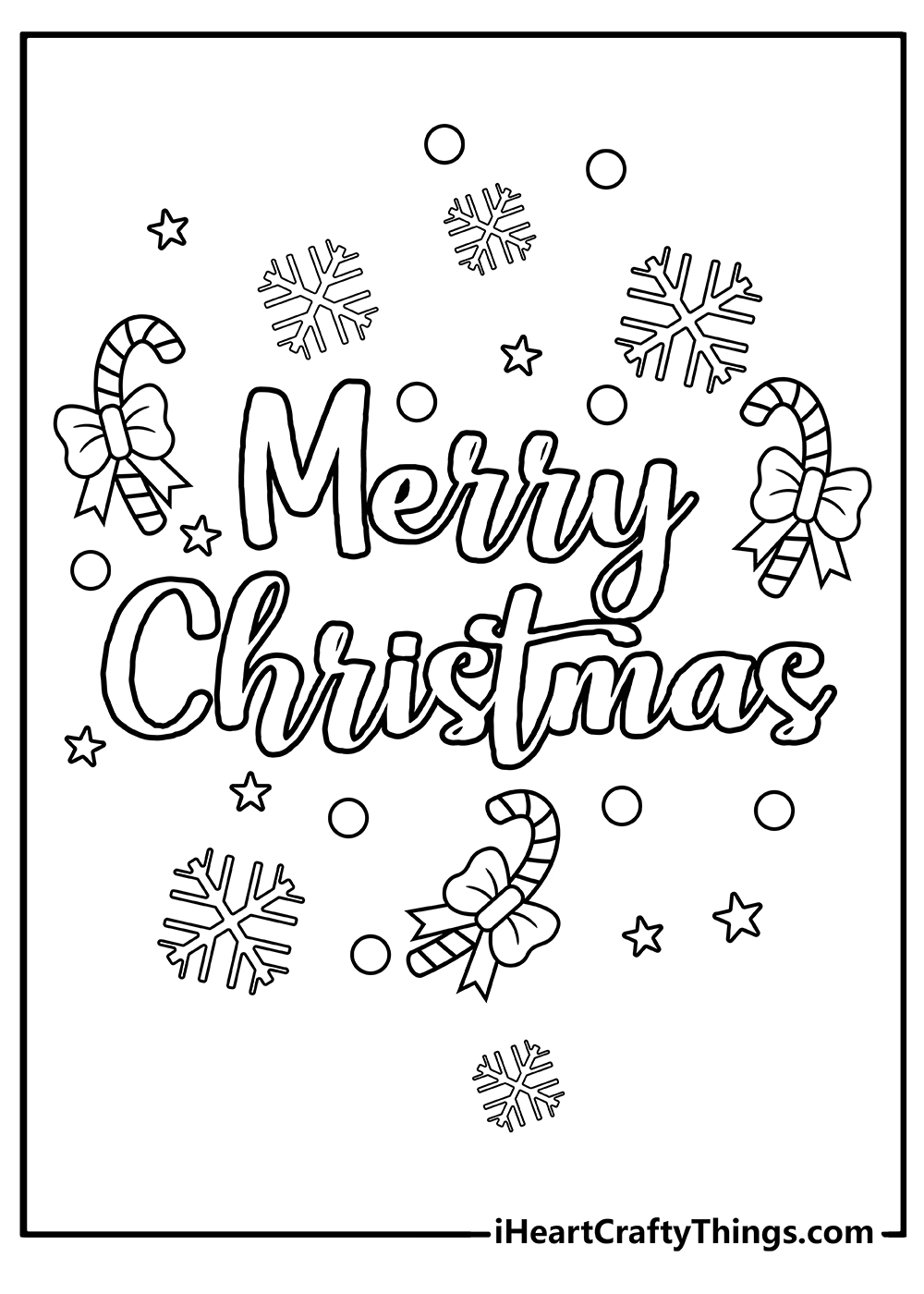 We have a different take on a traditional Christmas stocking for this next page. Instead of a stocking, this time we have a boot!
It serves a similar purpose, however, and in fact this type of footwear would probably prove more durable, so it could fit even more goodies within.
This doesn't look like just any boot, however, as it looks like a jolly Santa boot. It also looks like it could be sitting outdoors, so you could draw some extra details to finish off the scene nicely!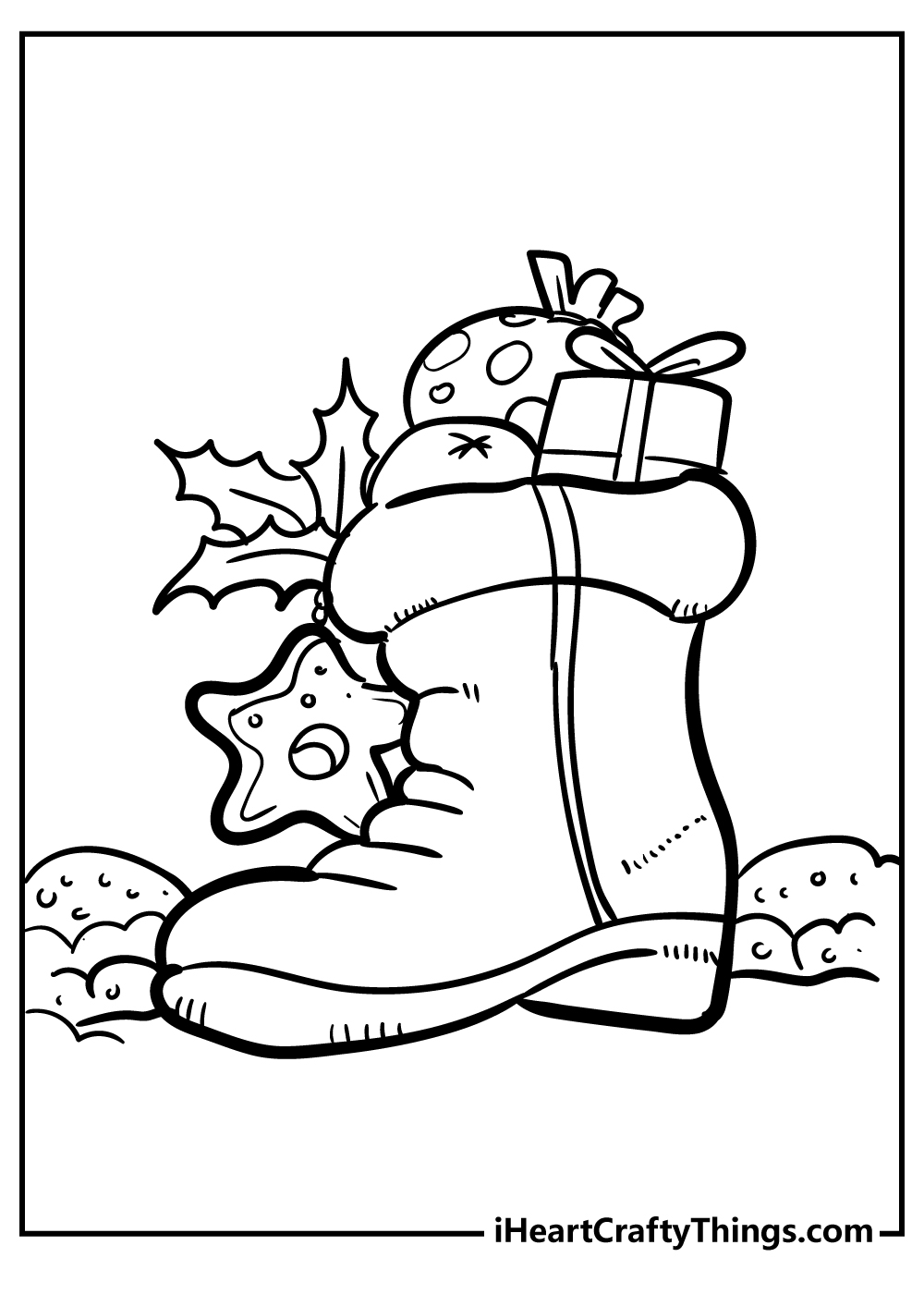 The best aspect of the festive season is receiving gifts, and there are plenty to enjoy in this next page of our collection of free Christmas coloring pages for kids!
This would be a great sight to behold on Christmas morning, and it would be tough to know where to start.
The presents are all different shapes and sizes, and there are also different patterns on the wrapping.
There are so many different ways that you could color these gifts, and you could help differentiate them by using different mediums and techniques.
How will you color this Christmas haul?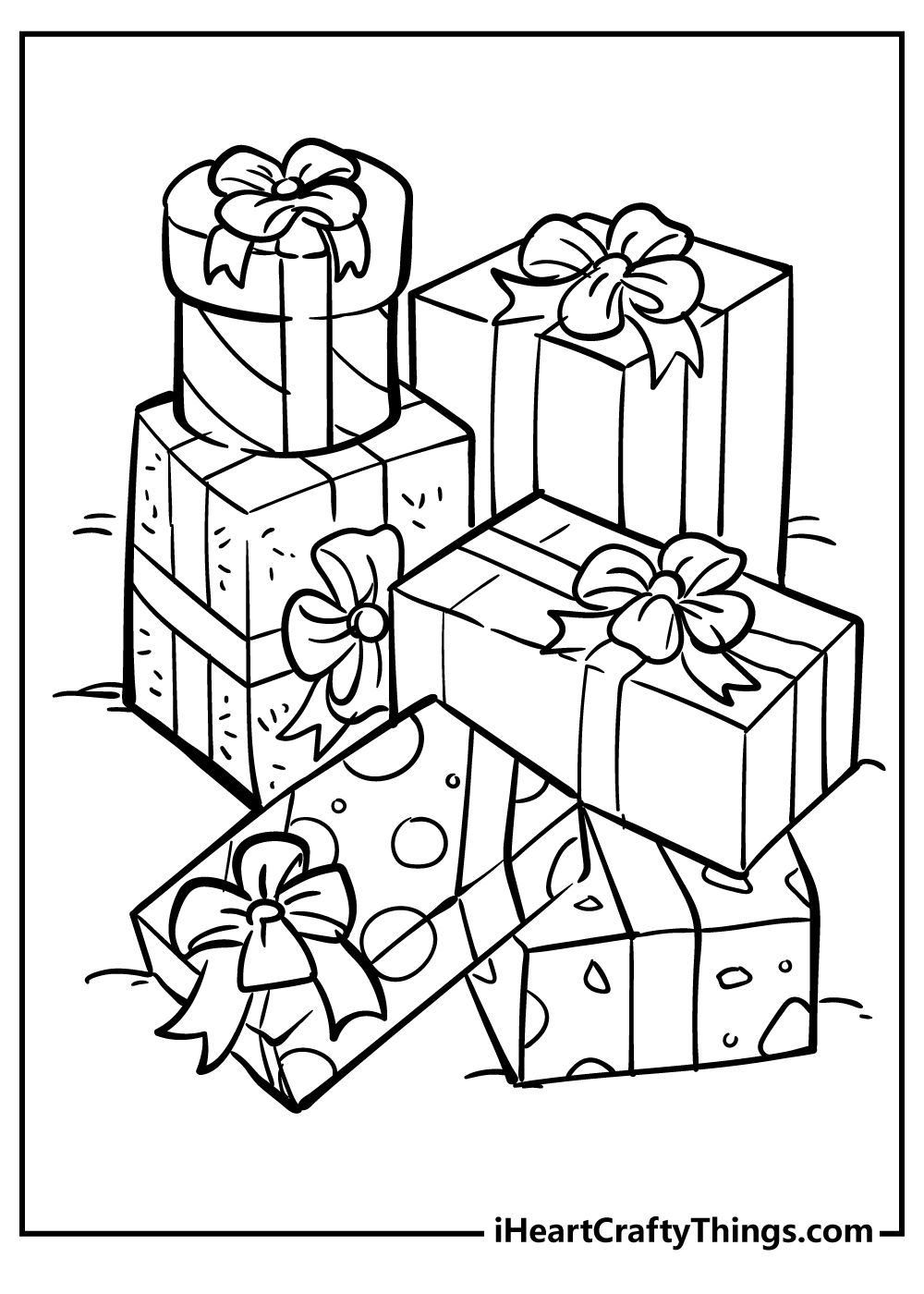 This fir tree is slender and triangular shaped, adorned with round bulb ornaments and strands of garland draped on its branches.
The colorful balls and looped garland decorations allow for creativity in choosing shades of red, green, gold, silver, and blue.
Bright yellow star tree toppers shine at the peak. The tree is outlined simply, perfect for younger kids to color inside the lines.
In the background, snowflakes in unique shapes and sizes drift down from the sky, adding wintry charm.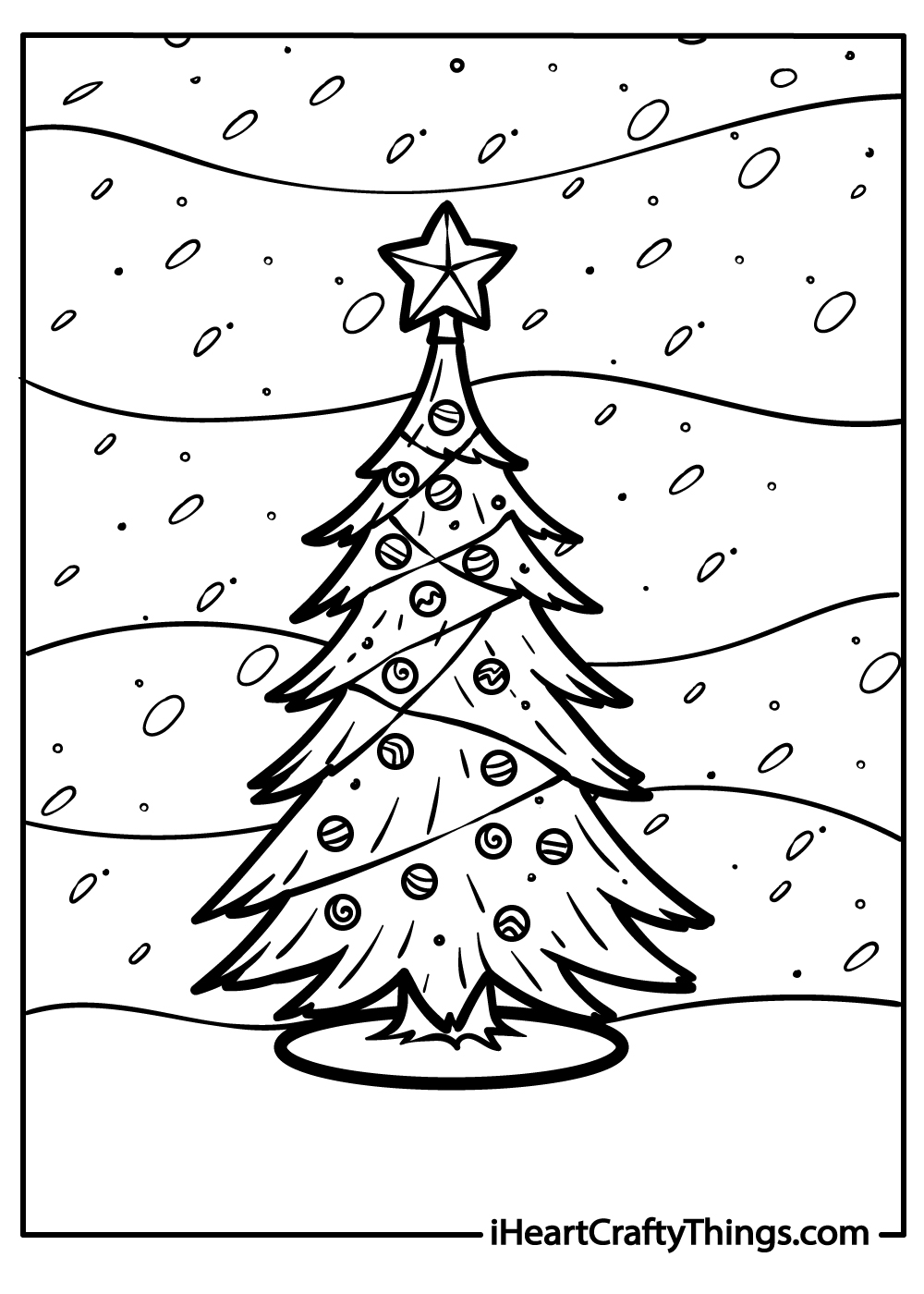 Christmas garlands are a popular decoration for the holiday season as they can be hung anywhere from your front door to the fireplace.
This coloring sheet features a large, circular Christmas garland decorated with a cute bow, four small stars, and three Christmas baubles.
We love just how many design details this page has and how much fun your child can have while coloring it.
Whether your children choose to go by the traditional color scheme of Christmas or reimagine Christmas colors, they are free to explore and let their creativity run wild.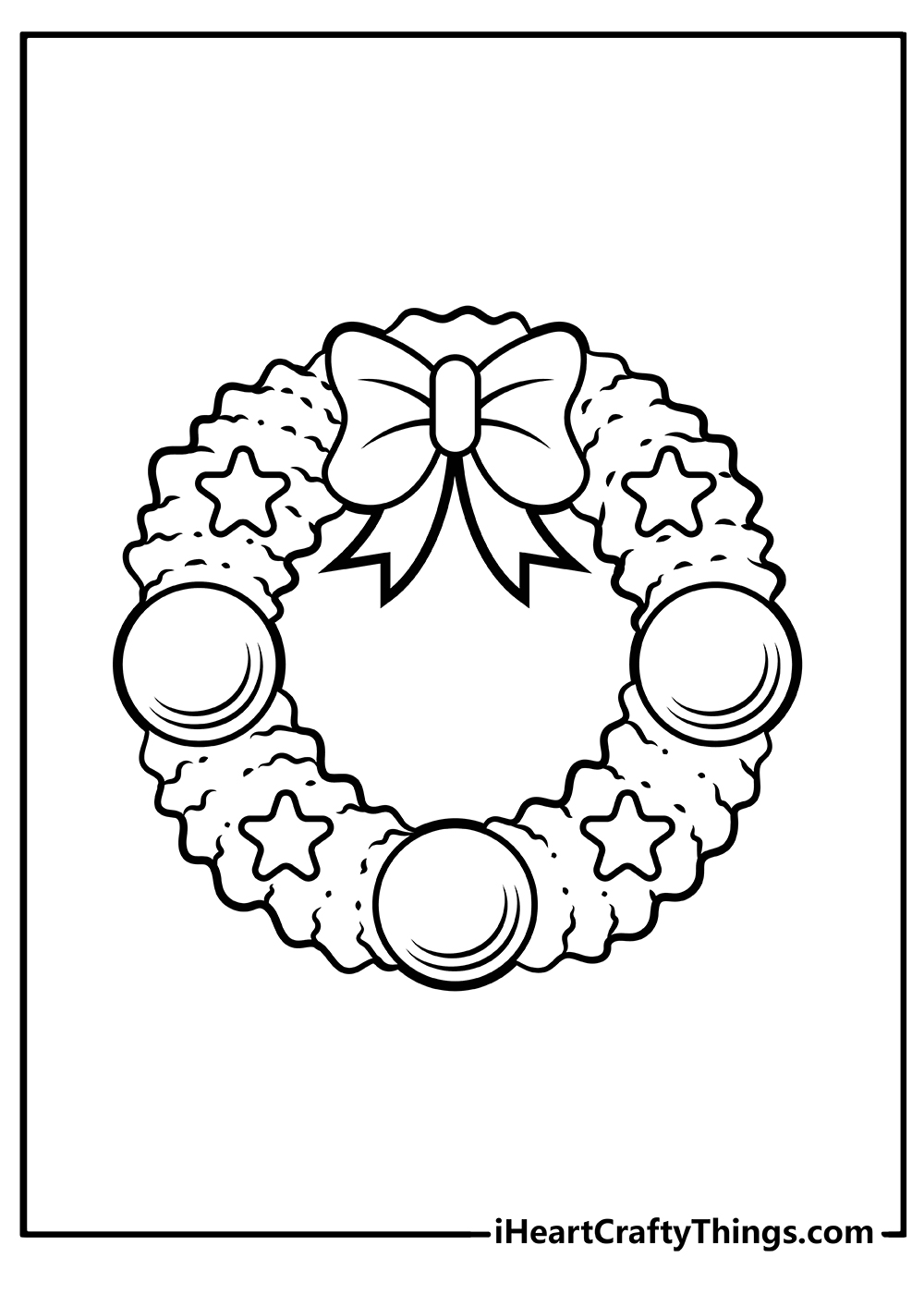 Christmas socks are lovely decorations for the Christmas tree and the fireplace. Children love them because that's where they can find some delicious snacks during the holiday season.
Our next Christmas-inspired coloring page features a Christmas sock filled with gifts.
The Christmas sock on this page is nicely decorated with a lovely print and a small mistletoe twig.
The gifts inside the socks have various design details that your little one can color with different colors.
For example, your child can color the candy cane red and white and the gift box green and red. Or, they can play with whatever colors they love. Imagination truly has no limits!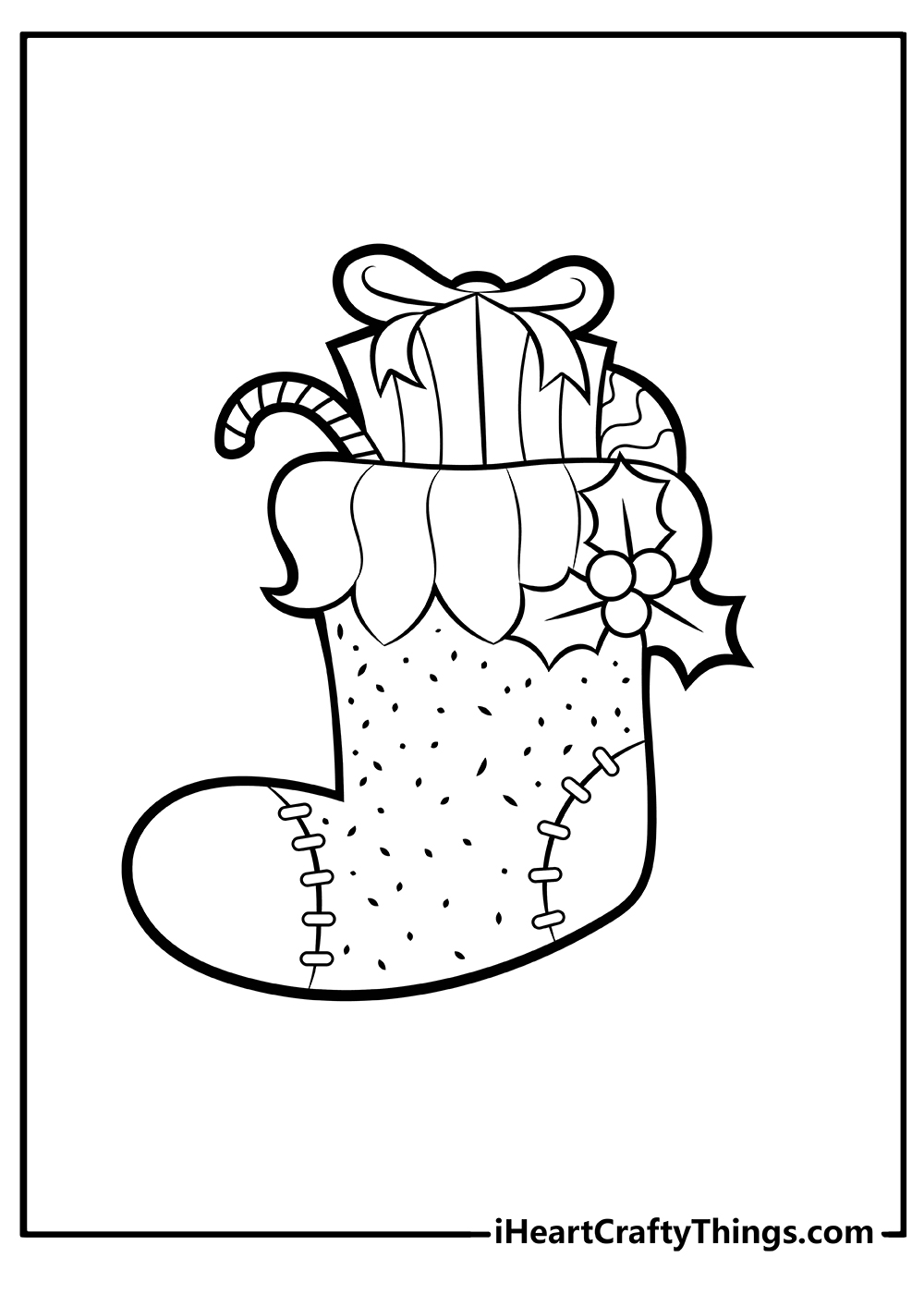 Ho ho ho, it's Santa Claus! This jolly Santa coloring page captures Saint Nick in all his holiday cheer.
Santa smiles warmly from under his signature red hat with fluffy white trim and pom pom. He sports a full, bushy white beard and moustache that spill over his red suit.
Santa holds one hand up in a friendly wave as he gets ready to deliver presents. The background scene is snowy, with giant snowflakes drifting down.
Santa would love some festive color on his suit, hat, boots and beard.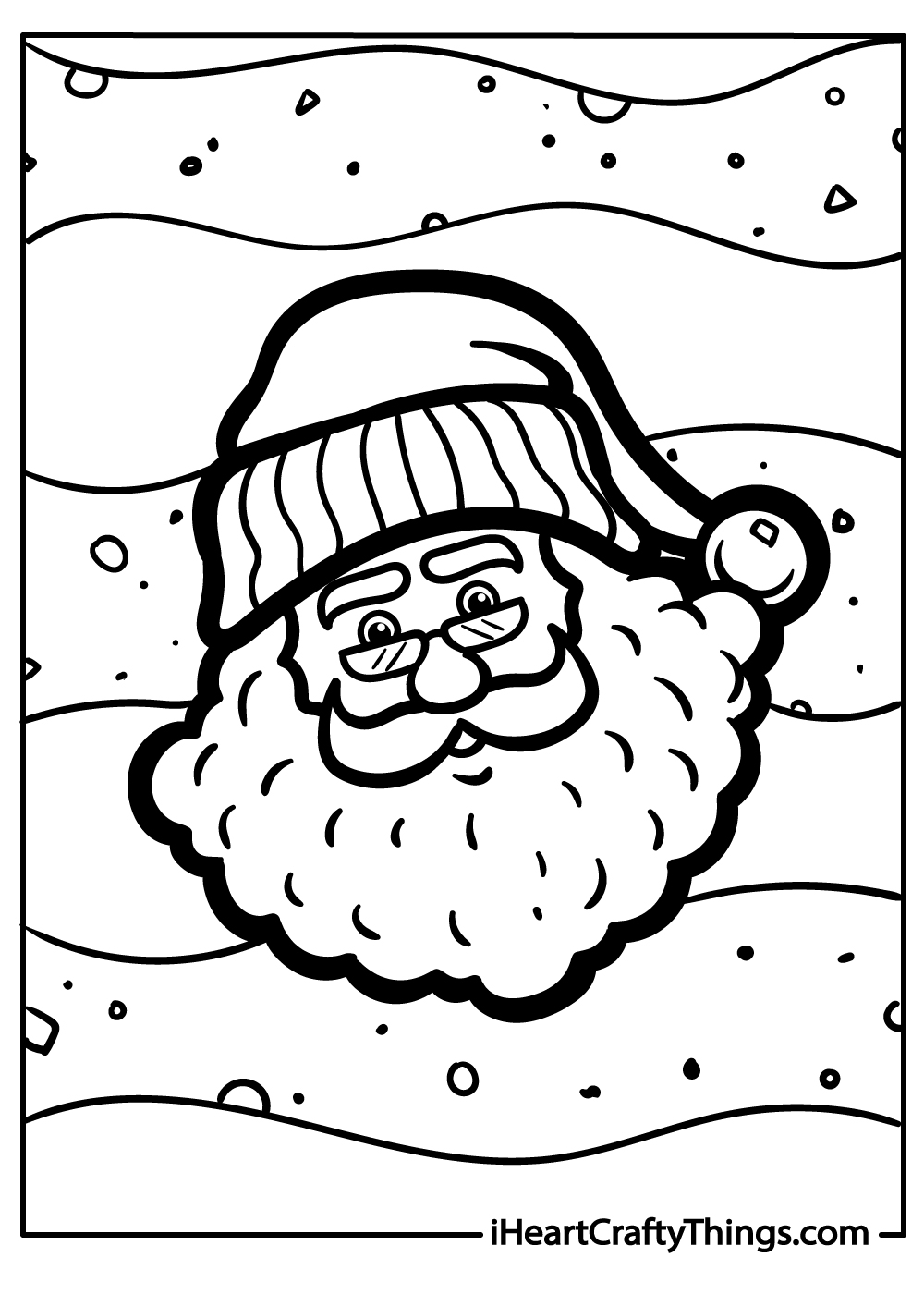 The Christmas tree is the most symbolic decoration that gets us in the Christmas spirit. This coloring sheet will surely get your child excited about the holiday season.
Our following coloring page features a cute Christmas tree decorated with plenty of Christmas decorations.
The tree features mistletoe twigs, garlands, Christmas baubles, and a star-shaped tree topper.
Your child can use green to color the tree and mistletoe twigs, and whatever color schemes they prefer for the decorations.
Print this coloring page for your child to color on Christmas night and hang it in your Christmas tree when it's done.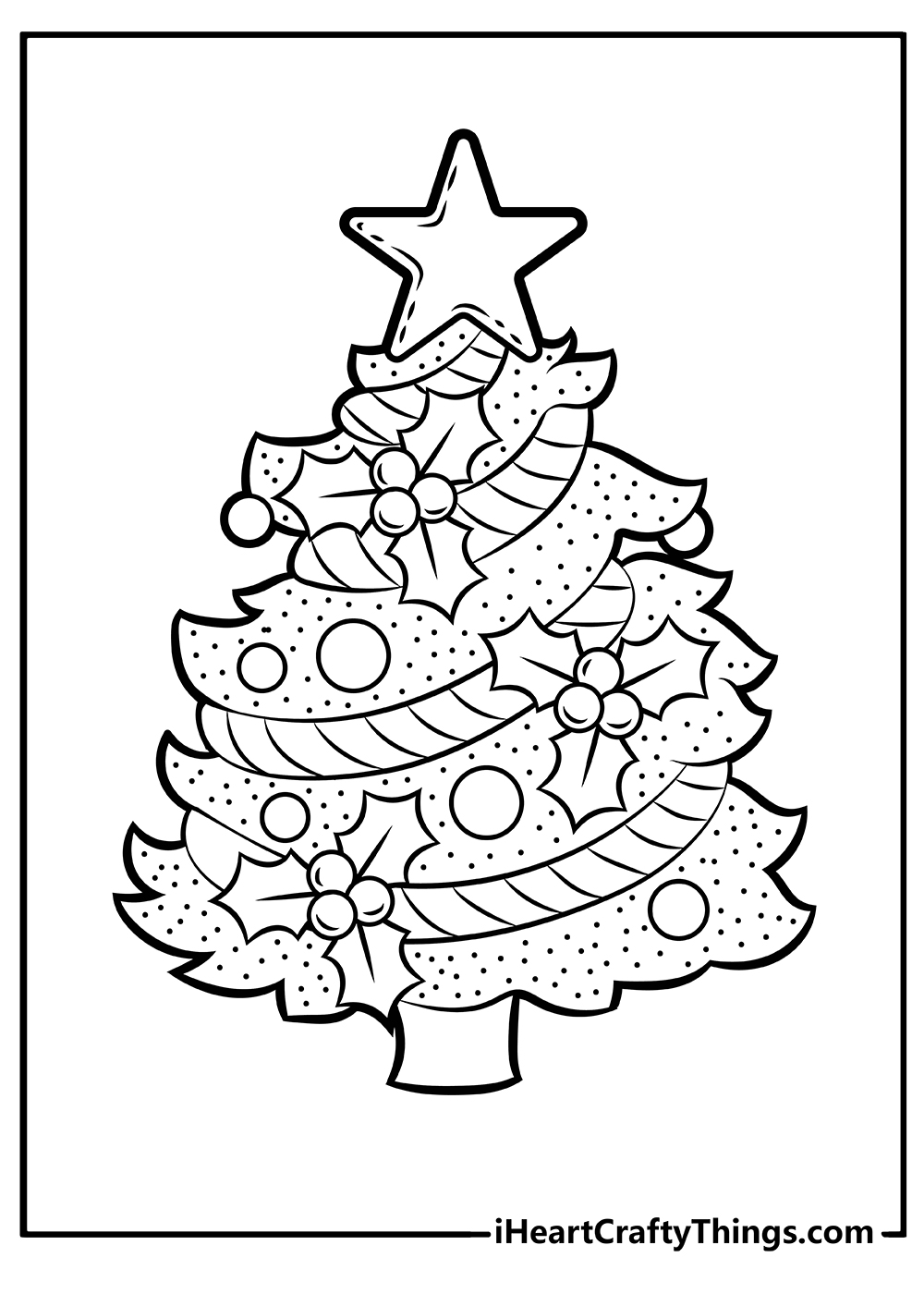 It's time to head out into the snow to have some fun, as next up we have a snowman for you to color in! This picture is nice and calm, and the snow is falling gently around the happy snowman.
Because this image is so relaxed, we think that using some milder mediums would be perfect to create a softer image.
For example, watercolor paints can be great for images like this, as they help to make the picture feel colder and gives it a classic, storybook feeling.
That is just one suggestion, but what will you choose for this one?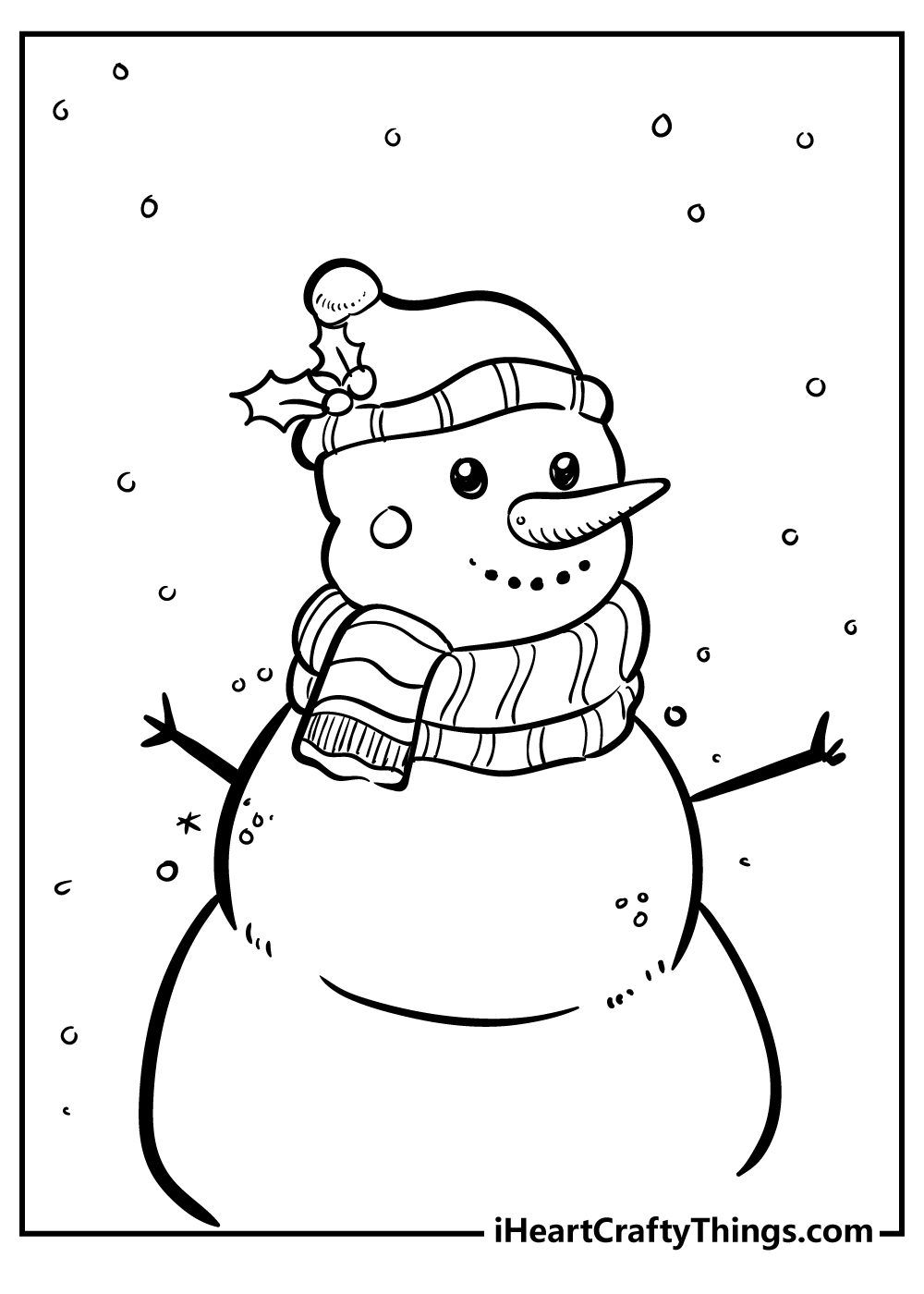 Deck the halls with this elegant Christmas tree coloring page! This fir tree has branches twisting and turning in intricate swirling patterns.
Ornate circular designs reminiscent of lace adorn the boughs. Striped candy canes add festive flair dotted throughout.
At the top is a golden star tree topper shining brightly. Wrapped around the base is a lush red ribbon tied in a bow.
Sprigs of holly with red berries accent the tree trunk. In the background, snowflakes dance around glass ball ornaments and nutcrackers.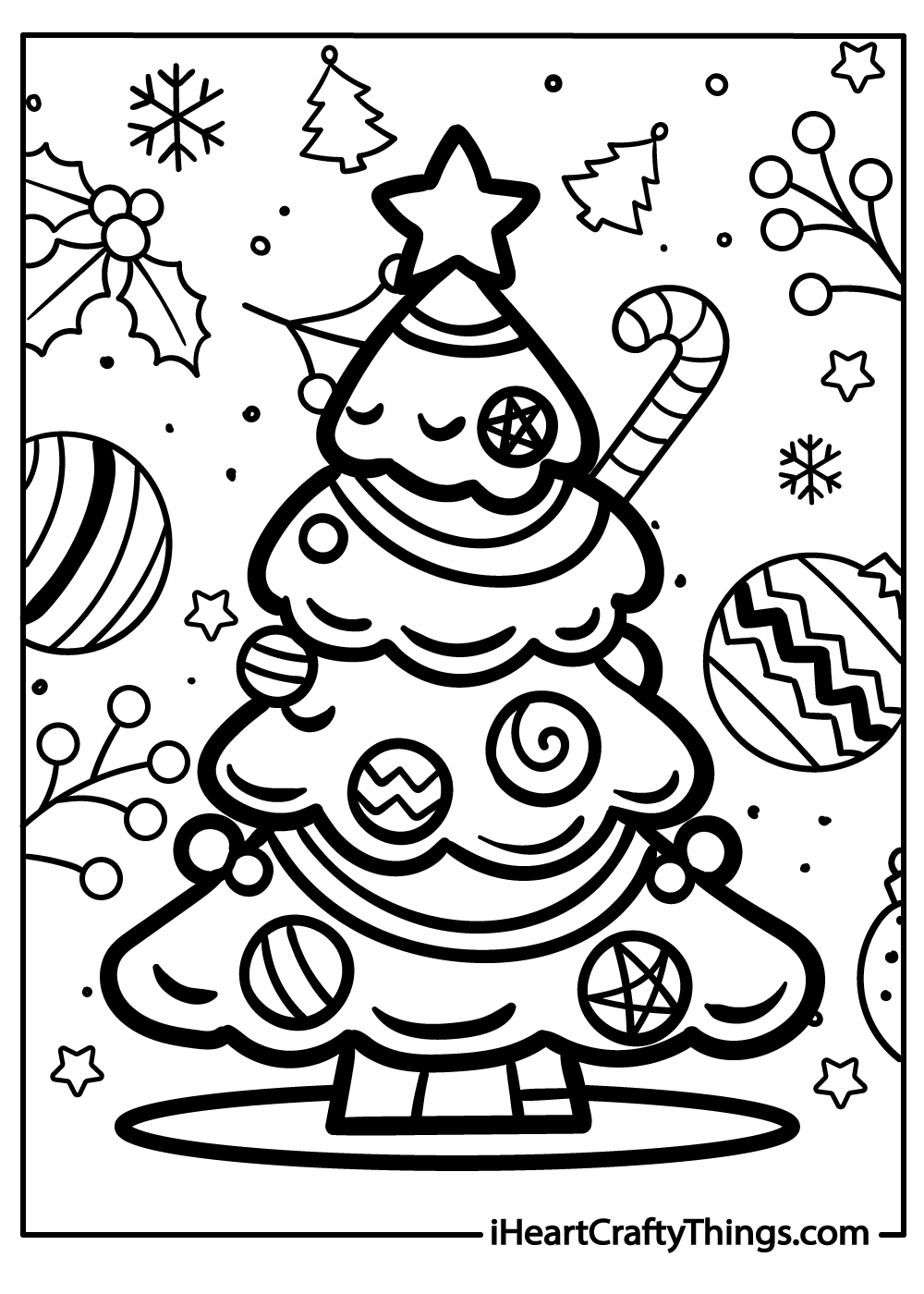 There's another snowman for you to color in for this charming page. This time, we get a much better view of the snowman, and he is drawn in a more cartoony style.
For that reason, if we were coloring this one then we would go for some brighter colors and mediums that would suit the cartoony style.
There is also quite a bit of space left in the background, so you could draw a lovely scene, and maybe even add a detail like a cartoon version of yourself!
What ideas do you have for this lovely snowman?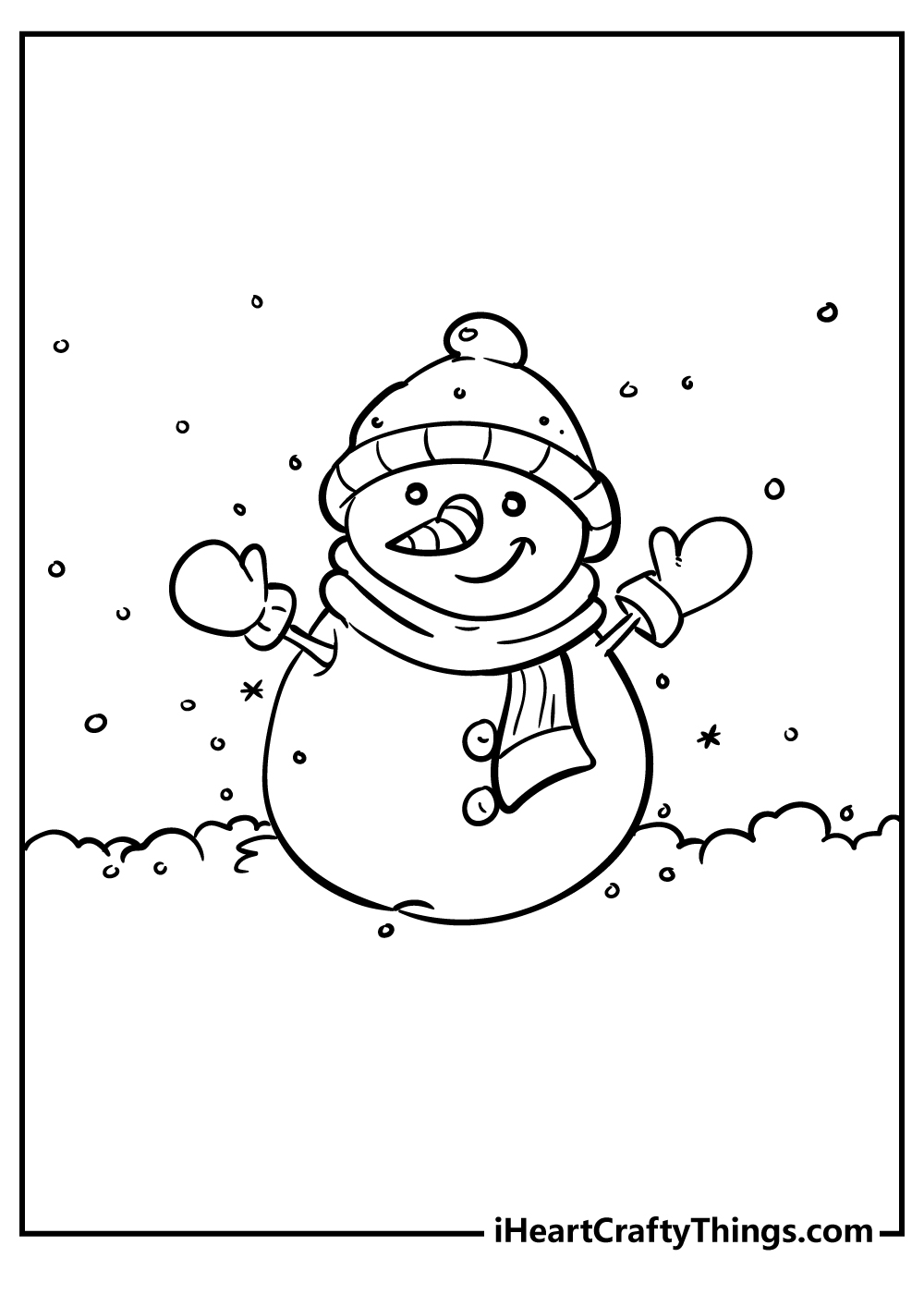 Does your child know the Gingerbread man story? You can tell them this Christmas-inspired story while they color our next coloring sheet.
This coloring page features a cute, smiling gingerbread man with lovely accessories to mimic a Christmas suit.
Gingerbread man decorations are often brown, but your child can reimagine the colors however they like.
Your child can let their imagination run wild and experience color schemes when it comes to coloring the frosting used to decorate this cookie and its cute, small hat.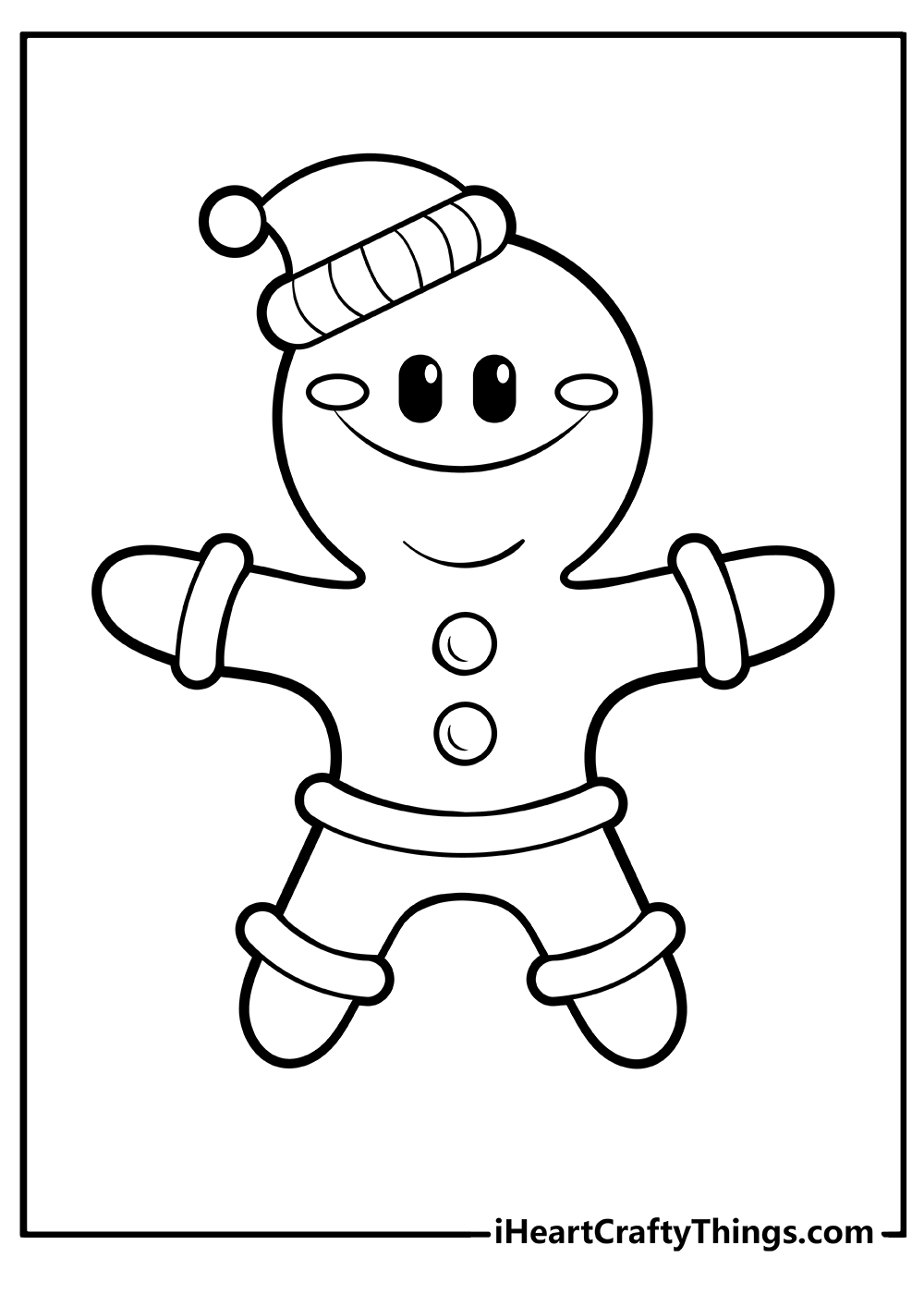 All Children love Santa Claus because he brings them the gifts they've wished for the entire year. Your child will love coloring our next page featuring a cute, small Santa Claus in his suit.
There are so many design details on this page that your child can reinterpret however they like.
They can use red and white to color Santa Claus, or they can reimagine the look of this lovely old man uniquely and creatively.
Once your child is done coloring this page, you can place it underneath your Christmas tree as a "gift" for Santa Claus.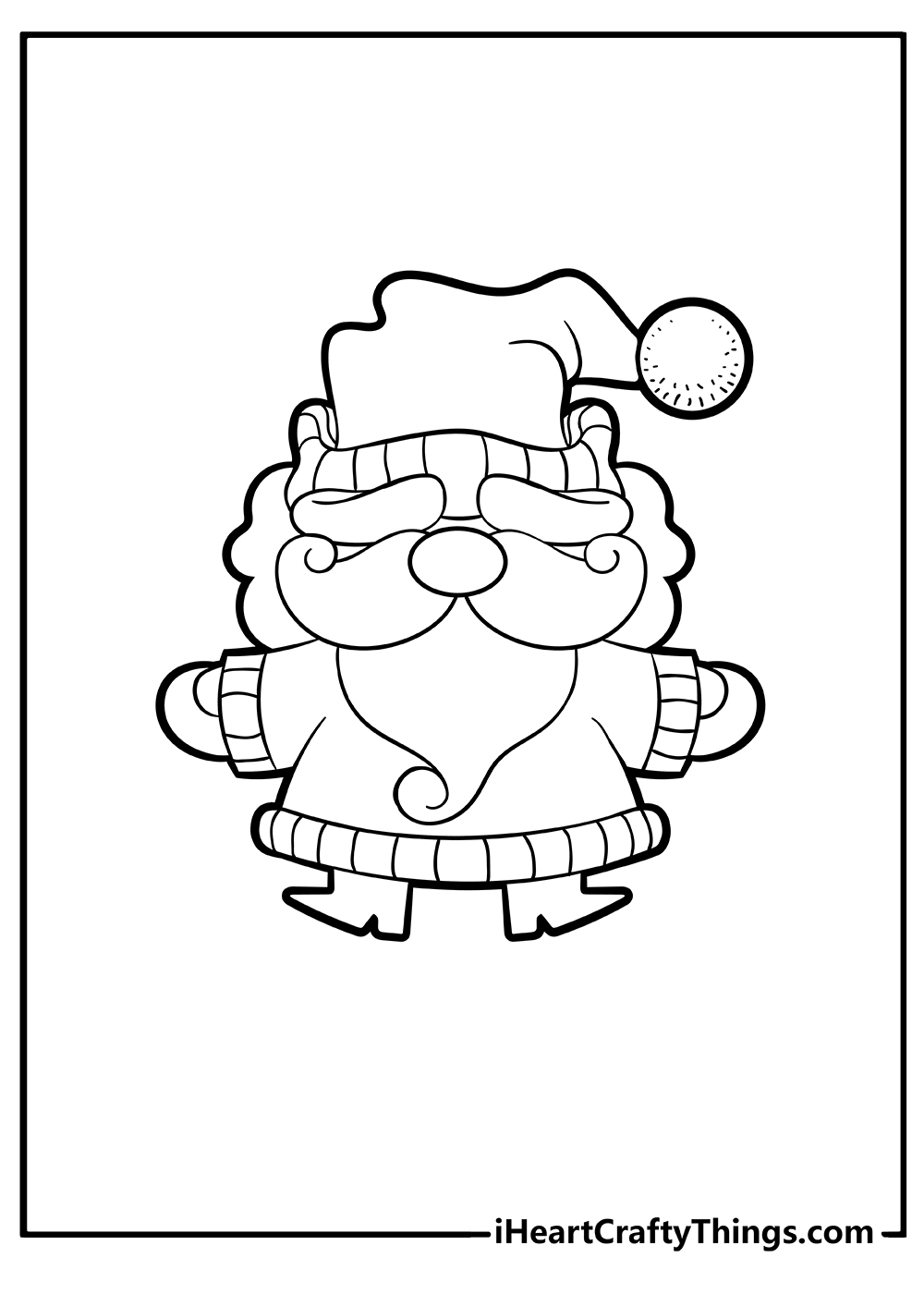 The bells are ringing in this next Christmas coloring page! Bells are another common decoration during the festive period, and these ones have a really classic design.
They are tied together with some bows and holly leaves, and the whole arrangement just gives off such a warm festive feeling.
We think that using some bright, rich colors would be perfect for this one to finish off the warm feeling the arrangement gives off.
You could also draw some additional patterns or decorations behind them to give the page even more of a Christmas feeling!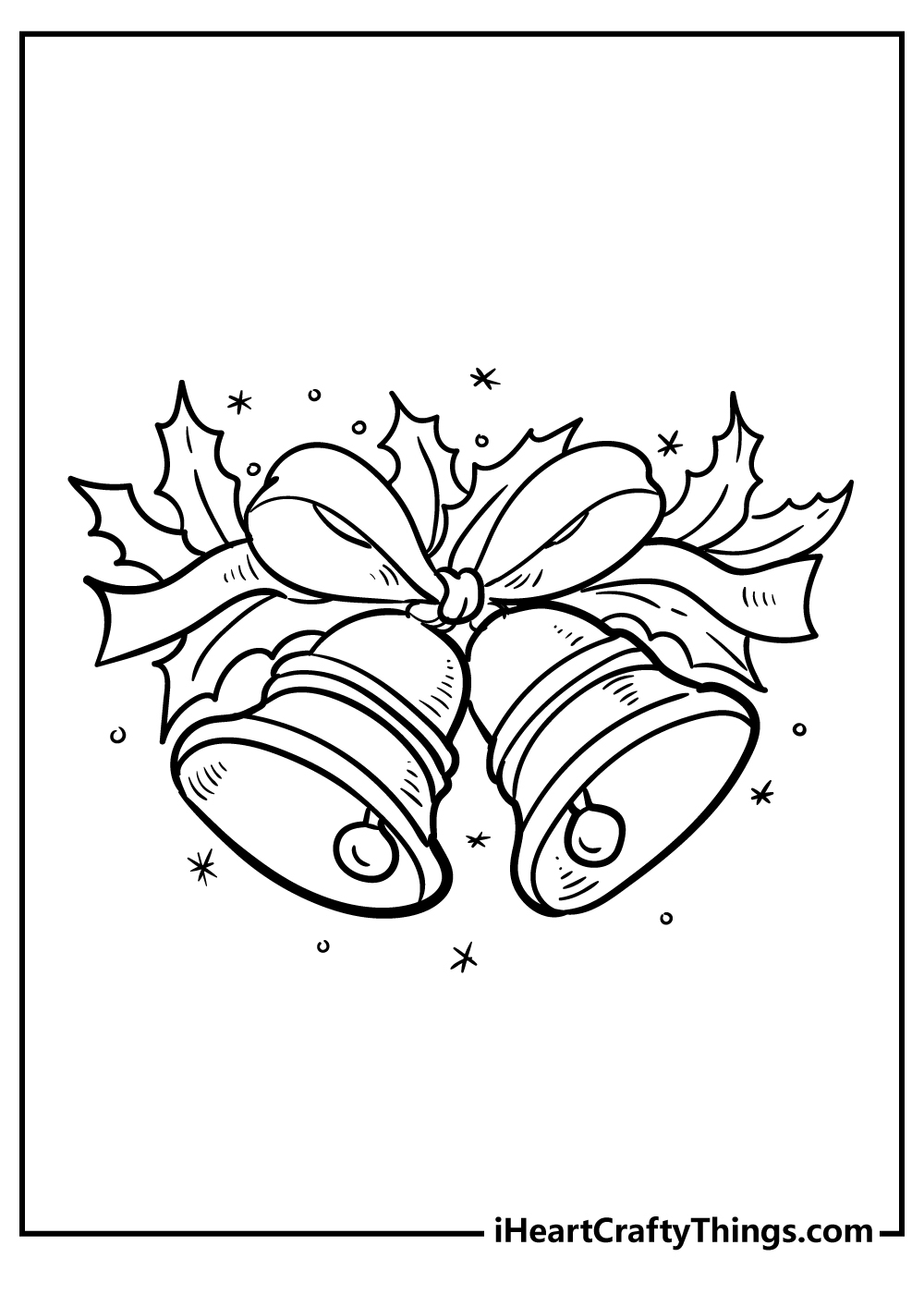 Next, we have another variation on the theme for the previous page. This one shows a clump of some Christmas bells, but these ones have a much different design.
They are rounded, and you can really imagine the jingling sound they would probably be making!
They are also rather intricately detailed, so you can really experiment with some subtle colors, techniques and mediums.
Do you think you will use the same color scheme for all of them or color each one a unique set of colors?
Either approach would look great in its own way! Remember to also color the pretty ribbon holding them together to finish it off.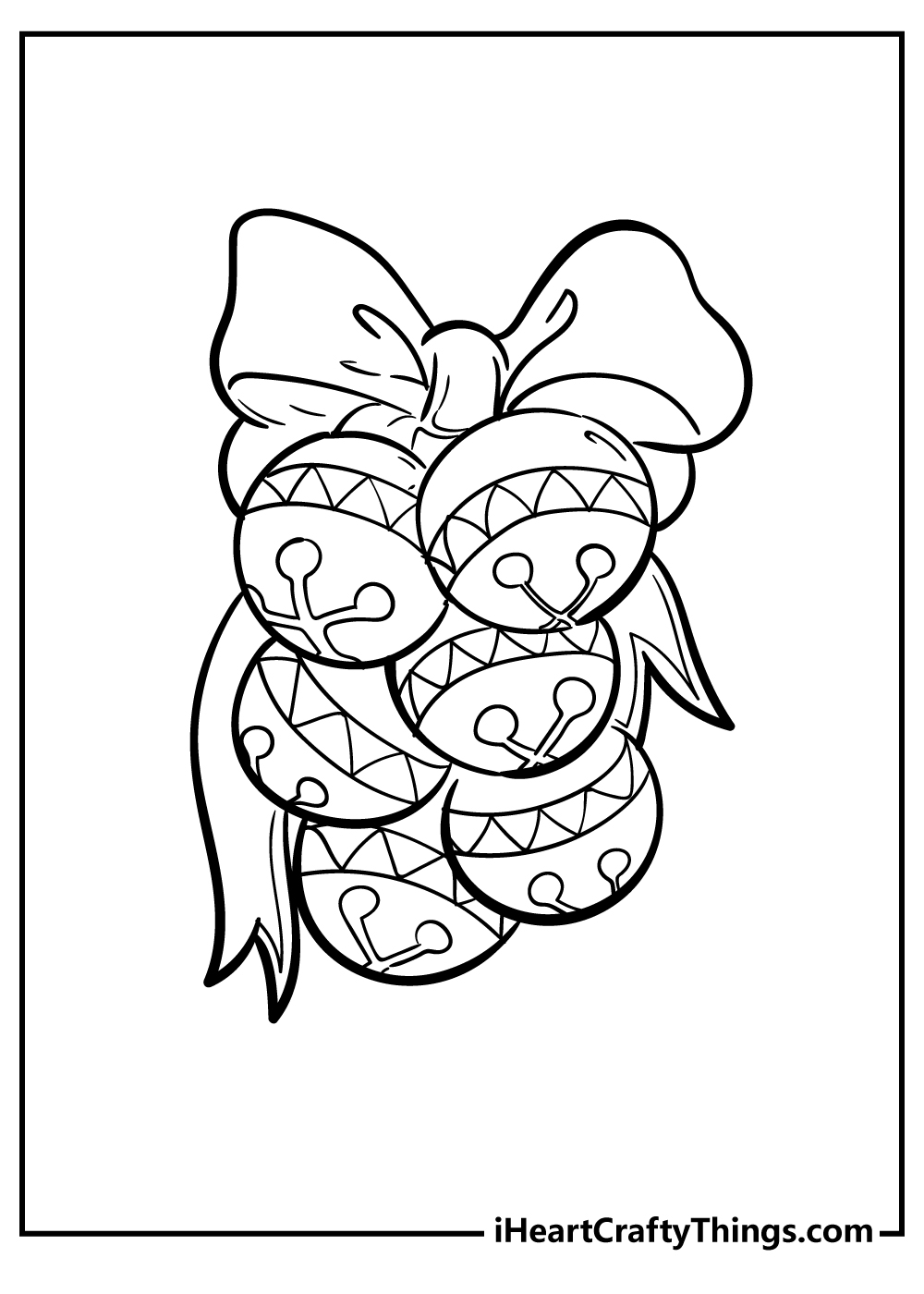 A smile from Santa Claus it's a clear sign that someone has been good and will get a Christmas gift.
Bring joy to your child with our next coloring sheet featuring a friendly, smiling Santa Claus with his cute beard and Christmas hat.
Your children can color the face of Santa and reinterpret his look as their imagination dictates. For example, they can color Santa's hat red or use a different shade they like.
All you need to do is download and print this coloring sheet and keep your little one entertained on Christmas night until Santa leaves his gifts.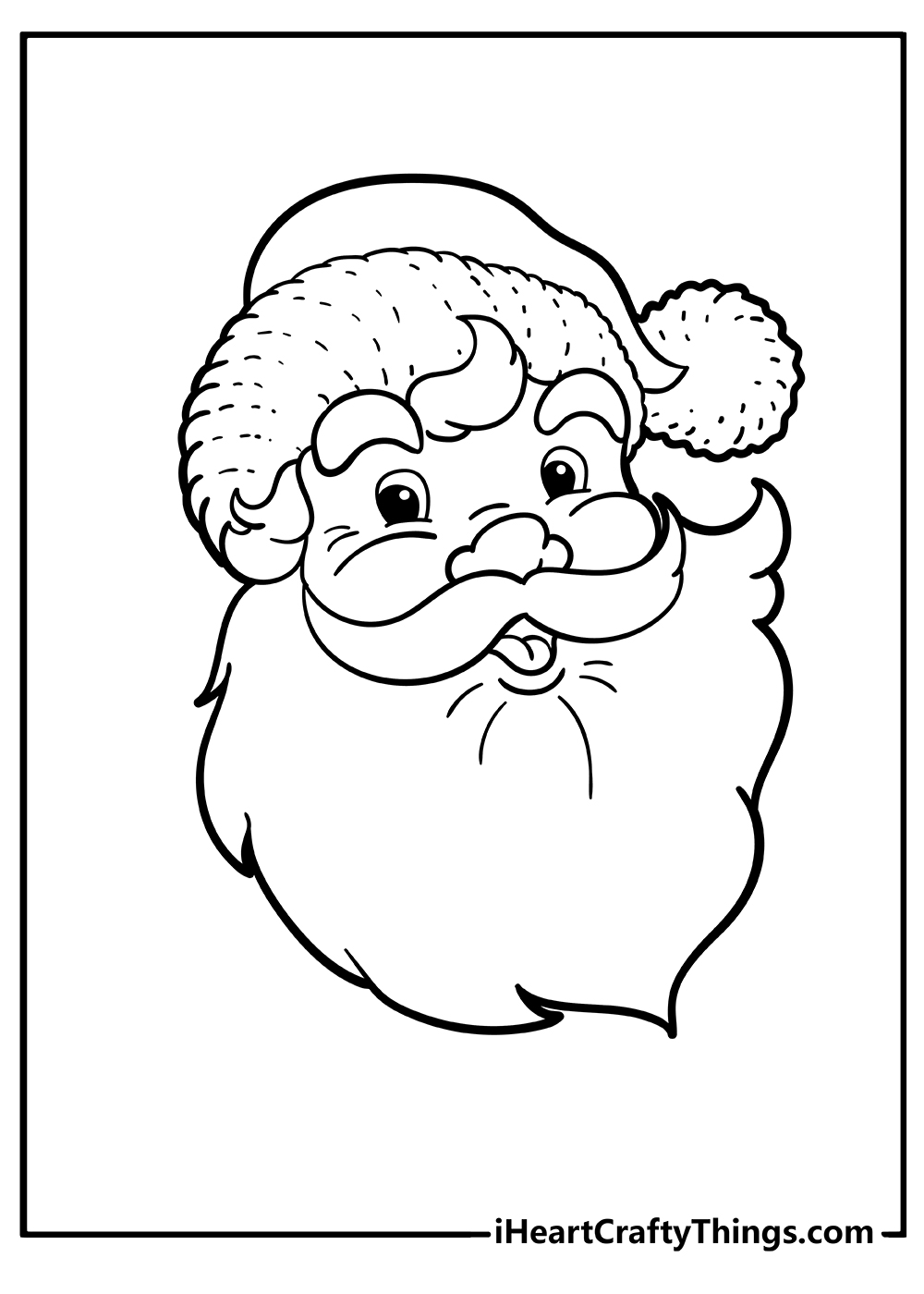 Rudolf, the red-nosed reindeer, is everybody's favorite, even Santa's. This cute, goofy reindeer helps Santa deliver his gifts to kids from all around the world every year.
So, we couldn't finish our Christmas-inspired coloring sheet collection without including Rudolf.
Our Christmas coloring page features Rudolf the reindeer with its cute nose and horns and a Santa hat. Teach your child about Rudolf's most distinctive characteristic: the red nose.
Your little one can use various colors to color this cute, smiling reindeer.
We constantly add new coloring sheets, so visit us again for more awesome coloring page ideas!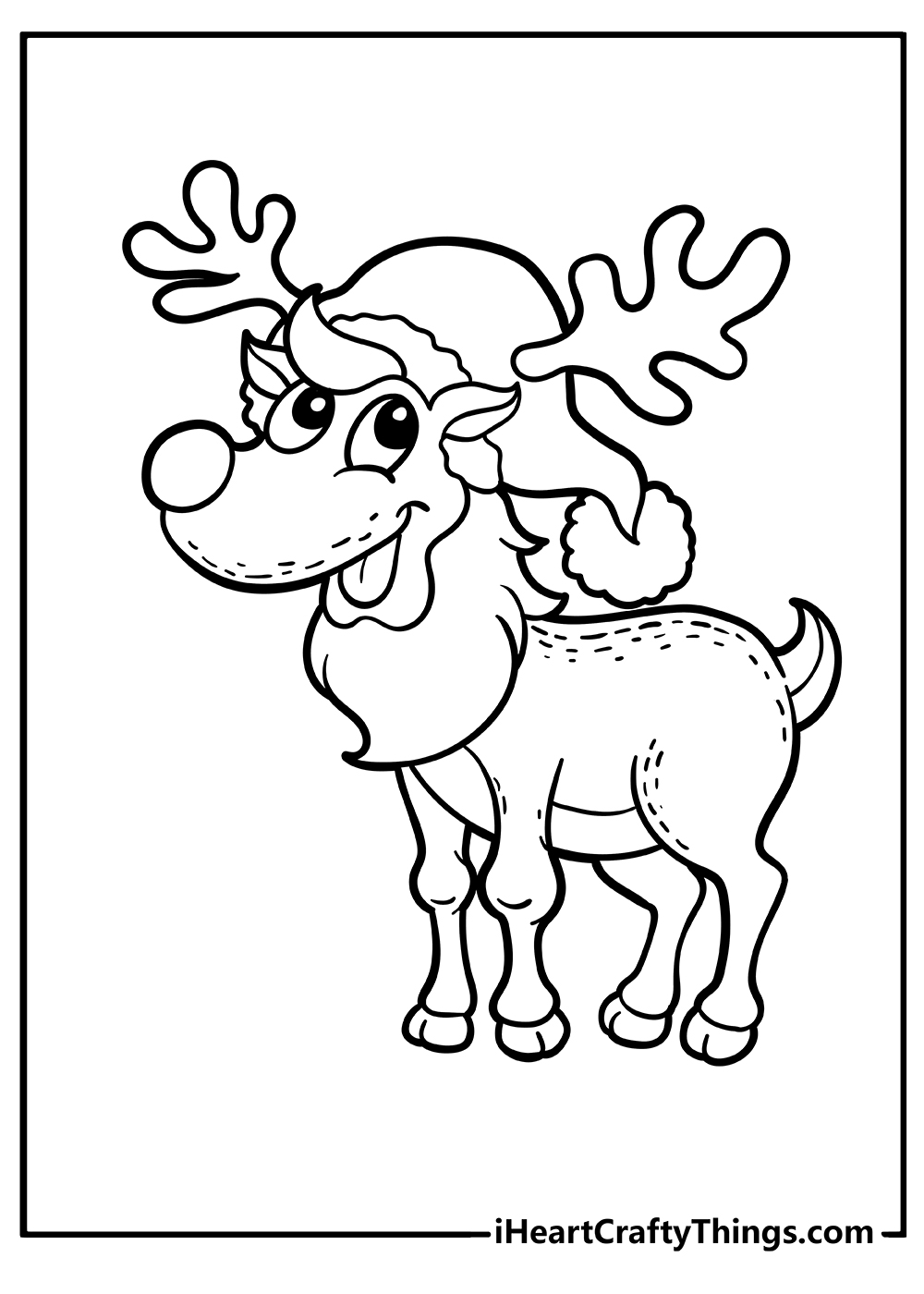 For this page, we have a really unique and creative Christmas decoration for you to color in!
This one has some ribbons tied in a rather intricate way, and there is a pretty holly plant at the center of the arrangement.
Certain colors go well with each other while others can contrast in order to really produce an interesting color scheme.
You can keep either of these approaches in mind as you color the ribbon and the holly plant.
As an extra fun bit of detail, we also have some stars surrounding the arrangement so you can add even more color!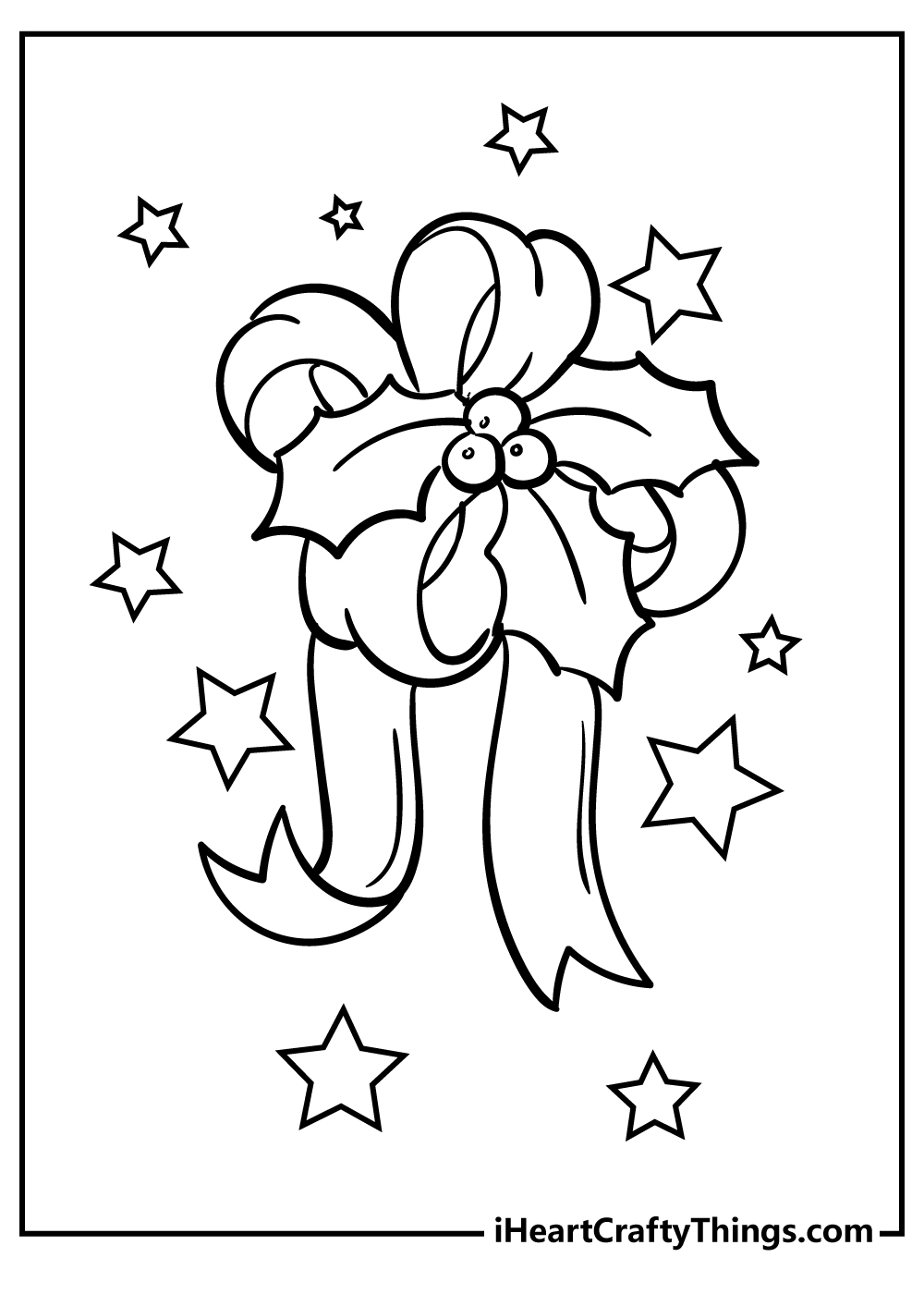 This Christmas coloring sheet features a design that is both traditional and unusual at the same time. When you first look at it, it looks like a fairly standard Christmas wreath.
When you look closer, however, you will notice that it is made up of lots of holly plants connected to one another.
We think that this one would look stunning with some really bright greens for the leaves with some vibrant reds for the berries.
That would really create a stunning color contrast, but it is one of many ways you could color in this decoration!