Want your child to feel that Christmas is the best time of the year? Our free printable Christmas coloring pages collection will help your child get into the Christmas spirit faster.
Christmas is that time of the year of joy and gift-giving that brings families together. Our coloring sheets will help you have a great time together.
Suitable for kids of all ages, these free printable Christmas-inspired coloring sheets are perfect for keeping them entertained on Christmas night.
10 Brand New Christmas Coloring Pages – Free to Print and Color
Candy canes are very popular decorations for the Christmas tree. They are also delicious snacks for your children.
This coloring page shows a cute candy cane with a large bow that would look amazing in any Christmas tree, and several small stars and circles surround it.
This coloring sheet allows your little one to get artistic with colors. Your child can color this cute candy cane red and white or reinterpret it as they like.
The bow can have whatever color your child loves the most, from pink to green, blue, or yellow. Your child can play with different color schemes.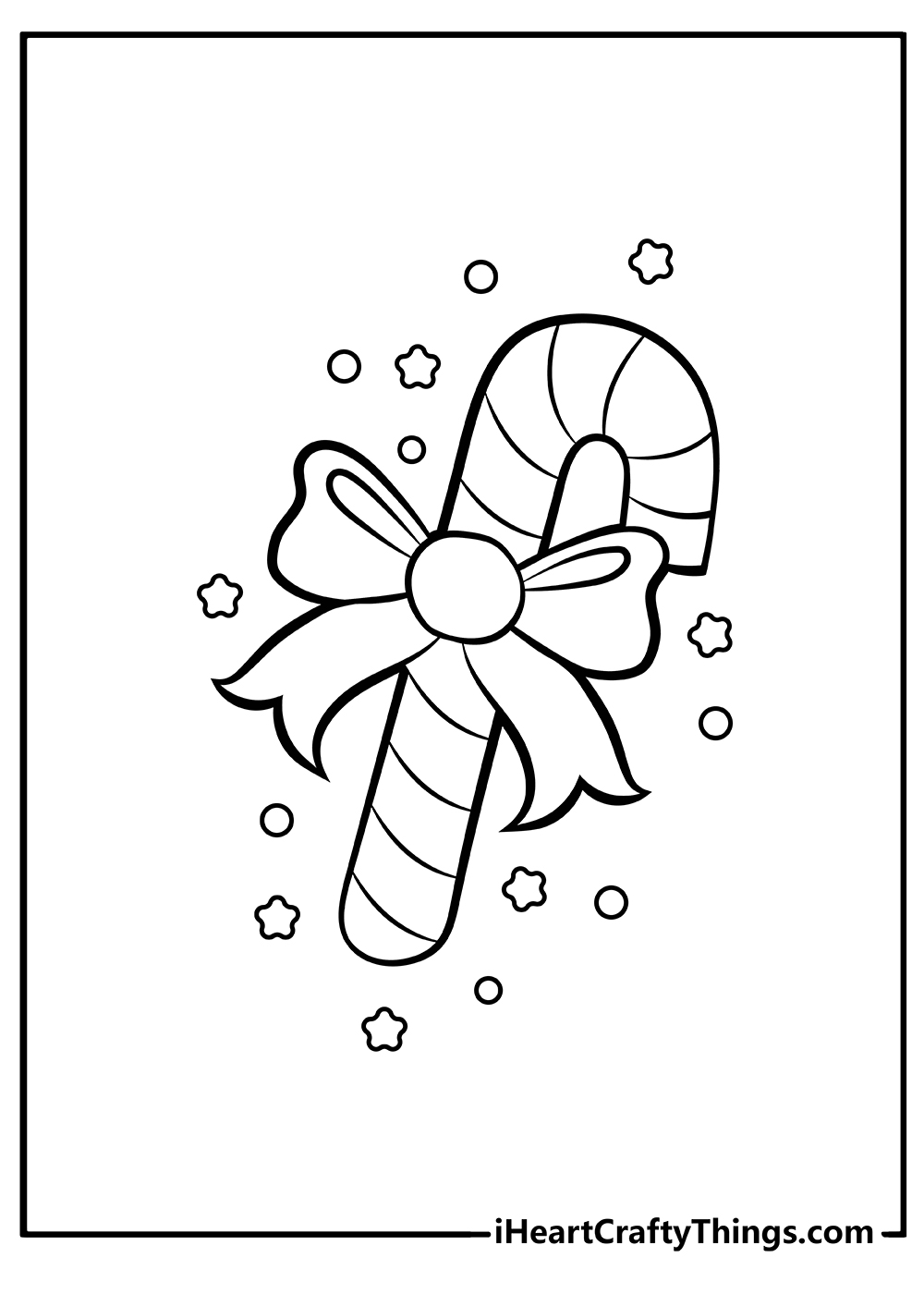 Every child wants to build a snowman during winter. Your child will also love coloring our next coloring sheet featuring a lovely, smiling snowman.
The snowman in this coloring page has plenty of accessories that your child can color in various shades.
Your child can color this cute snowman with blue and shades of grey to mimic snow color. Or, your child can let their imagination run free and color it whatever color they like the most.
The hat, the scarf, and the gloves of this lovely snowman can help your child experience various color shades.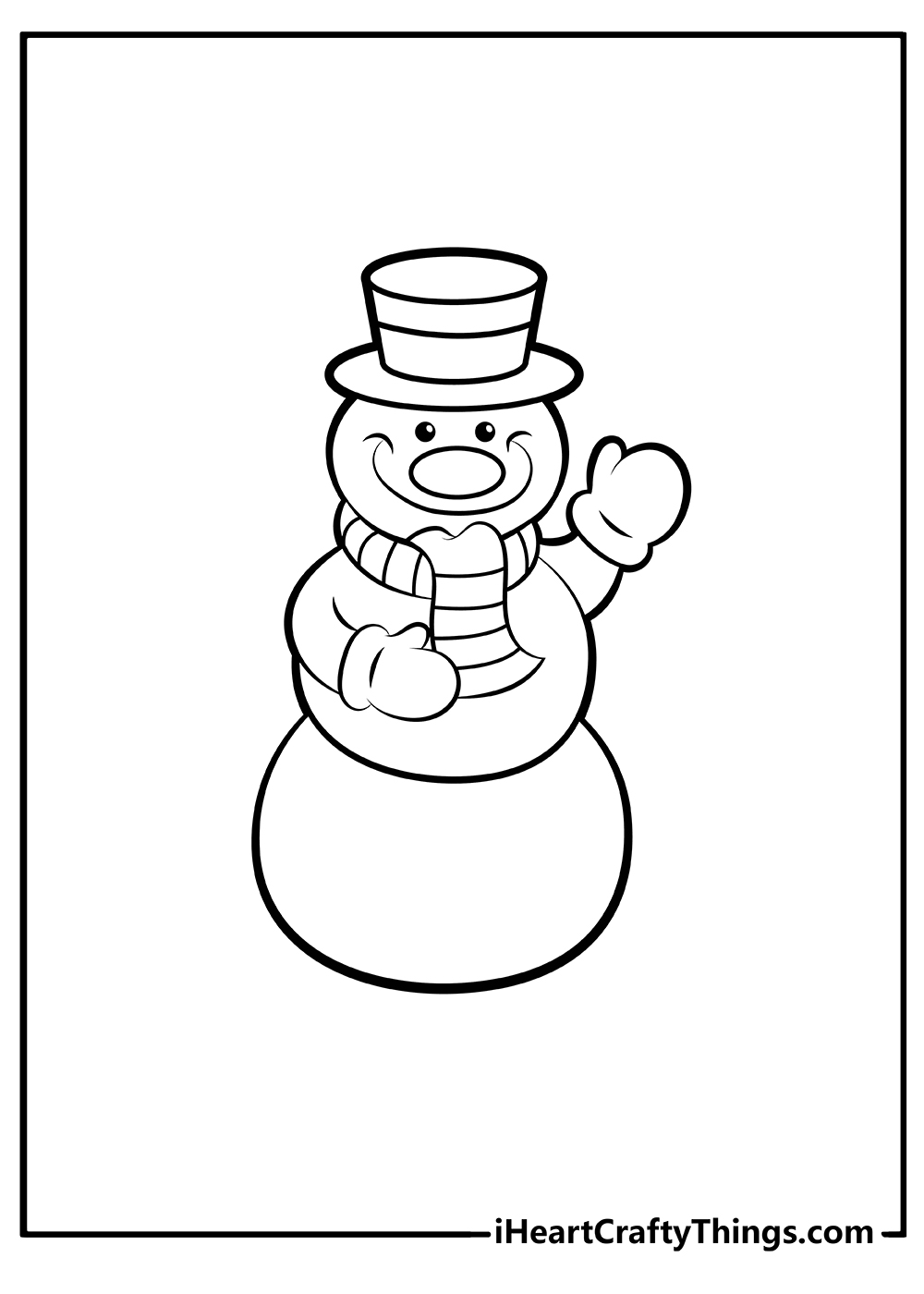 Our next Christmas-inspired coloring sheet looks very much like a Christmas card.
This page features the "Merry Christmas" message and plenty of cute wintery design details like snowflakes, stars, and delicious-looking candy canes.
Your child has plenty of space to play with various colors on this coloring page. They can go for the traditional Christmas colors, red and green, or play with different shades they like.
After coloring it, your child can offer this page as a Christmas card, or you can hang it in the Christmas tree as a decoration.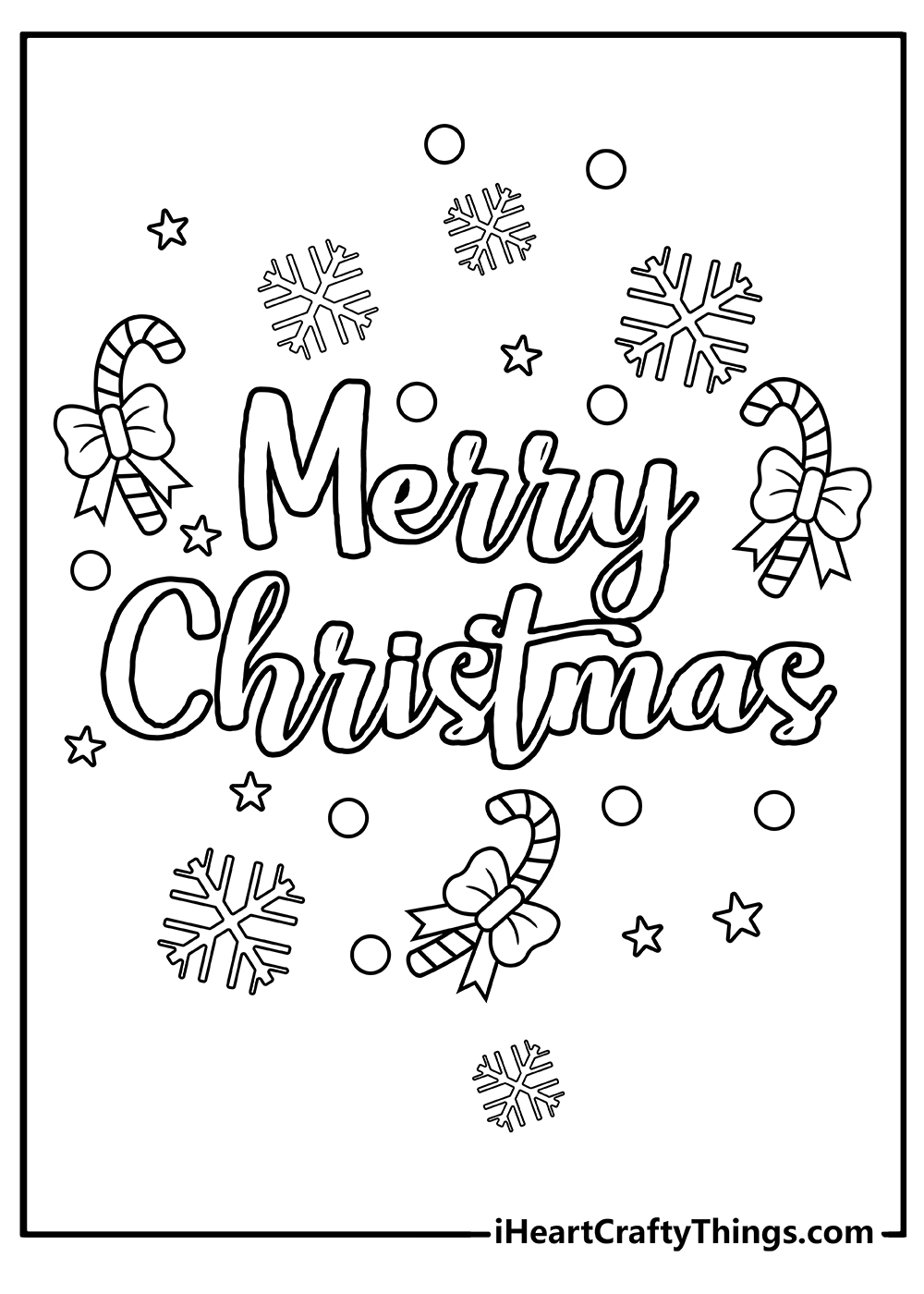 Christmas garlands are a popular decoration for the holiday season as they can be hung anywhere from your front door to the fireplace.
This coloring sheet features a large, circular Christmas garland decorated with a cute bow, four small stars, and three Christmas baubles.
We love just how many design details this page has and how much fun your child can have while coloring it.
Whether your children choose to go by the traditional color scheme of Christmas or reimagine Christmas colors, they are free to explore and let their creativity run wild.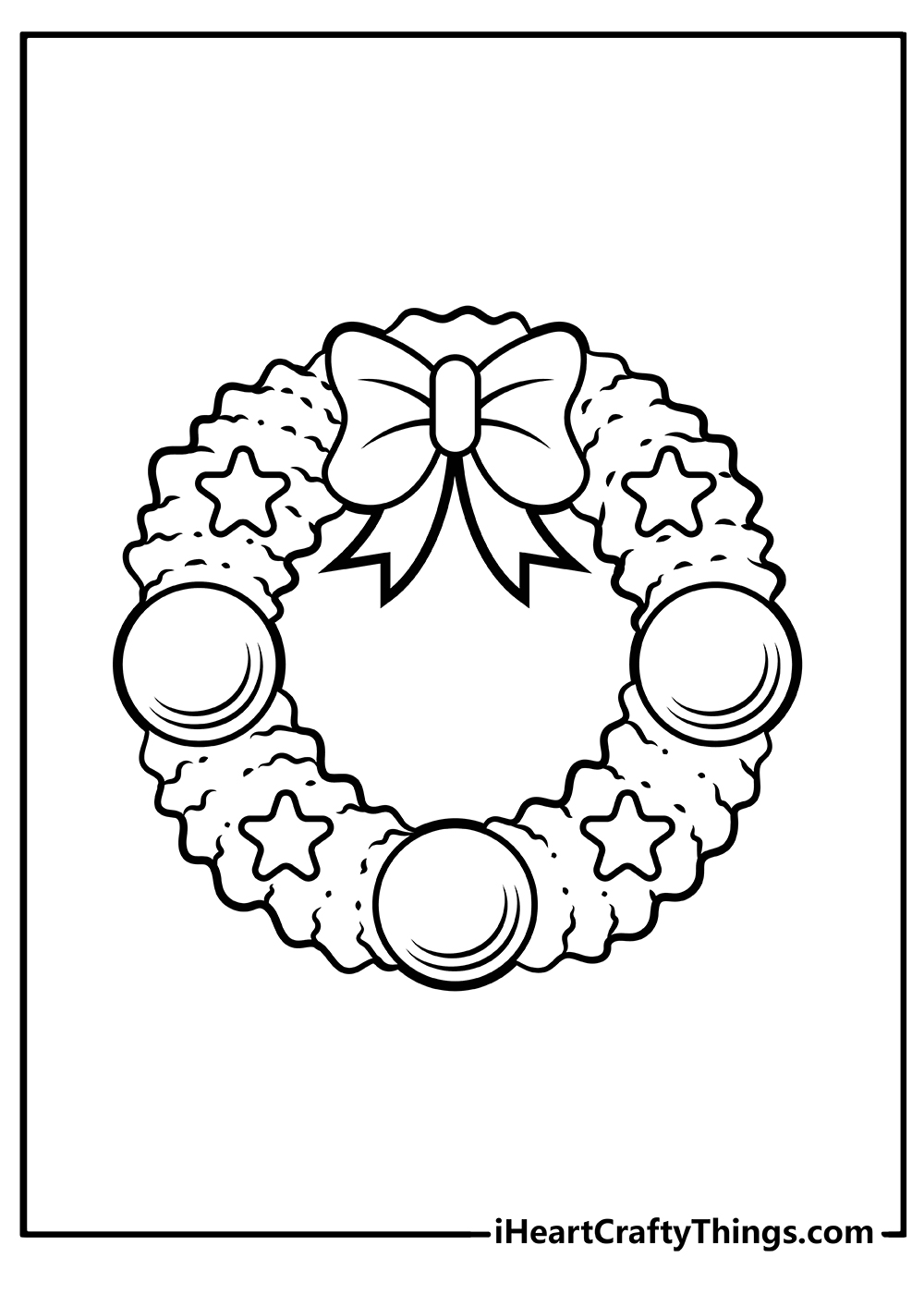 Christmas socks are lovely decorations for the Christmas tree and the fireplace. Children love them because that's where they can find some delicious snacks during the holiday season.
Our next Christmas-inspired coloring page features a Christmas sock filled with gifts.
The Christmas sock on this page is nicely decorated with a lovely print and a small mistletoe twig.
The gifts inside the socks have various design details that your little one can color with different colors.
For example, your child can color the candy cane red and white and the gift box green and red. Or, they can play with whatever colors they love. Imagination truly has no limits!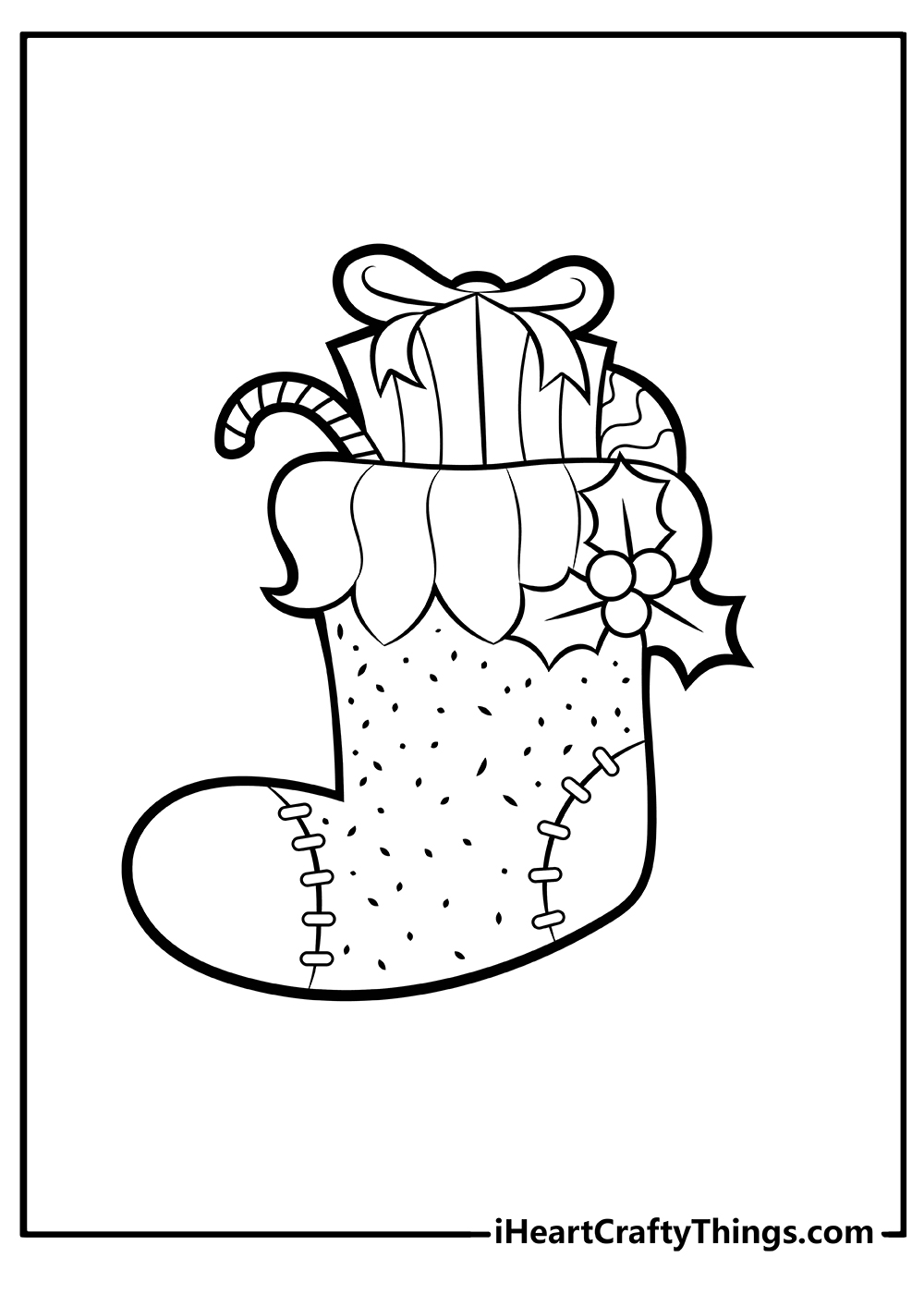 The Christmas tree is the most symbolic decoration that gets us in the Christmas spirit. This coloring sheet will surely get your child excited about the holiday season.
Our following coloring page features a cute Christmas tree decorated with plenty of Christmas decorations.
The tree features mistletoe twigs, garlands, Christmas baubles, and a star-shaped tree topper.
Your child can use green to color the tree and mistletoe twigs, and whatever color schemes they prefer for the decorations.
Print this coloring page for your child to color on Christmas night and hang it in your Christmas tree when it's done.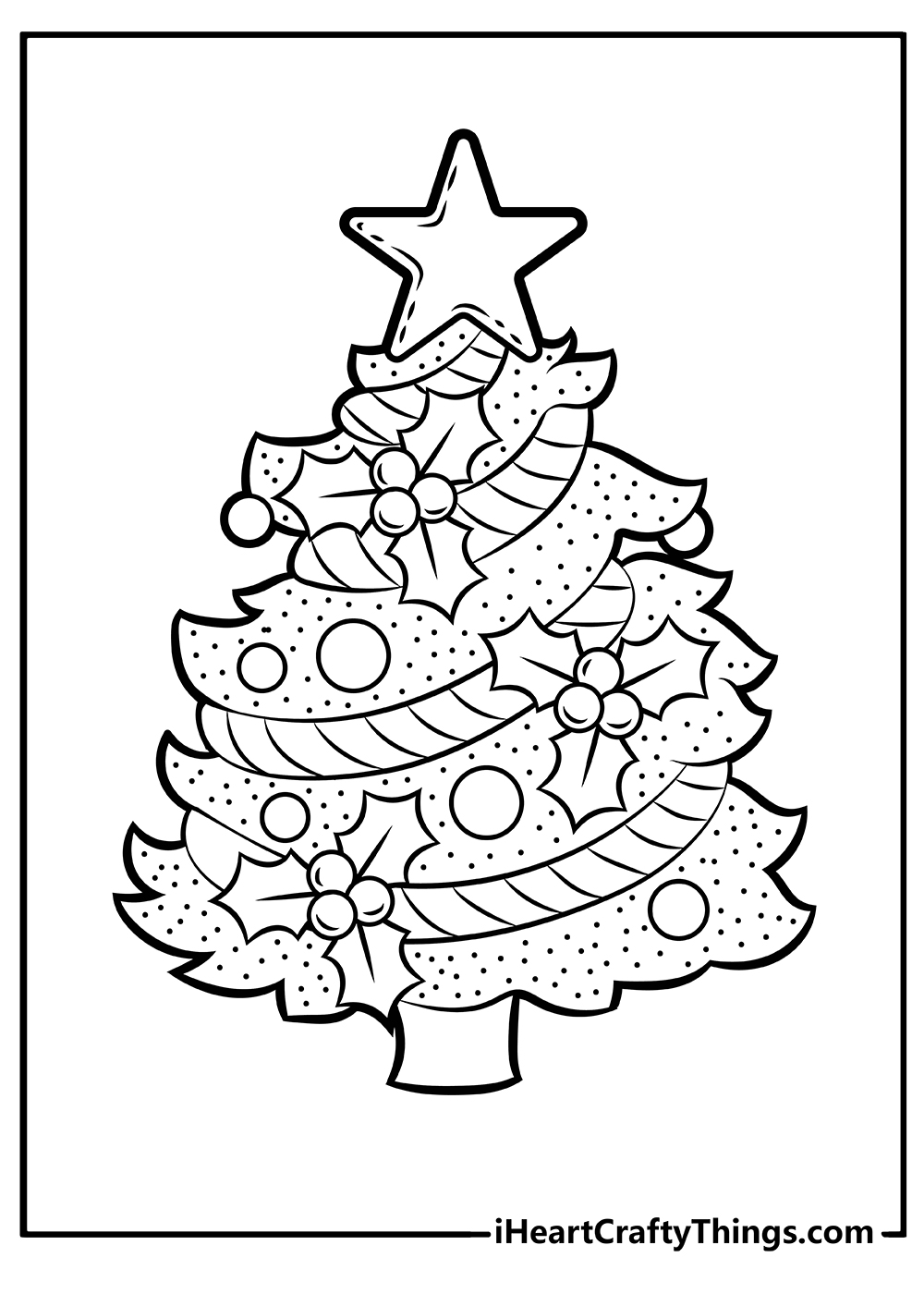 Does your child know the Gingerbread man story? You can tell them this Christmas-inspired story while they color our next coloring sheet.
This coloring page features a cute, smiling gingerbread man with lovely accessories to mimic a Christmas suit.
Gingerbread man decorations are often brown, but your child can reimagine the colors however they like.
Your child can let their imagination run wild and experience color schemes when it comes to coloring the frosting used to decorate this cookie and its cute, small hat.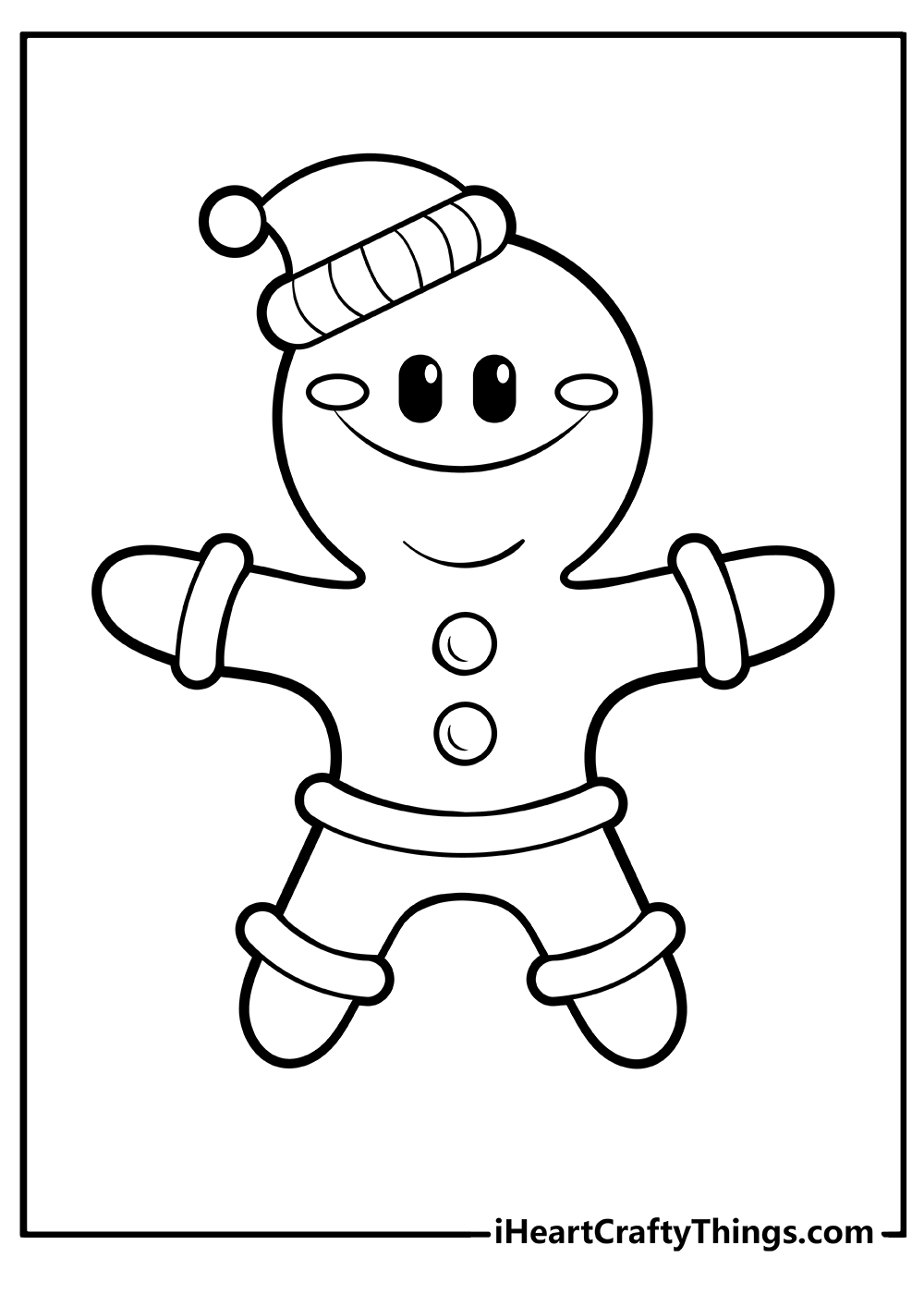 All Children love Santa Claus because he brings them the gifts they've wished for the entire year. Your child will love coloring our next page featuring a cute, small Santa Claus in his suit.
There are so many design details on this page that your child can reinterpret however they like.
They can use red and white to color Santa Claus, or they can reimagine the look of this lovely old man uniquely and creatively.
Once your child is done coloring this page, you can place it underneath your Christmas tree as a "gift" for Santa Claus.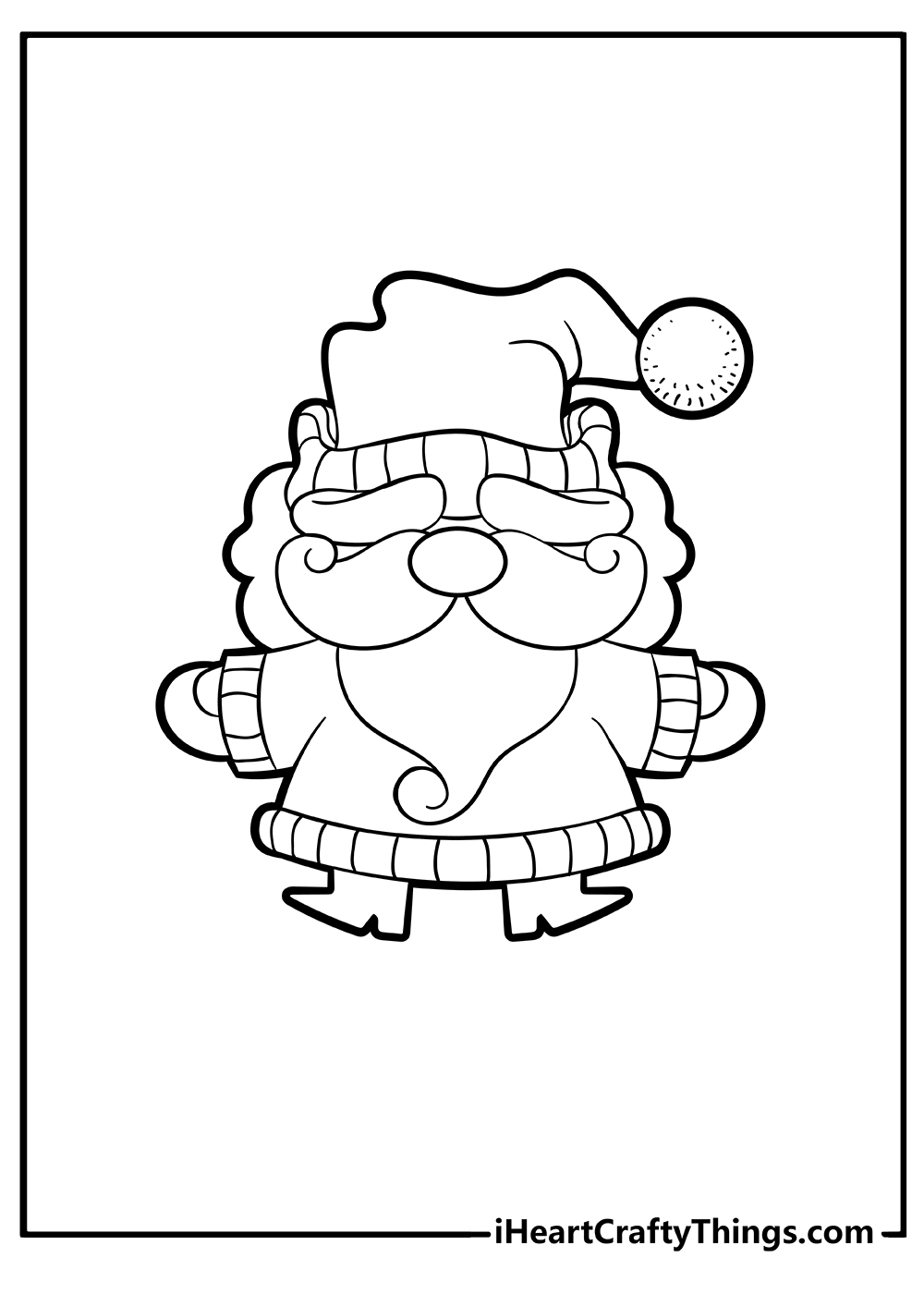 A smile from Santa Claus it's a clear sign that someone has been good and will get a Christmas gift.
Bring joy to your child with our next coloring sheet featuring a friendly, smiling Santa Claus with his cute beard and Christmas hat.
Your children can color the face of Santa and reinterpret his look as their imagination dictates. For example, they can color Santa's hat red or use a different shade they like.
All you need to do is download and print this coloring sheet and keep your little one entertained on Christmas night until Santa leaves his gifts.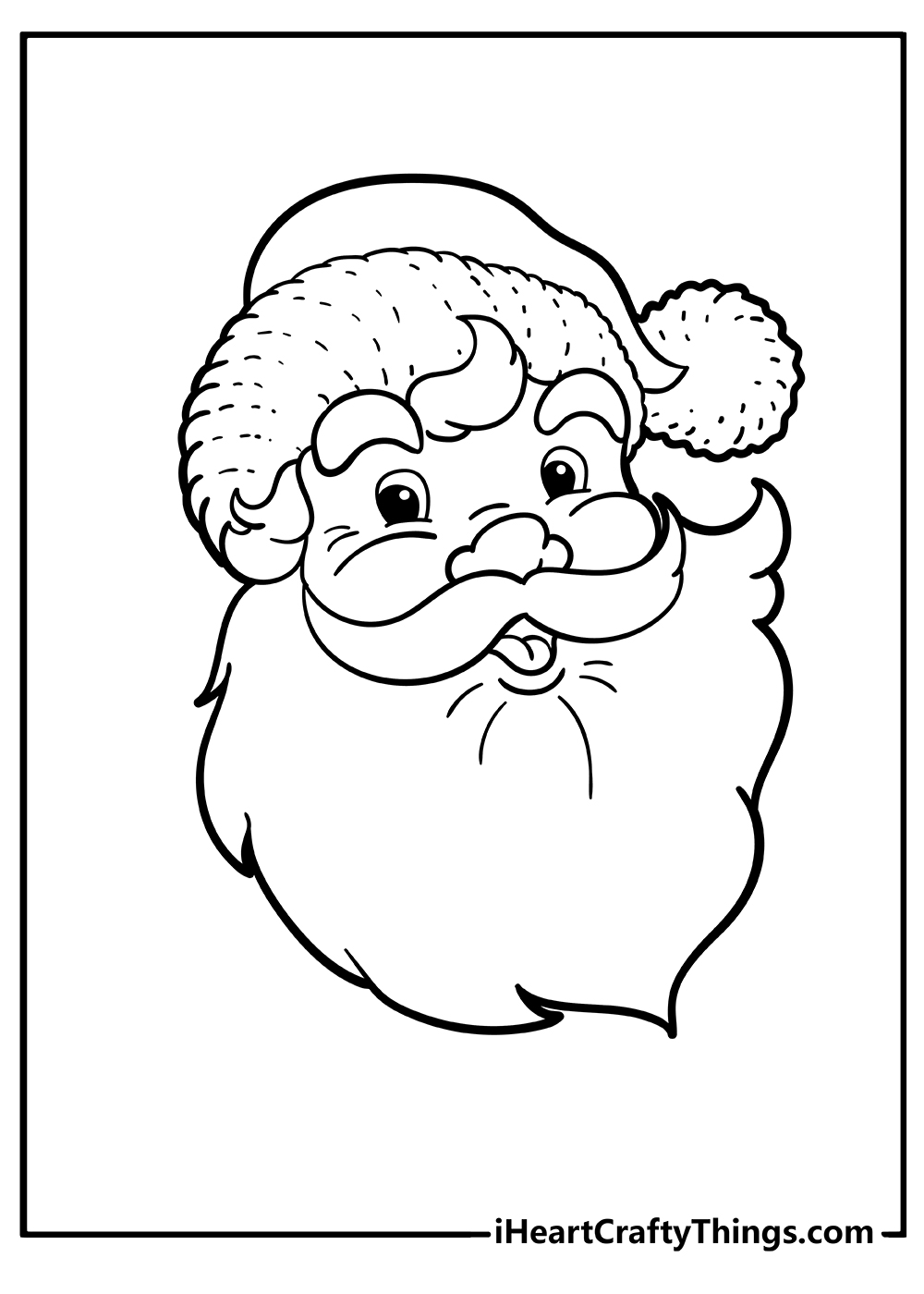 Rudolf, the red-nosed reindeer, is everybody's favorite, even Santa's. This cute, goofy reindeer helps Santa deliver his gifts to kids from all around the world every year.
So, we couldn't finish our Christmas-inspired coloring sheet collection without including Rudolf.
Our Christmas coloring page features Rudolf the reindeer with its cute nose and horns and a Santa hat. Teach your child about Rudolf's most distinctive characteristic: the red nose.
Your little one can use various colors to color this cute, smiling reindeer.
We constantly add new coloring sheets, so visit us again for more awesome coloring page ideas!