On this page, you will find 30 all new Spiderman coloring pages that are completely free to print and download.
There are so many incredible superheroes that star in tons of films, comics and video games to name just a few forms of media!
Some of these are more popular and iconinc than others, and Spider-Man is one hero who can stand tall as one of the most famous of all.
He is famous for his relatable character, incredible powers and bright costume, and you will get to enjoy some adventures with him in this collection of free Spider-Man coloring pages for kids!
These pages are all free to pick, print color and share with others, and you can also share some of your finished pages on our Facebook and Pinterest pages to show them off
30 Brand New Spider-Man Coloring Pages – Free to Print and Color
This superhero has many famous powers, and he is showing off one of them in this Spider Man coloring sheet.
He can crawl up most surfaces, and that is what he is doing here. We can see that is what he is doing, but the background has been left blank.
You could draw a surface beneath him to show where he is crawling, and there are many ways to do that!
Maybe he could be climbing up the wall of a skyscraper, and then you could show the street below him. What other surfaces can you think of?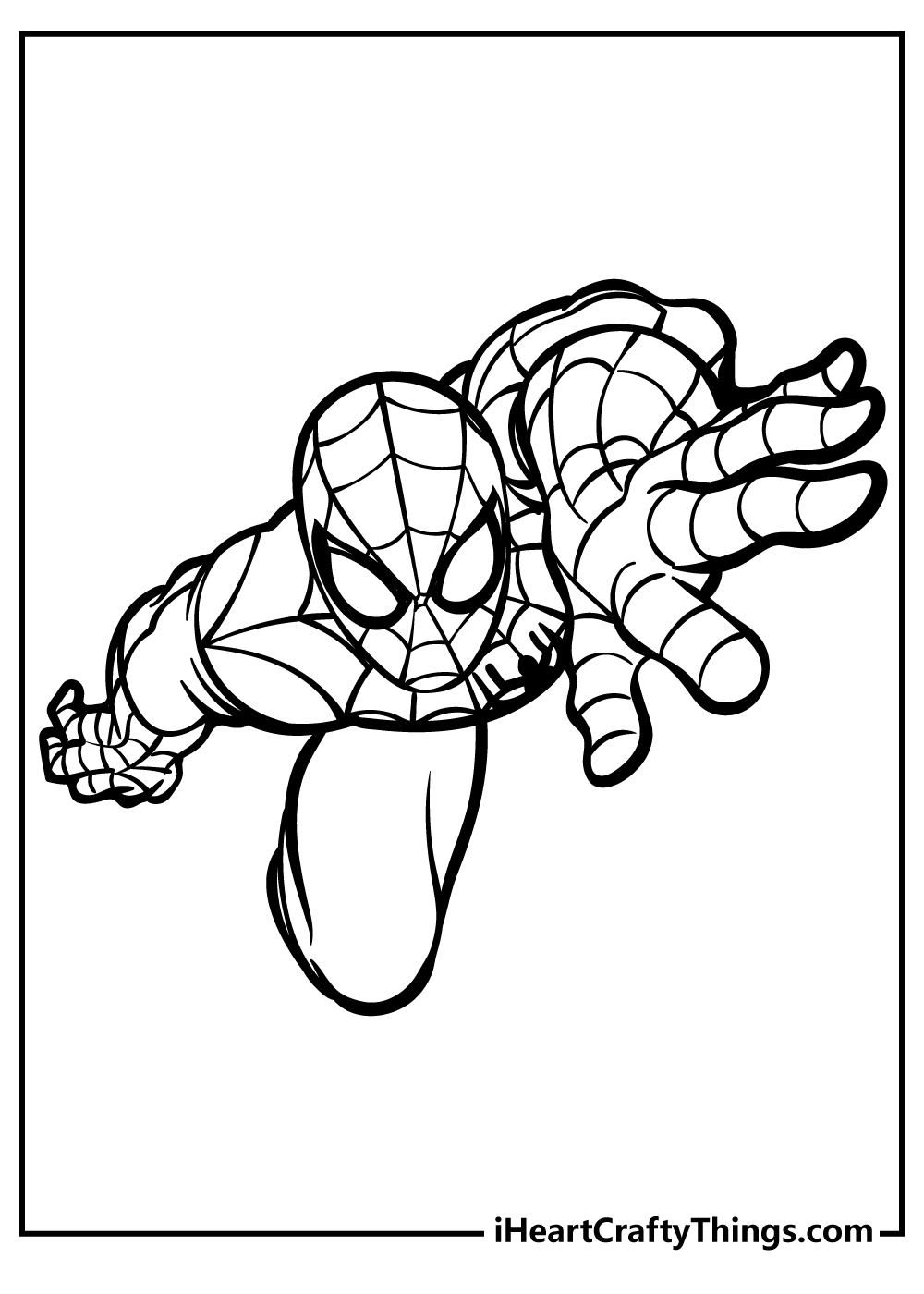 Swing into action with your crayons as you color this page of Spider-Man dashing down the street!
Our friendly neighborhood web-slinger is caught mid-swing, with one hand stretched out to shoot his signature webs while his other hand trails behind him.
The detail on his iconic red and blue suit is fantastic – be sure to stay inside the lines as you color in all the intricate webbing and spider emblems.
And don't forget to add some bright colors to the cityscape background and the tall buildings.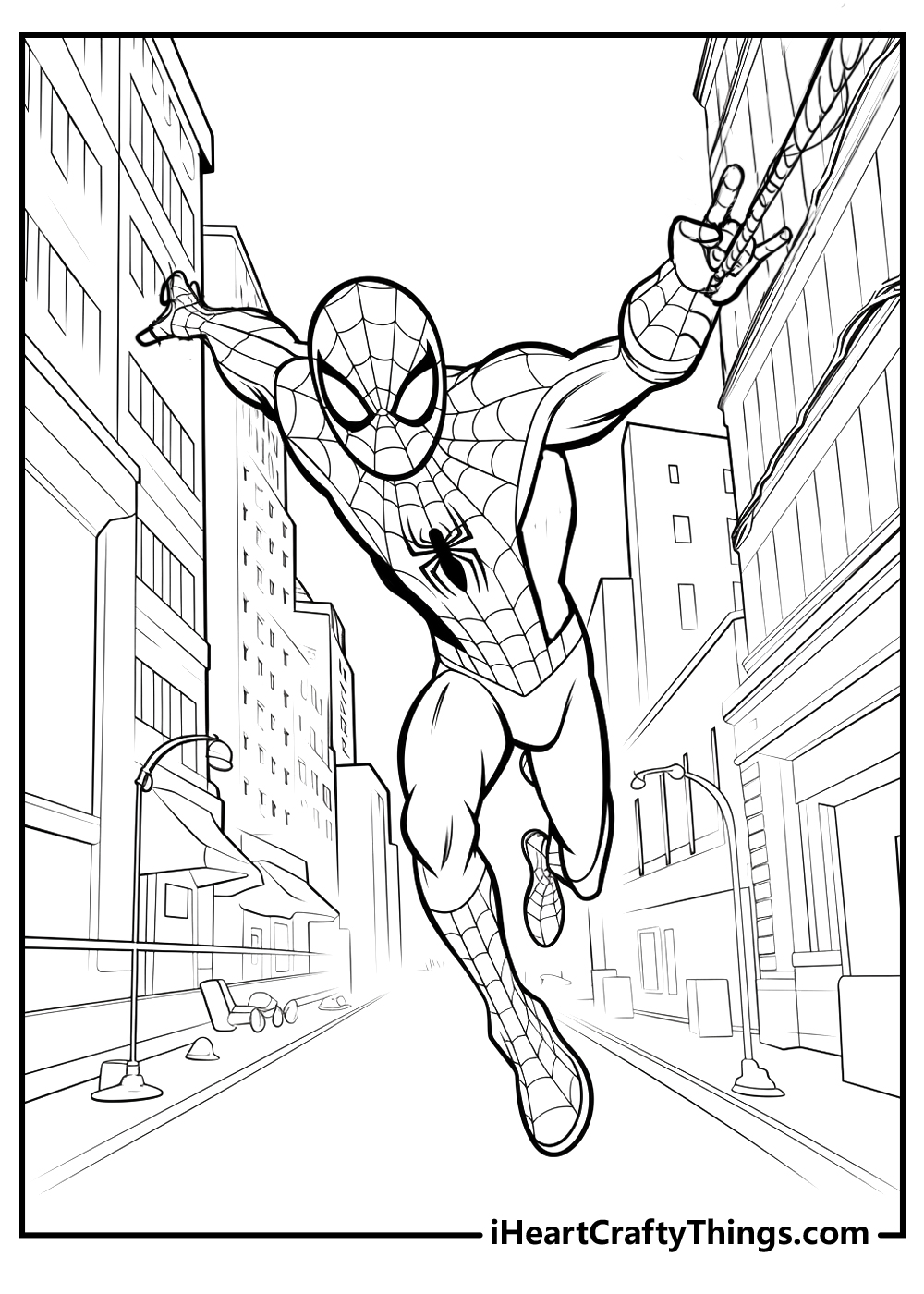 Spider Man has appeared in many different comics, TV shows and other forms of media, and his design has seen a lot of different interpretations.
This next page shows one of his more stylistic designs, and it portrays a younger version of the webhead.
He is also in a  really cool pose here as he looks to be swinging around. He is also about to shoot webs from his hand, and you could draw that detail to really finish off the scene.
What sort of situation do you think he could be in here?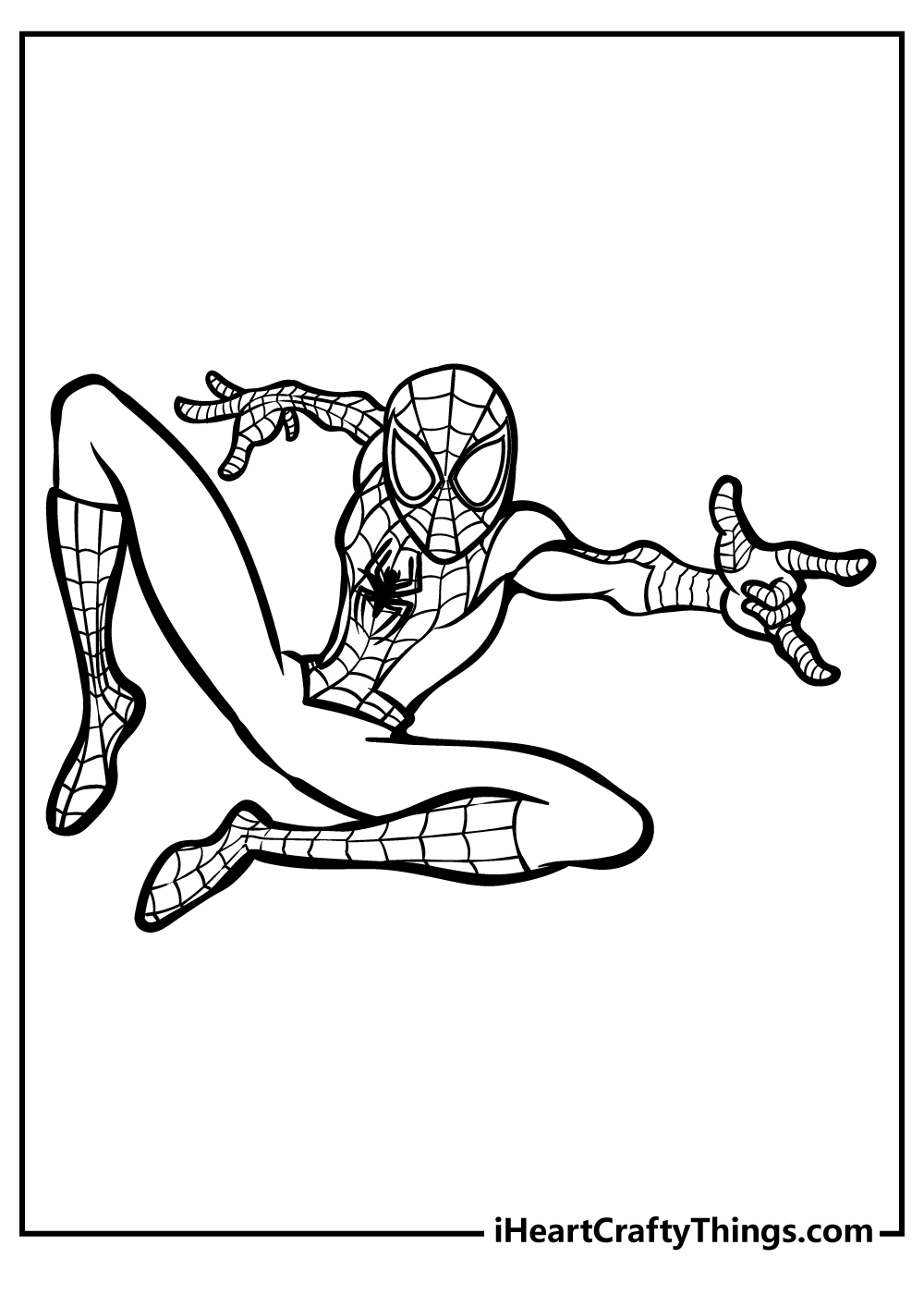 We shall begin this collection of Spider-Man coloring sheets with the famous hero standing and looking brave!
Spider-Man has to take on many threats that require him to use all of his wits and strength, and that feeling is certainly given off here.
When coloring this page, do you think you may draw some background details to finish it off? We look forward to seeing how you complete this picture!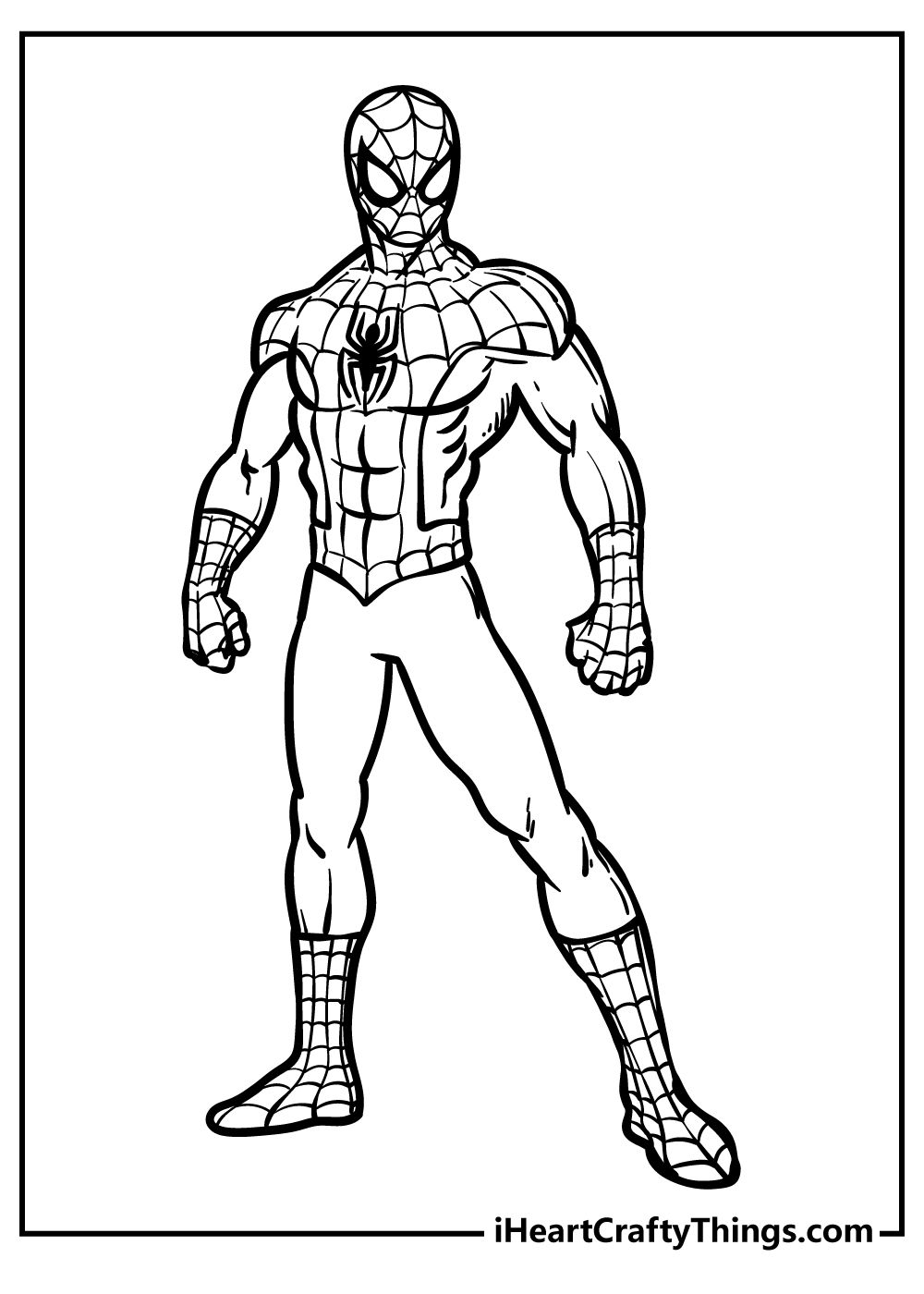 In this Spider-Man coloring page, our hero is running after an enemy with his fists clenched and his jaw set in determination beneath his signature mask.
Who do you think he's facing off against – is it the Green Goblin on his hi-tech glider? Doctor Octopus with his dangerous mechanical arms? Or maybe even Venom, his dark reflection?
You can use bold reds and blues for his costume. Add bright yellows for his eyepieces and don't forget the stark black web pattern.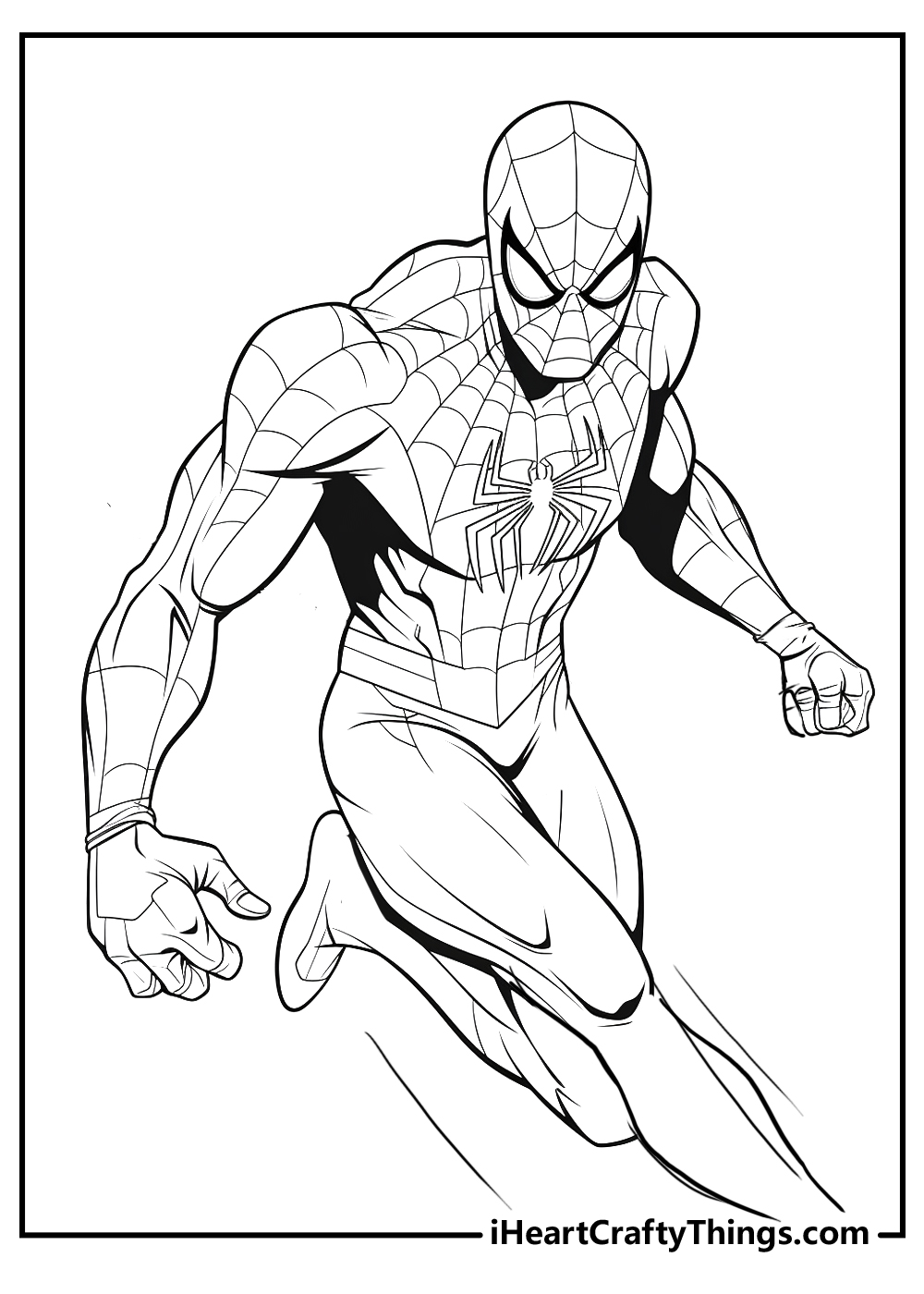 Our second page features a really cool pose for Spider-Man. With how he is sitting here, you can imagine that he is perched on the roof of a tall New York skyscraper surveying his surroundings.
If we were coloring this one, we would use a rich black for the night sky behind him that is dotted with bright yellow stars.
What time of day will you create for this picture?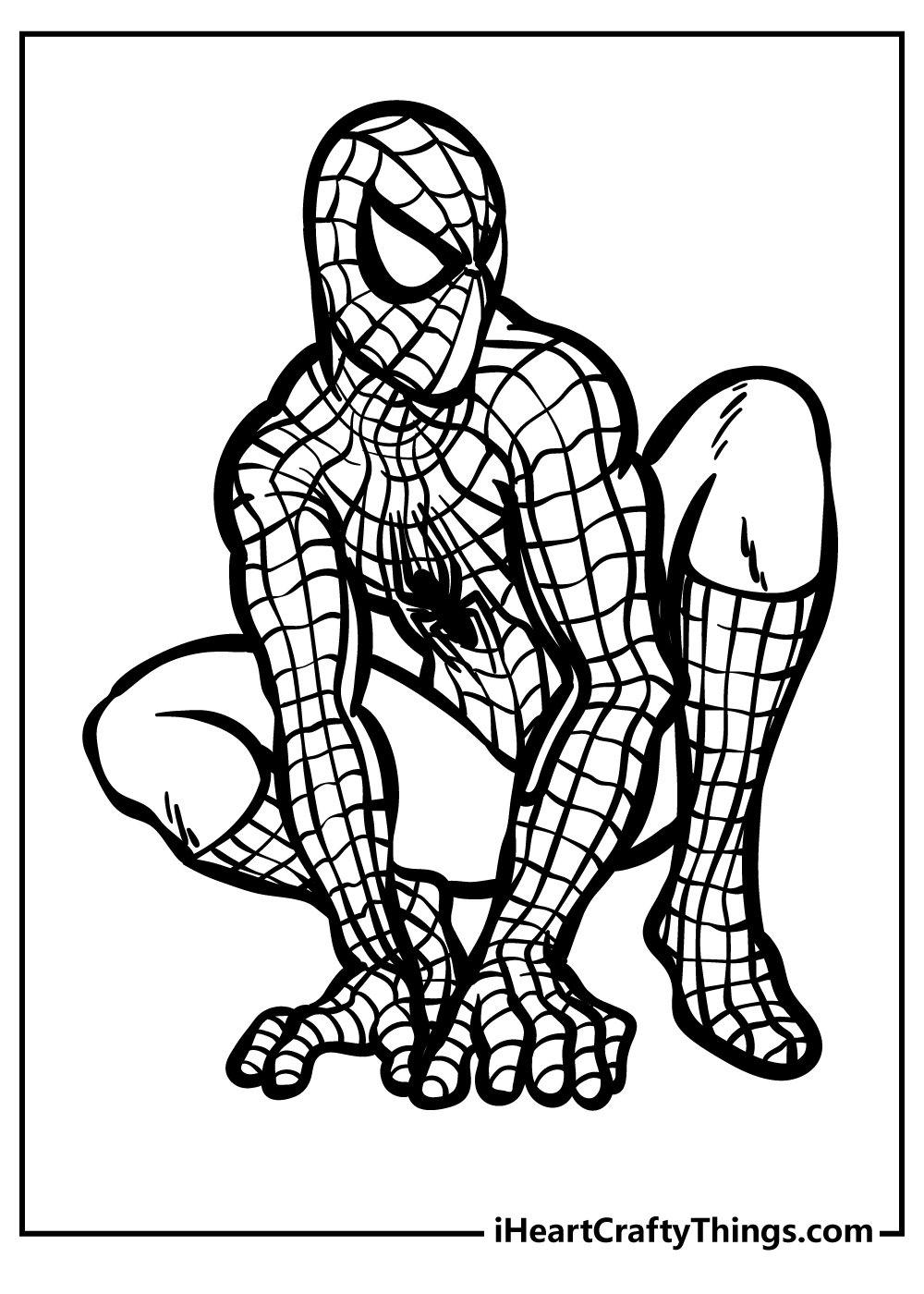 Spider-Man is famous for his awesome superpowers, and one of them is being shown off in this next image.
He has the ability to climb up walls and other surfaces, and this is the power he is showing off in this picture.
This is another one where drawing some background details would be fun to do. You could draw the surface he is climbing and also show the city streets far below him for one idea!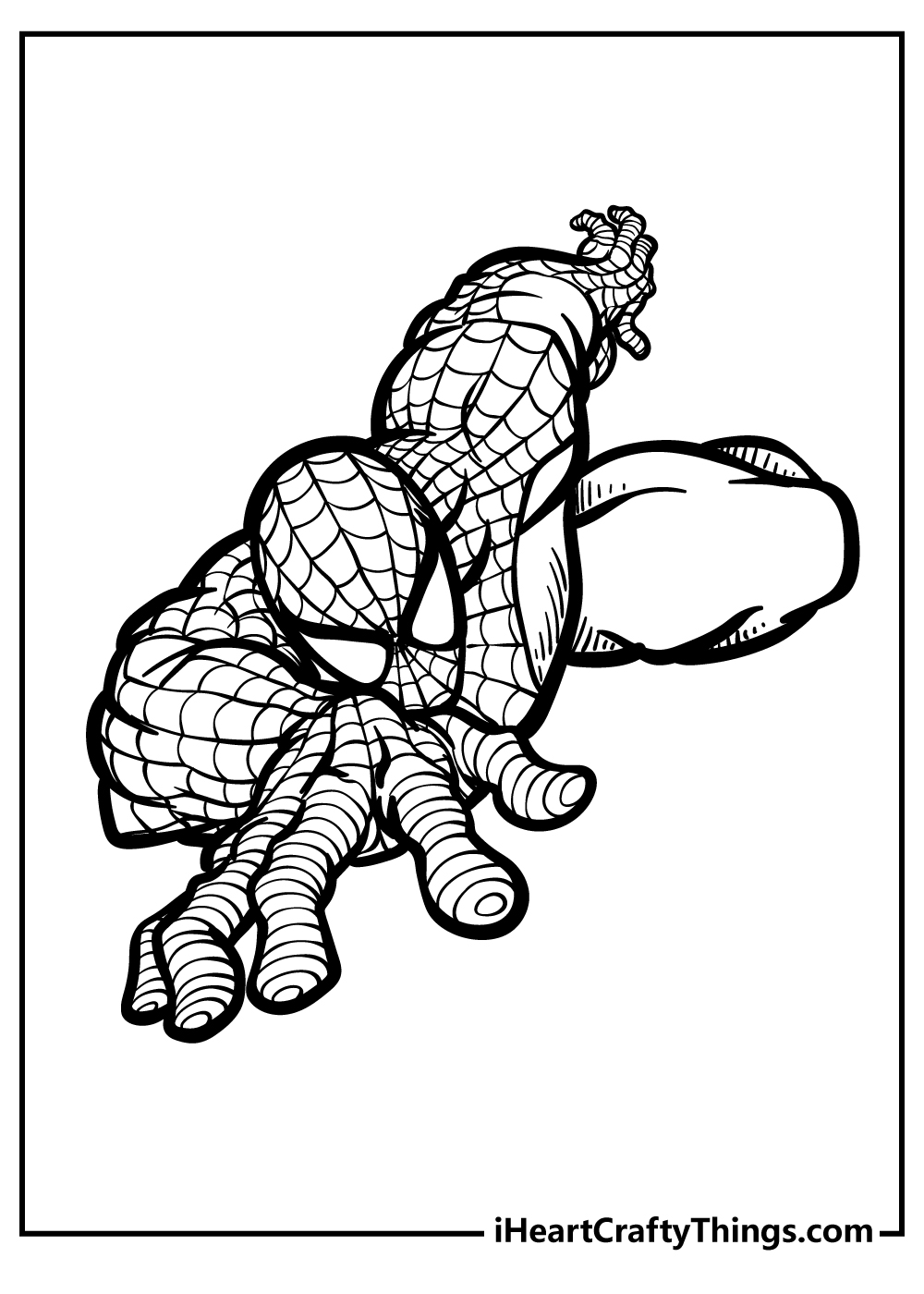 Next, we have such a cool image of our favorite spider-themed hero. This closeup gives us a great view of his suit and mask, and you can really get in there with some more intricate color details.
His suit has seen many re-designs over the years, and even though he is normally seen in blue and red, there have been other colors for his suits.
When coloring this look, you could go for the classic red and blue, but you could also go for one of the many looks from his history.
Which will you choose for this page?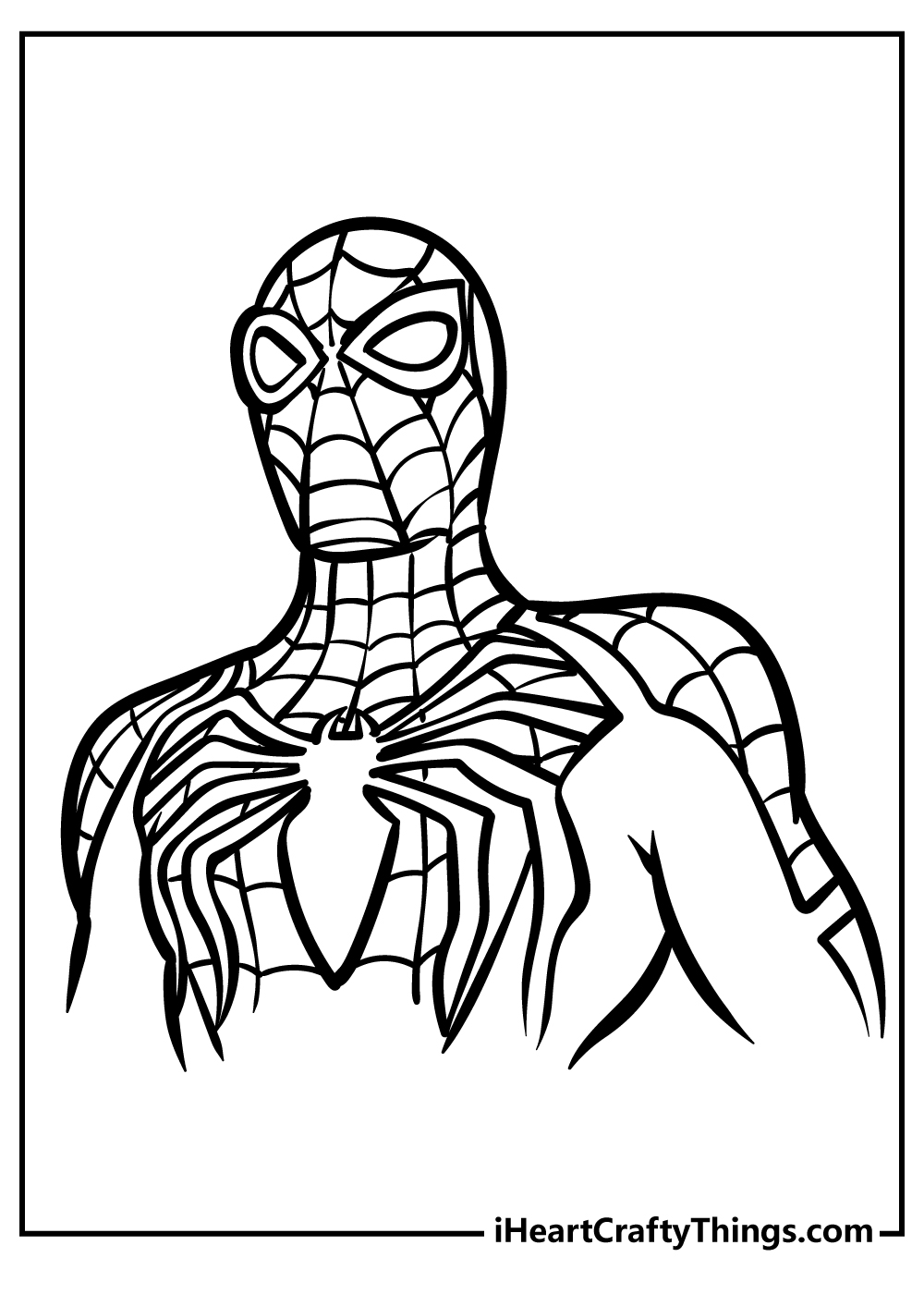 Trouble is brewing in New York City and only Spider-Man can save the day! Our friendly neighborhood hero is in action, fists ready and head held high.
What sort of villainy do you think he's about to confront? Is it bank robbers? Escaped criminals? Or an invasion of epic proportions?
Let your imagination run wild as you color in Spidey's trademark suit and mask.
Consider using vivid shades of red and blue for an eye-catching look. Maybe add some color or details to the background to set the scene!
For this next page in our collection of free Spider Man coloring pages for kids, we have our hero surveying his city from a vantage point.
His powers mean that he can get anywhere in the city, and this can give him a great view for spotting crime.
For this page, maybe you could draw New York City behind him to create a really cool setting for the page.
If you were to do that, you could look up pictures of the city to help you out, or you could refer to how it is depicted in the comics.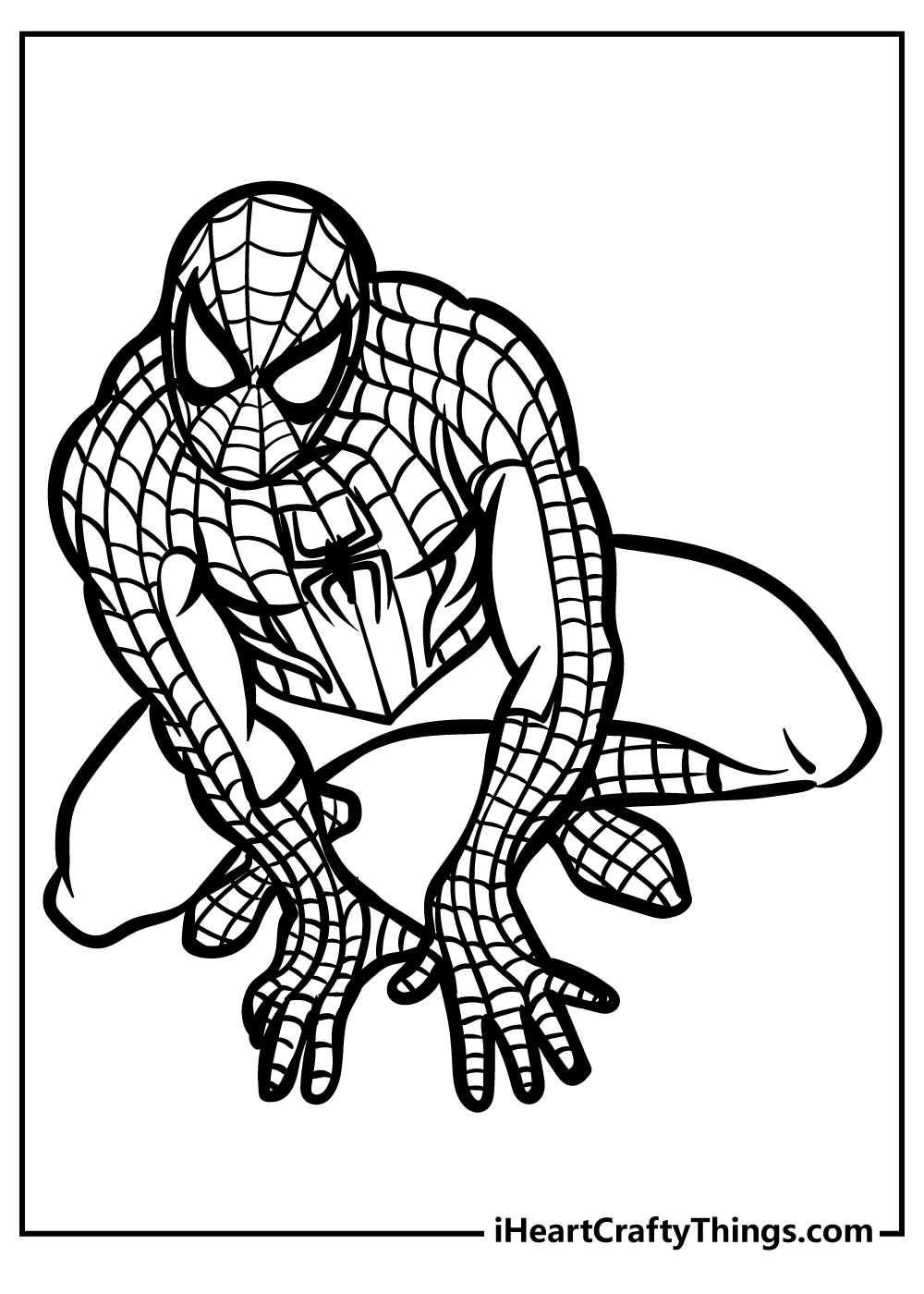 We're showing off another classic Spider-Man superpower in this fourth page! He is swinging along using his famous webs, and it makes for a really cool pose.
What kind of setting do you think that he could be swinging through?
You can show us what you think by drawing a background!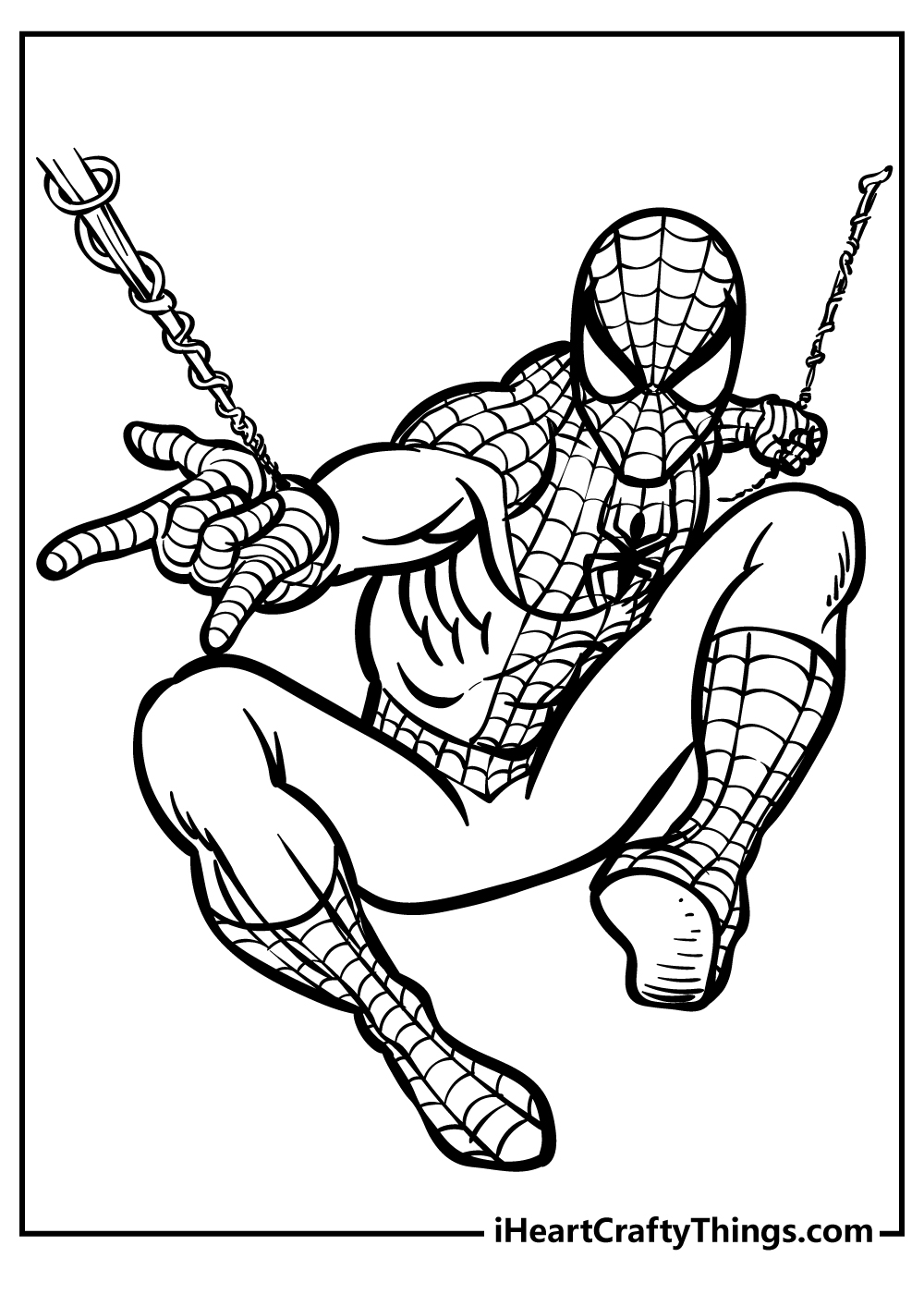 Spider Man finds himself in all sorts of cool poses as he swings around, and one of these poses is captured on this page.
With this pose, he could be traveling around the city or he could be in a battle with one of his many enemies.
If he were battling a villain, which one do you think it could be? You could draw another character or have some hints as to who it could be.
For example, you could draw one of Doc Ock's robotic arms in the frame to show that he is battling this classic villain.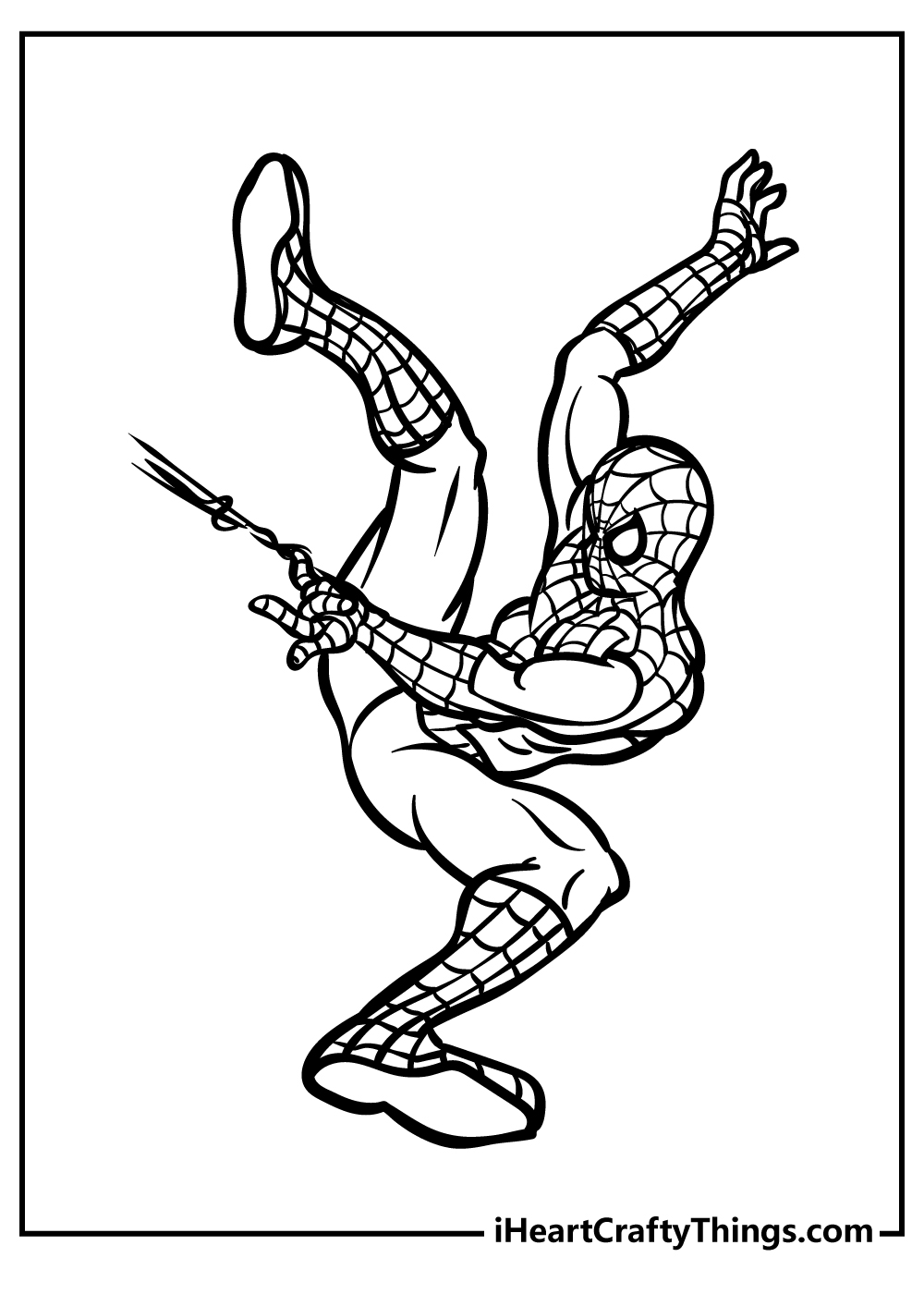 With great power comes great responsibility! Those wise words guide Spider-Man as he springs into action to defend New York City.
This close-up Spider-Man coloring sheet gives you the chance to color in all the fine details of Spidey's unique costume.
Carefully stay within the lines as you color the iconic red and blue suit with black webbing. Don't forget to pick out the large white eyepieces on his expressive mask.
Consider using metallic, neon, or glitter colors to make your Spidey really pop!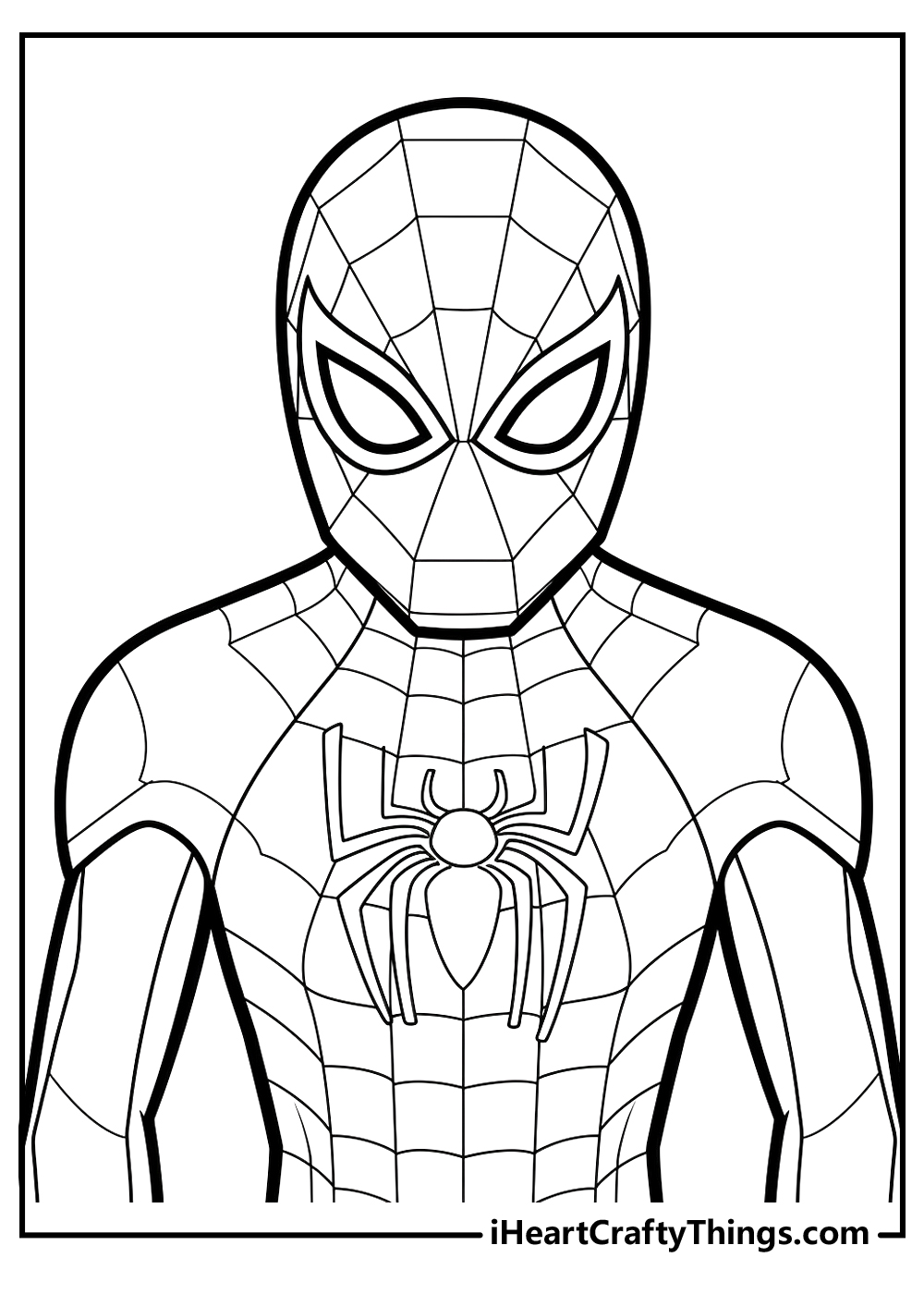 For the next page we have for you, Spider Man is looking pretty defiant. We don't get to see much facial expression when he is wearing his mask, but the way he is posed tells a story.
It suggests that he is looking at a powerful villain who is maybe gaining the upper hand.
For this page, we would keep the colors bright and intense to create a really striking scene. Do you think you would take a similar approach or will you go for some lighter colors instead?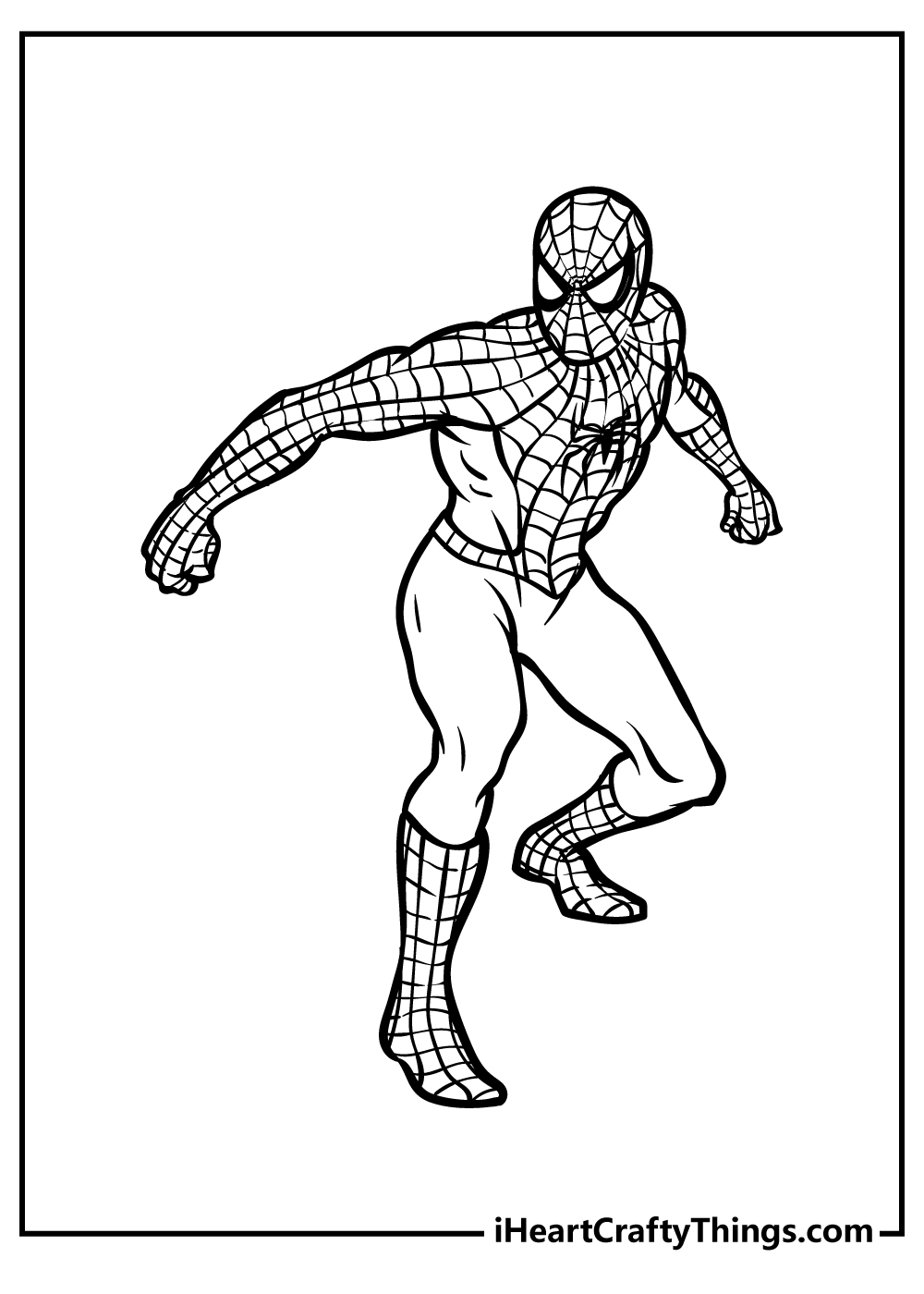 The hand gesture that Spidey needs to make to spin his webs has become quite iconic, and they are shown off in this fifth page of our collection of free Spider-Man coloring pages for kids!
He seems to be in a thrilling action scene here, and if you want to take this one even further then you can draw some webs coming from his hands.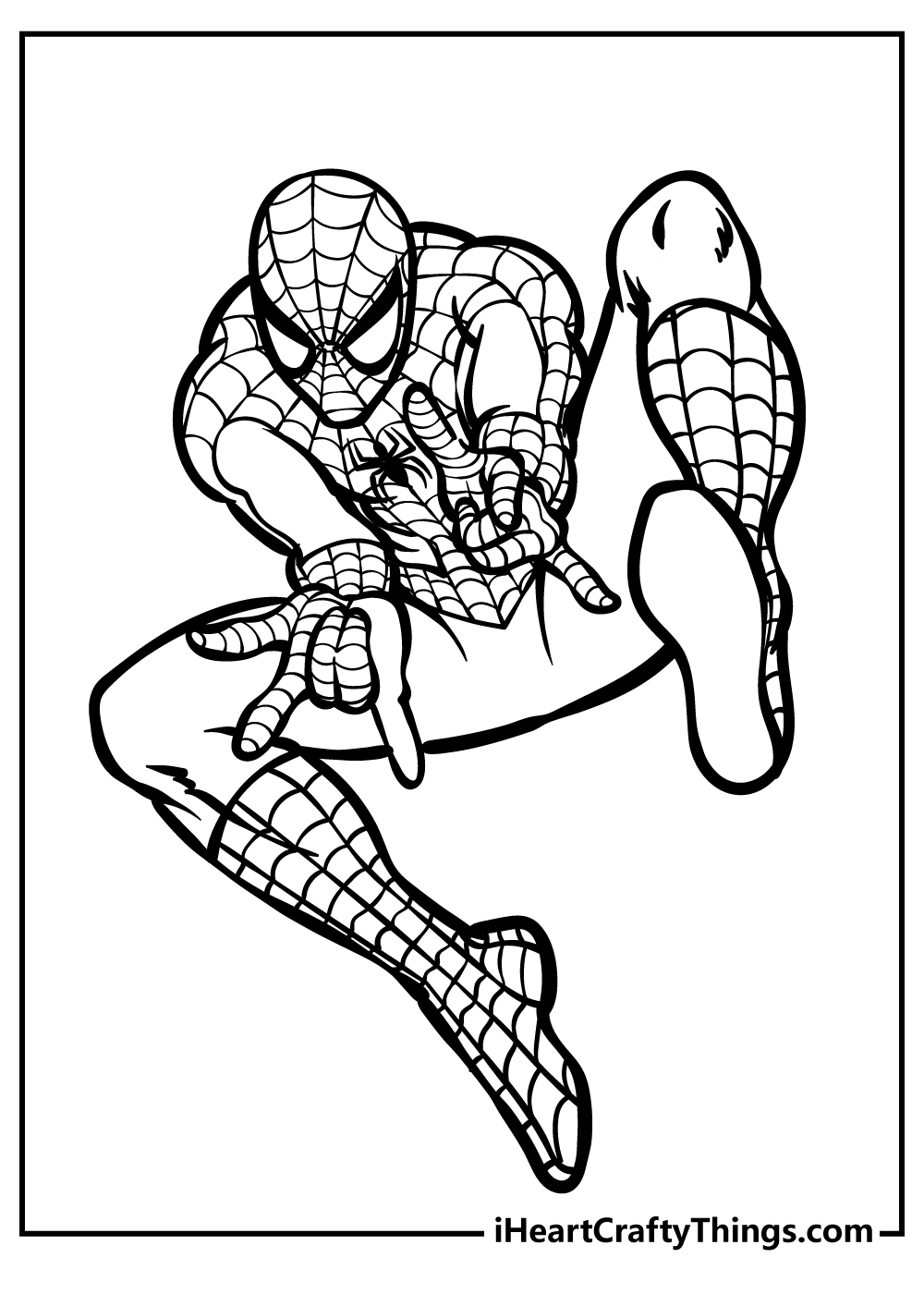 It's time for another action scene in this next image. Spider-Man is again leaving through the air and is about to shoot some more web!
He has many famous villains that he faces, and you could show off which villain you think he could be facing by adding some clues to the background.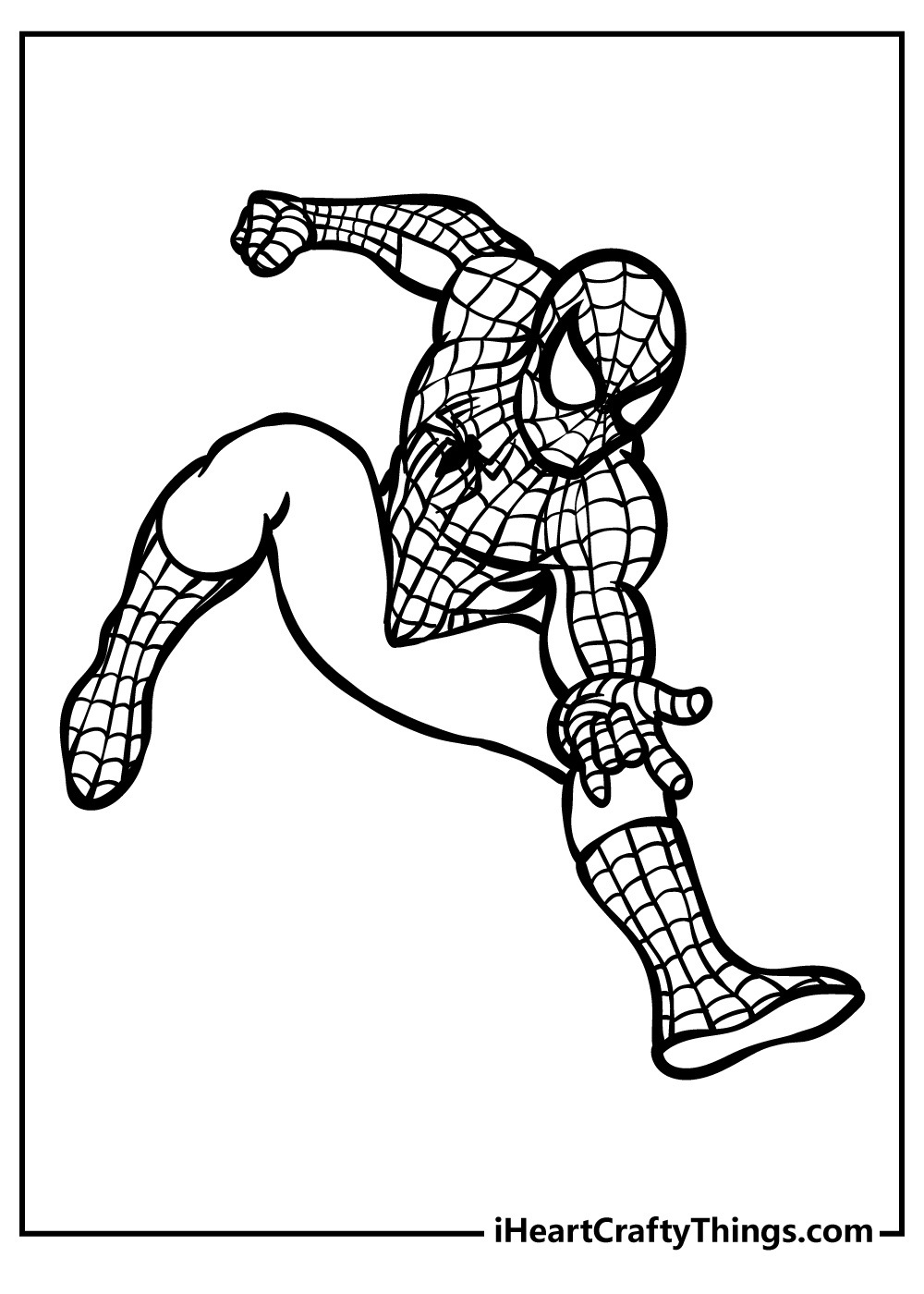 This Spider Man coloring printable shows him in such a cool pose. He can shoot web from his wrists by making the iconic hand gesture, and he is doing just that with both hands here.
You could draw some of the webs coming from his wrists to finish off the effect, but you could also leave it as is and focus on the colors.
This would also be another perfect page to add a background to. You could have him swinging through the city, but what are some other locations he could be traveling through?
Maybe you could recreate your favorite Spider Man situation with the background you add!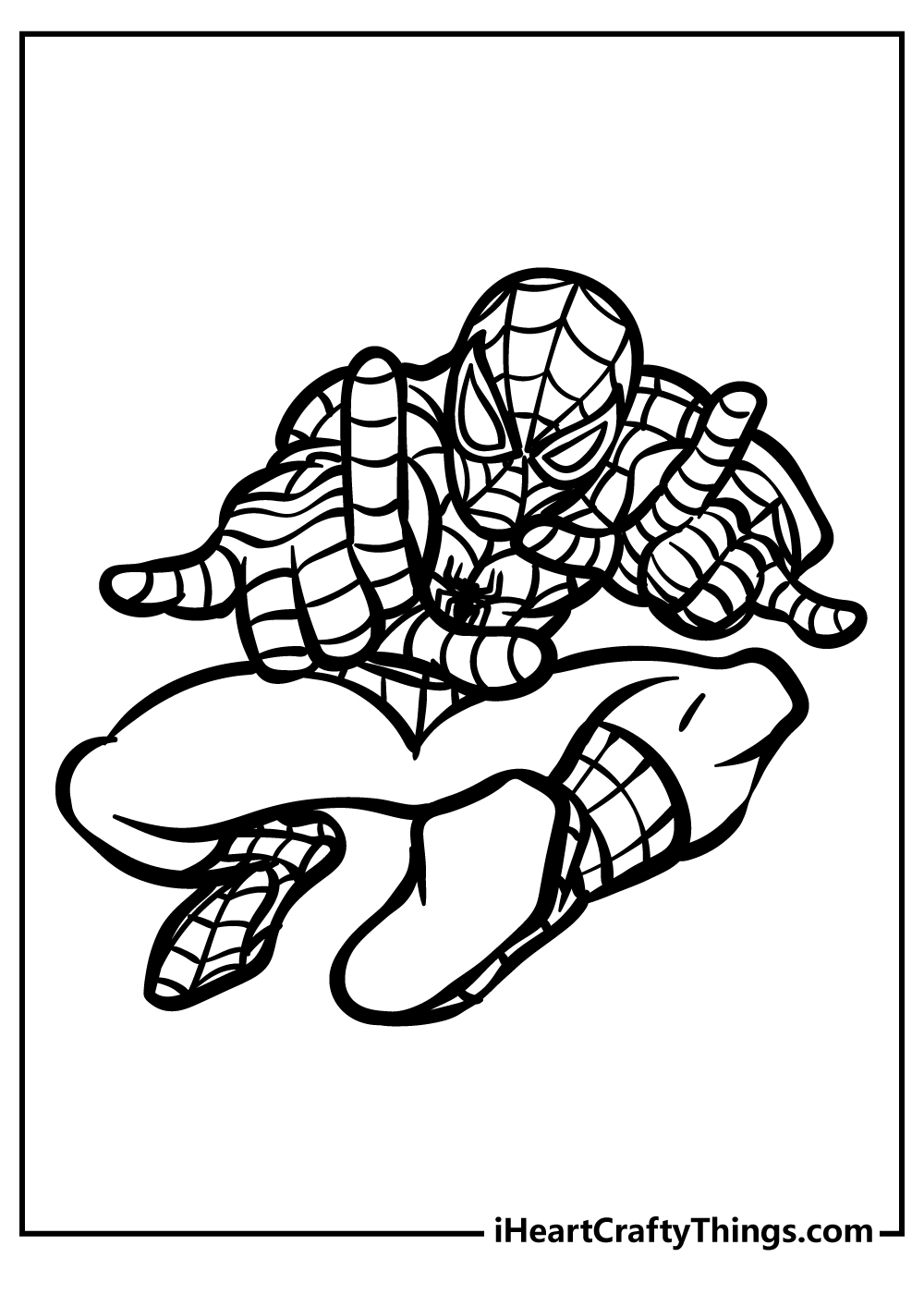 We've had a look at a few of the different looks Spider Man has had for his suits throughout this collection, and this page shows off another unique one.
This one has a lot more stripes and details on it, and that allows for some cool colors.
Some of the details are quite small and thin, so you may want to use some colored pens, markers or pencils in order to color inside these small spaces.
What color scheme will you go for once you have chosen the mediums you would like to use for this one?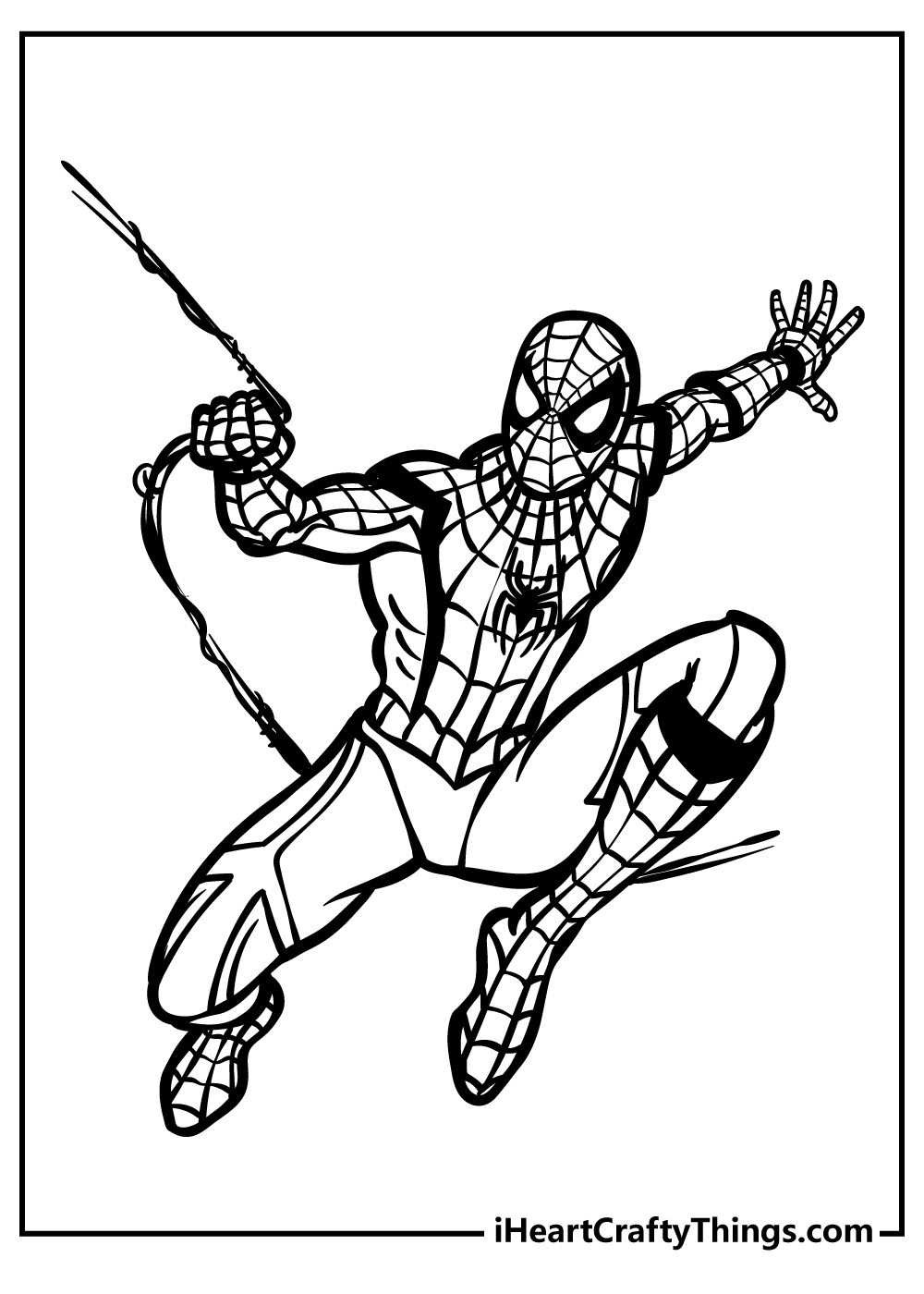 New York City needs Spider-Man, and Spider-Man needs you! Grab your coloring supplies and jump into the action with this page.
Spider-Man stands ready, his pose projecting quiet confidence and power.
Color in his signature red and blue costume with its complex black webbing and bold white eyepieces. What exciting adventures await him today?
Maybe Dock Ock is on the loose or the Green Goblin is up to no good. However you imagine the story, you can help bring Spider-Man's world to life through coloring.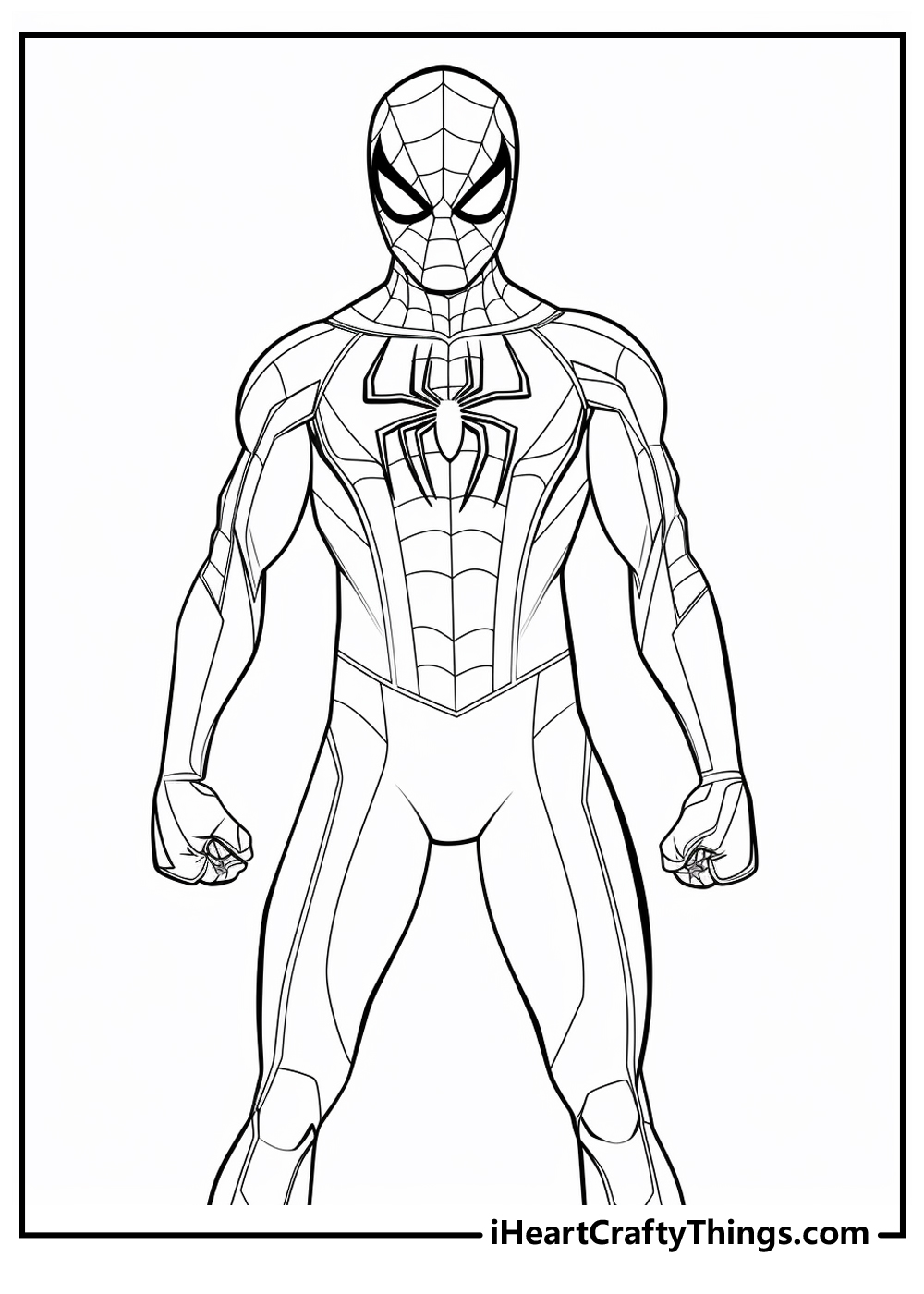 This next page features such an awesome pose for Spidey! He is swinging through the air while getting ready to shoot another web.
If you wanted to create a background for this one, you could look up some pictures of his native New York City and draw it far beneath him.
This is one idea, but what else can you think of?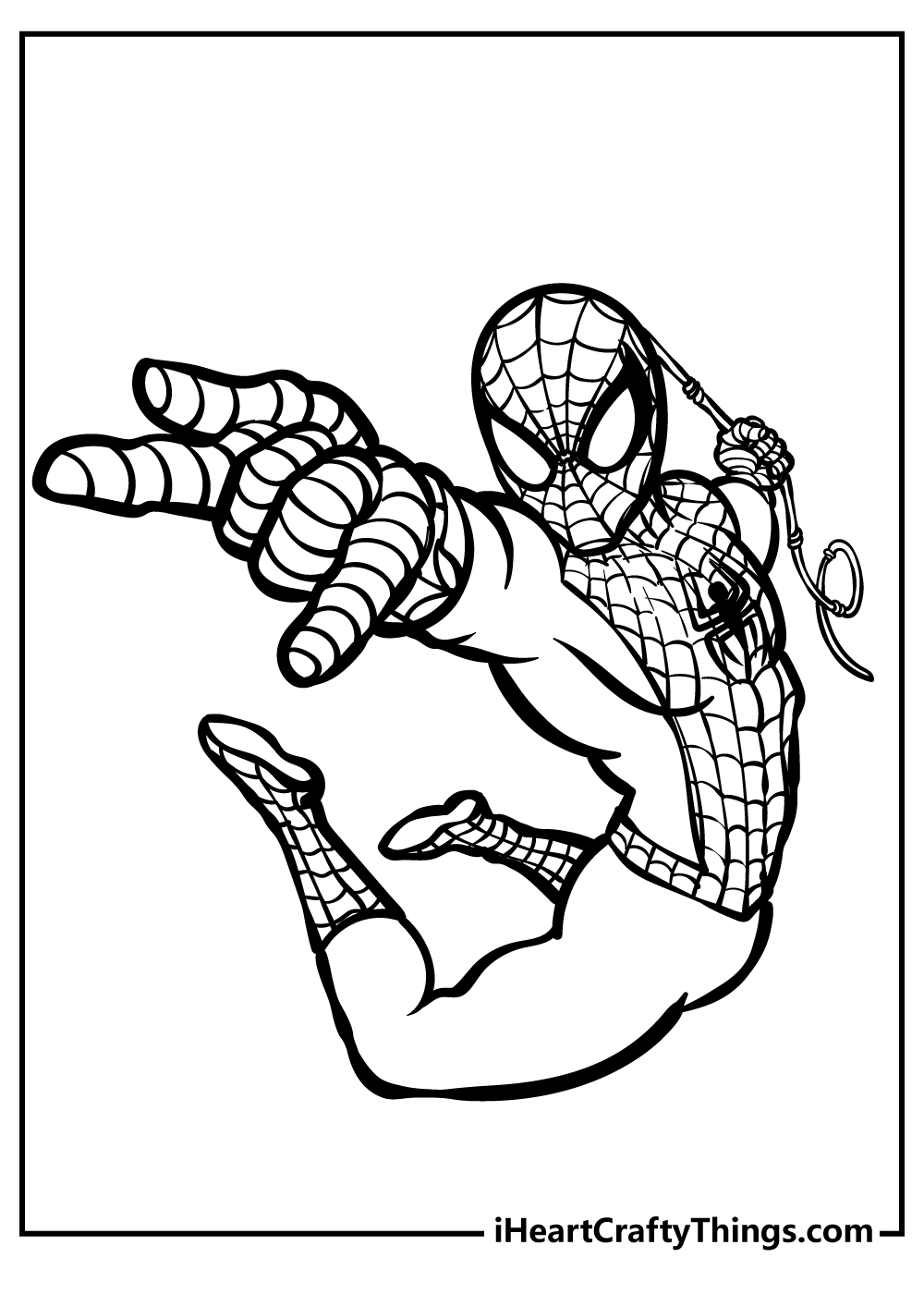 We will swing into some more coloring fun with this next page!
Traveling via web sure looks more fun than any travel methods we have available to us, and he does seem to be having a blast as he zips through the city.
We're sure this one will look great when it's done!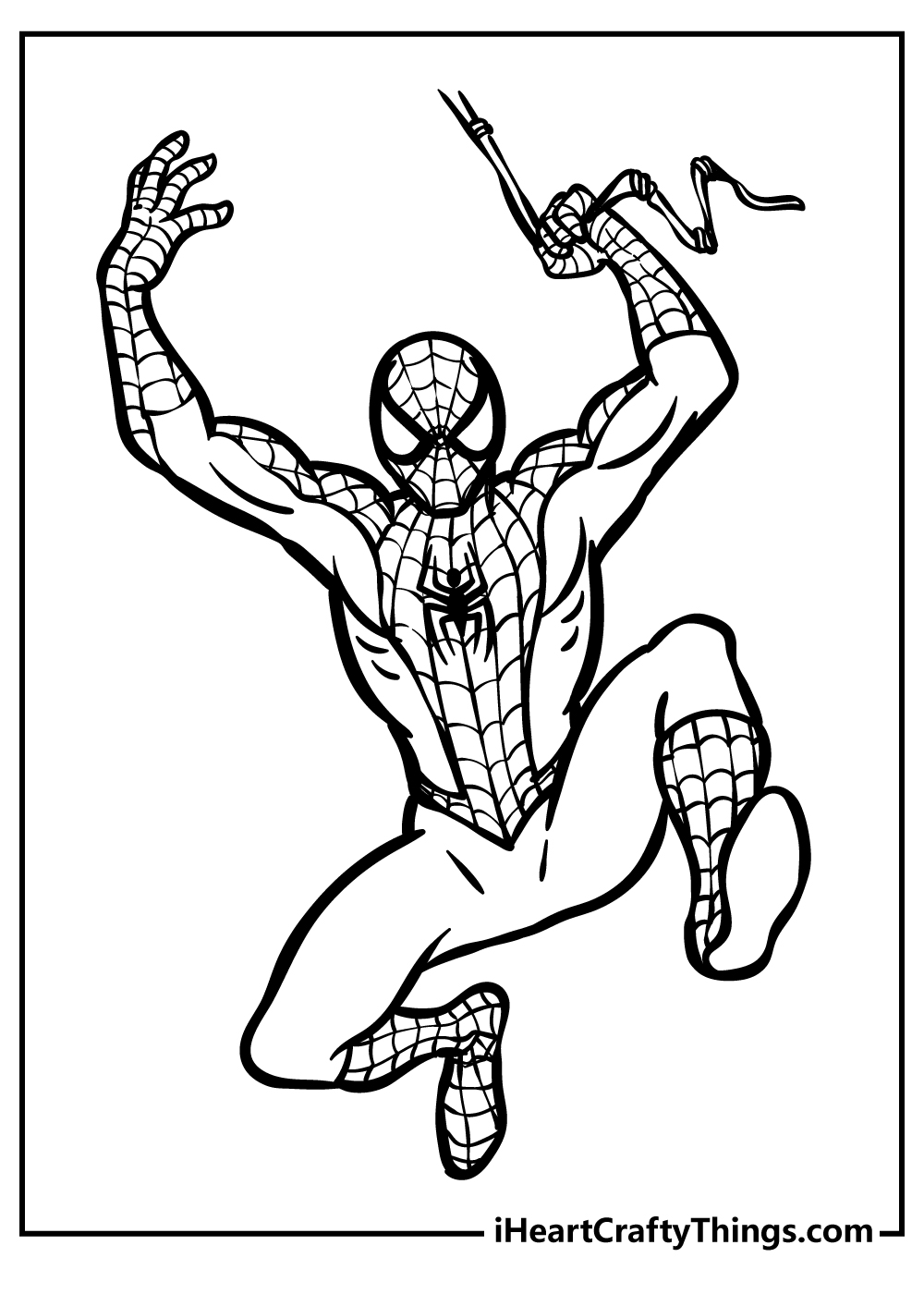 Spider Man is often pulling moves that look like they would be quite painful to recreate in real life!
This page shows one of those moves, and while it would be quite uncomfortable to perform it definitely looks very cool.
It already looks awesome just in black and white, but it will look even better once you have added some color.
If you don't want to color in each small section of his suit pattern, you could use a light wash of watercolor so that the lines will show up beneath.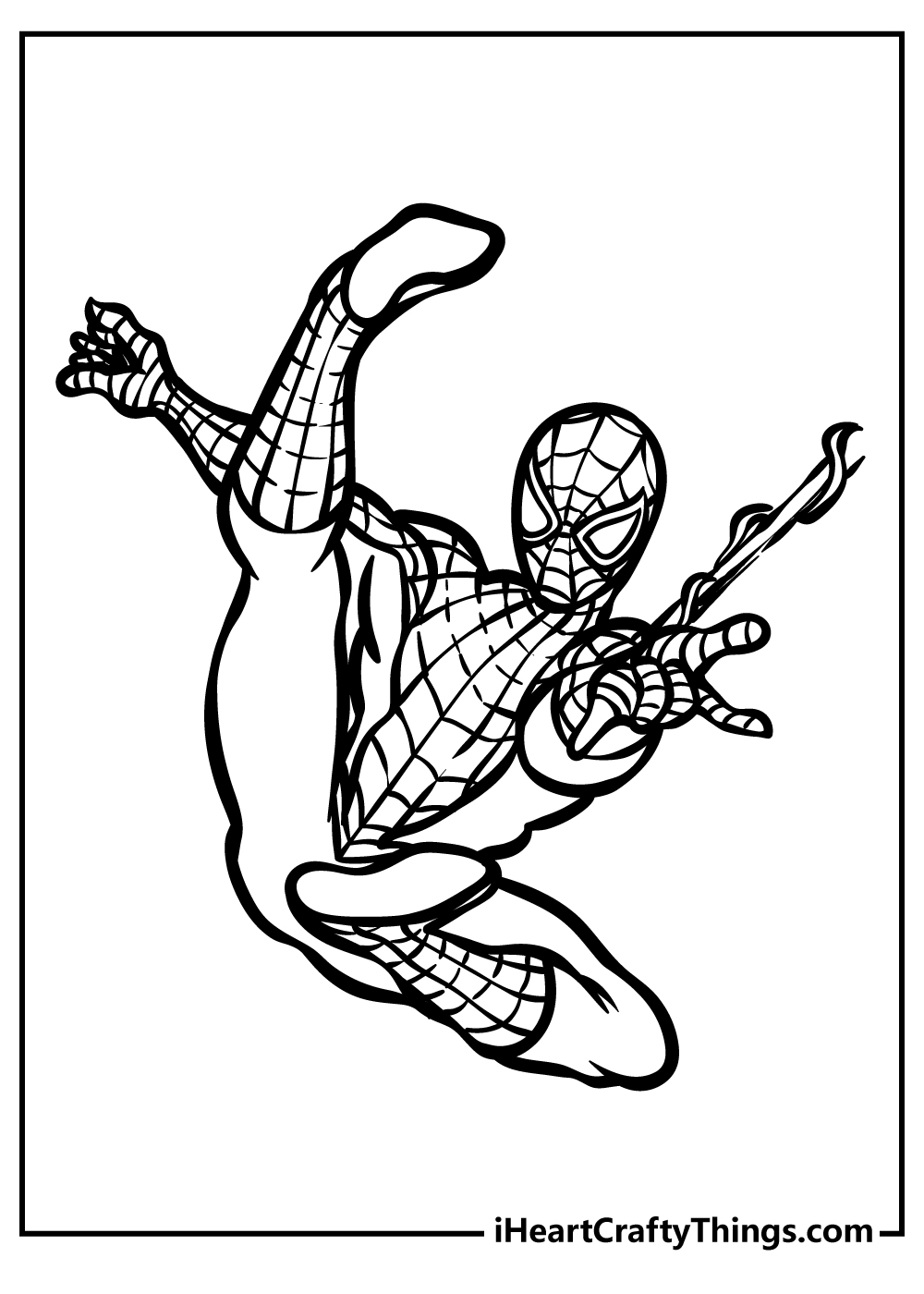 Next, we have a Spider Man coloring page that again depicts him swinging around.
There are so many ways that you could color and add to this page, and the number of options can get overwhelming!
If you would like to experiment with different ideas, then you can print out as many copies of this page as you like.
It's free to do that, and that way you can try out all of the ideas that you have without worrying about committing to one too soon. What are some ideas you have for this page?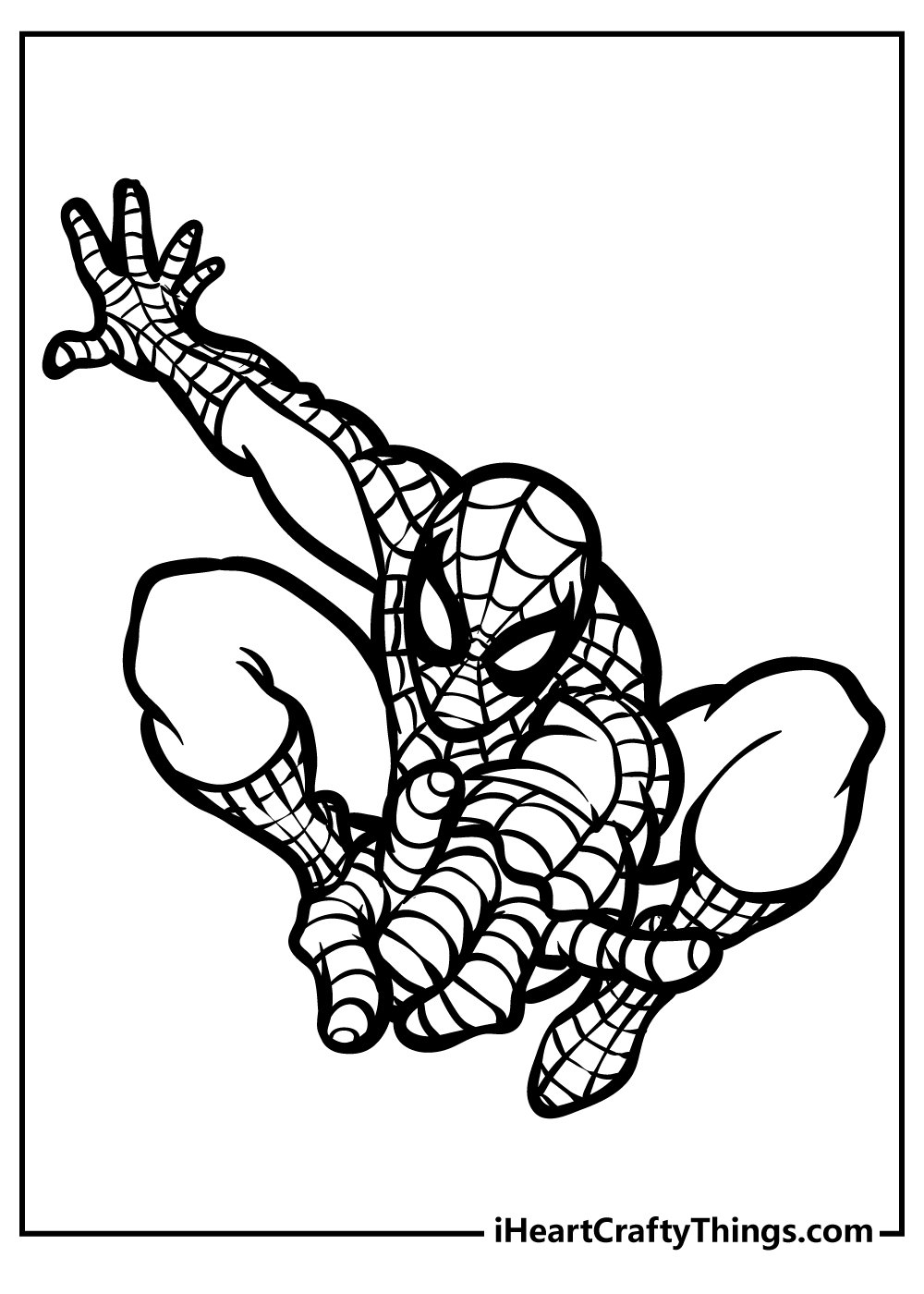 The wall-crawler is doing one of the things he does best in this picture! He is looking very serious in this one as he crawls gracefully up this surface.
He can crawl on anything from brick walls to windows on a skyscraper, and you could show what you think he's crawling on by adding some texture details under him.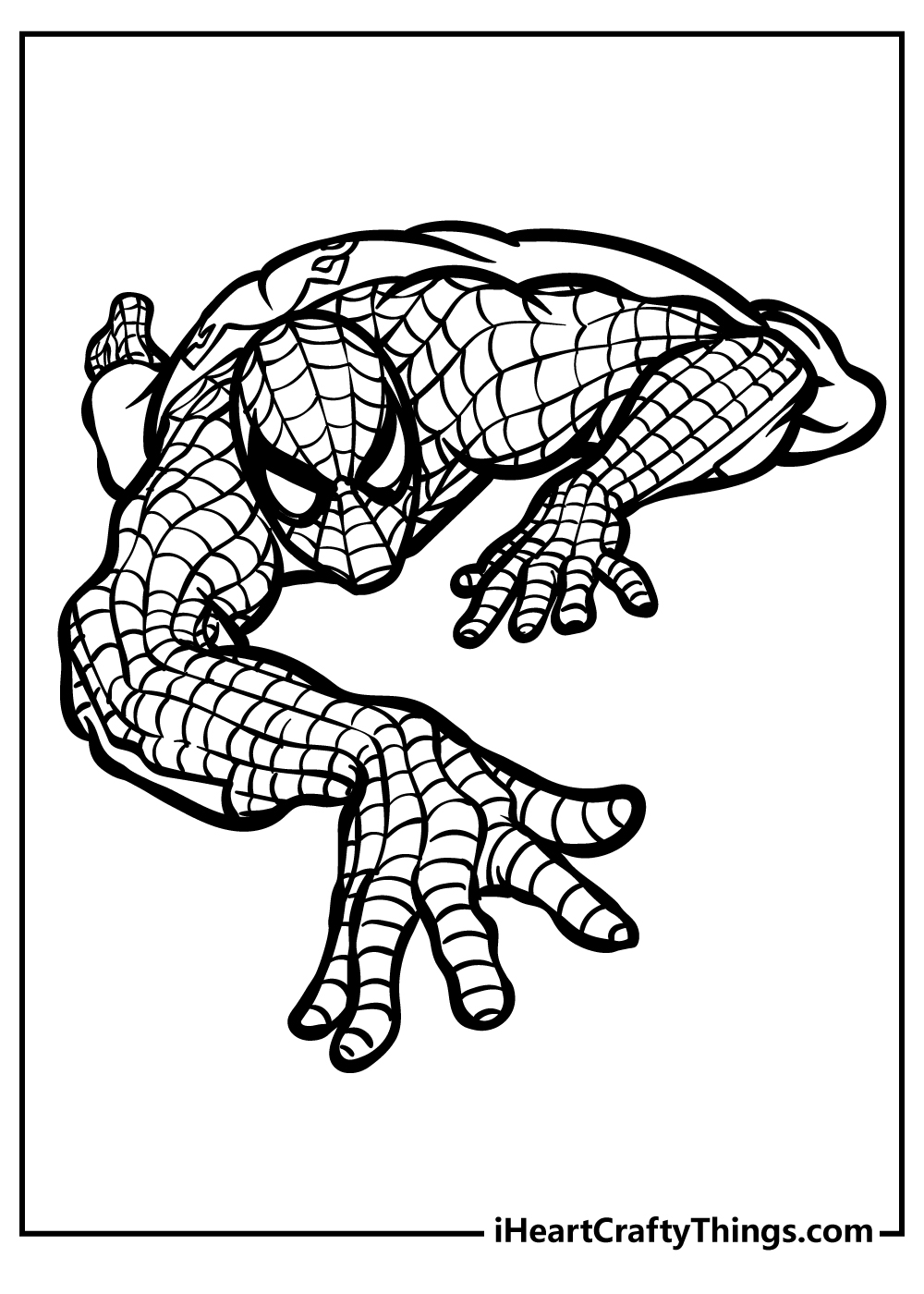 When this hero is leaping through the air, he always does it with poise and grace, and that is shown off in this Spider-Man coloring printable!
While Spidey is most well known for his red and blue costume, he has appeared in many different outfits in his history.
Will you go for his most classic look or try out a different look?
Spidey again seems to be surveying his domain in this awesome picture.
There is a serious feeling given off by this one, so we would probably use some darker colors and shades for this particular one.
That is what we would use, but what color scheme comes to mind for you in this one?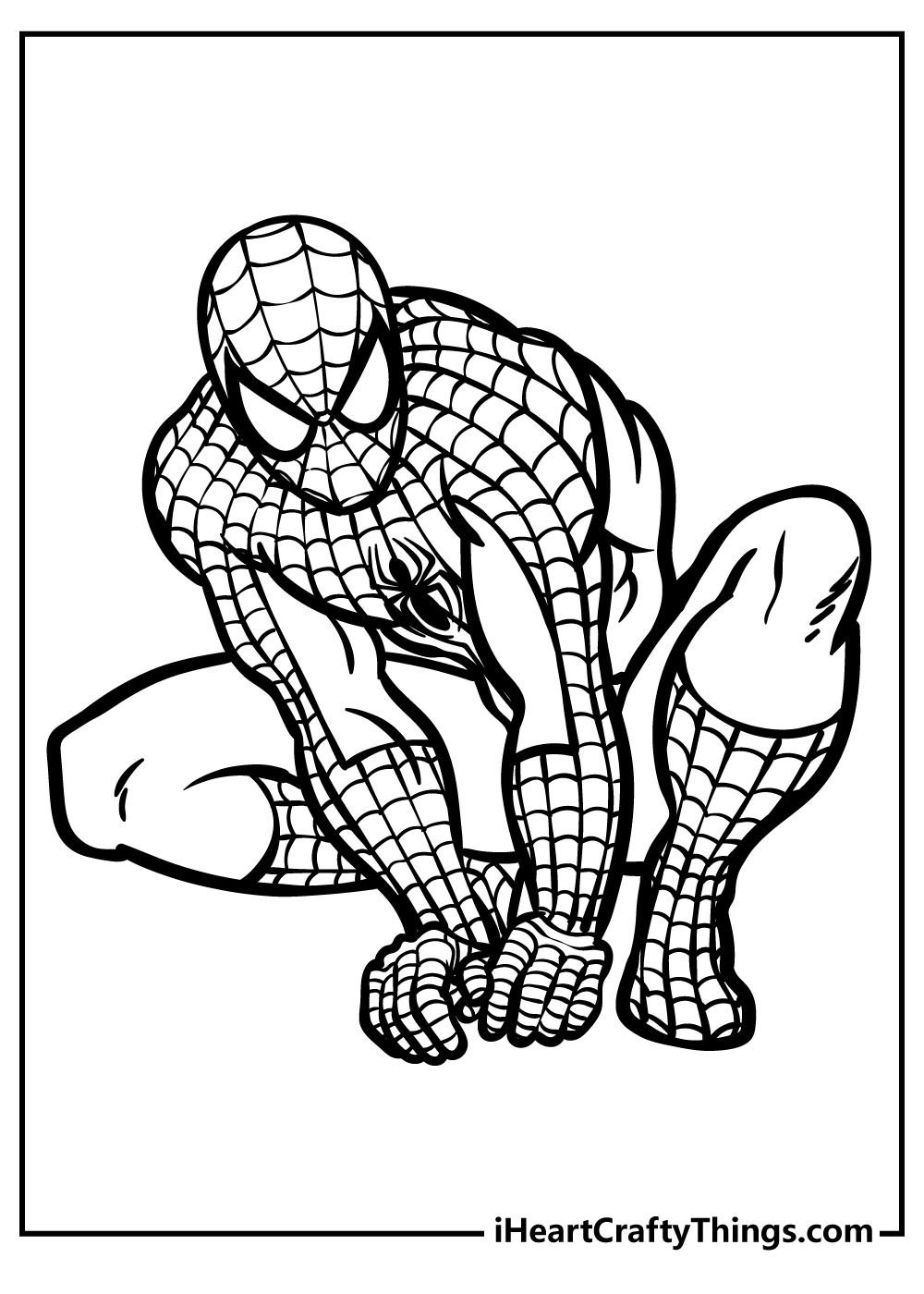 Spider-Man will usually shoot his webs in a simple stream, but he can make it in different forms as well.
This one shoes one of those forms, as he is shooting it out as a fully formed web from his left hand.
How do you think you will finish off the background of this cool pose?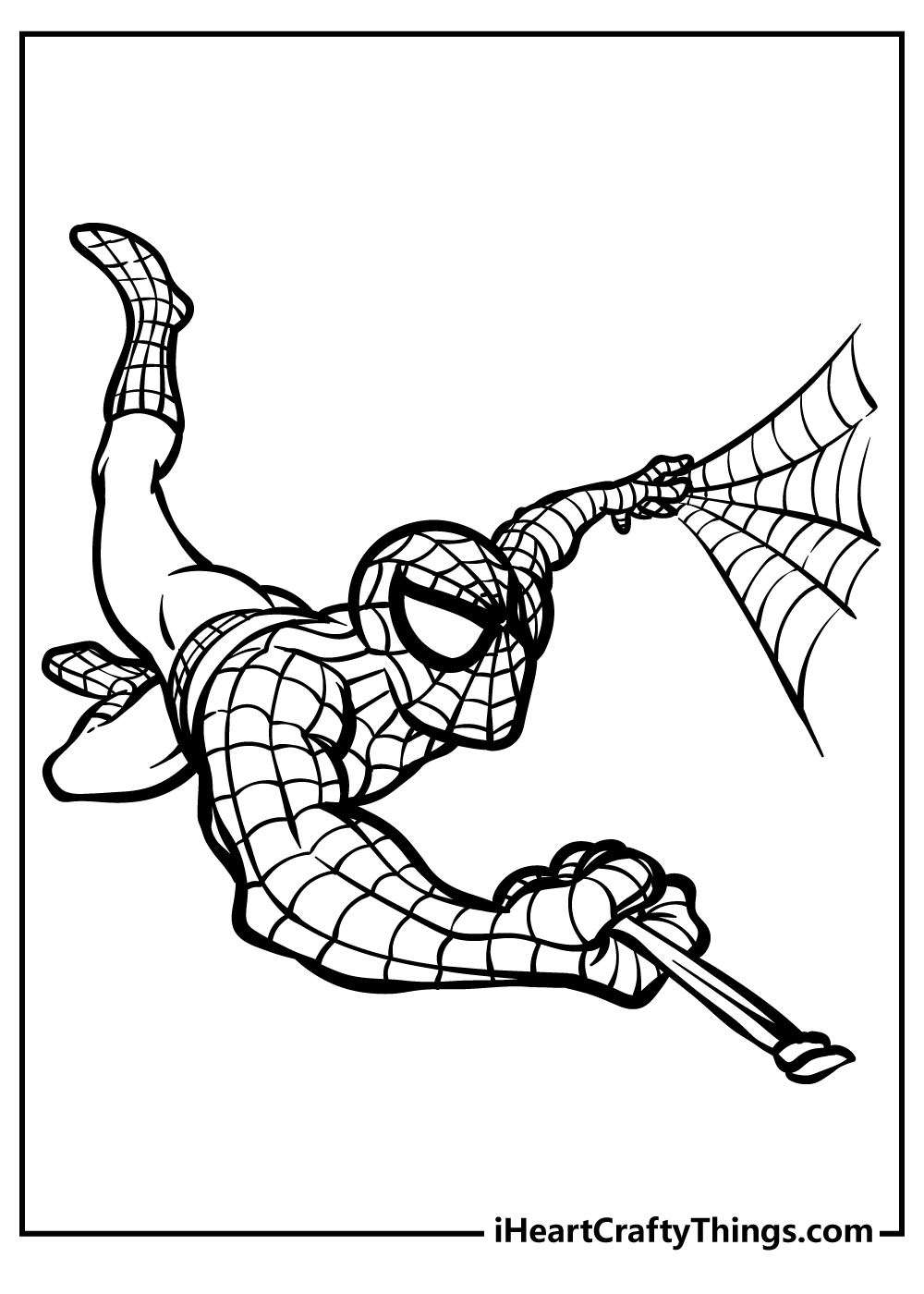 We have another awesome swinging pose featured on this page. We get a great view of his hand forming the iconic gesture on the right in this one.
If you have a favorite quote from Spider-Man, you could maybe draw the quote in cool letters above or below him to add a cool touch to this picture.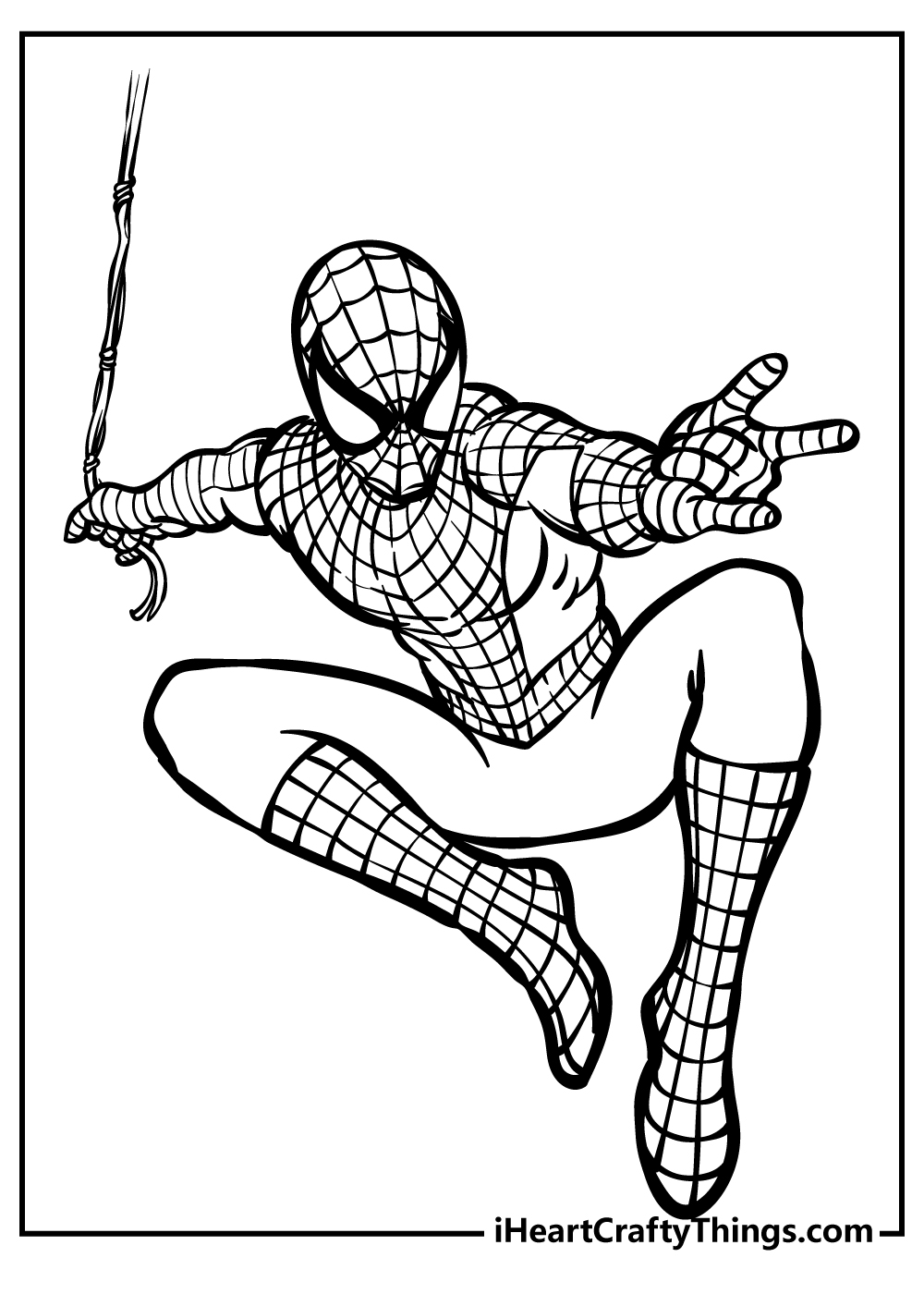 There is a really interesting pose shown off in this next Spider-Man coloring sheet! He seems to be stuck against a wall or other surface, looking down and enjoying a quiet moment.
There are many possibilities for the kinds of settings he could be in here, and you could create some cool scenes by adding a background!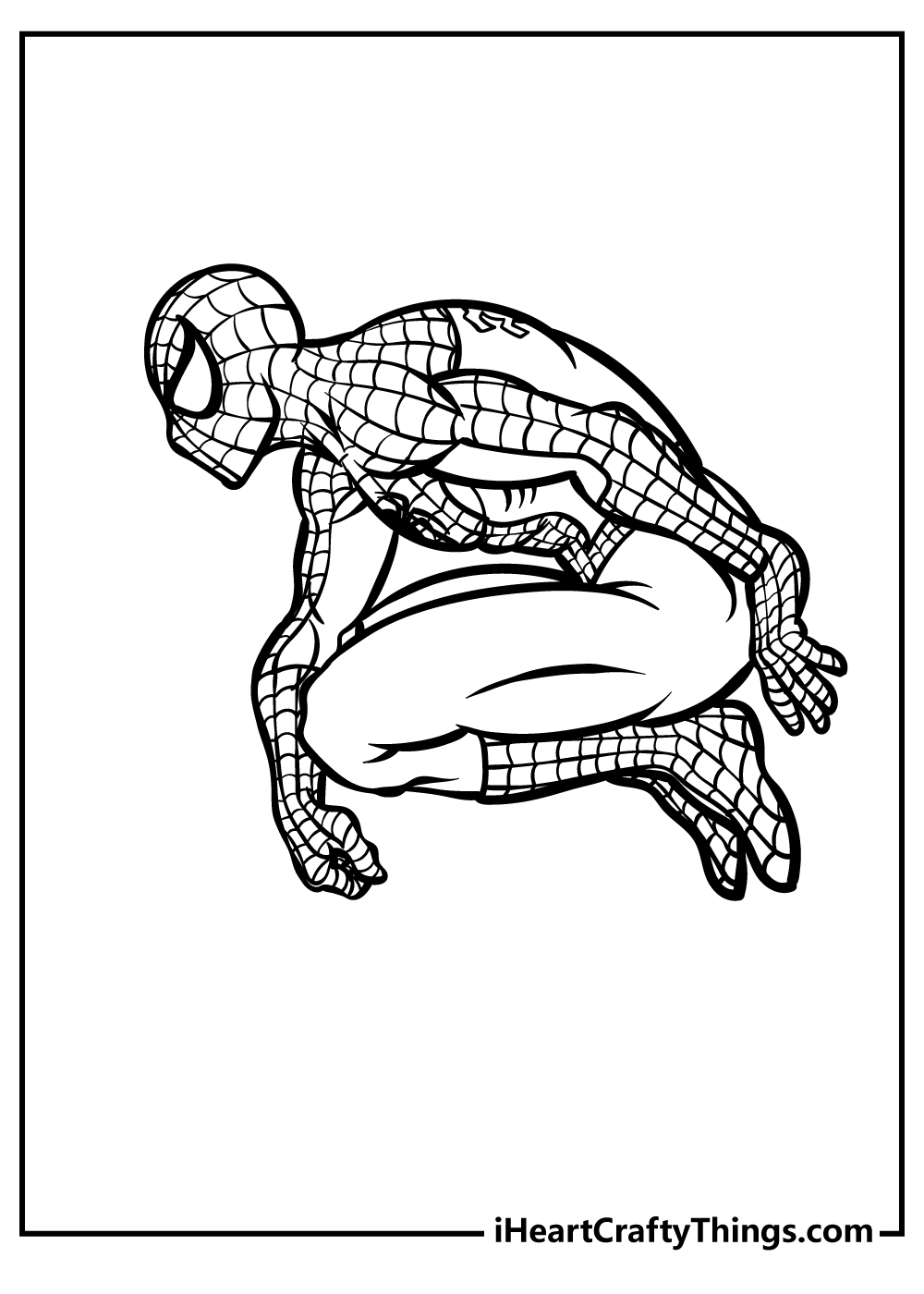 In the final image of this collection, we're closing things off with a really awesome picture! Spider-
Man is again swinging through his city, but there is a real intensity to the pose in this one. Where do you think he could be heading in such a hurry?
This is another one where you could show what you think by adding some extra details. How will you close off the collection?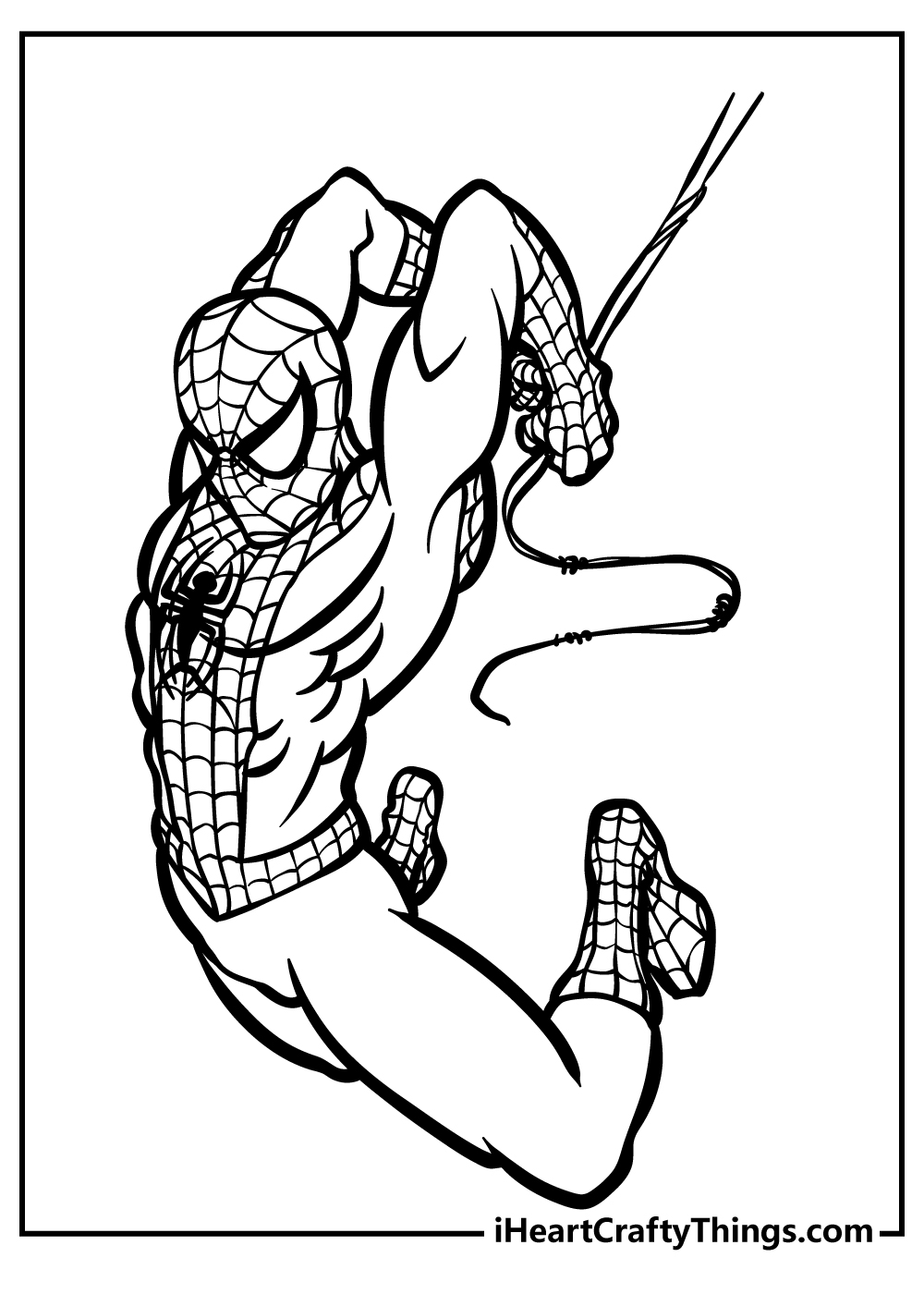 Spider-Man Coloring Pages – Which will you choose?
All 15 pages of this collection of free Spider-Man coloring pages for kids have been covered, and we hope you had a great time!
Whether you picked a few pages or colored every single one, we know you will have done an incredible job.
Remember to share the collection with other Spidey fans to enjoy as well!
We would be thrilled to see some of your finished pages, so please share them on our Facebook and Pinterest pages for us to check out when they're done!