On this page, you will find 51 all new Sonic coloring pages that are completely free to print and download.
Sonic the Hedgehog video games have been around since the '90s and have expanded over the years to include a large cast of characters such as Tails and Knuckles the Echidna.
Sonic and his friends go on adventures and work together to stop the schemes of the evil Doctor Eggman.
Recently the Sonic franchise has expanded with the release of the 2020 Sonic the Hedgehog movie. It is obvious that Sonic is a more popular character now than ever before.
The popularity of Sonic the Hedgehog has translated into a huge demand from our readers for Sonic coloring pages that you can print for free.
So at long last – here are 30 new and exciting printable Sonic the Hedgehog coloring pages for you to enjoy. Have fun!
Sonic The Hedgehog Coloring Pages – 40 Brand New Printable Sheets
Sonic the Hedgehog is one of the most famous video game characters of all time.
He is a confident anthropomorphic hedgehog who always wears sneakers and gloves. In this coloring page, he raises a finger as if to make a point.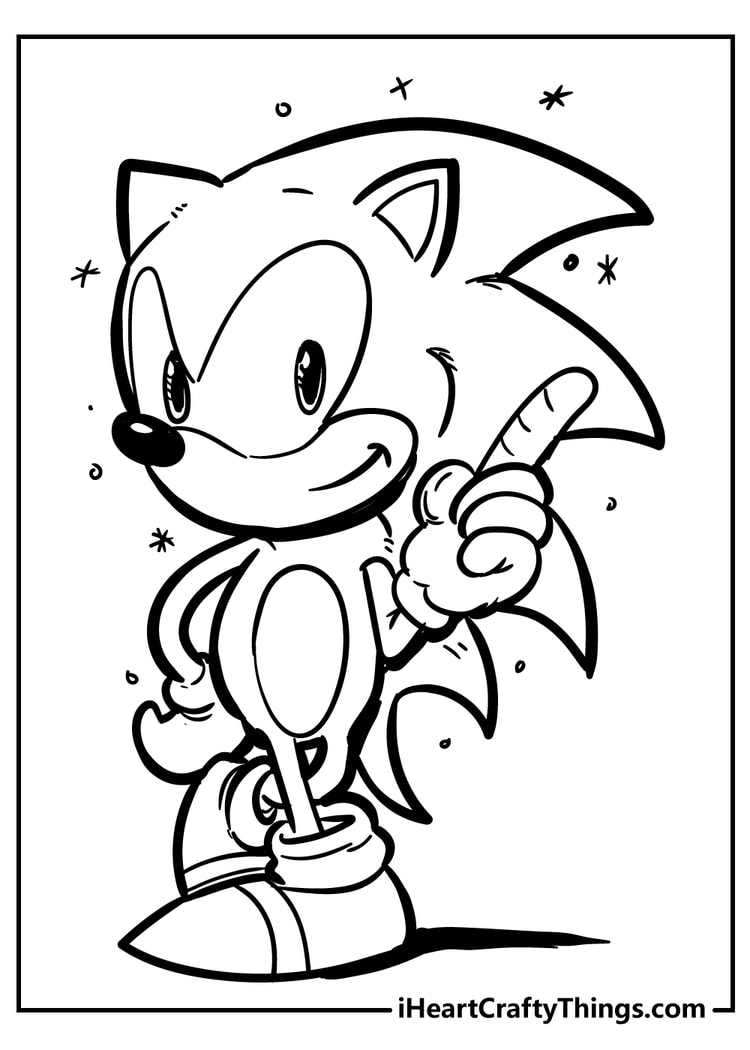 This Sonic the Hedgehog coloring sheet features our spiky hero looking very cool! He is known for moving at impossible speeds, but he seems to be taking things a bit slower in this picture.
As you will see in his various game and movie appearances, Sonic typically has some blue, white and red colors for his fur, facial features and shoes.
You can use these colors if you want him to look accurate, but you can also create a unique look for Sonic if you so please!
Once you have colored him in, will you add any colors and details to the background of this image?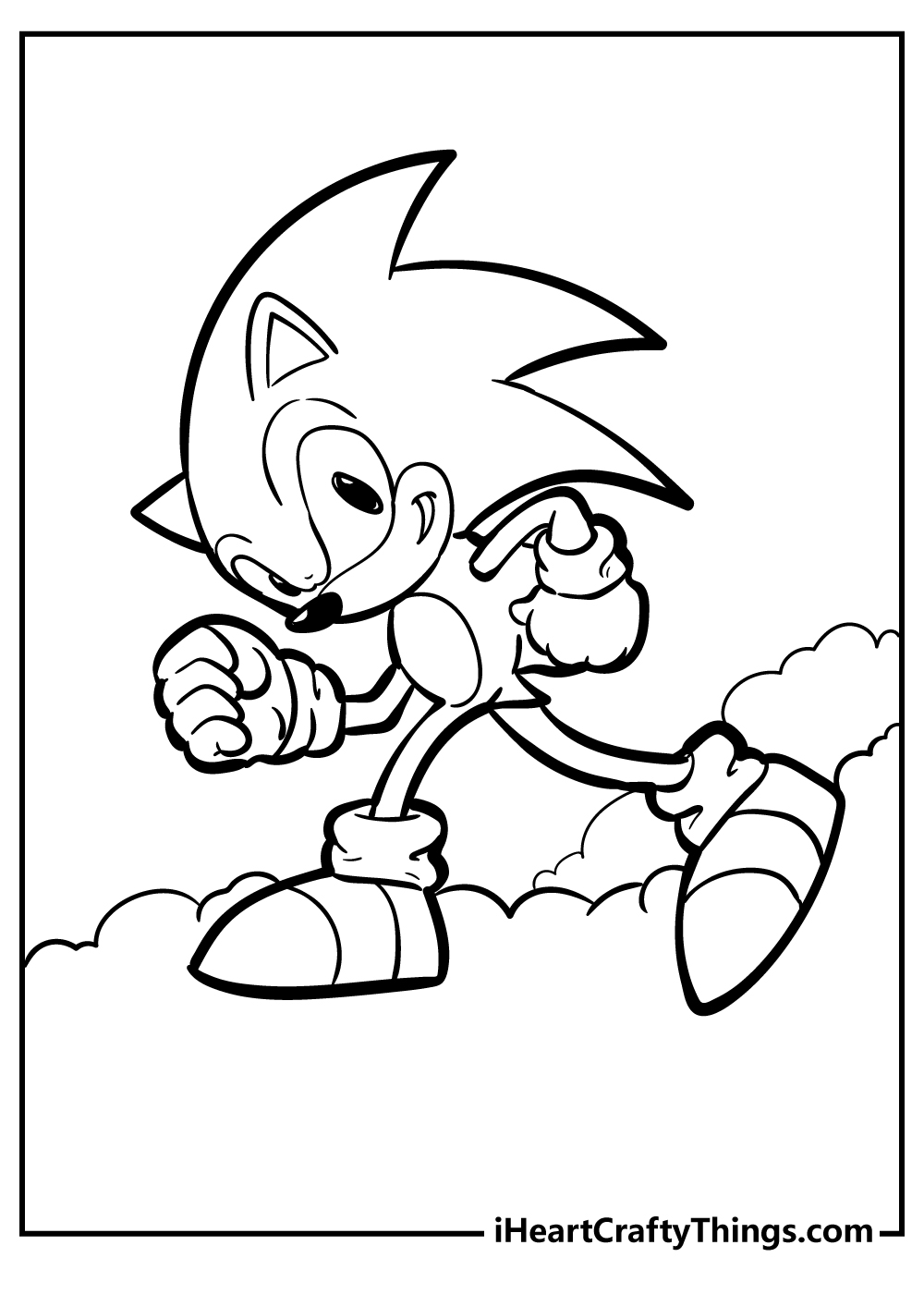 Sonic the Hedgehog's most powerful ability by far is his super fast speed.
You can see how fast he is in this printable sheet where his legs are a complete blur. Sonic is the fastest hedgehog in the world!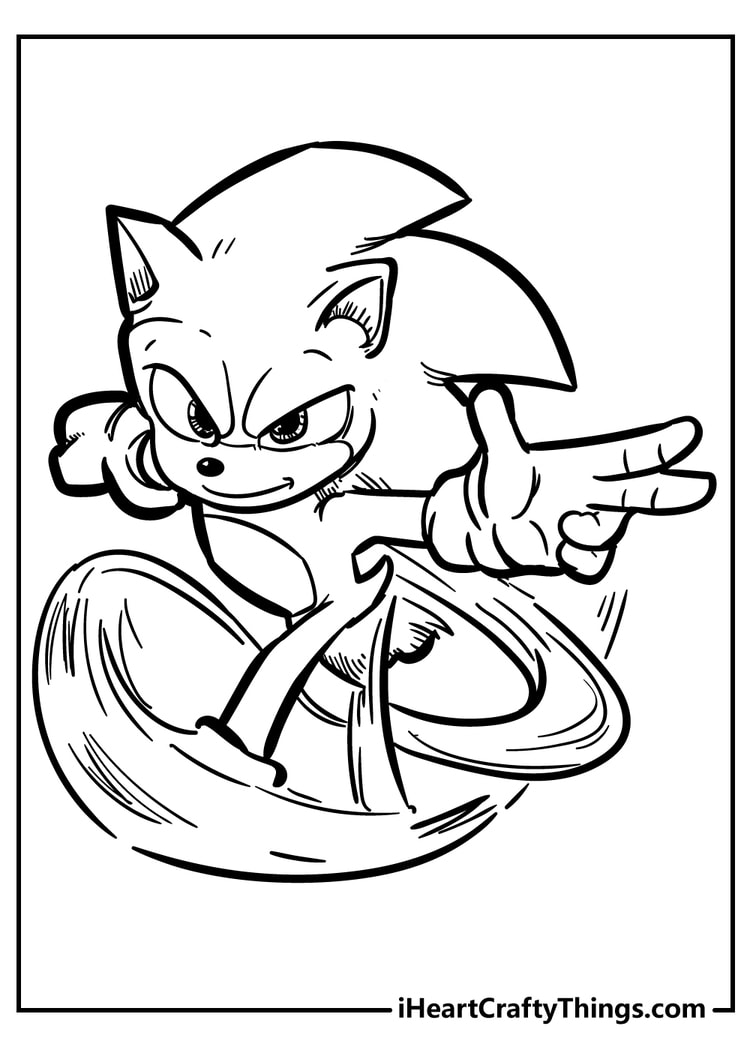 Sonic is well-known for striking lots of cool poses during his adventures, and this page shows one of those very poses!
This is a really interesting angle for this kind of pose, and we get to see loads of details on his shoes and other features.
The background has also been left very vague, and this means that you can customize it if you want to personalize this image.
Maybe you could use a favorite setting from the games or movies as inspiration for an awesome background for this page! What location would you choose if you were to do that?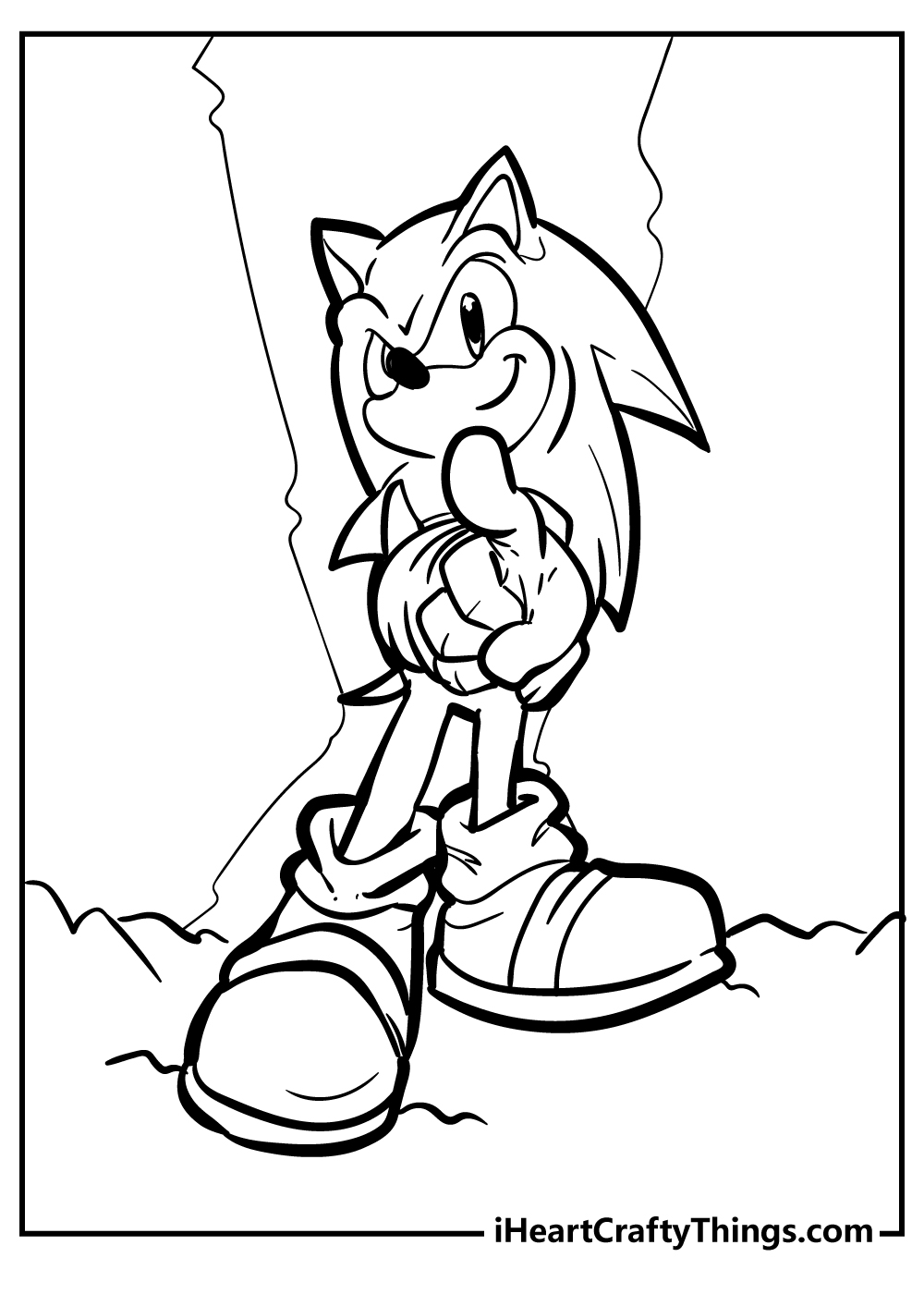 Sonic is also a very strong hedgehog. He is able to break through walls and battle powerful opponents with ease.
We love this coloring sheet of Sonic stretching his arms in preparation for a fight.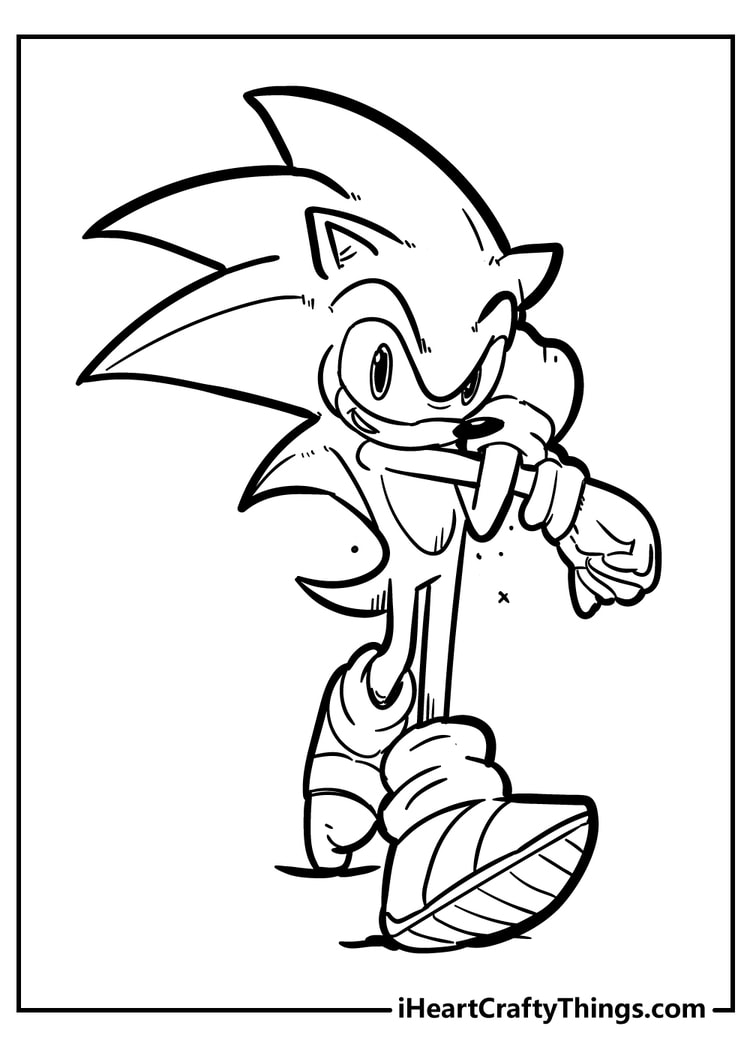 Sonic raises a fist to show that he is always ready to defend himself and his friends.
He looks pretty cute while he grins in this coloring page. Did you know that Sonic rolls himself into a ball to use a special spin attack?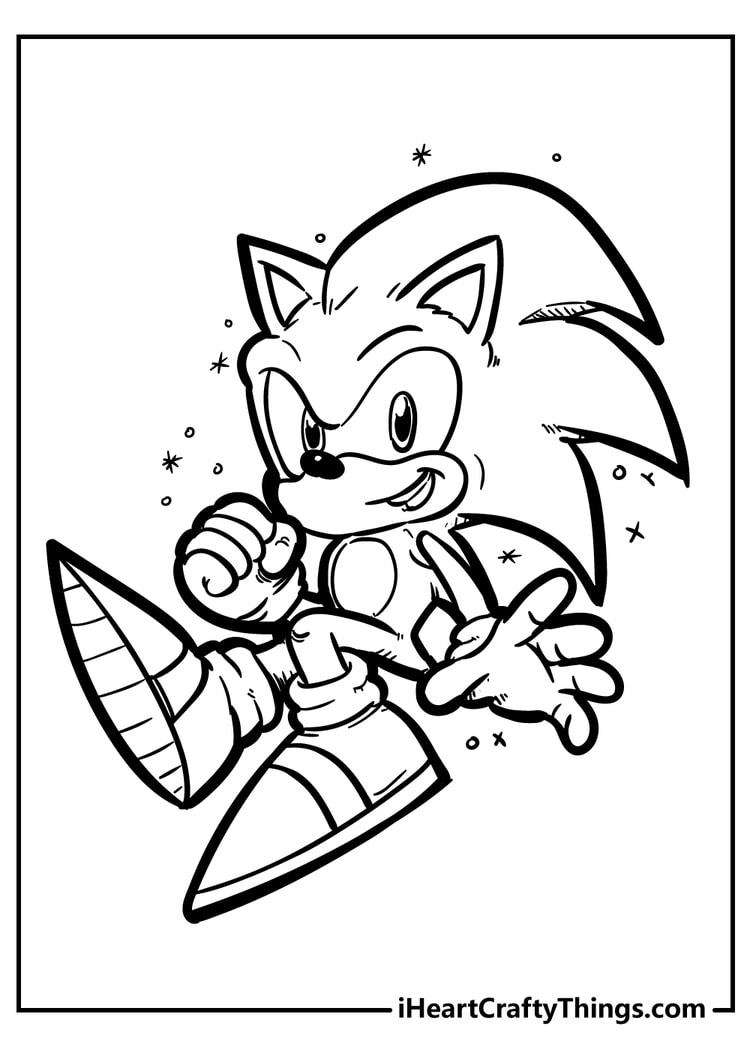 Now, this is one awesome pose that Sonic is pulling here! This character is known to always be ready to leap into action, and he seems like he is in the middle of just such a situation.
There are some sharp lines around his fist, and we think that would look awesome with bright yellows or other vibrant colors to showcase his power.
Then, you can decide which colors, shades and mediums you will use to color Sonic himself. Whatever you choose, we know it will look really cool!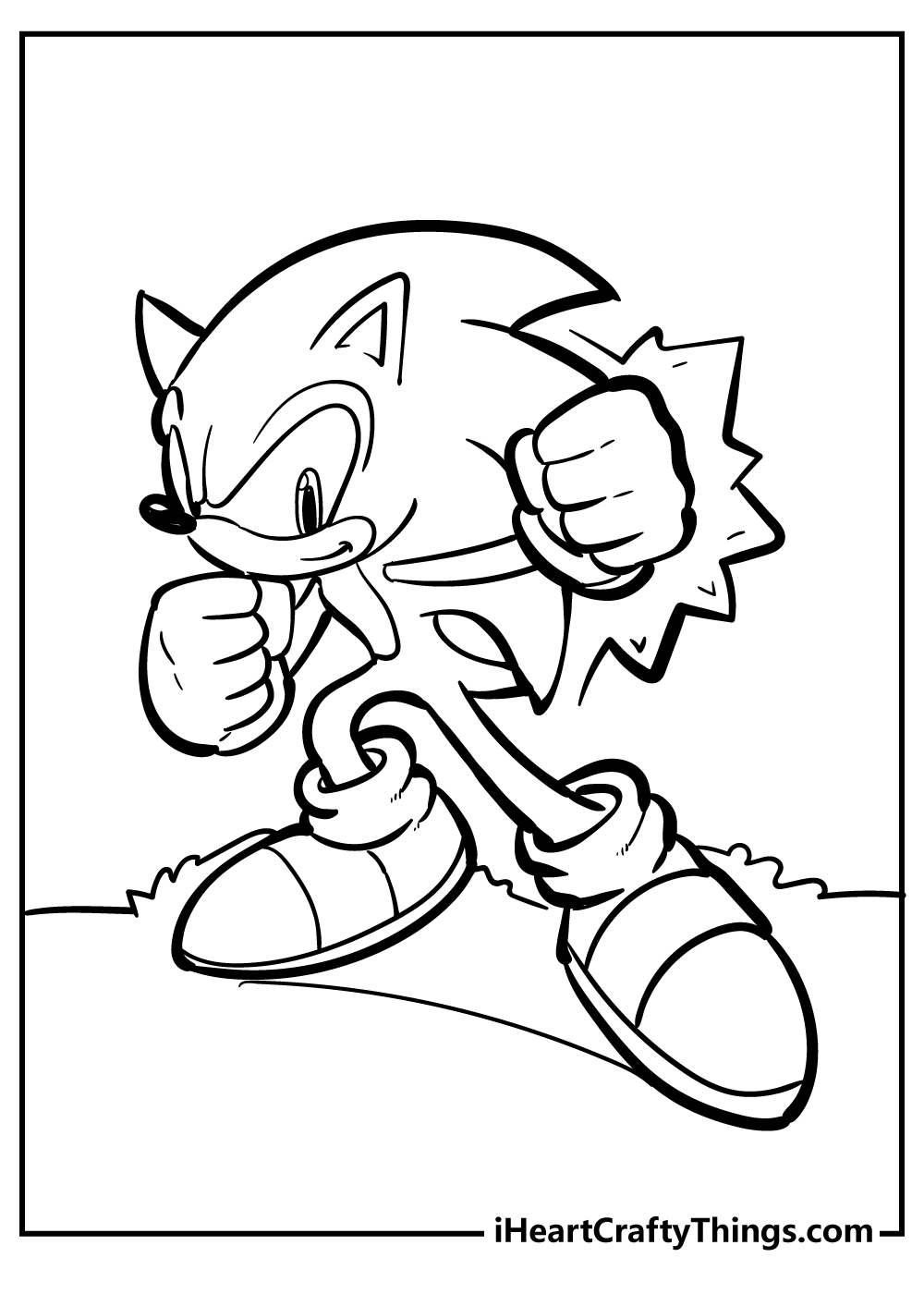 Sonic's shoes are sparking with friction as he runs at incredible speed.
His Power Sneakers protect his feet from friction and have magnetic soles that allow him to run at the speed of sound. That's how he got his name!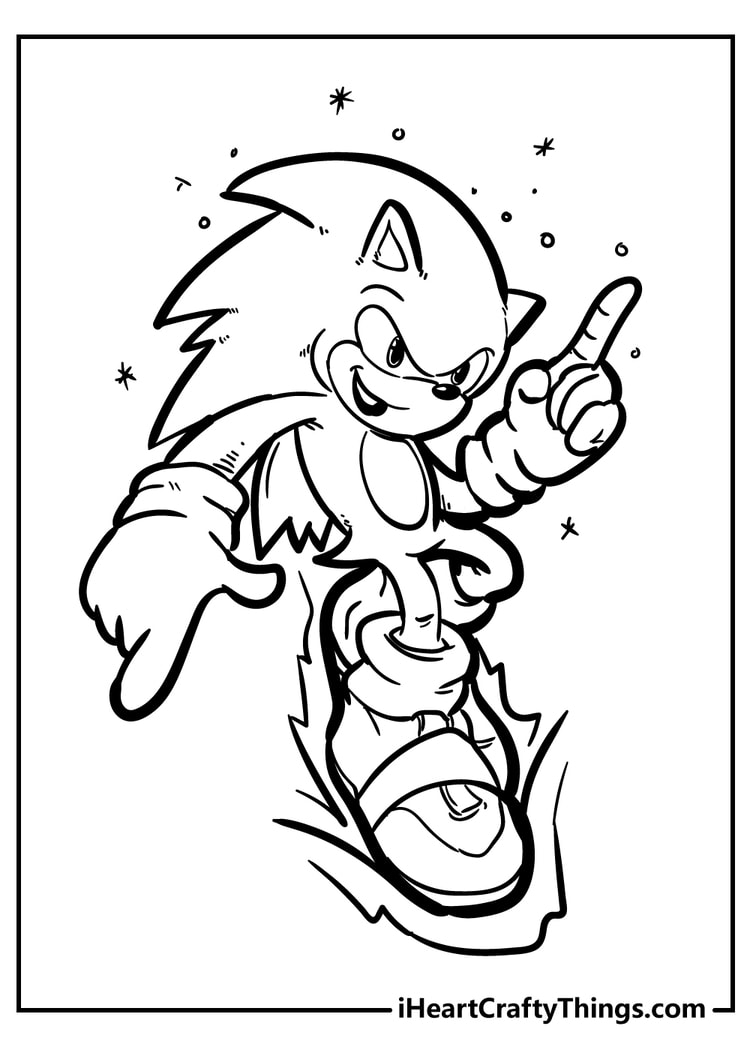 This page in our collection of free Sonic the Hedgehog coloring pages for kids showcases a pose that calls back to some of his earliest appearances.
Because of this, we think that this picture would look great with some more muted colors and mediums in order to make the image look a bit more vintage.
If you were to go for that kind of approach, then some watercolor paints or colored pencils would be perfect for a softer look to your color choices.
That is what we thought for this picture, but it is up to you! What sort of look will you go for as you color in this picture?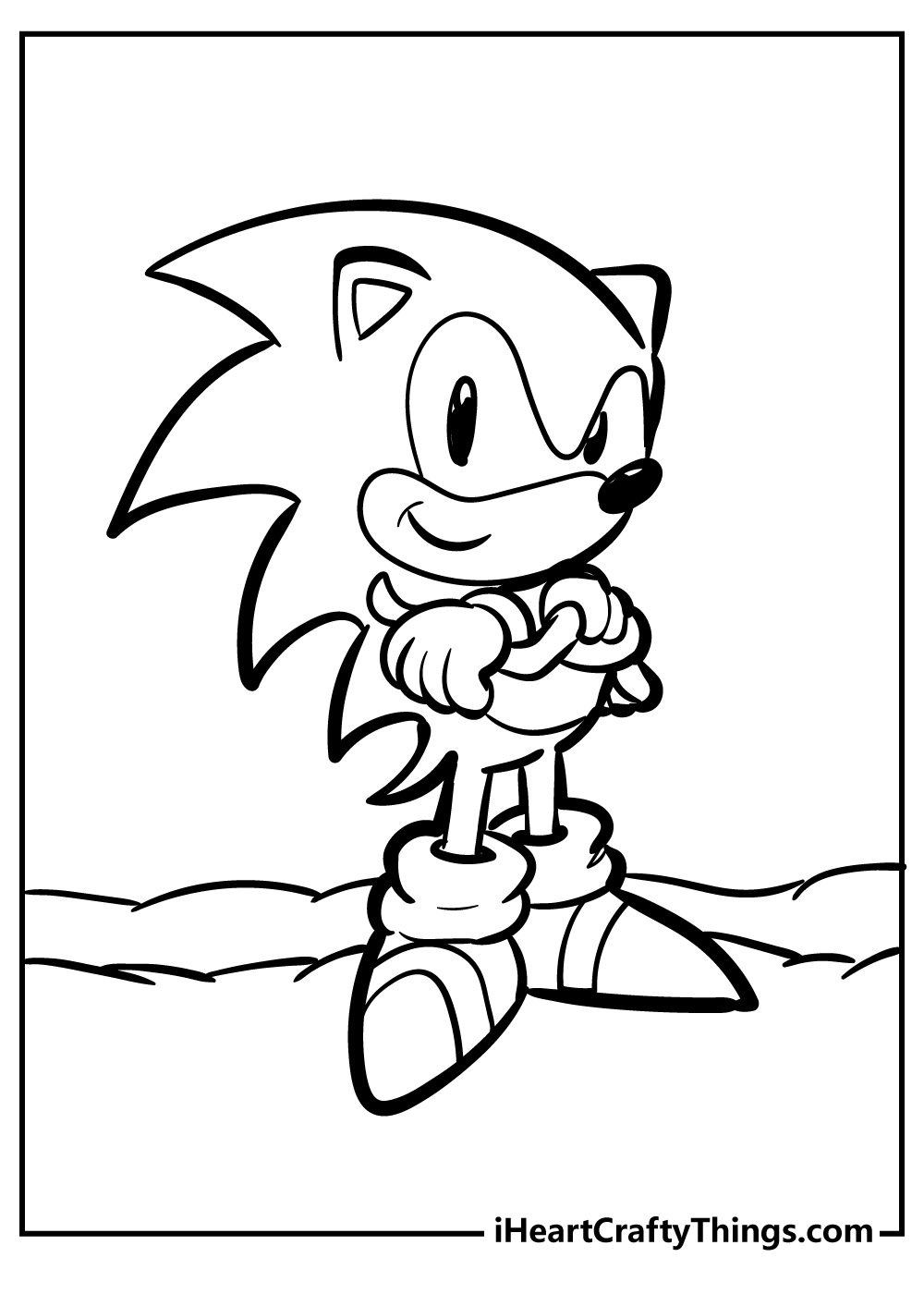 Sonic has made plenty of new friends throughout his journeys, like the hedgehog in this printable.
Remember that all of these Sonic the Hedgehog coloring pages are completely free to print, so feel free to print and color as many as you want.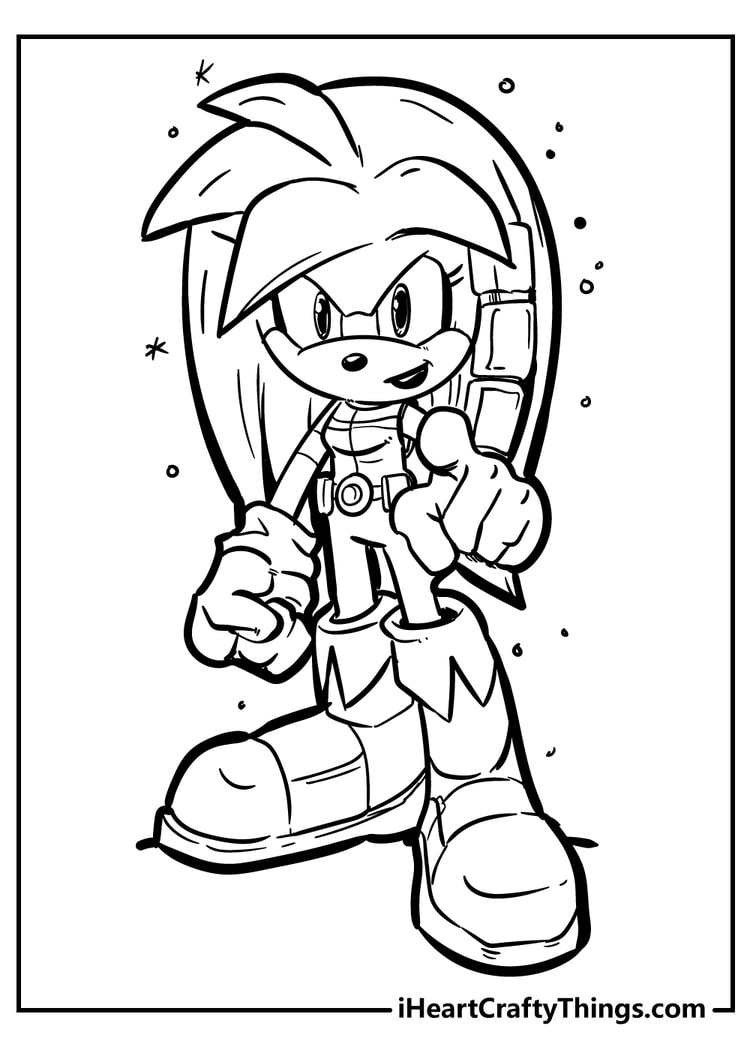 Sonic is a very powerful character. He can run so fast that he accelerates and flies through midair for a period of time.
Sonic seems to be doing just that in this coloring page. He leaves his enemies behind in the dust.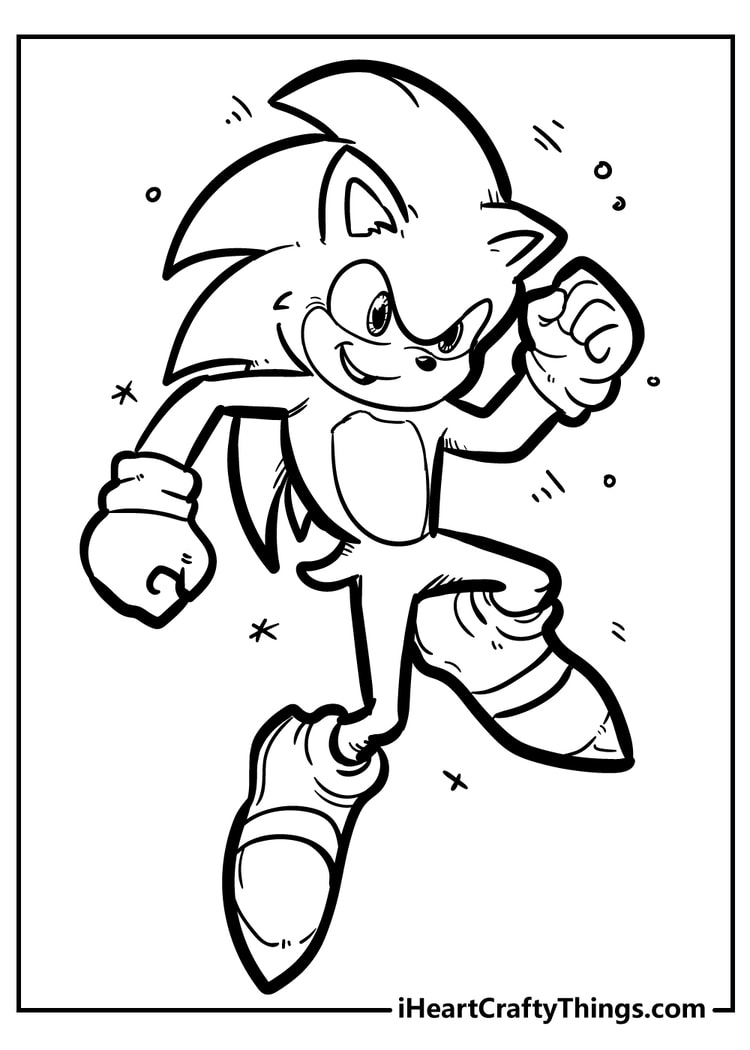 Next, we have a portrayal of Sonic the Hedgehog that showcases his optimistic and confident personality.
In this image, it looks a bit as if he is saying something, so maybe you could use that aspect to finish it off.
For example, if you have a favorite Sonic line, you could draw a speech bubble above his head and write that quote into the bubble.
Which of Sonic's many witty remarks would you use if you were to do that? Do you have any other ideas for how to put your own spin on this image?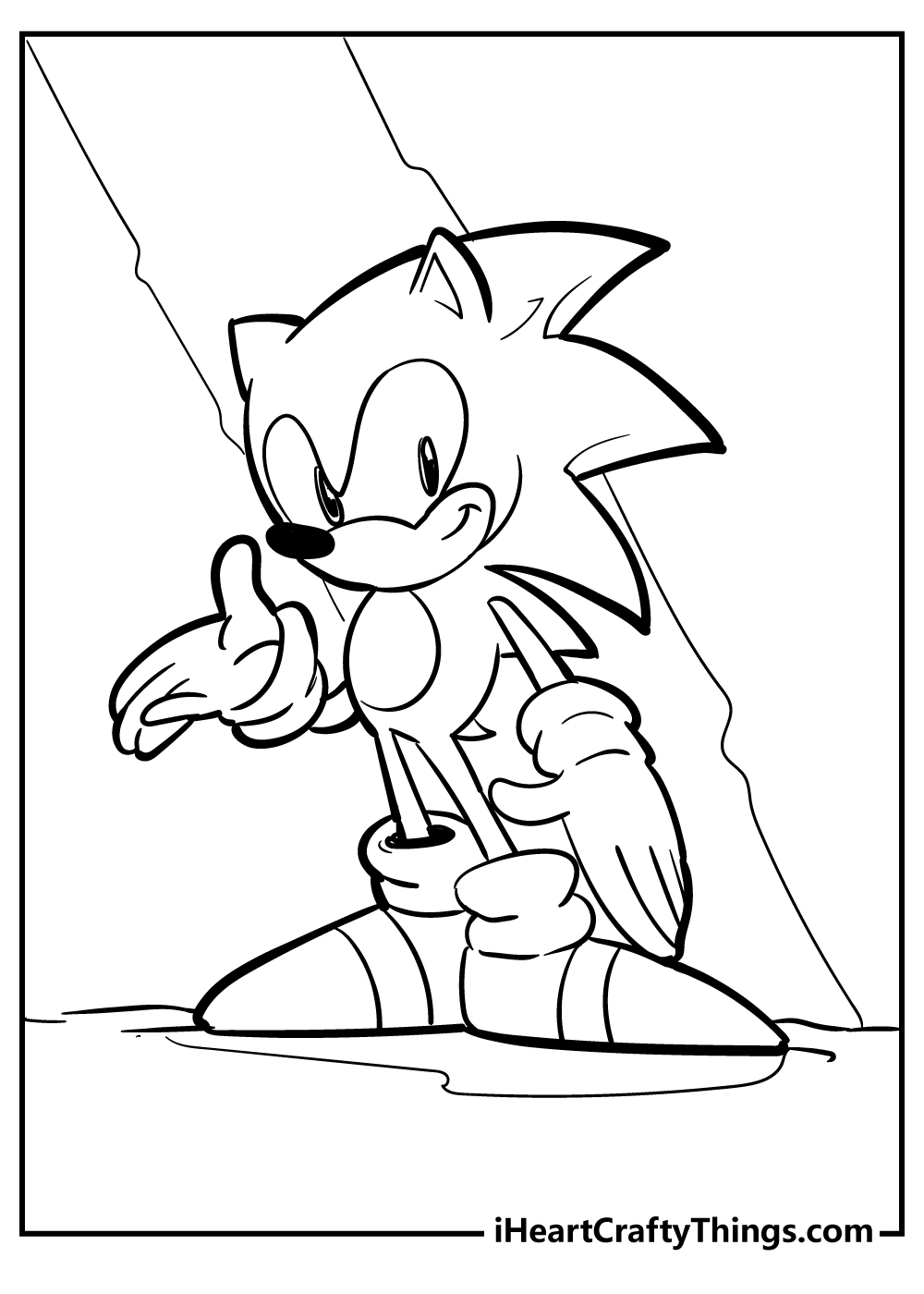 Marine the Raccoon is one of Sonic's good friends who helps him in his adventures. She wears her hair in two scrunchies along with shorts, a top, socks, and sneakers.
Like Sonic, Marine also wears gloves, and you can tell she is a raccoon from her striped tail.
Sonic is ready to take off running in this coloring page. He is so fast that he has the ability to run up walls and over ceilings.
Sonic can even run on water. No wonder he is sometimes called the fastest being alive.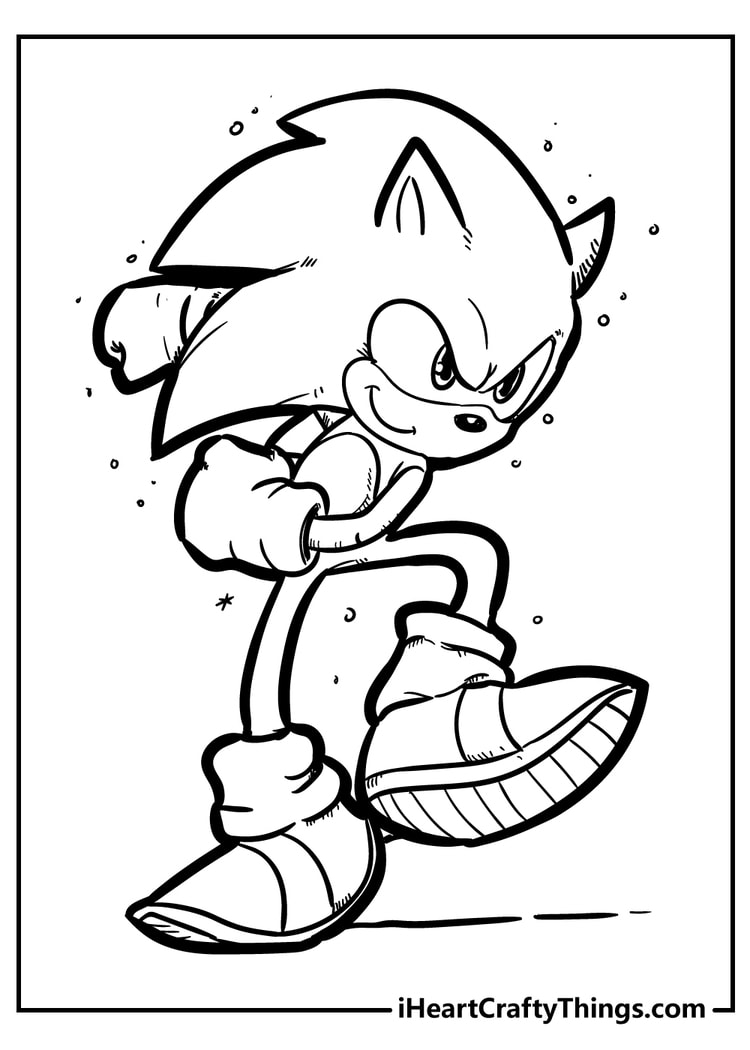 This is a bit of a different look for the famous hedgehog, as he is drawn in a more cartoony style!
There are lines around him that make him look like he is gathering up his power, and it makes for a really cool pose.
We think that some bright and vibrant colors would be perfect for these effects, and it would also suit the cartoony feel of this design.
You could also draw some more powerful effects into the blank space of the background to make him look even more powerful!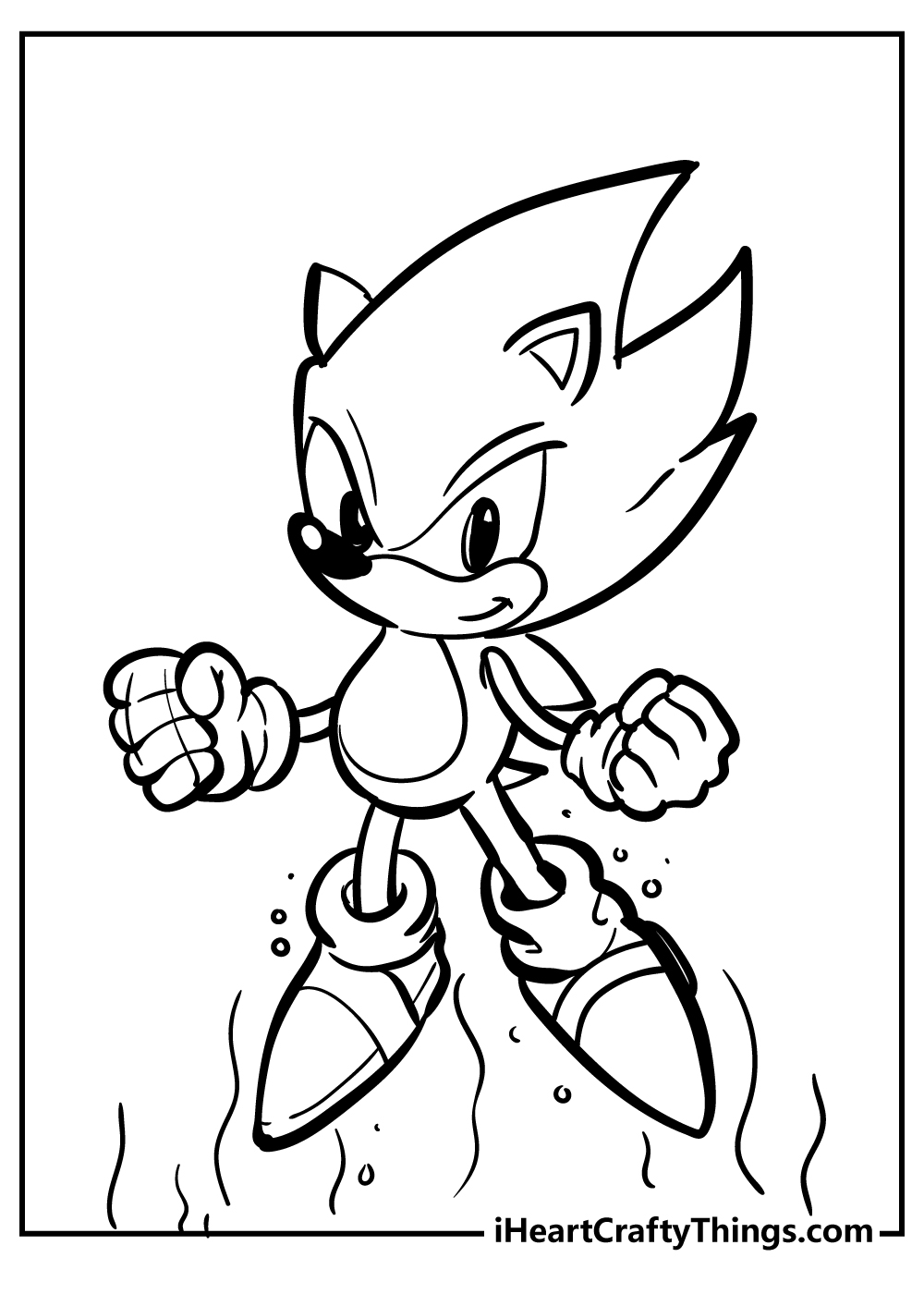 Cream the Rabbit is another of Sonic's friends who joins him on his adventures.
Cream wears a simple dress and even has the ability to fly by flapping her ears. She looks completely adorable in this coloring page.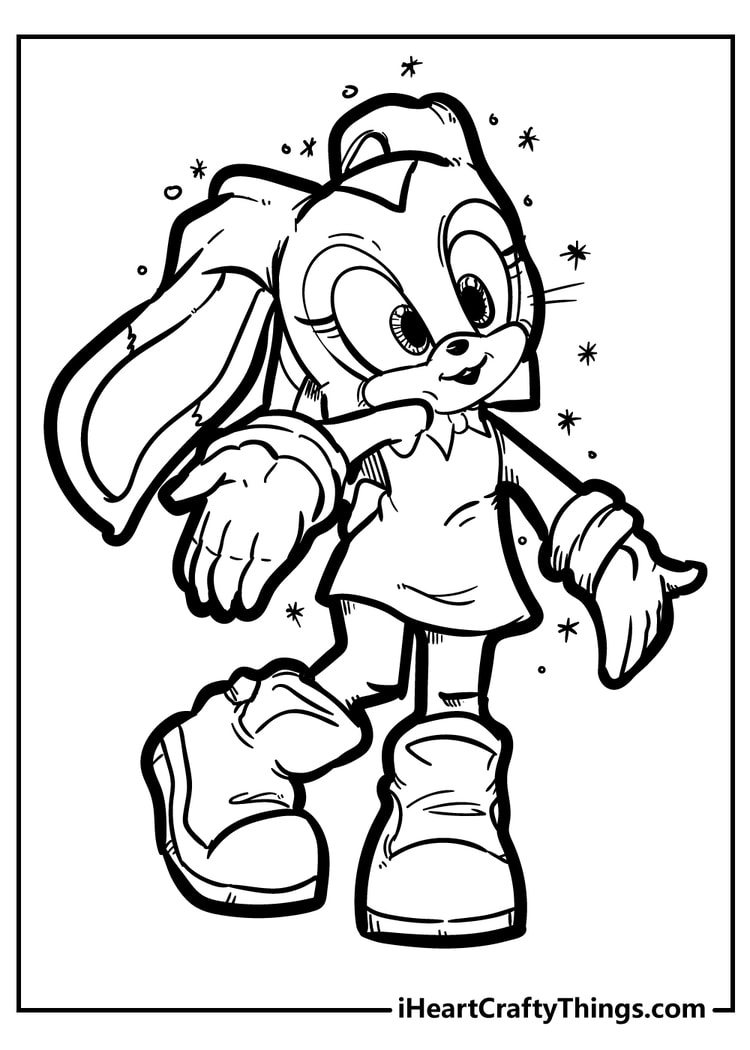 We have another classic pose featured on this Sonic the Hedgehog coloring printable! This is the pose he pulls in many of his video game appearances, and it is featured for you to color here.
When you have colored Sonic, you will notice that the background is separated into various sections. You have a few ways you could color these sections, and each way will look great!
Will you alternate between a few colors or do you think you will use a new color for each background segment?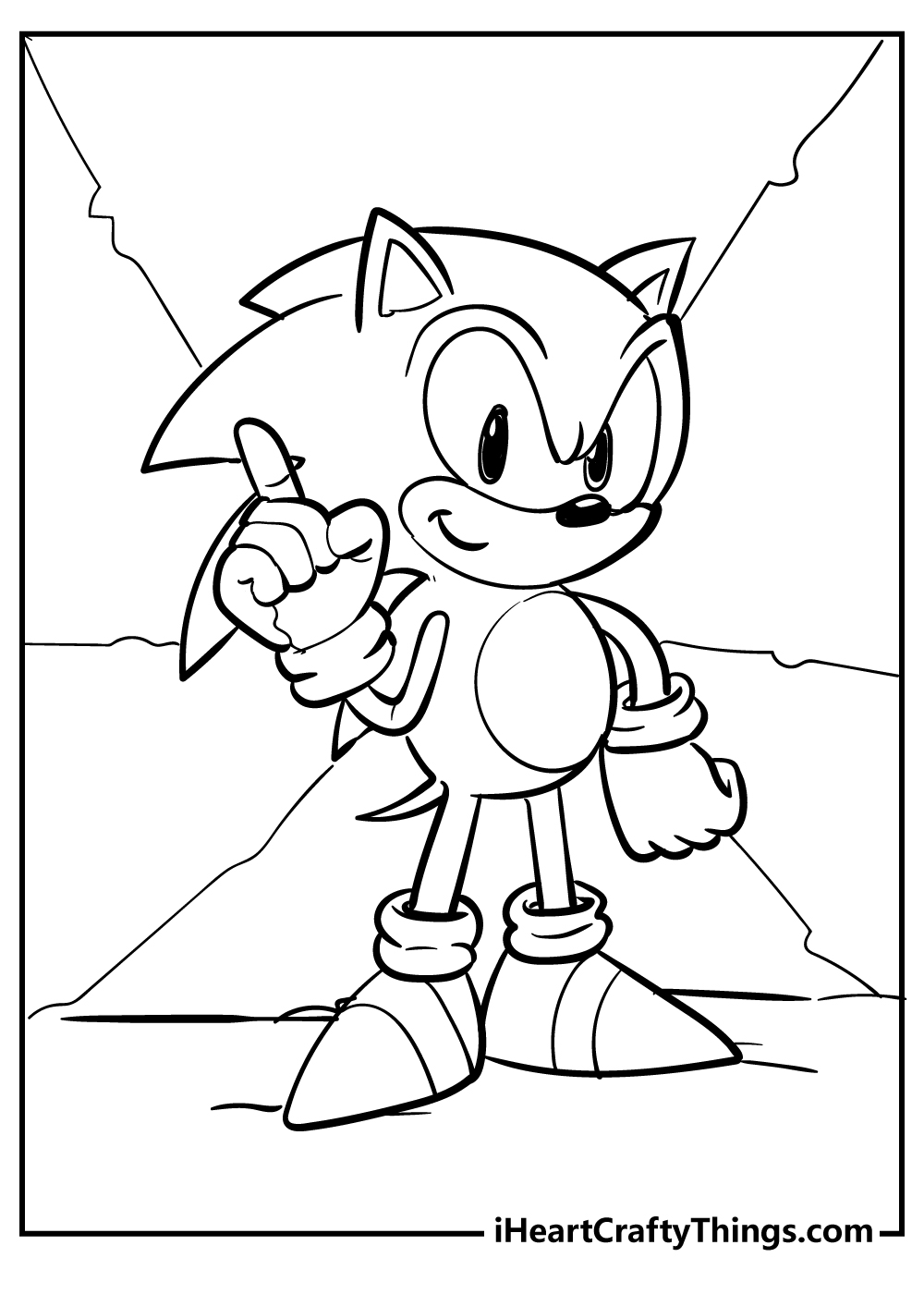 The character in this coloring page is from the Sonic the Hedgehog comic series. Her name is Bunnie D'Coolette and she is usually seen wearing a singlet and gloves.
The most noticeable thing about Bunnie is that she has a robotized left arm and lower torso.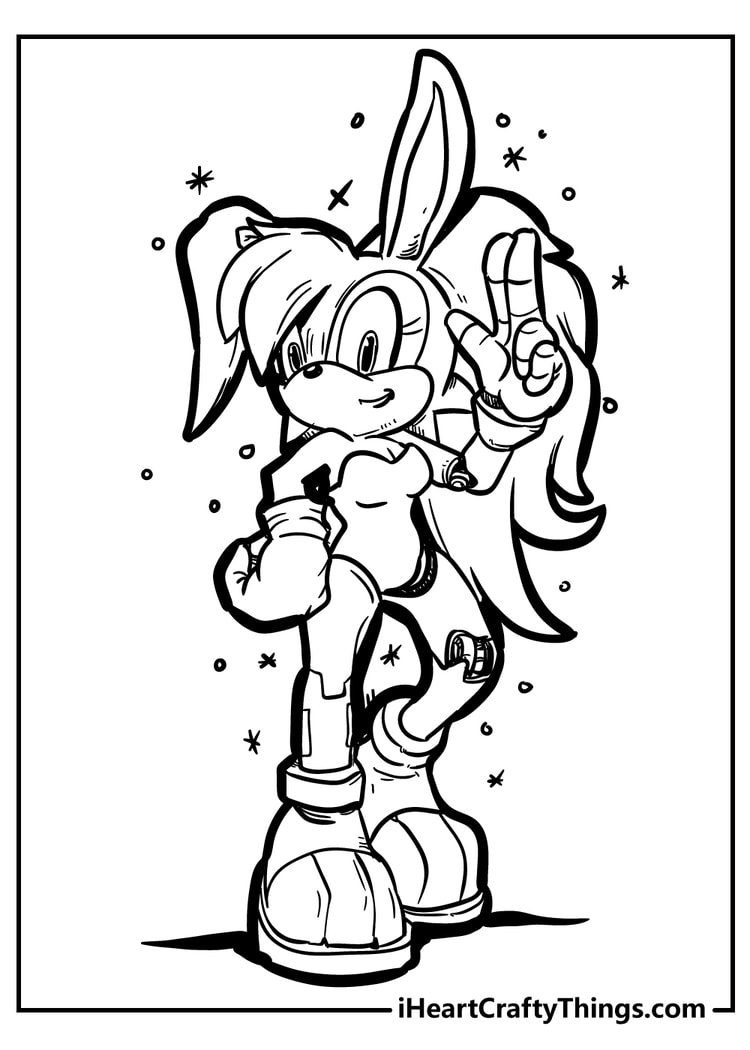 Princess Sally Acorn is the heir to the Kingdom of Acorn from the Sonic the Hedgehog comic book series.
You can see in this coloring page that she is a chipmunk wearing an open blue vest with a shirt underneath.
Sally also carries an advanced handheld computer with her at all times, which you can see here on her boot.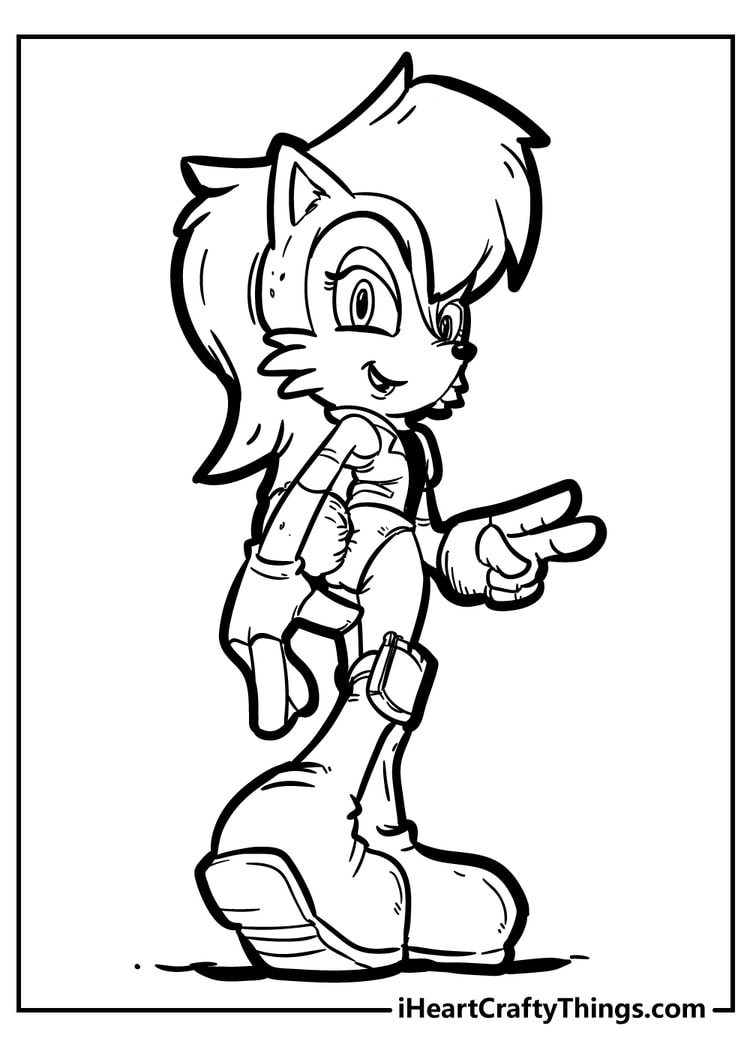 Sonic's main power is that he can move at great speeds, and this image shows him about to take off!
You can imagine that in a few moments there will just be a cloud of dust where he is standing in this image.
For this image, we would probably go for some more intense colors done with some colored pens or paints.
We think that these brighter, darker colors will help to capture this intense moment wonderfully. Do you think you will go for this approach, or do you have something else in mind for this picture?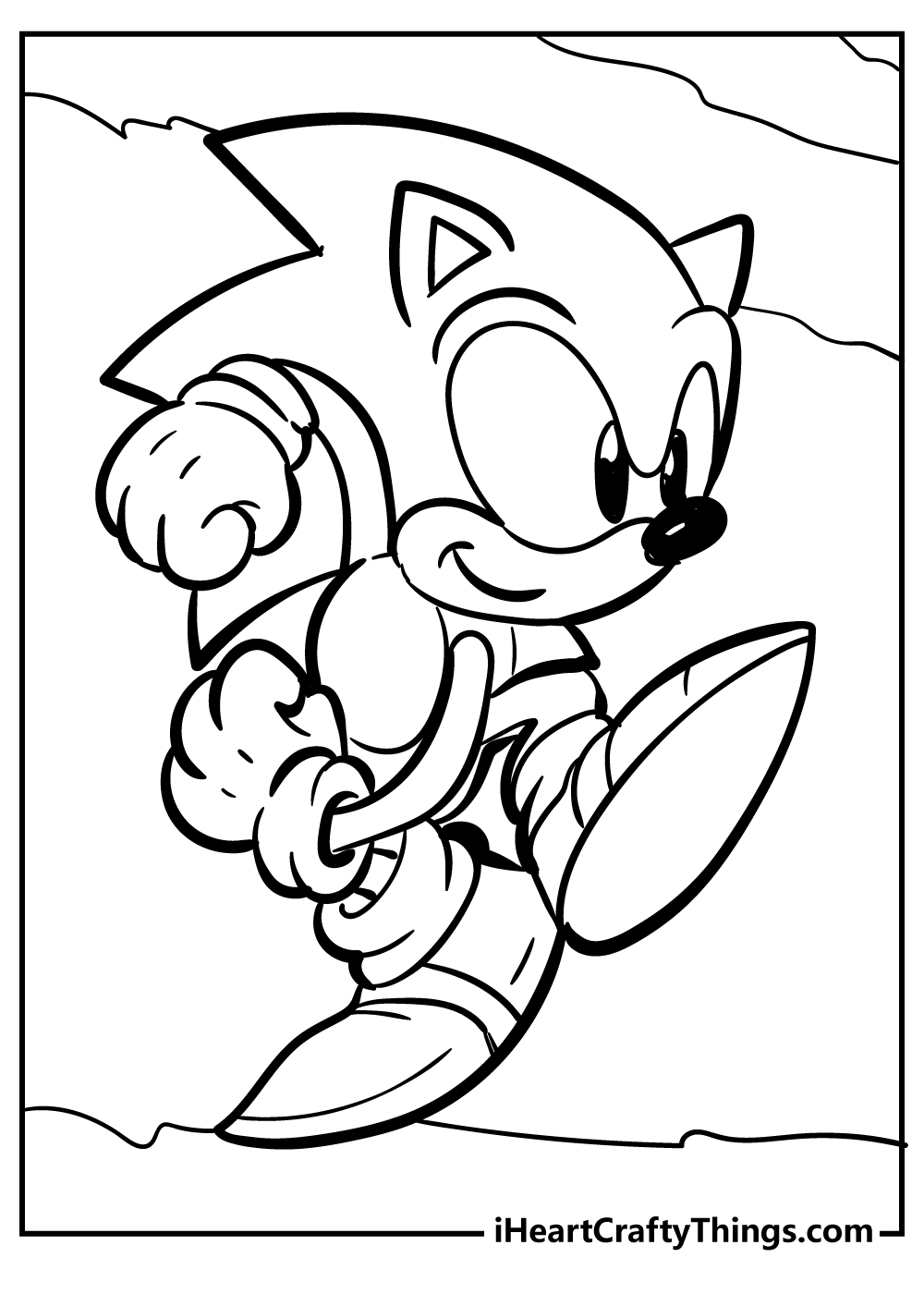 Sonic the Hedgehog is always rushing off to battle his arch-nemesis Doctor Eggman.
We love this coloring page of him flashing a peace sign while he hurries off to save the day.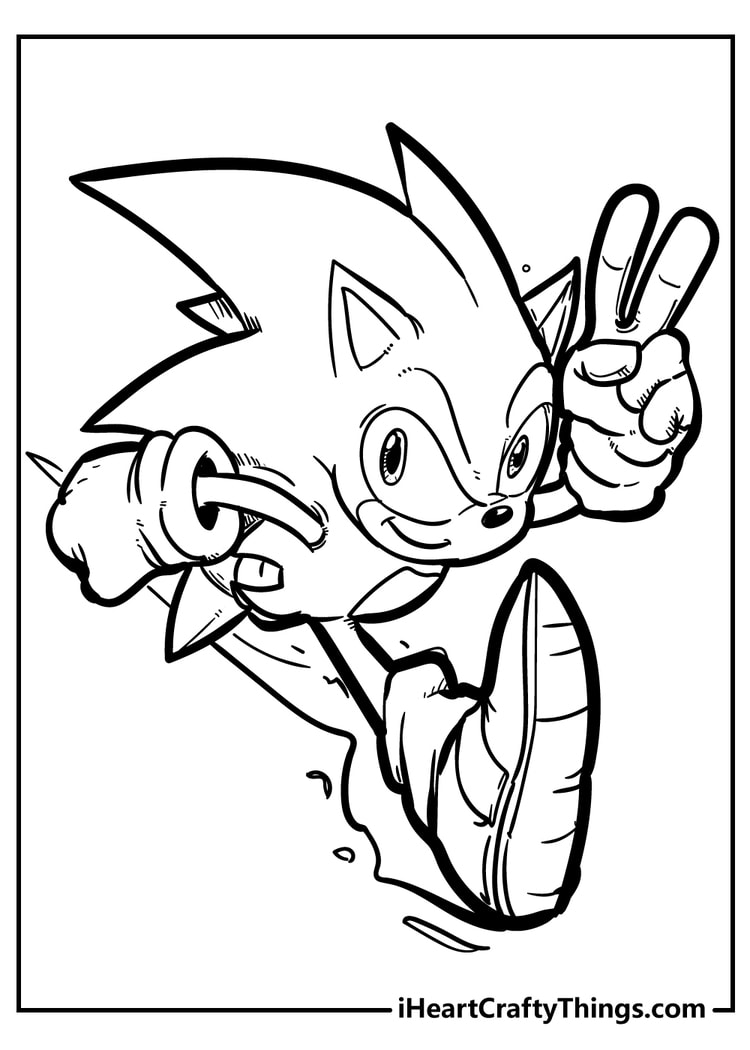 Remember – when you finish coloring your Sonic the Hedgehog coloring pages, post your completed masterpiece onto our Facebook page.
Every month we pick the best uploads and the winner gets a special prize!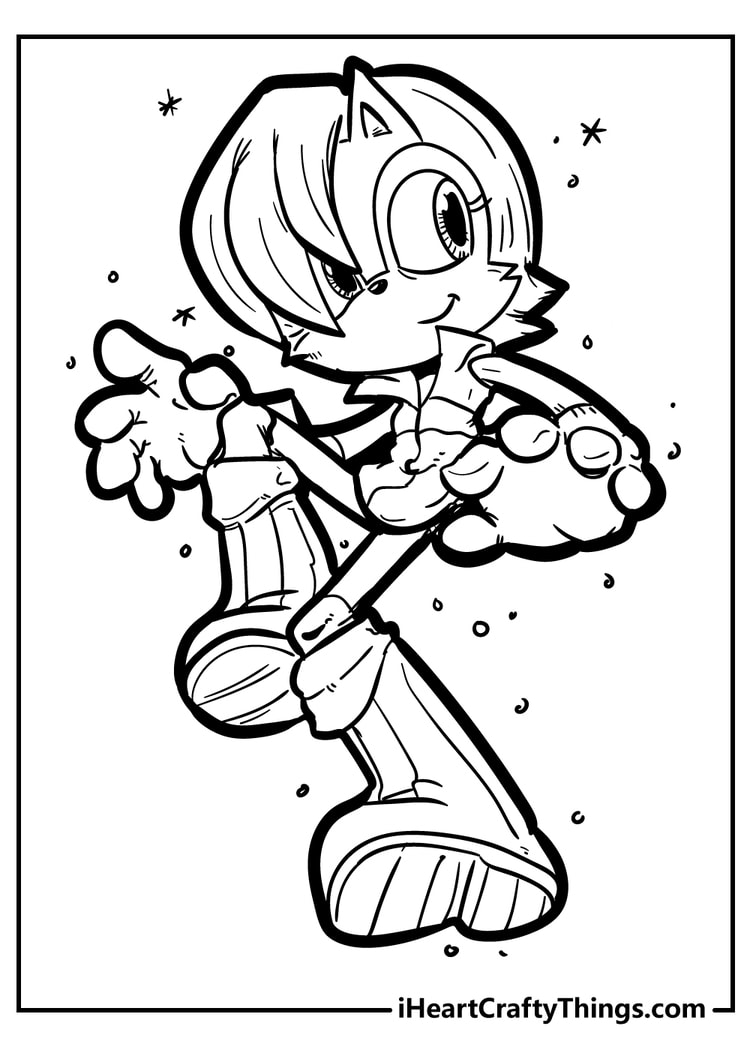 It's pretty much impossible to see Sonic when he is at full speed, but this picture has frozen things to show him in mid-stride.
In this image, he is showing that he likes to pull a pose even when running at full speed!
If you want to give the impression of speed in this image, you could use flurries and strokes of colors in the background.
This would make it look like the background scenery is whizzing by, and is one of a few techniques you could try. How else can you think to show his speed?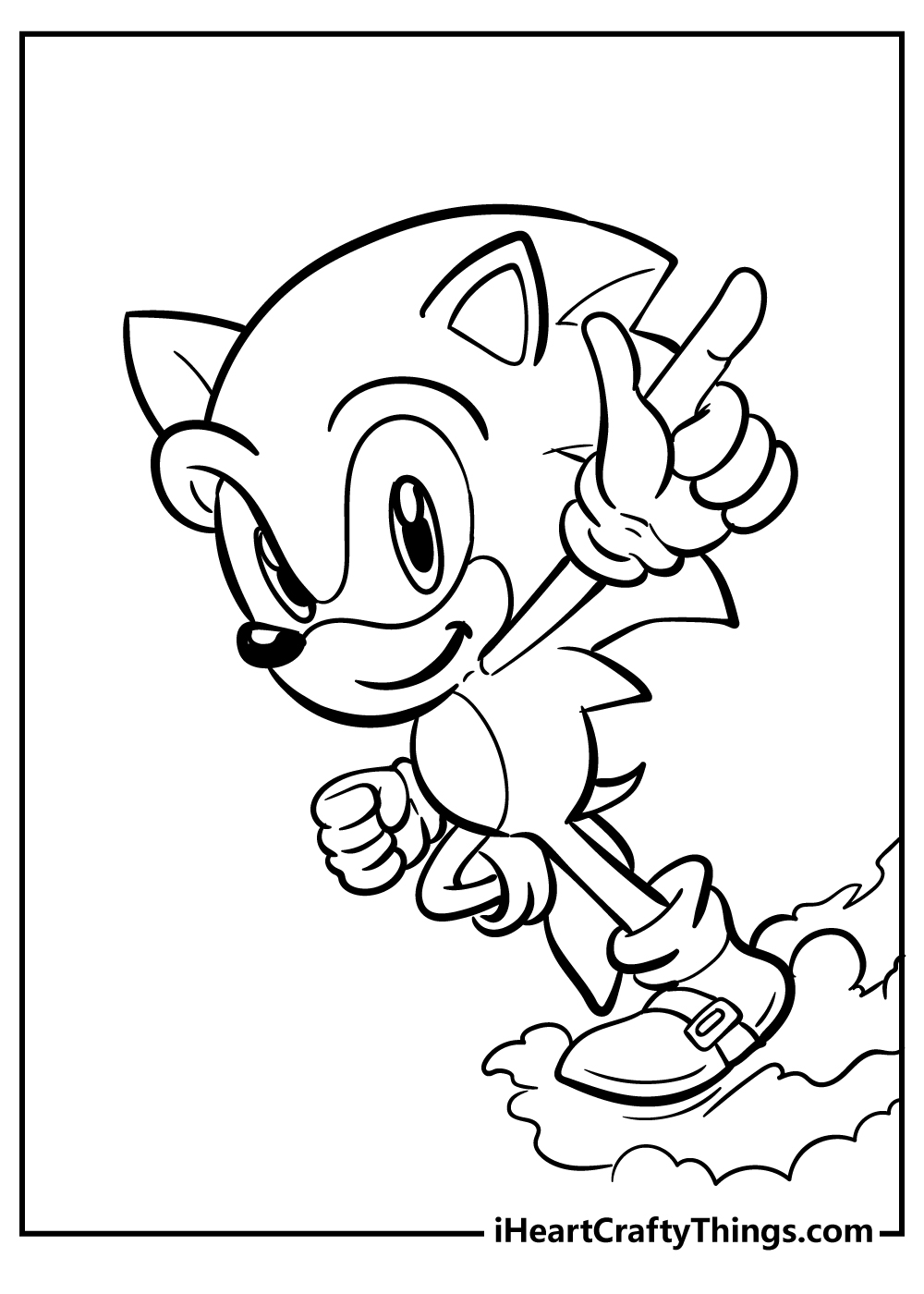 This coloring page features Diamond the Cat. She has long hair and wears a dress, boots, and spiky jewelry.
Diamond's eyes are noticeably cat-like and she is said to have the ability to create diamonds out of thin air.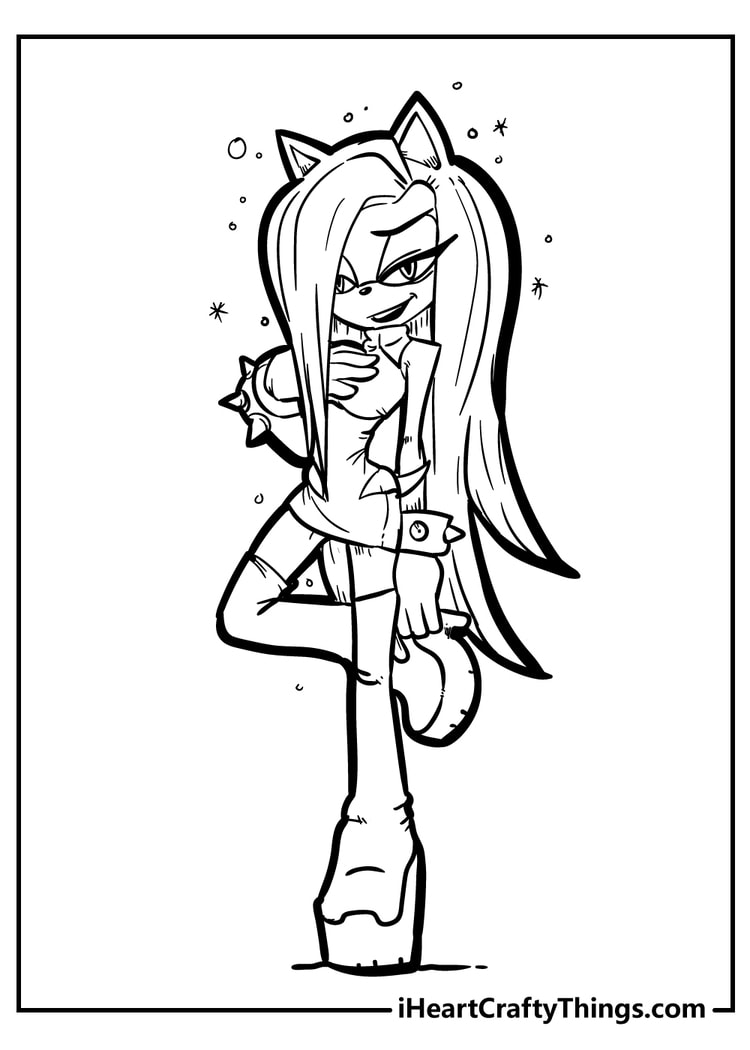 This awesome coloring page features Tails, Sonic's best friend and sidekick. He is a two-tailed fox, which is probably also where he gets his name.
Tails has a special ability where he can spin his twin tails to propel him through the air.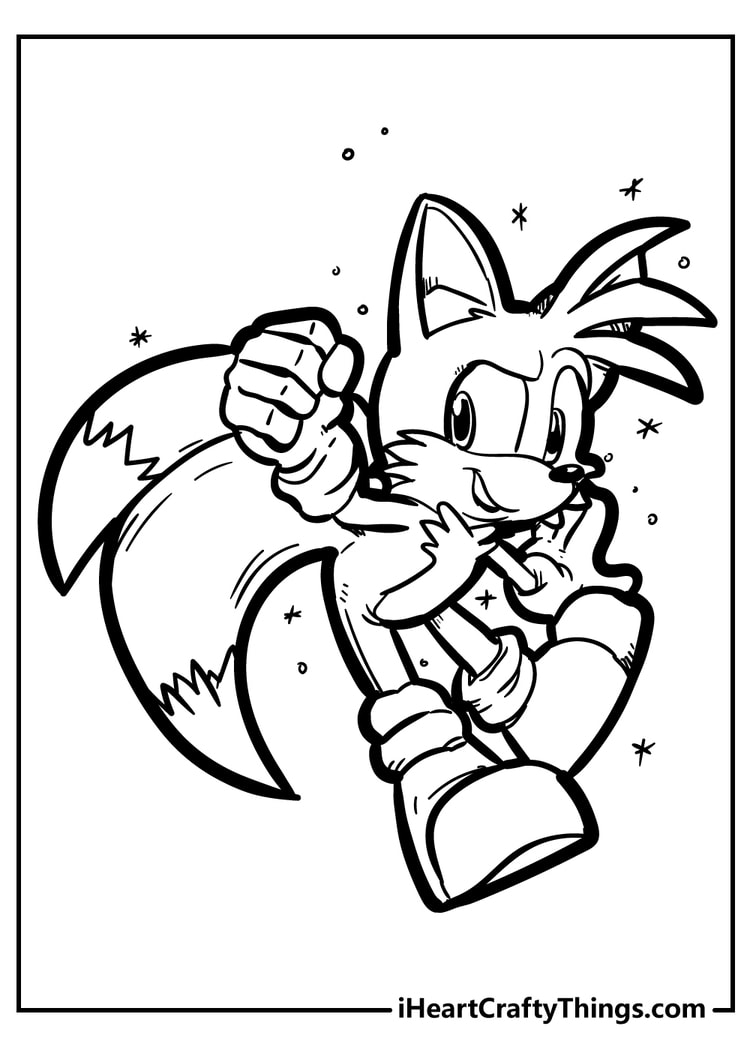 Our coloring page designers really love to show Sonic waggling his finger at us.
He can be a bit of a cocky character, but at least he always tries to do the right thing. Why do you think Sonic is waggling his finger?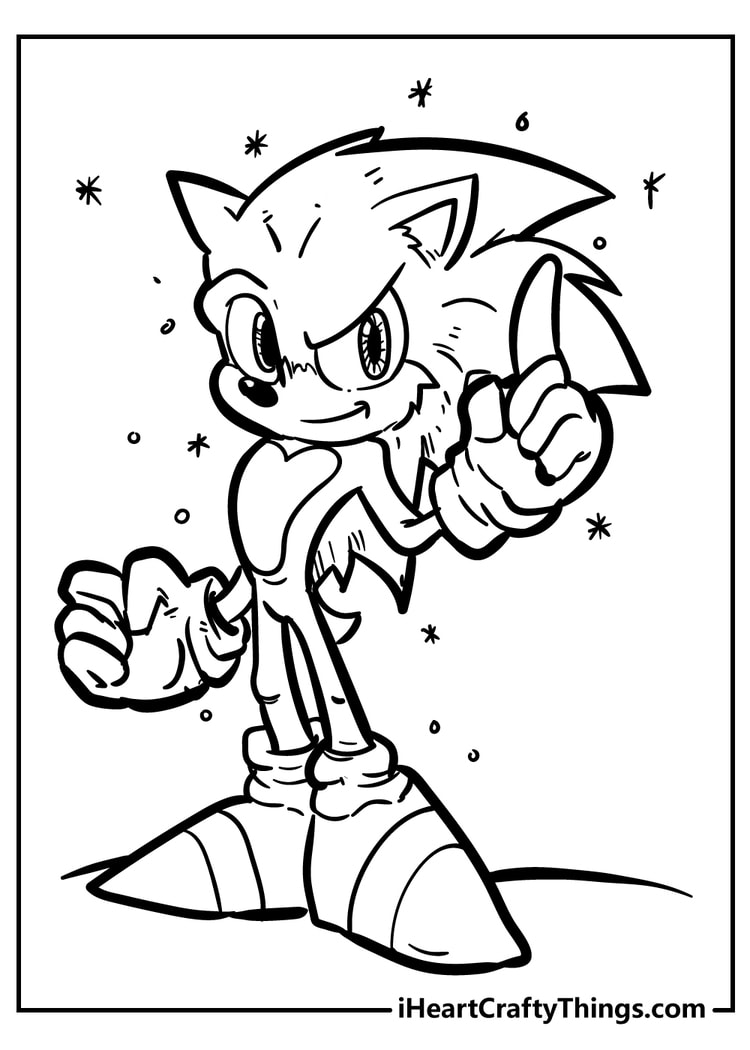 There is a real action pose featured on this Sonic the Hedgehog coloring page. He is moving fast by the looks of it, and it seems as though he is dodging something.
If you want to create a scene, maybe you could draw some missiles or smaller baddies around him to show what he is dodging in this moment.
You could also again draw a background to show off your favorite moment or setting from the games and films.
Will you draw a scene around him or instead go for some simpler color details for the background?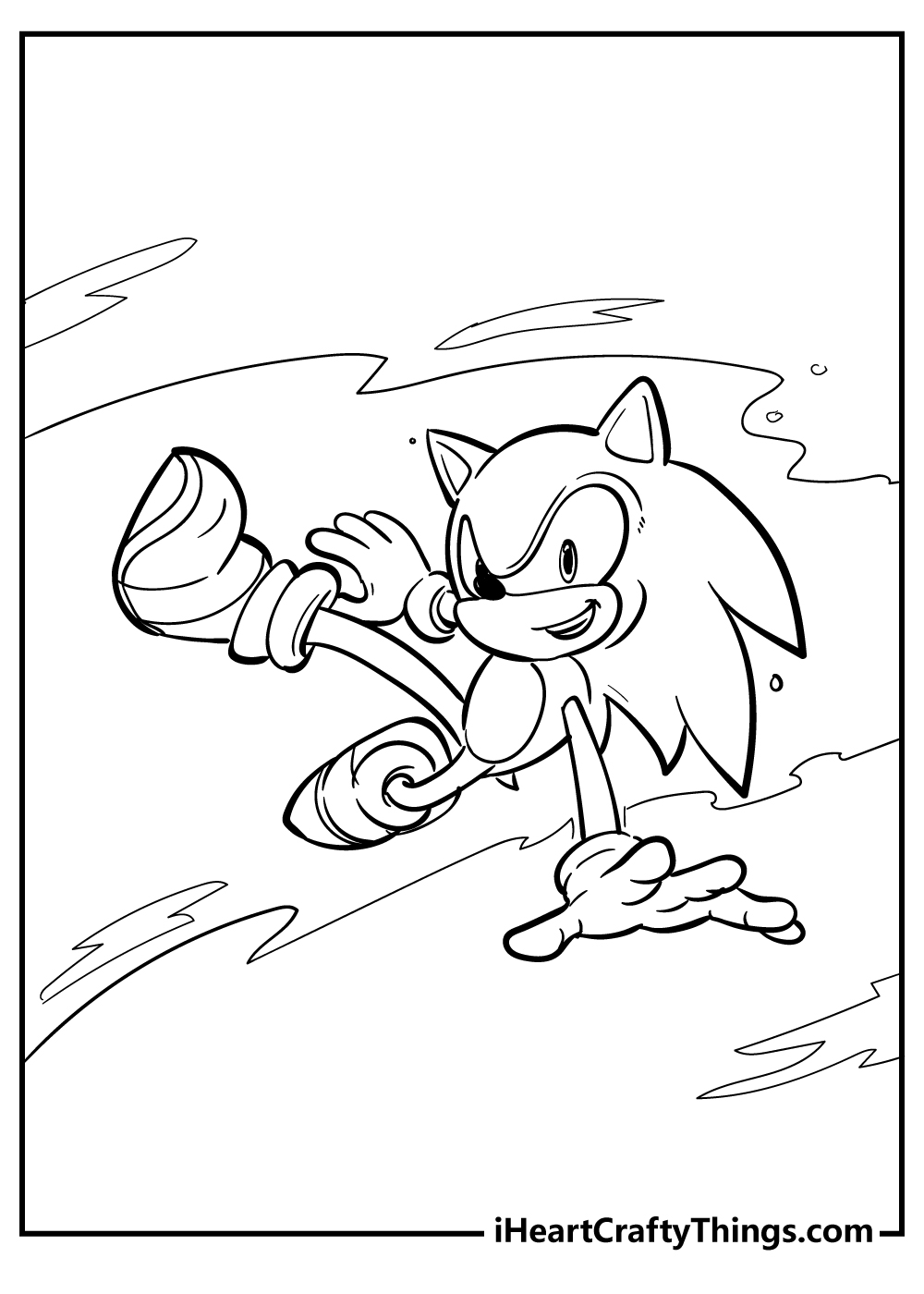 Sonic is so powerful that in this coloring page he harnesses chaos energy in his hand while he appears to be running at great speeds.
His abilities make him a powerful opponent to anyone who dares to do evil deeds.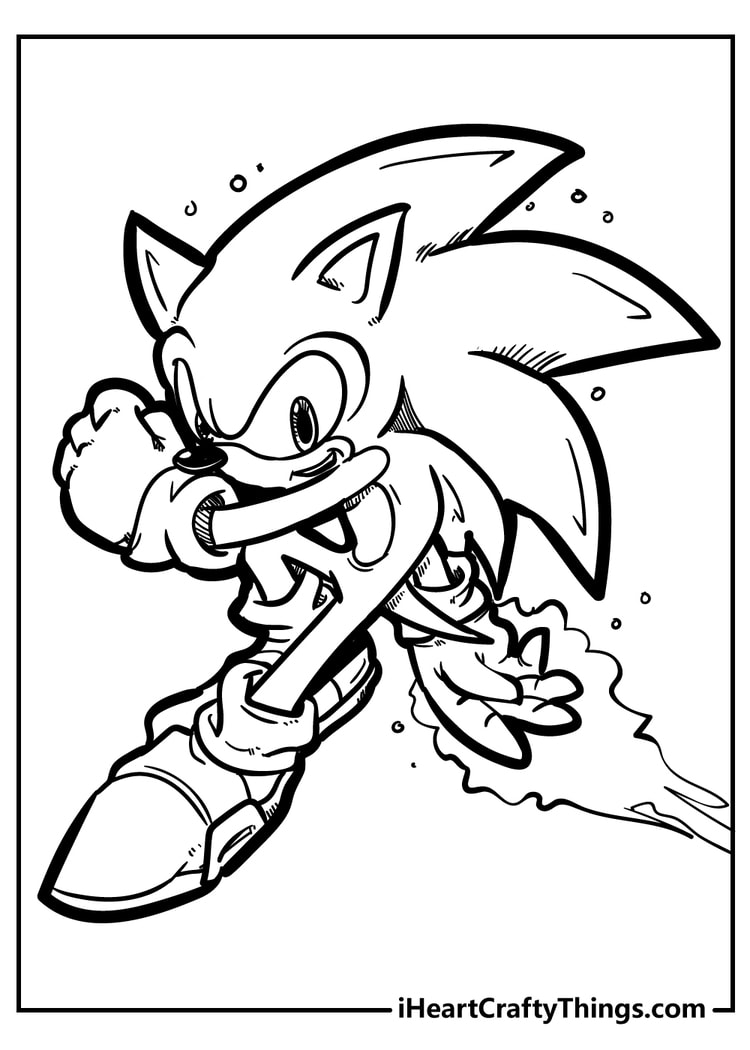 In this coloring page, Sonic has reached one of his most powerful forms. Using the power of the Chaos Emeralds, Sonic can transform into Super Sonic.
His blue skin turns to gold and the quills on his head stand on end. Sonic is also able to fly in this form.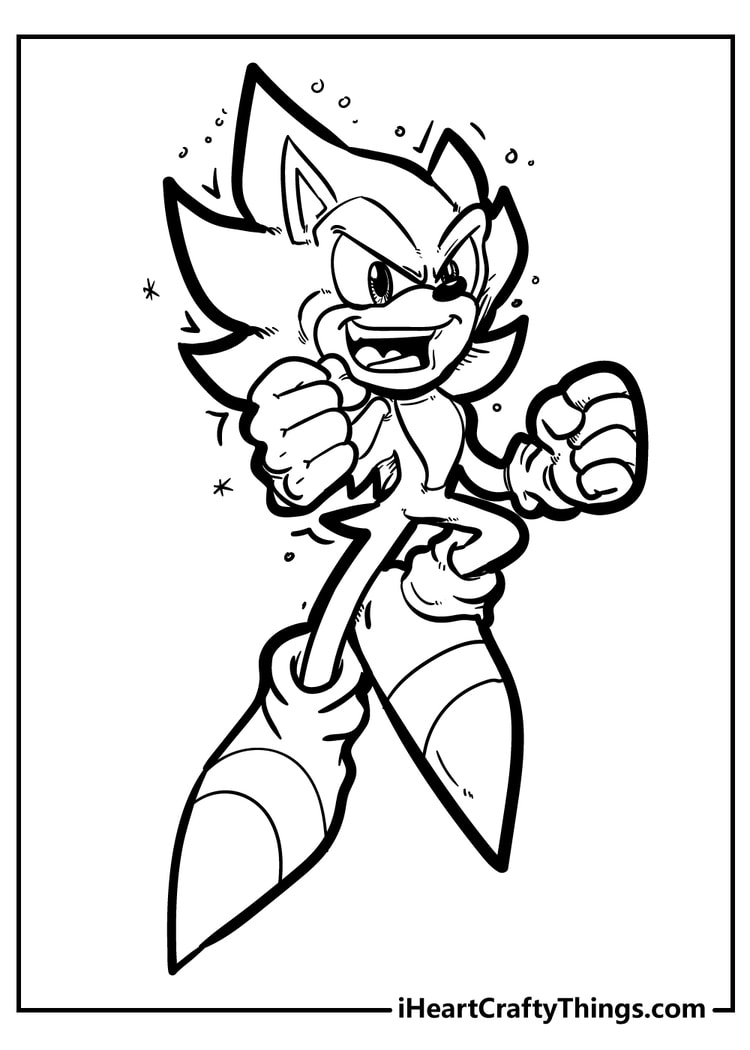 Sonic's best friends are Tails and Knuckles the Echidna. We love this adorable coloring sheet of the three of them holding hands and floating through the night sky.
The trio looks like they are very young in this printable.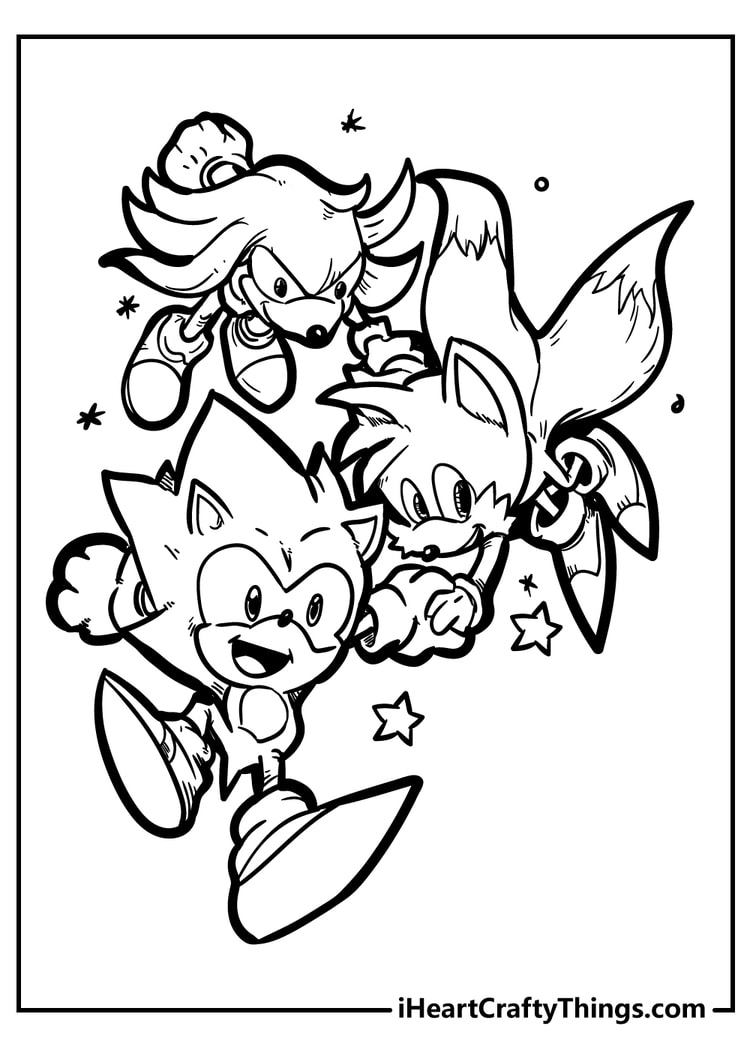 Sonic is a loyal friend and overall a force of good. However, he can be a little impatient and stubborn at times.
This printable really brings out this side of him while he stands with his arms crossed and a cocky look on his face.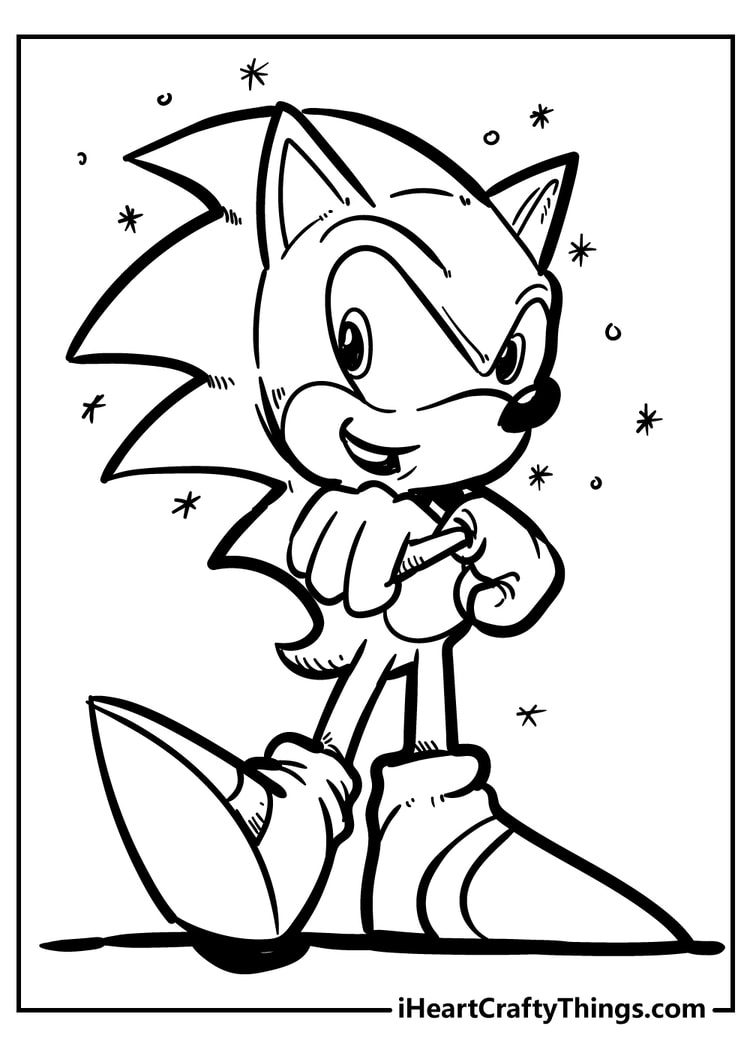 Princess Sally Acorn is sometimes depicted as Sonic's love interest. In this cute coloring page, he seems to have rescued her from some danger and is carrying her to safety.
Sally gives a cute smile, but Sonic looks a little awkward.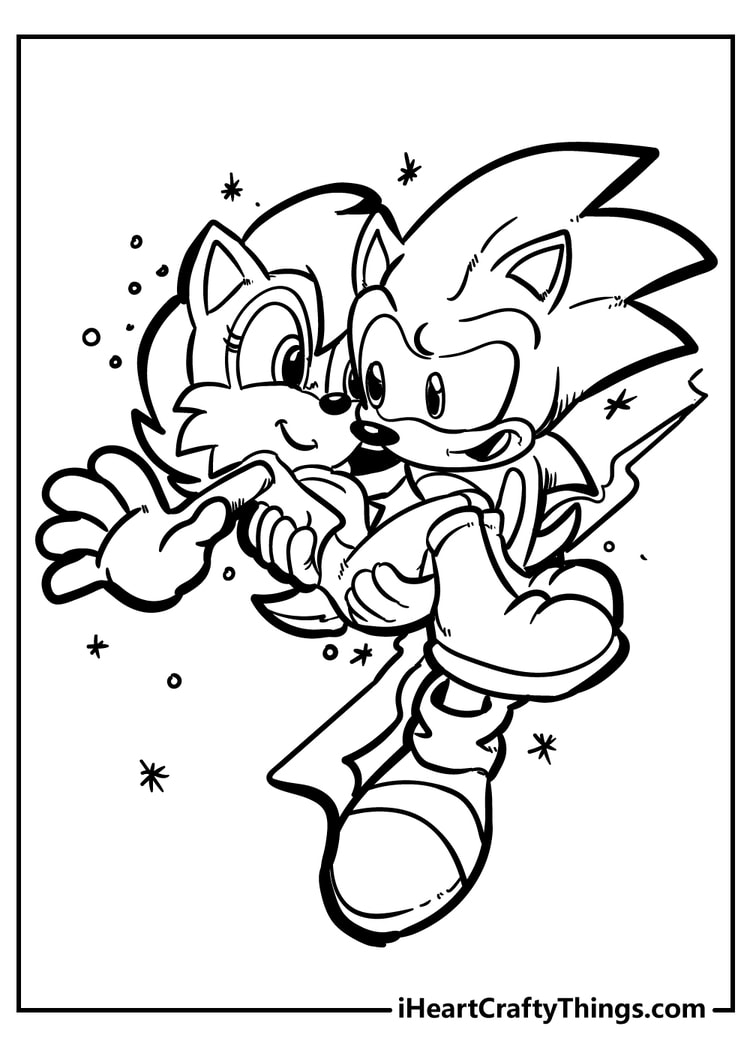 There are so many different characters and animals in the world of Sonic the Hedgehog.
From comic strips, to video games to movies, Sonic is always finding new friends. This character flashes a peace sign just like Sonic often does.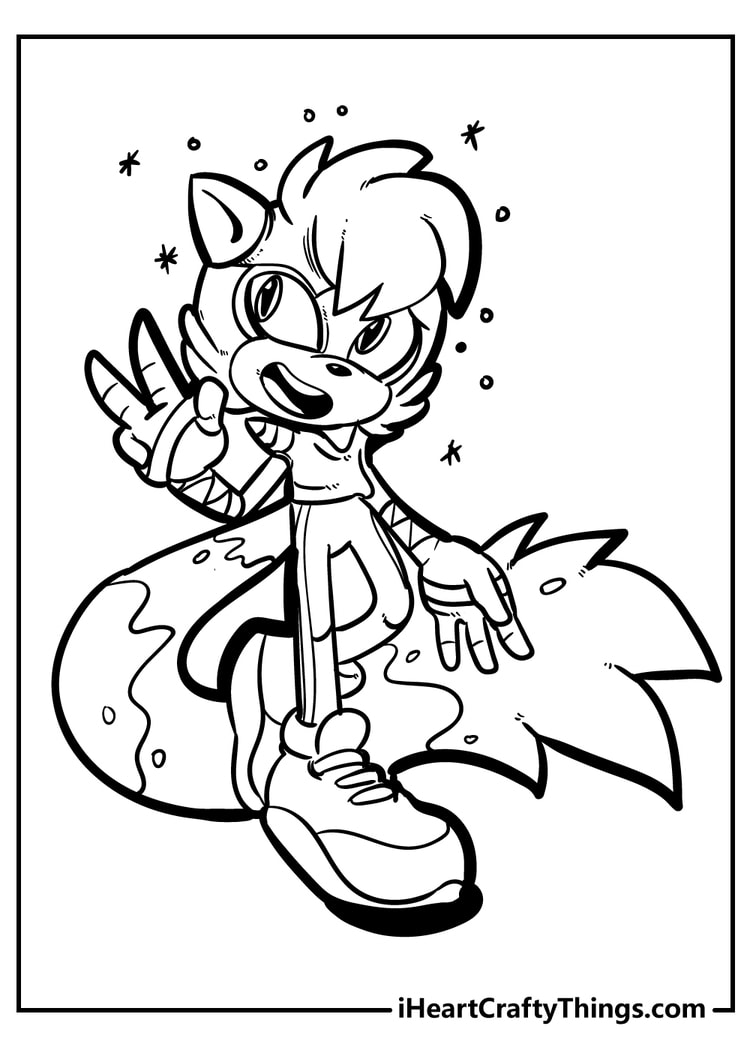 Sonic the Hedgehog has a strong sense of justice and compassion.
He uses his abilities to protect innocent people from evil forces in the world, like Doctor Eggman. His love of freedom and adventure is very apparent in this printable.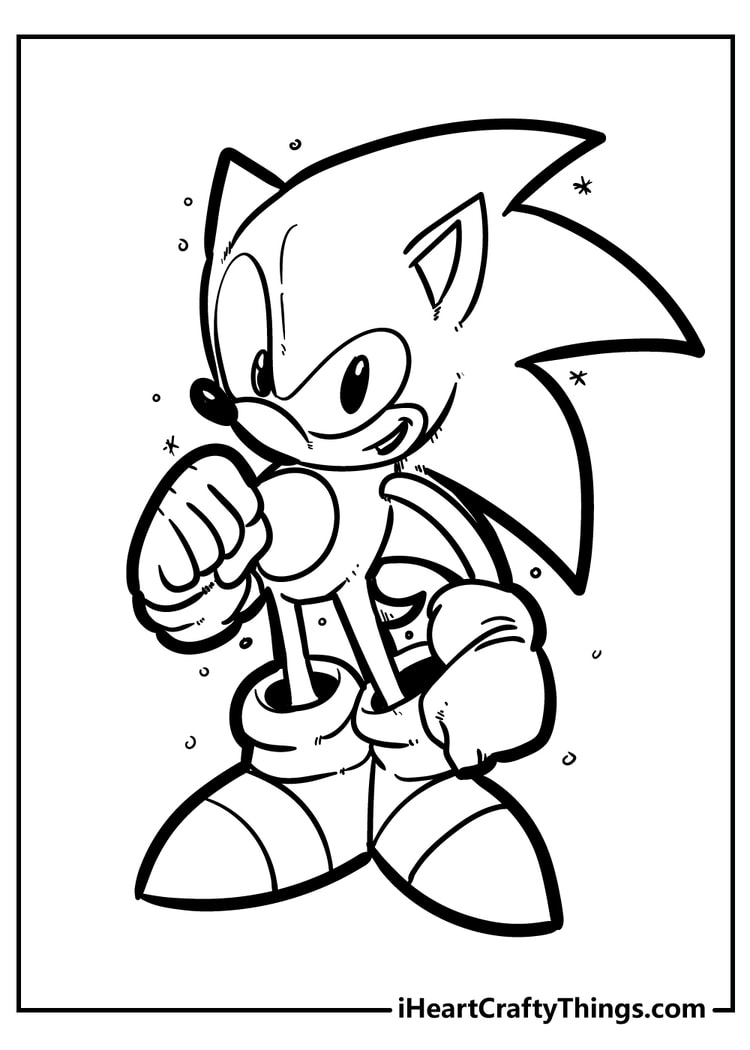 Did you know that Sonic's friend Tails is an airline pilot and a mechanical prodigy?
He is incredibly smart and loves to tinker with machines and flying devices. In this printable, he appears to have just been flying or tinkering with a plane.
He is wearing flying goggles and giving a big thumbs up.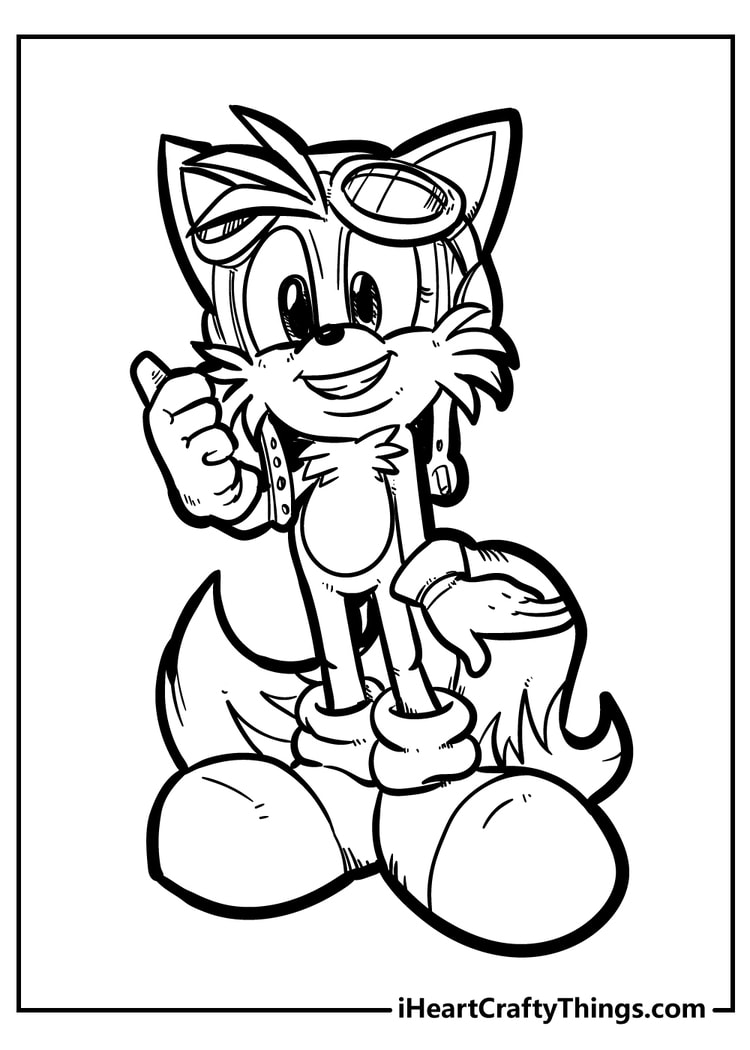 Here Sonic stands in front of a cracked wall and proudly points at himself. He has the ability to run so fast that he can burst through solid surfaces to the other side.
That's probably what he did in this printable!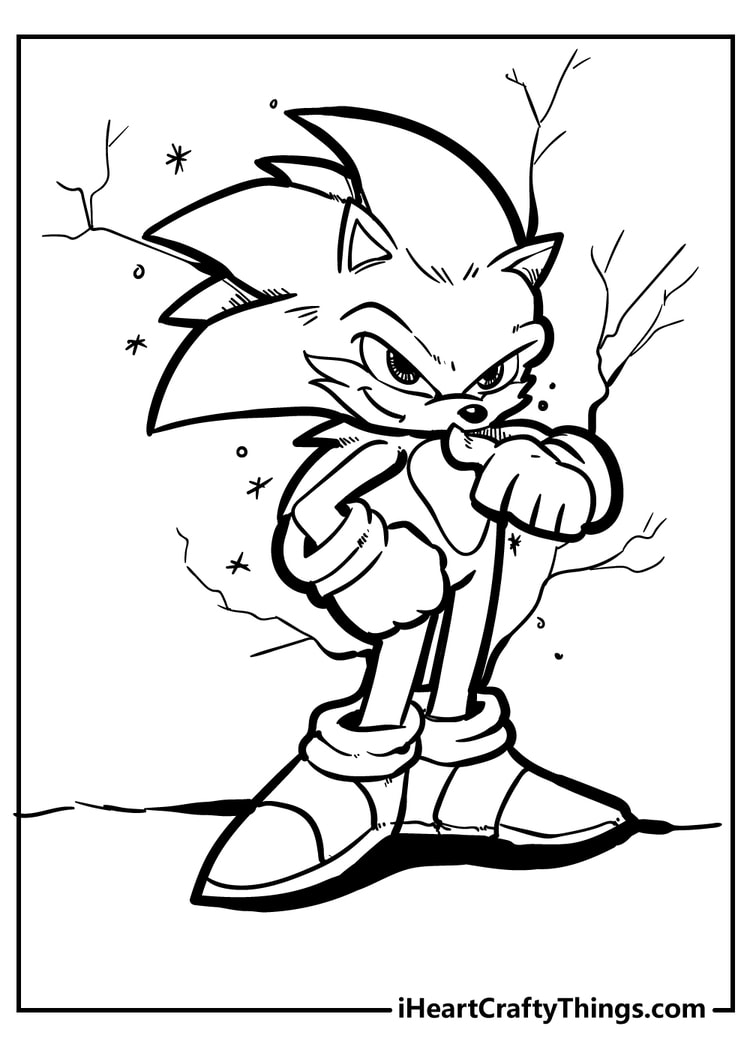 Amy Rose is another hedgehog from the series. She looks adorable with her fellow hedgehog Sonic in this cute coloring sheet.
The pair appear to be staring up at someone, with Amy Rose saluting and Sonic putting his fists together. Maybe they are about to go on an important mission.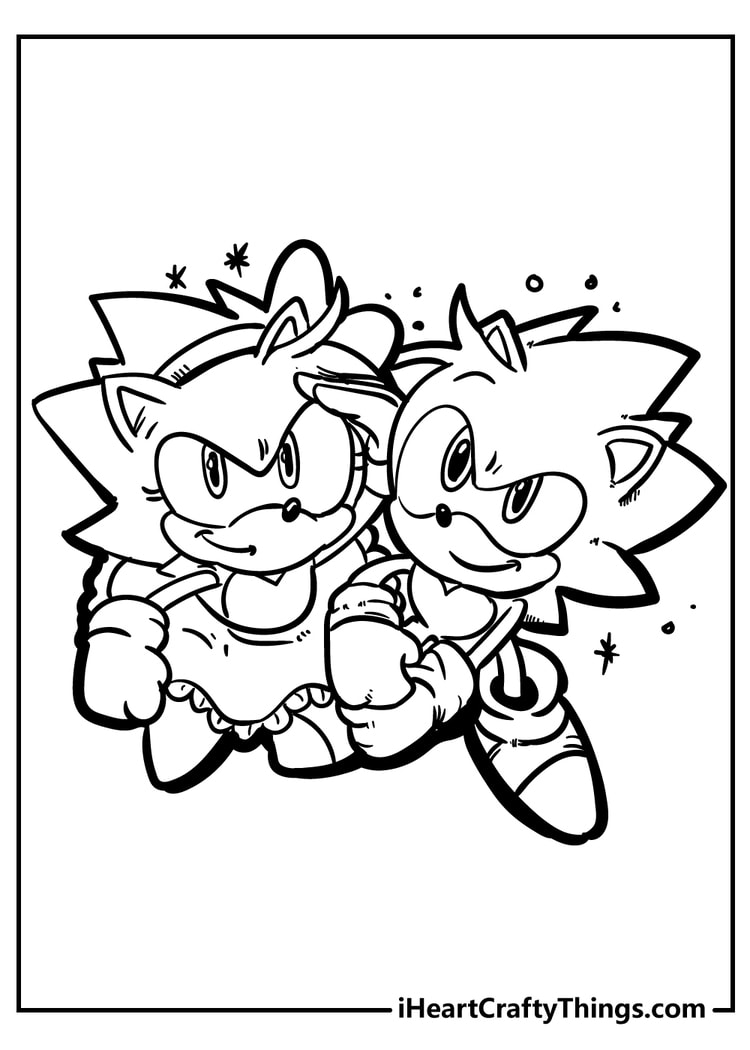 Here is another image of Amy Rose looking a little bit older. She wears a headband in her fur and a cute dress and boots.
Amy Rose secretly has a big crush on Sonic. She looks like she might be thinking about him in this coloring page…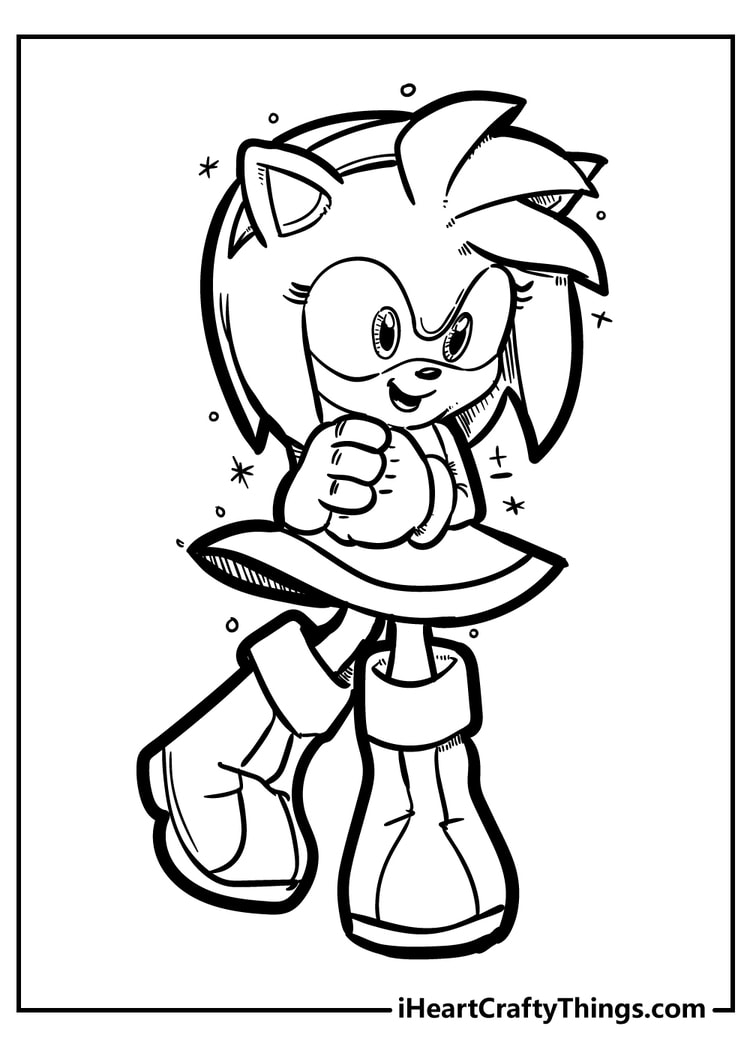 …but in this printable Amy Rose seems upset! She has her arms out and her mouth open in surprise.
Perhaps she has seen a sign of danger and needs to warn Sonic!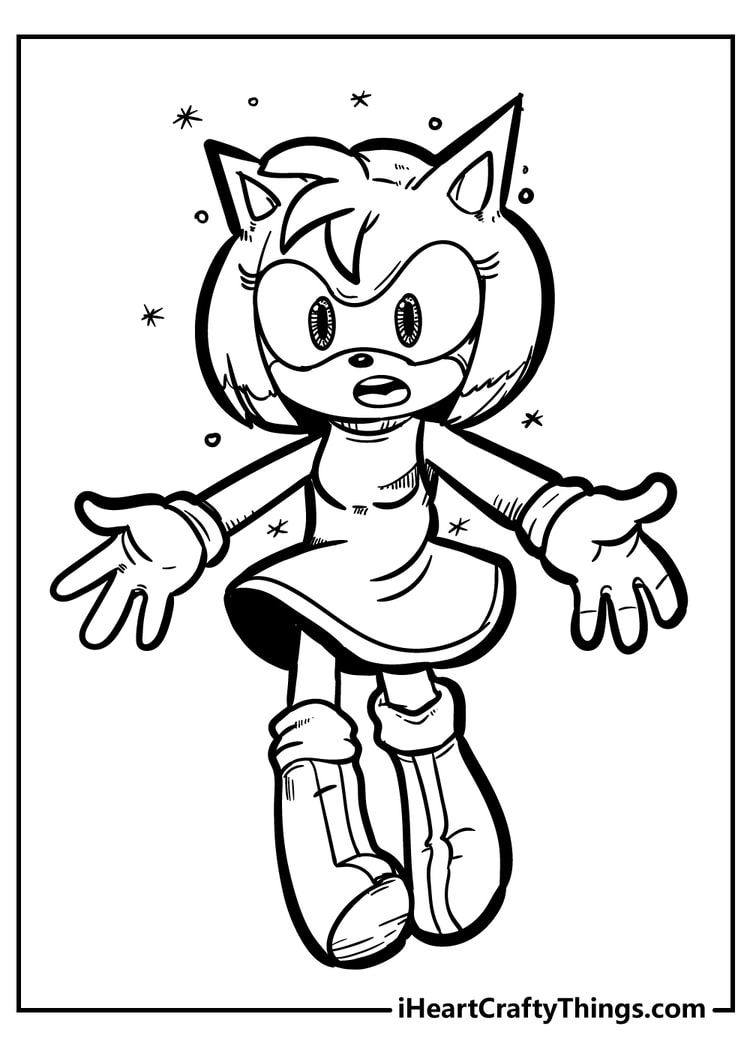 People forget just how powerful Sonic is. He can be very cute at times but on other occasions, he unleashes incredible power.
This coloring page shows Sonic looking pretty angry and utilizing his extremely fast speed. We wonder if he is in the middle of a battle with the evil Doctor Eggman.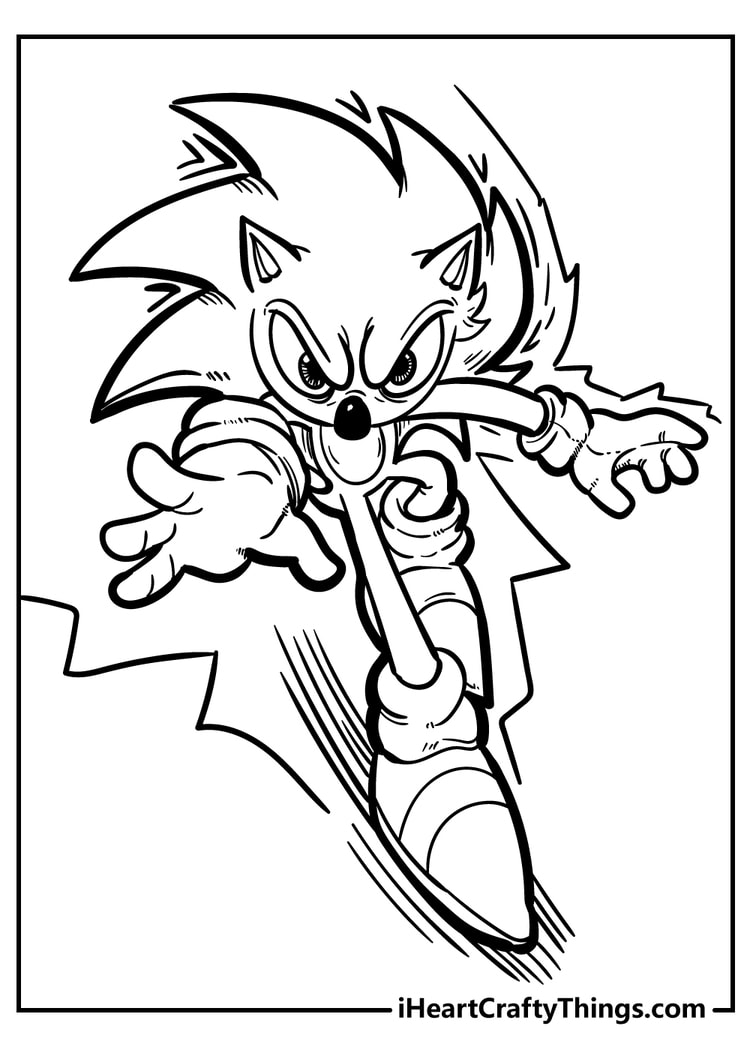 Remember to check back for more fun characters and animals that you can print and color.
We are constantly updating our catalog of coloring pages and printable sheets for you to enjoy. There is so much more to come.
We hope you have enjoyed the adventures of Sonic, Tails, and the rest of his friends. Don't forget to post a photo of your finished Sonic the Hedgehog coloring sheet on our Facebook page.
We can't wait to see all the creative ways you'll bring to life these super fun images.