On this page, you will find 25 all new Roblox coloring pages that are completely free to print and download.
When it comes to freedom in video games, few rival the freedom that Roblox provides.
This game allows people to create their own characters and even their own games that can be played by people all around the world.
It emphasizes creativity, and these free Roblox coloring pages for kids are all about creativity as well!
These 15 pages are all free to enjoy, and you can pick a few favorites or color every single one if you please.
When you have chosen and colored your favorite pages, you can show them off on our Facebook and Pinterest pages for us to enjoy!
25 Brand New Roblox Coloring Pages – Free to Print and Color
This Roblox coloring page has a simple yet really cool-looking character for you to finish designing!
When it comes to Roblox characters, you have a lot of freedom in the game when it comes to deciding what your character will look like, and the same is true for these coloring pages.
You could pick any colors you like whether you want to stick to a particular theme or just use ones that look good to you.
Then, you could draw a background setting to show where this character is hanging out.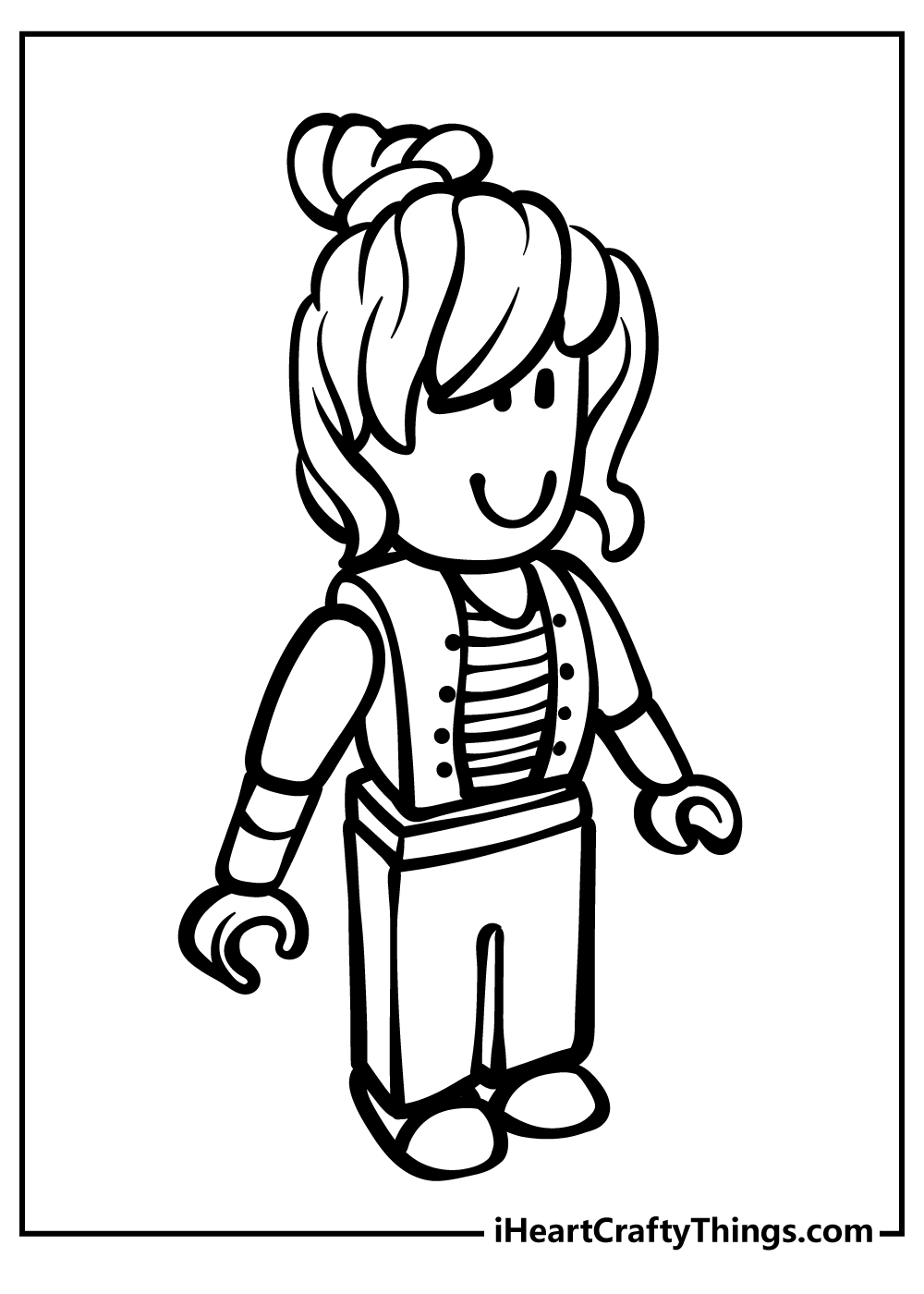 Next up, we have a fairly standard Roblox character that looks like a normal person, but just because it doesn't have a specific theme to it doesn't mean you can't get creative!
When you have decided which colors you would like to use for this character, you could make the image more personalized by adding some accessories and details.
For example, you could add some logos, small pictures or textures onto his clothes to give him a more distinct style. What are some other ways you can think of to put your own spin on this one?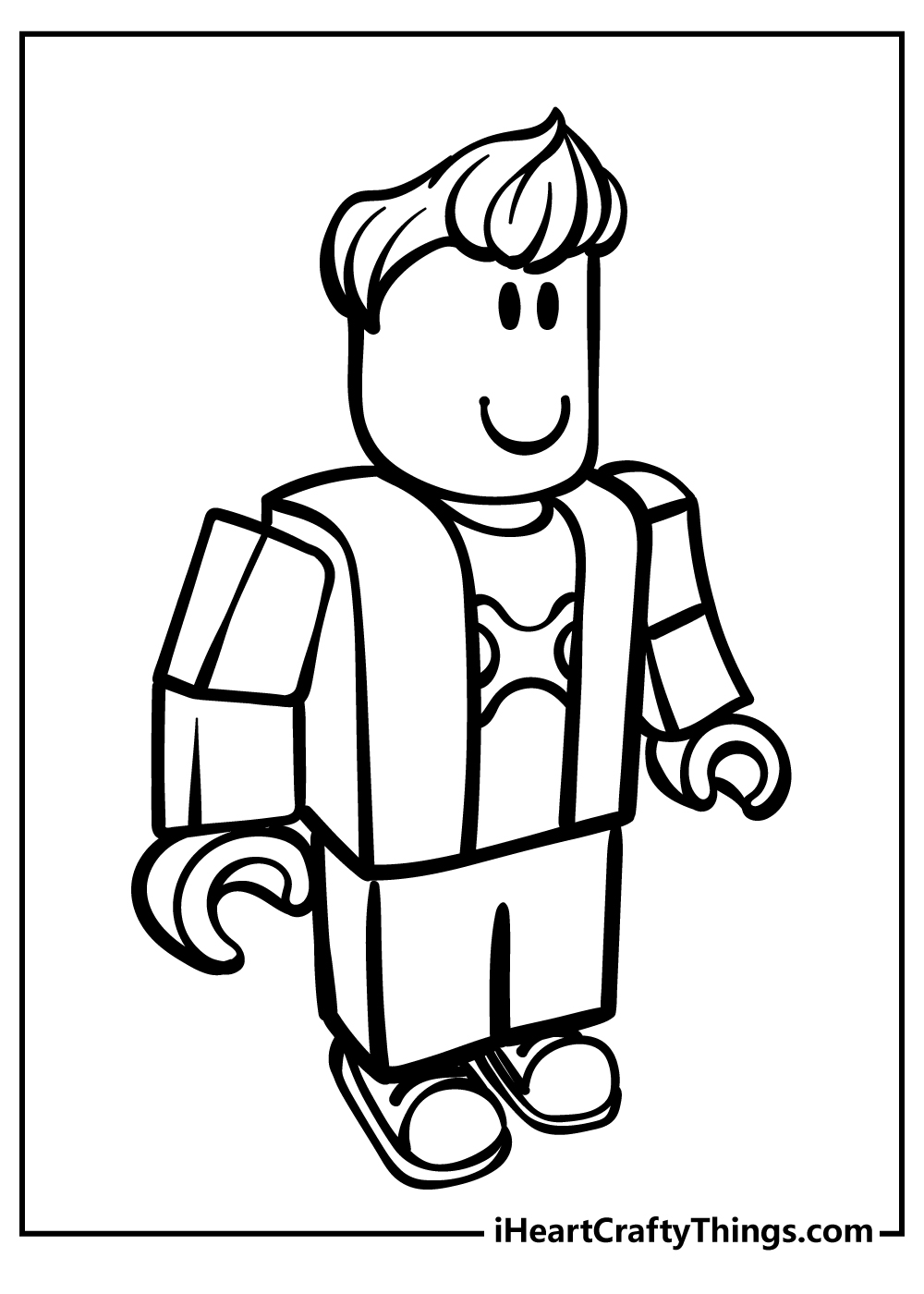 In Roblox, a big part of the experience is centered around creating your character. That is something that you can do in this first image of our collection of free Roblox coloring pages for kids!
This blocky character has been left blank, and now you can customize it.
You could draw some funky clothing or even put the character into some kind of outfit or uniform! How will you finish off this blank slate of a character?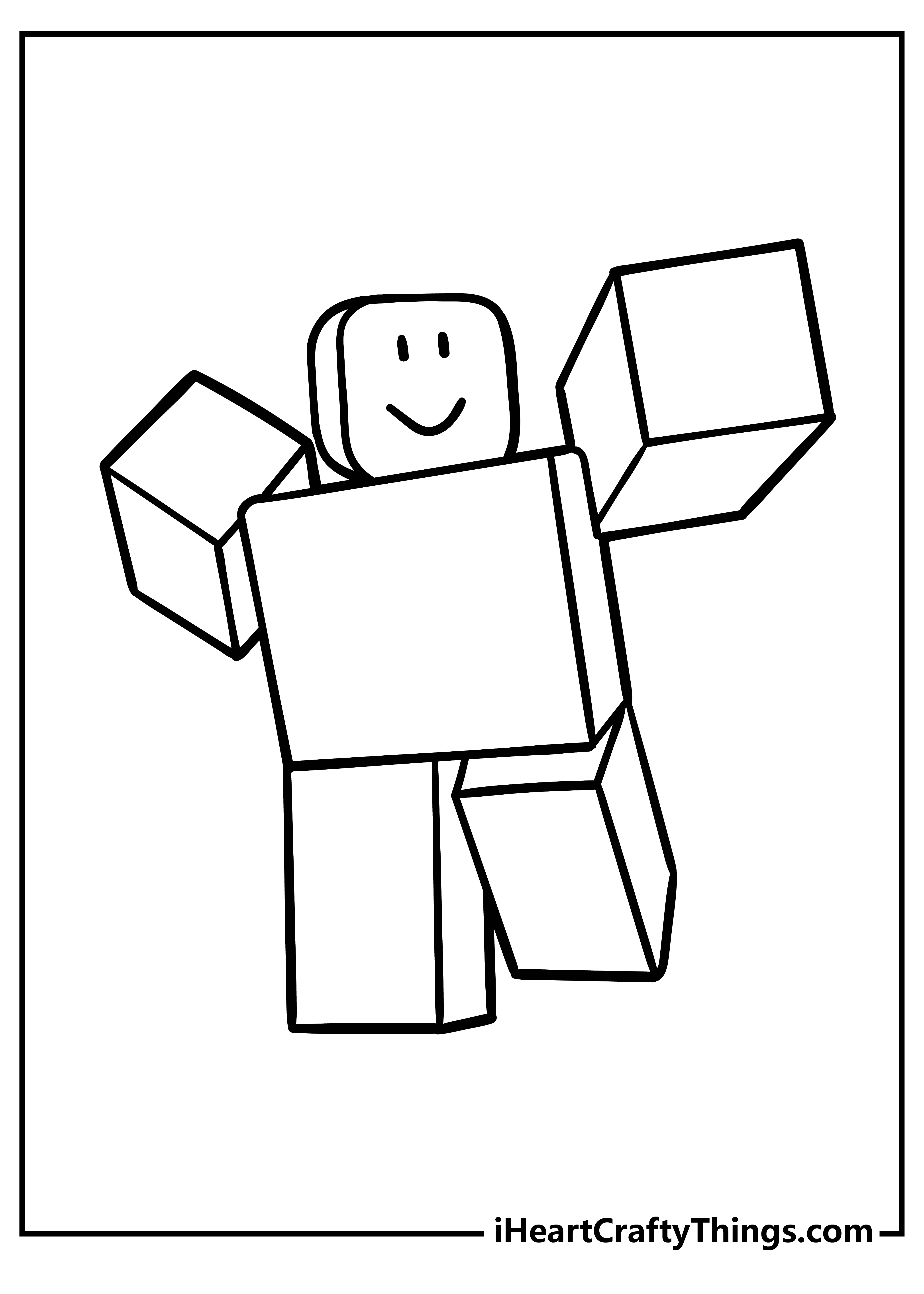 We have another blank character for you to fill out in this second image. This one is in more of a relaxed pose, but there are still plenty of scenarios that you could create about this character.
When you have designed the character, you could take it even a step further by drawing a background setting to finish it off!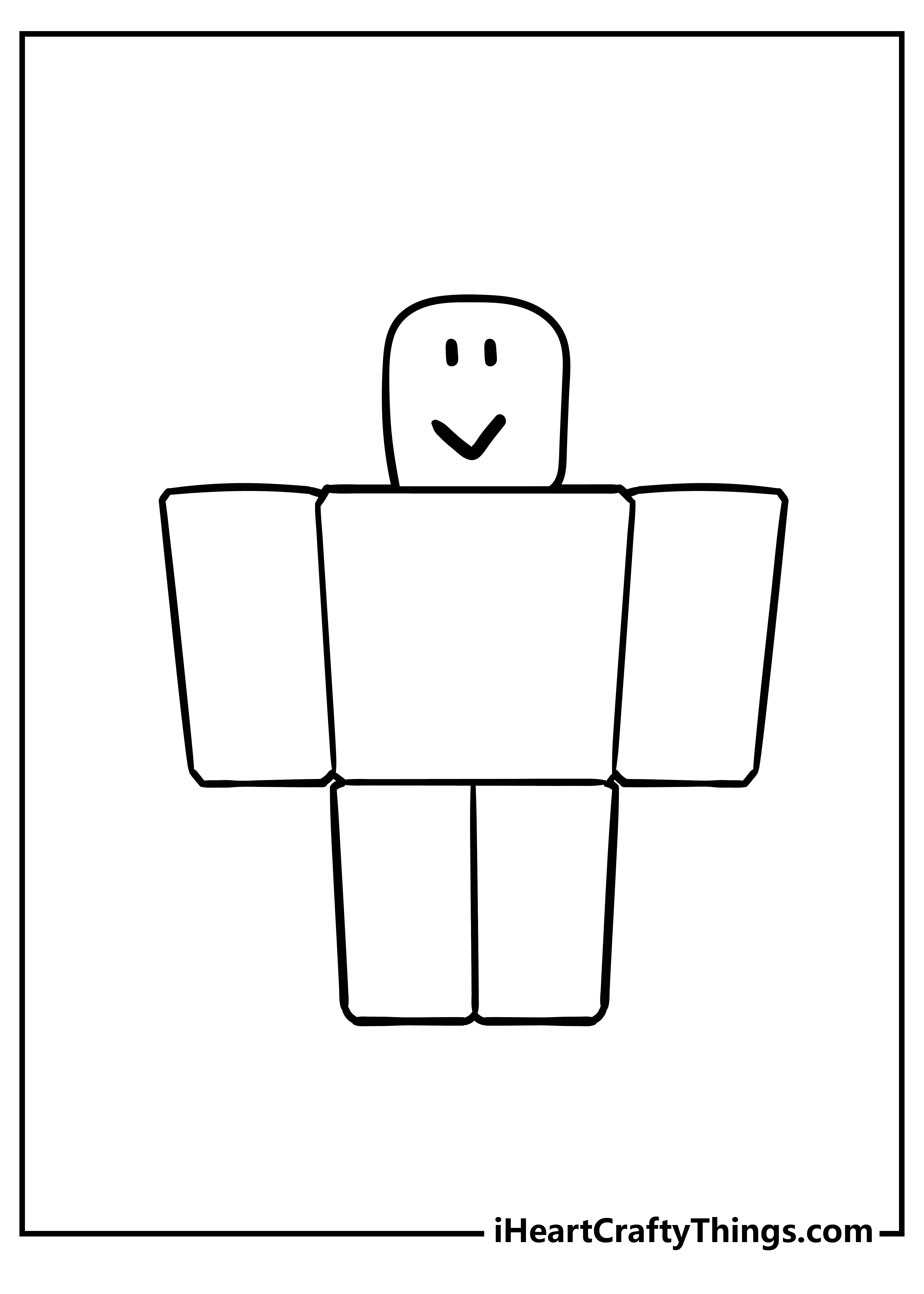 The next character we have for you is looking very cool! He is dressed in some casual clothing, and he is drawn in a very confident pose.
The style he is dressed in is very trendy, so we think that using some vibrant colors for this one would be a good way to go.
As we have suggested before, you could also add extra small logos and other fun details to his outfit.
What kind of background scene would you add to this picture if you were to go for that kind of extra detail? We would love to see how you finish this awesome picture!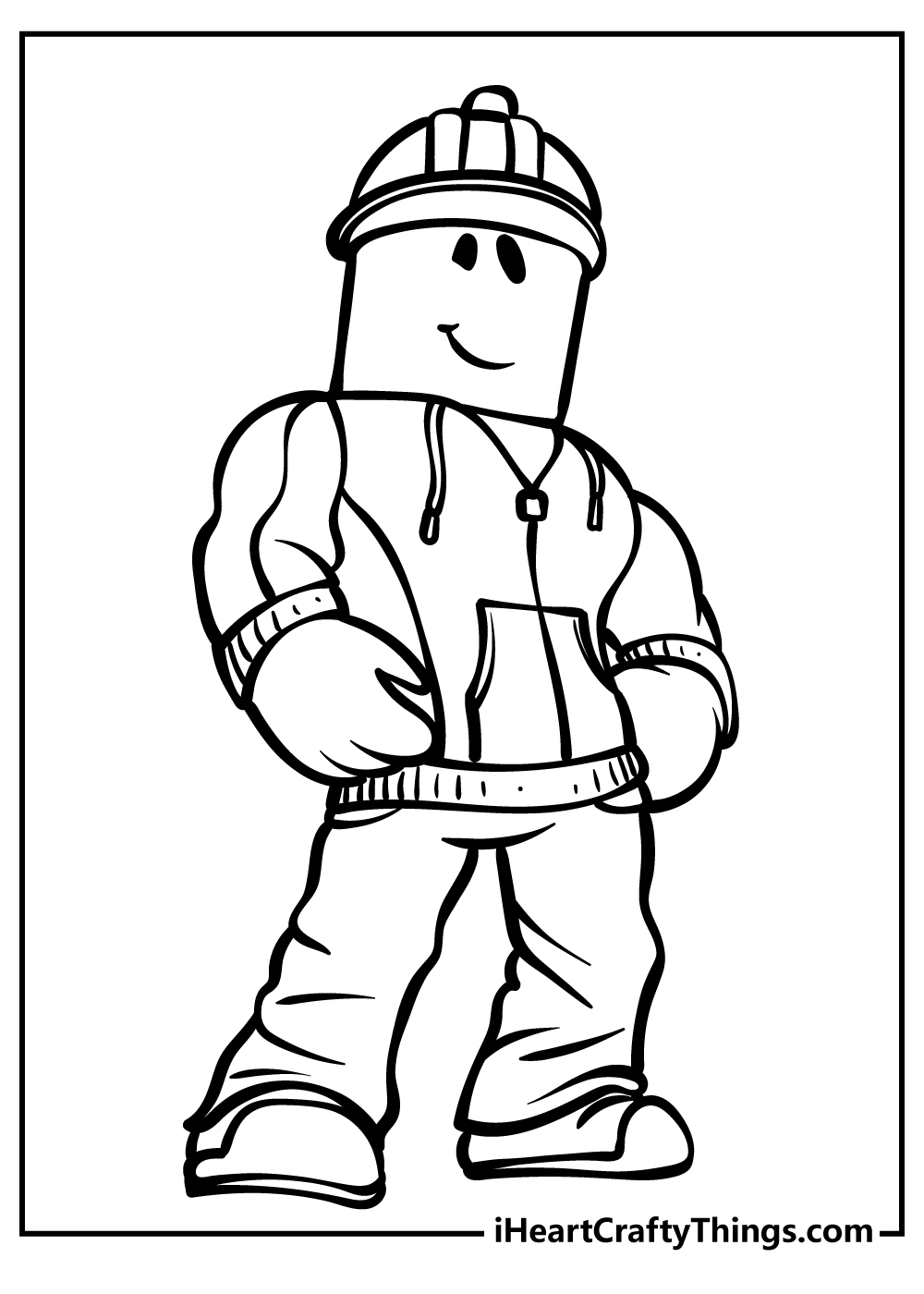 Many of the characters we have seen so far in this collection of free Roblox coloring pages for kids have been rather normal-looking characters.
The one featured on this page is a really unusual one! Anyone who has played the game of Roblox will know that you encounter many weird and wacky-looking characters, and this is an example of one.
They have a cool and interesting hairstyle and are wearing a big pair of rabbit ears. We would go for some bright and wacky colors to fit the out-there style of this character.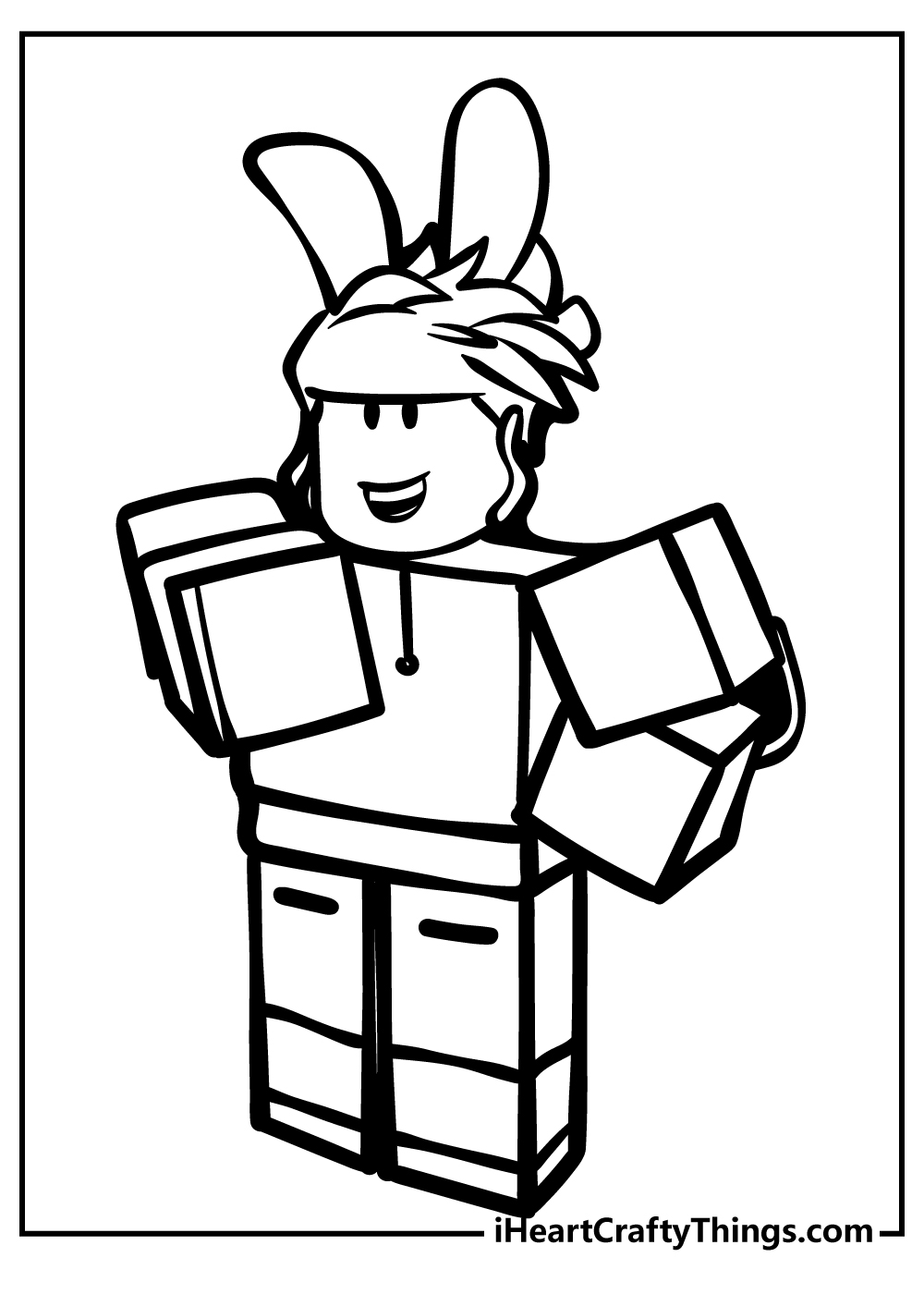 This third character that we have for you to color has also been left blank, but this time the character is looking a bit scared or nervous!
What kind of situation do you think this character could be in that would have it looking like this? Be sure to show us what you think by adding your own details!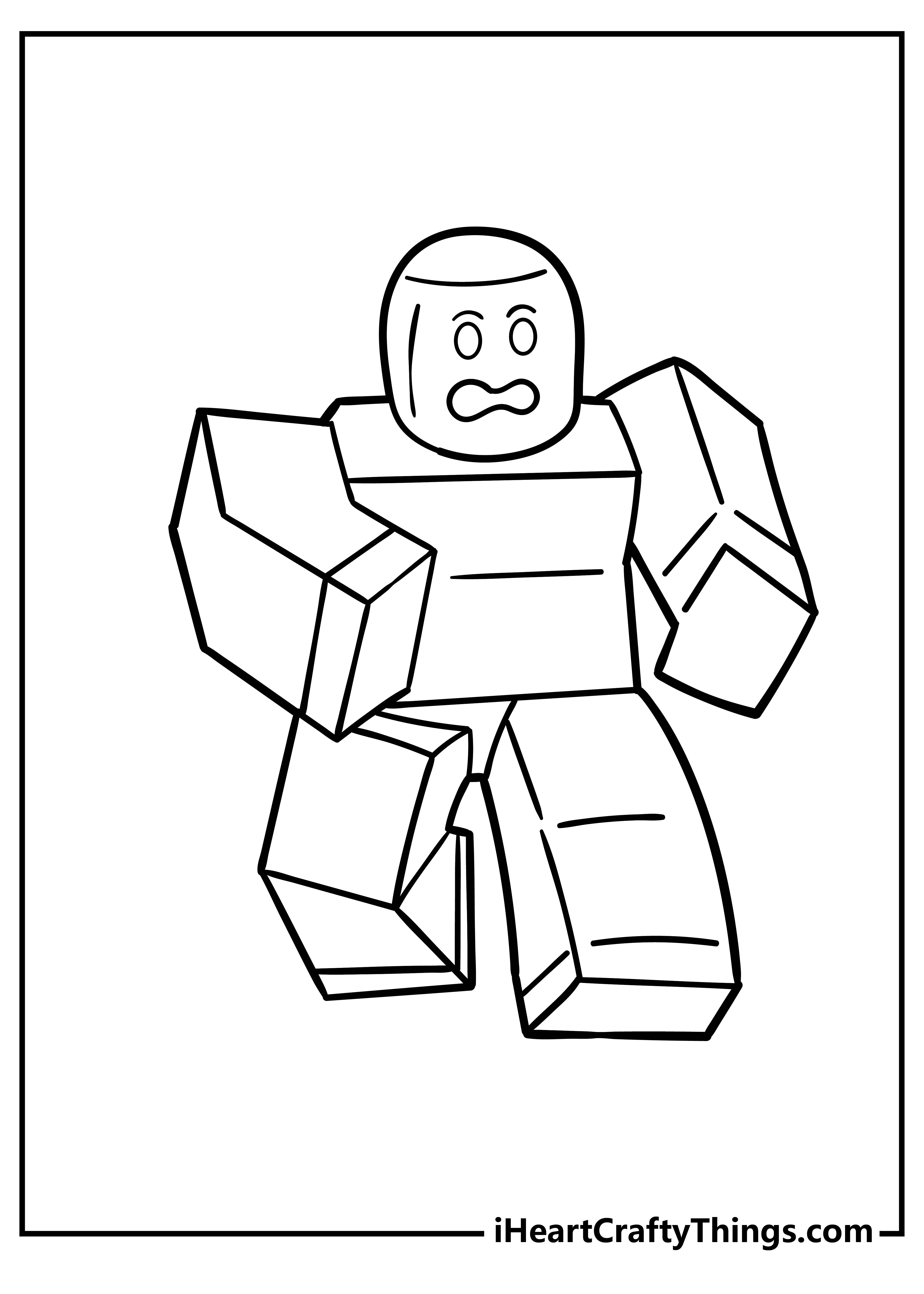 Now we present a character that has a bit more definition than the previous Roblox characters we had for you to color.
This guy is dressed in a cool worker's outfit, and there are many ways you could color him in. there are some great details on this one!
When you have colored his outfit, you could draw an appropriate background to suit the theme of his outfit.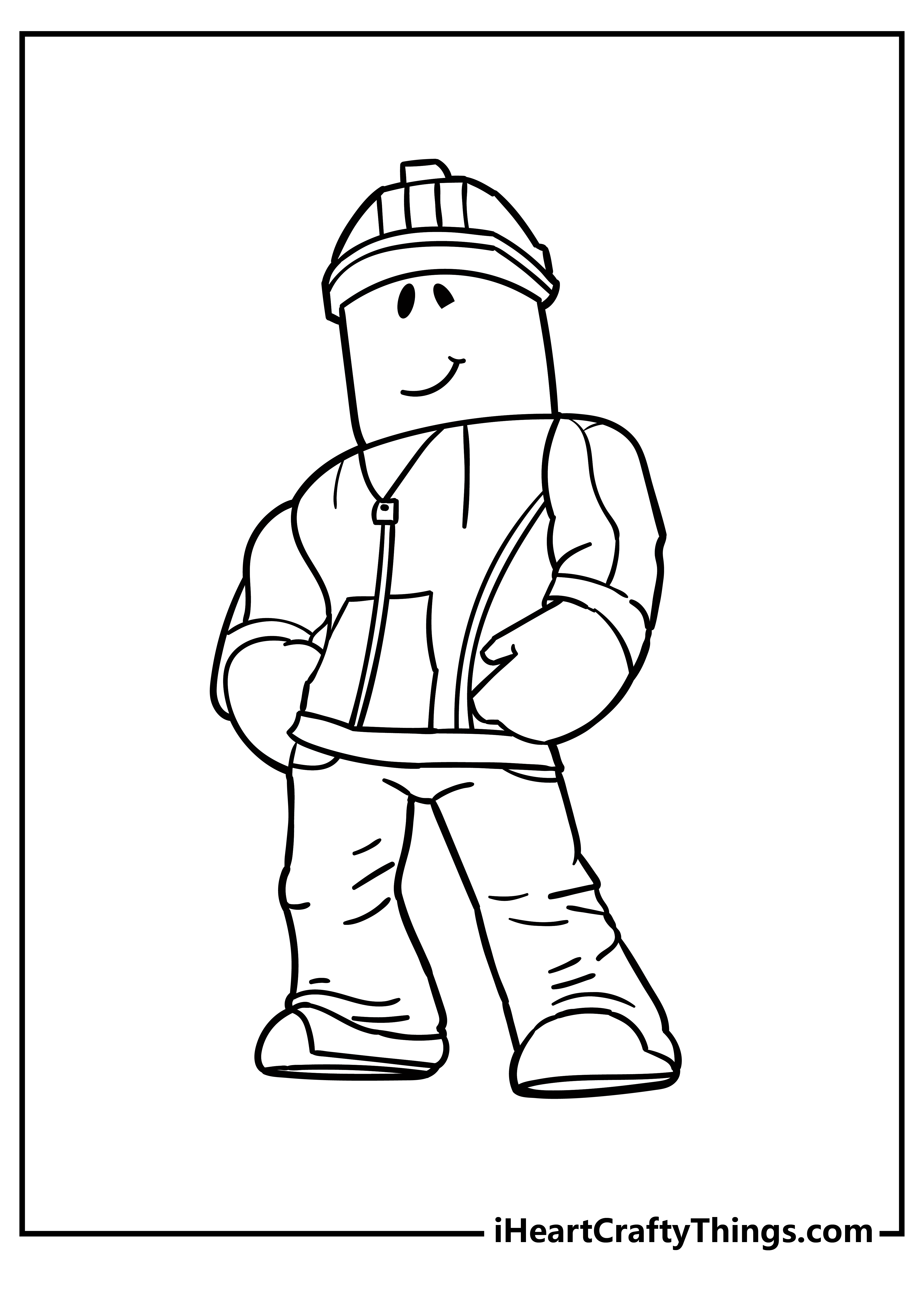 Here we have another weird and wonderful character that really captures the spirit of creativity that Roblox is known for.
The character has a cool and detailed hairstyle, and they are also wearing lots of flowers in their hair.
These flowers are not only a cool detail, but they also give you plenty of details to use some bright and vibrant colors on.
Then, when you have finished these details, you can color the many details on the outfit that she is wearing. What kind of color schemes comes to mind for you when you see this picture?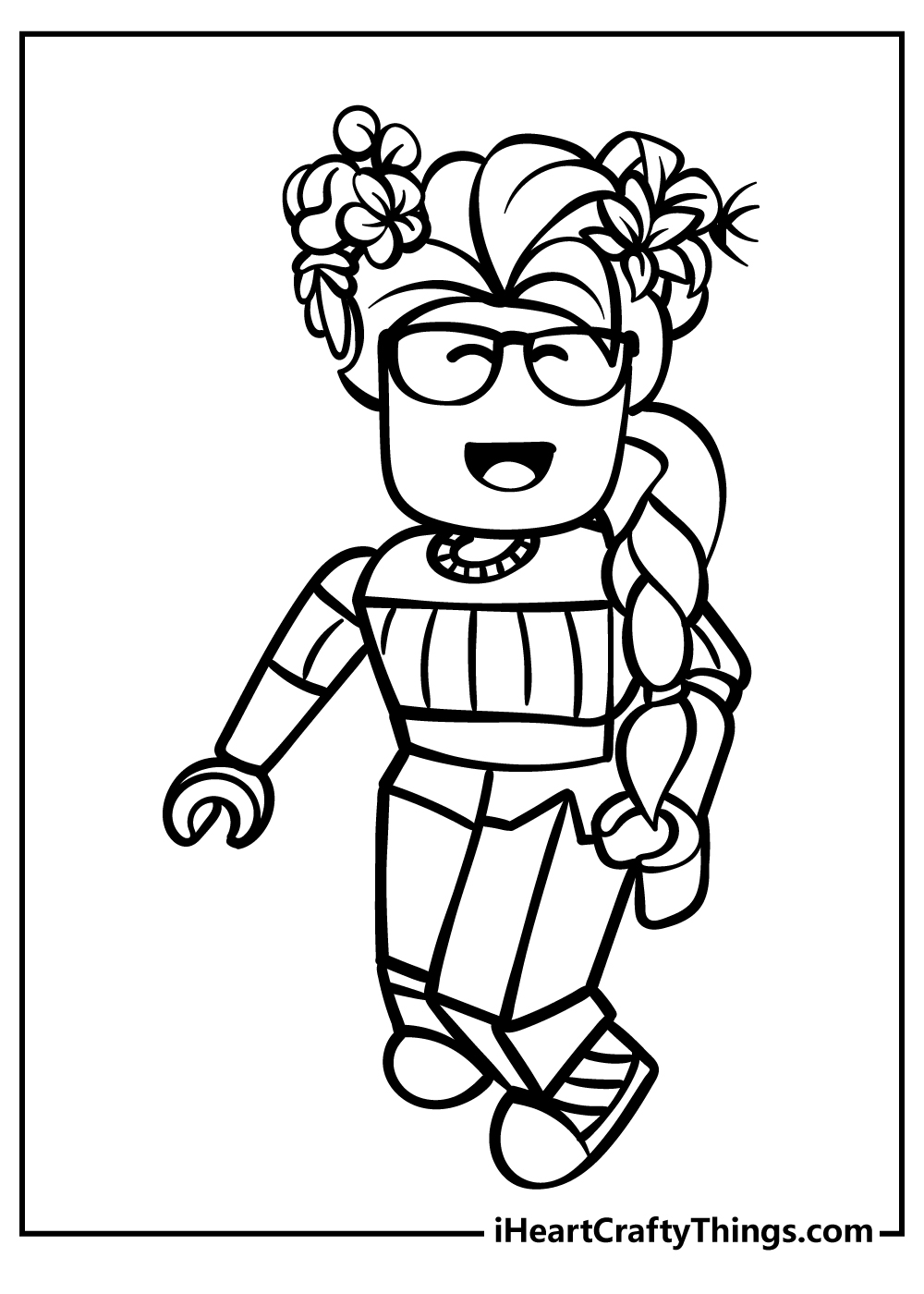 The character featured on this next page looks ready for anything! They not only have a confident look on their face, but they also seem to have an awesome sword strapped on their back.
They also have some big headphones on, and there are some great smaller details on the outfit that you can color as well.
This is the kind of design that would look awesome whether you use bright colors, softer ones or a mixture of both.
It's up to you to decide how you will color this cool guy!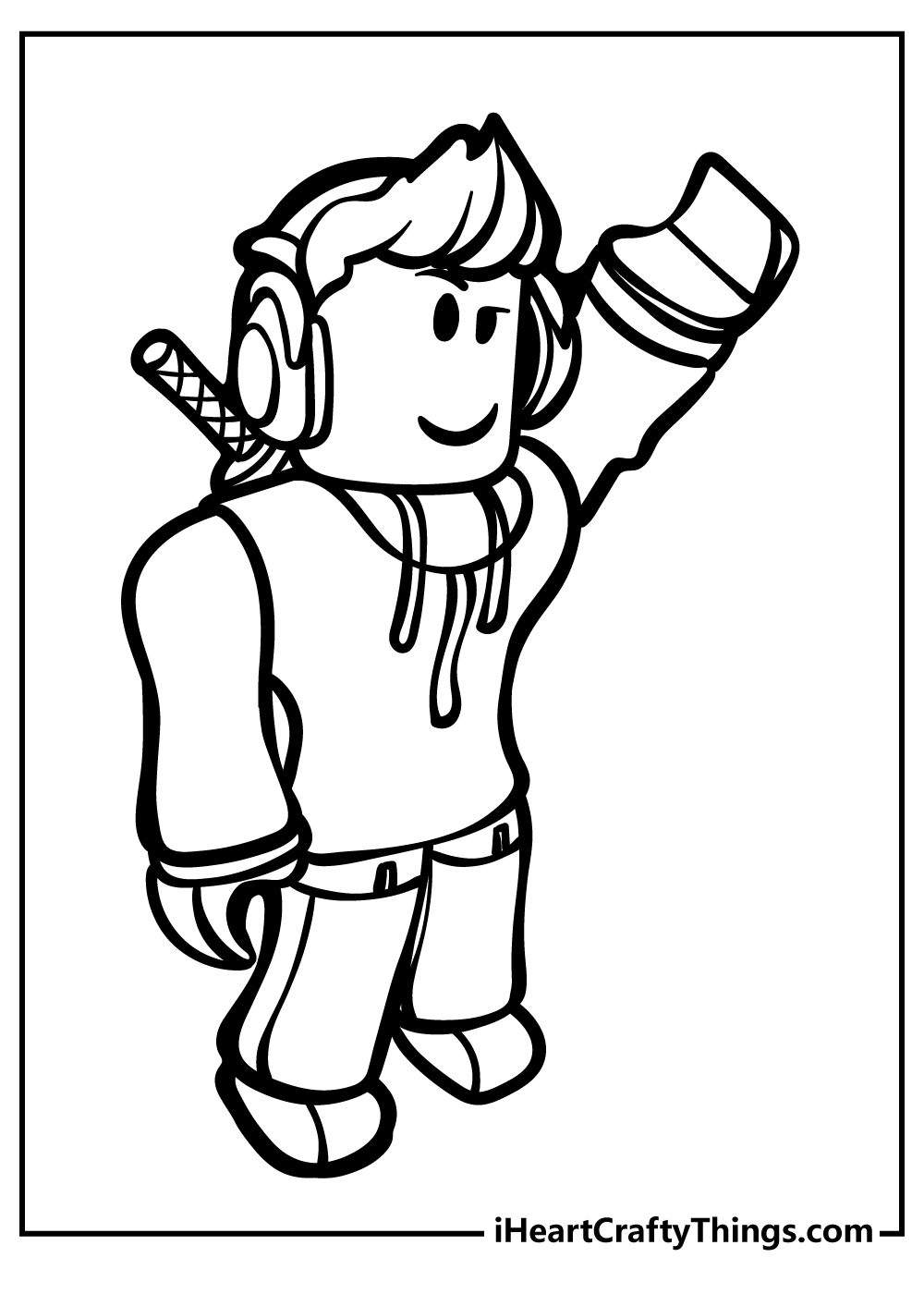 The character in this next Roblox coloring sheet is looking very cool. He has a beanie on along with some casual clothing, so he is looking rather stylish to say the least.
Will you use some bright, vibrant colors for him, or would you prefer to keep the colors more muted and realistic? It will be interesting to see how you color this cool guy!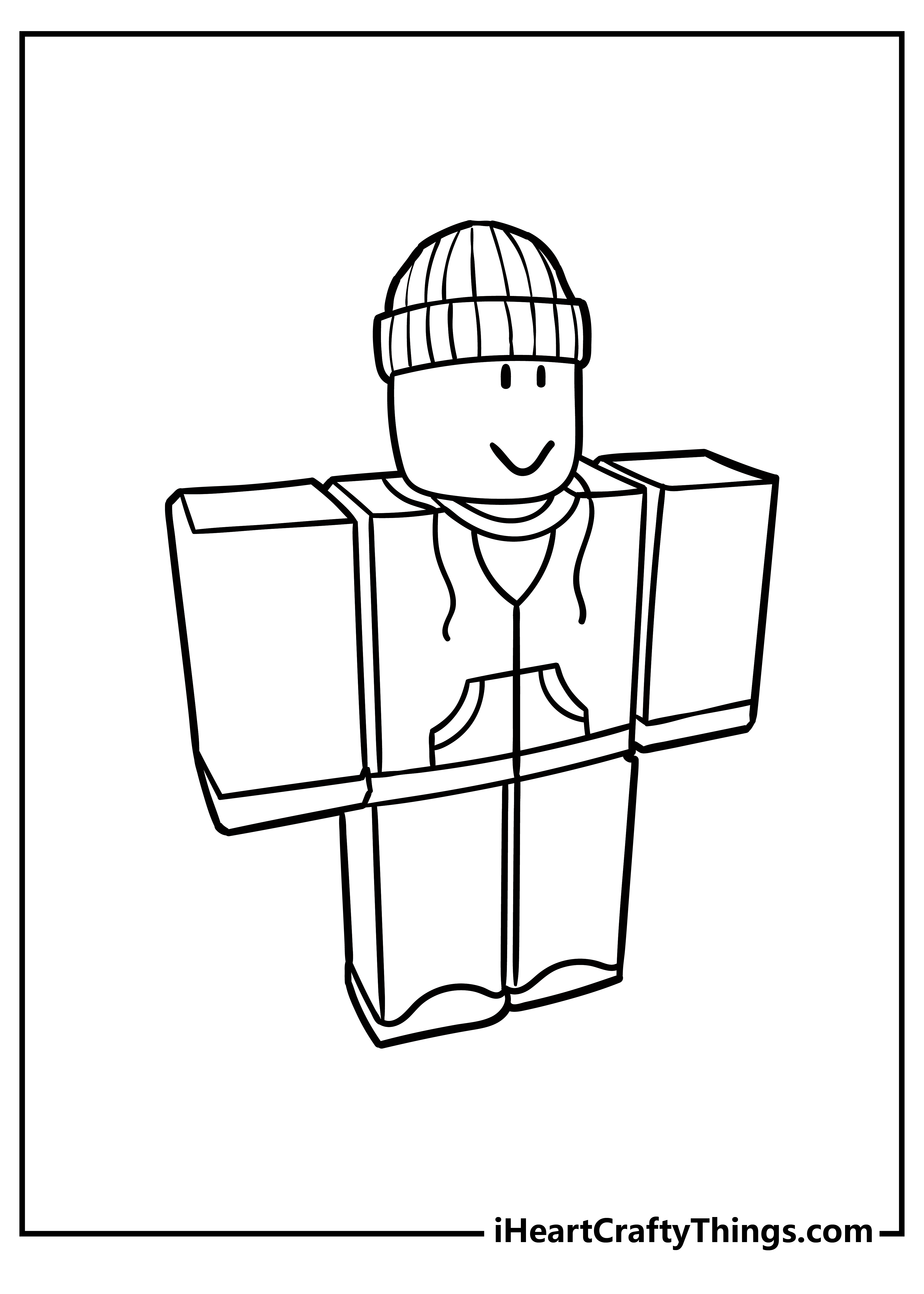 In Roblox, there are many poses, gestures and dances you can do. This character is performing the dab, one of the most popular moves.
He has once again been left completely blank, so you can have fun designing what you think this dancing character could look like!
You could even draw more characters dancing alongside this one for a fun touch.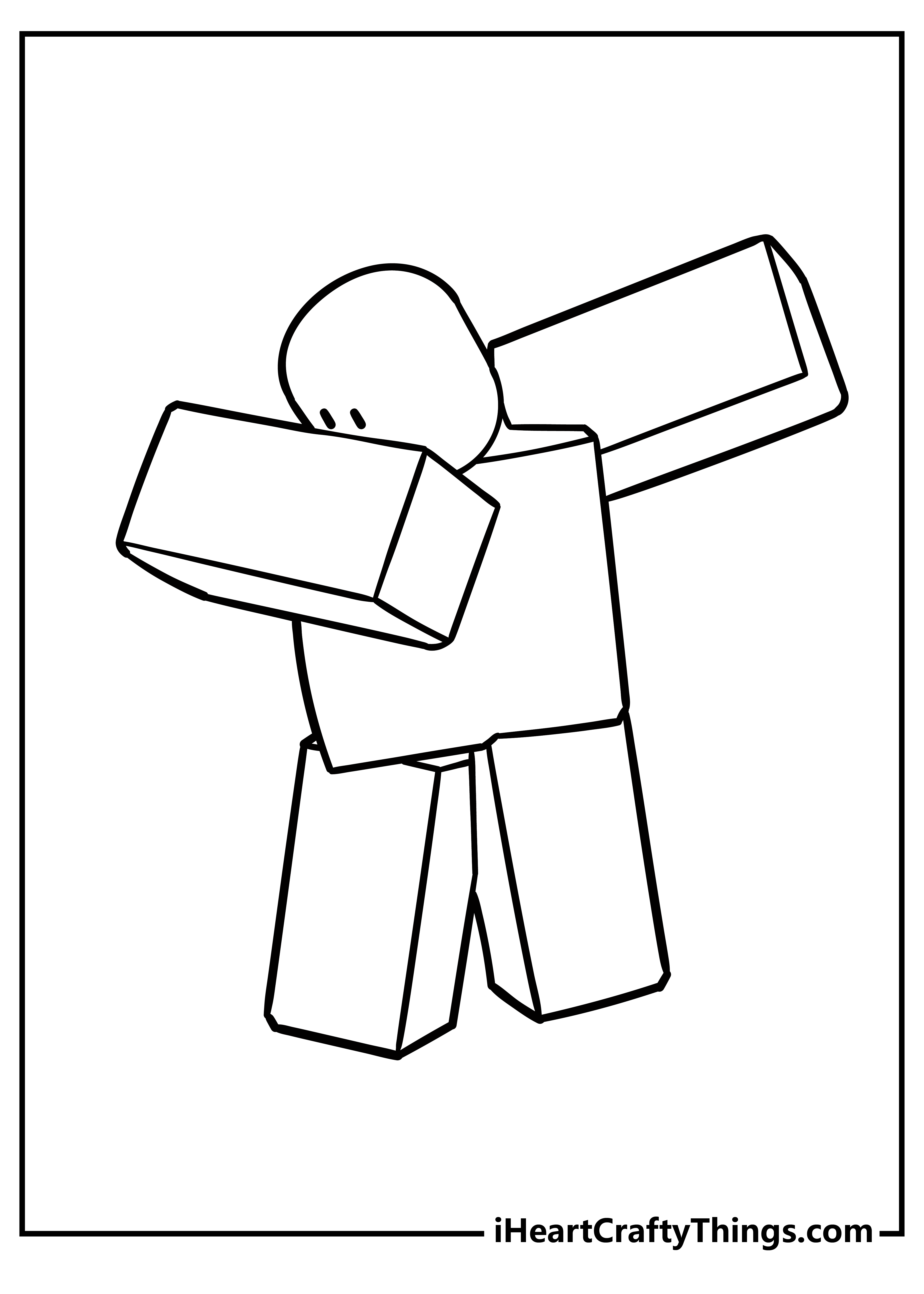 There is a theme of construction for this next Roblox coloring printable. The character here seems to be a construction worker judging by the hard hat they are wearing.
If you agree that this is what this character is, then you could take the theme even further with your colors.
A few ways to do this would be to use colors such as yellow for the hat and then orange for the vest they are wearing.
Construction workers will often wear bright colors like these for safety reasons, and it gives you the chance to use some bright and vibrant mediums.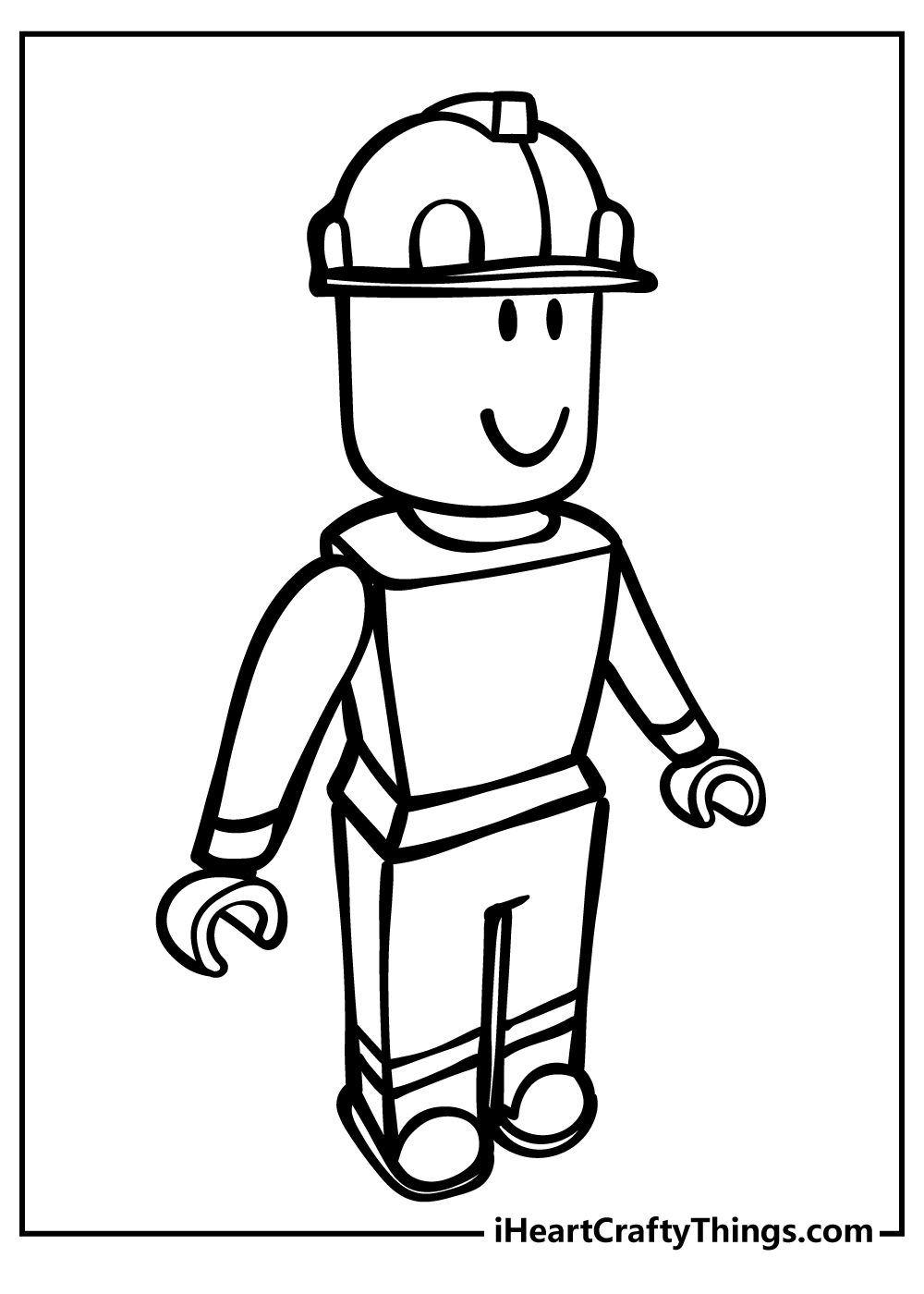 It would be hard to exactly pin down what the next Roblox character is meant to be, which means that it is a pretty typical Roblox character!
The most interesting creations you will run into in the game have a mixture of different themes, and that is definitely the case for this one.
They are wearing a wreath around their head, have clothes that look like a workout outfit and then an elaborate set of stockings.
Because this character has such a mix of different styles, we think that it would look great if you used a lot of different, clashing colors for this one.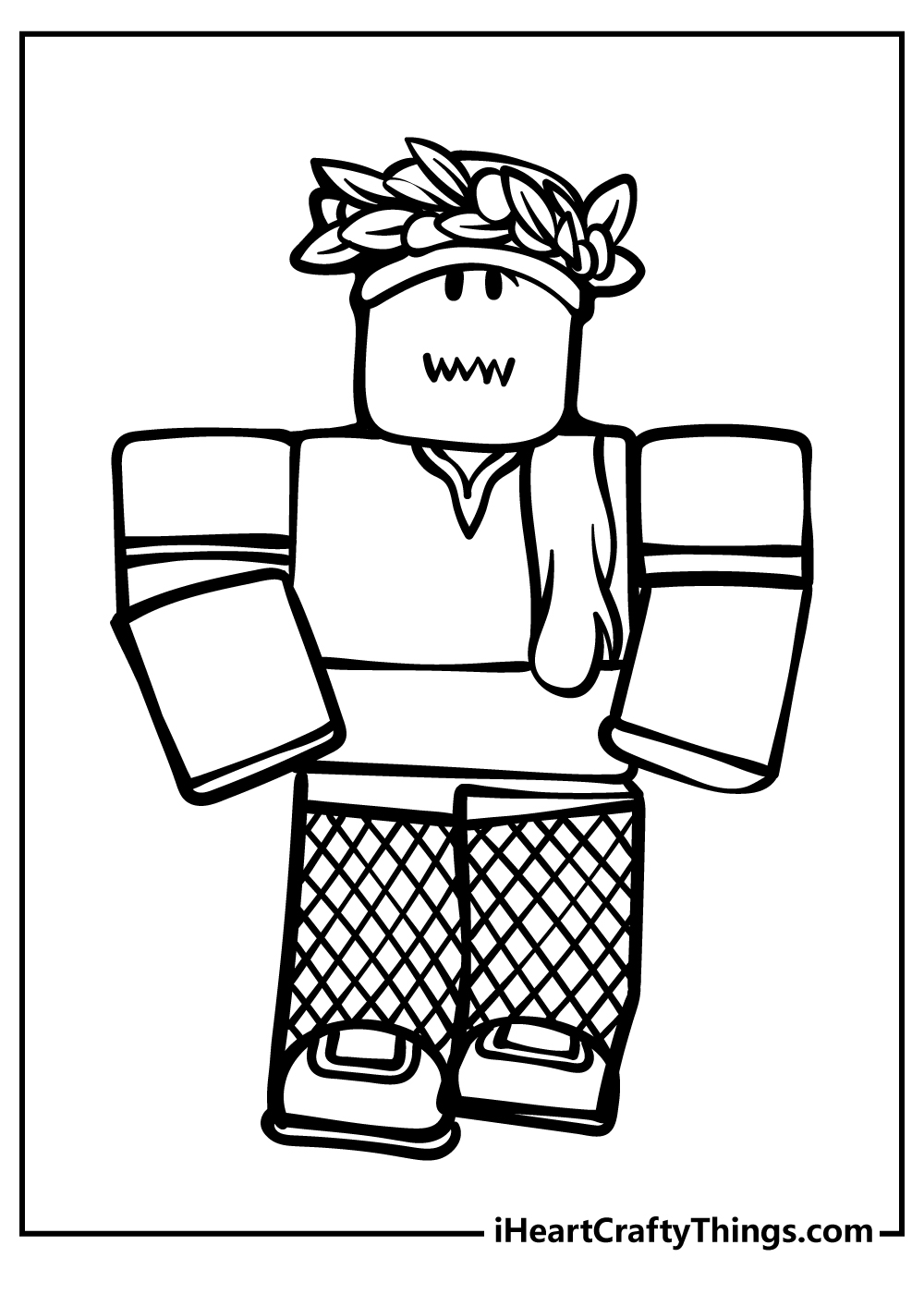 We're back to having a character that is a bit more defined in this next image. This guy is looking really cool, and his outfit also has some smaller details to color.
Some of the details are quite small, so you could use a colored pen or pencil in order to make coloring these tighter areas much easier.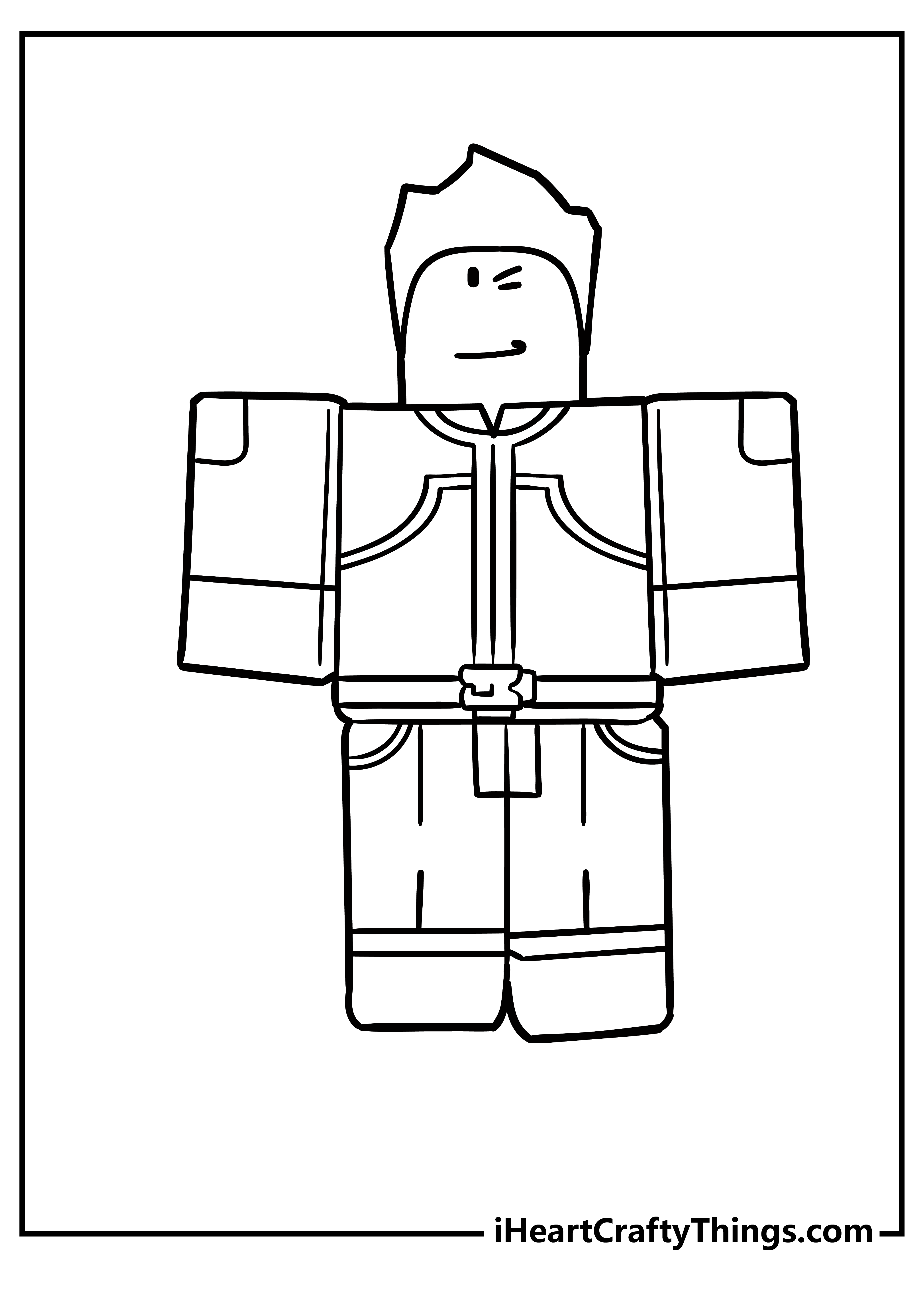 While this character has also been left blank, he has a bit more of a realistic body shape compared to some of the others. The possibilities are endless here!
This character could be anything from a plumber to a super spy, and the only limit is your imagination. We can't wait to see what kind of character you create!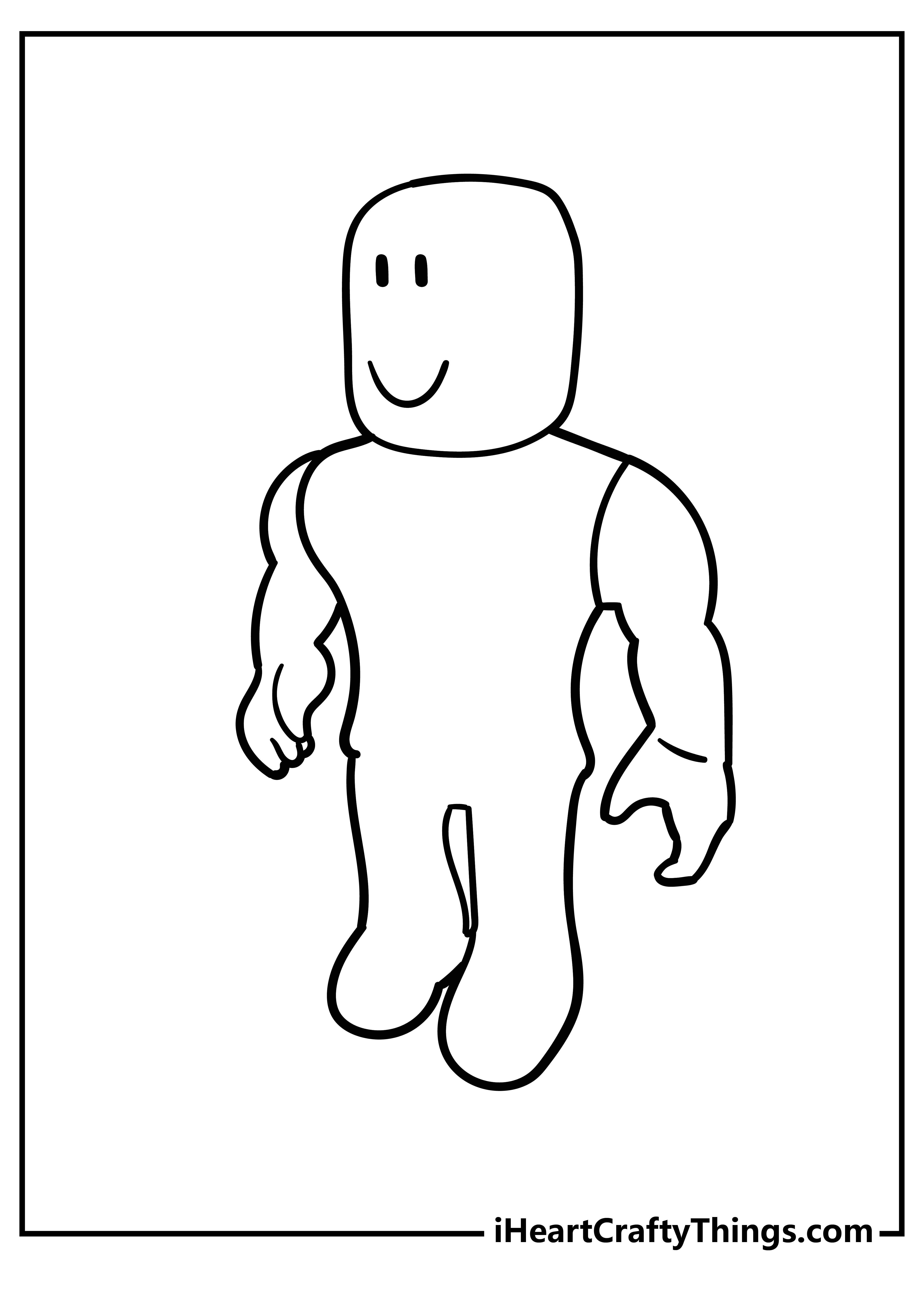 This ninth Roblox coloring printable that we have features another cool-looking character. This stylish one is looking very confident and has a lot of attitude!
For this one, we would use some bright, trendy colors for his outfit and then draw a fancy background.
Will you do something similar for your own character, or did something else come to mind when you saw him?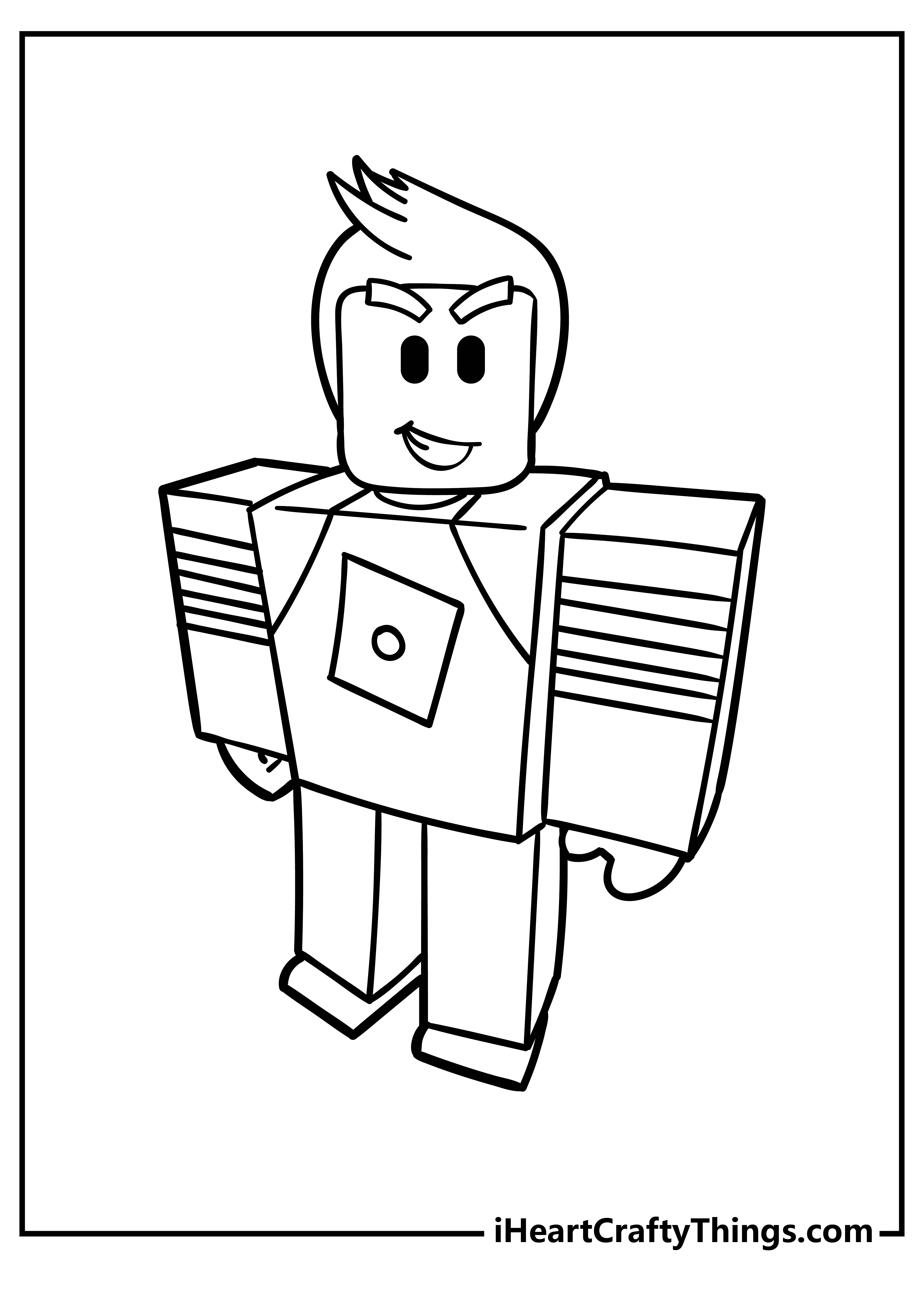 The character featured on this next page has a steampunk theme to his outfit. This is a really cool style that takes vintage fashions and gives them a technological feeling.
The color scheme for this style is usually a bit darker with mostly shades of browns.
You could stick to that for this one as well, but you should also feel free to use any other colors you think would suit this one!
We can't wait to see what you decide to use for this awesome design.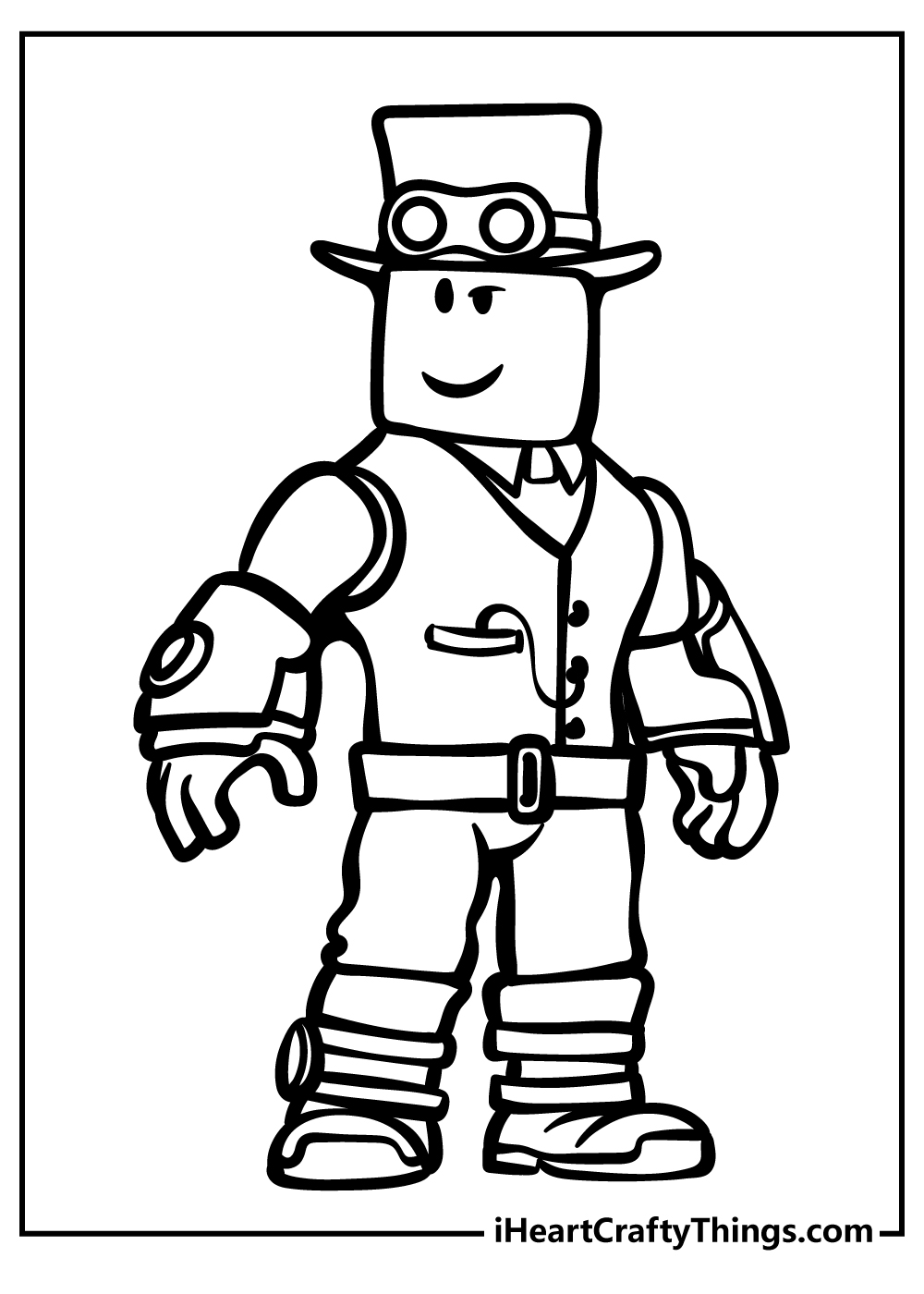 For this next Roblox coloring page, we have another character that a mix of many different styles and details to create something truly unique-looking.
Because there are so many details on this one, you can make it look even more out-there and vibrant as you could fit in lots of different colors and techniques.
Once you have colored this man, you could draw a background that is equally as fun and wacky as this character is!
What are some cool and weird settings you could use for this picture? You could use some of your favorite Roblox games as inspiration!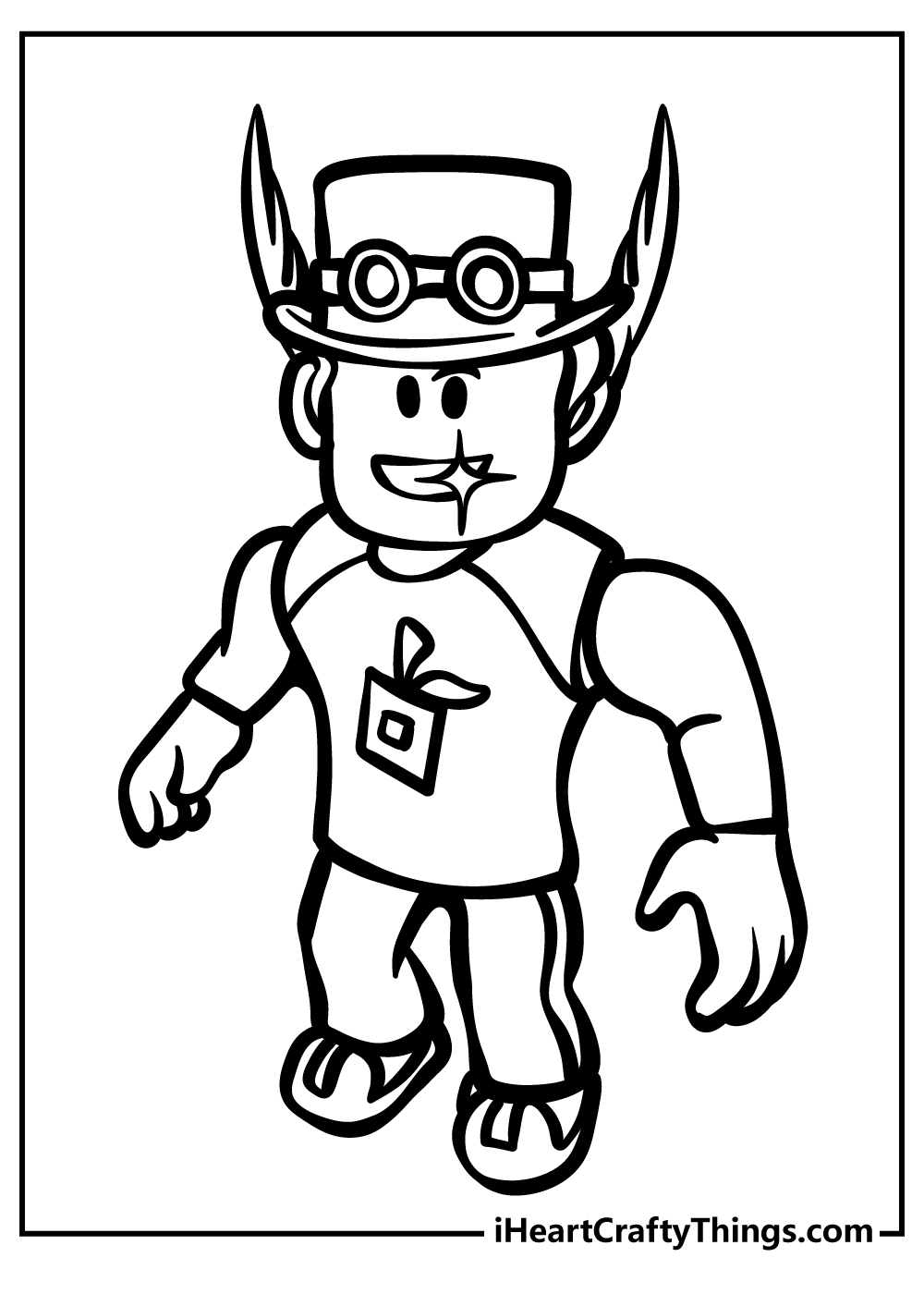 There is another blank slate character for you to color in this next image! This one has a big smile on its face, and its pose suggests it is in a relaxed setting.
For this one, we would maybe create a calm park setting as one idea, but what other kinds of settings can you think to put this happy character in?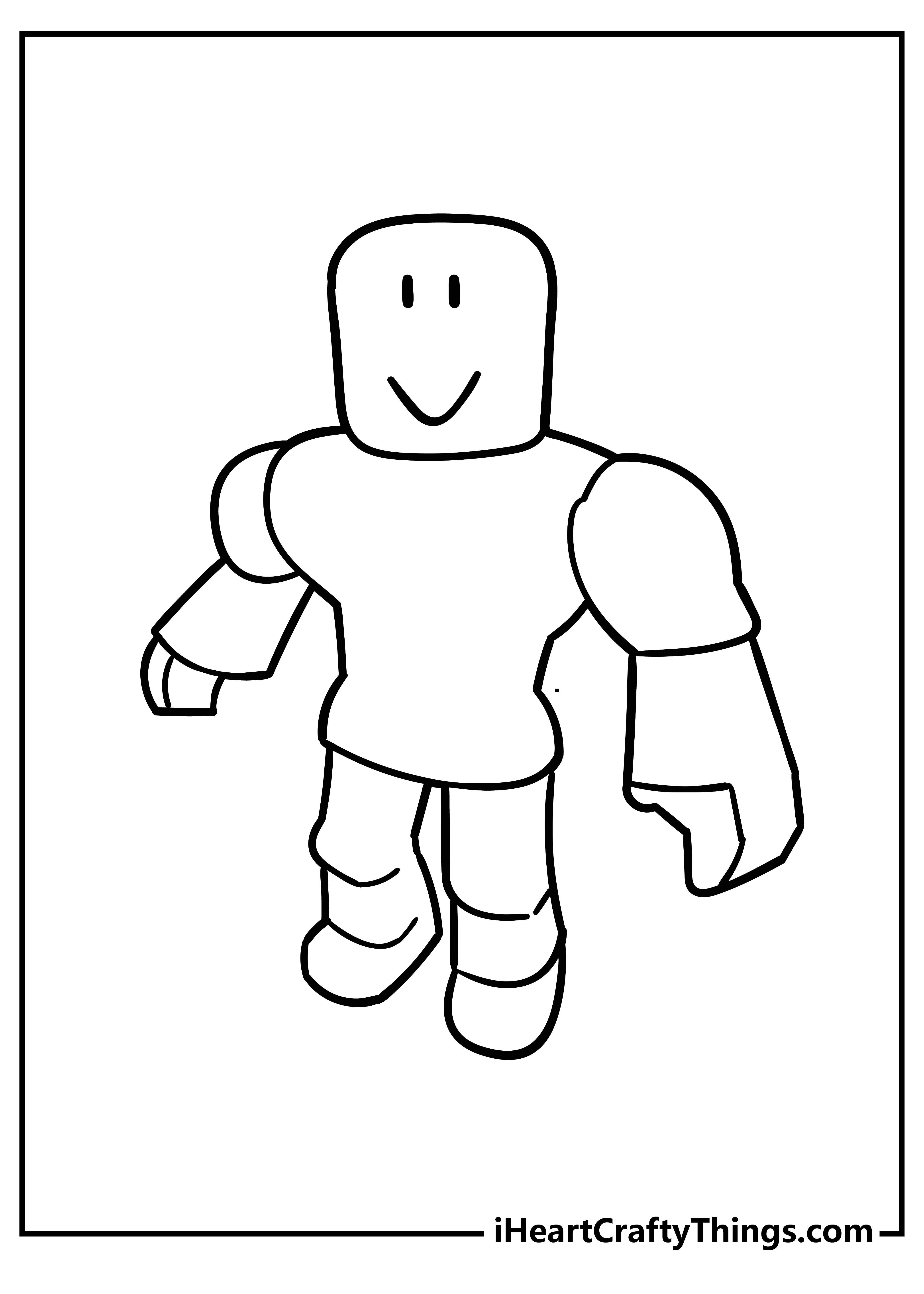 We're really building up to something fun in this next image! We have another character that is dressed in the outfit of a builder, and he looks pretty happy to be on the job.
We would use some bright yellows or oranges for his helmet, but we would like to see what you choose!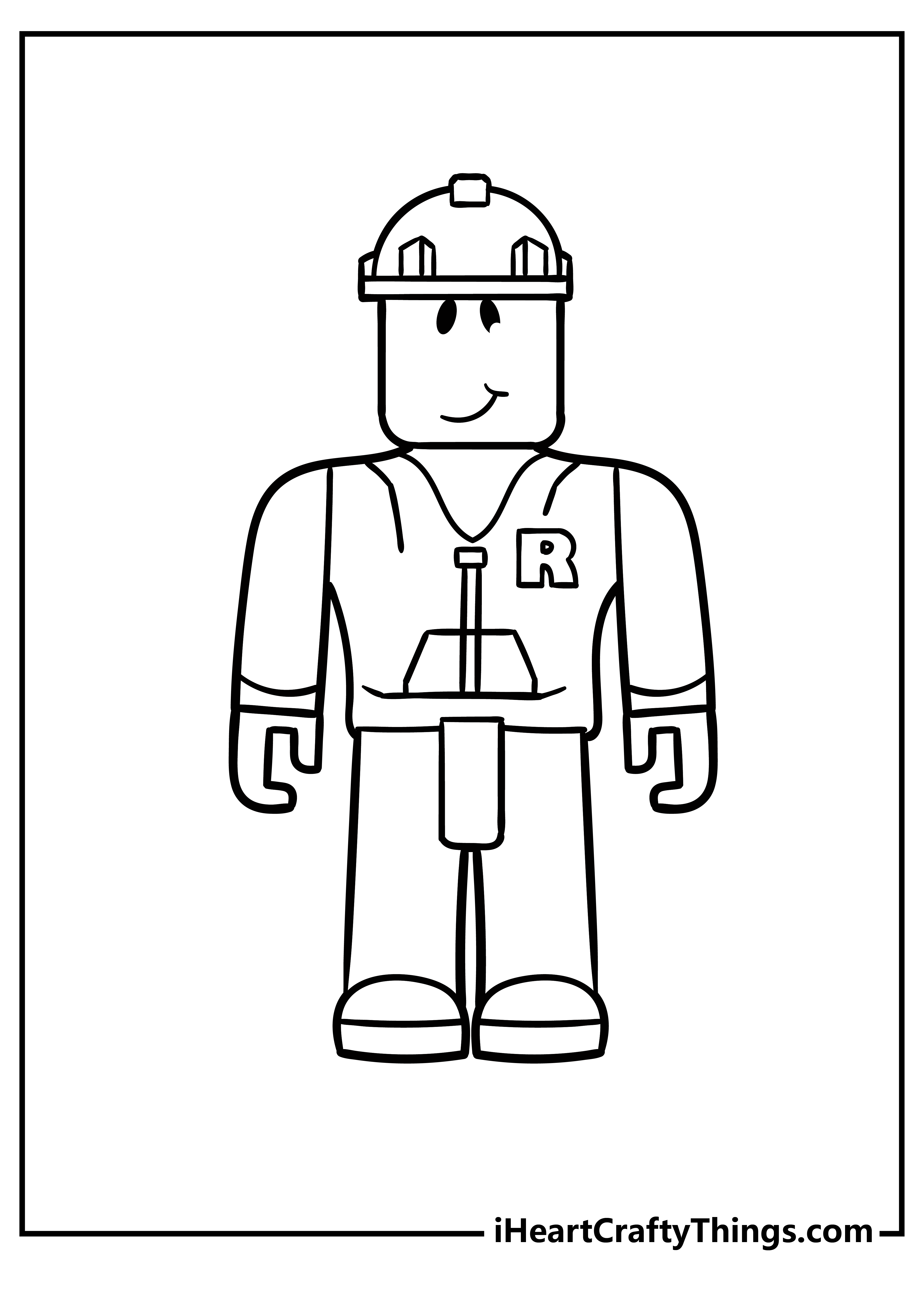 This has to be one of the coolest characters we have seen in this collection so far!
This guy has an awesome hairstyle and is wearing some cool sunglasses. Such a cool guy needs some equally cool colors!
The only questions remaining are which colors and which art mediums will you choose to color in this cool customer?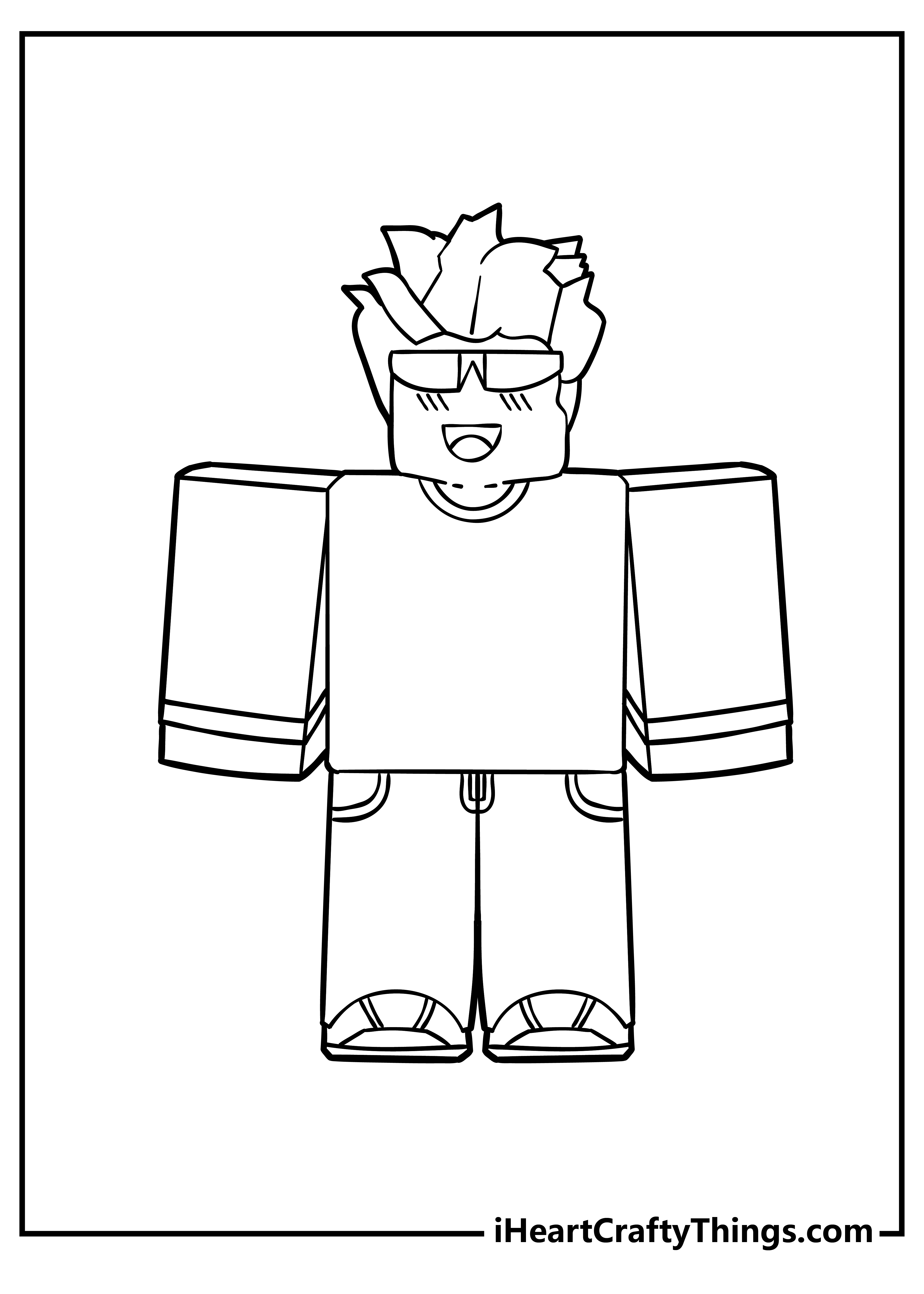 Our next character has a rather unique look! He has a hairstyle that is unlike any we have seen so far in this collection, and it makes him stand out a bit.
The hairstyle is made up of lots of small, thin sections, and we think it would be fun to color each section a brand new color for a very vibrant hairstyle!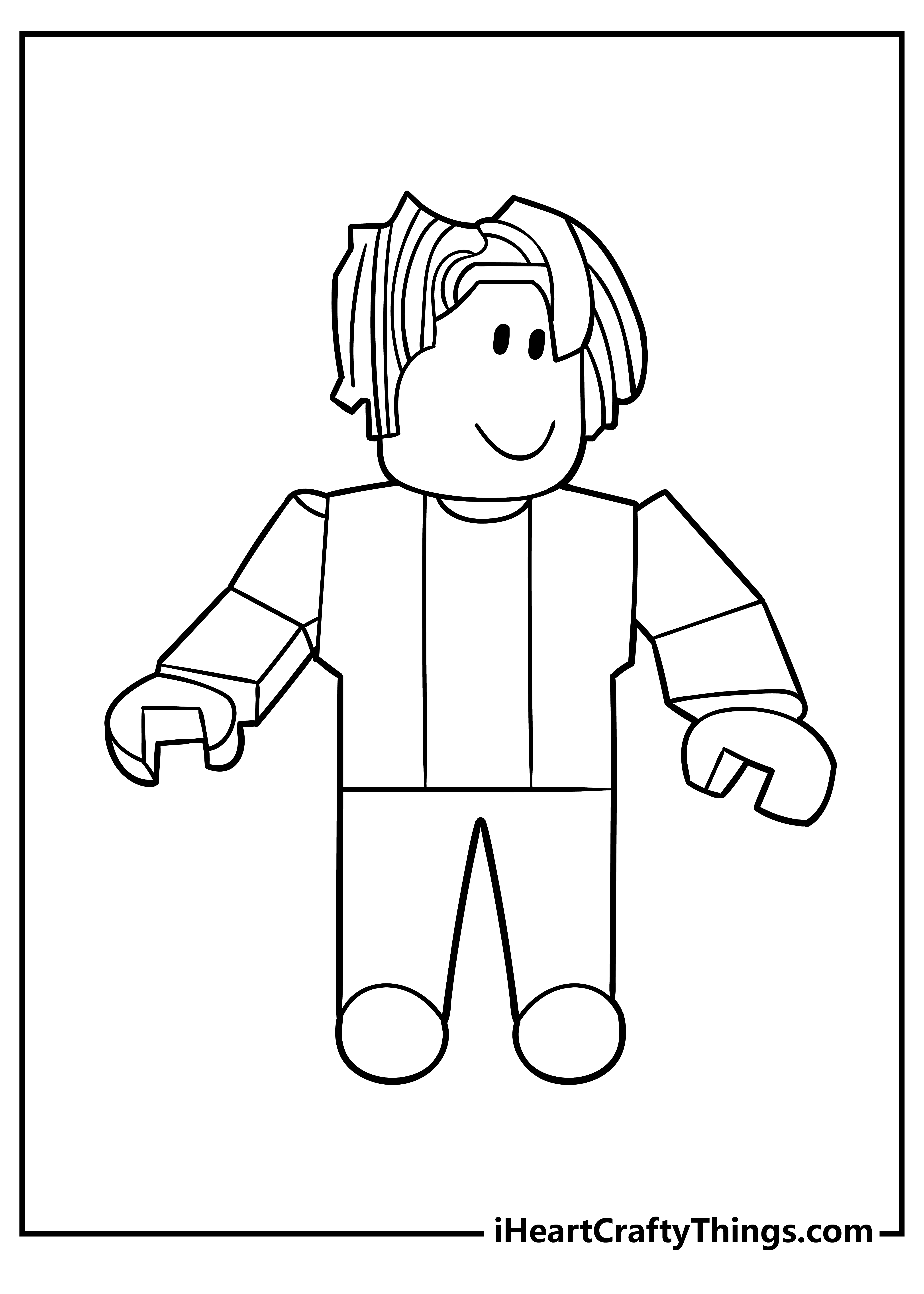 There is a trendy lady for you to color for our second to last image of the collection! She has a simple yet stylish outfit, and there are lots of small details to color in here.
We would again suggest using colored pens or pencils for this one so that you can really get in there with the small details!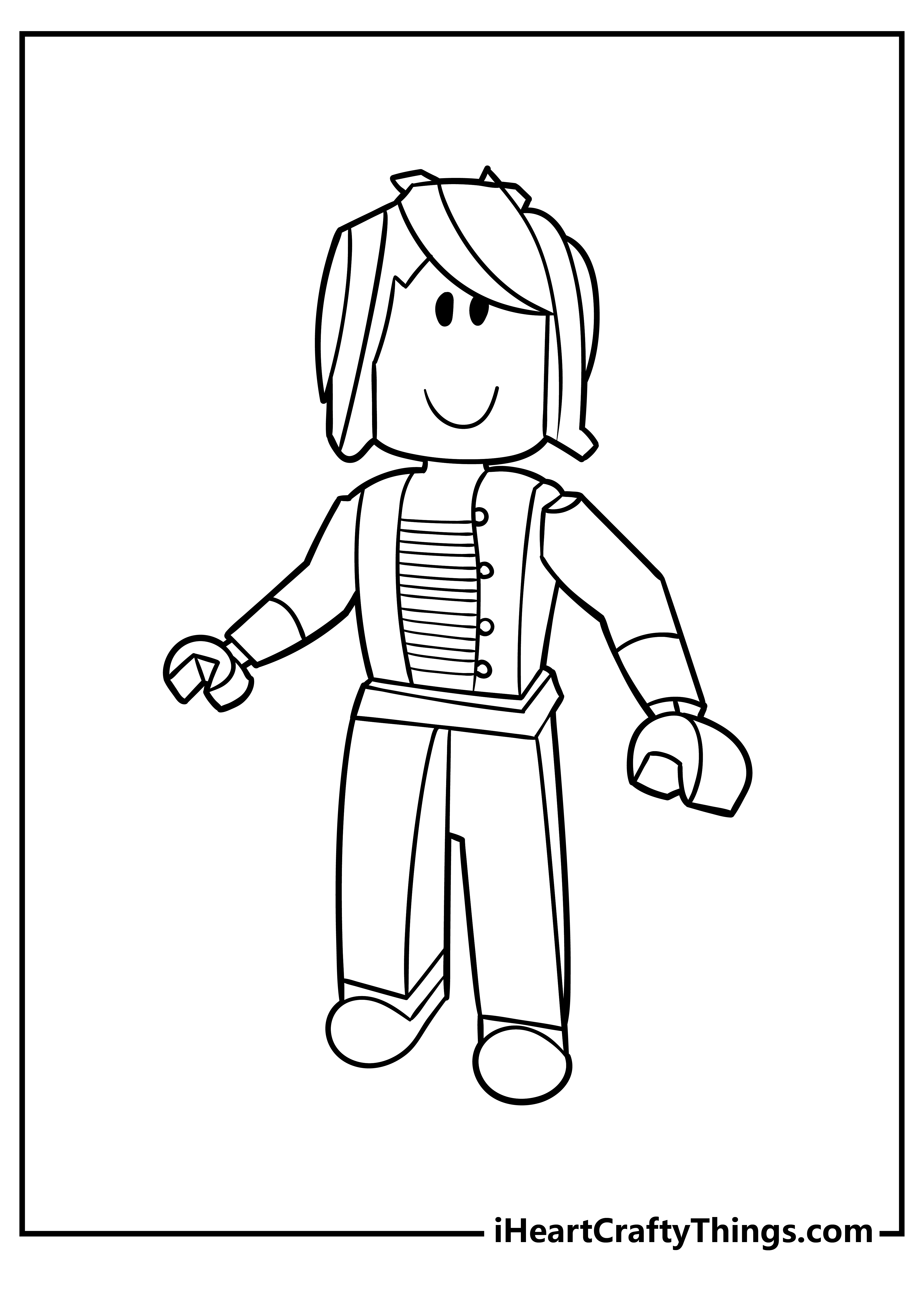 Our final Roblox coloring sheet we have for you is definitely one of the coolest!
Now we have an awesome ninja for you to color, and we know this ninja will look even cooler once you're done with it.
Will you go for a black color scheme so he can blend in the shadows or make him more bold and colorful?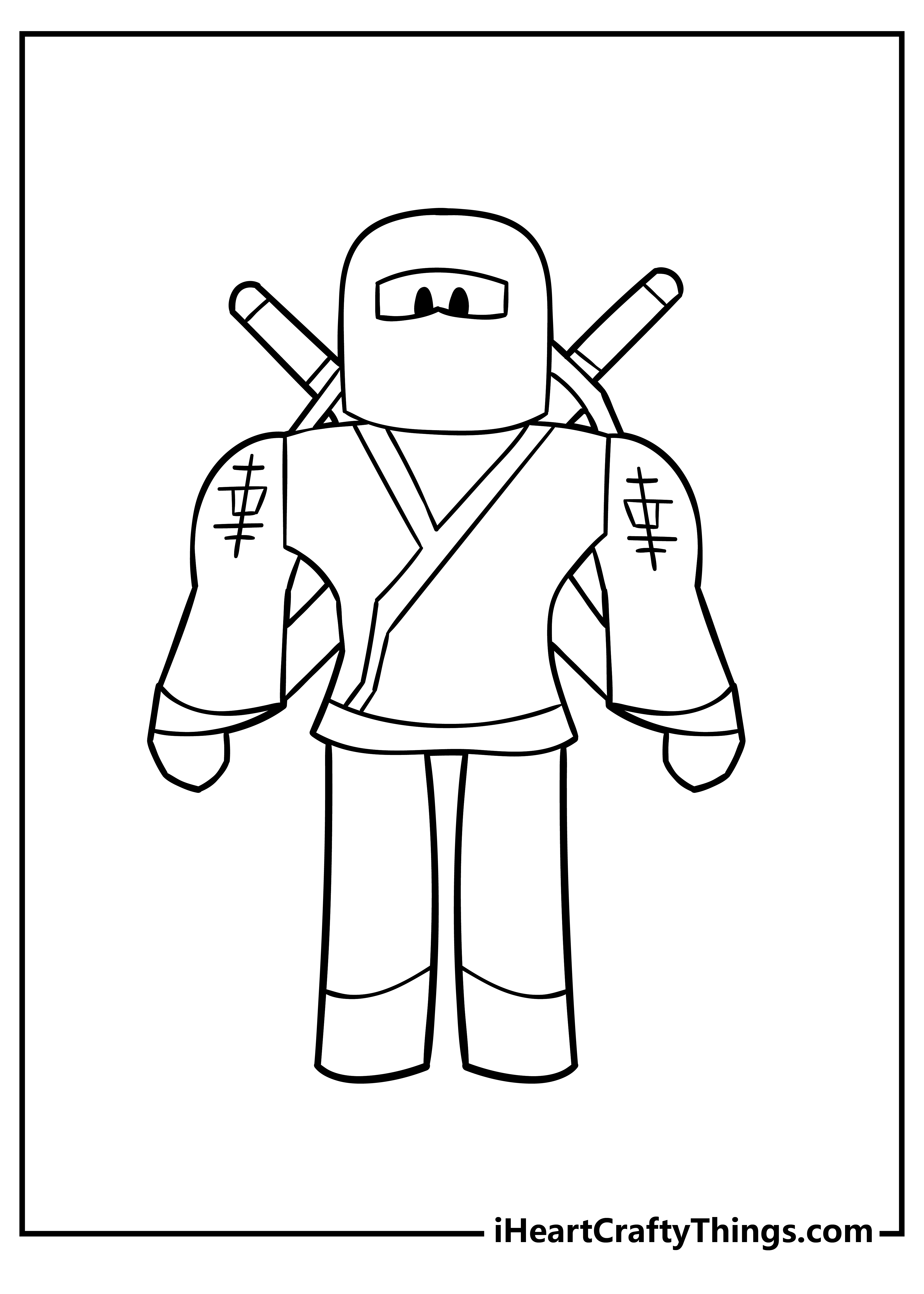 Roblox Coloring Pages – Which will you choose?
Roblox is all about imagination, and we hope you had a great time stretching your imagination in this collection of free Roblox coloring pages for kids!
Now you can share the collection with other Roblox fans so that you can compare how you went about finishing off certain characters.
Then, when you have chosen and colored your favorites, we hope you will share some of your finished artworks on our Facebook and Pinterest pages!
It will be awesome to see what kinds of weird and wonderful characters you created.