Computer games and their characters have always been popular with children, but in today's world, they have even surpassed comic books and cartoons in terms of popularity.
Fortnite, an epic online action video game, is one such example. Its in-game characters are now everywhere, from comic books to smartphone apps or toys.
And now, with the following collection of unique, free printable Fortnite coloring pages, they're making their debut in the realm of art and coloring.
Print your kid's favorite characters from these coloring sheets and let the fun begin!
10 Brand New Fortnite Coloring Pages – Free to Print and Color
We begin our list with Trench Raider, a rare and beloved outfit released Fortnite released in 2019.
Because these cosmetic skins appear random in the Fortnite shop every day and Trench Rider was not seen since January 2020, it means this is quite a rare skin.
If your kid loves Fortnite and was not able to get the Trench Rider, maybe you can make them happier with this amazing coloring sheet.
Kids can follow this character's black and gold color theme, or they can let their imagination go wild and color Trench Rider in any way they like.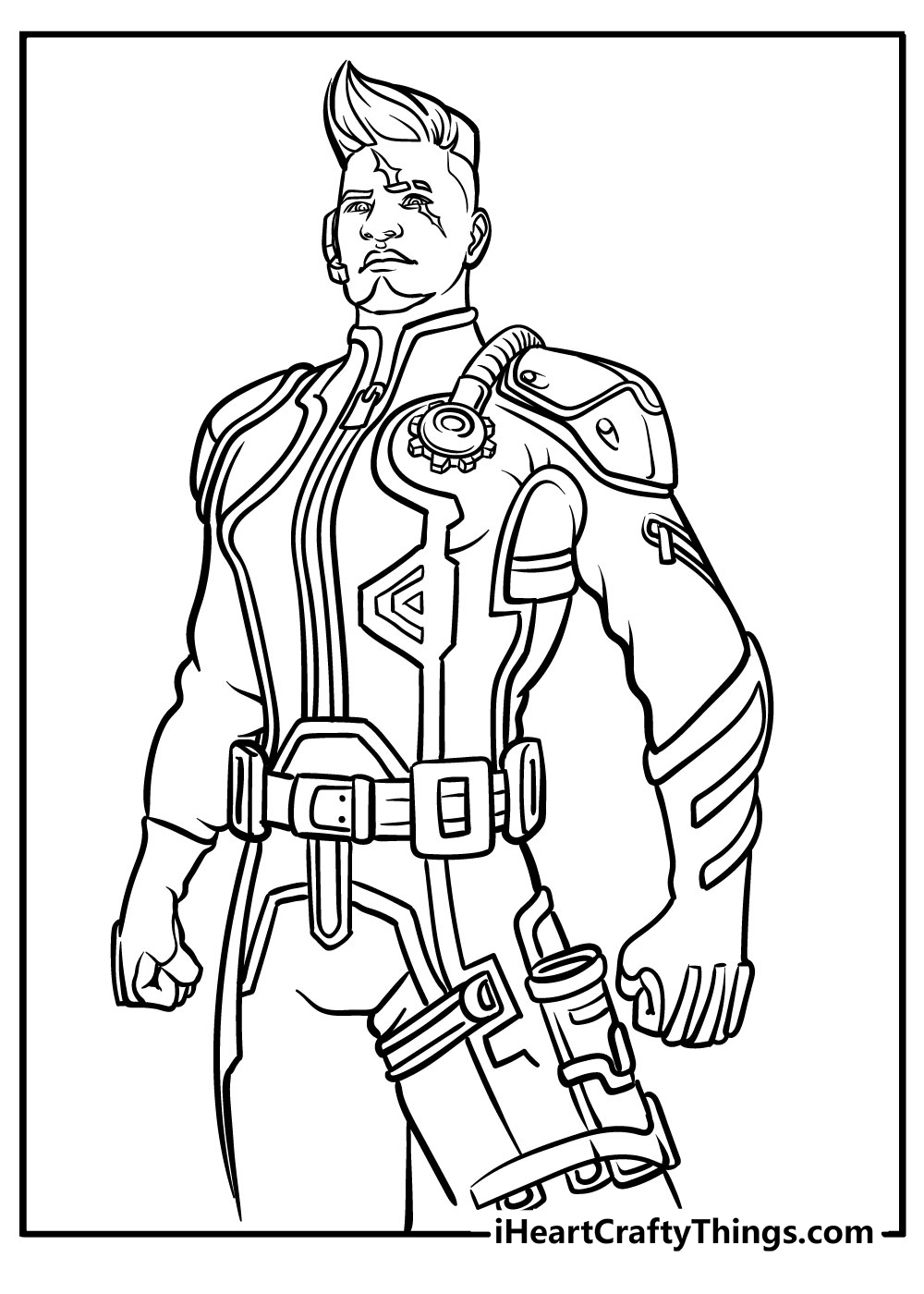 This Fortnite coloring page depicts Snake Eye, an epic Fortnite outfit added in January 2021.
He wields a katana and has an all-black outfit, but your little one is welcome to color this character in any shade imaginable.
This outfit is part of the Arashikage Clan set – a favorite among fans – and features a complex costume design.
If your kid is a Fortnite fan, they are surely going to love coloring Snake Eye when they take a break from playing the game.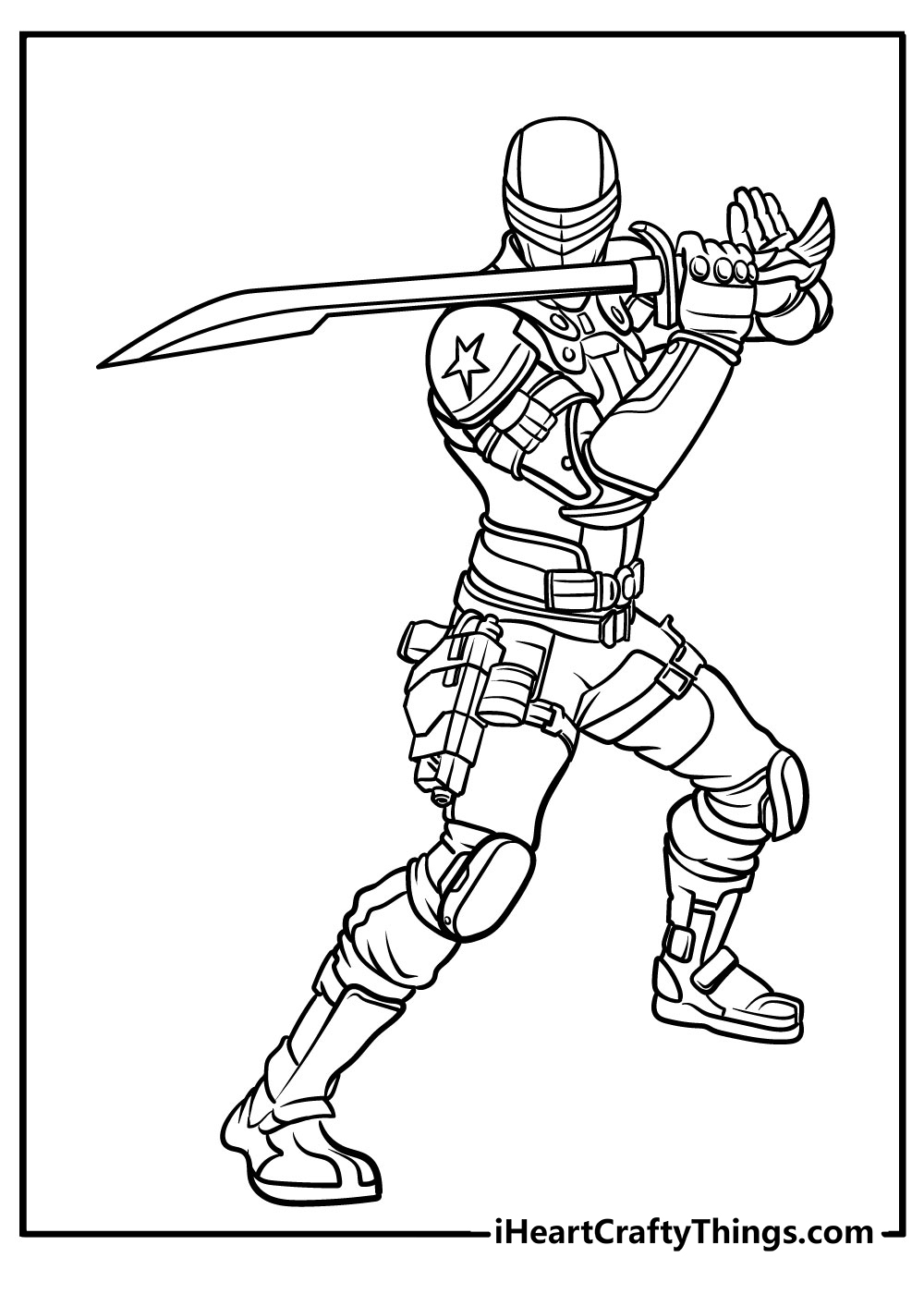 The Garrison Skin is a rare Fortnite skin first made accessible in September 2018.
Garrison has a green-toned outfit and includes a lot of details, such as the unusual chest armor and the hat, which resembles a Green Beret military soldier.
But who says Garrison can't have a blue, purple, or even red military outfit?
These Fortnite coloring sheets are meant to help kids explore their creativity, so they should be encouraged to experiment with various shades and forget about any rules. In the end, it's their work of art, right?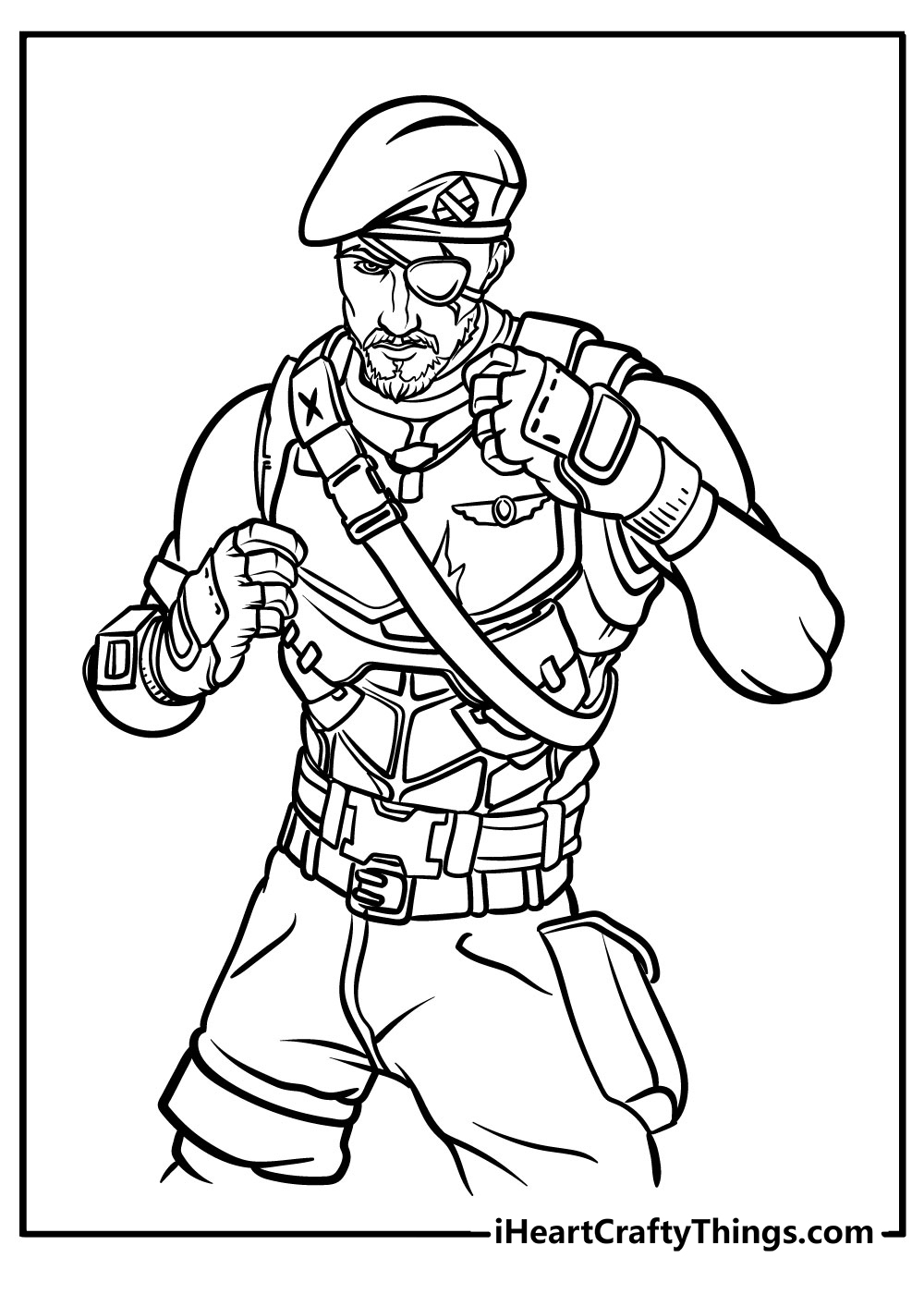 This is the Wrangler skin, which was launched in January 2020 as part of the wild frontier set and is considered a rare finding in the Fortnite shop.
The character features a brown vest worn over a red shirt and classic jeans, but the various belts this character has attached are what truly complete the outfit.
We know it can sometimes be difficult to convince kids to spend less time in front of the computer, but if you give them another fun activity, you may be able to succeed.
Download all of these pages and create an unofficial Fortnite coloring book for your little one, and we ensure you they are going to forget about the controller for a few hours!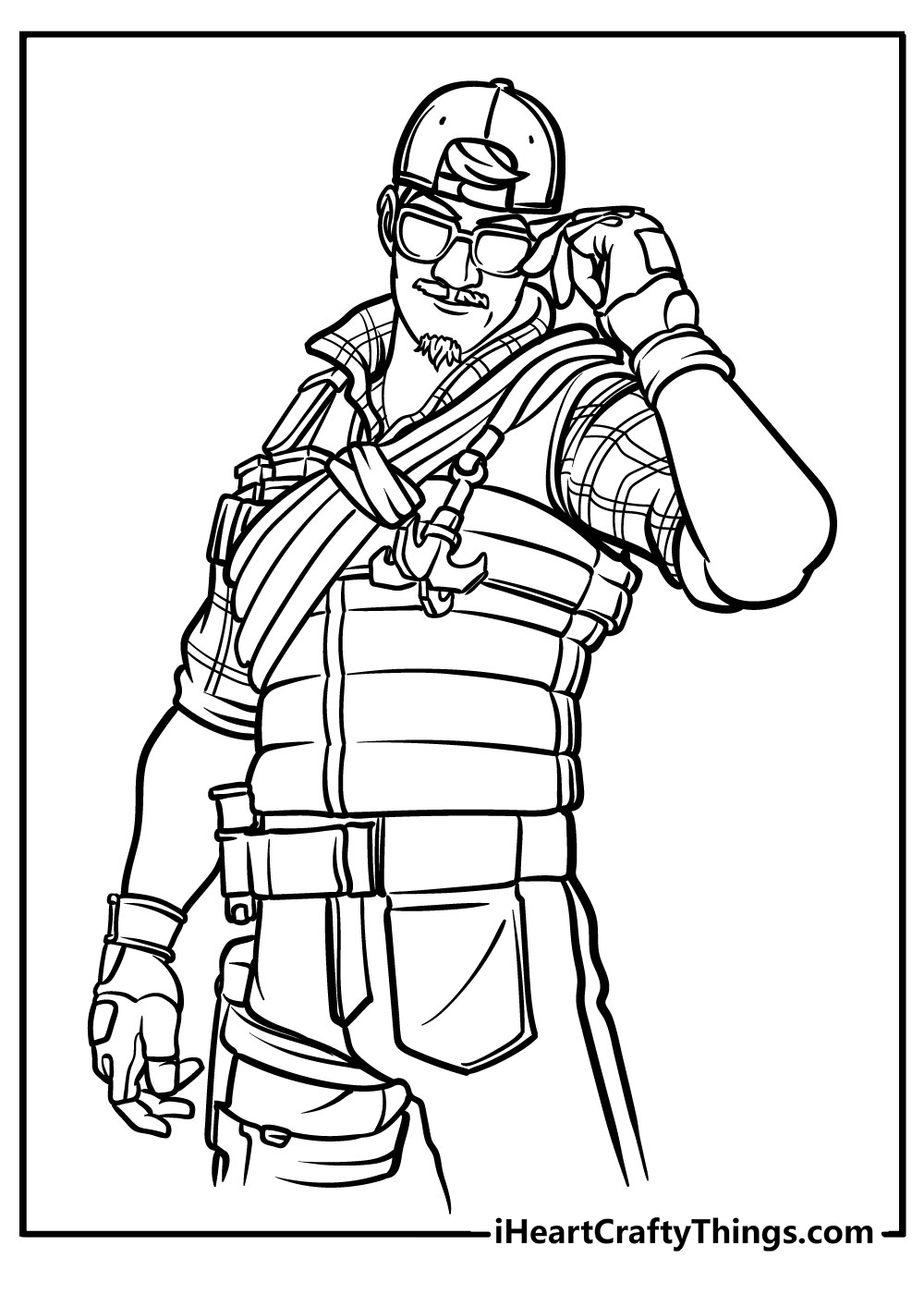 This next skin belongs to Vendetta and was available for a very limited time.
It was launched as the tier 100 legendary skin for Fortnite's season 9 of the Battle Pass, so you can imagine how unique and beloved by fans it is.
Vendetta can look exactly like in our coloring page if the player reaches Stage 4, as his outfit changes once the character evolves.
The costume is blue and black, with red elements on the hood, gloves, and shoulders. But how will the Vendetta from our free Fortnite printables look in your kid's imagination?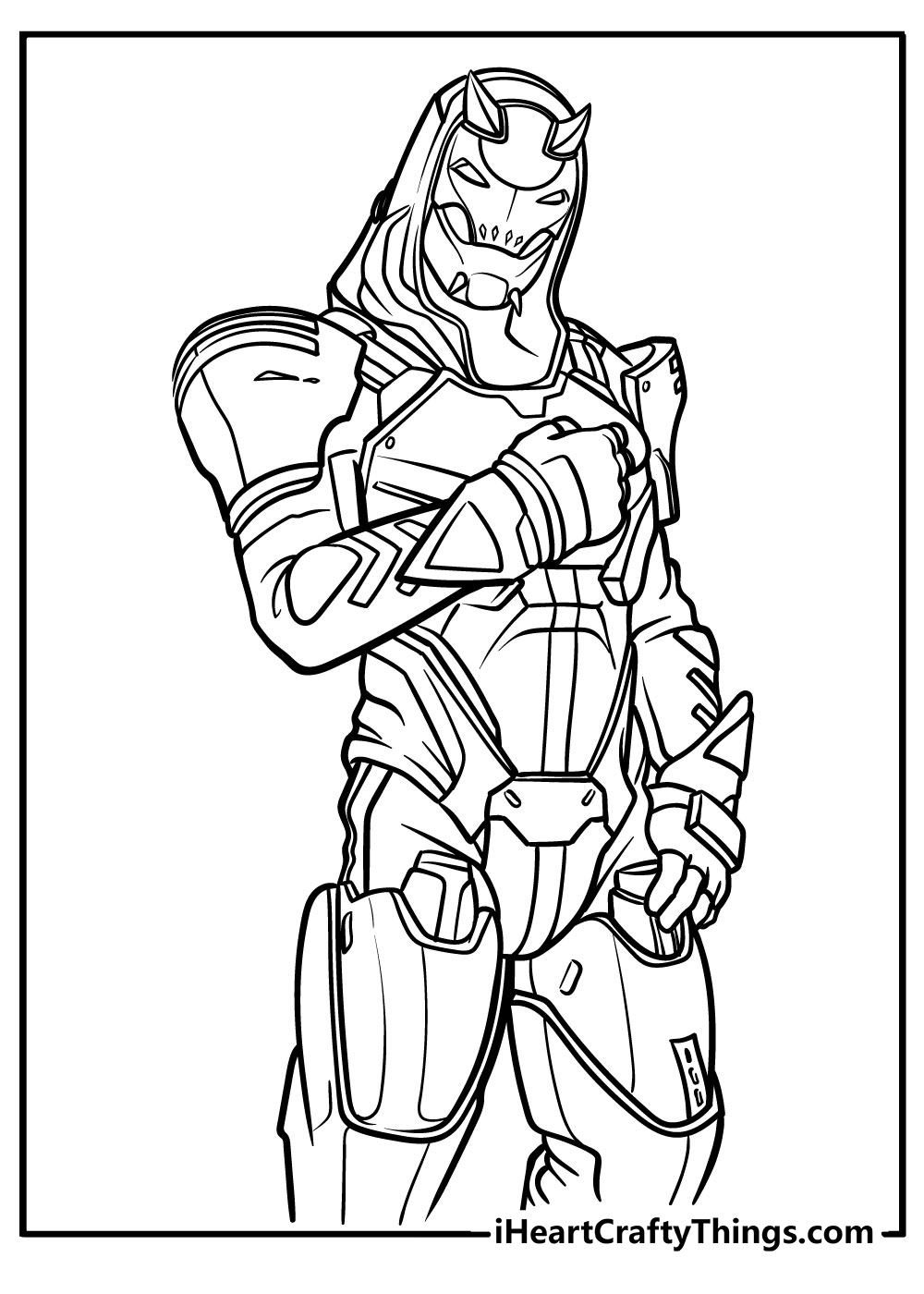 This amazing water-based character is Surf Strider, which has an aqua jacket and an advanced diving mask with blue painted visors.
This Fortnite outfit is also an epic one, which means it's quite rare to find. It was a limited outfit available until the end of March 2021, and any player with an Intel CPU could download it.
If your little Fortnite fan did not get the Surf Strider outfit, brighten their day with this coloring page.
Not only will they be able to color their own Fortnite character, but they can also experiment with colors and give Surf Strider a whole new look.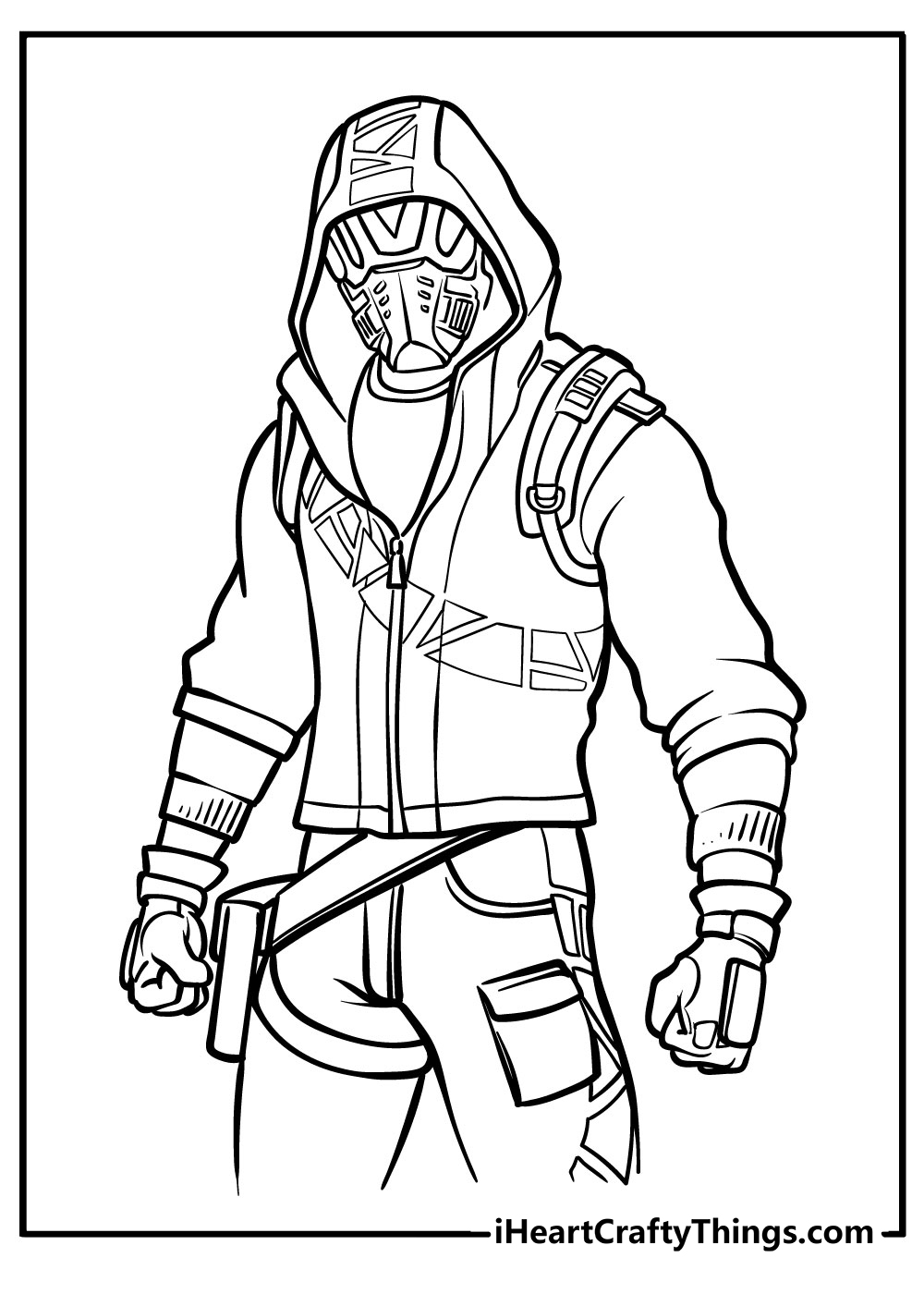 Desperado was added in 2017 to the Fortnite shop and has become a rare outfit in the game, as it is only available for purchase every few months.
His outfit is inspired by Mexican bounty hunters featuring grey and black clothes with red details.
Some fans say his look could use improvements, as it was launched quite a few years ago, so why not let your kid create their own Desperado outfit?
The character uses the Hawk model, one of the most popular ones in the game.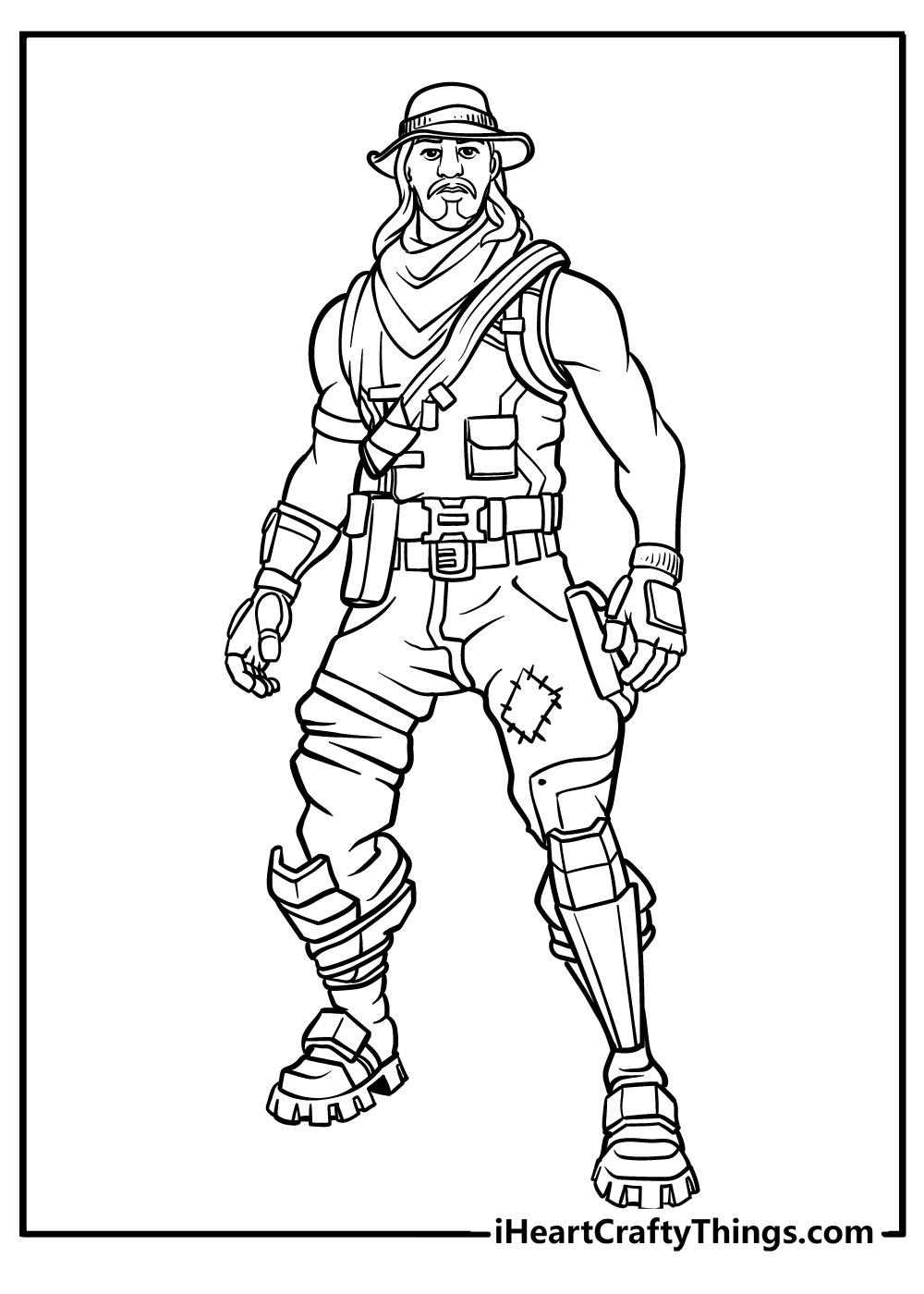 Headhunter is one of the most popular Fortnite characters and has had numerous skins and outfits throughout the years.
This one is the rainbow racer outfit and was launched for free if players completed certain steps in the Refer A Friend campaign.
This particular outfit is a very colorful one, with shades of pink and yellow.
It is similar to the Slingshot skin and other racing suits created for Headhunter, which means that just by using different colors you can get an entirely different look – this is a good lesson for kids!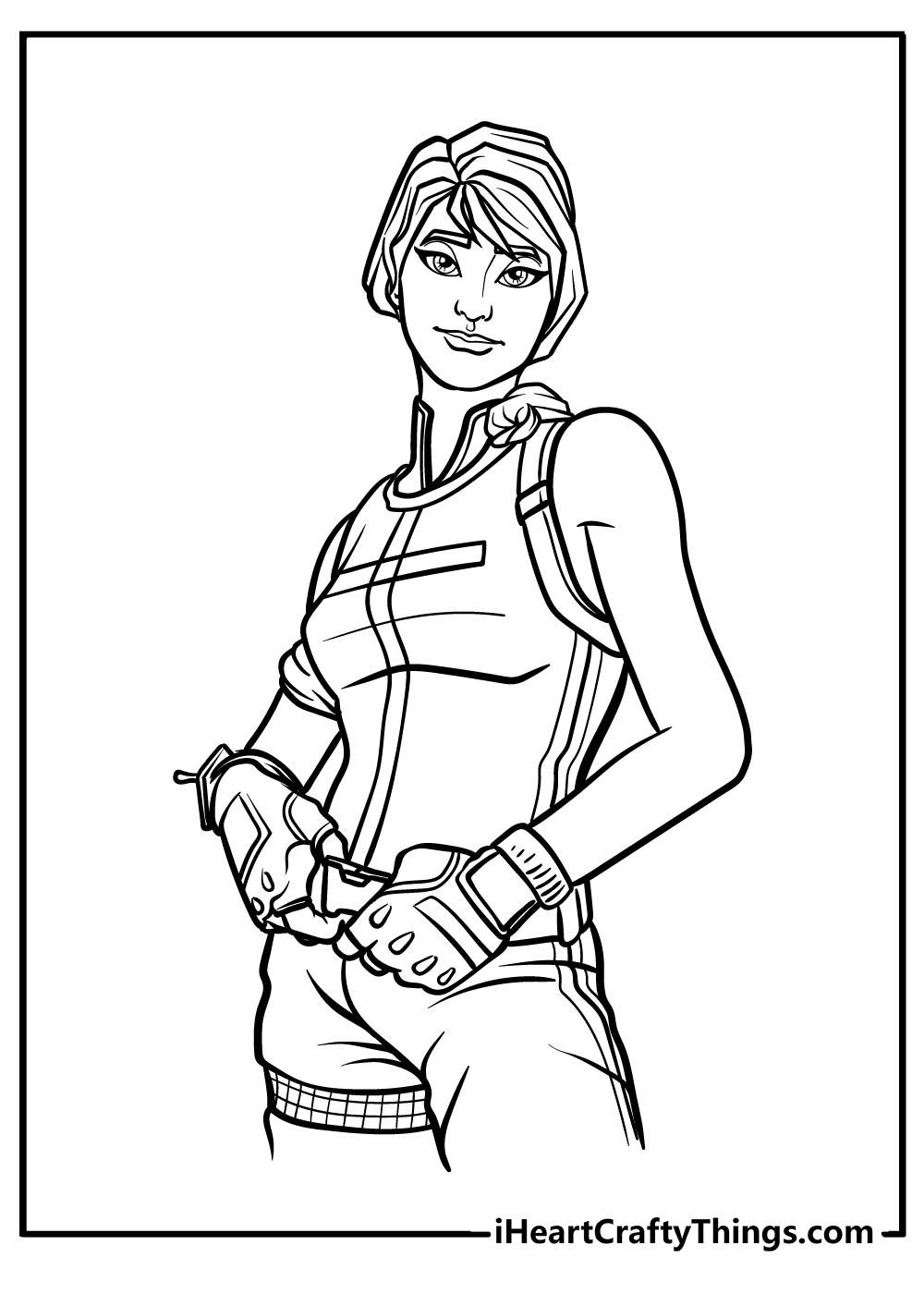 In Fortnite: Save the World, Constructors are one of four playable Hero Classes. They've honed their skills in order to construct defenses quickly and effectively.
This Fortnite coloring page features the female constructor in her classic outfit, accompanied by her hammer.
The little details in her costume are going to be very fun to color, as the kids can experiment with different colors and come up with countless combinations.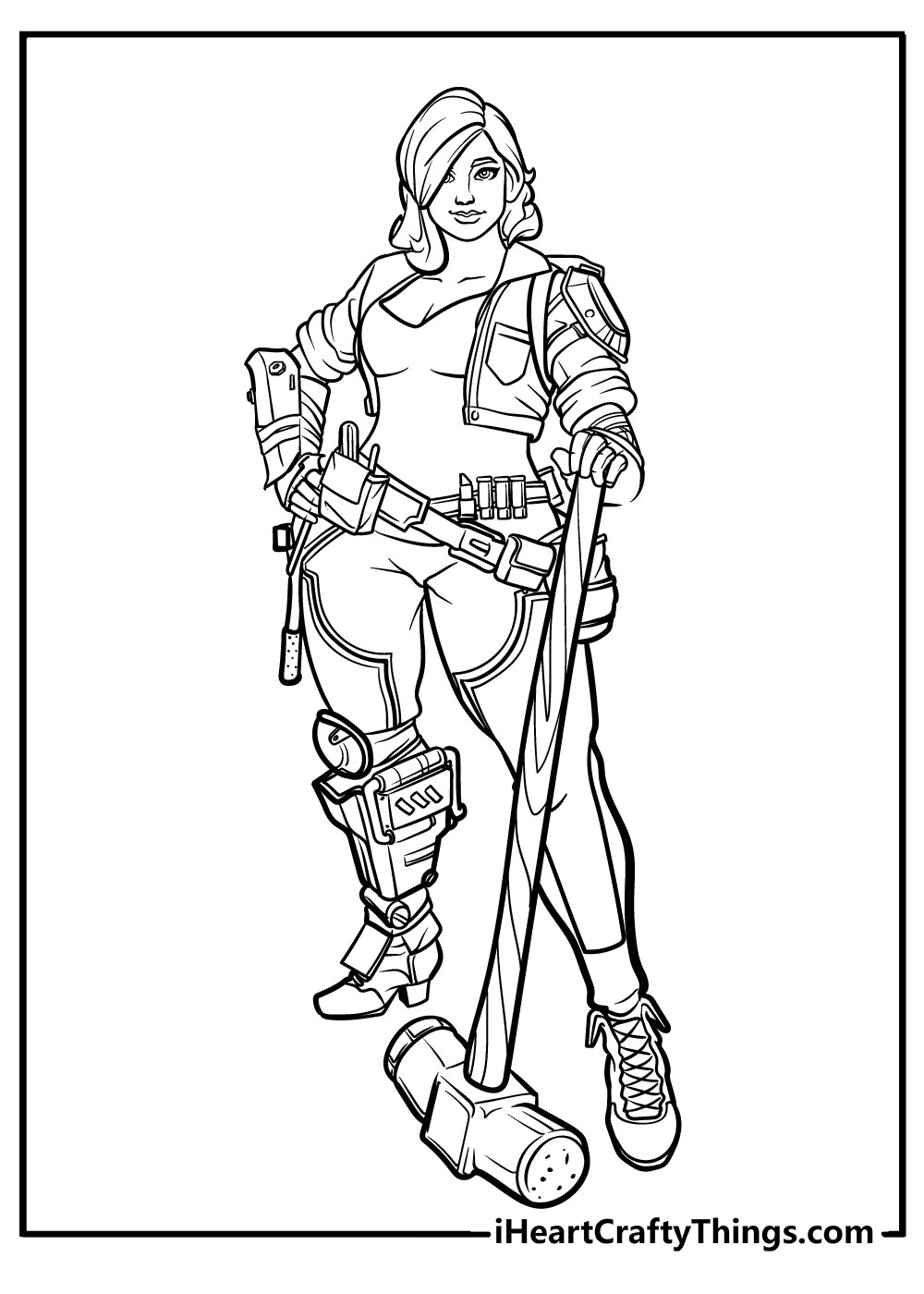 This Slugger outfit uses the character model for Jonesy and draws inspiration from baseball attire.
The original costume is dark blue with black and orange, and so are the stripes painted on Jonesy's face.
The Slugger coloring page is great if your kids like both Fortnite and baseball, as they can create their own baseball look using whichever colors they want.
You can even make an art competition among kids and see which one comes up with the best color combination for Slugger or any other Fortnite coloring sheets you can find here.