On this page, you will find 34 all new Pokemon coloring pages that are completely free to print and download.
The Pokemon series is one of the most popular franchises ever created!
Starting out with games that are getting new entries to this day, it has also been adapted into anime, movies, books and a live-action film.
There are so many vibrant and colorful Pokemon, and we have a few to meet with this collection of 15 free Pokemon coloring pages for kids!
Whether you pick a few favorites or color every single one, there is plenty of fun to be had here! All of these pages are completely free to enjoy and share as much as you like, too.
Get ready for a coloring adventure, and remember to share some of your finished artworks on our Facebook and Pinterest pages!
15 Brand New Pokemon Coloring Pages – Free to Print and Color
We're beginning this collection of free Pokemon coloring sheets with the iconic duo from the anime series!
Ash Ketchum is posed here with his beloved Pikachu, and there are some great details to color in here.
Ash has had a few different visual versions throughout his appearances, so you have some different appearances to choose from as you finish the image with your colors!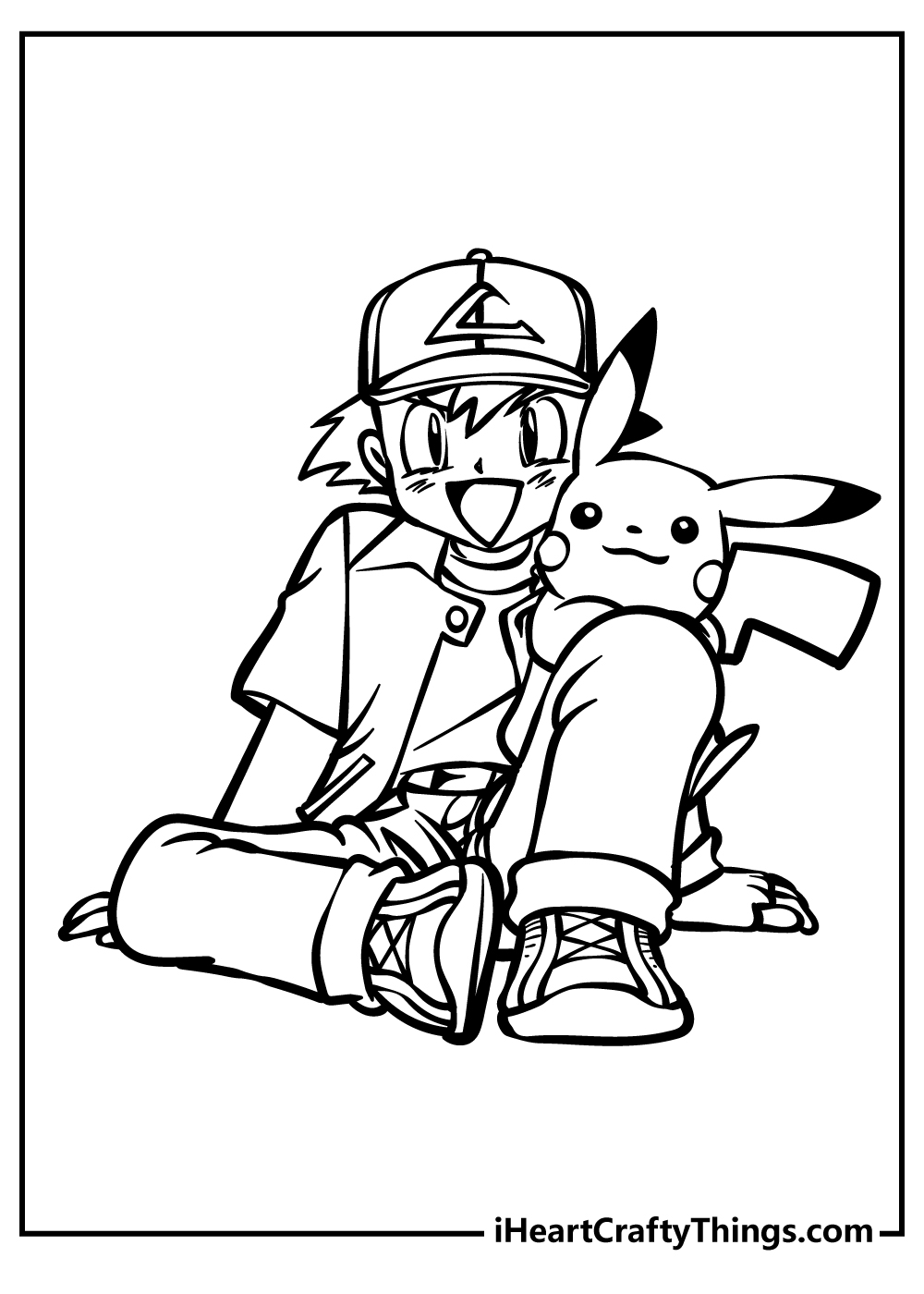 In this second page, Pikachu is the focus of the page, and it really shows off how cute this Pokemon is!
Pikachu is probably the most famous Pokemon, and he really stands out with his yellow and red color scheme.
We would use some bright colored pens and markers for this one if we were coloring it in!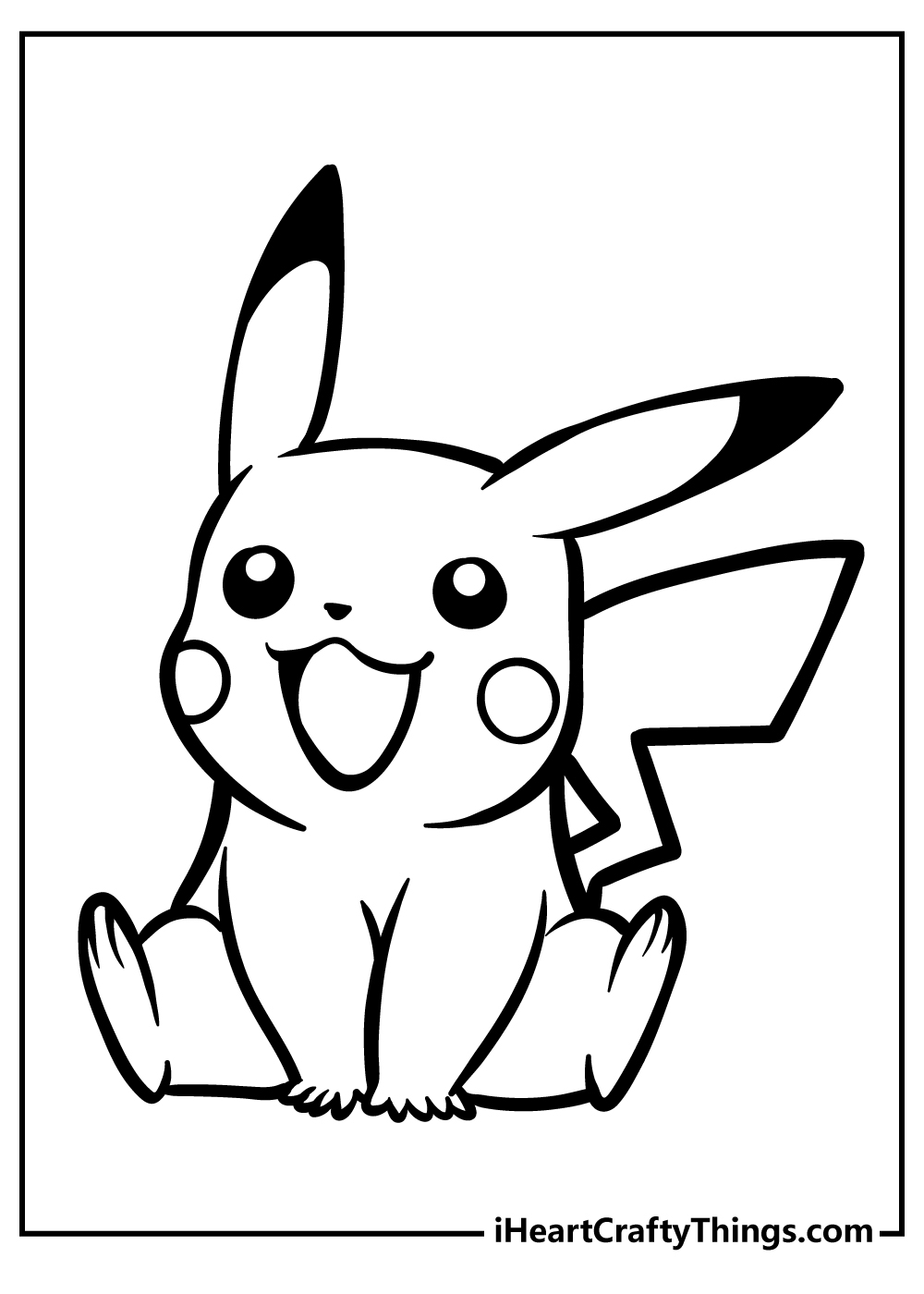 From the warm, bright colors of Pikachu, we have a Pokemon that has a much cooler color scheme.
Squirtle is a water Pokemon, and that means that he has a blue color scheme with some light brown details mixed in as well.
We think that some watercolor paints would look great for this particular page!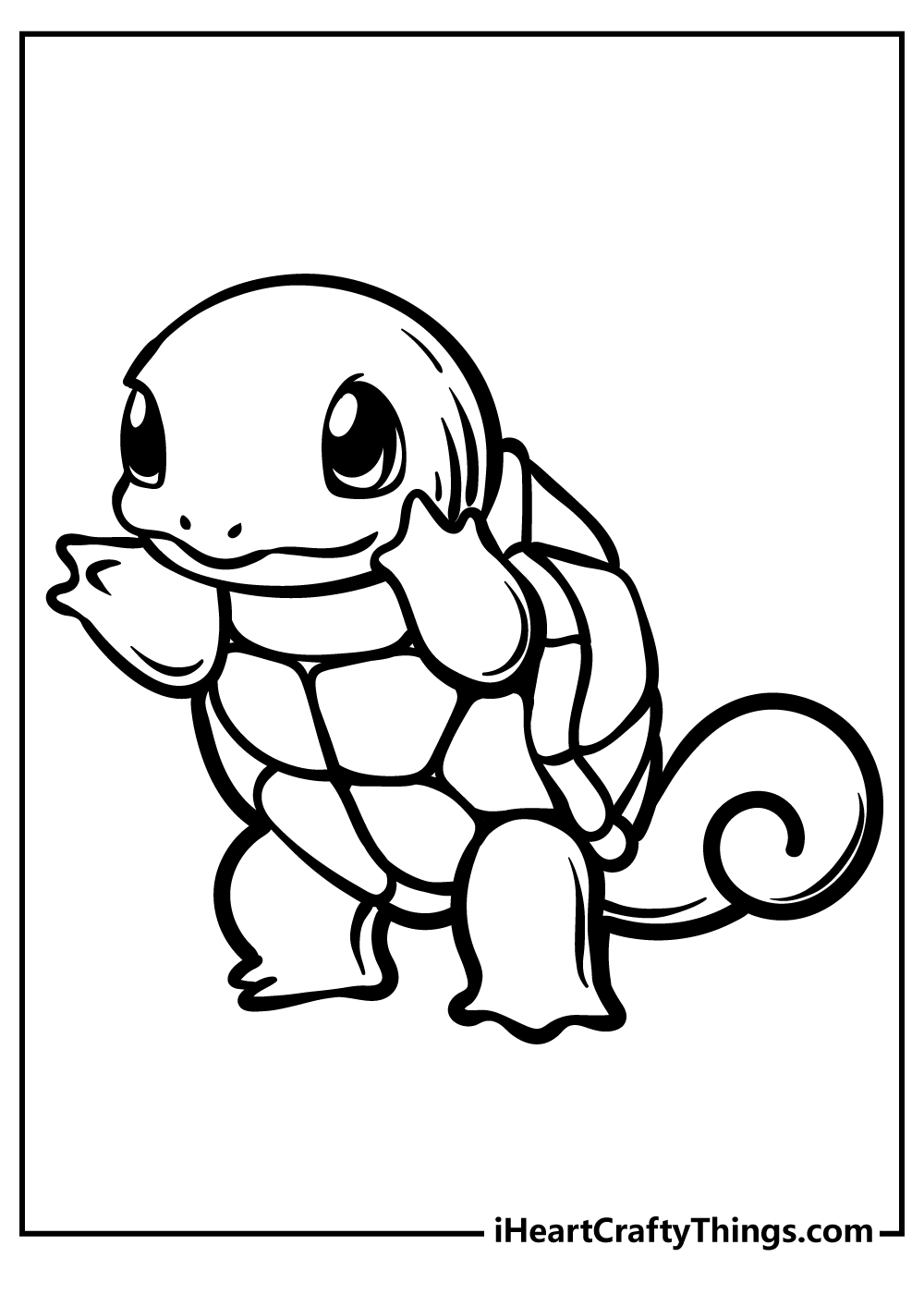 Pikachu is back for more in this next image! He is looking very happy here, and it almost looks a bit like he may be about to receive a tasty treat.
Maybe you could draw one being handed to him! What kind of treat would you feed a Pikachu if you had one of your own?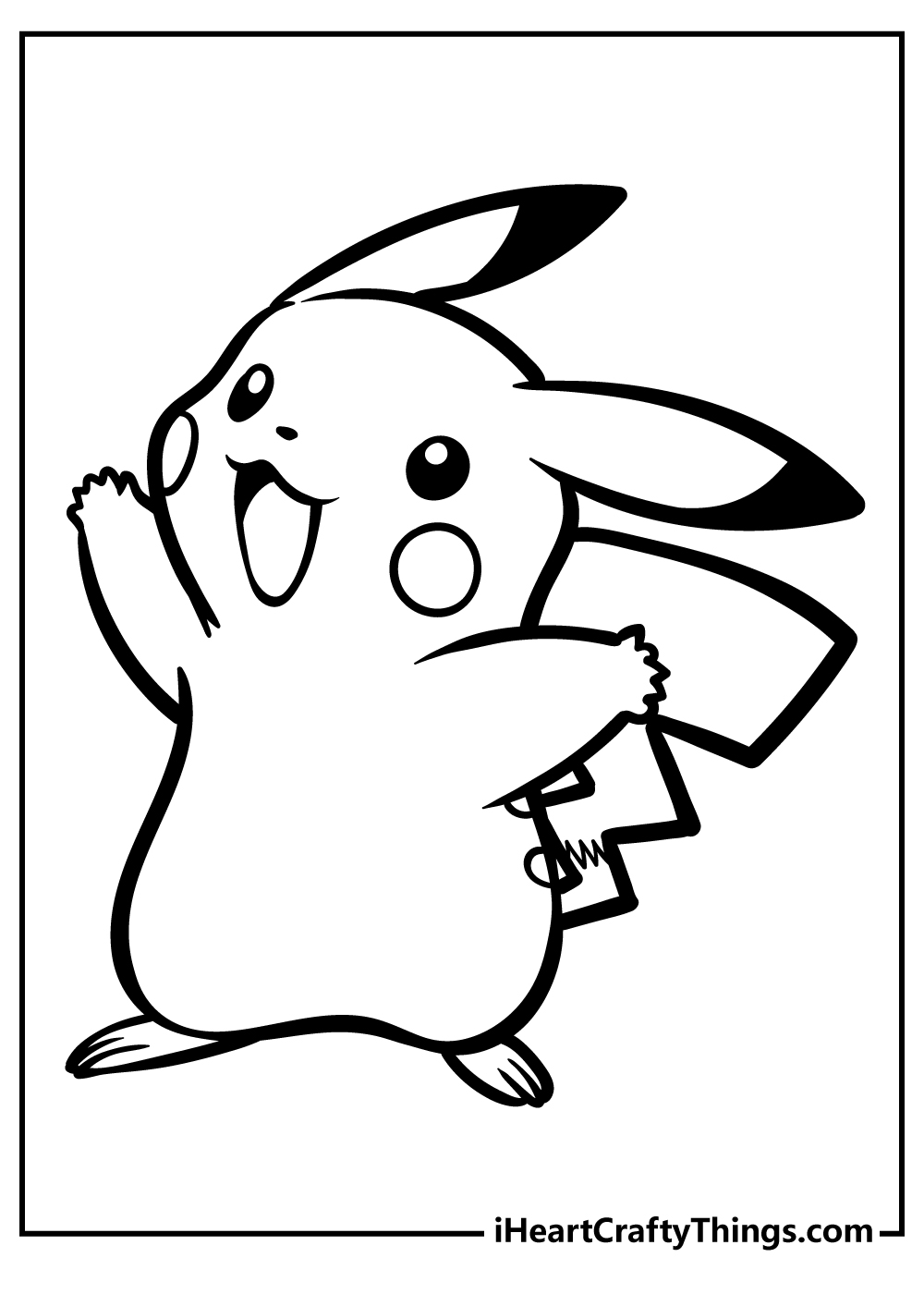 Get ready to party with Pikachu with this fifth page in our collection of free Pokemon coloring pages for kids!
Pikachu is showing off some dance moves here, and he is surrounded by some large bubbles.
It could look great if you colored each bubble in a different color, as that would make for an image that really pops!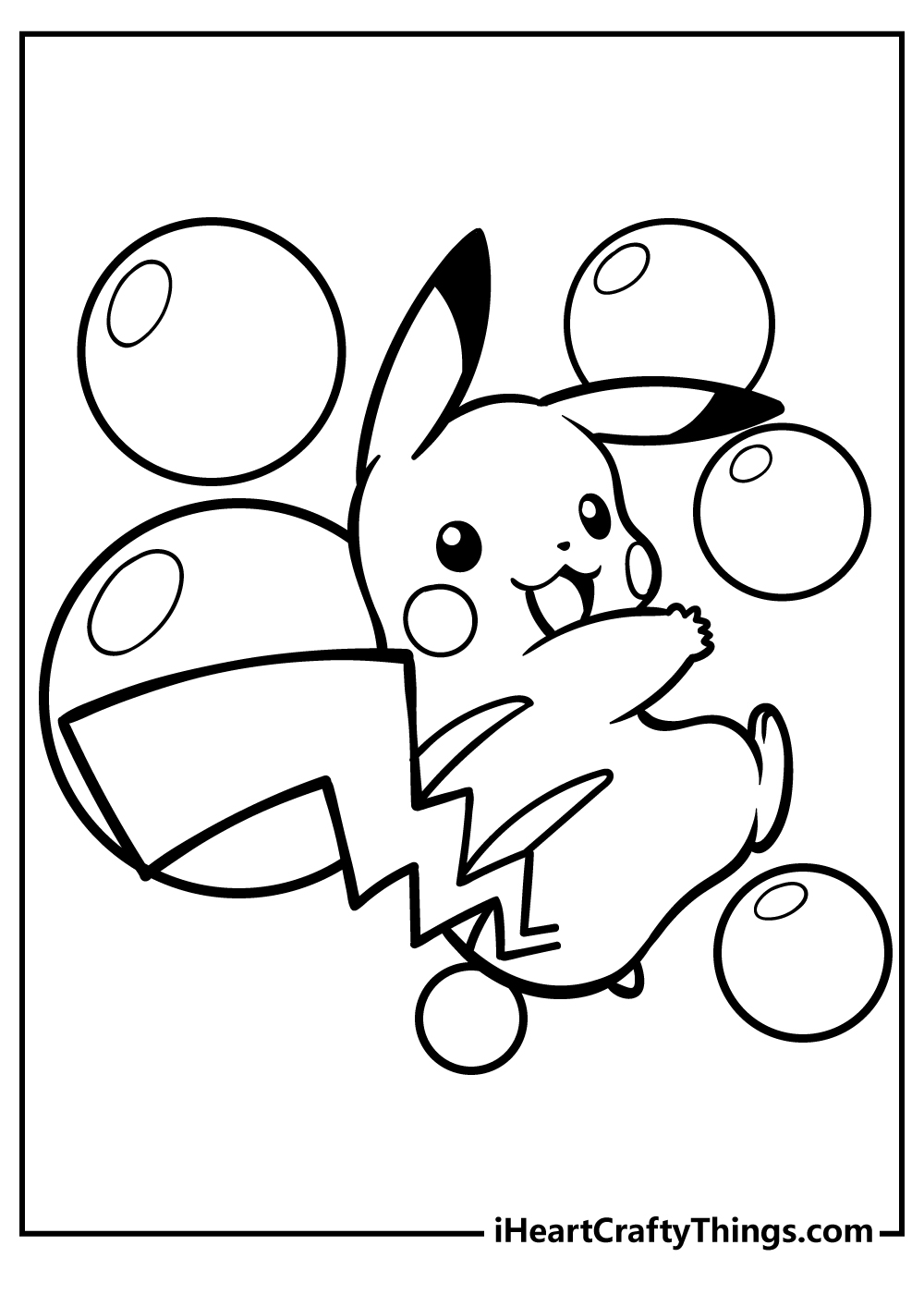 Mew is one of the most mysterious and powerful Pokemon in the series, and it is here for you to color!
This Pokemon has a light pink color scheme in most appearances, and if you stick with that color scheme then you have plenty of background details to color in as well.
Mew is sliding down a rainbow pattern, and that opens up plenty of opportunities for amazing colors!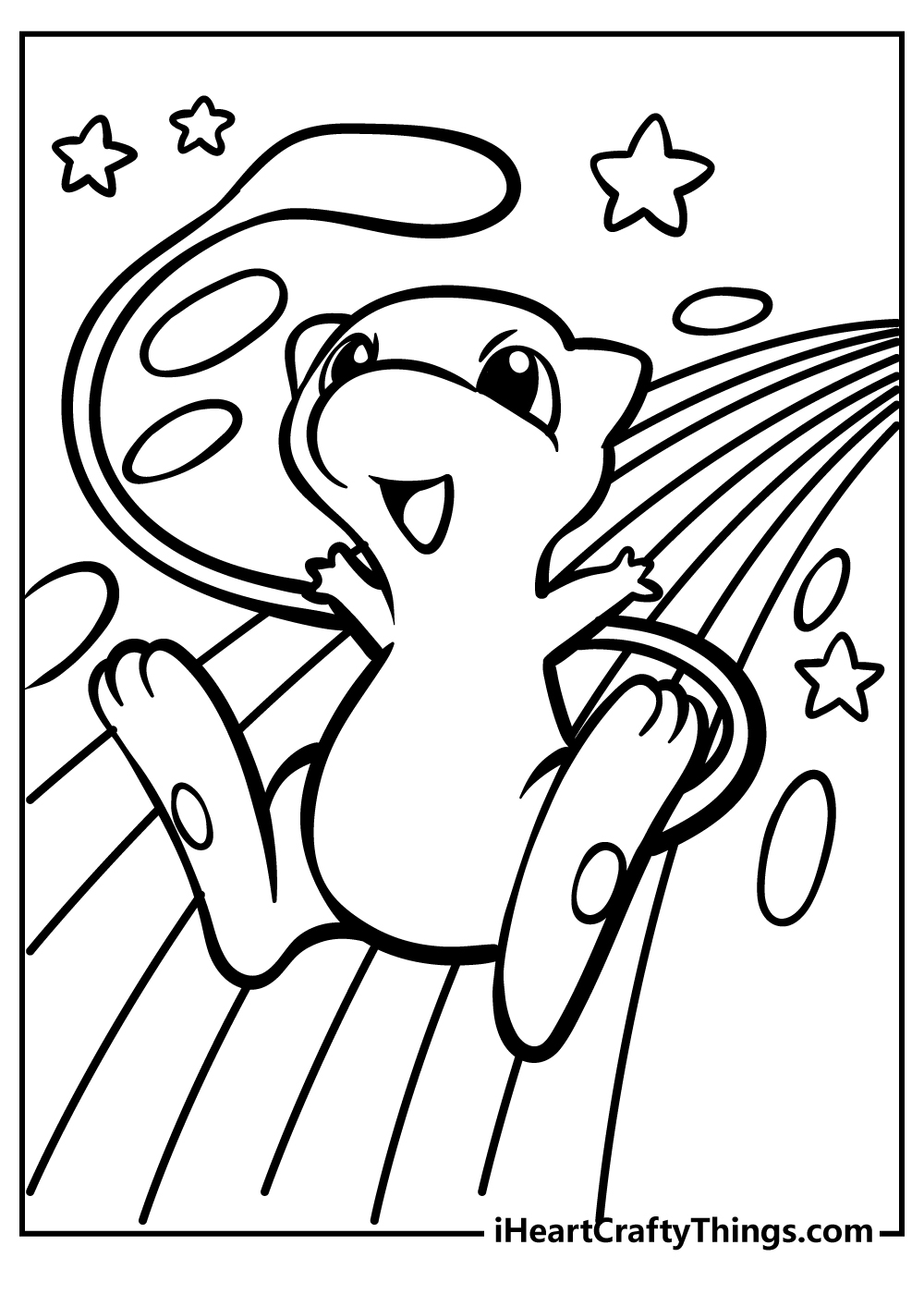 We have another awesome picture of Mew for you to enjoy in this seventh image. Mew is striking a cool pose, and it is surrounded by lots of small, round bubbles.
For these bubbles, we would again probably try to color each one a different shade for a more dynamic image, but what colors come to mind for you?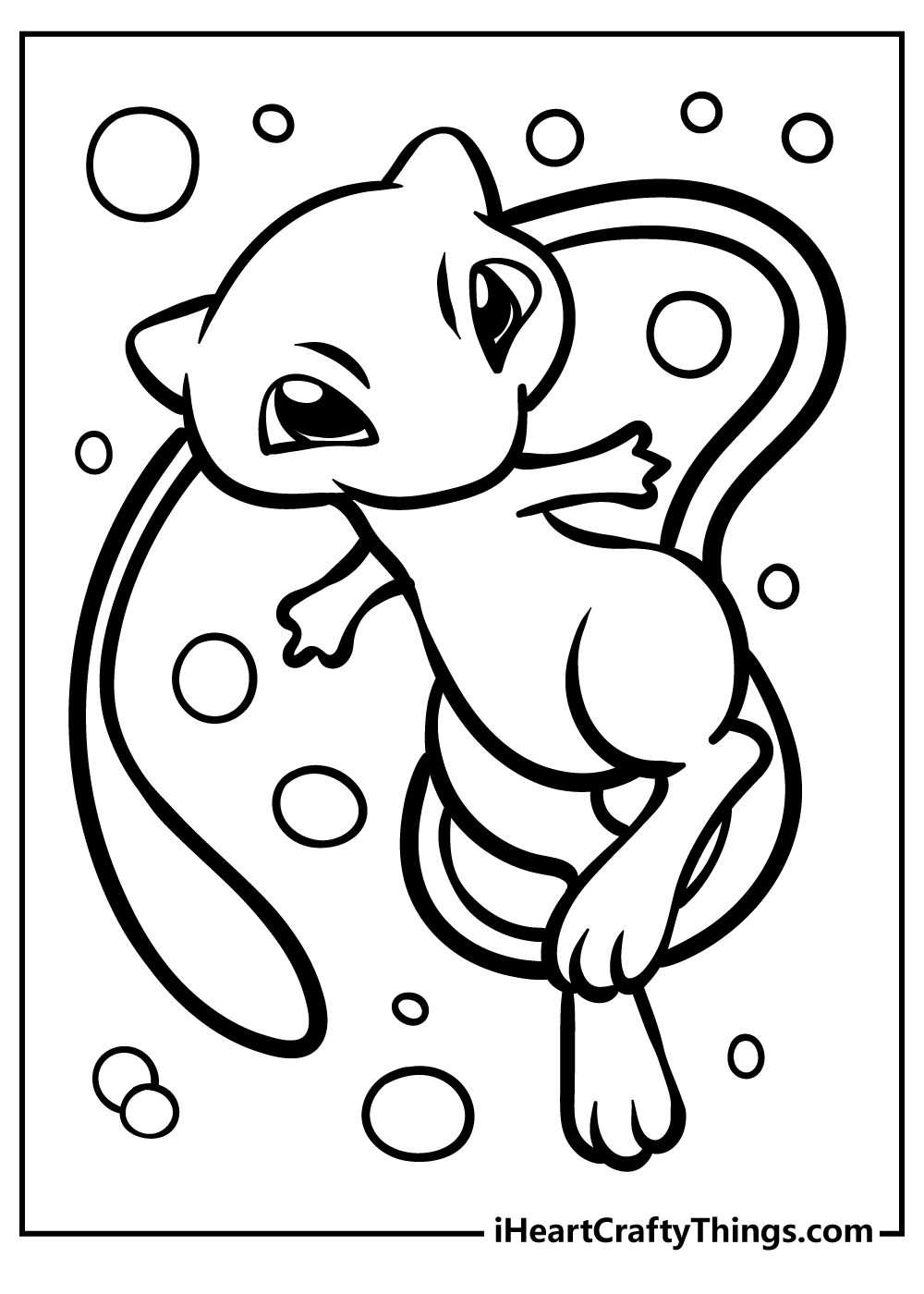 Jigglytuff has to be one of the most adorable Pokemon in the series, and we have one up for you to color here!
This Pokemon is also typically seen in a pink color scheme, but there are also some great background details to color here.
Which of your favorite colors will you pick for this adorable Pokemon and the background?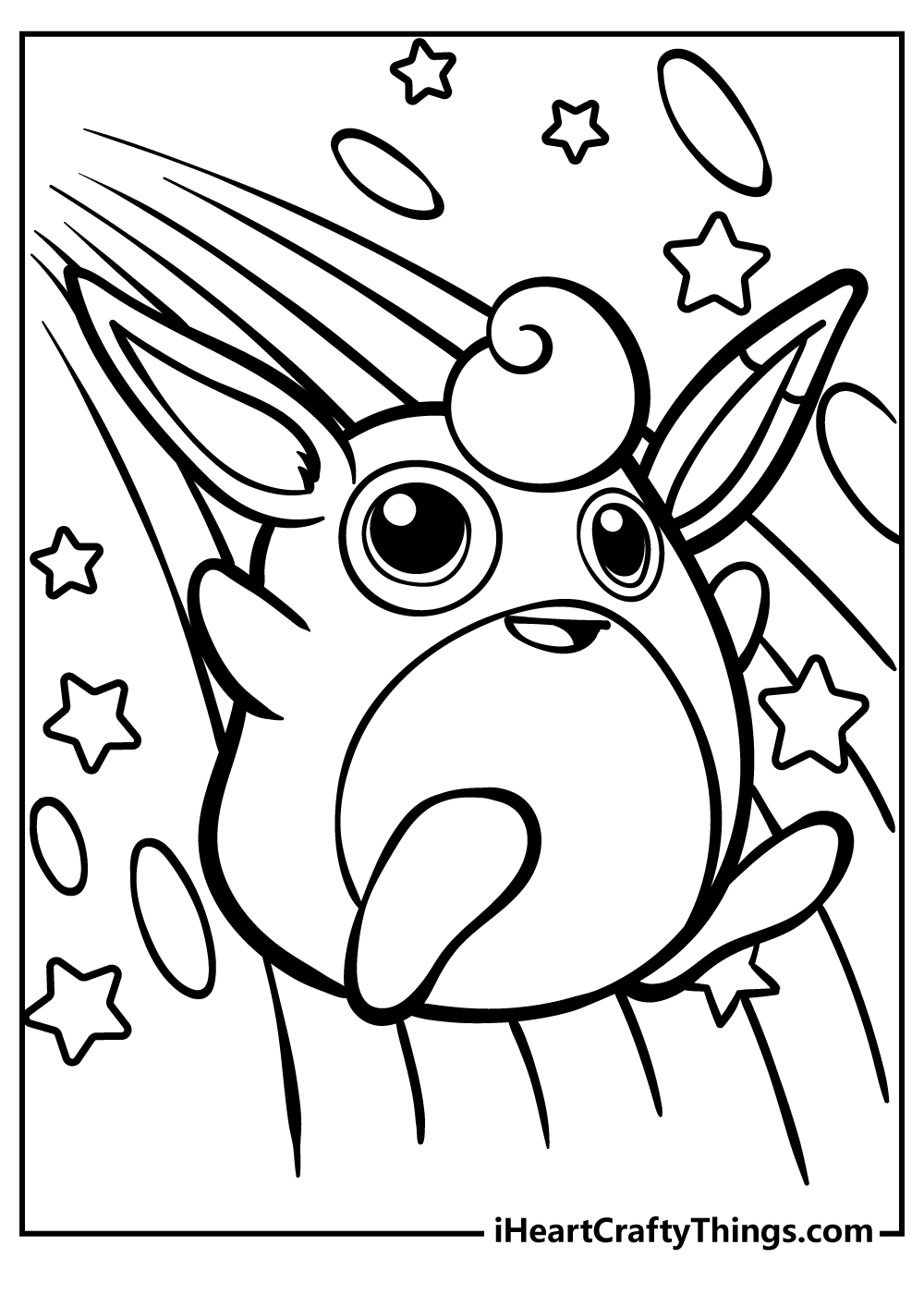 Pokemon can evolve into different forms, and the one featured in this image is the evolution of Squirtle, who we colored in an earlier page.
Wartortle is a more intimidating version of the adorable Squirtle, but it has a similar color scheme.
We know this one will look great when it's done!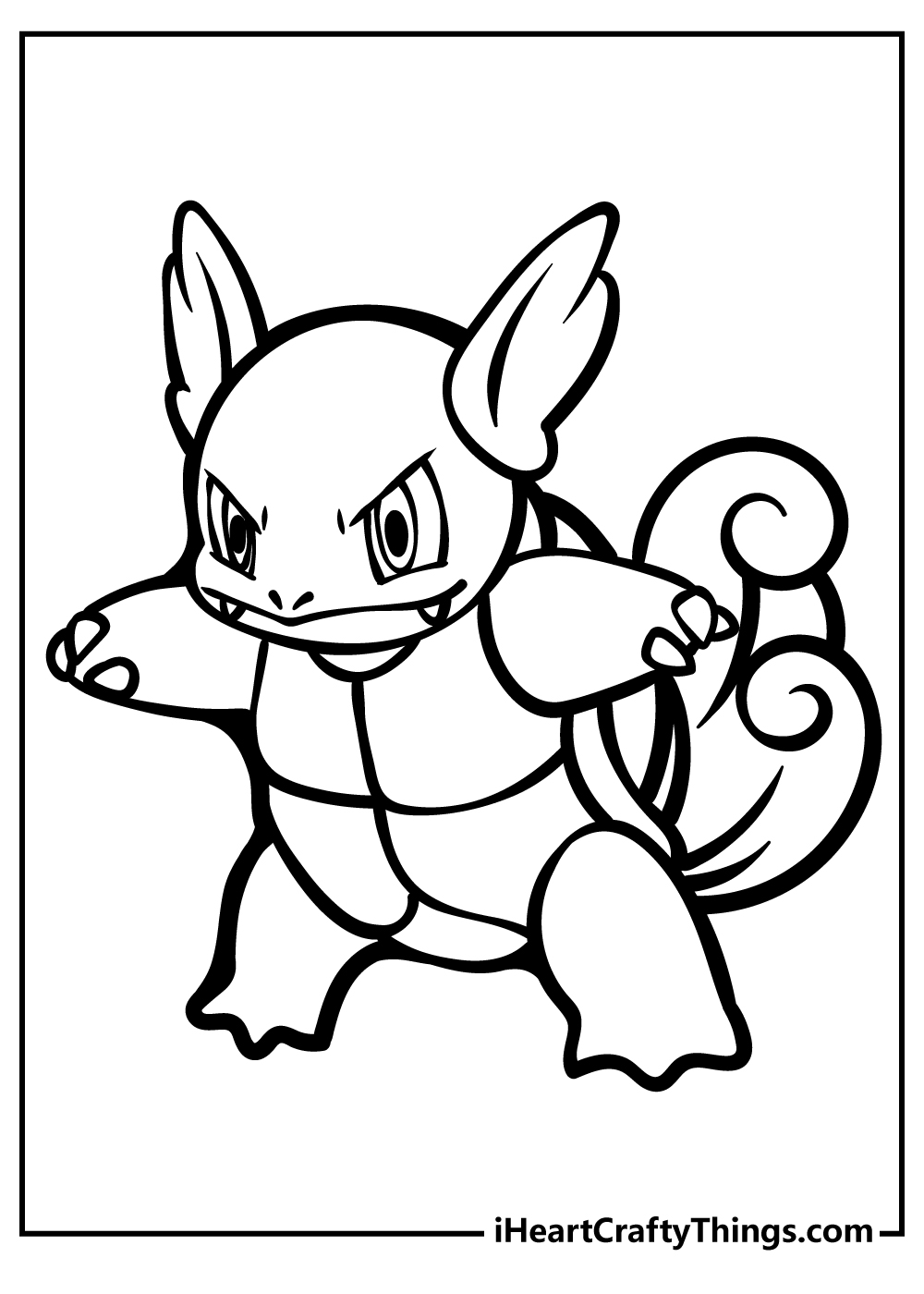 Next up, we have Sandshrew as the star of this Pokemon coloring printable.
As the name suggests, Sandshrew is a sand-type Pokemon, and that means that its color scheme is composed of yellows and light browns.
Will you stick with these classic colors, or will you create a unique look for Sandshrew?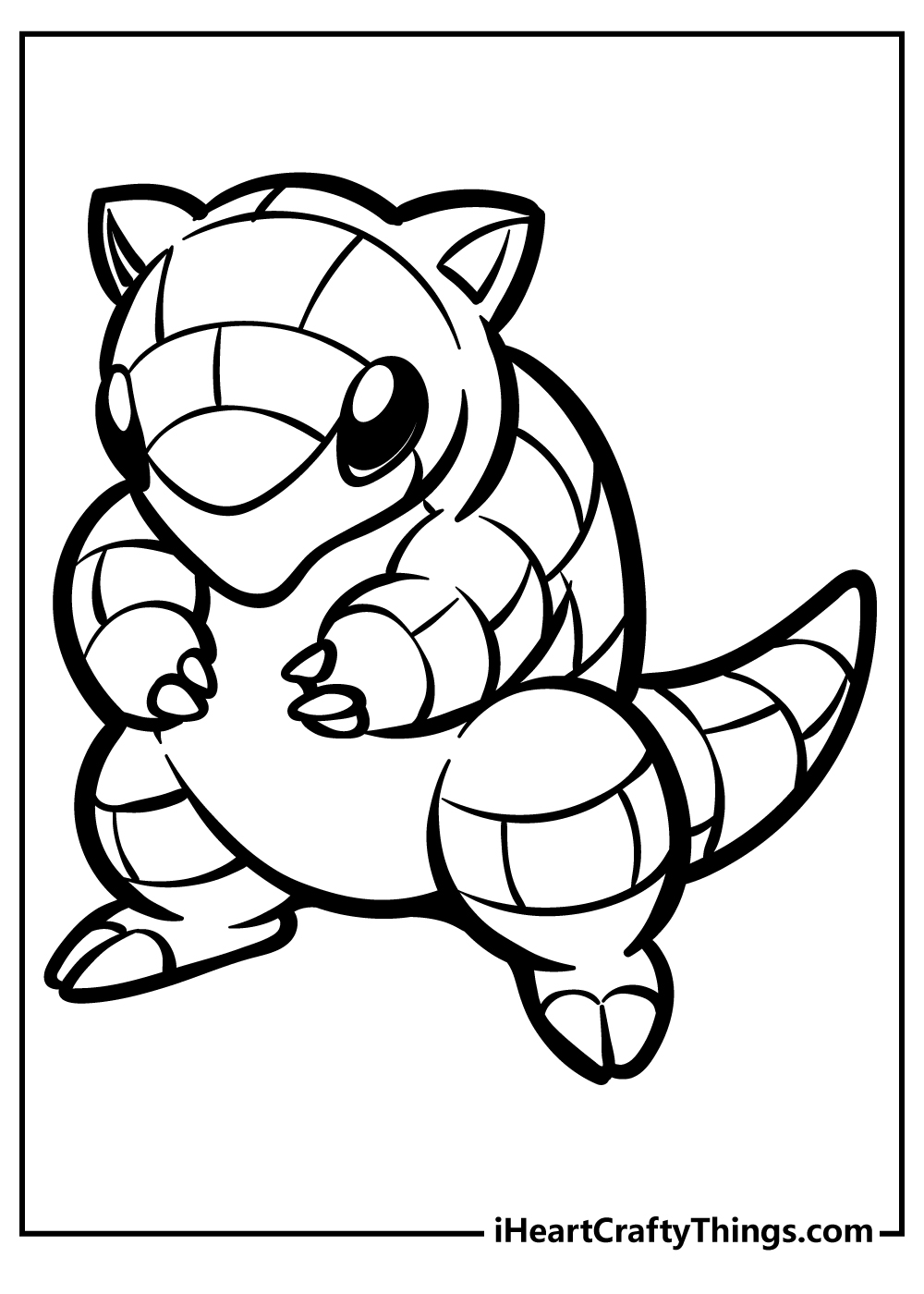 Squirtle is back for more fun in this next image, and it is striking a fun pose! This time, Squirtle seems to be doing a little dance, and it certainly looks happy.
Maybe you could color some bright shapes into the background in order to make it look like Squirtle is having fun at a party!
What other settings do you think Squirtle could be in?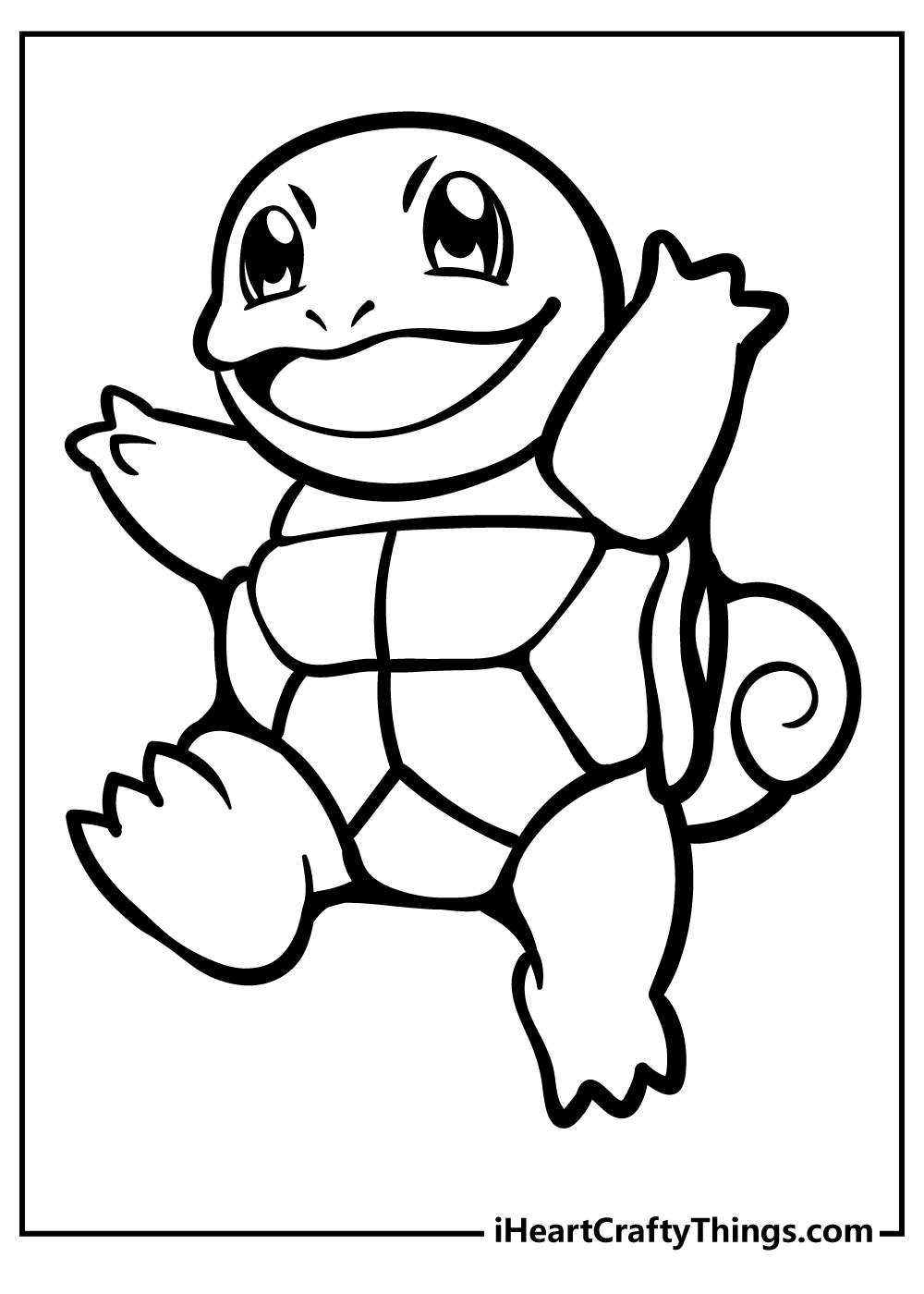 The grass-type Pokemon Bulbasaur is up next, and this is another really adorable creature!
As mentioned, Bulbasaur is a plant-themed one, and that means that it is typically depicted in a green and blue color scheme.
This is another one where we would use softer, milder art tools such as watercolors or colored pencils. Will you use these or maybe something else?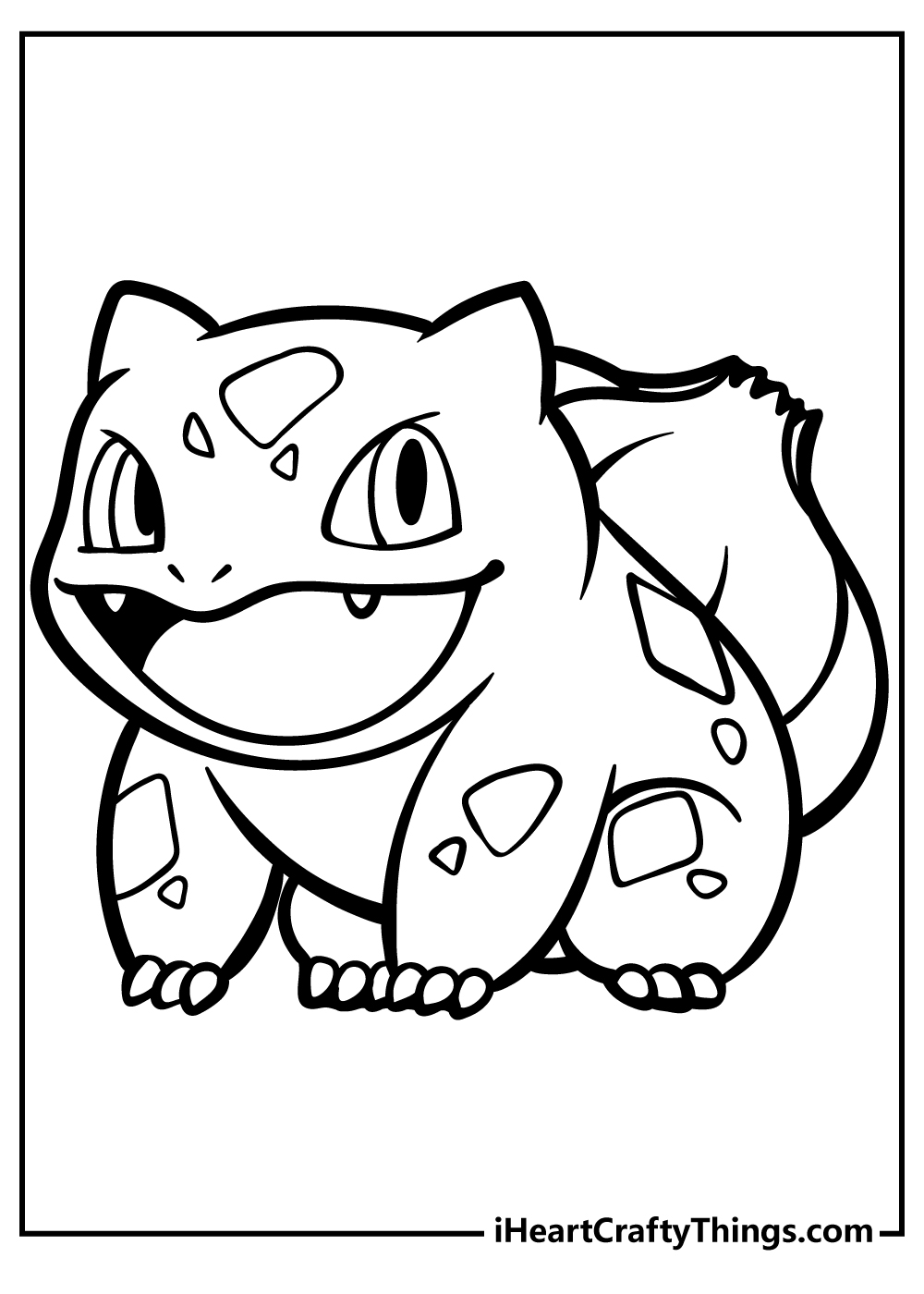 Eevee is a super cute Pokemon that looks a bit like a fox. This Pokemon also has the distinction of being able to evolve into various different types of Pokemon, which makes it rather unique.
For one idea, you could color the background to match what type you would evolve this Eevee into. For example, you could use reds if you would evolve it into a fire-type.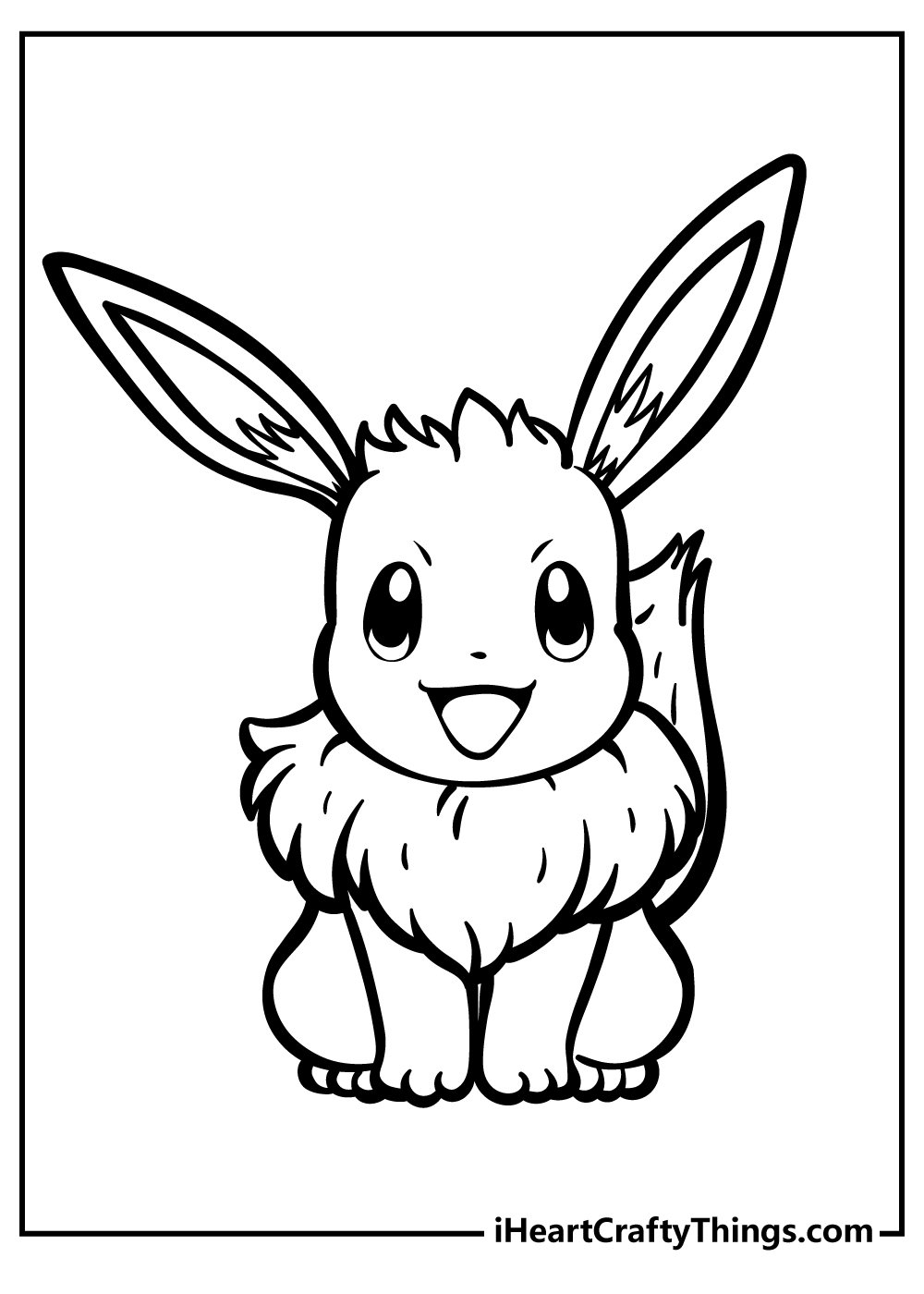 Togepi is one unique Pokemon, as it looks like it is constantly emerging from an egg! That egg is also decorated with some colorful shapes, and they are depicted here for you to color as well.
For the shapes, we would recommend some colored pens or markers to make the colors pop, as the rest of Togepi's colors are a bit milder and more muted.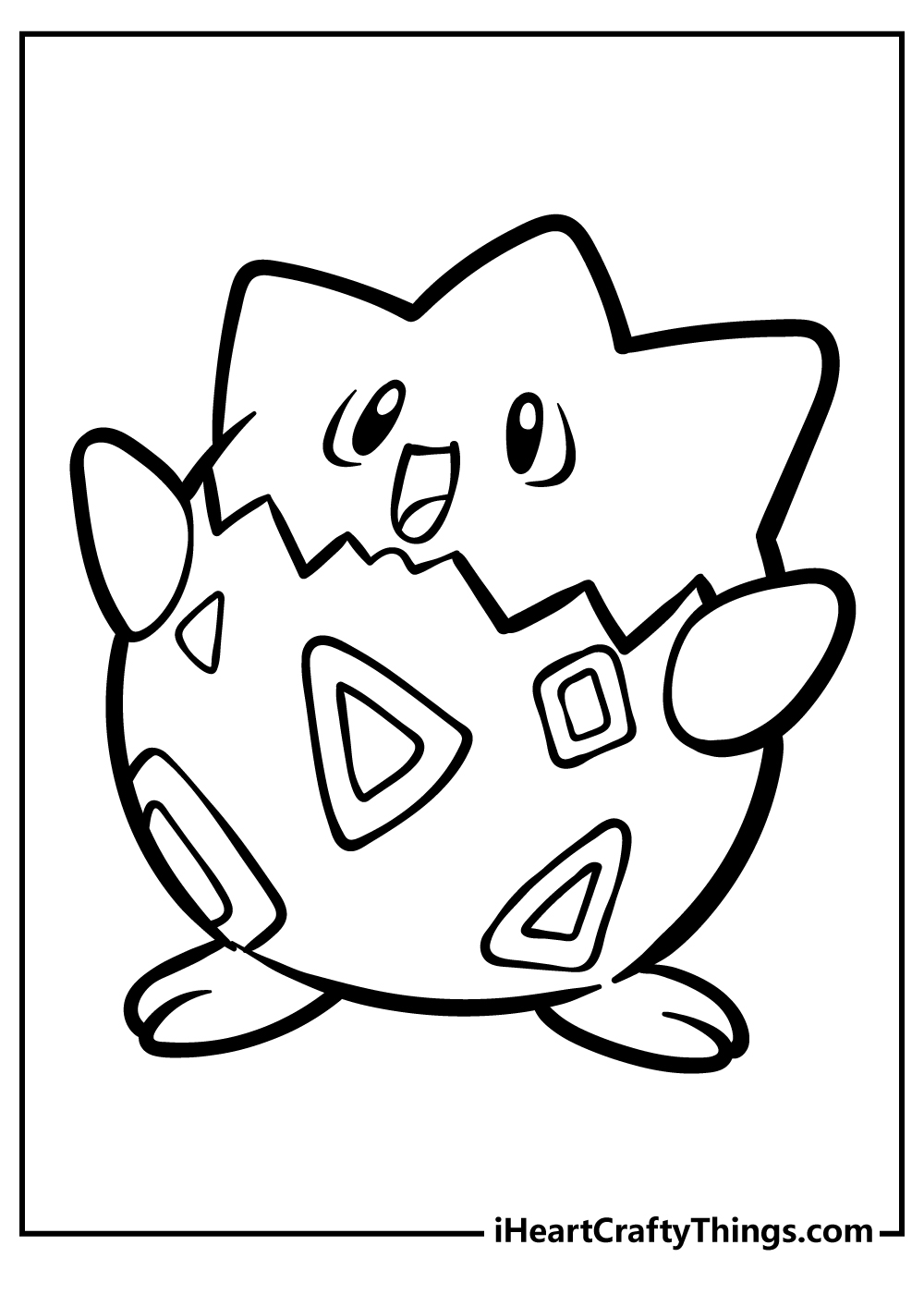 This final Pokemon coloring sheet that we have for you features another evolution of a previous Pokemon.
Sandslash is the next step up from Sandshrew, and it is certainly a more intimidating Pokemon to behold!
Sandslash has a similar yellow and brown color scheme to Sandshrew, so these two pages would make a great pairing if you do them both!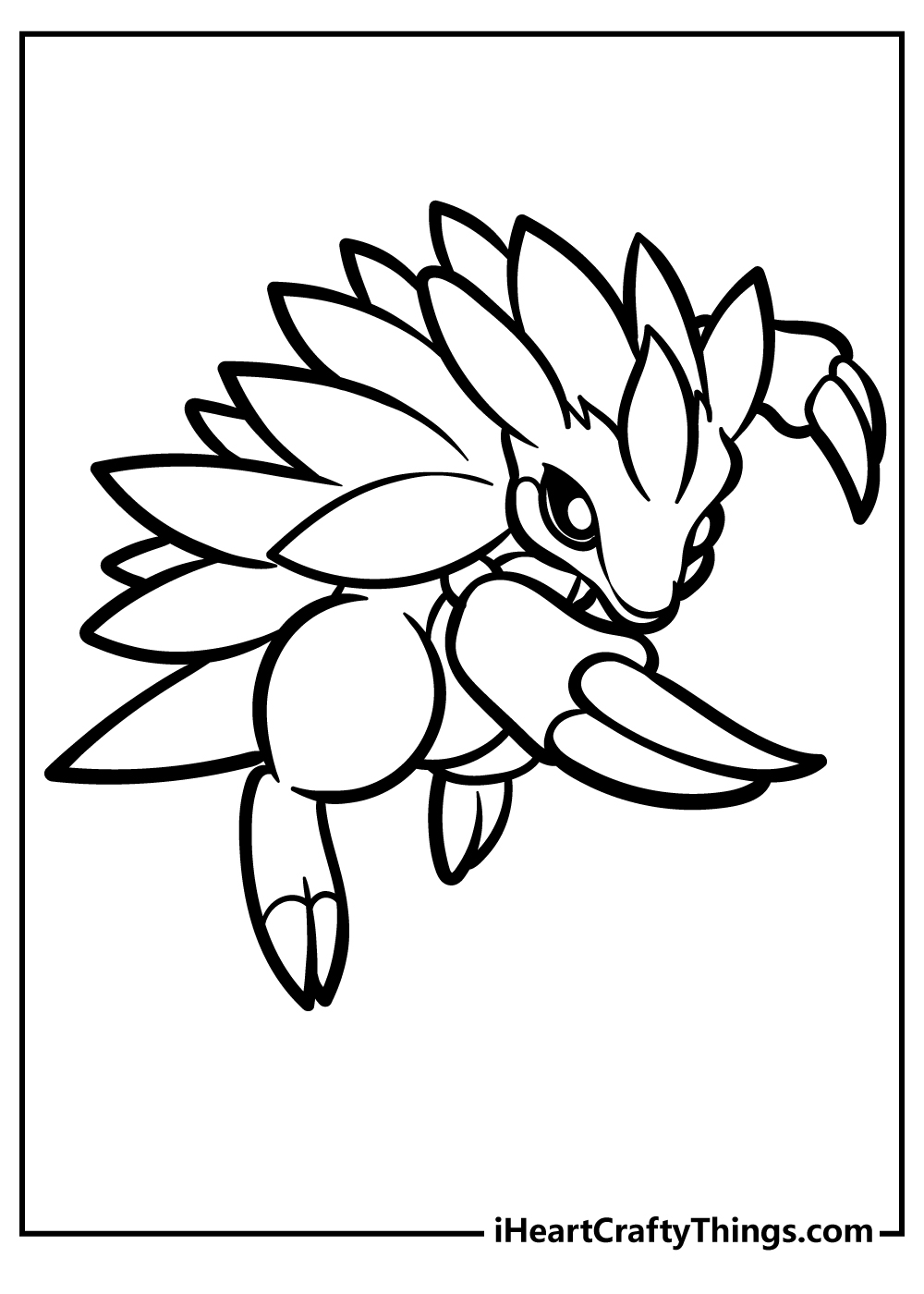 Pokemon Coloring Pages – Which will you choose?
The world of Pokemon is full of adventure, and we hope you enjoyed having one as you worked through this collection of free Pokemon coloring pages for kids!
There was a great variety of different Pokemon here, and that means that you can use all of your favorite colors and art tools.
We would love to see how some of your favorite pages turned out, so please feel free to share some of your finished artworks on our Facebook and Pinterest pages for us to see!