One of my favorite books as a child was Corduroy. I loved reading over and over about the cute teddy bear's adventures in the department store, and it was a favorite book I read to my children when they were little too. This fun and simple paper plate Corduroy craft is a perfect way to bring the classic children's book to life with your kids.
Grab our handy template below and get ready for an afternoon of fun creating this super cute Corduroy inspired paper plate craft.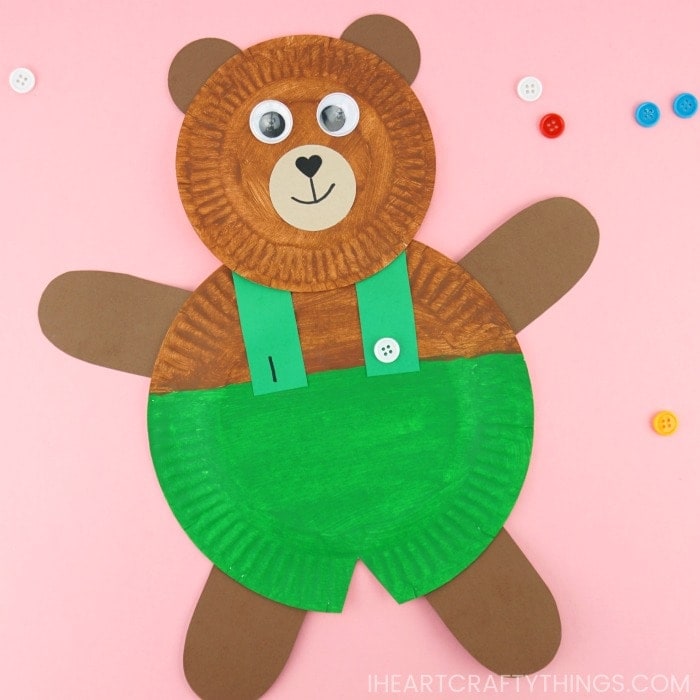 [This craft was originally published on January 18, 2015. It has been updated with additional photos, a craft pattern, video tutorial and updated text.]
Corduroy, written by Don Freeman, is a darling story about love and friendship. It is about a teddy bear named Corduroy with a missing button who lives in a department store. A young girl sees beyond his missing button and purchases Corduroy with her own money after her mom refuses to buy him when seeing his missing button. The little girl sews a button on him and the two discover a friendship with each other.
You can see Corduroy here (affiliate link).
How to Make a Paper Plate Corduroy Craft
This post contains affiliate links to the products mentioned. Read our disclosure policy for more information.
Supplies needed to make this paper plate craft:
Corduroy Printable Template <—- Get the Template Here.
brown cardstock or construction paper
green cardstock or construction paper
light brown cardstock or construction paper
black cardstock or construction paper
scissors
glue
Instructions for making your corduroy the bear craft:
Step 1: Start by painting your two paper plates. Paint the small plate brown and paint the large plate one-third brown and the rest of the two-thirds green. Set them aside to dry completely.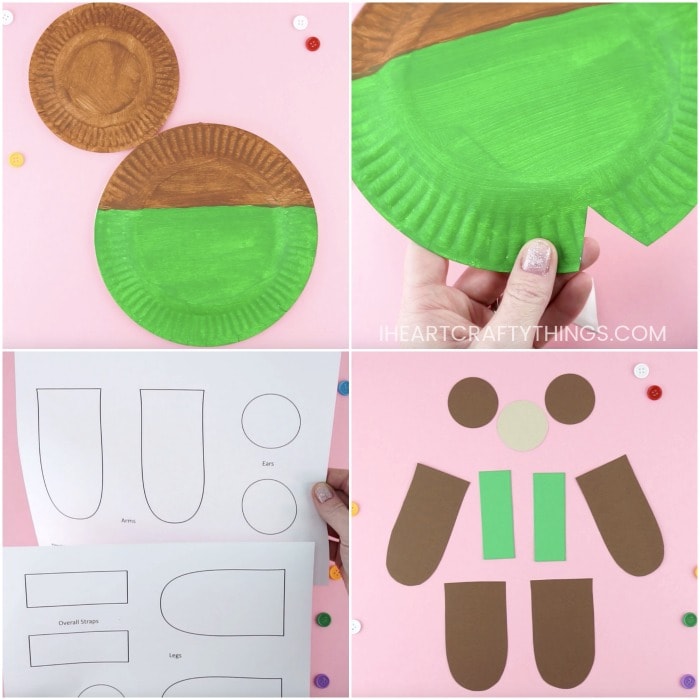 Step 2: Download and print out the corduroy pattern template. Cut out each of the pieces of the template and use them to trace the pieces on your colored cardstock or construction paper. Trace the two arms, legs and ears on brown paper. Then trace the overall straps on green paper.
Finally, trace the muzzle on light brown paper. Cut two arms and legs out of your brown cardstock paper. Cut two overall straps out of your green construction paper.
Step 3: Cut out each of the traced pieces of the template. You will also need to use a small heart punch to cut out a small black heart. If you don't have a heart punch, simply cut out a small heart from black paper.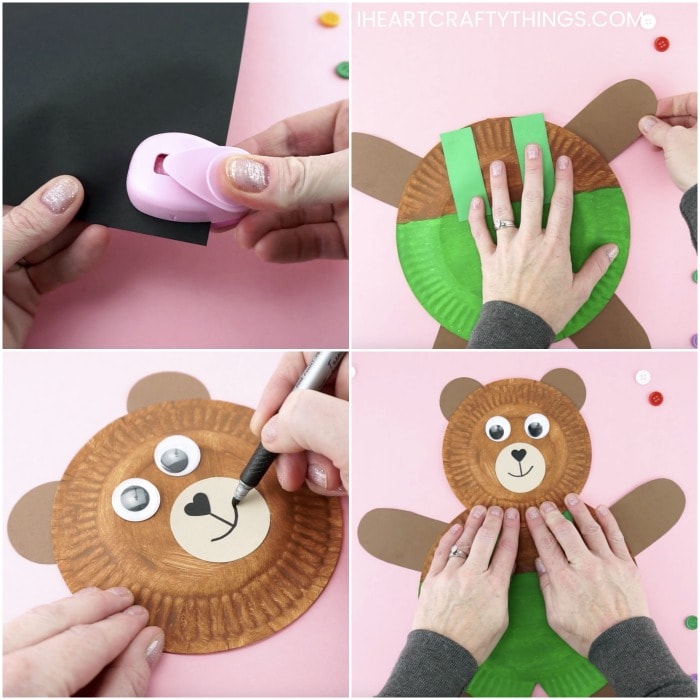 Step 4: After your paper plates have dried, cut a triangle slit at the bottom of your large paper plate, on the green end, to make the definition of the Corduroy shape overall pants.
Step 5: Next, glue the two overall straps onto the large paper plate. Then glue the arms and legs onto the large paper plate.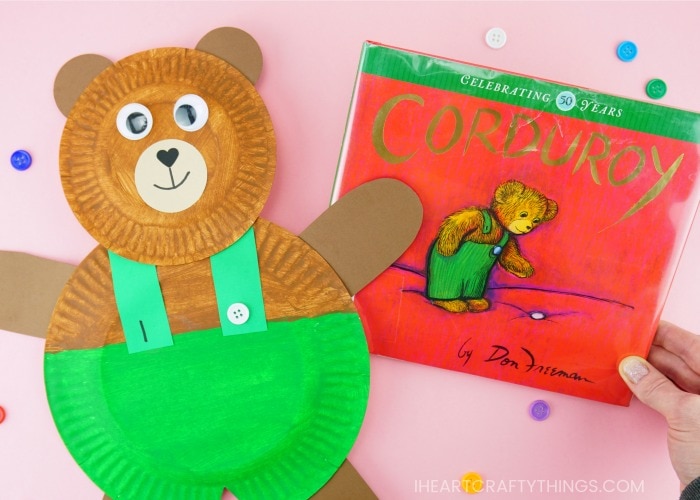 Step 6: Glue the muzzle onto your small paper plate. Add glue to the back of your small black heart and glue it onto the muzzle for a bear nose. Then glue on the two bear ears and large googly eyes.
Step 7: Glue (or staple) the the small paper plate (Corduroy head) onto the large paper plate (Corduroy body).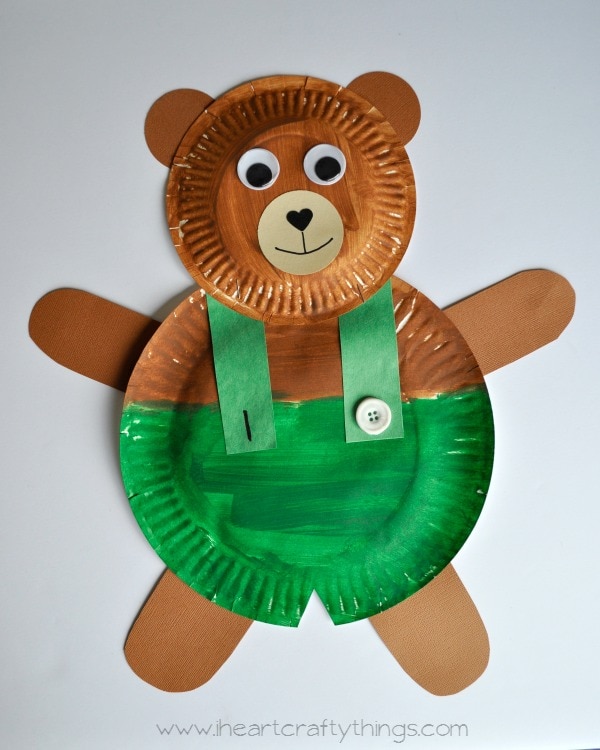 Step 8: Add a white button to one of the overall straps. Use a black marker to draw a mouth on Corduroy and a small slit on the second overall strap to replicate the missing button on the teddy bear.
Video Tutorial: How to Make a Corduroy Craft Activity
Watch the video below for a step by step guide on how to make this fun Corduroy the bear preschool craft.
Do you love book inspired crafts? Find more arts and crafts ideas by browsing the categories at the top menu bar of our website.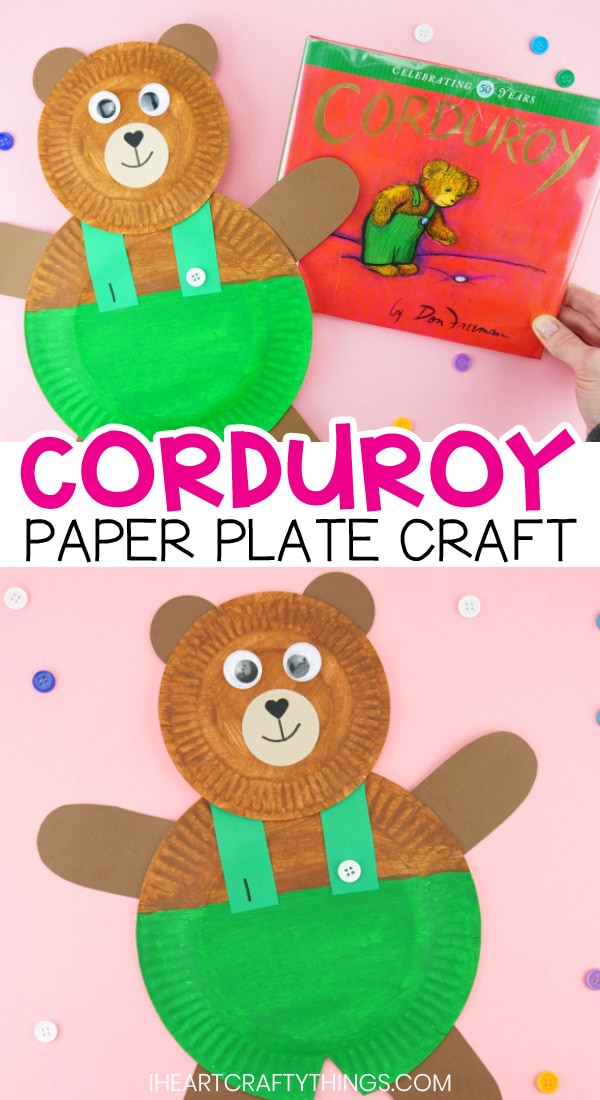 Looking for more fun book-inspired crafts and activities? Visit the Virtual Book Club for Kids for some awesome inspiration.
Getting ready for fall crafting? You'll love our resource of over 125 amazing fall crafts for kids.