On this page, you will find 15 all new Beach coloring pages that are completely free to print and download.
What kid doesn't love building sandcastles on the beach, swimming in the warm waters, or bathing in the sun?
Now you kid can get ready for summer fun and dream of all these exciting activities with our wonderful beach coloring pages.
Bring a bit of sunshine into your kid's life and encourage his artistic skills by printing these beach coloring pages for free.
15 Brand New Beach Coloring Pages – Free to Print and Color
A stretch of soft sand, the sun shining high in the sky, and an endless calm sea to the horizon make for a charming summer scenery.
Add a comfortable sunbed and everything is perfect. Where you see peace and relaxation kids see an amazing playground with plenty of things to do.
This beach coloring sheet brings the sun and fun to your kid's fingertips. Coloring is a great way to encourage their imagination and creativity.
Since coloring has no rules, there are countless ways for kids to bring this picture to life.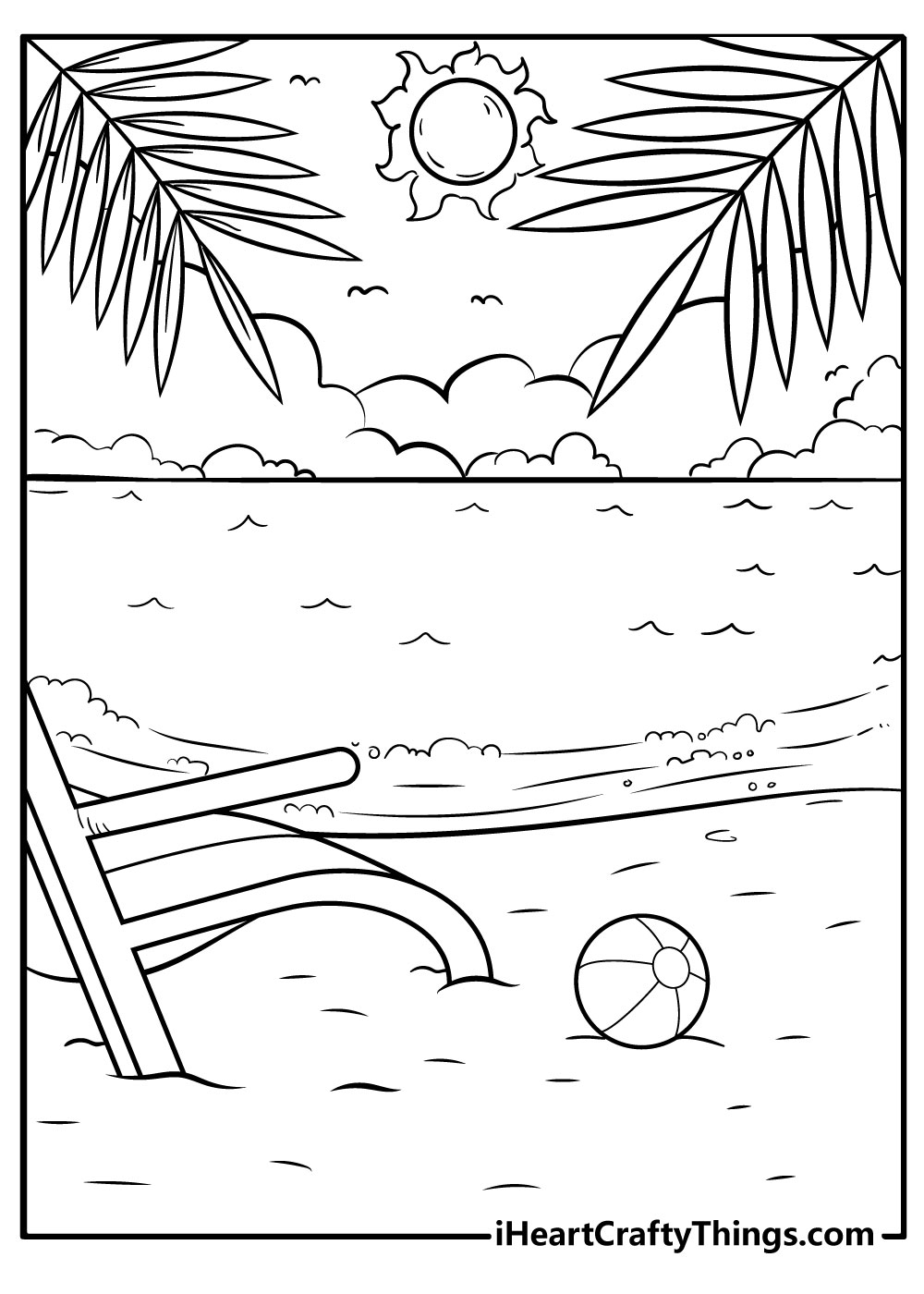 In this beach coloring page, you can see a beautiful tropical beach scene that makes you feel like you are on a vacation. It features a cozy hut on stilts, surrounded by palm trees with coconuts.
There is also a canoe and some rocks on the sandy beach. The water is calm and clear, and the sun is setting behind the clouds, creating a stunning sky.
There are many elements in this image that you can color in your own way. You can use bright colors to make it look lively, or use soft colors to make it look peaceful.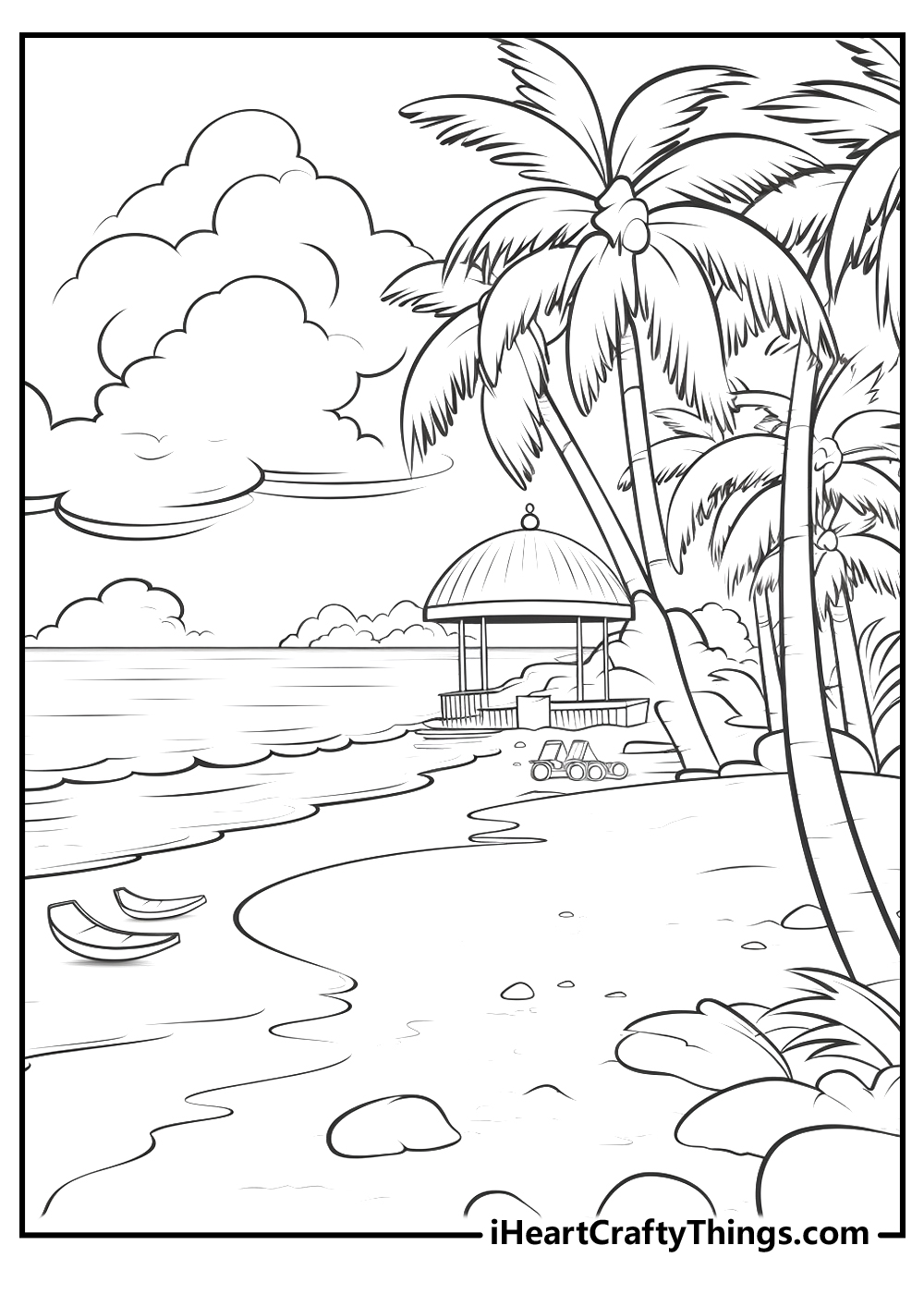 There's nothing better than spending a whole day at the beach. You can feel the warm sand beneath your feet, the warm breeze in your hair, and listen to the calm waves in the background.
There's no denying that the beach holds a special appeal for kids of all ages.
This printable transports kids on an imaginary journey to another picture-perfect beach setting.
We've got the wavy sea, the sun that shines bright above the clouds framing the horizon, two sunbeds, and a beach umbrella. There's also a bit of greenery in the corner for kids to color.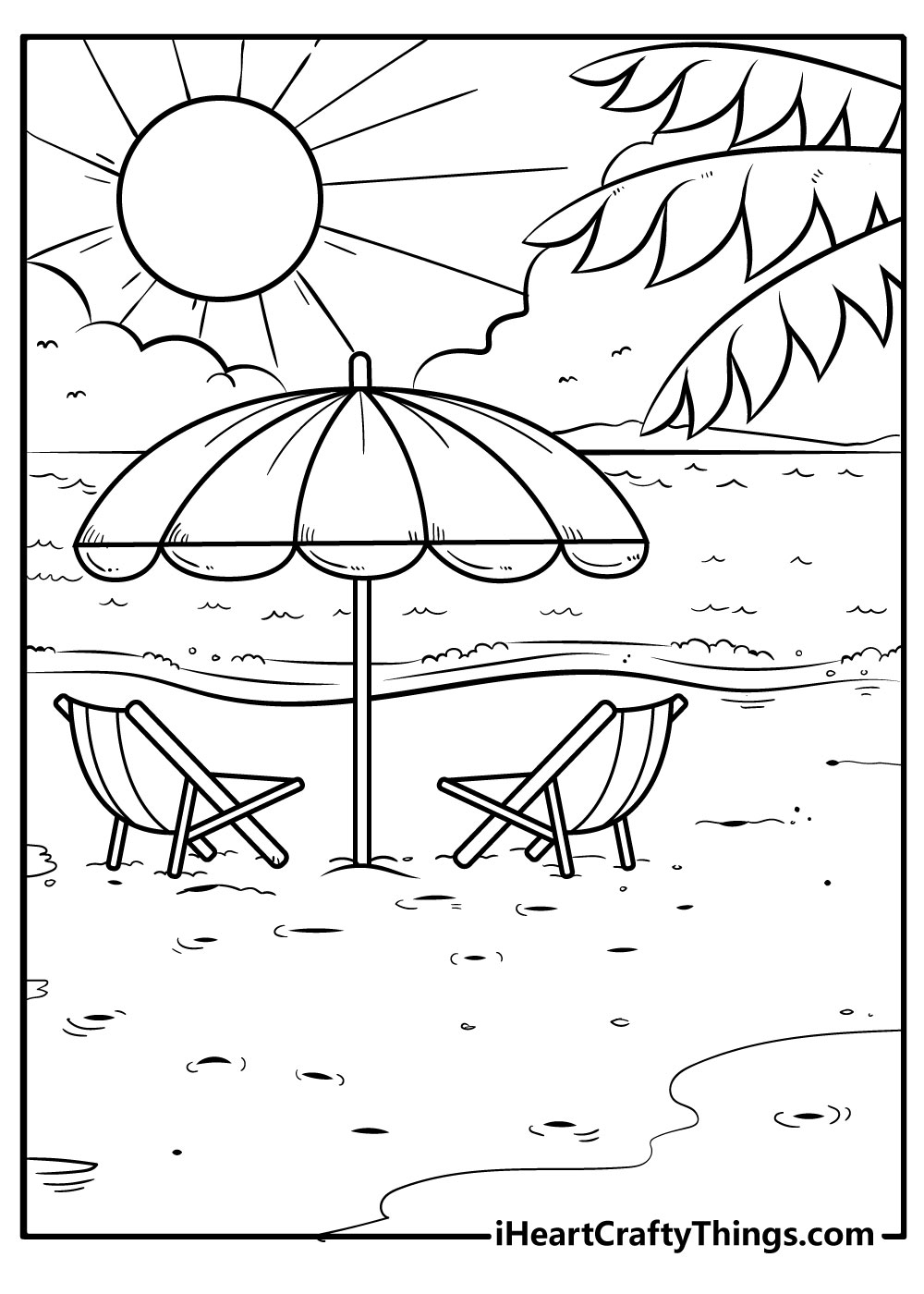 This beach coloring page features a young girl enjoying a walk on the beach. She has curly hair and she's wearing a casual outfit of a t-shirt, shorts and sandals.
The background depicts the ocean and the sky, with some rocks and clouds adding some contrast. You can use your favorite colors to make this scene look bright and cheerful.
It'd also be great to add some details to the image, such as some seashells, starfish, or crabs on the sand.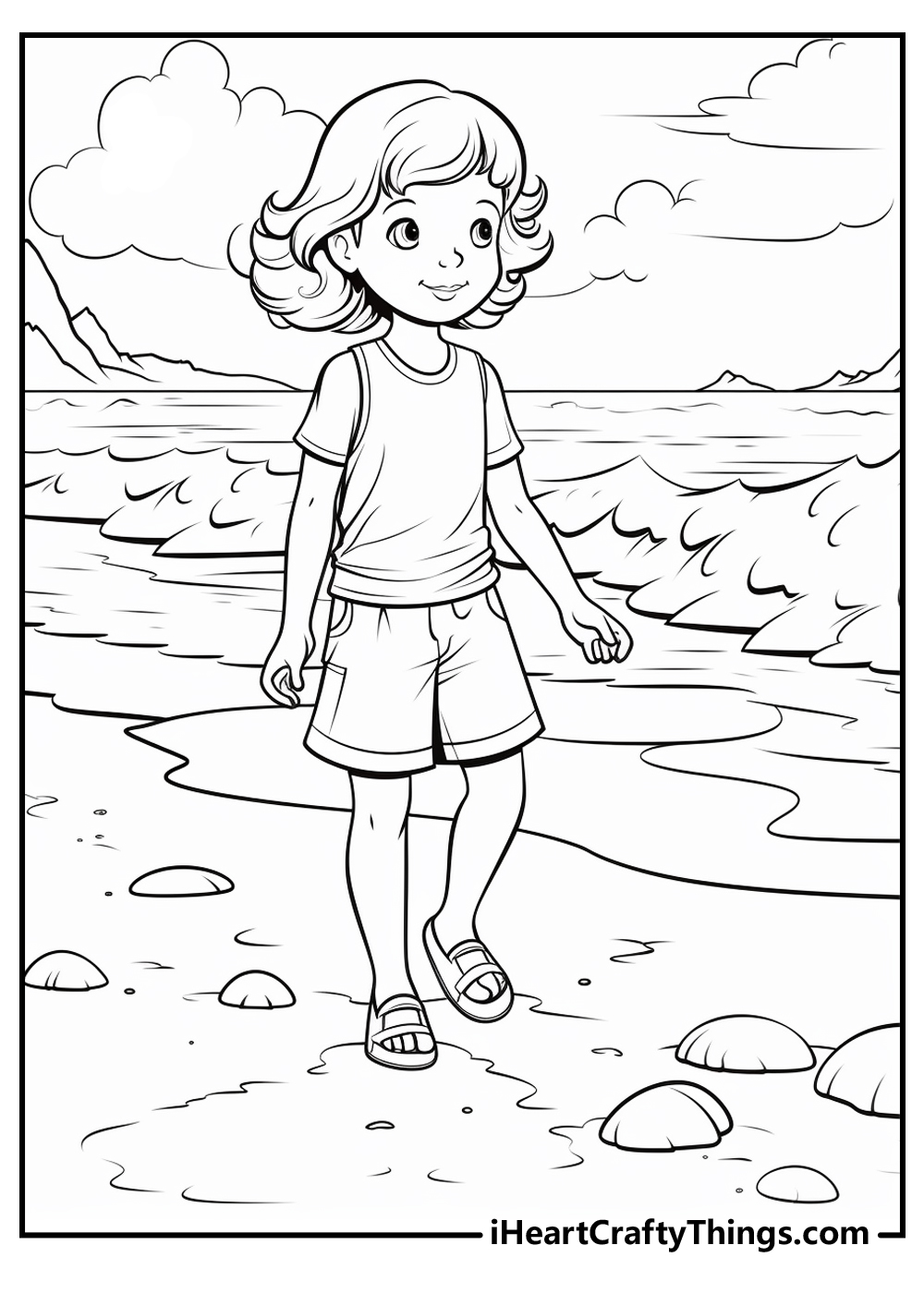 The sun starts shining brighter and the weather gets warmer, there's only one thing on every kid's mind: going to the beach.
But when that's not possible, your kid can still have a bit of summerish fun by coloring an imaginative beach printable.
This coloring sheet features a sunbed, a beach umbrella, and a beach ball on an empty beach.
We've got the sun, the clouds, and the sea in the background. Your kid will definitely have a great time coloring this page.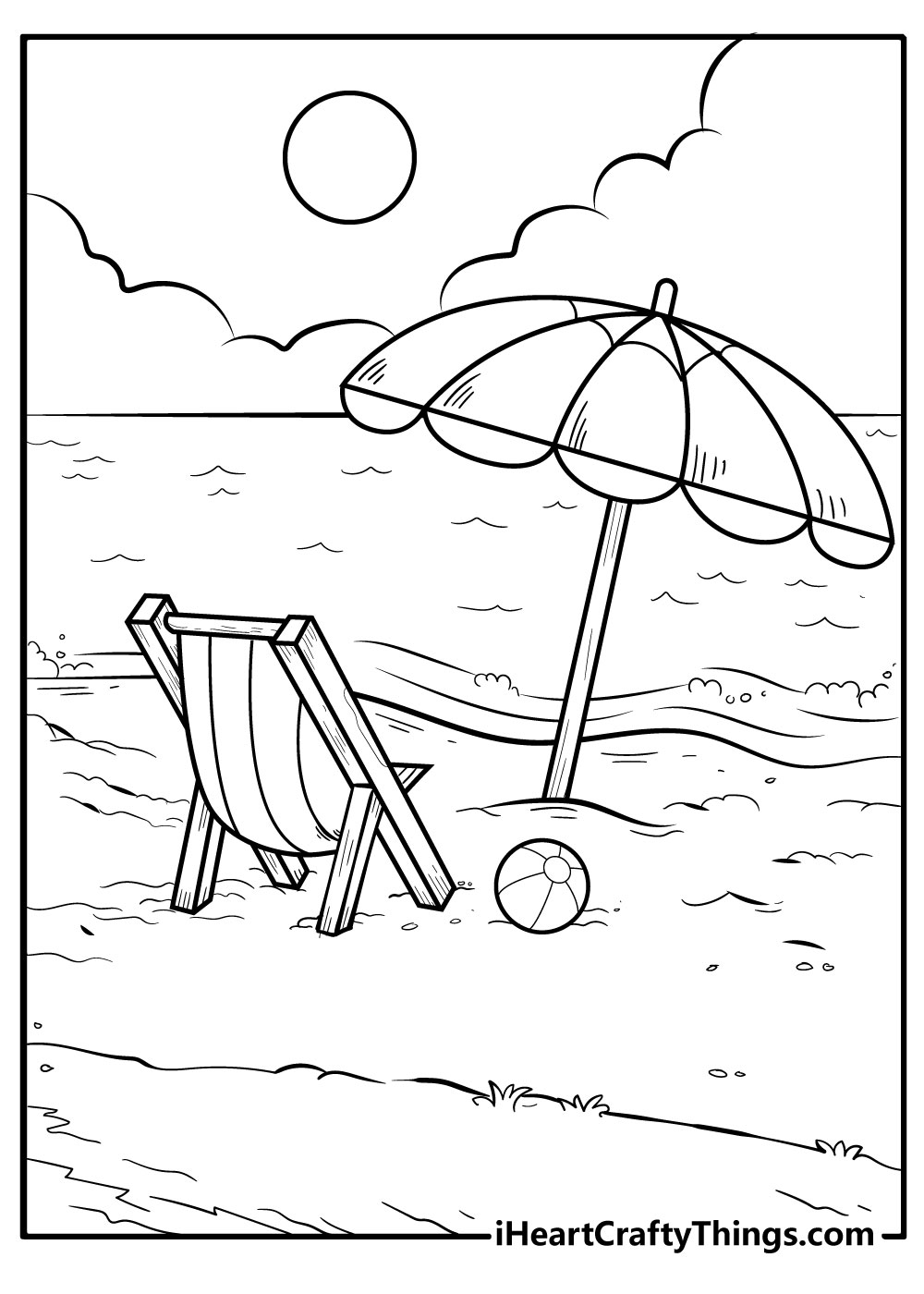 Kids can never get bored on a sandy beach, so there's little chance of them getting bored while coloring pictures of sandy beaches.
Just imagine all the fun things you can do on a warm summer day at the seaside and you'll suddenly feel inspired.
This image of a sandy beach with a sunbed, a classic beach ball, a beach umbrella, and a couple of palm trees for shade has all the ingredients to make you dream of a perfect day at the beach while coloring.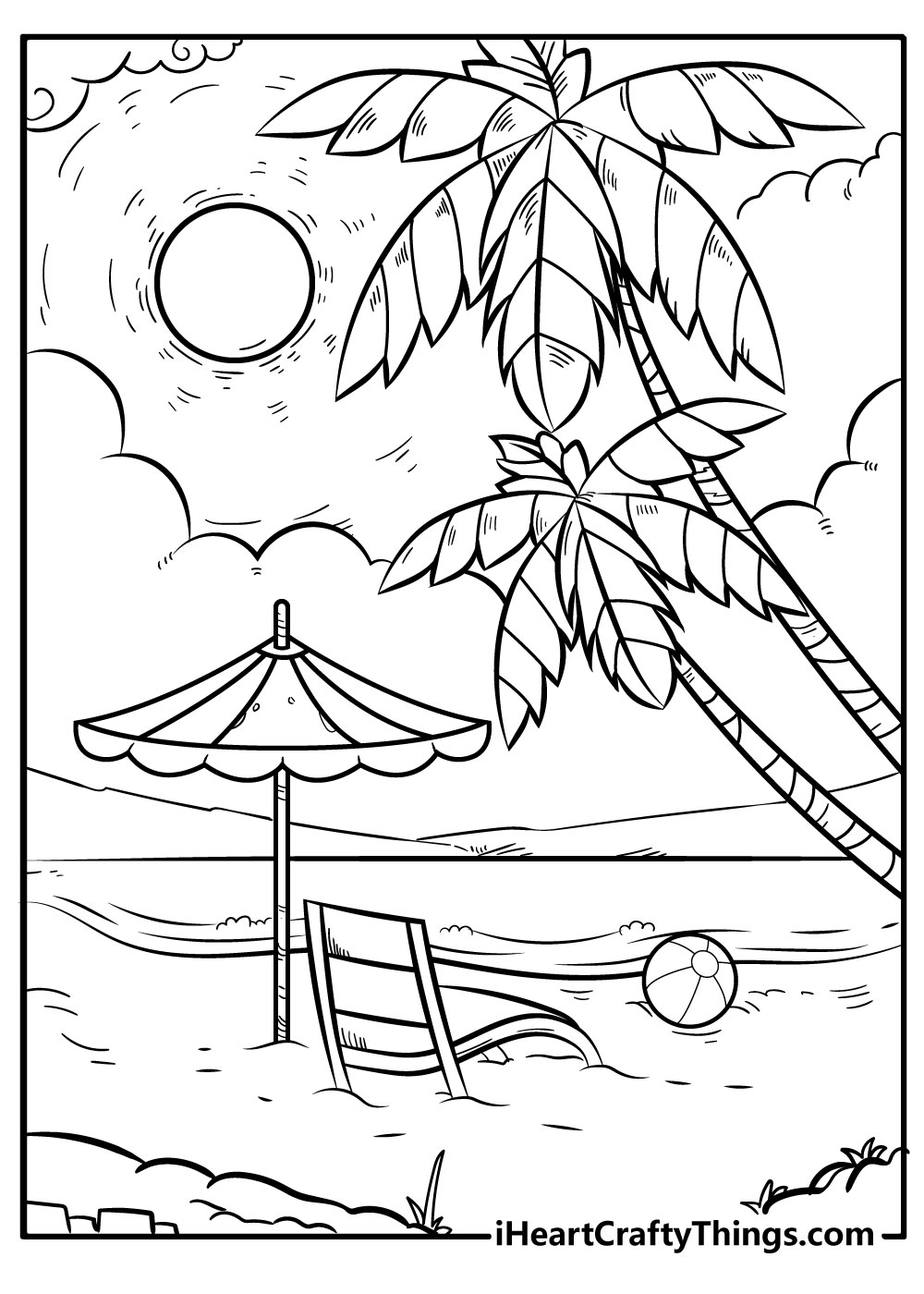 This stunning tropical beach scene that will make you feel like you're on vacation.
You can see the palm trees and shrubs in the foreground, the sandy beach with a rocky outcropping in the background, and the ocean with a few clouds in the sky.
The image has a lot of detail and shading, giving it a realistic look. You can use your imagination and creativity to color this beautiful picture with your favorite colors.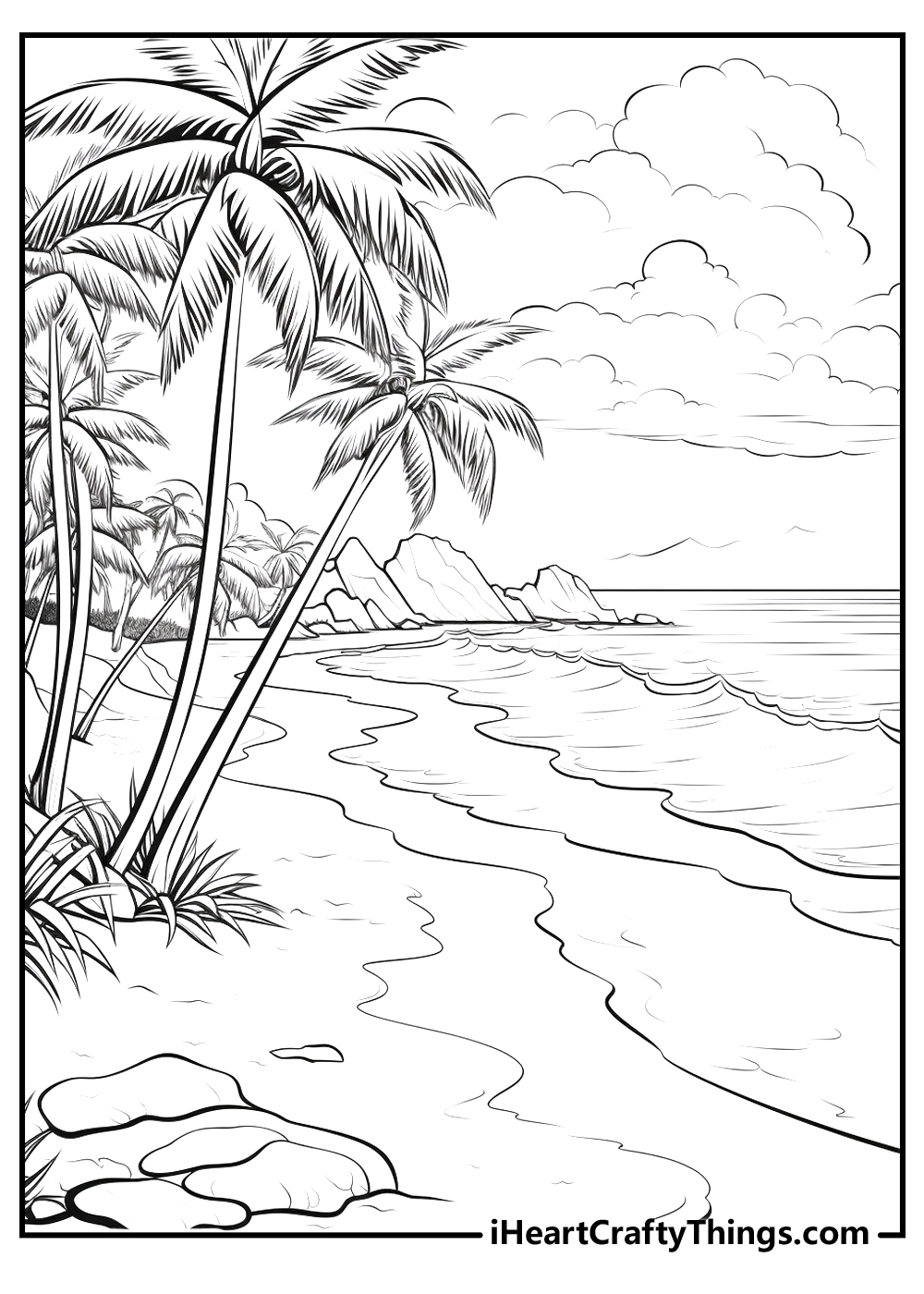 Building sandcastles and bathing in the sea are not the only fun things you can do at the beach.
Playing with your toy boats is another great activity you can enjoy while you're here, just like this printable shows us.
If you're feeling nostalgic for the summer and the boat races you held with your friends at the beach, this coloring page can take you back to those wonderful times.
Now you can reimagine your days at the beach using all the colors your like.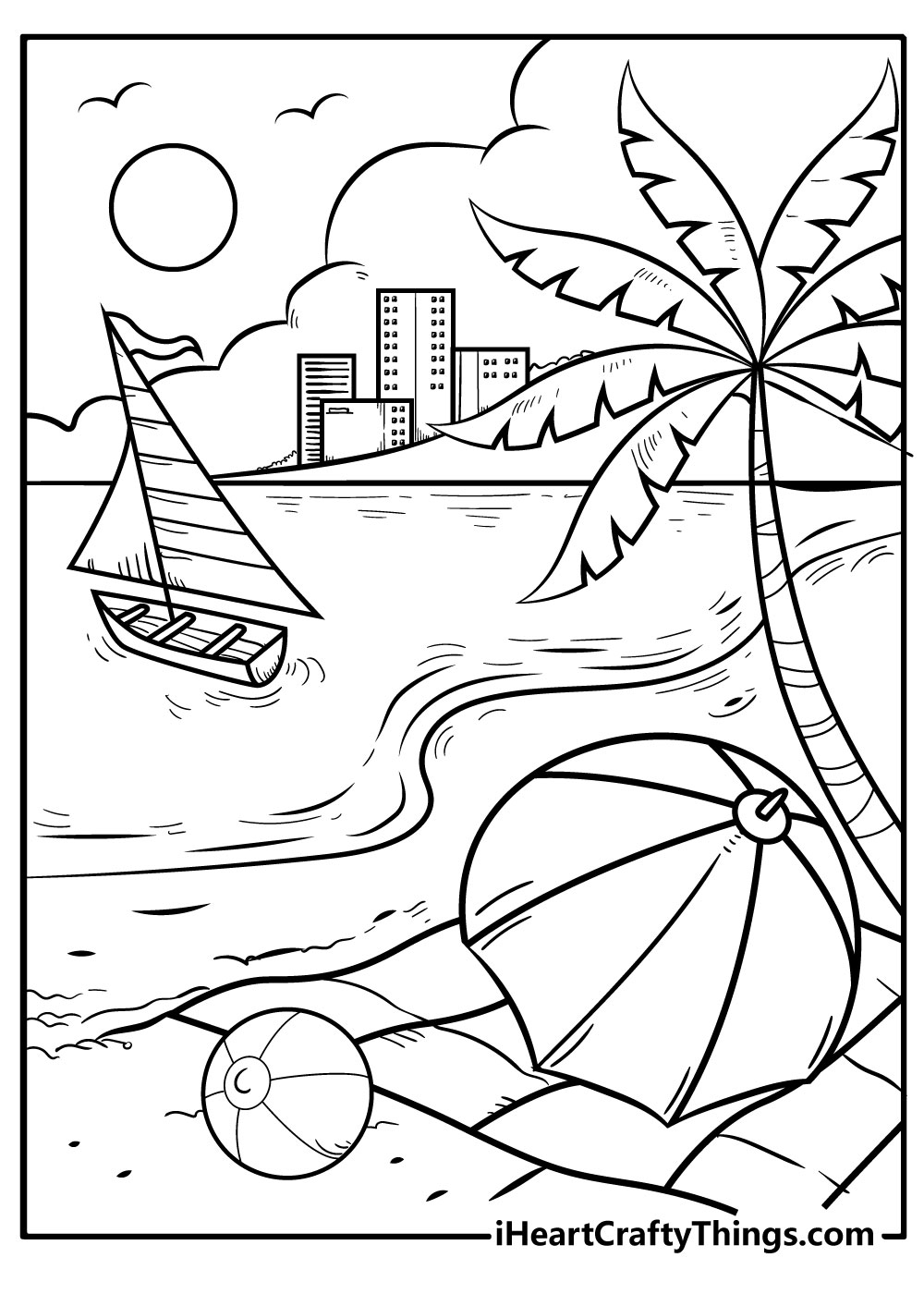 Some kids love to spend their entire day in the water while others enjoy nothing more than building sandcastles when they're at the beach.
No matter what your kid likes most, he'll surely be thrilled to color this wonderful beach printable.
Here we've got the sand, the water, and the bright sun that kids love so much.
The sunbed, the beach ball, and the palm tree are elements that also provide interest and give kids the opportunity to let their creativity flow free.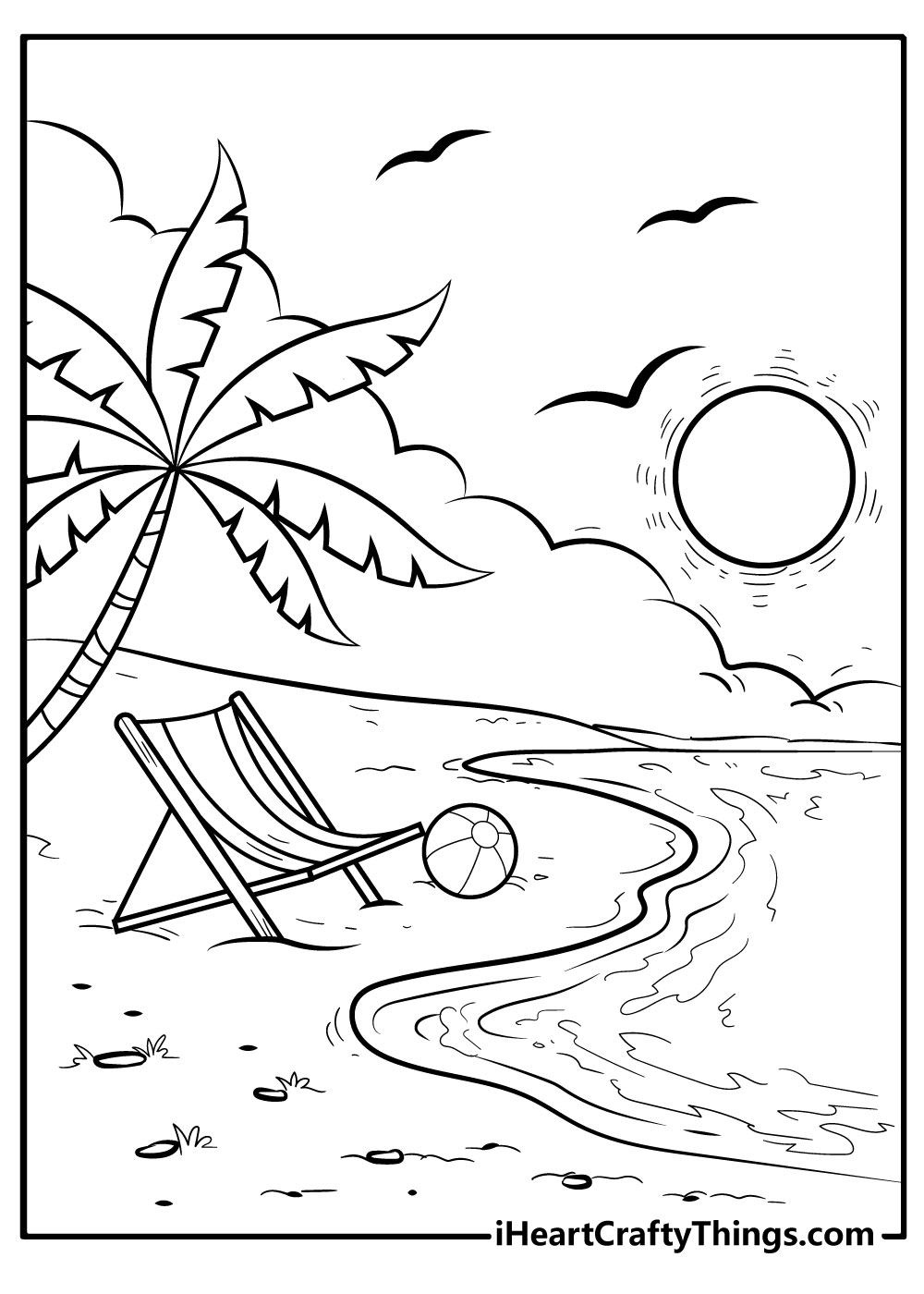 Are you ready for some fun and exciting coloring? In this picture, you can see a beautiful tropical beach scene that will make you feel like you are on holiday.
This picture is full of possibilities for you to express your creativity and imagination.
You can color the palm tree with green leaves and brown trunk, the beach chair with stripes or patterns, the sailboat with white sails and colorful hull, the hut with wooden walls and roof, and the beach with yellow sand and blue water.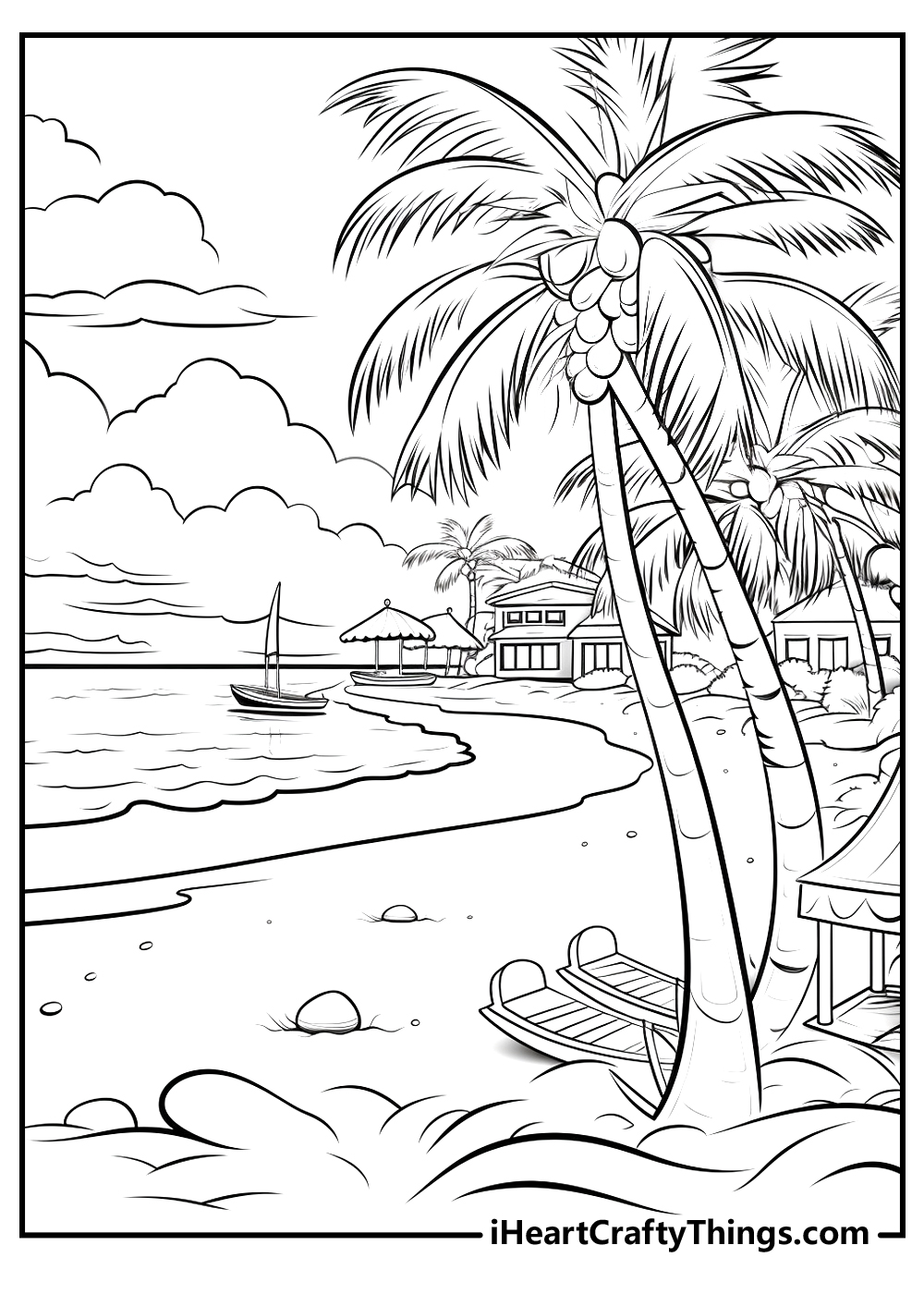 If we were to give this coloring sheet a name, that would probably be escape to the beachside.
That's because here we have all the things that make summer days at the beach so special and unforgettable.
On the classic background of sand, sun, and water we've got the cute little boat and a comfortable sunbed with a large beach umbrella. A fun beach ball and a sand bucket and shovel complement the setting.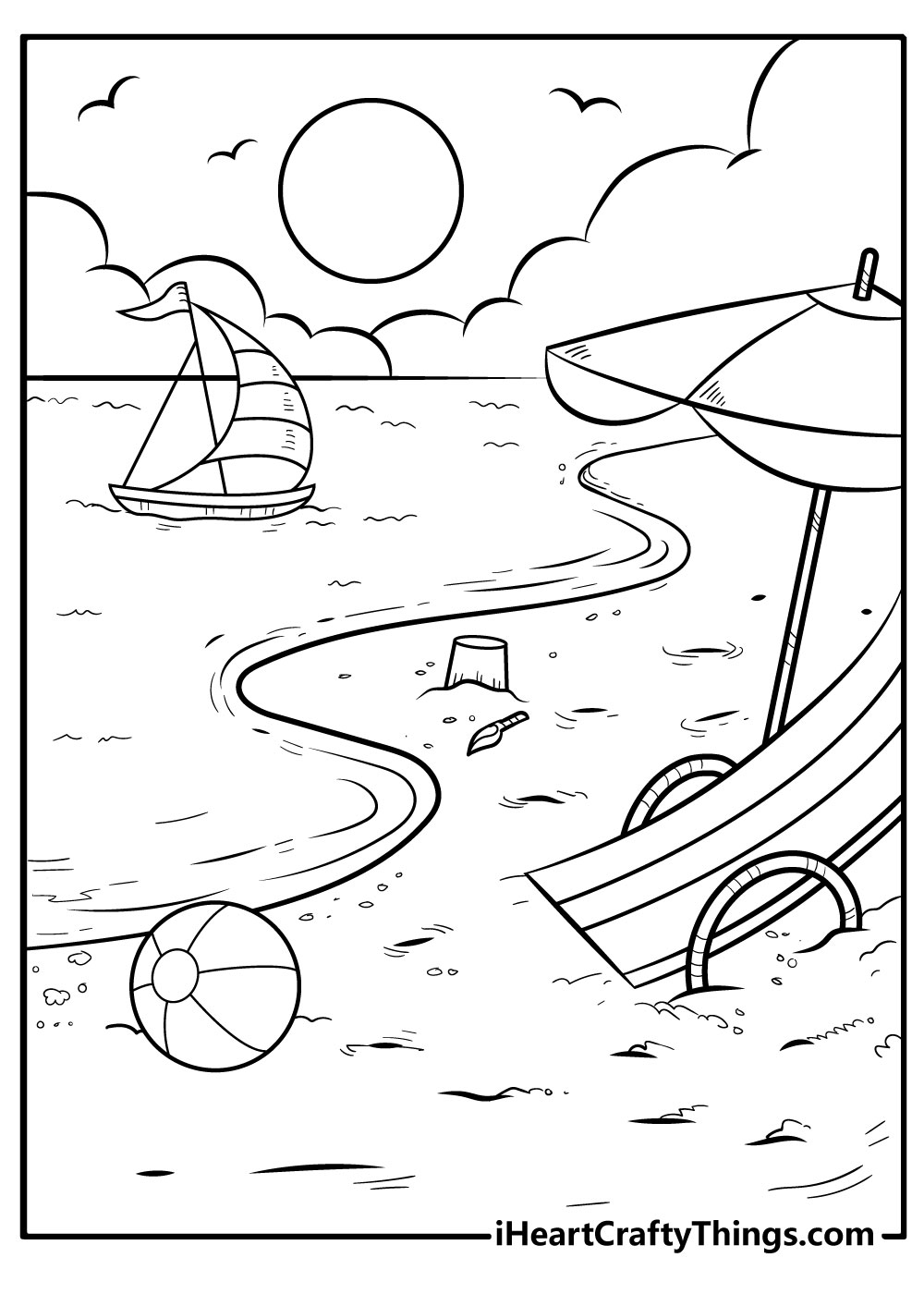 What are some of the things you take with you to the beach every time? Some kids love to play with their beach ball, some bring their swimming gear, while others never forget to take their castle building kit with them.
In this coloring printable you'll discover three essential items that you'll find at the beach on any given day during the summer: a beach ball, a beach umbrella, and a pair of flip-flops.
Have fun coloring them!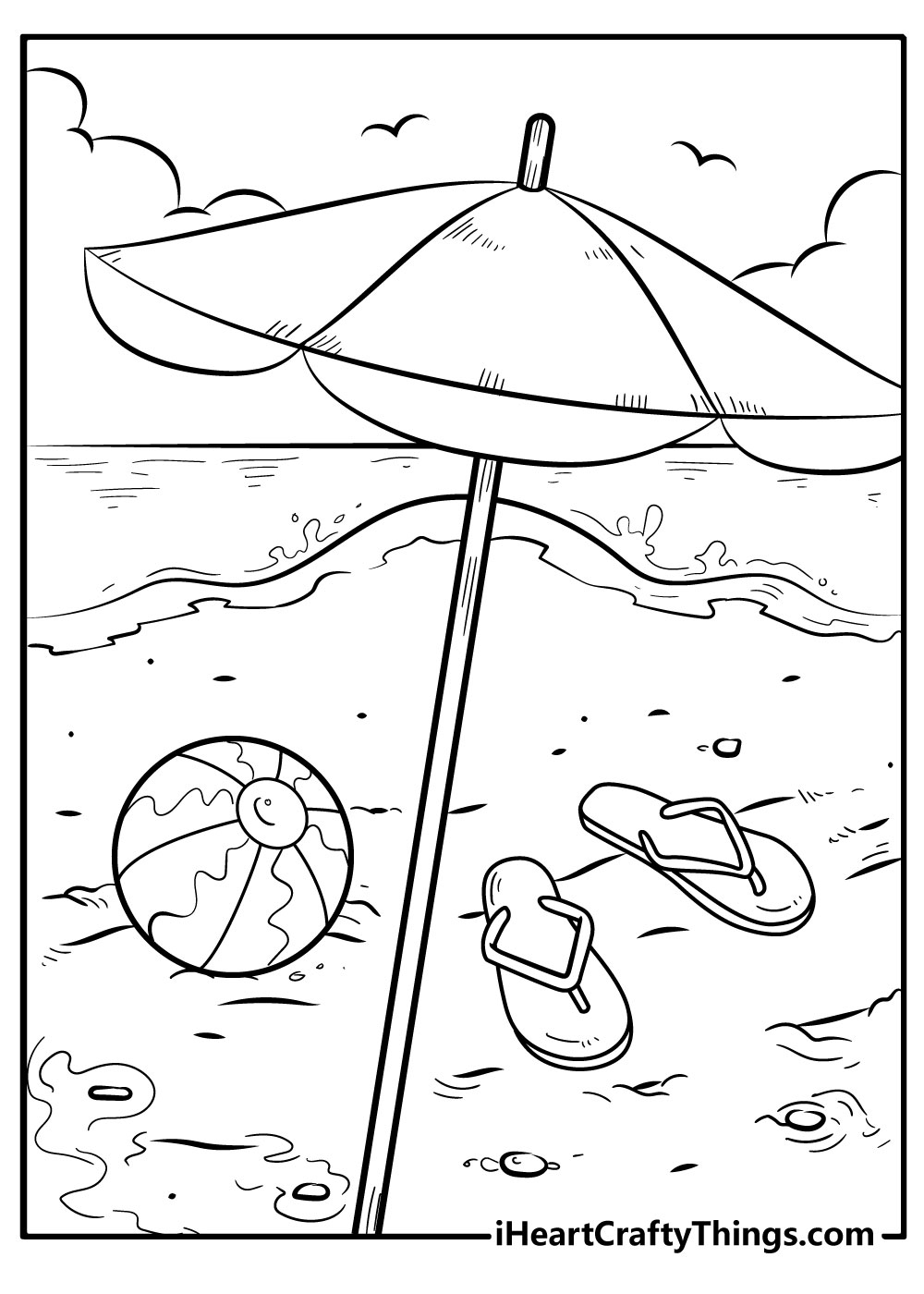 If you're passionate about boats and sailing, summer is the perfect time to go to the beach and catch a glimpse of all the ships that float smoothly along the waves.
Imagine yourself on the deck of one of these ships, looking into the horizon.
A mighty ship is the main character in this coloring sheet which also features a towel, a bucket, a beach umbrella, and a bag.
Print this page, grab your set of colors and you'll feel one step closer to becoming a brave explorer of the sea.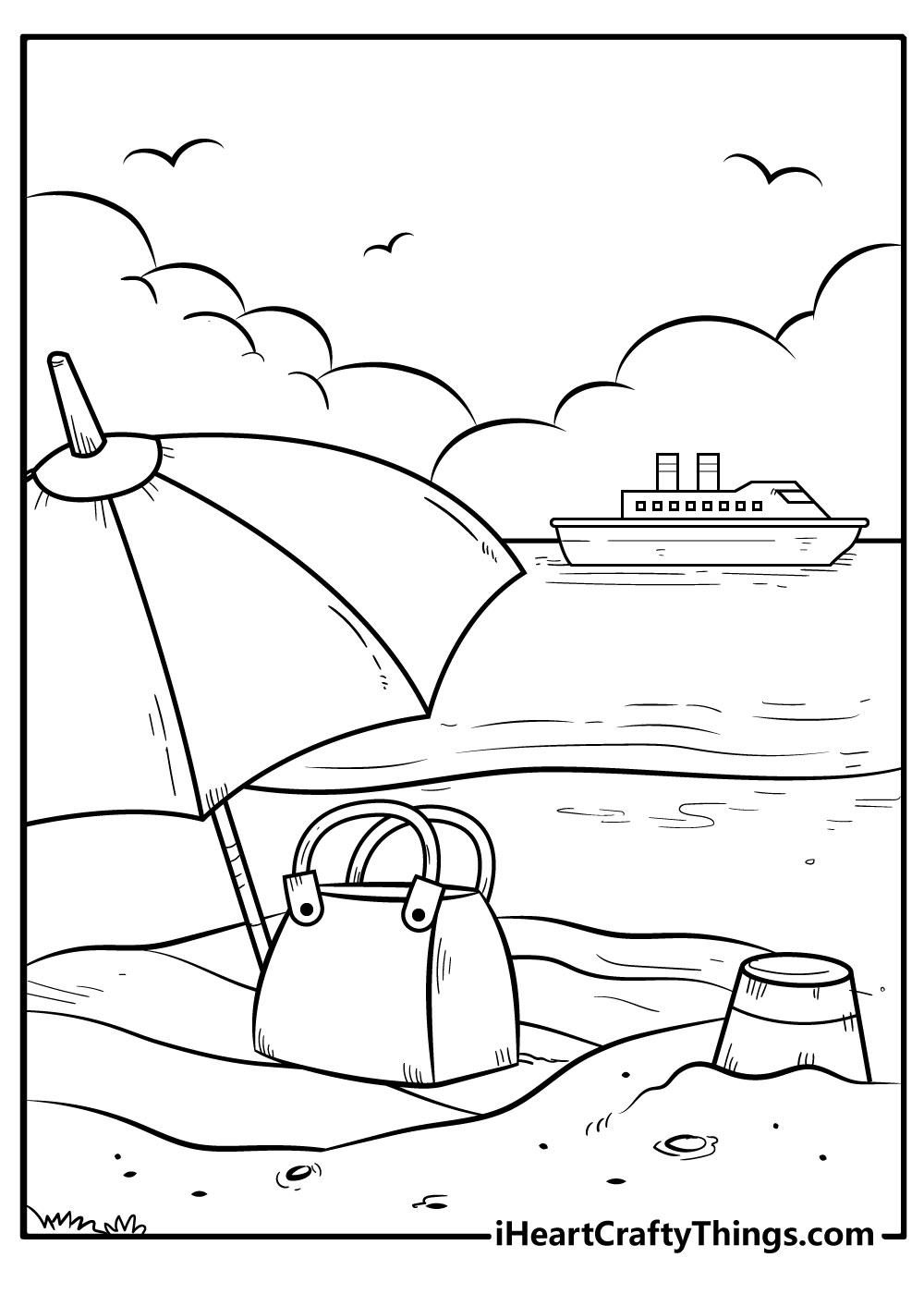 When the sun shines bright in the summer, the beach fills with joy and laughter.
But a beach can be just as beautiful and mesmerizing at sunset when everything calms down and the sound of the waves is the only thing filling the air.
This coloring printable depicts a peaceful moment at the beach, when the sun gets ready to set, hiding behind the clouds at the horizon.
A beach bucket and a starfish add some magic to this whimsical beach setting. Take your colored pencils and turn this picture into a vibrant scenery.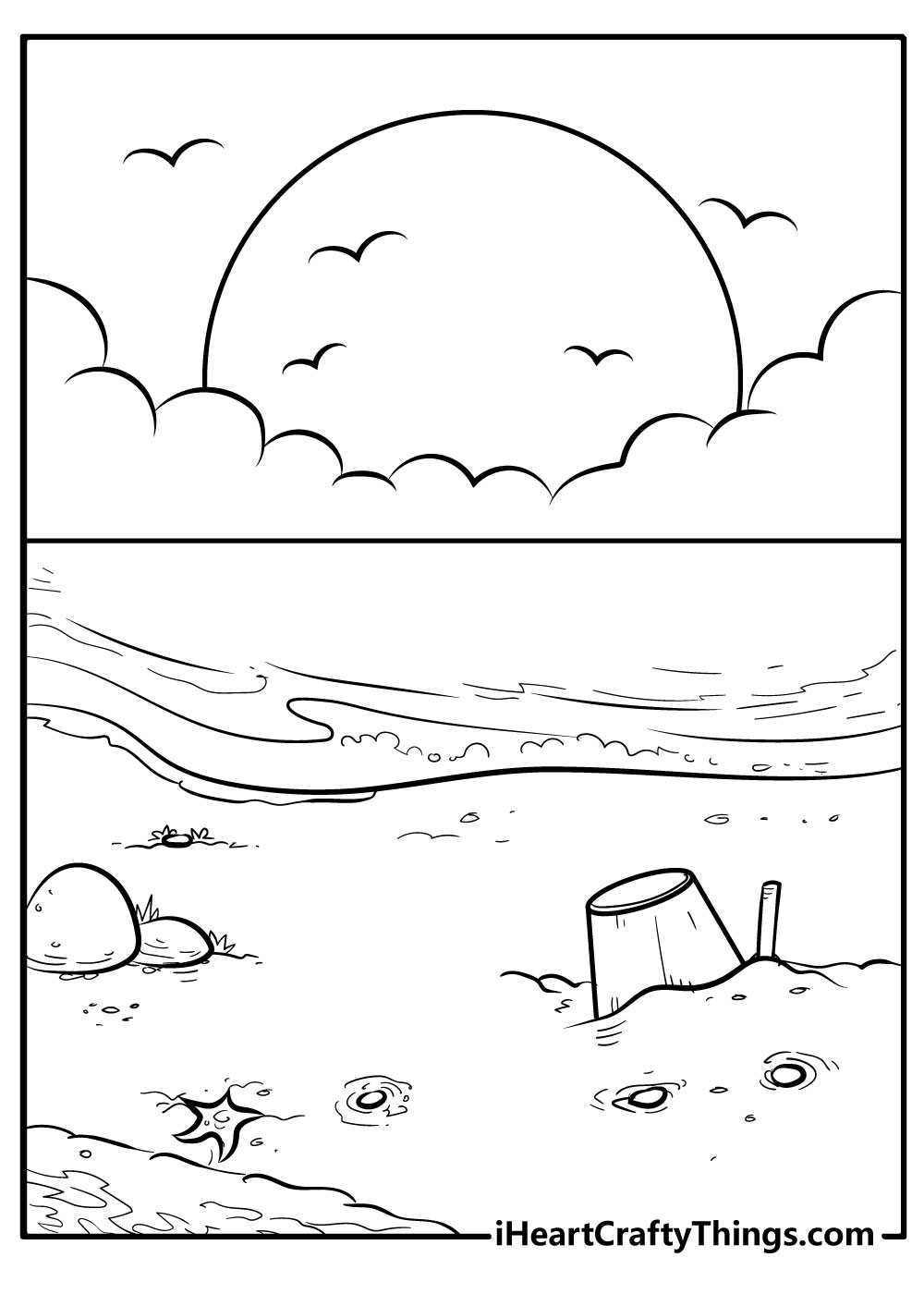 Are you ready for some fun in the sun? This next coloring page features a tropical beach scene that will make you feel relaxed and comfortable.
You can see the sandy beach with some rocks and plants, the ocean with small waves, and the sky with fluffy clouds.
This coloring page is perfect for anyone who loves the beach and wants to escape from their daily routine. You can also add some details, such as birds, boats, or people, to make it more interesting.