On this page, you will find 15 all new Kirby coloring pages that are completely free to print and download.
He's pink, he's brave, he's adorable, and he's one of children's all-time favorite video game characters.
We're talking, of course, about Kirby, the famous protagonist of the Nintendo video game series and the star of our new collection of coloring pages!
Although Kirby made his first appearance in 1992 on the original Gameboy, he remains popular to this day, and no child can say no to these awesome Kirby coloring pages.
Loved by parents and children alike, Kirby also has his own manga and anime series and gets a new game almost every year, the last one being Kirby Fighters 2 in 2020.
15 Brand New Kirby Coloring Pages – Free to Print and Color
Kirby is a young, pink hero that first appeared in 1992 in the series Kirby's Dream Land for the original Game Boy.
The game was an instant hit, and everyone fell in love with the protagonist, an adorable eight-inch-tall creature who lived on the distant five-point star-shaped planet Popstar in Dream Land.
On this coloring page, we have a still of Kirby, who's smiling and looking quite happy. Let's color him pink and get to know him better, shall we?
Although Kirby is young, he has many fantastic abilities, which he uses to protect Dream Land from threats such as King Dedede and the Meta Knight.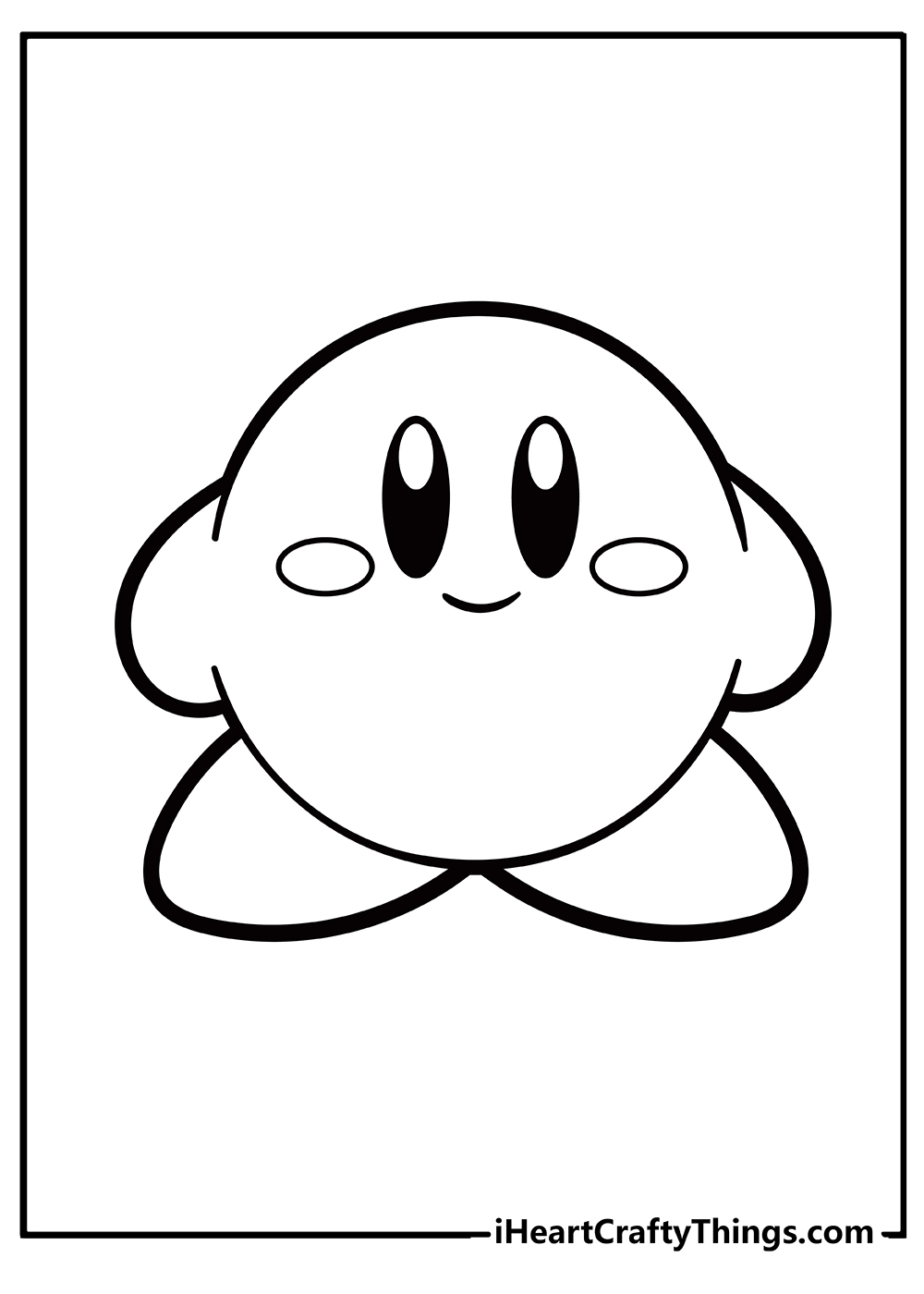 Our puffy hero Kirby is ready for his next adventure. With his amazing power to inhale enemies and copy abilities, he protects his friends on Planet Popstar.
Kirby always has a smile on his face and a twinkle in his eye, showing his cheerful spirit. As you color this page, imagine joining Kirby on a quest while adding your own creative details.
Give him a colorful background as he embarks on an epic mission.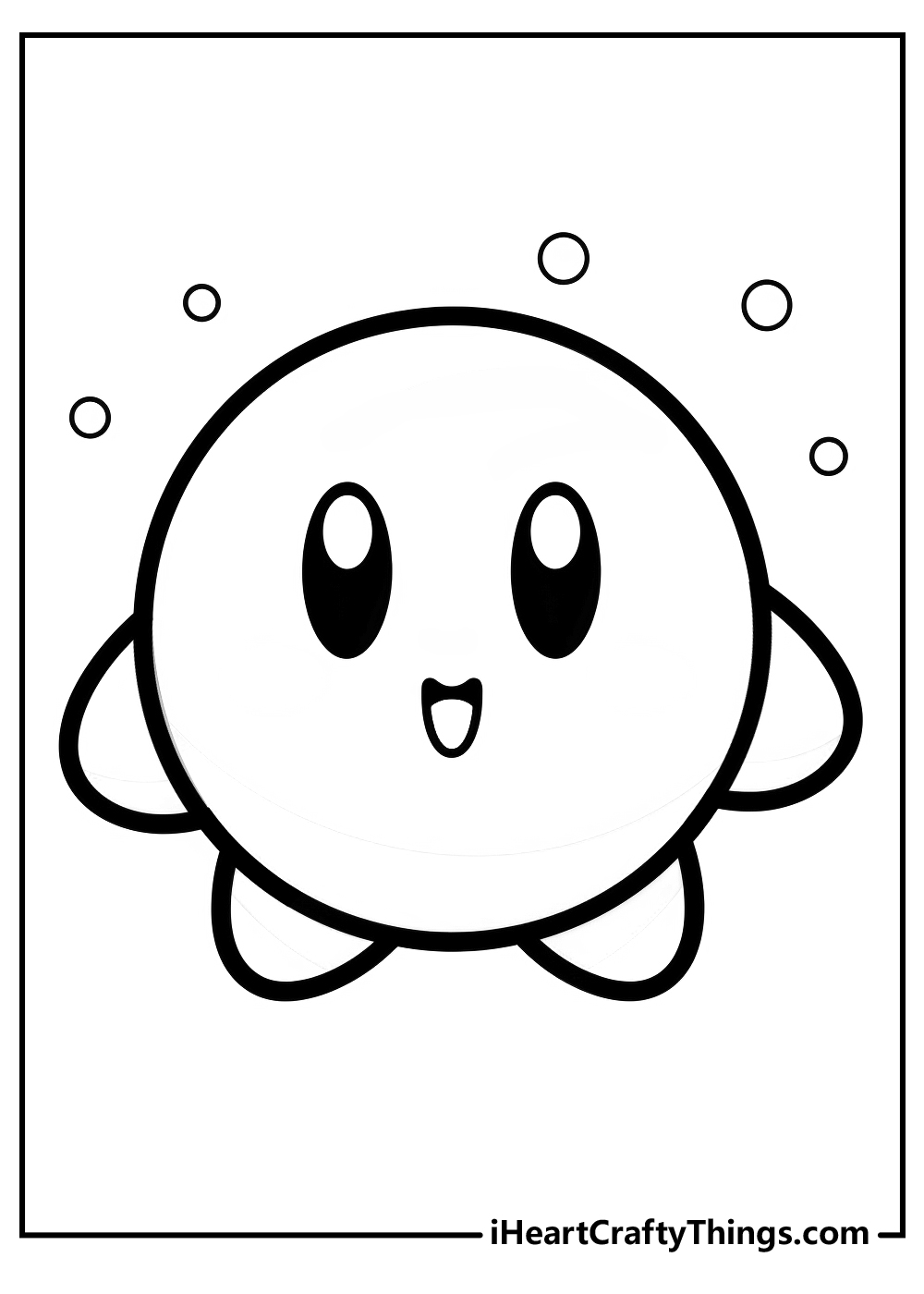 In our next Kirby coloring sheet, Kirby is jumping in the air. He looks happy, so maybe he's just completed a level, and he's getting ready for a new adventure!
Did you know that Kirby's body is soft and flexible so that he can easily fit through tight spaces?
In the Nintendo games, Kirby must pass a series of challenges to protect his home from threats, including solving puzzles, fighting bosses, collecting materials for legendary weapons, and finding hidden objects.
The Kirby games were so popular because they had simple mechanics that appealed to children and beginner gamers, but experts loved them too, thanks to the protagonist.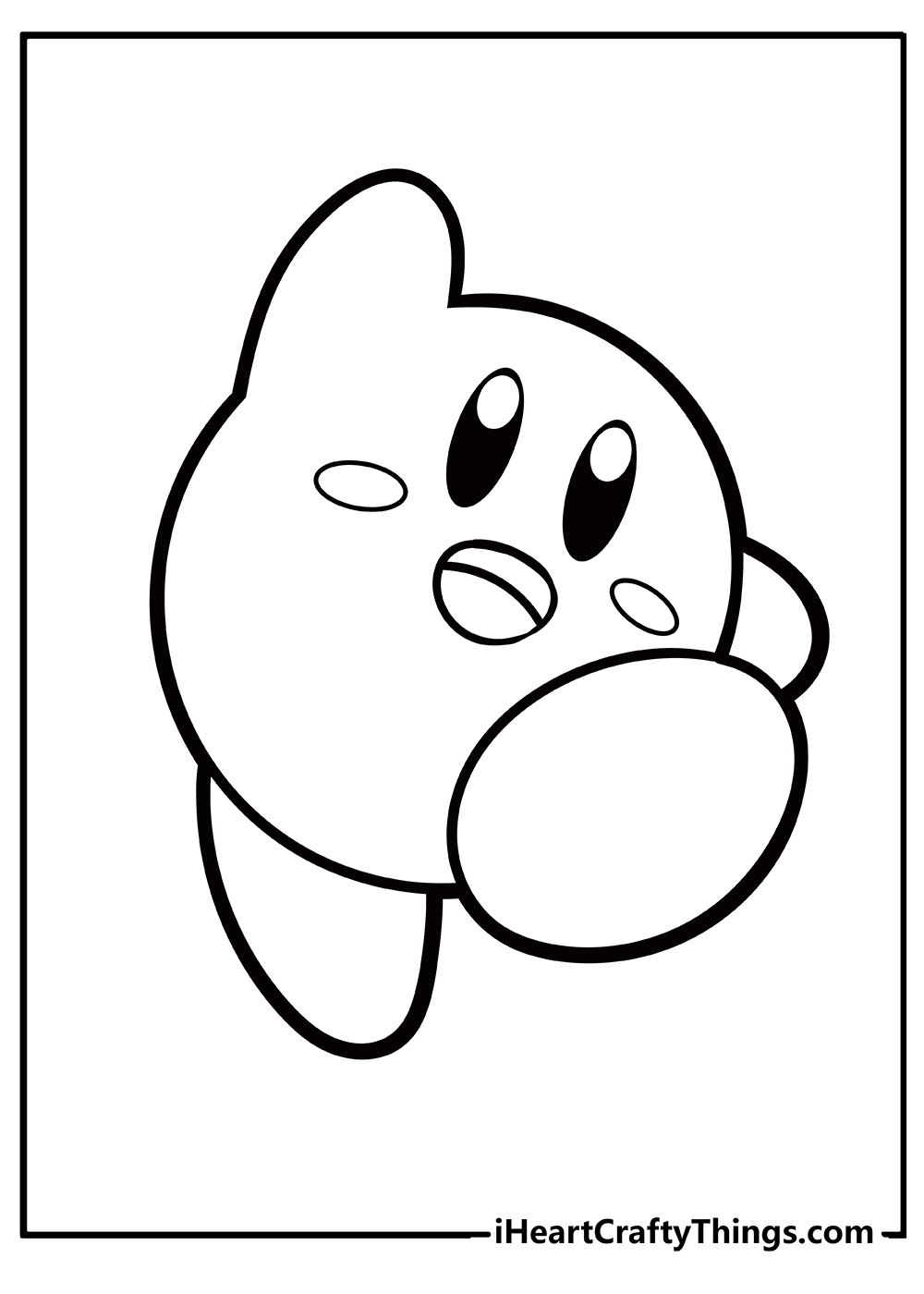 This printable shows Kirby floating in the air, looking amazed, and wearing a Super Mario hat. Does this mean that Kirby is a character in the Super Mario series?
Well, no. Kirby is not a part of the Super Mario Universe, but, being so popular, it doesn't come as a surprise that he's made several appearances alongside Mario in the Super Smash Bros. series and in the Club Nintendo Magazine.
Your child will instantly recognize the iconic red hat Kirby is wearing and want to color it red. Like Mario, Kirby is a beloved character, and we'll definitely be seeing more of his adventures in the years to come.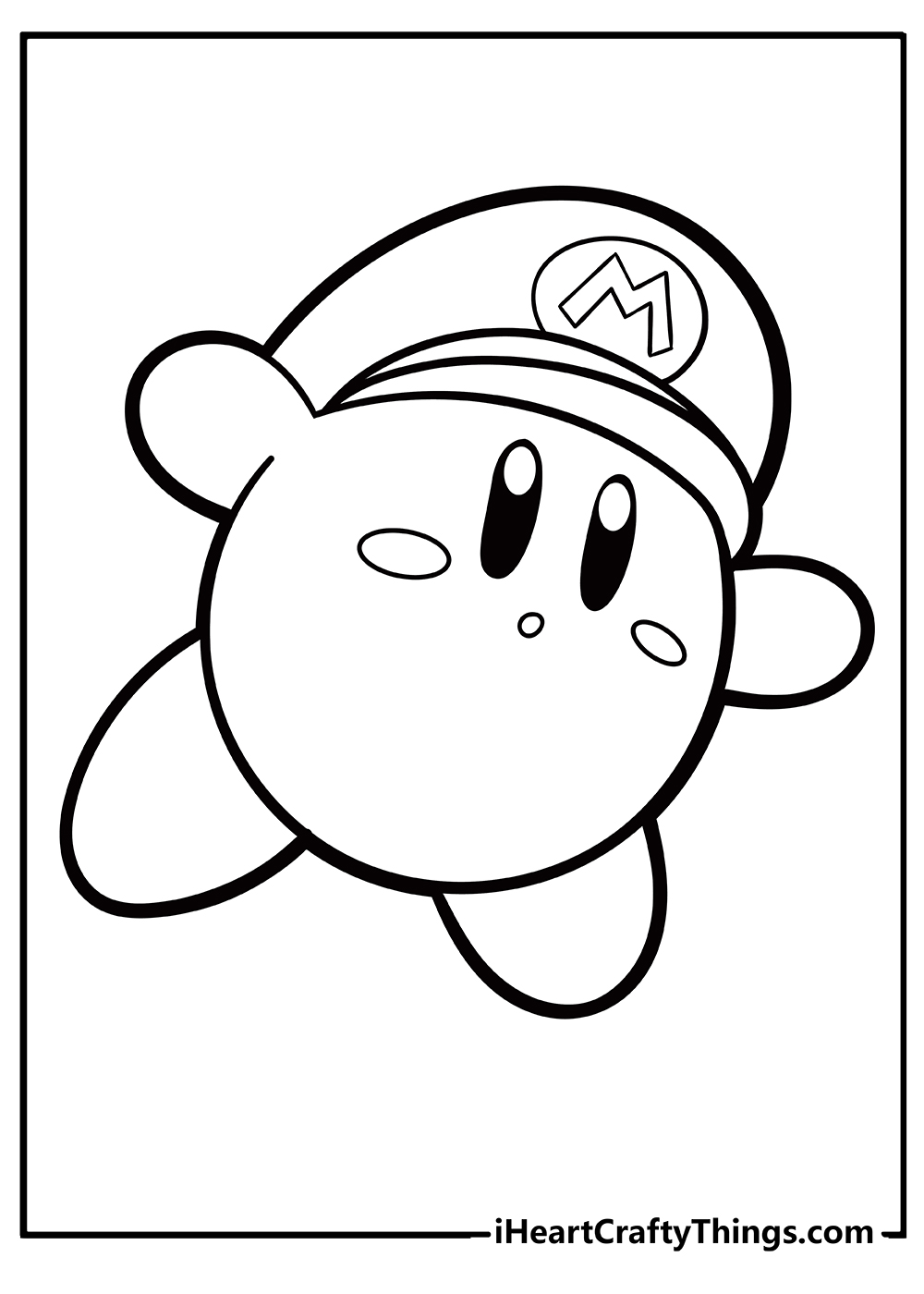 Get ready for delight with the one and only Kirby. This sweet puffball brings joy wherever he goes.
Kirby is always prepared to defeat any monster that comes his way. With his hearty appetite and cute appearance, he's sure to make you smile.
You can color this page with your favorite colors and make Kirby look even more adorable. This is a wonderful coloring page for anyone who loves Kirby and his adventures.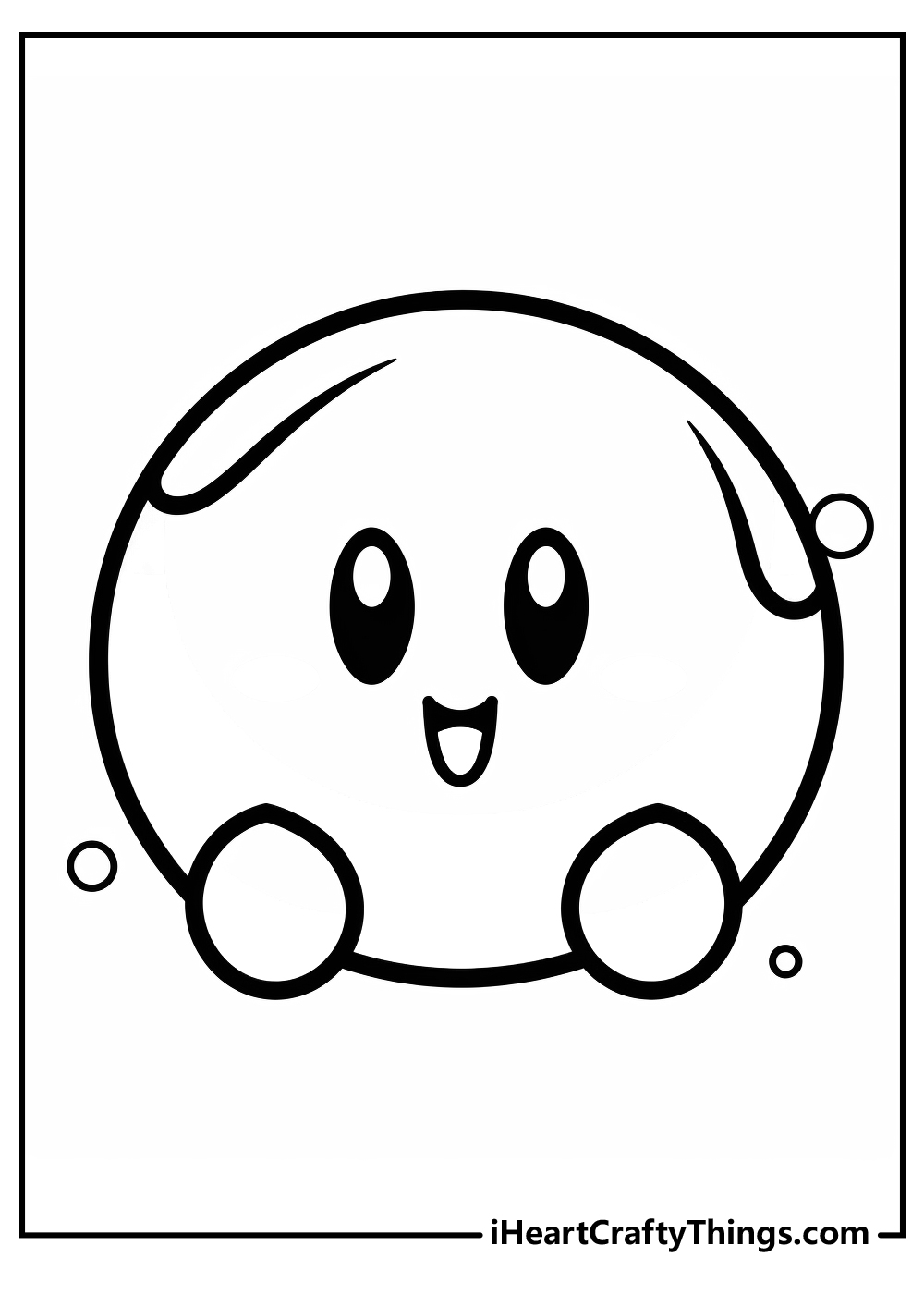 In this next Kirby coloring page, we have Kirby sitting on top of a star-shaped pillow, smiling and waving at us.
This image brings a smile to our face, even uncolored, so it will look even more amazing once we give Kirby his signature pink color!
As for the star he's sitting on, it's a symbol that appears consistently throughout the game and represents his home planet, Popstar, in Dream Land.
Life in Dream Land is usually peaceful, but sometimes evil forces try to destroy it, and then, it's up to our brave hero to save the day!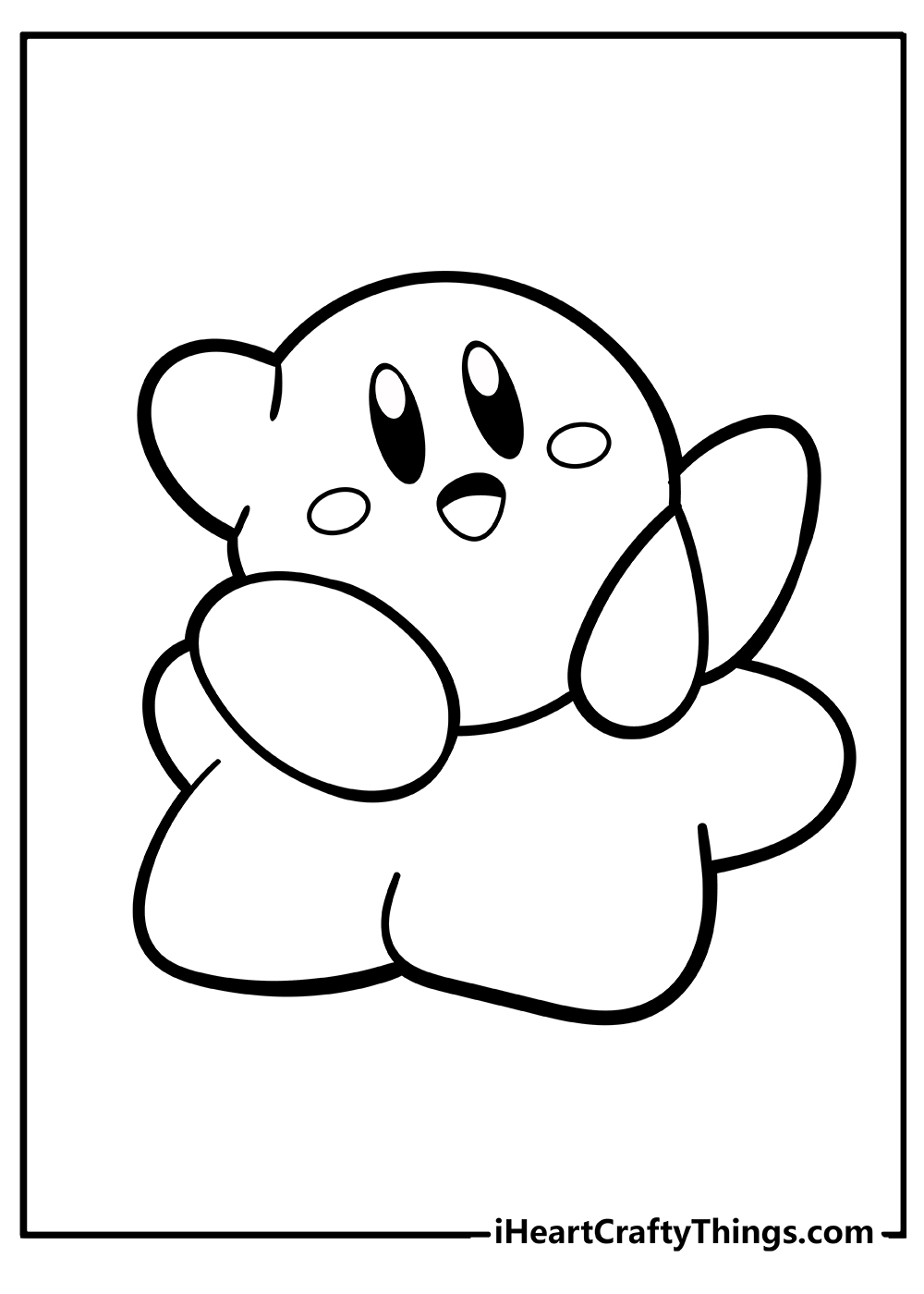 In the games, doors are portals that allow the player to pass from one area to another, and that's what we have pictured in this Kirby coloring page.
The door has a five-pointed star printed on it, and Kirby is passing through it, waving at us.
By the look of it, this is a one-way door – the most common one in the game, used to show that you're progressing to a higher level. What adventures could await us on the other side?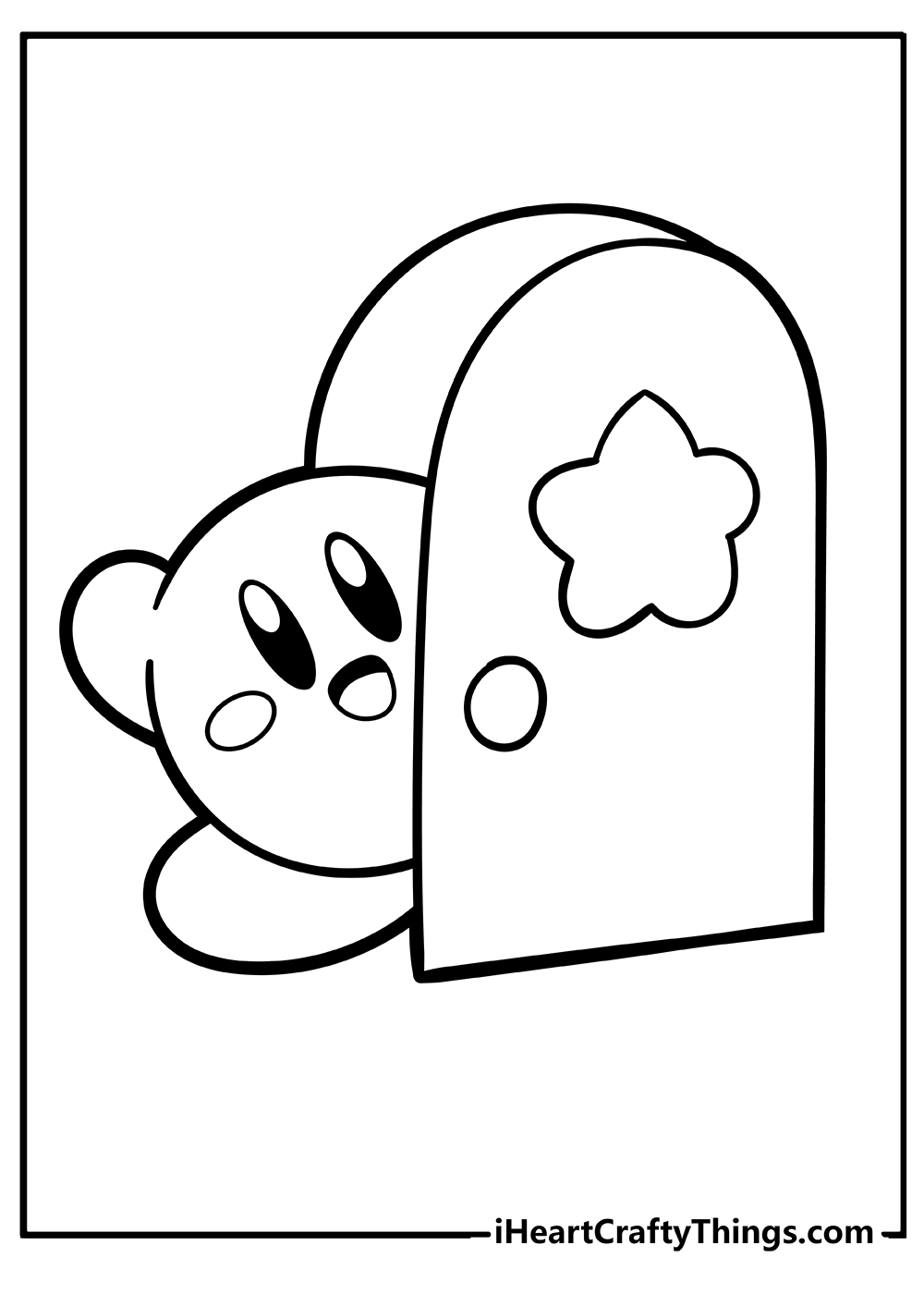 Adorable Kirby is poised for his next exciting adventure. He has a round body, two stubby arms, two feet, and a cheerful face.
As one of gaming's most iconic characters, he's eager to help any friend in need. With his vacuum power to inhale enemies and flying ability,
Kirby can always zip to the rescue if you need him. But now it's your turn to color him however you like. You can use neon, pink, orange and green to make Kirby glow.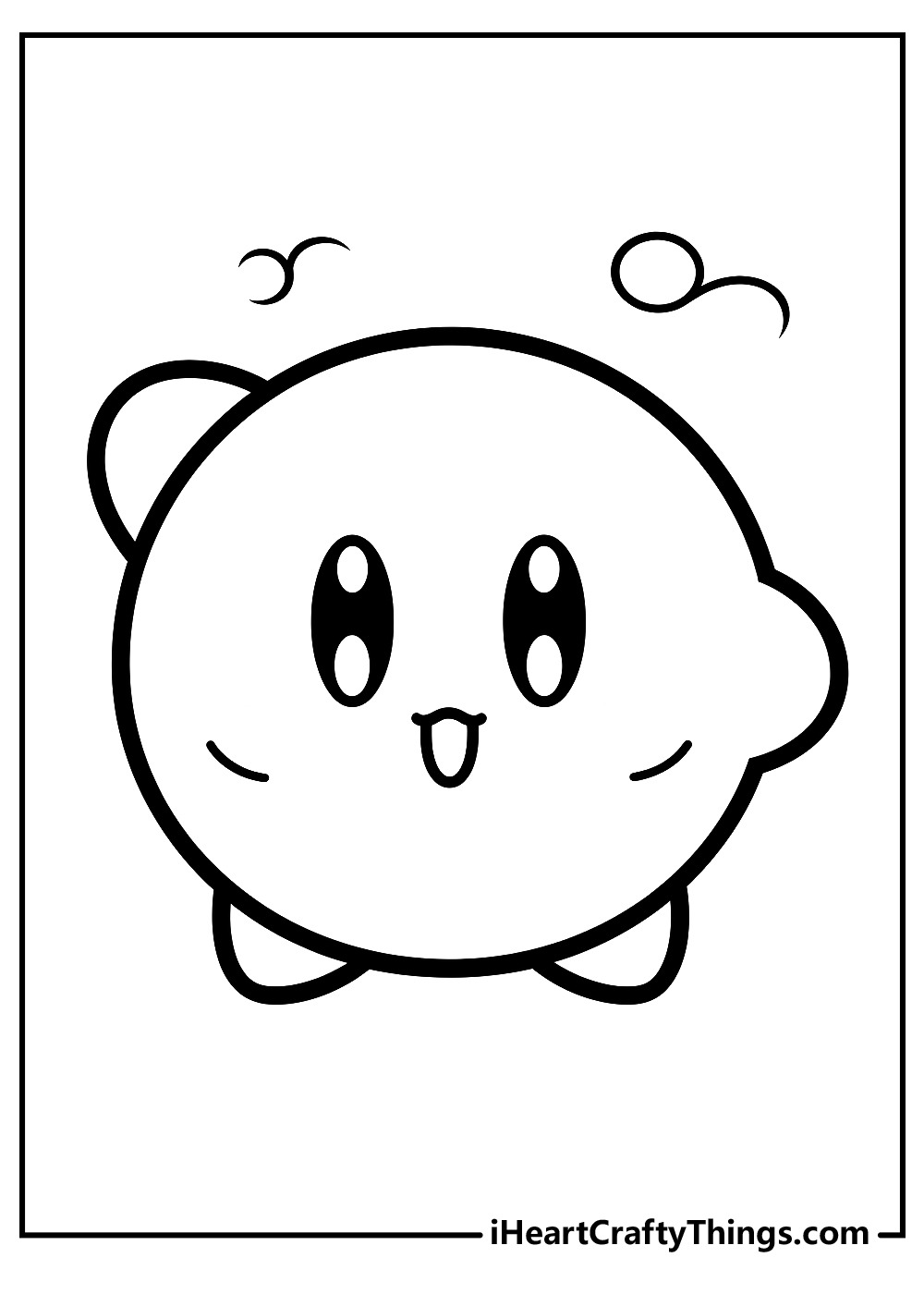 Even though he faces many threats, Kirby has a young and carefree personality. Most of the time, he's smiling and wants to make new friends, as we can see in this pretty Kirby coloring sheet.
His eyes are wide opening, his arms are resting, and he looks as if he's listening to a fun story.
Because Kirby only needs to be colored in one shade (pink) and his body doesn't have too many details other than his round pink cheeks, Kirby printables are great activities for small children who are developing their fine motor skills.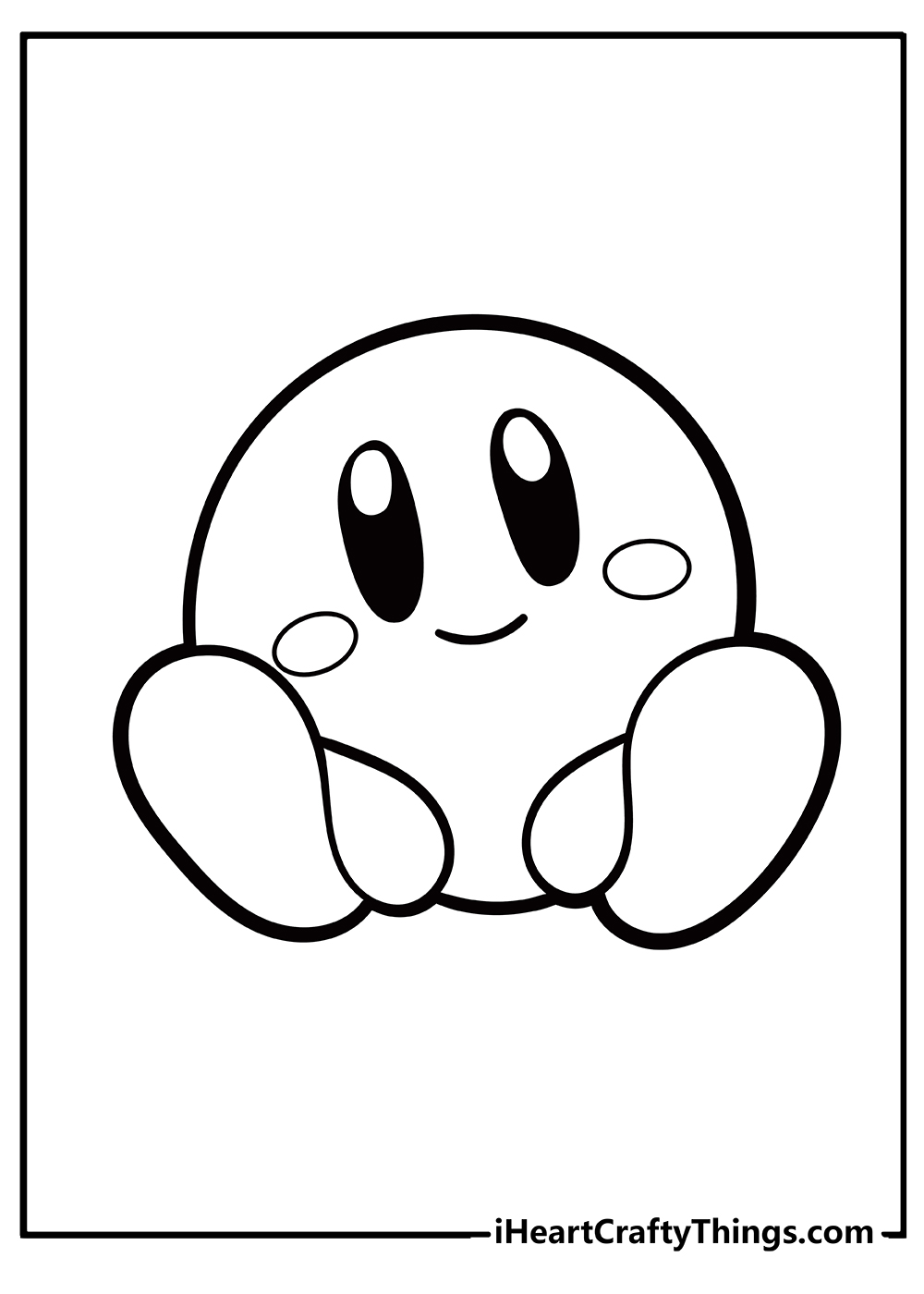 Kirby's adventures have fascinated gamers for years, so it doesn't come as a surprise that he's appeared in over 30 games that sold millions of copies.
Kirby also has his own manga and anime series, and it's amazing how every generation since the '90s has heard of him.
Kirby coloring pages such as this one are perfect for children who have played Kirby games, but even if your child has never seen Kirby before, we're sure they'll love his friendly look!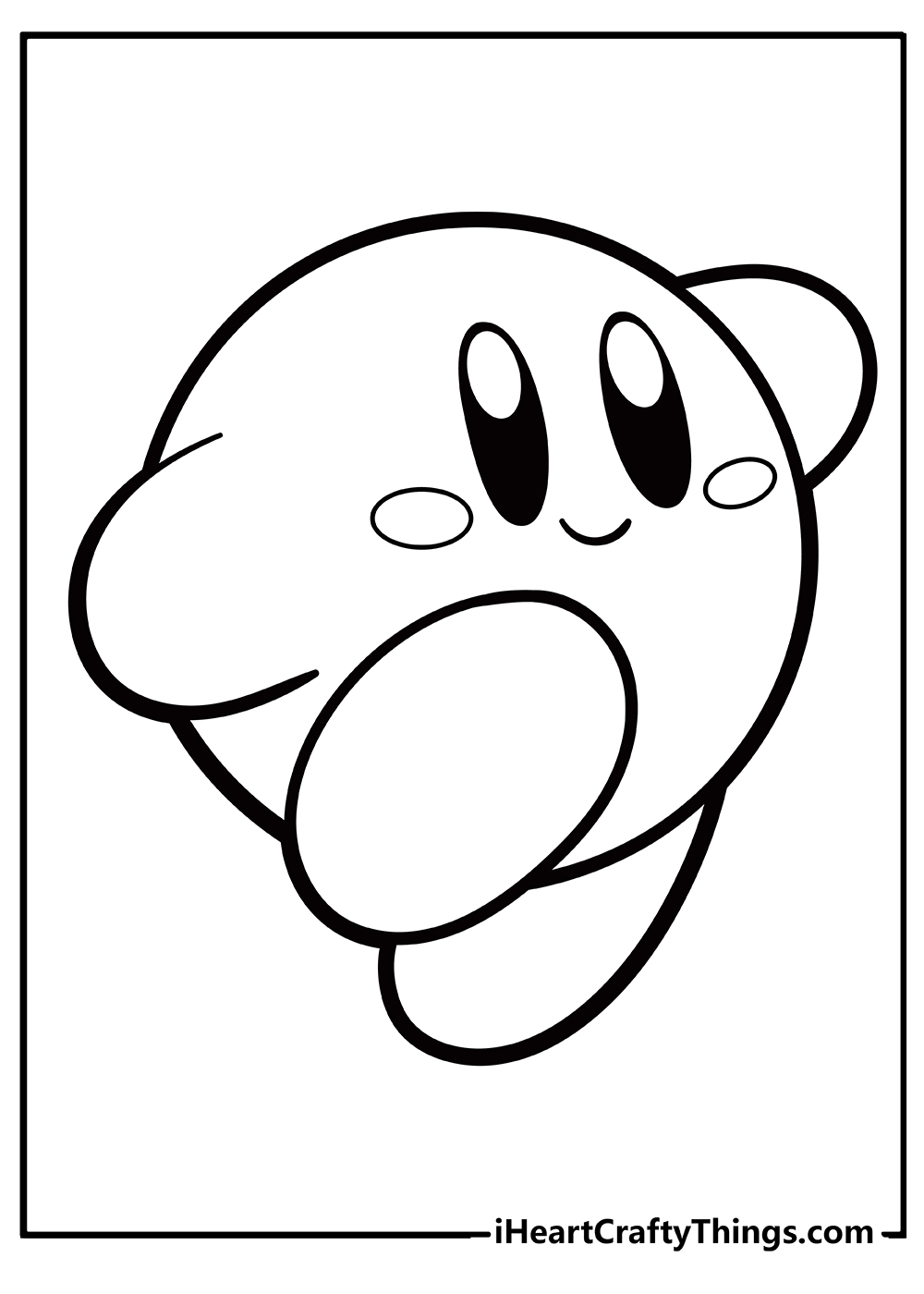 Get ready for adorable adventures with this Kirby coloring page. This coloring page shows Kirby in his classic pose, with his round pink body, stubby little arms, red feet, and super cheerful smile.
Kirby may look cute, but he's equipped for epic adventures. Let's use bright, happy colors to bring Kirby to life. Make his pink skin pop with vivid markers or crayons.
Decorate his feet and arms with stripes, polka dots, or patterns inspired by his super powers. Give him big sparkly anime eyes full of life!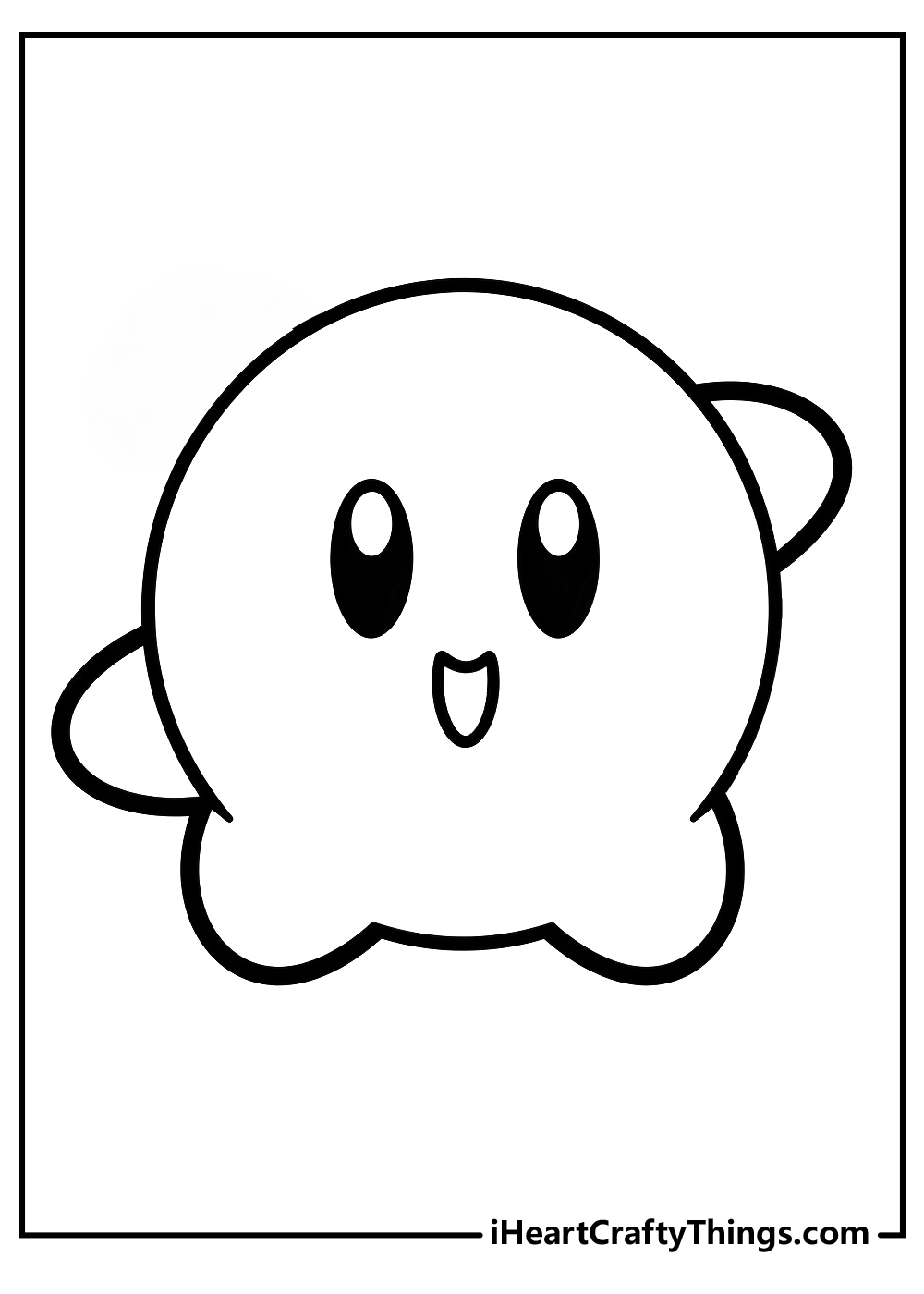 Kirby is happy and friendly most of the time, but when Dream Land is threatened by a villain, he doesn't back down from a challenge and uses his special powers to defend it – just like in this coloring sheet.
The Kirby printable shows an angry-looking Kirby with his arms open as if he's trying to block someone's way.
A brave warrior on his home planet, Kirby possesses many extraordinary abilities, such as inhaling objects and enemies to copy their powers.
Kirby can also change his shape, breathe fire, throw sparks from a distance, or use melee weapons to attack enemies.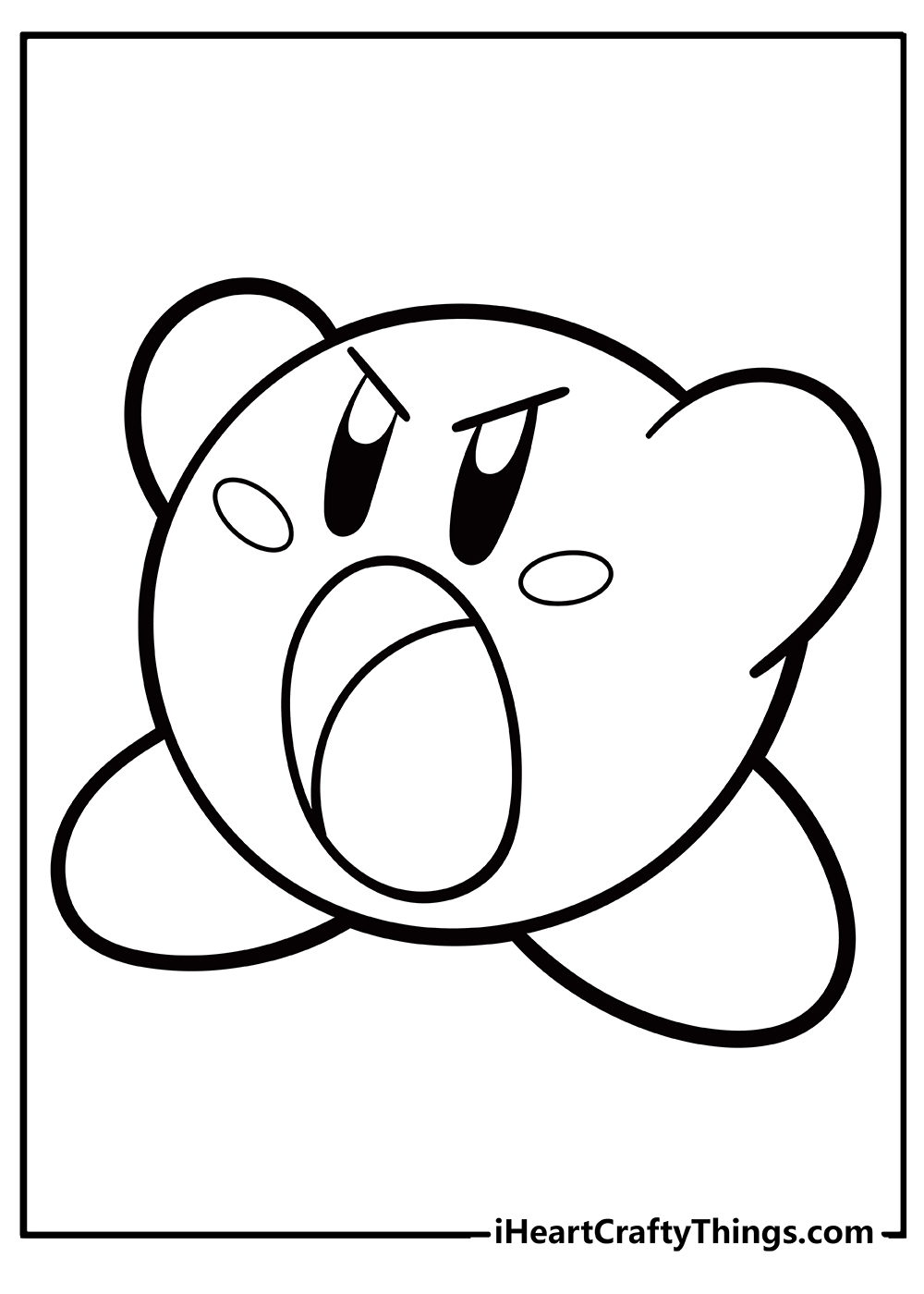 Our next printable shows a happy Kirby, surrounded by three stars and donning a cute party hat with a star on top.
Perhaps he's celebrating defeating a boss, passing a level, or maybe it's just his birthday, and he's celebrating!
For this coloring sheet, we can use glitter pens when filling in the stars or the stripes on Kirby's party hat.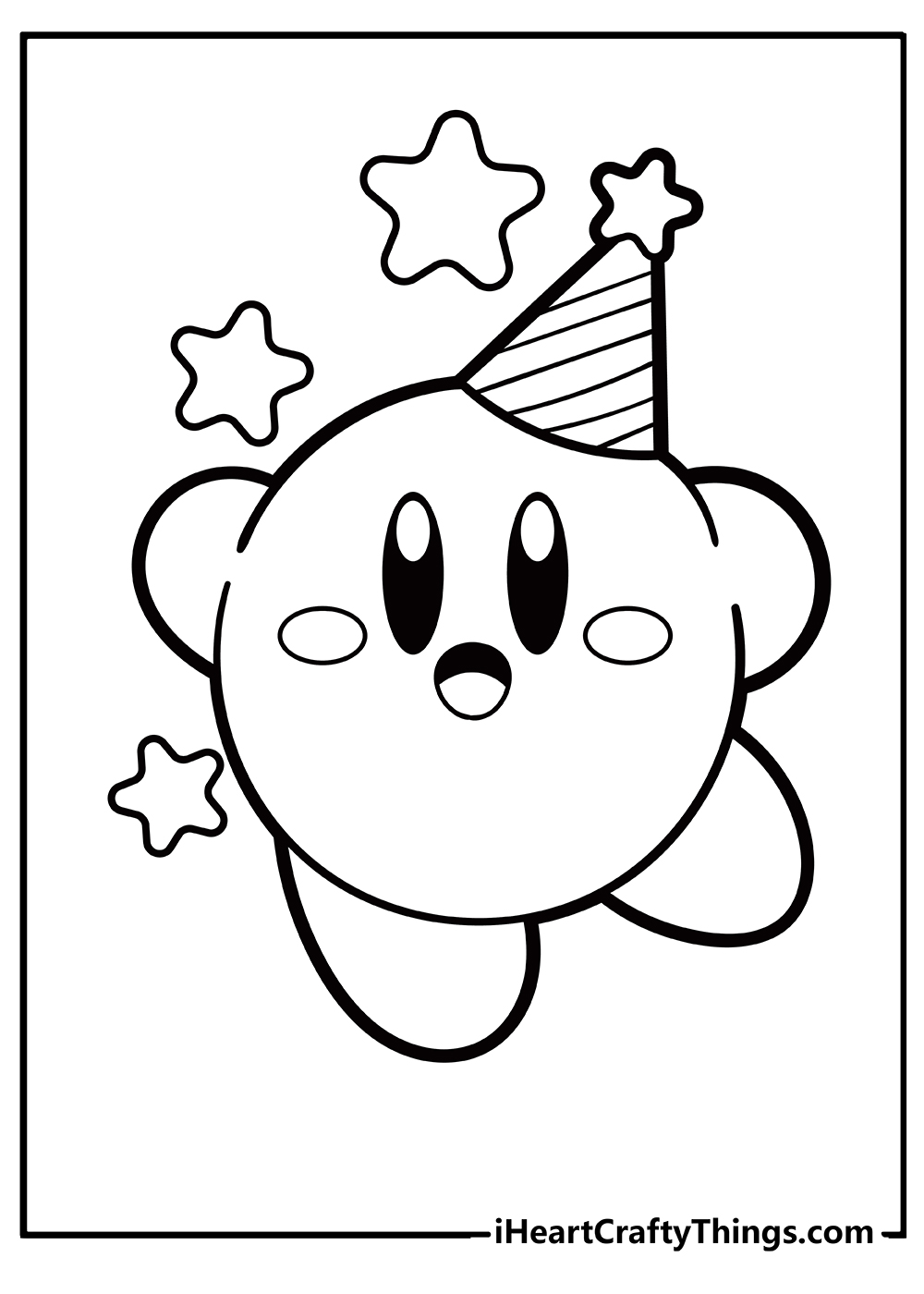 Last up, we have another pretty picture of Kirby, who's wearing a party hat again and blowing a party horn.
This will be very fun to color because we can use any shade we want for the hat and horn to contrast with Kirby's pink body.
If you enjoyed these Kirby coloring pages, be sure to bookmark this page because we add new printables regularly!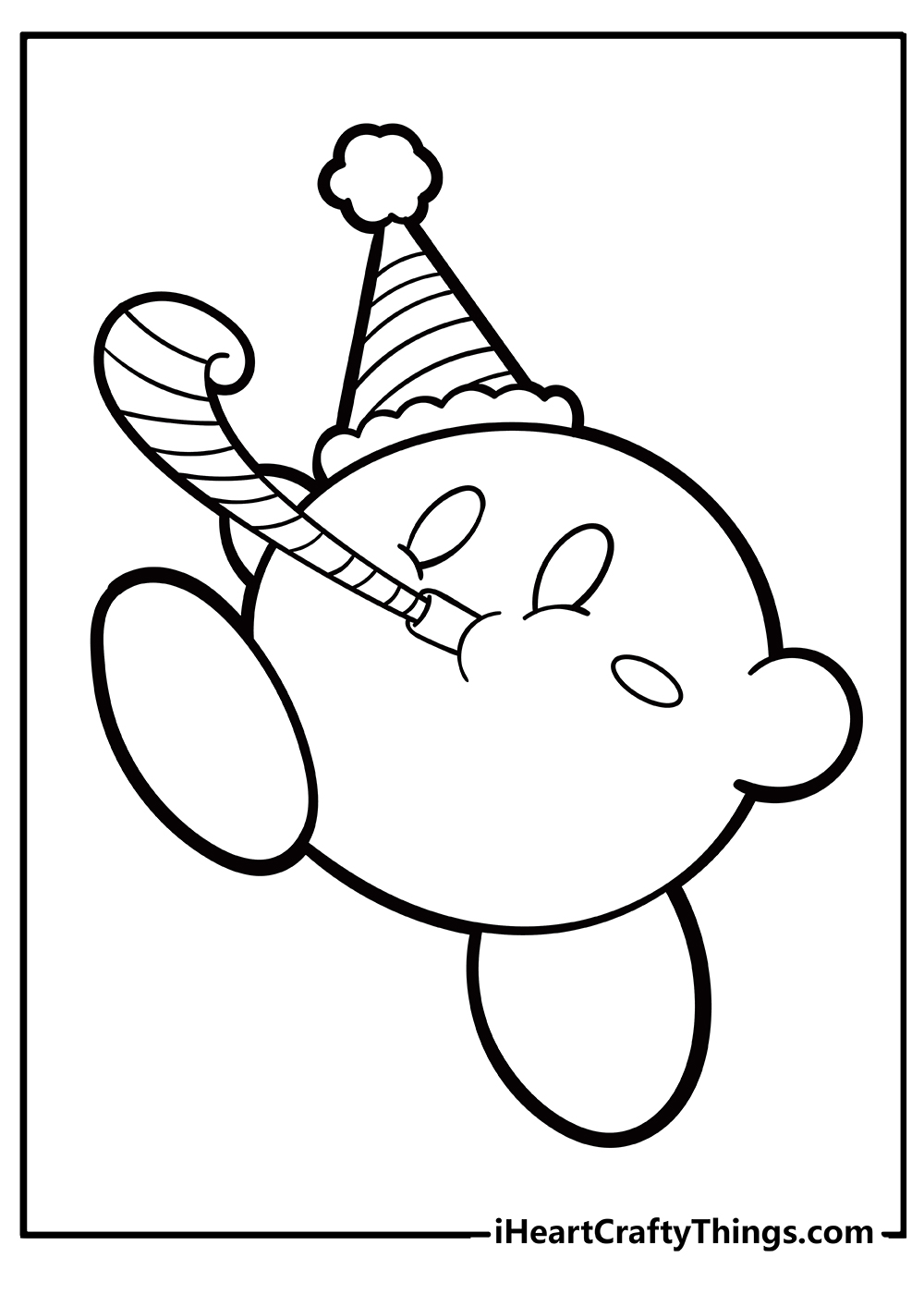 Get set for uplifting fun with happy Kirby. Kirby is prepared to protect his home and friends on Popstar using his special abilities. Now it's your turn to color this cute hero however you wish.
In the background, let's draw one of Kirby's adventures! Is he battling King Dedede or Meta Knight? Inhaling enemies and copying their powers? Or racing on a warp star through Dream Land?
Let your creativity shine as you envision Kirby on his next fun quest. The possibilities are endless with this adorable puffball.