Grinch is a famous fictional character famously known for his hatred towards Christmas. With hairy skin, large belly, pear-shaped body, and snub nose, the Grinch is indeed one of a kind.
In the film, the Grinch originally has an avocado green color. However, don't let that stop you from letting your imagination run wild! You can absolutely color the Grinch using any color. You can even use more than one color to create a unique Grinch character!
Have fun coloring with your family and friends with these free grinch coloring pages. Once you've finished coloring your grinch coloring printable, don't forget to share your work on our Facebook page. We would love to see how you transformed a colorless grinch into a colored one!
10 All-New Grinch Coloring Pages — Free to Print and Color
This image in the grinch coloring page shows the grinch looking very dismayed. He is sitting in a luxurious vintage chair in his usual grumpy expression. What is he so upset about? Perhaps the festive holiday of Christmas is coming soon and he's not so happy about it.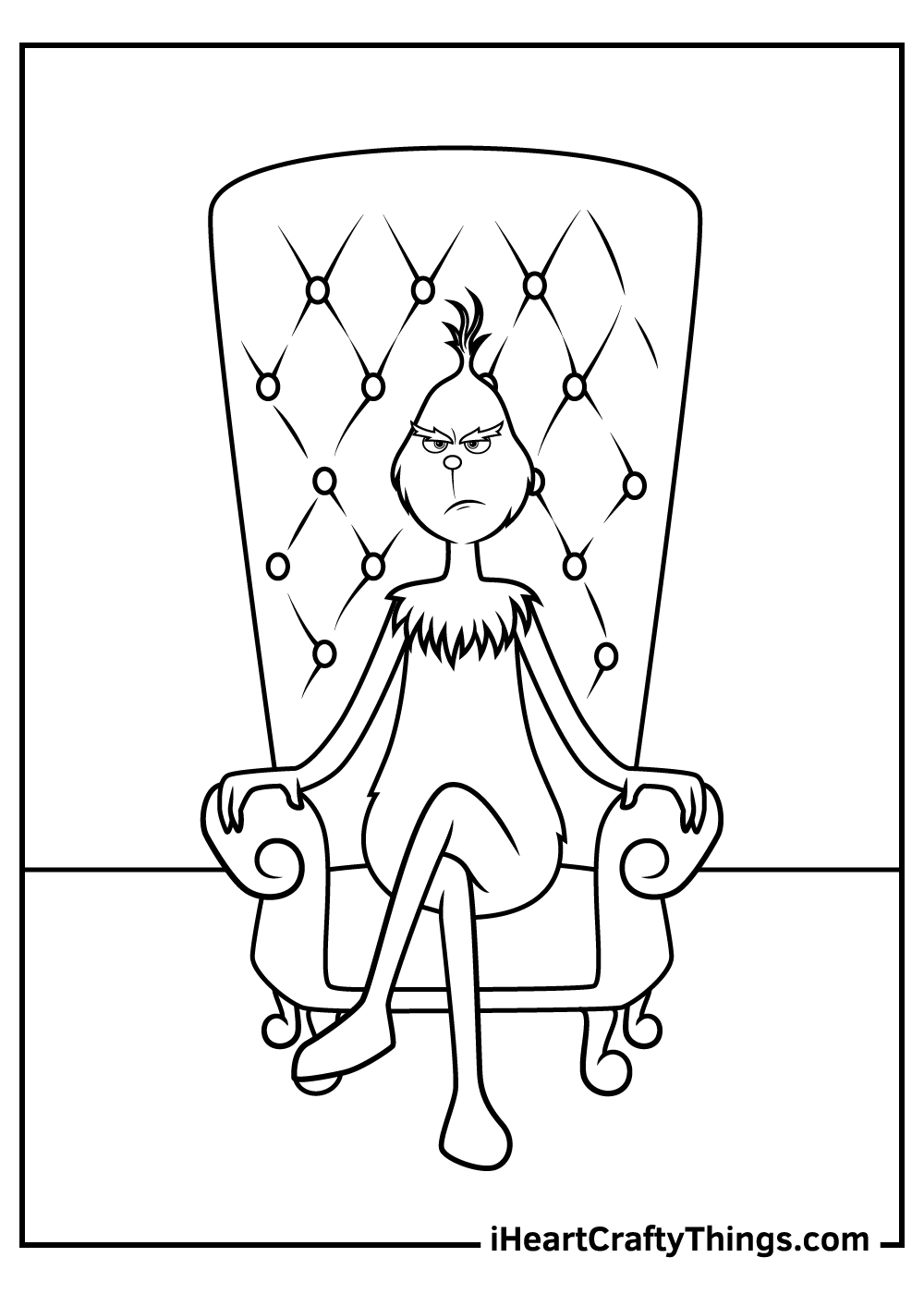 In this grinch coloring page, grinch is hunched over a snowman. His eyebrows are closed together and his lips are tightened. He definitely looks very angry at the snowman!
Meanwhile, in the background, snow pellets are falling from the sky to the icy ground. The grinch is even wearing a scarf around his neck. It must be a cold winter day!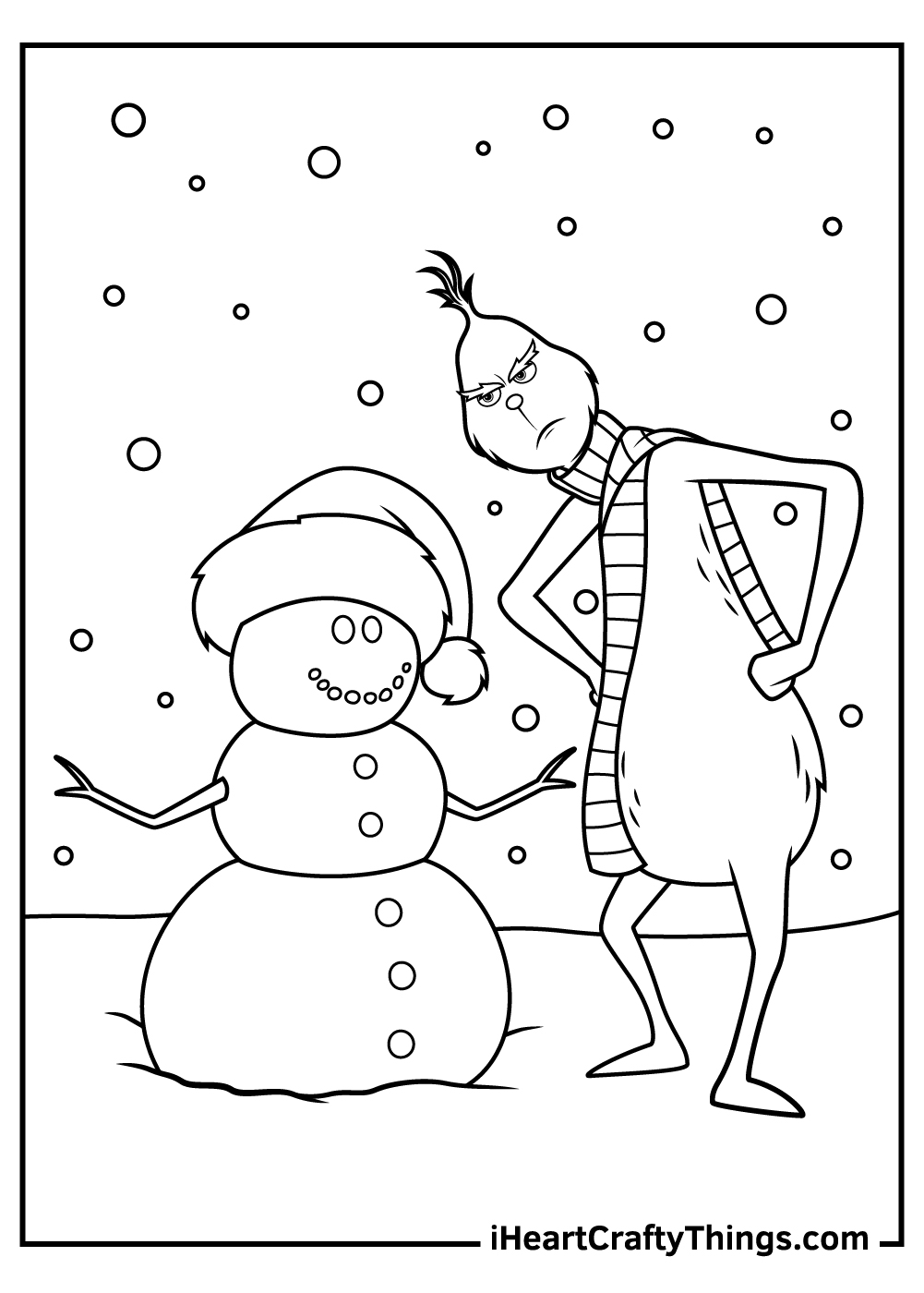 Decorating the christmas tree is fun and exciting! However, it seems that the grinch doesn't feel that way. In this grinch coloring page, the grinch is putting up ornaments on the christmas tree.
The Christmas tree definitely looks beautiful! There are ornament balls all over the tree as well as a huge star at the very top.
There are also lots of gifts under the Christmas tree. Who is it for? Is it for the grinch himself or is it for somebody else? I wonder what's inside those presents…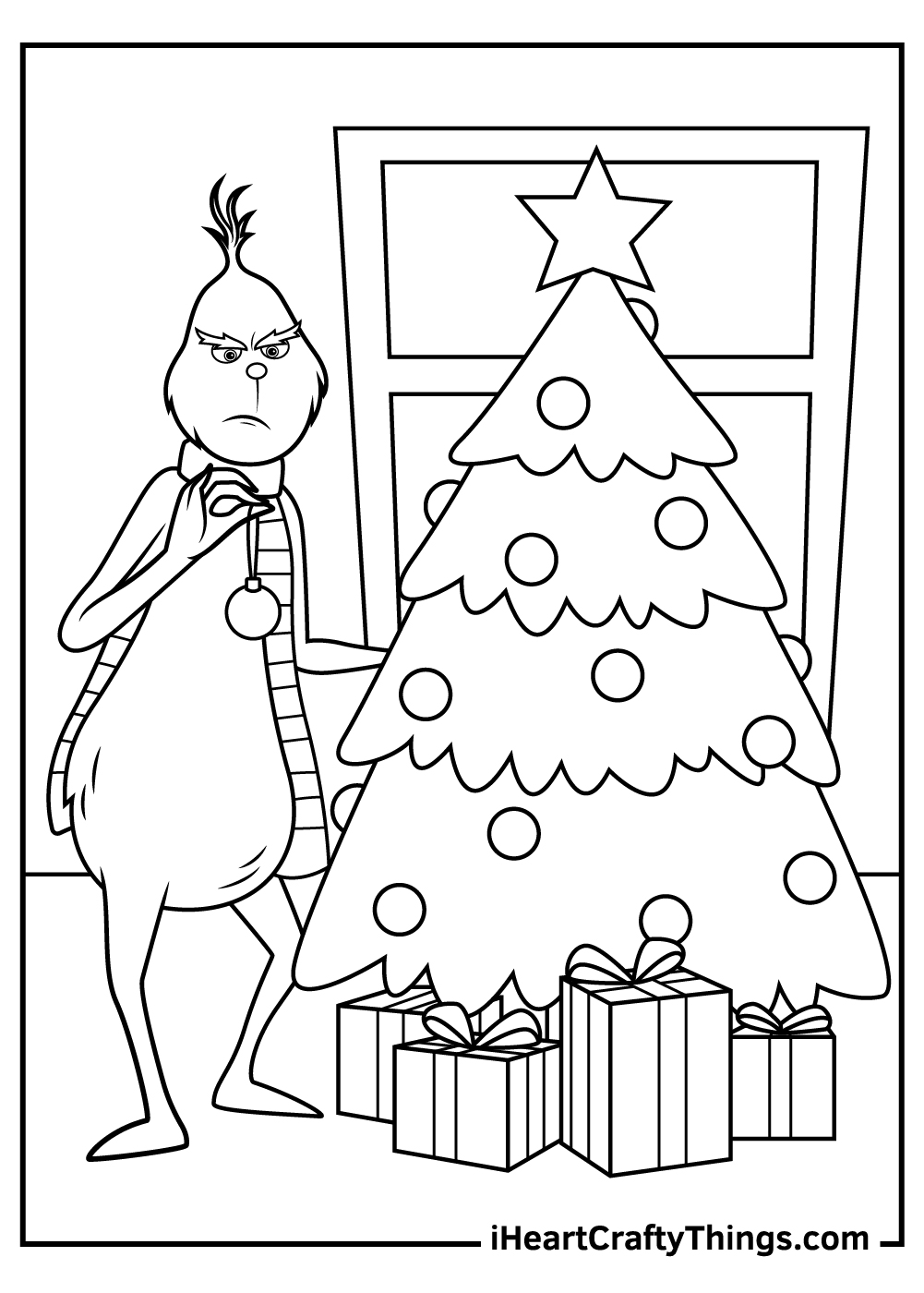 This grinch coloring page shows a rare image of the grinch smiling. He's standing as he holds his dog in one arm, just chilling in the living room of his house. The grinch looks like he's having a good time with his pet dog, Max. Having a pet really does make life a lot better.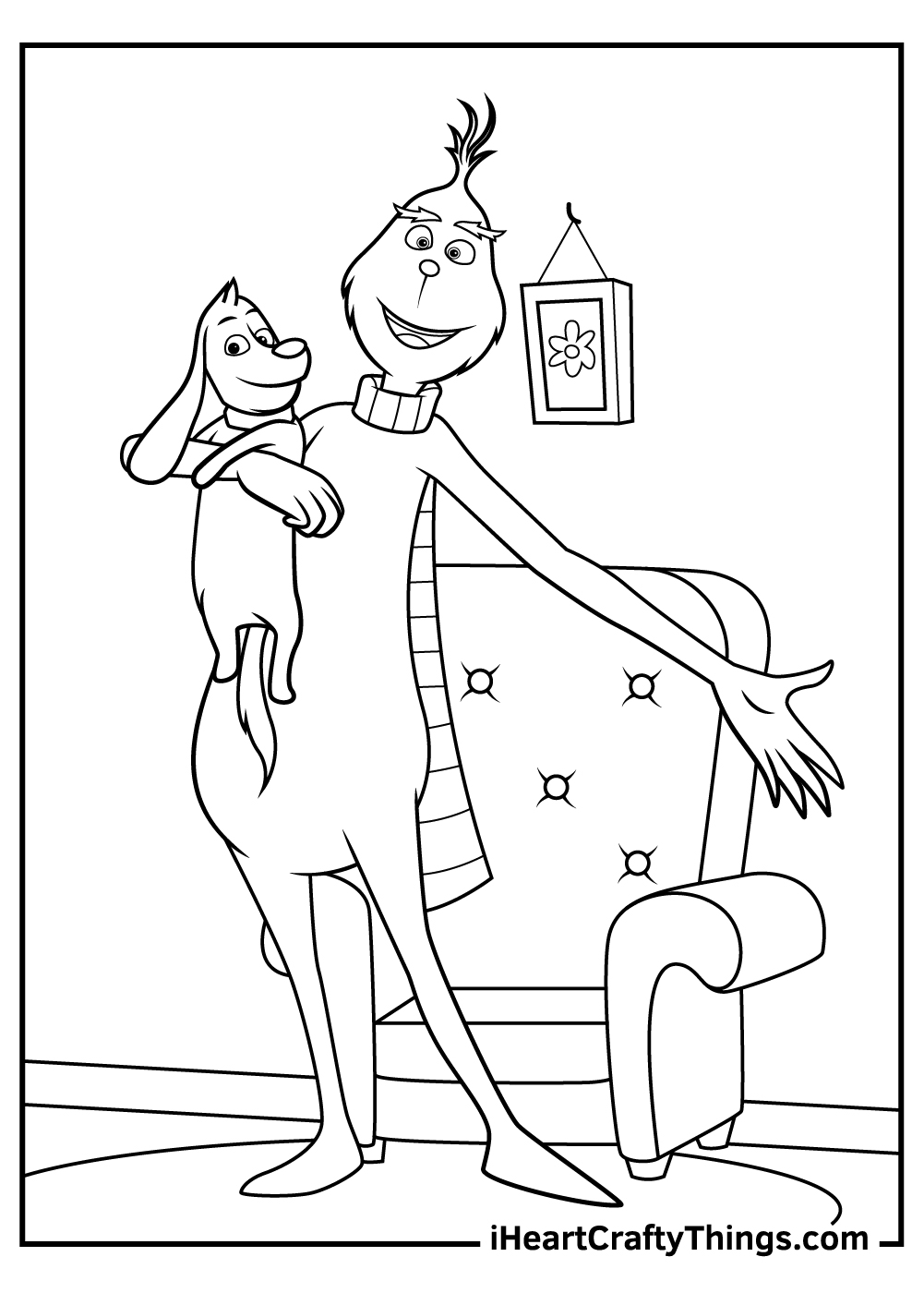 In this grinch coloring page, the grinch is dressed as Santa Claus. He's probably pretending to be Santa Claus to ruin Christmas! He is looking upset as usual.
The grinch is slouched on the sofa, just lazing around in his home. His house looks pretty with the picture frames of flowers hanging on his wall. Which colors would you pick to style his house?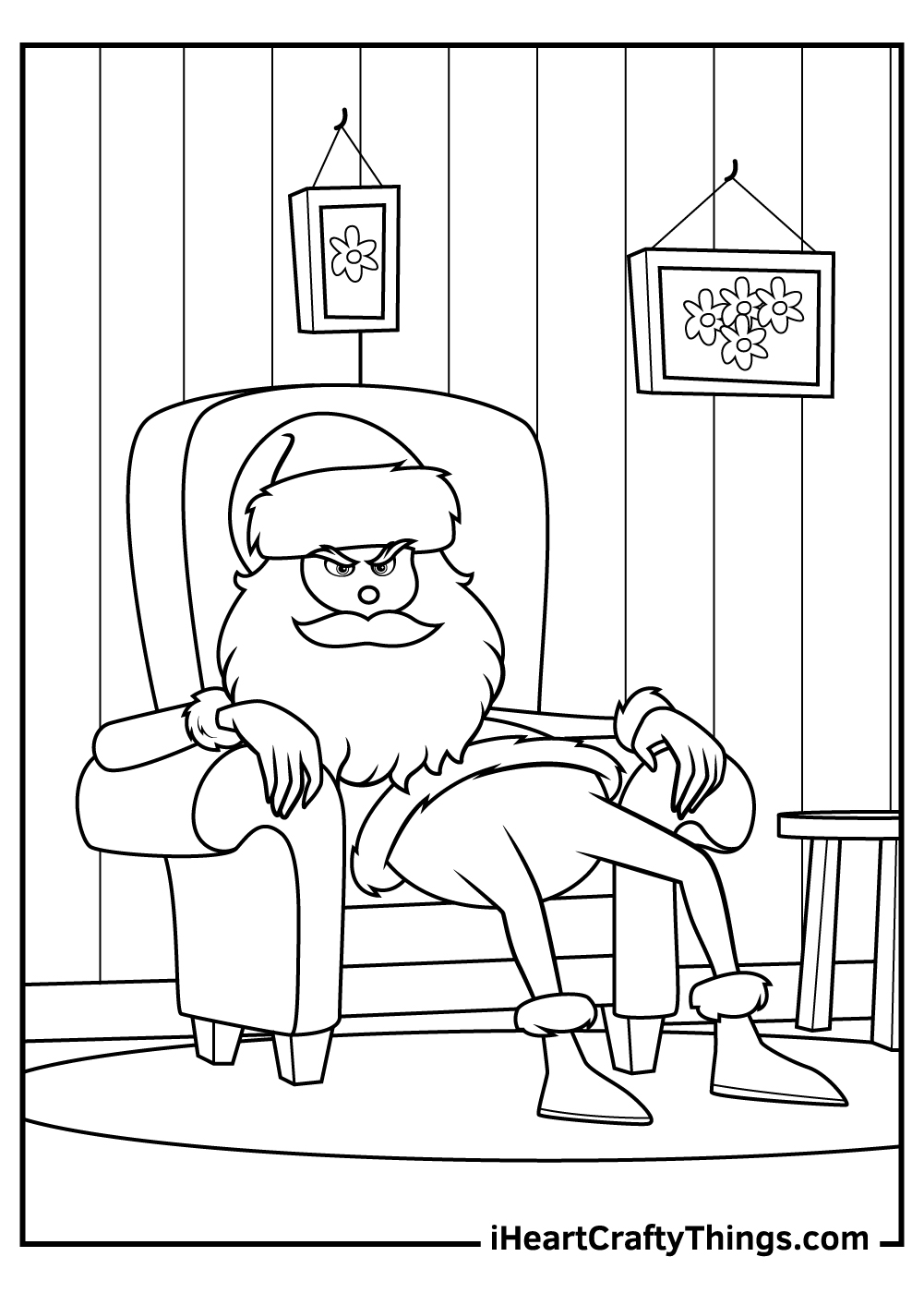 It's a cold winter day in this image in grinch coloring pages. The grinch is standing outside, enjoying the snow. Snow pellets are falling to the ground. It must be freezing!
White is the color that signifies the winter season. Use a bright, vivid color to color the grinch to create a colorful image!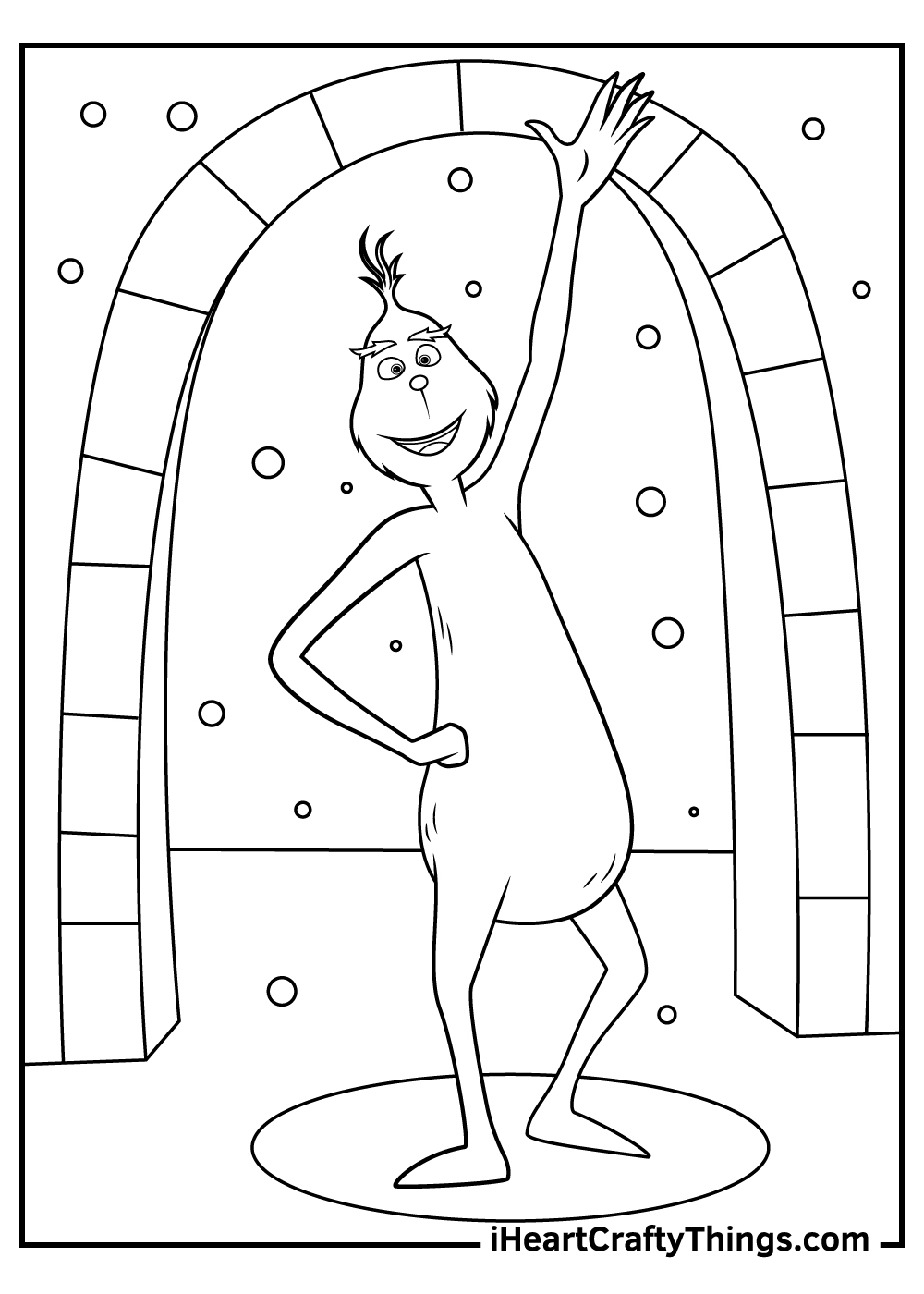 Is it Santa Claus or the Grinch? It's the grinch dressed up as Santa Claus! What an impressive costume! In this grinch coloring page, the grinch pretends to be Santa Claus. But his furious facial expression is what gives away his true identity. Santa Claus would never frown!
There are a lot of stars floating in the background. Stars exist in a wide range of colors: red, orange, yellow, green, blue, and white. Which color would you pick to color the stars? Are you going to use one color for all of them or a different color for each star?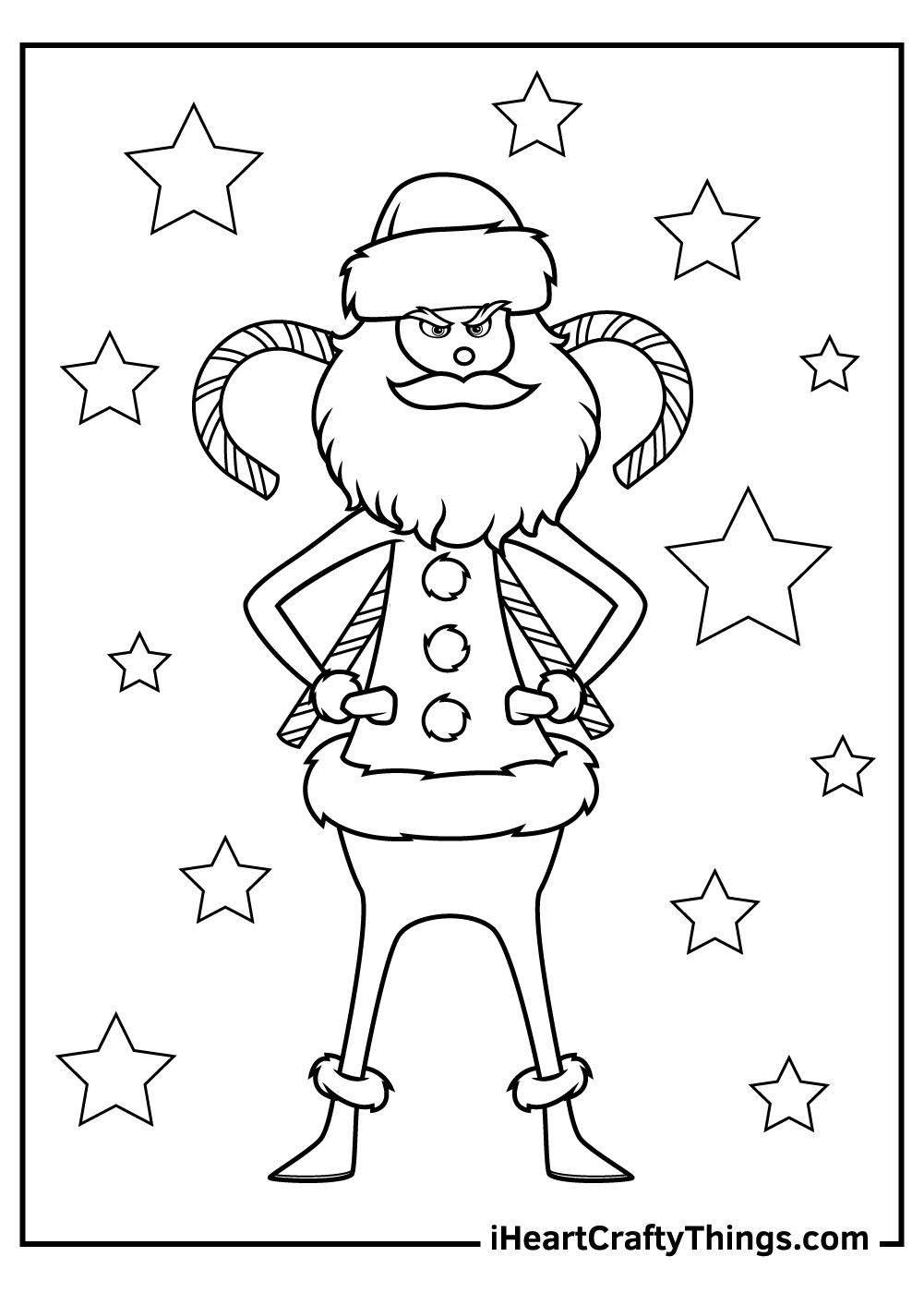 The grinch is saying hi! In this grinch coloring page, the grinch is waving its hand while smiling. His eyes are wide open and his eyebrows are not furrowed. It looks like he's having a good day! He's probably enjoying the snow on a cold winter day.
The grinch is wearing a tie with diagonal stripes design. Which color would you choose to color the tie with? Why not use more than one color for the tie to make it look more colorful and stylish?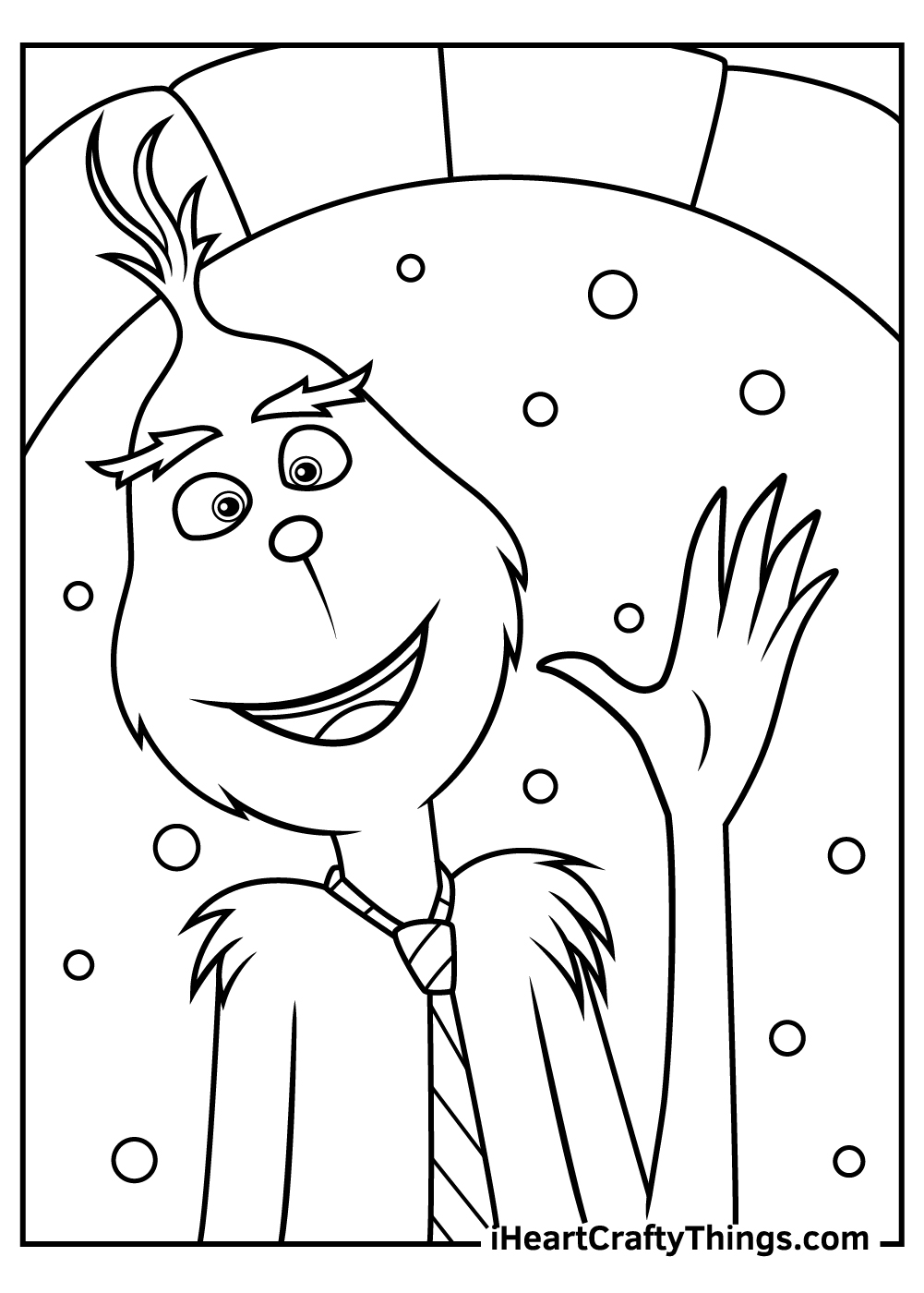 In this grinch coloring page, the grinch is standing outside during winter. Piles of snow are covering the ground as well as the trees surrounding him. Is he covering his nose with the scarf or is he hiding from someone? Either way, it's freezing outside and he should get back inside!
The grinch is feeling stylish wearing a bonnet and a thick scarf. What colors would you use for his clothing?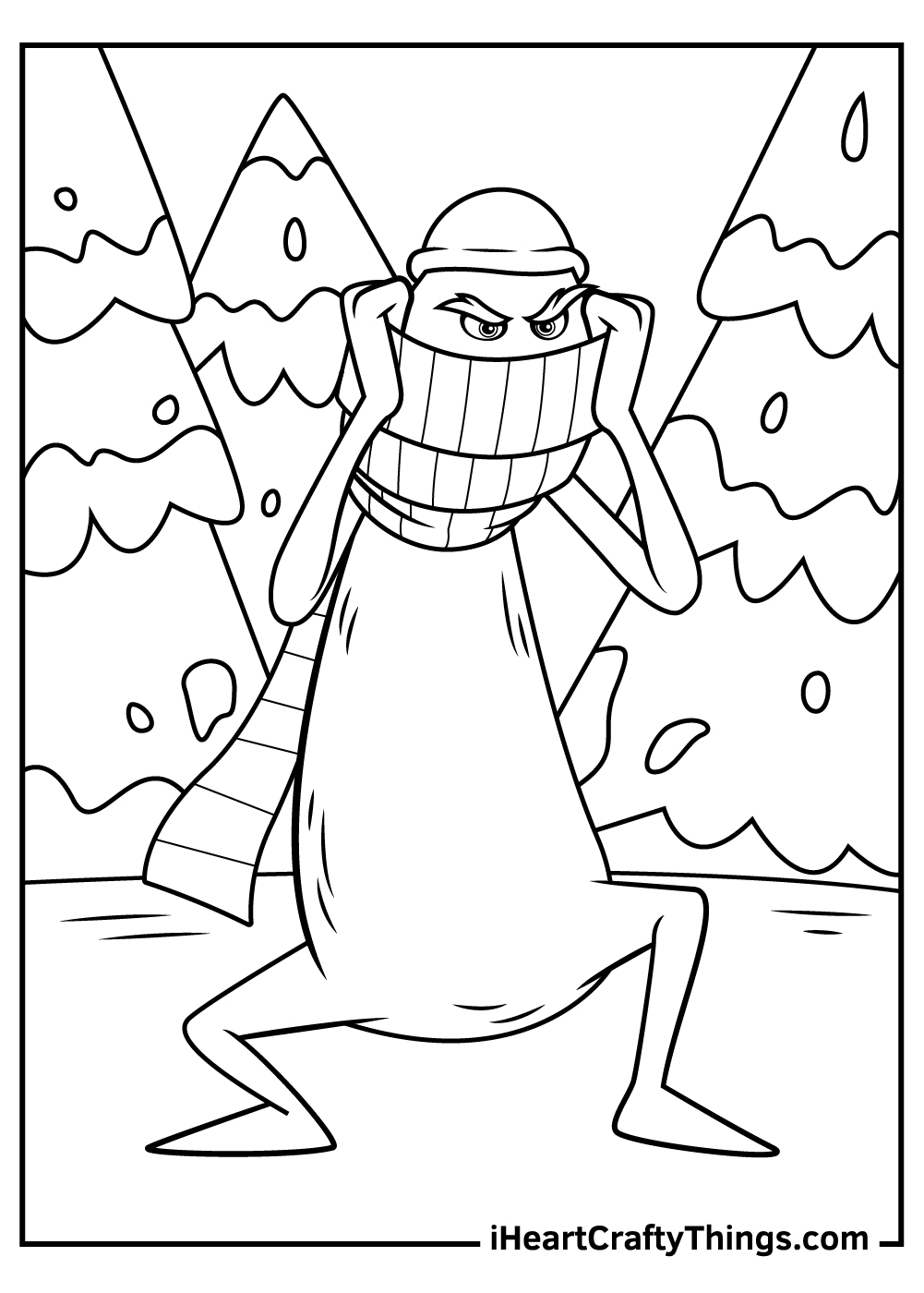 Ho, ho, ho! Merry Christmas! But wait—Santa Claus always smiles and never frowns… Oh, it's not Santa Claus! It's actually the grinch wearing a costume. He's wearing a coat just like Santa's, and he even has a fake beard.
Riding on a sleigh on a snowy day looks fun! But the grinch doesn't look thrilled. Which color would you pick for the sleigh? Winter sleighs are most commonly brown, but you can make it any color you want. You can even use your favorite color!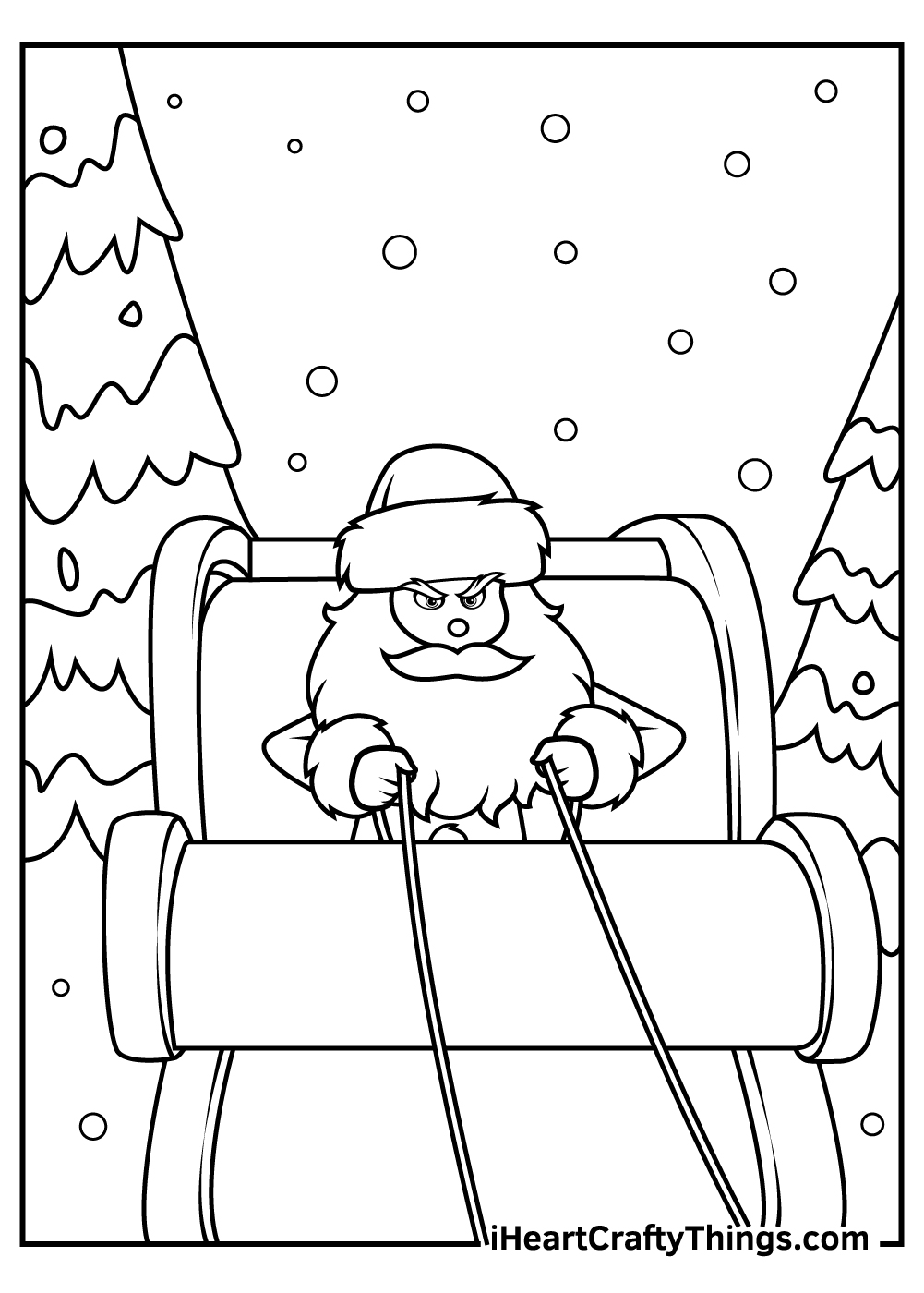 Grinch Coloring Pages — Pick a color for your very own Grinch character!
We hope you have fun filling in the colors of these grinch coloring pages. All of our printables are completely free for you to print, color, and enjoy.
Try experimenting with different coloring materials to make your art stand out! Aside from your regular crayons, these grinch coloring printables can also be colored using colored pencils, watercolors, brush pen, and more.
Once you've finished coloring your grinch coloring page, don't forget to show off your work of art and share it on our Facebook page.
We are looking forward to seeing all your creative arts!