When we imagine Christmas, we automatically think of Santa Claus. Sadly, we often forget about Santa Claus' tiny little helpers, which is none other than the Christmas elves.
Without the Christmas elves, no one will help Santa Claus in making and delivering gifts to the kids all around the world.
The extreme popularity of these mysterious creatures has created a huge demand for free Christmas elves coloring pages.
You've asked for it, so we delivered. So without further ado, we present to you: 15 all-new Christmas elves coloring sheets that you can enjoy with friends and family.
Christmas elves usually wear either green or red outfits. You can opt to color these images inspired by the elves' original look or you can use a unique set of colors! Feel free to mix and match colors to your liking!
Have fun and use your creativity!
Christmas Elves Coloring Pages – 15 Free Printable Sheets
Decorating the Christmas tree is undeniably one of the most enjoyable activities during Christmas, as shown in this Christmas elves coloring page.
This cheerful elf is carefully standing on a ladder, attempting to put a star at the top of his Christmas tree. We sure hope this elf doesn't accidentally fall down the ladder!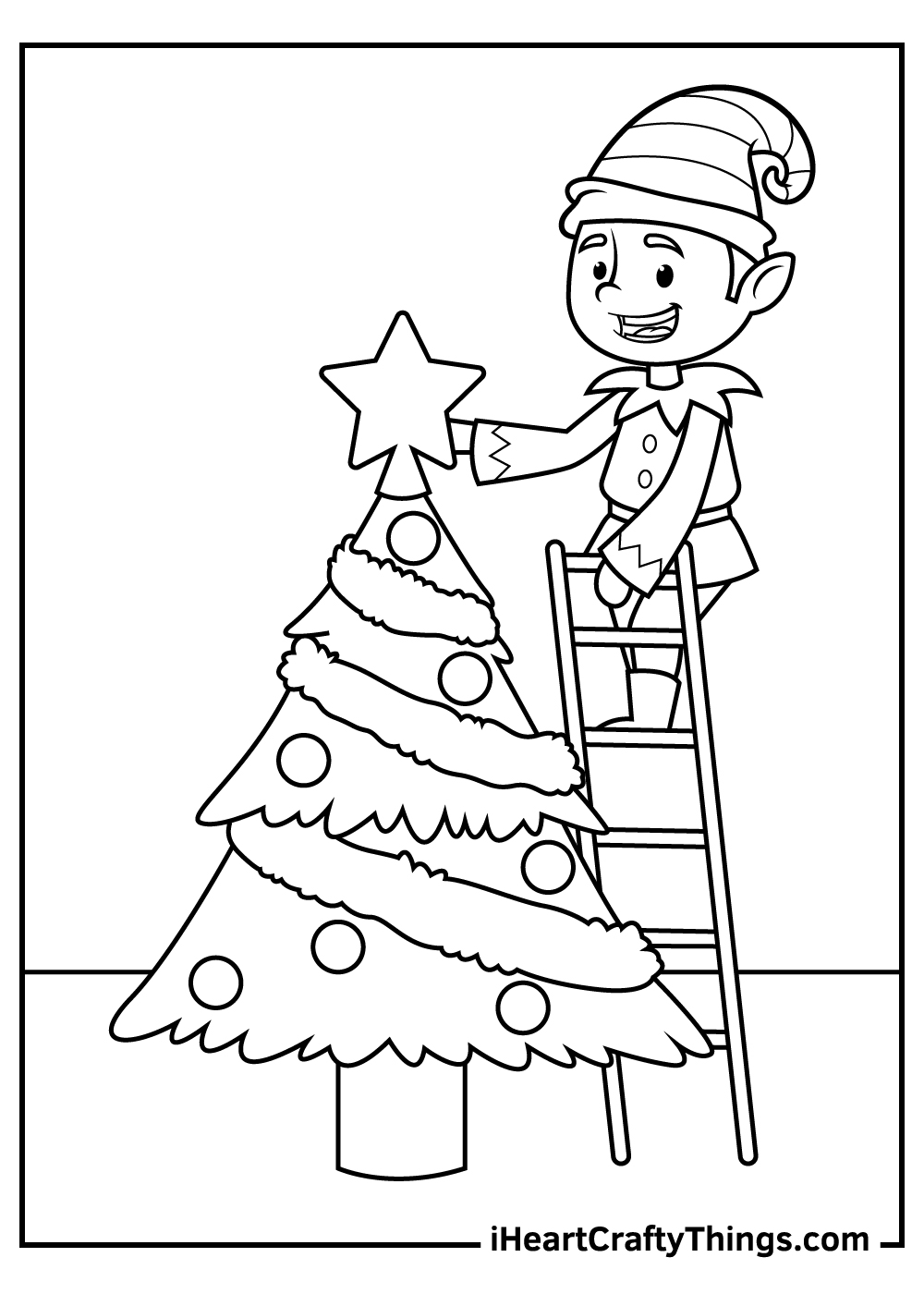 It's show time on this Christmas elves coloring page! This elf looks like he's in the spotlight, perhaps singing a classic Christmas carol.
If you wanted to make it seem even more like that, you could add a line from a carol in a speech bubble above his head.
Which Christmas song would you choose for this elf?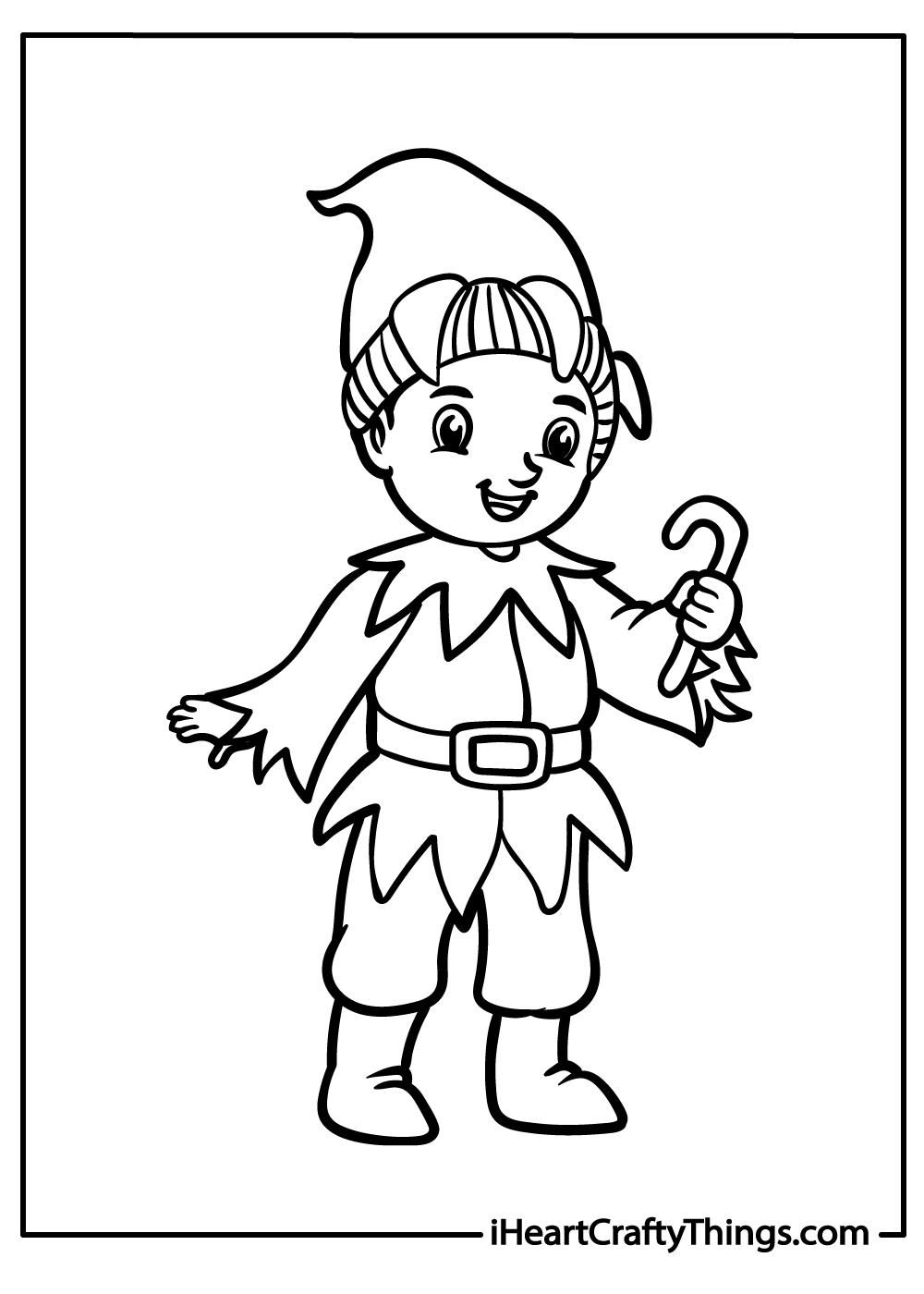 The elf, as seen on this Christmas elves coloring page, is carrying a gift. Who could it be for? Perhaps it's for a kid somewhere who has been good and well-behaved the entire year.
We're wondering what's inside that mysterious present from Santa Claus!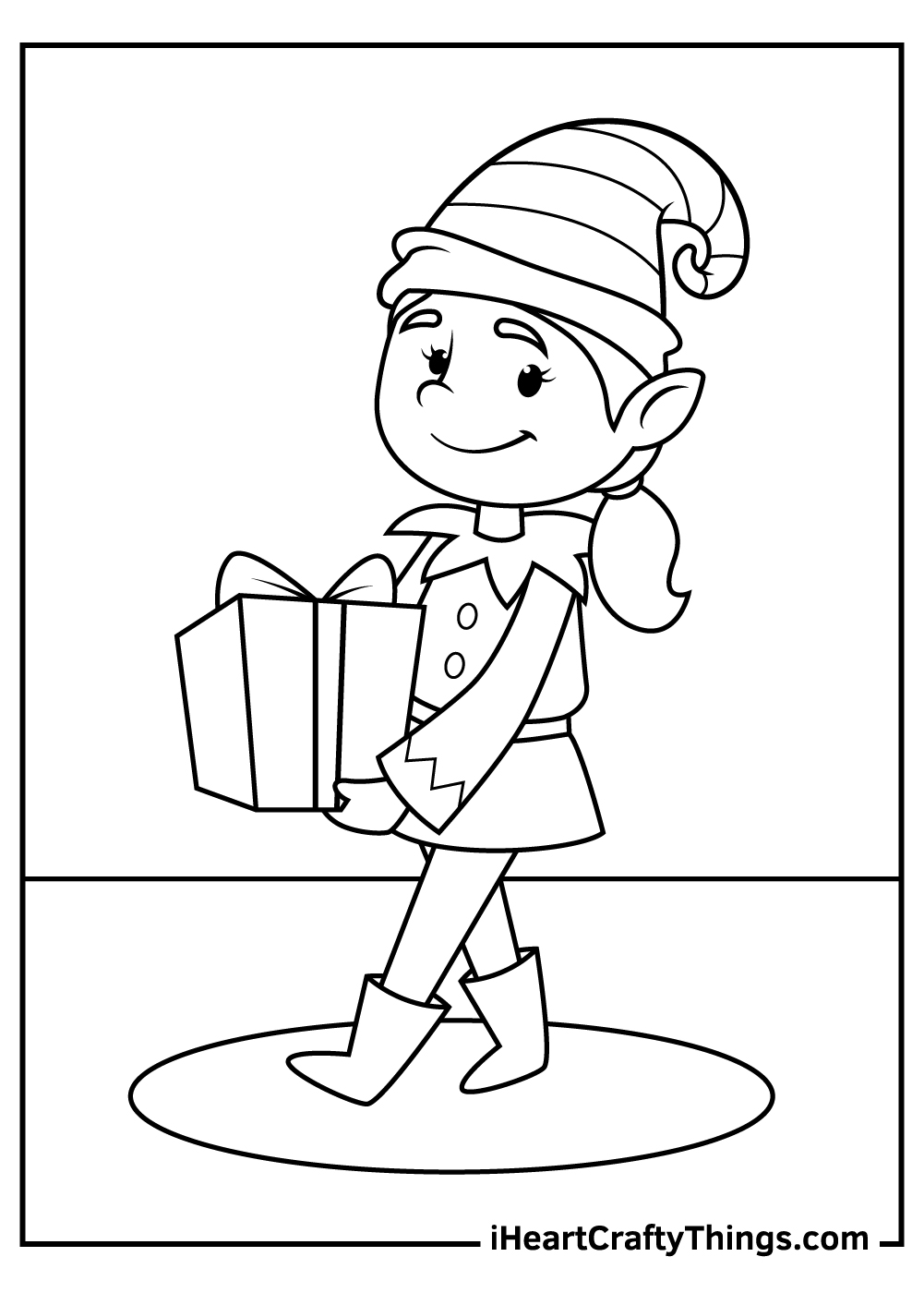 The snow is pouring outside on this Christmas elves coloring page. The extremely cold weather doesn't stop this elf from enjoying the Christmas holiday.
The elf is building a snowman that is as tall as him. It surely looks like this elf is having fun!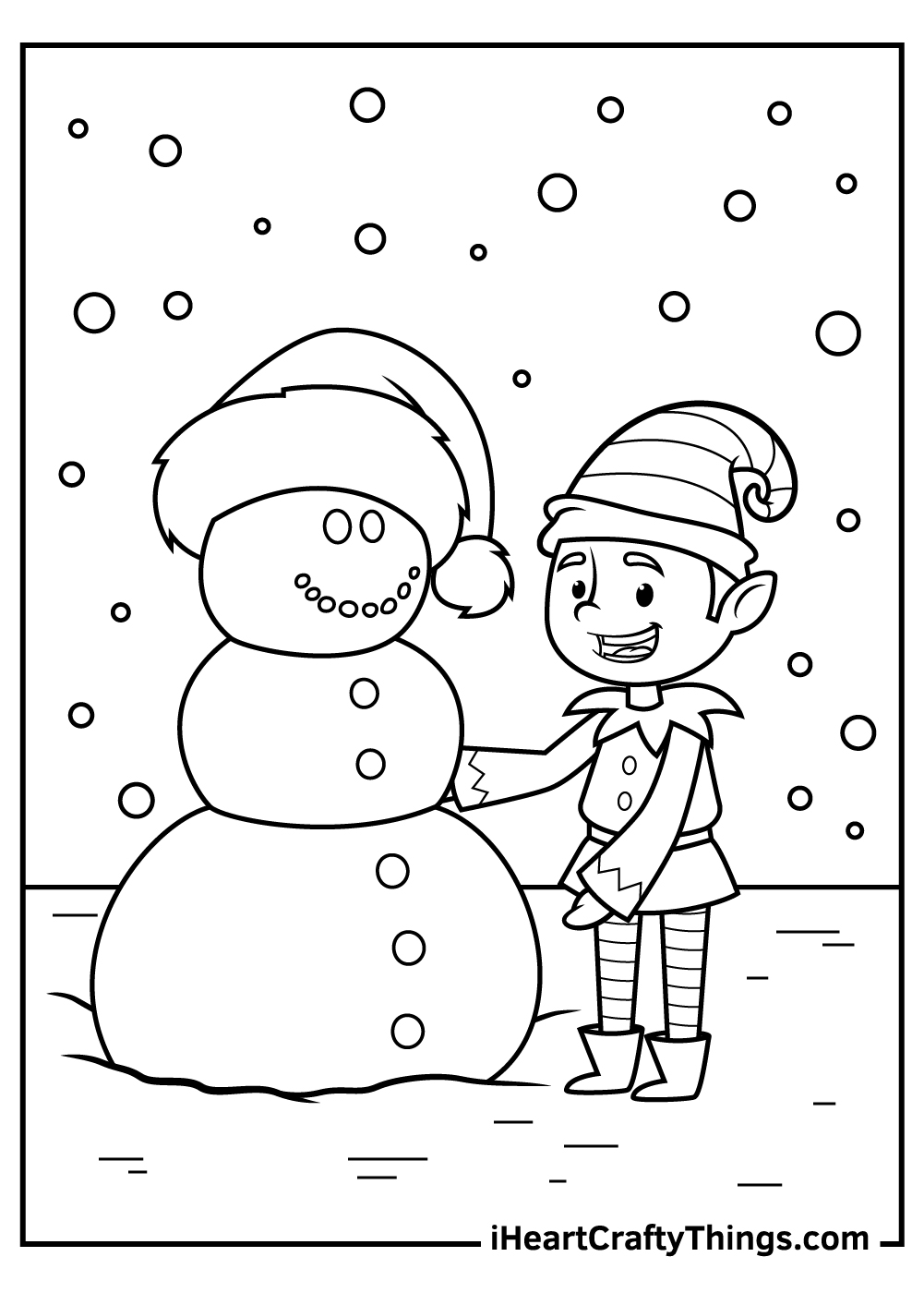 This cute Christmas elf has been drawn in a fun cartoony style, and we think that some bright and cheery colors would be perfect.
Using bright mediums like colored pens would also be great to make the colors pop.
It's up to you now, so which colors and mediums will you choose for this coloring sheet?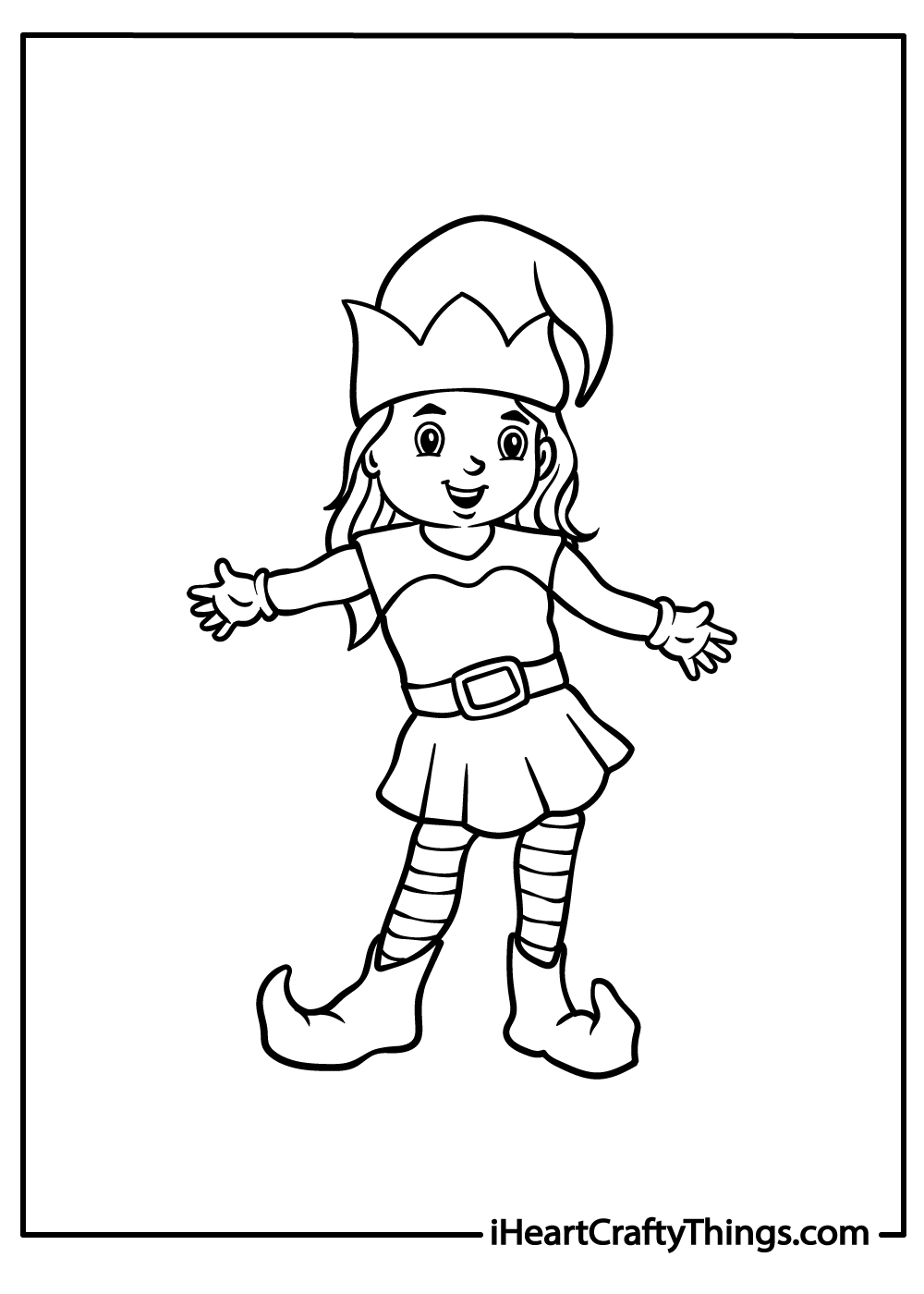 This Christmas elf is caught on the act while she's secretly loading a bunch of presents into a massive bag. There's a lot of gifts inside the bag, probably each for every kid all around the world.
It's always exciting to receive presents from Santa Claus every year, isn't it? What colors will you add to this Christmas elves coloring page?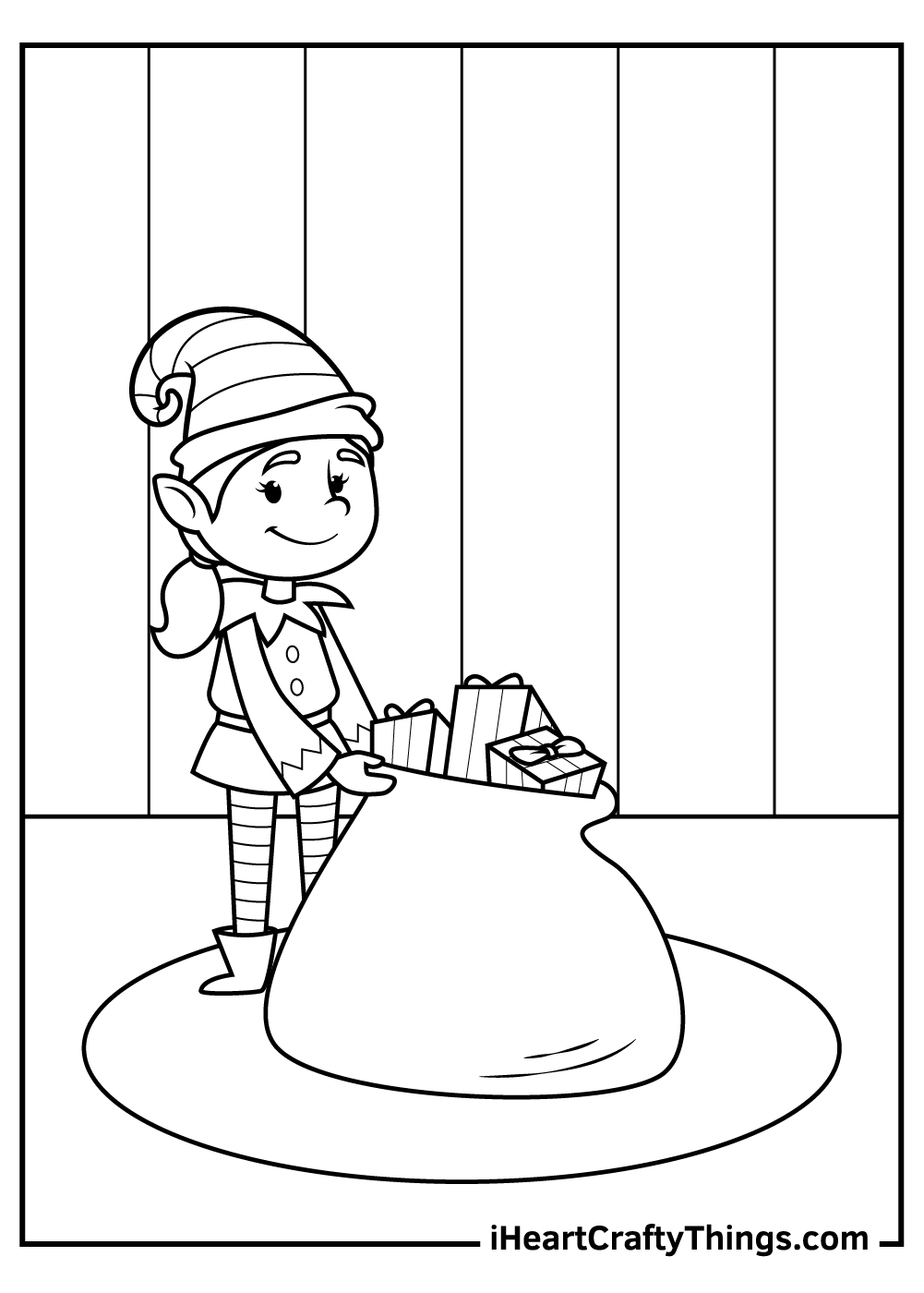 This happy elf is holding a wine glass, as seen on this Christmas elves coloring page. It's probably finished creating and wrapping gifts so it's ready to have a good time.
The elf is wearing its standard outfit: a long-sleeved coat with a matching hat. Will you use the typical red and green colors for this elf's clothes or use customized colors? Either way, we're certain it will look awesome!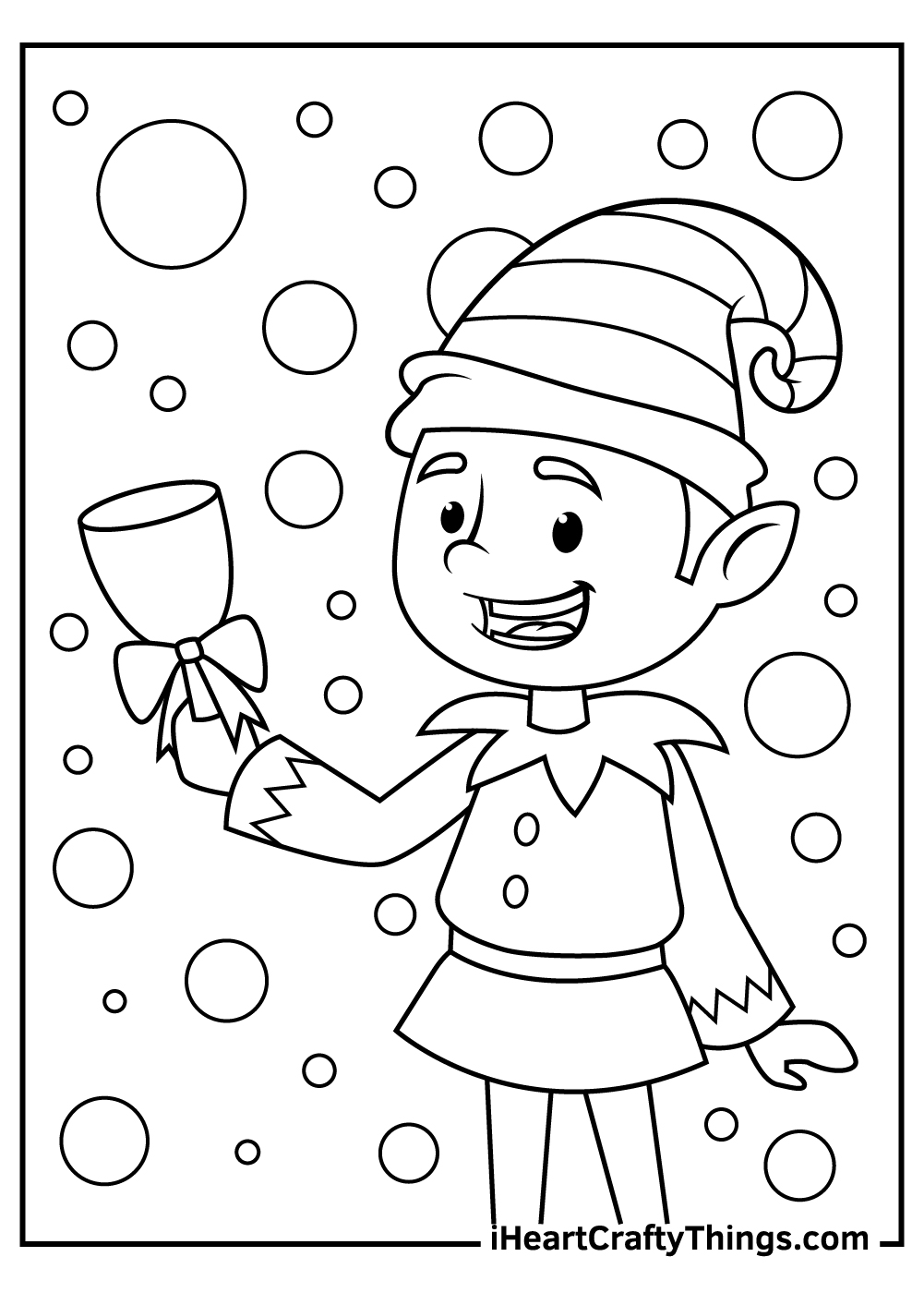 There are so many details to color on this Christmas elves coloring printable. Some of these small details could be tricky to color if you use less precise coloring tools.
We would recommend using colored pens, pencils or very small paintbrushes to make it easier to color all of those small details.
Be sure to use whatever you love to use, though!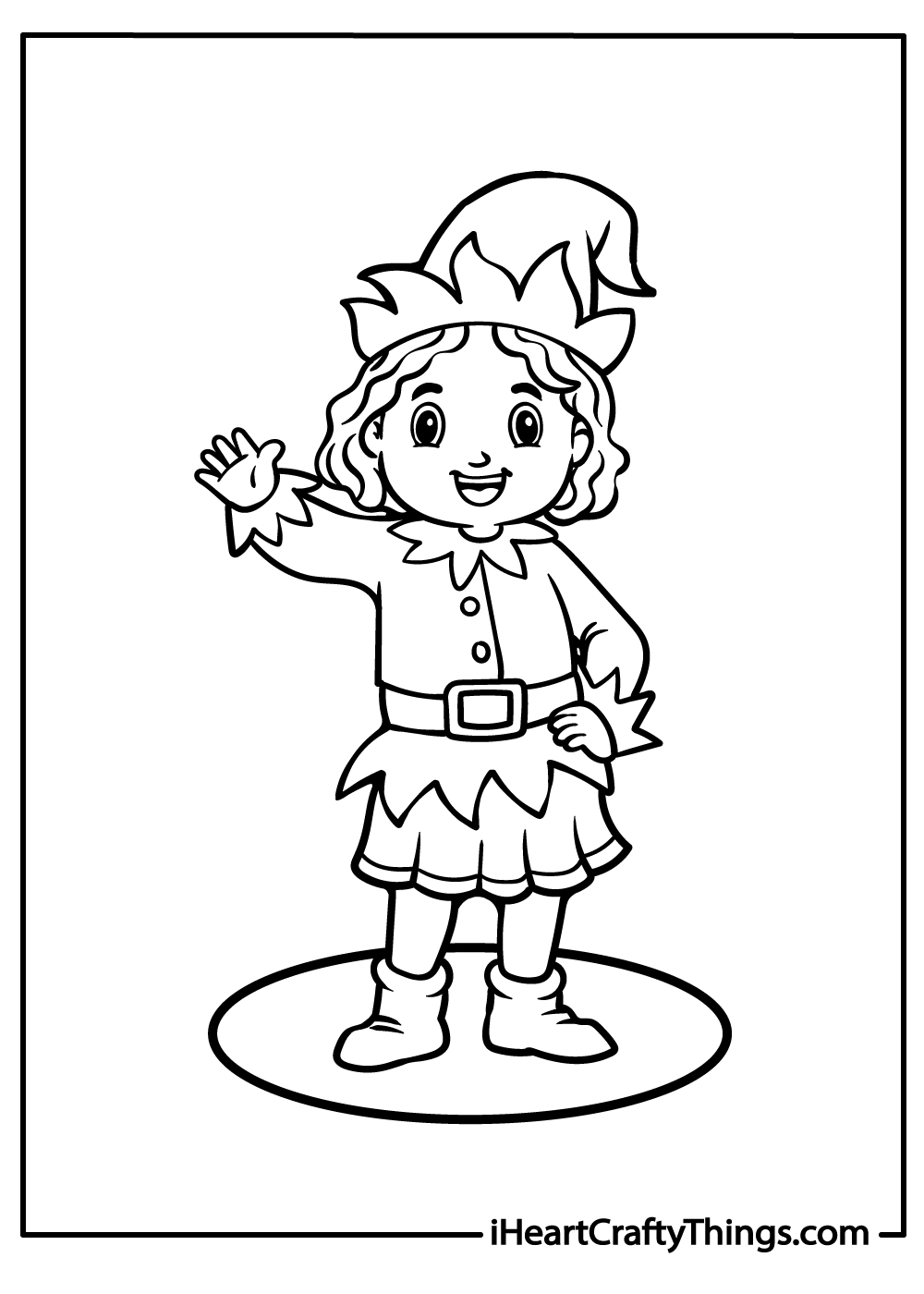 Santa Claus gives presents to his little helpers too, as shown in this Christmas elves coloring page. This cheerful elf is adoring her tall Christmas tree with a bunch of presents underneath.
She probably can't wait to open the gifts!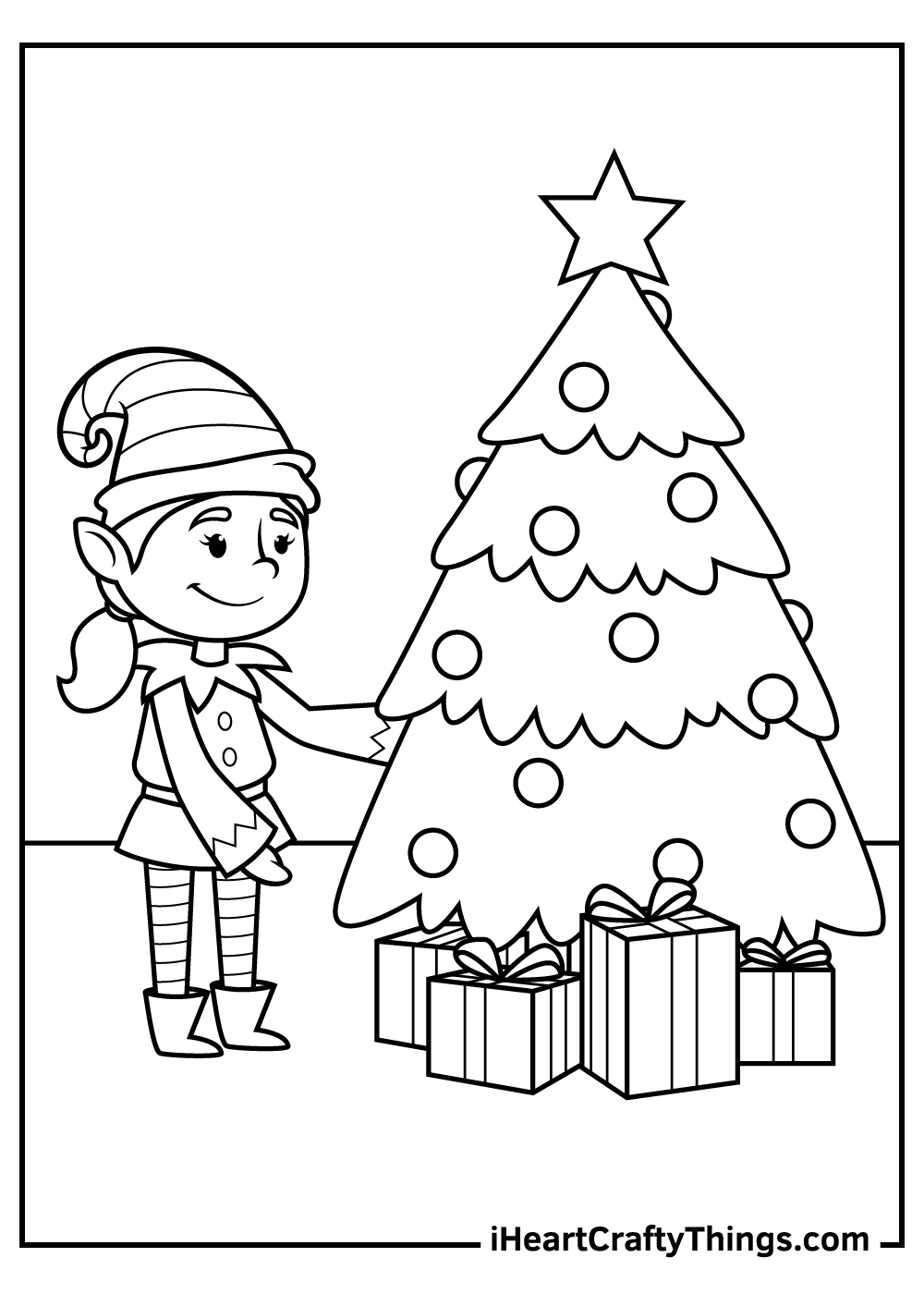 On this Christmas elves coloring page, there's an elf who is standing straight with its arms wide open. It looks extremely happy with its huge gleaming eyes and wide smile.
Look at all the stars surrounding the elf—so glamorous! It definitely adds an extra dramatic effect to this printable sheet. Make this image more spectacular by coloring it!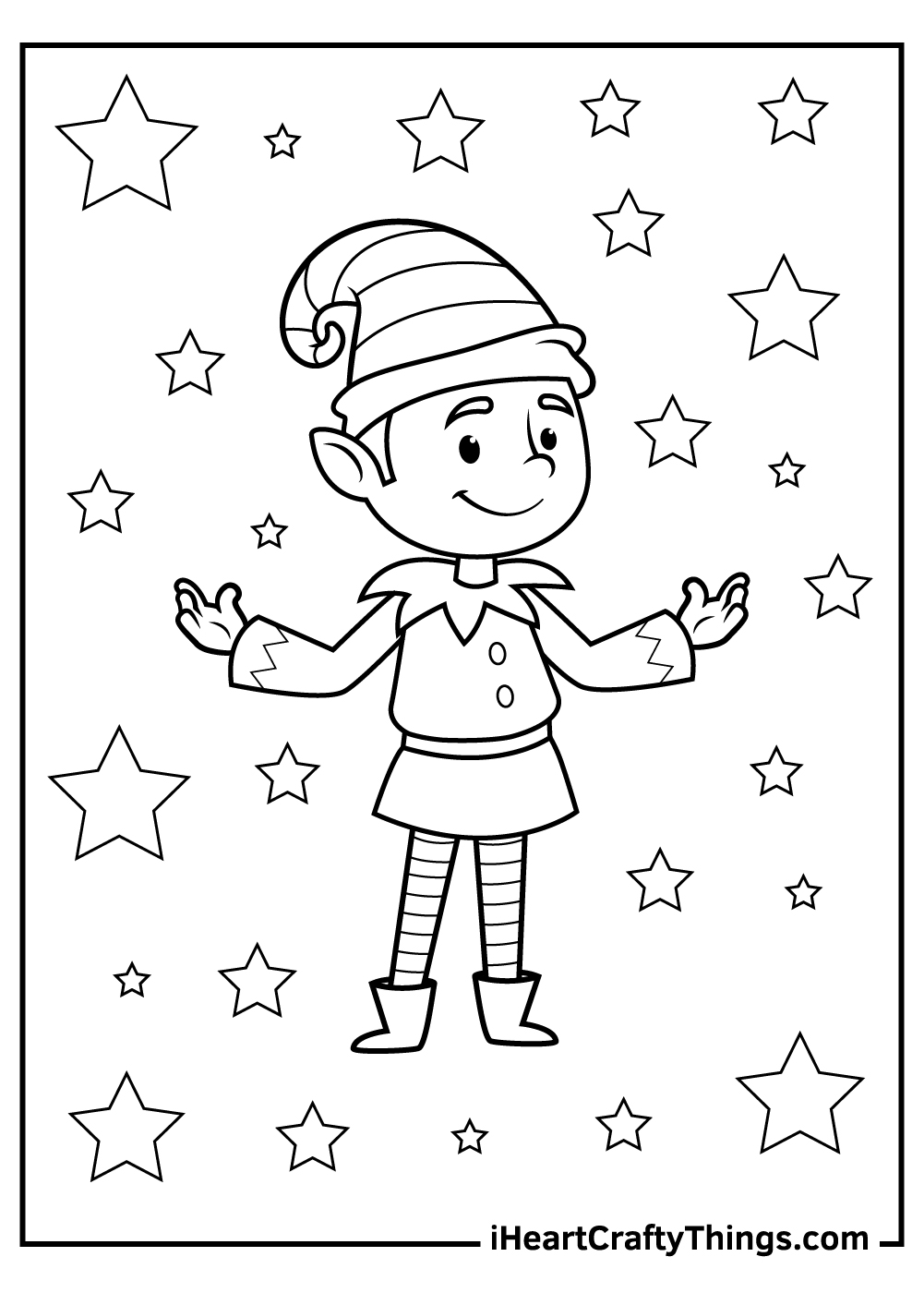 The Christmas elves' responsibility is to assist Santa Claus in creating, wrapping, and delivering gifts every Christmas. In this Christmas elves coloring page, the elf is putting a present on top of another relatively larger present.
We're wondering who these presents are for? Who knows? One thing's for sure, nothing beats the excitement of opening gifts on Christmas Day!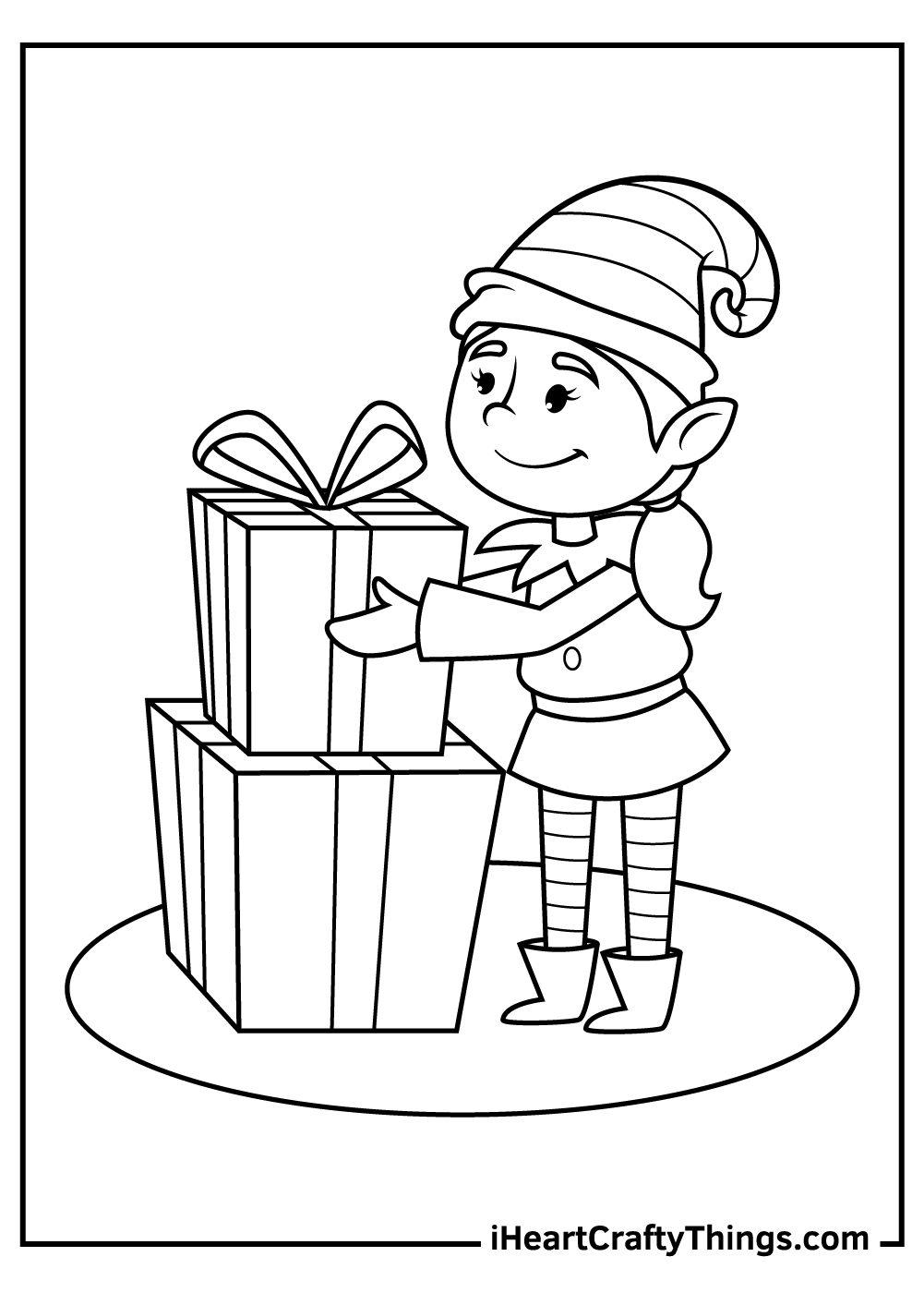 Here we have another Christmas elf that looks like it could be giving a show! It could be fun to draw some more elves beside him to create the look of a choir singing.
Which famous Christmas songs would you have this elf band singing if you could choose one of your favorites?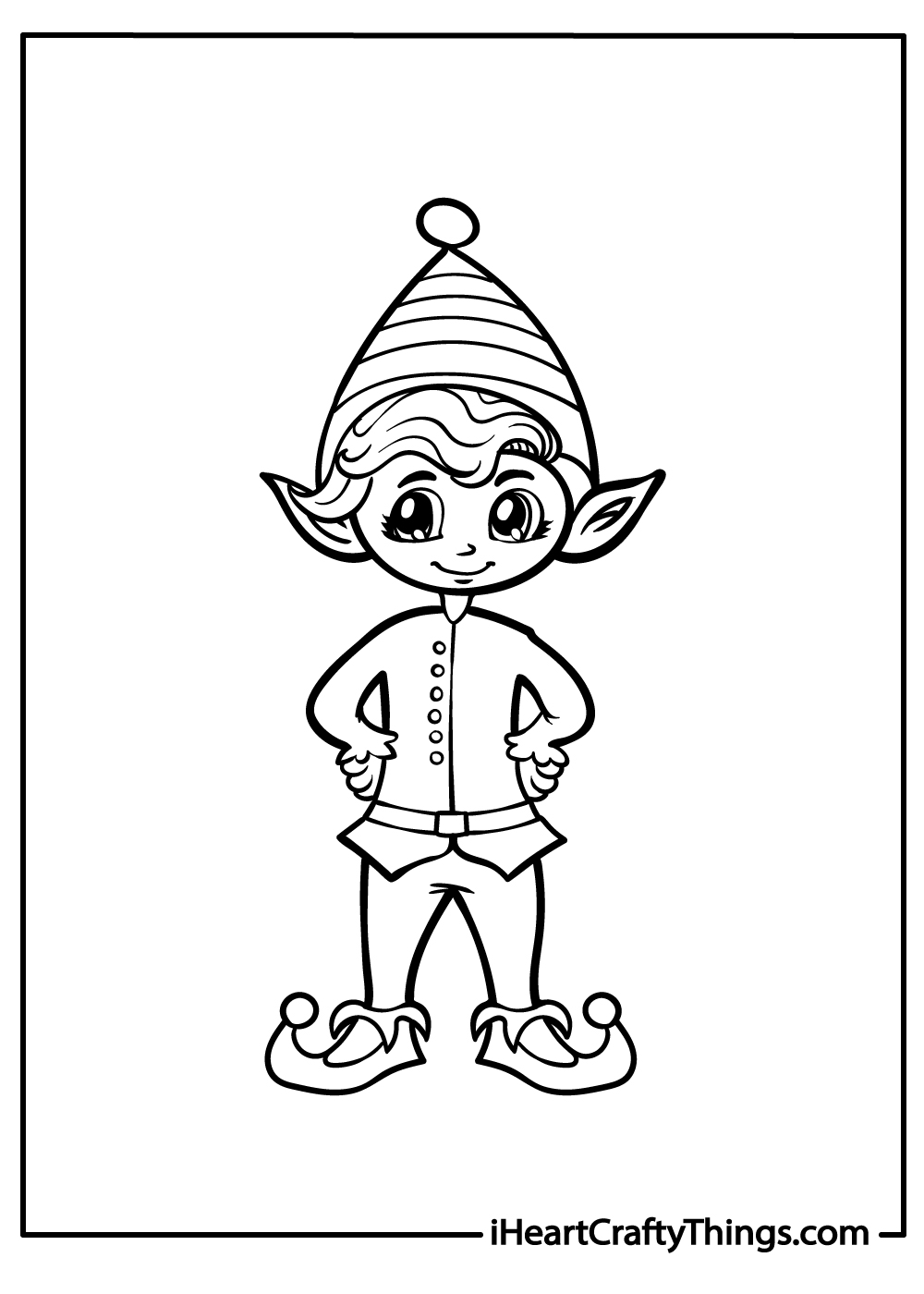 It's the perfect time to get a real Christmas tree on this Christmas elves coloring page!
The trees and the ground is covered with snow, but that doesn't stop this enthusiastic elf from finding the perfect Christmas tree for its house.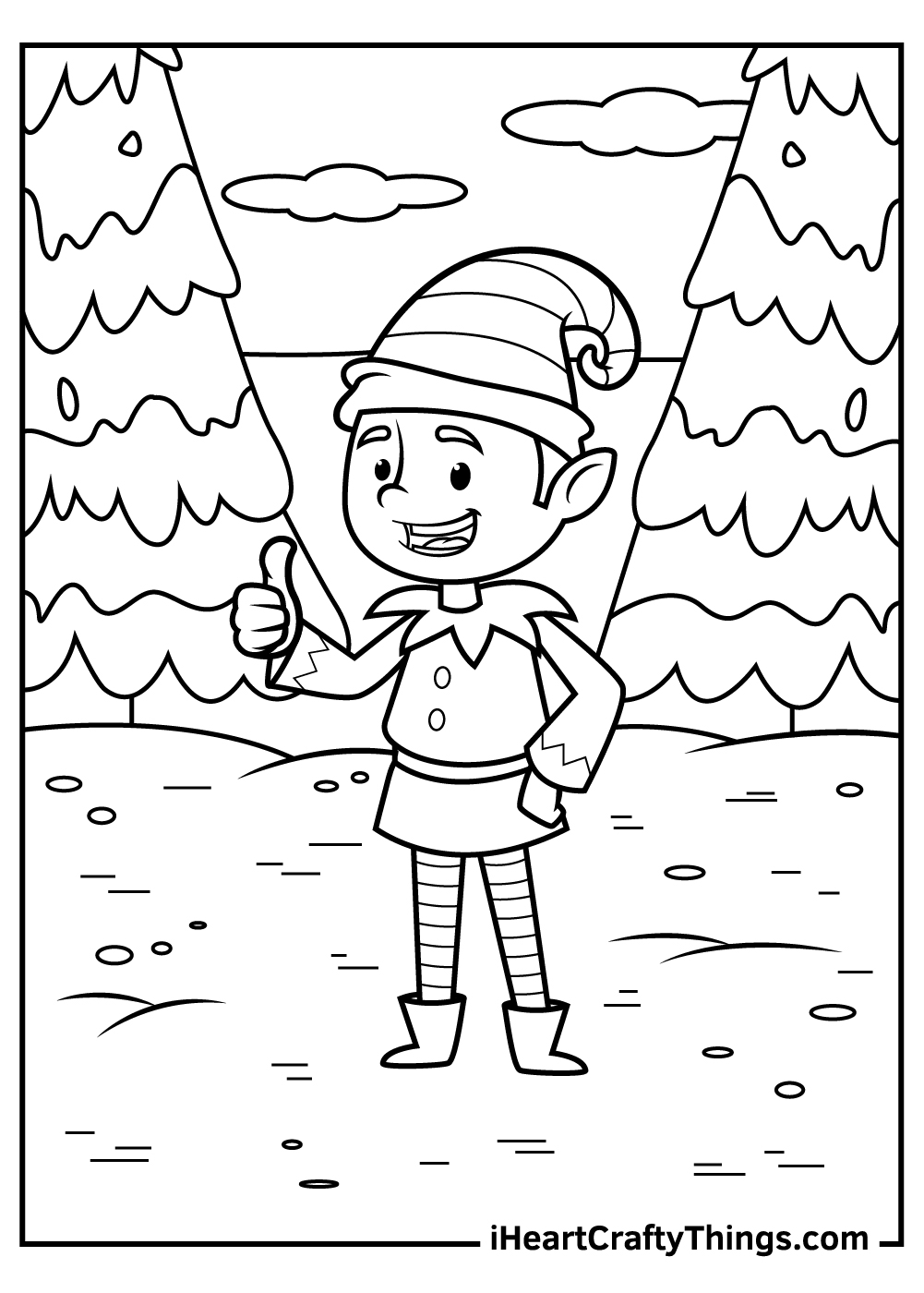 Enjoying a candy cane is one of the best ways to make Christmas even sweeter. This Christmas elves coloring sheet shows an elf who has the right idea!
You could show what flavor the candy cane is by using the colors you would associate with it on the candy cane. What's your favorite candy cane flavor that you would like this elf to enjoy?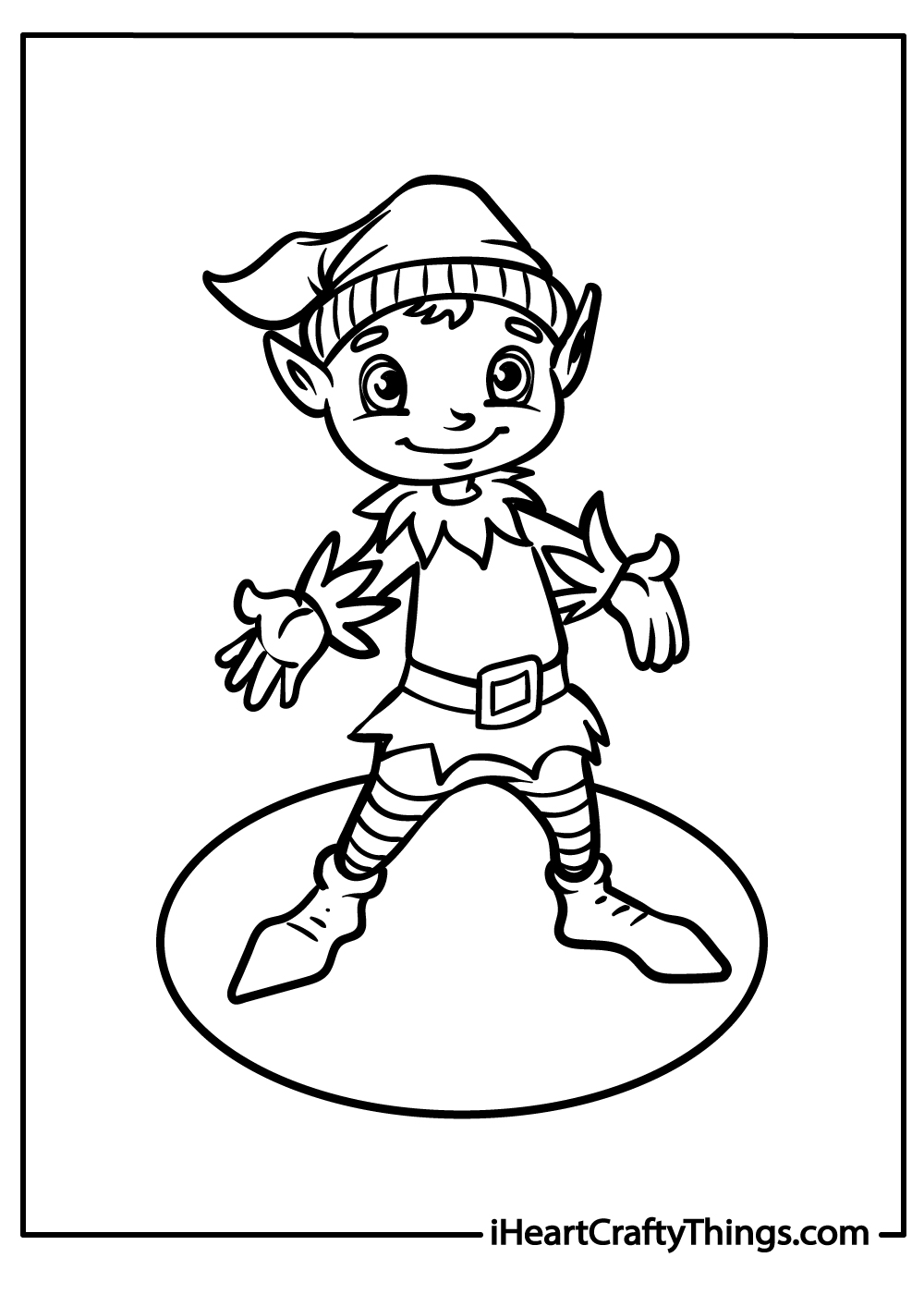 It's Christmas Day on this Christmas elves coloring page, and this cute little elf is sending its greetings to you!
It is holding a huge banner with the greeting "Merry Christmas" written on it. So adorable! What colors will you use for this elf's outfit?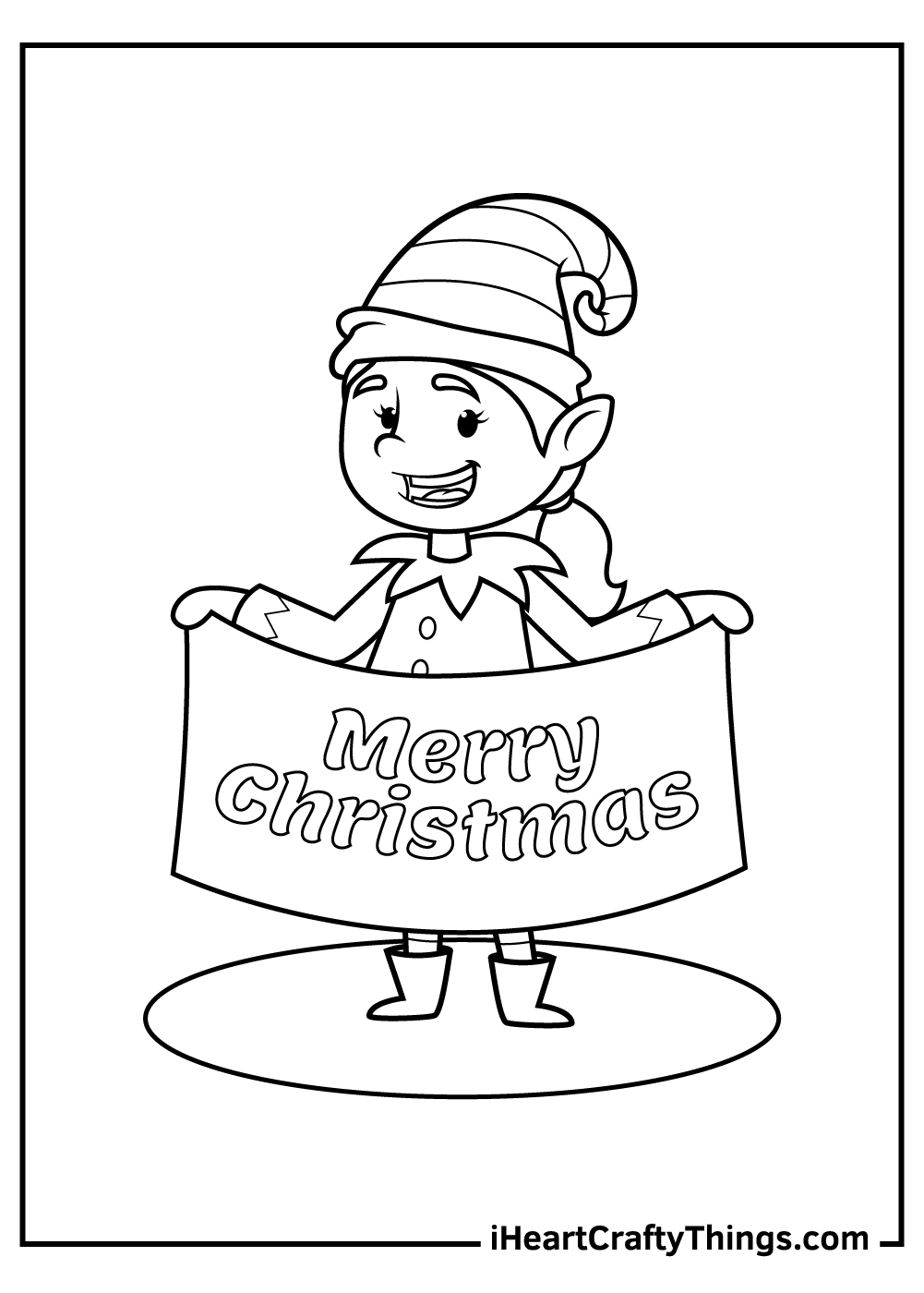 Christmas Elves Coloring Pages — Which Christmas elf will you color?
We hope you enjoy these Christmas elves coloring pages. It consists of simple and intricate illustrations of elves celebrating Christmas.
Coloring these Christmas elves coloring sheets is the perfect activity to keep kids of all ages entertained. They will also surely love these adorable elves just as much as they love Santa Claus!
Remember, all of our crafts and coloring printables are 100% free for you to download, print, and color. We are always updating our catalog and uploading new content to our catalog. So, don't forget to keep re-visiting our website to continuously enjoy all-new coloring pages.
Once you've finished coloring your Christmas elves coloring printables, you must be very proud of yourself for completing a masterpiece—as you should be! Make sure to show off your work of art and share it on our Facebook page. We're sure it looks amazing!
We can't wait to see all of your colorful Christmas elves!