Do you remember the story turned tradition with the elf on the shelf, based on the famous book written by Carol Aebersold and her daughter Chanda Bell?
Similar to this, you could spend quality time with your son or daughter and these adorable elf on the shelf coloring pages. 
So, put some Christmas carols and, as you sit by the beautifully decorated tree, color these elf on the shelf printable sheets with your little one!
25 Brand New Elf on the Shelf Coloring Pages – Free to Print and Color
There is a touch of magic to this elf on a shelf coloring sheet, as this elf is holding onto a wonderful magic wand.
The wand is a great touch that makes this otherwise fairly simple scene a bit more magical.
The end of the wand has a bog star, and that would be a great detail to add some bright colors such as yellow or gold.
Do you think you will add any of your own details and additions to this image once it has been colored?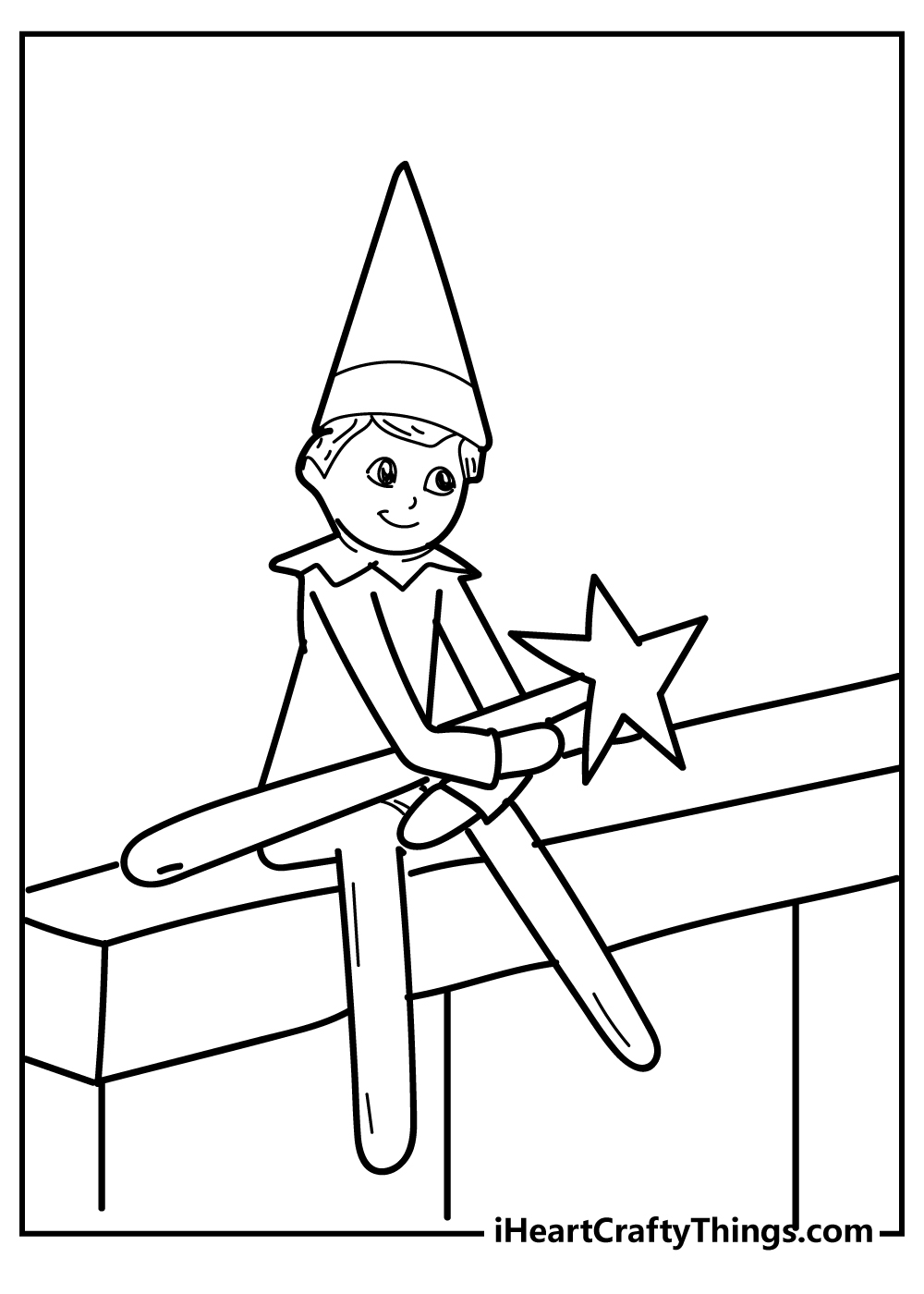 We have a really imaginative scene for you to color on this page. This elf looks like he is floating through his imagination, and he is surrounded by various shapes.
We think it would be great to use as many bright and expressive colors as you can for these background elements.
It could also be interesting to use a mix of different mediums and crafts for the various details of the image.
It would also be another perfect image to add some extra details to as well! What are some imaginative background elements you could add?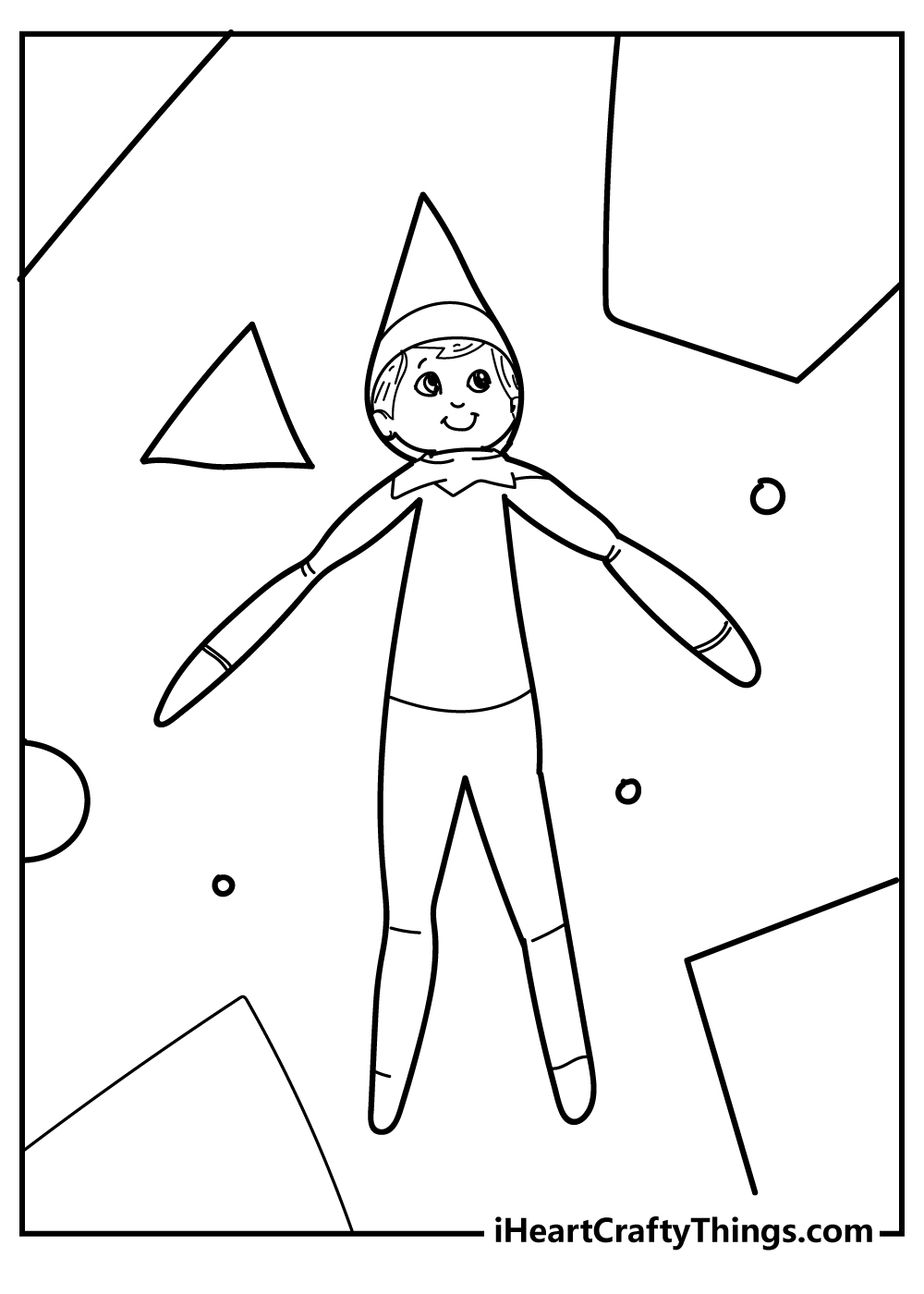 Look who it is, your favorite cheerful holiday elf! He's sitting with his legs casually crossed and wearing his classic green and red pointy cone hat, looking as merry as can be.
I wonder what made him smile so big? Is he excited for the upcoming Christmas celebrations or maybe he's planning some silly pranks and magical elf mischief to surprise the family with this year?
You can use bright reds, greens, and golds to capture his joyful spirit.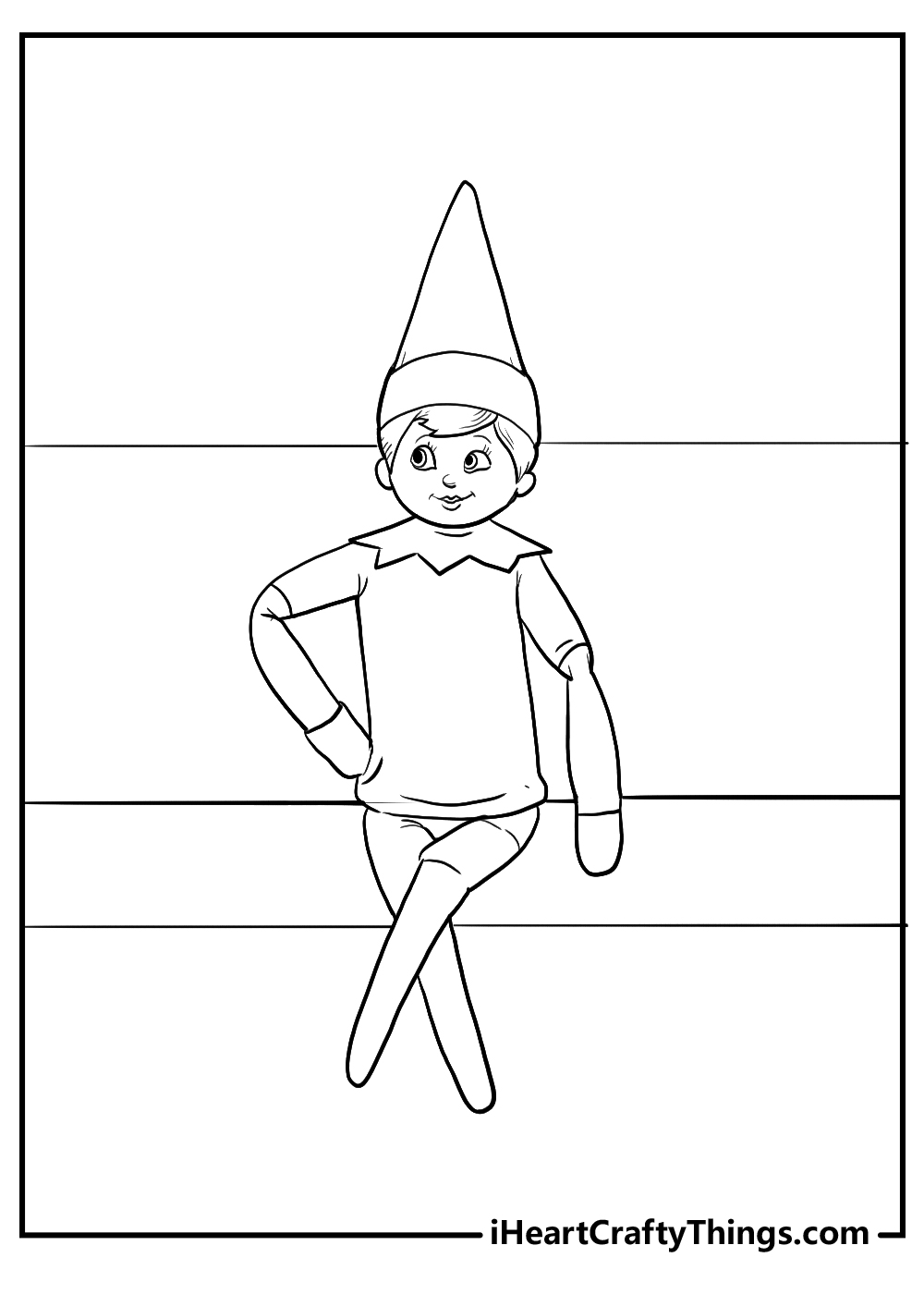 On this elf on the shelf coloring page, it isn't difficult to imagine that this cute little elf is sitting on a shelf, as the name clearly suggests. 
But whether a table or shelf, you can imagine him to be on any type of object you would like! Perhaps he is sitting on a chair – elves are pretty petite in size, so a chair would look huge for him.
As for the coloring choice, you could choose the traditional red and green combination.
But at the same time, there are no rules when it comes to coloring, so your child can choose pastels or bright tones.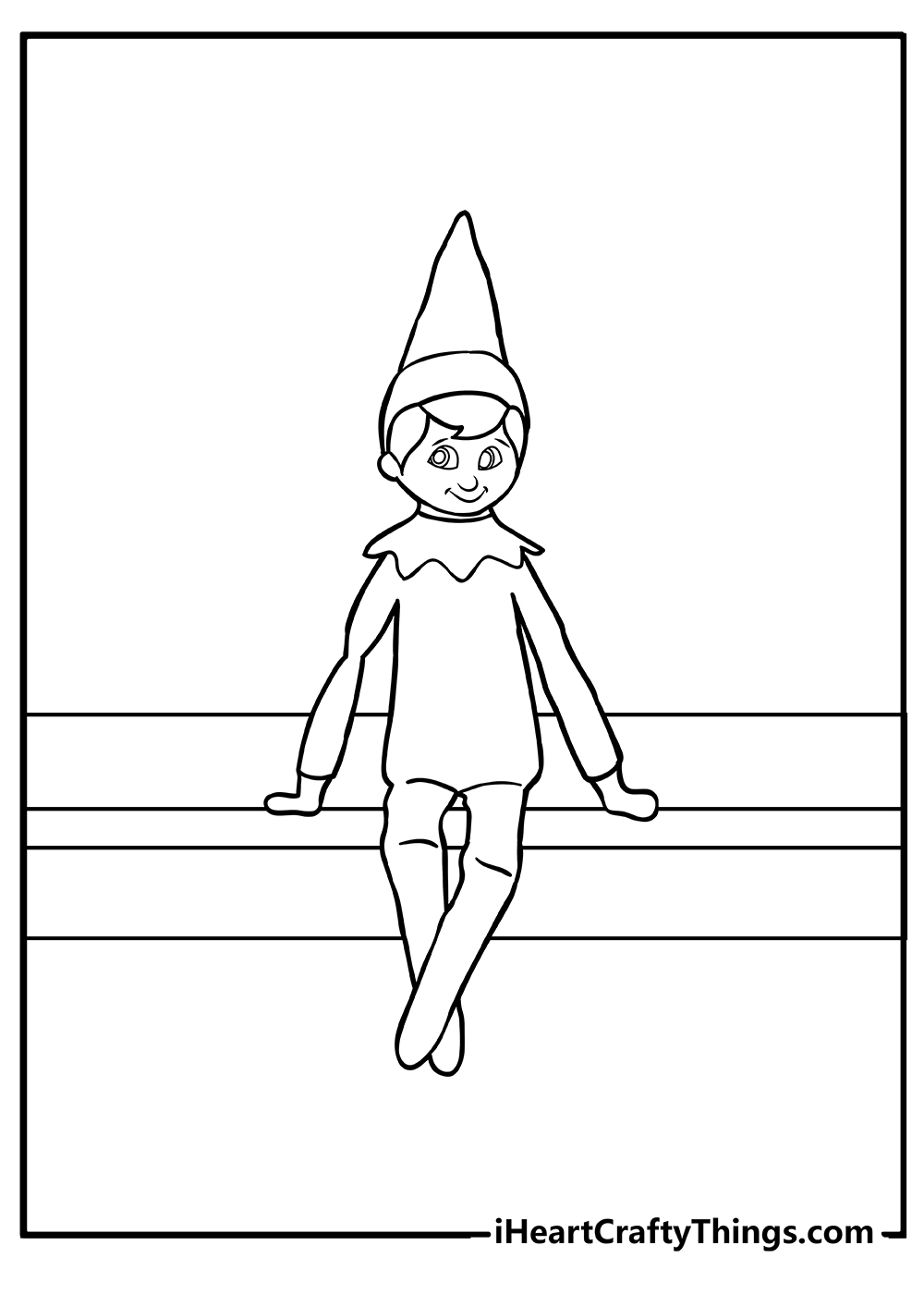 Isn't this tiny elf absolutely adorable? We think so! Just look at him sitting quietly on the table corner, looking cheerfully.
His joyous personality is in accordance with the holiday spirit. Not only are elves Santa Claus' messengers and little helpers, but they are great at spreading joy. 
After coloring these elf on the shelf printables, chances are your child will want an elf toy of their own. It is entirely understandable when they look so cute! 
If you wish, you could color it red and green to match with the Christmas decorations. As there are no rules, you could even paint a Christmas tree behind this little elf.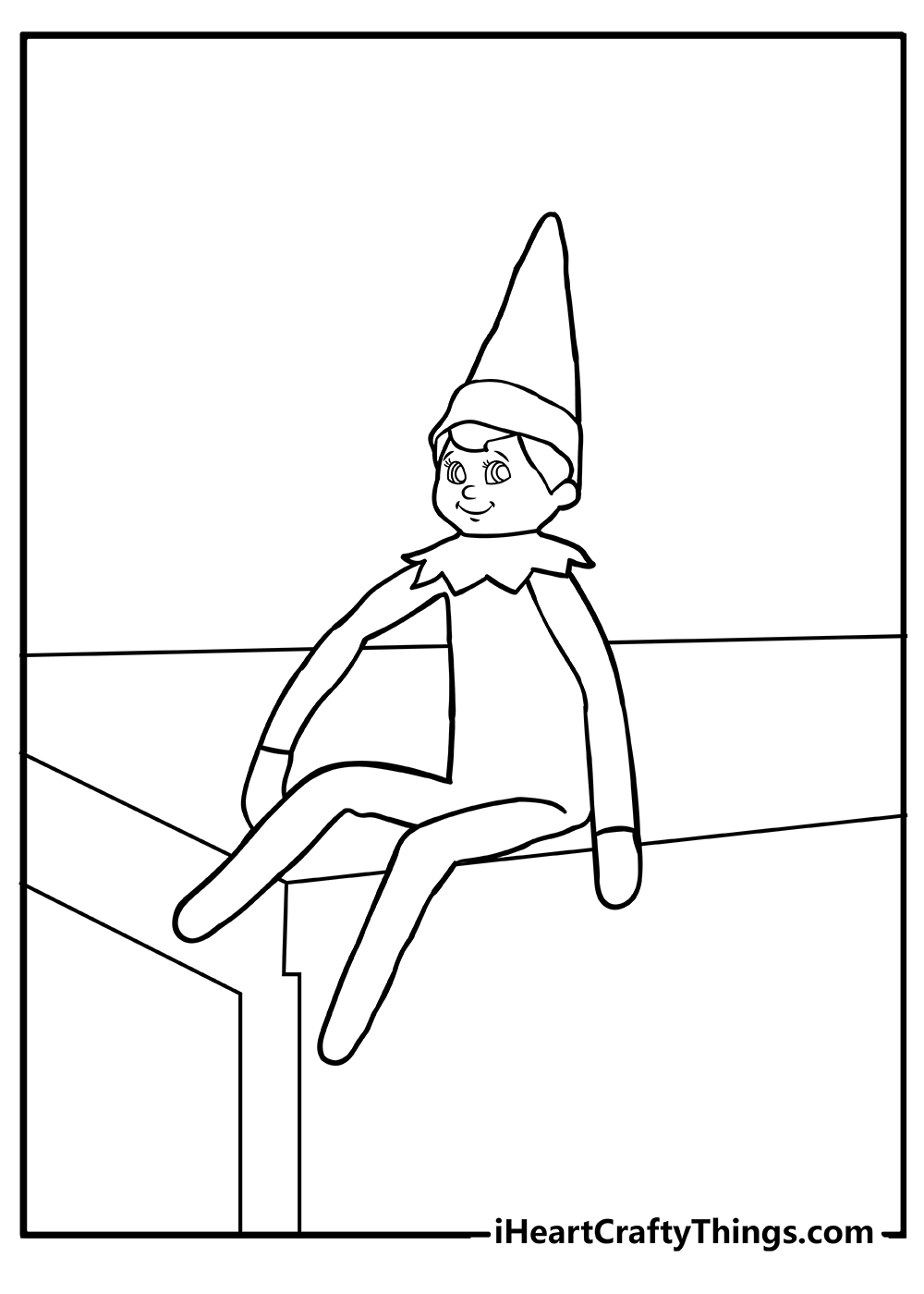 Uh oh, this silly elf is up to some holiday hijinks again! Just look at that sneaky grin as he sits perched atop the shelf.
I bet he's plotting another fun prank or some Christmas magic to surprise the family with when they wake up in the morning!
Think about your favorite elf on the shelf traditions. Do you leave your elf treats at night or help him set up exciting surprises for everyone?
His spirited enthusiasm and playful pranks make the holidays so magical!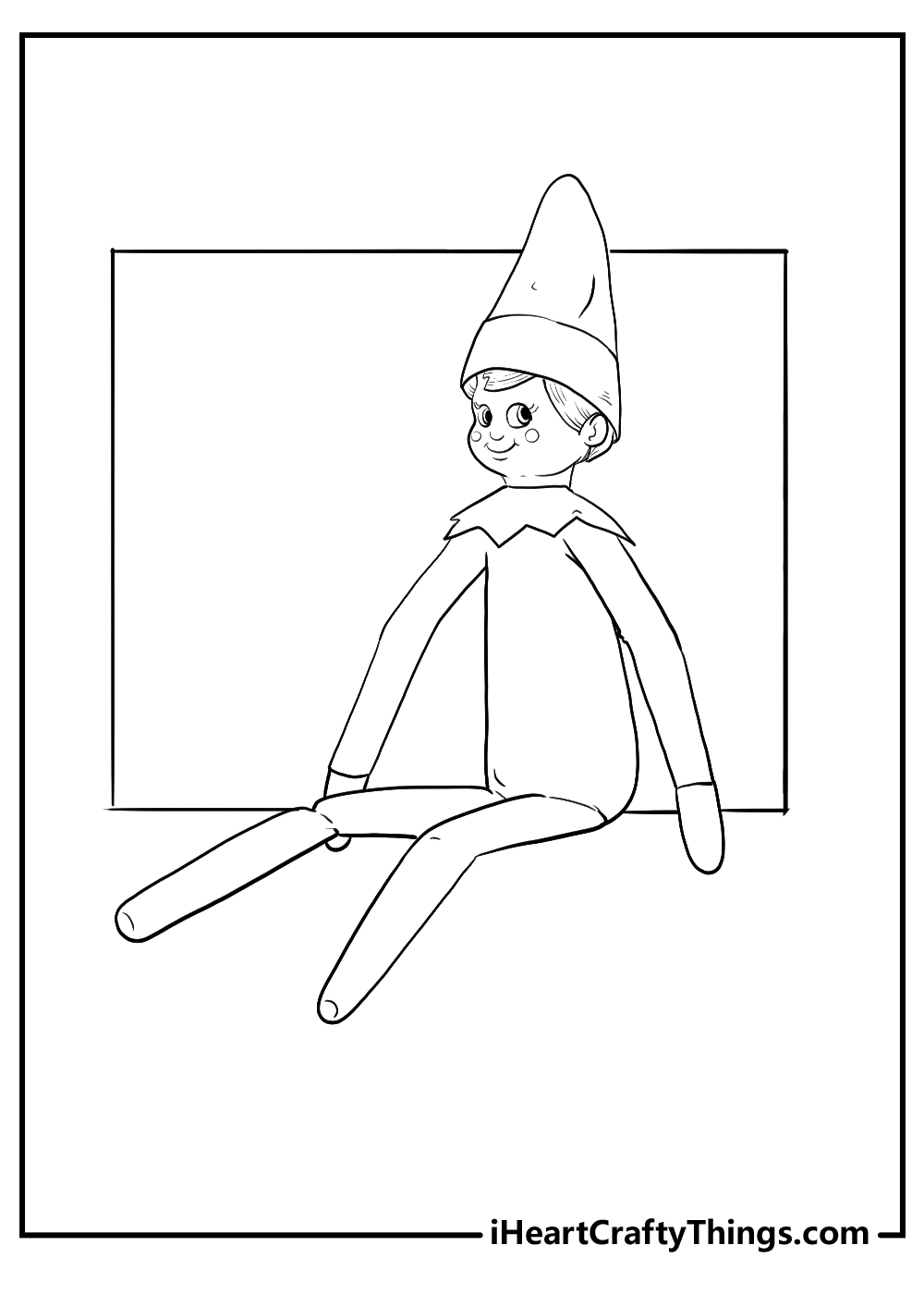 On this next elf on the shelf coloring page, our tiny and charming elf is comfortably sitting down.
Because the entire background is white, you can truly let your creativity run free and paint a small chair to match the elf's size. 
The smiling expression on his face makes him look so at peace!
He lives at the North Pole, surrounded by Christmas decorations and helping to make toys for children. Of course, he is a happy little elf! 
Do you know what would look nice on this elf on the shelf coloring sheet? A bit of glitter would genuinely showcase the Christmas spirit.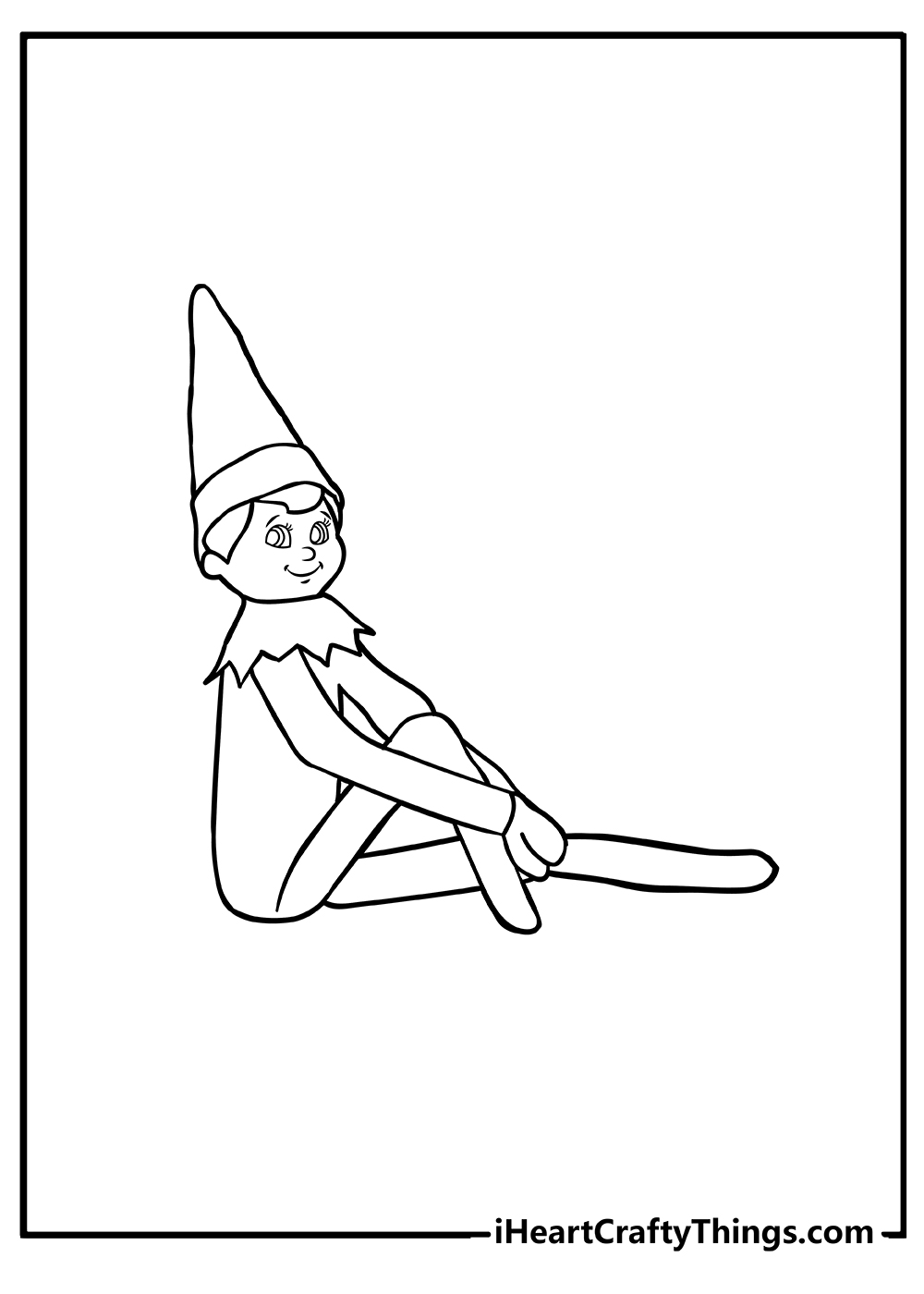 The elf on a shelf is of course associated with Christmas, and we have an extra connection to the festive season in this next scene.
This elf seems to be climbing a wonderful Christmas tree, and the best part of this inclusion is that you have loads of amazing details to color in.
We would use some bright and vibrant greens for the tree, and then use a variety of equally bright colors for the baubles on the tree. You could even add some more decorations of your own design.
What colors will you use for the wavy shapes in the background?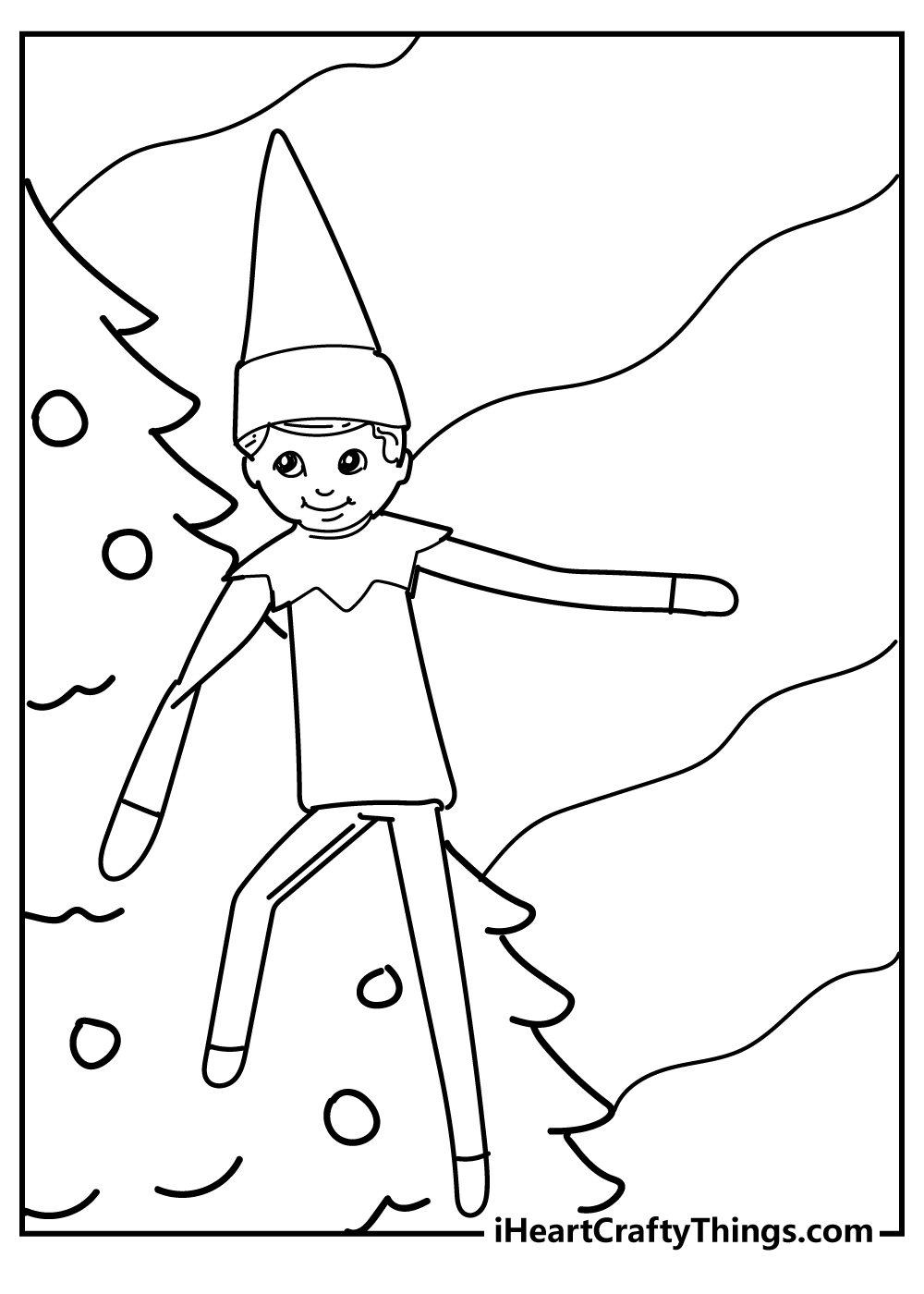 It's time for a close-up look at this sweet, friendly Christmas elf! Take notice of the cheerful smile on his rosy-cheeked face as you color in his twinkling eyes and pointy ears.
I wonder what is making him look so happy and content?
Elves radiate such warm, positive energy and absolutely love spreading laughter and Christmas cheer. Maybe he's just excited for the upcoming holiday festivities!
Let's use the boldest reds, greens, golds, and silvers to capture his inner warmth and holiday enthusiasm.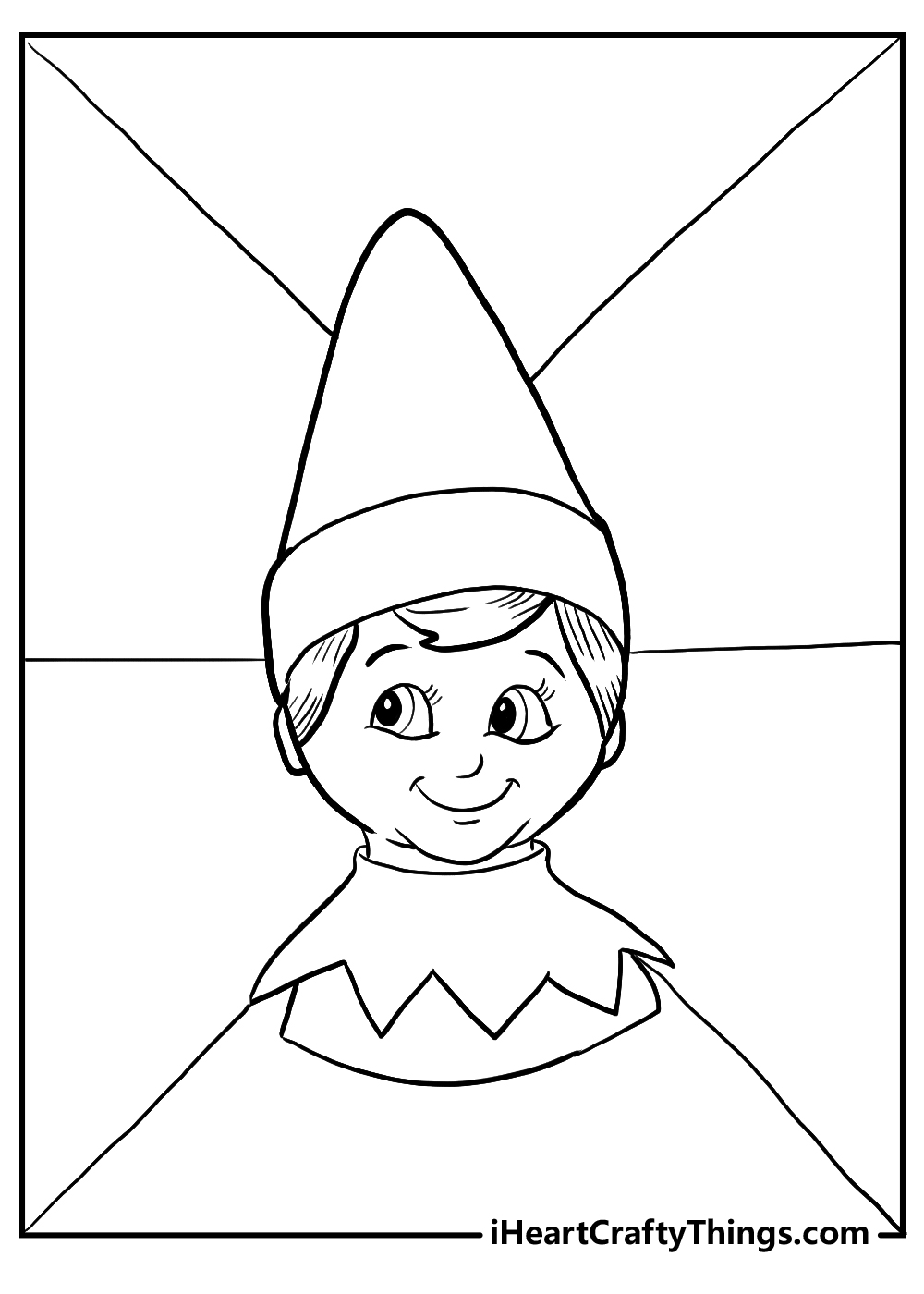 For the next image in our collection of free elf on a shelf coloring pages for kids, we have a cute elf enjoying a book.
The elf is looking up wistfully, and it makes it look as if it is visualizing a scene from the book.
Maybe you could write the name of your favorite book onto the one he is holding so it will look like he is reading it!
Then, for an extra detail, maybe you could draw a bubble over his head and draw a scene from that book. Which book would you choose for this little bookworm to be reading?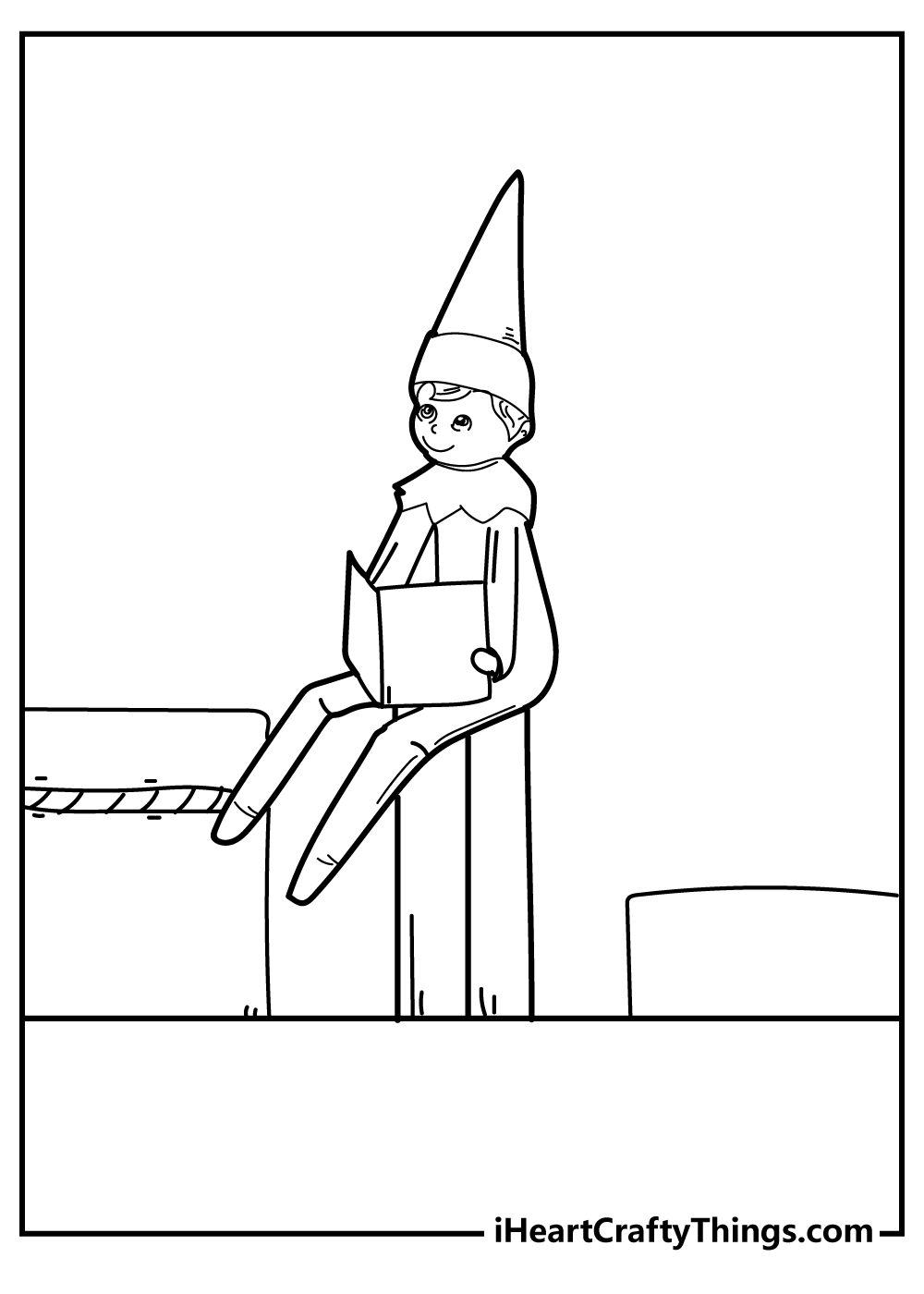 It seems like this charming little fellow is peacefully listening to Christmas stories told by the one and only Santa Claus! 
While your child colors this elf on the shelf sheet any way they want, you could relate to them a Christmas story while carols are singing in the background.
What a wonderful way to spend the holiday with your little ones!
As for the color palette, why not choose purple, green, and some glittery yellow for this cute tiny elf? Remember, you don't need to stick to the traditional Christmas colors for every printable sheet.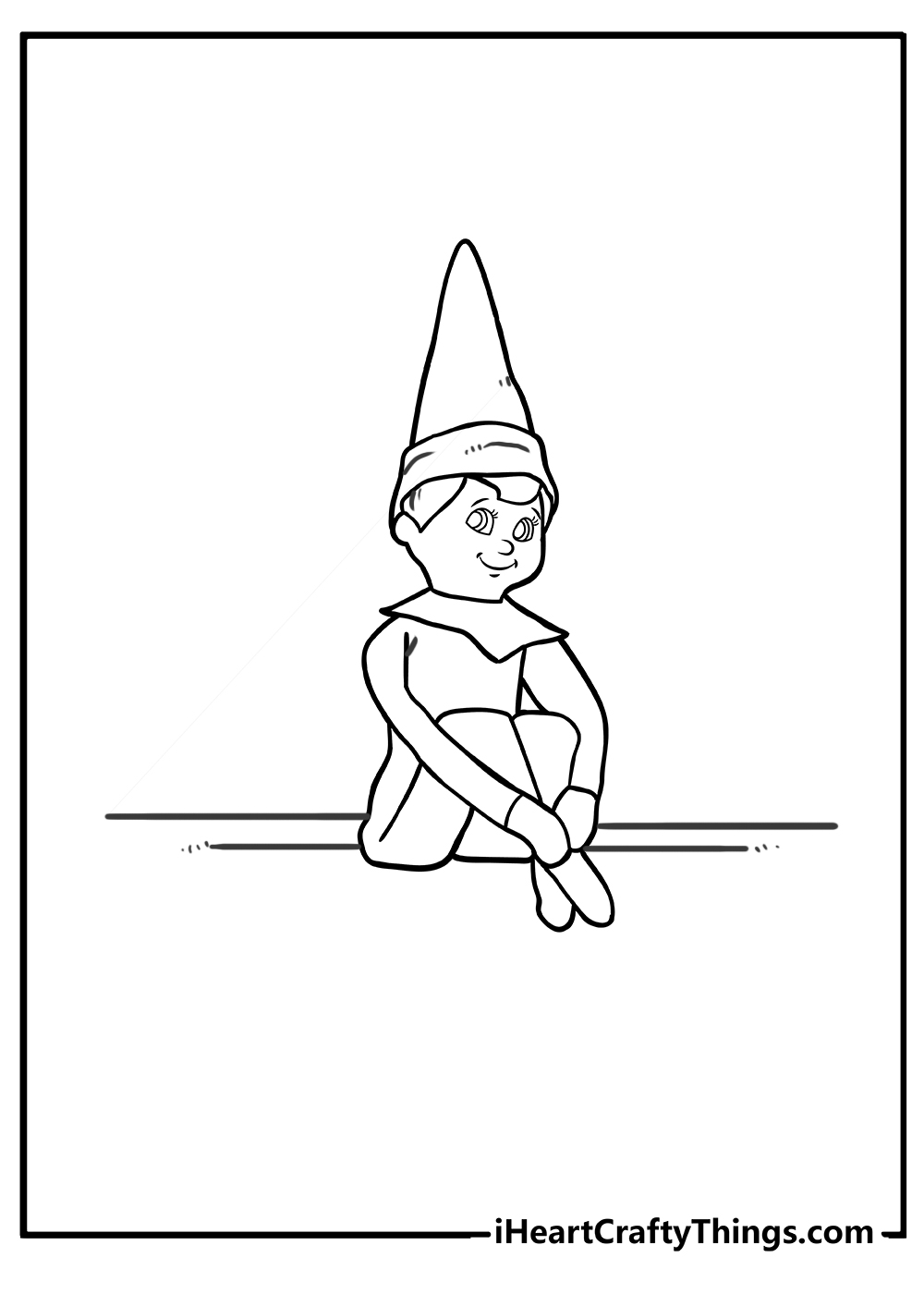 Our cute elf friend is looking so cozy and relaxed today! See how he sits with his knees casually pulled up to his chest and a sweet smile on his face? He looks so calm, comfortable, and full of that special elf spirit.
What gets you feeling relaxed and joyful too during this busy holiday season. Do the twinkling lights, smells of fresh Christmas cookies, and carols fill you up with cheer like they do for this merry little elf?
Let's use festive reds, greens, golds, and silvers to capture his tranquil, peaceful mood.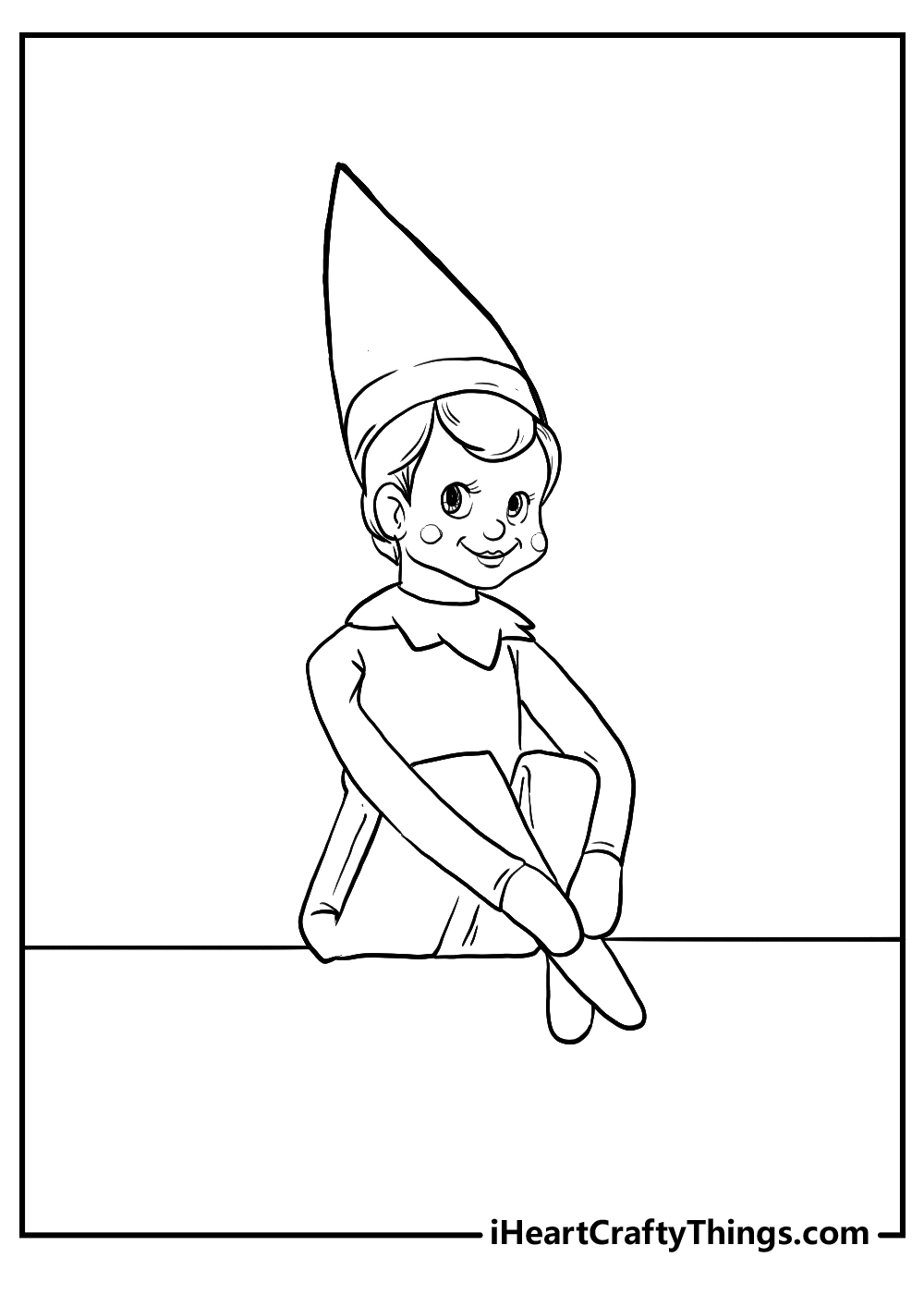 Remember those times when you would sit in a circle with your friends, telling all kinds of stories?
This is definitely something that your child also does with their friends or school colleagues. Seeing this friendly elf and the way he is sitting; surely makes you think of those times!
You could color the elf's hair dark brown and choose a bright shade of blue for the hat and different tones of green for his clothes. But why not try a multicolored palette for this elf on the shelf page?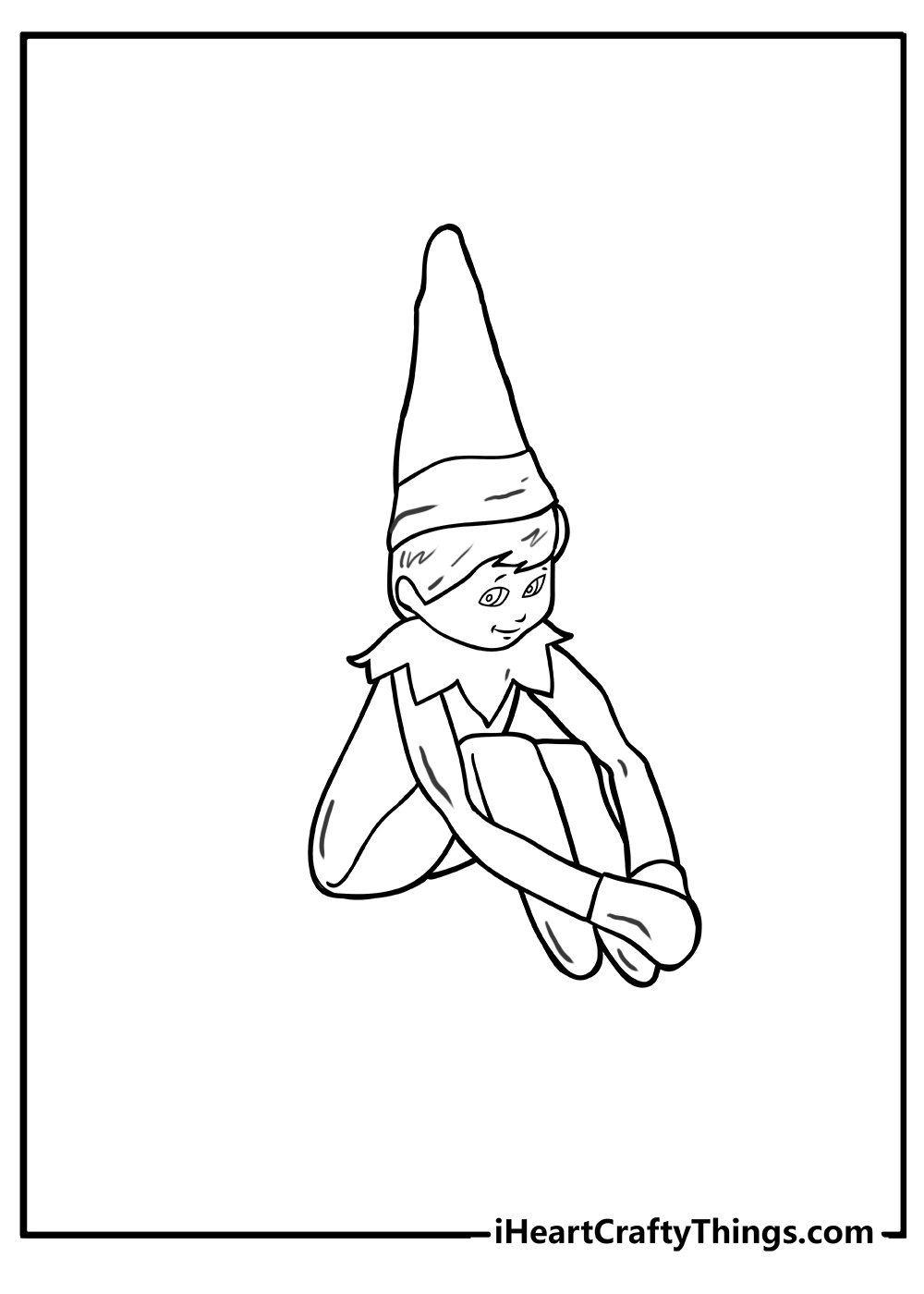 There is music in the air for this next page! This little elf is holding onto some drumsticks, and it looks like he is ready to have a real jam session.
He is missing a drum, however, but maybe you could help him out with that!
You could do that by drawing a fun drum for him to play. Doing so would also allow you to decorate it with some Christmas shapes and patterns!
Do you think you will add this extra element, or will you keep it as is and add some amazing colors?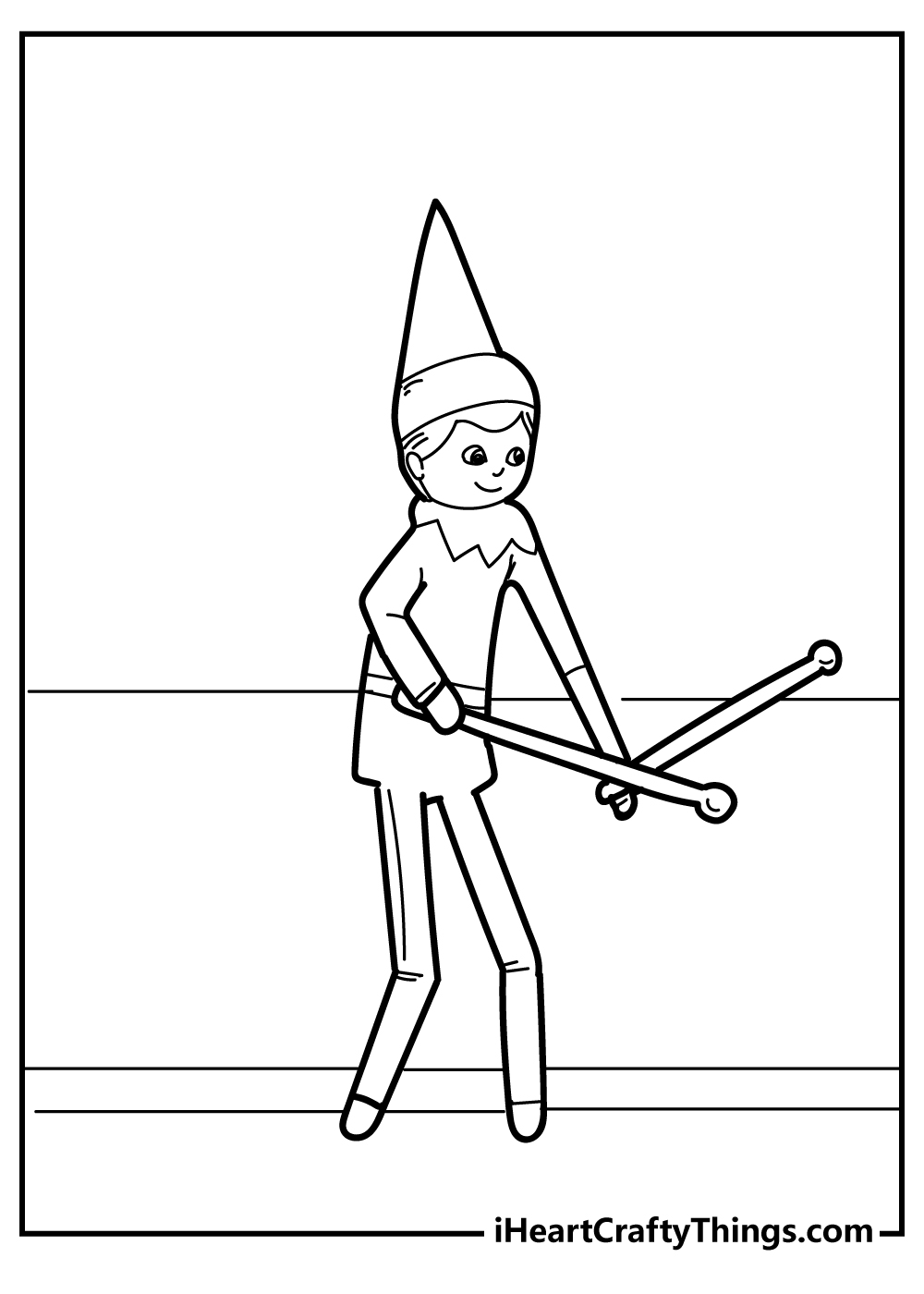 Get ready for some Christmas excitement – this energetic elf has his arms wide open and is ready to bring on the holiday magic! Just look at his big, enthusiastic grin.
You can tell how eager he is to spread seasonal joy, laughter, and Christmas cheer this year. As we color in his festive green and red outfit, let's think about our favorite elf on the shelf traditions your family does to celebrate the magic each year.
Do you have any special activities or surprises to welcome him back and kick off the holidays?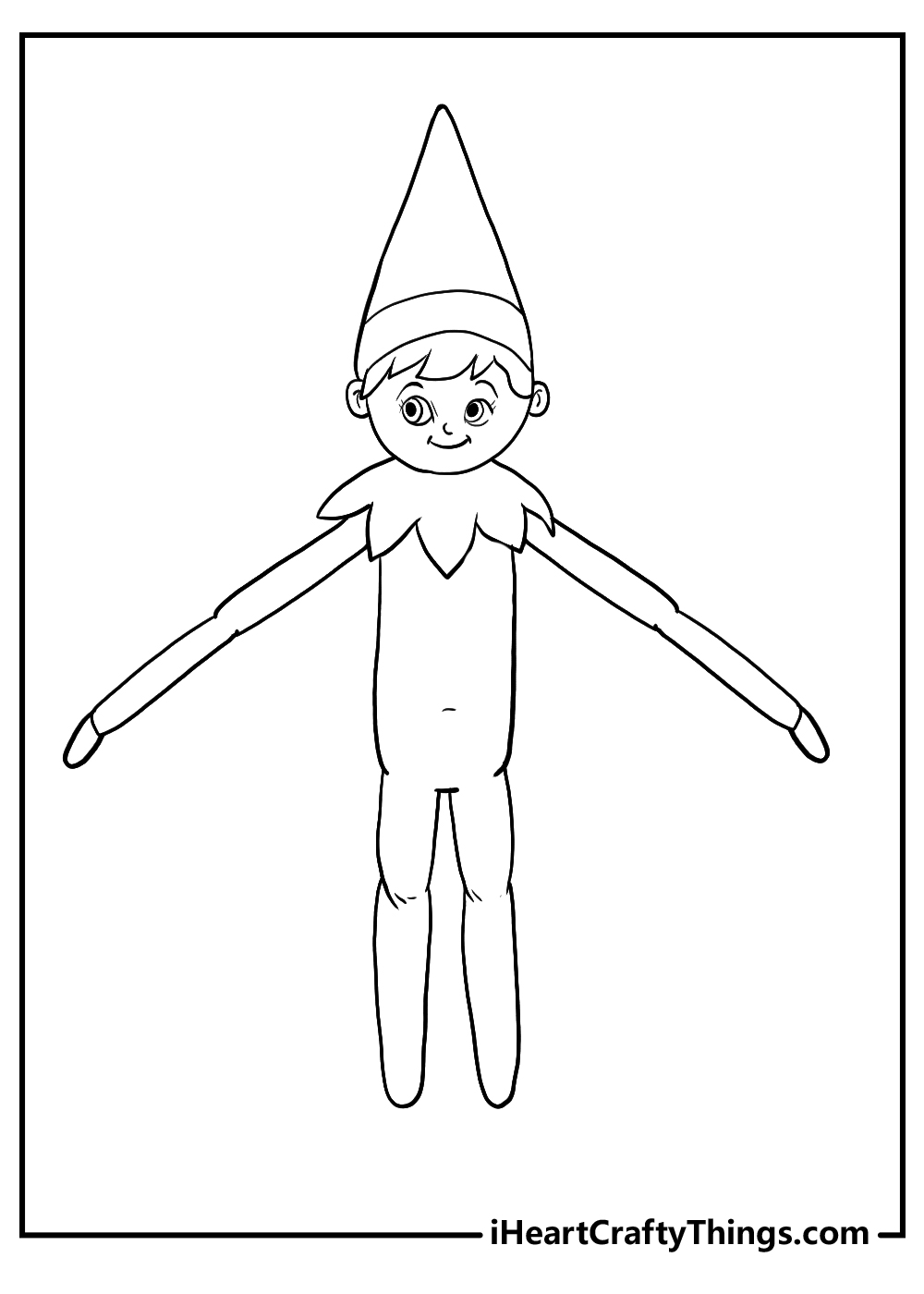 The best part of the elf on a shelf activity is that they can be found just about anywhere. This next page shows this off, as this elf is perched on a big flowerpot in the yard.
With this being an outdoor scene, this allows you to use a different set of colors and techniques to color this page.
If we were filling in this page, we would go with some watercolor paints with some softer colors in order to give it a softer, more natural look.
Which mediums do you think would best suit this charming outdoors setting?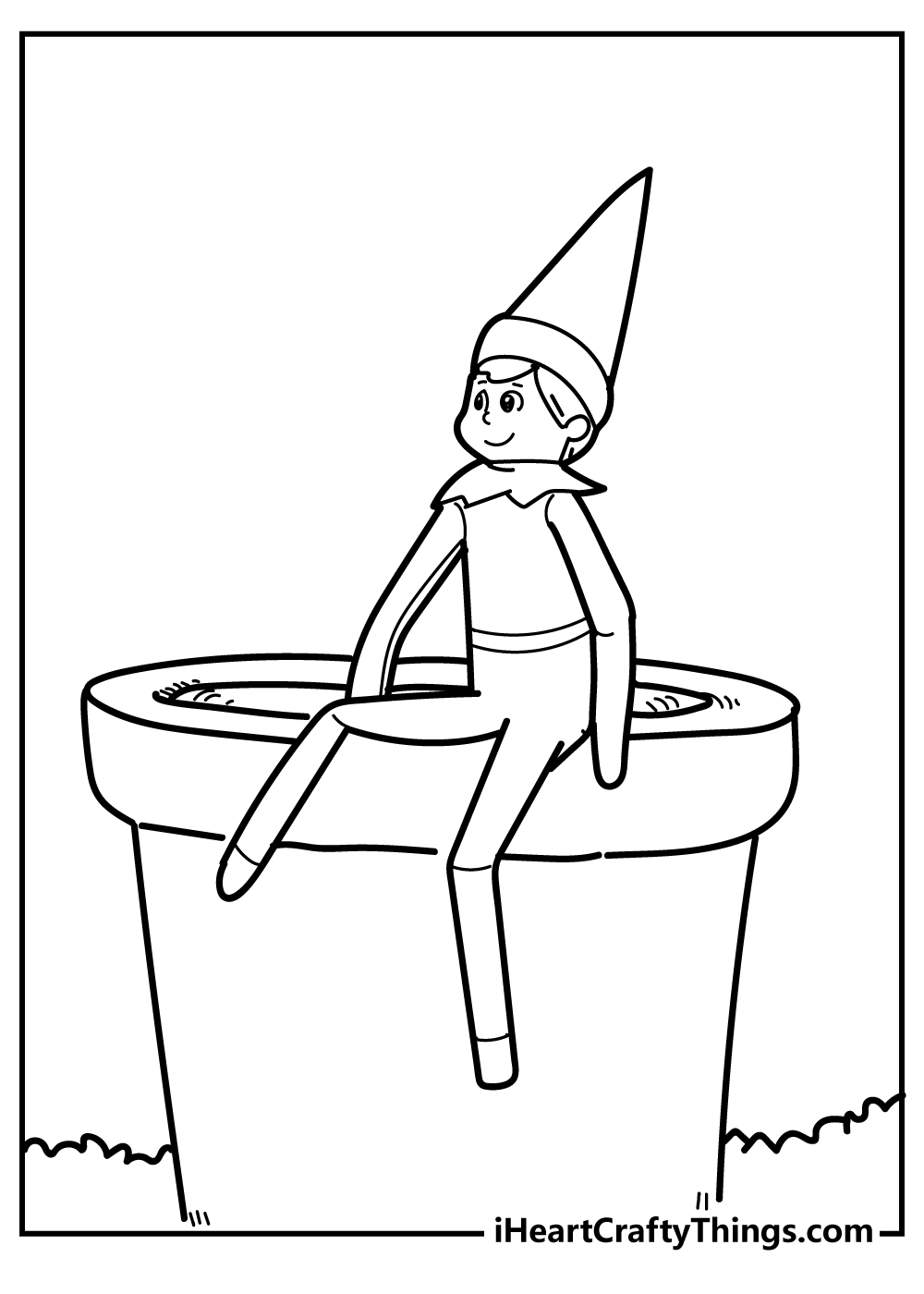 Best friends are always together! So are these two charming elves sitting on the grass, thinking of what new games to play today.
While elves are known to be living at the North Pole, they like to enjoy the beautiful mountainside in Iceland in spring. 
We know that elves are fictional characters, but there are no limits to imagination! So, it is essential to explore your child's creativity with these cute elf on the shelf coloring pages. 
Because they are best friends, you could choose matching outfits for them! For example, if you color one's hat purple, the other one could have his clothes in violet.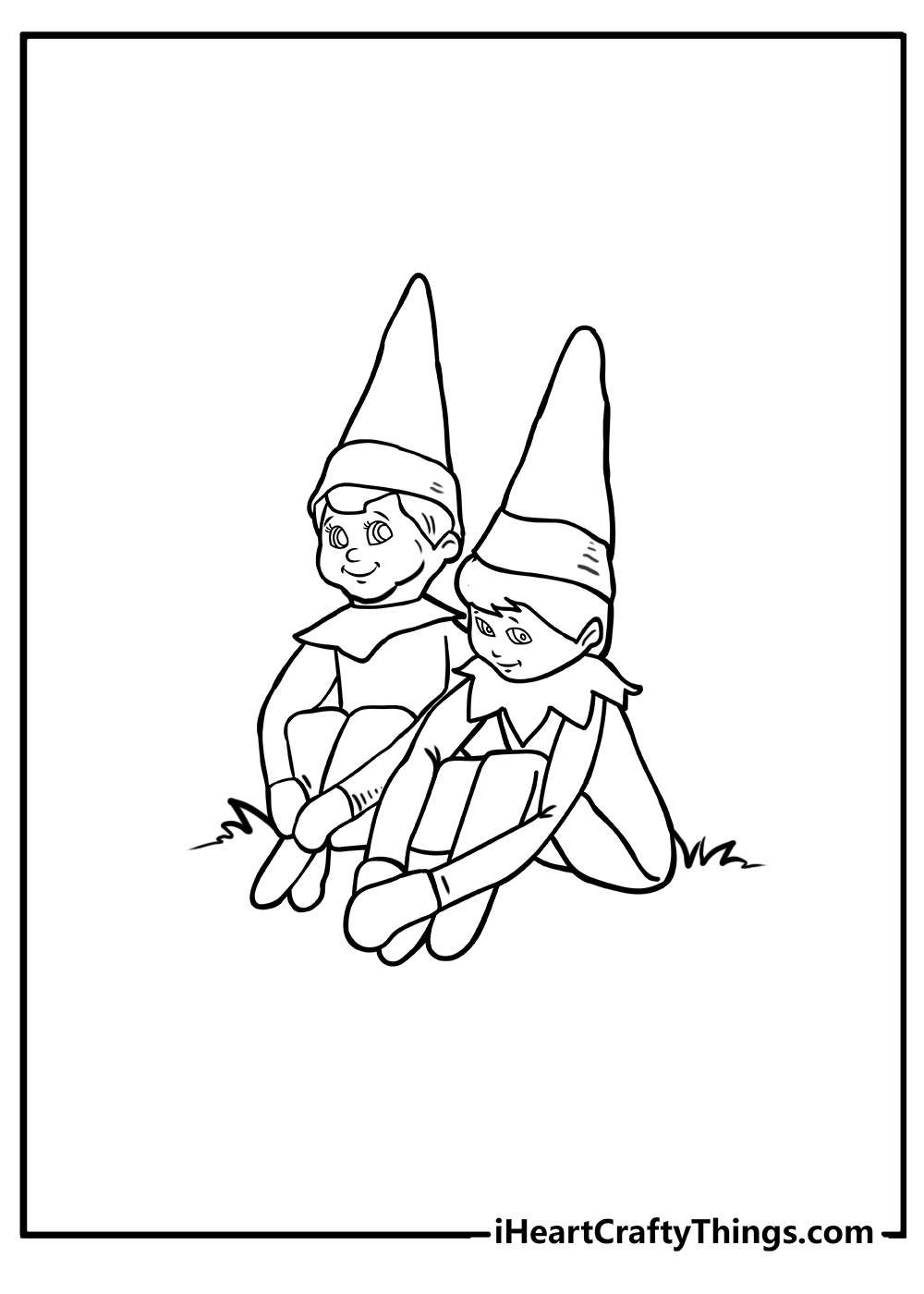 The elf on the shelf tradition has become quite popular. It is said that an elf is sent from the North Pole before Christmas Eve to see whether children are being naughty or nice.
At night, the little helper goes back to the North Pole to tell Santa Clause of his findings so that they can begin making the toys.
Now, this adorable elf looks like he is preparing the list for Santa Claus! Given his cheerful expression, we are sure that he only found nice children to write on his list.
On this elf on the shelf coloring page, you can choose the traditional Christmas attire elves have, with red and green, especially if he prepares to go back to the North Pole.
It seems fitting to color his clothes this way.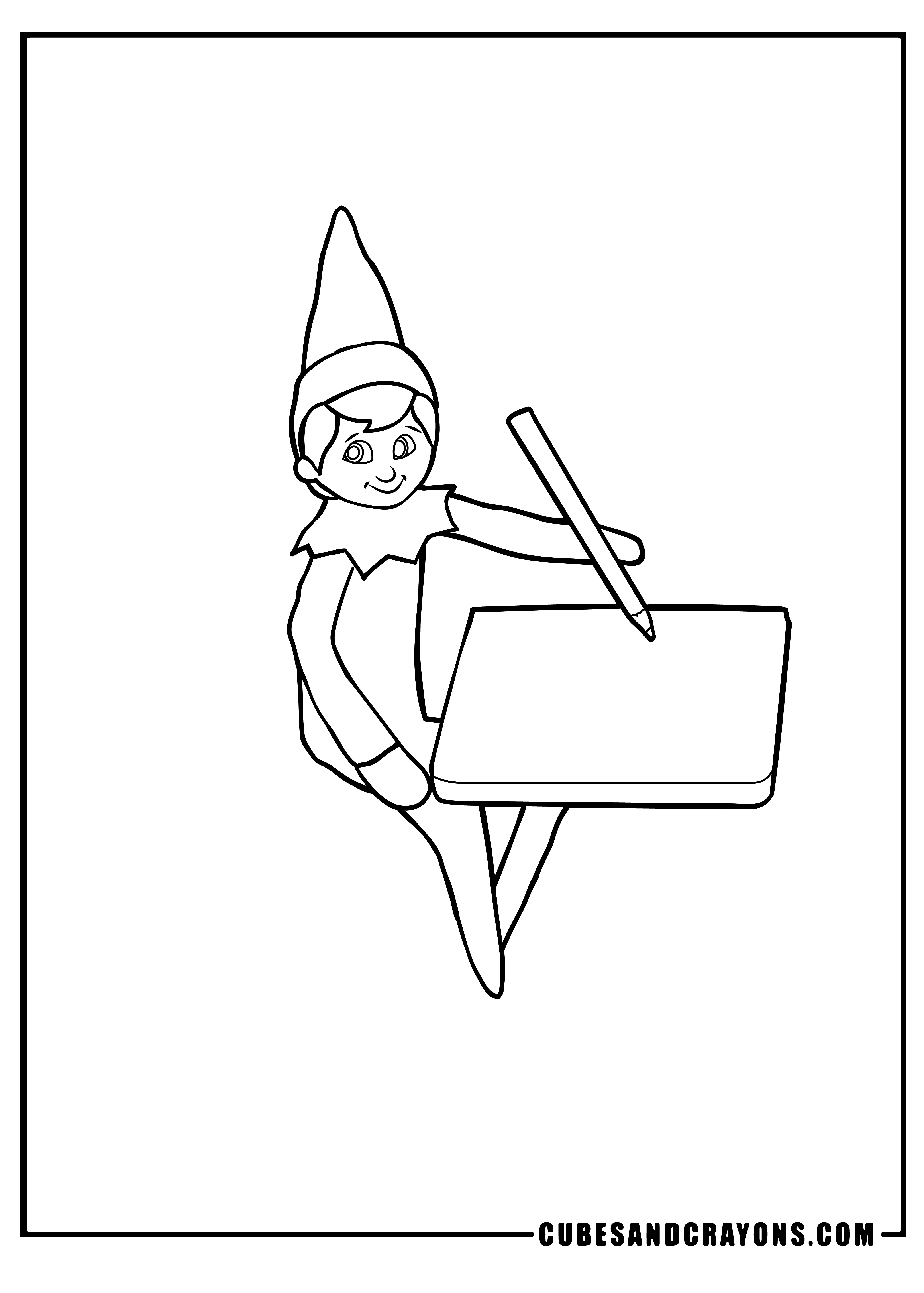 We all know that elves are Santa's trusting little helpers. They help build the toys and make holiday treats.
On this elf on the shelf coloring page, it looks like our cute little elf is taking a much-deserved break, thinking about how to build this toy. 
There are no rules for coloring these printable sheets, so choose the color palette you would like. For instance, why not try some pastel tones this time? It sure would look different than the others. 
You could give our tiny elf blonde hair and color his attire in pink, blue, green pastels.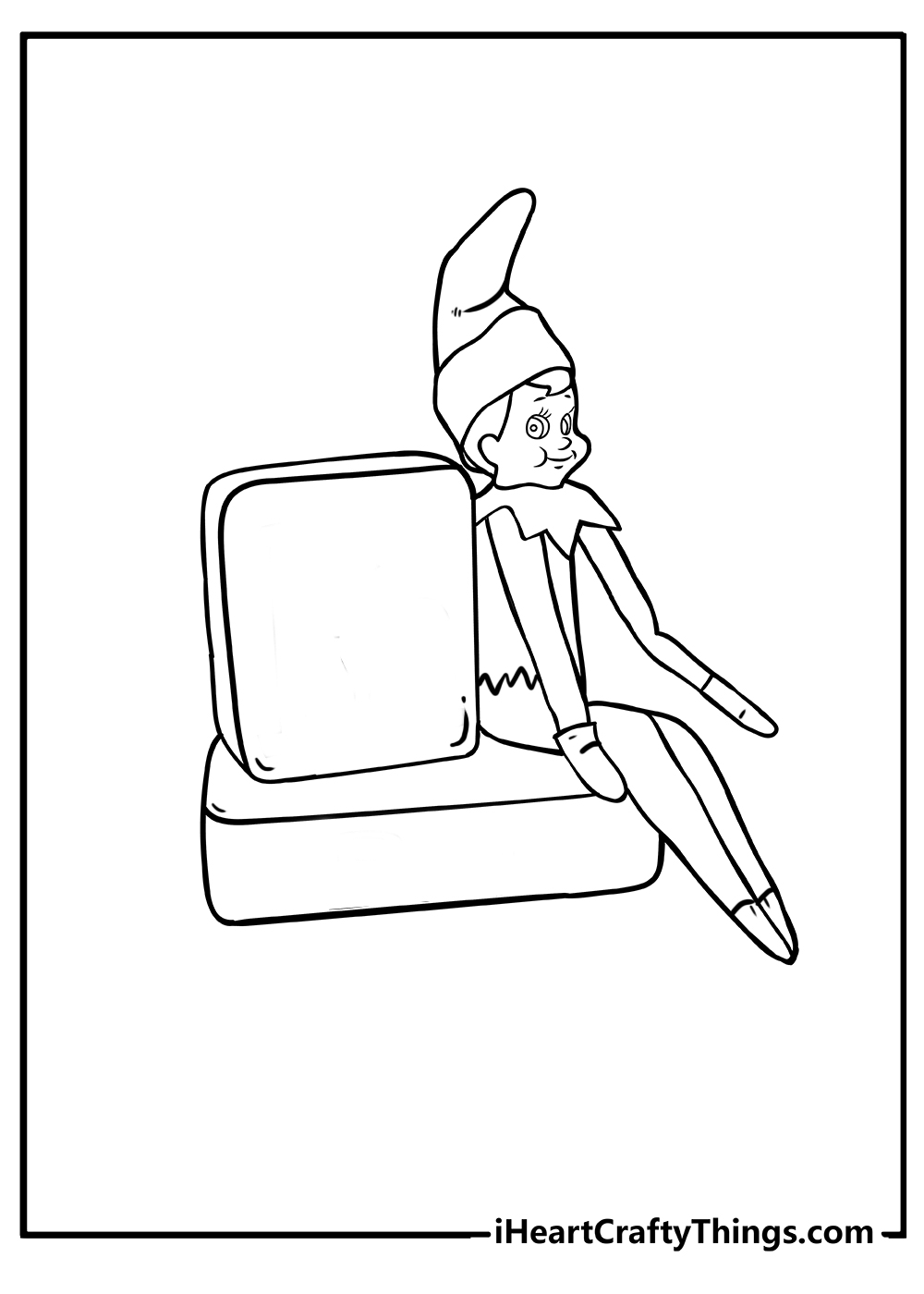 An interesting fact you might not know about elves is that they age much slower than humans do.
In folklore, it is believed that these little friendly creatures can live hundreds and even thousands of years.
What's more, rumors say that one elf year equals three human years. Perhaps this is why they look so young and are so incredibly adorable. It will remain a mystery, but this is what makes them so magical.
On this second to last elf on the shelf coloring page, we think this lovely elf would look best in a bright multicolored outfit – similar to those Christmas lights that seem to have all the colors in the world!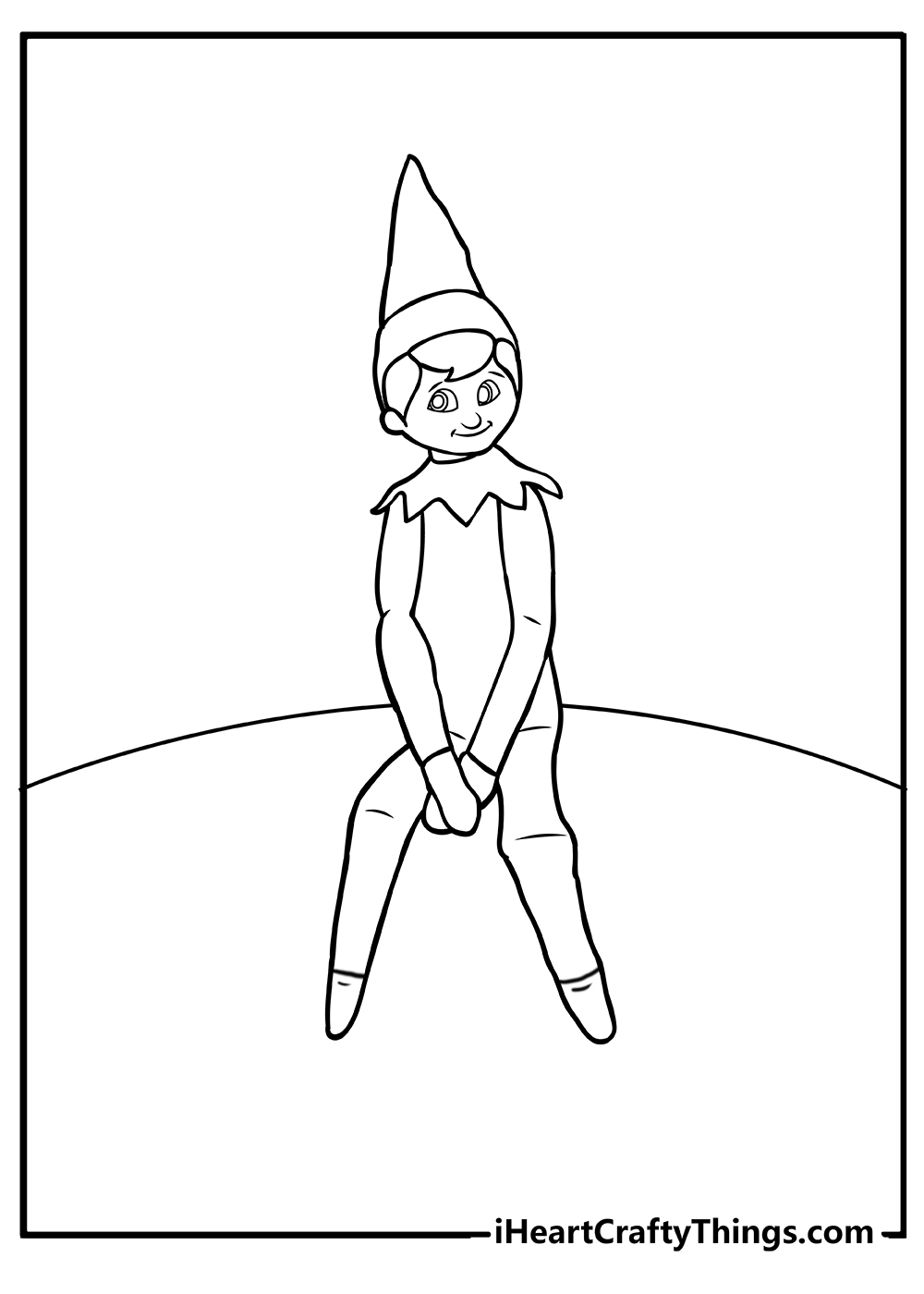 Now, here's an elf on a shelf coloring printable that has so many opportunities for some amazing colors!
The main feature of this page is the candy cane that the elf is holding.
Candy canes are traditionally colored with alternating red and white, and it would look really stunning if you colored this one with those colors.
They can come in other colors, however, so if you have other colors you prefer then you could use those instead! How do you think you will color the tasty candy cane in this picture?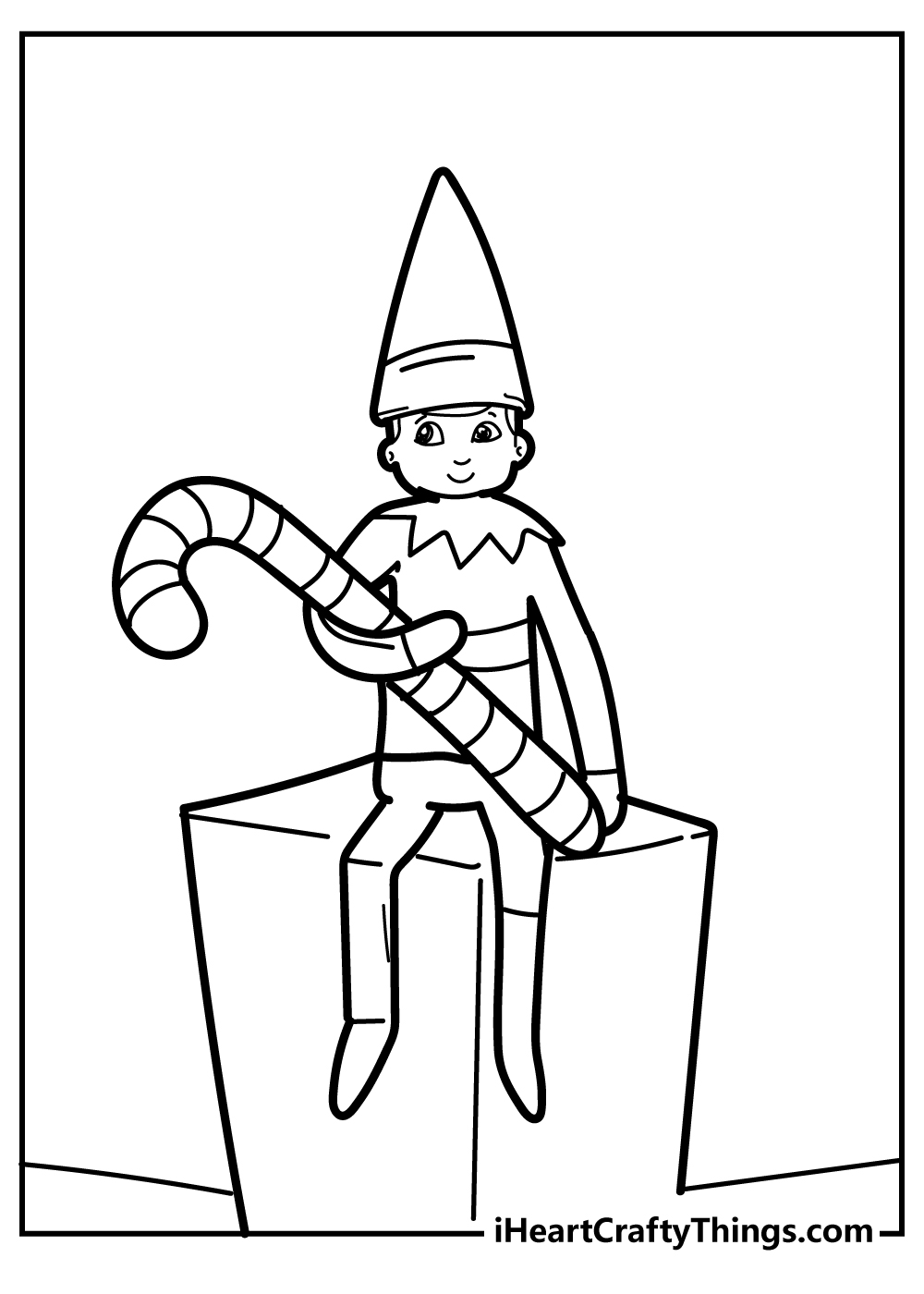 We have another happy elf sitting on his shelf for this next page. It is a simple yet charming scene, and there are some fun ideas you could use to make it even better.
There is a lot of empty space in the background, so that allows for some awesome extra details and touches that you can add. What other objects do you think would be on the shelf with this elf?
Even if you don't add any extra details, you can use all sorts of great colors, art tools and different techniques to make this a really special scene.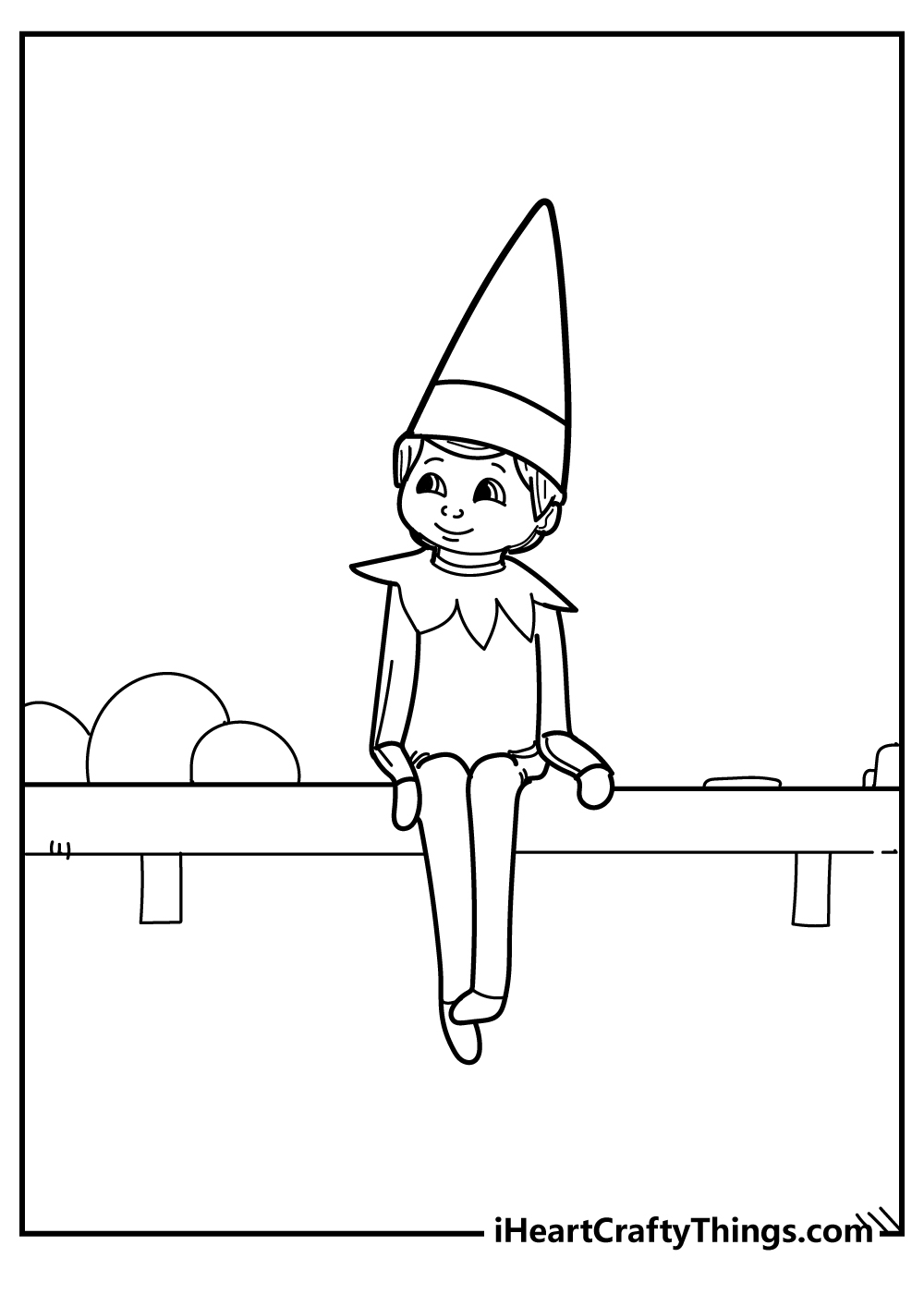 Have you missed these adorable best friends? Here they are again on this elf on the shelf printable page!
If you think one elf is cute, wait till you see these two together, building toys or playing together. 
You could easily think these elves are twins. But you could choose to give an elf blue eyes and dark hair and, for the other one, brown eyes with fair golden hair. 
If you wish, you could color their outfits with similar shades. And for a more festive look, don't forget about adding a bit of glitter!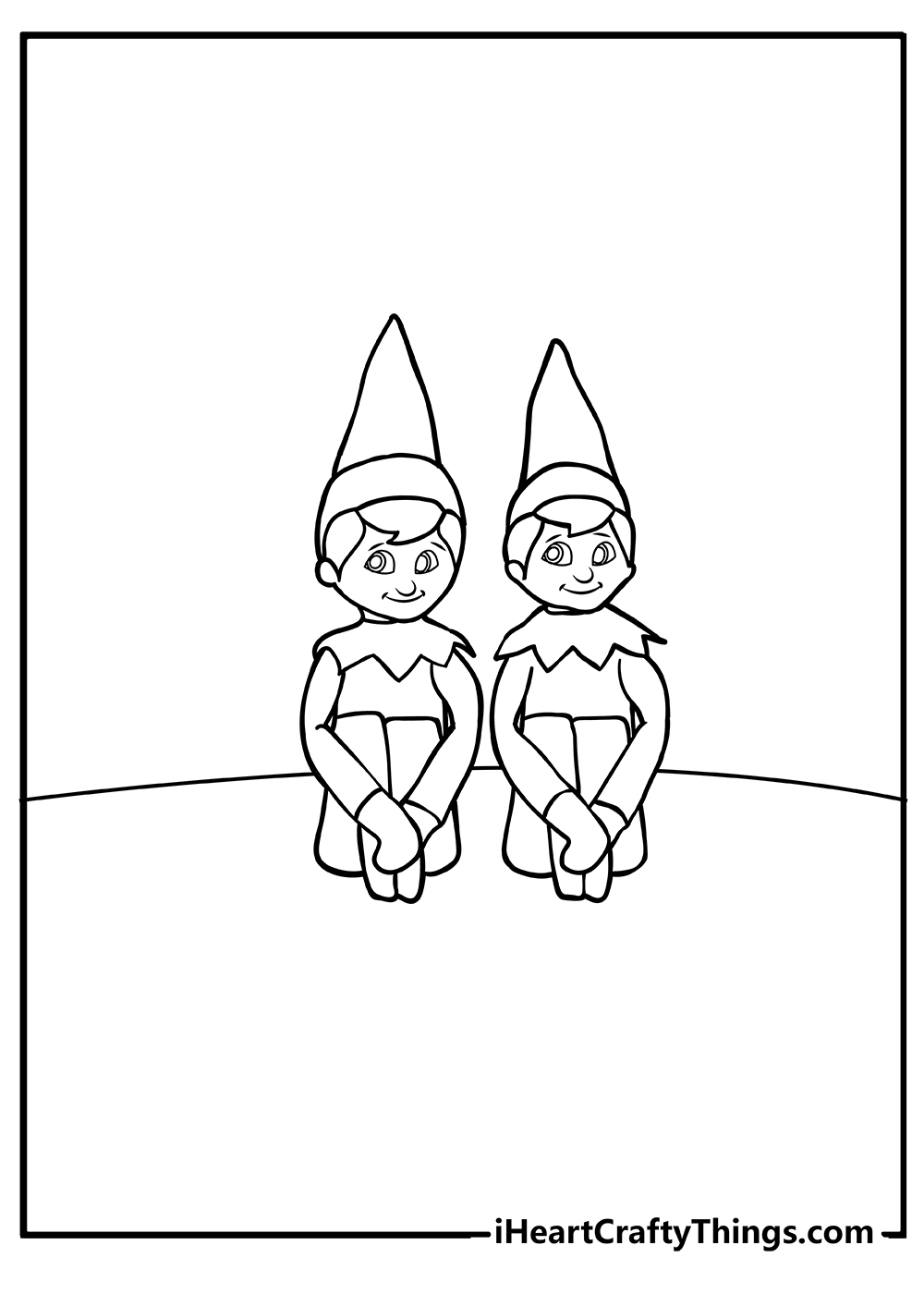 This next elf is showing off some dance moves! It is a really fun and happy scene that gives off a really fun and happy feeling.
We would go ahead and use all of the brightest colors and mediums we have if we were to color in this page.
Using bright colors would help to emphasize the joyful feeling this scene gives off, but there are many other ways to color this page as well.
It's up to you, and whether you go with our suggestion or try something more muted, we know it will look great!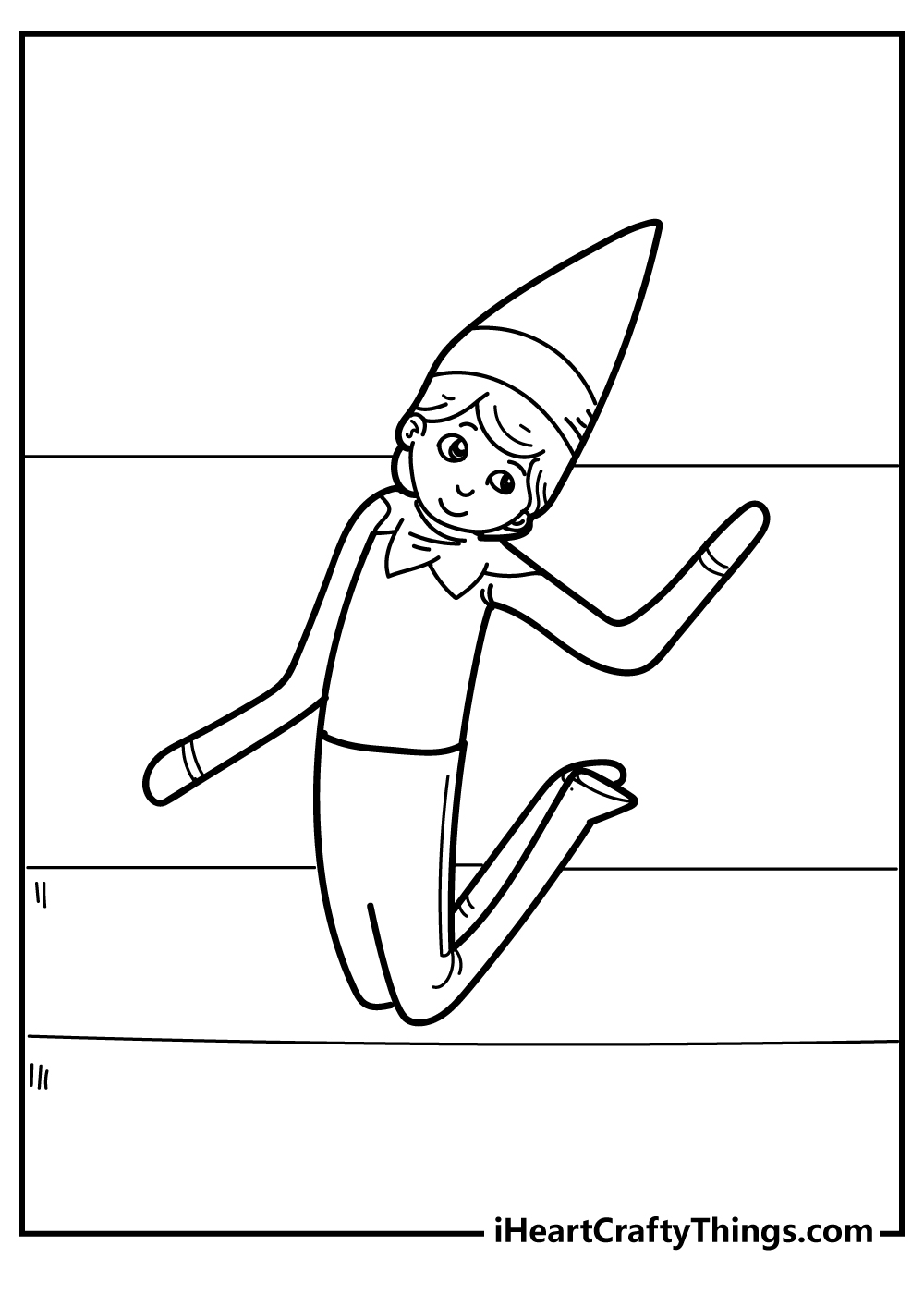 This elf on a shelf coloring page features exactly that, an elf sitting on a shelf! This is a simple yet fun scene featuring this famous tradition, and there are so many ways you could make it even better.
Once you have chosen the colors that you think best suit this composition, you can draw some extra objects on the shelf next to the elf.
That would be a great way to make it look like a shelf you may have in your house!
What other fun ideas do you have to make this picture even more special?