Christmas is one of the most magical times of the year, a time where families get together while snow is falling, trees are decorated and many brightly colored presents appear like magic under the Christmas tree.
Christmas is a time of warm festive colors, with reds for Santa's suit and the greens of Christmas trees and mistletoe everywhere around.
However, pretty much any color you can think of will be found in the numerous Christmas decorations and of course with the wrapping of the many Christmas presents.
These free Christmas present coloring pages for kids are the perfect way to get in the festive spirit or relive your favorite Christmas memories if December 25th is still months away.
Once you've colored in your favorite Christmas present coloring sheets, please be sure to share your festive coloring artworks to our Facebook page so we can share in the Christmas spirit!
15 Brand New Christmas Present Coloring Pages – Free to Print and Color
This little cutie is standing beside a giant present, resting with one hand on it, and waving hello in her cozy Santa hat. I bet there's something super fun inside that box.
This will be so fun to color for Christmas. Let's decorate this gift and our new friend in the brightest, merriest colors we can find. We could make the hat red and the ribbon on the box green.
The bow can be polka-dotted, striped, or covered in sparkles. And we can give the gift box any wrapping paper pattern we want.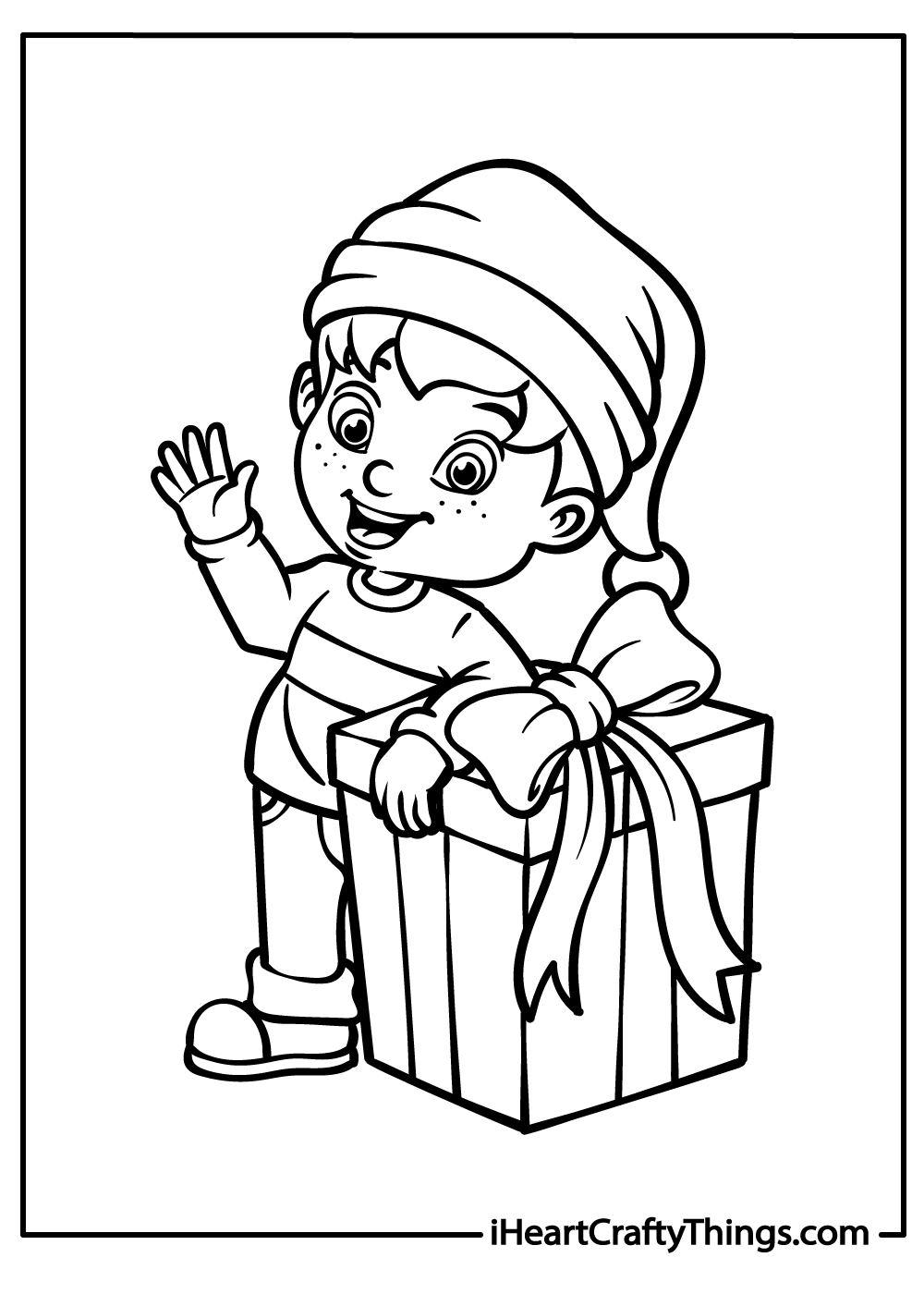 It's time to unwrap our first Christmas coloring page with these three presents for you to color! There's plenty of opportunity for you to use your favorite colors and patterns on these brightly wrapped packages.
You could use yellows for the stars on the one present and your favorite blues, pinks, reds or other favorites on the dots and patterns on the other presents.
REMEMBER: You can get the COMPLETE set of these coloring pages >> HERE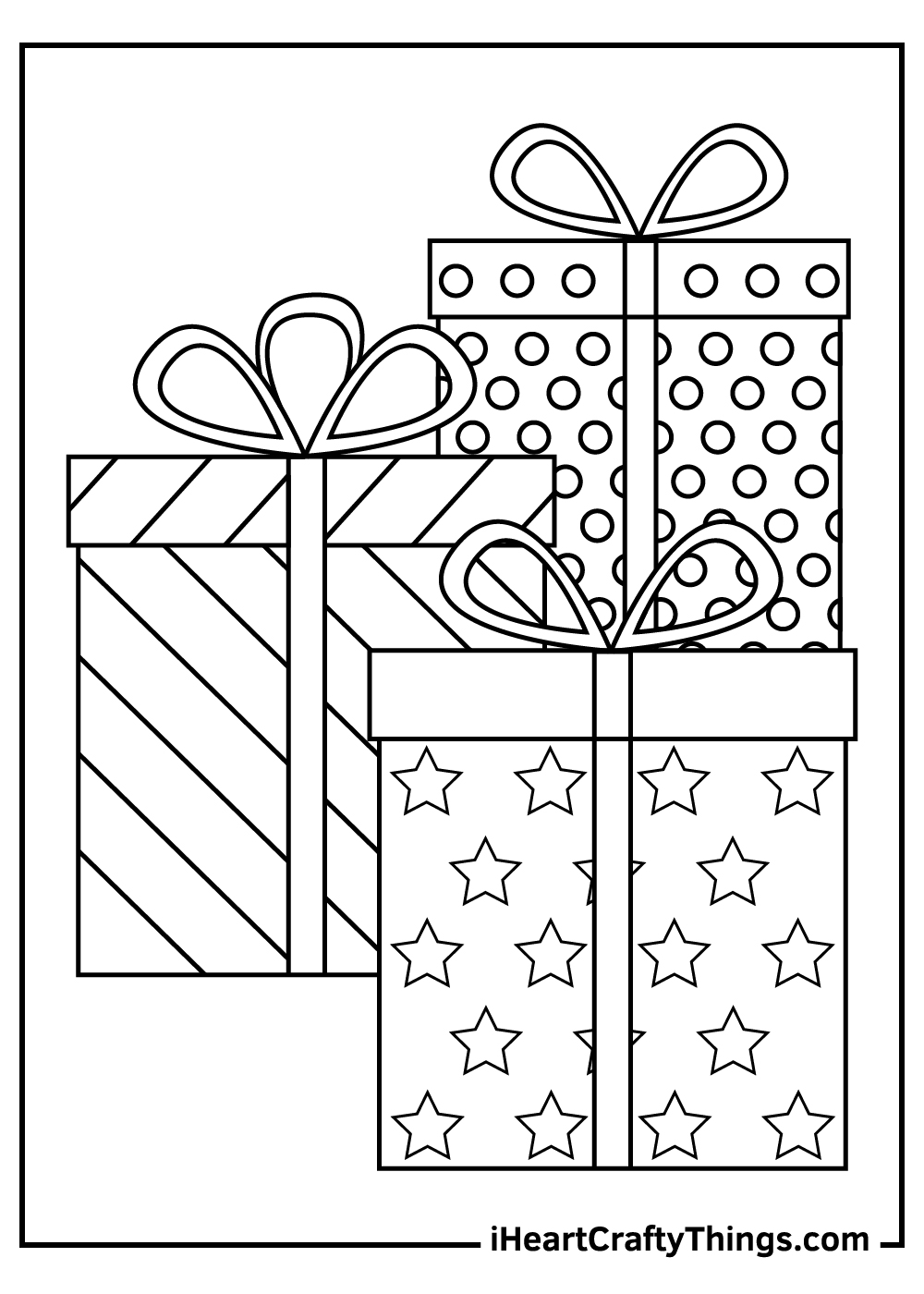 Look at the cute little girl with pigtails. She is wearing a fun Santa hat and holding a present close to her chest. I wonder what's in that gift box.
You can color this image with any colors you like, but you might want to use some green and red for the gift box and the Santa hat.
You can also add some patterns or glitter to make the girl's dress and shoes more interesting.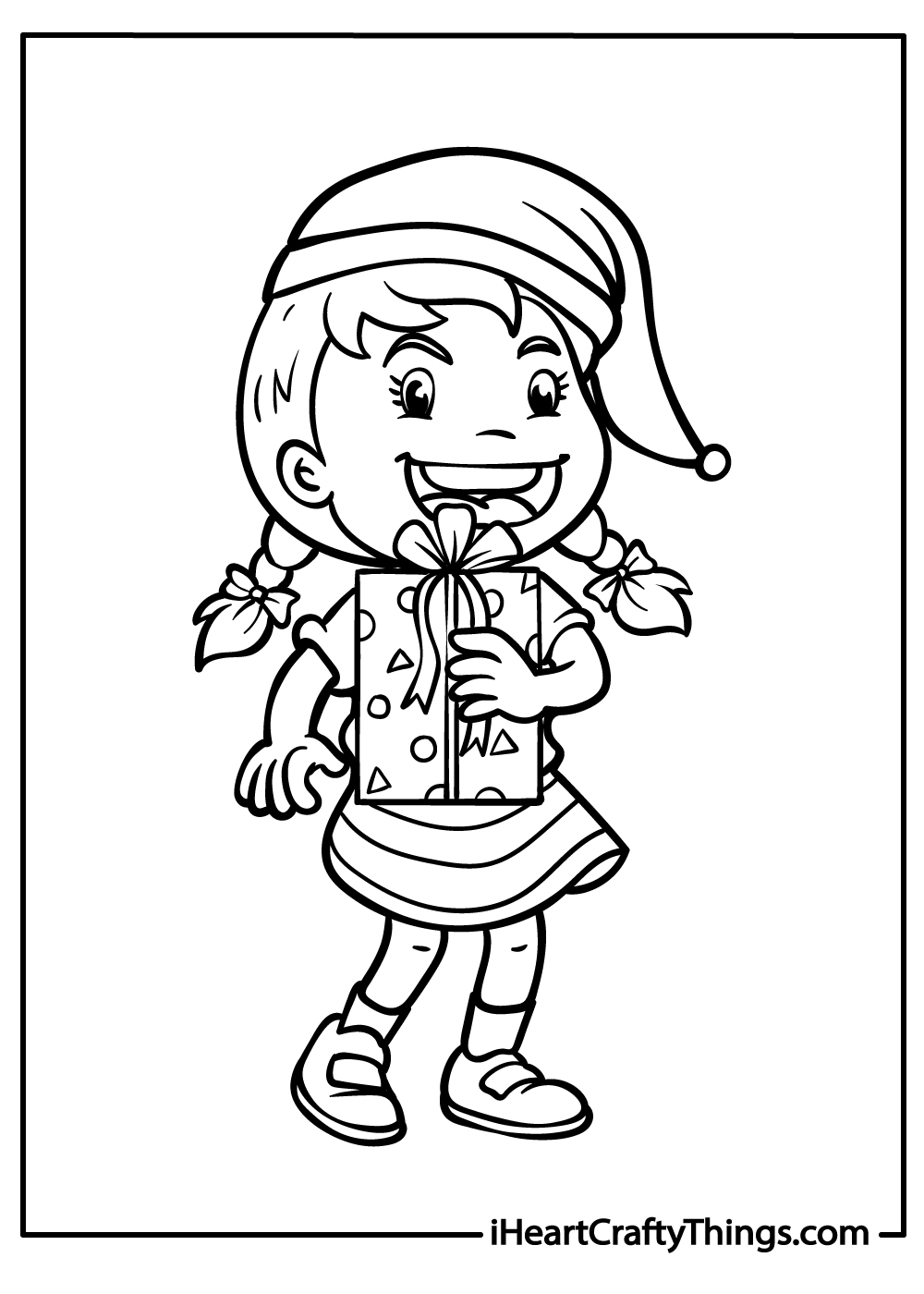 This fourth Christmas present printable has a pretty pair of Christmas presents for you to have fun coloring in.
You could have both gifts in a similar color scheme to make them a matching pair, or you could use more unique variations for each present to make them stand apart from one another.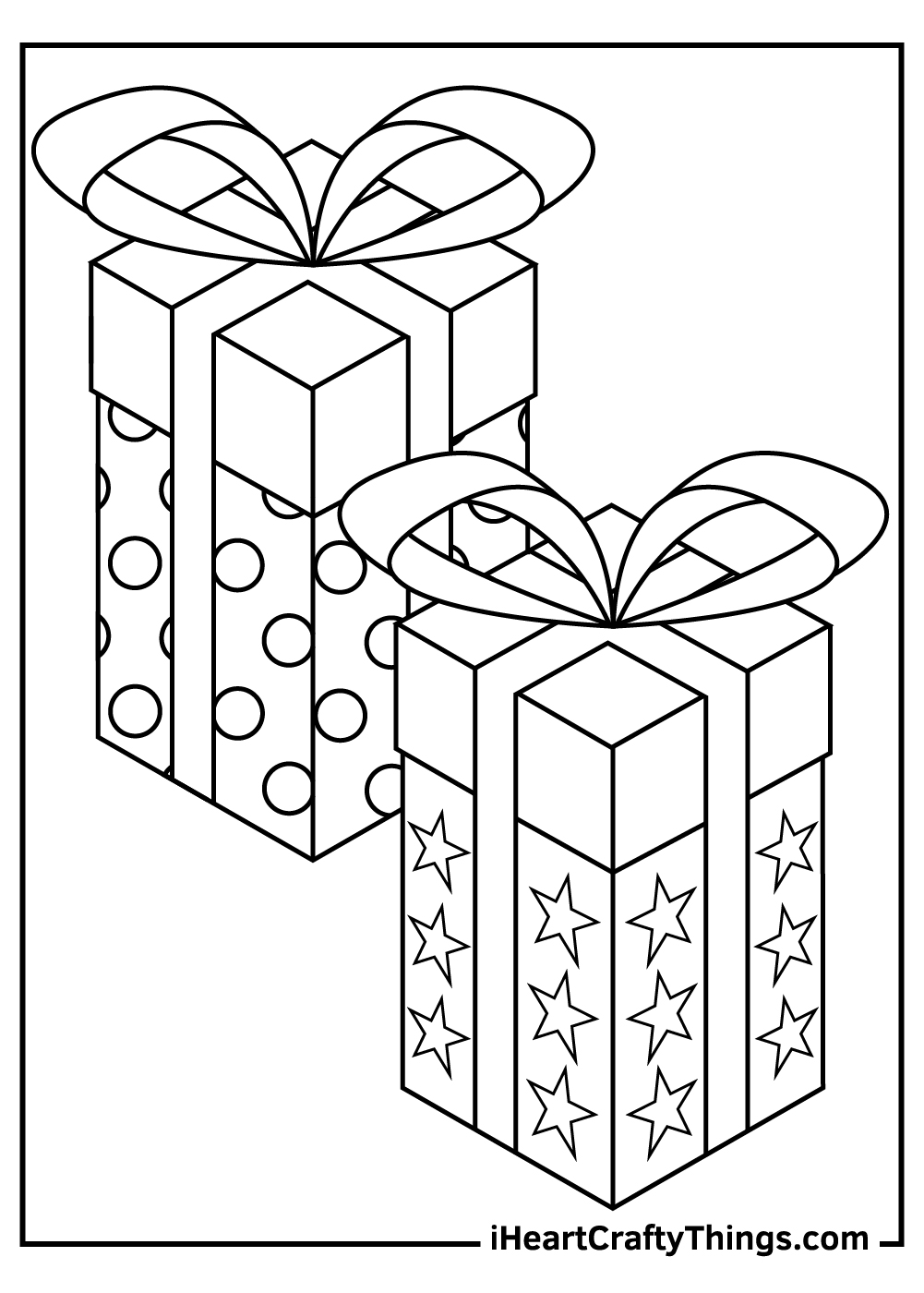 There's a snowflake pattern on one of the gifts in this next Christmas present coloring sheet. This makes me think of lighter, cooler colors for that gift.
Maybe you could make the snowflakes white or a very light blue, then use a darker blue for the background the pattern is set into.
Will you keep these presents a cooler color set or will you use warmer colors for the second gift to give this Christmas present printable a contrasting look?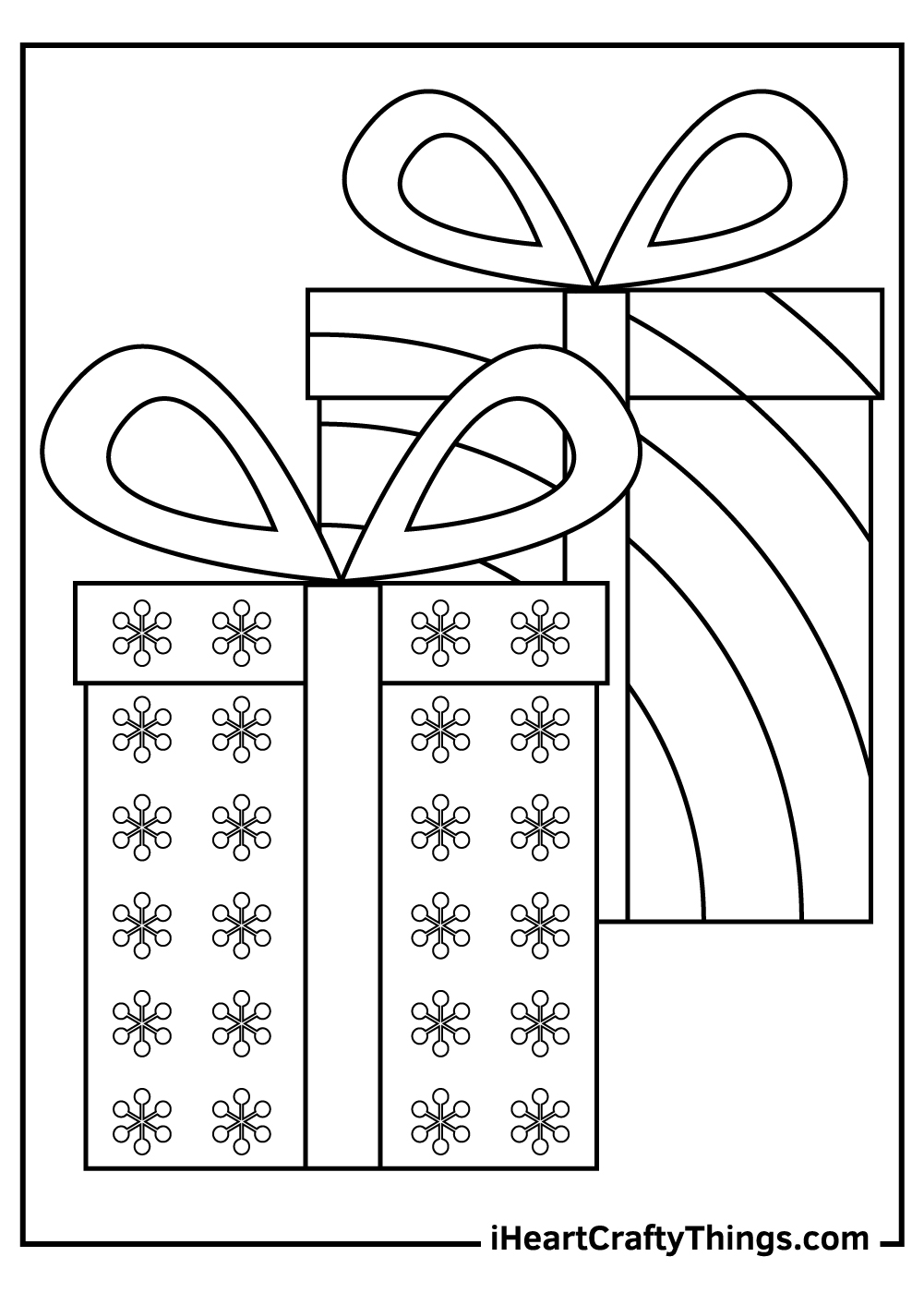 If one or two gifts isn't quite enough, we have seven in this fourth Christmas present coloring page! I wonder what could be inside each parcel?
For this festive collection of gifts, you could once again make them unified with the same set of colors or put your coloring skills to the test by trying to use different colors for each of the presents.
REMEMBER: You can get the COMPLETE set of these coloring pages >> HERE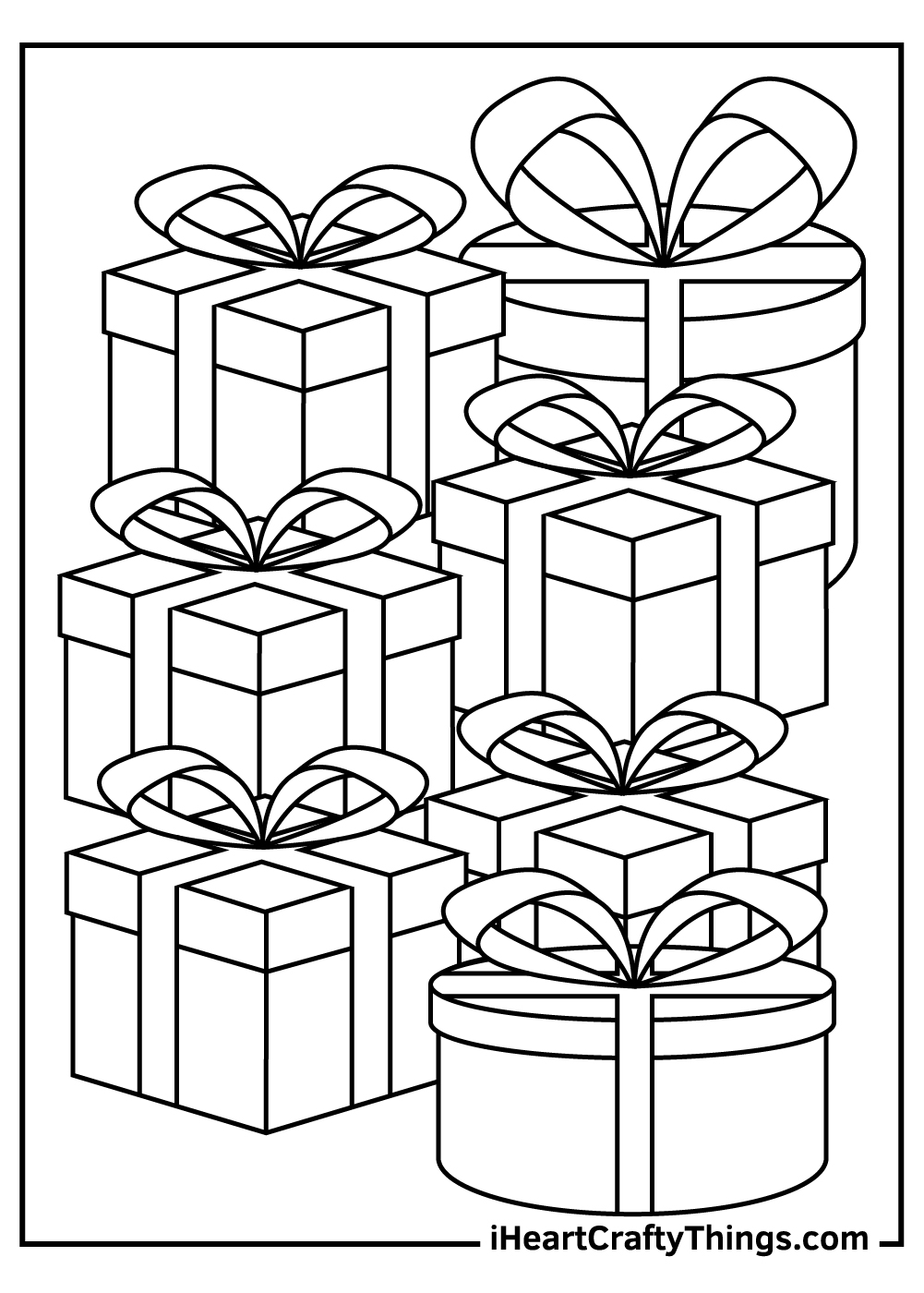 This Christmas present coloring page features a girl unwrapping her gift box and looking all excited as she discovers it's a piggy bank. The piggy bank is so cute. We can color it pink or blue.
She's wearing a Santa hat and a sweater with a zigzag pattern. What will the kid use their piggy bank for?
Maybe they are going to save up for something special, or maybe they are going to donate it to someone in need. You can help her decide with your colors.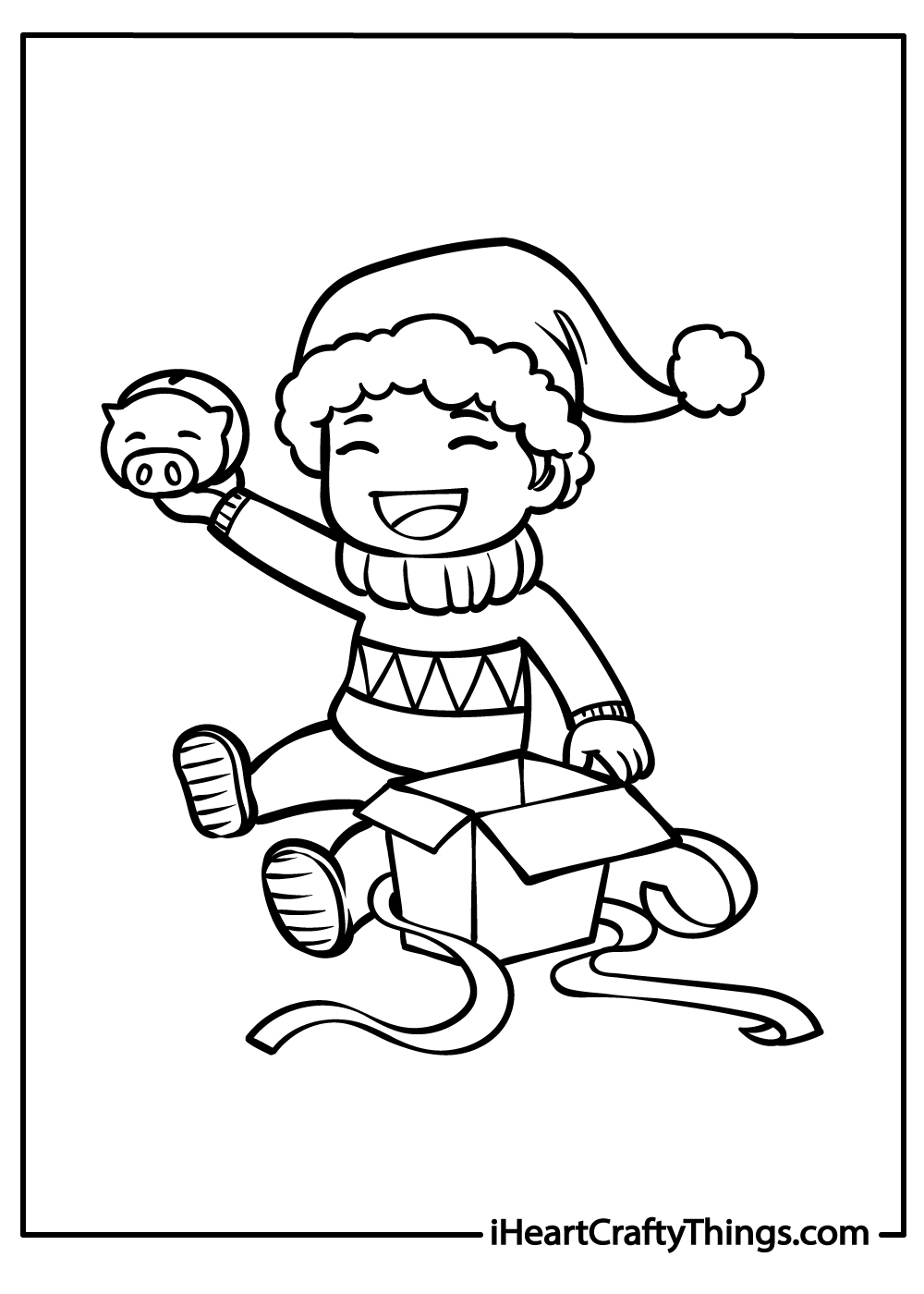 There's a cute Christmas tree pattern on the wrapping of this Christmas present printable.
For that gift, if I were coloring this in I would make the trees green with a bright cheerful red for the background to make this a really festive present.
How will you color in this gift and the others in this Christmas present coloring sheet?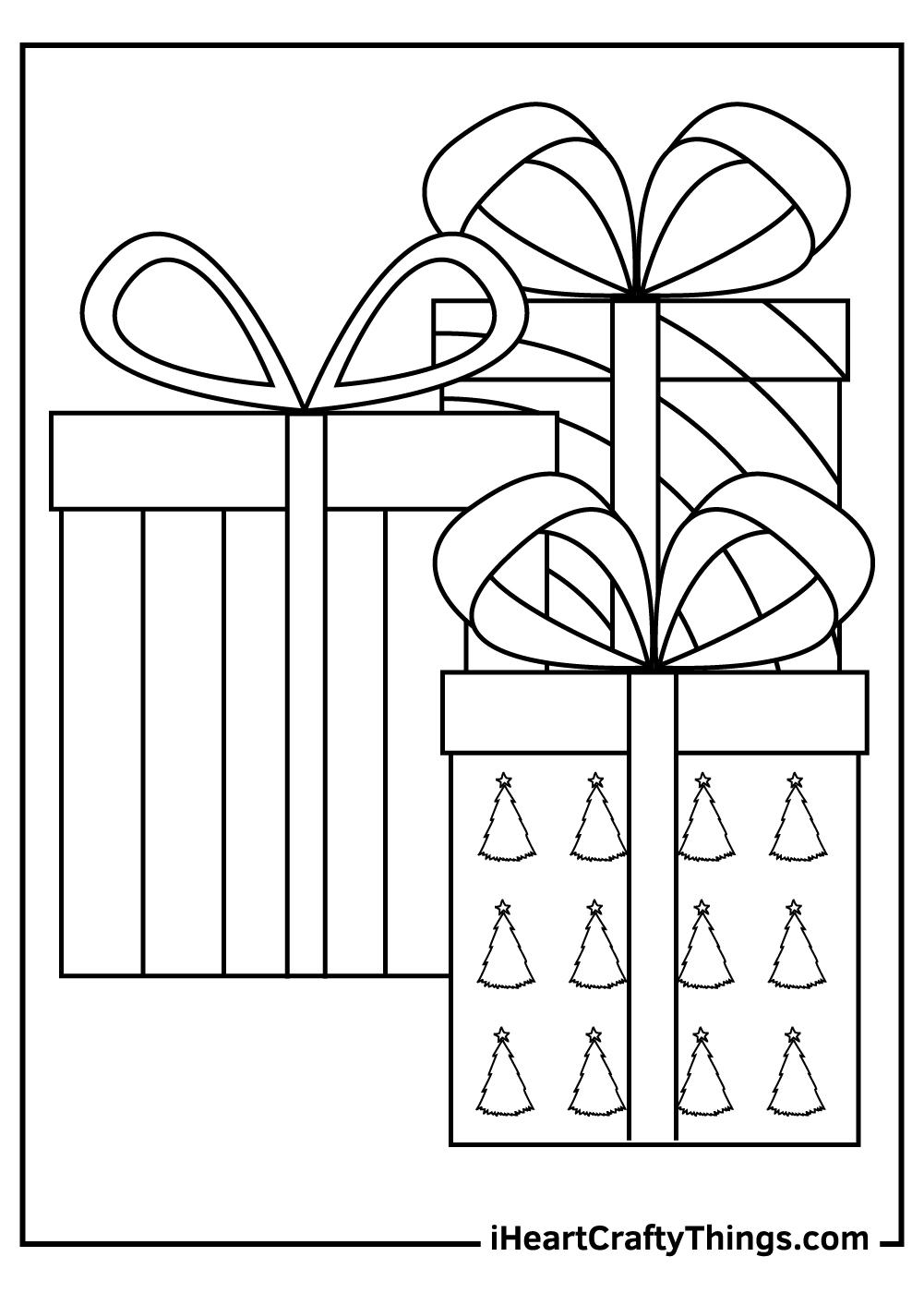 Each of the three gifts in this image has a unique pattern scheme, so for this Christmas present coloring page for kids I think it would look great to use different color schemes for each gift.
Maybe you could use reds and yellows for one, pinks and greens for another and blues with purples for the last one?
What color combinations do you think would bring these presents to colorful life?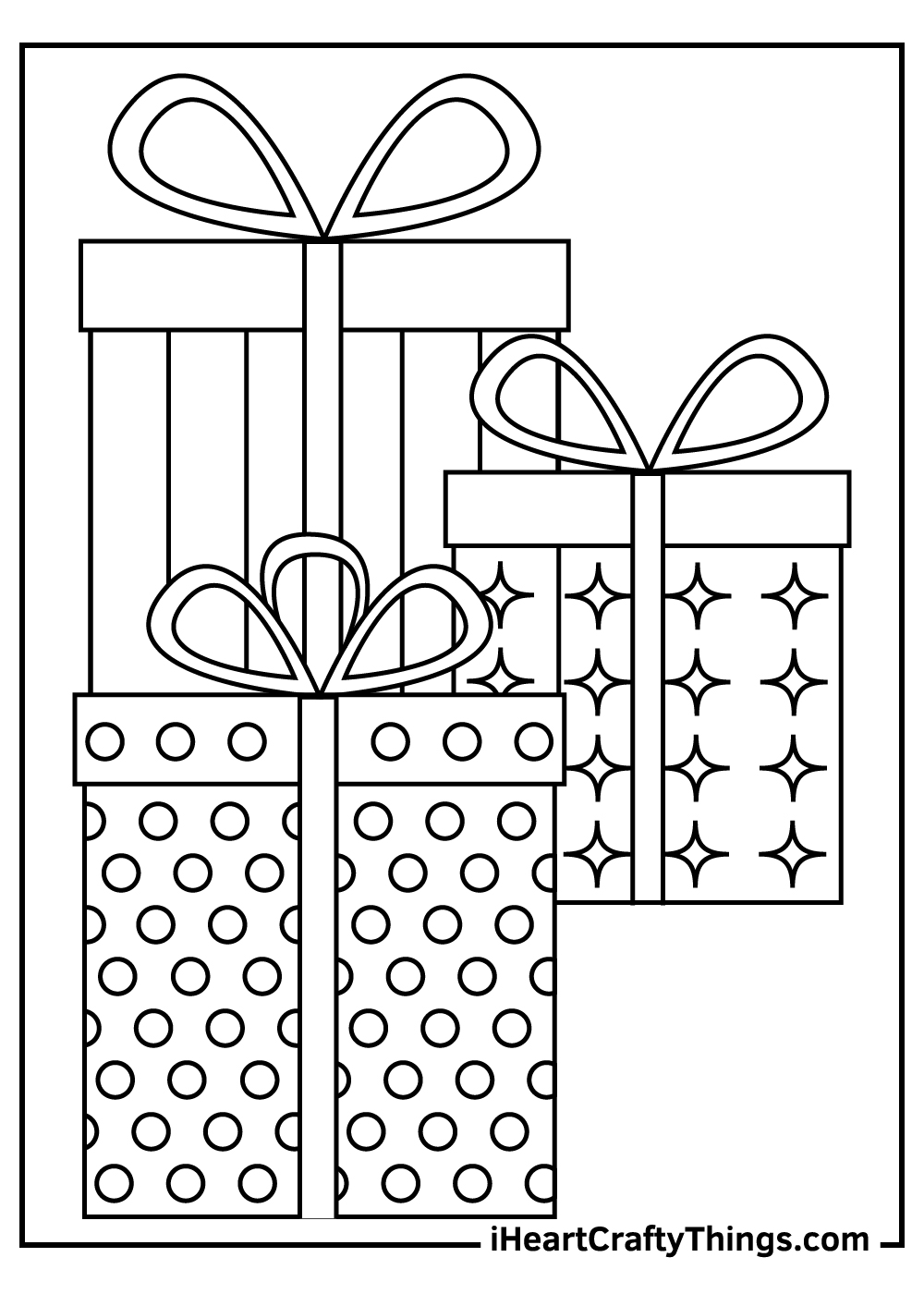 It looks like this cute little girl just got her Christmas present. Look how happy and excited she is. The gift box is wrapped up in stripes with a huge ribbon just waiting to be untied.
I would suggest using your most vibrant reds, greens, and other festive colors on this printable. Give the eager child rosier cheeks and make their smile spread more.
Make the gift box sparkle by using your brightest crayons and markers. You can fill the wrapping paper with fun Christmas shapes and designs too.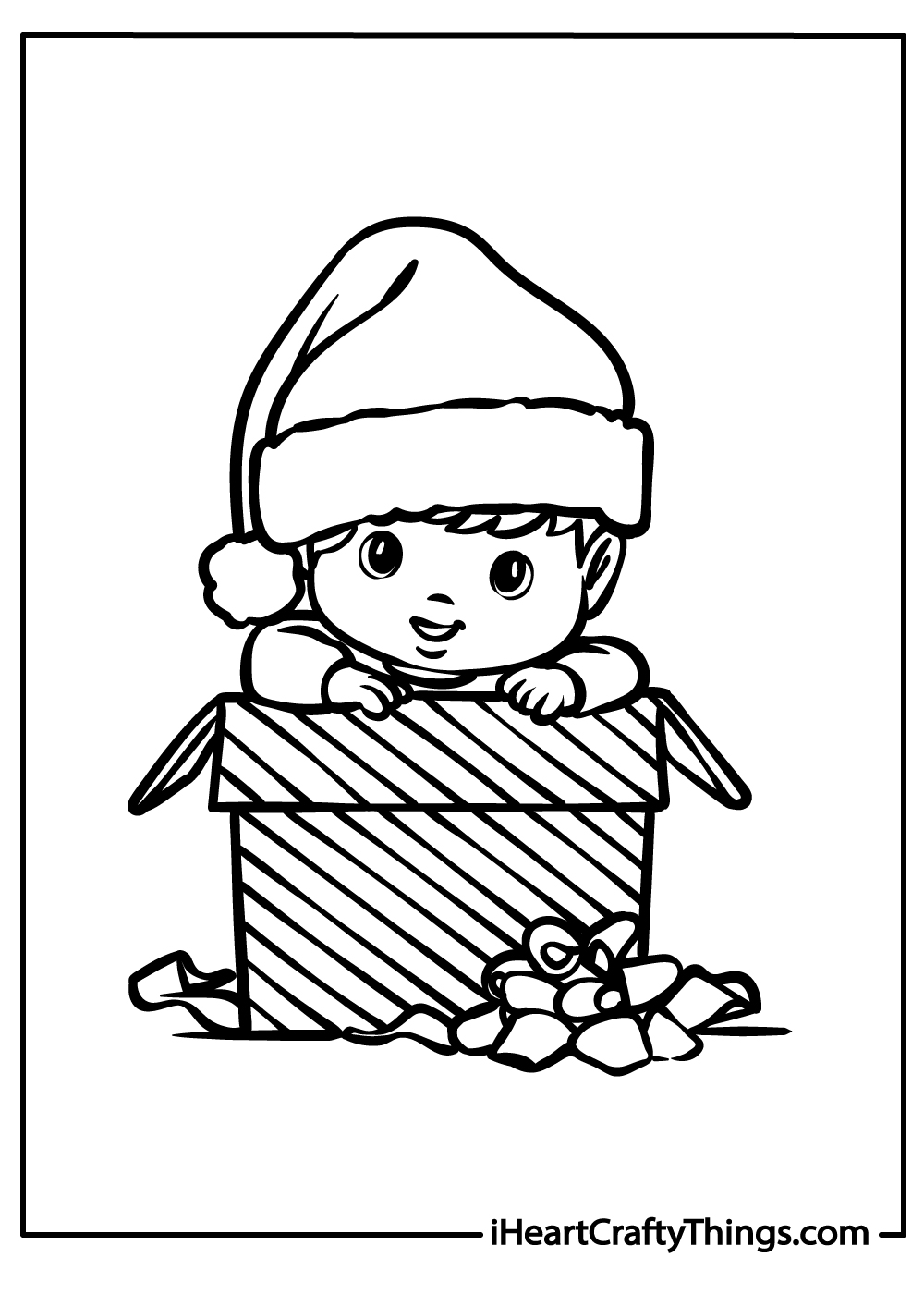 We have more Winter themed wrapping paper in this next Christmas present coloring sheet.
We've had a lot of opportunities for bright, warm colors, so it's nice to have these Winter themed patterns to have a chance to use some pretty colder color schemes once in a while.
REMEMBER: You can get the COMPLETE set of these coloring pages >> HERE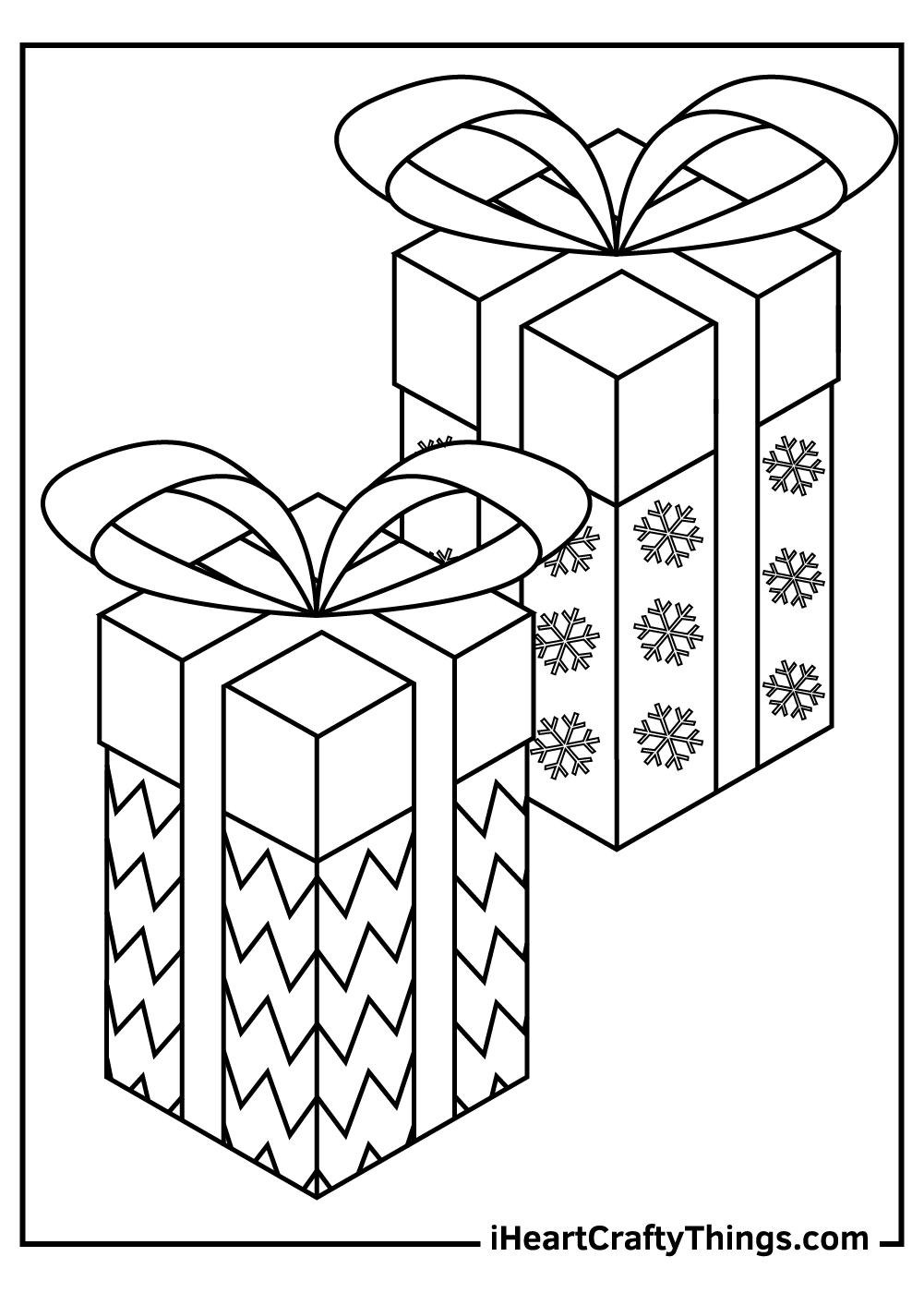 Are you ready for another Christmas present coloring page? This one features a pile of gift boxes that are waiting to be opened on Christmas morning.
Look at all the different shapes and sizes of the boxes. Some are big, some are small, some are square, and some are rectangular. Each box is wrapped with a ribbon and a bow on top. Can you imagine what's inside each box?
Pick any colors you like for the boxes – classic red and green for a traditional look or bold, vibrant hues for a fun pop of excitement.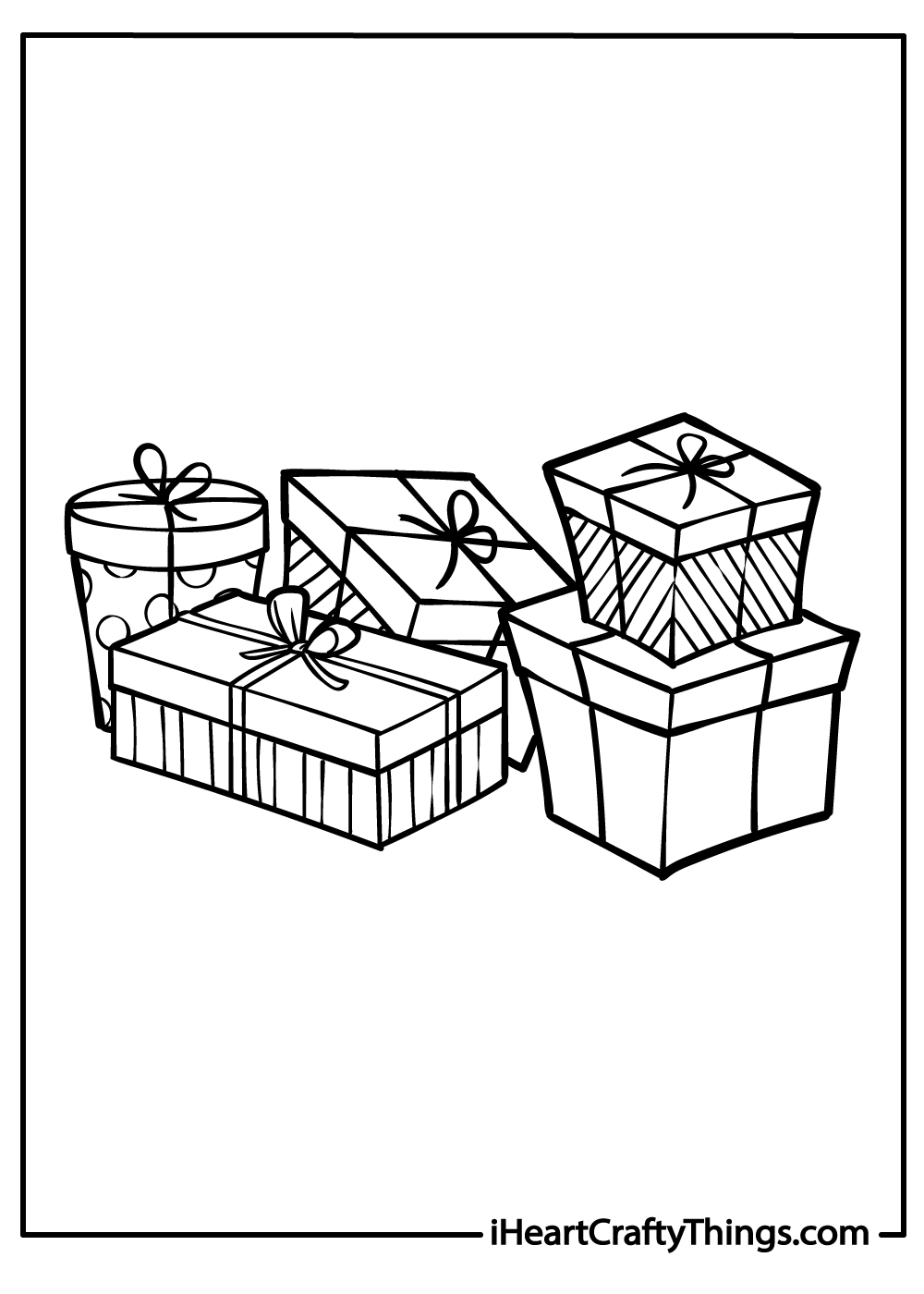 There's a pretty pair of gifts in this Christmas present printable.
Will you match the color schemes for these gifts or will you shake it up by giving them different, clashing color color schemes so that they stand out from one another?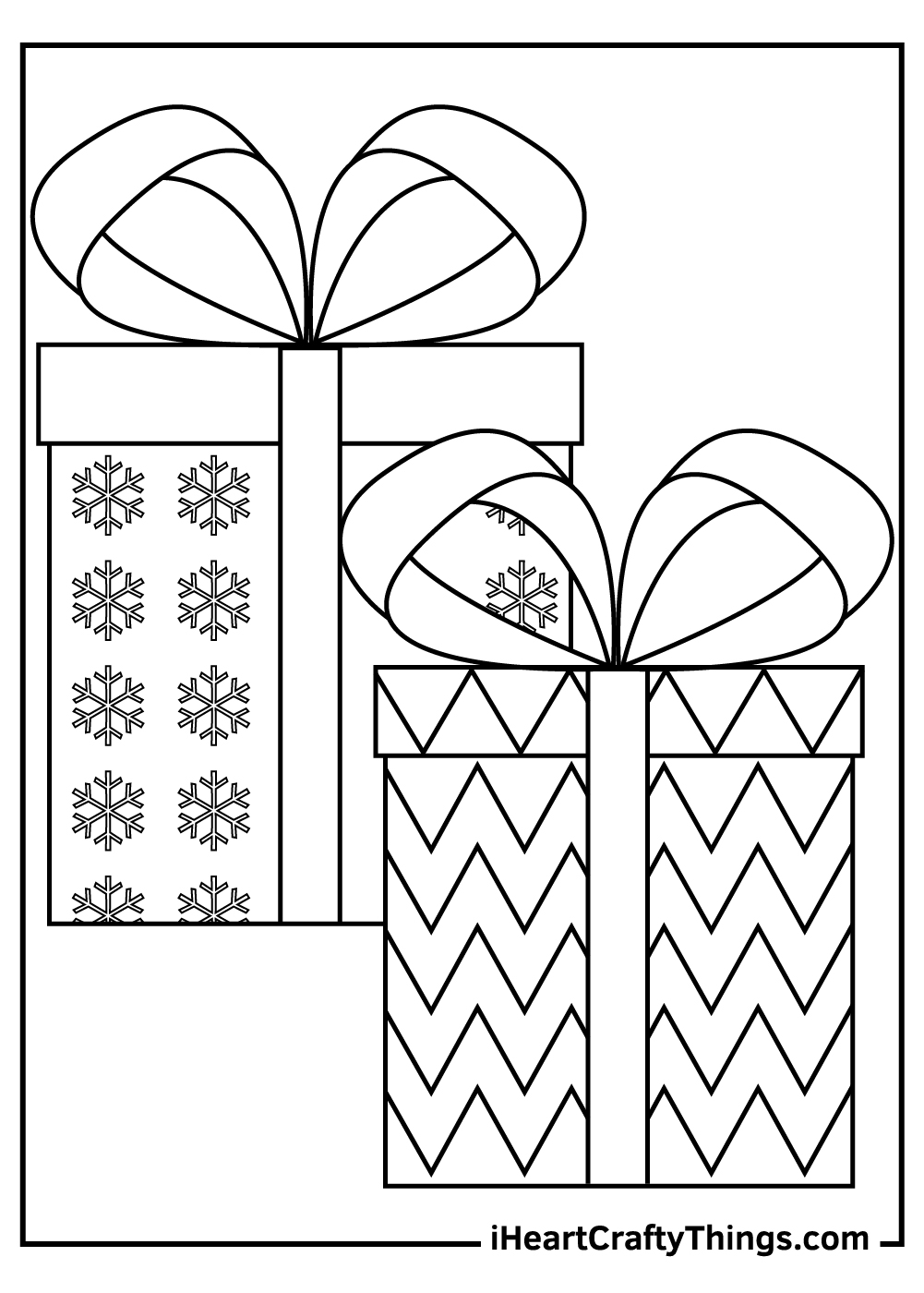 There's another great variation of patterns on this quartet of gifts in this next Christmas present printable.
Maybe you could try using a different medium on these gifts, such as paints or colored pens and pencils if you haven't been using these mediums for the other Christmas present coloring pages yet.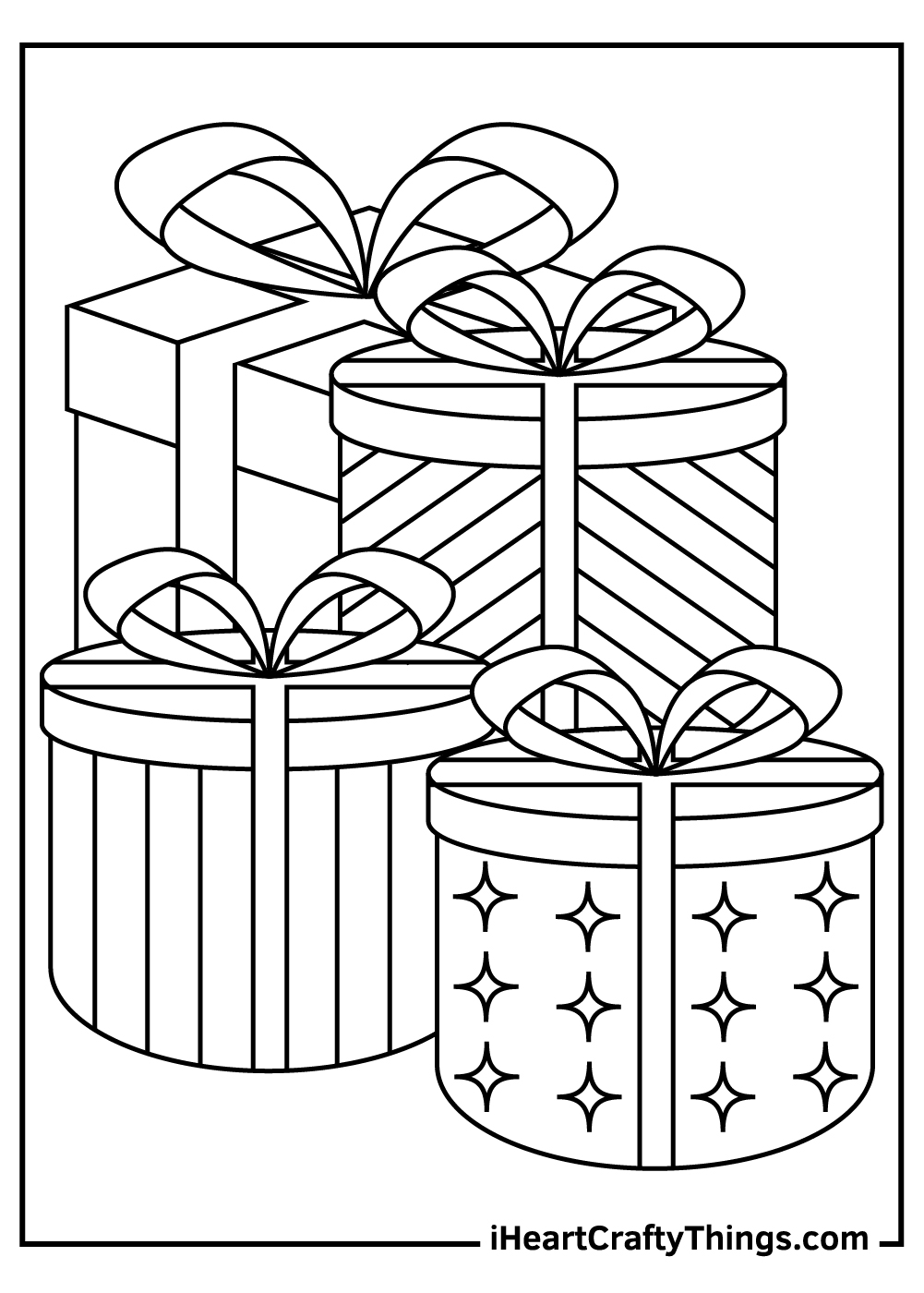 For the final Christmas present coloring page in this collection, we have one last pretty trio of presents for you to color in!
A lot of Christmas present wrapping can look really sparkly, so you could try incorporating some glitter or glitter pens to give the wrapping paper or bows in this Christmas present printable a dynamic, sparkly look!
These presents also would look great with the brightest, most vibrant colors in your collection. We can't wait to see how you color in these Christmas presents!
REMEMBER: You can get the COMPLETE set of these coloring pages >> HERE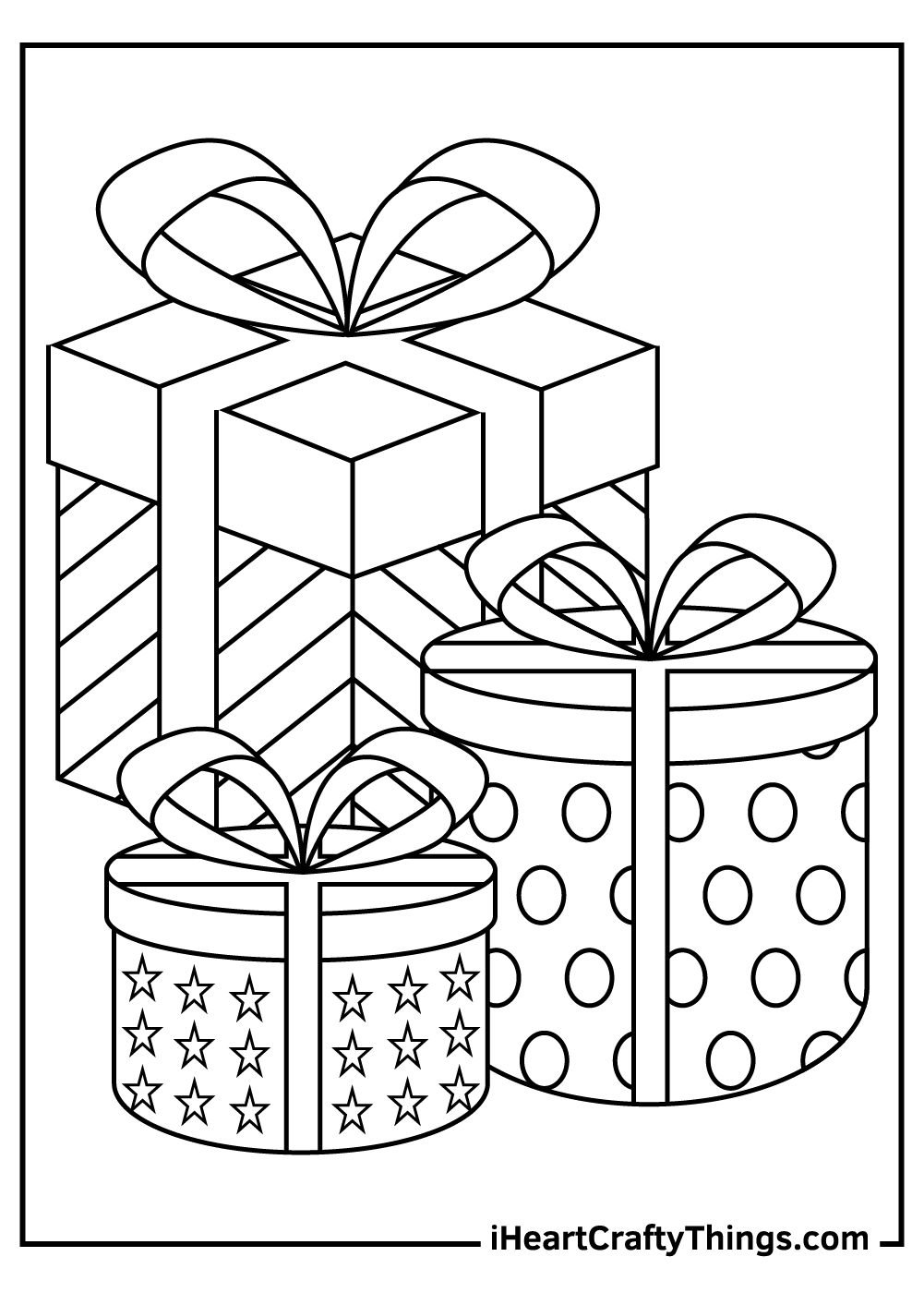 Christmas Present Coloring Pages – Which will you choose?
We really hope you had a fantastic and festive fun time coloring in these free Christmas present coloring pages for kids!
It's never too early to start getting into the festive spirit, so whether you're preparing for Christmas coming up or pretending it's Christmas for a day at another time of the year, we hope these Christmas present printables brought some Christmas joy to you!
Don't forget that all of our coloring pages and printables are completely free for you to color and enjoy, so you can print out multiple copies of your favorites to try out even more color schemes and mediums! Be sure to like and share our Facebook page for access to even more great coloring and printable fun!
Also, we'd love it if you would share your favorite Christmas present coloring sheets that you've finished coloring onto our Facebook page for us to see!
We always love to see your creativity and are looking forward to seeing your wonderful colorful Christmas images!
REMEMBER: You can get the COMPLETE set of these coloring pages >> HERE