A very famous Christian holiday, Christmas is observed every December 25th as the celebration of the birth of Jesus Christ. It is a day celebrated by many around the world and a truly festive season.
This festivity is accompanied by good food, special gifts, and vibrant colors.
One of the most popular practices during this holiday season is the hanging up of Christmas stockings! Kids love to hang up stockings on Christmas Eve in anticipation of the gifts they're going to receive from Santa Claus and even from friends and family members.
Christmas stockings come in different styles and colors. They serve as a good illustration for coloring pages. Kids are familiar with Christmas stockings so it is something they are sure to enjoy!
We have created 10 new and lovely Christmas stocking color pages suited for everyone. They are easy to color so they're perfect as coloring pages for kids.
Feel free to download these free Christmas stocking printables and show us your works of art!
REMEMBER: You can get the COMPLETE set of these coloring pages >> HERE
10 Brand New Christmas Stocking Coloring Pages – Free to Print and Color
This first free Christmas stocking coloring page is your usual Christmas stocking. It's adorned with stars and snowflakes, the symbols you'd usually associate with and see during the Christmas season.
Inside the stocking are a candy cane, a gift box, and a Christmas ball.
You can easily see the Christmas colors bringing this Christmas stocking printable to life!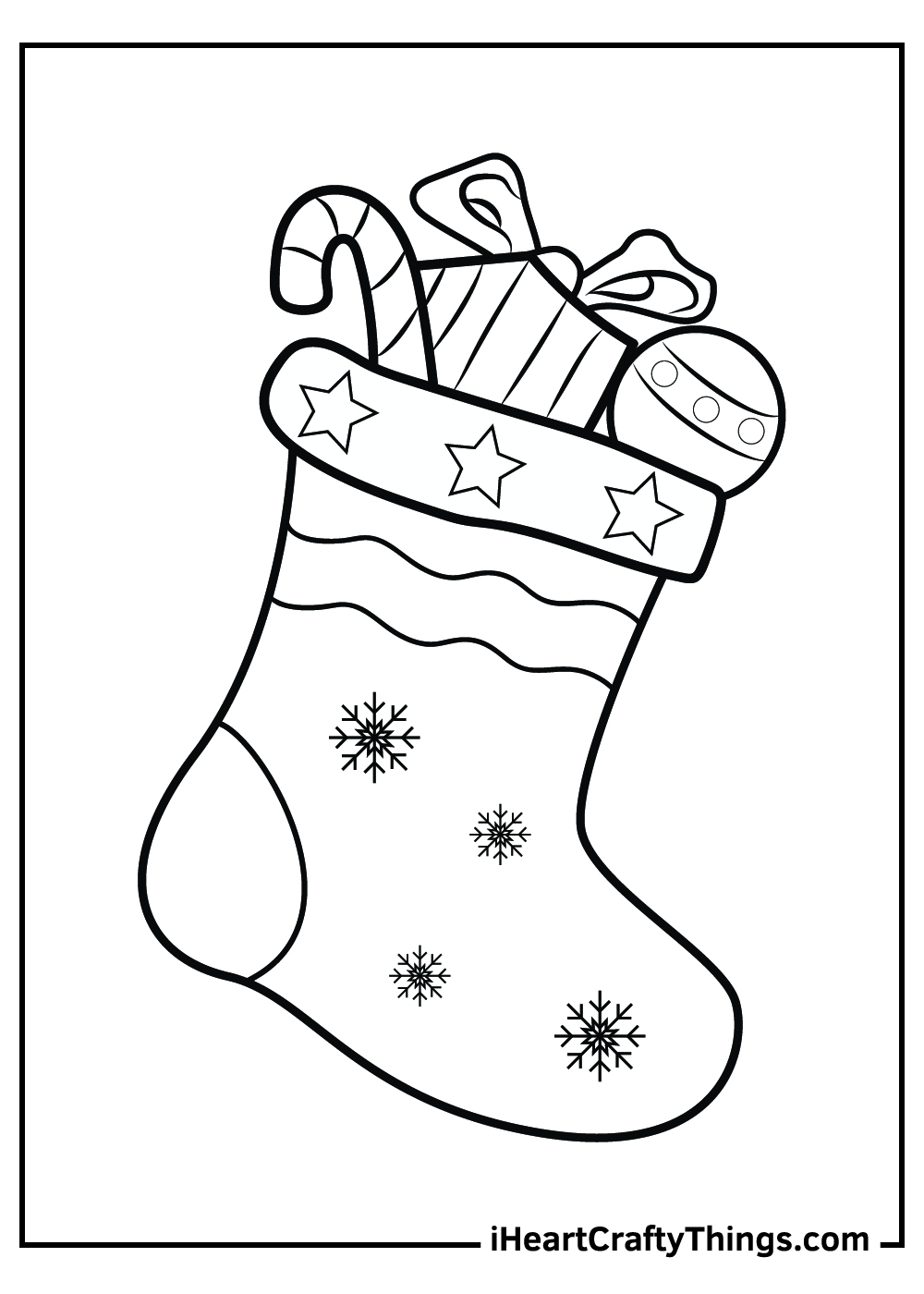 Dreaming of snow?
The theme of this free Christmas stocking coloring page is White Christmas. It's all snow and it's all white! The design of the stocking is a snowman filled with snowflakes and a Christmas tree. If it's White Christmas, what colors do you think would work?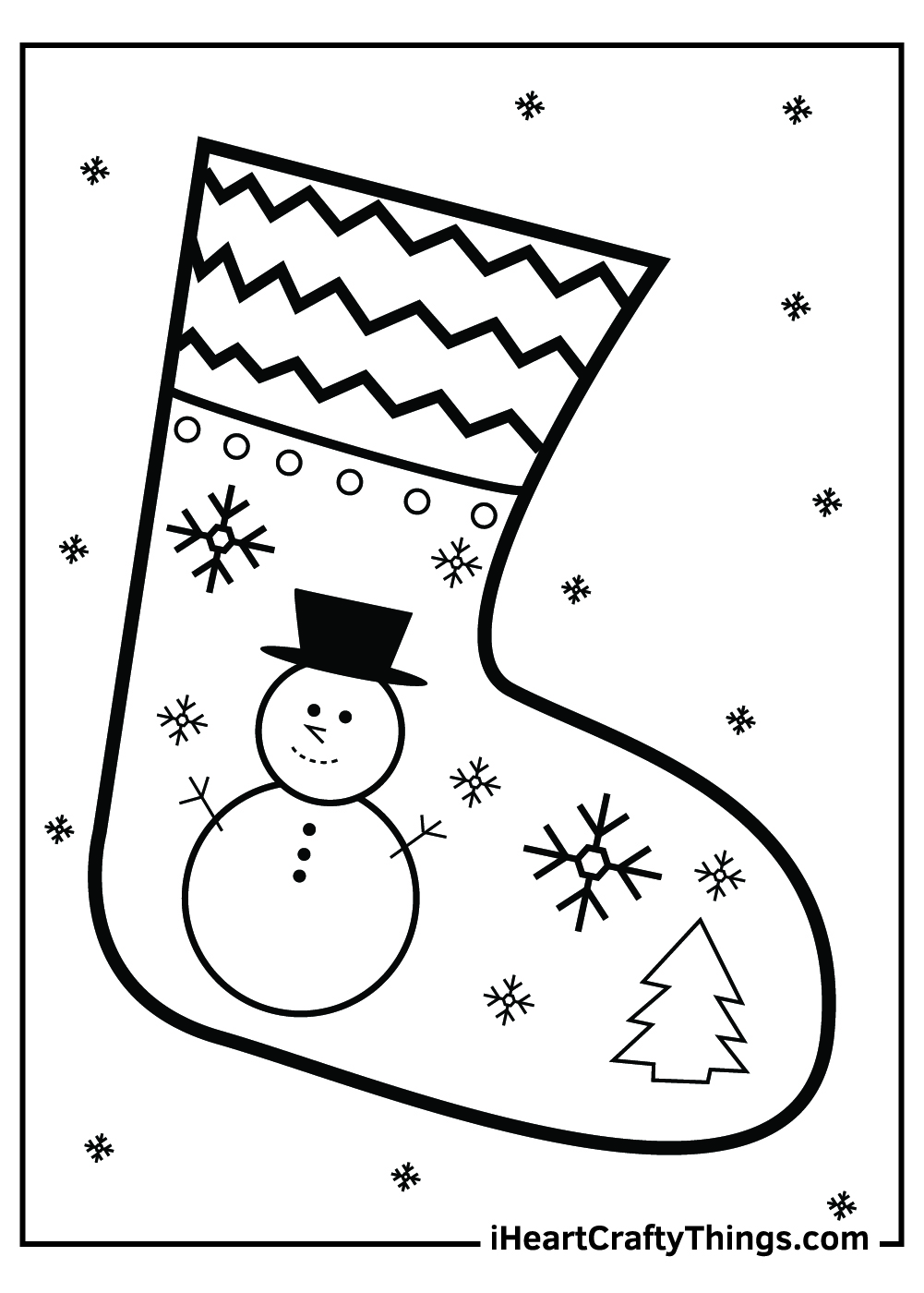 It's Christmas! The most wonderful time of the year is here.
In this Christmas stocking, you'll find a big Christmas tree with the moon positioned just beside it, making it look like it's a good Christmas evening. Small trees are lined up at the cuff of the stocking.
And just below the big tree, there's a placard with words scribbled "Let It Snow". Shapes and snowflakes fill the entire stocking.
REMEMBER: You can get the COMPLETE set of these coloring pages >> HERE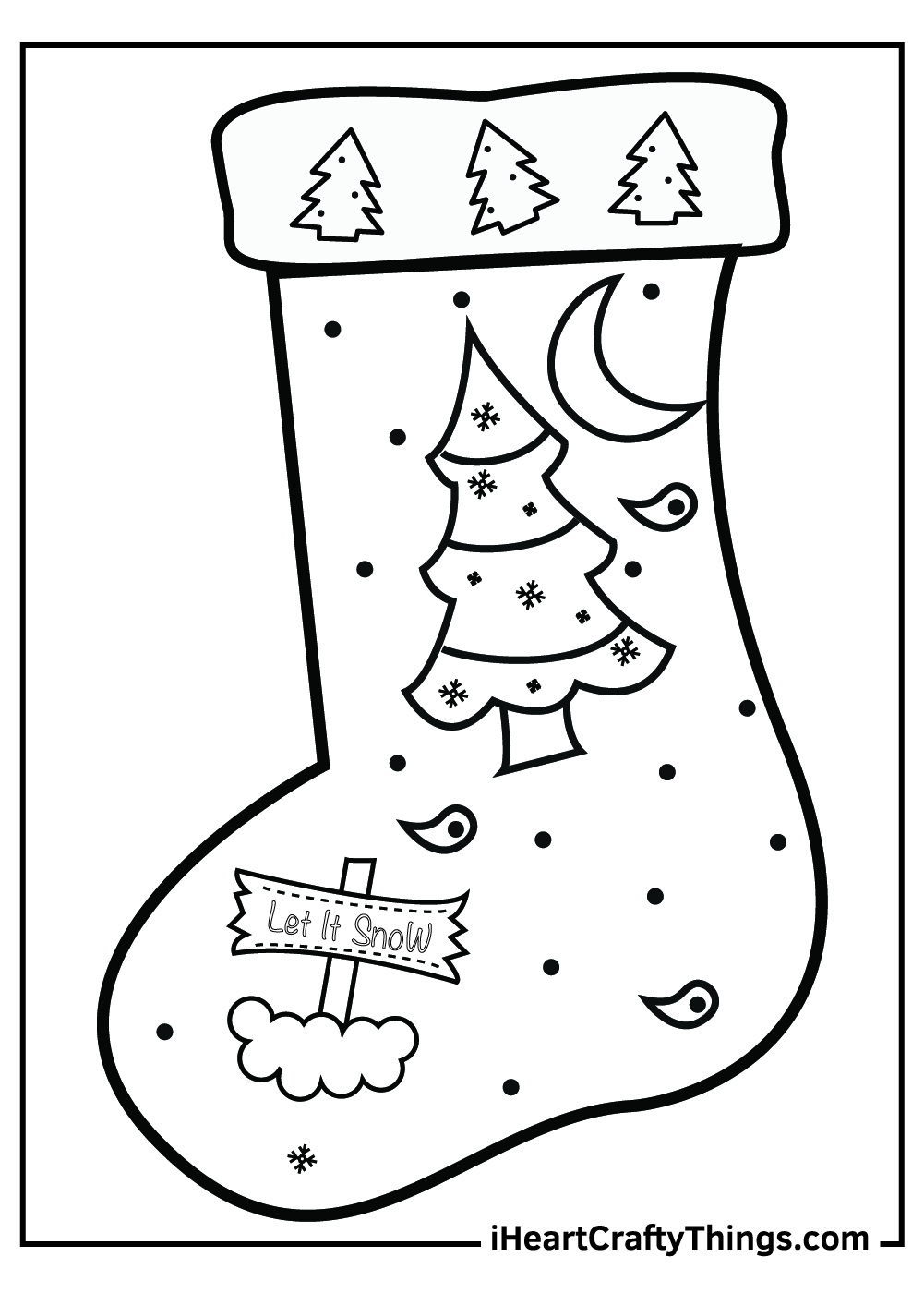 Our Christmas stocking coloring pages contain different types of Christmas stockings you can find out there.
In this printable, a sophisticated stocking is filled with snowflake designs and pearls adorn its cuff. Inside it is a big gift box, a candy cane, and a Christmas holly (a type of tree ornament popular during this holiday season).
This coloring page for kids shouts gold and silver – the sophisticated colors usually assigned for Christmas. Do you agree?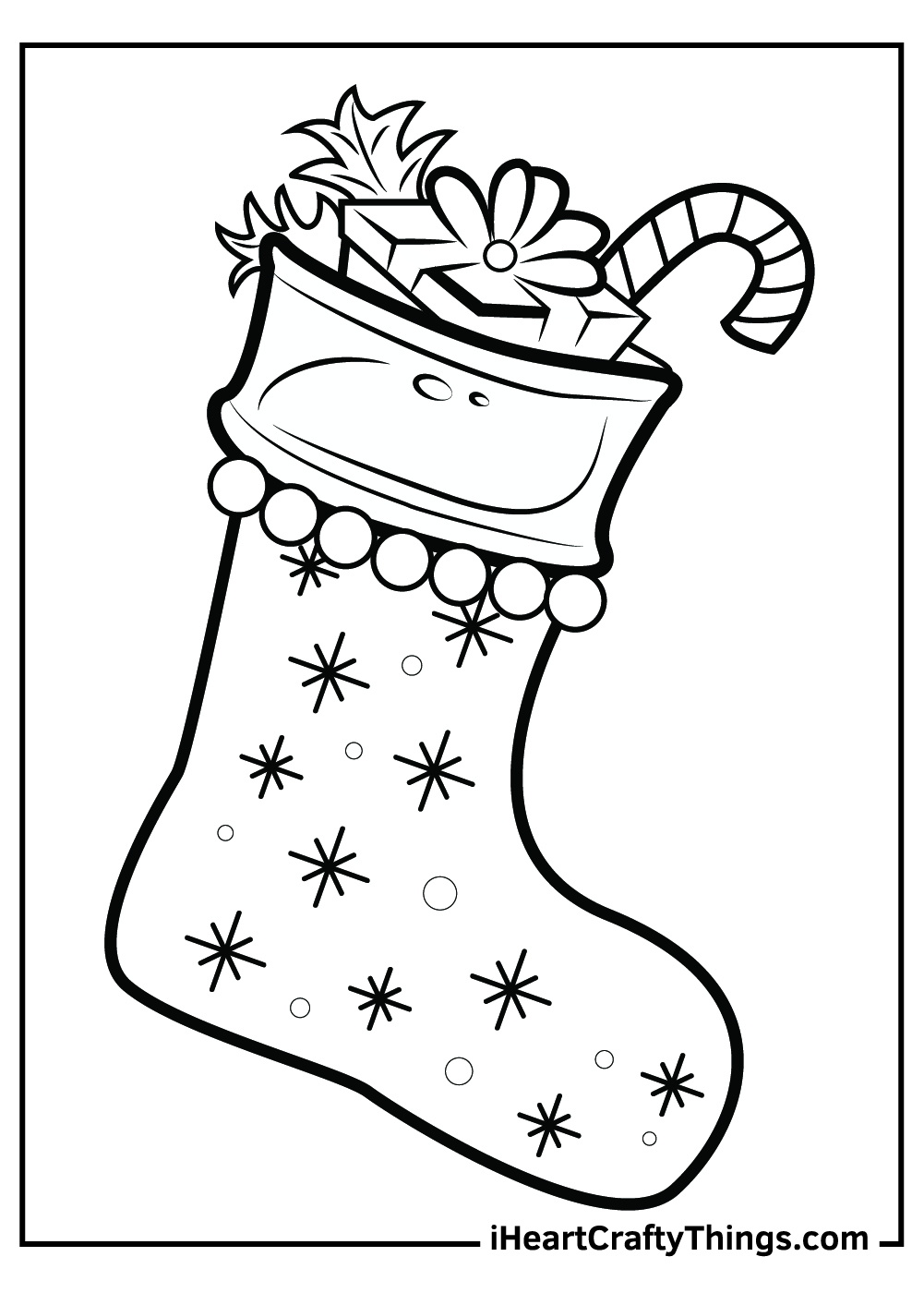 During the Christmas season, the mention of Santa Claus will always be present. Santa Claus is such a Christmas holiday icon that this season wouldn't be celebrated this way if he isn't part of it.
The design of this Christmas stocking printable is the man himself, Santa Claus. This bearded guy is the highlight of this coloring page. His image is adorned by snowflakes and three Christmas balls are on the stocking cuff.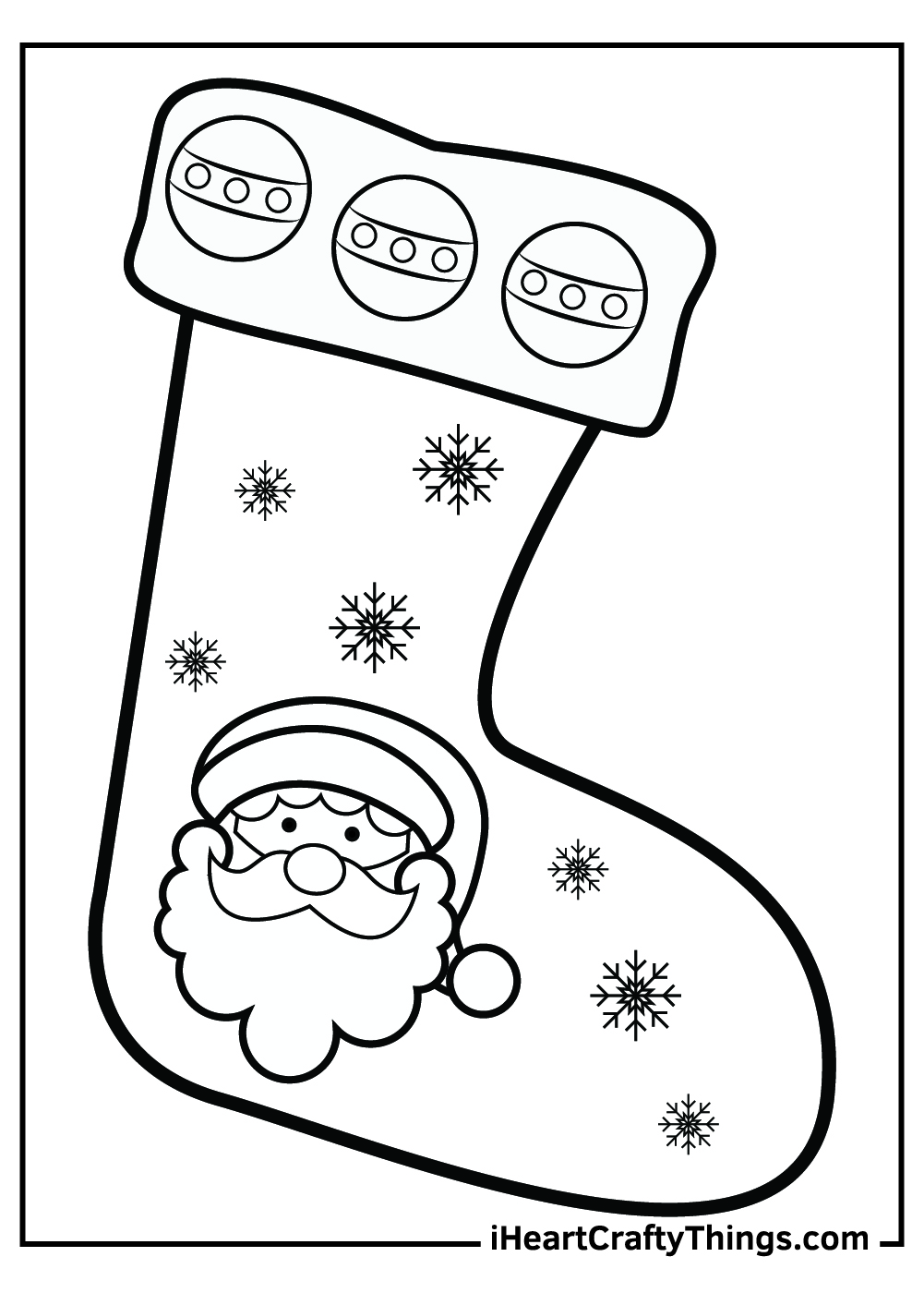 We went for big and cute designs in this Christmas stocking coloring page for kids.
Stars are the main shapes on the stocking, decorated by a Holly. Inside the stocking are a big swirl candy lollipop, a cute Christmas chocolate ball, and a candy cane.
These are things any kid would enjoy getting on their Christmas stockings!
REMEMBER: You can get the COMPLETE set of these coloring pages >> HERE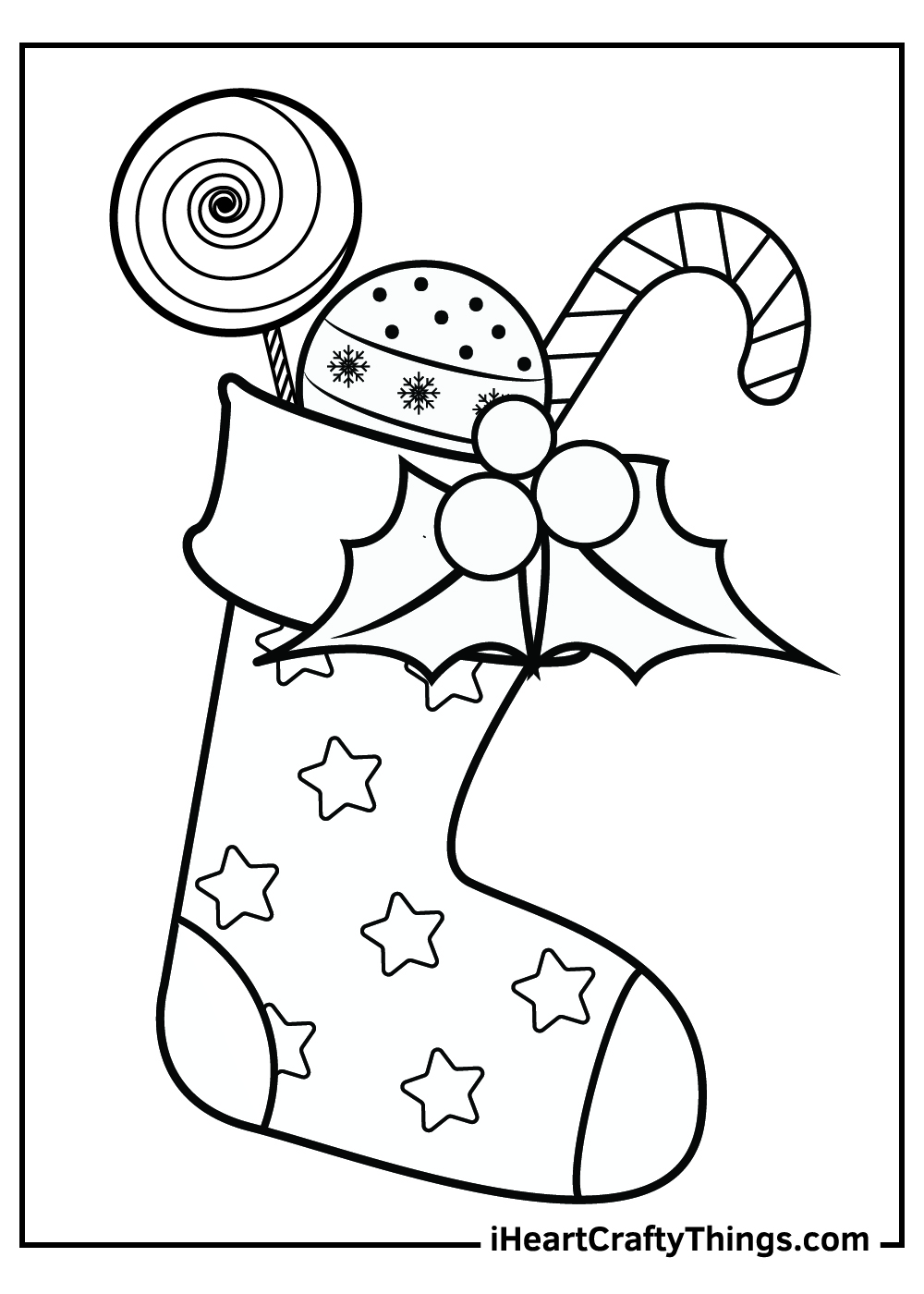 Our next printable from our new Christmas stocking coloring pages collection brings warmth and comfort as we are highlighting Santa Claus.
This cute, bearded man's face is printed across this Christmas stocking. Known as the Father Christmas, he is said to bring gifts of toys and candies to well-behaved kids. As he is a well-known figure during the holiday season, especially to kids, they will surely enjoy putting colors to this free printable.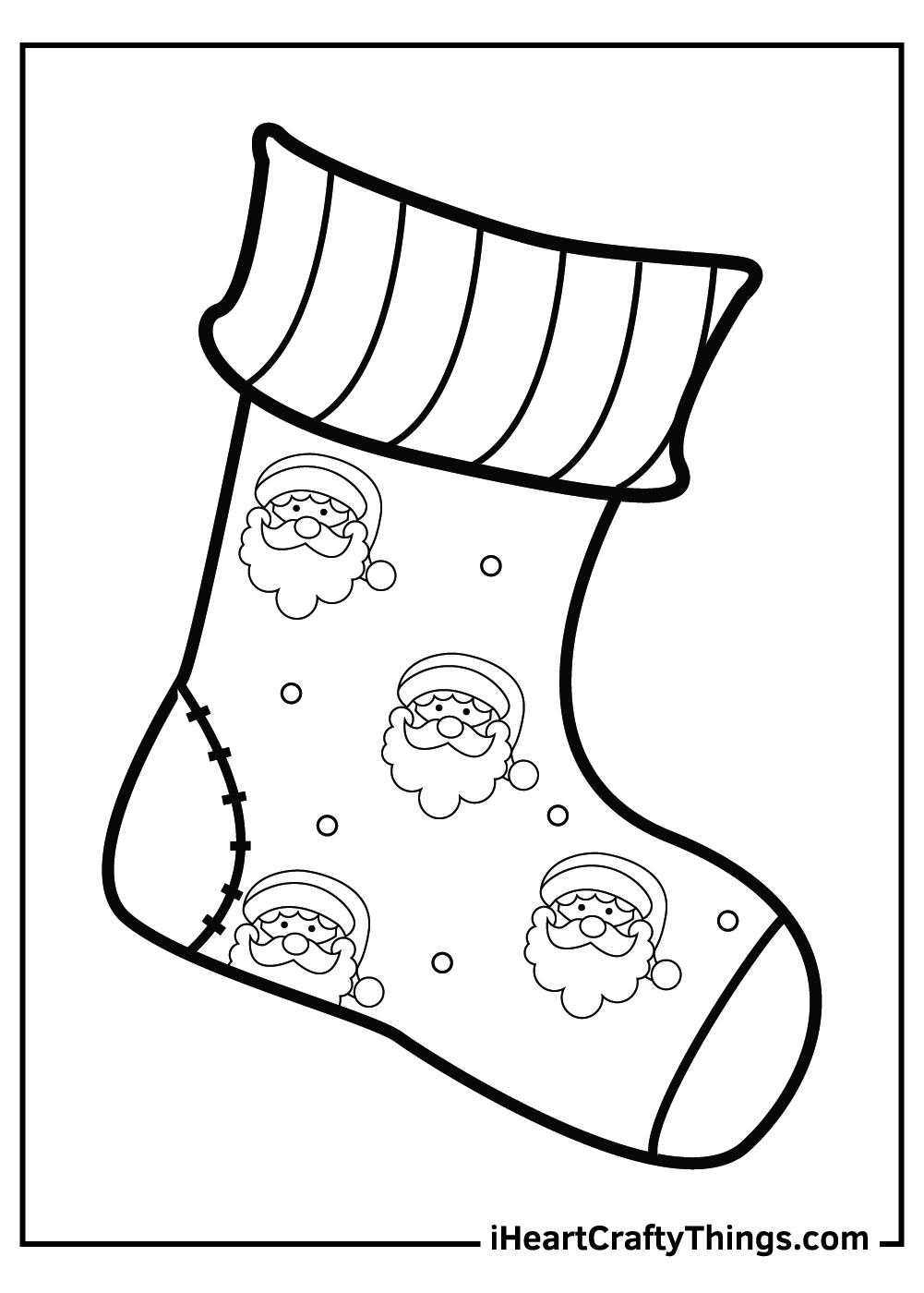 One of our goals for our Christmas stocking coloring pages is to include familiar Christmas designs to kids so they can enjoy coloring them.
This coloring page for kids is easy to color and with a simple design of a snowflake on the main stocking. Inside the stocking, you'll find a candy cane, a smiling snowman, a Christmas tree, and a star (a décor put on top of the tree).
The design of this free printable is straightforward and kids won't have a hard time finishing this piece!
REMEMBER: You can get the COMPLETE set of these coloring pages >> HERE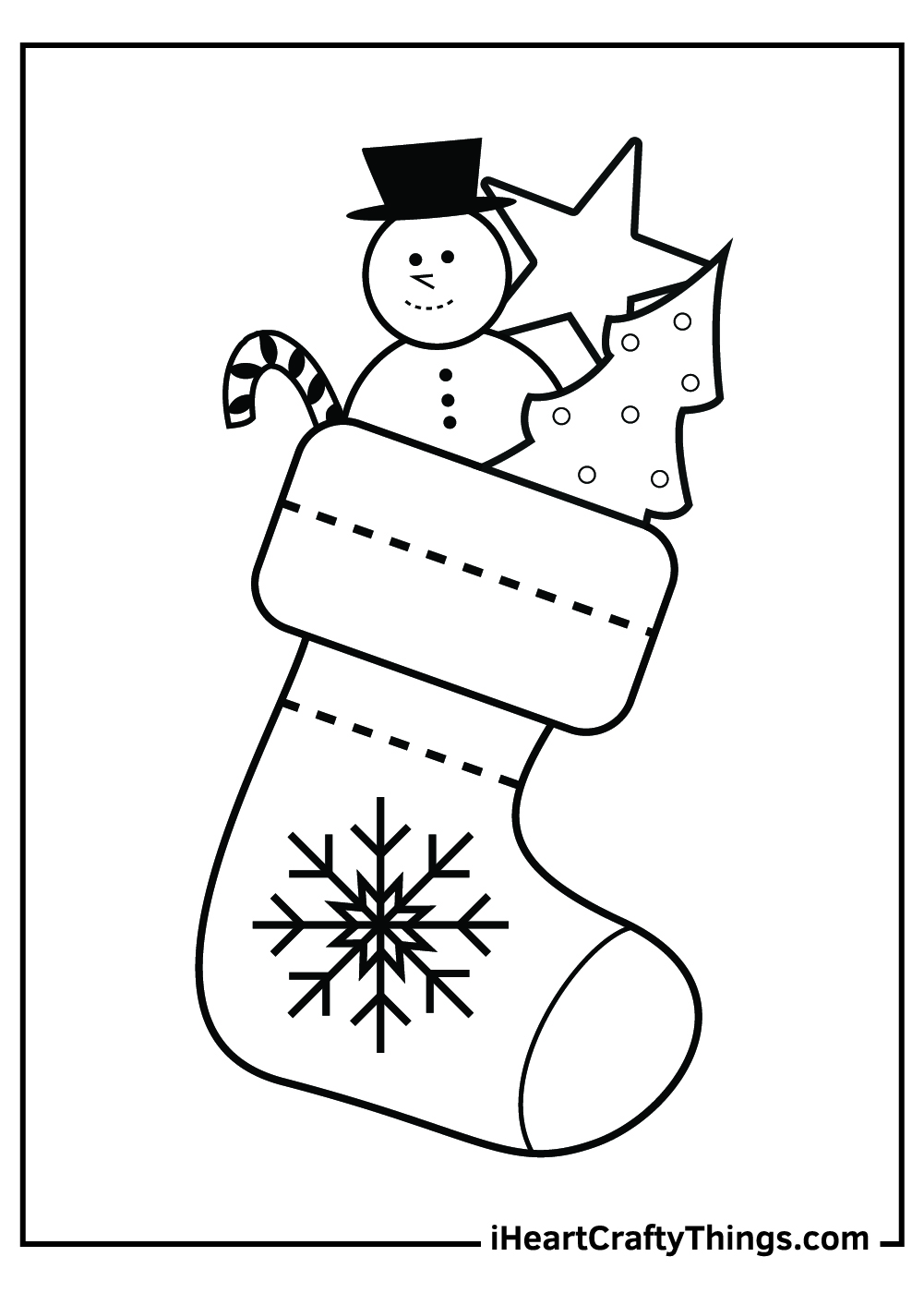 Another addition to our cute and easy-to-color designs is on this second to the last page.
On this coloring page is a cute stocking filled with circle designs, decorated by a Holly.
Inside, you'll find two candy canes and round candies of different designs. It's time to mix and match cute colors!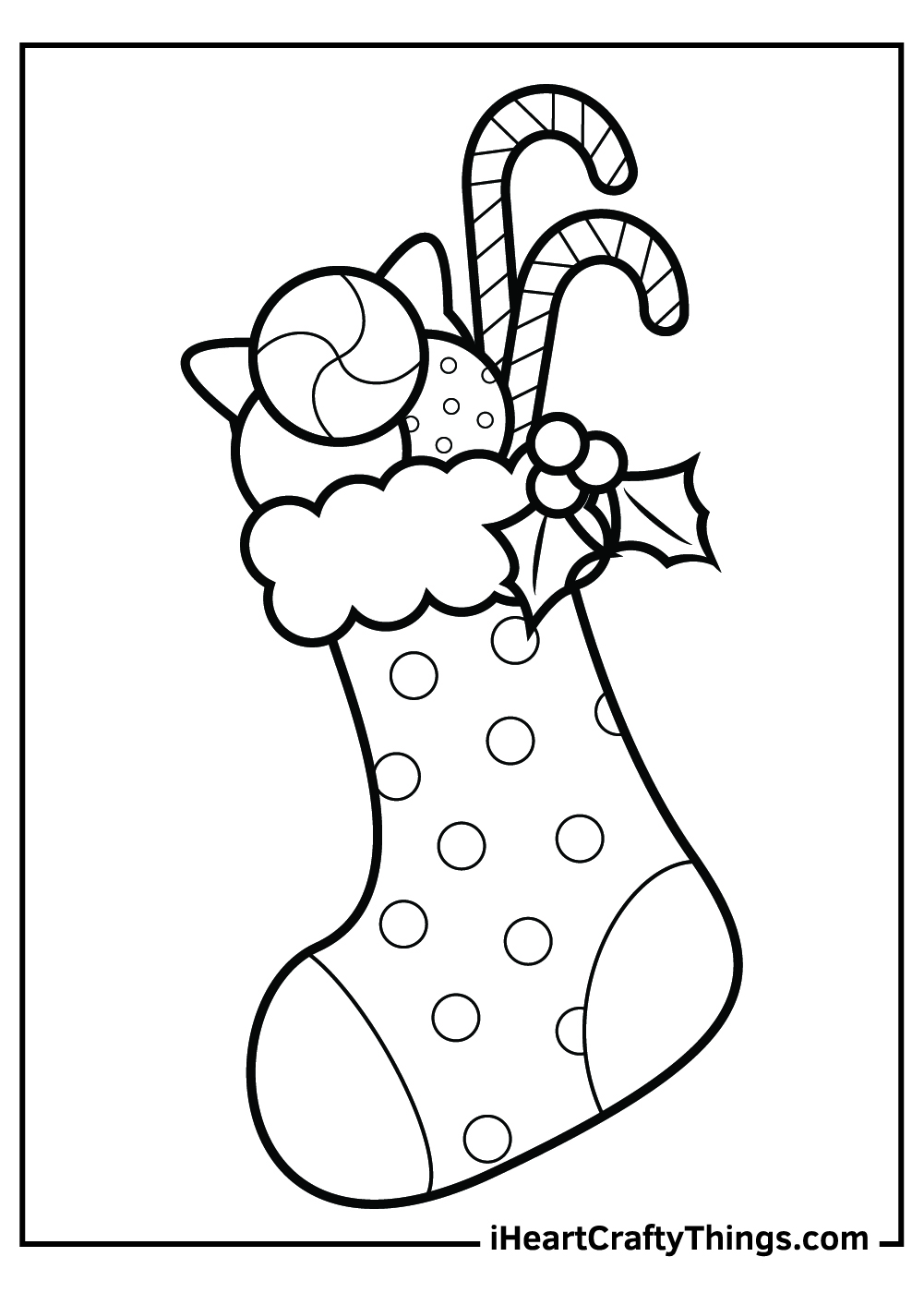 Probably one of the famous symbols of Christmas is the gingerbread man. He is often found in Christmas items and stories during the holiday season.
You can see the gingerbread man smiling but looking a bit worried in this Christmas stocking. Christmas balls are also used as designs for this and twinkling stars lined up the stocking cuff.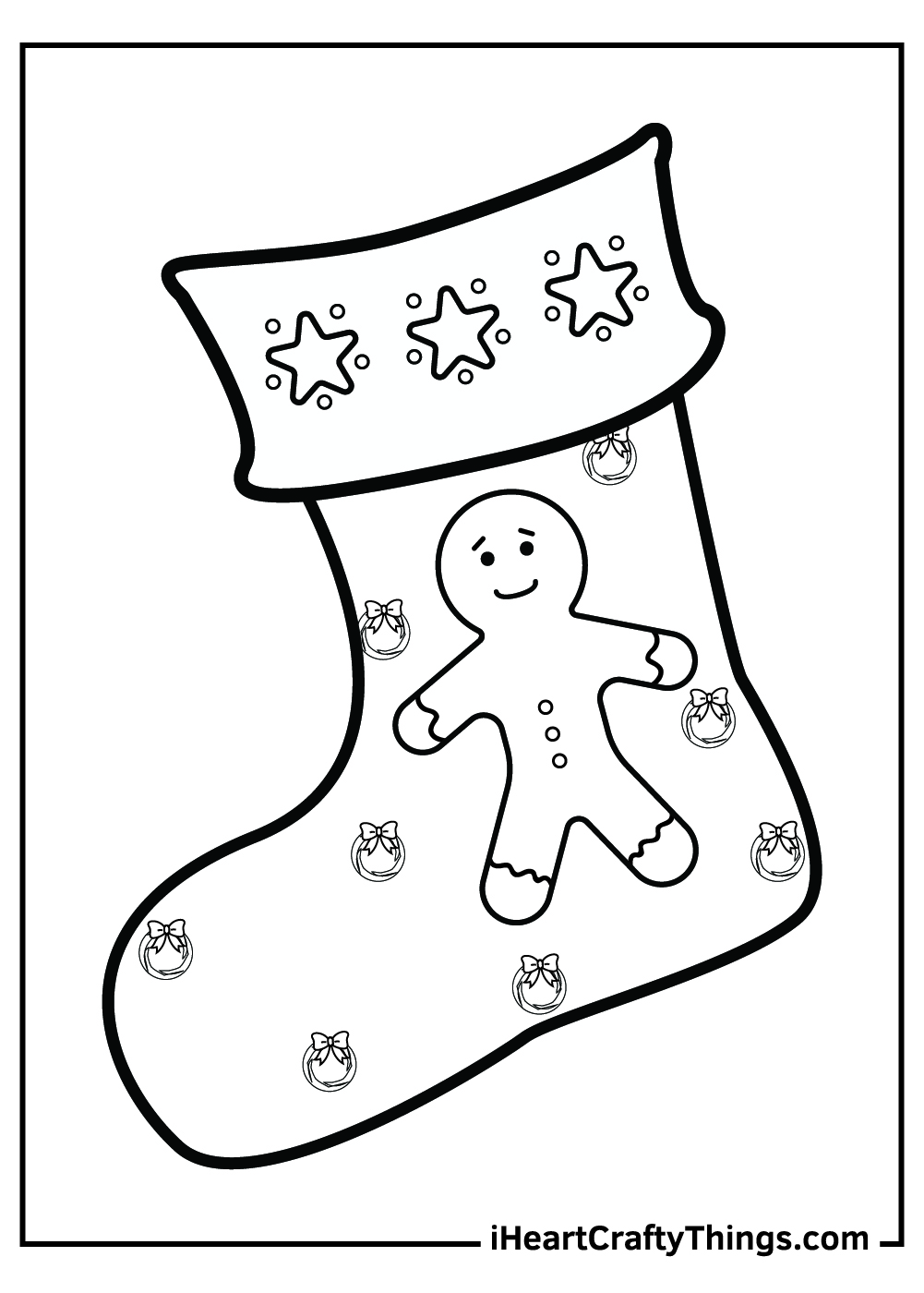 Christmas Stocking Coloring Pages – Lovely and Easy-to-Color Free Printables
Christmas will always have a special place in everybody's heart. This season brings in so much peace, comfort, and warmth to everybody. Kids love this season a little extra.
Through these Christmas stocking coloring pages, we hope we were able to provide joy and comfort as well. Especially to kids, with all the lovely and easy-to-color free printables we provided.
What other designs do you think we should include next? If you're done with this set or if you have works you'd like us to see, please head on over to our Facebook page and post it there. We would love to see your works!
REMEMBER: You can get the COMPLETE set of these coloring pages >> HERE