This thankful turkey box is a fun and simple activity for the whole family to express their gratitude for Thanksgiving.
Finding ways to help encourage my children to be thankful each Thanksgiving is important to me every year. In the past we've created a thankful tree, easy thankful turkey puppets and one year we created this fun thankful writing prompt.  Our "Give Thanks" inspired idea we came up with to celebrate our blessings this year is a thankful turkey box.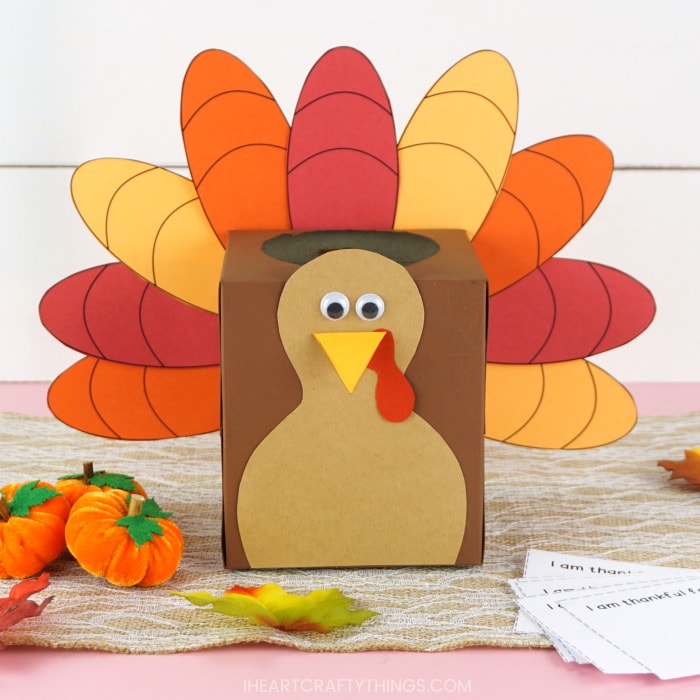 The turkey box is made out of a small tissue box so every day during the month of November we can write down something we are thankful for and feed it to our turkey. On Thanksgiving day while we are all together as a family, we will get all the papers out and read them together.
There are so many different ways you can customize the activity. You can make it for a classroom and let each student fill out the writing prompt of what they are thankful for.
Upgrade your art skills! Learn how to draw the moon!
You can also include it as an activity for an extended family Thanksgiving dinner and have family members write down the one thing are most thankful for. Then the box can be passed around the table for family members to read their card and then place it inside the turkey. Any way you use it, it is sure to bring some happy gratitude to your home this year.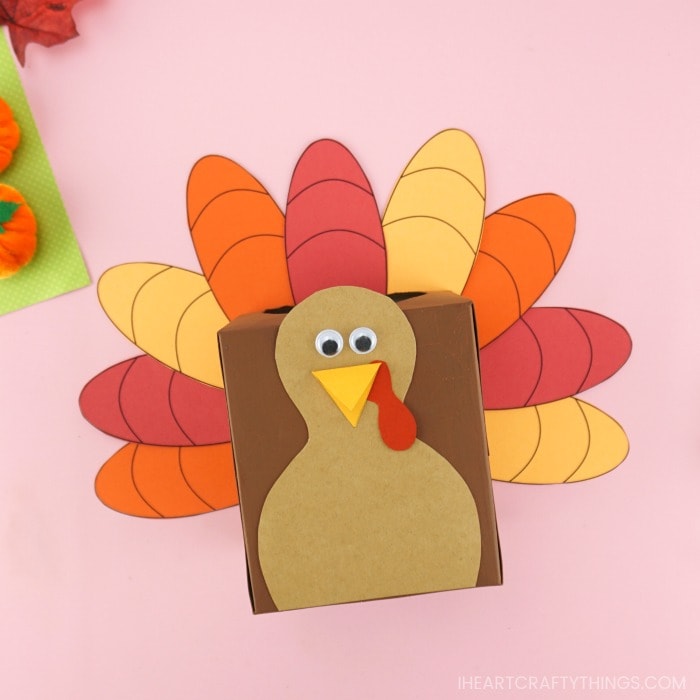 This craft idea was originally published over at Whatever Dee Dee Wants for her "Give Thanks" series on November 1, 2012. There have been lots of copies floating around the Internet since then but ours is in fact "the original" thankful turkey box.
I have updated the original craft to make it simpler and to include a craft template. There are new photos, text and a how-to video tutorial.
How to Make a Thankful Turkey Box
We created a turkey template printable (linked below in the supplies list) to help make creating your own turkey box super simple for preschoolers and little ones. Grab your supplies to make your turkey and get ready for a month full of thankfulness.
Read our easy step-by-step instructions below for how to create your own thankful box out of a tissue box. We also have a video tutorial inside this post you can watch before you get started.
Supplies needed to make your turkey box:
This post contains affiliate links to the products mentioned. Read our disclosure policy for more information.
Turkey template <—- Get the printable template HERE
empty square tissue box
brown paint
sponge paintbrush
brown, yellow, red and orange cardstock
googly eyes
Glue Dots (optional) -Could also use tape or a hot glue gun
scissors
extra strength glue stick
Instructions for this Thanksgiving gratitude activity
1. Lay out a placemat or butcher paper to protect your surface. Pour some brown acrylic paint onto a painting palette or a paper plate.
Using a sponge paintbrush, paint an empty, small tissue box with your paint. Set it aside to dry completely. The box might need a second coat depending on the color and patterns of your box.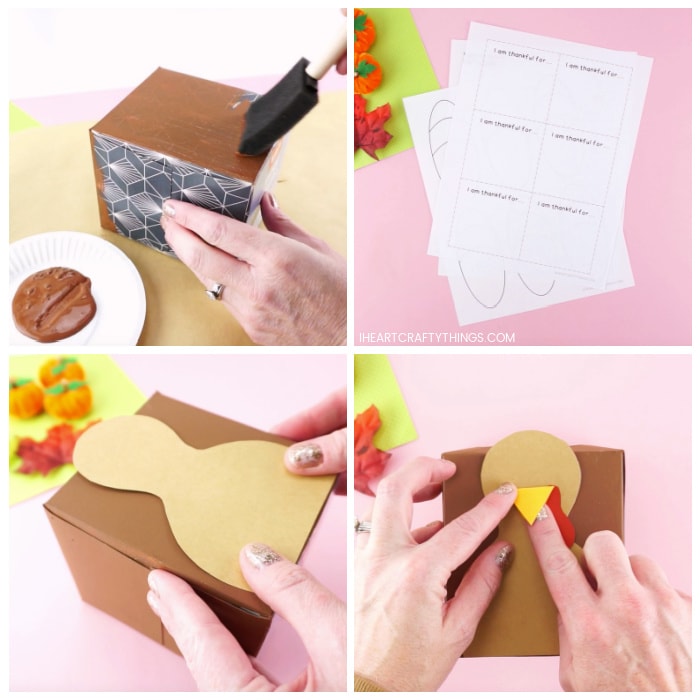 2. Download and print out the turkey template printable. Cut out the pieces and use them as a pattern to trace and cut out each piece on colored cardstock paper. We printed out the feather pages from the template directly on colored cardstock paper.
3. Once your painted tissue box is completely dry, add extra strength glue stick on the back of the turkey body and glue it on the front of the box. Then glue the turkey waddle and beak onto the turkey. Finally glue two small googly eyes onto your turkey.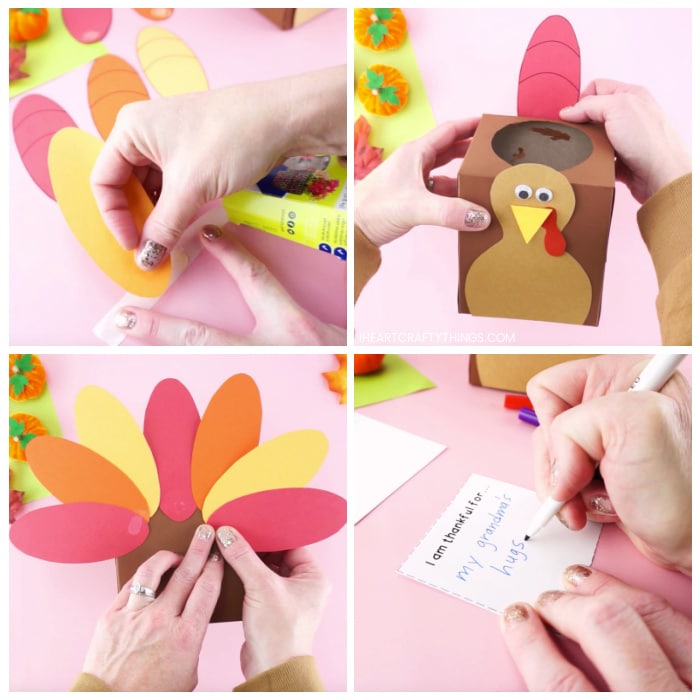 4. Place a Glue Dot on the bottom of each of the feathers. Attach them to the back of the tissue box to create the turkey feathers. If you don't have glue dots available, you can attach the feathers with a hot glue gun or tape. A glue stick will probably work too.
When we originally made our turkey box in 2012 we used painted paper splattered with paint to create our colorful feathers. You can imagine how much fun the splattered painting is for kids. Take a look at how the painted feathers look in the image below.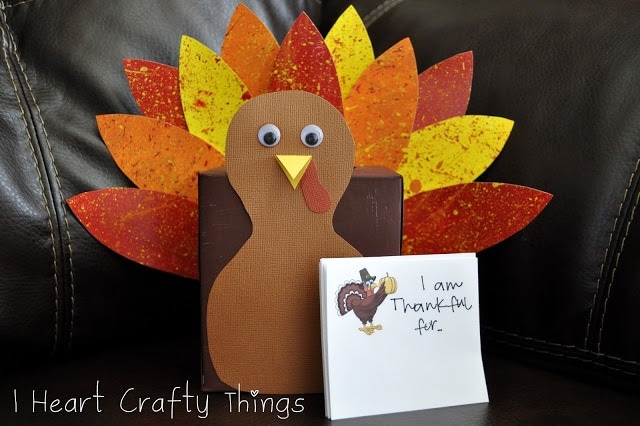 You might want to consider this painting technique for making your feathers if you want to add an extra art element to the turkey craft.
Simply print out the feather page of the template on white cardstock paper and paint the back of it. Then the feather shapes are printed on the back and ready for cutting out after you paint them.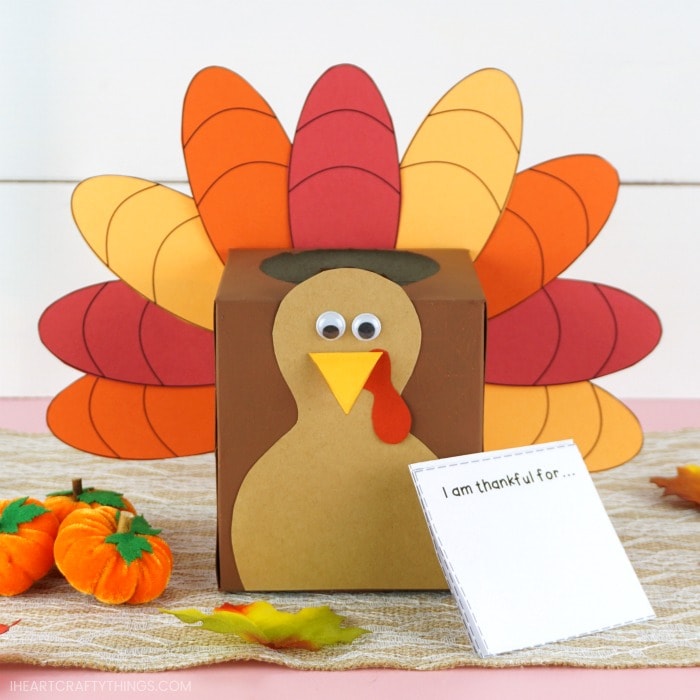 How to use your thankful turkey box
We included simple writing prompt cards in our template that say "I am thankful for…" which you can print out and use with your turkey box. Print out several pages of the cards, cut them out and place a stack of them next to your turkey.
Every day or every couple of days you and your family members can write what you are thankful for, fold up the card and then place it in the box. Then on Thanksgiving you can open up all of the paper and read what everyone is thankful for.
You can also use the box at school for a Thanksgiving party, or for a family Thanksgiving dinner party.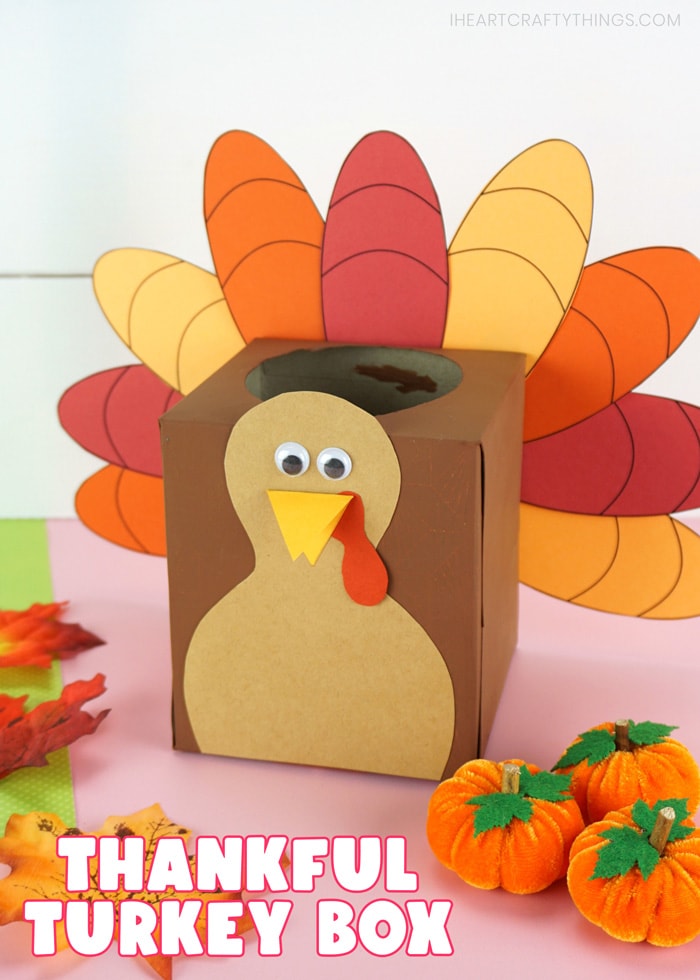 More Easy Turkey Crafts for Kids
Gobble gobble! These turkey headbands are so much fun for preschoolers to make and play with.
Add some fun fine motor work into your Thanksgiving crafting when you make this paper plate yarn weaving turkey craft.
This darling paper turkey craft would make a great addition to a kids craft table at Thanksgiving at home or school. The finished turkeys are soooo cute!
Check out our full collection of over 35 fun and easy Thanksgiving Crafts for Kids. So many simple and cute crafts ideas for kids of all ages.