A while back we made some colorful fish using elbow macaroni. The fun shape of the macaroni was perfect for mimicking scales all over our fish.
This week we found another useful way to use the rounded macaroni shapes. We mimicked the texture of bird feathers and created this awesome elbow macaroni turkey craft.
You'll definitely want to add this fun craft to your Thanksgiving list this year.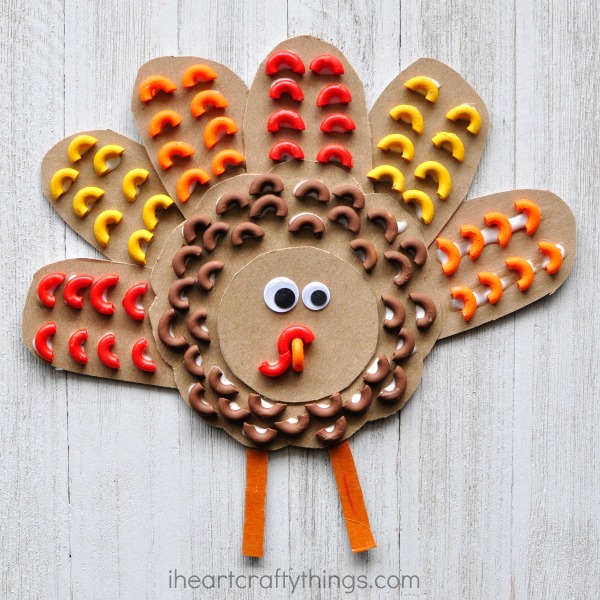 This post contains affiliate links to the products mentioned. Read our disclosure policy for more information.
How to Make an Elbow Macaroni Turkey Craft

Supplies Needed for this Elbow Macaroni Turkey Craft
– cardboard
– elbow macaroni
– orange, yellow, red and brown acrylic paint
– sandwich bags
– parchment paper
– googly eyes
– orange marker
– glue (We used Elmer's X-treme School Glue)
Directions for this Pasta Turkey Craft
1. Start by getting your elbow macaroni ready for your craft by painting them. The simplest way I've found to do this is to pour a small amount of the macaroni into a sandwich bag, then squirt some acrylic paint into the bag. Seal the bag shut and move the macaroni all around in the bag to coat them all with the paint. Pour the macaroni out onto a piece of parchment paper. Then use your finger or a fork to separate the pieces as best you can. Let the pasta dry completely. Complete this step with all of the colors you are using for your turkey craft.
NOTE: I love to paint my macaroni with acrylic paint because I love the vibrant colors of the paint. You could also use food coloring to dye your elbow macaroni.
2. While your painted macaroni dries cut out pieces from your cardboard for your turkey craft. We cut out a circle face, a scallop shaped circle body, large feathers for the back of the body, and two legs. Glue all of your pieces together and let them dry.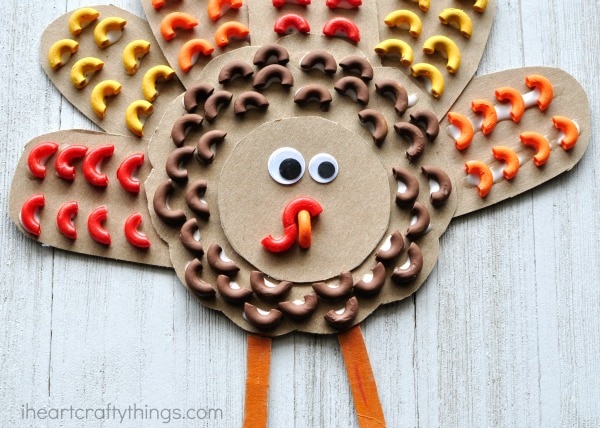 3. When your pasta is finished drying, glue pasta pieces all over your cardboard turkey on the feathers and around the body of your turkey. The fun shape and texture of the elbow macaroni looks like colors feathers all over your turkey.
4. Glue googly eyes onto your turkey face, then use one orange macaroni for your beak and two red macaroni for the turkey snood. Finish your elbow macaroni turkey craft by coloring the turkey legs with an orange marker.