After we made our superhero Mother's Day Gift last month I knew right away we'd have to revisit the idea for Father's Day. After all, Dad's have some mega super powers just like Mom's do, don't you think?!
This Super Dad Father's Day Gift idea is going to make Dad feel super special on Father's Day.
We've included a message that kids can personalize on the back of the Father's Day gift so they can share what they feel makes their Dad extra SUPER.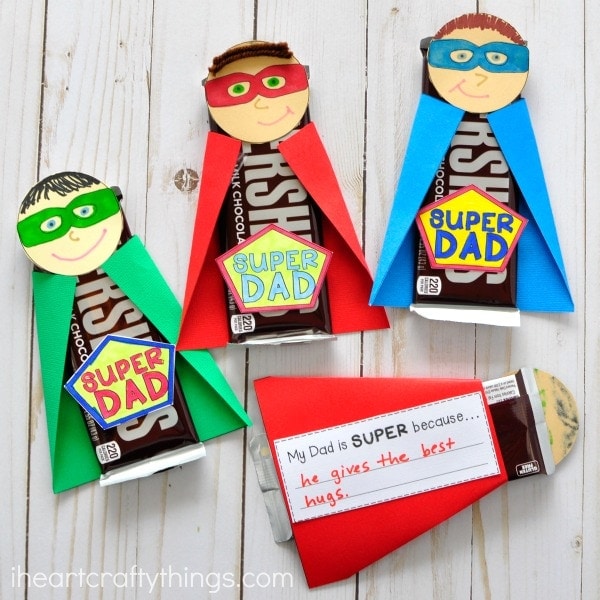 Here at I Heart Crafty Things we understand that everyone household circumstance is unique and different so we have tried to make a template option that works for everyone for Father's Day.
You'll find when you open and download the template there is an option for Dad, Grandpa, Uncle, Super Hero and Super Man. We hope this is super helpful if you are creating this craft with a large group of children.
How to Make a Super Dad Father's Day Gift
This post contains affiliate links to the products mentioned. I Heart Crafty Things is a participant in the Amazon Services LLC Associates Program, an affiliate advertising program designed to provide a means for sites to earn advertising fees by advertising and linking to amazon.com.
Supplies needed to make Father's Day Gift:
Video Tutorial: How to Make a Superhero Father's Day Craft
Before you get started, watch the video below for a step by step guide on how to make this easy Father's Day gift. Find more Father's Day crafts by browsing the categories at the top menu bar of our website.
Instructions to make Super Dad Gift Idea:
Step 1: Begin by downloading and printing out the Super Dad Father's Day gift template.
You can either print this all out on white paper and have children color in all of the pieces on their own. Or you can print out the Super Dad capes on colored cardstock and the face template on a skin tone colored cardstock.
Feel like something different? Learn how to draw cute animals!
We printed on colored cardstock at home but in a group setting where ethnic traits may vary, it would be beneficial to go with printing the faces with white cardstock so the children can color in the skin tone how they choose.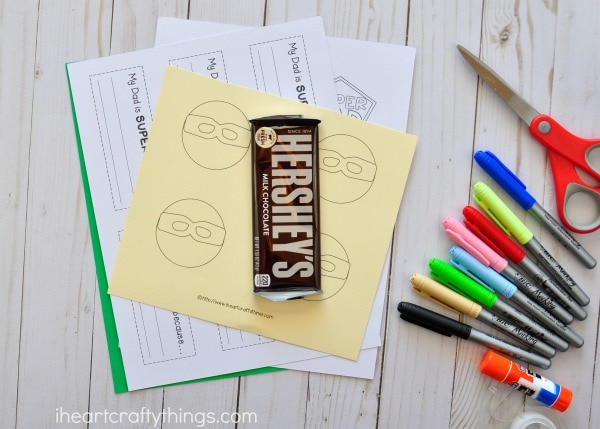 Step 2: Cut out all of the pieces of the template. Use your markers (or crayons) to color in the the Super Dad badge and the Super Dad face. On some of our examples we used yarn for hair. This is optional.
Step 3: Personalize the Father's Day gift label by completing the sentence with something "super" your Dad does using markers.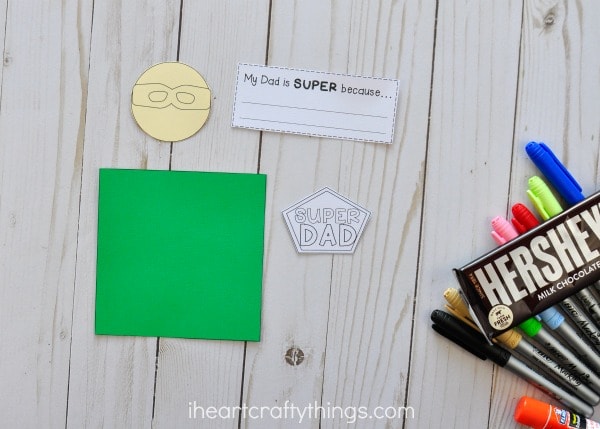 Step 4: Lay the Hershey's chocolate bar on top of the superhero cape, aligning the chocolate bar with the bottom of the cape. Fold down the top corners and make creases along the cape to form the cape around the chocolate bar.
Add tape to the superhero cape and lay your chocolate bar down onto it.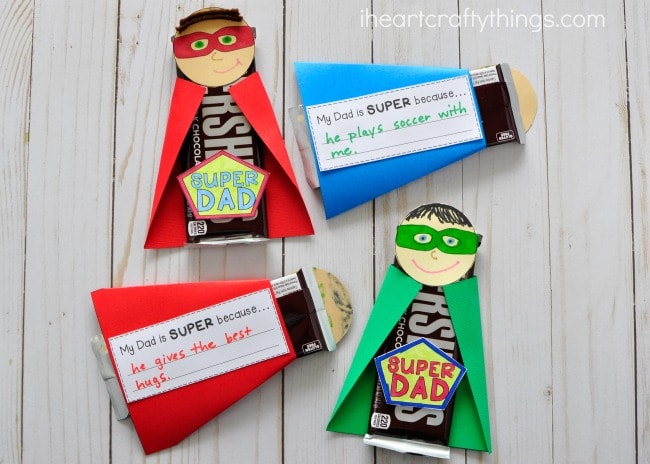 Step 5: Add a piece of tape at the bottom of the chocolate bar and at the top of the chocolate bar and attach the Super Dad badge and the face to the tape.
Step 6: Use a glue stick (or tape) to attach the Super Dad Father's Day gift tag to the back of the superhero cape.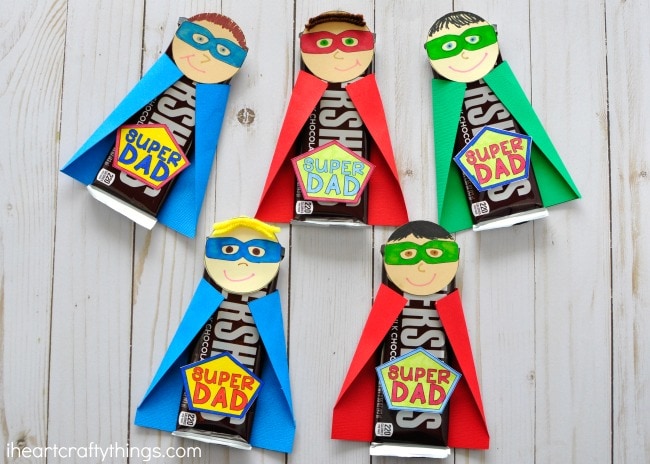 Your Super Hero Father's Day Gift is all ready
Dad and grandpa are sure to grin from ear to ear when you give them their gift! They might even feel like a real life superhero.
Don't forget, our template has a variety of options available for customizing this craft. We have dad, grandpa, uncle, super man and super hero. Children can give this gift to any fatherly figure that is special to them on Father's Day.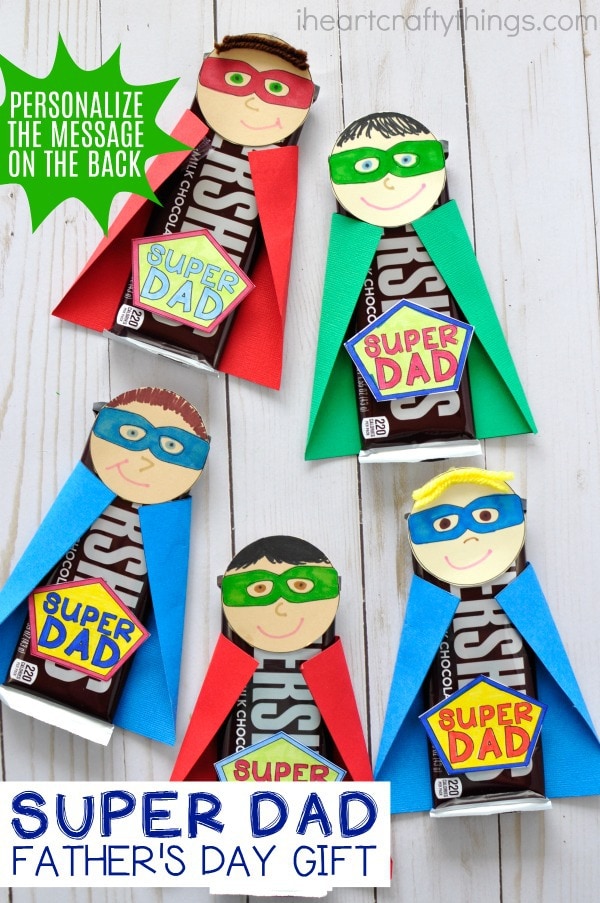 Did you see how we made this idea into a fun gift for Mother's Day too? Or how about surprising your child's "super" teacher with one as well! We have templates available for both options.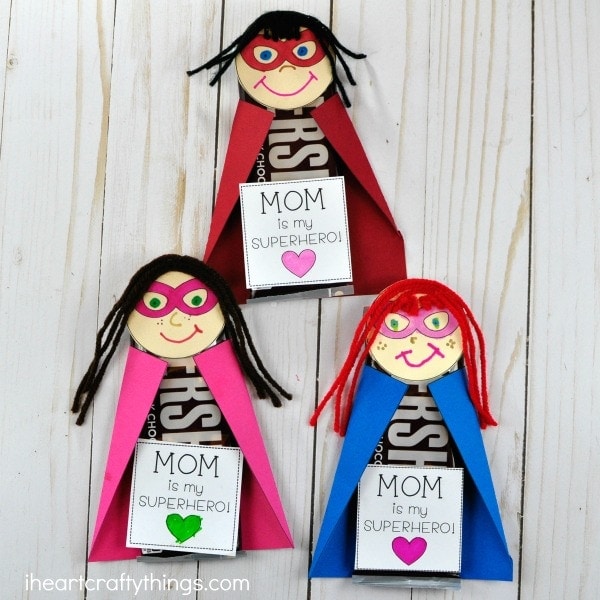 Looking for more awesome Father's Day inspiration?
Check out this adorable Guess Whooo Loves you Father's Day card or this Father's Day card for an "Out of this World" Dad or Grandpa.
We also added this new rocket ship Father's Day card this year. The personalized photo makes it an adorable keepsake craft.