Thanksgiving is a time where we all give thanks for all the things we are so lucky to have and to get together for good times with family, friends and lots of good food!
Thanksgiving is a wonderful time of the year and there are so many aspects of this time that make it special.
Whether November is here and Thanksgiving is coming up or you want to relive some Thanksgiving fun another time of year, these free Thanksgiving coloring pages for kids are the perfect way to have hours of fun while getting into that Thanksgiving spirit.
We're sure to see plenty of reds, browns, yellows and oranges in these Thanksgiving printables, as well as any other colors you would like to use to show what Thanksgiving means to you.
Don't forget to share your completed Thanksgiving coloring pages to our Facebook page so we can all share in the colorful Thanksgiving fun!
REMEMBER: You can get the COMPLETE set of these coloring pages >> HERE
20 Brand New Thanksgiving Coloring Pages – Free to Print and Color
Thanksgiving is in full swing in this first free Thanksgiving coloring page for kids. 'Give Thanks' is in big bold letters for you to color in, and many of the aspects of Thanksgiving we all know and love are here.
A roast turkey, pumpkin pie, pumpkin and fall leaves are all here to get us in the Thanksgiving mood.
Will you stick to traditional Thanksgiving colors for this Thanksgiving printable or will you branch out into other colors?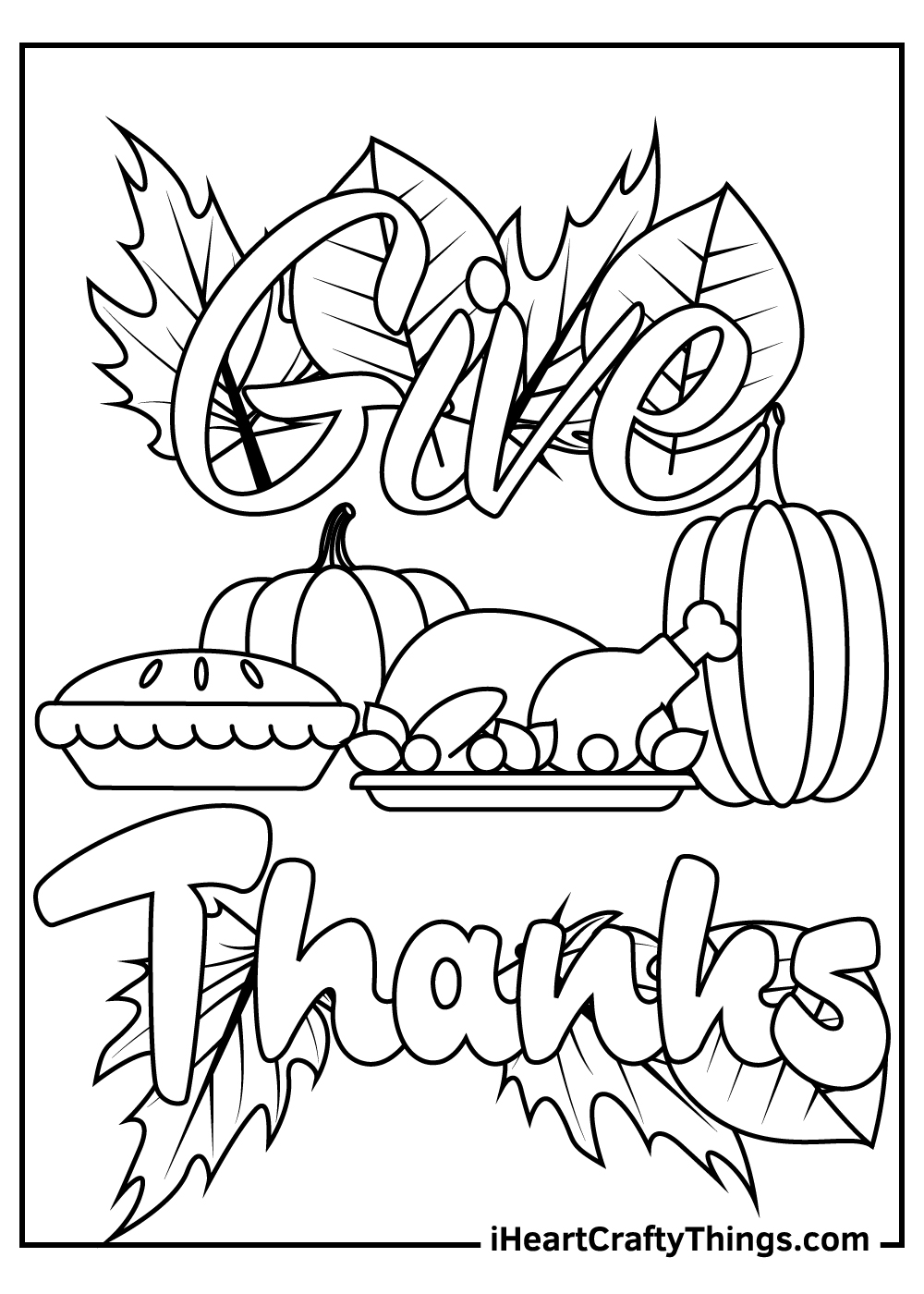 For this Thanksgiving coloring page, we have a wonderful traditional cornucopia centerpiece.
Spilling from this centerpiece is a wide variety of different vegetables, and this means that you have plenty to color in!
Some of these vegetables are quite small, so you could use mediums such as colored pens or markers to make coloring these smaller elements much easier.
Once you have colored these in, you can then add some colors, shapes or other background details to the background and the text above the cornucopia.
What kinds of details do you think would finish this one off?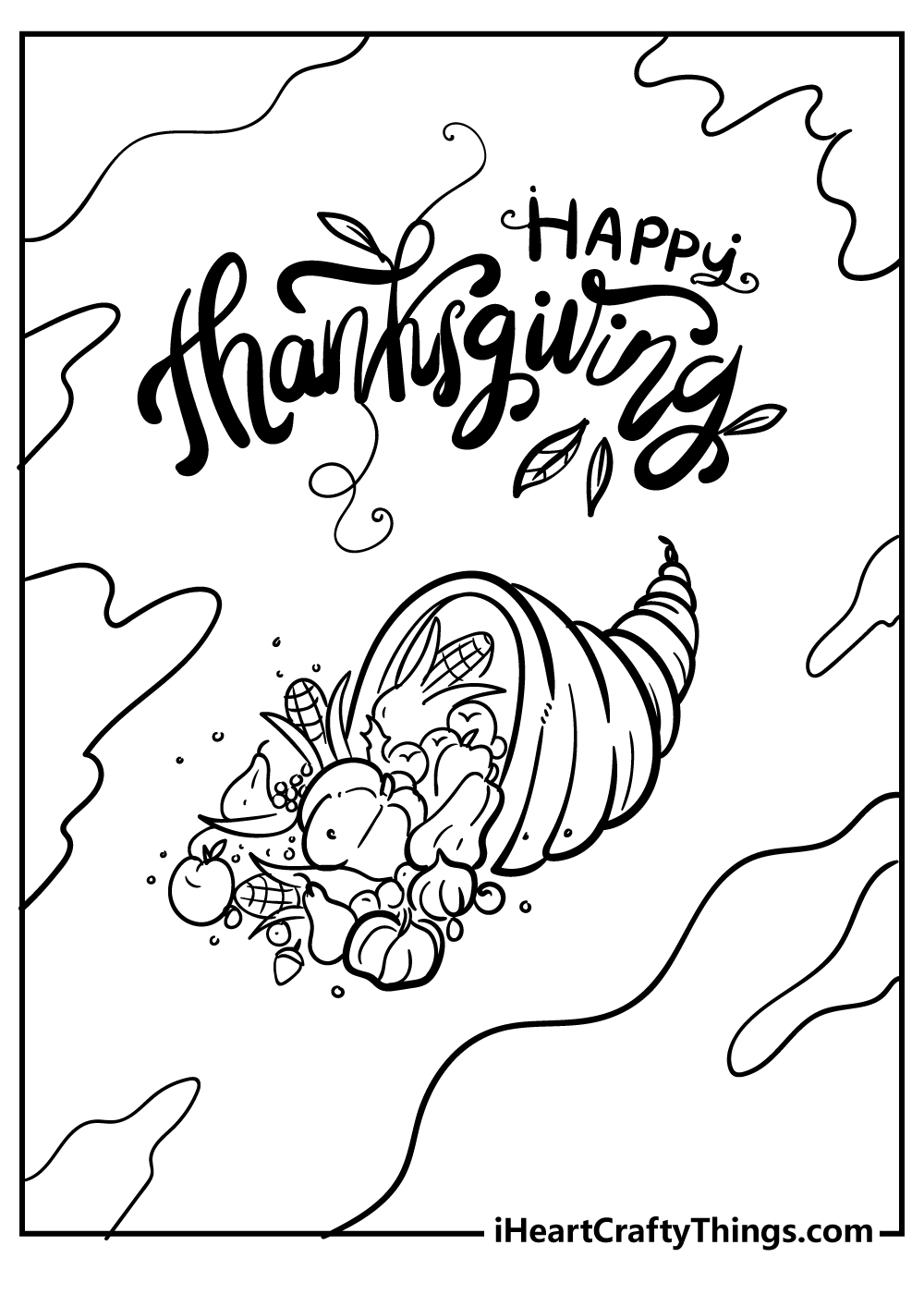 A roast turkey is the focus of this next Thanksgiving coloring sheet, and 'happy Thanksgiving' is being declared as well!
For this Thanksgiving printable, I think it would work really well if you used traditional Thanksgiving colors or if you used your favorite colors to create a bright and cheery image.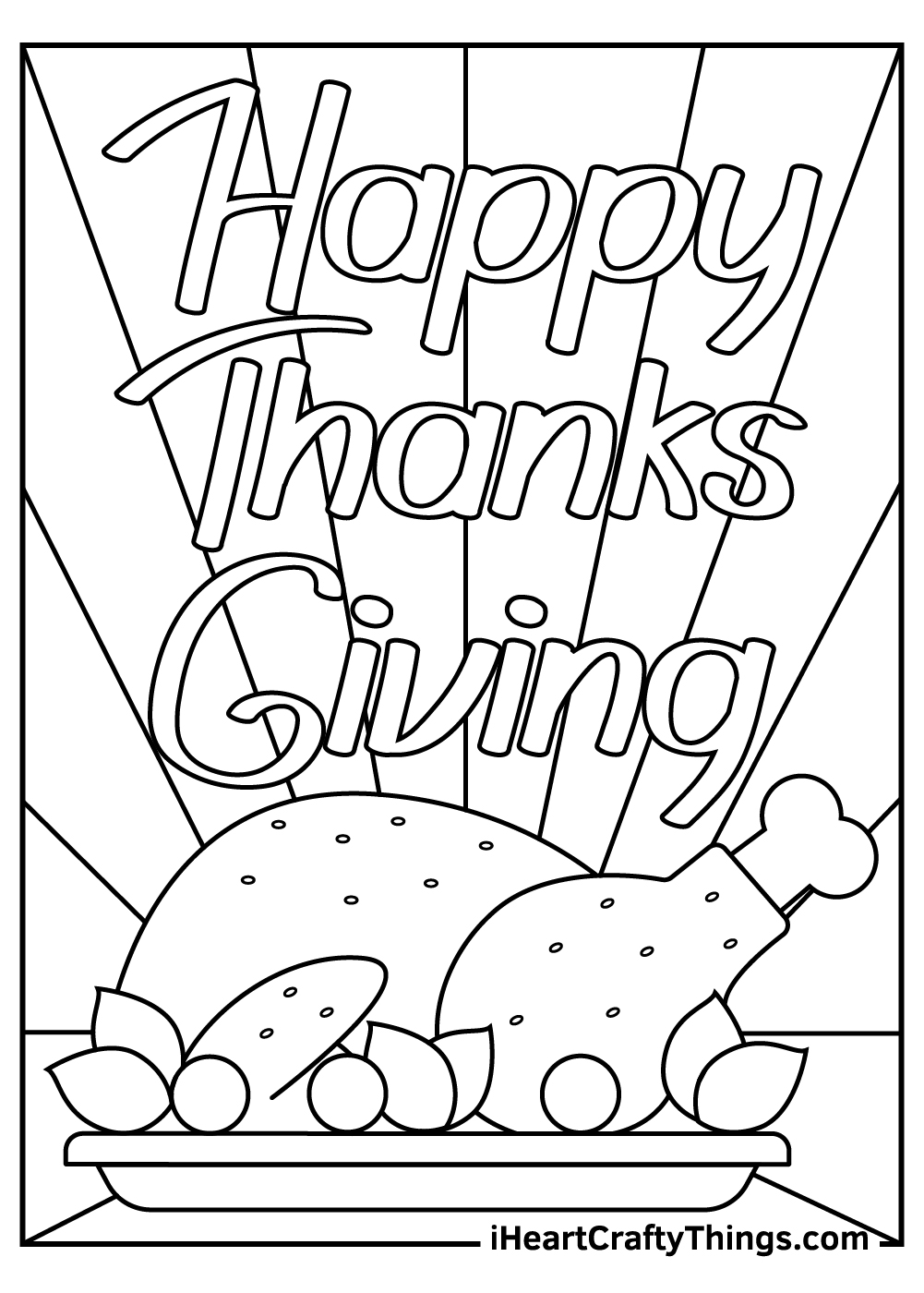 Thanksgiving is all about being grateful for what you have, and this next page is reminding us of that.
Under 'happy Thanksgiving,' we have a big reminder to 'be grateful,' and this also provides you some opportunities for some amazing colors.
When coloring the letters of these two phrases, you could stick to one or two colors or try to use a unique color for each letter.
Either way would look great, and it's up to you to decide! What colors do you think you will use for the letters and vegetables?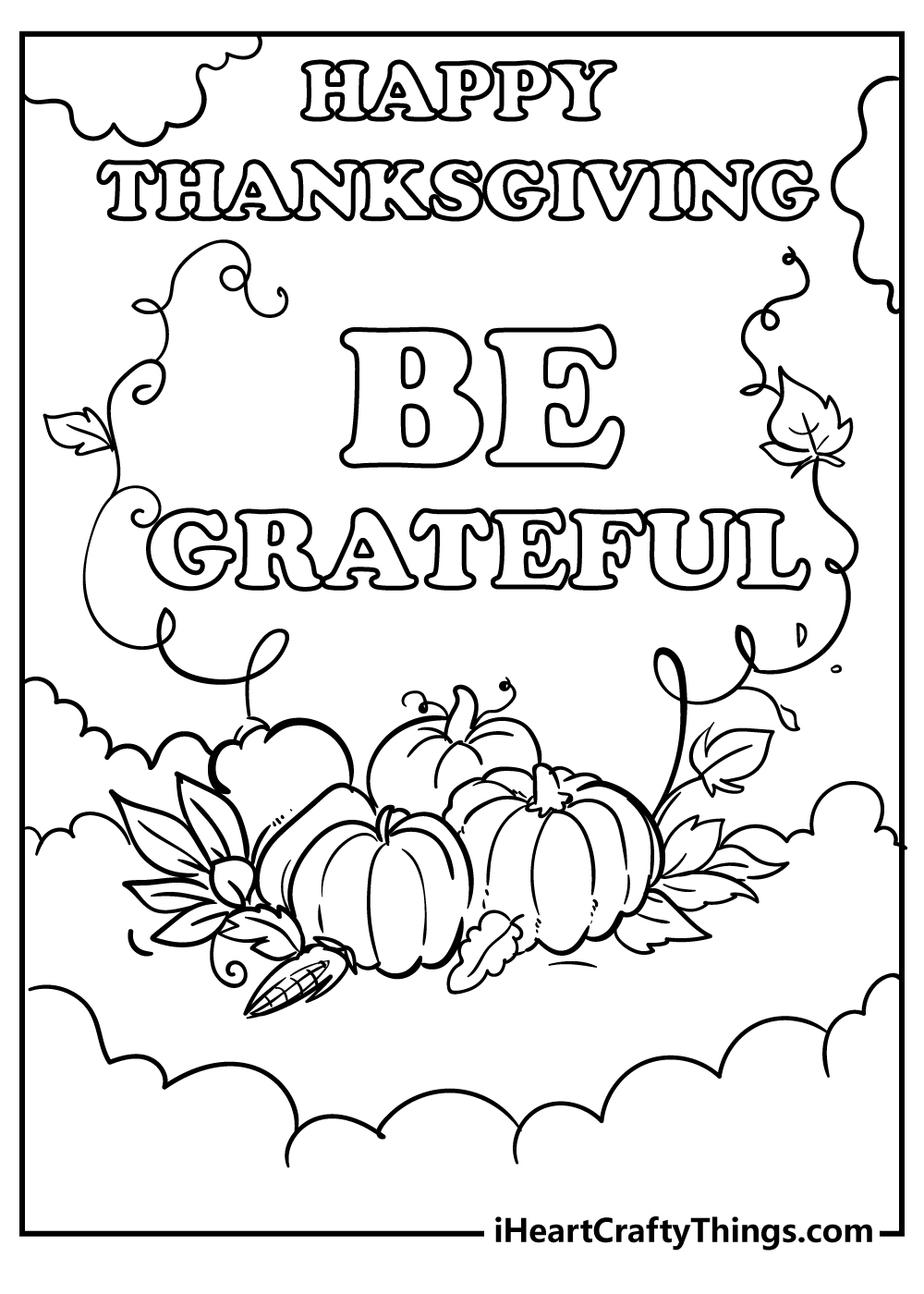 The leaves of Fall are prominent in our next Thanksgiving coloring sheet.
This coloring page would especially benefit from fall colors like red, yellow and orange to create that signature Thanksgiving atmosphere!
REMEMBER: You can get the COMPLETE set of these coloring pages >> HERE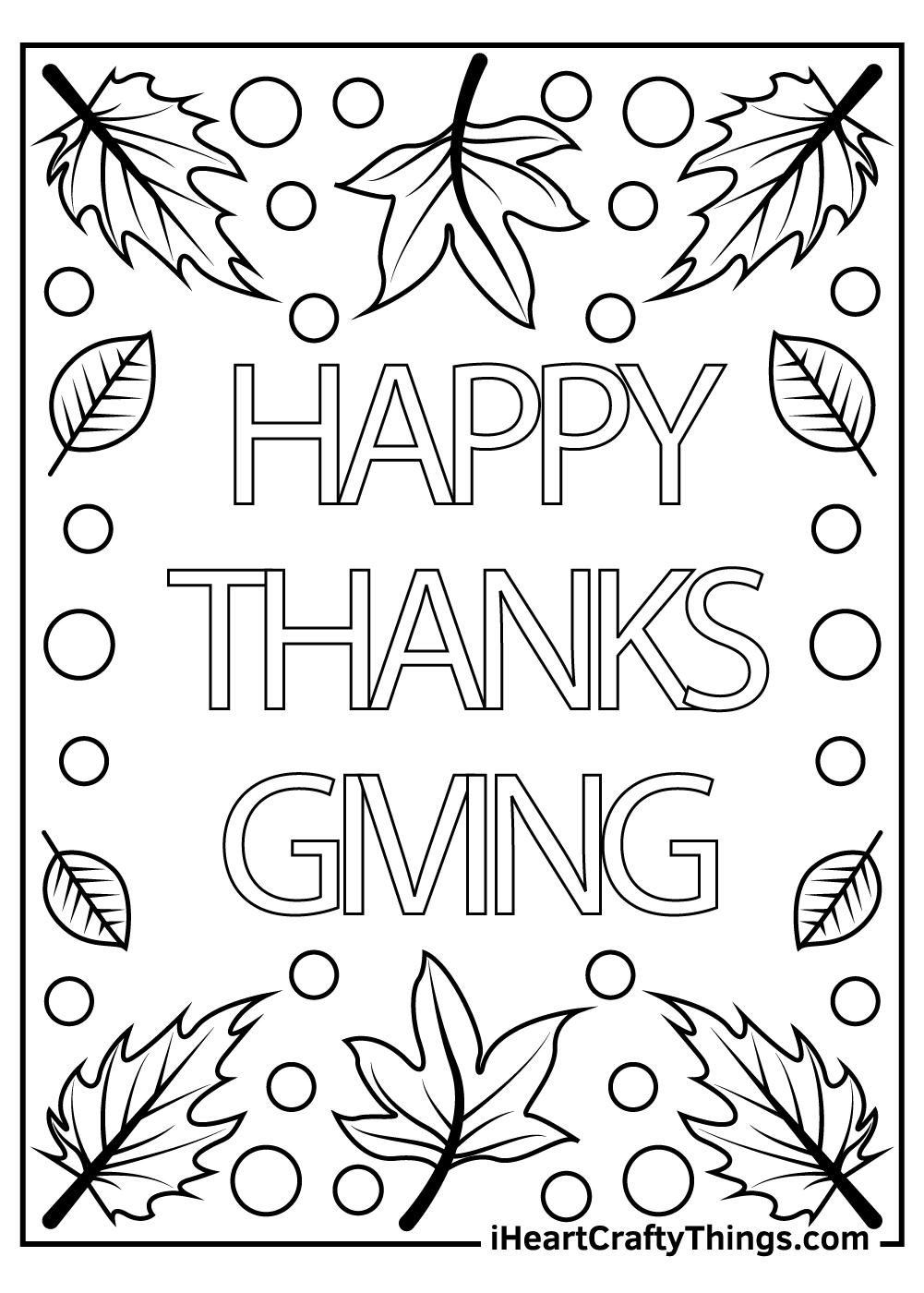 The design of our next Thanksgiving coloring page for kids has a distinct design from what we saw before.
The flower designs give off a really bright and cheerful feeling, and this is one Thanksgiving printable where you could really get creative with your color choices.
Will you stick to the Thanksgiving colors or use your favorite bright and vibrant shades for this Thanksgiving coloring sheet?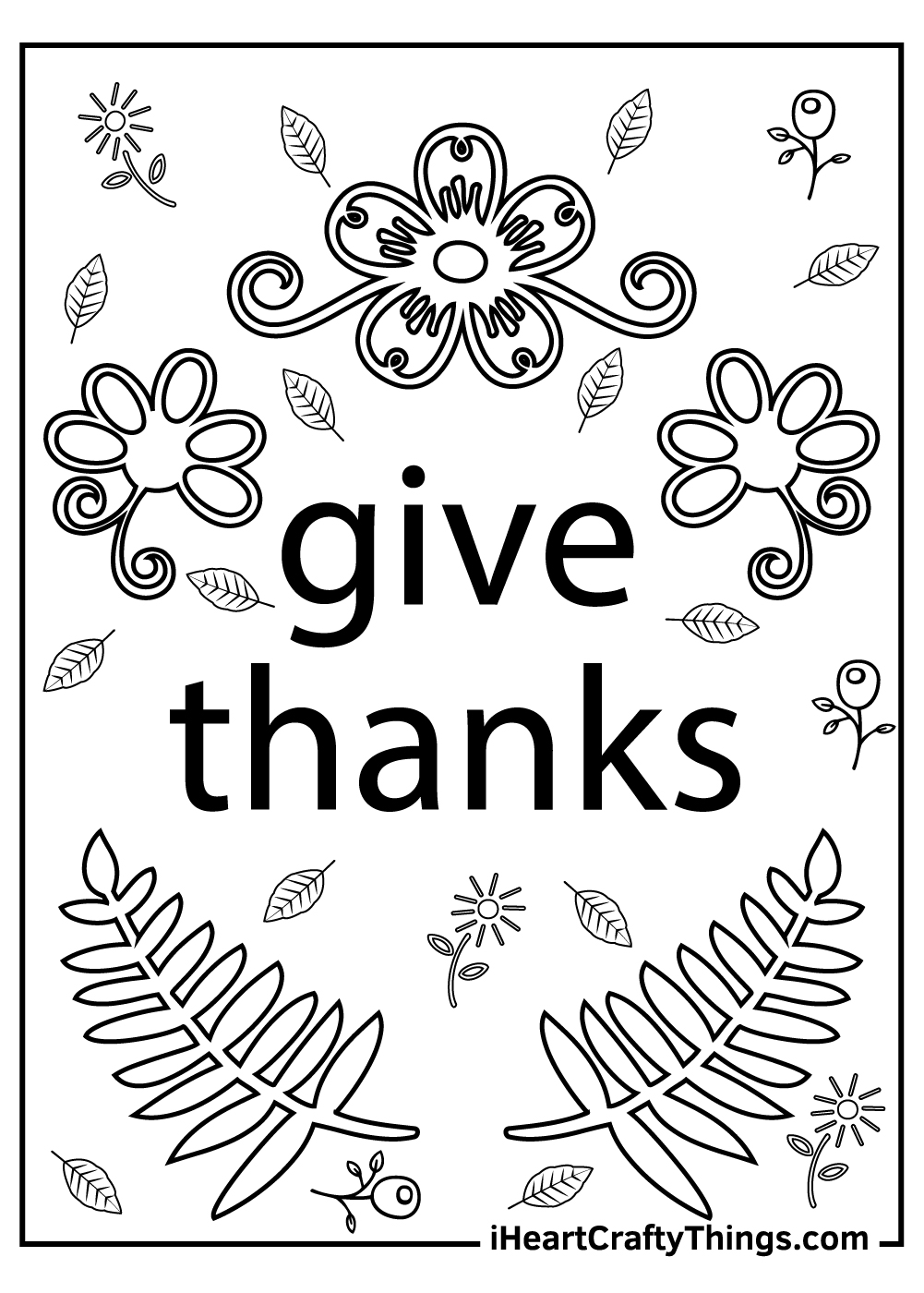 We have a turkey here to say hello in this next Thanksgiving coloring page!
For the turkey, you could stick to the browns and reds you'll see on a real turkey to give a more realistic look, or you could make it a more stylized image by coloring the sections of its tail in different creative colors to make this image pop!
How will you decorate this turkey with color?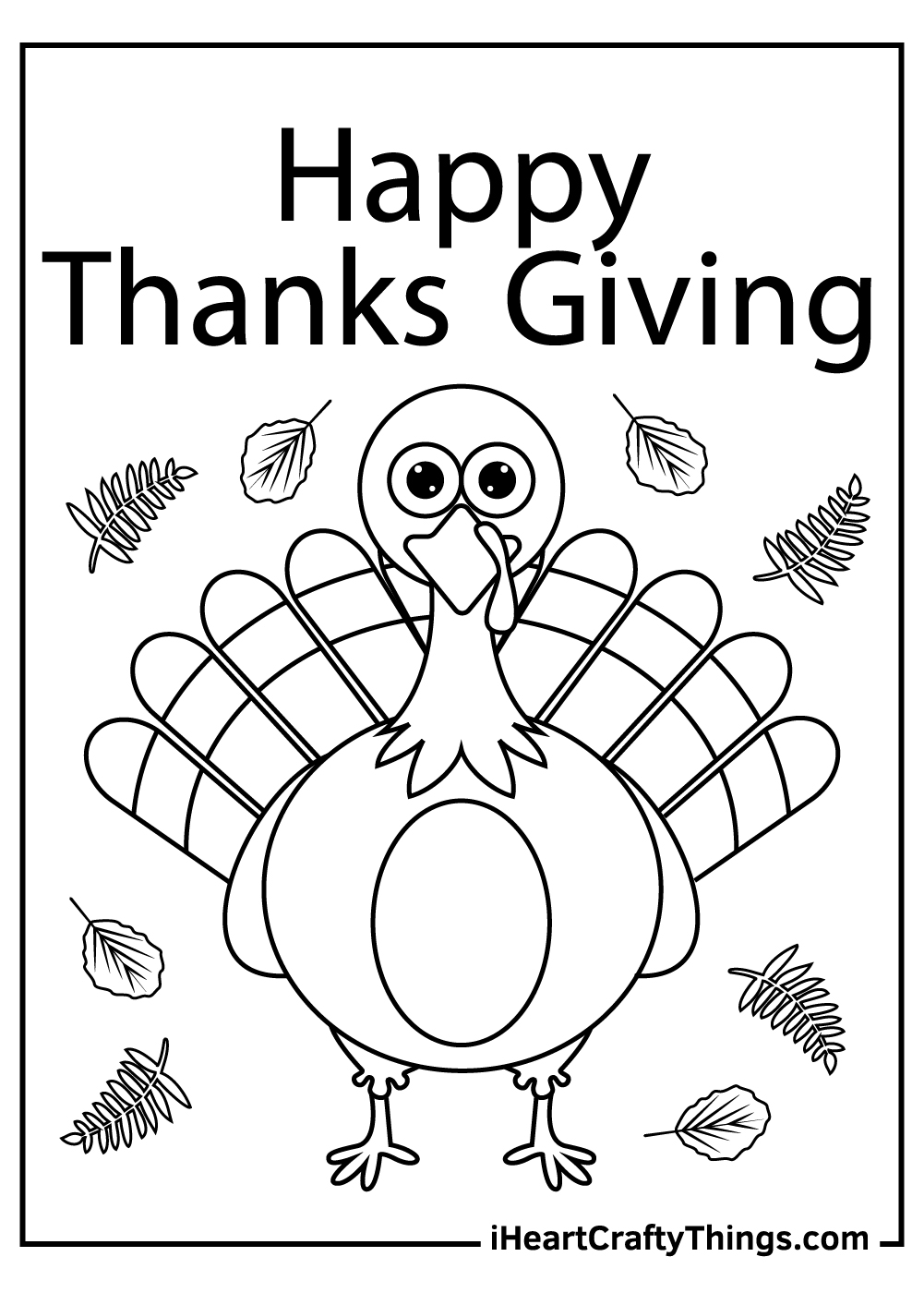 There are some pumpkins featured in this Thanksgiving printable, and along with the Fall leaves in the background I'm sure this will be a very warm and cozy image once you've finished it!
You could try to use some paints like acrylics and watercolors to give an image a different feel.
Acrylic paints would especially be nice to show the texture of the pumpkin, and would really make this Thanksgiving coloring sheet some extra depth.
REMEMBER: You can get the COMPLETE set of these coloring pages >> HERE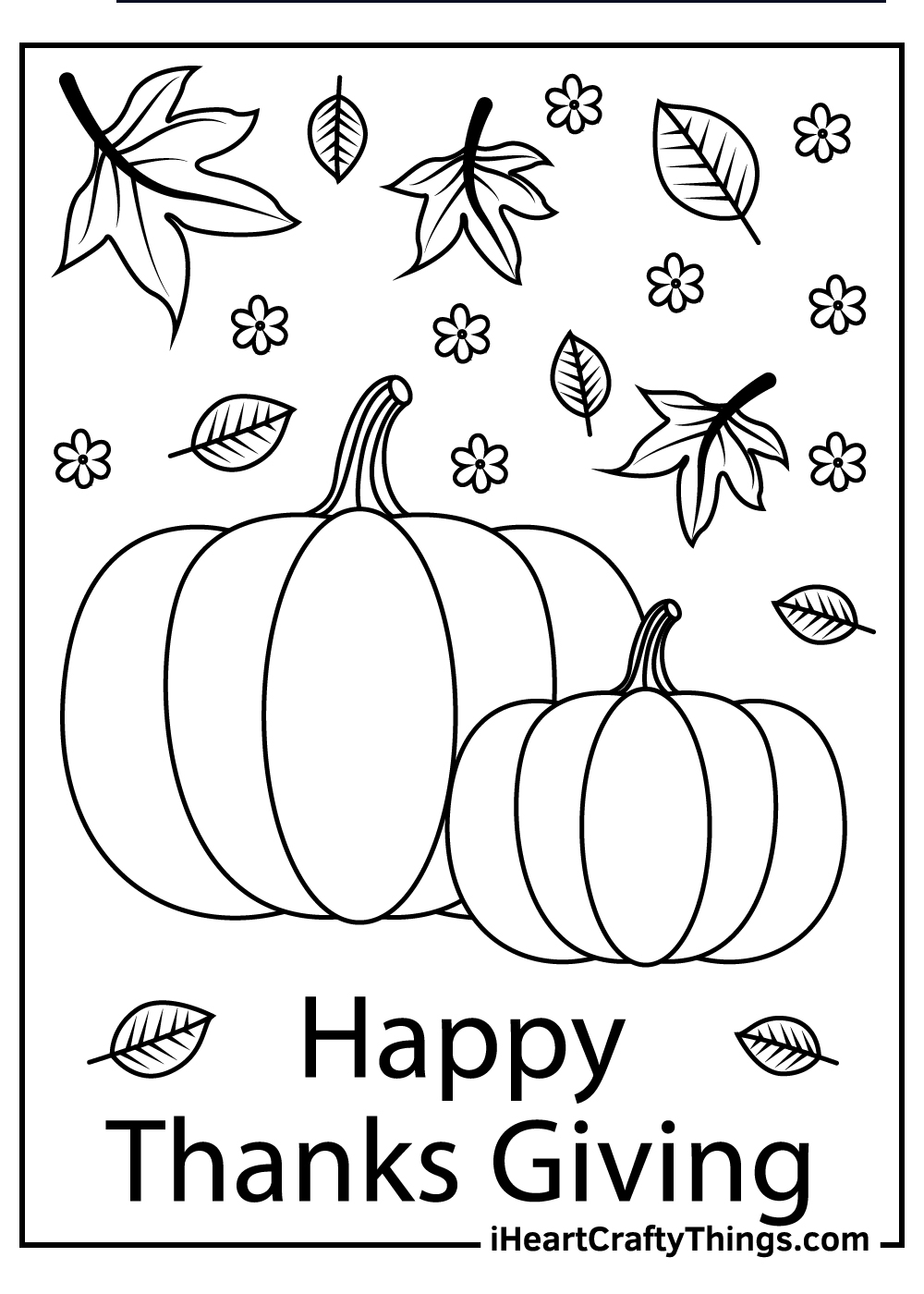 In our next Thanksgiving coloring sheet, we have a collection of some of the iconic aspects of Thanksgiving: a turkey, pumpkin pie and a pumpkin.
I think this Thanksgiving printable would look really stunning keeping the Fall colors we've been using for the previous coloring sheets and then finishing it off with a bright, vibrant red for the background.
Will you take a similar approach or use different colors to finish off this image?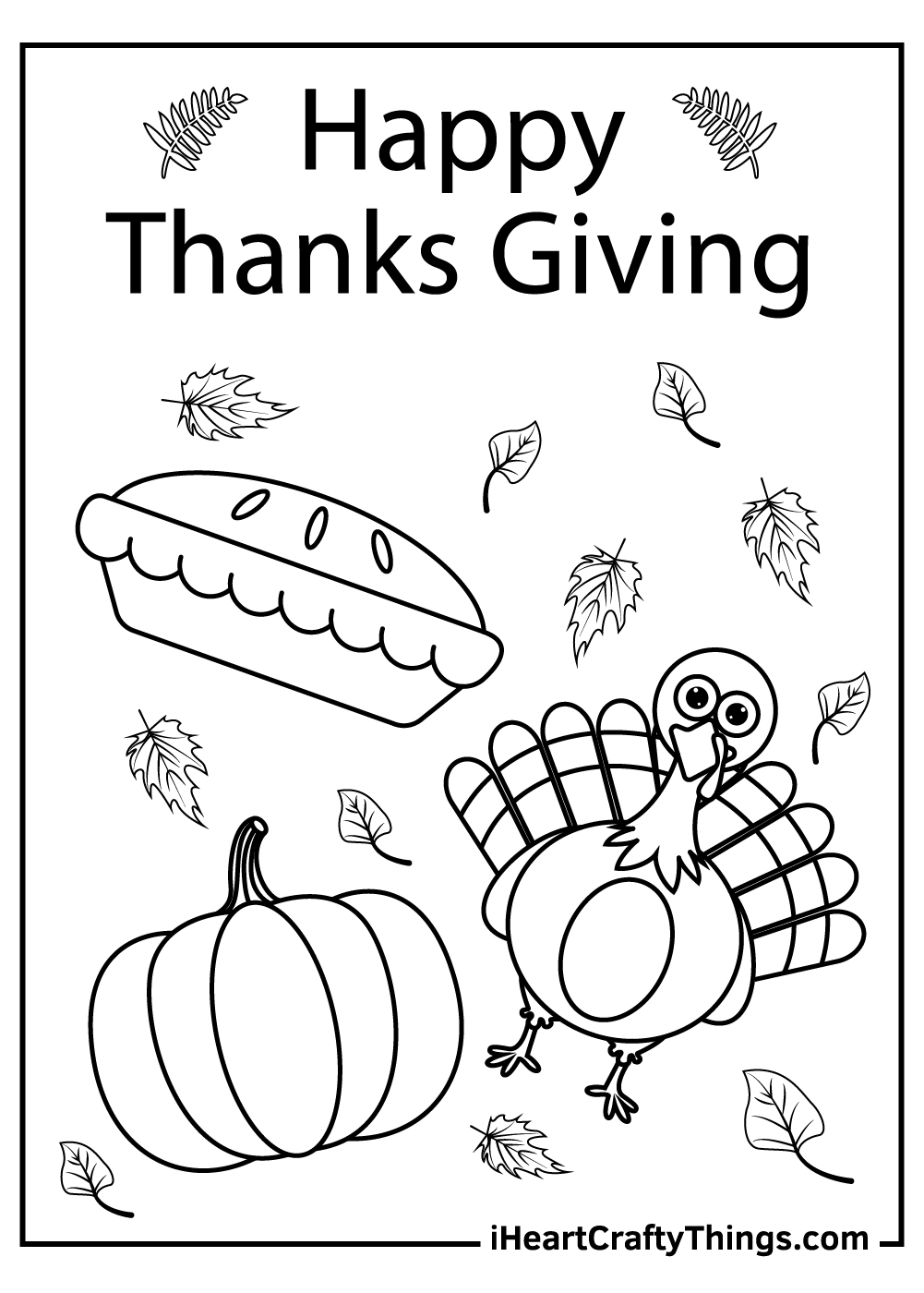 This next Thanksgiving coloring page looks like a Thanksgiving poster!
Another turkey is surrounded by more Fall leaves, and I think that keeping a red and yellow color scheme for this Thanksgiving printable would look great!
Maybe you could use some watercolor paints to give the leaves a softer looking texture.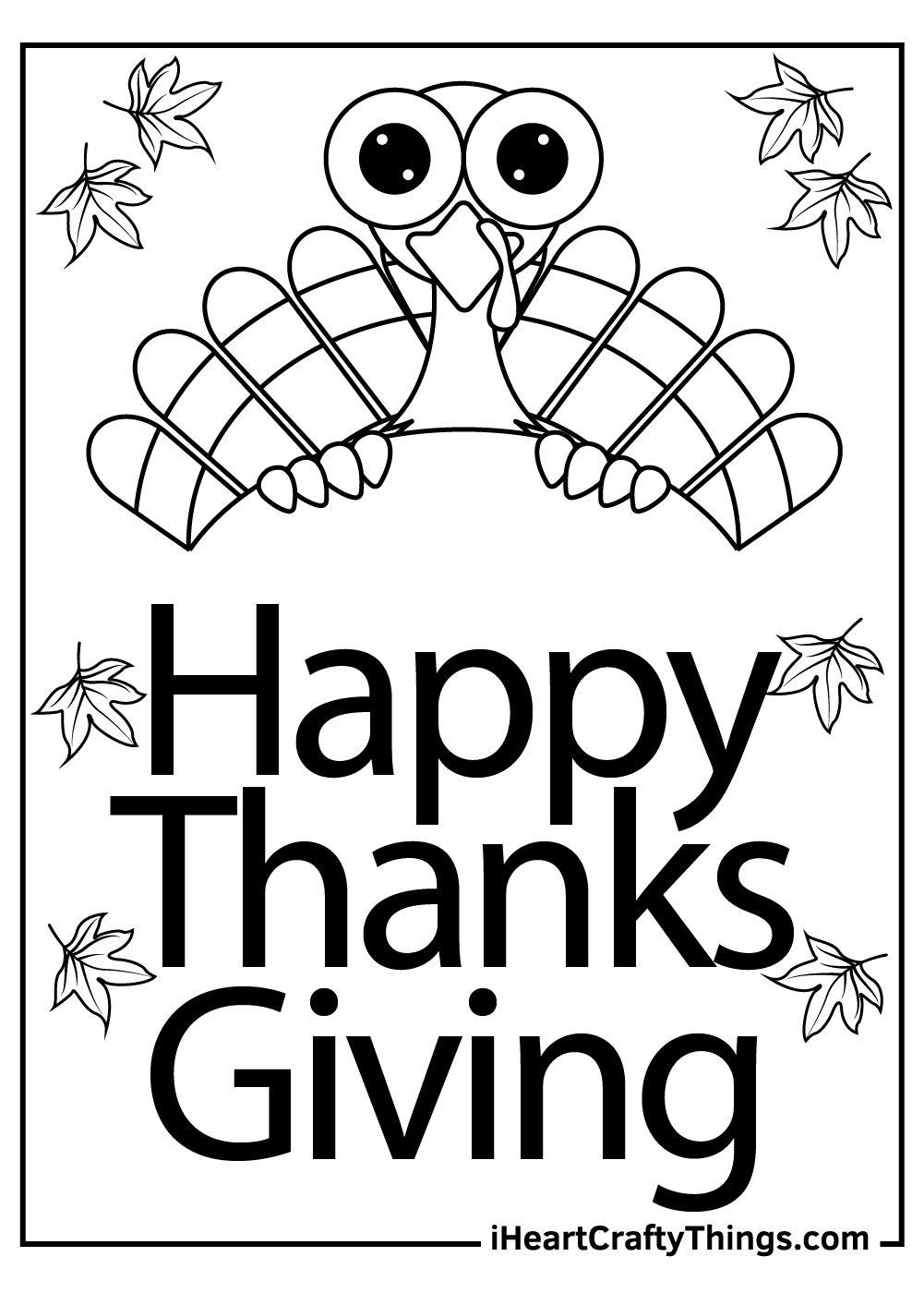 The focus is on some of the vegetables you would enjoy with a Thanksgiving meal on this next page.
We of course have a pumpkin, as this is one of the most traditional fixtures of a Thanksgiving setup. Next to that, we have what seems to be a cabbage, and that will provide quite a coloring challenge!
The pumpkin should look nice and bright with its orange color, and the colors for the cabbage can be a bit more subtle and varied. We will be interested to see how you choose to color this page!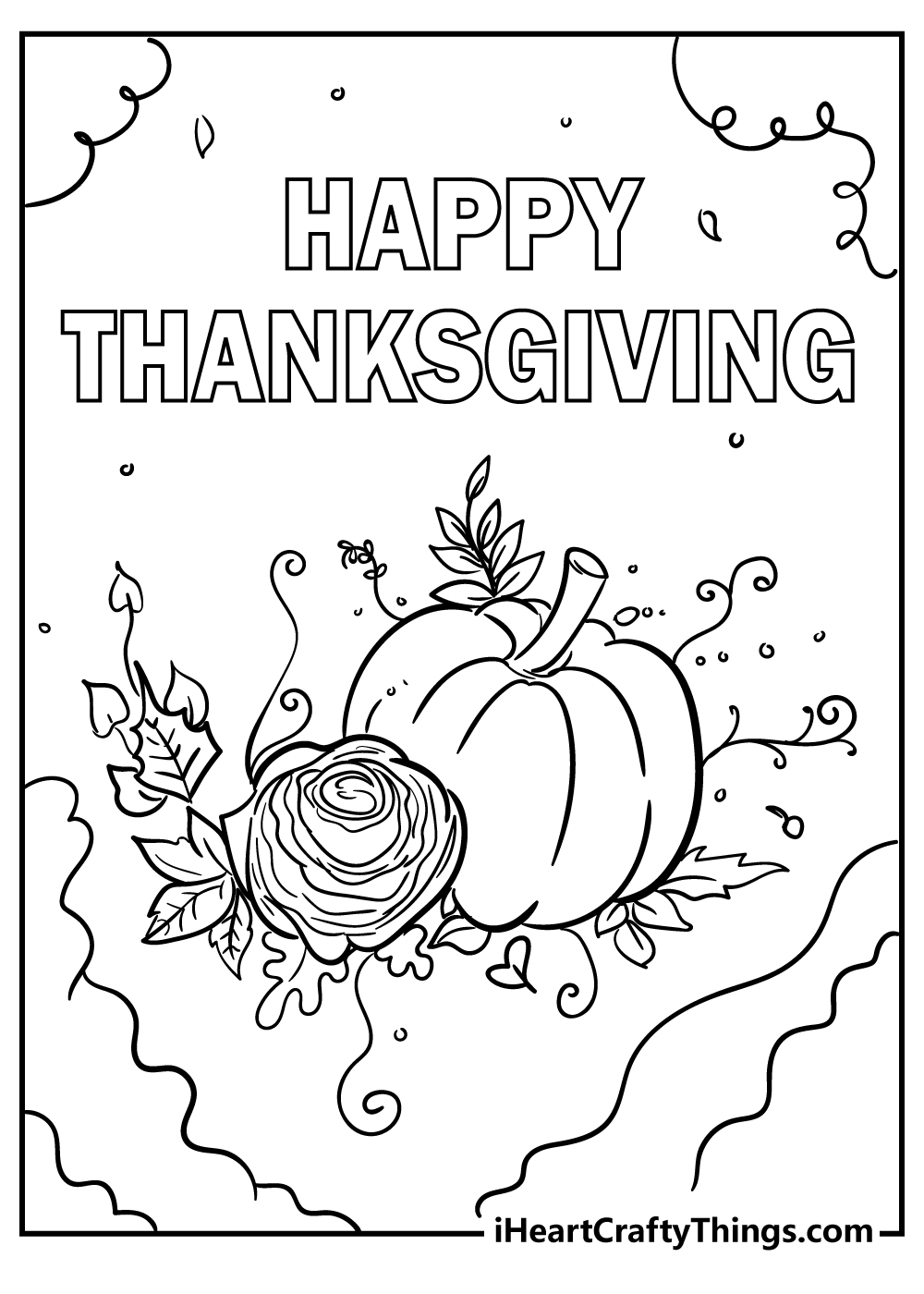 The turkey in this Thanksgiving coloring sheet is surrounded by more pumpkins, so that would be a good chance to get out your favorite shades of orange for this image.
You could also make this a more stylized image as well by using your favorite colors to alternate with on the pumpkins.
REMEMBER: You can get the COMPLETE set of these coloring pages >> HERE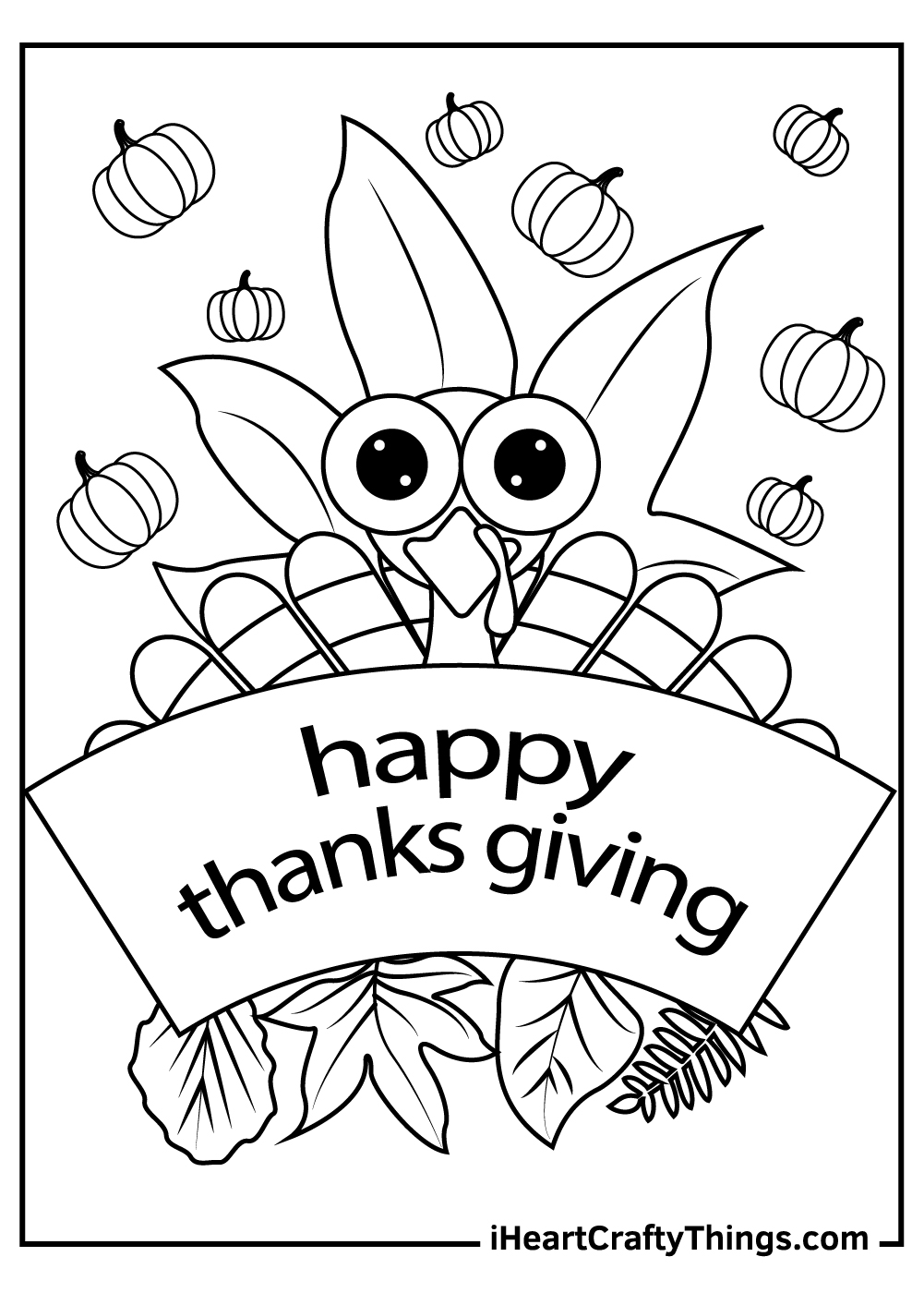 Our final free Thanksgiving coloring page shows a cute turkey in a pilgrim hat and surrounded by more pumpkins and leaves!
This is another Thanksgiving printable that would make a great poster for your wall around Thanksgiving! I also think that this image would look really stunning with other mediums.
You could even crunch up some fall leaves from your backyard and glue them onto the leaves in the image to give it some great texture!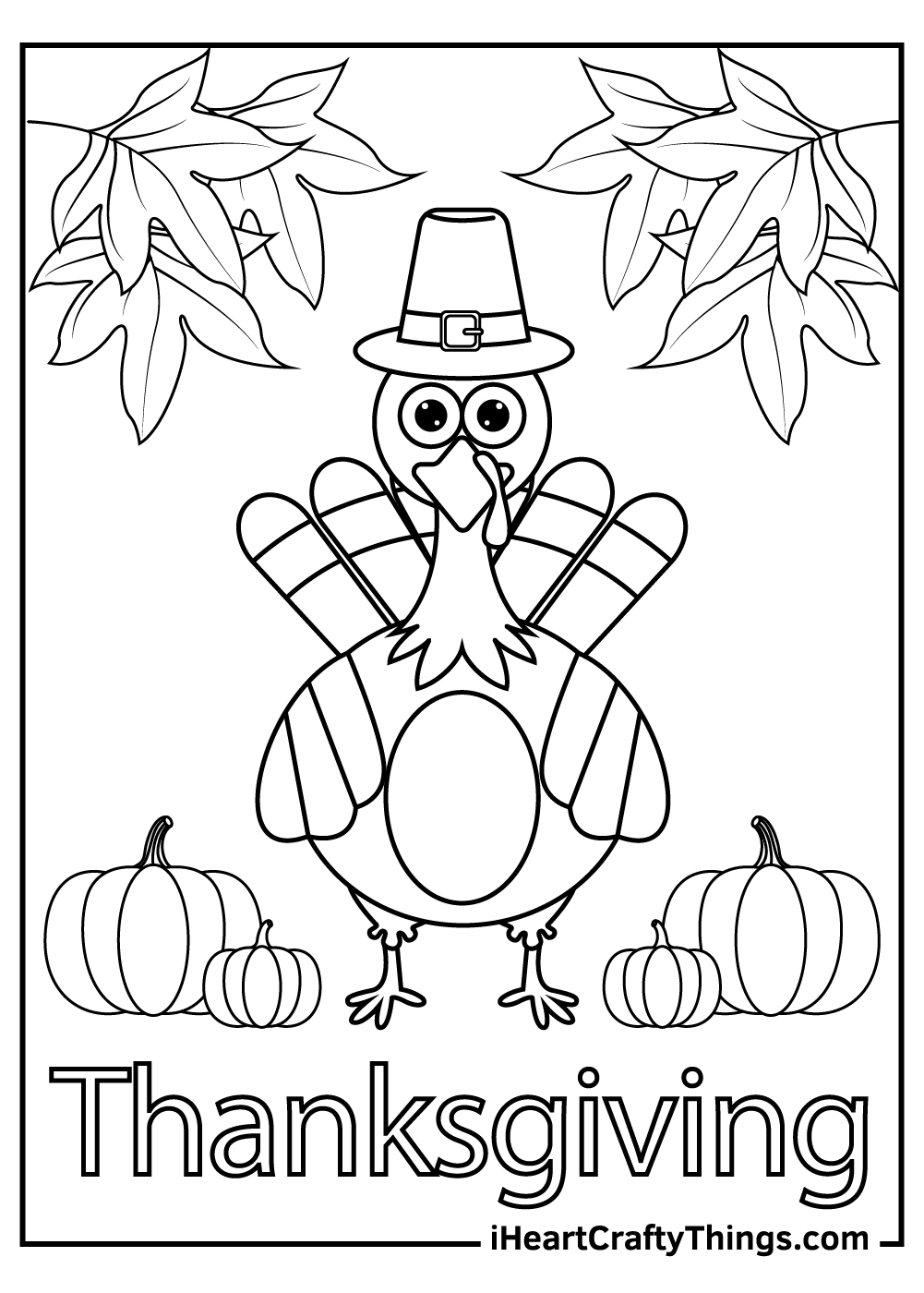 The design featured on this next page in this collection of free Thanksgiving coloring pages for kids is simple, elegant and quite beautiful!
The phrase of happy Thanksgiving is written in a bold, fancy font, and there are many ways you could color the letters.
Then, the whole arrangement is surrounded by a wonderful design incorporating some vines, vegetables and other plants.
It makes for a really wonderful display, and you could go for all kinds of color schemes as you finish it off. Which colors, art tools and mediums will you use for this great Thanksgiving design?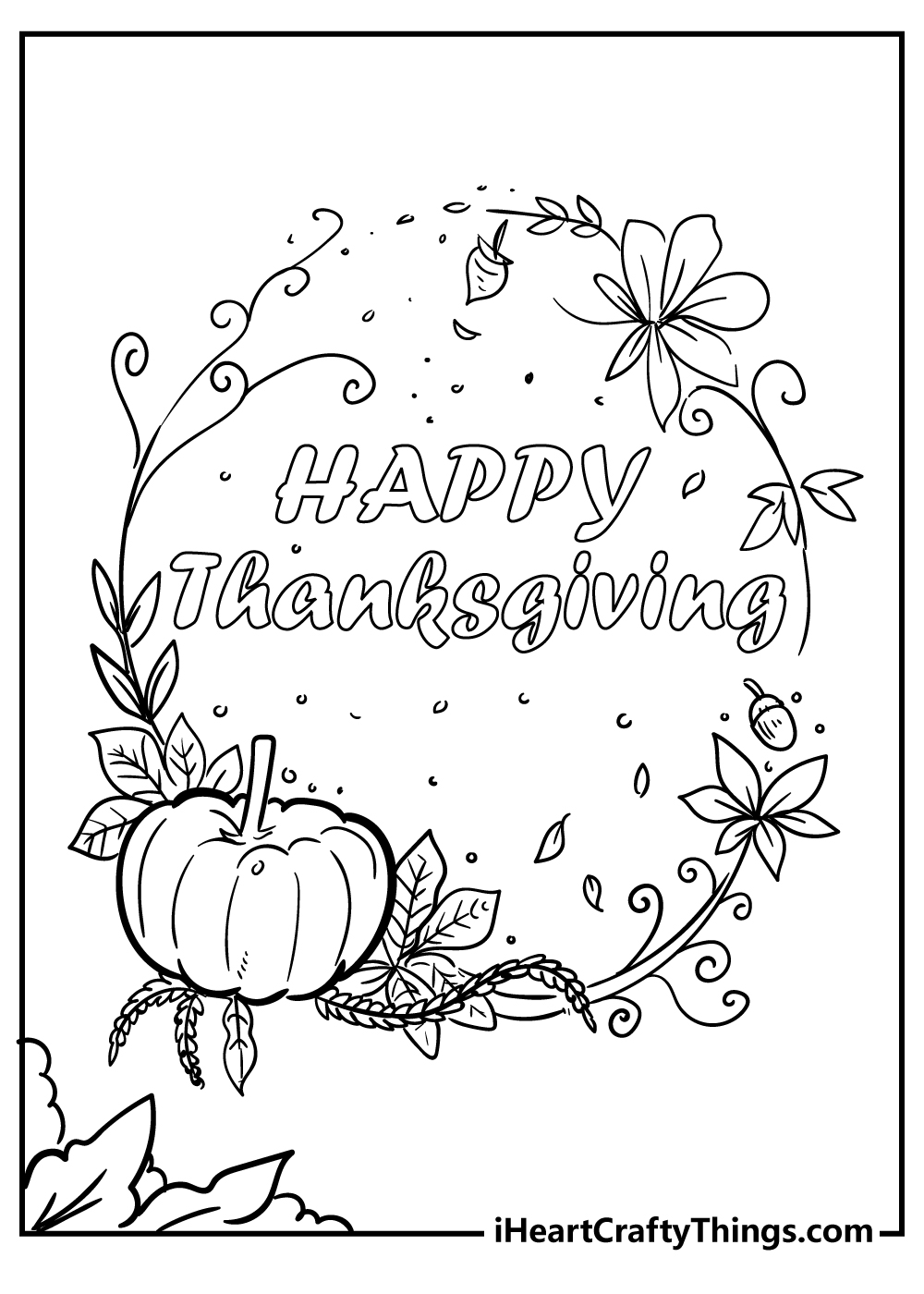 The main focus of this next scene is on some pumpkins, but there are many other details to appreciate as well!
For example, there are some flowers and plants surrounding them that you can color as well. There is also the phrase of 'give thanks' above the scene to remind us what it's all about.
In the background, we have a wide open sky with some clouds above, and you could use some lovely blues and other outdoors colors for this background.
What kind of sky would you like to create for this page?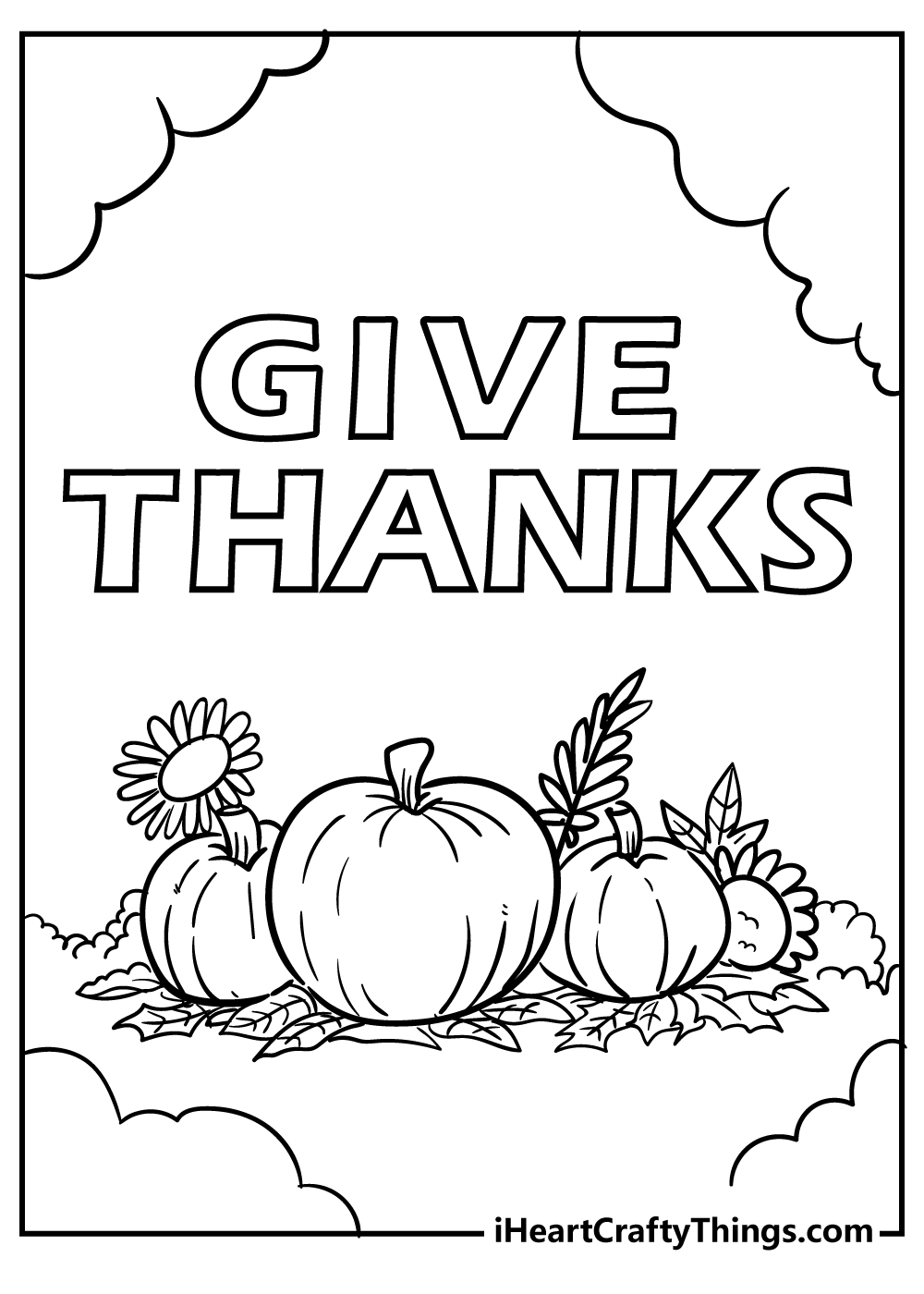 We love the design of this next arrangement! We have the phrase of happy Thanksgiving again, and it is incorporated into a great arrangement.
This arrangement features the famous pumpkin, but there are other smaller elements such as leaves and acorns that you can also have some fun coloring.
This is the kind of picture that would look great whether you use brighter mediums such as paints and colored pens or milder ones like watercolor paints.
If you want to experiment with various methods, you can print out multiple copies to experiment as much as you like!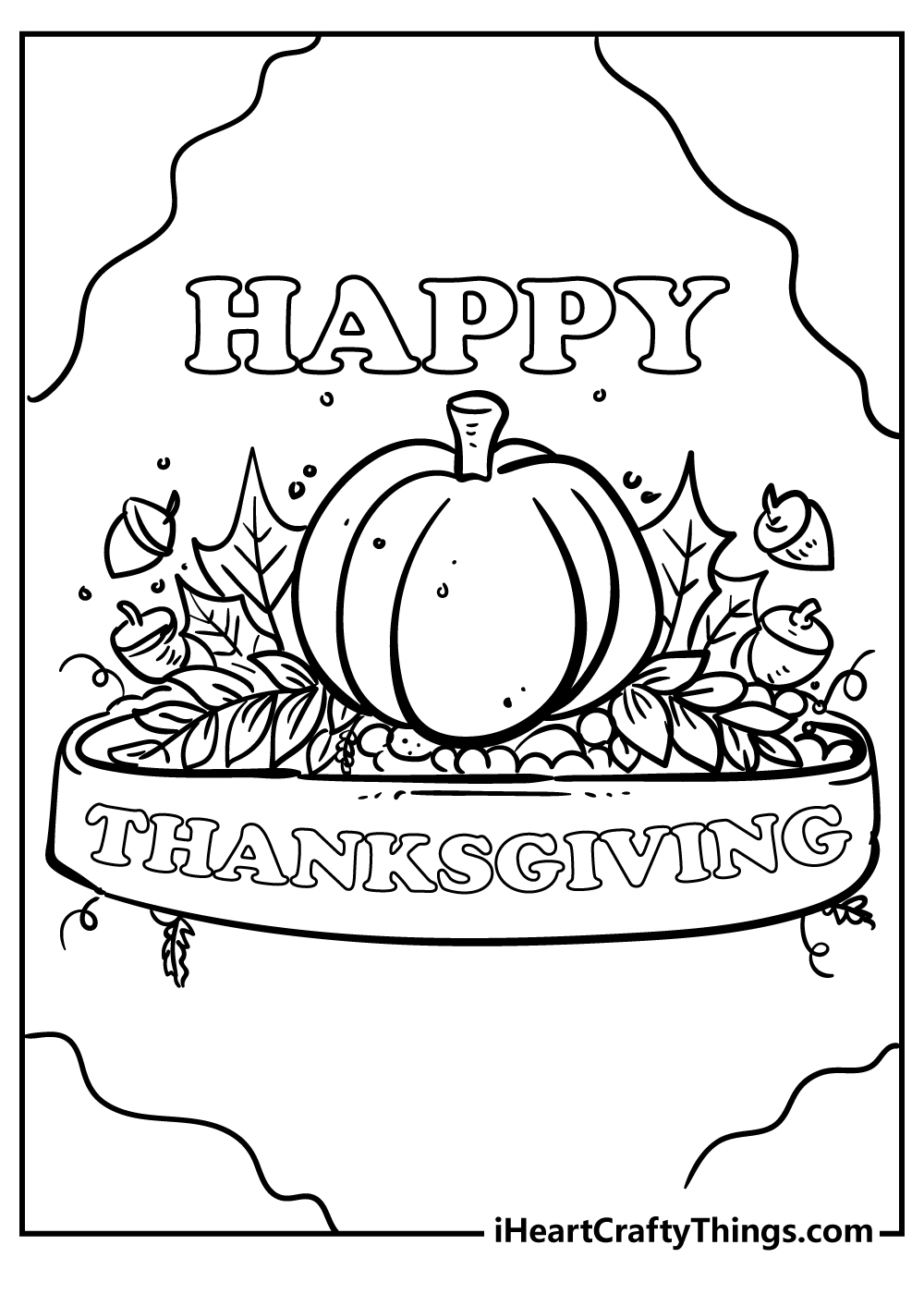 Everyone loves a good meal on this important day, and there is a delicious one to enjoy featured on this Thanksgiving coloring page!
There is a delicious roast turkey along with other foods such as fruit, pie, a pumpkin and many more.
With so many details, there is a lot of coloring fun to be had with this one. If you're feeling extra creative, you could try to squeeze in a few more items onto the table by drawing them yourself!
It's already a packed table, but there is always room for more. What else would you like to add to this already impressive spread?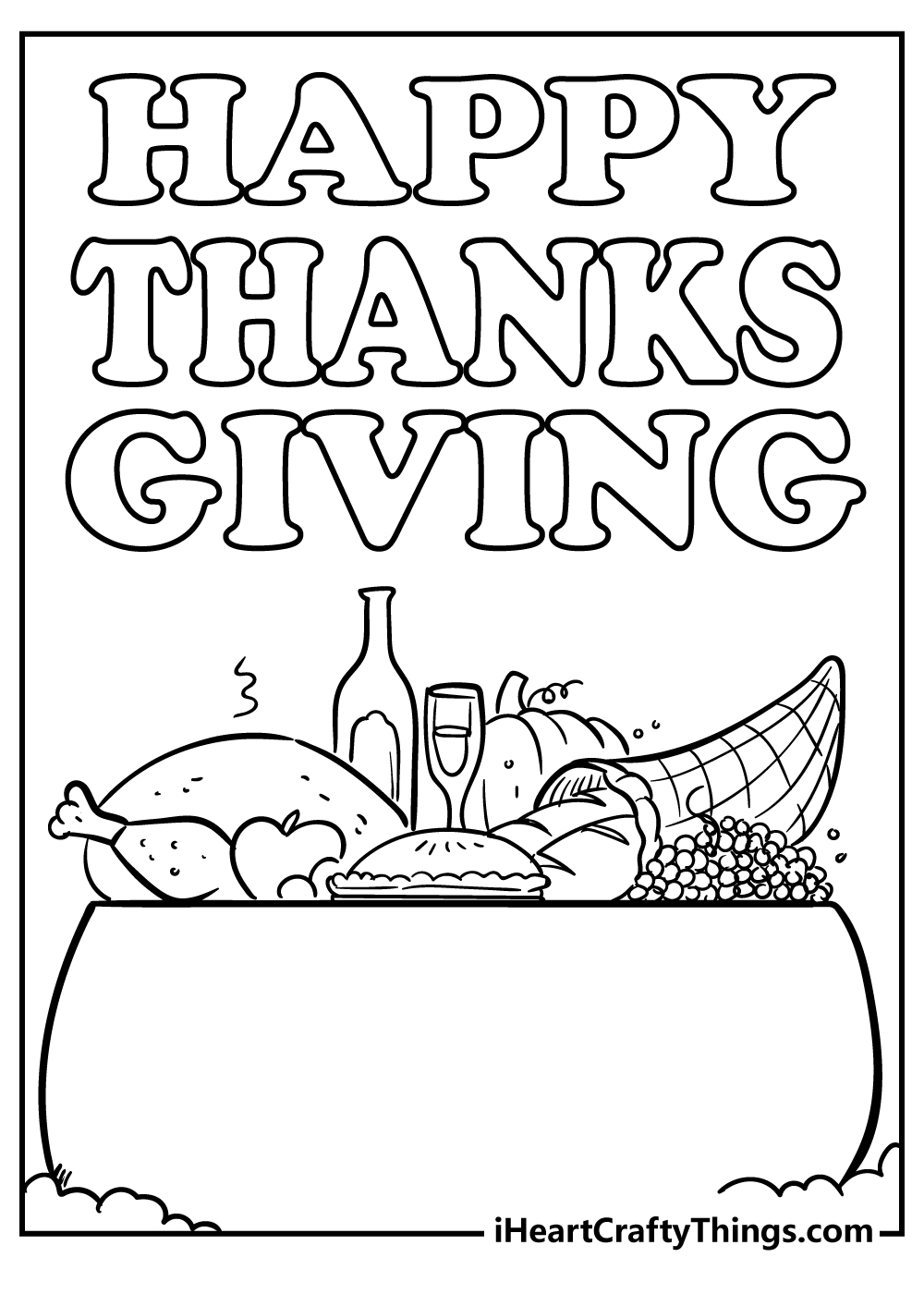 There is a really intricate design featured in this next picture. Here the phrase is written on a banner, and there are so many symbols of Thanksgiving surrounding it.
These include more pumpkins along with leaves and vegetables, so you have a lot to keep you busy.
This page is another one where we would recommend using certain art tools that allow for more precision. These would include colored pens and pencils, as they allow for much more control when coloring in tight spaces.
What do you think you will use?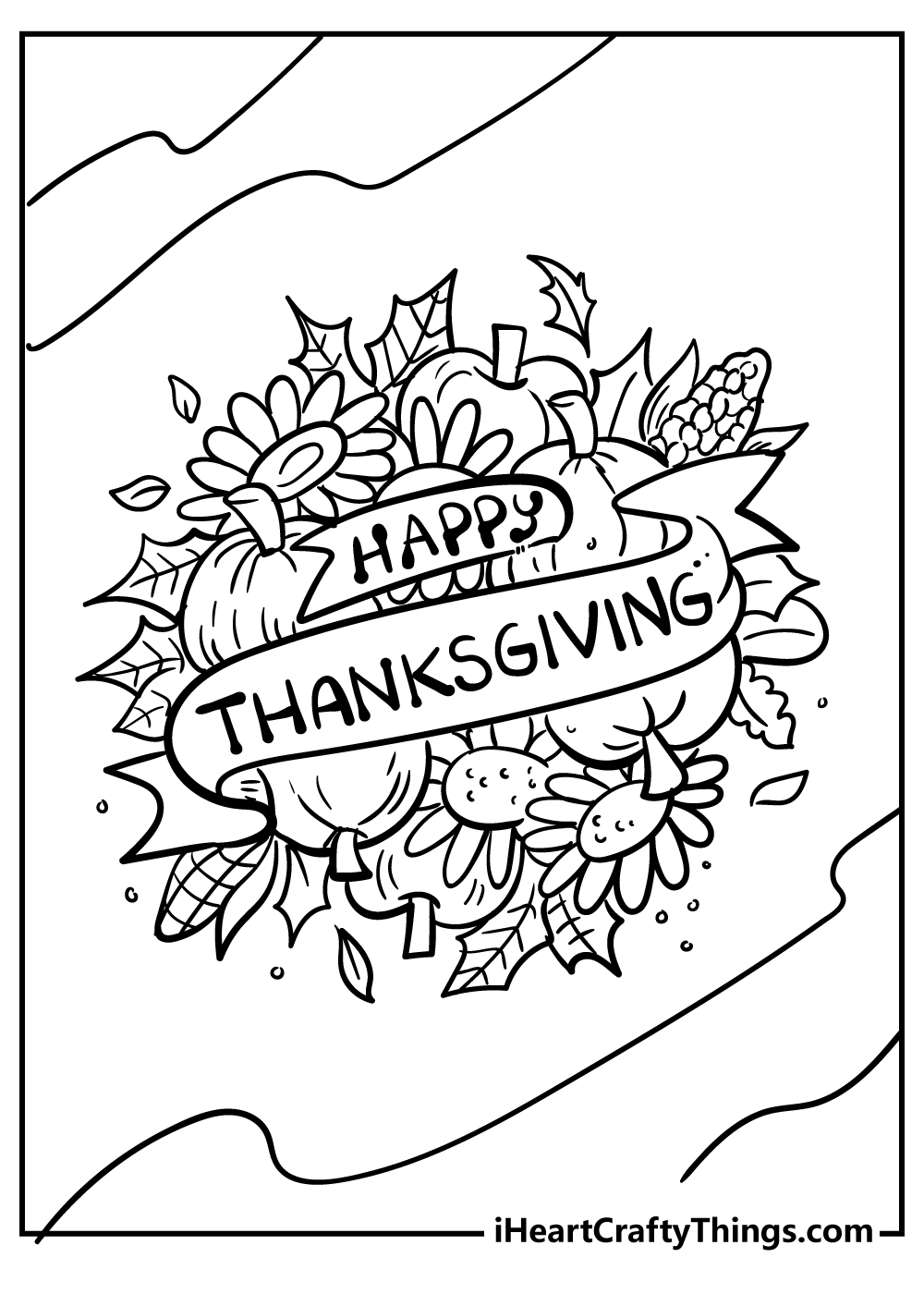 The pilgrims are a big part of the Thanksgiving story, and one of their distinctive hats is featured on this next page.
These hats are instantly recognizable, and you have a few ways that you could color them.
In addition to this hat, there are also some details such as turkey legs, acorns and other great details that you can have fun with.
Even though there are lots of details here, there is still plenty of empty space if you would like to add some more details of your own!
If you were to draw some other things that remind you of Thanksgiving, what would you add?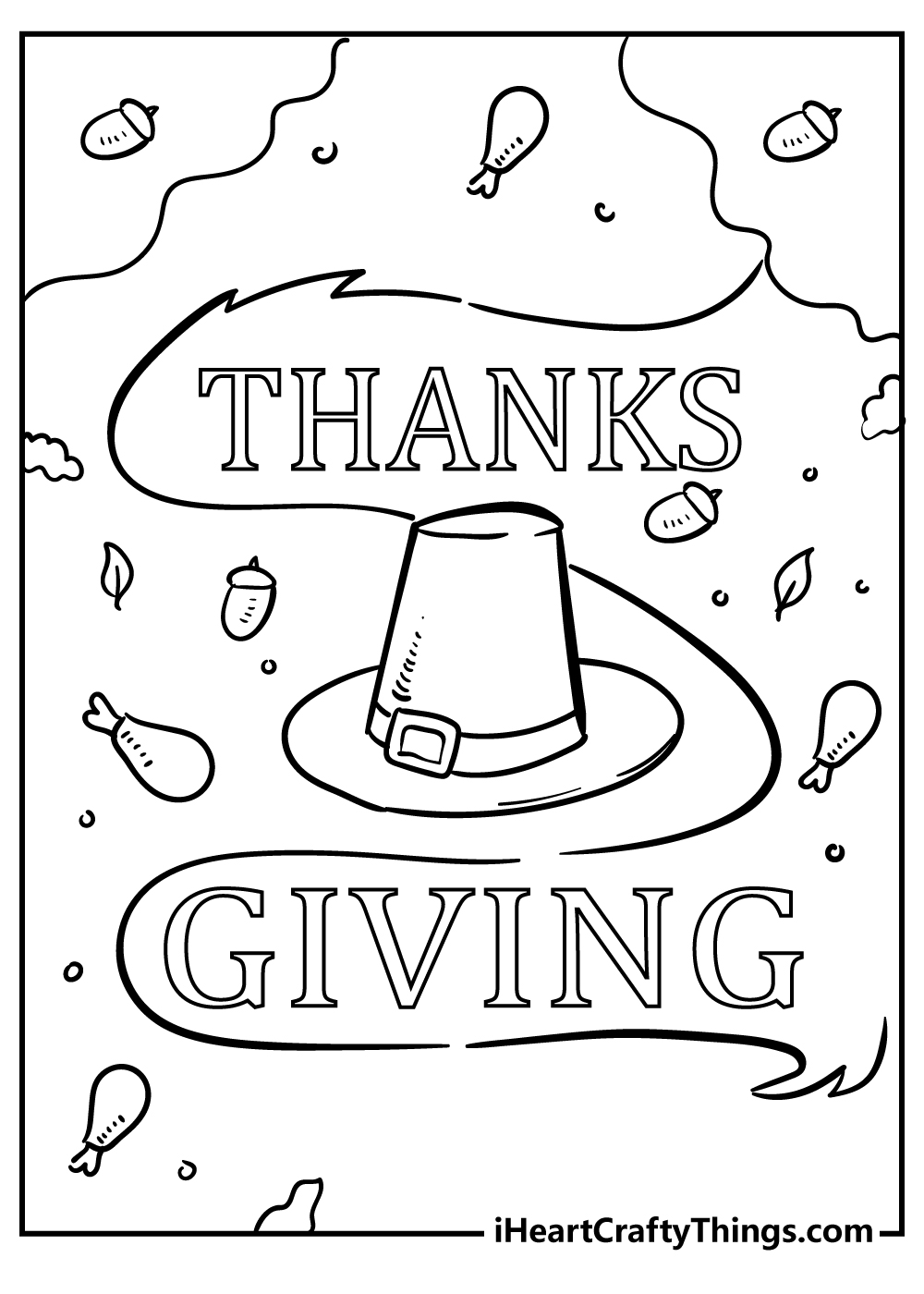 Next, we have a Thanksgiving coloring printable that features a happy turkey in a pilgrim hat.
It makes for a really happy and breezy image, and we think that some bright and vibrant colors would be perfect for this one.
If we were coloring this one, we would probably go for some paint mediums such as acrylics or watercolor paints.
You could also mix different paint mediums depending on the kinds of details you are coloring in. This can help to create a wonderfully vibrant and varied look to the image.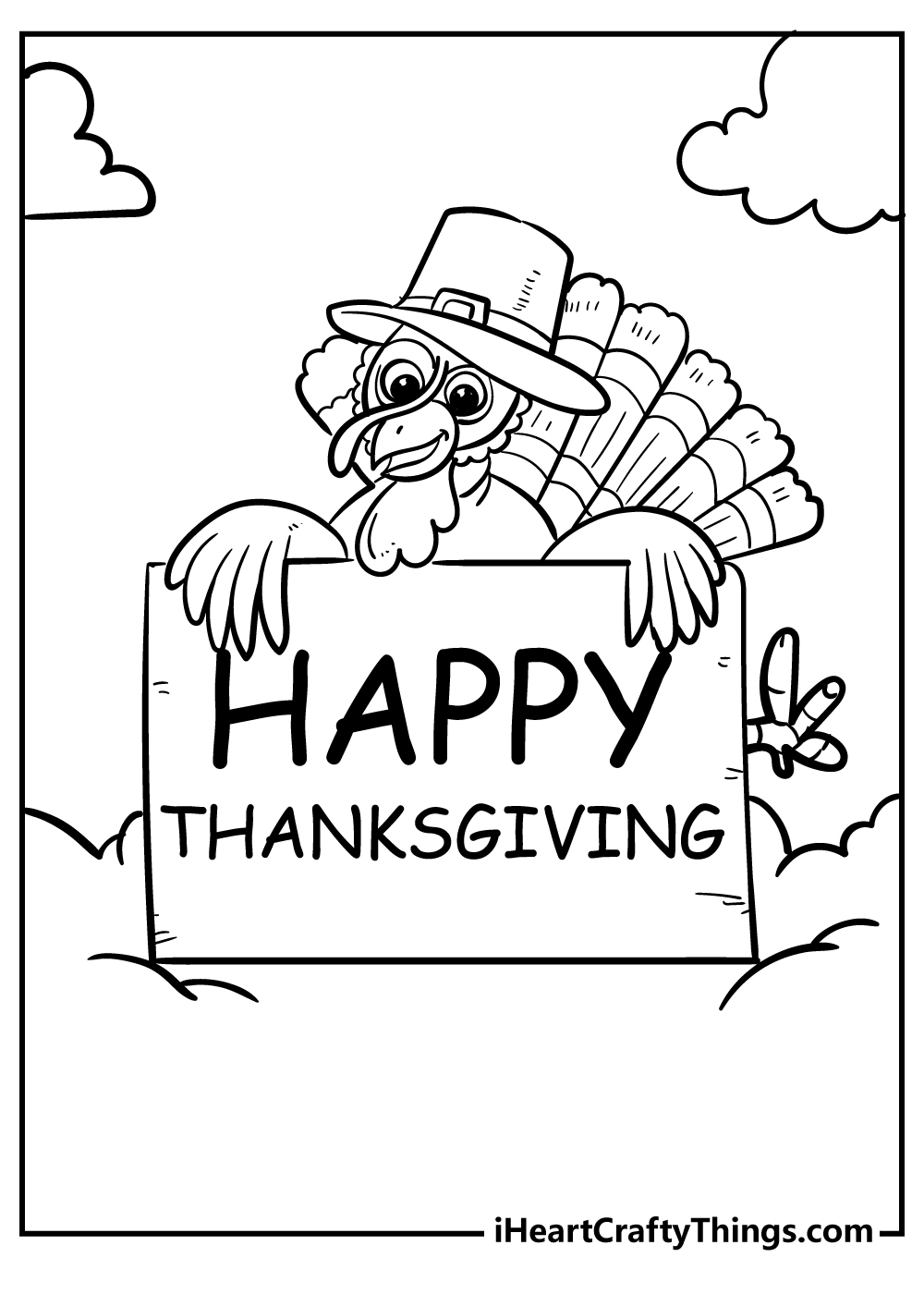 Celebrate This Special Day With More Ideas To Try Out!
When you see the word Thanksgiving, what comes to mind for you? We would love to see what that would be as you finish off these Thanksgiving coloring pages.
There are some elements that have become closely associated to Thanksgiving, and these include turkeys, pumpkins and cornucopias. Most of the images feature these kinds of elements, but you can add to them!
They more than likely represent Thanksgiving to you as well, but you may have other elements that represent the holiday to you. If so, you can add them by drawing some additional elements.
You could also use some craft supplies to elevate these images. For example, maybe you could cut out some leaves from yellow and orange craft paper.
Then, you could stick them onto some of the empty spaces of the pages so that it will look like Fall leaves have fallen on the page. This is one example of how you can use some crafts to make it even more thematic.
If there is a signature dish that your family enjoys on Thanksgiving, then why not draw it into one of the scenes on these pages? This would be a great way to share family traditions with everyone.
It's also a way to make your pictures completely unique. If you have some fun art tools and mediums on hand, then they would be great to use for any of these pages.
It could be paint, special pens, markers or crafts that you could stick to the page. There are no wrong ways to color your favorite pages!
Remember that you can print these Thanksgiving coloring sheets as many times as you please, so you can experiment without worrying about messing anything up.
Thanksgiving Coloring Pages – Which will you choose?
We hope you had a lot of fun coloring in these free Thanksgiving coloring pages for kids! Remember that our coloring pages and printables are 100% free for you to print out and have lots of fun coloring in.
You could even print out multiple copies to try out different colors until you have the perfect Thanksgiving image! You could also take the opportunity to try out different mediums you're not as familiar with for some extra fun.
Please be sure to like and share our Facebook page, we have plenty of great free coloring pages and printables for you to enjoy and we wouldn't want you to miss out!
Also, please share your favorite Thanksgiving printables once you've colored them in on our Facebook page for us to see!
We always love to see how creative you've been with our coloring pages, and we'd love to see what Thanksgiving means to you through your colorful interpretations.