At Thanksgiving, there are many visual themes and images that have come to be closely associated with the holiday. One of these would have to be the intrepid Pilgrims.
The Pilgrims were some of the first settlers in the United States, and they had a long and storied history.
They are also associated with the first Thanksgiving, and that's why they are associated with the holiday to this day. We are here to celebrate them in this collection of free Pilgrim coloring pages for kids!
We have 10 images featuring a wide range of Pilgrim men and women in various fun poses for you to have a great time getting creative with.
You'll really get to show off your color creativity as you finish these pages!
All of these coloring pages are free for you to print and enjoy, so you can experiment as much as you like.
You can also spread the fun by sharing these pages with friends and family to enjoy! Comparing how different people colored the same image is a great way to keep the fun going.
So now, let's begin this collection as we celebrate the Pilgrims.
When you have chosen and colored your favorite pages from the collection, you can share your finished artworks on our Facebook and Pinterest pages.
10 Brand New Pilgrim Coloring Pages – Free to Print and Color
We have a charming and friendly Pilgrim man for you to color in this first page! He is wearing traditional clothing that is often associated with the Pilgrims, and this includes their distinctive hat.
There are loads of ways that you could color in this Pilgrim man, and you could make the colors bright and striking or more muted if you prefer.
It's up to you, so how will you finish this first page?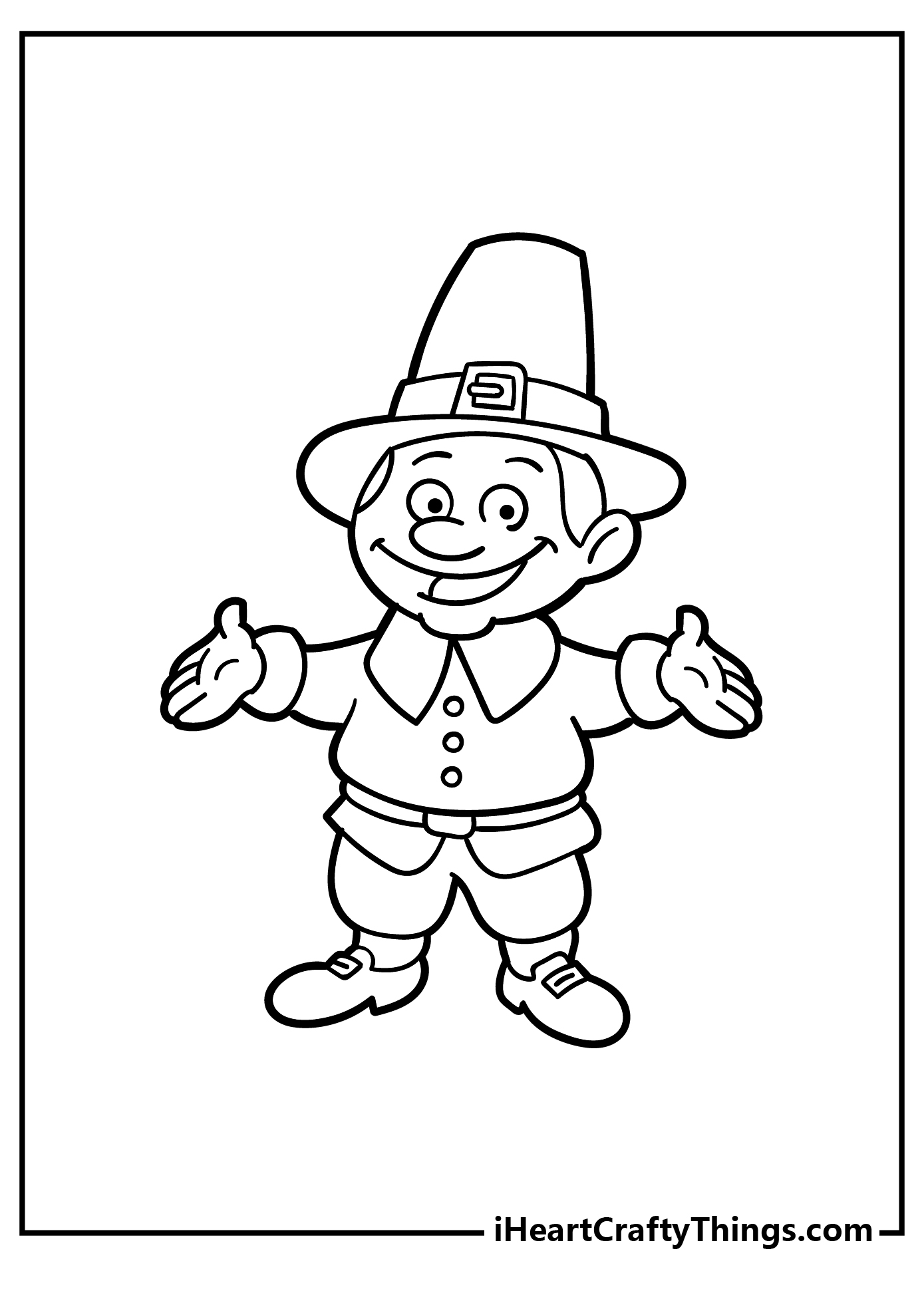 In the second page of this collection of free Pilgrim coloring pages, we have a Pilgrim woman striking a fun pose!
She is also dressed in some pretty traditional, old-fashioned clothing, and there are lots of colors you could use for the details of her outfit.
She's looking rather happy in this image, so you could add some happy colors to the background or maybe draw a setting for her to be in. How will you color this Pilgrim lady?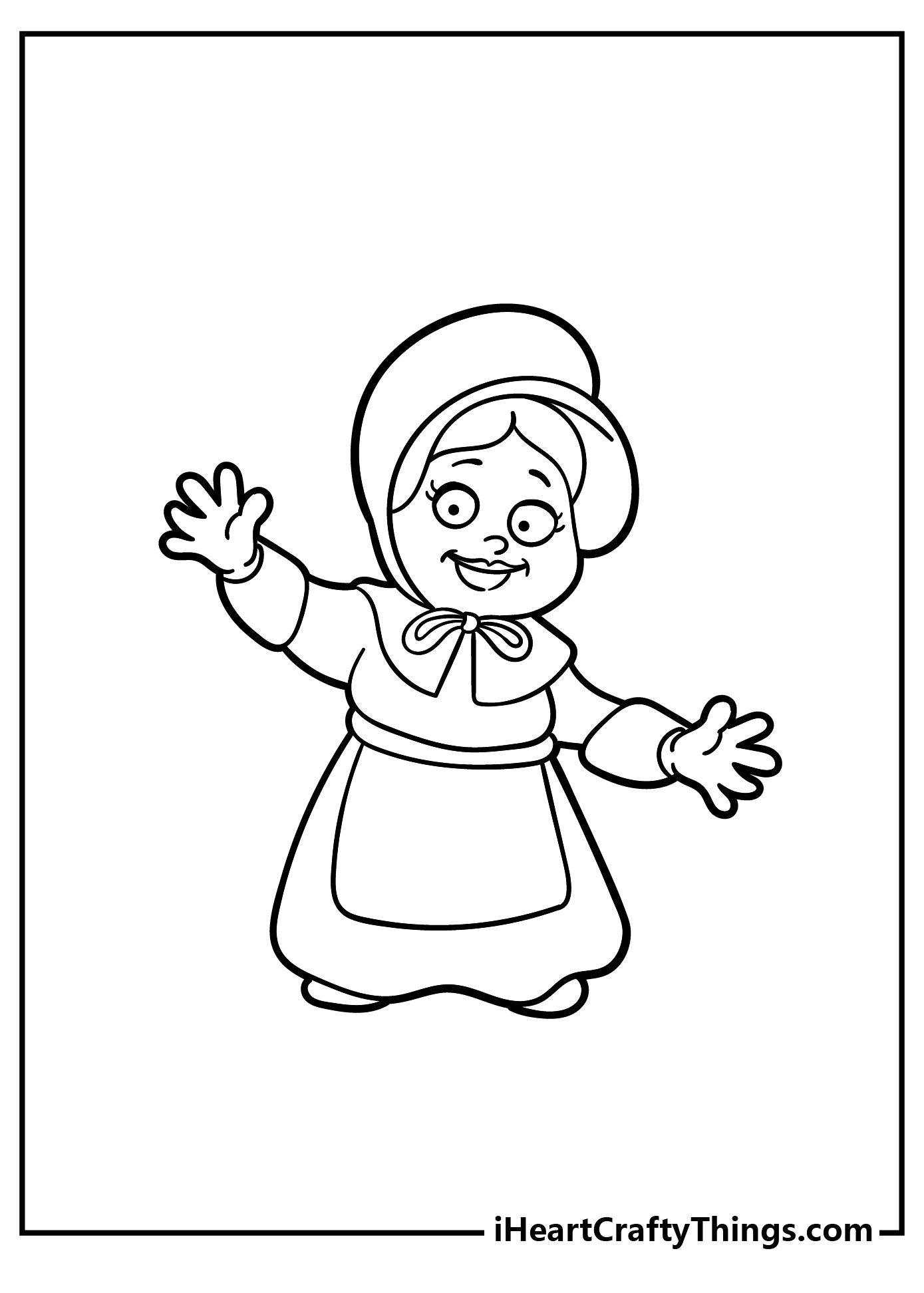 There's a calming feeling that comes from this next page. This Pilgrim man seems to be having a nice day, and he's looking like he is enjoying it!
This Pilgrim is drawn with more detail than the previous ones, and that gives you more to color in.
You could use mediums such as colored pens or pencils to help you color the smaller details with more precision. What mediums came to mind for you when you saw this one?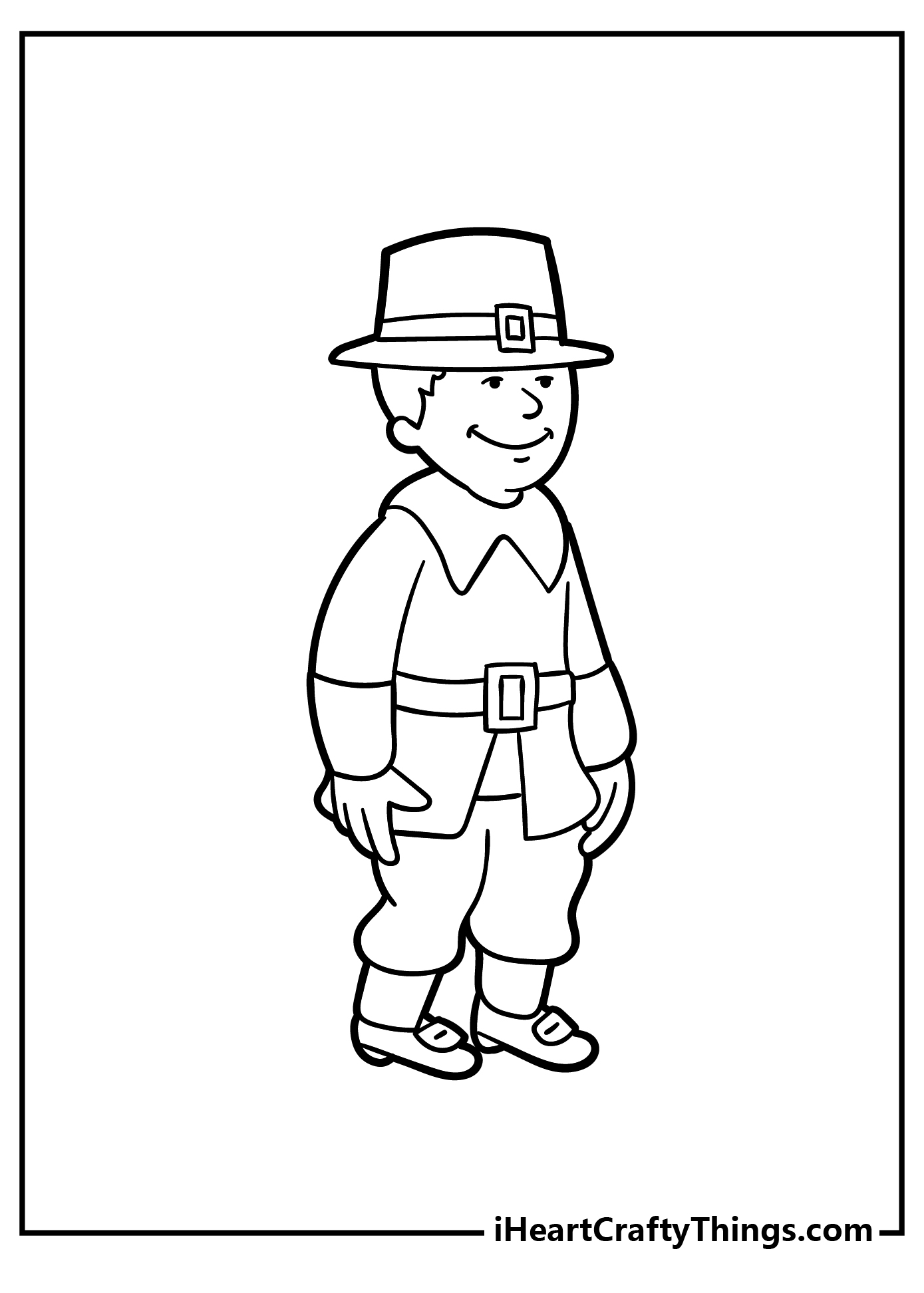 This next Pilgrim coloring sheet is really fun! This man is drawn in a fun cartoon style, and there is a rather jolly feeling given off by his appearance.
We think that some brighter colors would be perfect for this guy, and you would also have many options for how you can color his beard and other smaller details.
We're sure this will be a really fun one for you to work on!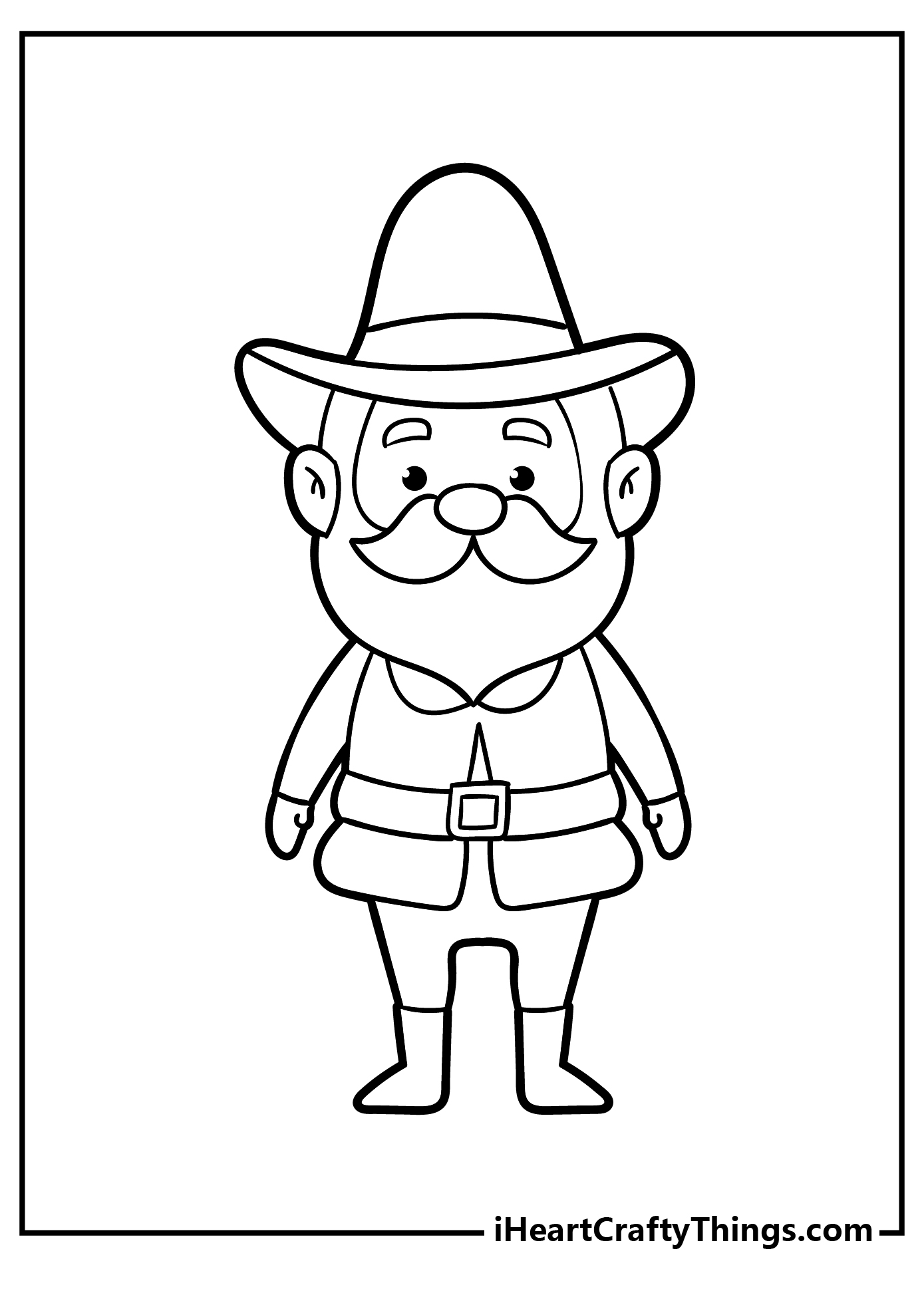 We have a really cute little Pilgrim child for you to color in this time. He's drawn in a really fun, cartoony style, and he also gives off a happy, joyful feeling.
This is another one where you could draw some background details to finish it off nicely.
What sort of adventures do you think he could be going on? You could show us with any extra details you may add!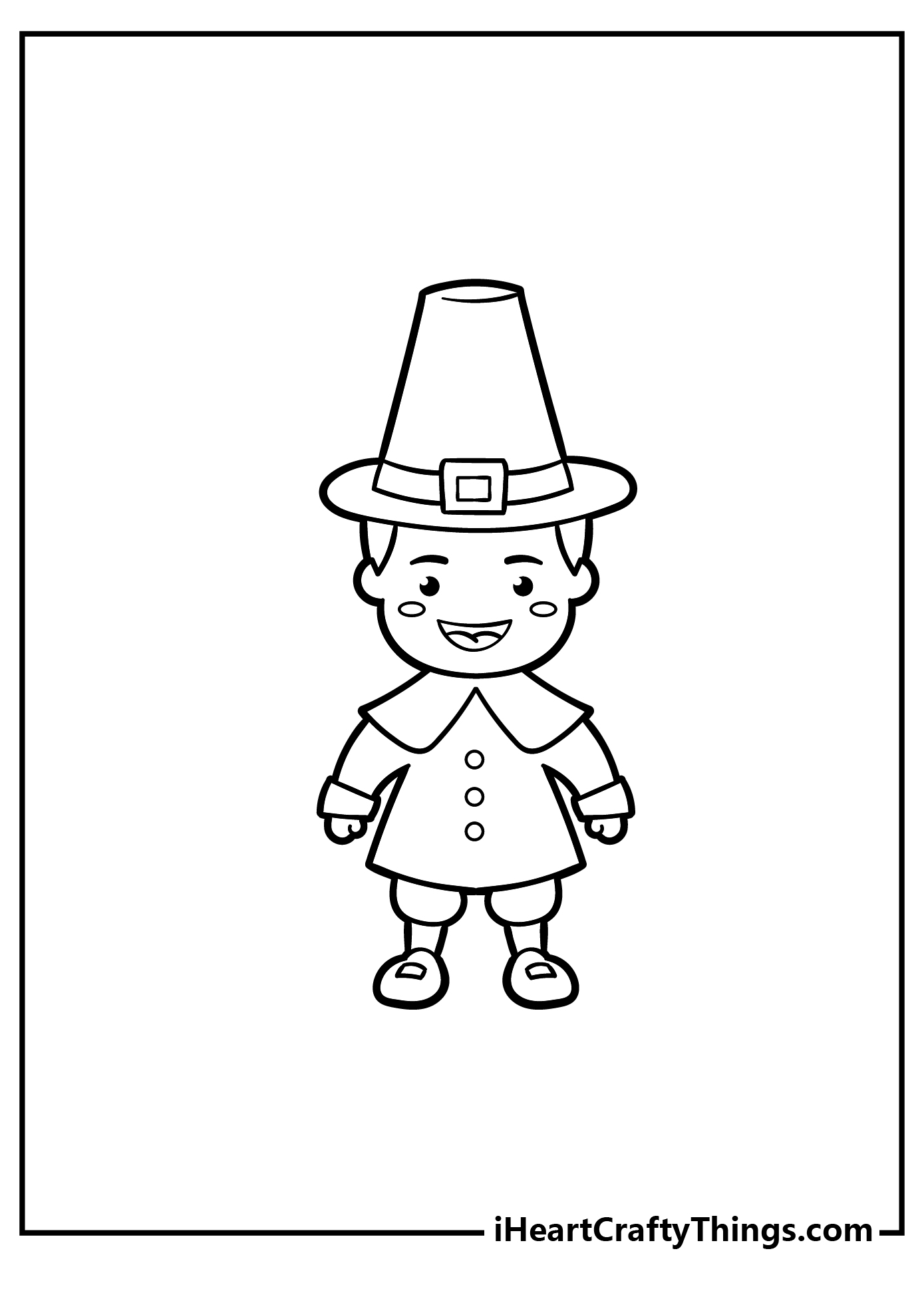 In this next Pilgrim coloring printable, we have another stylized Pilgrim child for you to color!
We're seeing a lot of different styles in this collection, and this one is really fun and whimsical. Now all that remains is figuring out which colors would best suit him.
This is another image where we would use some bright, happy colors. That's what we would do, but do you think you will take a similar approach or try something else?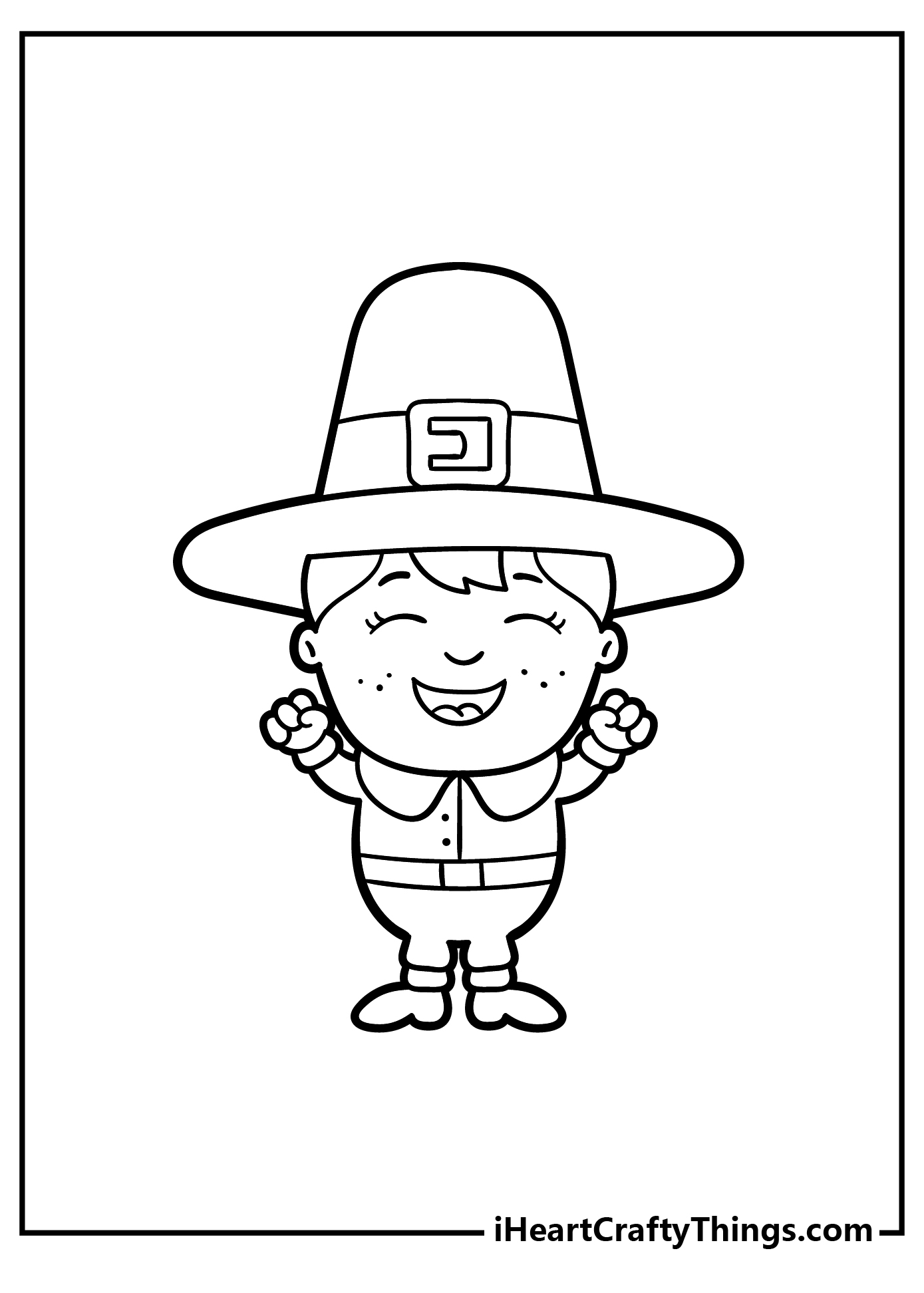 We love the playfulness of this particular page!
Once again, we have a Pilgrim man that is drawn in a fun, exaggerated style. It's hard to look at this image and not feel a happy, jolly feeling coming from the portrayal.
So now, all that remains is deciding which colors would best suit this guy.
We would use a solid, bright background for him to create a striking image, but what do you think would look good for the background?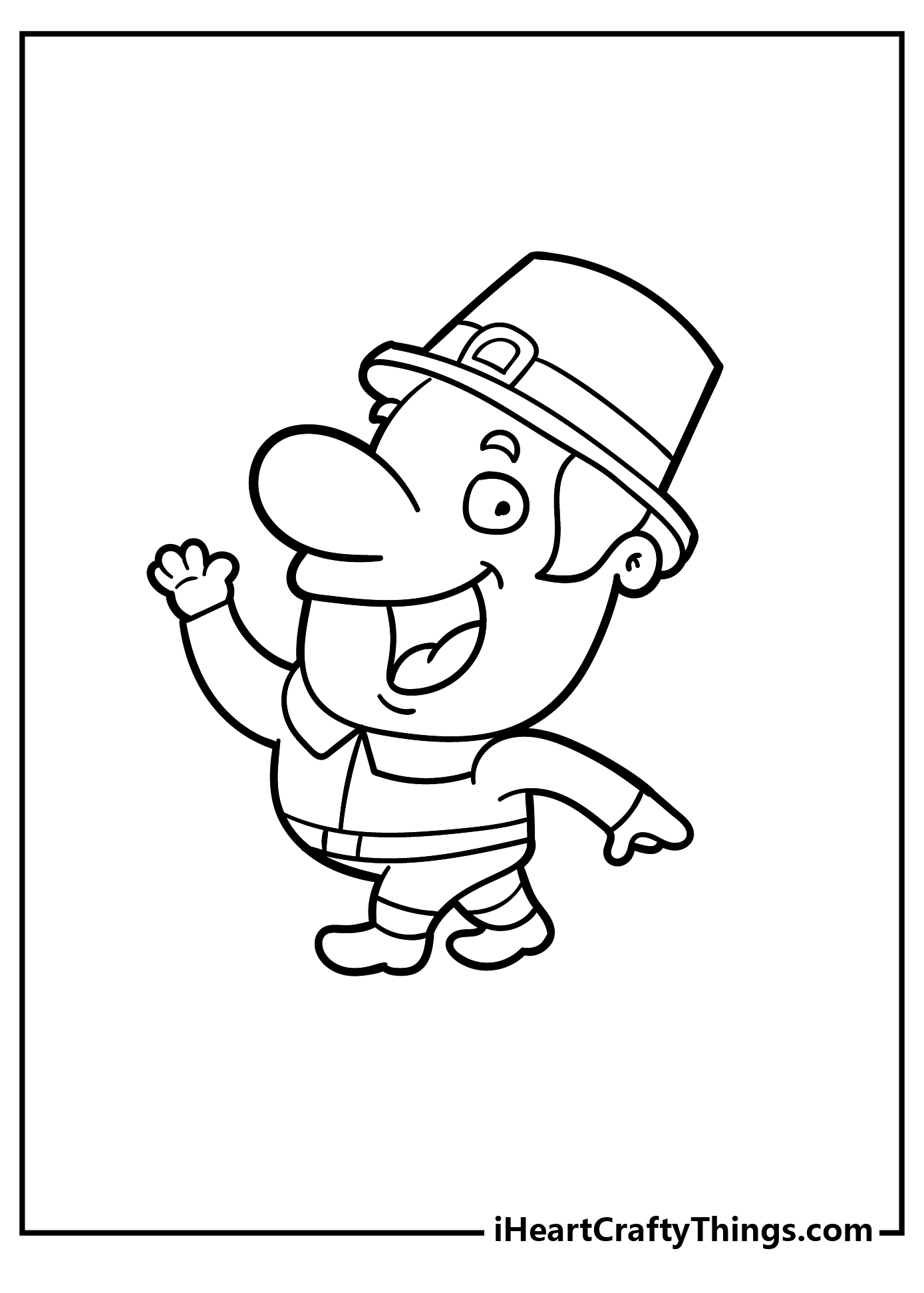 The eighth Pilgrim coloring page that we have for you to color features another charming depiction of a Pilgrim child.
We have another cartoon style for you to enjoy in this one, and you can find some colors to match the style.
We think this one would look great whether you use bright and vibrant colors or more muted tones, so it's up to you to decide how you would like to bring this Pilgrim kid to life with color!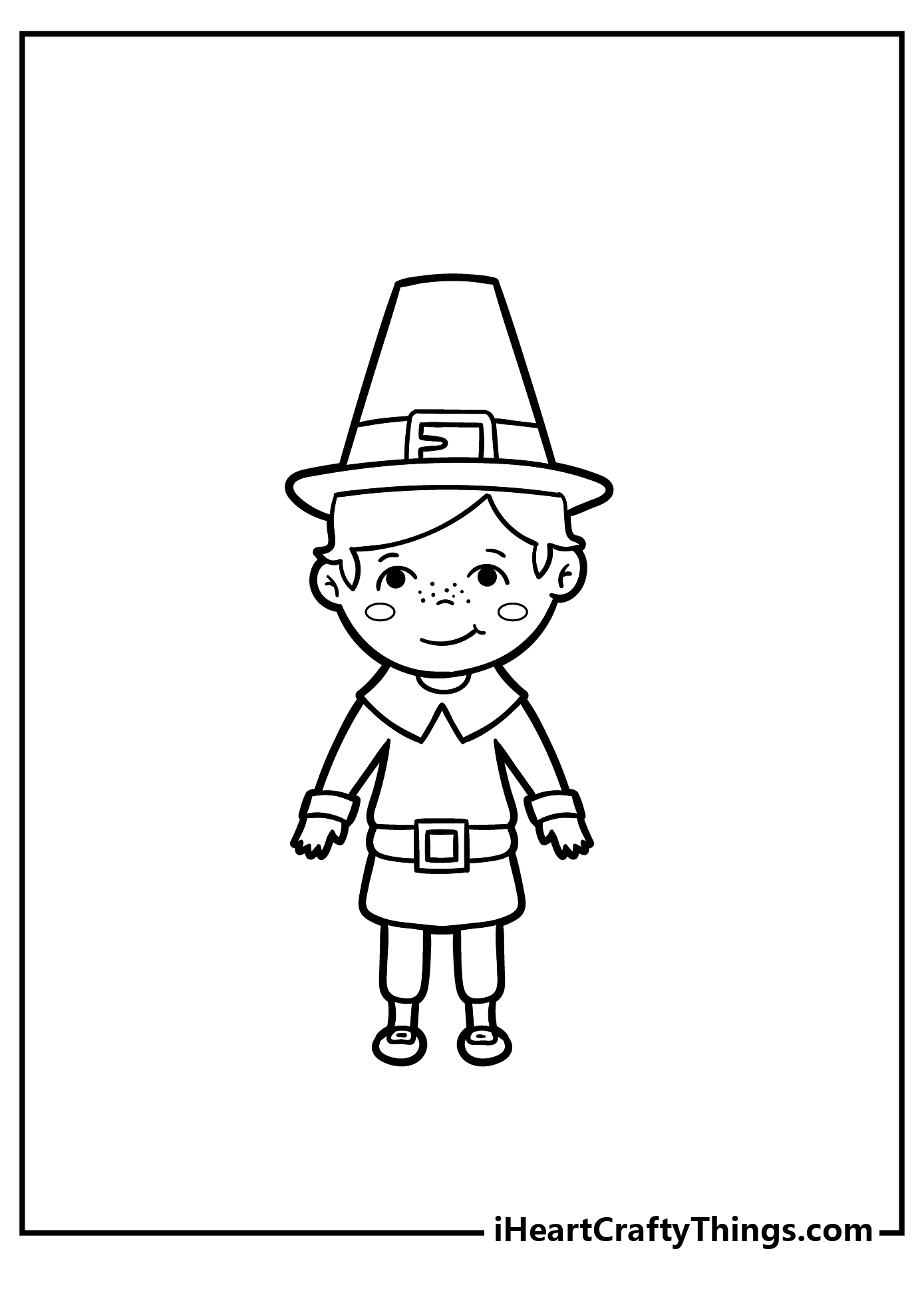 It's to color another Pilgrim woman on this next page of this collection. We have another Pilgrim drawn in such a fun, whimsical style in this one!
The way she's drawn almost makes her look a bit like an old doll. If you agree with that, you could color her in to look like one.
If so, you could also draw a background that shows her with other toys to finish off the look.
You'll then be ready for the final page of the collection!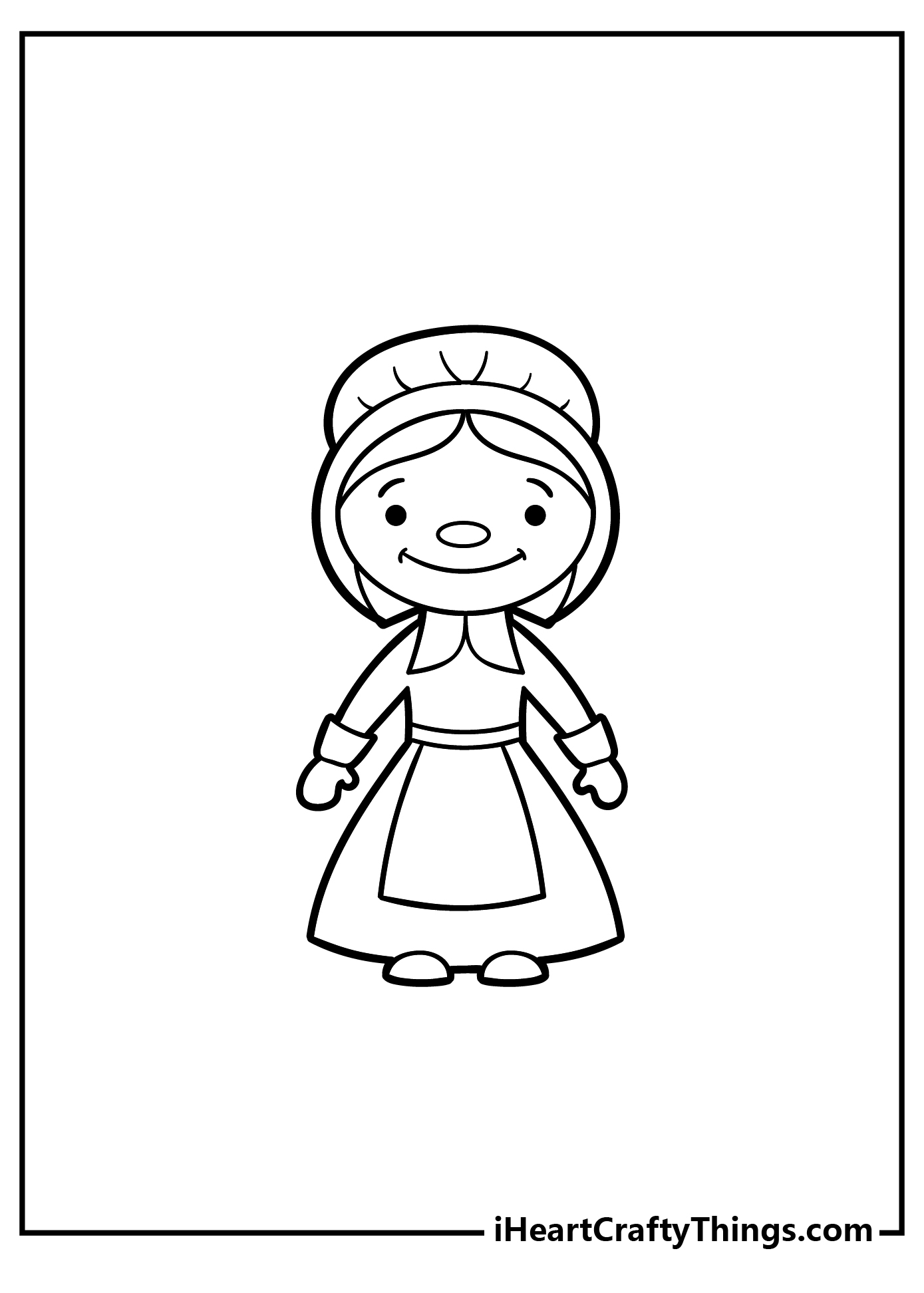 This is the final Pilgrim coloring page that we have for you, and it's another delightful image! This one is drawn in such a unique style, and it helps to make this a really fun image to look at.
If you think it looks fun now, wait until you have worked your color magic on it!
As this is the final page, maybe you could use some colors and mediums you haven't used as much to make it stand out from the rest.
How will you finish off this awesome final page of the collection?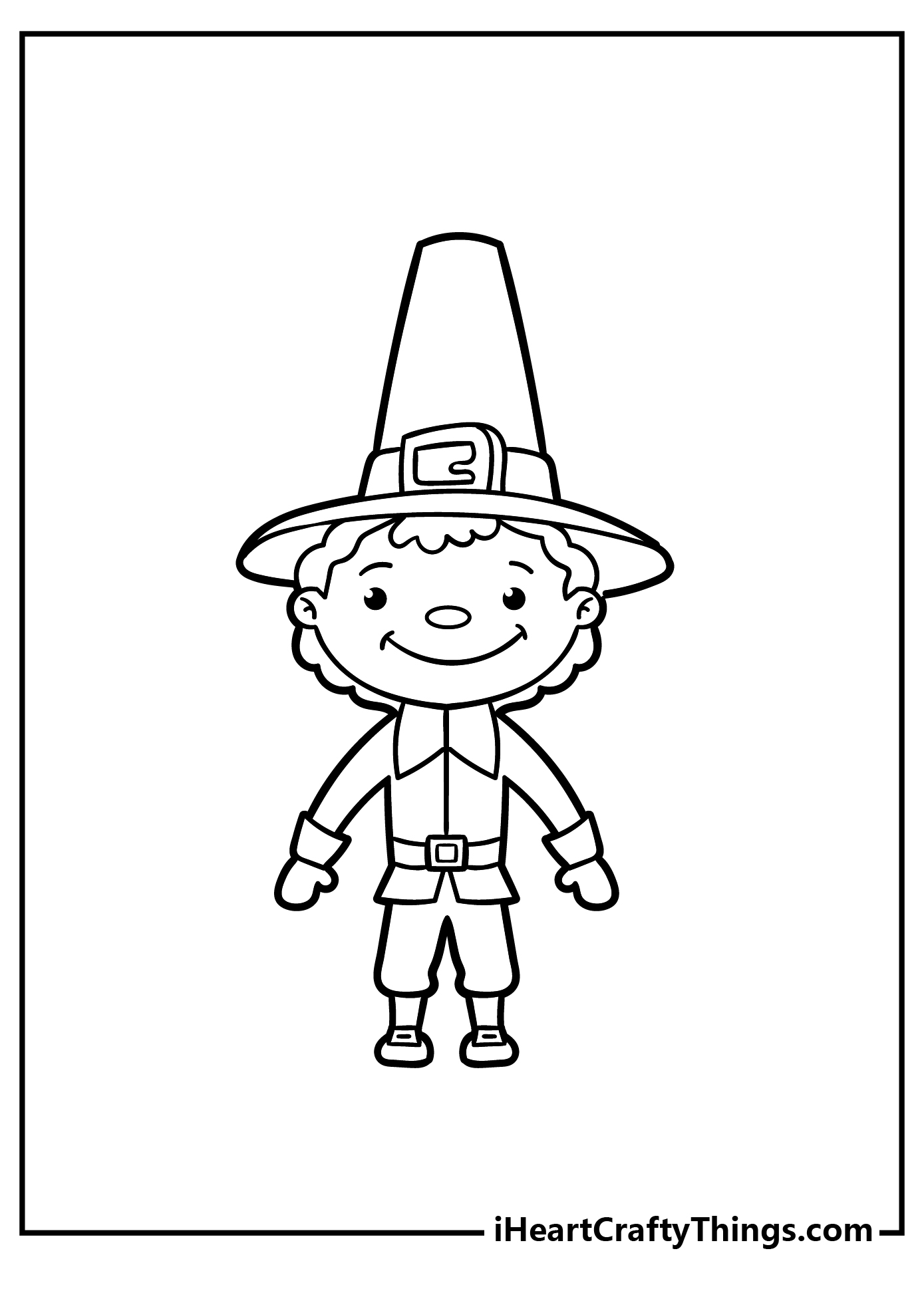 Pilgrim Coloring Pages – Which will you choose?
We went on quite a journey as we worked on this collection of free Pilgrim coloring pages for kids! Hopefully you had an amazing time celebrating the brave and resourceful Pilgrims as you brought your creativity to the pages.
Remember that you can print, color and enjoy any of these pages as much as you like. You can also share them all with others you know so that they can enjoy them as well!
We would also love to see how some of these pages look when they're done, so please share some of your favorite finished pages on our Facebook and Pinterest pages!