On this page, you will find 15 all new Halloween coloring pages that are completely free to print and download.
There are many different holidays celebrated around th world, and each person has their favorites that they look forward to!
Halloween is definitely the scariest holiday of them all, and people young and old have lots of fun dressing up as various characters and monsters.
This collection of free Halloween coloring pages for kids is here to celebrate this spooky holiday as you have a great time being creative!
These pages are all completely free to print and color, and you can share them with others to enjoy as well.
Get ready for some spooky fun, and be sure to share some of your finished pages on our Facebook and Pinterest pages for us to see!
15 Brand New Halloween Coloring Pages – Free to Print and Color
Two things that are commonly associated with Halloween would have to be cobwebs and jack-o-lanterns.
We are featuring both in this first Halloween coloring sheet that we have for you.
There are so many fun details to admire in this image, and now you get to bring them out even more as you add some amazing colors!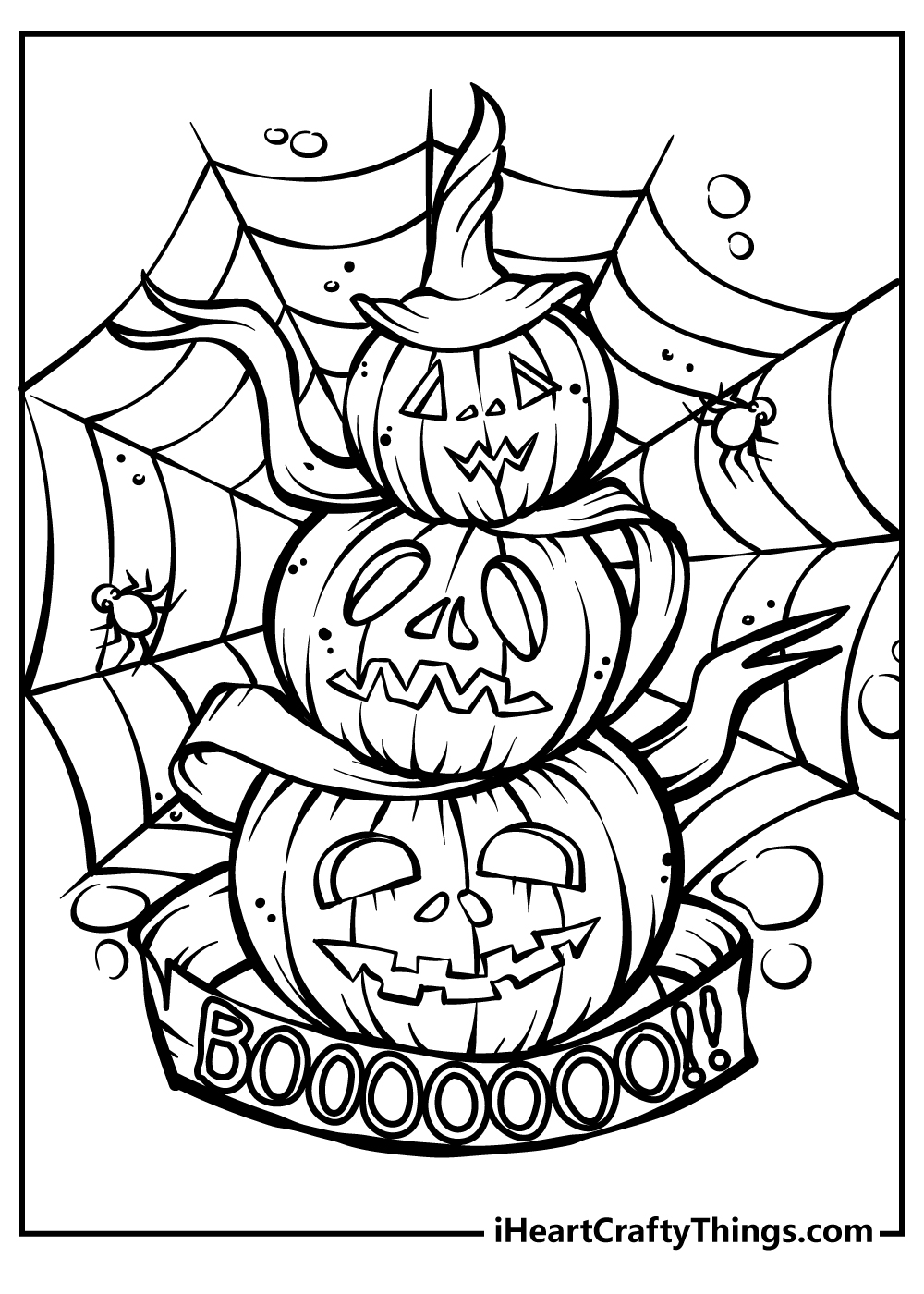 This next page is highly imaginative, and it has a wonderful Halloween mood to it. There is a witch cat witch riding a broomstick in this one, and the background details create a really fun mood.
We would use some darker blues and purples for this one, but what do you think you'll go for?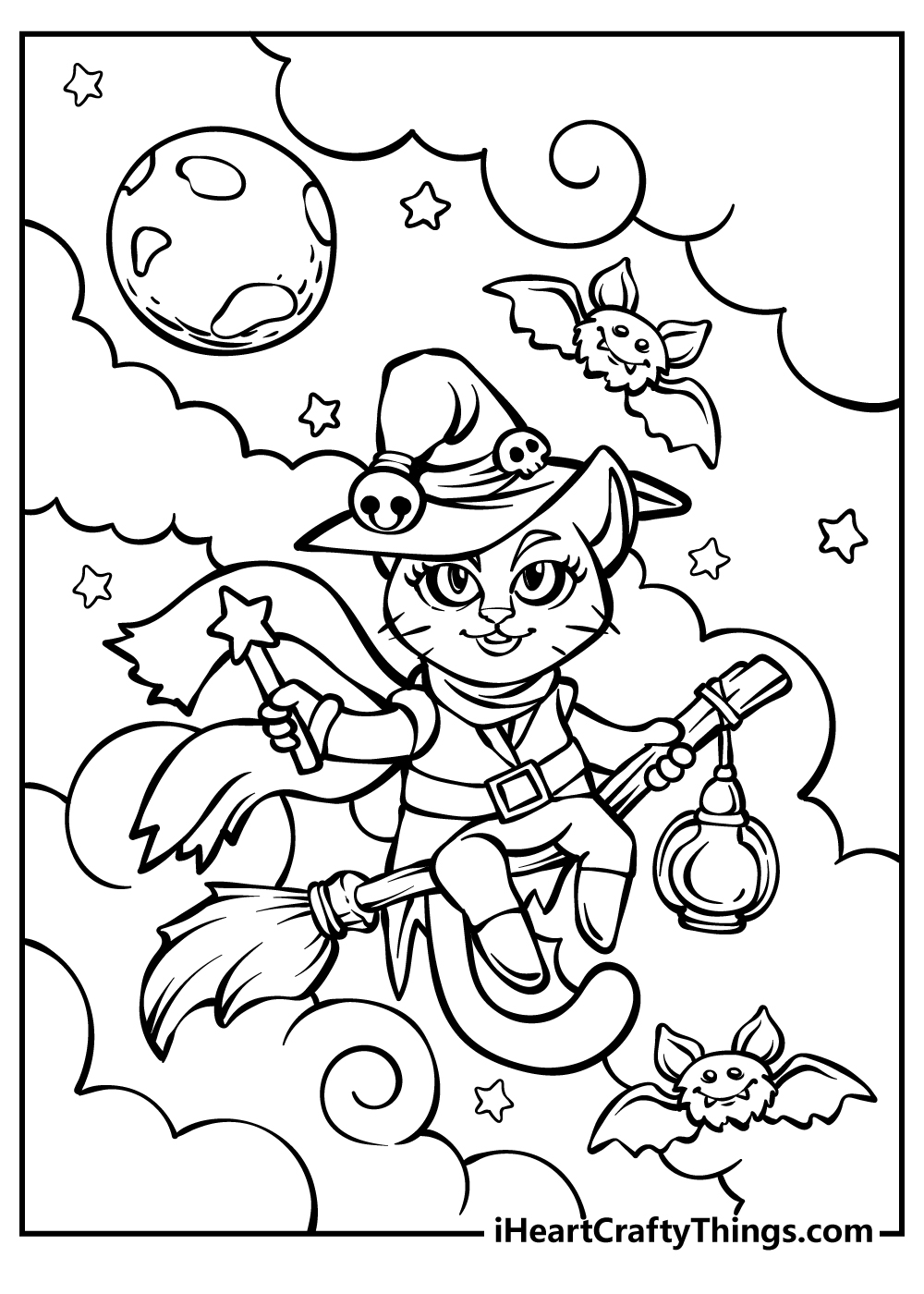 It's time to trick or treat in this next image! The witch theme is back again, but this time a girl is dressed as one as she heads out with her cat. She seems to have acquired quite a candy haul, too!
This one will really look amazing once you have worked your creative magic on it!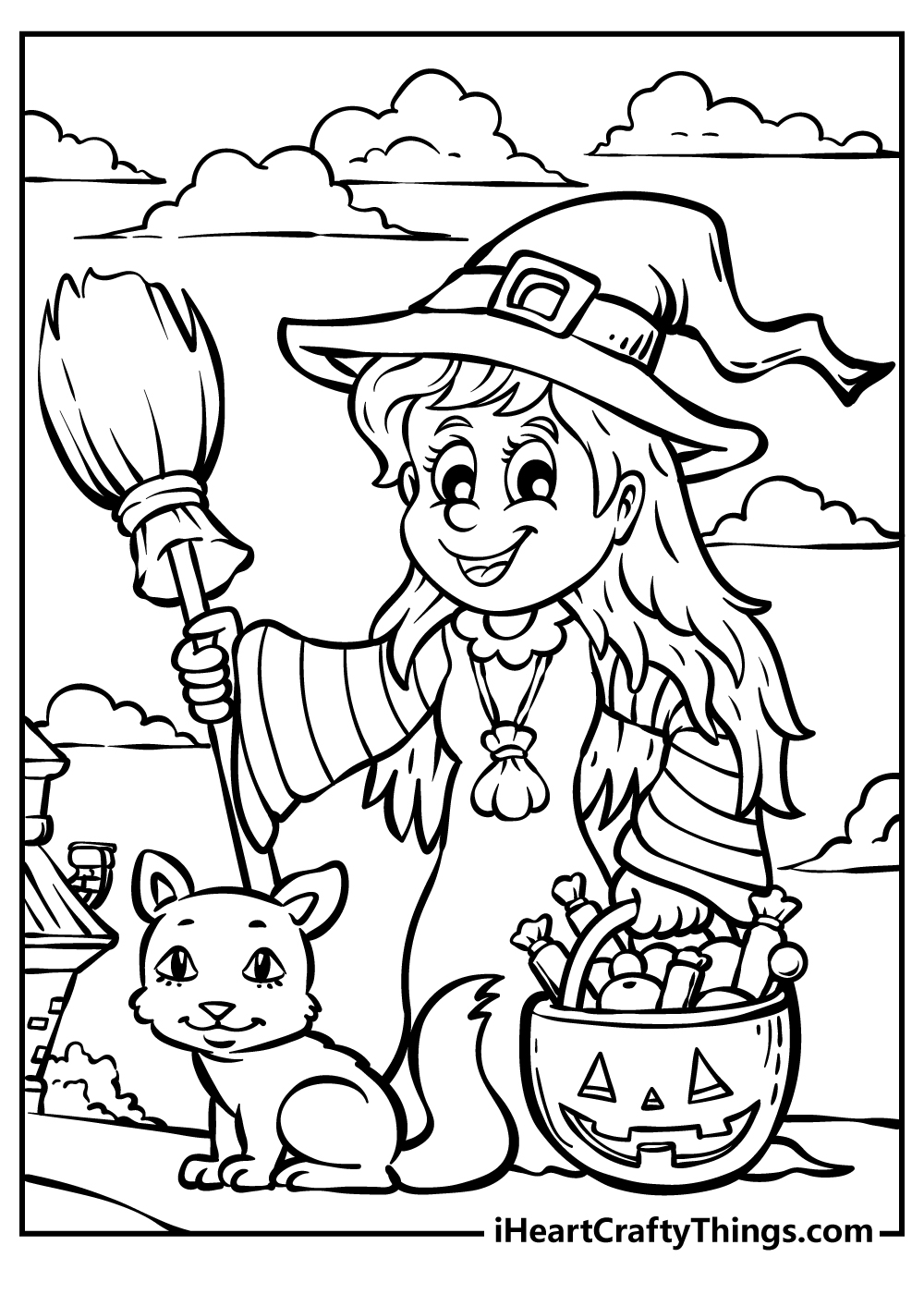 We're not quite done with the witch theme just yet, as this girl is also dressed as one!
Even though the previous few pages have featured witches, this one is dressed in a bit of a different style to the previous one.
There are some great small details to color here, so you should try to use some art tools that allow for smaller details!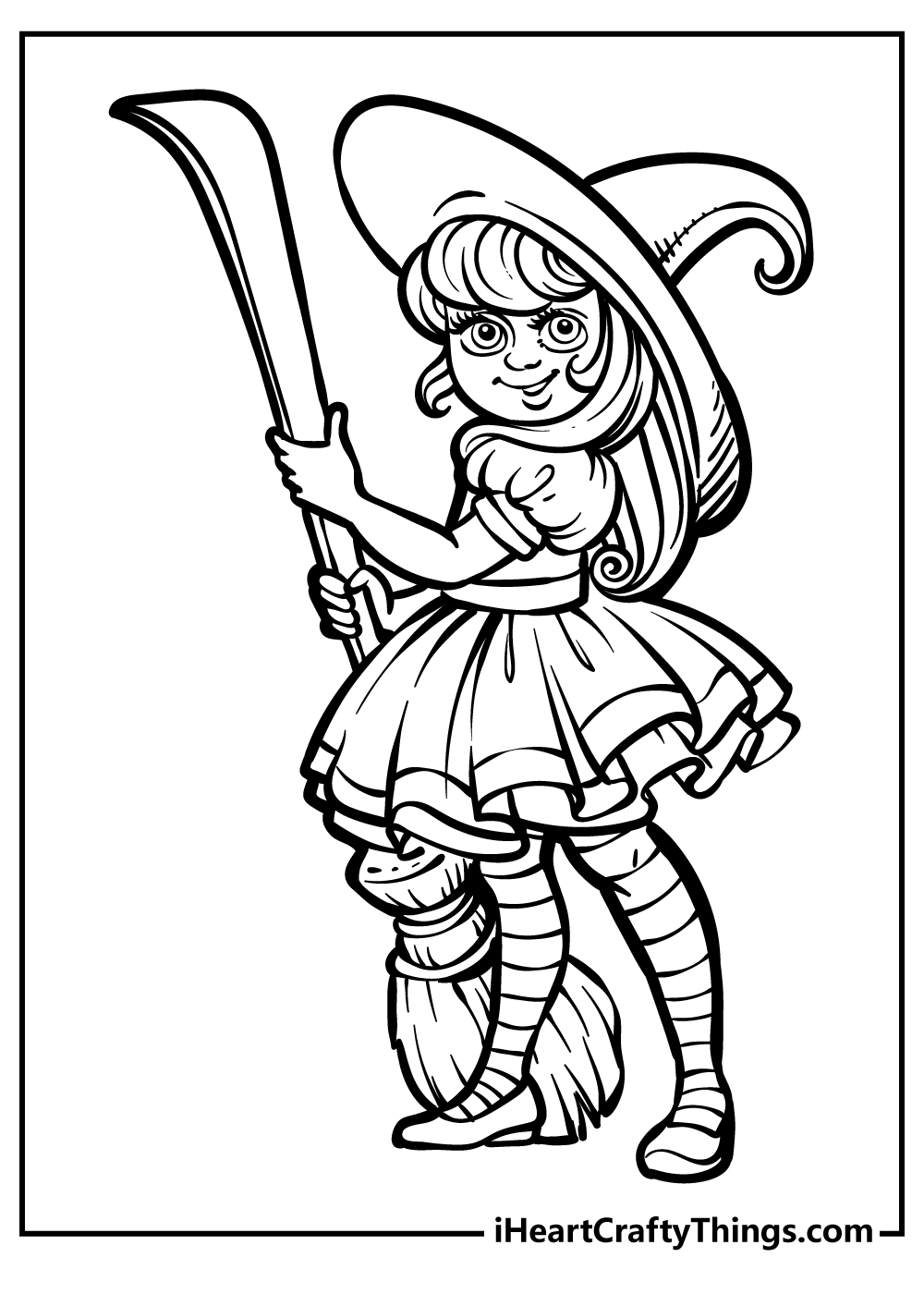 This next page in our collection of free Halloween coloring pages for kids is a really fun one!
This time we have a Halloween kitty dressed in a witch's hat, but there are some stunning patterns on the cat and the hat.
We're sure that this one will be a stunning picture to enjoy when it's done! What colors are you thinking of using for this one?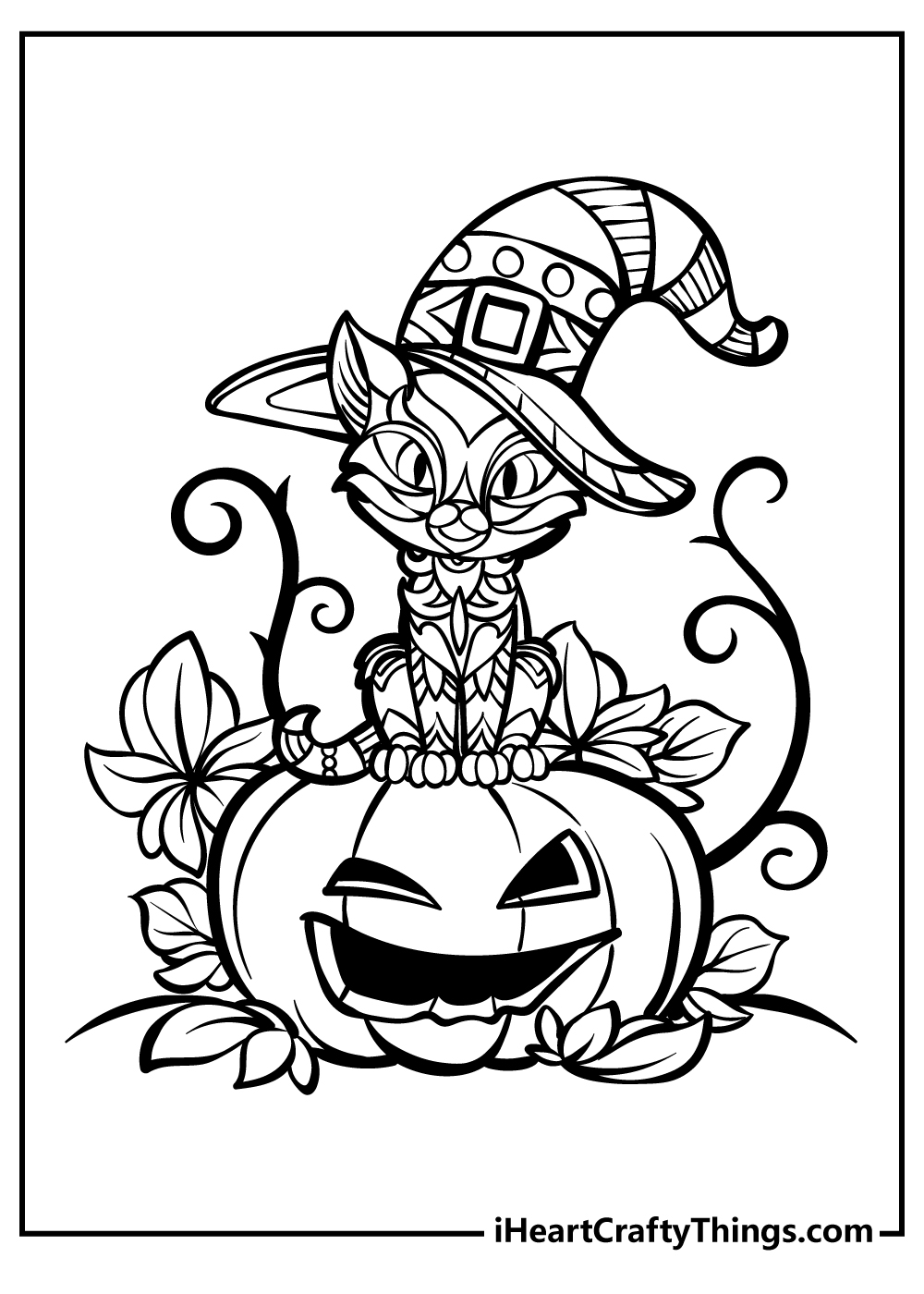 Things are about to get extra spooky, as this scarecrow we have for you to color is extra scary!
If we were coloring this one, we would use some more muted colors while using some watercolors to show how creepy this image is.
That is one of many approaches you could take, but anything you choose will look great!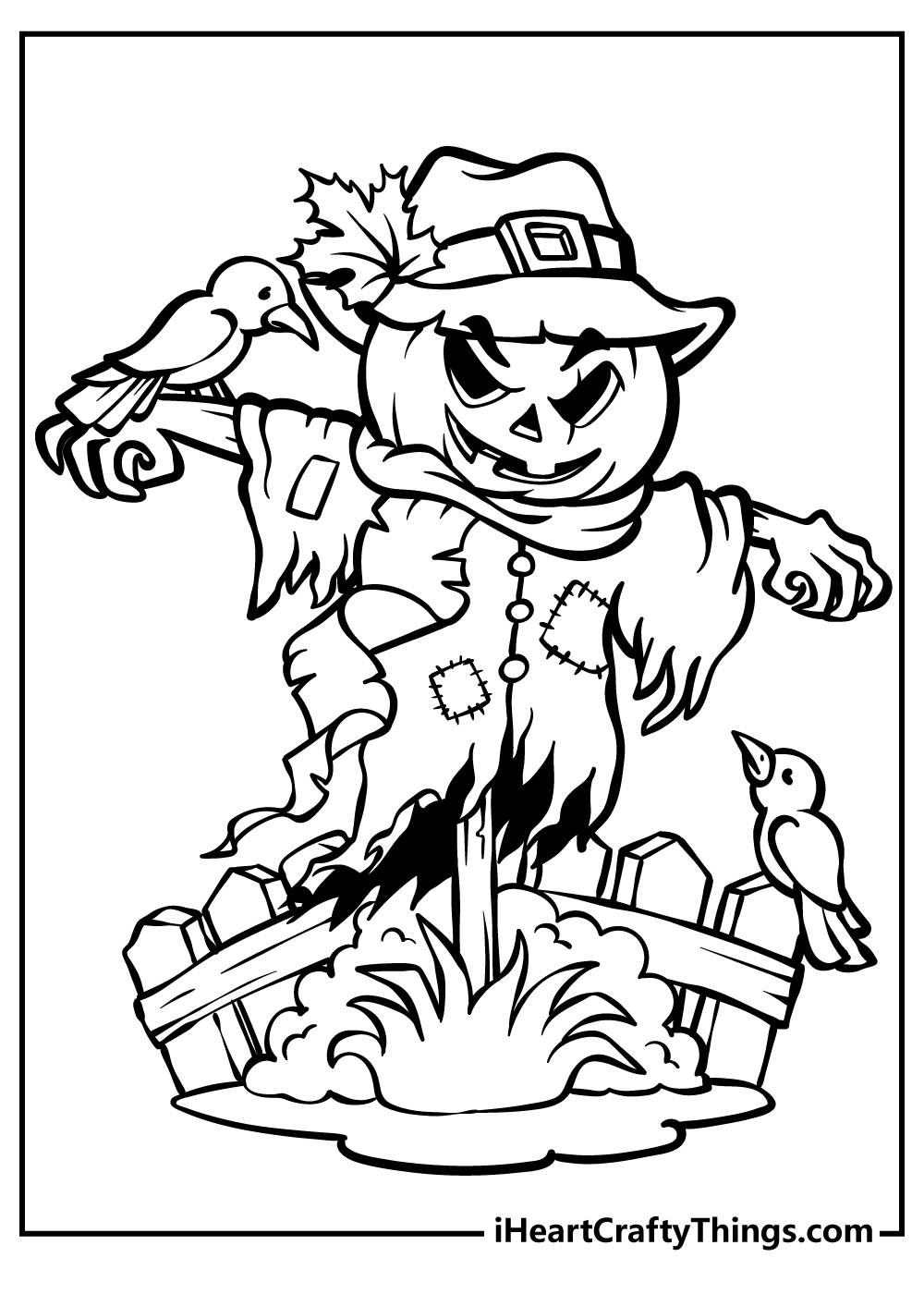 Worlds collide in this next image, and this is really a fun one! Here we have a snowman, except instead of being made of snow it is made of stacked jack-o-lanterns.
This image is really creative, and it gives the spooky season a festive feeling.
Will you incorporate some Christmas colors to add to the festive twist?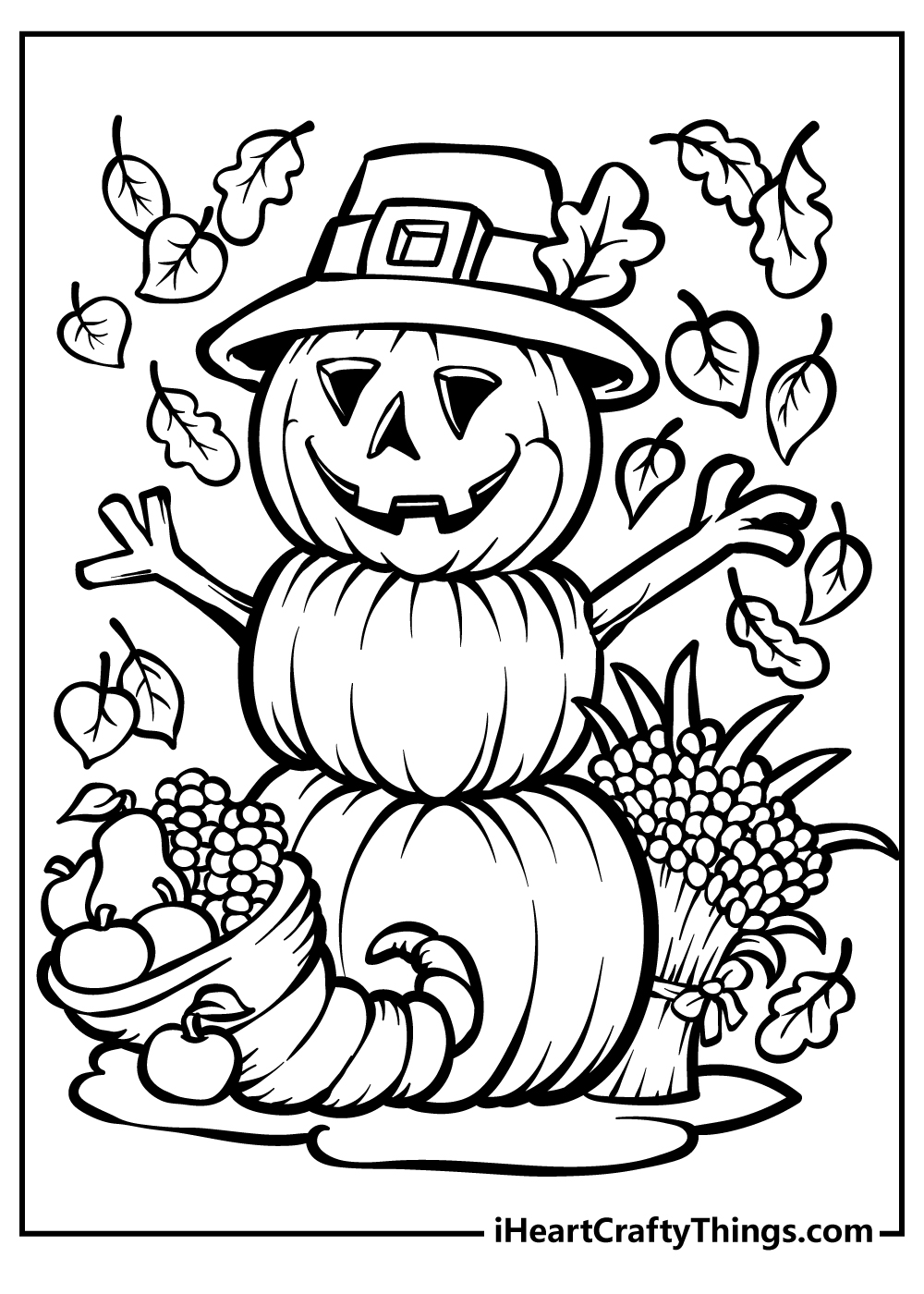 This page has another scarecrow for you to color, but this one is quite cute and looks rather friendly!
For this one, we would probably go with some brighter Fall colors to give the picture a happier feeling.
Which colors will you pick for this fun scarecrow?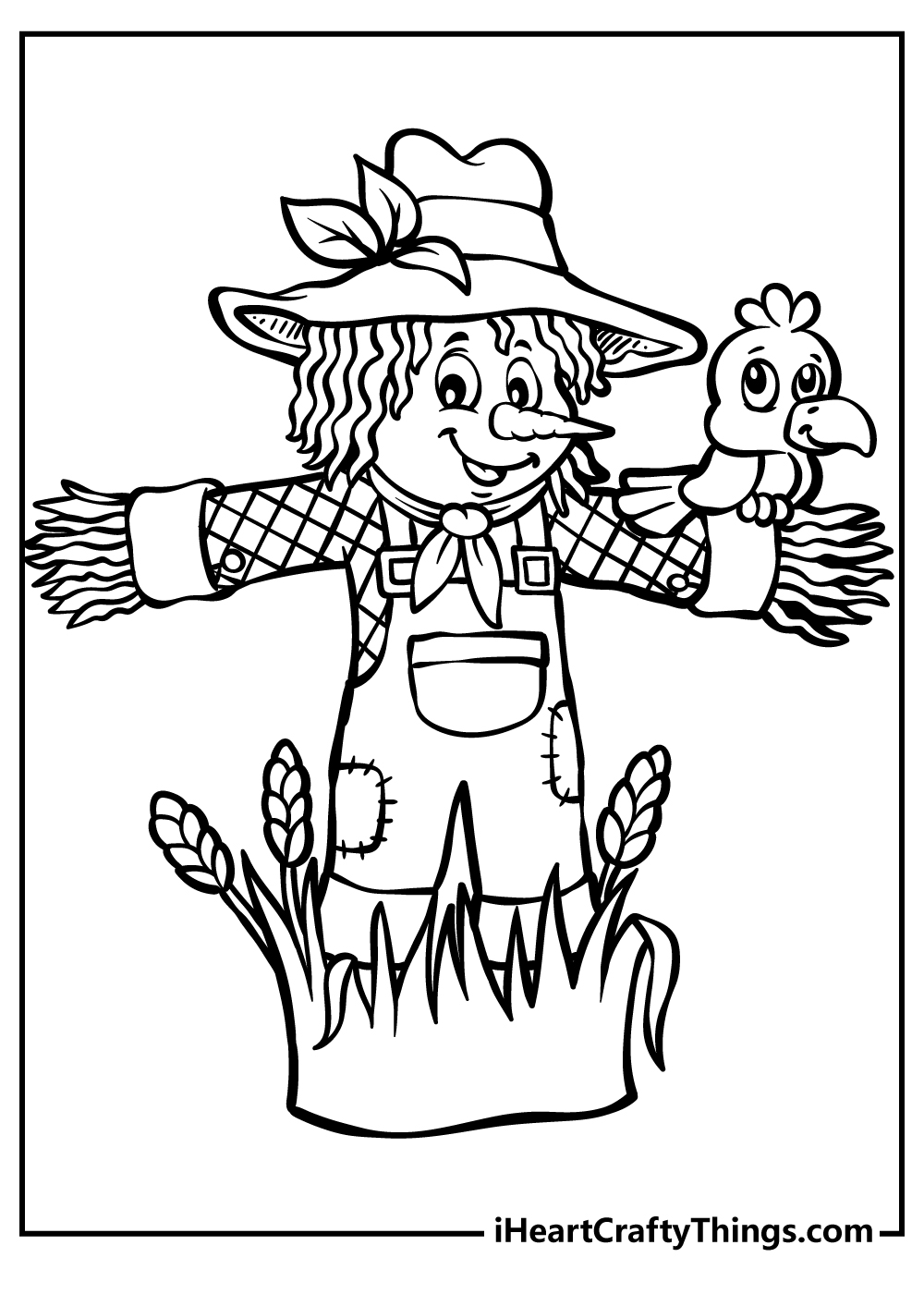 We hope you won't get too creeped out as you color this spooky jack-o-lantern!
The hat it is earring looks really cool with how it is curled over, and we also like the detail of the web under the rim of the hat.
There are lots of ways you could color this awesome image, so what will you pick?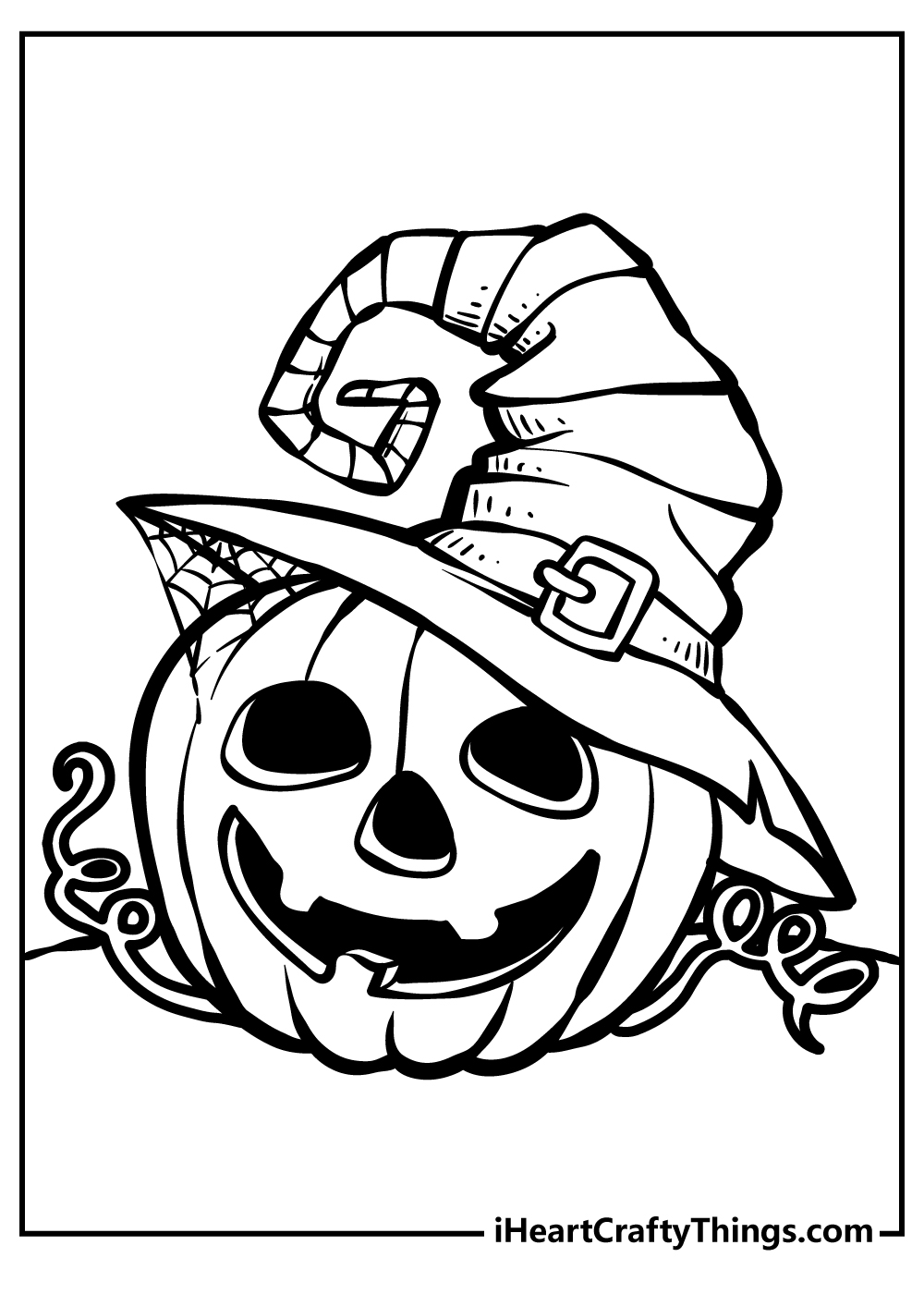 There are enough jack-o-lanterns to satisfy the biggest Halloween enthusiasts in this tenth Halloween coloring sheet!
The expressions on the faces of these pumpkins are really fun to look at, and we think it could be cool if you tried to color each one a different shade.
If you went for that kind of idea, would you stick to oranges or maybe use some different colors?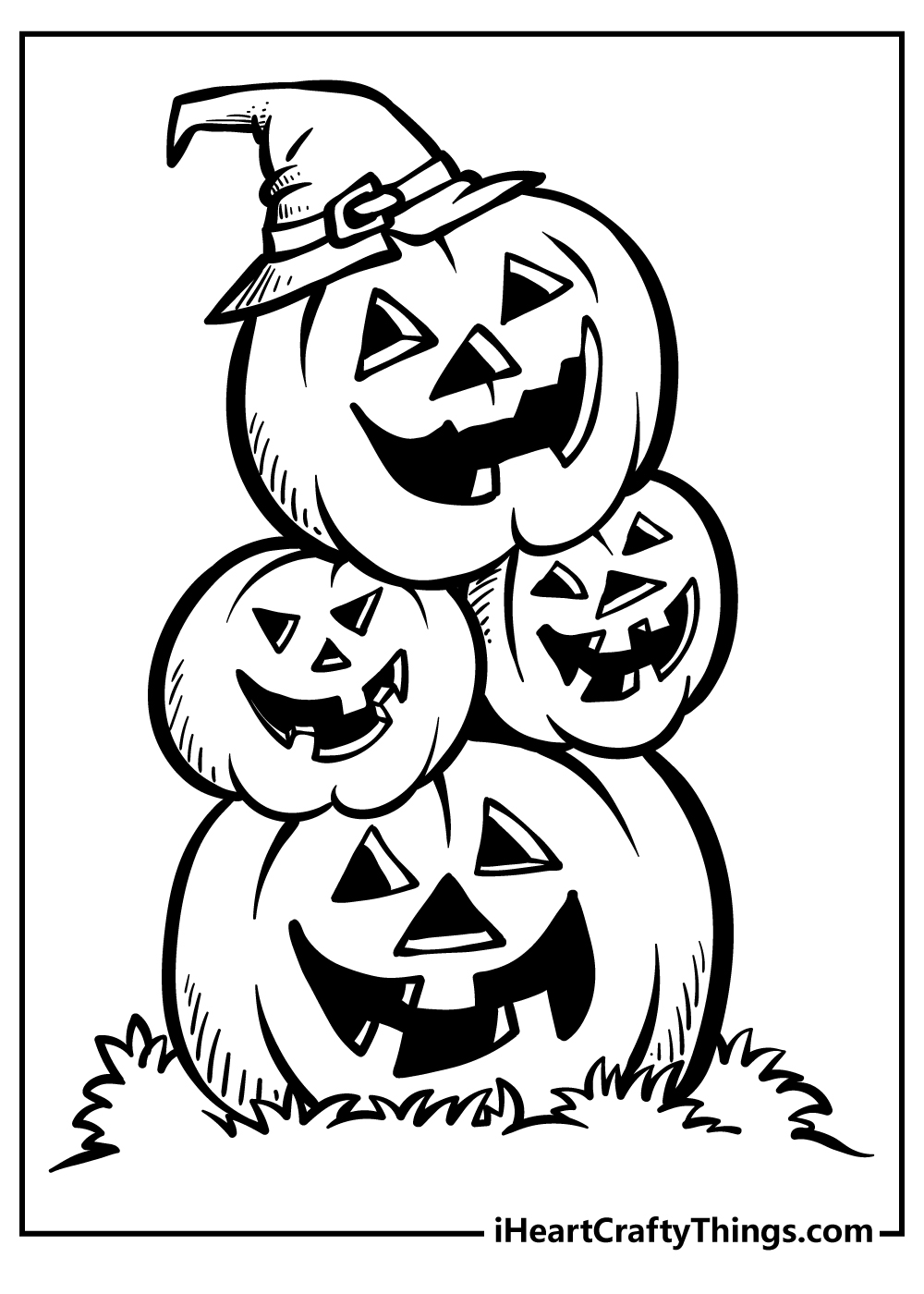 It's a spooky night on the town in this whimsical Halloween scene!
This fellow has a jack-o-lantern for a head, and he seems to be strolling through a graveyard, and there's even a spooky little ghost joining him.
The moon is big and bold behind him, and we think it would frame him nicely if you used a nice bright yellow for it.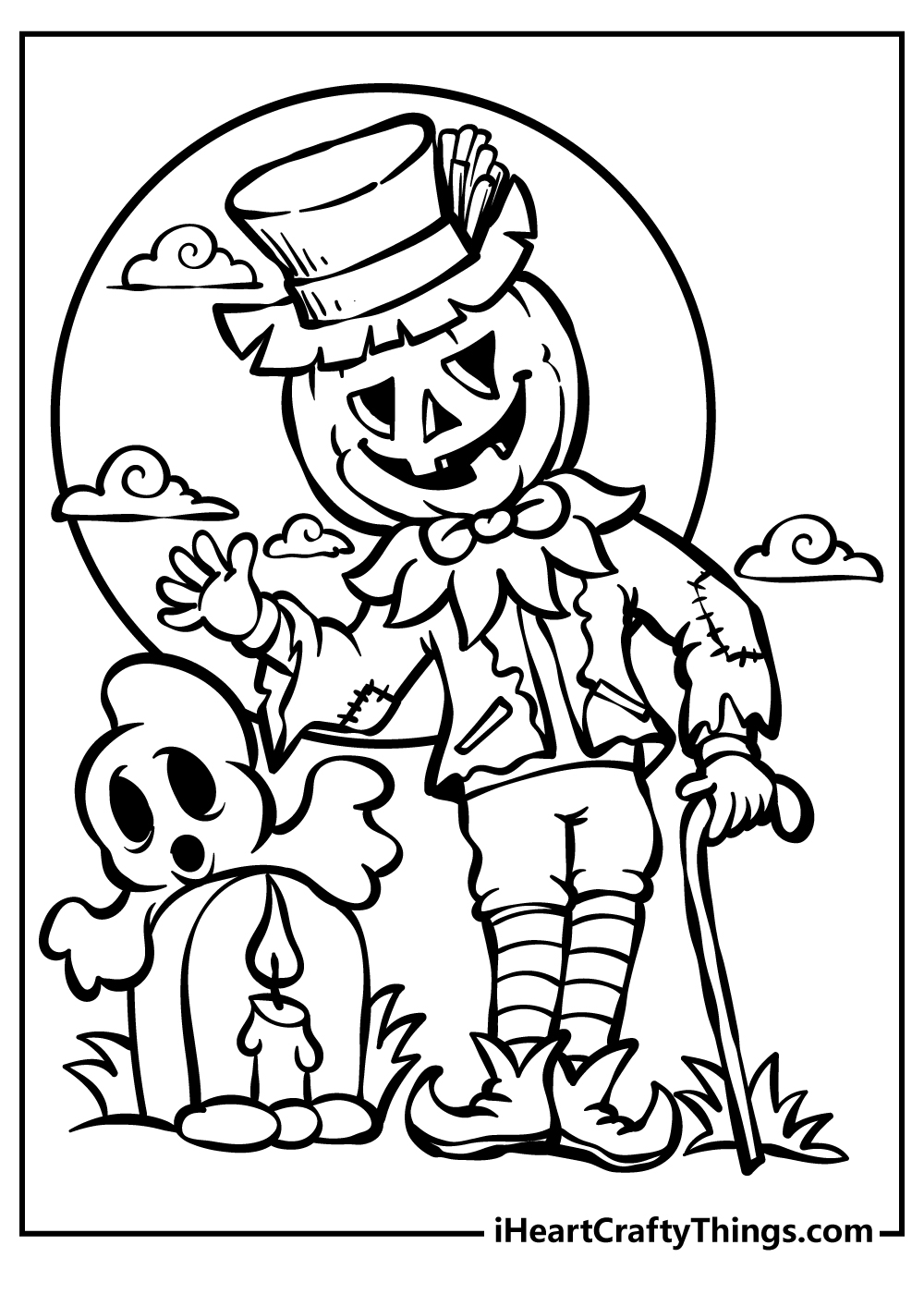 The ghost on this next page looks like he is having a great time! It's a real Halloween party, as he is joined by some funky jack-o-lanterns.
This picture is really fun to look at, so we would use some brighter, more vibrant colors if we were coloring this one.
Perhaps some bright colored pens or markers would suit this one! What do you think you will use?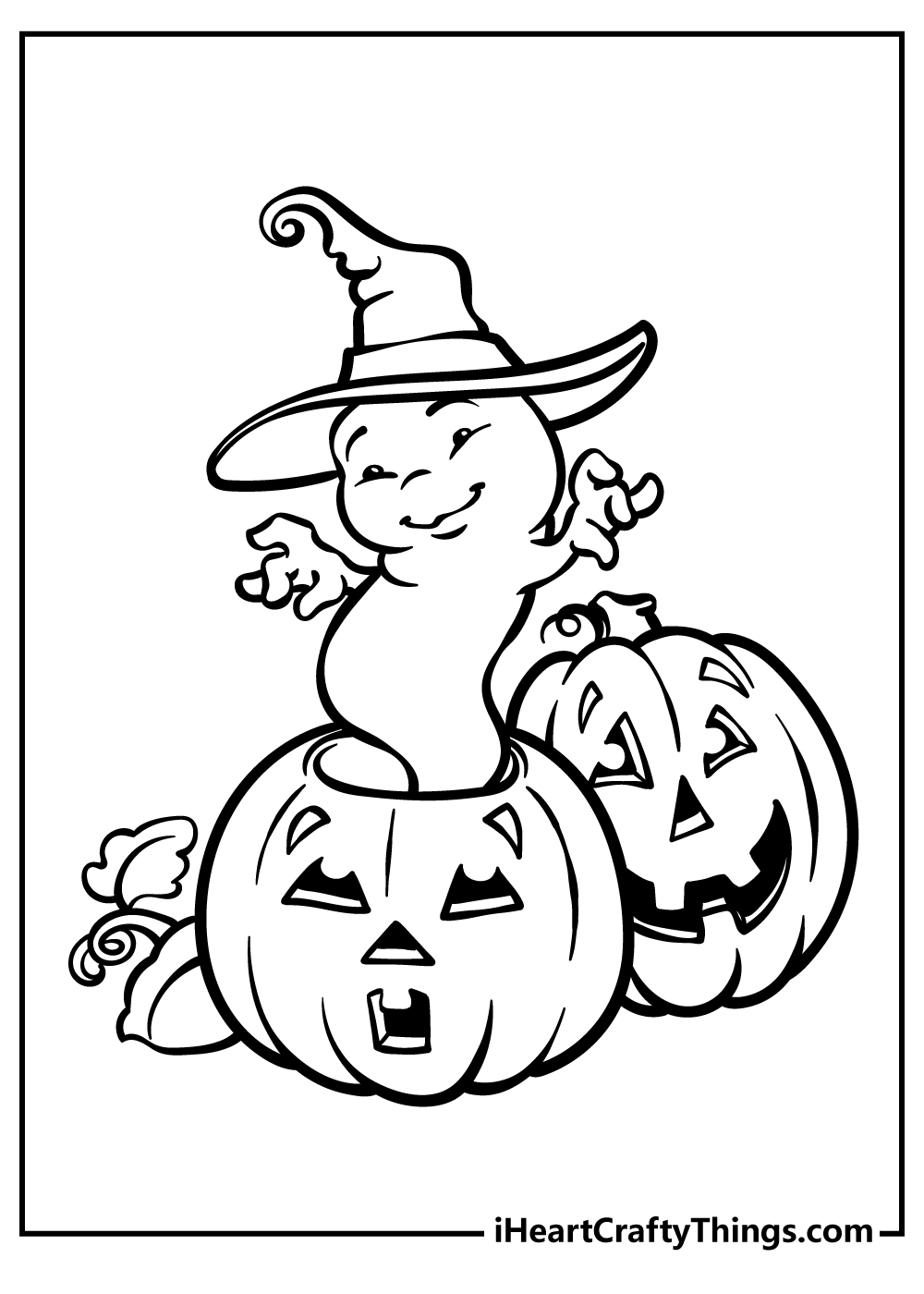 It's time for some more witchy jack-o-lantern fun! This picture is simple yet effective in its spookiness, and you can use all sorts of fun colors for it.
It could also be interesting to add some background details to create a Halloween scene to enjoy. What kind of setting would you like for this image?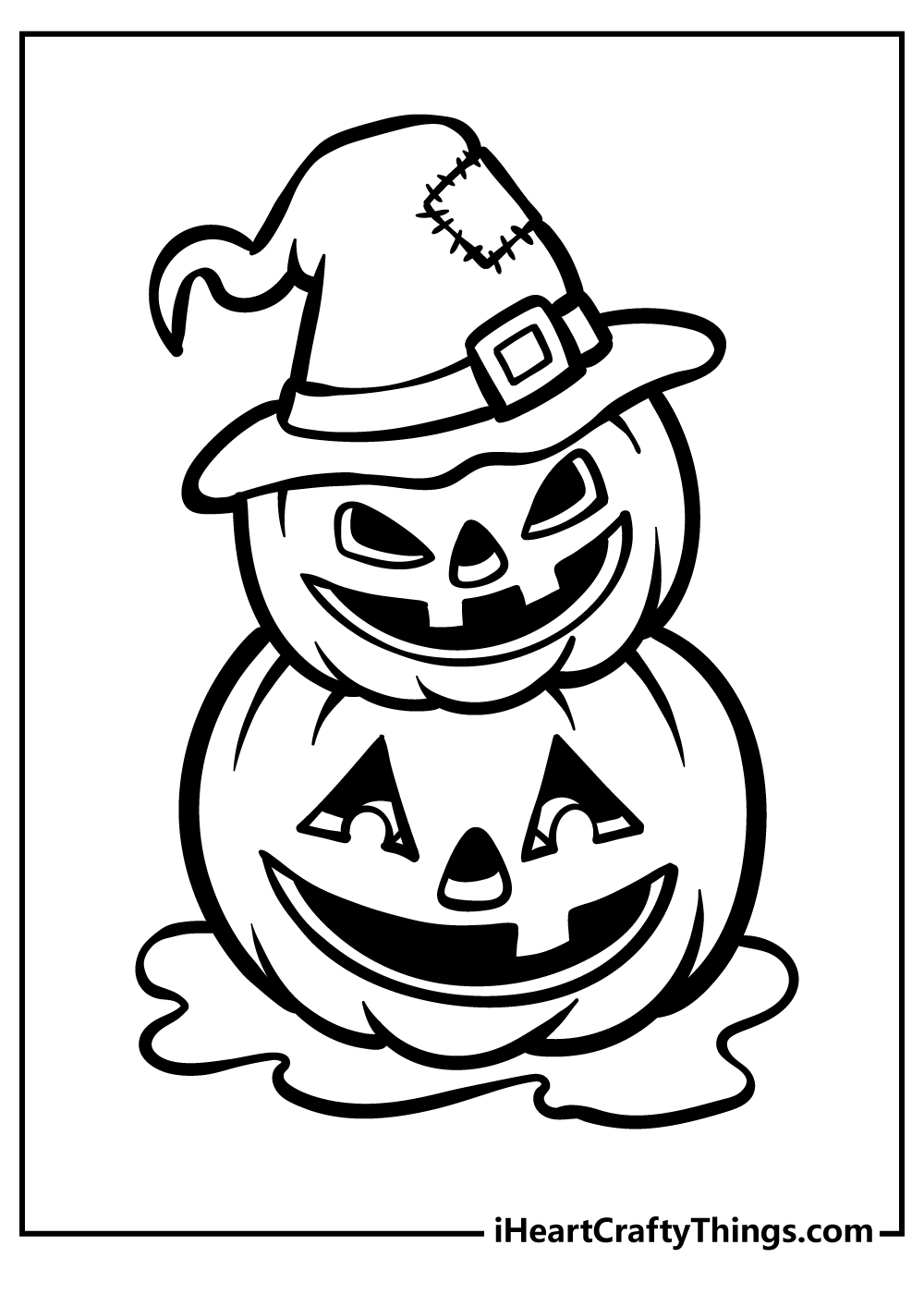 Here's an adorable Halloween scene for you, as we have a cute Halloween kitty with a pumpkin.
We think that some watercolor paints or colored pencils would help to create a softer look for this one that would suit the cute feeling given off by this scene.
These are just some examples, but what else could you use for this picture?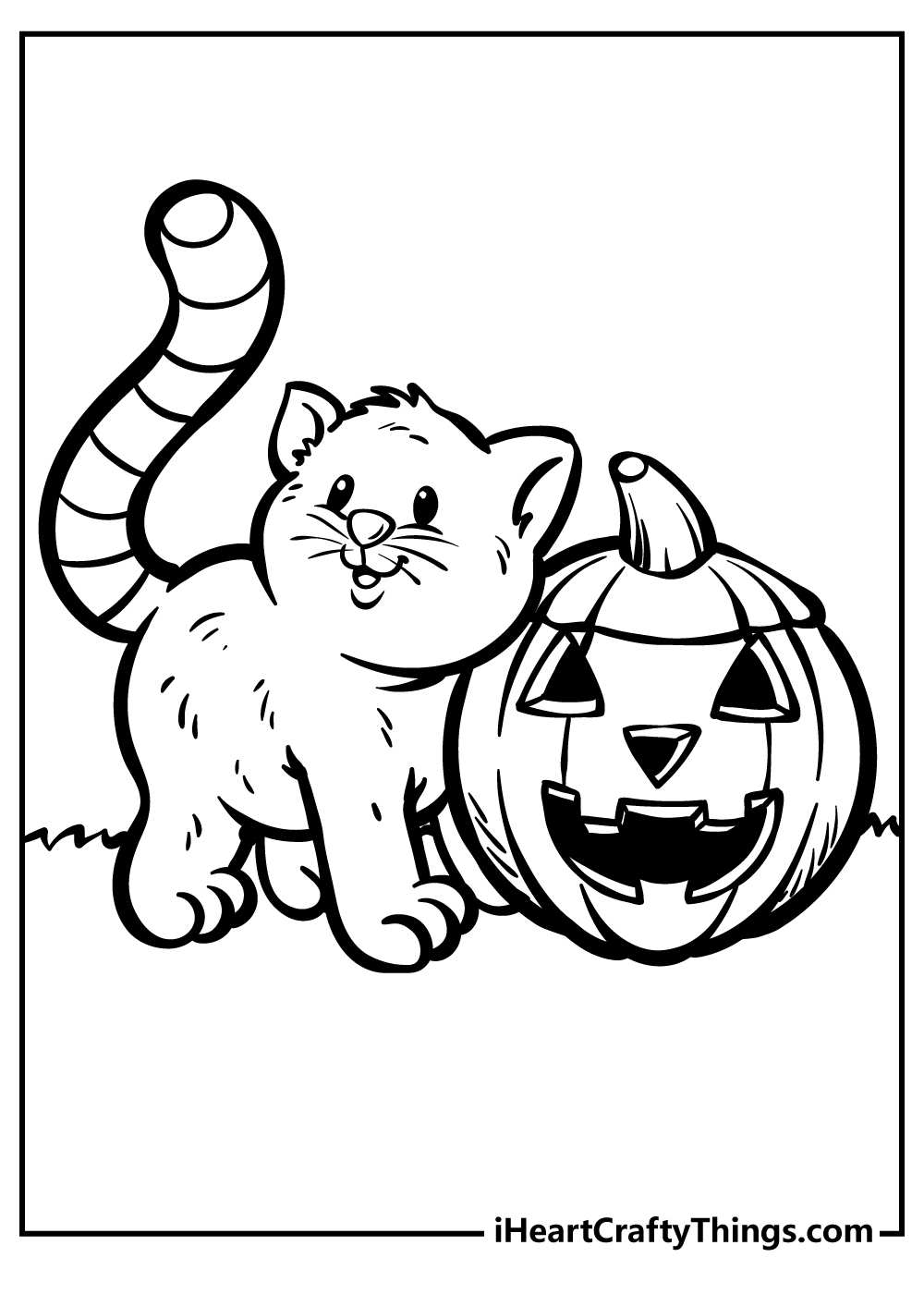 Our final Halloween coloring printable that we have for you features another spooky jack-o-lantern gent!
This one is really fun and creative, and it gives off just the right amount of spooky vibes as well.
Perhaps you could add some bat silhouettes or other Halloween shapes to really make this one look even spookier!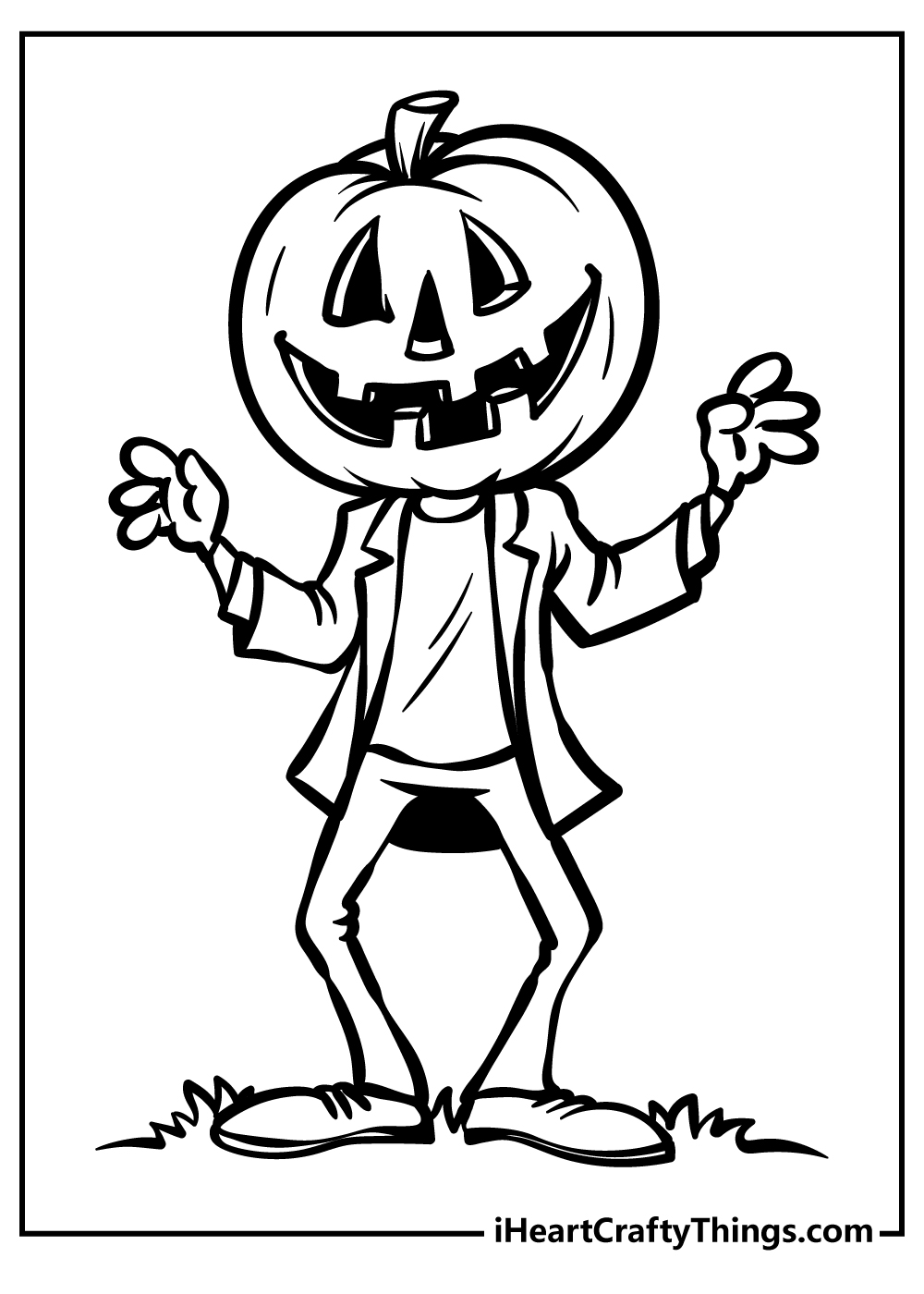 Halloween Coloring Pages – Which will you choose?
That will conclude this super spooky collection of free Halloween coloring pages for kids!
We hope that you really enjoyed bringing some color to all of these scary scenes that we have prepared for you.
Don't forget that you can also share this Halloween collection with other people you know to enjoy as well. It's never too early or late in the year to spread Halloween fun!
We would also be thrilled to see some of your finished pages, so please be sure to share some of your artworks on our Facebook and Pinterest pages. We can't wait to join in the scary fun!