Witches are experiencing a renaissance at the moment, evolving from terrifying, green-faced creatures to tough, confident ladies, and that is exactly as it should be!
In fact, we adore these feisty ladies of the night so much that we created a whole collection of witch coloring pages for kids and adults to enjoy!
Witches are synonymous with Halloween and all things spooky, but as you will see on our coloring sheets, they can be adorable as well.
If your little one loves to dress up as a little witch on Halloween, she will surely enjoy these free coloring printables!
10 Brand New Witch Coloring Pages – Free to Print and Color
Witchcraft is said to be a discipline that helps people develop or improve supernatural powers such as casting spells and executing magical rituals.
And did you know that a gathering of witches is called a coven?
Your little one can gather her friends and establish a coven even when it's not Halloween.
It can be a witch-themed dress-up party where the girls can brew potions using teas, fruits, and juices, then color these pages and share their creations.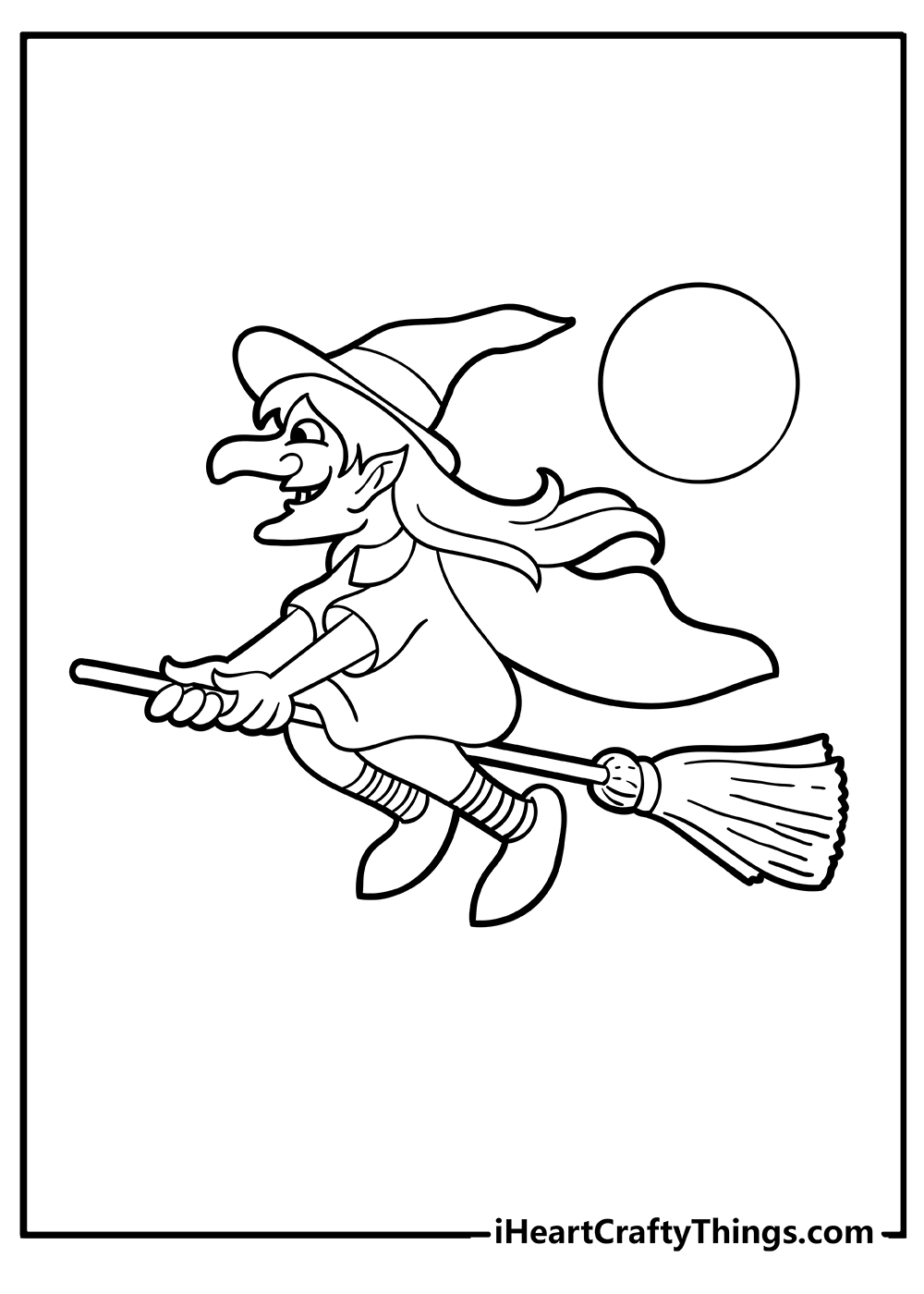 For generations, black cats have played a significant role in witch folklore. People thought they were ghosts who accompanied witches throughout the Middle Ages.
Black cats, however, are nothing like this.
This witch is getting ready to jump on her broom and travel places.
Maybe she is going to the animal shelter to adopt a black cat because, due to people believing black cats are a bad omen, they are often last to be adopted.
Want to change that and make your little witch happy? Keep her occupied with these witch coloring pages while you drive to the animal shelter yourself to adopt a cute black cat for her.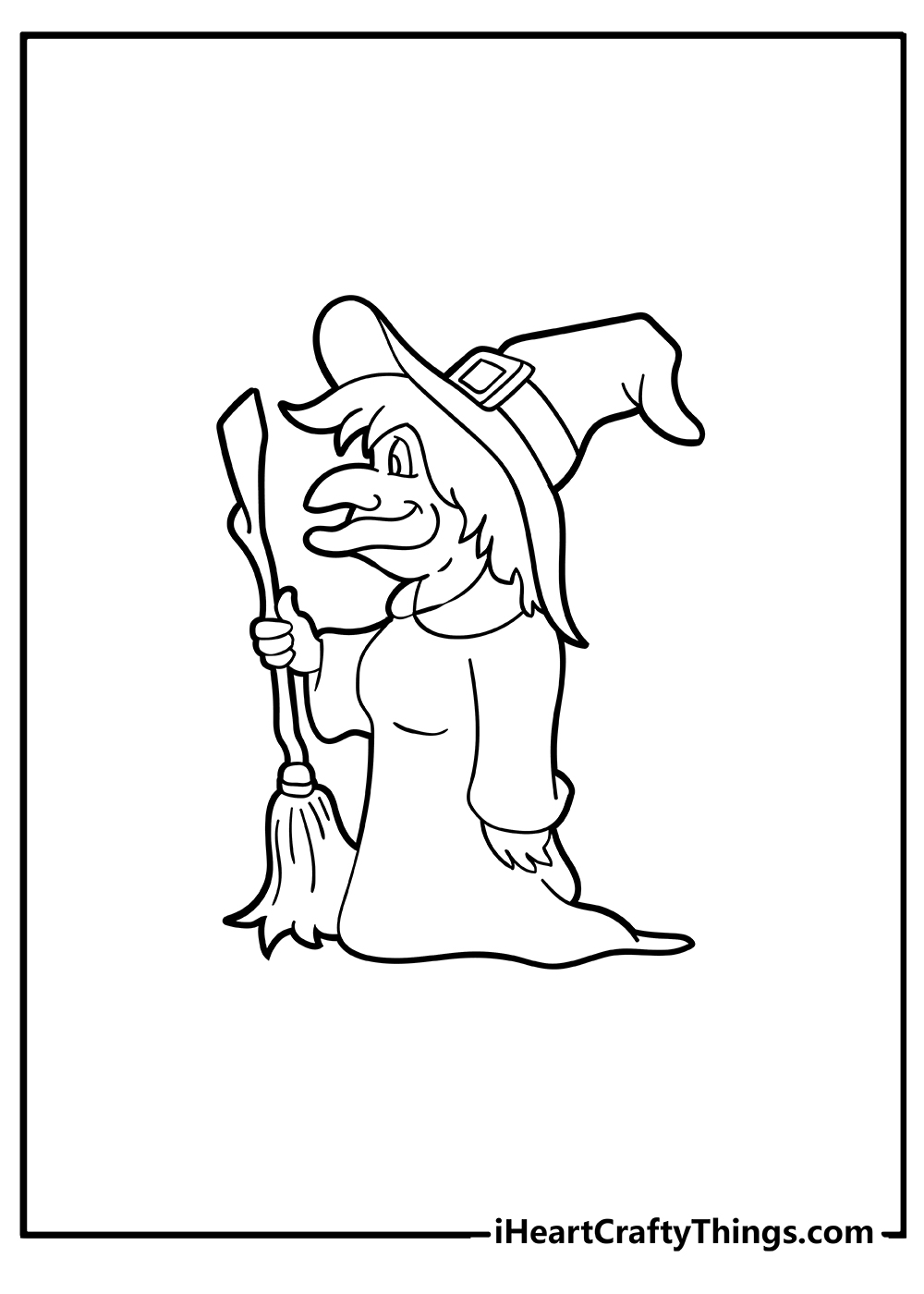 Hocus Pocus, the classic 1993 Halloween movie, is perhaps the most famous one featuring witches. If your children did not watch the movie until now, what are you waiting for?
Organize a movie night with them and, once the movie ends, you can keep them occupied with these witch coloring pages that they can use to recreate scenes from the movie.
If they like the movie, they will be very happy to know that a second one is coming in fall 2022, just in time for next Halloween!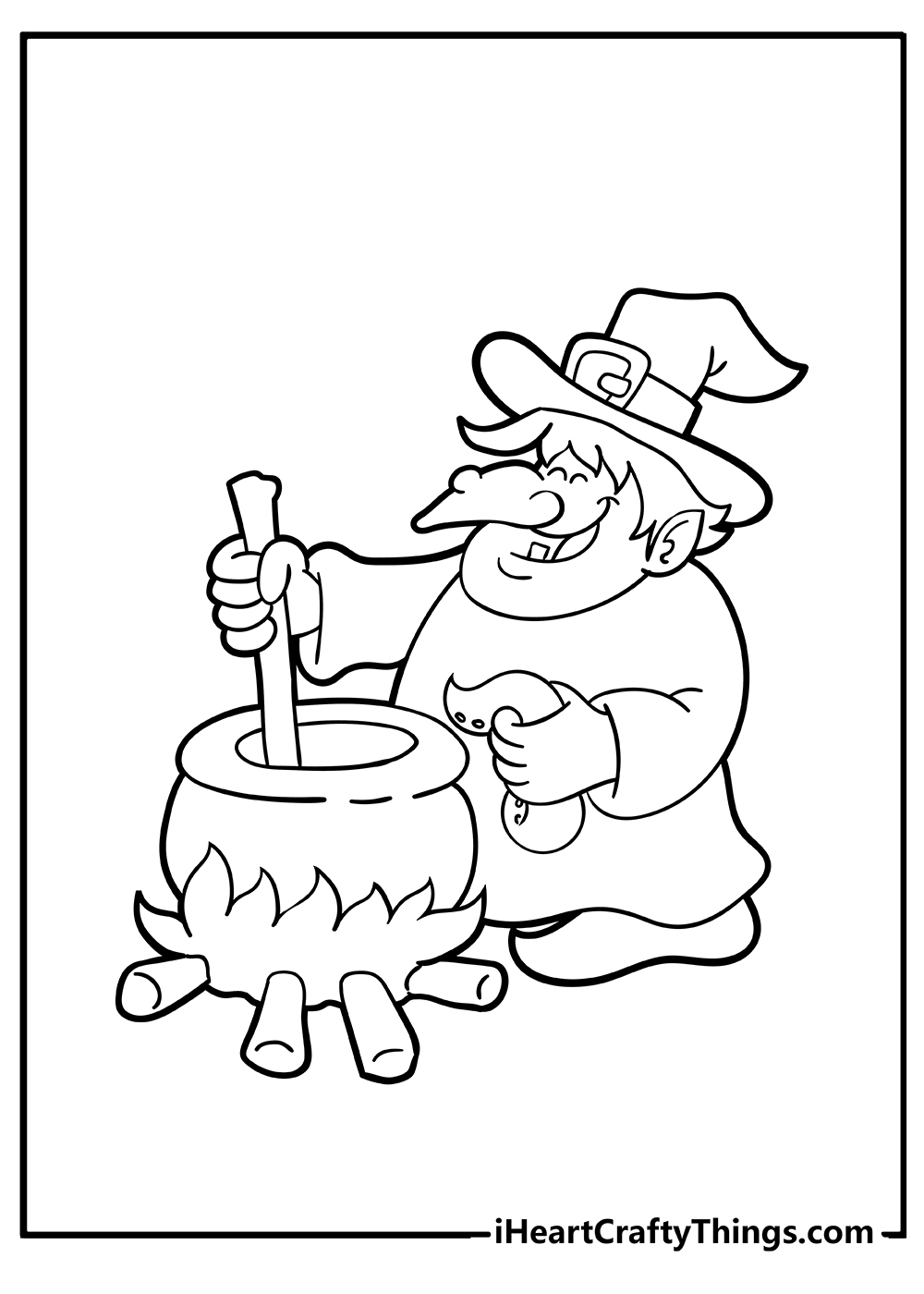 This cute witch is proof that these ladies can also be adorable, not just spooky and weird.
Her cape and pointy hat – typical wardrobe pieces for a witch – are covered in stars and little swirls, adding to the level of cuteness this little witch possesses.
Print this sheet for free and offer it to your children to have fun while coloring it. Ask them to imagine this little witch however they want to and let their creativity roam free!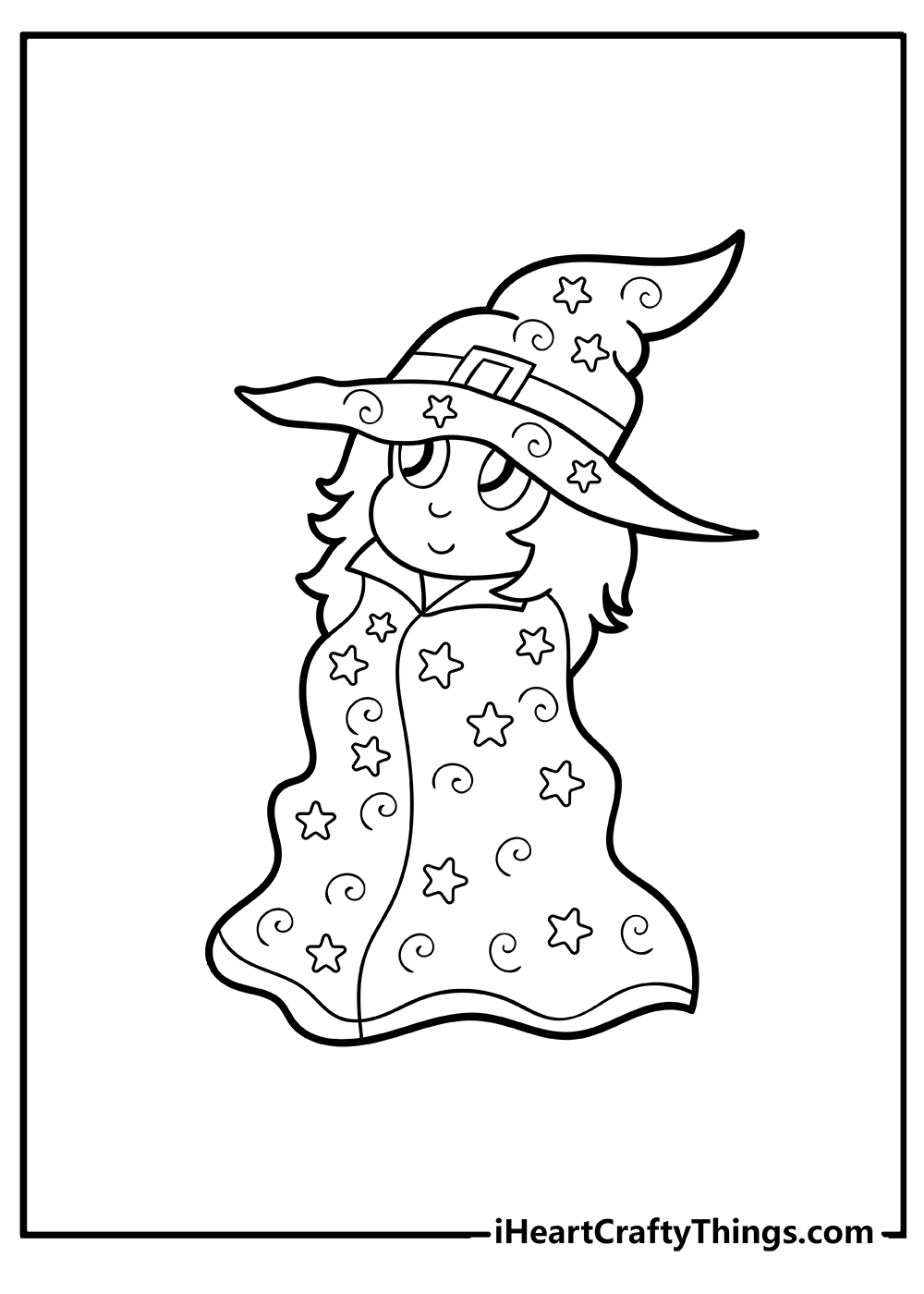 While youngsters these days are in love with Netflix's The Chilling Adventures of Sabrina, how can we forget its predecessor, Melissa Joan Hart's '90s series Sabrina, the Teenage Witch?
Both series are, of course, based on the same-named Archie comic. Salem, a black cat, appears in both. Such extraordinary pets are known as familiars in the witch world.
They're generally cats or toads, and they act as portals to the magical realm.
This witch coloring page features a little witch that could easily pass as Sabrina, don't you think?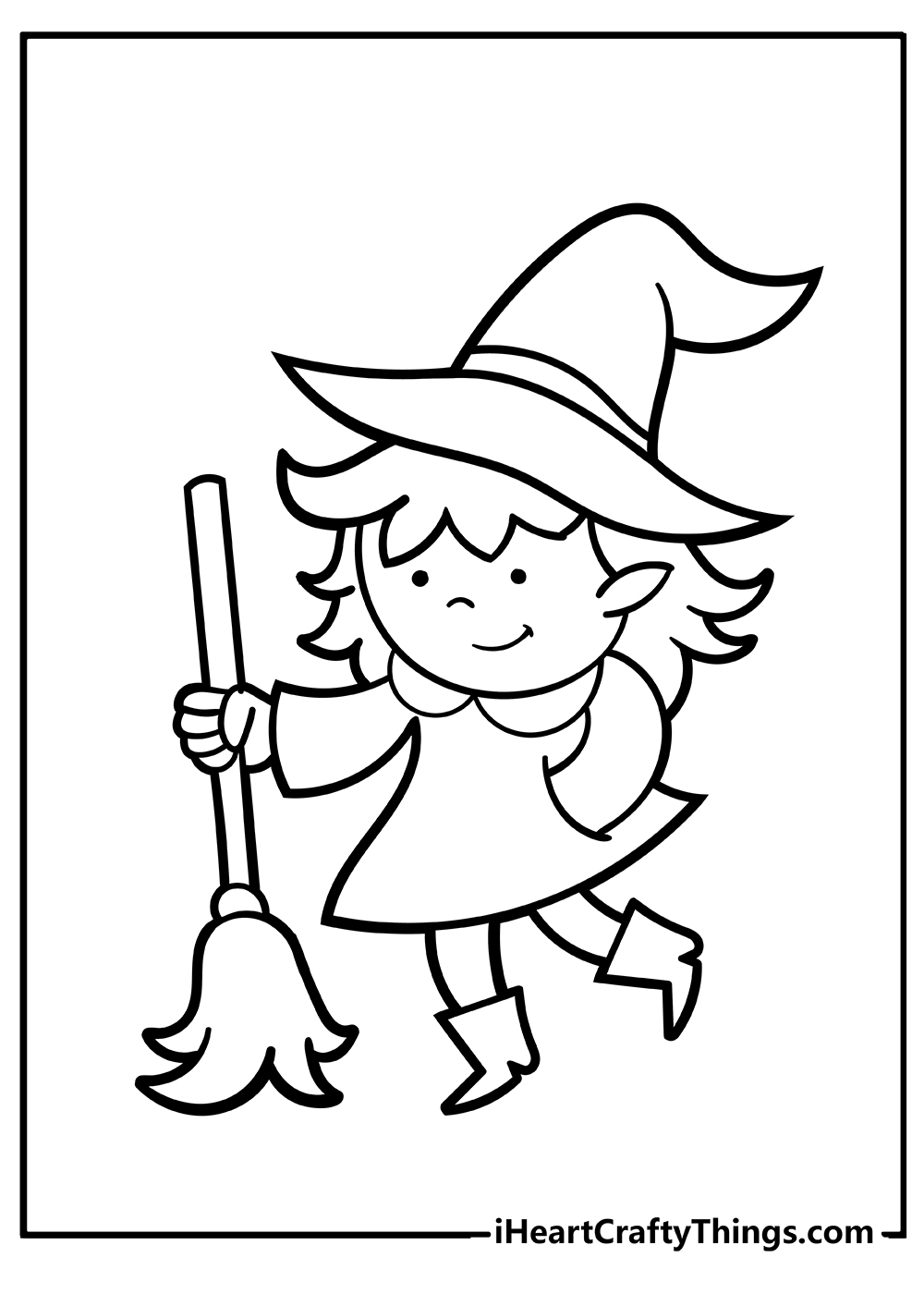 Does your little witch want to learn more about these amazing women? Salem, Massachusetts, is a great place to visit on Halloween.
This frightening occasion also happens to be the start of the witches' new year!
While the existence of witches in Salem during 1693 is still debated, the town presently has between 800 and 1,600 persons who identify as modern witches.
Bonus: There are a bevy of witchy-themed tourist attractions and businesses, making it the spookiest place to visit. 
Make sure to bring these printable witch coloring sheets with you so that your daughter can have fun on the plane and while hanging out in the hotel room.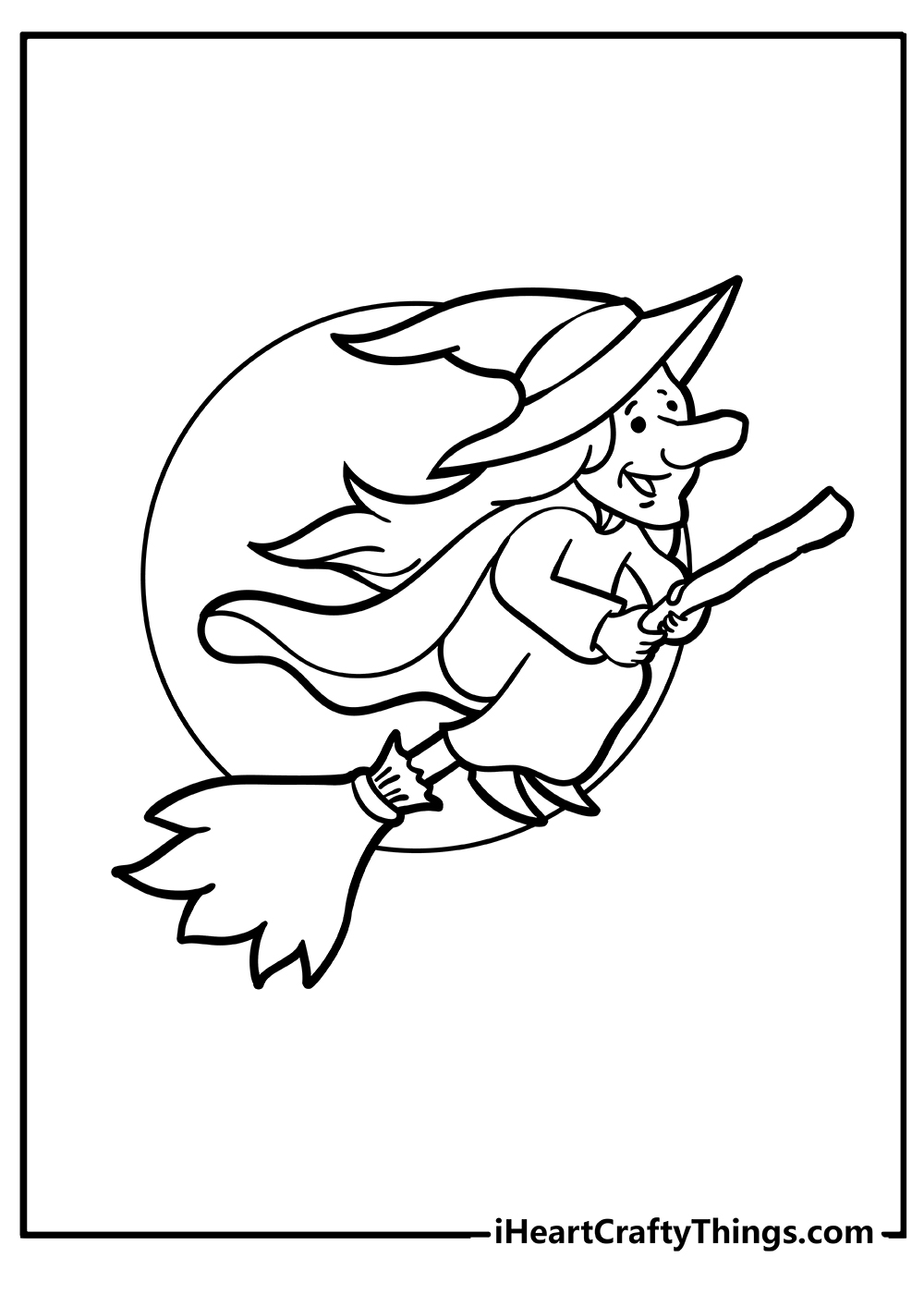 These witch coloring sheets are among the most popular of all the Halloween coloring pages.
Witches are mythical beings that reside in remote, isolated locations where they use their magical abilities and conduct sorcery.
Witches have long been associated with evil because of their black robes, black pointed hats, and pointy noses; yet, in recent years, they have been represented as good in novels and films such as the Harry Potter series.
Objects like flying brooms and cauldrons are frequently linked with these mythical beings.
These coloring pages allow your children to journey to an undiscovered world and take part in fascinating tasks in order to vanquish evil.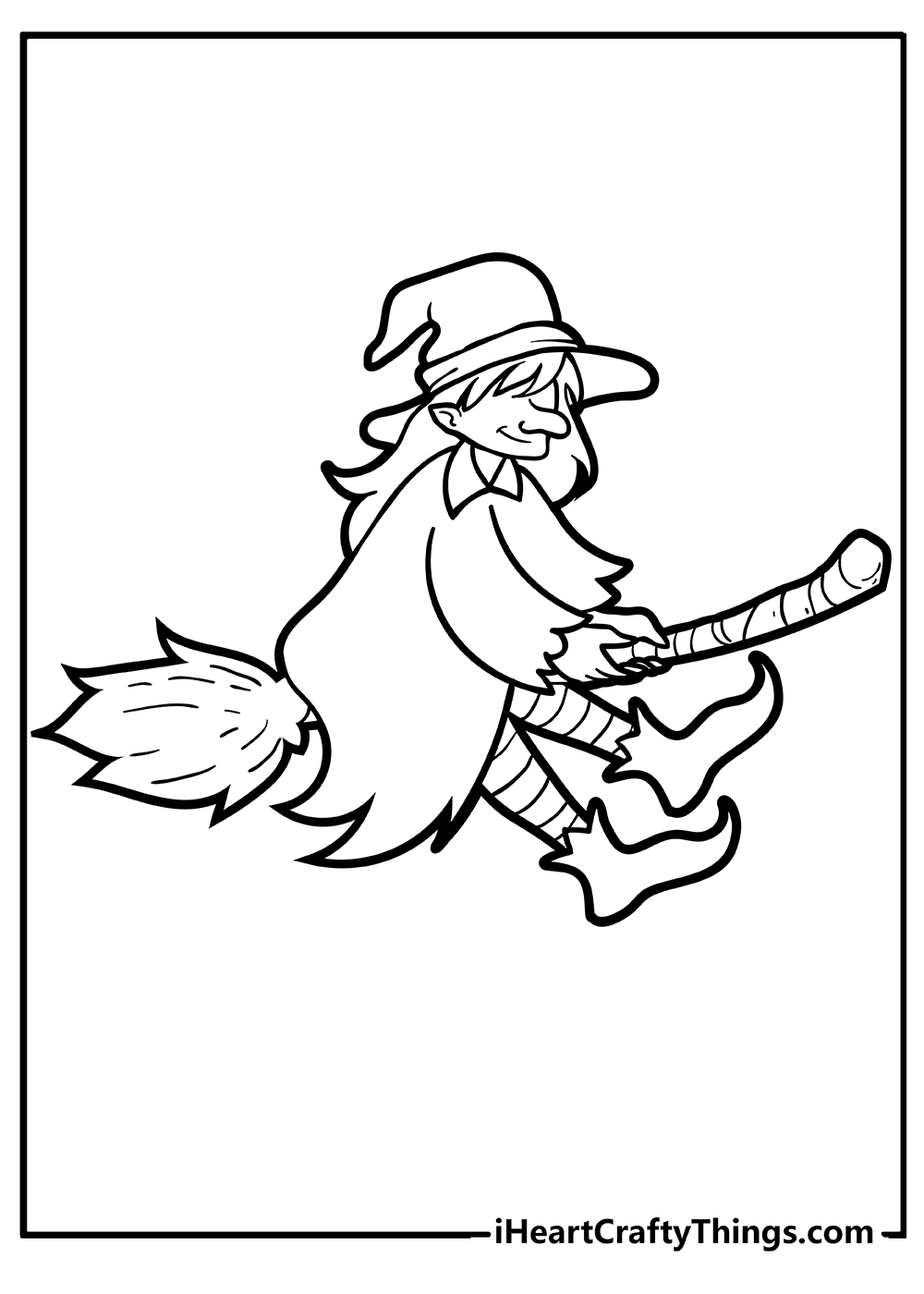 We'll admit, this witch coloring page is a bit scarier than other options on our list, but it does not mean it won't be enjoyable to color.
Maybe children can take this opportunity to see that even scary witches can be turned cute with the right colors.
Maybe she was just a bit angry that someone stole her broom, or her black cat knocked over some potions again.
Can your little artists color this witch in a way that she appears happy? Take this challenge to them and find out!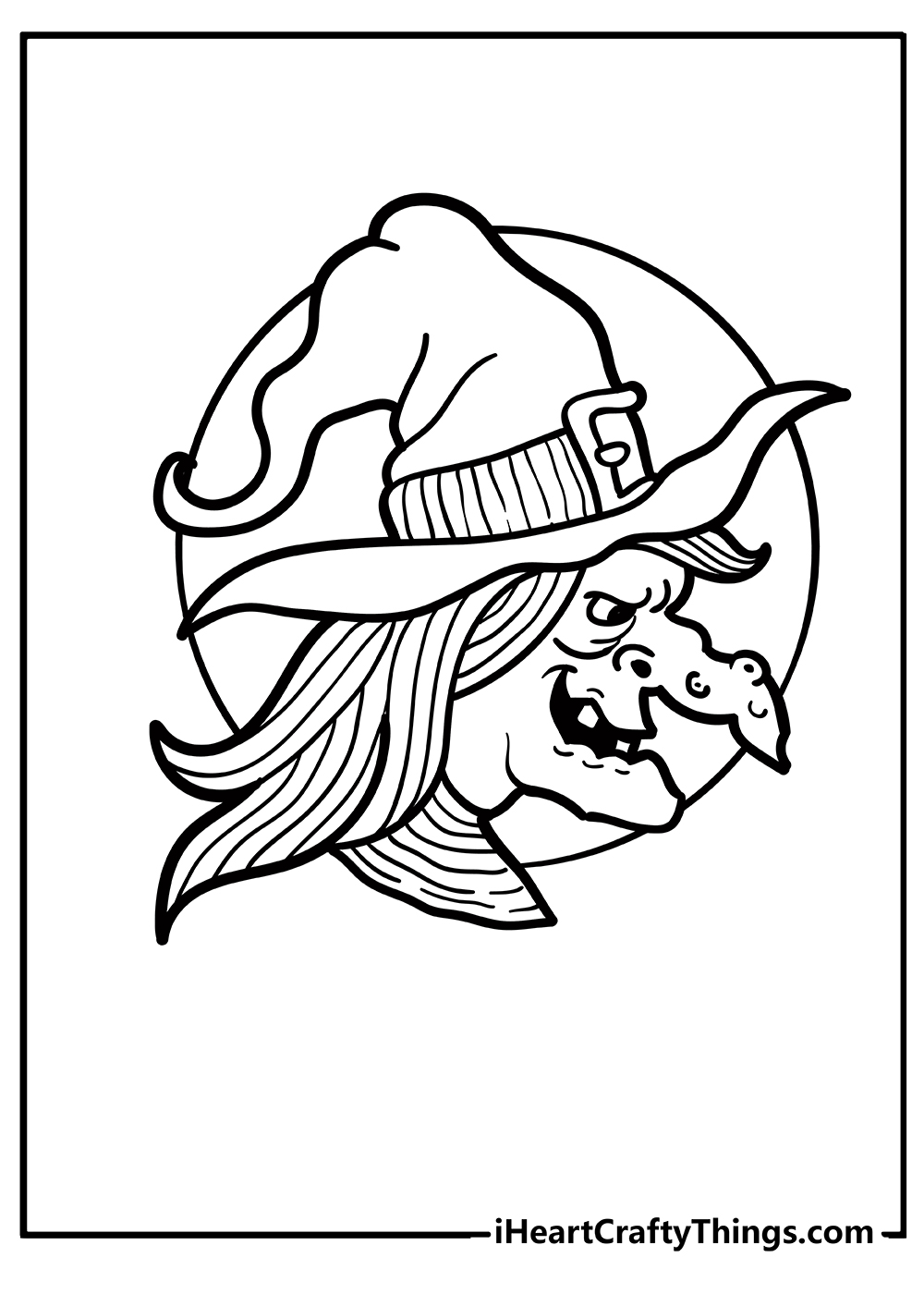 If your children are fascinated by witches and wish they could fly on a broomstick, these witch coloring pages are perfect for them.
These coloring sheets were developed for both youngsters and adults who can't wait to dress up as witches on Halloween.
Allow yourself to be enchanted by these fantastic women. Some are easy to color for novices, while others challenge your imagination.
To get started, all kids need is some eerie ingenuity and their favorite art stuff.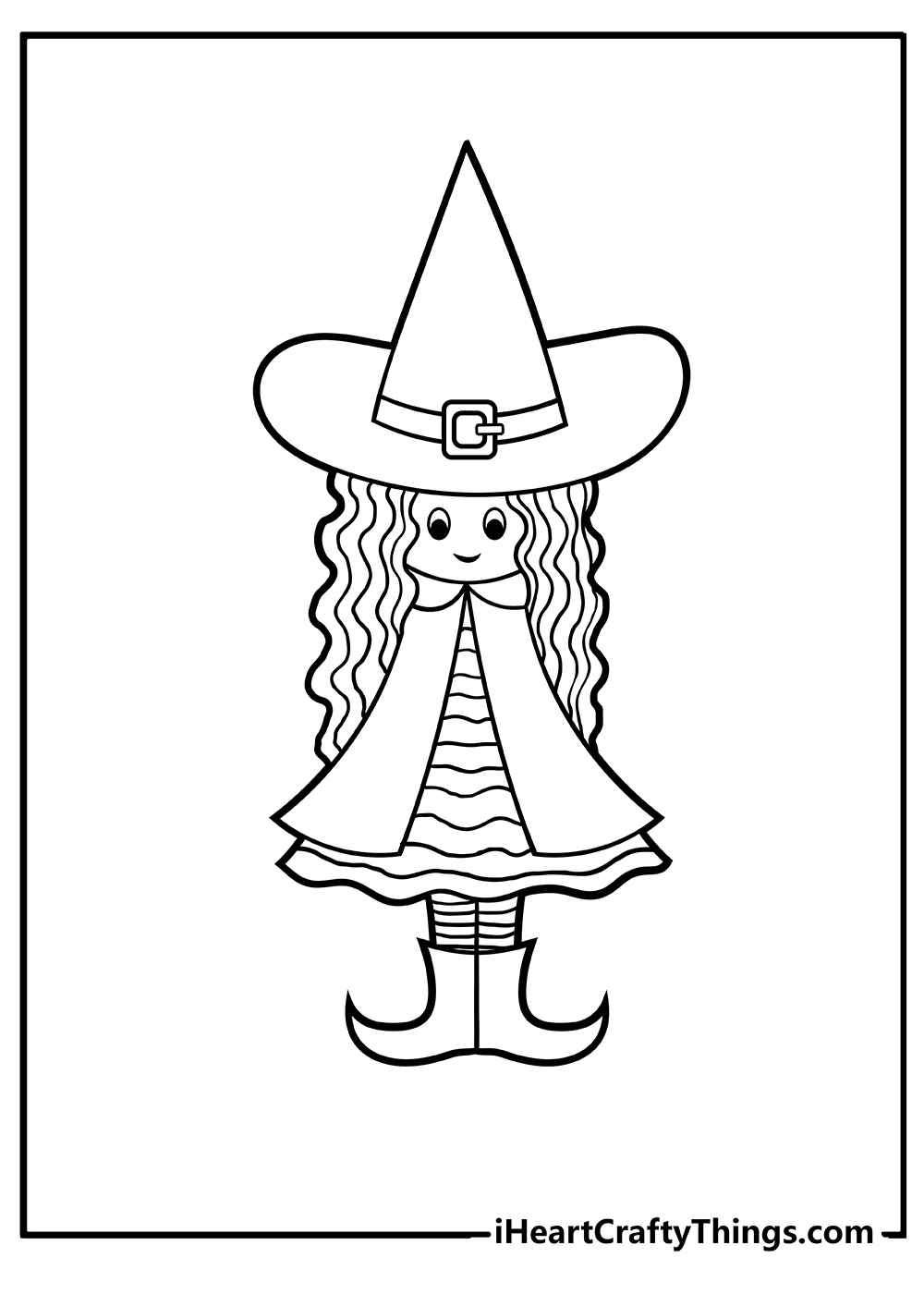 Are there any kids who don't love coloring? We don't think so. And we especially don't think anyone can resist these cute witches featured in our coloring pages.
These entertaining and educational activity sheets encourage children to use their imaginations and experiment with crayons and coloring pencils to discover the right hues to fill in the illustrations.
Choose one of the witch coloring sheets from our selection for your youngsters, and let the fun begin!